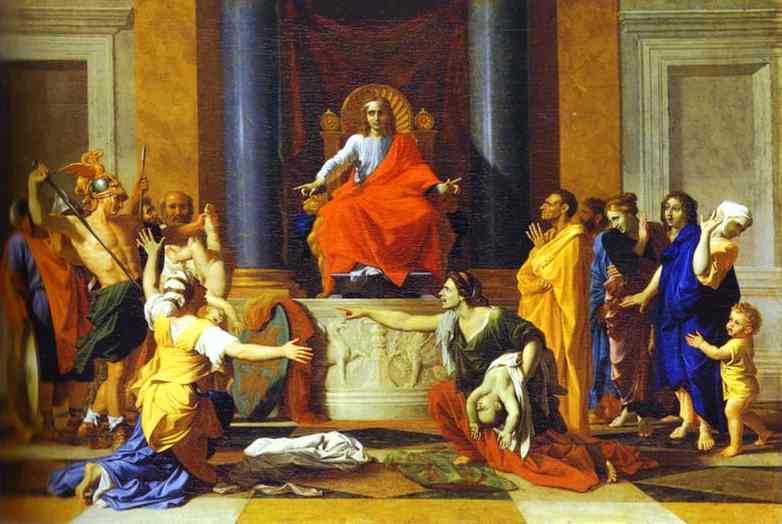 Wisdom of God was in Solomon 1 Ki 3:16-27, 28
1107

1011

971

931

853

722

586

1 Samuel
2 Samuel
1 Kings
1 Kings
2 Kings

31

1-4
5-10
11-20
21-24
1-11
12-22
1-17
18-25

1 Chronicles 10

 
1Chr
11-19
 
1Chr
20-29

2Chronicles
1-9

2Chronicles
10-20

2Chronicles
21-36

Legend: B.C. dates at top of timeline are approximate. Note that 931BC marks the division of the Kingdom into Southern Tribes (Judah and Benjamin) and Ten Northern Tribes. To avoid confusion be aware that after the division of the Kingdom in 931BC, the Southern Kingdom is most often designated in Scripture as "Judah" and the Northern Kingdom as "Israel." Finally, note that 1Chronicles 1-9 is not identified on the timeline because these chapters are records of genealogy.
1 Chronicles covers the same period of time as 2 Samuel and both describe the reign of David (See the Timeline above) whereas 2 Chronicles covers the same period of time as 1 Kings and 2 Kings and both describe the time from Solomon to the Babylonian Captivity. In Chronicles the kings of Israel (See table below where Jeroboam I identifies first of the kings of the 10 Northern tribes) are not mentioned unless they do something that relates to the kings of Judah. Note that the word "chronicle" means "a continuous and detailed account of historical events arranged in order of time." In First and Second Chronicles God has given us a very accurate history so that we can know all that He wants us to know about the period of the kings.
DIFFERENCES BETWEEN
SAMUEL, KINGS & CHRONICLES
SAMUEL &
KINGS
FIRST & SECOND
CHRONICLES
Prophetic Perspective:
Message of Judgment
Priestly Perspective:
Message of hope
Prophetic authorship:
Emphasizes the prophetic ministry
and moral concerns
Priestly authorship:
Emphasizes the priestly ministry
and spiritual concerns
The Fortunes
of the Thrones
Continuity
of the Davidic line
More Negative:
Rebellion & Tragedy
More Positive:
Apostasy, but hope in face of tragedy
Record of both
Israel and Judah
Record primarily
of Judah
Man's Failings
God's Faithfulness
Morality
Redemption
Emphasizes the throne
of earthly kings
Earthly throne (temple)
of the heavenly King
Emphasizes Kings
and Prophets
Emphasizes the Temple
and the Priests
Political
and kingly
Religious
and priestly
Compiled by authors
soon after the events
Compiled by by a priest:
Ezra many years after the events
Written shortly after the
beginning of the captivity in Babylon
Written shortly after
the return from the captivity

Adapted Wilkinson's Talk thru the Bible & Jensen's Survey of the OT
Christ in the Historical Books
4. The Six Books of the Kings: [1&2 Samuel; 1&2Kings; 1&2Chronicles]
In the Hebrew, these six books are only three, each pair forming but one book.
Samuel and Kings form a consecutive history. The Key-note of both is Kingdom.
Chronicles is the story of 2Samuel and 1 & 2 Kings told over again from a different standpoint. Its Key-note is Theocracy. It deals only with the Kingdom of Judah, and relates to the history as it touches the Temple and the worship of God. It was possibly written by Ezra.
The special privilege of the Children of Israel was to have God for their King, and to be chosen by Him to be a peculiar people unto Himself, to show forth His praise in the world.
During the period of the Judges, Israel had rejected God from being their King. This rejection reached a climax in Samuel's day, when ''they asked for a King like all the nations'' [1Sam 8:5,19,20]. When God's children are afraid of being different from the world around them, they lose their power of testimony for Him.
God gave them Saul-- a King after their own heart.
When Saul broke God's covenant through disobedience, God gave them David-- ''a King after His own heart'' [1Sam 13:13,14].
David was a type of the one perfect King. Solomon, likewise, was a type of Him. But after Solomon, God's power departed from the kings and became vested in the prophets. Elijah sent word to Ahab, ''Behold, Elijah is here! And Ahab went to meet Elijah'' [1Kings 18:8,16] As [D.L.] Moody said, ''Who was king now?'' Moses was a prophet. Samuel was a prophet, as well as being the last of the Judges, and also priest. But the great line of prophets began with Elijah, and they represented God to His people through all the years of the decline and fall of the monarchy.
III. Christ in the Historical Books
7. 1Kings --
We need the magnificent reign of Solomon, the Prince of Peace, to complete the picture of Christ our King. The Lord said to David: ''Behold, a son shall be born to thee, who shall be a man of rest; and I will give him rest from all his enemies round about; for his name shall be Peaceable, and I will give peace and quietness in Israel all his days.'' Solomon's peaceable kingdom was the result of the victories David had obtained. [Likewise,] it is because Christ has fought and conquered our enemies that we can enjoy the peace of His glorious reign in our hearts. The Kingdom of God is ''righteousness, and peace, and joy in the Holy Ghost'' (1Chron 22:9, margin; Rom 14:17).
The Temple. [1Kings ch. 5 - 8]
The glory of Solomon's reign was the building of the Temple. He seems to have been raised up specially for this purpose, for David says: ''He hath chosen Solomon my son to sit upon the throne of the kingdom of the Lord over Israel. And He said unto me, Solomon thy son, he shall build My house and My courts… Take heed now, for the Lord hath chosen thee to build an house for the sanctuary: be strong, and do it'' (1Chr 28:5-10). But for the account of the Temple, we will wait till we come to the Book of Chronicles.
''Solomon in All his Glory.'' [cp. Mat 6:28,29]
The wisdom of Solomon is a foreshadowing of the wisdom of Christ, in ''whom are hid all the treasures of wisdom and knowledge'' [Col 2:3].
Psalm 72 is a ''Psalm for Solomon.'' It describes the glory of his kingdom, but it finds its perfect fulfillment only in the reign of One greater than Solomon, who shall indeed one day ''have dominion from sea to sea, and from the river unto the ends of the earth.'' But though the millenial fulfilment of this Psalm is yet to come, it has a fulfilment already in those hearts where the King is reigning in righteousness. Solomon said to Hiram, King of Tyre, ''The Lord my God hath given me rest on every side, so that there is neither adversary nor evil occurrent'' (1King 5:4). The magnificence of his kingdom is described in 1Kings 4:21-34: ''And Solomon reigned over all the kingdoms, from the river unto the land of the Philistines, and unto the border of Egypt: they brought presents, and served Solomon all the days of his life… And he had peace on all sides round about him. And Judah and Israel dwelt safely, every man under his vine and under his fig tree.''
The Queen of Sheba. [1Kings 10:1-13; 2Chr 9:1-12]
Our Lord Himself draws the contrast between the Queen of Sheba, who ''came from the uttermost parts of the earth to hear the wisdom of Solomon,'' and the men of His generation, who were so indifferent though ''a Greater than Solomon'' was among them [Mat 12:42]. Following the same line of thought, the visit of the Queen is a beautiful picture of a soul coming to the Saviour and finding full satisfaction in Him. (Ed: See caveats regarding Typology - Study of Biblical types)
She came from afar off, and we ''who sometimes were afar off are made nigh by the blood of Christ.'' [Eph 2:13]

She brought all her hard questions to Solomon, and communed with him of all that was in her heart. We may bring all our difficulties to the Lord, and we shall find, as she did, that ''there is not anything hid from the King'' which He cannot solve for us. We, too, shall find that He is ''made unto us wisdom'' [1Cor 1:30].

And when she had seen all his wisdom, and riches, and the appointments of his kingdom, and his marvellous buildings, there was no more spirit in her. And she said: ''It was a true report that I heard in mine own land of thy acts, and of thy wisdom. Howbeit I believed not the words, until I came, and mine eyes had seen it; and, behold, the half was not told me: thy wisdom and prosperity exceedeth the fame that I heard. Happy are thy men, happy are these thy servants, which stand continually before thee, and that hear thy wisdom. Blessed be the Lord thy God, which delighted in thee, to set thee on the throne of Israel: because the Lord loved Israel for ever, therefore made He thee king, to do judgment and justice'' (1Kin 10:6-9). [cp. 1Cor 2:9; 1Joh 3:2]
The Kingdom Divided. [1Kings 12 and onward]
Then follows the history of the divided kingdom-- a picture of the divided heart and of the impossibility of serving two masters. The kings of Israel [the northern kingdom] followed the example of ''Jeroboam, the son of Nebat, who made Israel to sin,'' by setting up the worship of the golden calves, and all their kings were given to idolatry. The history of the Kingdom of Israel is an almost unbroken story of wickedness, king after king coming to the throne through the murder of his predecessor.
2Kings 17 gives us the account of the Captivity of Israel, and goes fully into the reason of this punishment. They had descended to the very level of the nations whom God had [commanded] His people [to] drive out of the land-- exactly what He had predicted, as the result of their disobedience, had come to pass. They forsook the Lord, and served the gods of the heathen, and walked in their ways, and wrought according to their wickedness, and therefore God permitted the King of Assyria to carry Israel away captive into Assyria, according to His warning, given by Moses in Deu 29:24-28. ''And the Lord rejected all the seed of Israel, and afflicted them, and delivered them into the hand of spoilers, until He had cast them out of His sight'' (2Kin 17:20).
The Prophets.
Long before the outward semblance of royalty had disappeared, God had transferred the power from the kings to the prophets. Out of the darkness of this evil time, two figures stand forth as His witnesses, showing us that through all the failure, God was quietly working onwards towards His eternal Kingdom of Righteousness.
Elijah and Elisha, in the contrast of their characters and of their mission, remind us of John the Baptist and of our Saviour. Our Lord Himself referred to John the Baptist as fulfilling the prophecy that Elijah must first come before the coming of the Son of Man. ''Elias verily has come,'' He said [Mat 17:10-13]. Elijah the rugged prophet of the wilderness, clad in his mantle and leathern girdle-- the ordinary dress of the Fellaheen [sic.], which every prophet wore-- suddenly bursts upon the scene in the court of Ahab, and pronounces the judgment of the Lord. ''As the Lord liveth, before whom I stand, there shall not be night-mist, nor rain these years, but according to my word'' [1Kin 17]. [Note: ''The matar or 'rain' falls at all hours during the winter, while the tal or 'night-mist' falls in the night in summer and autumn.'' (Rev. J. Neil)]. The secret of his power lay in those few words ''before whom I stand.'' He knew what it was to have power with God, and therefore, he had power with man. He reminds us of John, clad in the same manner, at the court of Herod, denouncing, as fearlessly, the sins of that king [Mar 6:17,18].
On Mount Carmel [1Kin 18], it was ''at the time of the offering of the evening sacrifice'' that God sent the fire from heaven. We have several instances of deliverance coming at the time of the morning or evening sacrifice, reminding us of the power of the Cross which those sacrifices foreshadowed.
The Forerunner.
When God was about to send the rain in answer to Elijah's prayer, Elijah sent Ahab the message, ''Prepare thy chariot, and get thee down, that the rain stop thee not.'' [1Kin 18:44]. And then it appears that Elijah acted the part of sais to Ahab. The modern sais of Egypt is the ''runner'' attached to the household of kings and nobles. The same custom was in vogue in Israel, for Samuel warned the people that the king they so eagerly desired would exact this oppressive custom of his subjects: ''He will take your sons, and appoint them for himself, for his chariots, and to be his horsemen; and some shall run before his chariots'' [1Sam 8:11]. ''These facts lend great force to the act of Elijah, who, in an ecstasy of joy and zeal at the triumph of Jehovah, and desirous to 'honour the King' who for a brief moment had honoured God, when the hand of the Lord came upon him, girded up his loins, and ran before Ahab to the entrance of Jezreel-- that is, for a distance of some twenty miles or more across the plain of Esdraelon the man of God acted as the sais or runner of the King, clearing the way for his chariot and announcing his arrival!'' [Palestine Explored, Rev. J. Neil]. Does not this office of outrunner explain the figure of Hebrews 6:20: ''whither Jesus entered for us as a forerunner''? He who, in His condescension, has said that in heaven ''He will gird Himself and make (His people) sit down to meat, and will come forth and serve them,'' is pictured here as having entered only a brief moment earlier to announce their arrival and to be prepared to receive them there [Luke 12:37].
Elisha. [His call is recorded in 1Kings 19.]
Elisha's was a ministry of blessing and healing. In this he was a type of Christ. We have, moreover, in the life and miracles of Elisha a series of most beautiful lessons on Christian life and service. ''Ploughing one day with his father's oxen and servants, in the open country, he saw the outlawed prophet of Gilead coming towards him. Passing by, he cast his mantle upon him. Elisha knew what the sign meant. He was a wealthy man. The call was to follow Elijah as a servant, pour water on his hands, perhaps to die with him. There was no time to think, the decision had to be made in a moment. The call of God in his heart was at once responded to. Obtaining leave to say farewell to his parents, he kills the oxen, smashes up the implements, and shows to all his companions that he has no more to do with his former life. God is calling each one of us, let us follow at whatever cost'' (W.H. Wilson).
1 KINGS
The books of Samuel, Kings, and Chronicles present the history of the Kingdom of Israel. The first four give it from a human standpoint, and in Chronicles, it is seen from God's viewpoint.
The time covered by 1Kings is about 120 years. The book begins with the death of David and closes with the death of Ahab. One Bible scholar has said, ''During this time the nation passes from affluence and influence to poverty and paralysis.'' The tragic note sounded in 1Kings 11:1 marks a turning point in Israel's history. ''But King Solomon loved many foreign women… '' As a result, the flesh prevailed over the Spirit. We therefore read these sad words in 1Kings 11:4, ''When Solomon was old, … his wives turned away his heart after other gods.''
When 1Kings opens, Samuel is dead and David is dying. 1Kings 2 tells how this shepherd, warrior, king, and psalmist went to be with the Lord. Solomon, David's son, then ascended to the throne of all Israel. This book is important because it tells a story of sharp contrast: first, Israel's greatest splendor; second, Israel's tragic downfall. After Solomon's death, there was a rebellion. The nation divided into two kingdoms-- Israel in the north and Judah in the south. King after king led the people into idolatry. It's the old story of sin followed by punishment.
Two men stand out more conspicuously than all the rest named in 1Kings-- Solomon and Elijah. The story really centers upon these two leaders. As we study these men, we fulfill the purpose for this volume-- to see Christ in every book of the Old Testament.
SOLOMON'S REIGN--
The name Solomon means ''peace.'' His reign is a type or picture of that reign of peace by Him who is greater than Solomon [Luke 1:32; Mat 12:42]. (Ed: See caveats regarding Typology - Study of Biblical types)
Solomon's reign was notable for five outstanding reasons:
Wisdom (1Kings 3:9-12; 4:29-34).

Jewish legend says that Solomon could even converse with the beasts of the field. His proverbs, 3,000 of which are recorded, demonstrate the great wisdom that God had given him. What marvelous guidelines they are for the conduct of life even now!
Peace and prosperity (1Kings 4:25).

Solomon's reign was an unusual time for Israel. The land had been torn apart by war. Now came a time of calm, of peace. ''And Judah and Israel dwelt safely, every man under his vine and under his fig tree, from Dan even unto Beersheba, all the days of Solomon'' (1Kings 4:25).
The building of the temple (1Kings 5-7).

Solomon's temple was unsurpassed in his day for its splendor and luxury. It was the crown jewel of Solomon's reign. Out of Israel came 30,000 men working in relays of 10,000 per month. In addition, 150,000 ''strangers,'' 70,000 of them carriers and 80,000 stone workers, along with 3,300 supervisors, assisted in the work.
God enters the temple (1Kings 8).

When the structure was completed and dedicated, the glory cloud, the Shekinah, came down and filled it. This was the visible manifestation of the presence of God in the midst of His people.
The visit of the Queen of Sheba (1Kings 10).

This influential ruler said to Solomon, ''It was a true report that I heard in mine own land of thy acts and of thy wisdom'' (1Kings 10:6). The wealthy ruler was so impressed with what she had heard and seen that she gave the glory to God, saying, ''Blessed by the LORD thy God, who delighted in thee, to set thee on the throne of Israel'' (11Kings 0:9). A Gentile queen beholding the wealth and beauty of Solomon's reign is a picture of what God has yet in store for this earth.
ONE GREATER THAN SOLOMON--
The gospel according to Matthew begins with the words, ''The book of the genealogy of Jesus Christ, the son of David.'' The designation ''son of David'' immediately brings Solomon to mind, arrayed in all his kingly glory. His reign is a foreview of what will take place when David's greater Son, the Lord Jesus Christ, rules over the earth.
God has decreed that a man is going to rule this world in wisdom. Isaiah wrote, ''And there shall come forth a rod out of the stem of Jesse, and a Branch shall grow out of his roots; and the Spirit of the LORD shall rest upon Him, the spirit of wisdom and understanding, the spirit of counsel and might, the spirit of knowledge and of the fear of the LORD, … but with righteousness shall He judge the poor, and reprove with equity for the meek of the earth; and He shall smite the earth with the rod of His mouth, and with the breath of His lips shall He slay the wicked'' (Isa 11:1,2,4).
Our Lord's millennial reign will be a time of peace and prosperity. The prophet Micah declared of Christ, ''And He shall judge among many people, and rebuke strong nations afar off; and they shall beat their swords into plowshares, and their spears into pruning hooks; nation shall not lift up a sword against nation, neither shall they learn war anymore. But they shall sit every man under his vine and under his fig tree, and none shall make them afraid; for the mouth of the LORD of hosts hath spoken it'' (Mic 4:3,4).
A temple will again stand in old Jerusalem. If you study carefully Ezekiel 40 through 49, you will learn about this magnificent edifice. The glory of the Lord will fill that place, and people of all nations will come to it. Micah predicted,
Many nations shall come, and say, Come, and let us go up to the mountain of the LORD, and to the house of the God of Jacob (Mic 4:2).
Zechariah delivered this additional prophecy:
And it shall be, in that day, that living waters shall go out from Jerusalem;
half of them toward the former sea, and half of them toward the hinder sea;
in summer and in winter shall it be.
And the LORD shall be king over all the earth;
in that day shall there be one LORD, and His name one.
And it shall come to pass that everyone that is left of all the nations which came against Jerusalem shall even go up from year to year to worship the King, the LORD of hosts, and to keep the feast of tabernacles. (Zech 14:8,9,16).
FROM KINGS TO PROPHETS--
How tragic the change! Chapter 10 tells of Solomon and all his glory. Then chapter 11 tells of Solomon's sin, chronicles the beginning of the rebellion by Jeroboam, and records Solomon's death. The division of the kingdom and fall into idolatry soon followed. We naturally wonder why. The answer, of course, is that fallen man spoils everything he touches.
From this point onward, the Lord God no longer revealed Himself primarily to kings; rather, He turned to the prophets. From 1Kings 11 to the beginning of the New Testament, God spoke to His people primarily through these specially chosen men.
ELIJAH--
The experiences of Elijah the prophet give us a challenge for today, for he was active in a time of apostasy. The end of our age will also be marked by apostasy, so a study of the evil men of Elijah's day will tell us what may be expected. The same conditions exist now as did then. [King] Ahab had married Jezebel. This wicked woman introduced Baal worship and other forms of idolatry. Ahab was sitting in the place of authority on the throne of Israel, yet he was denying the God of Israel. Similar conditions are sometimes seen in the conduct of the religious leaders of our day.
In 1Kings 18 we read of two prophets, Obadiah and Elijah. Obadiah feared the Lord and fed the prophets of God who were hiding in a cave. But he lived in the house of Ahab, a compromising position! Ahab never spoke a word against Obadiah. But concerning Elijah, the wicked king said, ''Art thou he who troubleth Israel?'' (18:17). Elijah did not shrink from a confrontation with Ahab. God's exoneration of Elijah took place on Mount Carmel, and that prophet became the instrument of God's judgment upon the the prophets of both Baal and the groves [ie., places of worship to multiple idols].
PRACTICAL TRUTH--
In 1Kings, one truth looms large on the horizon: a government that leaves God out, whether dictatorship or democracy, is doomed to failure. Government by man always ends in disorder. Yet even though the thrones of earth disintegrate, the throne of heaven will abide forever.
Precept Ministry International 1-800-763-8280
Click discussion of the value of Inductive Study
Download Lesson 1 of Precept Inductive Course on Samuel, Kings and Chronicles
Links below to lectures related to 1Kings study
(Click here for other teacher helps related to 1Kings)
See also studies on Elijah and Elisha
Illustrations, Outlines, Anecdotes, Expositions, Homiletics, Commentary
Calvary Chapel, Green Bay
Calvary Baptist, Well Done Notes
Click for brief critique
ROBERT JAMIESON, A. R. FAUSSET AND DAVID BROWN. Published 1871 - A generally excellent commentary
Spurgeon's Comment: "Of this I have a very high opinion. It is the joint work of Mr. Jamieson, A. R. Fausset, and Dr. David Brown. It is to some extent a compilation and condensation of other men's thoughts, but it is sufficiently original to claim a place in every minister's library; indeed it contains so great a variety of information that if a man had no other exposition he would find himself at no great loss if he possessed this and used it diligently."
Written for the LifeWay Explore the Bible Sunday School curriculum
Find Your Focus (1 Kings 1:1-9:9)
Guard Your Focus (1 Kings 9:10-16:28)
Keep Your Focus (1 Kings 16:29-22:53)
Warren W. Wiersbe - If you can locate the six-volume edition of the Expositor's Bible, buy it immediately! It takes up less space than the original fifty-volume set, and not everything in the original set is worth owning. Samuel H. Kellogg on Leviticus is a classic; so is Alexander Maclaren on the Psalms and on Colossians. (A Basic Library for Bible Students)
Cyril J. Barber - This set, originally published in 1903, contains expositions by both conservative and liberal theologians. The most important works are by Dod (Genesis), Chadwick (Exodus and Mark), Kellogg (Leviticus), Blaikie (Joshua, I and II Samuel), Adeney (Ezra, Nehemiah and Esther), Maclaren (Psalms), Moule (Romans), Findlay (Galatians and Ephesians), Plummer (Pastoral Epistles and the Epistles of James and Jude), and Milligan (Revelation.) (The Minister's Library)
Conservative, Evangelical, Millennial Perspective
1 Kings 17:14 Dwindling Resources
The barrel of meal shall not be used up, neither shall the cruse of oil fail. 1 Kings 17:14

At some point in life most of us face the problem of dwindling resources. The story of the widow of Zarephath should encourage us to trust the Lord to supply our needs at all times.

H. A. Ironside told of a Christian widow who lived in Scotland. With several "bairns" in the home, it was extremely difficult for her to provide food and clothing for her household. Through it all, she lived close to the Lord and lovingly taught her children to put their confidence in Him. The day finally came when the purse was empty and the pantry depleted. Only a handful of flour remained in the big barrel. The mother reached down into the container to scrape up the last bit in order to make some bread for her hungry little ones. As she bent over the barrel, her faith began to waver and she could hold back the tears no longer. Her little son Robbie heard her sobs and began tugging at her dress till she lifted her head and looked into his questioning eyes. In his Scottish dialect he asked, "Mither, what are ye weepin' aboot? Dinna God hear ye scrapin' the bottom o' the barrel, Mither?" Ironside said, "In a moment her failing faith reasserted itself. Ah yes, God did hear. All else might be gone but He remained, and His Word declared that her every need would be supplied."

Our Daily Bread, P.R.V., Wednesday, February 25
1 & 2 Kings; 1 & 2 Chronicles
See Also Ironside's Notes on Select Chapters
James Rosscup - "Keil, C. F. and Franz Delitzsch. Commentary on the Old Testament. 25 volumes. Grand Rapids: Eerdmans, 1950. This is the best older, overall treatment of a critical nature on the Old Testament Hebrew text verse by verse and is a good standard work to buy. The student can buy parts or the whole of this series. Sometimes it is evangelical, at other times liberal ideas enter." (Commentaries for Biblical Expositors: An Annotated Bibliography of Selected Works)
Spurgeon's Comments on Kitto: "Then, of course, gentlemen, you will economize rigidly until you have accumulated funds to purchase Kitto's Pictorial Bible. You mean to take that goodly freight on board before you launch upon the sea of married life. As you cannot visit the Holy Land, it is well for you that there is a work like the Pictorial Bible, in which the notes of the most observant travellers are arranged under the texts which they illustrate. For the geography, zoology, botany, and manners and customs of Palestine, this will be your counselor and guide… A work of art as well as learning."
Spurgeon comments-"Should always be consulted… Exceeding meritorious. Refer to it frequently… They are not exactly a commentary, but what marvelous expositions you have there! You have reading more interesting than any novel that was ever written, and as instructive as the heaviest theology. The matter is quite attractive and fascinating, and yet so weighty, that the man who shall study these volumes thoroughly, will not fail to read his Bible intelligently and with growing interest."
Lutheran Perspective
Spurgeon - "It must have cost great effort to make the homiletical part of this volume as good as it is. It is a treasury to the preacher, and is all the more precious because we have next to nothing upon the books of the Kings."
Spurgeon's Comments on Lange's Series: "These volumes are not all of equal value, but as a whole, they are a grand addition to our stores. The American translators have added considerably to the German work, and in some cases these additions are more valuable than the original matter. For homiletical purposes these volumes are so many hills of gold, but, alas, there is dross also, for Baptismal Regeneration and other grave errors occur… We are very far from endorsing all Zöckler's remarks." (Caveat: Be a Berean - Acts 17:11)
These are Mp3's 
(Also two from Our Daily Walk**)
Devotional and Practical
An annual $50 or monthly $5 subscription (click here) is required to view the entire article but will give you access to literally thousands of conservative articles. Click the following links to search by topic, author, or bible reference.
Examples of articles you can access:
Challies rates Dale Ralph Davis book #1 - Click for an except of his comments on first chapter of 1 Kings Commentary Below are the "Contents" from Davis' book which have interesting titles outlining 1 Kings…
Part 1: The Golden Age 1 Kings 1–11
1. Kingdom, Kingdom, Who's Got the Kingdom? (1 Kings 1:1-53)

2. How Can a Kingdom Be Safe? (1 Kings 2:1-46)

3. To Have a Hearing Heart (1 Kings 3:1-28)

4. The Wisdom Regime (1 Kings 4:1-34)

5. House Plans (1 Kings 5:1-18)

6. Construction Report (1 Kings 6:1-38)

7. Interior Decorating (1 Kings 7:1-51)

8. What God Has Joined Together (1 Kings 8:1-66)

9. Surveying the Construction (1 Kings 9:1-28)

10. A Light to the Nations (1 Kings 10:1-29)

11. You Have Left Your First Love (1 Kings 11:1-43)
Part 2: The Torn Kingdom 1 Kings 12–2 Kings 17
12. Kingdom Crud (1 Kings 12:1–24)

13. Bootleg Religion (1 Kings 12:25–33)

14. A Tale of Two Prophets (1 Kings 13)

15. The Beginning Has Been the Beginning of the End (1 Kings 14:1–20)

16. A Lamp in Jerusalem (1 Kings 14:21–15:24)

17. Evil Men in the Hand of a Good God (1 Kings 15:25–16:7)

18. We Three Kings (1 Kings 16:8–28)

19. Antichrist Casts His Shadow (1 Kings 16:29–17:1)

20. The Beginning of a God War (1 Kings 17:2–16)

21. Dare We Trust God? (1 Kings 17:17–24)

22. Will the Real God Please Stand Up? (1 Kings 18:1–40)

23. In Prayer and on the Run (1 Kings 18:41–46)

24. Shall the Psychotherapists Win? (1 Kings 19:1–18)

25. Leaving the Farm (1 Kings 19:19–21)

26. Getting Clear about God (1 Kings 20:1-43)

27. Getting Clear about God's Justice (1 Kings 21:1-29)

28. Getting Clear about God's Word (1 Kings 22:1–40)

29. The Folly and the Folly (1 Kings 22:41–53)
CYRIL BARBER - recommendations from his book The Minister's Library Volume 2 & Volume 3
Barber, Cyril John. The Books of Kings 2 Eugene, OR: Wipf & Stock, 2004. "A plain, highly readable study that pastors, college students, seminarians, and lay people will find helpful."
DeVries, Simon J. 1 Kings. Word Biblical Commentary. Waco, Tex.: Word Books, 1985. A capable, reasonably conservative treatment of the text. The introduction is most helpful, and the bibliographies are exceedingly valuable. Though pastors will find the critical issues discussed of marginal worth, this is the best commentary on 1 Kings to be produced in many years.
Dilday, Russell H. One [and] Two Kings. The Communicator's Commentary. Waco, TX: Word Books, 1987. A well-articulated commentary. The Introduction is brief and to-the-point. Dilday sees the purpose of these book as illustrating the "Sovereign Lord of History using men and nations to work out his redemptive purposes." Throughout there is evidence of the author's wide reading. Prominence is given, however, to liberal and Baptist writers (a strange mix when one considers the historic roots of the Southern Baptist movement). The comments on the text are very brief. While the chapters are well-written, they lack a homiletic outline. They do follow the text, and Dilday's rhetorical acumen is evident on every page.
Ellul, Jacques. The Politics of God and the Politics of Man. Grand Rapids: Wm. B. Eerdmans Publishing Co., 1972. Basing his political theory on the fact that the problems of our times are theological and not sociological, the writer shows from a study of 2 Kings how God has provided a blueprint for selfgovernment in the Bible. Rewarding reading.
Farrar, Frederick William. The First Book of Kings. Minneapolis: Klock & Klock Christian Publishers, 1981. A thorough and delightful exposition of this history of Israel from Solomon to Elijah. In places it manifests an unwise dependence on the LXX and follows some higher critical theories in vogue at the time.
*_______ The Second Book of Kings. Minneapolis: Klock & Klock Christian Publishers, 1981. Treats Israel's history from the ascension of Elijah to the deportation of Judah. Remains one of the most satisfactory works for the expository preacher.
Gray, John. I and II Kings: A Commentary. Old Testament Library. 2d ed. rev. Philadelphia: Westminster Press, 1971. †An expansion and revision of the writer's earlier commentary. Includes a vast amount of archaeological and exegetical material, covers every significant verse, and makes a valuable though critical contribution to the study of these books.
Jones, Gwilynm H. 1 and 2 Kings. 2 vols. Grand Rapids: Wm. B. Eerdmans Publishing Co., 1984. Capably introduced. Carefully attends to the history, customs, culture, and etymology of Hebrew words. Deals adequately with the text of these two books. Helpful.
*Kirk, Thomas, and George Rawlinson. Studies in the Books of Kings. 2 vols. in 1. Minneapolis: Klock & Klock Christian Publishers, 1983. It is difficult to refrain from speaking eloquently of the value of this work. Kirk's handling of the life of Solomon (1 Kings 1-9) is done so well that it suggests messages by the score and provides, in addition, pertinent areas of application. It is instructive as well as revealing, edifying, and also enlightening. And Rawlinson's handling of the remainder of 1 Kings 10-2 Kings 25 provides one of the finest syntheses of biblical history (set against the background of the ancient Near East) that has ever been written. Rawlinson's chronology is lacking, but this in itself is not sufficient to condemn his work to oblivion. The chronology of other similar treatises was also faulty up to the time Thiele produced his Mysterious Numbers of the Hebrew Kings. Any deficiencies, therefore, can easily be corrected by checking Rawlinson against Thiele. What is important is that here we have a work that makes the OT come alive.
Long, Burke O. Second Kings. Forms of the Old Testament Literature. Grand Rapids: Wm. B. Eerdmans Publishing Co., 1991. Walter Bruggemann wrote of this book, "Long has written a shrewd, discerning, and comprehensive study that will become an enduring point of reference for future study. It is evident that Long knows all the literature in a thorough and masterful way. He is, moreover, intentional about method, and works his method with power and insight.... The focal point of his study is form analysis ... [and] in his case the study of the text spills over, well beyond form criticism into a wealth of analytic and interpretive insight. His book is a model for mobilizing detail into a sensible and illuminating whole."
Nelson, Richard D. First and Second Kings. Interpretation, a Bible Commentary for Teaching and Preaching. Atlanta: John Knox Press, 1987. Examines the Books of Kings, treating the text as theological literature. Emphasizes the literary impact this work had when it was first released. Disregards the inspiration and authority of the text in favor of its canonical importance. Deftly draws readers into an examination of the text.
Wallace, Ronald S. Readings in I Kings: An Interpretation Arranged for Personal and Group Bible Study, with Questions and Notes. Grand Rapids: Wm. B. Eerdmans Publishing Co., 1995. "In this concise, practical commentary on I Kings, Wallace succeeds in giving 'fresh thoughts fresh clothing.'... He draws readers into biblical characters' lives ... and his love for the Bible is evident as he bridges the centuries to show each stories' modern practicality. He sees 'persons like ourselves in situations that we can easily match with our own today,' and he pulls no punches exposing their human foibles and weaknesses."--Bookstore Journal.
*Whitcomb, John Clement, Jr. Solomon to the Exile: Studies in Kings and Chronicles. Grand Rapids: Baker Book House, 1971. An ideal book for discussion groups. Recreates the OT setting, graphically depicts the cause of decline in Israel and Judah, and draws valid lessons from these incidents that are applied to the needs of the present.
BAKER'S EVANGELICAL DICTIONARY (and other Bible dictionaries)
Defender's Study Bible - Excellent, conservative, literal study Bible notes from a leading creationist commentator, Dr Henry Morris. See links to notes in right margin.
NET Study Bible - Excellent resource, includes NETBible notes and Thomas Constable's notes that synchronize with the Scriptures.
A Chronological Daily Bible Study of the Old Testament- 7-Day Sections with a Summary-Commentary, Discussion Questions, and a Practical Daily Application
Outline of 1 and 2 Kings
Since the division of 1 and 2 Kings arbitrarily takes place in the middle of the narrative concerning King Ahaziah in Israel, the following outline is for both 1 and 2 Kings.
I. The United Kingdom: The Reign of Solomon (1 Kings 1:1–11:43)
A. The Rise of Solomon (1 Kings 1:1–2:46)

B. The Beginning of Solomon's Wisdom and Wealth (1 Kings 3:1–4:34)

C. The Preparations for the Building of the Temple (1 Kings 5:1–18)

D. The Building of the Temple and Solomon's House (1 Kings 6:1–9:9)

E. The Further Building Projects of Solomon (1 Kings 9:10–28)

F. The Culmination of Solomon's Wisdom and Wealth (1 Kings 10:1–29)

G. The Decline of Solomon (1 Kings 11:1–43)
II. The Divided Kingdom: The Kings of Israel and Judah (1 Kings 12:1–2 Kings 17:41)
A. The Rise of Idolatry: Jeroboam of Israel/Rehoboam of Judah (1 Kings 12:1–14:31)

B. Kings of Judah/Israel (1 Kings 15:1–16:22)

C. The Dynasty of Omri and Its Influence: The Rise and Fall of Baal Worship in Israel and Judah (1 Kings 16:23–2 Kings 13:25)

1. The introduction of Baal worship (1 Kings 16:23–34)

2. The opposition of Elijah to Baal worship (1 Kings 17:1–2 Kings 1:18)

3. The influence of Elisha concerning the true God (2 Kings 2:1–9:13)

4. The overthrow of Baal worship in Israel (2 Kings 9:14–10:36)

5. The overthrow of Baal worship in Judah (2 Kings 11:1–12:21)

6. The death of Elisha (2 Kings 13:1–25)
D. Kings of Judah/Israel (2 Kings 14:1–15:38)

E. The Defeat and Exile of Israel by Assyria (2 Kings 16:1–17:41)
III. The Surviving Kingdom: The Kings of Judah (2 Kings 18:1–25:21)
A. Hezekiah's Righteous Reign (2 Kings 18:1–20:21)

B. Manasseh's and Amon's Wicked Reigns (2 Kings 21:1–26)

C. Josiah's Righteous Reign (2 Kings 22:1–23:30)

D. The Defeat and Exile of Judah by Babylon (2 Kings 23:31–25:21)
IV. Epilogue: The People's Continued Rebellion and the Lord's Continued Mercy (2 Kings 25:22–30)
The Kings of Israel and Judah
United Kingdom
Saul
1 Samuel 9:1–31:13; 1 Chronicles 10:1–14
David
2 Sa; 1 Kings 1:1–2:9; 1 Chronicles 11:1–29:30
Solomon
1 Kings 2:10–11:43; 2 Chronicles 1:1–9:31
Northern Kingdom (Israel)
Jeroboam I
1 Kings 12:25–14:20
Nadab
1 Kings 15:25–31
Baasha
1 Kings 15:32–16:7
Elah
1 Kings 16:8–14
Zimri
1 Kings 16:15–20
Tibni
1 Kings 16:21, 22
Omri
1 Kings 16:21–28
Ahab
1 Kings 16:29–22:40

1 Kings 22:51–53; 2 Kings 1:1–18

Jehoram; Joram
2 Kings 2:1–8:15
Jehu
2 Kings 9:1–10:36
Jehoahaz
2 Kings 13:1–9
Jehoash; Joash
2 Kings 13:10–25
Jeroboam II
2 Kings 14:23–29
Zechariah
2 Kings 15:8–12
Shallum
2 Kings 15:13–15
Menahem
2 Kings 15:16–22
Pekahiah
2 Kings 15:23–26
Pekah
2 Kings 15:27–31
Hoshea
2 Kings 17:1–41
Southern Kingdom (Judah)

1 Kings 12:1–14:31; 2 Chronicles 10:1–12:16

Abijam (Abijah)
1 Kings 15:1–8; 2 Chronicles 13:1–22
Asa
1 Kings 15:9–24; 2 Chronicles 14:1–16:14
Jehoshaphat
1 Kings 22:41–50; 2 Chronicles 17:1–20:37
Jehoram; Joram
2 Kings 8:16–24; 2 Chronicles 21:1–20
Ahaziah
2 Kings 8:25–29; 2 Chronicles 22:1–9
Athaliah (Queen)
2 Kings 11:1–16; 2 Chronicles 22:1–23:21
Jehoash; Joash
2 Kings 11:17–12:21; 2 Chronicles 23:16–24:27
Amaziah
2 Kings 14:1–22; 2 Chronicles 25:1–28
Uzziah (Azariah)
2 Kings 15:1–7; 2 Chronicles 26:1–23

2 Kings 15:32–38; 2 Chronicles 27:1–9

Ahaz
2 Kings 16:1–20; 2 Chronicles 28:1–27
Hezekiah
2 Kings 18:1–20:21; 2 Chronicles 29:1–32:33
Manasseh
2 Kings 21:1–18; 2 Chronicles 33:1–20
Amon

2 Kings 21:19–26; 2 Chronicles 33:21–25

Josiah
2 Kings 22:1–23:30; 2 Chronicles 34:1–35:27
Jehoahaz
2 Kings 23:31–33; 2 Chronicles 36:1–4
Jehoiakim
2 Kings 23:34–24:7; 2 Chronicles 36:5–8
Jehoiachin
2 Kings 24:8–16; 2 Chronicles 36:9, 10
Zedekiah
2 Kings 24:18–25:21; 2 Chronicles 36:11–21
Excerpt - How do I apply this? Solomon was known as the wisest man of his day. He was arguably the wealthiest man of his time. He enjoyed God's favor in many ways, yet his legacy is tarnished by the faithlessness he displayed in his later years. In direct contradiction to God's command for a king not to "multiply wives" (Deuteronomy 17:17), Solomon married many foreign women. First Kings laments, "When Solomon was old, his wives turned his heart away after other gods" (1Ki 11:4). Solomon began to rely on his fortune, his military might, and his political alliances instead of the God who gave all of those blessings to him. He focused on the gifts, forgetting the Giver. How often do you do the same? Are there any direct commands from God you are ignoring? Today, take time to recall the blessings in your life, and then thank the Lord for them. Rely on Him, not your possessions or position, as your source of strength and significance. Some trust in chariots and some in horses, but we trust in the name of the LORD our God. (Psalm 20:7NIV)
These are excellent maps with events marked on many of the maps
The Kingdom of David and Solomon
The Kingdoms of Israel and Judah
Judah Alone amid International Powers
The Babylonian Exile
NETBible notes are in the right panel. You can also select the tab for "Constable's Notes." As you scroll the Bible text in the left panel, the notes are synchronized and will scroll to the same passage. This is a very helpful feature.
Click here for on site Our Daily Bread devotionals Updated December 25, 2015
Peninsula Bible Church
Notes below similar to C2000 Series
OUTLINE & REFERENCES
NOTES ON THE TEXT
1 Kings 1
1 Kings 2
1 Kings 3
1 Kings 4
1 Kings 5
1 Kings 6
1 Kings 7
1 Kings 8
1 Kings 9
1 Kings 10
1 Kings 11
1 Kings 12
1 Kings 13
1 Kings 14
1 Kings 15
1 Kings 16
1 Kings 17
1 Kings 18
1 Kings 19
1 Kings 20
1 Kings 21
1 Kings 22
Peninsula Bible Church
Book