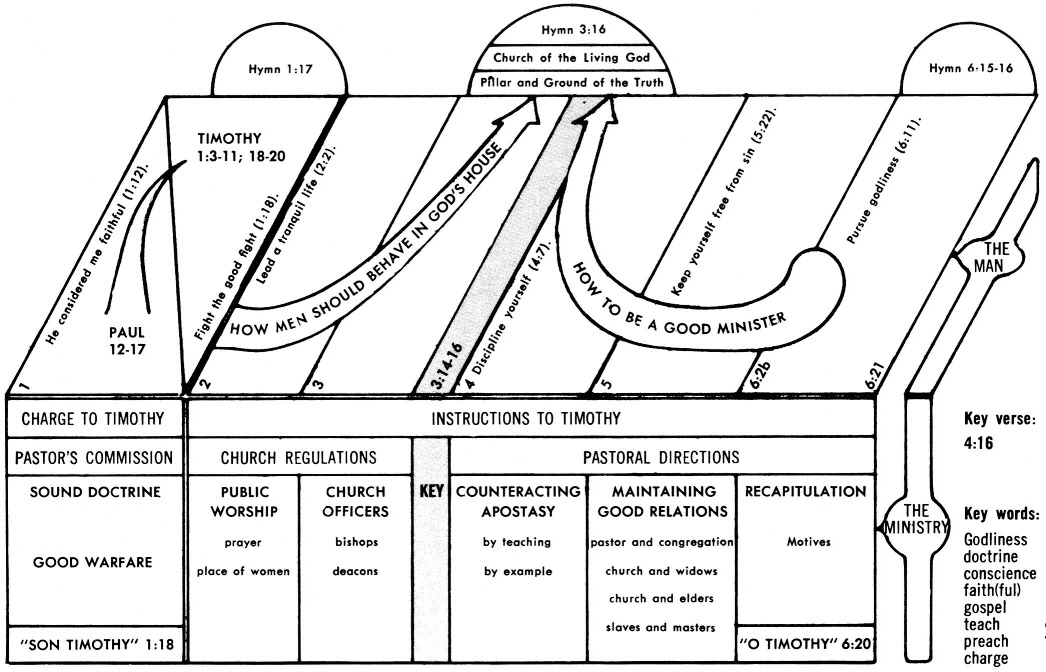 GODLINESS AND PASTORAL CARE
Click chart to enlarge
Charts from Jensen's Survey of the NT - used by permission
Another Overview Chart - 1 Timothy - Charles Swindoll
Another Overview Chart
THE PASTOR'S PRIMER:
PAUL'S PRACTICAL PASTORAL
INSTRUCTIONS REGARDING THE LOCAL CHURCH
1 Timothy 1
1 Timothy 2-3
1 Timothy 4
1 Timothy 5
1 Timothy 6
TIMOTHY'S
CHARGE…
TIMOTHY'S
INSTRUCTIONS…
Concerning
Sound
Doctrine
Concerning
Prayer
& Church
Concerning
Last Days
Apostasy
Concerning
Widows
& Elders
Concerning
Conflict &
Contentment
Danger of
False Doctrine
Public Worship
Church Officers
Antidote
for Apostasy
Pastoral Duties
Toward Others
Instructions for
the Man of God
Warning
Worship
Wisdom
Widows
Wealth
Written in Macedonia
Circa 62-64AD
Key Verses:1Ti 3:15-16, 1Ti 6:11, 1Ti 6:12
Godliness (1Ti 2:2, 2:10, 3:16, 4:7, 4:8, 6:3, 5, 6, 11,
Doctrine (1Ti 4:6, 6:1, 6:3),
Sound (1Ti 1:10, 4:6, 6:3),
Conscience (1Ti 1:5, 19, 3:9, 4:2),
Faith/faithful (20x),
Gospel (1Ti 1:11),
Preach (1Ti 2:7, 3:16, 5:17, 6:2),
Charge (In KJV) (1Ti 1:3, 18, 5:7, 16, 5:21, 6:13, 17).
Introduction: 1 Timothy-MacArthur Study Bible
Purpose of this Epistle: 1Ti 3:15 states "I write so that you may know how one ought to conduct himself in the household of God, which is the church of the living God, the pillar and support of the truth." Gaebelein writes "The epistle therefore contains practical and important instructions on the order which is to be maintained in the church, as the house of God… Pure doctrine, pure worship and a faithful ministry are the leading thoughts of this pastoral letter, but he also enters into the godly conduct of the individuals which are in the church of the living God. Blessed instructions!"
The Gnomon of the New Testament
Short Pithy Comments
Index to Mt-Rev Chapter by Chapter
C H Spurgeon wrote that Bengel's NT commentary "is the Scholar's delight! Bengel condensed more matter into a line than can be extracted from pages of other writers."
The New Testament for English Readers
Index to Mt-Rev Chapter by Chapter
Hint: Do a "control + find" when you open a "hit" and search 1Ti as well as the full name.
This may take some practice but is guaranteed to yield some "gems"!
Recommended Resource
For best results, be as specific as possible.
<> The old functionality to search by book. still exists. Just type in the book only (like: John or Gen. standard abbreviations are accepted) and you will get the same functionality as the old site.

<> You can also search by chapter like: John 1 or Gen. 2

<> You can also search by simple or complex references like: James 1:2 or Hebrews 1:1-3,6; 5:4
Spurgeon's assessment of Fairbairn's pastoral epistles: "What with a good translation, full defense of the Apostolic authorship of the Epistles, fruitful comments, and profitable dissertations, this volume is about as complete a guide to the smaller epistles as one could desire." (From Spurgeon's Commenting on Commentaries - Pastoral Epistles) (Fairbairn is amillennial)
Another Source - Allows copy and paste
Holman Christian Standard Bible -Study Bible (HCSB Study Bible) - Enter Scripture. Study notes synch with Scripture. Mouse over underlined words pops up the Greek or Hebrew word. Activate this feature by selecting the "Alpha & Omega" Icon on bar above the Scripture. The HCSB is a very well done, literal translation.
Defender's Study Bible - Excellent, conservative, literal study Bible notes from a leading Creationist. Instructions: (1) Enter book name and chapter. (2) Select "Only the Defender's Notes". (3) Press "Search". Additional Notes: (a) Books that begin with a number (eg. 1, 2 Timothy, etc) must have a space between the number and name (e.g., "2 Timothy 1" retrieves hits but "2Timothy 1" returns no results). (b) Searches of first chapter of any book will also retrieve Dr Morris' introductory comments on that book.
Comment: Comment: These are more technical notes on the New English Translation, but often yield some very useful insights. The NET Bible is synchronized with the NET Notes, Constable's Commentary, relevant articles on the Bible.org website and 10 parallel translations. Here are some basic instructions on how to use the free online NETBible Notes - First click this link (you may want to open in a new window to follow the instructions - Hold you pointer over this link and click your Right Mouse button to open menu - choose "Open in New Window"). First notice that at the top there a tab or box labeled "Matthew 1". Click the down arrow on the left side, select book and then the chapter of interest. The Scripture opens to that Book and Chapter and the NETBible Notes automatically synch with the Scripture. Note that instead of the NETBible notes you can select Constable's Notes which also automatically synch as you scroll down the NETBible Scriptures. Click on the Grk/Heb tab and hold your pointer over the Greek (or Hebrew) words to highlight the English word in the NETBible (or hold pointer over the English word to see the corresponding Greek/Hebrew word). The Articles tab also synchronizes with the NETBible and retrieves articles found at Bible.org that mention the NETBible verse you are studying. You can increase or decrease the font size by holding down your Control Key and scrolling your Mouse wheel up or down. Now double click on a word like "Abraham" in 1:2 and note that you have a choice to view one of several dictionary articles on Abraham. Notice also that when you click on Abraham, the Articles tab automatically looks up articles that contain that specific chapter/verse (in this case Mt 1:2NET). Finally, click the "Parallel" tab to compare 10 different Bible translations! There is more but this should get you started!
NOTE: If you are not familiar with the great saint Charles Simeon see Dr John Piper's discussion of Simeon's life - you will want to read Simeon's sermons after meeting him! - click Brothers We Must Not Mind a Little Suffering (Mp3 even better)
1 Timothy 4:15
True Heart Energy - "Meditate upon these things, give thyself wholly tothem; that thy profiting may appear to all."
THIS is, practically, a promise that, by diligent meditation and the giving up of our whole mind to our work for the Lord, we shall make a progress which all can see. Not by hasty reading, but by deep meditation, we profit by the Word of God. Not by doing a great deal of work in a slovenly manner, but by giving our best thought to what we attempt, we shall get real profit. "In all labor there is profit," but not in fuss and hurry without true heart energy.
If we divide ourselves between God and mammon, or Christ and self, we shall make no progress. We must give ourselves wholly to holy things, or else we shall be poor traders in heavenly business; and at our stock-taking, no profit will be shown.
Am I a minister? Let me be a minister wholly, and not spend my energies upon secondary concerns. What have I to do with party politics, or vain amusements? Am I a Christian? Let me make my service of Jesus my occupation, my lifework, my one pursuit. We must be in-and-in with Jesus, and then out-and-out for Jesus, or else we shall make neither progress nor profit, and neither the church nor the world will feel that forceful influence which the Lord would have us exercise.
Book