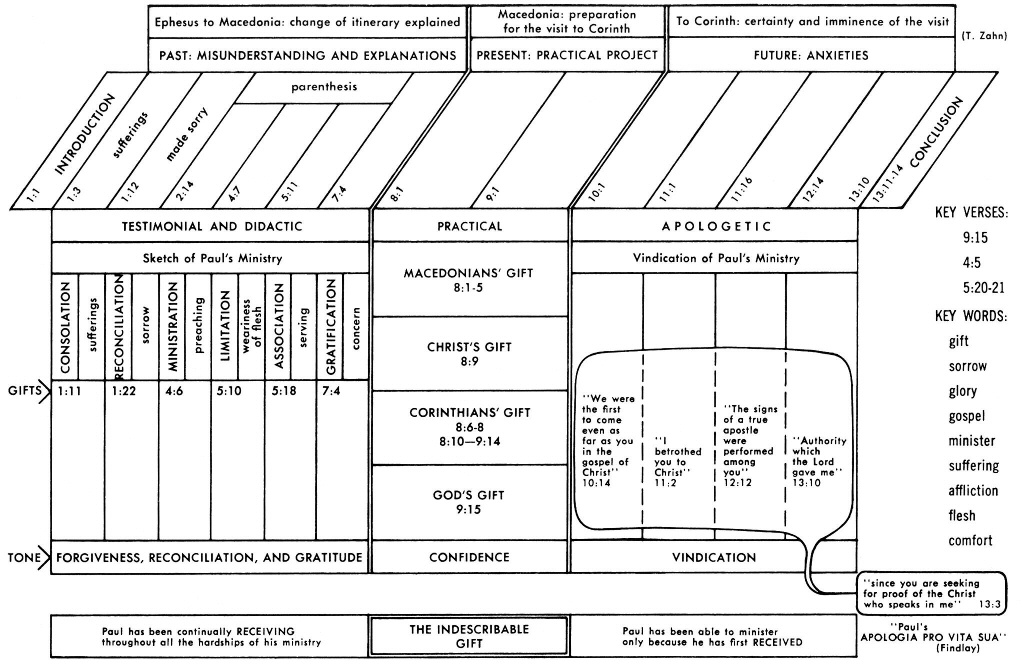 2 CORINTHIANS - PAUL'S MINISTRY IN THE LIGHT OF THE INDESCRIBABLE GIFT
Click chart to enlarge
Charts from Jensen's Survey of the NT - used by permission
Another Overview Chart - Second Corinthians - Charles Swindoll
Another Overview Chart
INTRODUCTORY THOUGHTS
2 CORINTHIANS
CITY OF CORINTH - Corinth was the capital of Achaia and located 40 miles west of Athens on the narrow isthmus connecting Peloponnese (on the south) with northern mainland of Greece (all uses of "Corinth" - Acts 18:1; 19:1; 1 Cor. 1:2; 2 Cor. 1:1, 23; 2 Tim. 4:20). Corinth was located between the Aegean and Adriatic Seas (see map below) and was a port city about five miles in circumference just south of the sharply rising 2000 foot Acrocorinth (see picture and see map "G") from which Athens could be seen on a clear day.  The Temple of Aphrodite (Roman = Venus) was located on the Acrocorinth and housed the 1000 "priestesses" employed as hierodouloi (from hieros = consecrated to deity +  doulos = bondservants) who served as temple prostitutes to facilitate idolatrous "worship" (cf "sacred prostitution"). As an aside it is notable that Scripture often associates sexual immorality (porneia) with idolatry (eidololatreia) (cf 1 Cor 5:11, 6:9, Eph 5:5-note, Rev 2:20-note, Rev 21:8-note). And remember that Paul also associated idolatry with covetousness writing that "greed...amounts to idolatry." (Col 3:5-note, Eph 5:5-note) Worship at the temple involved sexual encounters with these "priestesses" and this attracted "worshipers" from all across the Roman world. It is even recorded that the sandals of these notorious priestesses of Aphrodite were studded with an imprint that spelled our "Follow me" in the dust of the street (What a contrast with Jesus' call to "Follow Me" - Mt 4:19)! One cannot help but think of similar seductive pictures found on the internet even on seemingly innocent sites such as news pages! Clearly this illicit "worship" was a great temptation to the Christians at Corinth (just as is the internet to Christian's today!) as evidenced by Paul's exhortations and warnings in this first letter (1 Cor 5:1, 9,10, 11, 1 Cor 6:9-11, 12-17, 18, 19, 20). The immoral condition of Corinth is vividly seen in the fact that the Greek term (coined by Aristophanes) Korinthiazomai (lit., to act the Corinthian) came to mean "to practice fornication." Aleiphro wrote "I did not enter Corinth after all, for I learned in a short time the sordidness of the rich there and the misery of the poor." 
"Ships wanting to avoid the dangerous trip around the southern tip of Greece were dragged across that isthmus. The city boasted an outdoor theater that accommodated 20,000 people (See reconstruction of Corinth circa A D 100), athletic games second only to the Olympics, a Greek, Roman, and Oriental population....There were taverns on the south side of the marketplace, and many drinking vessels have been dug up from those liquor lockers. Corinth was noted for everything sinful." (Charles Ryrie) Every shop in the city had a deep, spring-fed well in which to cool containers of wine. Strabo wrote that "All the people of Corinth gorge themselves." It was even customary in stage plays for actors to come on stage drunk.
In the picture below note the agora which was the city's marketplace and the Bema which was the judgment seat. Corinth had an extensive commerce, like all the large towns on the Mediterranean Sea, and became celebrated for its wealth, magnificence, and learning. Corinth's pottery, brass and marble for building columns were famous throughout the world. The city is now desolate with just a little village near the ancient Corinth. There is, however, a modern city of Corinth, a few miles away, with about twenty thousand inhabitants. Archaeologists have also discovered a broken lintel (part of a door) bearing the Greek description "synagogue of Hebrews."
Paul preached at Corinth about A.D. 53 for eighteen months (Acts 18:11). He paid Corinth a short second visit during the period A.D. 54–57, not mentioned specifically in Acts but implied in 1 Cor. 16:7; 2 Cor. 12:14; 13:1, where he speaks of an intended third journey to Corinth which coincides with that in Acts 20:2. He spent three winter months in Corinth (A.D. 57 and 58), during which he wrote the Epistle to the Romans (Acts 20:2, 3 [cf. 1 Cor. 16:6]; Rom. 16:1).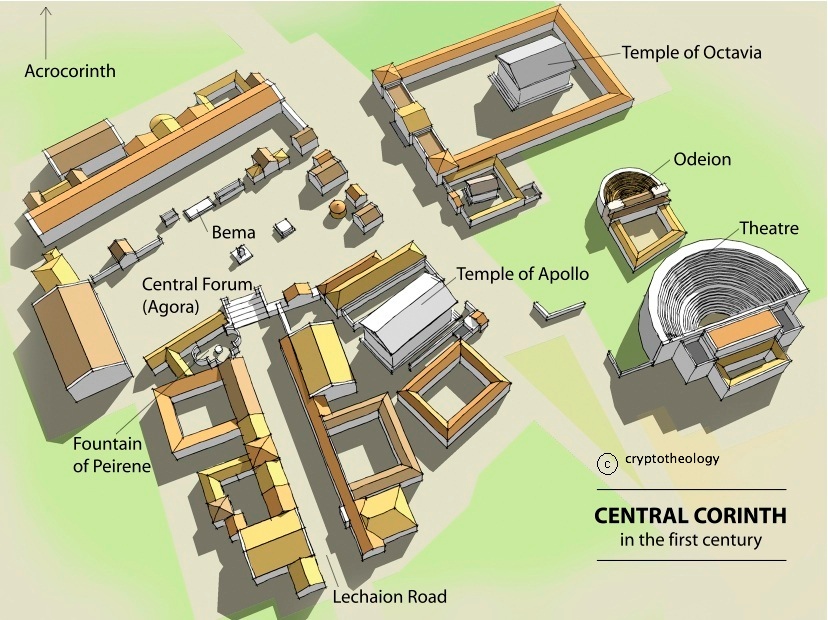 Click to Enlarge
From Cryptotheology
Kay Arthur adds that "Sin abounded in the cosmopolitan city of Corinth...The Corinthians were intrigued by Greek philosophy and captivated by the disciplined training and athletic events (see events) held at the Isthmus (see Isthmian Games). At one time the city was home to at least 12 pagan temples. The people desperately needed to hear the Good News of Jesus Christ, the One crucified for sinners. The worship ceremonies carried out by a thousand temple prostitutes connected with the temple of Aphrodite (the goddess of love) bred blatant immorality throughout Corinth....Prostitutes openly plied their "wares," and meat markets thrived on sales from the sacrifices offered in the temples. The Corinthians ate well, satisfied their sexual urges without condemnation, flirted with the wisdom of men, and did all they could to keep their bodies as beautiful as those of the Greek gods. They loved to listen to great orators. For the 250,000 citizens (not slaves) there were almost two slaves per person (Ed: Therefore the total population was about 700,000). What more did Corinth need? Freedom! Freedom from sin and death. God met that need by blocking Paul at every hand on his second missionary journey (cf Acts 16:6, 7, 8) until he received the Macedonian call "Come and help us." (Acts 16:9) After establishing the Corinthian church, Paul eventually went to Ephesus, where he stayed for three years. From there he wrote his first epistle to the Corinthian believers, who so desperately needed help and correction. It was sometime between A.D. 52 and A. D. 56." (Discover the Bible for Yourself) 
In summary, Corinth was a city with a prevalent pagan influence and a plethora of perversions (1 Cor 6:9,10) but despite these apparent obstacles to the Gospel, the Spirit enabled Paul to plant a church in the center of vice and idolatry on his Second Missionary journey (1 Cor 3:6, 10; 4:15; Acts 18:1–7).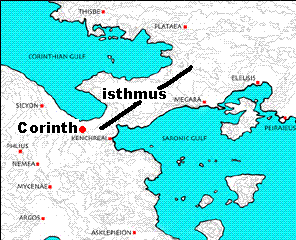 Click to enlarge
Middletown Bible
Dictionary Articles on Corinth:
COMPARISON OF
1ST AND 2ND CORINTHIANS
1 CORINTHIANS
2 CORINTHIANS
Objective
and practical
Subjective
and Personal
Insight into the Character
of an Early Church
Insight into the Character
and Ministry of Paul
Deliberate
Instruction
Impassioned
Testimony
Warns Against 
Pagan Influences
Warns Against
Judaistic Influences
From Irving Jensen
Read his fascinating brief biography - Henry Alford and Phil Johnson's related comments
James Rosscup writes that Alford's series on the New Testament "contains much that is valuable in the Greek New Testament...though all of the Greek New Testament words have been changed to English throughout." (Commentaries for Biblical Expositors: An Annotated Bibliography of Selected Works or Logos)
Charles Haddon Spurgeon (see his comments in following entry on Alford).
Editorial Note: If you are not proficient in Greek, you will find this work considerably more useful than the following work by Alford, because in this volume he translates the Greek and Latin into English. While the "The Greek New Testament" is longer (e.g., English version of 1John = 66 pages compared to Greek version = 94 pages in part because the latter includes comments of more technical nature), the substance of the commentary is otherwise similar to that found in the "NT for English Readers".
James Rosscup writes that "This was the great work in the life of the versatile Dean of Canterbury. An outcome of this production was the New Testament for English Readers (4 vols.). Alford was a Calvinist, conservative and premillennial, though not dispensational. He takes a literal interpretation of the thousand years in Rev. 20 and has a famous quote there, is strong on sovereign election as in Ro 8:29, 30 and 1Pe 1:2, but, unfortunately, holds to baptismal regeneration in such texts as Titus 3:5 and John 3:5. He shows a great knowledge of the Greek text and faces problems of both a doctrinal and textual nature." (Commentaries for Biblical Expositors: An Annotated Bibliography of Selected Works or Logos)
John Piper writes ""When I'm stumped with a...grammatical or syntactical or logical [question] in Paul, I go to Henry Alford. Henry Alford...comes closer more consistently than any other human commentator to asking my kinds of questions."
Charles Haddon Spurgeon writes that this text "is an invaluable aid to the critical study of the text of the New Testament. You will find in it the ripened results of a matured scholarship, the harvesting of a judgment, generally highly impartial, always worthy of respect, which has gleaned from the most important fields of Biblical research, both modern and ancient, at home and abroad. You will not look here for any spirituality of thought or tenderness of feeling; you will find the learned Dean does not forget to do full justice to his own views, and is quite able to express himself vigorously against his opponents; but for what it professes to be, it is an exceedingly able and successful work. The later issues are by far the most desirable, as the author has considerably revised the work in the fourth edition. What I have said of his Greek Testament applies equally to Alford's New Testament for English Readers,* which is also a standard work." (Spurgeon, C. H. Lectures to my Students, Vol. 4: Commenting and Commentaries; Lectures Addressed to the students of the Pastors' College, Metropolitan Tabernacle)
D Edmond Hiebert - Uses author's own translation. Especially valuable for the historical background material presented. Good word studies and various illustrations. (from Hiebert's critique of Barclay on Peter's epistles - "Barclay holds that Christ's descent into Hades gave those who there heard Him a second chance.")
Comment: I appreciate Barclay's unique insights on Greek words, but clearly his teaching about a "second chance" is NOT sound doctrine! Be an Acts 17:11 Berean with Barclay. See discussion of his orthodoxy especially the article "The Enigmatic William Barclay".
---
James Rosscup writes that Barnes "includes 16 volumes on the Old Testament, 11 on the New Testament. The New Testament part of this old work was first published in 1832–1851. Various authors contributed. It is evangelical and amillennial...Often the explanations of verses are very worthwhile." (Commentaries for Biblical Expositors: An Annotated Bibliography of Selected Works or Logos)
C H Spurgeon "Albert Barnes is a learned and able divine, but his productions are unequal in value, the gospels are of comparatively little worth, but his other comments are extremely useful for Sunday-school teachers and persons with a narrow range of reading, endowed with enough good sense to discriminate between good and evil....Placed by the side of the great masters, Barnes is a lesser light, but taking his work for what it is and professes to be, no minister can afford to be without it, and this is no small praise for works which were only intended for Sunday-school teachers." (Spurgeon, C. H. Lectures to my Students, Vol. 4: Commenting and Commentaries; Lectures Addressed to the students of the Pastors' College, Metropolitan Tabernacle)
Index to Mt-Rev Chapter by Chapter
James Rosscup writes "This work (Gnomon), originally issued in 1742, has considerable comment on the Greek, flavoring the effort with judicious details about the spiritual life. It has much that helps, but has been surpassed by many other commentaries since its day." (Commentaries for Biblical Expositors: An Annotated Bibliography of Selected Works or Logos)
Short Pithy Comments
C H Spurgeon -- "'A Critical New Testament, so compiled as to enable a reader, unacquainted with Greek, to ascertain the exact English force and meaning of the language of the New Testament, and to appreciate the latest results of modern criticism.' Such is the professed aim of this commentary, and the compilers have very fairly carried out their intentions. The whole of Bengel's Gnomon is bodily transferred into the work, and as one hundred and twenty years have elapsed since the first issue of that book, it may be supposed that much has since been added to the wealth of Scripture exposition; the substance of this has been incorporated in brackets, so as to bring it down to the present advanced state of knowledge. We strongly advise the purchase of this book, as it is multum in parvo, and will well repay an attentive perusal. Tischendorf and Alford have contributed largely, with other German and English critics, to make this one of the most lucid and concise commentaries on the text and teachings of the New Testament" (Spurgeon, C. H. Lectures to my Students, Vol. 4: Commenting and Commentaries; Lectures Addressed to the students of the Pastors' College, Metropolitan Tabernacle)
Click brief critique of Clarke
DAVID HOLWICK
2 Corinthians 13:11-14 A Call to Loving Maturity
2 Corinthians Commentary (Another Source)
NOTE: If you are not familiar with the great saint Charles Simeon see Dr John Piper's discussion of Simeon's life - you will want to read Simeon's sermons after meeting him! - click Brothers We Must Not Mind a Little Suffering (Mp3 even better)
Note: On some of the links you may need to scroll down the page for the sermon on that verse
AUDIOS - MP3'S
TRANSCRIPTS
SEE ALSO...
Spiritual Warfare: The Battle of Life
SEE ALSO...
2nd Corinthians: Authentic Christianity - — 30 Daily Devotionals for September
Book