Doctor Luke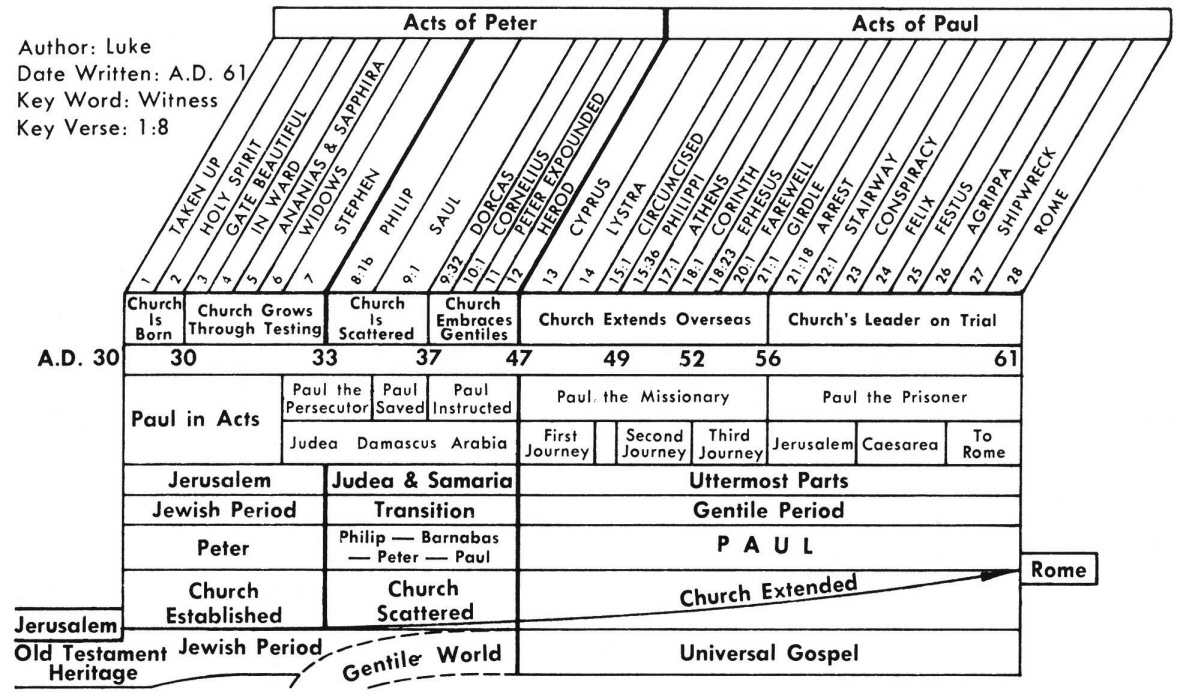 Click chart to enlarge
Charts from Jensen's Survey of the NT - used by permission
Another Chart from Charles Swindoll
Another Chart on Acts

See Maps:
Paul's First Missionary Journey - Acts 13:4-14:28
Paul's Second Missionary Journey - Acts 15:36-18:32
Paul's Third Missionary Journey - Acts 18:23-21:26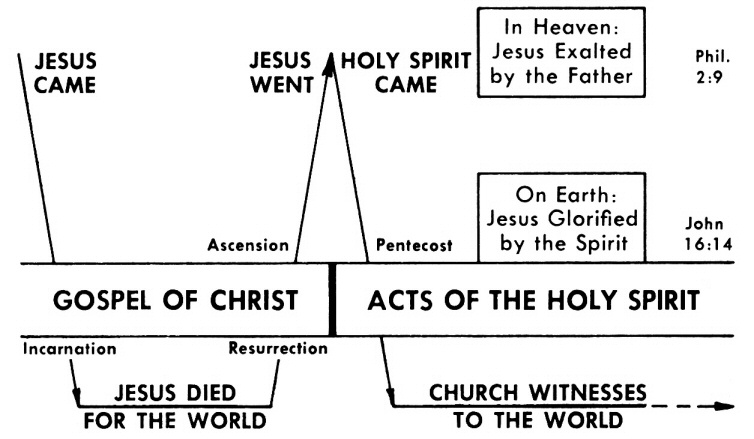 Click chart to enlarge
See Disclaimer
James Rosscup: "This work, originally out in 1857, has proved helpful to many, though it is now far out of date as to literature commenting on Acts. For many basic details verse by verse, it still is of good value and often will help on word meaning and special problems. The fact that it was reprinted is indicative of its respected place in Acts studies." (Commentaries for Biblical Expositors)
D Edmond Hiebert - An exhaustive exposition of Acts by a conservative Presbyterian scholar of the past century. Gives a precise interpretation of the text on the basis of the original. Omission of technical matters makes it suitable to the English reader.
Spurgeon: "In all respects a work of the highest merit." (Commenting on Commentaries - nice resource as it has links to all 66 books)
Read Alford's fascinating brief biography and Phil Johnson's related comments
James Rosscup writes that Alford's series on the New Testament "contains much that is valuable in the Greek New Testament… though all of the Greek New Testament words have been changed to English throughout....."This was the great work in the life of the versatile Dean of Canterbury. An outcome of this production was the New Testament for English Readers (4 vols.). Alford was a Calvinist, conservative and premillennial, though not dispensational. He takes a literal interpretation of the thousand years in Rev. 20 and has a famous quote there, is strong on sovereign election as in Ro 8:29, 30 and 1Pe 1:2, but, unfortunately, holds to baptismal regeneration in such texts as Titus 3:5 and John 3:5. He shows a great knowledge of the Greek text and faces problems of both a doctrinal and textual nature." (Commentaries for Biblical Expositors: An Annotated Bibliography of Selected Works)
John Piper writes ""When I'm stumped with a… grammatical or syntactical or logical [question] in Paul, I go to Henry Alford. Henry Alford… comes closer more consistently than any other human commentator to asking my kinds of questions."
C H Spurgeon writes that this text "is an invaluable aid to the critical study of the text of the New Testament. You will find in it the ripened results of a matured scholarship, the harvesting of a judgment, generally highly impartial, always worthy of respect, which has gleaned from the most important fields of Biblical research, both modern and ancient, at home and abroad. You will not look here for any spirituality of thought or tenderness of feeling; you will find the learned Dean does not forget to do full justice to his own views, and is quite able to express himself vigorously against his opponents; but for what it professes to be, it is an exceedingly able and successful work. The later issues are by far the most desirable, as the author has considerably revised the work in the fourth edition. What I have said of his Greek Testament applies equally to Alford's New Testament for English Readers,* which is also a standard work." (Commenting on Commentaries - excellent resource with links to all 66 books)
Editorial Note: If you are not proficient in Greek, you will find the work below more useful than the Greek Testament Critical Exegetical Commentary. 
---
Greek and Latin are translated into English. The links are to the chapters but note they are difficult to discern on many pages.
642 page commentary with frequent quotations and devotional questions for reflection. Here is a sample excerpt to give a "taste" of what you can glean from this well done commentary:
"Today we are going to begin a study of the Book of Acts and focus on the mission of the church for today. For the life of Christ we have the Synoptic Gospel accounts of Mat, Mark, Luke and John. But for the important transition time of the founding of the church and the spread of the gospel through the efforts of first Peter centered in Jerusalem and then Paul as the special Apostle to the Gentiles, we only have the one historical document of the Book of Acts. That concept of "transition time" is very important. This is a bridge period of time – the gospel of the kingdom is still being offered first to the Jews in the early chapters – there is still the presentation of the now risen and ascended Messiah to God's chosen people. There is still the offer of the coming kingdom if they will repent and embrace the promised Messiah. But there is a transition as they continue to reject (not individually, but as a nation) and now the coming of the future king will be linked to the completion of the fullness of the times of the Gentiles. As a transition book, we will see some things that are not normative for this church age. But we will also learn much from studying the initial missionary journeys about how the head of the church wants us to build His church. Key Verse: Acts 1:8 "you will receive power when the Holy Spirit has come upon you; and you shall be My witnesses both in Jerusalem; and in all Judea and Samaria, and even to the remotest part of the earth." You can outline the book along these geographic lines. Not sure how far we will take this study before we interrupt and go down a different path … but we are at least committing to the first section. Look at the contrast between the two parts of the Book

Chaps 1-12 = Jerusalem the center – Jewish focus // Peter – central figure //  Peter imprisoned 

Chaps 13-28 = Antioch the center – Gentile focus // Paul – central figure – Apostle to the Gentiles // Paul imprisoned

We should gain confidence from studying this book; we should get excited about the power of God (Ed: His Spirit) working through His people; we should learn much about witnessing; we should learn much about church methodology; we should draw closer to the person of Jesus Christ Himself as we see His continued activity right now in the world (Ed: Through His Spirit) – understanding the significance of His resurrection and ascension and current role at the right hand of God.

Title of the Book: Stott: The most accurate (though cumbersome) title, then, which does justice to Luke's own statement in verses 1 and 2, would be something like "The Continuing Words and Deeds of Jesus by his Spirit through his Apostles." Bock: "The Acts of the Sovereign God through the Lord Messiah Jesus by His Spirit on Behalf of the Way." LUKE CHRONICLES: THE ACTS OF THE RESURRECTED JESUS CHRIST PERFORMED BY HIS CHOSEN APOSTLES THROUGH THE POWER OF THE PROMISED HOLY SPIRIT."
A Series of Lessons on the Acts of the Apostles (1873) (569 pages)
Spurgeon writes "Intended to be read in families on Sabbath afternoons; but all who are acquainted with Dr. Arnot will know that even his simplest expositions are rich and full. He hath dust of gold."  (Commenting on Commentaries - excellent resource with links to all 66 books) (Millennial)
Arnot's English uses words from 1800s which are sometimes difficult to understand, but the pearls abound like this snippet from Arnot's comments on Acts 1:8 - "The Spirit is like the air. The Lord breathed on His disciples, and said, "Receive ye the Holy Ghost." We could not live our present natural life without air. The sun in the heavens would not warm us if the atmosphere were not trapped round the globe. The air is near, and the sun is distant. It is the sun's heart that sustains life; but the sun's heart could not be communicated to plants and animals without the intervention of the atmosphere. The earth is as completely dependent on air for its supply of water as for its supply of heat. The air obtains a supply from the ocean, and pours it on the dry land. Thus disciples in every age obtain grace from the Lord through the ministry of the Spirit." Amen (Page 13)
---
D Edmond Hiebert - Divides Acts into brief paragraphs, with the author's translation of the portion printed at the beginning. The comments are generally devotional in character, containing various religious and literary quotations. The author is at his best in his discriminating discussion of Greek words. The interpretation is liberal in spots. (from Hiebert's critique of Barclay on Peter's epistles - "Barclay holds that Christ's descent into Hades gave those who there heard Him a second chance."
Comment: I appreciate Barclay's unique insights on Greek words, but clearly his teaching about a "second chance" is NOT sound doctrine! Be an Acts 17:11 Berean with Barclay. See discussion of his orthodoxy especially the article "The Enigmatic William Barclay".
---
Frequent use of illustrations.
Represents Combination of Bengel's Gnomon and Comments by more modern expositors (in brackets) to make this more usable for those who do not read Greek.(1877)
See the Gnonom (more Greek) - Acts 1-28 Commentary
C H Spurgeon -- "'A Critical New Testament, so compiled as to enable a reader, unacquainted with Greek, to ascertain the exact English force and meaning of the language of the New Testament, and to appreciate the latest results of modern criticism.' Such is the professed aim of this commentary, and the compilers have very fairly carried out their intentions. The whole of Bengel's Gnomon is bodily transferred into the work, and as one hundred and twenty years have elapsed since the first issue of that book, it may be supposed that much has since been added to the wealth of Scripture exposition; the substance of this has been incorporated in brackets, so as to bring it down to the present advanced state of knowledge. We strongly advise the purchase of this book, as it is multum in parvo, and will well repay an attentive perusal. Tischendorf and Alford have contributed largely, with other German and English critics, to make this one of the most lucid and concise commentaries on the text and teachings of the New Testament" (Commenting on Commentaries - excellent resource with links to all 66 books)
Click critique of Clarke
See his shorter commentary  Acts from Arno Gaebelein's Annotated Bible
Rosscup notes that Gaebelein "was a popular evangelical Bible teacher of the first part of the century, much like H. A. Ironside in his diligent but broad, practical expositions of Bible books. Gaebelein was premillennial and dispensational, and editor for many years of Our Hope Magazine… This is one of the best older… works on Acts and is at times helpful in studying the transitional problems. It does not involve itself with exegetical details." (Commentaries for Biblical Expositors: An Annotated Bibliography of Selected Works)
D Edmond Hiebert - A forceful, conservative unfolding of the message of Acts by a noted premillennial, dispensational Bible teacher active during the first half of this century. Emphasizes the transition from Judaism to Christianity as portrayed in Acts.
---
Over 400 page revised in 1882 by Alvah Hovey This revised, illustrated edition removes much of the original Greek text which makes this classic nineteenth work on Acts much more "user friendly.". See Alvah Hovey's comments on what was revised in Hackett's original text).
D Edmond Hiebert - A full verse-by-verse commentary by a conservative Baptist professor of the past century. Still valuable for a clear unfolding of the text of Acts.
C H Spurgeon writes that "Hackett occupies the first position among commentators upon the Acts."  (Commenting on Commentaries - excellent resource with links to all 66 books)
BELOW ARE LINKS TO THE UNABRIDGED VERSION
This work has helpful comments but knowledge of the Greek is necessary for maximum benefit.
D Edmond Hiebert - Greek text. Still one of the most thorough commentaries on the Greek text. Significant for the Greek student.
Rosscup notes that Expositor's Greek Testament is "One of the older, much-used commentaries, which offers considerable help on Greek words, grammar, background etc. and will prove rather contributive, consulted along with newer and longer studies." (Commentaries for Biblical Expositors: An Annotated Bibliography of Selected Works).
---
Hint: Go to Google Image Search - Enter these words (do not enclose in quotes) - Bible acts 3 - you will retrieve a number of pictures that you may find useful in teaching. For each subsequent chapter simply repeat the search with that chapter number (disclaimer: I have not done all 28 chapters so be a Berean!)
FOR MORE JOURNAL ARTICLES SEE
Defender's Study Bible - Excellent, conservative, literal study Bible notes from a leading Creationist. Note links in the right margin
NET Study Bible - Excellent resource, includes NETBible notes and Thomas Constable's notes that synchronize with the Scriptures.
W A CRISWELL
Here is an example of Moody's notes - 
Acts 1:4   "Wait for the promise of the Father." Tarry at a promise till God meets you there. He always returns by the way of His promises.
The promises of God are the moulds into which we pour our prayers.

Acts 1:11  "In like manner." Hence we may expect that Jesus will come—
             (1.) Personally.
             (2.) Visibly.
             (3.) In the clouds.
Spurgeon "Dr. Hackett says aye Dr. Gloag's work: "I have examined it with special care. For my purposes I have found it unsurpassed by any similar work in the English language. It shows a thorough mastery of the material, philology, history, and literature pertaining to this range of study, and a skill in the use of this knowledge, which places it in the first class of modern expositions."  (Commenting on Commentaries - excellent resource with links to all 66 books)
ANOTHER SOURCE of Kelly's Commentary
Spurgeon - Adds nothing to our knowledge of the Acts; but the homiletical hints are useful  (Commenting on Commentaries - excellent resource with links to all 66 books)
D Edmond Hiebert - Greek text. An exhaustive exegetical study of Acts by a well-known German scholar of the past century. Still contains much of value, although unaware of later developments in the understanding of the Koine Greek.
ARTHUR PEAKE
PETER PETT
JOSEPH SUTCLIFFE
JOHN TRAPP
DANIEL WHEDON
ROB SALVATO
ROB SALVATO
ROB SALVATO
ROB SALVATO
ROB SALVATO
ROB SALVATO
ROB SALVATO
ROB SALVATO
ROB SALVATO 
ROB SALVATO
ROB SALVATO
ROB SALVATO
ROB SALVATO 
ROB SALVATO
ROB SALVATO
ROB SALVATO
ROB SALVATO
ROB SALVATO 
ROB SALVATO
ROB SALVATO
ROB SALVATO
ROB SALVATO
ROB SALVATO
ROB SALVATO
Rosscup writes that this 1947 work is "one of Morgan's better commentaries and one which the student can profitably consult." (Commentaries for Biblical Expositors: An Annotated Bibliography of Selected Works).
D Edmond Hiebert - Expository messages on Acts by a noted Bible teacher-preacher. His exposition aims at setting forth the spiritual force and method of early Christianity. Stress is placed on the variety of ways in which the Spirit is seen at work in Acts. Offers many illuminating insights.
---
Comment: These are more technical notes on the New English Translation, but often yield some very useful insights.
Acts Devotionals - multiple devotionals on each chapter of Acts. ~400 pages 
---
INDIVIDUAL DEVOTIONALS - SOME DUPLICATION
Parker writes: This may be a proper point from which to look back upon the great event which glorifies the Acts of the Apostles, name, the outpouring of the HOLY SPIRIT, and to connect that event with the Ministry of Jesus Christ as well as with the development and sanctification of His Church. On considering how to conduct this part of my task I have decided to reprint the portion of my book entitled "The Paraclete", which specially deals with this sublime section of sacred history, and I feel the less hesitation about this course as the book is out of print and is frequently inquired for.
---
Acts 1 Pulpit Commentary Homiletics - click arrow to go to next chapter
Rosscup - "Many authors contributed to this work that had the aim of giving preachers material on introduction, verse by verse exposition, a section on homiletics, and a section of collected homilies (outlines, etc.) by various preachers, which can stimulate thought. It moves through one small section of Bible verses after another." (Rosscup, J. Commentaries for Biblical Expositors: An annotated bibliography of selected works)
Rosscup writes "This is a very good though at times terse commentary from the standpoint of Greek and, historical background. Rackham was conservative but amillennial. Verse by verse he often offers good help, and he has addenda on topics such as breaking of bread, Sadducees and Pharisees, etc." (Commentaries for Biblical Expositors)
D Edmond Hiebert - A thorough (513-page), informative exposition by a conservative Anglican scholar. Full treatment of introductory problems. Has a full index. One of the standard older commentaries on Acts.
Gerald Cowen -  Older works which one should obtain if the opportunity arises include R. B. Rackham, The Acts of the Apostles (Baker, 1978; reprint of the 1901 edition). This is considered by many to be a classic on Acts, and was called by W. Smith the greatest of all the commentaries on Acts (in Profitable Bible Study). This work includes an extensive introduction, including articles on the theology of Acts, and a verse by verse commentary. (Commenting on Commentaries on Acts)
You Shall Be My Witnesses
John Piper says that Horae Homileticae "is the best place to go for researching Simeon's theology. You can find his views on almost every key text in the Bible. He did not want to be labeled a Calvinist or an Arminian. He wanted to be Biblical through and through and give every text its due proportion, whether it sounded Arminian as it stands or Calvinistic. But he was known as an evangelical Calvinist, and rightly so. As I have read portions of his sermons on texts concerning election and effectual calling and perseverance he is uninhibited in his affirmation of what we would call the doctrines of grace… What Simeon experienced in the word was remarkable. And it is so utterly different from the counsel that we receive today that it is worth looking at." (See his short discussion on Simeon's life = Brothers, We Must Not Mind a Little Suffering) (Bolding added)
---
Note: Other speakers are included in this series preached at First Presbyterian, Jackson, Miss.
Acts 1:1-11 Gazing Into Heaven: The Ascension of Jesus by Derek Thomas
Acts 1:1-12 Taken Up Coming Back by Donald Patterson
Acts 1:1-11 Ascended King by David Strain
Acts 1:6-11  He Ascended into Heaven by James Baird
Acts 1:8 Obedient to the Last Command by David Meredith
Acts 1:9-11 I Believe in Jesus Christ Who Ascended Into Heaven by J. Ligon Duncan
Acts 1:12-14 The New Testament Church - Birthed in Prayer by Derek Thomas
Acts 1:12-26 To the End of the Earth:(2)Then They Were Twelve Again by Derek Thomas
Acts 2:14-41 To the End of the Earth: (3) Pentecostal Fire by Derek Thomas
Acts 2:14-41 To the End of the Earth: (4) The 'This is That' Sermon by Derek Thomas
Acts 2:42-47 To the End of the Earth: (5) How They Love One Another! by Derek Thomas
Acts 3:1-10 To the End of the Earth: (6) Jumping for Joy by Derek Thomas
Acts 3:11-26 To the Ends of the Earth: (7) A New Testament Sermon On An Old Testament Text by Derek Thomas
Acts 4:1-22 To the End of the Earth: (8) The Cost of Discipleship by Derek Thomas
Acts 4:12 175 and Counting: No other Name by J. Ligon Duncan
Acts 4:23-31 To the Ends of the Earth (9): Praying Boldly by Derek Thomas
Acts 4:32-5:11 To the Ends of the Earth (10): Field of Dreams by Derek Thomas
Acts 4:36-37 Field of Dreams by J. Ligon Duncan
Acts 5:12-32 To the Ends of the Earth (11): Prison Break! by Derek Thomas
Acts 5:27-42 Following Jesus by Billy Joseph
Acts 5:33-42 To the Ends of the Earth (12): Leave these Men Alone! by Derek Thomas
Acts 6:1-6; 1 Peter 5:1-4 Called to Serving and Shepherding by J. Ligon Duncan
Acts 6:1-7 To the Ends of the Earth (13): Seven Wise Men by Derek Thomas
Acts 6:8-15 To the Ends of the Earth (14): Angelic Stephen by Derek Thomas
Acts 7:1-53 Stephen's Sermon (Part 2) by Derek Thomas
Acts 7:1-53 Stephen's Sermon (Part 1) by Derek Thomas
Acts 7:54-8:1a The First Christian Martyr by Derek Thomas
Acts 7:54-60 The Death of a Christian by Guy Waters
Acts 8:1b-8 Philip Preaching Christ in Samaria by Derek Thomas
Acts 8:1-8 Now You've Gone and Done It by Billy Dempsey
Acts 8:9-25 Buying Your Way to Power by Derek Thomas
Acts 8:26-40 The Great Search by Derek Thomas
Acts 9:1-22 The Narrative of a Surprising Conversion by Bill Wymond
Acts 9:1-12a Saul of Tarsus by Derek Thomas
Acts 9:1-25 God Saves Us and Uses Us to Save Others by Robert Cannada
Acts 9:12b-31 A Basket Case by Derek Thomas
Acts 9:19b-31 Born Again! Now What?by Guy Waters
Acts 9:32-43 The Dead Shall Rise by Derek Thomas
Acts 10:1-8 All Change by Derek Thomas
Acts 10:9-23 Pork - the other white meat! by Derek Thomas
Acts 11:1-18 First Church Jerusalem by Derek Thomas
Acts 11:19-30 To the End of the Earth (27): Call them "Christians!" by Derek Thomas
Acts 12:1-19a To the End of the Earth (28): The Great Escape by Derek Thomas
Acts 12:1-19 A Notable Prayer Meeting by Derek Thomas
Acts 12:19b-25 To the End of the Earth (29): Church Growth- New Testament Style by Derek Thomas
Acts 13:1-12 To the End of the Earth (30): Catching the Vision for Missions by Derek Thomas
Acts 13:13-43 To the End of the Earth (31): Preaching Jesus! by Derek Thomas
Acts 13:52 Giving Thanks in Hard Places by Brad Mercer
Acts 14:1-20 To the End of Earth (32): A Tale of Three Cities by Derek Thomas
Acts 14:21-28 To the End of the Earth (33): Mission Report by Derek Thomas
Acts 15:1-21 To the End of the Earth (34): Cutting Cost by Derek Thomas
Acts 15:21-35 To the End of the Earth (35): The Letter by Derek Thomas
Acts 15:36-41 To the End of the Earth (36): Brotherly Love Strife by Derek Thomas
Acts 16:1-15 To the Ends of the Earth (37): Come Over and Help Us! by Derek Thomas
Acts 16:16-40 To the End of the Earth (38): Prison Time by Derek Thomas
Acts 16:30-31 City of Destruction by Derek Thomas
Acts 16:31 What It Means to Be a Member of FPC by J. Ligon Duncan
Acts 17:1-15 To the End of the Earth (39): The Resurrection: Is it Such a Big Deal? by Derek Thomas
Acts 17:1-15 The Resurrection: Is it Such a Big Deal by Derek Thomas
Acts 17:10-15 To the End of the Earth (40): How to Listen to a Bad Sermon by Derek Thomas
Acts 17:16-34 I Believe in God by J. Ligon Duncan
Acts 17:16-34 To the End of the Earth (41): by Derek Thomas
Acts 17:22-31 I Believe in God the Father Almighty by J. Ligon Duncan
Acts 18:1-7 To the End of the Earth (42): Do Not Be Afraid by Derek Thomas
Acts 18:18-28 To the End of the Earth (43): Priscilla, Aquila, and Apollos by Derek Thomas
Acts 19:1-22 To the End of the Earth (44): The Gospel Comes to Ephesus by Derek Thomas
Acts 19:21-41 To the End of the Earth (45): City Riot by Derek Thomas
Acts 20:1-12 To the End of the Earth (46): A Deadly Sermon by Derek Thomas
Acts 20:13-38 To the End of the Earth (47): A Solemn Charge by Derek Thomas
Acts 20:19-24 To Spend and Be Spent in Christ by Nate Shurden
Acts 20:32 A Farewell Benediction by J. Ligon Duncan
Acts 21:1-16 To the End of the Earth (48): Let the Will of the Lord Be Done by Derek Thomas
Acts 21:15-26 To the End of the Earth (49): Paul, James, and Legal Issues: by Derek Thomas
Acts 21:27-36 To the End of the Earth (50): Paul Chained in the Holy City! by Derek Thomas
Acts 21:37-22:29 To the End of the Earth (51): Fathers and Brethren by Derek Thomas
Acts 22:20-23:11 To the End of the Earth (52): Brothers, I Am a Pharisee by Derek Thomas
Acts 23:12-35 To the End of the Earth (53): The Conspiracy by Derek Thomas
Acts 24:1-27 To the End of the Earth (54): Governor Felix- The Procrastinator by Derek Thomas
Acts 24:10-27 A Clear Conscience Toward God and man by Charles M. Wingard
Acts 25:1-12 To the End of the Earth (55): Porcius Festus by Derek Thomas
Acts 25:13-26:32 To the End of the Earth (56): King Agrippa- Almost Persuaded by Derek Thomas
Acts 26:17b, 18 From Darkness to Light by Philip Ryken
Acts 27:1-44 To the End of the Earth (57): Peril at Sea by Derek Thomas
Acts 28:1-16 To the End of the Earth (58): Rome at Last by Derek Thomas
Acts 28:17-31 To the End of the Earth (59): Preaching from Prison by Derek Thomas
Moody Bible Institute - Dozens of Devotionals Arranged by Chapter. Click Chapters Below
Book