Apostle Mark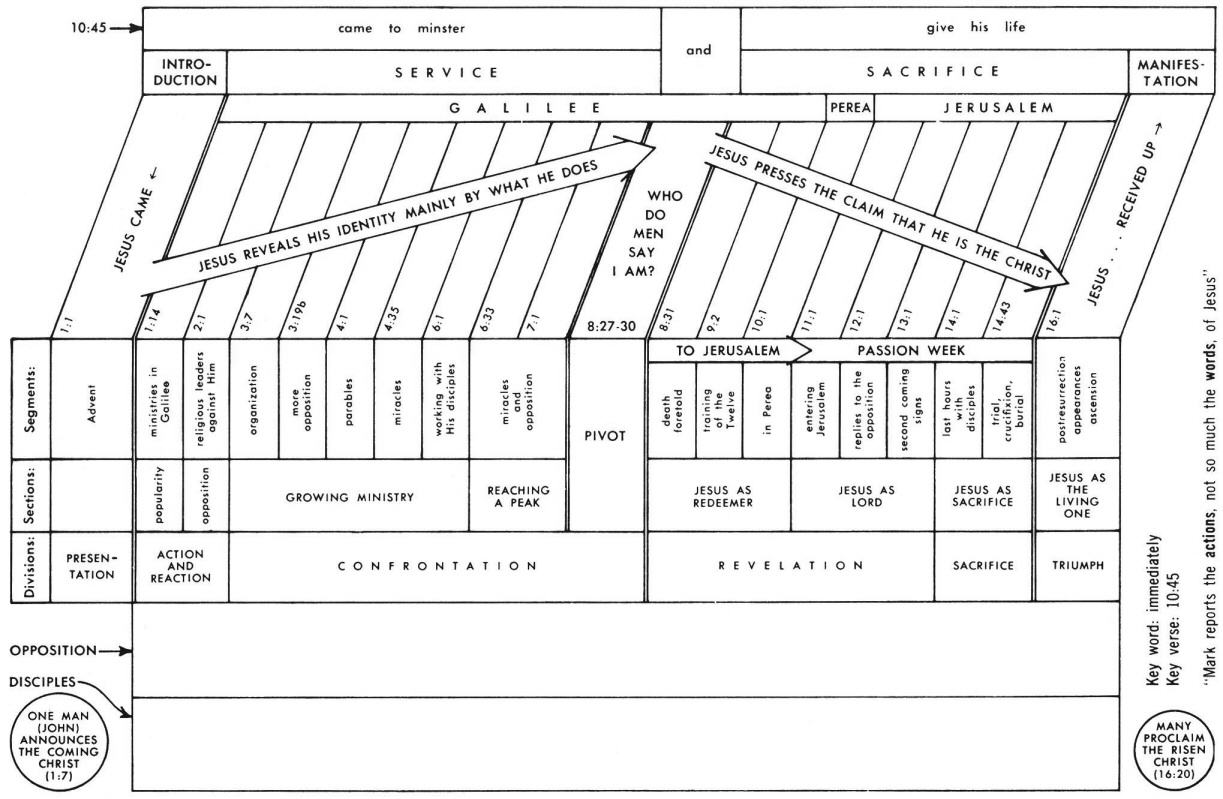 Click chart to enlarge
Chart from Jensen's Survey of the NT - used by permission
Another Chart from Charles Swindoll
Another Chart on Mark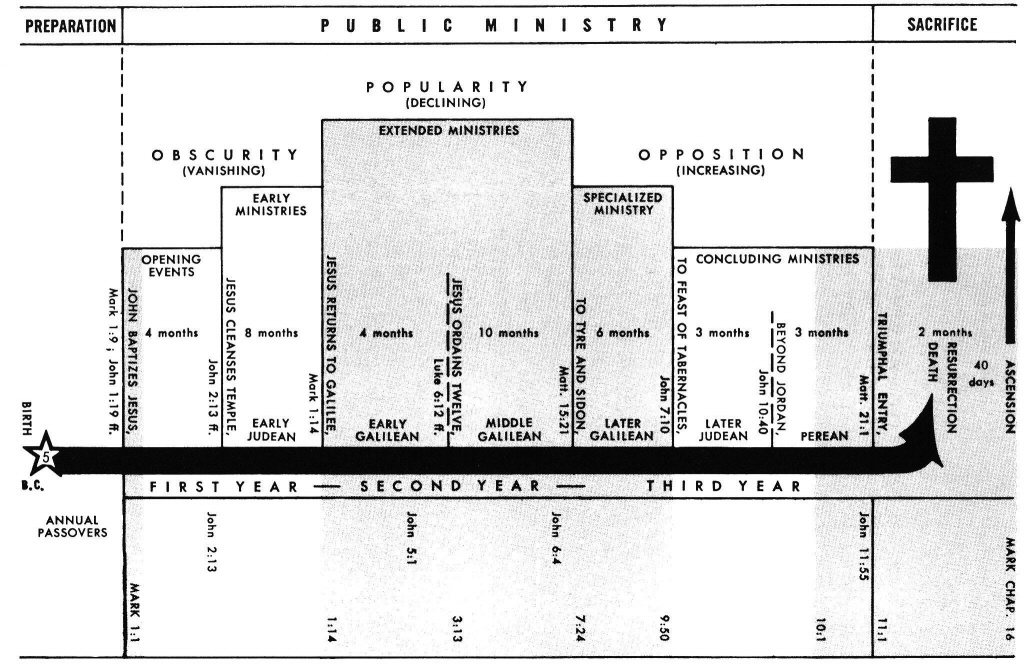 Click chart to enlarge
Chart from Jensen's Survey of the NT - used by permission
See Disclaimer
Read Alford's fascinating brief biography and Phil Johnson's related comments
James Rosscup writes that Alford's series on the New Testament "contains much that is valuable in the Greek New Testament...though all of the Greek New Testament words have been changed to English throughout." (Commentaries for Biblical Expositors: An Annotated Bibliography of Selected Works)
Charles Haddon Spurgeon (see his comments in following entry on Alford).
Editorial Note: If you are not proficient in Greek, you will find this work considerably more useful than the following work by Alford, because in this volume he translates the Greek and Latin into English. While the "The Greek New Testament" is longer (e.g., English version of 1John = 66 pages compared to Greek version = 94 pages in part because the latter includes comments of more technical nature), the substance of the commentary is otherwise similar to that found in the "NT for English Readers".
---
James Rosscup writes that "This was the great work in the life of the versatile Dean of Canterbury. An outcome of this production was the New Testament for English Readers (4 vols.). Alford was a Calvinist, conservative and premillennial, though not dispensational. He takes a literal interpretation of the thousand years in Rev. 20 and has a famous quote there, is strong on sovereign election as in Ro 8:29, 30 and 1Pe 1:2, but, unfortunately, holds to baptismal regeneration in such texts as Titus 3:5 and John 3:5. He shows a great knowledge of the Greek text and faces problems of both a doctrinal and textual nature." (Commentaries for Biblical Expositors: An Annotated Bibliography of Selected Works)
John Piper writes ""When I'm stumped with a...grammatical or syntactical or logical [question] in Paul, I go to Henry Alford. Henry Alford...comes closer more consistently than any other human commentator to asking my kinds of questions."
Charles Haddon Spurgeon writes that this text "is an invaluable aid to the critical study of the text of the New Testament. You will find in it the ripened results of a matured scholarship, the harvesting of a judgment, generally highly impartial, always worthy of respect, which has gleaned from the most important fields of Biblical research, both modern and ancient, at home and abroad. You will not look here for any spirituality of thought or tenderness of feeling; you will find the learned Dean does not forget to do full justice to his own views, and is quite able to express himself vigorously against his opponents; but for what it professes to be, it is an exceedingly able and successful work. The later issues are by far the most desirable, as the author has considerably revised the work in the fourth edition. What I have said of his Greek Testament applies equally to Alford's New Testament for English Readers,* which is also a standard work." (Spurgeon, C. H. Lectures to my Students, Vol. 4: Commenting and Commentaries; Lectures Addressed to the students of the Pastors' College, Metropolitan Tabernacle)
---
D Edmond Hiebert - Prints the author's own translation.  Valuable for its numerous helpful word studies and background material. Barclay holds that Christ's descent into Hades gave those who there heard Him a second chance.
Comment: I appreciate Barclay's unique insights on Greek words, but clearly his teaching about a "second chance" is NOT sound doctrine! Be an Acts 17:11 Berean with Barclay. See discussion of his orthodoxy especially the article "The Enigmatic William Barclay".
---
Pastor Bill's sermons are recommended as they focus on Scripture with frequent illustrations, quotes and practical applications.
Rosscup writes - "This is an excellent liberal study of the book from the standpoint of the Greek. There are excellent cross-references on key words, and usually serious efforts to explain the meaning." (Ed note: The word "liberal" is cause for considerable discretion if you use this work by Alfred Plummer.)
Uses frequent illustrations.
Dwight L Moody's Notes from his Bible related to 1 Peter
Peter's "precious" things:—
1 Pet. 1:7. Trial of faith much more precious.
1 Pet. 1:19. The precious blood of Christ.
1 Pet 2:4, 6. The living stone, precious.
1 Pet 2:7. He (Christ) is precious.
2 Pet. 1:1. Precious faith.
2 Pet 1:4. Precious promises.
Peter speaks of "suffering," seventeen times in this epistle.
1 Peter 1:19.  The precious blood of Christ.
Why precious?
Because it redeems us. 1 Pet. 1:19.
Because it brings us nigh. Eph. 2:13.
Because it blots out our sins. Rev. 1:5.
Because it brings peace. Col. 1:20.
Because it justifies. Rom. 5:9.
Because it cleanses from all sin. 1 John 1:7.
Because it gives boldness in the day of judgment.
Christ left nothing behind on earth but His blood.
1 Pet 2:5. Accepted service.
1 Pet 2:20. Accepted suffering.
1 Pet 2:21. Plato said, "When men speak evil of you, live so that no man will believe it." But he did not tell how to do so.
1 Pet 2:24.  The Christian's death is when he dies to sin. No second death.
1 Pet 3:15. A Christian worker once said to a man, "God does not want your learning." "No," said the other, "nor your ignorance either."
1 Pet 4:14. If the world has nothing to say against you, Christ will have little to say for you.
Outline
I. Prologue: In the Wilderness (Mark 1:1–13)
A. John's Message (Mark 1:1–8)

B. Jesus' Baptism (Mark 1:9–11)

C. Jesus' Temptation (Mark 1:12, 13)
II. Beginning His Ministry: In Galilee and the Surrounding Regions (Mark 1:14–7:23)
A. He Announces His Message (Mark 1:14, 15)

B. He Calls His Disciples (Mark 1:16–20)

C. He Ministers in Capernaum (Mark 1:21–34)

D. He Reaches Out to Galilee (Mark 1:35–45)

E. He Defends His Ministry (Mark 2:1–3:6)

F. He Ministers to Multitudes (Mark 3:7–12)

G. He Commissions the Twelve (Mark 3:13–19)

H. He Rebukes the Scribes and Pharisees (Mark 3:20–30)

I. He Identifies His Spiritual Family (Mark 3:31–35)

J. He Preaches in Parables (Mark 4:1–34)
1. The sower (Mark 4:1–9)

2. The reason for parables (Mark 4:10–12)

3. The parable of the sower explained (Mark 4:13–20)

4. The lamp (Mark 4:21–25)

5. The seed (Mark 4:26–29)

6. The mustard seed (Mark 4:30–34)
K. He Demonstrates His Power (Mark 4:35–5:43)
1. Calming the waves (Mark 4:35–41)

2. Casting out demons (Mark 5:1–20)

3. Healing the sick (Mark 5:21–34)

4. Raising the dead (Mark 5:35–43)
L. He Returns to His Hometown (Mark 6:1–6)

M. He Sends out His Disciples (Mark 6:7–13)

N. He Gains a Powerful Enemy (Mark 6:14–29)

O. He Regroups with the Disciples (Mark 6:30–32)

P. He Feeds the Five Thousand (Mark 6:33–44)

Q. He Walks on Water (Mark 6:45–52)

R. He Heals Many People (Mark 6:53–56)

S. He Answers the Pharisees (Mark 7:1–23)
III. Broadening His Ministry: In Various Gentile Regions (Mark 7:24–9:50)
A. Tyre and Sidon: He Delivers a Gentile Woman's Daughter (Mark 7:24–30)

B. Decapolis: He Heals a Deaf-Mute (Mark 7:31–37)

C. The Eastern Shore of Galilee: He Feeds the Four Thousand (Mark 8:1–9)

D. Dalmanutha: He Disputes with the Pharisees (Mark 8:10–12)

E. The Other Side of the Lake: He Rebukes the Disciples (Mark 8:13–21)

F. Bethsaida: He Heals a Blind Man (Mark 8:22–26)

G. Caesarea Philippi and Capernaum: He Instructs the Disciples (Mark 8:27–9:50)
1. Peter confesses Jesus as Christ (Mark 8:27–30)

2. He predicts His death (Mark 8:31–33)

3. He explains the cost of discipleship (Mark 8:34–38)

4. He reveals His glory (Mark 9:1–10)

5. He clarifies Elijah's role (Mark 9:11–13)

6. He casts out a stubborn spirit (Mark 9:14–29)

7. He again predicts His death and resurrection (Mark 9:30–32)

8. He defines kingdom greatness (Mark 9:33–37)

9. He identifies true spiritual fruit (Mark 9:38–41)

10. He warns would-be stumbling blocks (Mark 9:42–50)
IV. Concluding His Ministry: The Road to Jerusalem (Mark 10:1–52)
A. He Teaches on Divorce (Mark 10:1–12)

B. He Blesses the Children (Mark 10:13–16)

C. He Confronts the Rich Young Ruler (Mark 10:17–27)

D. He Confirms the Disciples' Rewards (Mark 10:28–31)

E. He Prepares the Disciples for His Death (Mark 10:32–34)

F. He Challenges the Disciples to Humble Service (Mark 10:35–45)

G. He Heals a Blind Man (Mark 10:46–52)
V. Consummating His Ministry: Jerusalem (Mark 11:1–16:20)
A. Triumphal Entry (Mark 11:1–11)

B. Purification (Mark 11:12–19)
1. Cursing the fig tree (Mark 11:12–14)

2. Cleansing the temple (Mark 11:15–19)
C. Teaching in Public and in Private (Mark 11:20–13:37)
1. Publicly: in the temple (Mark 11:20–12:44)
a. Prelude: the lesson of the cursed fig tree (Mark 11:20–26)

b. Concerning His authority (Mark 11:27–33)

c. Concerning His rejection (Mark 12:1–12)

d. Concerning paying taxes (Mark 12:13–17)

e. Concerning the resurrection (Mark 12:18–27)

f. Concerning the greatest commandment (Mark 12:28–34)

g. Concerning the Messiah's true sonship (Mark 12:35–37)

h. Concerning the scribes (Mark 12:38–40)

i. Concerning true giving (Mark 12:41–44)
2. Privately: on the Mount of Olives (Mark 13:1–37)
a. The disciples' question about the end times (Mark 13:1)

b. The Lord's answer (Mark 13:2–37)
D. Arrangements for Betrayal (Mark 14:1,2,10,11)

E. Anointing, the Last Supper, Betrayal, Arrest, Trial [Jewish Phase] (Mark 14:3–9; 12–72)
1. The anointing: Bethany (Mark 14:3–9)

2. The Last Supper: Jerusalem (Mark 14:12–31)

3. The prayer: Gethsemane (Mark 14:32–42)

4. The betrayal: Gethsemane (Mark 14:43–52)

5. The Jewish trial: Caiaphas' house (Mark 14:53–72)
F. Trial (Mark Roman Phase), Crucifixion (Mark 15:1–41)
1. The Roman trial: Pilate's Praetorium (Mark 15:1–15)

2. The crucifixion: Golgotha (Mark 15:16–41)
G. Burial in Joseph of Arimathea's Tomb (Mark 15:42–47)

H. Resurrection (Mark 16:1–8)

I. Postscript (Mark 16:9–20)
Book of Mark Summary Chart (Here is chart from another source)
Excerpt - Why is Mark so important? - Mark's gospel portrays Jesus as constantly on the move. The forward motion in Mark's writing keeps the knowledgeable reader's mind continually looking ahead to the cross and the resurrection. Thirty-nine times Mark used the word immediately, giving a sense that Jesus's time on earth was short and that there was much to accomplish in His few years of ministry.
What's the big idea? - While Matthew's gospel portrays Jesus as the King, Mark reveals Him as God's Servant. Jesus' work was always for a larger purpose, a point clearly summarized in Mark 10:45, "For even the Son of Man did not come to be served, but to serve, and to give His life a ransom for many." Mark filled his gospel with the miracles of Jesus, illustrating again and again both the power and the compassion of the Son of God. In these passages, Mark revealed more than Jesus as the good teacher who offered people spiritual renewal; the book also portrays Jesus as the true God and the true man, reaching into the lives of people and effecting physical and circumstantial change. But Jesus' life as the agent of change wasn't without an ultimate purpose. Amid His hands-on ministry, Jesus constantly pointed to the definitive way in which He would serve humanity: His death on the cross and His resurrection from the dead. It is only through faith in these works of Jesus Christ that human beings find eternal redemption for their whole selves. Moreover, Jesus becomes our model for how to live our lives—serving others as He did.
How do I apply this? Three times in three consecutive chapters—Mark 8, Mark 9, and Mark 10—Mark pictured Jesus informing His disciples of His great sacrifice and ultimate victory. His disciples either rejected the teaching altogether (Mark 8:31–32) or they showed themselves concerned with other matters (Mk 9:31–34; 10:32–37). As Jesus prepared to perform the greatest service in the history of the human race, His disciples could only think about themselves—their position or safety. Do you find it a struggle to get yourself oriented toward sacrificial service, as Jesus' disciples did? The temptations we all wrestle with when faced with an opportunity to serve another person are to pull back within ourselves, to seek our comfort, or to protect our own interests. The challenge that Jesus presents to us in the book of Mark involves breaking out of those patterns of self-absorption and giving ourselves in service and love to others.
DON FORTNER - Mark Sermon Outlines - 79 messages - available titles:
Commentary on the Gospel of Mark - 488 pages
Spurgeon's critique - Alexander expounds Mark as an independent record, and does not constantly tell us to "see Matthew and Luke." Hence the book is complete in itself, and the author's learning and care have made it invaluable.
Another critique of his commentaries
The Gospel of Mark - Commentary and Study Notes - Scroll to Gospel of Mark - 535 page commentary by B W Johnson and Don DeWelt. Includes questions, explanatory notes, notes for teachers, etc. Note - Church of Christ theological perspective
Rosscup writes - "Swete's work is one of the best older conservative commentaries on the Greek text. Swete was an Anglican minister and a scholar in Latin, Greek, and theology, and taught at Cambridge. He does a fairly good job on the Messianic character of the suffering Servant."
Mark 10:6-8 - he frequently uses illustrations and quotes
See also multiple Additional Devotional Illustrations onsite
---
Mark 1
Mark 2
Mark 3
Mark 4
Mark 5
Mark 6
Mark 7
Mark 8
Mark 9
Mark 10
Mark 11
Mark 12
Mark 13
Mark 14
Mark 15
Mark 16
Here is another source of the Homilies by Chapter - Mark 1 Pulpit Commentary Homiletics
Exploring Mark Series
Only select messages available
NOTE: If you are not familiar with the great saint Charles Simeon see Dr John Piper's discussion of Simeon's life - you will want to read Simeon's sermons after meeting him! - click Brothers We Must Not Mind a Little Suffering
Through the Bible Series (Recommendation - supplement your Thru the Bible readings with these excellent messages!) The links below are to Pastor Smith's transcripts.
Links to transcripts of sermon outlines with titles in right column
See Also...
Mark Commentary 1
Mark Commentary 2
Mark Commentary 3
Mark Commentary 4
Mark Commentary 5
Mark Commentary 6
Mark Commentary 7
Mark Commentary 8
Mark Commentary 9
Mark Commentary 10
Mark Commentary 11
Mark Commentary 12
Mark Commentary 13
Mark Commentary 14
Mark Commentary 15
Mark Commentary 16
Often Has Good Iillustrations - Click Link for Multiple Devotionals on Each Chapter of Mark
Book