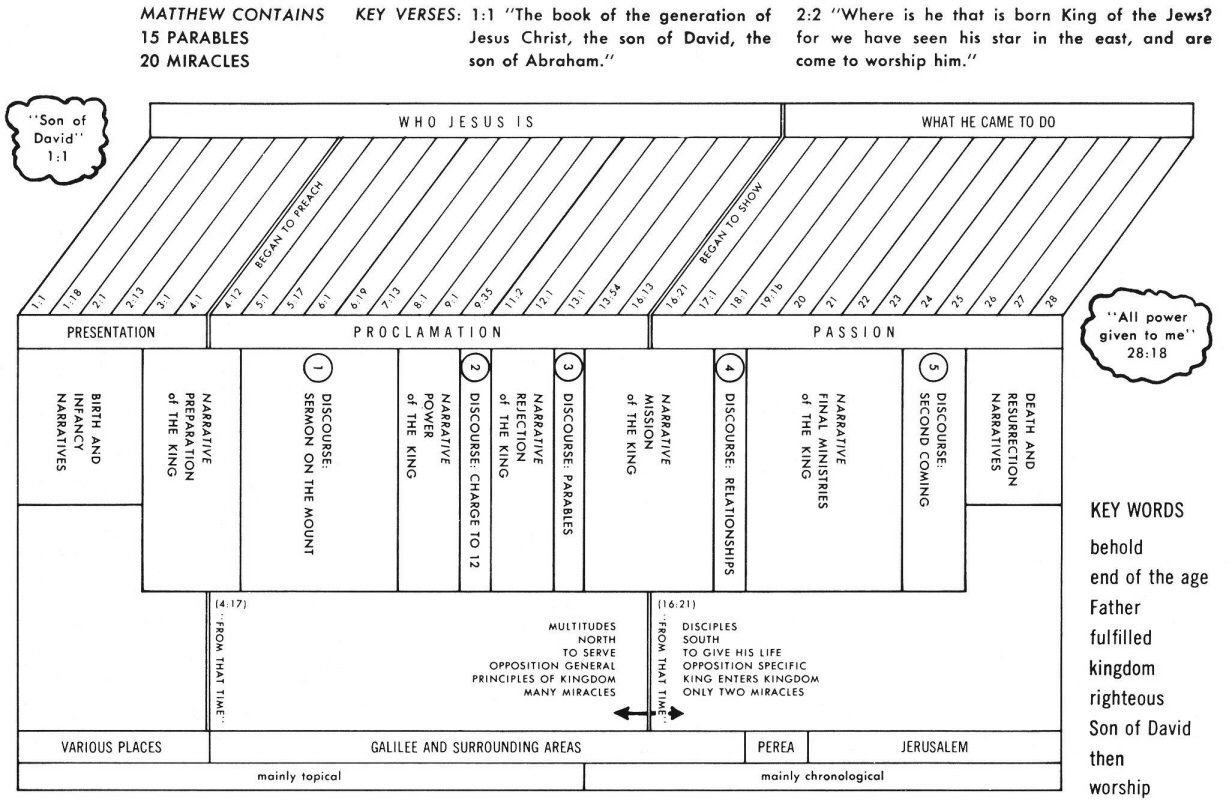 Click chart to enlarge
Charts from Jensen's Survey of the NT - used by permission
Another Chart from Charles Swindoll
Another Chart on Matthew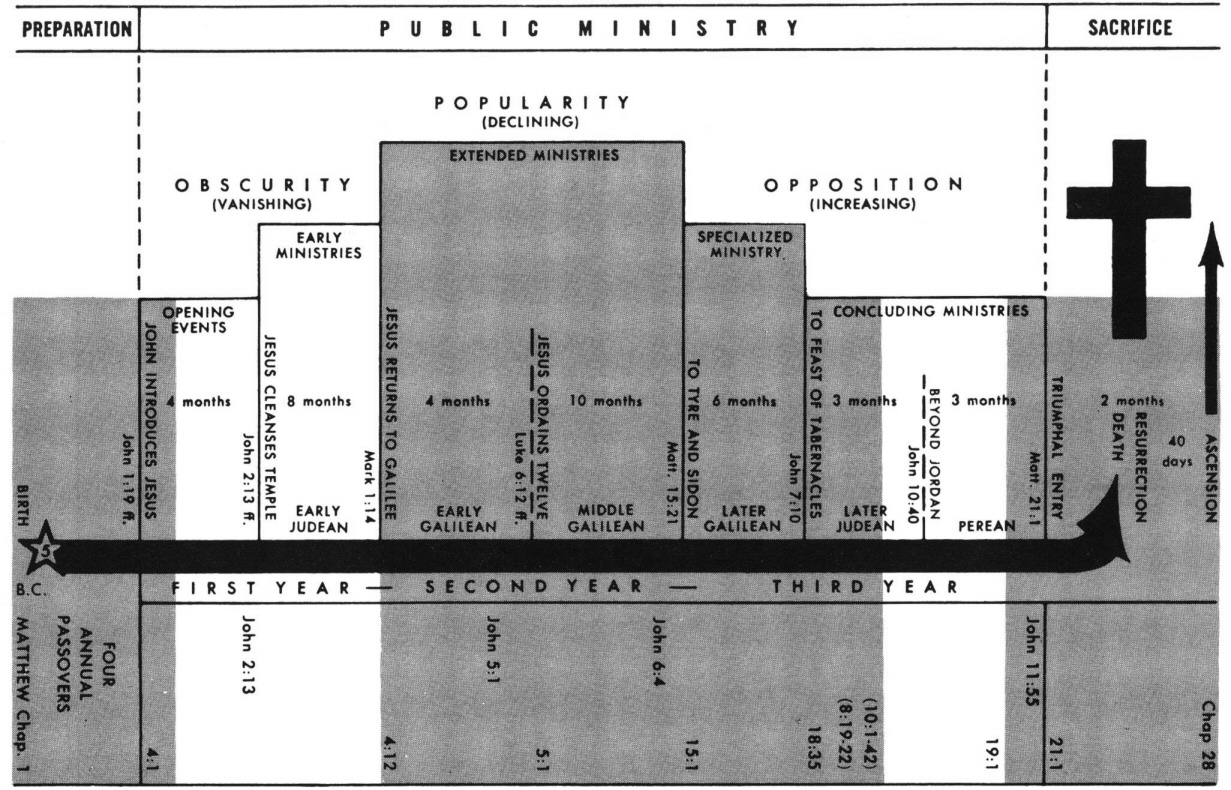 Click chart to enlarge
MATTHEW 5
MATTHEW 6
MATTHEW 7
Inductive Study Notes on Sermon on the Mount
Read his fascinating brief biography - Henry Alford and Phil Johnson's related comments/p>
Comment by Alford on Mt 24:21 describing the "Great Tribulation" showing that he is at least in part "futuristic": "Our Lord still has in view the prophecy of Daniel (Da 12:1), and this citation clearly shews the intermediate fulfilment, by the destruction of Jerusalem, of that which is yet future in its final fulfilment: for Daniel is speaking of the end of all things. Then only will these words be accomplished in their full sense."
James Rosscup writes that Alford's series on the New Testament "contains much that is valuable in the Greek New Testament… though all of the Greek New Testament words have been changed to English throughout." (Commentaries for Biblical Expositors: An Annotated Bibliography of Selected Works)
Charles Haddon Spurgeon (see his comments in following entry on Alford).
Editorial Note: If you are not proficient in Greek, you will find this work considerably more useful than the following work by Alford, because in this volume he translates the Greek and Latin into English. While the "The Greek New Testament" is longer (e.g., English version of 1John = 66 pages compared to Greek version = 94 pages in part because the latter includes comments of more technical nature), the substance of the commentary is otherwise similar to that found in the "NT for English Readers".
Interprets Mt 24:15 as fulfilled in 70AD.
James Rosscup writes that "This was the great work in the life of the versatile Dean of Canterbury. An outcome of this production was the New Testament for English Readers (4 vols.). Alford was a Calvinist, conservative and premillennial, though not dispensational. He takes a literal interpretation of the thousand years in Rev. 20 and has a famous quote there, is strong on sovereign election as in Ro 8:29, 30 and 1Pe 1:2, but, unfortunately, holds to baptismal regeneration in such texts as Titus 3:5 and John 3:5. He shows a great knowledge of the Greek text and faces problems of both a doctrinal and textual nature." (Commentaries for Biblical Expositors: An Annotated Bibliography of Selected Works)
John Piper writes ""When I'm stumped with a… grammatical or syntactical or logical [question] in Paul, I go to Henry Alford. Henry Alford… comes closer more consistently than any other human commentator to asking my kinds of questions."
Charles Haddon Spurgeon writes that this text "is an invaluable aid to the critical study of the text of the New Testament. You will find in it the ripened results of a matured scholarship, the harvesting of a judgment, generally highly impartial, always worthy of respect, which has gleaned from the most important fields of Biblical research, both modern and ancient, at home and abroad. You will not look here for any spirituality of thought or tenderness of feeling; you will find the learned Dean does not forget to do full justice to his own views, and is quite able to express himself vigorously against his opponents; but for what it professes to be, it is an exceedingly able and successful work. The later issues are by far the most desirable, as the author has considerably revised the work in the fourth edition. What I have said of his Greek Testament applies equally to Alford's New Testament for English Readers,* which is also a standard work." (Lectures to my Students, Vol. 4: Commenting and Commentaries; Lectures Addressed to the students of the Pastors' College, Metropolitan Tabernacle)
---
What a Way to Go! - "When I go to heaven..." were Jack Arnold's last words before dying instantly in the pulpit from a heart attack. The extraordinary event made international headlines. and was picked up by the AP wire, CNN, and even Paul Harvey." (Click for more detail) (Watch memorial service - Pt 1, Pt 2, Pt 3, Pt 4, Pt 5).
---
D Edmond Hiebert - Divides the gospel into brief sections intended for daily study. The author follows his own translation; his comments "aim to make the results of modern scholarship available to the non-technical reader in a form that it does not require a theological education to understand." Word studies and refreshing insights abound, with a stress upon the relevance of the gospel for modern life. Liberal in spots.  (from Hiebert's critique of Barclay on Peter's epistles - "Barclay holds that Christ's descent into Hades gave those who there heard Him a second chance.")
Comment: I appreciate Barclay's unique insights on Greek words, but clearly his teaching about a "second chance" is NOT sound doctrine! Be an Acts 17:11 Berean with Barclay. See discussion of his orthodoxy especially the article "The Enigmatic William Barclay".
---
NEW TESTAMENT OUTLINES - each 4-5 pages
SERMONS
Note: If not proficient in Greek, see Critical English Testament below. Not Futuristic on Mt 24
James Rosscup writes "This work (Gnomon), originally issued in 1742, has considerable comment on the Greek, flavoring the effort with judicious details about the spiritual life. It has much that helps… " (Commentaries for Biblical Expositors: An Annotated Bibliography of Selected Works)
---
Represents Combination of Bengel's Gnomon (above) and Comments by more modern expositors (in brackets) to make this more usable for those who do not read Greek. Interprets Mt 24:15 as fulfilled in 70AD.
C H Spurgeon -- "'A Critical New Testament, so compiled as to enable a reader, unacquainted with Greek, to ascertain the exact English force and meaning of the language of the New Testament, and to appreciate the latest results of modern criticism.' Such is the professed aim of this commentary, and the compilers have very fairly carried out their intentions. The whole of Bengel's Gnomon is bodily transferred into the work, and as one hundred and twenty years have elapsed since the first issue of that book, it may be supposed that much has since been added to the wealth of Scripture exposition; the substance of this has been incorporated in brackets, so as to bring it down to the present advanced state of knowledge. We strongly advise the purchase of this book, as it is multum in parvo, and will well repay an attentive perusal. Tischendorf and Alford have contributed largely, with other German and English critics, to make this one of the most lucid and concise commentaries on the text and teachings of the New Testament" (Ibid)
---
720 Pages Packed with Material from Various Authors
James Rosscup writes that "In many ways it is the finest and most satisfying overall older commentary on Matthew. It helps the student on almost every verse. Broadus deals frontally with problems and gives much rich material that throws light on the text. His citations from other sources are often very helpful. From the standpoint of the Greek text, he is also sound. This 1886 work, long a part of the American Commentary on the New Testament series, is still one of the best in detailed explanation of the text where it counts." (Ibid)
Rosscup rates this as the #2 best detailed exegetical commentary on Matthew.
D Edmond Hiebert - One of the ablest American commentaries on Matthew from the past century and still valuable for the systematic interpretation of the gospel. It is the work of an accomplished conservative scholar.
Note: Broadus does interpret Mt 24:15 as fulfilled in 70AD.
---
Note: Calvin interprets Mt 24:15, 21 ;as fulfilled in 70AD - literal reading of the passage strongly argues against his interpretation. Be a Berean especially with older commentators such as Calvin, Henry, Jamieson (JFB is one of the best older works), Gill.
---
Sunday School Helps from Founders Ministries
Interprets Mt 24:15 as fulfilled in 70AD.
D Edmond Hiebert - Greek text. Provides introductory material on the synoptics in relation to each other and individually. The notes provide many illuminating insights for the Greek student. Due to its age, it does not reflect the latest insights concerning the Greek.
Hold Pointer over the Scripture link to pop up Bible text.
Comment: Keener is an outstanding exegete. His commentary is distinctive in its emphasis on the social-historical context of the Gospel. It also contains a very useful 150 page bibliography of secondary resources on the Gospel of Matthew. (Ligonier)
Click for Another Critique on Keener's commentary on Matthew
Tim Challies: Keener's work receives high recommendations and significant warnings about the limits of its usefulness. It may also be going out of print since it is not available at Westminster Books and is currently available only from Amazon resellers. This is the kind of commentary I tend to avoid since I don't consider myself sufficiently schooled to confidently sort through the weaknesses. However, most experts do recommend it with certain caveats. (Challies.com)
Futuristic on Matthew 24-25
Functions like a Commentary
Futuristic on Matthew 24-25
These function much like a commentary
Recommended
Note: Be a Berean especially with older commentators like John Calvin, Adam Clarke, Matthew Henry, Jamieson & Fausset & Brown [generally one of the best, most literal of the "older" commentaries!], John Gill. They often do not interpret the prophetic passages such as Matthew 13, 24, 25 from a literal, futuristic perspective (See also note below on "Best Commentaries). I would recommend notes by John MacArthur, Dave Guzik, Ray Stedman and John Walvoord (to name just a few) for an alternative interpretation of the prophetic passages in Matthew 13, 24,25 as yet future not as fulfilled in the past.
Best Commentaries
Caveat Emptor! (Caveat emptor) Virtually all of the top rated commentaries in the preceding two lists of "Best" commentaries interpret the Abomination of Desolation in Mt 24:15+ as the Roman Army (See Why the Abomination of desolation is Not the Roman Army), indicating that these lists have a distinctly non-futuristic bias! To wit, neither of these lists even give honorable mention to one of the best expositional commentaries ever published on the Gospel of Matthew, the four volume series by Dr John MacArthur. Therefore in interest of fairness, below is Dr Jim Rosscup's critique of Dr MacArthur's work:
MacArthur, John, Jr. Matthew. 4 volumes (You might also want to click the following link to see how many "Stars" 30 random reviewers give to The MacArthur New Testament Commentary on the Gospel of Matthew) - Conservative, premillennial exposition which often deals in some detail with problem verses and shows the vital lessons of Jesus' teachings in a very readable manner. The author often explains customs, gives views and reasons. In Matthew 13, he sees the fourth soil only as representing a genuinely saved person, and the leaven in a good sense. In Matthew 24, he views verses 15ff. as related to tribulation and Second Advent, not A. D. 70, the one taken as removed in judgment and the one left as preserved on earth safely to enter the earthly kingdom promised in Old Testament prophecy. (Commentaries For Biblical Expositors- Dr. Jim Rosscup - highly recommended)
See critiques on the top commentaries as rated by Challies and Mathison above. The critiques below deal primarily with how each author interprets Matthew 24:15:
HENRY MORRIS
Defender's Study Bible - Excellent, conservative, literal study Bible notes from a leading creationist commentator, Dr Henry Morris. Notes on only selected verses - Click the chapter you are interested in studying and see the right side of page for notes that are available.
BILL BALDWIN
JAMES MCCULLEN - uses many illustrations
CRAIG WEBB
JOHN WESLEY
GEORGE WHITEFIELD
CALVIN WITTMAN
TOM WRIGHT
ARTHUR CARR (1883) Cambridge Bible for Schools and Colleges
ARTHUR CARR (1883) Cambridge Greek Testament for Schools and Colleges
Not Futuristic - Same author as above but different book with more emphasis on Greek
D Edmond Hiebert - Greek text. Prints the Greek text of Matthew in the Textus Receptus as edited by Scrivener. The introduction presents the old traditional view concerning Matthean authorship. The notes on the Greek text are selective, placing primary stress on the form and meaning of the original. Briefly alludes to historical matters.
ADAM CLARKE
This one is generally futuristic but not always
Not Futuristic
Hiebert - Following an introduction of 46 pages, each section is divided into three parts, exegetical and critical, doctrinal and ethical, and homiletical and practical. A wealth of information for those willing to dig into fine print. The approach is evangelical and conservative.
Hiebert comments on "A Practical Commentary on the Gospel According to St. Matthew" (1895) - The lengthy introduction covers critical problems and supports traditional Matthean authorship. This volume of some 650 closely printed pages offers a thorough interpretation by an accomplished conservative scholar of the previous century. It shows wide acquaintance with the scholarly work on the gospel to his day. (Ed: His comments are verse by verse, phrase by phrase, often with a devotional "flavor.")
ALFRED PLUMMER - An Exegetical Commentary on the Gospel According to St Matthew
Not Futuristic
D Edmond Hiebert - Long recognized as an outstanding commentary on Matthew (first published in 1909). It provides a scholarly handling of the critical problems and gives a balanced interpretation of the gospel, for the most part conservative. Does not accept apostolic authorship. 
TODAY IN THE WORD DEVOTIONAL - Moody Bible Institute
Simeon is generally Futuristic and teaches a literal Israel.
DANIEL WHEDON
Not futuristic on Mt 24:15-28
Watch an interesting overview of G Campbell Morgan by Pastor Skip Heitzig.
Hiebert - The prince of biblical expositors covers the entire gospel in a series of seventy-three biblical expositions. This volume on Matthew is the best of his expository volumes on the four gospels. Does not deal with critical introductory problems. The volume requires careful and intent reading, and offers many rich spiritual insights into Matthew's gospel.
---
Futuristic with frequent illustrations
Futuristic. NETBible notes are in the right panel. You can also select the tab for Constable's Notes.
This Index compiles 3 separate printed volumes of over 1000 pages!
Another source allows copy and paste but is missing a number of the entries listed below (Matthew at Biblehub.com)  
Not Futuristic
Not Futuristic
Hint: The links below also include homilies indexed above, but you must scroll down page
BOOKLETS:
SERMONS:
Most of these are from Our Daily Bread but there are many additional illustrations.
---
See Also Spurgeon's 500 Page Commentary on Matthew
Not Futuristic on Mt 24-25
See Commentary on Matthew in Pdf
NOTE: This is a different set of expository notes
Matthew 24-25
Book