NOTE: These notes represent background material used to prepare expository verse by verse messages preached at Wayside Communities Church in Austin, Texas. These are sermon notes not sermon transcripts. This material hopefully will help you if you are leading a small group, teaching a Bible class or preaching a series on Philippians.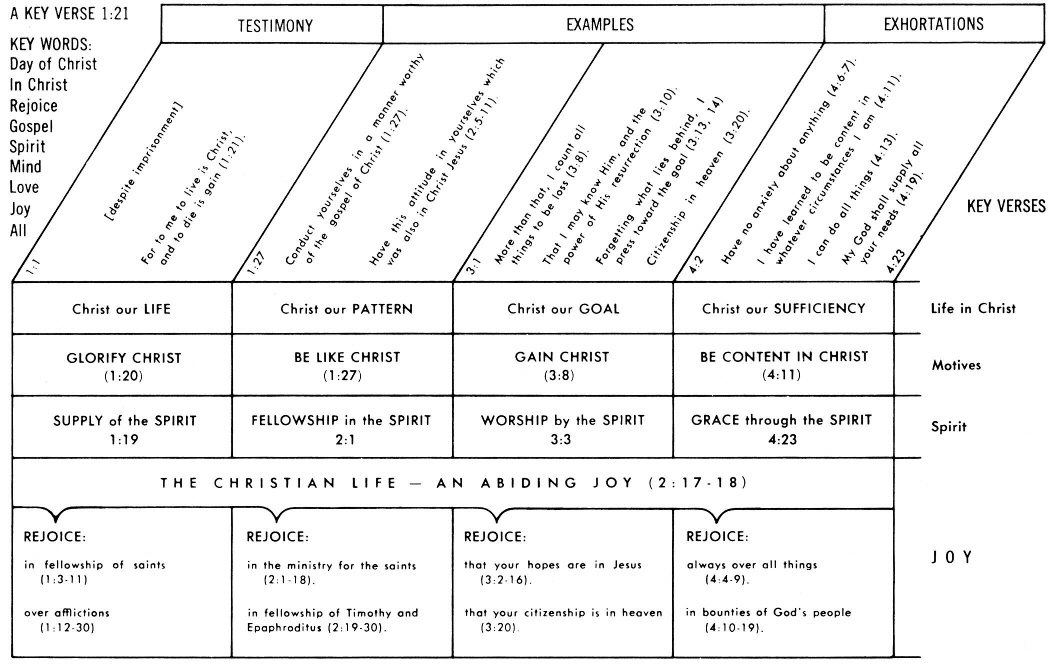 LIFE IN CHRIST
Click chart to enlarge
Charts from Jensen's Survey of the NT - used by permission
Let's do a quick review to help set the context for today's message –
Proverbs 23:7 says "as he thinks within himself, so he is." Do you remember Paul's "state of mind" in his opening words in this letter? Or to ask it another way what is Paul's perspective and priority even though he is in prison?

We have seen that he is prayerful, joyful, thankful, filled with confidence that God would complete the work He began in each one. How could Paul be prayerful, joyful, thankful and confident in prison? Is that even humanly possible? Of course not, it's IM-possible, but it is HIM-possible. What do we mean by HIM-possible? What have we learned about Paul? Who fills Paul and controls Paul and supernaturally empowers Paul? You know the answer - The Holy Spirit. Paul is a wonderful example of a Spirit filled man able to live an abundant life even in prison-like circumstances! He has his priorities lined up – Jesus, Others, Yourself (which spells joy). Jesus is mentioned 18 times in chapter 1 and Gospel 5 times. If Paul were standing here today I think he would say to us what he said to the saints in Philippians 3:17-note "Brothers (and sisters), join in imitating me." So as we study this passage today, keep alert for Paul's pattern, so that enabled by the Spirit you might follow it and experience prayer, gratitude, joy and confidence in Christ.

Let me ask you one more time because this principle is so important --- What "prison" are you in today? There may be no literal bars in your face or chains on your hands but you find yourself in circumstances that are so overwhelming that they make you feel like you are chained in a prison? Beloved, take heart! Paul is showing us there is a way to be prayerful, joyful, thankful and confident, even in our most adverse circumstances. As an old preacher once said "You are either in trial, have just come out of a trial or are just getting ready to go into a fiery trial. So may God grant that each of us learns more and more in a practical, experiential way what it means to be filled with Spirit and walk by the Spirit that He might enable us to rise above our circumstances and consider it all joy when we encounter various trials. We desperately need You to do this Lord. Amen
Philippians 1:12-18 ESV – Observe three key words = (1) Gospel ("it," "the word", "preach Christ," "proclaim Christ," "Christ is proclaimed") (2) Christ (Lord), (3) imprisonment ("chains") – three times
As we read did you notice Paul repeatedly emphasizes 3 truths in these 7 verses - Christ (Lord), the Gospel (and synonyms - "the word", etc) and imprisonment. Do you see any simple relationship?
Every verse says something about advancing the Gospel of the Lord Jesus Christ!
Brothers and sisters, When our eyes are fixed on Christ, His Gospel, and its advancement, whatever is our "prison," takes on an entirely new perspective, ultimately becoming a means to advance the Gospel.
12 I want you to know, brothers, that what has happened to me has really served to advance the Gospel,

13 so that IT has become known throughout the whole imperial guard and to all the rest that my imprisonment(chains) is for Christ. (in Christ)

14 And most of the brothers, having become confident in the Lord by my imprisonment, are much more bold to speak the Word without fear.

15 Some indeed preach Christ from envy and rivalry, but others from good will.

16 The latter do it out of love, knowing that I am put here for the defense of the Gospel.

17 The former proclaim Christ out of rivalry, not sincerely but thinking to afflict me in my imprisonment.

18 What then? Only that in every way, whether in pretense or in truth, Christ is proclaimed, and in that I rejoice. Yes, and I will rejoice
So here is our outline for today and God willing and enabled by His Spirit we might get through each of these powerful points. I've entitled this message…
THE ADVANCE OF THE GOSPEL
Philippians 1:12-18
Comment: This section is the "Romans 8:28-note" (cf Ge 45:8, 50:20) of Philippians: "God causes all things to work together for good to those who love God". Paul's circumstances were difficult, but he knew that God was in control, and that He was working the difficult circumstances our for his good and God's glory! You can be confident He will do the same in your difficult circumstances dear child of God. And so this section could be subtitled "The Fortune of Misfortune"
Let me give you some other titles:
(1) A Pauline Perspective on Pain and Pettiness 

(2) "Contagious Christianity!" 

(3) The Fortune of Misfortune

(4) Bonds Destroy Barriers 

(5) Chains Set the Gospel Free.

(6) John MacArthur's title for Phil 1:12-18 - The Joy of Ministry in Spite of Trouble and Detractors
Paul Bound but Word not Bound - In his last letter ever written Paul reminds us why he is in jail writing "Remember Jesus Christ, risen from the dead, descendant of David, according to my Gospel, for which I suffer hardship even to imprisonment (chains) as a criminal; but the word of God (THE GOSPEL) is not imprisoned (chained). (2 Ti 2:8-9-note) The verses today will show how the Gospel cannot be imprisoned! The Gospel is living and active and mighty to save! Paul may be chained up but not the Gospel!
So let's look at "The Advance of the Gospel"
A) (Phil 1:12) Afflictions Promote the Gospel

B) (Phil 1:13-18) Pioneer Advance of the Gospel

1) (Phil 1:13) Gospel to the Guards = (Communicating to Captors)

2) (Phil 1:14) Gospel Boldness to the Brethren = (Contagious Courage) (Causing the Weak to Witness)

3) (Phil 1:15-18) Gospel Preaching with Mixed Motives = (Critics Exposed) (Preaching with Pettiness)
Beloved, God has an exciting, encouraging, edifying Word for each of us today. As we read and unpack these 7 great verses, may the Holy Spirit take the words read and spoken and drive them deep into our innermost being so that we walk away changed from the inside out, more like Paul and especially more like our blessed Savior Christ Jesus. Amen.
Let's read Philippians 1:12-13
I want you to know, brothers, that what has happened to me has really served to advance the gospel, so that it has become known throughout the whole imperial guard and to all the rest that my imprisonment is for Christ.
Luke gives us some background to help us understand the effect of the Gospel on the Roman soldiers and also how "most of the brethren" were motivated to share the Gospel--
And he stayed two full years in his own rented quarters and was welcoming all who came to him (surely many of the saints in Rome - the ones that gained courage to preach the Gospel), preaching the kingdom of God and teaching concerning the Lord Jesus Christ with all openness, unhindered. (Acts 28:30-31)

Here Paul was chained by an 18" handcuff, one cuff on his wrist and one cuff on a Roman soldier, 24/7 for 2 full years!
First notice the phrase advance the Gospel. The word for advance gives us a great word picture for it was used of an army of pioneer woodcutters who would go ahead of the regular army, cutting a road through an impenetrable forest, thus making possible the pioneer advance of the army into regions they otherwise could not have gone.  So in our context, Paul's uses of the word advance implies that the Gospel had obstructions that needed to be removed. In using this word advance, Paul assures the Philippian saints that his circumstances have not only failed to curtail his missionary work, but they have actually advanced it and brought about a pioneer advance in regions where otherwise the Gospel could not have gone. And beloved, it is so in our lives. Our God-ordained or God-permitted circumstances are used of God to provide for a pioneer advance of the Gospel in our Christian service.
SIDE OBSERVATION: Notice the phrase the "Gospel...has become known throughout the whole imperial guard" That describes a phenomenal spread of the Gospel from ONE MAN! Numbers vary but several sources say there were some 15,000 imperial guards in Paul's day (Wikipedia)! A new guard would be chained to Paul every 6 hours which would mean Paul had exposure to about 3000 guards over 2 years (assuming no repeat guards). That leaves 12,000 who never personally heard Paul and yet the inspired Word of God says the Gospel became known throughout all 15,000 elite guards! One Spirit filled man living with one purpose to proclaim Christ! What would God do with each of us if we had a similar mindset and life purpose? May Paul's example stir a passion in each of us to proclaim Christ in wherever platform God appoints for us.
Let me ask you a trick question -- Where is Paul as he writes this letter? In prison? Well you are only partially correct! Look at the little phrase "FOR CHRIST" which in Greek is literally IN CHRIST.  Paul is in "2 locations at once!" One natural, the other supernatural. One temporal, the other eternal! Can you see how where Paul sees himself, changes his perspective on his suffering? Yes he is in chains, but he knows that more importantly he is in Christ. And the same dynamic is true in our lives, for we all have two addresses -- our temporal home in Austin and our eternal home in Christ. May the Spirit use that simple truth to transform the way we  think about trials and suffering in Christ and for His Name's sake. Amen.
Now, just imagine the scene - Paul a captive, chained to an elite Roman guard. Do you see the incredible paradox? Paul a captive with a captive audience! How many preachers would love to have that problem! And to add to the paradox, the captive (Paul) was free in Christ and would be condemned only to temporal death, whereas the Roman soldier was in bondage to sin and Satan and ultimately condemned to eternal death. But as alluded to earlier the phrase throughout the whole praetorian guard suggests some soldiers were set free in Christ upon hearing the Good News! Paul's Gospel was like a rock thrown into a pond sending out ripples of waves until the entire praetorian guard had heard the Gospel. I wonder how many elite Roman soldiers we will meet in heaven? We get a clue from how Paul signs off his letter - "All the saints greet you, especially those of Caesar's household (which includes soldiers)."  (Phi 4:22-note ESV) The fact that the Gospel permeated these battle tested elite Roman soldiers should encourage all of us to "throw the rock in the pond," that the Gospel might ripple forth. Only in eternity future will we see how many souls were impacted by the ripples produced by your Spirit enabled boldness to speak of Christ crucified, buried and risen.
Let's take that little phrase "what has happened to me." Three points on this phrase:
(1) Why does he even speak about what had happened? Epaphroditus (Php 2:25-note, Php 4:18-note) had come from Philippi and told him they were worried for they had heard about his imprisonment and surely thought that was the end of Paul's missionary activity.
(2) If I had written this I would have said something like this "I want you to know what has happened to me and how I have been thrown into prison (albeit "house arrest"), chained to a smelly Roman guard with stinking Roman goulash for breakfast, lunch and dinner! Not Paul. He had been given lemons so to speak but had chosen to make lemonade (aka "Road blocks are stepping stones to rise above our circumstances."). If you really want to know "WHAT HAPPENED" to Paul, you can fill in the blanks by reading Acts 21-28 where you read about his unjust imprisonment, his shipwreck (Acts 27:41-44), his being bitten on the hand by a deadly viper (Acts 28:3), etc, But he wanted to focus not on the specific events in Acts 21-28 but how God was able to take those events and cause them to work together for good like it says in Romans 8:28-note. In short all those things that happened had "really served to advance the Gospel." The Gospel was Paul's PRIORITY and this gave him proper PERSPECTIVE on his current condition of being in chains for Jesus' sake. Beloved, when the advance of the Gospel is your highest priority, it will change your perspective on your "prison-like" circumstances! Paul was a man who lived Hebrews 12:2-note "fixing (his) eyes on Jesus, the Author and Finisher of our faith." (Great word picture - FIXING in Greek  [click aphorao for more illustrations] = means looking away from all distractions and focused on one goal and is in the present tense = continually. E.g., horses with blinders to keep them from being distracted and keep them focused on the road, the "journey".)
(3) Paul could have been bitter, because in Ro 1:15-note he had written about 2 years earlier from Corinth to the Roman Church "I am eager to preach the Gospel to you also who are in Rome." And now God had granted his desire by bringing him to Rome as a prisoner instead of preacher. And yet he knew that whatever comes into our life is either sent or allowed by God's permissive will. Or stated another way, if you are a follower of Christ, a child of God, your Father filters everything that comes into your life through His loving, omnipotent hands, always seeking our good and His glory in all the circumstances of our life! That may be difficult for you to believe today as you consider your circumstances, but that is why we need to let Paul's PERSPECTIVE on PRISON-LIKE circumstances sink into our mind and our heart, so that the Holy Spirit might renew our mind and supernaturally change the way we view our painful circumstances that seem to us like a prison from which there is no escape!
If you are experiencing prison-like circumstances, is it possible that God might use your circumstances to for the pioneer advance of the Gospel? It never hurts to ask God to show you praying something like "Show me if my adverse circumstances are opening some new area in which I can spread the message of Good News." Amen 
Let me read you a little poem that relates to what we are discussing today (read twice and point out the change of letter in first line)…
"Disappointment—His appointment,"
Change one letter, then I see
That the thwarting of my purpose
Is God's better choice for me.
—Young
We need a Spirit enabled Pauline Perspective on Pain and Prisons so that we might all come to see our DISAPPOINTMENTS as HIS APPOINTMENTS!
Let me give you an illustration of the practice of this principle from the life of "the prince of preachers" and how God used a "prison like" circumstance to advance the Gospel…
Everyone has heard of Charles Haddon Spurgeon, the famous British preacher, but few know the story of his wife, Susannah. Early in their married life, Mrs. Spurgeon became an invalid. It looked as though her only ministry would be encouraging her husband and praying for his work. But God gave her a burden to share her husband's books with pastors who were unable to purchase them. This burden soon led to the founding of the "Book Fund." As a work of faith, the "Book Fund" provided literally thousands of other pastors with tools for their work in proclaiming the Gospel. All this was supervised by Mrs. Spurgeon from her home. It was a pioneer ministry.
ANOTHER ILLUSTRATION OF HOW PRISON FURTHERED THE GOSPEL 
"John Bunyan's preaching was so popular and powerful, and so unacceptable to leaders in the seventeenth-century Church of England, that he was jailed in order to silence him. Refusing to be silent, he began to preach in the jail courtyard. He not only had a large audience of prisoners, but also hundreds of the citizens of Bedford and the surrounding area would come to the prison daily and stand outside to hear him expound Scripture. He was silenced verbally by being placed deep inside the jail and forbidden to preach at all. Yet in that silence, he spoke loudest of all and to more people than he could have imagined. It was during that time that he wrote The Pilgrim's Progress (book and notes by John Piper), the great Christian classic that has ministered the Gospel to tens of millions throughout the world. For several centuries, it was the most widely read and translated book in the world after the Bible. Bunyan's opponents were able to stop his preaching for a few years, but they were not able to stop his ministry. Instead, they provided opportunity for it to be extended from deep within a jail in the small town of Bedford to the ends of the earth." (from John MacArthur)
(2) Phil 1:14 And most of the brothers, having become confident in the Lord by my imprisonment, are much more bold to speak the word without fear.
CONTAGIOUS COURAGE
Paul's chains not only gave contact with the lost, but gave courage to the saved. Paul's courage was contagious!
Notice several things about this verse:
Most of the brothers – "Most of the brothers and sisters" not just the men but the women. He is speaking of the believers in Rome.
Are much more bold to speak – The word is speak not preach! Notice these believers in Rome were emboldened by Paul's example to speak more openly about Christ in their day to day conversations. They weren't preaching to their peers, they were simply speaking openly of their Savior and His good news. All to often I am guilty of PREACHING to someone rather than SPEAKING to them! Now where does this boldness come from? Did they just eat a bowl of Cheerios, the breakfast of champions, that morning? Of course not – they had heard of Paul's boldness to speak of Christ to men with swords in their hands! But there is undoubtedly another source of their boldness as we see in the Book of Acts. Let's read Acts 4:31 which is a description of the brothers and sisters in the early church (Wayside in Jerusalem).
"And when they had prayed, the place where they had gathered together was shaken, and they were all filled with the Holy Spirit and began to speak (Laleo, the same word used by Paul in Php 1:14) the word of God with boldness."
We see this same pattern all through the book of Acts – filled with the Spirit, speaking boldly to others about Jesus and His Gospel. Even Paul himself asks for prayer to speak boldly…
(Pray) also for me, that words may be given to me in opening my mouth boldly to proclaim the mystery of the Gospel, for which I am an ambassador in chains, that I may declare it boldly, as I ought to speak (Again same word for speak in Php 1:14). (Eph 6:19-20-note ESV)
A couple of illustrations how suffering of one saint stimulated in other saints a desire to spread the Gospel...
Martin Luther's work was spurred on by the courage of John Huss, who was burned at the stake for his faith in Jesus. In fact listen to John Huss' words to his executioner - "You are now going to burn a goose (meaning of Huss' name), but in a century you will have a swan whom you can neither roast or boil!" Martin Luther came about 100 years after Huss encouraged by his martyrdom. What is fascinating is that Luther had a swan for his coat of arms!
The ministries of John Wesley and George Whitefield were built on the courage of John Bunyan, who wrote Pilgrim's Progress. Bunyan suffered thirteen years in prison for preaching the gospel on the streets of Bedford. When asked if he would cease to preach, his valiant reply was, "Release me today and I will preach in the streets tomorrow." So his enemies kept him in prison.
Alexander Maclaren - A soul all on flame has power to kindle others. There is an old story of a Scottish martyr whose constancy at the stake touched so many hearts that 'a merry gentleman' said to Cardinal Beaten, 'If ye burn any more you should burn them in low cellars, for the reek (smoke) of Mr. Patrick Hamilton has infected as many as it blew upon…. The history of the Church has largely consisted in the biographies of its saints, and every great revival of religion has been the flame kindled round a flaming heart.
Modern Example - After Jim Elliot and his four missionary friends were brutally martyred by the Auca Indians in South America in 1956, a large number of Wheaton College graduates offered themselves as missionaries in the years following (Elliot had graduated from Wheaton). (Elliot said "He is no fool who gives what he cannot keep, to gain what he cannot lose.")
Beloved, you can write it down in gold ink…
COSTLY Christianity always inspires COURAGEOUS Christianity!
APPLICATION OF Philippians 1:12-14 -  Three applications:
(1) Let's pray for ourselves and for each other to be bold to speak the Gospel to the lost. If Paul in prison asked for prayer to be bold to share the Gospel (Eph 6:19-20) can we do any less?!

Francis Chan asks "Why are we cowards when it comes to speaking the Gospel? Could it be because there's a deeper conflict going on? Could it be that speaking the gospel is warfare? I think so (see 2 Cor 4:3-4-note). Let us pray for great courage as we make the Gospel known to people. Let us think on the affliction of other missionaries and pray for God to grant us boldness in making the gospel known. (Christ-Centered Exposition)

(2) Enabled by the Spirit, let's seek to be contagious Christians like Paul proved to be "contagious" to the brothers and sisters in Rome. As someone has said "Enthusiasm for Christ is contagious!" Has anyone caught this sense of excitement and passion from being around you? Don't be too hard on yourself – practice Paul's pattern of J.O.Y – and the Spirit will stir the passion and excitement in your heart!

(3) Perhaps you've been a believer for years, maybe even decades, and you've lost that Pauline passion to share the Gospel – let me suggest you get around some very new believers and listen to them speak passionately of their desire to share Jesus and the Gospel with others. I think you will find their passion for Jesus contagious. Proverbs says "Iron sharpens iron, so one man sharpens another." (Pr 27:17) Too often I have seen older believers say to young believers who are bubbling over with Jesus that they just need to get a grip and tighten their lip a bit. Talk about quenching the fire of the Holy Spirit!

(4) One practical suggestion on how we can "proclaim Christ" - Our day to day (Monday-Saturday) walk (especially, our attitude in difficult circumstances) always has an effect, not only on the lost, but also on the Lord's people. Both groups are watching us - Are we always grumbling (cf Php 2:14-note)? Or are we joyfully trusting in the loving sovereignty of God in the midst of difficult trials proclaiming the reality of faith in Christ both to the lost and the saved. Lost people will want to know why we're different, why we don't complain like everyone else. The Lord's people who are discouraged will see our faith in God in the midst of trials and be encouraged to trust Him and bear witness for Him.

Dr W H Houghton, pastored Calvary Baptist Church in NYC and later served as president of Moody Bible Institute. When Dr. Houghton became pastor of the Baptist Tabernacle in Atlanta, a man in that city hired a private detective to follow Dr. Houghton and report on his conduct. After a few weeks, the detective was able to report to the man that Dr. Houghton's life matched his preaching. As a result of Houghton's faithful life, that man became a Christian. There are more flies caught with honey than with vinegar, and there will be more souls led to heaven by a man who wears heaven in his face than by one who bears death in his looks.

Adoniram Judson - Many years ago when the great missionary Adoniram Judson was home on furlough, he passed through the city of Stonington, Connecticut. A young boy playing about the wharves at the time of Judson's arrival was struck by the man's appearance. Never before had he seen such a light on any human face. He ran up the street to a minister to ask if he knew who the stranger was. The minister hurried back with him, but became so absorbed in conversation with Judson that he forgot all about the impatient youngster standing near him. Many years afterward that boy—who could never get away from the influence of that wonderful face—became the famous preacher Henry Clay Trumbull (The life story of Henry Clay Trumbull). In a book of memoirs he penned a chapter entitled: "What a Boy Saw in the Face of Adoniram Judson." That lighted countenance had changed his life. Even as flowers thrive when they bend to the light, so shining, radiant faces come to those who constantly turn toward Christ! (Read original story)
Now let's look briefly at the last 4 verses...
(3) Philippians 1:15-18 Preaching with Mixed Motives (Critics Exposed)
15 Some indeed preach Christ from envy and rivalry, but others from good will.

16 The latter do it out of love, knowing that I am put here for the defense of the gospel.

17 The former proclaim Christ out of rivalry, not sincerely but thinking to afflict me in my imprisonment.

18 What then? Only that in every way, whether in pretense or in truth, Christ is proclaimed
Alexander MacLaren - It comes, then, to be a testing question for each of us, have we learned from Paul this lesson of tolerance, which is not the result of cold indifference, but the outcome of fiery enthusiasm and of a clear recognition of the one thing needful? Granted that there is preaching from unworthy motives and modes of work which offend our tastes and prejudices, and that there are types of evangelistic earnestness which have errors mixed up with them, are we inclined to say 'Nevertheless Christ is proclaimed, and therein I rejoice, Yea, and will rejoice'? Much chaff may be blended with the seeds sown; the chaff will lie inert and the seed will grow. Such tolerance is the very opposite of the carelessness which comes from languid indifference. The one does not mind what a man preaches because it has no belief in any of the things preached, and to it one thing is as good as another, and none are of any real consequence. The other proceeds from a passionate belief that the one thing which sinful men need to hear is the great message that Christ has lived and died for them, and therefore, it puts all else on one side and cares nothing for jangling notes that may come in, if only above them the music of His name sounds out clear and full.

Wiersbe - It is a matter of historic record that the two great English evangelists, John Wesley and George Whitefield, disagreed on doctrinal matters. Both of them were very successful, preaching to thousands of people and seeing multitudes come to Christ. It is reported that somebody asked Wesley if he expected to see Whitefield in heaven, and the evangelist replied, "No, I do not." "Then you do not think Whitefield is a converted man?" "Of course he is a converted man!" Wesley said. "But I do not expect to see him in heaven—because he will be so close to the throne of God and I so far away that I will not be able to see him!" Though he differed with his brother in some matters, Wesley did not have any envy in his heart, nor did he seek to oppose Whitefield's ministry. Criticism is usually very hard to take, particularly when we are in difficult circumstances
We can overcome this harmful attitude, but first we must identify it. Jealousy believes that someone else is getting what we deserve—whether money, popularity, wisdom, skill, or spiritual maturity. Second, we must confess it. Call it what it is—sin. And third, we must give thanks. The moment we see someone enjoying any advantage, we must accept it with gratitude. We can keep jealousy in check by refusing to compare ourselves with others. As we learn to find our satisfaction in God, His grace enables us to rejoice with those who rejoice. When we do that, we have little room for envy. Besides, when we turn green with envy, we are ripe for trouble!
Have you ever been jealous of God effectively using someone in ministry? Don't worry I won't ask for a show of hands, but If we are honest, we would all answer "yes."
PRINICIPLE - Paul is not concerned about vindicating himself or being vindictive to the petty preachers. In showing us this attitude he gives us a perfect example of Php 2:4-note "do not merely look out for your own personal interests, but also for the interests of others." The "others" he was looking out for were those lost souls who had never heard the Gospel preached and were at least hearing it from these men with sorry motives but a sound message!
APPLICATION - The clear application from this text for all of us in ministry (and every saint is in ministry) is to check your motives. Why do you do what you do in ministry? Check them now for they will be checked later!
Therefore do not go on passing judgment before the time, but wait until the Lord comes who will both bring to light the things hidden in the darkness and disclose the motives of men's hearts; and then each man's praise will come to him from God. (1 Cor 4:5)
PRINCIPLE – The INTRINSIC power (dunamis) of the Gospel - Paul's detractors preached the true Gospel, and it had an impact not because of the petty messenger but because of the powerful message for the "Gospel is the power of God (not of wrongly motivated men) for salvation to everyone who believes. (Ro 1:16-note)
A selfishly motivated preacher can still be used of God, though not as much as he could be otherwise. The power of the Gospel is more powerful than the package it comes in.
Phil 1:15 - Who is my life "preaching"?

The clear application from this text for all of us in ministry (and every saint is in ministry) is to Check your motives.

Why do you do what you do in ministry?

Ask yourself, Am I constantly comparing myself with others in ministry?

Do I rejoice when my friends succeed, or do I grow jealous?

Do I resent it when others are praised?

Does it bother you when others are praised, promoted, and more recognized then you?

What about if they try to tear you down in order to build themselves up?

Solution? (Phil 1:18). The way you overcome your spirit of envy and rivalry and even desire to afflict another person in ministry is by practicing the "J.O.Y." RULE (enabled by the Spirit - Jesus first, Others next, Yourself last) like Paul – He focused on Jesus, His Gospel and His glory.
We need to practice the words of that great old Hymn –
Turn your eyes upon Jesus, Look full in His wonderful face,
And the things of earth will grow strangely dim, In the light of His glory and grace. Amen? Amen!
Paraphrase - What then? Only that in every way, whether in pretense or in truth, Christ is proclaimed
Philippians 1:18 But what does it matter? The important thing is that in every way, whether from false motives or true, Christ is preached. (Phi 1:18 NIV)
Here are a few LESSONS FROM Philippians 1:15-18
We need to constantly check our motives in ministry, and continually seek to proclaim Christ. (Remember when we turn green with envy, we are ripe for trouble!)  As an aside note that in these verses Paul is contrasting fleshly preaching versus Spirit filled preaching. Why do I say that? Because "envy and rivalry (strife)" are the rotten fruit of the flesh in Gal 5:20-21-note whereas "LOVE" (Php 1:16) is the supernatural fruit of the Spirit in Gal 5:22-note. So if you are experiencing envy and strife, what's the secret of eradicating that rotten fruit from your life? Confess it as a sin and then yield to and "Walk by the Spirit and you will not gratify the (evil) desire of the flesh." (Gal 5:16-note) 
 
Respond to those who criticize your ministry by singing a hymn! Imitate Paul = "Turn your eyes upon Jesus, Look full in His wonderful face, And the things of earth will grow strangely dim, In the light of His glory and grace." Amen? Amen!

John MacArthur says that the aspect of ministry that "most distresses (him) is being falsely accused by fellow preachers of the Gospel. For whatever reason, there are men who seem to desire to discredit the ministry of others. As a result they falsely accuse other ministers, not because those they attack are unbelievers, but simply to discredit them....The pain runs deep when preachers of the Gospel slander, malign, misrepresent, criticize, accuse, oppose, or belittle your ministry."
 
Petty messengers do not invalidate a powerful message! 
 
The Gospel has intrinsic power to save. Romans 1:16-note says (a great verse to memorize) "I am not ashamed of the Gospel, for (Paul explains why he is not ashamed) it is the POWER OF GOD (the dynamis of God, the inherent supernatural divine power) for salvation to everyone who believes to the Jew first and also to the Greek." 
 
And so the effectiveness of the Gospel is dependent on God's power not our polished presentation. This truth of the intrinsic power of the Gospel should encourage you - you may not be the most eloquent speaker, but remember God is not looking for Gospel messengers with ability but with availability. We are to speak the simple, but powerful message that Jesus died for our sins, was buried, was raised on the third day (don't omit the resurrection!) That's the Gospel in brief. If you speak that message in your casual conversations, don't worry about how eloquent you are, but take heart that God's Gospel will not return void without accomplishing what He intends. We are like a bunch of farmers, casting Gospel seeds into the soil of human hearts. As Paul said "I planted, Apollos watered, but God gave the growth." (1 Co 3:6) Beloved, be faithful to speak the Gospel of Jesus and you will be fruitful and will hear Jesus say "Well done, My good and faithful servant."  (Mt 25:21 ESV)" 
Let's review the main points we have covered in Philippians 1:15-18:
God can use your suffering circumstances to advance the Gospel.
Seek to be a Spirit filled contagious Christian.
Pray for Spirit enabled boldness to proclaim Christ.
Check your motives (at the door) when you minister.
Trust in the power of the Gospel, not your polished presentation.
AND REJOICE! (Ben will cover that next week).
---
ADDENDUM:
CHEERING THE ADVANCE OF THE CAUSE - Joe Stowell - One thing we have to get over if we are going to honor Christ in our work is our competitive spirit. The goal of serving Him is to advance His cause, not our reputation or ministry.
One Easter Sunday, a church across town decided to set a record attendance by having a "Friends Day" and throwing an Easter egg roll on their front lawn for all the kids who came. To be candid, I felt a sense of competition with this particular church and was quietly critical of its approach to ministry.
What really bothered me was the fact that many of the friends their people called to invite to their service were members of our church. My heart was reproved by Paul's attitude in Philippians 1:18, where he spoke about others who were more successful than he, even though the motivation for their ministry was competitive and less than pure.
A woman in our church came to me one Sunday evening in great frustration as she blurted out, "Pastor, do you know how many they had at Temple Baptist Church this morning? They had more than fifteen hundred there, and many of them were our own people. I don't think that's right or fair, do you?" It was a test of my motives. I wish I could always be this on target, but thankfully the Word had done a remedial work on my carnal perspectives and I found myself saying, "Are you telling me that more than fifteen hundred people in our town heard the gospel of Jesus Christ this morning? Isn't that the best news you've heard in a long time?" She was stunned and verbally backpedaled to "Well . . . well . . . yes, I guess it is."
When our focus is on the glory of Christ and the gain of His kingdom, it doesn't make a whole lot of difference who facilitates the goal. If Jesus is lifted up, our hearts should rejoice—unless we think our life and ministry are all about us.
Are you a competitor with other Christians or a colleague in the cause? Do you rejoice when they succeed? (Strength for the Journey)
---
FOR ADDITIONAL STUDY SEE IN DEPTH COMMENTARY
18 What then? Only that in every way, whether in pretense or in truth, Christ is proclaimed, and in that I rejoice.

Yes, and I will rejoice,

19 for I know that through your prayers and the help of the Spirit of Jesus Christ this will turn out for my deliverance,

20 as it is my eager expectation and hope that I will not be at all ashamed, but that with full courage now as always Christ will be honored in my body, whether by life or by death.

21 For to me to live is Christ, and to die is gain.

22 If I am to live in the flesh, that means fruitful labor for me. Yet which I shall choose I cannot tell.

23 I am hard pressed between the two. My desire is to depart and be with Christ, for that is far better.

24 But to remain in the flesh is more necessary on your account.

25 Convinced of this, I know that I will remain and continue with you all, for your progress and joy in the faith,

26 so that in me you may have ample cause to glory in Christ Jesus, because of my coming to you again.
-----------------
OPENING STORY
A story is told about a man who preached an impressive sermon, seeking to be the pastor of a new church. Everybody loved it and voted for him to become their new pastor. They were a bit surprised, however, when he preached the same sermon his first Sunday there—and even more surprised when he preached it again the next week. After he preached the same sermon the third week in a row, the leaders met with him to find out what was going on. The pastor assured them, "I know what I'm doing. When you start living out this sermon, I'll go on to my next one."
Today's Scripture includes one of the most sublime, profound statements ever uttered by a human being = "To live is Christ, to die is gain." One could say this is Paul's "LIFE VERSE" and so we'll talk about it today. Remember that to hear a message on God's work in Paul's life is one thing but being willing to live the message as Paul did is quite another.
My prayer is that enabled by the Spirit we might all be changed by the preaching of God's Word, that Christ might become more and more our greatest desire, our Pearl of great price, and that we would live out this Gospel truth in such a way before the lost world that they would ask us why we are different (1 Pe 3:15). Amen
----------------
OPENING ILLUSTRATION - A young man came to W. E. Gladstone when he was Prime Minister of England and said,
"Mr. Gladstone, I would appreciate your giving me a few minutes in which I might lay before you my plans for the future. I would like to study law."

"Yes," said the great statesman, "and what then?"

"Then, sir, I would like to gain entrance to the Bar of England."

"Yes, young man, and what then?"

"Then, sir, I hope to have a place in Parliament, in the House of Lords."

"Yes, young man, what then?" pressed Gladstone.

"Then I hope to do great things for Britain."

"Yes, young man, and what then?"

"Then, sir, I hope to retire and take life easy."

"Yes, young man, and what then?" he tenaciously asked.

"Well, then, Mr. Gladstone, I suppose I will die."

"Yes, young man, and what then?"

The young man hesitated and then said, "I never thought any further than that, sir."

Looking at the young man sternly and steadily, Gladstone said, "Young man, you are a fool. Go home and think life through!"
This illustration begs the question "WHAT ARE YOU LIVING FOR?" ARE YOU LIVING FOR TIME OR FOR ETERNITY? You answer will determine the direction of your life. If you are living for the wrong purpose, your direction will be wrong. If your purpose is vague or fuzzy, your direction will be fuzzy. If you don't know your purpose, you'll just be swept along by the currents of our age, doing what seems to bring you happiness. It is crucial that you be clear and correct in answering the question, "What are you living for?" As the story of the young man and Mr. Gladstone illustrates, the correct answer to that question must include some thought about the fact of death and what lies beyond. It must also include consideration of the uncertainty of life, so that whenever death may come, it doesn't thwart your purpose, for if your purpose is God's purpose for your life, for you are immortal until your work on earth is done! That's part of the Good News of the Gospel. The Apostle Paul was clear on his purpose. I would submit that the purpose for which he lived is the only purpose that takes eternity into account, so that whether we live a long life or whether it is cut short, that purpose will be fulfilled. In short, Paul's purpose was, "For to me, to live is Christ" (Php 1:21). That's what we will be talking about today "What is your purpose for living?"
Philippians 1:18b – In this I rejoice
This looks backward at the circumstances (including the spread of the Gospel in the Roman elite troops, the increased courage of the saints in Rome and the petty preachers) and he is able to rejoice because Christ is continually being proclaimed.
John MacArthur writes that "One of the surest measures of a Christian's spiritual maturity is what it takes to rob him of his Spirit-bestowed joy. Paul's maturity is evident in the present text as he makes it clear that difficult, unpleasant, painful, even life-threatening circumstances did not rob him of joy but rather caused it to increase. Although it is a gift from God to every believer and administered by the Holy Spirit (Galatians 5:22), joy is not always constant and full. The only certain cause for loss of joy in a believer's life is sin, which corrupts his fellowship with the Lord, who is the source of joy. Such sinful attitudes as dissatisfaction, bitterness, sullenness, doubt, fear, and negativism cause joy to be forfeited. Consequently, the only way to restore lost joy is to repent and return to proper worship of and obedience to God. Anything other than sin—no matter how difficult, painful, or disappointing—need not take away the believer's joy. Yet even minor things can do so if believers react sinfully to them. A change for the worse in health, job, finances, personal relationships, or other important areas of life can easily cause believers to question the Lord, His sovereign wisdom, and His gracious provision. When that happens, joy is one of the first casualties. Believers are especially vulnerable when such things happen suddenly, taking them off guard. Their response is often one of anger, doubt, distrust, fear, self-pity, ingratitude, or complaining. In such cases, events that are not sinful in themselves lead to sinful responses that steal joy.
Paul is in prison but he is a Spirit filled prison of Christ Jesus and so he is continually enabled to rejoice in the midst of trying circumstances. 
Jean Nicolas Grou (1731-1803) said that "The chief pang of most trials is not so much the actual suffering itself as our own spirit of resistance to it." (Might want to read that again.)
Let's turn this excellent statement around, in a way that helps explain the joy of the apostle Paul by saying that "The Christian's joy in the midst of trials is not to be found in the suffering itself (which would be mere masochism), but in the privilege of taking part in the good ends God has foreordained to come about through these trials." Of course to do so means we need to trust God's "good ends" out of "bad beginnings!" (from Bob Deffinbaugh)
Philippians 1:18b-19 - Yes, and I will rejoice, for I know that through your prayers and the help of the Spirit of Jesus Christ this will turn out for my deliverance,
POWER OF I WILL REJOICE looks to what the future holds and enabled by the prayers of the saints and the lavish (not skimpy) supply of the Spirit makes the choice to rejoice.
Paul says that he "will" rejoice in the future. How does this challenge you?
I KNOW – This specific verb speaks of Paul's absolute, unhesitating assurance and confidence in his eventual deliverance in life or in death.
THROUGH YOUR PRAYERS (Gk = deesis) - Php 1:19 tells us that Paul was joyful in part because of the prayers of God's people. It gave him great comfort to know that Christians were praying for him. Friend, never underestimate the importance of intercession. In 1 Thessalonians 5:25, Paul asked the church in Thessalonica to pray for him and in 2 Thessalonians 3:1, he linked prayer with the proclamation and spread of the gospel: "Finally, brothers, pray for us that the message of the Lord may spread rapidly and be honored, just as it was with you." He asked the Ephesian believers to pray that he would "make known with boldness the mystery of the gospel" (Ephesians 6:19). Paul spoke of the effect of the prayers of praying saints in his second letter to the Corinthian, writing
You are helping us by praying for us. Then many people will give thanks because God has graciously answered so many prayers for our safety. (2Co 1:11 NLT)
Christ Centered Exposition - James reminds us that prayer is effectual (Jas 5:16). In the book of Acts we have numerous examples of the church praying for boldness and endurance in trial (e.g., Acts 12). Paul told the Corinthians that God was using their prayers to help them in his great trials (2 Cor 1:5,8-11). He also implored the Romans, the Ephesians, the Colossians, and the Thessalonians to pray for him (Ro 15:30; Eph 6:18-19; Col 4:3-4; 1 Th 5:25; 2 Th 3:1). So this reference to the Philippians isn't some passing comment. Paul really believed, like the other apostles and early saints, that God uses the prayers of His people to provide strength to His servants. So then, let's ask others to pray for us. And let's pray for others. What an encouragement it is to know that people are praying for you, and how important it is that you are praying for others. (Christ-Centered Exposition Commentary – Exalting Jesus in Philippians.)

APPLICATION:
Don't miss the connection between how prayer leads to provision to men and praise to God.

As someone has well said, "Prayer ON earth leads to power IN heaven." Is this mysterious? Of course! But it is Scripturally true!

What does this passage teach us about the importance of intercessory prayer?

For whom have you interceded this past week?
Are you praying for your pastors and elders like the Philippian saints were praying for their "former pastor?"
Here is a modern example of the power of intercessory prayer to encourage you to intercede (especially for Unreached People Groups):
Latin American Prayer for Pashtuns by KC - "If you are wondering whether prayer really makes a difference, in this particular case we have the proof," says missionary David Taylor. A Christian radio ministry had been broadcasting for years to the unreached Pashtun people of Pakistan and Afghanistan (>30 million). They were receiving about 60 responses to their program each month. "As soon as thousands of churches in Latin America began praying for the Pashtuns, this radio program began receiving hundreds and then thousands of responses each month," Taylor exclaims. "Like the Bible story of the disciples whose nets could not handle all the fish, this ministry is now asking for help from others to handle this unexpected interest in the gospel!" This miracle did not happen overnight. About five years ago, Guatemalan missionary Rigoberto Diguero began working with the Adopt-A-People movement to encourage Latin American believers to regularly pray for one unreached people group. That people group was the Pashtuns. He worked especially hard with his own denomination, Assembly of God. Five years later, we are hearing about the results. There are many other mission agencies and denominations in Latin America that can do the same. Just think what will happen when they begin to adopt the Tibetans, Brahmins, and Japanese! Pray for this prayer movement, which began in El Salvador, to spread to every mission agency and every country in Latin America. (Global Prayer Digest entry May, 19, 2017)
HELP OF THE SPIRIT OF JESUS CHRIST – The Greek word the ESV translates "help" (epichoregia - related verb epichoregeo) gives us our English word chorus. Whenever a Greek city was going to put on a special festival, some would pay for the singers. This donation had to be a LAVISH one to assure the festival would not be hamstrung or crippled by lack of funds! Thus this Gk word came to mean "to provide generously and lavishly." Paul was not depending on his own dwindling resources (for deliverance); he was depending on the generous resources of God the Holy Spirit.
The thought is that no expense was spared in order that a top notch performance might be achieved. How beautifully this word picture ties into what follows!
APPLICATION:
We need to adopt the same approach as Paul when we find ourselves in difficult circumstances! We need to renounce self-reliance and rely on the Spirit's supernatural sufficiency!
Are you learning Paul's secret of contentment which we will talk about in Php 4:11-13-note?
DELIVERANCE – The Greek word (soteria) means rescue from grave danger (e.g., martyrdom in Paul's case) and can also refer to salvation (heaven in Paul's case). Whatever the precise meaning, Paul knew that what he was going through was just temporary. This is similar to what he wrote in 2 Corinthians 4:17-18 (in the NLT paraphrase):
For our present troubles are small and won't last very long. Yet they produce for us a glory that vastly outweighs them and will last forever! So we don't look at the troubles we can see now; rather, we fix our gaze on things that cannot be seen. For the things we see now will soon be gone, but the things we cannot see will last forever. (2Co 4:17-18NLT-note)
Many commentators believe Paul was eventually released, traveled to Spain and then was arrested again before he was martyred. It's fascinating that the phrase, "this will turn out for my deliverance" is an exact quote from the Septuagint (Lxx), which is the Greek translation of the Old Testament of Job 13:16. Just as Job knew that he would eventually be delivered, whether out of death, or through death, so Paul knew that he would win either way. Here is the point of Paul quoting Job a righteous man in the OT who was also confident God would deliver him through life or death -- Paul trusted in the Word of God. The Word of God had so permeated his being that he would reach into the "concordance" of his heart and pull out this quotation from the book of Job!
So Paul was confident of his deliverance based on 4 things (1) the prayers of the saints, (2) the provision of the Spirit, (3) the trustworthiness of God's Word and (4) past experiences with God. Where do we see that? Paul says in Php 1:20 "Christ will even now, as always (AS HE HAD ALWAYS BEEN BEFORE IN THE MANY DIFFICULT AND DANGEROUS TRIALS HE HAD EXPERIENCED), be exalted in my body, whether by life or by death."
Also do not miss the connection between how prayer is associated with the provision of the Spirit. Yes the Spirit is sovereign, but yes, God answers the cries of His interceding children. How God's sovereignty and man's responsibility work together seamlessly is a mystery but it is rock solid truth we can count on. Someone  said it this way -- "Prayer on earth leads to power in heaven." C S Lewis adds that "God could have chosen to do His work on this earth in any fashion He wanted, but He chose in His sovereignty to do it in response to prayer."
Personal Application -- Don't hesitate to ask others to pray for you when you are in difficult circumstances. Fill out a request card and drop it in the collection box and rest assured you will be prayed for. Let us know if you want to keep the request confidential for the pastors and elders. And when you see things transpire that can only be ascribed to God, let us know so we can together give God all the glory!
Here are some other applications of Philippians 1:19 -
Are you fixing your eyes on your difficult circumstances or upon your dynamic Deliverer Christ Jesus? (cf Heb 12:2-note). Ask God for the grace to do the latter.
Do you ask others to pray for you when you are suffering through a trial or do you go it alone? The great apostle Paul did not hesitate to ask for prayer - (1 Th 5:25 "Brethren pray for us." 2 Th 3:1, Eph 6:19-20) Be willing to humble yourself and ask for prayer, for God says He is opposed to the proud but gives grace to the humble. (Jas 4:60-note)

Do you believe that the specific prayers by righteous saints on your behalf are powerful and effective? (cf Jas 5:16)

Are you learning to rely on our Father's lavish provision of the Holy Spirit to enable you to do supernaturally what you cannot do naturally (like Joy in the midst of trying circumstances)?
Philippians 1:20 as it is my eager expectation and hope that I will not be at all ashamed, but that with full courage (complete boldness) now as always Christ will be honored (exalted) in my body, whether by life or by death.
WE EXALT CHRIST
IN OUR BODIES!
What is Paul saying in this passage? Paul was bold and unashamed and was concerned only that Christ would be magnified in his body regardless of what awaited him--life or death. There was no wavering on his part.
KEY POINT: Instead of bringing shame to our Lord, we exalt Christ in our Bodies!
How are you doing? Did you exalt Him in your body this past week? Remember if you are a believer, your BODY is no longer your own Paul in fact commands to glorify ("exalt, magnify") Christ in our BODY! (1 Cor 6:19-20-note).
Practically speaking, how do we exalt (or not exalt) Christ in our bodies?
This is a very practical question. It means that we may either exalt Christ or bring shame to His name by our attitudes, our words, and our behavior.
How do you use your eyes? A lustful glance at a woman or even at a sexy picture does not exalt Christ.

How do you use your ears? Do you listen to music that defiles you or music that exalts Christ? Do you listen to gossip or slander?

How do you use your tongue?

 

Your hands?

 

Your feet?

 

Your countenance?

Do you use your body in purity or for sensuality?

What about your personal appearance?

Do you dress to be seductive or to attract attention to yourself? Or, do you exalt Christ?
To "live (is) Christ" means to exalt Him through everything we do.
How would this be possible? Where does Paul get the power to always honor Christ in his body? Through the lavish supply of the Spirit of Jesus Christ. Paul describes here the performance he is aiming for through the "lavish supply" of Christ's Spirit.
Paul's "body" is the theater and the production is "the magnifying of Christ--whether by life or death."
EAGER EXPECTATION - Earnest expectation" (apokaradokia) is a word "composed of the preposition 'away,' the noun 'head,' and the verb 'watching,' and indicates watching something with the head turned away from other objects. It indicates the concentrated, intense hope which ignores other interests and strains forward as with outstretched head. It's only other use is in Romans 8:19-note in the beautiful phrase "For the creation waits with eager longing for the revealing of the sons of God. (ESV)." Creation is eagerly awaiting the day our bodies are GLORIFIED! Hallelujah!
In other words, this word pictures "the eager, intense look which turns away from everything else to fix on the one object of desire; to watch with head outstretched." (You could stretch your head out looking intently out a window to illustrate this word picture). The word was used of watchmen looking into the darkness for a beacon of light. Paul fixed his eyes on Christ the Light of the world (Jn 8:12) and was determined that in nothing would he be ashamed. He would be a witness for Jesus Christ. Paul knew he must appear before the Lord someday and did not want to be ashamed. (cf 1 John 2:28-note)
IT IS MY...HOPE -  Hope (elpis) as used in the NT almost always means not a "hope so" but a "hope sure" and speaks of an absolute assurance of future good or an absolute certainty that God will do good to me in the future! So when Paul spoke of hope in this passage, he was not expressing uncertainty. When someone asks you if the Spurs can beat the Warriors, you might reply, "I hope so!" This is not what Paul meant. To him, a Christian's hope was a reality, a certainty! What was Paul's hope? (1) That he in no way would be ashamed and (2) that no matter what happened to him personally, he would "win!"
Why would he need to be bold (and not ashamed)? He is in enemy territory, he also has some preachers in Rome who wish him distress in prison – So where does Paul's boldness come from? The same place his hope comes from - the intercessory prayers of the saints (do you really believe prayer works?), from the empowering presence of the Spirit and from his previous experience with Jesus (we get that from the phrase "as always").  
Regarding the word "help" (ESV) it is better rendered by the lavish enabling provision of the Spirit of Jesus Christ. Why do I say that? Because the word "help" implies I have some strength in myself to hope or to be bold and all I need is a little push! We don't just need "HELP" from the Spirit. We need the Holy Spirit to give us both the desire and the power to hope and to be bold as Paul explained in the next chapter...
"For God [THE SPIRIT OF JESUS CHRIST] is working in you, giving you the desire and the power to do what pleases Him." (Phil 2:13NLT-note The NLT is an excellent paraphrase of Php 2:13)
Let's unpack that phrase "CHRIST WILL BE HONORED IN MY BODY" as it is filled with practical application for our lives.
In summary Paul's passion in life can be well summed up from this verse: ALL OF CHRIST THROUGH ALL OF ME AT ALL TIMES IN ALL CIRCUMSTANCES. Note what the purpose of the lavish supply of Christ's Spirit is for--the magnifying (lit.- enlarging) of Himself. God only funds His own projects!
HONORED – The Greek word means to make great – Ponder this a moment. We as redeemed sinners, have the unspeakable privilege according to Paul in some way to "make Jesus great." Obviously HE IS GREAT, IN FACT THE GREATEST, but we have an opportunity of a lifetime to show Him off so that He is glorified in and through our lives to the world, both saved and lost! And where are we to exalt Christ? In our bodies! In truth our bodies are not ours but belong to Christ!
Or do you not know that your body is a temple of the Holy Spirit who is in you, whom you have from God, and that you are not your own? For you have been bought with a price: therefore glorify (aorist imperative - see explanaton) God in your body. (1 Cor 6:19-20-note)
It is fascinating to note that (in Mt 23:5) the same Greek word for HONORED was used to describe the Scribes and Pharisees lengthening (making great) the tassels of their garment. Why? To draw attention to themselves! Remember the "J.O.Y." pattern? Jesus-Others-Yourself -- Jesus first, then others, us last! Paul said we make Jesus great by placing Him first in our lives! John the Baptist in John 3:30 said it this way – Jesus must continually, daily be increasing, we must ever be decreasing. This is not one stop shopping but a life long journey of sanctification, of becoming more and more like Jesus as we take in His living Word and transformed by His life giving Spirit – The lost world desperately seeks to glorify their Self, but we seek to glorify the Savior. Not us glorified but Jesus is glorified, Jesus magnified in our life. It's not just a song we sing on Sunday, but a life lived in the power of the Spirit on Monday (and all week long)!
Let me illustrate the principle of "MAKING JESUS GREAT" by taking you to the Sistine Chapel and Michelangelo's classic masterpiece.
(1) ILLUSTRATION - Michelangelo (PAINTING THE SISTINE CHAPEL) is said to have often painted with a brush in one hand and a shielded candle in the other to prevent his shadow from covering the masterpiece he was creating. As God works through us to craft His glory and gain, we must be careful that our shadows are not cast across the canvas of His work.

God's glory through us is the visible expression of His marvelous character in our lives (1 Corinthians 6:19–20; Ephesians 1:11–14). We display God's glory when His mercy, grace, love, justice, and righteousness are actively evident. As we live to glorify Him, He becomes evident through us and His cause is advanced. In Philippians 1:20 Paul declared: "I eagerly expect and hope that I will in no way be ashamed, but will have sufficient courage so that now as always Christ will be exalted in my body, whether by life or by death." Sadly, given our tendency to be taken with ourselves, we are more prone to live for our own glory. The goal is to follow the example of Paul, who said, "For to me, to live is Christ . . ." (Philippians 1:21).

No one can have it both ways. We either live to ENHANCE our own significance or live to EXALT our own Savior!
Enabled by the Spirit, consider doing something this week that magnifies Christ in and through your life. Demonstrate the significance of an aspect of His character—love, justice, mercy, grace, truth—and then give Him the credit.
Let me ask you –
In what ways does your life reflect His glory and advance the life and Gospel of Jesus?

Do you need to make any adjustments? Living for Christ makes life worth living.

Do you need to make a mid-course (life) correction?

In light of the fact that Paul lived to "make Jesus great," when people look at you do they see the greatness and glory of Christ, or do they see you?

Are you making Christ bigger or smaller by the way you're living?
Psalm 34:3 says, "O magnify the LORD with me, and let us exalt His name together."
(2) ILLUSTRATION - BEING A LENS FOR JESUS - Each of us is a lens that magnifies what we live for. People can look at and through our lives and see what is really important to us. The athlete magnifies his sport, his team and his winning record. The musician magnifies the instrument he plays. The scholar magnifies his discipline. As God's people, we should magnify the Lord. The sinner's great desire is to magnify one's self. The saint's great desire should be to magnify our Savior. The Apostle Paul said, "Christ will be magnified in my body, whether by life or by death" (Phil. 1:20).
Are you magnifying the Lord today?

Can people listen to your words, look at your life, measure your actions and say, "She belongs to the Lord. He belongs to the Lord"?

It's important that people see the Lord, not us.
The most important quality of a lens is cleanliness. When the lenses of my glasses get dirty, I see the dirt. So I have to clean them. When we are dirty, people see us rather than the Lord. Let's keep our lives clean today. Let's magnify the Lord together; He is worthy of all praise. Christians are on display before the world. What an opportunity and responsibility you have to impact others for Christ! If you love the Lord, you will want to magnify Him. Watch your words and actions. Are you living for Jesus? Keep the lens of your life clean so that He may be magnified through you.
(3) ILLUSTRATION - George Atley, a young Englishman with the heart of a hero, was engaged in the Central African Mission. He was attacked by a band of hostile tribesmen. He had a Winchester repeating rifle with 10 loaded chambers. The tribesmen were completely at his mercy. He concluded that if he killed them it would do the mission more harm than if he allowed them to take his life. So, as a lamb to the slaughter he was led; and when his body was found in the stream, his rifle was also found with its 10 chambers still loaded. He had made the supreme sacrifice, motivated by his burden for lost souls and his unswerving devotion to his Savior. With the apostle Paul, he wanted Christ to be magnified in his body, "whether by life or by death."
Philippians 1:21 – For to me to live is Christ, and to die is gain.
THE PURPOSE OF A LIFE
WELL LIVED!
Probably no verse better summarizes Paul's life purpose and passion (except perhaps Gal. 2:20). While still on earth, Paul saw life as inextricably bound up in covenant union with Christ, much like a marriage covenant that links the two spouses as one flesh!
WOULD YOU LIKE TO LIVE A LIFE LIKE PAUL AND BE ABLE TO MAKE THAT SAME DECLARATION?
Paul commands us to imitate him as he imitates Christ in 1 Cor 11:1. And remember that God's commandments always include His enablements! What are His enablements? Two things: Filled with the Spirit, Filled with the Word.
And what is the Word we should be filled with in this present context? It is the incredible word of Paul's Secret to Spiritual Success here in Php 1:21! In Latin it is Paul's Summun Bonum (Highest Good). In French Paul's Raison Detre (click to pronounce) which means "his purpose for existence!"
WHAT DOES IT MEAN TO "LIVE CHRIST"?  In brief, to "live Christ" means to live in union with Christ, so that He becomes my all in all.
Php 1:21 is Heaven's version of Hamlet's quote "To Be or Not to be, that is the question" (as he contemplated suicide), but to Paul the answer to life's most profound question of Why am I here? is, "To live Christ, and to die gain". Note that there is no verb for "is" in the Greek so his declaration is even more dramatic – TO LIVE CHRIST. Christ was His life! And beloved, He is also our life, through His Spirit, the Spirit of Jesus Christ (Php 1:19).
Let's read Php 1:21 in the Amplified Version:
For to me, to live is Christ [He is my Source of joy, my Reason to live] and to die is gain [for I will be with Him in eternity] (Ed: I would add "for I will be like Him for eternity"! - see 1 John 3:2-note)
Christ really is all we need.
We must grow to know experientially what it means to "live Christ."
Listen to Paul's similar thought in Colossians – As I quote it note that the first clause speaks of our LIFE, the second clause speaks of our DEATH. Listen carefully and I will repeat it….
Col 3:4-note When Christ, [who is = Not in Gk] our life, is revealed, then you also will be revealed with Him in glory.

Col 3:4 When Christ, our life (TO LIVE IS CHRIST), is revealed, THEN you also will be revealed with Him in glory (TO DIE IS GAIN).
In Php 1:21 TO LIVE CHRIST. In Col 3:4 CHRIST OUR LIFE. This helps understand Paul's great affirmation in Galatians 2:20
"I have been crucified with Christ; and it is no longer I who live, but Christ lives in me; and the life which I now live in the flesh I live by faith in the Son of God, who loved me and gave Himself up for me.
NOW CHANGE "I" TO "WE" FOR THIS IS APPLIES TO ALL OF US WHO ARE IN CHRIST BY GRACE THRU FAITH…
How can Paul say "to live is Christ?" How did Christ live in Paul and in us today?
As he said in Php 1:19 by the lavish provision of the SPIRIT OF JESUS CHRIST. This begs the question –

Does the Spirit of Jesus Christ live through me each day?

Do I get up on Monday morning and pray something like…

(if you can carry a tune, you could sing these words to the congregation or just read them)

Spirit of the Living God (link to classic 1926 spiritual song)
Fall afresh on me.
Melt me, mold me, fill me, use me.
Spirit of the living God,
Fall afresh on me.
Amen!
Before going on, let's take a little quiz. How would you complete the following sentence?
"For to me to live is ____."
What word, phrase, passion, hobby, etc would you put in the blank?
Don't miss the point that no one leaves that sentence blank.
Everyone finishes it with something.
So I will ask again if you don't fill the blank with Christ, what do you put there?
Here are four questions to help you "fill in the blank":
Where do I tend to spend spare time and money? Mt 6:21-note
What objects or persons give emotional delight as I mentally brood over them?
Where do my thoughts flow in my spare time?
To what or whom do I turn during times of emotional upheaval or crisis?
Let's all be very honest – If you filled in the blank with "Christ" well I say PRAISE THE LORD! But in truth very few of us are at the point of spiritual maturity described by Paul, but that should not keep us from striving to fill in the blank with CHRIST, alone.
Let me give you a simple way to unpack one of the most profound statements ever written (Php 1:21a) with 3 words…
Personal…Practical…Possible!
Victorious Christianity is personal, "to me." It is practical, "to live." It is also possible, "is Christ."
ILLUSTRATION: Missionary Bill Wallace, a doctor in China, loved Php 1:21. When he was arrested by the Communists and brutally treated, he would scribble this verse and others on the wall of his cell to help keep his sanity. After months of interrogation and abuse, he was found dead. The Communists claimed that he hanged himself, but his body showed signs of having been beaten to death. His friends buried him with honor and inscribed over his grave the words they felt described the motivation of his life: "For To Me To Live Is Christ." Notice that in Bill Wallace's death he fulfilled Paul's desire in Php 1:20 "Christ will be honored in my body, whether by life or by death!"
ADDENDUM: Steven Cole asks and addresses the critical question - 
WHAT DOES IT MEAN TO "LIVE CHRIST"? To "live Christ" means to live in union with Christ, so that He becomes my all in all. The concept of being "in Christ" was vital to Paul's understanding of what it means to be a Christian. He addresses this letter "to all the saints in Christ Jesus who are in Philippi" (Php 1:1). The instant a person truly believes in Jesus Christ as Savior, he is joined organically in a living, real union with Christ the Head as a member of His body, the church. To be "in Christ" means that all that is true of Christ is true of the believer. As Paul writes (Rom. 6:10, 11), "For the death that He died, He died to sin, once for all; but the life that He lives, He lives to God. Even so consider yourselves to be dead to sin, but alive to God in Christ Jesus." The believer is in union with Christ. While that is our true standing before God, we must grow in our experience of the reality of that standing, so that in our daily lives, we live in fellowship with Christ, communing with Him and depending on Him for everything. It means growing to know Christ intimately (Phil. 3:10). It means growing to love Christ with all of my heart, soul, mind, and strength (Mark 12:30). It means submitting all of my thoughts, emotions, words, and deeds to the lordship of Christ, so that I seek to please Him in all respects (Col. 1:10). It means growing to experience Christ as my "all in all" (Eph. 1:23; Col. 3:11). Every aspect of life must be centered around the Lord Jesus Christ. The glorious person of Christ, and nothing less, is the Christian life. Of course, our experience of "living Christ" is a process that is never fully realized in this life. As Paul says (Phil. 3:12), "Not that I have already obtained it, or have already become perfect, but I press on in order that I may lay hold of that for which also I was laid hold of by Christ Jesus." Even the most godly Christians have times when Christ seems distant and the soul is dull and sluggish. In this life we never reach a point where we are not tempted by sin, where we do not have to battle the lusts of the flesh, the lusts of the eyes, and the boastful pride of life (1 John 2:16). But, each of us who are truly children of God will have as our focus to live in an experiential way the fact of our union with Christ, so that He becomes our all in all.
For more discussion of what it means and what it looks like to be able to say "To live Christ" see commentary notes on Philippians 1:21. 
TO DIE IS GAIN
Spurgeon once said "It is not death to die if the death of Christ be but the life of the soul."
Did you catch what Paul is saying when he says "to die is gain"? It is easy to miss it! Paul goes on to state that death is THE ENTRANCE to "gain," NOT the exit from living. Sadly, most of us see it as the latter, as what we are losing or leaving behind and not what we are gaining!
Let me read you a little poem that beautifully expresses Paul's sentiment:
It is not death to die
To leave this weary road
And 'midst the brotherhood on high
To be at home with God.
It is not death to close
The eye long dimmed by tears
And wake in glorious repose
To spend eternal years.
It is not death, to bear
The wrench that sets us free
From dungeon-chain to breathe the air
Of boundless liberty.
It is not death to fling
Aside this sinful dust
And rise on strong, exulting wing
To live among the just.
Jesus, thou Prince of life
Thy chosen cannot die
Like Thee, they conquer in the strife
To reign with Thee on high.
Notice also that there is a close connection between the first half of this verse and the second. The more fully our life is bound up in the person and program of Christ, the greater "our gain" in heaven. (2 Cor 4:17-18)
So let's probe a little deeper and ask from the verses in context what is the GAIN to which Paul refers?
Look at Php 1:23 the phrase "My desire is to depart and be with Christ, for that is far better." The Greek word for "with" is not beside Christ (which will also be true!), but intimately united with Him in an eternal unbreakable covenant giving us perfect union and perfect communion with the Lover of our souls…FOREVER! That is your and my GAIN, BELOVED!
Second, let's expand a little more on the word "gain" in "to dies is gain"…
The Greek word for gain was a monetary term meaning to make a profit on an investment. If you play around with the Stock Market, you understand the word GAIN.
Here is the point –Paul's (and our) GAIN is not temporal trinkets, but timeless treasure!
To die for an unbeliever is to give up all your possessions, but to die as a believer is to gain your greatest Possession!
J Vernon McGee explains it this way -- "Gain is always more of the same thing. If to live is Christ, then to die would be more of Christ!"
Why are we so easily tempted to dabble with the passing pleasures of this passing world?
At death we collect the "dividends" from the Spirit enabled investments of our earthly, temporal life and Christ pays the richest dividends and will pay them throughout eternity! It is therefore no surprise that Paul said…
Therefore we also have as our ambition, whether at home (in our earthly body) or absent, to be pleasing to Him, FOR we must all appear before the judgment seat (BEMA) of Christ, so that each one may be recompensed for his deeds in the body, according to what he has done, whether good or bad (NOT SPEAKING OF SIN WHICH IS PAID IN FULL BUT OF USELESS ACTIVITIES). (2 Cor 5:9-10)
We will gain both in what we lose (sinful body, temptation, sorrow, sufferings, enemies, etc.) and in what we gain (glorified body, personal presence with Christ as we discussed, boundless joy, precious reunions with departed relatives and friends and the list goes on and on). To make the most of today, keep Christ, heaven and eternity constantly in mind because as someone has well said we are not ready to live until we are ready to die.
Paul knew that death is not a defeat to the Christian but is merely a graduation to glory, a "net gain" (so to speak) in accounting terms! When a Christian dies, he or she really finally and fully begins to live, for he or she passes into the perfect, eternal, glorious union with Christ, unhindered by the world, the flesh and the devil. The unbelieving world thinks we are placed in a cemetery when in fact we are ushered into a sanctuarY! We like Paul will enter the presence of Christ at the moment of death and this will be our ultimate "gain".
People wonder what the purpose of life is today and what they are here for. Paul says to live is on this earth is Christ and to die is gain. Jim Elliot understood this purpose in his short life for he was killed at age 29 by the Auca Indians whom he had gone to tell about Jesus wrote in his journal words that sound a lot like the apostle Paul…
"He is no fool who gives up what he cannot keep, to gain what he cannot lose."
The Apostle Paul would agree. Once you decide that your life won't last forever, you are free to invest it in a cause greater than yourself. You give up what you can't keep so that in the end you gain what you can never lose. This is what Paul meant when he said, "Whether by life or death."
Among the ruins of ancient Carthage there is an inscription carved by a Roman soldier:
"To laugh, to hunt, to bathe, to game—that is life."

I doubt if this is one of the soldiers that had the good fortune to be chained to a prisoner named Paul!

"For to me to live is to hunt, go to the baths, and party!"
It is the same today because most will fill in the blank of "For to me to live is____" with anything but Christ. According to the tabloids and celebrity magazines, "for to me to live is" to fornicate, to accumulate, to dine well. Or on a more prosaic (everyday, ordinary) level, "for to me to live is" to golf, to work, to garden, to travel, to watch TV, to ski—to shop 'til I drop. Of course, if this be our life, then death is the loss of everything.
When Queen Elizabeth I, the idol of European fashion, was dying, she turned to her lady-in-waiting and said, "O my God! It is over. I have come to the end of it—the end, the end."
LET'S SUM UP THIS SECTION…
If for me to live is Christ, then to die is gain, but…
If for me to live is money, then to die is to leave it all behind
If for me to live is fame, then to die is to be forgotten
If for me to live is pleasure, then to die is to miss all the fun
If for me to live is ambition, then to die is to become insignificant
If for me to live is possessions, then to die is to have them all rust and fade away
Alexander MacLaren describes how death can be a gain.
We lose everything we don't need – the world, the flesh, and the devil. We lose our trials, troubles, tears and fears.
We keep everything that matters – our personality, our identity, our fruit.
We gain what we never had before – heaven, rewards, the presence of God, fellowship with other believers.
HERE ARE 3 TOMBSTONE MARKERS THAT REVEAL DIFFERENT LIFE PHILOSOPHIES:
Here lies Lester Moore;
Four slugs from a .44,
No Les, no more.
That's bad theology for Les is still more somewhere, either in heaven or in hell.
Our second tombstone is from Montgomery, Alabama and reads:
Under the clover, and Under the trees,
Here lies the body of Jonathan Pease.
Pease ain't here, only the pod,
Pease shelled out and went home to God.
That's not bad theology.
There's another tombstone in Indiana with this epitaph:
Pause, Stranger, when you pass me by,
As you are now, so once was I
As I am now, so you will be,
So prepare for death and follow me.
An unknown passerby read those words and underneath scratched this reply:
To follow you I'm not content,
Until I know which way you went!
WHICH WAY WILL YOU GO WHEN YOU DIE?
What will death be like for you? 

You can never say "To die is gain" unless you can also say "For to me to live is Christ."

If you cannot say "To live is Christ," how can you be sure that "to die is gain?"

(Source: Pastor Brian Bell)
C. S. Lewis said "Aim at heaven and you get earth thrown in. Aim at earth and you get neither!"
APPLICATIONS:
So how do you fill in the blank "To live is ____?

What is your passion in this short life?

What are you aiming for?

Are you living for heaven? If yes, how would you prove your answer if you were to evaluate the way you spend your time, money, and talents?

Make a list of earthly things that might be keeping you from pursuing eternal priorities. Ask the Lord to focus your heart on heaven in such a way that you will have no regrets when you see Him face to face!

Take some time to think about how you would feel if you knew this were your last day on earth. Who would you talk to? Would any of the items on your to-do list (YOUR "BUCKET LIST" as they call it) be worthwhile activities in light of eternity? Ask God by His Spirit to enable you to redeem the time for the days are evil (Eph 5:16) and to number your days so that you may present to your Lord a heart of wisdom (Ps 90:12), a life lived wisely and Biblically and in the power of the Spirit of Jesus and for His glory alone!

If you chose eternal heavenly treasure over temporal earthly trinkets, you will have no regrets in time or eternity!
Philippians 1:22 If I am to live in the flesh, that means fruitful labor for me. Yet which I shall choose I cannot tell.
The Christian's Vision: Being with Christ - Php 1:22-26
Paul's Dilemma - Php 1:22-23a

Paul's Desire - Php 1:23b

Paul's Decision - Php 1:24-26
How could Paul be so confident that he will be fruitful if he continues to live on earth? He was not relying on Paul but he One Who indwelt Him, the Spirit of Christ Jesus. Paul as a Spirit filled man knows that if he keeps living in the physical flesh, the Spirit will bear fruit in his life. And so Paul expands upon the options of life or death. If he continues his sojourn on earth--"But if I live on in the flesh"--then he sees it as an opportunity to bear more fruit through his Gospel focused, Christ centered, Spirit filled ministry. Again we see Paul's strict singlemindedness (he had the mind of Christ)--he saw himself as an instrument for the unleashing of God's glory as long as time permitted (cf Acts 9:15, 20:24, 2 Ti 4:17). However, this unleashing would be a costly process--"fruit from my labor" so the prospect of leaving the battlefront and going home was appealing indeed. So appealing, in fact, that he adds, "Yet which I shall choose I cannot tell (lit.--I do not know)."
ARE YOU SEEKING LIKE PAUL TO BE
A SPIRITUAL FRUIT FARMER?
It helps to know what spiritual fruit (see fruit - Gk = karpos) is according to God's Word. Scripture describes 3 general kinds of spiritual fruit all of which yield an everlasting reward (Jn 15:16).
1) Spiritual attitude fruit – (GOOD ATTITUDE) As described in Galatians 5:22-23. Galatians 5:22-23 describes the fruit of the Spirit, attitudes of love, joy, peace, patience, kindness, goodness, faithfulness, gentleness, self-control. This spiritual attitude fruit precedes spiritual action fruit. If the spiritual attitudes are present, the fruit of good deeds will invariably follow.

2) Spiritual action fruit – (GOOD WORKS) In Colossians 1:10 Paul prayed for the saints to be filled with or controlled by the knowledge of God's will in all spiritual wisdom and understanding so that they might walk in a manner worthy of the Lord, pleasing Him in all respects and bearing fruit in every good work.

3) Spiritual converts - 1 Co 16:15 "the household of Stephanas, that they were the first fruits of Achaia"
The key to being a good "spiritual fruit farmer" is to abide in Jesus receiving the "sap" of the Spirit for as Jesus said…
FRUIT BEARING IS OUR JOB - "You did not choose Me but I chose you, and appointed you that you would go and bear fruit, and that your fruit would remain, so that whatever you ask of the Father in My name He may give to you. (John 15:16)

ABIDING IN CHRIST IS OUR NEED - "I am the vine, you are the branches; he who abides in Me and I in him, he bears much fruit, for apart from Me you can do nothing (ABSOLUTELY NOTHING OF ETERNAL VALUE). (John 15:5)

DEPENDING ON THE SPIRIT IS OUR POWER - It is the Spirit who gives life; the flesh profits nothing; the words that I have spoken to you are spirit and are life. (John 6:63)
How do we abide in Jesus?

Sounds like a broken record but it is truth – Filled with His Word and Filled with His Spirit coupled with trust and obey.

What value do we place on producing fruit for Christ as opposed to our own comfort in living?
Philippians 1:23 I am hard pressed between the two. My desire is to depart and be with Christ, for that is far better.
We could title this verse PAUL'S DILEMMA – TO STAY OR GO and our subtitle might be THE LUST OF A GODLY MAN'S HEART, a phrase I will explain in a moment and which teaches us a powerful principle of how to fight the good fight of faith!
Here Paul further explains his dilemma of going home (to be with Christ) or to stay on the battlefield (do you see this world as a spiritual battlefield?).
HARD PRESSED (sunecho/synecho) – A great word picture as it was used of a traveler in a narrow passage with a wall of rock on either side. Paul feels "hemmed in by both directions to stay and to depart.
MY DESIRE  - The word he uses for "desire" (epithumia) is the same word for "lust." In fact, this is only one of the two times Paul uses this word in its noun form in a positive sense (1 Th 2:17 being the other). Thus we see one of the "lusts of a godly man's heart"--to be with Christ. In a very real sense Paul yearned for death in order that his union with Christ might be tasted and savored to the full. Is this the desire of our heart? It should be! It can be as we grow in grace and the knowledge of our Lord and Savior Jesus Christ. And as an aside, given our day of horrible internet trash and temptation for both men and women, Paul's mindset teaches us the powerful principle of the "expulsive power of a new affection." (from Thomas Chalmers' sermon by the same name). In short, LUST to be WITH CHRIST effectively nullifies, neutralizes and makes ineffective the LUST OF THE FLESH to be with something or someone else, whether vicariously or literally!
Other Christians through the ages have also felt this same strong stirring in their breasts.
The great British evangelist George Whitefield said it this way...
"I go to my everlasting rest. My sun has risen, shone, and is setting--nay, it is about to rise and shine forever. I have not lived in vain. And though I could live to preach Christ 1,000 years, I die to be with him, which is far better."
Puritan Thomas Watson said –
'Spiritual things satisfy; the more of heaven is in us, the less earth will content us.... Fly aloft in your affections, thirst after the graces and comforts of the Spirit; the eagle that flies above in the air, fears not the stinging of the serpent; the serpent creeps on his belly, and stings only such creatures as go upon the earth' (The Art of Divine Contentment).
BETWEEN THE TWO – To stay alive or to fall asleep in Jesus, which was in fact his desire, because that was FAR BETTER. - Note that Paul did not qualify this statement. It is simply far better…that anything!
DEPART - This Greek word (analuo) was used for striking a camp of the Roman legions or the pulling up of the anchor and sailing of a ship. When the Roman army set up camp, they would form a rectangle wall of brush as high as ten to twelve feet. When the soldiers departed and moved on, they left the make-shift fortress behind, a mute testimony that they had been there. When we go on to be with the Lord Jesus, we will leave our "mark," our "stack of brush" so to speak! All that is not useful is left behind. All of the sin, selfishness, pain and anguish of the world are abandoned. We are freed from the cares of this world. Death in Christ is raising the anchor and setting sail for the shores of Heaven. Death for the Christian brings solutions and answers to earth's questions and mysteries. Like a prisoner freed of his shackles, we are finally free of the burdens of our fleshly desires and the struggles and battles of this life.
The Gk word depart (analuo) means to unloose and was used of a ship being loosed from its moorings and allowed to sail back home. If God was finished unloading cargo through the apostle's life then Paul was keen to get back home. Death is a setting sail, a departure on that voyage which leads to the everlasting haven and to God. The reason is clearly given--" . . . and be with Christ, which is far better." This phrase should literally be translated, "much more better"; which intensifies the personal benefit he would experience. Indeed the joys and glories of heaven will thoroughly obliterate the heartaches and sorrows of earth in comparison. Ro. 8:17,18.
Ps 16:11 is apropos - "In Your presence is fullness of joy; at Your right hand are pleasures forevermore." Ps 16:11.

Adoniram Judson (missionary to Burma) said it well - "I am not tired of my work, neither am I tired of the world; yet when Christ calls me home, I shall go with the gladness of a boy bounding away from his school. Perhaps I feel something like the young bride when she contemplates resigning the pleasant associations of her childhood for a yet dearer home--though only a little like her, for there is no doubt resting on my future."

William Rutherford - Live in Christ, and you are in the suburbs of Heaven. There is but a thin wall between you and the land of praises. You are within one hour's sailing of the shore of the new Canaan.
ONE MORE POINT ABOUT THE STATEMENT "TO DEPART AND BE WITH CHRIST" - This means that there is no such thing as "soul sleep" or a place of probation called purgatory. When a believer dies, he is ushered immediately into the presence of Christ. That's what Jesus said to the thief on the cross in Luke 23:43: "I tell you the truth, today you will be with me in paradise." 2 Corinthians 5:8 makes the same point: "We are confident, I say, and would prefer to be away from the body and at home with the Lord." Spurgeon said "Death is the waiting room where we robe ourselves for immortality." I love what the famous evangelist D L Moody once said:
Some day you will read in the papers that D L Moody of East Northfield is dead. Don't you believe a word of it! At that very moment, I shall be more alive than I am now. (Amen!)
That reminds me of a young business owner who was opening a new branch office, and a friend decided to send a floral arrangement for the grand opening. Due to a mix-up at the florist, the card that was attached said, "Rest in peace." After complaining to the florist, the florist said, "Look at this way – somewhere a man was buried under a wreath today that said, "Good luck in your new location." We really do go to a new location when we leave this one, don't we? For the Christian, death is nothing more than a change of address.
WITH CHRIST – A little phrase we could easily overlook, but that would be to our loss. First note that Paul is saying when we die we are WITH CHRIST. Mark it down dear believer – when you die, you are WITH CHRIST. Beloved, we have absolutely no reason to fear death, for death is but a door into eternal life WITH CHRIST, a passage out of a prison and into a palace, an exchange of rags for a robe! Death may be the king of terrors, but Jesus is the King of kings!
The English translations miss a profound truth in the phrase WITH CHRIST. There are 2 words in Greek for "WITH", one (meta) meaning by the side of. The other word, the one Paul uses (sun/syn > "synergistic" "symphony") speaks of unhindered intimate union between us and our Lord Jesus Christ! No wonder Paul wants to depart and be with Christ for that is far better!
FAR BETTER – (Amplified = "FAR, FAR BETTER"; NAS = "VERY MUCH BETTER" because Paul piles up three comparative words (polus = "much" + mallon = "more" + kreisson = "better" – so literally "much more better!") Paul is expressing the highest superlative possible – while Scripture leaves much mystery about our life after death, this central, crucial truth is clear – when the believer dies he is WITH CHRIST and that state is unspeakably better than anything we can imagine now! This is truth you can count on dear believer. May this great truth transform our earthly oriented thinking into heavenly minded thinking! Do it for Thy glory Lord! Amen
The more you look forward to heaven, the less you'll desire on earth.
Remember that heavenly-minded people like Paul are those who do the most earthly good.
To make the most of your time on earth, always keep heaven in mind.
Notice also that Paul did not compare his declaration with anything! In other words, he did not say "FAR BETTER THAN ____." He simply said far better -- The clear implication is that being WITH CHRIST is FAR BETTER than anything on earth, better than anything we could even imagine in our widest dreams!
"No eye has seen, no ear has heard, and no mind has imagined what God has prepared for those who love Him." (1Co 2:9 NLT)
There is no place like home—especially when home is heaven. Our heavenly home is our "real estate."
To see His face, this is my goal,
The deepest longing of my soul;
Through storm and stress my path I'll trace
Till, satisfied, I see His face!
ILLUSTRATION – ECLIPSE OF THE SUN (SON) - Solar eclipses are amazing for as the moon slides between the earth and the sun, the sun's brilliance gradually fades. Its light grows dim, as if there's a layer of dust on everything you see. The effect is most dramatic on a bright cloudless day. While the eclipse is in full force, it's easy to forget that the sun is still there in all its force and glory. As amazing as a solar eclipse may be, more amazing is the fact that as followers of Jesus we too often live with heaven eclipsed in our hearts. I don't know what you think of when you think of heaven, but count on it, heaven is a glorious destination and, as Paul described, because of Christ's presence there, it is far better than anything we could experience here (Philippians 1:23). But heaven's glory and the excitement of getting there often fades in the light of our dim view of heaven and the lure of lesser stuff here on earth.
APPLICATION:
Pray and ask the Lord to keep the light of the Son ("S. O. N.") of heaven alive in your heart so that with eyes of faith you see Him continually with "20/20" spiritual vision!
ILLUSTRATION – SMUDGY WINDOWS - Joe Stowell tells this story - My friend Bud Wood is the founder of one of the finest homes in America for mentally challenged children and adults, ministering to many afflicted with Down's syndrome. The staff makes a concentrated effort to present the Gospel to these children and many have come to believe in Christ as Savior and in a heaven that will be their home. Bud told me that one of the major maintenance problems they have is dirty windows. I asked, "Why?" His answer surprised me!
"You can walk through our corridors any time of the day and you see these precious children standing with their hands, noses, and faces pressed hard against the windows, looking up to see if Christ might be coming back to take them home and make them whole." 
APPLICATION:
When was the last time you glanced heavenward (either literally or figuratively) anticipating that this might be that long-awaited day when we finally come face to face with Him Who is our FAR BETTER? Perhaps our lack of longing for heaven says something about our lack of earth-side fellowship with Him.

Are there any "smudges on the windows" of your heart?
Philippians 1:24 But to remain in the flesh is more necessary on your account.
Notice that Paul's desire is to depart, but he dies to self for the sake of the saints in Philippi. And so Paul now explains why he should prolong his pilgrimage here on earth. God still has more cargo to unload to the Philippian believers through him. Paul is willing to temporarily forestall his desire (going home to be with Christ) in order to fulfill their need and to "finish (his) course and the ministry which (he) received from the Lord Jesus." (Acts 20:24)
It's only when we're ready to die can we really live.
Those who are most prepared to depart are most prepared to delay.
When we die we leave behind all we have and take with us all that we are.
Dear believer you can mark this truth down -
"A Christian is immortal until his work on earth is done."
Think about that for a moment. Death cannot touch us until God is through with us. Why? "For we are His workmanship (masterpiece), created in Christ Jesus for good works, which God prepared beforehand so that we would walk in them. (Eph 2:10) When we have walked in the good works He prepared for us from the foundation of the world, He will say "Son/daughter, it's time to come. Well-done, My good and faithful servant."
Look at this way.
Why are you and I still here?
Why didn't God just take us home when we became believers?
Because He has work He wants us to do!
If you're a Christian, you'll go to heaven when you die so why not use your time here to get others ready to join you?
Philippians 1:25 Convinced of this, I know that I will remain and continue with you all, for your progress and joy in the faith,
Paul's purpose was the "progress" (prokope) of others. He wanted to help Christians on their journey to joy
A quote from Henry James could have been the comment on this verse for he said
"The best use of your life is to invest it in something that will outlast it."
Philippians 1:26 so that in me you may have ample cause to glory in Christ Jesus, because of my coming to you again.
Paul is convinced he will continue with them for their progress (prokope) and joy in the faith, which is a description of sanctification or their continuing growth in Christlikeness. The question of whether Paul ever got to see them is not answered in Scripture. We'll find out in Heaven!
I will close with a quote from the Life Application Commentary –
Some people hold tightly to this life. Afraid to lose or let go, they in effect become slaves to their mortality. In contrast, those who do not fear death, seeing it merely as the door to eternal life, are free to live with purpose, meaning and commitment to a cause"
We must avoid two errors. One is to work so hard that we lose sight of heaven.
The other is to focus on heaven so much that we stop serving.
There is an old hymn This World is Not My Home that has good words to end this message on to live is Christ, to die is gain….
Lord, Oh Lord, I have no friend like You.
If Heaven's not my home, O Lord, what will I do?
Angels beckon me from Heaven's open door,
And I can't feel at home in this world anymore.

Over in glory land, there is no dying there,
The saints are shouting victory and singing everywhere,
I hear the voice of them that's gone on before,
And I can't feel at home in this world anymore.

They're all expecting me, that's one thing I know,
I fixed it up with Jesus, a long time ago.
I know He'll take me through, though I am weak and poor,
And I can't feel at home in this world anymore.
CAN I ASK YOU A SIMPLE QUESTION?
"Have you fixed it up with Jesus?"
You can never say "To die is gain" unless you can also say "For to me to live is Christ."

If you cannot say "To live is Christ," how can you be sure that "to die is gain?"

So let me ask it again "Have you fixed it up with Jesus?"
If you have not speak with the pastors or elders after the service for how to fix it up with Jesus.
ANOTHER CONCLUSION 
In Lewis Carroll's Alice in Wonderland, Alice asks the Cheshire Cat, "Would you tell me, please, which way I ought to go from here?" The Cat replies, "That depends a good deal on where you want to get to." "I don't much care where--" says Alice. "Then it doesn't matter which way you go," says the Cat. "You're sure to get somewhere--if you only walk long enough."
Where do you want to get to? 
If you want to get to heaven, then you need to consider the question, "What am I living for?" 

Complete the sentence: "For me, to live is _____." What? Money? Success? Happiness? Pleasure? Fun? Good times? Family? Self? 

If your answer is any of the above, then to die will be a terrible loss, not a gain. 

But if, with Paul, you can honestly say as you evaluate your life, "For me, to live is Christ," then you can also say with all the confidence of God's Word behind you, "to die is gain!"
---
FOR ADDITIONAL STUDY SEE IN DEPTH COMMENTARY
Book