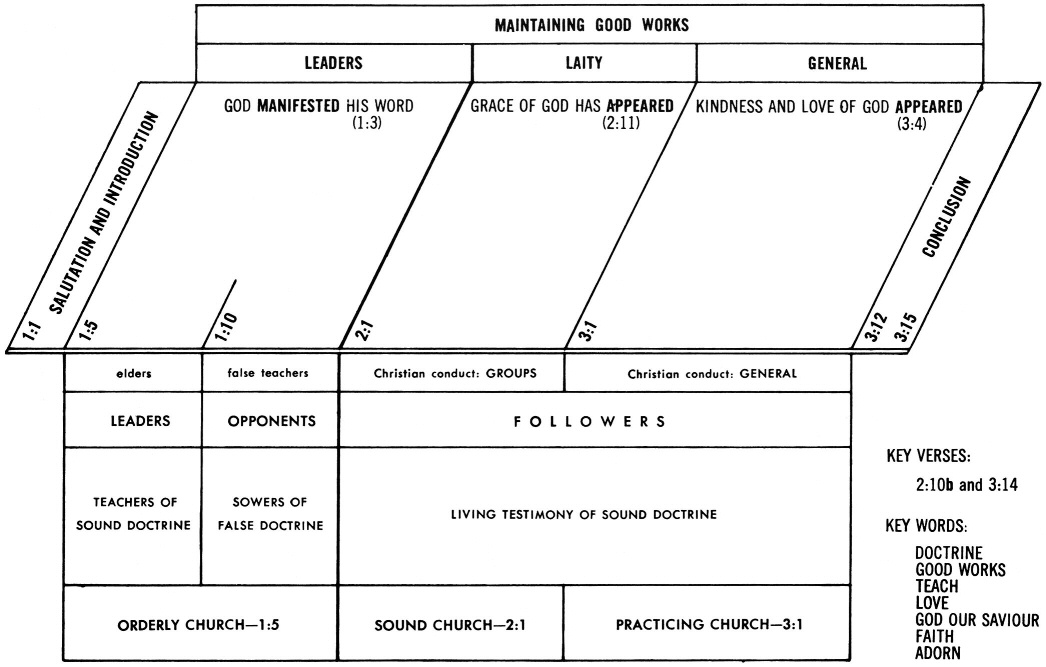 ADORNING THE DOCTRINE OF GOD
Click chart to enlarge
Charts from Jensen's Survey of the NT - used by permission
Another Overview Chart - Titus - Charles Swindoll
C H Spurgeon wrote that Bengel's NT commentary "is the Scholar's delight! Bengel condensed more matter into a line than can be extracted from pages of other writers."
F W Farrar writes that Bengel's "Gnomon is a mine of priceless gems. It contains sentence after sentence exquisitely terse and finished, and throbbing with spiritual light. Few writers have so admirably succeeded in expressing in a few words the inmost purpose of each of the Epistles. A generation crowded with writers whose theology abounded in mutual anathemas is yet redeemed from the charge of sterility which has produced such a theologian as Bengel. His work must continue to have its value so long as men can recognise the richest fruits of a noble intellect, a pure spirit, and a blameless life. "Lord Jesus, unto Thee I live, unto Thee I suffer, unto Thee I die; Thine I am, living or dying." These words were repeated to him in his last moments, and on hearing them he pointed with his right hand to his heart, and fell asleep in peace." (Amen!) (History of Interpretation: Eight Lectures Preached Before the University of Oxford in the Year 1885).
John Wesley said of Bengel "I know of no commentator on the Bible equal to Bengel" and referred to him as "The great light of the Christian world."
Titus 1 Commentary  for notes below (based on KJV)
Titus 1:2 before the world

Titus 1:3 God our Saviour

Titus 1:4 Titus

Titus 1:5 ordain elders

Titus 1:9 Holding fast

Titus 1:9 gainsayers

Titus 1:10 the circumcision

Titus 1:12 prophet of their own

Titus 1:14 slow bellies

Titus 1:14 Jewish fables
Titus 2 Commentary for see notes below (based on KJV)
Titus 2:4 young women

Titus 2:10 fidelity

Titus 2:10 adorn the doctrine

Titus 2:11 all men

Titus 2:12 in this present world

Titus 2:13 that blessed hope

Titus 2:14 purify unto Himself

Titus 2:14 peculiar people
Titus 3 Commentary for notes below (based on KJV)
Titus 3:2 brawlers

Titus 3:4 God our Saviour

Titus 3:5 saved us

Titus 3:5 washing of regeneration

Titus 3:6 abundantly

Titus 3:7 hope

Titus 3:8 faithful saying

Titus 3:9 foolish questions

Titus 3:10 heretick

Titus 3:10 reject

Titus 3:12 Artemas

Titus 3:12 Nicopolis

Titus 3:13 Zenas

Titus 3:13 on their journey diligently
TITUS 1
TITUS 2
TITUS 3
Note: Links go to first verse of chapter. Use arrow keys to advance to next verse or use the navigation bar at the top of the page to go to specific chapter and verse in Titus.
NOTE:If you are not familiar with the great saint Charles Simeon see Dr John Piper's discussion of Simeon's life - you will want to read Simeon's sermons after meeting him! See Brothers We Must Not Mind a Little Suffering (Mp3 even better)
Titus 1 Commentary Notes
Titus 2 Commentary Notes
Titus 3 Commentary Notes
Book