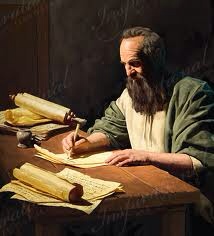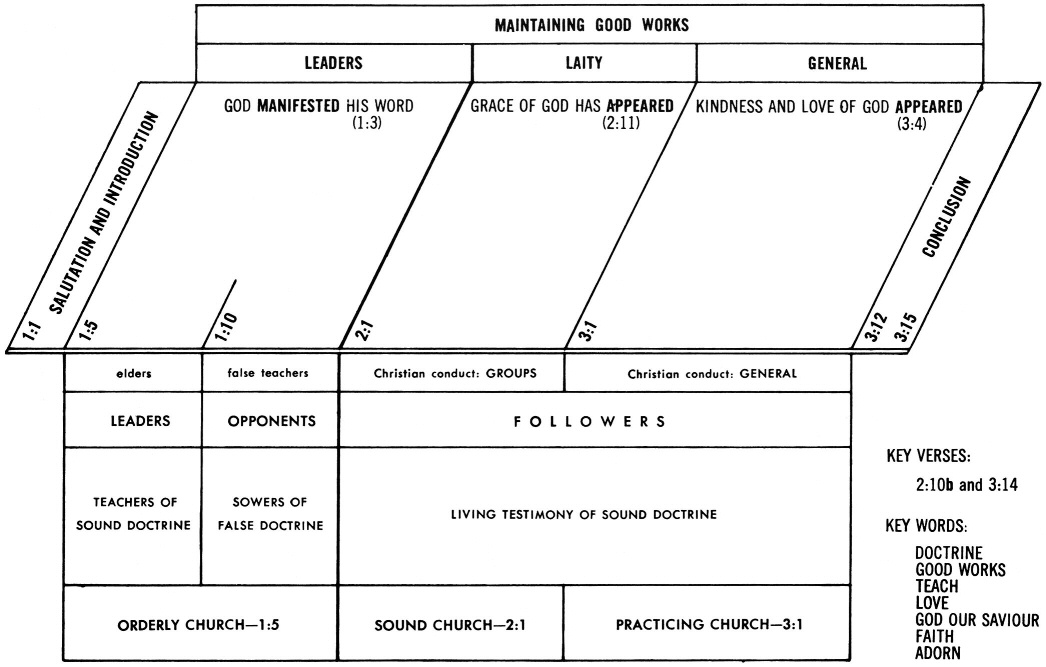 ADORNING THE DOCTRINE OF GOD
Click chart to enlarge
Charts from Jensen's Survey of the NT - used by permission
Another Overview Chart - Titus - Charles Swindoll
Recommended Resource
See Caveats regarding Barclay's theology which was not always orthodox. This resource is listed because he gives some excellent background and helpful word studies.
C H Spurgeon wrote that Bengel's NT commentary "is the Scholar's delight! Bengel condensed more matter into a line than can be extracted from pages of other writers."
F W Farrar writes that Bengel's "Gnomon is a mine of priceless gems. It contains sentence after sentence exquisitely terse and finished, and throbbing with spiritual light. Few writers have so admirably succeeded in expressing in a few words the inmost purpose of each of the Epistles. A generation crowded with writers whose theology abounded in mutual anathemas is yet redeemed from the charge of sterility which has produced such a theologian as Bengel. His work must continue to have its value so long as men can recognise the richest fruits of a noble intellect, a pure spirit, and a blameless life. "Lord Jesus, unto Thee I live, unto Thee I suffer, unto Thee I die; Thine I am, living or dying." These words were repeated to him in his last moments, and on hearing them he pointed with his right hand to his heart, and fell asleep in peace." (Amen!) (History of Interpretation: Eight Lectures Preached Before the University of Oxford in the Year 1885).
John Wesley said of Bengel "I know of no commentator on the Bible equal to Bengel" and referred to him as "The great light of the Christian world."
Similar to above but less Greek
Multiple Resources from Various Older Writings
D Edmond Hiebert - Westminster Commentaries. London: Methuen & Co. (1917). A concise, conservative, phrase-by-phrase interpretation by a missionary in India who understands the positions of Timothy and Titus in the light of his own missionary experience.
D Edmond Hiebert - The introduction adequately treats the critical problems from a conservative position. Full and informative notes on the text; valuable appendixes.
D Edmond Hiebert - Greek text. The introductions provide a satisfactory study of the problems connected with the Pastorals from a conservative viewpoint. The exegetical notes on the text of the epistles are thorough, thoughtful, and scholarly.
"Designed for Pastors and Sunday Schools"
Excellent Exposition
Frequent Use of Illustrations
D Edmond Hiebert - Lock, Walter, "A Critical and Exegetical Commentary on the Pastoral Epistles." The International Critical Commentary. Edinburgh: T. & T. Clark (1924). Greek text. Lock leans to the conservative view but makes no pronouncements on the vexing critical problems. The notes on the Greek text are rather thin. Not up to the high standard of this series.
John Cereghin - A careful exposition by a voluminous Plymouth Brethren scholar of the 19th century.
D Edmond Hiebert - Oosterzee, J. J. Van, "The Pastoral Letters," J. P. Lange's Commentary on the Holy Scriptures. Translated from the German. (1863). The abundant material is in three sections: exegetical and critical; doctrinal and ethical; homiletical and practical. A full evangelical treatment by a Dutch Reformed minister and theologian of the past century.
from "The Pastoral Epistles"
D Edmond Hiebert - A scholarly, conservative work (published in 1901) giving a comprehensive discussion of the Pastorals as a group as well as the individual epistles. A verse-by-verse exposition characterized by spiritual warmth and practical appeal.
Cyril Barber - This homiletic exposition ranks as one of the best on Paul's letter to Titus. It is thorough, practical, and vitally related to the needs of both people and the church. Pastors as well as lay people will appreciate the writer's insights. Recommended. (The Minister's Library - Volume 3)
Audio Only (Mp3's)
D Edmond Hiebert - Greek text. A full exegetical treatment of these epistles by an evangelical German scholar of the past century (1893). Scholarly and technical, providing references to scholarly views of the authors own times.
Note: The comments are in the links to the right side of the Scripture annotation. The words and phrases are based on the KJV.
Titus 1 Commentary
Titus 2 Commentary
Titus 3 Commentary
Cyril Barber on Getz's written work on Titus - Published first in 1978 by Zondervan. This practical study now takes its place alongside the author's other "Measure of" books. It is a pleasing series of meditations on Paul's letter to his youthful prot6# and edifies as well as instructs the reader. (The Minister's Library - Volume 2)
John Cereghin - What a good translation, full defense of the apostolic authorship of the epistles, fruitful comments and profitable dissertations, this volume is as complete a guide to the smaller epistles as one could desire. This old, standard treatment shows how pastors may use the Greek text to aid their exposition. A fine work in spite of its age. Uses Tischendorf's Greek text. Holds that Christ was a substitutionary ransom for sin (117); stresses the divine inspiration of Scripture (379); concludes with three appendixes on problem passages (405ff). Very thorough commentary on the Greek text. Defends Pauline authorship (1- 19); favors view that Jesus Christ is called "our great God and Saviour" (283); attacks the idea of baptismal regeneration (295); has a special appendix on the treatment of slavery in the New Testament (432).

D Edmond Hiebert - Uses the Greek text of Tischendorf and the author's translation on facing pages. A voluminous (nearly 450 pages) exposition by a conservative Scottish theologian. Still worth consulting but devoid of the results of recent scholarship.
See most of Our Daily Bread listed below and Today in the Word devotionals on a single page - over 90 devotionals:
---
Interesting Resource - "Germ Notes", Sermon Ideas
Peninsula Bible Church
Emphasis on Greek Word Study
Note: Links go to first verse of chapter. Use arrow keys to advance to next verse or use the navigation bar at the top of the page to go to specific chapter and verse in Titus.
NOTE:If you are not familiar with the great saint Charles Simeon see Dr John Piper's discussion of Simeon's life - you will want to read Simeon's sermons after meeting him! See Brothers We Must Not Mind a Little Suffering (Mp3 even better)
D Edmond Hiebert - Simpson, E. K., The Pastoral Epistles. Grand Rapids: Wm. B. Eerdmans Pub. Co. (1954). Greek text. Presents a robust defense of Pauline authorship. The notes on the text are designed to give an adequate understanding of the original message, reinforced by a wealth of classical learning.
Amillennial Perspective
Titus 1 Commentary Notes
Titus 2 Commentary Notes
Titus 3 Commentary Notes
Amillennial
Emphasis on Greek Word Study
Book