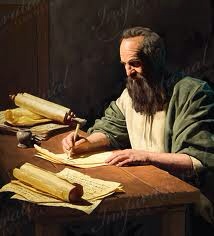 GODLINESS AND PASTORAL CARE
Click chart to enlarge
Charts from Jensen's Survey of the NT - used by permission
Another Overview Chart on right side - 1 Timothy - Charles Swindoll
THE PASTOR'S PRIMER:
PAUL'S PRACTICAL PASTORAL
INSTRUCTIONS REGARDING THE LOCAL CHURCH
1 Timothy 1
1 Timothy 2-3
1 Timothy 4
1 Timothy 5
1 Timothy 6
TIMOTHY'S
CHARGE…
TIMOTHY'S
INSTRUCTIONS…
Concerning
Sound
Doctrine
Concerning
Prayer
& Church
Concerning
Last Days
Apostasy
Concerning
Widows
& Elders
Concerning
Conflict &
Contentment
Danger of
False Doctrine
Public Worship
Church Officers
Antidote
for Apostasy
Pastoral Duties
Toward Others
Instructions for
the Man of God
Warning
Worship
Wisdom
Widows
Wealth
Written in Macedonia
Circa 62-64AD
---
(Read his fascinating brief biography - Henry Alford and Phil Johnson's related comments)

James Rosscup writes that Alford's series on the New Testament "contains much that is valuable in the Greek New Testament...though all of the Greek New Testament words have been changed to English throughout." (Commentaries for Biblical Expositors: An Annotated Bibliography of Selected Works).

Charles Haddon Spurgeon (see his comments in following entry on Alford).

Editorial Note: If you are not proficient in Greek, you will find this work considerably more useful than the following work by Alford, because in this volume he translates the Greek and Latin into English. While the "The Greek New Testament" is longer (e.g., English version of 1John = 66 pages compared to Greek version = 94 pages in part because the latter includes comments of more technical nature), the substance of the commentary is otherwise similar to that found in the "NT for English Readers".
DON ANDERSON
Lectures on 1 Timothy Studies
1 Timothy Teacher Notes
1 Timothy Study Notes - detailed notes
MICHAEL ANDRUS
WILLIAM BARCLAY Daily Study Bible
James Rosscup: This is a lucid and well-organized exposition of the epistles with many helpful lists on different facets of truth John can have in mind at different points as on "light" and "darkness" in I John 1:5. There is stimulating background material and warm application. (Commentaries for Biblical Expositors: An annotated bibliography of selected works).

D Edmond Hiebert - Prints the author's own translation. A series of popular studies whose strong point is word study. Contains good illustrative material. Part of the author's interpretation follows a liberal position. Barclay holds that Christ's descent into Hades gave those who there heard Him a second chance.

Comment: I appreciate Barclay's unique insights on Greek words, but clearly his teaching about a "second chance" is NOT sound doctrine! Be an Acts 17:11 Berean with Barclay. See discussion of his orthodoxy especially the article "The Enigmatic William Barclay".
CHRIS BENFIELD
BRIAN BELL SERMONS
THOMAS BROOKS
ERNEST FAULNER BROWN THE PASTORAL EPISTLES 1 TIMOTHY COMMENTARY 
D Edmond Hiebert - A concise, conservative, phrase-by-phrase interpretation by a missionary in India who understands the positions of Timothy and Titus in the light of his own missionary experience.
D Edmond Hiebert - Greek text. The introductions provide a satisfactory study of the problems connected with the Pastorals from a conservative viewpoint. The exegetical notes on the text of the epistles are thorough, thoughtful, and scholarly.

Cyril Barber - This....1886 commentary from the Cambridge Greek Testament series readily interacts with critical issues raised by the publication of the NT texts of Tischendorf and Tregelles. Plummer then treats these letters in a most commendable way, providing some unique insights into the thought of the apostle and the nuances of the original text. (The Minister's Library, Volume 2)

James Rosscup writes "Though old, this is a good study from the Greek text which will be helpful in any more advanced study of the epistles. There are other works more highly recommended, however." (Commentaries for Biblical Expositors: An Annotated Bibliography of Selected Works)
Sample Illustration on 1 Timothy 6:2 - The boss was complaining in the staff meeting the other day that he wasn't getting any respect. Later that morning he went to a local sign shop and bought a small sign that read, "I'm the Boss". He then taped it to his office door. Later that day when he returned from lunch, he found that someone had taped a note to the sign that said. "Your wife called, she wants her sign back!"

Sample Illustration on 1 Timothy 6:2 - An ambitious, young executive is working late at corporate headquarters one evening. As he comes out of his office about 8:00 PM he sees the Big Boss standing by the shredder in the hallway, a piece of paper in his hand. "Do you know how to work this thing?" the older man asks "My secretary's gone home and I don't know how to run it." "Yes, sir," says the young executive, who efficiently turns on the machine, takes the paper from the other man, and feeds it in. "Great," says his boss, "I just need the one copy..."

Sample Illustration on 1 Timothy 6:10 - Discouragement comes when you try to start with what you wish you had but don't have.  And it intensifies when you insist on trying to be in a position you are not in and probably never will be in.-- Stuart Briscoe,
CENTURY BIBLE COMMENTARY 1 TIMOTHY COMMENTARY 
JOHN CEREGHIN - 90 page - Pilgrim Way Commentary
OSWALD CHAMBERS
These Function Like a Verse by Verse Commentary. Recommended
THOMAS CONSTABLE 1 TIMOTHY COMMENTARY
JOHN DUMMELOW
DAN DUNCAN - pdfs
J LIGON DUNCAN 1 TIMOTHY SERMONS
WILLIAM DYER
CHARLES J. ELLICOTT - A Critical and Grammatical Commentary on the Pastoral Epistles - distinct from following resource
CHARLES J. ELLICOTT
EXPOSITOR'S BIBLE COMMENTARY Alfred Plummer
Rosscup - The author is lucid in his statements and has written a fair commentary based upon the Greek. Among older works it is not as helpful as Bernard 
PATRICK FAIRBAIRN 1 TIMOTHY COMMENTARY 
Spurgeon's assessment of Fairbairn's pastoral epistles: "What with a good translation, full defense of the Apostolic authorship of the Epistles, fruitful comments, and profitable dissertations, this volume is about as complete a guide to the smaller epistles as one could desire." (From Spurgeon's Commenting on Commentaries - Pastoral Epistles) (Fairbairn is amillennial)

John Cereghin - What a good translation, full defense of the apostolic authorship of the epistles, fruitful comments and profitable dissertations, this volume is as complete a guide to the smaller epistles as one could desire. his old, standard treatment shows how pastors may use the Greek text to aid their exposition. A fine work in spite of its age.

D Edmond Hiebert - Uses the Greek text of Tischendorf and the author's translation on facing pages. A voluminous (nearly 450 pages) exposition by a conservative Scottish theologian. Still worth consulting but devoid of the results of recent scholarship.

Cyril Barber - A particularly appropriate reprint in light of the fact that so many men are leaving the ministry on account of its unusual pressures. Fairbairn provides a delightful example of exegesis aiding the exposition of the text.
A C GAEBELEIN Annotated Bible
James Rosscup - This dispensationally oriented work is not verse-by-verse, but deals with the exposition on a broader scale, treating blocks of thought within the chapters. Cf. also Arno C. Gaebelein, Gaebelein's Concise Commentary on the Whole Bible (I Volume, Neptune, NJ: Loizeaux, 1985), the Annotated Bible revised. The author was a popular evangelical Bible teacher of the first part of the century, much like H. A. Ironside in his diligent but broad, practical expositions of Bible books. Gaebelein was premillennial and dispensational, and editor for many years of Our Hope Magazine.
DON GARLINGTON 
GENE GETZ - short videos emphasizing life principles
Rosscup - Getz has authored several books on character studies and life-style principles in biblical books. Here again he has much practical helpfulness as he points out traits that believers today can emulate in the enabling of the Spirit. The book is simple, well-organized, and contributive for a leader or any Christian in a devotional series day by day.
1 Timothy; Principle #14; 1 Tim. 6:3-10; Materialistic Motivation: Christian leaders in particular must be on guard against the temptation to be motivated by materialistic interests. Video
1 Timothy; Principle #15; 1 Tim. 6:11-16; Personal Discipline: Even if we are committed to doing God's will, we must still be diligent in training ourselves in godliness. Video
1 Timothy; Principle #16; 1 Tim. 6:17-19; Being Generous: As Christ-followers, we should use material possessions to do God's work in this world. Video
GOTQUESTIONS
L M GRANT
DAVE GUZIK 1 TIMOTHY COMMENTARY 
JAMES HASTINGS Great Texts of the Bible
MATTHEW HENRY 1 TIMOTHY COMMENTARY 
Spurgeon - A Christian man wishing for the cream of expository writers could not make a better purchase. Ministers, as a rule, should not buy condensations, but get the works themselves.

James Rosscup - This evangelical work, devotional in character, has been in constant demand for about 280 years. Its insight into human problems is great, but it often does not deal adequately with problems in the text. The one-volume form eliminates the Biblical text and is thus less bulky. It has sold very well. The late Wilbur M. Smith, internationally noted Bible teacher, seminary professor and lover of books, tabbed this "The greatest devotional commentary ever written". Henry was born in a Welch farmhouse, studied law, and became a Presbyterian minister near London. He wrote this commentary in the last 13 years before he died at 52 in 1714. The first of six volumes was published in 1708. He completed through Acts, and the rest of the New Testament was done by 14 clergymen. (Ed: Thus James are not the comments of Matthew Henry).
HOLMAN PUBLISHING
DAVID HOLWICK - frequent illustrations
ROBERT F HORTON
INTERNATIONAL CRITICAL NEW TESTAMENT COMMENTARY - Walter Lock
D Edmond Hiebert - Greek text. Lock leans to the conservative view but makes no pronouncements on the vexing critical problems. The notes on the Greek text are rather thin. Not up to the high standard of this series.
H A IRONSIDE
John Cereghin - . Popular expositions. He urges the joy of soulwinning (14); stressses the enabling power of God (34); teaches unlimited redemption in Christ (55); emphasizes that only God can qualify men for the ministry (73); attacks Theosophy, Seventh Day Adventism, Christian Science (103); warns against the "social gospel" (111): holds that the Sermon on the Mount is for all believers (139); warns against evolution (155).

James Rosscup - He is staunchly evangelical, showing good broad surveys based on diligent study, practical turns, even choice illustrations. In prophecy he is premillennial dispensational....Many preachers have found that Ironside works, read along with heavier books on details of exegesis, help them see the sweep of the message and prime their spirits for practical relevance.
INTERVARSITY PRESS Philip H. Towner 
James Rosscup - Favoring authorship by Paul (30–32), Towner provides a succinct, lucid commentary that sometimes explains verses or parts of them, sometimes ignores things (as "especially those who believe," 4:10; "save both yourself and your hearers," 4:16; or 2 Tim. 4:8, where the words do not really resolve Towner's idea that a faithful life is necessary for receiving a crown, final righteousness, with this being of grace and not earned). Overall, the work seems below average, a mixture of being of some help and of little help, this depending on which verse. It will be of mediocre benefit only to those wanting a cursory, yet easily flowing guide. It grew out of Towner's Ph. D. dissertation under I. Howard Marshall at the University of Aberdeen, Scotland, but does not approach Marshall's usual kind of serious explanation.
JOHN ANGELL JAMES
JAMIESON, FAUSSET, BROWN 1 TIMOTHY COMMENTARY 
Rosscup - This is a helpful old set of 1863 for laypeople and pastors to have because it usually comments at least to some degree on problems. Though terse, it provides something good on almost any passage, phrase by phrase and is to some degree critical in nature. It is evangelical. There is also a 1-volume edition, briefer at some points (Grand Rapids: Zondervan, 1961). Especially in its multi-volume form this is one of the old evangelical works that offers fairly solid though brief help on many verses. Spurgeon said, "It contains so great a variety of information that if a man had no other exposition he would find himself at no great loss if he possessed this and used it diligently" (Commenting and Commentaries, p. 3). Things have changed greatly since this assessment! It is primarily of help to pastors and lay people looking for quick, though usually somewhat knowledgeable treatments on verses.

Spurgeon - A really standard work. We consult it continually, and with growing interest. Mr. Fausset's portion strikes us as being of the highest order. 

My Comment - This is one of the best older (Pre-1800) works on interpretation of prophecy as it tends to interpret the text literally and not allegorically.
UNABRIDGED VERSION
S LEWIS JOHNSON 1 TIMOTHY SERMONS
Audio & Transcripts from a former Dallas Theological professor. Conservative. Solid.
WILLIAM KELLY - Plymouth Brethren
D Edmond Hiebert - A full, vigorous interpretation with a clear Plymouth Brethren emphasis.

John Cereghin - A careful exposition by a voluminous Plymouth Brethren scholar of the 19th century.
PAUL KRETZMANN (Lutheran)
J P LILLEY - The Pastoral Epistles
D Edmond Hiebert - Uses author's own translation. A scholarly, conservative work giving a comprehensive discussion of the Pastorals as a group as well as the individual epistles. A verse-by-verse exposition characterized by spiritual warmth and practical appeal.
HENRY PARRY LIDDON 1 TIMOTHY COMMENTARY
Explanatory Analysis of St. Paul's First Epistle to Timothy (1897)

Cyril Barber - This "first century message to twentieth century pastors" is a work of rare merit, and we welcome its reappearance.

Liddon structures the text and intersperses his comments between the structured lines. Interesting but somewhat difficult to follow. There is also a considerable amount of Greek so a working knowledge of Greek would be necessary to derive the most value from this work.
LANGE'S COMMENTARY - J J VAN OOSTERZEE
D Edmond Hiebert -  Oosterzee, J. J. Van, "The Pastoral Letters," J. P. Lange's Commentary on the Holy Scriptures. Translated from the German.  (1863). The abundant material is in three sections: exegetical and critical; doctrinal and ethical; homiletical and practical. A full evangelical treatment by a Dutch Reformed minister and theologian of the past century.

James Rosscup - The treatments of books within this evangelical set vary in importance. Generally, one finds a wealth of detailed commentary, background, and some critical and exegetical notes. Often, however, there is much excess verbiage that does not help particularly. On the other hand, it usually has something to assist the expositor on problems and is a good general set for pastors and serious lay people though it is old.
JOHN MACARTHUR 1 TIMOTHY SERMONS
Excellent Expository Sermons. Recommended

Cyril Barber (commenting on MacArthur's printed commentary which is similar to his sermons) - This homiletic exposition ranks as one of the best on Paul's letter to Titus. It is thorough, practical, and vitally related to the needs of both people and the church. Pastors as well as lay people will appreciate the writer's insights. Recommended. (The Minister's Library - Volume 3)

James Rosscup - One of the world's most widely-known pastors gives articulate and rather detailed, basic expositions of verses with arresting illustrations. He deals with word meaning, flow of context, background, and sometimes mentions other views. The works are especially profitable for pastors, students, and lay readers aroused to read about main expositional issues and to grow.
ALEXANDER MACLAREN 1 TIMOTHY SERMONS
James Rosscup - This evangelical work is both homiletical and expository and is often very good homiletically but weaker otherwise. Helpful in discussing Bible characters, it is weak in prophecy at times because of allegorization. It is not really as valuable today as many other sets for the serious Bible student. The expositions are in the form of sermons.
JOHN MACDUFF
J VERNON MCGEE
H A W MEYER
D Edmond Hiebert - Greek text. A full exegetical treatment of these epistles by an evangelical German scholar of the past century. Scholarly and technical, providing references to scholarly views of the authors own times.
G CAMPBELL MORGAN - The Analyzed Bible - 1 Timothy
HENRY MORRIS
JOHN NEWTON
OUR DAILY BREAD
NAM PARK 1 TIMOTHY SERMONS 9-10 page transcripts
PASTORLIFE - sermons
J C PHILPOT
JOHN PIPER
MATTHEW POOLE
J K POPHAM
MATT POSTIFF
PREACHER'S HOMILETICAL COMMENTARY 1 TIMOTHY 
Interesting Resource -"Germ Notes", Sermon Ideas
PULPIT COMMENTARY 1 TIMOTHY COMMENTARY
REFORMATION STUDY BIBLE 1 TIMOTHY
LEGH RICHMOND
ROB SALVATO 1 TIMOTHY SERMONS
RAYMOND SAXE - Fellowship Bible Church. Brief transcripts type written.
JOHN SCHULTZ - 47 pages. Former missionary.
SERMON BIBLE
CHARLES SIMEON 1 TIMOTHY SERMONS
CHUCK SMITH
Sermon Notes for 1 Timothy
Through the Bible Series
HAMILTON SMITH - From the Plymouth Brethren
R C SPROUL - Devotionals
CLAUDE STAUFFER - Calvary Chapel - 1 Timothy Sermon Transcripts each about 20 pages 
C. H. SPURGEON 1 TIMOTHY SERMONS
RAY STEDMAN
THIRD MILLENNIUM 1 TIMOTHY STUDY BIBLE
1 Timothy 6
DAVID THOMPSON 1 TIMOTHY SERMONS
Texas Corners Bible Church. Each transcript about 4-5 pages. Almost 200 pages total. 
TODAY IN THE WORD 1 TIMOTHY DEVOTIONALS 
JOHN TRAPP
BOB UTLEY
VALLEY BIBLE CHURCH 1 TIMOTHY SERMONS
SERMONS BY VERSE 1 TIMOTHY
 
| | | |
| --- | --- | --- |
| The Duties of Dares to Unbelieving Masters | T. Croskery | 1 Timothy 6:1 |
| A Faithful Slave |   | 1 Timothy 6:1-2 |
| Our Social Position | Bp. Simpson. | 1 Timothy 6:1-2 |
| The Duty of Christians in Reference to the Objection Founded Upon Their Imperfections | A. Thomson, D. D. | 1 Timothy 6:1-2 |
| The Imperfections of Christian | A. Thomson, D. D. | 1 Timothy 6:1-2 |
| The Imperfections of Christians Exaggerated by the Enemies of Christianity | A. Thomson, D. D. | 1 Timothy 6:1-2 |
| The Imperfections of Christians no Argument Against Christianity | A. Thomson, D. D. | 1 Timothy 6:1-2 |
| The Power of Custom to Conceal Si | A. Rowland, LL. B. | 1 Timothy 6:1-2 |
| The Slave Winning His Master for Christ | A. Rowland, LL. B. | 1 Timothy 6:1-2 |
| The True Motive in Service |   | 1 Timothy 6:1-2 |
| The Wicked Lives of Christians no Argument Against the Truth of Christianity | Bp. Atterbury. | 1 Timothy 6:1-2 |
| Under the Yoke | A. Rowland, LL. B. | 1 Timothy 6:1-2 |
| Slaves and Heretics | R. Finlayson | 1 Timothy 6:1-10 |
| The Duties of Slaves to Christian Masters | T. Croskery | 1 Timothy 6:2 |
| The Health of Religion | W.M. Statham | 1 Timothy 6:3 |
| A Contrast Between True and False Teaching | A. Rowland, LL. B. | 1 Timothy 6:3-5 |
| A Mercenary Motive |   | 1 Timothy 6:3-5 |
| A Warning Against Those Who Oppose Such Wholesome Teaching | T. Croskery | 1 Timothy 6:3-5 |
| Gain not Godliness | N. Emmons, D. D. | 1 Timothy 6:3-5 |
| Wholesome Words | W. M. Taylor, D. D. | 1 Timothy 6:3-5 |
| The Wealth of Religion | W.M. Statham | 1 Timothy 6:6 |
| Contentment | A. Rowland, LL. B. | 1 Timothy 6:6-8 |
| Contentment | N. Emmons, D. D. | 1 Timothy 6:6-8 |
| Contentment a Commander | H. Smith. | 1 Timothy 6:6-8 |
| Contentment with Little | W. Jay. | 1 Timothy 6:6-8 |
| Enough | H. Smith. | 1 Timothy 6:6-8 |
| Exemplary Contentment |   | 1 Timothy 6:6-8 |
| Folly of Hoarding Up Wealth | C. H. Spurgeon. | 1 Timothy 6:6-8 |
| Godliness | E. Garbett, M. A. | 1 Timothy 6:6-8 |
| Godliness, the Parent of Content | W. W. Champneys, M. A. | 1 Timothy 6:6-8 |
| Leaving Wealth | Dictionary of Illustrations | 1 Timothy 6:6-8 |
| Money of no Use Beyond the Grave |   | 1 Timothy 6:6-8 |
| Poor Capital for the Next World |   | 1 Timothy 6:6-8 |
| The Benefit of Contentment | H. Smith. | 1 Timothy 6:6-8 |
| The Real Gain of True Godliness | T. Croskery | 1 Timothy 6:6-8 |
| The Responsibility of Life | A. F. Joscelyne, B. A. | 1 Timothy 6:6-8 |
| What We Carry Out of the World | The Homilist | 1 Timothy 6:6-8 |
| Temporal Advantages | John Henry Newman | 1 Timothy 6:7 |
| The Dangers of the Eager Haste to be Rich | T. Croskery | 1 Timothy 6:9 |
| Covetousness | A. Rowland, LL. B. | 1 Timothy 6:9-11 |
| Fruit of Covetousness | W. Arnot. | 1 Timothy 6:9-11 |
| Fruit of Covetousness | W. Arnot. | 1 Timothy 6:9-11 |
| Haste to be Rich | H. W. Beecher. | 1 Timothy 6:9-11 |
| Peril in Handling Wealth |   | 1 Timothy 6:9-11 |
| Temptation | R. Tuck, B. A. | 1 Timothy 6:9-11 |
| The Love of Money | H. W. Beecher. | 1 Timothy 6:9-11 |
| The Love of Money | J. Foster. | 1 Timothy 6:9-11 |
| The Love of Money | R. C. Trench. | 1 Timothy 6:9-11 |
| Wealth a Fatal Weight |   | 1 Timothy 6:9-11 |
| The Root of All Evil | T. Croskery | 1 Timothy 6:10 |
| Are You a Man of God | W. Birch. | 1 Timothy 6:11 |
| Following Righteousness | Memoir of Stewart, the Millionaire. | 1 Timothy 6:11 |
| Meekness |   | 1 Timothy 6:11 |
| Patience. -- Patience Portrayed | Bp. Horne. | 1 Timothy 6:11 |
| Personal Admonition Addressed to Timothy Himself | T. Croskery | 1 Timothy 6:11 |
| The Man of God | A. Rowland, LL. B. | 1 Timothy 6:11 |
| The Christian Gladiator | R. Finlayson | 1 Timothy 6:11-16 |
| Eternal Life Within Present Grasp | C. H. Spurgeon. | 1 Timothy 6:12 |
| Man's Great Duty | T. Guthrie, D. D. | 1 Timothy 6:12 |
| One Witness, Many Confessors | Alexander Maclaren | 1 Timothy 6:12 |
| The Christian Warfare | W. Harrison, M. A. | 1 Timothy 6:12 |
| The Christian Warfare; Or, the Good Fight of Faith | T. Boston, D. D. | 1 Timothy 6:12 |
| The Fight | Bp. Ryle. | 1 Timothy 6:12 |
| The Good Fight | W. C. Smith, D. D. | 1 Timothy 6:12 |
| The Good Fight | Homilist | 1 Timothy 6:12 |
| The Good Fight and its Results | T. Croskery | 1 Timothy 6:12 |
| The Problem of Life | H. W. Beecher. | 1 Timothy 6:12 |
| Christ's Service | Archdeacon Farrar. | 1 Timothy 6:13-16 |
| God Invisible | N. L. Frothingham. | 1 Timothy 6:13-16 |
| Motives to Steadfastness | A. Rowland, LL. B. | 1 Timothy 6:13-16 |
| The Invisible God | S. Charnock. | 1 Timothy 6:13-16 |
| The Solemn Charge Pressed Anew Upon Timothy | T. Croskery | 1 Timothy 6:13-16 |
| The Sovereignty of Christ | W. Wilkinson. | 1 Timothy 6:13-16 |
| A Word of Admonition and Encouragement to the Rich | T. Croskery | 1 Timothy 6:17-19 |
| Doing Good | C. H. Spurgeon. | 1 Timothy 6:17-19 |
| God the Giver of Wealth |   | 1 Timothy 6:17-19 |
| Human Affections Raised, not Destroyed, by the Gospel | W. A. Butler. | 1 Timothy 6:17-19 |
| Live for Some Purpose | J. A. James. | 1 Timothy 6:17-19 |
| The Duties of the Rich | T. Seeker. | 1 Timothy 6:17-19 |
| The Opportunity of Doing Good | John Keble. | 1 Timothy 6:17-19 |
| The Perils and Possibilities of the Rich | A. Rowland, LL. B. | 1 Timothy 6:17-19 |
| Trust in God, and not in Riches | Alex. Reid. | 1 Timothy 6:17-19 |
| Parting Words | R. Finlayson | 1 Timothy 6:17-21 |
| The Conduct that Secures the Real Life | Alexander Maclaren | 1 Timothy 6:19 |
| Concluding Exhortation and Benediction | T. Croskery | 1 Timothy 6:20, 21 |
| Peril and Preservation | A. Rowland, LL. B. | 1 Timothy 6:20-21 |
| Science and Theology | W. A. Snively, D. D. | 1 Timothy 6:20-21 |
| The Guarding of the Deposit | G. Whittaker, M. A. | 1 Timothy 6:20-21 |
Book