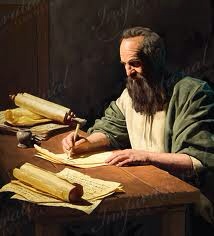 2 CORINTHIANS - PAUL'S MINISTRY IN THE LIGHT OF THE INDESCRIBABLE GIFT
Click chart to enlarge
Charts from Jensen's Survey of the NT - used by permission
Another Chart from Charles Swindoll

Click to Enlarge

Click to enlarge
MIKE ANDRUS
JOSEPH BEET
D Edmond Hiebert - A clear and full interpretation by a British Methodist scholar of the past century. Its doctrinal summaries are intended as a contribution to systematic theology.
BIBLE.ORG Resources that Reference 2 Corinthians
JIM BOMKAMP
OSWALD CHAMBERS
W A CRISWELL - sermons
BOB DEFFINBAUGH SERMONS
EXPLORE THE BOOK
GENE GETZ - essential principles, short videos
2 Corinthians 6:14-7:1; Proper Relationships: We should maintain spiritual fellowship with authentic spiritual leaders and avoid relationships with false prophets and deceptive teachers. Video
2 Corinthians 7:2-16; Positive Feedback: We should look for opportunities to give positive feedback to those who serve as our spiritual leaders. Video
GOT QUESTIONS
DON FORTNER
GOSPEL COALITION
JAMES HASTINGS
DAVID HOCKING - series of sermons
DAVID HOLWICK - frequent use of illustrations
STEVE KRELOFF
BRYAN MACPHAIL
ROD MATTOON - frequent illustrations
HEINRICH MEYER
MONERGISM
HENRY MORRIS Defender's Study Bible
NET BIBLE NOTES
PHIL NEWTON - Mp3 only for the sermons without a link. Click for audios of all sermons.
OUR DAILY BREAD
JOHN PIPER
MATT POSTIFF
RICHARD PRATT SERMONS
REFORMATION STUDY BIBLE
THOMAS SHERMAN
CHARLES SIMEON Sermons on 2 Corinthians
CHUCK SMITH
THIRD MILLENNIUM STUDY NOTES
GEOFF THOMAS SERMONS
BOB UTLEY
THOMAS WATSON
STEVE ZEISLER SERMONS
SERMONS BY VERSE - OLDER WORKS
| | | |
| --- | --- | --- |
| Advice on Details of Christian Conduct | R. Tuck | 1 Corinthians 7:1-7 |
| Celibacy and Marriage | H. Bremner | 1 Corinthians 7:1-9 |
| Views Concerning Marriage | C. Lipscomb | 1 Corinthians 7:1-11 |
| Celibacy and Marriage | H. Bremner, B. D. | 1 Corinthians 7:1-17 |
| Marriage | J. Lyth, D. D. | 1 Corinthians 7:1-17 |
| Marriage | M. Dods, D. D. | 1 Corinthians 7:1-17 |
| Paul's Conception of Marriage | D. Thomas, D. D. | 1 Corinthians 7:1-17 |
| Paul's View of Celibacy | Dean Stanley. | 1 Corinthians 7:1-17 |
| Celibacy and Marriage | E. Hurndall | 1 Corinthians 7:1, 2, 7-9, 25-35 |
| Christianity and Marriage | J.R. Thomson | 1 Corinthians 7:2 |
| Marriage: its Nature and Duties | E. Hurndall | 1 Corinthians 7:2-6, 10-17 |
| Distinct Gifts | Prof. J. R. Thomson. | 1 Corinthians 7:6-9 |
| Revelation | J. Lyth, D. D. | 1 Corinthians 7:6-9 |
| The Happiness of Single Life | J. Lyth, D. D. | 1 Corinthians 7:6-9 |
| Distinct Gifts | J.R. Thomson | 1 Corinthians 7:7 |
| The Marriage Tie | R. Tuck | 1 Corinthians 7:8-16 |
| For Godly Sorrow Worketh Repentance to Salvation, not to be Repented Of | Charles G. Finney | 1 Corinthians 7:10 |
| Divorce: Mixed Marriages | H. Bremner | 1 Corinthians 7:10-16 |
| Christian Casuistry | F. W. Robertson, M. A. | 1 Corinthians 7:10-17 |
| Divorce | J. Lyth, D. D. | 1 Corinthians 7:10-17 |
| Divorce: Mixed Marriages | H. Bremner, B. D. | 1 Corinthians 7:10-17 |
| Paul's Inspiration | Principal Edwards. | 1 Corinthians 7:10-17 |
| The Marriage Union | J. Lyth, D. D. | 1 Corinthians 7:10-17 |
| Unity in Marriage | | 1 Corinthians 7:10-17 |
| Mixed Marriages | C. Lipscomb | 1 Corinthians 7:12-28 |
| Christian Baptism | R. Tuck | 1 Corinthians 7:14 |
| Advice to a Pious Wife | | 1 Corinthians 7:14-16 |
| Earthly Relationships Sanctified to Heavenly Uses | Prof. J. R. Thomson. | 1 Corinthians 7:14-16 |
| The Conversion of an Unbelieving Husband or Wife | J. Lyth. D. D. | 1 Corinthians 7:14-16 |
| The Sanctification of an Unbelieving Partner | Prof. Beet. | 1 Corinthians 7:14-16 |
| The Sanctification of Mixed Marriage Relations | Canon Evans. | 1 Corinthians 7:14-16 |
| Earthly Relationships Sanctified to Heavenly Uses | J.R. Thomson | 1 Corinthians 7:16 |
| Abide in Your Calling | J. Lyth, D. D. | 1 Corinthians 7:17-24 |
| Christianity and the Relations of Life | H. Bremner | 1 Corinthians 7:17-24 |
| Christianity Universally Applicable | J. Lyth, D. D. | 1 Corinthians 7:17-24 |
| Christ's Freemen | A. Maclaren, D. D. | 1 Corinthians 7:17-24 |
| Deliverance from Slavery | J. Leifchild, D. D. | 1 Corinthians 7:17-24 |
| Every Christian At His Post | J. Lyth, D. D. | 1 Corinthians 7:17-24 |
| Forms Versus Character | A. Maclaren, D. D. | 1 Corinthians 7:17-24 |
| Freedom Through Christ | A. H. Moment. | 1 Corinthians 7:17-24 |
| In Christ, the Servant the Lord's Freeman | J. Fawcett. | 1 Corinthians 7:17-24 |
| Liberty and Slavery | C. Hodge, D. D. | 1 Corinthians 7:17-24 |
| On the Choice of a Profession | J. Walker, D. D. | 1 Corinthians 7:17-24 |
| Personal Christianity for the Bond and the Free | D. Thomas, D. D. | 1 Corinthians 7:17-24 |
| Slaves and Free | A. Maclaren, D. D. | 1 Corinthians 7:17-24 |
| The Christian Slave | J. Lyth, D. D. | 1 Corinthians 7:17-24 |
| The Common Lot the Best Sphere | | 1 Corinthians 7:17-24 |
| The Dignity of the True Christian | J. Lyth, D. D. | 1 Corinthians 7:17-24 |
| The External and the Real in Religion | J. Lyth, D. D. | 1 Corinthians 7:17-24 |
| The Gospel | J. Lyth, D. D. | 1 Corinthians 7:17-24 |
| The One Threefold Essential | H. M. Butler, D. D. | 1 Corinthians 7:17-24 |
| The Subordination of Love | Lyman Abbott. | 1 Corinthians 7:17-24 |
| The True Freedom and Dependence of Every Christian | J. Lyth, D. D. | 1 Corinthians 7:17-24 |
| True Contentment | J. Lyth, D. D. | 1 Corinthians 7:17-24 |
| True Freedom | J. Lyth, D. D. | 1 Corinthians 7:17-24 |
| True Liberty | J. Lyth, D. D. | 1 Corinthians 7:17-24 |
| Why Christians Should be Contented with Their Circumstanc | J. Lyth, D. D. | 1 Corinthians 7:17-24 |
| Obedience is Everything | J.R. Thomson | 1 Corinthians 7:19 |
| Christianity and Staves | E. Hurndall | 1 Corinthians 7:20-24 |
| Freedom and Bondage | J.R. Thomson | 1 Corinthians 7:22, 23 |
| Abiding as Called | R. Tuck | 1 Corinthians 7:24 |
| Abiding in Our Calling | Weekly Pulpit | 1 Corinthians 7:24 |
| Christian Contentment | J. Lyth, D. D. | 1 Corinthians 7:24 |
| Christianity Diffusive, not Revolutionary | Prof. Godet. | 1 Corinthians 7:24 |
| Everyday Religion | J. Vaughan Pryce, M. A. | 1 Corinthians 7:24 |
| Godliness in All Conditions of Life | D. Thomas, D. D. | 1 Corinthians 7:24 |
| Home Life and Duties | J. H. Ecob, D. D. | 1 Corinthians 7:24 |
| How to Walk with God in Our Calling | W. Bridge, M. A. | 1 Corinthians 7:24 |
| Our Calling | R. A. Hallam. | 1 Corinthians 7:24 |
| Quietness of Spirit | D. Fraser | 1 Corinthians 7:24 |
| Religion and Business | R. Tuck | 1 Corinthians 7:24 |
| The Christian Calling | Bp. Huntington. | 1 Corinthians 7:24 |
| The Christian Life | A. Maclaren, D. D. | 1 Corinthians 7:24 |
| The Dignity of the Secular Calling | J. Baldwin Brown, B. A. | 1 Corinthians 7:24 |
| The Need, Choice, and Use of a Calling | Bishop Sanderson. | 1 Corinthians 7:24 |
| Vocation | J. C. Lambert. | 1 Corinthians 7:24 |
| Concerning Virgins and Widows | H. Bremner, B. D. | 1 Corinthians 7:25-40 |
| Concerning Virgins and Widows | H. Bremner | 1 Corinthians 7:25-40 |
| How to Give Advice | J. Lyth, D. D. | 1 Corinthians 7:25-40 |
| How to Judge in Difficult Matters | J. Lyth, D. D. | 1 Corinthians 7:25-40 |
| Works of Supererogation and Counsels of Perfection | Principal Edwards. | 1 Corinthians 7:25-40 |
| Marriage and Celibacy | Frederick W. Robertson | 1 Corinthians 7:29 |
| Works of Supererogation and Counsels of Perfection | Principal Edwards. | 1 Corinthians 7:25-40 |
| A Drama in Five Acts | C. H. Spurgeon. | 1 Corinthians 7:29-31 |
| Brief Life is Here Our Portion | C. H. Spurgeon. | 1 Corinthians 7:29-31 |
| Christian Moderation | J. J. S. Bird, M. A. | 1 Corinthians 7:29-31 |
| Christian Unworldliness | F. W. Robertson, M. A. | 1 Corinthians 7:29-31 |
| How to Use the World So as not to Abuse It | J. Venn, M. A. | 1 Corinthians 7:29-31 |
| Length of Life | Bp. Burgess. | 1 Corinthians 7:29-31 |
| Life, its Shadows and its Substance | H. W. Beecher. | 1 Corinthians 7:29-31 |
| Life's Brevity | J. Vaughan, M. A. | 1 Corinthians 7:29-31 |
| Moderation is Everything | J. Lyth, D. D. | 1 Corinthians 7:29-31 |
| Only a Little While | M. R. Vincent, D. D. | 1 Corinthians 7:29-31 |
| Religion in its Relation to Common Life | J. Lyth, D. D. | 1 Corinthians 7:29-31 |
| The Marriage State, Right Views Of | R. Sibbes, D. D. | 1 Corinthians 7:29-31 |
| The Message of the Closing Year | W. M. Taylor. | 1 Corinthians 7:29-31 |
| The Narrowed Opportunity | S. Cox, D. D. | 1 Corinthians 7:29-31 |
| The Shortness of Life | Bp. Phillips Brooks. | 1 Corinthians 7:29-31 |
| The Shortness of the Time | H. Bremner | 1 Corinthians 7:29-31 |
| The Shortness of Time | W. C. Wilson, B. A. | 1 Corinthians 7:29-31 |
| The Time is Short | D. Thomas, D. D. | 1 Corinthians 7:29-31 |
| The Time is Short | E. Blencowe, M. A. | 1 Corinthians 7:29-31 |
| The Time is Short | R. Sibbes, D. D. | 1 Corinthians 7:29-31 |
| The Time is Short | J.R. Thomson | 1 Corinthians 7:29-31 |
| Time: Flight Of | Madame de Gasparin. | 1 Corinthians 7:29-31 |
| Time: How to Use It | J. Taylor, D. D. | 1 Corinthians 7:29-31 |
| Time: its Rapid Flight | | 1 Corinthians 7:29-31 |
| An Argument from the Shortness of the Time | R. Tuck | 1 Corinthians 7:29-40 |
| Apostolic Counsels for the Times | C. Lipscomb | 1 Corinthians 7:29-40 |
| Eternal Things and Fleeting | C. H. Spurgeon. | 1 Corinthians 7:31 |
| On the Fashion of the World Passing Away | H. Blair, D. D. | 1 Corinthians 7:31 |
| On the Use and Abuse of the World | H. Blair. D. D. | 1 Corinthians 7:31 |
| The Changing Nature of Worldly Things | J. Lathrop, D. D. | 1 Corinthians 7:31 |
| The Fashion of the World | Homilist | 1 Corinthians 7:31 |
| The Fashion of the World Passeth Away | Scientific Illustrations and Symbols | 1 Corinthians 7:31 |
| The Passing Nature of This World | Wm. Beet. | 1 Corinthians 7:31 |
| The Passing World | R. Tuck | 1 Corinthians 7:31 |
| The Use and Abuse of the World | W. Arnot, D. D. | 1 Corinthians 7:31 |
| The Use and Abuse of the World | T. C. Finlayson. | 1 Corinthians 7:31 |
| The Use and Abuse of the World | S. Martin. | 1 Corinthians 7:31 |
| The Use and Abuse of the World | W. Bridge, M. A. | 1 Corinthians 7:31 |
| The Use of the World | J. Lyth, D. D. | 1 Corinthians 7:31 |
| The World Changes | H. W. Longfellow. | 1 Corinthians 7:31 |
| Using This World | J. Vaughan, M. A. | 1 Corinthians 7:31 |
| Free from Cares | D. Fraser | 1 Corinthians 7:32 |
| Advice Should be Given | J. Lyth, D. D. | 1 Corinthians 7:32-40 |
| Against Carefulness | C. Simeon, M. A. | 1 Corinthians 7:32-40 |
| Characteristics of Christianity | J. W. Burn. | 1 Corinthians 7:32-40 |
| Free from Cares | Clerical World | 1 Corinthians 7:32-40 |
| The Cares of Married Life | J. Lyth, D. D. | 1 Corinthians 7:32-40 |
| Torment of Little Cares | Clerical Library | 1 Corinthians 7:32-40 |
| Will-Power | Bishop Thorold. | 1 Corinthians 7:32-40 |
| Without Carefulness | C. H. Spurgeon. | 1 Corinthians 7:32-40 |
| Duties of Parents to Children as to Marriage | E. Hurndall | 1 Corinthians 7:36-40 |
| Christian Marriage | Essex Congregational Remembrancer | 1 Corinthians 7:39-40 |
| Degrees of Apostolical Authority | Prof. Godet. | 1 Corinthians 7:39-40 |
| On Marriage | T. Raffles, LL. D. | 1 Corinthians 7:39-40 |
| The Widow's Happiness | J. Lyth, D. D. | 1 Corinthians 7:39-40 |
Book