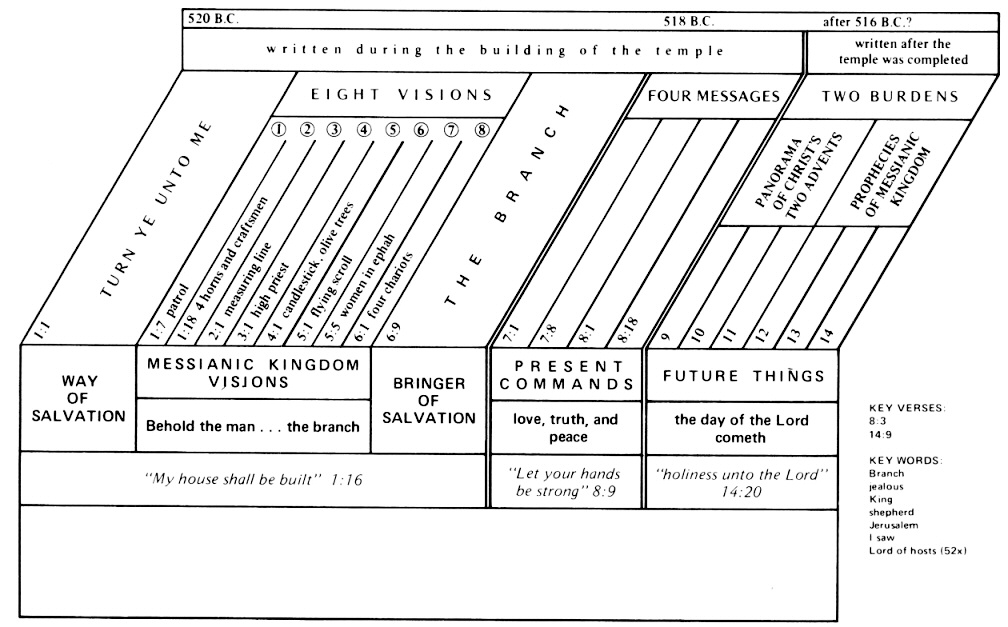 Click chart to enlarge
Chart from recommended resource Jensen's Survey of the OT - used by permission
Zechariah Chart from Charles Swindoll
Another Zechariah Chart
ZECHARIAH
("Yahweh Remembers")
Click for EXCELLENT TIMELINE of Zechariah - Go to Page 44
Zec 1:1-6
Zec 1:7-6:8
Zec 6:9-6:15
Zec 7:1-8:23
Zec 9:1-11:17
Zec 12:1-14:21
Return
to Me
Zec 1:3
Messianic
Kingdom
Visions
The
Branch
Four
Messages
Two Oracles
or
Burdens
Zechariah 1-6

Zechariah 7-8

Zechariah 9-14


Apocalyptic

Ethical Prophecy

1) Rebuke

2) Reminder

3) Restoration

4) Return

Predictive

Prophecy

1) Burden Against the Nations

2) Burden For Israel

Call
to
Repentance
Eight
Visions
(Picture)
Crowning
of
Joshua
Question of
the Fasts
(Calendar)
First
Burden:
Rejection of
Messiah
Second
Burden:
Reign of
Messiah
The
Way
of Salvation
Messianic
Kingdom
Visions
The
Bringer
of Salvation
Commands
Concerning
Present Things
Oracles (Burdens)
Concerning
Future Things
Behold the man...the Branch
Love, Truth
and Peace
The Day
of the Lord
PICTURES
PROBLEMS
PREDICTIONS
ISRAEL'S
FORTUNE
ISRAEL'S
FASTING
ISRAEL'S
FUTURE
"My house will be built
in Jerusalem"
Zec 1:16
"Let your hands be strong"
Zec 8:9
"HOLY
TO THE LORD"
Zec 14:20
PLACE:
JERUSALEM
Written During the Building
of the Temple
520-518BC
Written after the Temple
Was Completed
circa 480-470BC

Key words: Branch (Zec 3:8, 6:12), jealous, king (9x in 9v), shepherd (10x in 9v), saw/seen (or "lifted up my eyes"), Jerusalem, LORD of hosts (of armies) = Jehovah Sabaoth (53x), "word of the LORD came" (5x) See discussion on marking key words. To help your study print out the Observation Worksheet on Zechariah (Go to page 13) with double spaced text for marking Key Words, making lists, taking notes that you can later transfer to your Bible

See Introduction to Zechariah by Dr John MacArthur: Title, Author, Date, Background, Setting, Historical, Theological Themes, Interpretive Challenges, Outline by Chapter/Verse. Excellent overview. (See also Van Dine's excellent overview of Zechariah including chapter/section summaries)

See Another Zechariah Overview Chart from Charles Swindoll

Messiah in Zechariah

The Branch or Sprout (Zec 3:8f; Zec 6:12f; Heb. 6:20-7:1
 Entry of Zion's Lowly King (Zec 9:9-17; Mt. 21:4-5; Jn 12:13- 16)
 Sale of Jesus by Judas (Zec 11:4-14; Mt 27:9)
 Mourning over the Pierced One (Zec 12:10; Jn 19:37)
 Fountain opened for sin (Zec 13:1)
 The Smitten Servant (Zec 13:7-9)
 Glory of Jerusalem the Center of World Worship (Zec 2:10-11; Zec 14:8f, Zec 14:20f)
 At His Second Coming He will be crowned King (Zec 14:5, 9; Rev. 11:15; 21:27)

Zechariah in the New Testament

Zech. 1:8 with Rev. 6:1-8
Zech. 3:2 with Jude 9
Zech. 3:9 with Rev. 5:6
Zech. 8:16 with Eph. 4:25
Zech 9:9 with Matt. 21:5; Jn. 12:14ff
Zech. 11:12f with Matt. 27:9f
Zech. 12:10 with Jn. 19:37; Rev. 1:7
Zech. 13:7 with Matt. 26:31; Mk. 14:27
Zech. 14:11 with Rev. 22:3

From William Orr's Thirty-Nine Keys to the Old Testament:

1. STATISTICS: Writer, Zechariah (Zec 1:1) whose name means "GOD is Renown," was of the priestly tribe, possibly born in Babylon. He returned with the first expedition; called to encourage the builders with a view of the glorious future; time, 520-518 B.C.; key thought, GOD is in this work; key verse, Zec 14:9.

2. THEME: The first returning group of exiles was 50,000 strong, but had been hindered and finally stopped building. GOD spoke through Zechariah (and Haggai) to stir up their hearts and renew their labors. While Haggai's burden seemed to be the religious life of the people, Zechariah's was to concentrate on the national and political. His ministry extended over two years and he was used to bring to completion the restoration of the temple. His main ministry looked far into the future envisioning both the first coming of the Messiah and His return in power and great glory.

3. SPECIAL CHARACTERISTICS: Book is divided: eight visions (given in a single night) dealing with a large variety of subjects (Zech 1:1-21 through Zec 6:1-15); four given directly to a questioning company from Babylon (Zec 7:2, 3) answering their problems; two burdens (Zec 7:1-14 and Zec 8:1-23) concerning future oppression and eventual triumph (Zec 9:1-17 through Zec14:1-21).

The expression "Thus saith the Lord" is found 89 times; the term "The Lord of hosts" 36 times. Zechariah contains more specific promises relative to the crucifixion than any other Old Testament book except Psalms (Zec 9:9; 11:12, 13; 13:6, 7).

4. OUTSTANDING TEACHINGS: In spite of meager circumstances and coming opposition for the chosen people, GOD is still to

triumph and with Him, His people. A detail to remember is the intermingling of the work of the MESSIAH, first as suffering SAVIOUR, then as resistless Sovereign. GOD's watchful interest in other nations is clearly demonstrated both in relation to their sin and idolatry, and with reference to their treatment of Israel. A delightful picture of the future is presented in the coming happiness of Zion with streets full of children (8:3-5) and all nations of the world coming to the Jews to learn of their GOD (Zec 8:22, 23).

5. KEY TO UNDERSTANDING: Life is not concerned with time alone. There is an overruling power which works in time to prepare for eternity. The Jewish nation is but an example of the great passion of the heart of GOD for the sons of men.

OTHER RECOMMENDED RESOURCES:

J Vernon McGee's Outline of Zechariah

I. APOCALYPTIC VISIONS (messianic and millennial), Zechariah 1- 6

A. Introduction and message of warning, Zechariah 1:1-6

B. Ten visions (all in one night), Zechariah 1:7-6:15

1. Riders under myrtle trees, Zec 1:7-17

2. Four horns, Zec 1:18, 19

3. Four smiths, Zec 1:20, 21

4. Man with measuring line, Zec 2:1-13

5. Joshua and Satan, Zec 3:1-7

6. The Branch, Zec 3:8-10

7. Lampstand and two olive trees, Zec 4:1-14

8. Flying scroll, Zec 5:1-4

9. Woman in the ephah, Zec 5:5-11

10. Four chariots, Zec 6:1-15

II. HISTORIC INTERLUDE, Zechariahs 7, 8

A. Question concerning a religious ritual (fasting), Zechariah 7:1-3

B. Threefold answer, Zechariah 7:4-8:23

1. When the heart is right, the ritual is right, Zec 7:4-7

2. When the heart is wrong, the ritual is wrong, Zec 7:8-14

3. God's purpose concerning Jerusalem unchanged by any ritual, 8:1-23

III. PROPHETIC BURDENS, Zechariah 9-14

A. First burden: Prophetic aspects connected with first coming of Christ, Zechariah 9-11

B. Second burden: Prophetic aspects connected with second coming of Christ, Zechariah 12-14

COMMENT:

I. APOCALYPTIC VISIONS (messianic and millennial), Zechariah 1-6

A. Introduction and message of warning, Zechariah 1:1-6

Zec 1:1 — (See WRITER.) The date was November 520 B.C. He was contemporary with Haggai.
Zec 1:2 — The returned remnant is warned not to follow in the footsteps of the pre-captivity fathers.
Zec 1:3 —"LORD of hosts" occurs 52 times. "Hosts" is the Hebrew tsaba (Sabaoth), meaning service, strength, warfare. "It implies the boundless resources at His command for His people's good" (Fauset).
Zec 1:4 — Their fathers had not heeded the former prophets.
Zec 1:5 — Where were their fathers? Buried in Babylon.
Zec 1:6 — "Take hold" means overtake. The prophet's words were accurately fulfilled.

B. Ten visions (all in one night), Zechariah 1:7 — 6:15

1. Riders under myrtle trees, Zec 1:7-17

Zec 1:7 — Date: February 24, 520 B.C. (the Hebrew year begins in the April of our year).
Zec 1:8-11 — In the vision Zechariah sees a man on a red horse with other red horses behind him. They were speckled because they were in the shadow of myrtle trees. The "man riding upon a red horse" is "the angel of the LORD" in Zec 1:9 and Zec 1:11. "A red horse" is a picture of war. These red horses are the gentile nations that have ruled the world by warfare for 2500 years. They were at peace (Zec 1:11) in Zechariah's day, and it was a right time to build the temple. They had no concern for the desperate plight of God's people — neither then nor now.
Zec 1:12-17 — God is displeased with the nations who are at peace and ignore Jerusalem's plight. God is jealous for Jerusalem; the nations are indifferent to her. God had returned to Jerusalem (Zec 1:16) with mercies, and the nations have a responsibility also. Is he the God of the Jews only? Is he not also of the Gentiles? Yes, of the Gentiles also. (Romans 3:29-note)
The promise of Zec 1:17 looks forward to the future kingdom age.

2. Four horns, Zec 1:18, 19

Zec 1:19 — The 4 gentile world powers: Babylon, Medo-Persia, Greece, and Rome.

3. Four smiths, Zec 1:20, 21

Zec 1:20 — "Artisan" is a craftsman or smith.
Zec 1:21 — These 4 smiths perhaps represent the judgment of Ezekiel 14:21-note —For thus saith the Lord GOD, How much more when I send my four severe judgments upon Jerusalem, the sword, and the famine, and the evil beast, and the pestilence, to cut off from it man and beast? Compare with the 4 horsemen of the Apocalypse of Revelation 6-note

4. Man with measuring line, Zec 2

Zec 2:1 — See Jeremiah 31:38, 39; Ezekiel 40:3-5; Revelation 11:1, 2-note. When God begins to measure the temple and Jerusalem, He is getting ready to move again in behalf of both.
Zec 2:2 — Jerusalem is to be rebuilt in Zechariah's day.
Zec 2:10 — Jerusalem is to be rebuilt and restored in the kingdom, and the Lord Jesus Christ will reign there in person.
Zec 2:11 — The nations will come there to worship (see 14:16; Isaiah 2:1-5-note).

5. Joshua and Satan, Zec 3:1-7

Zec 3:1 — Joshua is representative of the nation Israel. Satan seeks to destroy the nation (Revelation 12:1-6-note).
Zec 3:2 — "A brand plucked out of the fire" means they are rescued for future service.
Zec 3:3-7 — Neither Joshua nor Israel were contenders with Satan while clothed in their own righteousness. They must be clothed with the righteousness of Christ. Even a new patch on the old garment will not avail.

6. The Branch, Zec 3:8-10

Zec 3:8 — "The Branch" is a familiar figure of Christ in His many offices. Here He is the servant. Israel rejected Him the first time because they trusted their own righteousness (see Romans 10:3, 4-note).
Zec 3:10 — This refers to the kingdom age.

7. Lampstand and two olive trees, Zec 4

Zec 4:2 — The lampstand is identical to the one that was in the tabernacle and has the same meaning. It is a perfect type of Christ, the Light of the world (see author's book, The Tabernacle, God's Portrait of Christ).
Zec 4:3 — The 2 olive trees are the "something new has been added." The olive trees (Zec 4:11-14) are obviously Zerubbabel and Joshua at that time. The final fulfillment is in Revelation 11:3-12-note.
Zec 4:6 — The interpretation for Zechariah's day, for the future, and also for our day is a great principle — "Not by brawn nor by brain, but by My Spirit, saith the Lord" (my paraphrase). God's work is done only in the power of the Holy Spirit. The oil represents the Holy Spirit. The 2 olive trees speak of witnessing. Effective witnessing is done only in the power of the Holy Spirit.
Zec 4:7 — "The headstone" is Christ.
Zec 4:8-10 — The present and practical application is that Zerubbabel will be given power to finish the temple. It will be an occasion for joy, for "who hath despised the day of small things?"

8. Flying scroll, Zec 5:1-4

Zec 5:3 — The scroll represents the Ten Commandments.
"Curse" — God will judge according to law. There is judgment, not blessing.
On one side are the commandments that have to do with a man's relationship to God — "every one that sweareth" represents the first 4 commandments. On the other side are the commandments that have to do with a man's relationship to his fellowman — "for every one that stealeth" represents the last 6 commandments.

9. Woman in the ephah, Zec 5:5-11

Zec 5:5, 6 — The ephah corresponds to our bushel. This means that sin has filled up the measure and must be judged.
Zec 5:7 — A woman in an ephah is a type of that which is evil (Matthew 13:33; Revelation 2:20-note). The lead weight means that iniquity is sealed within the measure.
Zec 5:8 — "Wickedness" is the wicked one, the man of sin.
Zec 5:9-11 — Two winged women carry the measure (with the woman in it) to Babylon. Israel's great sin was idolatry. Babylon is the fountainhead of idolatry. This sin is to be forsaken and returned to Babylon. Babylon is to be judged (see Revelation 17, 18-note).

10. Four chariots, Zec 6

Zec 6:1-5 — These 4 multicolored chariots are the angels who execute the judgment of God on the gentile nations (see Revelation 7:1-3-note; Rev 9:14, 15-note).
Zec 6:9-15 — After the judgment of the nations comes the glory of Christ in the setting up of His kingdom (Daniel 2:44, 45-note).
Zec 6:10 — "Heldai" means robust; "Tobijah" means God's goodness; "Jedaiah" means God knows.
Zec 6:11 — Joshua is a type of Christ.
Zec 6:12 — "The Branch" here reveals Christ in His glory, the second coming of Christ.

II. HISTORIC INTERLUDE, Zechariah 7, 8

A. Question concerning a religious ritual (fasting), Zechariah 7:1-3

Zec 7:1 — The date here is December 4, 518 B.C.
Zec 7:2 — A delegation had come to Jerusalem from Babylon.
Zec 7:3 — They bring a problem to the priests: Should they continue to fast?

B. Threefold answer, Zechariah 7:4-8:23

1. When the heart is right, the ritual is right, Zec 7:4-7

Zec 7:4 — God will answer their question.
Zec 7:5 — God never gave fast days; He gave feast days. It was their own idea to fast. They never fasted unto the Lord.
Zec 7:6 — Before the 70-year captivity, their feasting was not unto God either, and He sent them into captivity.
Zec 7:7 — Before the captivity, God judged Jerusalem when the heart of the people was far from Him — though they went through the rituals. A ritual is right when the heart is right. Lange wrote, "God's eye of grace and our eye of faith meet in the sacraments [rituals]."

2. When the heart is wrong, the ritual is wrong, Zec 7:8-14

Zec 7:8 — This is God's answer.
Zec 7:9, 10 — Conduct denies confession. It is not our hymn singing on Sunday but our action on Monday that is the real test.
Zec 7:11-14 — The people before the captivity went through the ritual, but their lives were wrong.

3. God's purpose concerning Jerusalem unchanged by any ritual, Zec 8

Certain words are emphasized by repetition: "LORD of hosts" 18 times in this chapter; "Jerusalem" 6 times; "Zion" twice; "Jealous" 3 times; "Remnant" twice; "Thus saith the LORD" 10 times. Some Bible students see in this chapter the restatement of the Ten Commandments.
Zec 8:1-8 — God's ultimate purpose is not changed concerning His people, the land, and Jerusalem.
Zec 8:3 — Jerusalem will be the world capital (Isaiah 2:1-5-note).
Zec 8:4-8 — His people will dwell in Jerusalem.
Zec 8:9-19 — The Remnant from Babylon are to hear the prophets Haggai and Zechariah in view of the perspective of the glorious future (note Zec 8:9). Also they are to keep the Commandments (see Zec 8:16, 17). Fasts will be turned back into feast days (Zec 8:18, 19).
Zec 8:20-23 — Jerusalem will become the religious capital as well as the center of God's government (note again Isaiah 2:1-5-note)

III. PROPHETIC burdens, Zechariah 9-14

A. First Burden: Prophetic aspects connected with first coming of Christ, Zechariah 9-11

Zechariah 9

Zec 9:1-8 — Judgment came upon:
Hadrach and Damascus (Zec 9:1) (Hadrach was north of Damascus)
Tyre, Sidon and Hamath (Zec 9:2-4) (Hamath is inland and north of Sidon)
The Philistines (Zec 9:5-8)
Zec 9:9 — This is quoted in connection with the so-called triumphal entry of Christ into Jerusalem (cp. Matthew 21:5; John 12:15). The parts omitted by Matthew are: "Rejoice greatly, O daughter of Zion; shout…he is just, and having salvation [victory]." This part of the verse will be fulfilled at His second coming. The rest of the verse was fulfilled at His first coming.
Zec 9:10 — Peace can come to the earth only when Christ comes the second time.
Zec 9:11-17 — The Lord will at that time deliver His people.

Zechariah 10 — Judah and Israel are to be scattered again, but they will be finally regathered.

Zec 10:1 — "Rain" is literal rain. The rainfall is to be restored to the land when God regathers them.
Zec 10:2, 3 — This is a condemnation of the sweet-talking false prophets.
Zec 10:4 — This is a reference to Christ in both His first and second comings.
Zec 10:6 — By His mercy the Lord will regather them.
Zec 10:9-12 — The Lord will not only scatter them (Zec 10:9), but He will regather them.

Zechariah 11 — The Lord Jesus Christ is to be rejected as the King at His first coming.

Zec 11:1-6 — False shepherds deceived the people. Possibly this is a reference to Rome as the conqueror.
Zec 11:7-14 — The true Shepherd with 2 staves: "Beauty" is literally grace — He is the Savior and will save His people. "Bands" is literally union — He will unite Judah and Israel.
Zec 11:8, 9 He rejects false shepherds
Zec 11:12, 13 — This is a reference to the betrayal of Christ by Judas. See Matthew 26:15; 27:3-10; Acts 1:17-20.
Zec 11:15-17 — The Antichrist is a false shepherd.

B. Second burden: Prophetic aspects connected with second coming of Christ, Zechariah 12-14

Zechariah 12 — The final siege of Jerusalem and the lifting of the siege. "Jerusalem" is mentioned 10 times. "In that day" is mentioned 7 times and is a reference to the day of the LORD, specifically the Great Tribulation Period.

Zec 12:1-3 — Jerusalem is to be a constant irritant to all the nations that presume to make decisions that affect it. God's policy for the nations is "hands off" Israel (too bad the United Nations is not aware of this). All the nations in the Great Tribulation will march against Jerusalem — and be destroyed.
Zec 12:4-9 — Jerusalem will be delivered in the final siege by the coming of the Lord personally.
Zec 12:10-14 — They will know Him by the print of the nails in His hands. This is the One they rejected and delivered to be crucified. This will be a real day of atonement.

Zechariah 13 — What will the return of Christ mean to Israel?

Zec 13:1 — The Remnant will turn to the redemption of Christ for their salvation.
Zec 13:2-5 — The false prophet and his followers will be taken (see Revelation 19:20-note). This is the end of all false religion.
Zec 13:6, 7 — The nail-scarred Christ will be present. His followers will not desert Him but will rally around Him.
Zec 13:8, 9 — These are those who come out of the Great Tribulation and have washed their robes in the blood of the Lamb.

Zechariah 14 — Features and facts connected with the coming of Christ to the earth.

Zec 14:1-7 — This is the consummation of the campaign of Armageddon and the return of Christ.
When Christ returns to this earth, He will touch down on the Mount of Olives (Zec 14:4). This is the same place from which He ascended into heaven. There will be great physical changes in the topography of the land. There will be a great earthquake at His coming (Zec 14:5). There will be changes in the lighting of the earth (Zec 14:6, 7).
Zec 14:8 — There will be a new waterway through Jerusalem, making it a seaport city.
Zec 14:9 — The Lord Jesus Christ will reign over the earth.
Zec 14:10, 11 — The land will become the land of milk and honey.
Zec 14:12 — This is a living death against the enemies of God.
Zec 14:16-21 — The people of the earth, both Jew and Gentile, will go to Jerusalem to celebrate the Feast of Tabernacles. This feast will mean that every man is dwelling safely under his own vine and fig tree. True holiness will be on the earth. Every pot and pan will be holy.

Christ in All the Scriptures - Table of Contents

Zechariah - We have already seen the connection of this prophet with Haggai. He was probably a priest as well as a prophet. (See Neh 12:12,16).

His first prophecy [Zech 1:1-6] occurred just after the time of discouragement, when the people had begun to rebuild the Temple [cp. Ezra 4:23,24], and he warns them not to disappoint God, as their fathers had done. He has a special word of encouragement to the ruler Zerubbabel, who must have been conscious of his own weakness, and that it was indeed a ''day of small things.'' ''Not by might, nor by power, but by My Spirit, saith the Lord of Hosts'' (Zech 4:6-10). He promised that the mountains of difficulty should be removed, and that he who had laid the foundation should have the joy of bringing forth the headstone with rejoicing, crying, ''Grace, grace,'' unto it.

Christ is both the Foundation-stone and the Headstone of the corner. [1Cor 3:10,11; 1Pet 2:6-8]

Eight Visions.

Zechariah's second prophecy consists of eight visions concerning God's final dealings with Israel.

First, of Myrtle Trees, a picture of Israel today, outcast but never forgotten by Jehovah.

Second, of Horns and Smiths, foretelling the overthrow of Israel's enemies.

Third, of the Measuring Line. This shows the future prosperity of Jerusalem. The presence of Jehovah as a wall of fire round about His people will make walls unnecessary, the extent of the city will make them impossible.

Fourth, of Joshua, a picture of Israel cleansed and restored to the priestly position of access to God.

Fifth, of the Candlestick, or, as it should be, lamp-stand, Israel as God's light-bearer. The two olive-trees in this vision refer in the first place to Zerubbabel the ruler and Joshua the priest, and thus through them to both offices fulfilled in the person o£ the Messiah.

Sixth, the Flying Roll, government of the earth.

Seventh, the Ephah, restriction of wickedness.

Eighth, the Chariots, the administrative forces of righteousness

(Dr. Campbell Morgan, Westminster Record for September 1907).

Then follows the symbolic act of crowning the High Priest (Zechariah 6:9–11). By this act the two great offices of priest and king are united in his person, type of the person and work of the Man whose name is the Branch (Zechariah 6:12; 3:8), who shall sit on His throne of glory as a Priest, the Builder of the eternal Temple of the Lord, and "bear the glory."

"Thy king cometh unto Thee." More than any other of the Minor Prophets, Zechariah foretells the Savior. Twice He is announced as the Branch; God speaks of Him as My Servant (Zechariah 3:8). We have the prediction of His entry into Jerusalem, riding upon an ass's colt (Zechariah 9:9). In contrast to the false shepherds we see Him as the Good Shepherd, saving His flock, caring for the poor of the flock (Zechariah 9:16; 11:11). We see Him as the Smitten Shepherd, with the sheep scattered (Zechariah 13:7). In the words "Awake, O sword, against My Shepherd, and against the Man that is My fellow, saith the Lord of Hosts," we have a specially clear revelation of Christ, both in His Divine and human nature; the Man, the smitten Shepherd, is spoken of by God as His fellow, on an equality with Him and yet distinct in His personality.

Zechariah speaks of "the blood of the Covenant" (Zechariah 9:11), which our Lord applied to His own blood. "This is My blood of the New Covenant, which is shed for many unto remission of sins" (Matthew 26:28, r.v.). We have the prophecy of His betrayal by Judas for thirty pieces of silver, even to the fact that the money was "cast to the potter in the house of the Lord" (Zechariah 11:12–13).

Zechariah prophesies the conversion of his people to the Lord in the day that the Spirit is poured out upon them, and when they shall look on Him whom they have pierced, and the sin of the nation shall be washed away through that fountain opened through their Messiah's death on Calvary (Zechariah 12:10; 13:1). He speaks of the wounds with which He was wounded in the house of His friends (Zechariah 13:6). The third part of the remnant shall be brought through the fire and purified in the time of Jacob's trouble (Zechariah 13:9).

The last chapter foretells the Great Day of the Lord, which is always associated with the coming of Christ to judgment. He who ascended from the slopes of Olivet shall so come in like manner as those who watched Him saw Him go. "And His feet shall stand upon the mount of Olives ... and the Lord my God shall come, and all the saints with thee.... It shall be one day which shall be known to the Lord ... at evening time it shall be light.... And the Lord shall be King over all the earth: in that day shall there be One Lord, and His name One."

See also...

The Old Testament Presents... Reflections of Christ - ZECHARIAH - Paul R. Van Gorder
Part 1: The Visions and the Answer to the Deputation from Bethel
Part 2: The Prophecies
Below is another source because the above source has numerous typos...
Part 1: The Visions and the Answer to the Deputation from Bethel
Part 2: The Prophecies
Note: Annual $50 or monthly $5 Fee required to view entire article but gives access to literally thousands of searchable conservative theological journals updated through 2015 - an excellent resource!
James Rosscup's comment on Feinberg's book God Remembers A Study of Zechariah (studies below are from Bibliotheca Sacra) is worth noting as it might encourage you to purchase the annual fee which gives full access to these papers. Rosscup says that Feinberg's book "is a reprint of one of the best premillennial expositions by the late evangelical Old Testament scholar. Feinberg taught Zechariah for many years at Dallas Seminary and Talbot Seminary in Hebrew exegesis classes. He, Barker and Unger have the best longer premillennial commentaries of a verse by verse nature on the book." (Commentaries for Biblical Expositors: An Annotated Bibliography of Selected Works)
Suggestion - Consider paying the monthly fee to access all the articles below and compile them into a Word Document (which totals 136 pages).
OUTLINE BASED ON EXEGETICAL STUDIES ABOVE
I. An Exhortation to Repentance, Zec 1:1-6.
II. The Prophet's Night-Visions, Zec 1:7-6:15.
a. The Vision of the Horses, Zec 1:7-17
b. The Vision of the Horns and Smiths, Zec 2:1, 2, 3, 4
c. The Vision of the Surveyor, Zec 2:5-17
d. The Vision of Joshua the High Priest and the Angel of Jehovah, Zec 3:1-10
e. The Vision of the Candlestick and the Two Olive Trees, Zec 4:1-14.
f. The Vision of the Flying Roll, Zec 5:1-4.
g. The Vision of the Woman in the Ephah, Zec 5:5-11.
h. The Vision of the Four Chariots, Zec 6:1-8.
i. The Coronation of Joshua, Zec 6:9-15.
III. The Question and the Answer concerning Fasting, Zec 7:1-8:23.
a. The Question, Zec 7:1, 2, 3.
b. The Rebuke, Zec 7:4, 5, 6, 7.
c. The Warning from the Past, Zec 7:8-14.
d. The Restoration of God's Favor, Zec 8:1-17.
e. The Abrogation of the Fasts, Zec 8:18-23.
IV. The Future of the World Powers, Israel, and the Kingdom of Messiah, Zec 9-14.
A. The First Burden, Zec 9-11.
1. Judgment on the Land of Hadrach, Zec 9:1-8.

2. Israel's King of Peace, Zec 9:9,10.

3. The King's Mission in Relation to Israel, Zec 9:11-17.

4. Additional Blessings for Israel, Zec 10:1-12.

5. The Rejection of the Good Shepherd and the Rule of the Wicked One, Zec 11:1-17.
B. The Second Burden, Zec 12-14 .
1. Israel's Conflict and Deliverance, Zec 12:1-14 .

2. Israel Cleansed of Her Sin, Zec 13:1-6 .

3. The Shepherd Smitten and the Sheep Scattered, Zec 13:7, 8, 9 .

4. The Great Consummation: Israel's Deliverance & God's Earthly Kingdom, Zec 14:1-21
Feinberg concludes his studies...
"And throughout the prophecy there is presented to us on every page the spotless, blemishless Holy One of Israel, the Lord Jesus Christ, the Messiah and King of Israel. See Him in..."
Chapter one as the Riding One;
Chapter two as the Measuring One;
Chapter three as the Cleansing One;
Chapter four as the Empowering One;
Chapter five as the Judging One;
Chapter six as the Crowned One;
Chapter seven as the Rebuking One;
Chapter eight as the Restoring One;
Chapter nine as the Kingly One;
Chapter ten as the Blessing One;
Chapter eleven as the Shepherding One;
Chapter twelve as the Returning One;
Chapter thirteen as the Smitten One;
Chapter fourteen as the Reigning One.
Come, let us worship at His feet!
Note: Google post allows copy and paste = Studies in Zechariah
James Rosscup writes "This 1858 work supplies much help on matters of the text, word meaning, resolving some problems, etc. Some have found it one of the most contributive sources in getting at what a text means." (Commentaries for Biblical Expositors: An Annotated Bibliography of Selected Works)
Comment on this Commentary: Matthew Henry's comments on the OT like John Gill's (and like Adam Clarke's and John Calvin's) are not always literal (see related discussion on Gill's comments on the OT prophets). For example, his interpretation of "I will gather the nations" (Zech 14:2) is that "The city shall be taken by the Romans, who have nations at command". There is absolutely no mention of the Romans in the original text nor is their a suggestion of such in the context. Henry sees this prophecy as historically fulfilled in the Roman destruction of Jerusalem in 70AD. He goes on to comment on Zec14:4, Zec14:5 that "These verses are dark and hard to be understood", which is indeed the case when one rejects the literal interpretation. And thus Henry is forced to resort to a (speculative) allegorical approach (See Garland's Rise of Allegorical Interpretation) and arrives at an absurd, nonsensical comment writing that "The valley of the mountains (in Zech 14:5) is the gospel-church"! So why is Henry even listed? Matthew Henry is included because he occasionally has practical, poignant devotional thoughts and/or pithy points of application. But "Caveat emptor!" The best rule to apply in the interpretation of the OT (especially the prophetic) passages is to remember the maxim that if the plain sense of the text (the literal sense) makes good sense, seek to make no other sense lest it turn out to be nonsense!
Contrast the wise insights of another older writer Charles Simeon (who wrote around 1832)...
It is a matter of general complaint, that the minor prophets are difficult to be understood: and this is true to a considerable extent: but we apprehend that it arises very much from our not sufficiently bearing in mind the subjects on which they wrote. We do right in looking for many things applicable to the Messiah, and to his Church and kingdom: but we err in not having more respect to the Jewish Church (Ed: Used in sense not of the NT church but of believing Jews) as it existed in the times when the prophets wrote; and as it shall exist at a period yet future, when that people shall be gathered in from their present dispersion, and be restored to their own land. We complain that we cannot unlock those Scriptures; but we neglect to take the key that alone will fit the wards. If we kept the Jews more in view, many of the difficulties would vanish; and innumerable beauties would be seen in passages that are now passed over as devoid of interest. We believe verily that the day is fast approaching, in which "God will shew them marvellous things," not a whit inferior to those which He wrought for them when He brought them out of Egypt: and it is their privilege to be looking forward to that period, with earnest and assured expectation of the blessings prepared for them. (Micah 7:8-10 Address of the "Jewish Church" to Her Enemies)
Note: JFB is one of the more literal, conservative older commentaries (prior to 1900). Sample excerpt of eschatological (prophetic, apocalyptic) passage Zechariah 14:2 - "gather all nations, etc. — The prophecy seems literal (compare Joel 3:2). If Antichrist be the leader of the nations, it seems inconsistent with the statement that he will at this time be sitting in the temple as God at Jerusalem (2Thessalonians 2:4); thus Antichrist outside would be made to besiege Antichrist within the city. But difficulties do not set aside revelations: the event will clear up seeming difficulties (Ed: Interesting statement!). Compare the complicated movements, Daniel 11:1-45." Comment on Zech 14:11 - "no more utter destruction — (Jer 31:40). Literally, "no more curse" (Rev 22:3; compare Malachi 4:6), for there will be no more sin. Temporal blessings and spiritual prosperity shall go together in the millennium: long life (Isaiah 65:20-22), peace (Isaiah 2:4), honor (Isaiah 60:14-16), righteous government (Isaiah 54:14; Isaiah 60:18). (Zechariah 14 - Commentary Critical and Explanatory on the Whole Bible)
Click Below for Unabridged Version
Rosscup - This is the best older, overall treatment of a critical nature on the Old Testament Hebrew text verse by verse and is a good standard work to buy. The student can buy parts or the whole of this series. Sometimes it is evangelical, at other times liberal ideas enter...In prophecy it is amillennial. (Commentaries for Biblical Expositors: An Annotated Bibliography of Selected Works).
SAME RESOURCE FROM ANOTHER SOURCE
Rosscup: Here is an evangelical commentary well-done in 493 pp. Introductions gather much that is most pertinent for expositors. In Hag 2:7, "precious things" are Gentiles' tributes (Isa. 60:5; 61:6) in the future kingdom. Merrill sees Zech. 14 as related to Christ's Second Advent and the coming of the Messianic Kingdom, in premillennial fashion. Fairly full exegetical detail meets readers verse by verse, yet Merrill's comments are readable for others than scholars, except the technical notes in special sections will be more for the latter. Problem passages usually draw careful remarks, as in seeing Zech 12:10 as referring to the Lord, and in a future day. (Commentaries for Biblical Expositors: An Annotated Bibliography of Selected Works)
The Theological Journal Library on galaxie.com
Note: Also gives you access to one of the best conservative resources on Zechariah by Charles Feinberg's 20 part series in Bibliotheca Sacra. (See list of articles)
An annual $50 or monthly $5 subscription (click here) is required to view the entire article but will give you access to literally thousands of conservative articles. Click the following links to search by topic, author, or bible reference.
Walter Kaiser in The Preacher's Commentary, Vol 23 - excellent for preaching - Rosscup on Kaiser's work: A careful evangelical gives contemporary outlines usable to pastors. He has occasional illustrations and serious explanation of the text. He is premillennial, as on Zechariah 14, and packs in much expositional help, relating it strategically to life. (Commentaries for Biblical Expositors: An Annotated Bibliography of Selected Works)
Exploring the Minor Prophets John Phillips - Rosscup on John Phillips - A respected popular expositor on a number of biblical books here has two introductory chapters, then a chapter of about 20–30 pp. on each prophet (50 on Zech.). Several charts aid readers, and a detailed outline runs before each exposition. The exposition is in general surveys of sections, at times taking a view on a main problem. In Hosea 1:2, he feels that God had Hosea marry an immoral woman but Phillips offers no help on the moral issue. Phillips is premillennial, seeing Israel's future kingdom blessings as in the millennium after Christ's Second Coming (Hosea 3:5; Joel 3:14ff; Amos 9:15; Zeph. 3:9ff; Zech 2:10–13; 14:1–21). In Mal. 2:15 he has "one" refer to God making husband and wife into one, and in 4:5 he thinks the Elijah will be fulfilled in one of the two witnesses in Rev. 11. The work helps on broad coverage, and is quite readable for preachers, church teachers, students and lay people wanting a general devotional sweep. (Ibid)
See discussion of the Day of the Lord = Zech 14:1, 2, 3, 4, 5, 6, 7, 8, 9, 10, 11, 12, 13, 14, 15, 16, 17, 18, 19, 20, 21
Holman Christian Standard Bible Study Bible - To access the conservative study notes click on "Library" in the left column and then under "Categories" click on "Study Bible Notes." Click in Reader and View in Reader. Enter the text of interest and any available study notes will be shown. Note that you do not have to register to use the excellent study notes (you can copy and paste notes). You do have to sign in if you want to add your own notes or highlight the notes..

Here is an excerpt from the HCSB Study Note on Zechariah 14:1-21 - The book of Zechariah ends in classic prophetic fashion. The nations attack Jerusalem, God intervenes and blesses Jerusalem miraculously, God announces curses for Jerusalem's enemies, and the peoples of the world go up to Jerusalem to worship. Everything from cooking pots to horses' bells is set apart as holy to the lord, a privilege previously extended only to the temple and priests (Ex 28:36-38) but actually intended for the entire nation of Israel (Ex 19:6). For the prophet's audience, this would have been unimaginable, yet invigorating.
G Campbell Morgan's devotional/practical thoughts make good fodder for sermon preparation!
Excerpt: What's the big idea? Meaning "Yahweh remembers," Zechariah's name was appropriate to the purpose of his prophecies.2 His book brims over with the hope that God would remember His promises to His people, even after all the time they spent outside the land. The prophet used a simple structure of eight visions (Zechariah 1:1–6:15), four messages (Zech 7:1–8:23), and two oracles (Zech 9:1–14:21) to anticipate the completion of the temple and, ultimately, the future reign of the Messiah from Jerusalem. Like many of the prophets, Zechariah saw isolated snapshots of the future; therefore, certain events that seem to occur one right after the other in Zechariah's prophecy actually often have generations or even millennia between them.
For a people newly returned from exile, Zechariah provided specific prophecy about their immediate and distant future—no doubt a great encouragement. Their nation would still be judged for sin (Zech 5:1–11), but they would also be cleansed and restored (Zech 3:1–10), and God would rebuild His people (Zech 1:7–17). Zechariah concluded his book by looking into the distant future, first at the rejection of the Messiah by Israel (Zech 9:1–11:17), and then at His eventual reign when Israel will finally be delivered (Zech 12:1–14:21).
Be a Berean - Not always a literal interpretation. Caveat Emptor!
Rosscup: This work came out in 1856. It is competent in exegetical detail of a reformed nature, explaining much in the books, but disappointing to premillennialists in passages on the future kingdom. (Commentaries for Biblical Expositors: An Annotated Bibliography of Selected Works)
Recommended: NETBible notes are in the right panel. You can also select the tab for "Constable's Notes." As you scroll the Bible text in the left panel, the notes are synchronized and will scroll to the same passage. Also has a nice parallel Bible feature (see Tab = "Parallel"). Select a different Bible translation (see Tab = "Bible"). Open Greek/Hebrew tab. Mouse over shows corresponding English word and has short definition at bottom of right panel.
Scroll Down Each Page for the Sermon
James Rosscup writes "This work originally appeared in 1860. The present publication is set up in two columns to the page with the text of the Authorized Version reproduced at the top. Scripture references, Hebrew words, and other citations are relegated to the bottom of the page. The work is detailed and analytical in nature. Introduction, background and explanation of the Hebrew are quite helpful. Pusey holds to the grammatical-historical type of interpretation until he gets into sections dealing with the future of Israel, and here Israel becomes the church in the amillennial vein." (Commentaries for Biblical Expositors: An Annotated Bibliography of Selected Works)
Charles Simeon (1759-1836), a British pastor who lived and preached long before dispensationalism was a popular, simply allowed the text to say what it says normally and in plain English and in so doing arrived at a literal interpretation of the text (e.g., see his sermon The Millennial Glory). For John Piper on Simeon see Brothers We Must Not Mind a Little Suffering (Mp3 even better)
James Rosscup writes "Though old this is well-written and often cited, with many good statements on spiritual truths. Users will find much that is worthwhile, and sometimes may disagree, as when he sees the Jonah account as allegorical (Ed: See Tony Garland's article on the Rise of Allegorical Interpretation)." (Commentaries for Biblical Expositors: An Annotated Bibliography of Selected Works)
SAME RESOURCE BUT THESE LINKS HAVE SCRIPTURE POP-UPS
Horner (see his conservative commentary listed above) wrote that "Spurgeon preached two sermons on this verse (Zech 8:13), both of which express his firm conviction in national Israel's future restoration and conversion. In 1863 he declared (Click for excerpt from his sermon "Once a Curse...)
Book