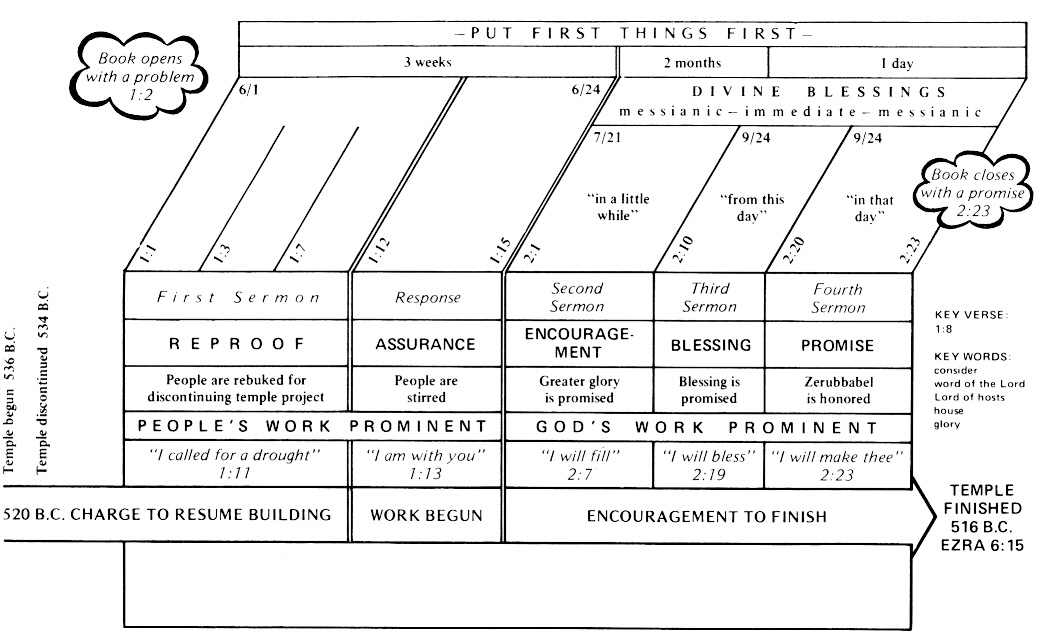 Click chart to enlarge
Chart from recommended resource Jensen's Survey of the OT - used by permission
Haggai Chart from Charles Swindoll
Another Haggai Chart
HAGGAI
"Put First Things First"
3 WEEKS
2 MONTHS
1 DAY
Hag 1:1-2
Hag 1:3-6
Hag 1:7-11
Hag 1:12-15
Hag 2:1-9
Hag 2:10-19
Hag 2:20-23

Consider Your Ways…
My house that is in ruins

Glory of the
Latter Temple
shall be greater
From this day forward I will bless you
I will shake
heaven
and earth

Completion of
the Latter Temple

Glory of
the Latter Temple

Present Blessing of Obedience

Future Blessing thru Promise
Prophet's
First Sermon
Hag 1:1-11
People's Response
Hag 1:12-15
Prophet's
Second Sermon
Hag 2:1-9
Prophet's
Third Sermon
Hag 2:10-19
Prophet's
Fourth Sermon
Hag 2:20-23

REPROOF
Hag 1:4

ASSURANCE
Hag 1:13

ENCOURAGEMENT
Hag 2:4

BLESSING
Hag 2:19

PROMISE
Hag 2:20-23

People are rebuked
for discontinuing temple project

People are
stirred
Greater glory
is promised
Blessing is
promised
Zerubbabel
is honored

TEMPLE OF GOD


Present condition of Jerusalem Temple

BLESSINGS OF GOD


Future glory of God's House
PEOPLE'S WORK PROMINENT
GOD'S WORK PROMINENT
EMPHASIS:
Practical, negative, confronting
EMPHASIS:
Spiritual, positive, comforting
"I called for
a drought on the land"
Hag 1:11
"I am
with you"
Hag 1:13
"I will fill this house
with glory"
Hag 2:7
"I will
bless you"
Hag 2:19
"I will make
you a signet"
Hag 2:23

Background:
Temple Begun 536BC
Temple Discontinued 534BC

 
 

520BC Charge to
Resume Building

Work Begun
Hag 1:14

Encouragement to Finish -
Finished 516BC - Ezra 6:15

Book Opens With
A Problem
Hag 1:2
 

Book Closes With

A Promise

Hag 2:23

Key Words:

Word of the Lord came (Hag 1:1, 3, 2:1, 2:10, 2:20),
Rebuilt/rebuild (Hag 1:2, 8),
Consider your ways (Hag 1:5, 7), LORD of hosts (of armies) (14x/12v - Hag 1:2, 5, 7, 9, 14, Hag 2:4, 6, 7, 8, 9, 11, 23),
House (Hag 1:2, 4, 9, 14, Hag 2:7, 9);
Temple (Hag 1;8, 2:3, 2:15, 2:18),
Glory (Hag 2:3, 7, 9),
Day of the month - Hab 1:1, 1:15, 2:1, 2:20;
People (Hag 1:2, 12, 13, 14, 2:2, 4, 14);
Shake (Hag 2:6, 7, 21).
See related discussion - key words and marking key words

Key Verse: Hag 1:4-5, Hag 2:7-9

Christ in Haggai: Christ's presence in the Temple (Jn 1:1, 14, Lk 2:32b), which was further expanded and adorned by Herod, is " 'The latter GLORY of this house will be greater than the former,' says the LORD of hosts, 'and in this place I shall give PEACE,' declares the LORD of hosts." (Hag 2:9) Jesus is our PEACE (Eph 2:14-note) and His future rule in the Millennium will establish worldwide peace (Hag 2:9). "On that day,' declares the LORD of hosts, 'I will take you, Zerubbabel, son of Shealtiel, My servant,' declares the LORD, 'and I will make you like a signet ring (02368), for I have chosen you,'" declares the LORD of hosts." (Hag 2:23) Righteous Zerubbabel is a foreshadowing of Christ, as well as in the genealogy of the Messiah (Mt 1:12,13, Lk 3:27).
Haggai, Zechariah, and Malachi are the three prophets to the restored remnant that returned from Babylon. They all make frequent use of the title ''The Lord of Hosts.''
Haggai and Zechariah were probably among the first exiles who returned with Zerubbabel. From his words in 2:3, it is thought that possibly Haggai himself had seen the glory of Solomon's Temple, in which case he would be an old man at this time [cp. Ezra 3:12], while Zechariah was quite young (Zech 2:4).
The burden of Haggai's message was, ''I am with you, saith the Lord of Hosts'' (Hag 1:13).
To the prophet Haggai is given the privilege-- along with Zechariah-- of stirring the people, by his few concise words, to the work of rebuilding the Temple. His message may be summed up in the words, ''Seek ye first the Kingdom of God and His righteousness, and all these things shall be added unto you'' [Mt 6:33-note].
He uttered [five] short prophecies during the last four months of the second year of Darius. [Each of these prophecies begins with this phrase: ''came the word of the Lord''.]
In the first [and second] [Hag 1:1-2, 3-11], he endeavored to shame the people out of their apathy in beautifying their own houses, while the house of the Lord lay waste; and he tells them that all the drought on crops and cattle had its source in this neglect [cp. Deut 28:1ff]. This prophecy produced the desired effect, and Zerubbabel, the governor of Jerusalem, and Joshua the High Priest, and the residue of the people rose up and began the work of rebuilding the Temple, which had been interrupted by their surrounding enemies, chiefly the Samaritans [cp. Ezra. 3:1-Ezra 6:1ff].
A month later, discouragement seems to have beset the workers, at the contrast between the glory of the former house [ie., the Temple built by Solomon] and the poverty of this latter [house]. Haggai exhorted them to be strong and build, for the Lord was with them, His Spirit would remain among them, and, moreover, a time was coming when the Lord of Hosts would shake the heavens and the earth, and the Desire of all nations [would] come, and His glory [would] fill the Temple, so that the glory of this latter house should be greater than that of the former, and in this place would the Lord of Hosts give peace [Hag 2:1-9].
''Herod's Temple, to which our Lord came, was not a new Temple, but a renovation of this second Temple, with splendid additions and improvements. In Haggai's words, 'The silver is Mine and the gold is Mine, saith the Lord of Hosts,' we probably have a prophecy of its magnificence when adorned, at the cost of many millions, by Herod, so as to make it a glorious house, just before He whose house it was came to it, as it were in preparation for His august presence. Yet, the true glory was the presence of the ''Great King'' in His deep disguise as a peasant of Galilee'' (Rev. James Neil).
The fourth [and fifth] prophecies were addressed to Zerubbabel, and through him to Christ [Hag 2:10-19, 20-23]. Zerubbabel was a prince of the house of David, he had led back the people from captivity, he had built the Temple. In all this, he was a type of Christ, who is the Servant of the Lord, chosen of Him, set as a signet (or seal) upon the hand of the Father, the ''express image of His Person.'' This word in Hebrews 1:3-note means the impression made as by a seal upon wax.

Haggai's message is full of stirring words to us today. If, as a Church, we thought more of the Lord's work of saving souls than of our own comfort, there would be no lack of means to carry it forward.

''Consider your ways,'' said Haggai; if we so adjust our ways as to make them fall into line with God's will for us, we have the certainty of His promise, ''I am with you, saith the Lord of Hosts.'' And if His Spirit remaineth among us, we need fear neither opposition from without, nor discouragement from within. [cp. Mat 28:18-20]
HINT: Click here to Scroll Bible text synchronized with Constable's notes. Very useful feature!
The First Address
The Second Address
The Third Address
The Fourth Address
The Fifth Address
James Rosscup writes "This 1858 work supplies much help on matters of the text, word meaning, resolving some problems, etc. Some have found it one of the most contributive sources in getting at what a text means." (Commentaries for Biblical Expositors: An Annotated Bibliography of Selected Works)
Note: JFB is one of the more literal, conservative older commentaries (prior to 1900). Sample excerpt of eschatological (prophetic, apocalyptic) passage Zechariah 14:2 - "gather all nations, etc. — The prophecy seems literal (compare Joel 3:2). If Antichrist be the leader of the nations, it seems inconsistent with the statement that he will at this time be sitting in the temple as God at Jerusalem (2Thessalonians 2:4); thus Antichrist outside would be made to besiege Antichrist within the city. But difficulties do not set aside revelations: the event will clear up seeming difficulties (Ed: Interesting statement!). Compare the complicated movements, Daniel 11:1-45-note." Comment on Zech 14:11 - "no more utter destruction — (Jer 31:40). Literally, "no more curse" (Rev 22:3-note; compare Malachi 4:6-note), for there will be no more sin. Temporal blessings and spiritual prosperity shall go together in the millennium: long life (Isaiah 65:20-22), peace (Isaiah 2:4-note), honor (Isaiah 60:14-16), righteous government (Isaiah 54:14; Isaiah 60:18). (Zechariah 14 - Commentary Critical and Explanatory on the Whole Bible)
Rosscup - This is the best older, overall treatment of a critical nature on the Old Testament Hebrew text verse by verse and is a good standard work to buy. The student can buy parts or the whole of this series. Sometimes it is evangelical, at other times liberal ideas enter… In prophecy it is amillennial. (Commentaries for Biblical Expositors: An Annotated Bibliography of Selected Works).
ARTICLES BELOW ARE AVAILABLE ONLINE
Rosscup on Kaiser: A careful evangelical gives contemporary outlines usable to pastors. He has occasional illustrations and serious explanation of the text. He is premillennial, as on Zechariah 14, and packs in much expositional help, relating it strategically to life. (Commentaries for Biblical Expositors: An Annotated Bibliography of Selected Works)
James Montgomery Boice - conservative, literal, futuristic - excellent for preaching Rosscup comments: The large, two-column pages contain much good material on the relevance of the words for then and for now, dealing with such topics as love, repentance, and sincerity (Hosea 6). A prolonged contemplation of these pages and an application of their principles will produce substantial Christian growth. The author could improve the work by being more definite sometimes in specifying in what framework God will bless Israel in the future (e.g., Hosea 14). Vagueness such as in Joel 2:1-11, where he says the invader is neither locusts nor a human army, is a drawback. Wordiness and wandering in his discussions is another shortcoming, as in using Joel 2:28 to take off into a long discussion of clericalism. He finds fulfillment of Joel 2:28 at Pentecost, yet it would help to point out some aspects that were (Rosscup)
Exploring the Minor Prophets John Phillips - Rosscup on John Phillips - A respected popular expositor on a number of biblical books here has two introductory chapters, then a chapter of about 20–30 pp. on each prophet (50 on Zech.). Several charts aid readers, and a detailed outline runs before each exposition. The exposition is in general surveys of sections, at times taking a view on a main problem. In Hosea 1:2, he feels that God had Hosea marry an immoral woman but Phillips offers no help on the moral issue. Phillips is premillennial, seeing Israel's future kingdom blessings as in the millennium after Christ's Second Coming (Hosea 3:5; Joel 3:14ff; Amos 9:15; Zeph. 3:9ff; Zech 2:10–13; 14:1–21). In Mal. 2:15 he has "one" refer to God making husband and wife into one, and in 4:5 he thinks the Elijah will be fulfilled in one of the two witnesses in Rev. 11. The work helps on broad coverage, and is quite readable for preachers, church teachers, students and lay people wanting a general devotional sweep. (Ibid)
The Books of Haggai and Malachi - New International Commentary on the Old Testament - Pieter A. Verhoef - Rosscup writes that "This is by the Professor of Old Testament, Emeritus, University of Stellenbosch, South Africa. It is conservative and offers much on current literature, introductory matters, and verse by verse content, adeptly explaining the text and flow of thought. He takes issue with W. Rudolph who says in his commentary on Haggai that the book has no relevance at all for the Christian faith (Verhoef, p. vii), and strives to show the significance of both Haggai and Malachi to today. He has interacted with much scholarship within the text and in footnotes. He believes that someone close to Haggai in his day wrote the book with authentic material from Haggai. He upholds the unity of the book, and traces the movement through the verses carefully in relation to its background. He may or may not be premillennial, seeing the fulfillment of prophetical aspects about the temple beyond the Second Advent. He deals at length with many of the problems, giving different views and factors to weigh, as on God's love and hate (Malachi 1:2–3), "one" in 2:15, the messenger concepts of 3:1, and "Elijah" in 4:4–6." (Commentaries for Biblical Expositors: An Annotated Bibliography of Selected Works)
Note: Audio Only
Haggai - Be discerning: Utley is Amillennial and replaces Israel with the Church. Why listed? Because he has interesting grammatical (word and phrase studies) and historical comments.
Rosscup: Here is an evangelical commentary well-done in 493 pp. Introductions gather much that is most pertinent for expositors. In Hag 2:7, "precious things" are Gentiles' tributes (Isa. 60:5; 61:6) in the future kingdom. Merrill sees Zech 14 as related to Christ's Second Advent and the coming of the Messianic Kingdom, in premillennial fashion. Fairly full exegetical detail meets readers verse by verse, yet Merrill's comments are readable for others than scholars, except the technical notes in special sections will be more for the latter. Problem passages usually draw careful remarks, as in seeing Zech 12:10 as referring to the Lord, and in a future day. (Commentaries for Biblical Expositors: An Annotated Bibliography of Selected Works)
---
NETBible notes are in the right panel. You can also select the tab for "Constable's Notes." As you scroll the Bible text in the left panel, the notes are synchronized and will scroll to the same passage. Also has a nice parallel Bible feature (see Tab = "Parallel"). Select a different Bible translation (see Tab = "Bible"). Open Greek/Hebrew tab. Mouse over shows corresponding English word and has short definition at bottom of right panel.
James Rosscup writes "This work originally appeared in 1860. The present publication is set up in two columns to the page with the text of the Authorized Version reproduced at the top. Scripture references, Hebrew words, and other citations are relegated to the bottom of the page. The work is detailed and analytical in nature. Introduction, background and explanation of the Hebrew are quite helpful. Pusey holds to the grammatical-historical type of interpretation until he gets into sections dealing with the future of Israel, and here Israel becomes the church in the amillennial vein." (Commentaries for Biblical Expositors: An Annotated Bibliography of Selected Works)
NOTE: If you are not familiar with the great saint Charles Simeon see Dr John Piper's discussion of Simeon's life - you will want to read Simeon's sermons after meeting him! - click Brothers We Must Not Mind a Little Suffering (Mp3 even better)
James Rosscup writes "Though old this is well-written and often cited, with many good statements on spiritual truths. Users will find much that is worthwhile, and sometimes may disagree, as when he sees the Jonah account as allegorical (Ed: See Tony Garland's article on the Rise of Allegorical Interpretation)." (Commentaries for Biblical Expositors: An Annotated Bibliography of Selected Works or Logos Format)
Book