Daniel in the Lion's Den (Daniel 6)
RESOURCES ON DANIEL
Commentaries, Sermons, Illustrations, Devotionals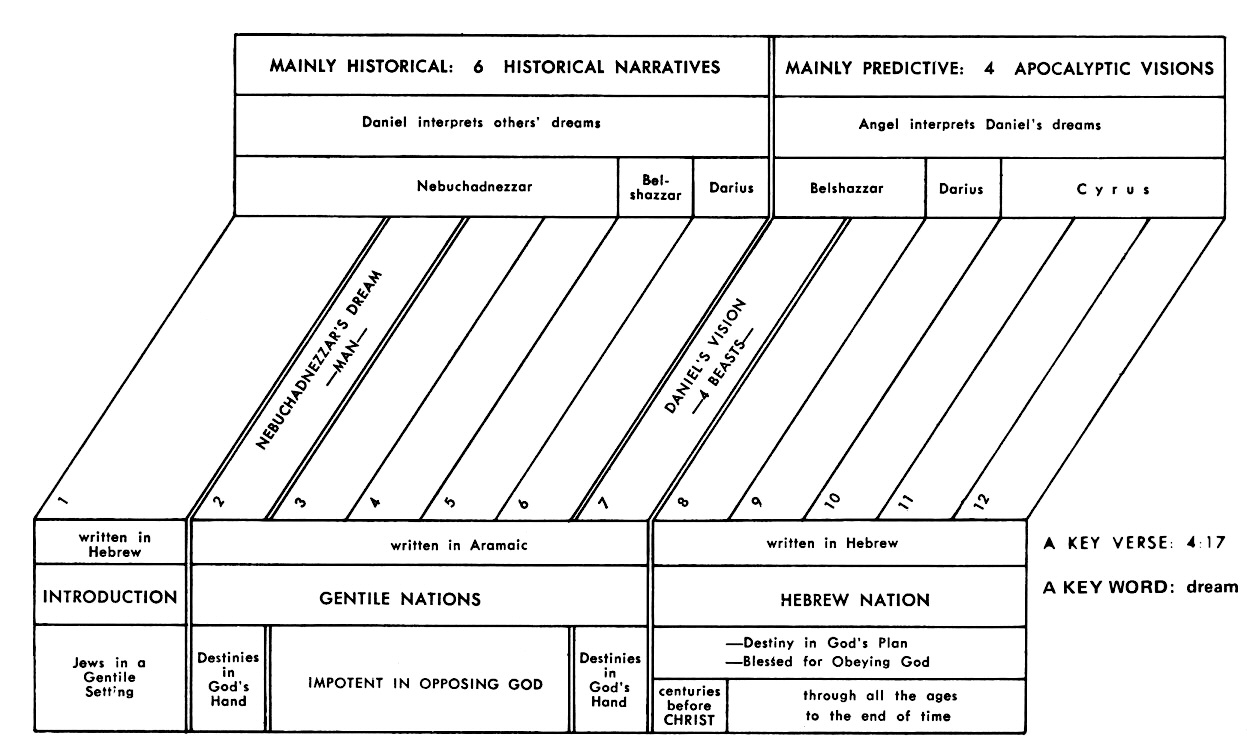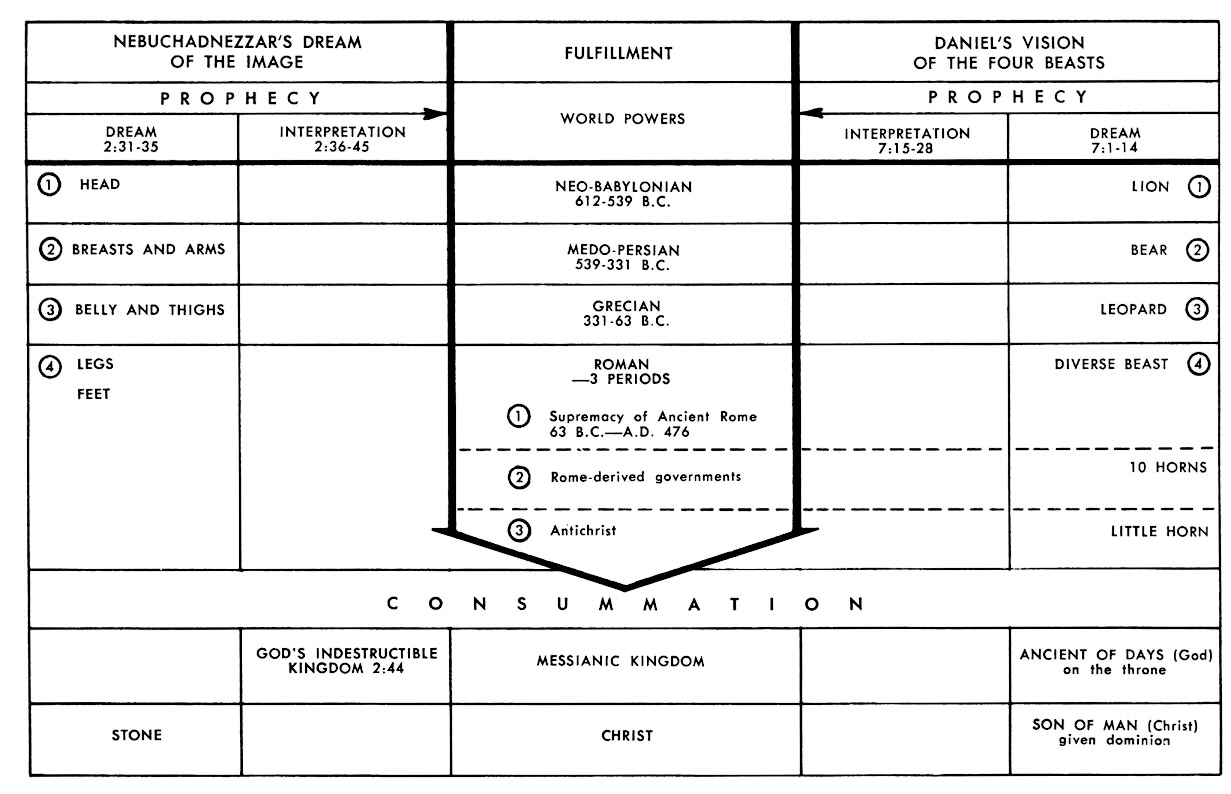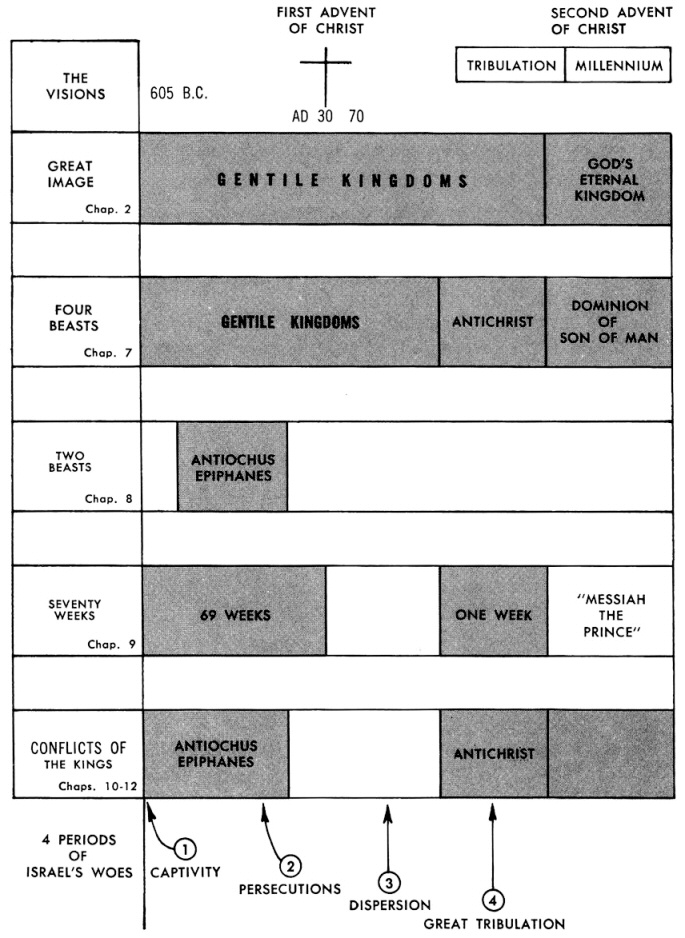 Click chart to enlarge
Charts from recommended resource Jensen's Survey of the OT - used by permission
Daniel Chart from Charles Swindoll
---
MARK ADAMS
DON ANDERSON
ART RELATED TO THE BOOK OF DANIEL
BETHANY BIBLE Greg Allen 
GREG BREAZEALE
ALAN CARR Sermons Book of Daniel
THOMAS CONSTABLE Expository Notes Book of Daniel
DAVID COOPER 
SAMUEL R DRIVER Daniel Commentary Notes 1900
DAN DUNCAN Sermons Book of Daniel
EASY ENGLISH
TONY GARLAND  Commentary Book of Daniel
James Rosscup: Dividing the book of Daniel according to the languages in the original text, the writer gives a brief yet sometimes helpful survey of a dispensational interpretation. (Commentaries For Biblical Expositors - excellent resource)
GENE GETZ - brief videos discussing principles from the Book of Daniel
Daniel 1:1-2; God's Sovereignty and Human Freedom: Though God is sovereign and in control of the universe, we are responsible to obey His directives in the Word of God. Video
Daniel 1:3-8; Total Commitment: To make deliberate and wise decisions to live in God's will day by day, we must make a heart decision to honor God in all we do. Video
Daniel 1:9-21; Walking in Wisdom: We are to do all we can to win the trust and respect of non-Christians without compromising our biblical convictions. Video
GOTQUESTIONS Book of Daniel
JOE GUGLIELMO
HOMER HEATER
HOLMAN PUBLISHING
H A IRONSIDE Commentary Notes Book of Daniel
WILLIAM KELLY
STEVE KRELOFF Book of Daniel Mp3 Only
There are 6 sermons on "The Seventy Weeks of Israel"
LOUISIANA PRECEPTS - student helps
ALEXANDER MACLAREN Sermon on Daniel
MAPS RELATED TO DANIEL - these maps are very high quality
HENRY MORRIS DEFENDER'S STUDY BIBLE NOTES BOOK OF DANIEL
Conservative notes from Dr Morris who approaches the text seeking it's literal meaning in the context. Millennial. Click the words or phrases after the Scripture for the Study Notes and note that they are from the KJV translation.
TOMMY NELSON - audio messages on Daniel
OUR DAILY BREAD - DEVOTIONALS
PASTOR LIFE SERMONS BOOK OF DANIEL
RAYMOND SAXE - sermon notes
C H SPURGEON Sermons on Daniel
CLAUDE STAUFFER
PAUL TAYLOR SERMONS BOOK OF DANIEL
Note that the links open to several formats - audio and transcripts
Rosscup - In the opinion of the reviewer, this, Stephen Miller's effort, and Wood's 1972 work are the finest overall commentaries of a popular nature on Daniel by premillennial dispensational scholars to date. Walvoord weaves into the work an up-to-date understanding of archaeological and historical confirmations of Daniel that offset the critics and also gives a solid reasoning for a premillennial perspective of Messianic prophecy. He very capably answers the late-daters of Daniel, argues that the four kingdoms of Daniel 2 and 7 are Babylon, Media-Persia, Greece, and Rome, and deals with most problem areas in adequate detail. Still he manages to keep the great theme of the work before the reader. (Ibid)
SERMONS BY VERSE - older expositions and illustrations
| | | |
| --- | --- | --- |
| Decadence of Israel | J.D. Davies | Daniel 1:1, 2 |
| Affairs in Judea | W A. Scott, D.D. | Daniel 1:1-3 |
| The Captivity | William White. | Daniel 1:1-3 |
| The Judean Captives | John Taylor., The Southern Pulpit. | Daniel 1:1-3 |
| Administration Serving and Served | H.T. Robjohns | Daniel 1:1-4 |
| A Wise Royal Policy | J. White. | Daniel 1:3-4 |
| Bible Biography | W. A. Scott, D.D. | Daniel 1:3-4 |
| Daniel's Education | J. White. | Daniel 1:3-4 |
| Education and Training of Youth | H. O. Mackey | Daniel 1:3-4 |
| Excellence in Youth | J. Trapp. | Daniel 1:3-4 |
| Men's Qualifications for Public Service | H. T. Robjohns, B.A. | Daniel 1:3-4 |
| Piety At Court | C. S. Robinson, D.D. | Daniel 1:3-4 |
| The College Student | T. De Witt Talmage, D.D. | Daniel 1:3-4 |
| The Four Hebrew Children | J. Wells, M.A. | Daniel 1:3-4 |
| True Nobility | J. R. Bailey. | Daniel 1:3-4 |
| Training for Imperial Office and Work | J.D. Davies | Daniel 1:3-21 |
| Enlarged Mental Outlook | Dean Payne Smith, D.D. | Daniel 1:4 |
| Facility in Acquiring Languages | Hartley Aspen | Daniel 1:4 |
| Revelation from a New Stand Point | Carl August Auberlen. | Daniel 1:4 |
| The Chaldeans | P. H. Hunter. | Daniel 1:4 |
| The Study of Science | Llewellyn D. Bevan, L.L.B. | Daniel 1:4 |
| Life in Babylon | Canon Ainger. | Daniel 1:5 |
| The Early Life of Daniel | J. Parker, D.D. | Daniel 1:5 |
| The Saintly Captive | Homilist | Daniel 1:5 |
| The Unnamed Captive Royal Children | R. Young. | Daniel 1:5 |
| Wine Wisely Avoided | T. De Witt Talmage. | Daniel 1:5 |
| Moral Heroism | H.T. Robjohns | Daniel 1:5-21 |
| Names | Anon. | Daniel 1:6-7 |
| Names Changed for Reasons of Religion | F. W. Farrar. | Daniel 1:6-7 |
| A Noble Purpose the Root of True Renown | J.D. Davies | Daniel 1:8 |
| A Sermon to Young Men | H. W. Battle D.D. | Daniel 1:8 |
| A Stand for Temperance | E. E. Jenkins, M.A. | Daniel 1:8 |
| Adhere to the Right You Know | P. H. Hunter. | Daniel 1:8 |
| An Abstemious Prince | Christian Herald | Daniel 1:8 |
| Conscience | C. H. Parkhurst. | Daniel 1:8 |
| Conscientiousness | Dean Goulbourn. | Daniel 1:8 |
| Daniel | Sir Samuel Chisholm. | Daniel 1:8 |
| Daniel an Example to Young Men | C. Malan. | Daniel 1:8 |
| Daniel and His Companions | G. F. Pentecost. | Daniel 1:8 |
| Daniel and His Companions | E. S. Tead. | Daniel 1:8 |
| Daniel in Babylon | G. P. Hays, D.D. | Daniel 1:8 |
| Daniel in Babylon | Sermons by Monday Club | Daniel 1:8 |
| Daniel in Babylon | M. G. Pearse. | Daniel 1:8 |
| Daniel's Continuance a Remarkable Testimony to His Worth | F. W. Farrar, D.D. | Daniel 1:8 |
| Daniel's Education | T. White. | Daniel 1:8 |
| Daniel's Firmness and Prudence | Thomas Coleman. | Daniel 1:8 |
| Daniel's Resolve | H. T. Robjohns, B.A. | Daniel 1:8 |
| Dare to be a Daniel |   | Daniel 1:8 |
| Decision and Consistency | W. Pakenham Walsh, D.D. | Daniel 1:8 |
| Divine Help in Character Making | T. White. | Daniel 1:8 |
| Happiness Despite Circumstances | N. D. Hillis, D.D. | Daniel 1:8 |
| Intellectual Power Aided by Plain Living | A. Maclaren. | Daniel 1:8 |
| Purity Pays | Sunday School Times | Daniel 1:8 |
| Purpose | P. S. Henson. | Daniel 1:8 |
| Readings in Daniel | Original Secession Magazine | Daniel 1:8 |
| Religious Constancy | J. White. | Daniel 1:8 |
| Small Circumstances the Battlefield of Great Principles | T. White. | Daniel 1:8 |
| The Character of Daniel | D. Johnston, D.D. | Daniel 1:8 |
| The Heroic Prince | G. T. Coster. | Daniel 1:8 |
| The Influences Daniel Exhibited | P. H. Hunter. | Daniel 1:8 |
| The Judean Captives in the Court of the Babylonian King | The Southern Pulpit | Daniel 1:8 |
| The Persistence of Early Religion | Joseph A. Seiss, D.D. | Daniel 1:8 |
| The Personality of Daniel | J. B. Remensnyder. | Daniel 1:8 |
| The Power of a Temperate Life | R. J. Campbell, M.A. | Daniel 1:8 |
| The Power of Purpose | D. Fairweather, M.A. | Daniel 1:8 |
| The Triumphant Life | Wayland Hoyt, D.D. | Daniel 1:8 |
| The Young Hebrews an Example | W. A. Scott, D.D. | Daniel 1:8 |
| Weighty Beacons for Abstinence | J. Trapp. | Daniel 1:8 |
| Youthful Confessors | Alexander Maclaren | Daniel 1:8 |
| Youthful Piety | James Parsons. | Daniel 1:8 |
| Youthful Temperance Secures Against Old Age Remorse |   | Daniel 1:8 |
Book