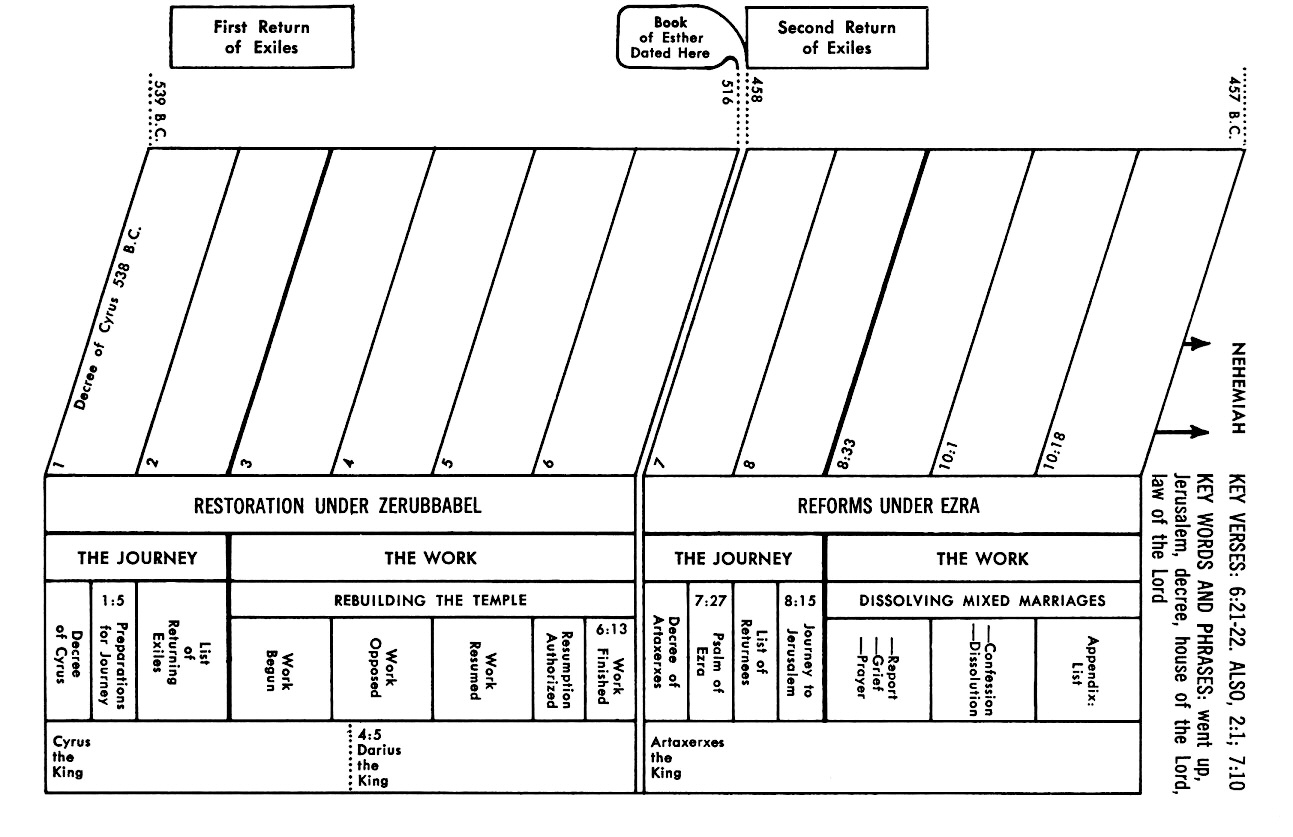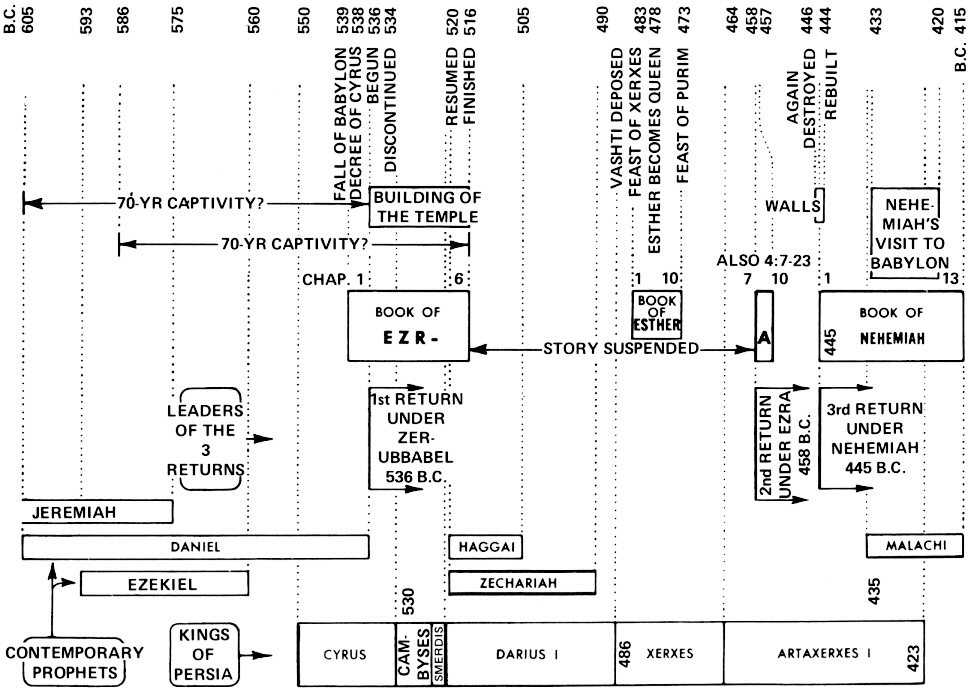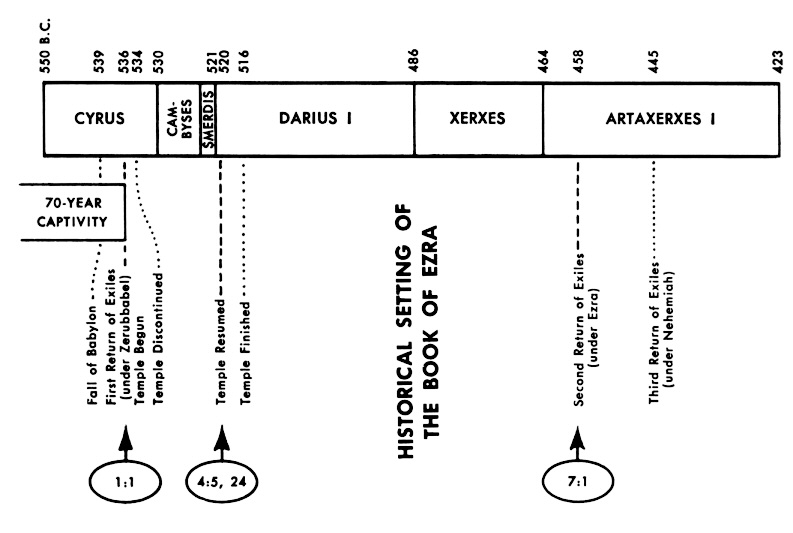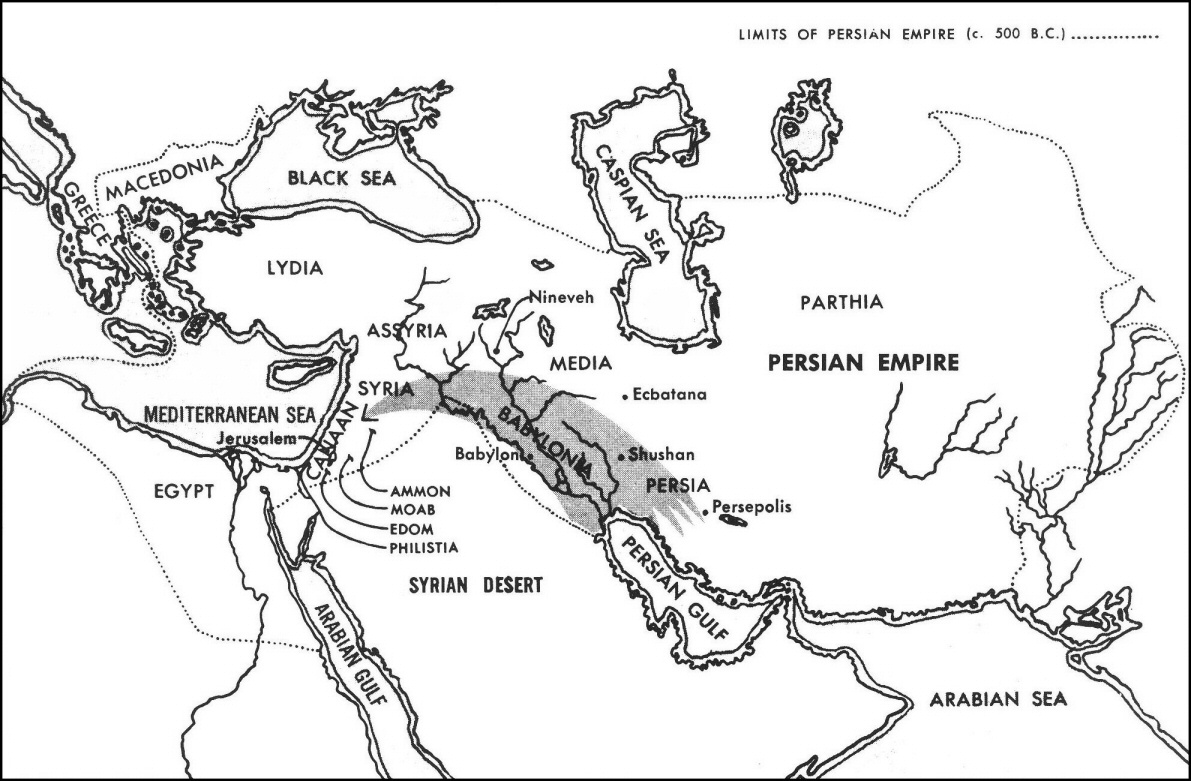 Click charts to enlarge
Charts from Jensen's Survey of the NT - used by permission
CHRONOLOGICAL RELATIONSHIP OF
EZRA-NEHEMIAH-ESTHER
538-515BC
483-473BC
457BC

13 Year

Gap

444-425BC
Ezra 1-6
Book of Esther
Ezra 7-10
Book of Nehemiah
First Return
of Jews from
Babylonian Exile
58 Year
Gap
Second Return
of Jews from Babylonian Exile
Third Return
of Jews from
Babylonian Exile
EZRA:
RESTORATION AND REFORM
Restoration of the Temple
Under Zerubbabel
Reform of the People
Under Ezra
First Return
To Jerusalem
Ezra 1:1-Ezra 2:70
Construction of
The Temple
Ezra 3:1-Ezra 6:22
Second Return
to Jerusalem
Ezra 7:1-8:36
Restoration
of the People
Ezra 9:1-Ezra 10:44
First Return
of 49, 897
Second Return
of 1754
22 Years
(538-516BC)
1 Year
(458-457BC)
Key Passages: Ezra 1:3, Ezra 2:2, Ezra 6:21, 22, Ezra 7:10
Key Words: Went up (Ezra 1:11, 7:1, 6, 7, 8:1), Jerusalem (48x), Decree (17x), House of the LORD (Ezra 1:3, 5, 7, 2:68, 3:8, 11, 7:27, 8:29), Law (...of the LORD, ...of Moses, ...of God) (Ezra 3:2, 7:6, 10, 12, 14, 21, 26, 10:3)
Cyril J. Barber - This set, originally published in 1903, contains expositions by both conservative and liberal theologians. The most important works are by Dod (Genesis), Chadwick (Exodus and Mark), Kellogg (Leviticus), Blaikie (Joshua, I and II Samuel), Adeney (Ezra, Nehemiah and Esther), Maclaren (Psalms), Moule (Romans), Findlay (Galatians and Ephesians), Plummer (Pastoral Epistles and the Epistles of James and Jude), and Milligan (Revelation.)

Warren W. Wiersbe - If you can locate the six-volume edition of the Expositor's Bible, buy it immediately! It takes up less space than the original fifty-volume set, and not everything in the original set is worth owning. Samuel H. Kellogg on Leviticus is a classic; so is Alexander Maclaren on the Psalms and on Colossians.
ALBERT BARNES Barnes' Notes on the Whole Bible
James Rosscup writes that Barnes "includes 16 volumes on the Old Testament, 11 on the New Testament. The New Testament part of this old work was first published in 1832–1851. Various authors contributed. It is evangelical and amillennial… Often the explanations of verses are very worthwhile." (Commentaries for Biblical Expositors: An Annotated Bibliography of Selected Works)

C H Spurgeon "Albert Barnes is a learned and able divine, but his productions are unequal in value, the gospels are of comparatively little worth, but his other comments are extremely useful for Sunday-school teachers and persons with a narrow range of reading, endowed with enough good sense to discriminate between good and evil… Placed by the side of the great masters, Barnes is a lesser light, but taking his work for what it is and professes to be, no minister can afford to be without it, and this is no small praise for works which were only intended for Sunday-school teachers." (Spurgeon, C. H. Lectures to my Students, Vol. 4: Commenting and Commentaries; Lectures Addressed to the students of the Pastors' College, Metropolitan Tabernacle)
RALPH ANDRUS
J G BELLET
LARRY BRINCEFIELD
CAMBRIDGE BIBLE FOR SCHOOLS AND COLLEGES COMMENTARY ON EZRA
James Rosscup - This old, conservative Wesleyan Methodist work is good devotionally and aggressive for righteous living. Laypeople can find it still valuable today. It is Arminian in viewpoint and thus helpful, for example, in showing the reader how this approach deals with texts involving the eternal security question. The work contains much background material from many sources on all books of the Bible.
DELFIN CORONA
Rosscup has these comments on Davis' exposition of the Book of Joshua: Former Professor of Old Testament at Reformed Theological Seminary. Davis furnishes evangelical material to help preachers blend sound exegesis, theological substance, interesting exposition and practical application....The studies are not on every verse but key portions out of each chapter, done in a very readable style...(that) preachers or lay people can enjoy...(with) many ideas to provoke sermons and point to application. (Commentaries for Biblical Expositors: An annotated bibliography of selected works)

Keith Mathison in his review of best commentaries on Judges makes general comments that would apply to his short commentary on Nehemiah - "If you can only have one commentary on the historical books, get the commentaries by Davis. There are other commentaries that go into more detail on technical issues (see below), but Davis provides what most Christian readers of these books need — a concise and readable explanation of the text that sets each book within the larger context of biblical redemptive history all without ever becoming boring or trite. This commentary (referring to Davis' commentary on Judges), like the others, is also very practical, but it avoids the kind of moralizing exposition that rips passages out of context in order to make some vague inspirational point." (Keith Mathison - Ligonier Ministries Blog)

Richard Pratt - "There is no more gifted expositor of the Old Testament in our day than Ralph Davis." (See Pratt's commentary below)

Derek Thomas - "Dale Ralph Davis is among the finest expositors of the Old Testament alive today. His style is unique and his content infectious. A pastor at heart, his insights are always governed by an absolute loyalty to the text, a belief that the Bible was written for today as much as yesterday, and a desire to encourage his readers to fall in love with Scripture and to trust it."
DEFENDER'S STUDY BIBLE Henry Morris
Note: Words and phrases below based on KJV
From the Intro: Ezra provides an unusually clear and inspiring pattern of expository preaching in his ministry to the people of Judah at the outset of the postexilic period. He models an expositor's commitment "studying, practicing godliness, and teaching" which leads him to perform an expositor's task reading distinctly and explaining the Scriptures. In so doing, he challenges expositors of all generations to handle accurately the Word of truth. (See related article by Richard Mayhue - Rediscovering Expository Preaching)
ELLICOTT'S COMMENTARY ON EZRA W B POPE
BRUCE FERRIS
ROBERT HAWKER Commentary on Ezra
HOMILETICS ON EZRA Pulpit Commentary
Ezra 7:1-10 The Work Completed
Ezra 7:1-10 The Exodus Under Ezra
Ezra 7:1-10 Ezra: His Character and Work
Ezra 7:1-10 Ezra: the Type of an Ideal Minister
Ezra 7:9-10 Ezra and His Mission
Ezra 7:11-26 The Reformer's Commission
Ezra 7:11 The Royal and the Religious
Ezra 7:11-26 Pagan Piety
Ezra 7:11-26 Ezra's Commission from Artaxerxes
Ezra 7:21-24 The Decree of Artaxerxes to the Treasurers
Ezra 7:27-28 The Extension of the Mercy of the Covenant
Ezra 7:27-28, Ezra 8:1-20 Influence
What the Bible Teaches – A very full and detailed commentary which is extremely helpful. It is one of the best on Ezra. However, a full understanding of this volume demands a knowledge of Hebrew.
PAUL E. KRETZMANN Commentary
LANGE'S COMMENTARY F. W. Schultz
JOHN MACARTHUR
F B MEYER
TOM NELSON
NET BIBLE Ezra Notes
NEW CENTURY BIBLE
PHIL NEWTON
JAMES NISBET'S Church Pulpit Commentary
JOSEPH PARKER People's Bible
PETER PETT Commentary
MATTHEW POOLE Commentary
PRECEPTAUSTIN - BRUCE HURT
PREACHER'S HOMILETICAL COMMENTARY William Jones 1881
Ezra 7:1-10 Ezra the Distinguished
Ezra 7:10 Studying, Practising, and Teaching the Sacred Scriptures
Ezra 7:10 The Christian Ministry
Ezra 7:10 Divine Sequence
Ezra 7:11-26 The Commission of Artaxerxes to Ezra
Ezra 7:23 Reasons for Active Devotedness to the Cause of God
Ezra 7:23 The Decree of Artaxerxes
Ezra 7:27-28 Exemplary Praise
PULPIT COMMENTARY Ezra
Ezra 7:1-26 Exposition (scroll down to see Homilies)
Ezra 7:1-10 The Work Completed
Ezra 7:1-10 The Exodus Under Ezra
Ezra 7:1-10 Ezra: His Character and Work
Ezra 7:1-10 Ezra: the Type of an Ideal Minister
Ezra 7:9-10 Ezra and His Mission
Ezra 7:11-26 The Reformer's Commission
Ezra 7:11 The Royal and the Religious
Ezra 7:11-26 Pagan Piety
Ezra 7:11-26 Ezra's Commission from Artaxerxes
Ezra 7:21-24 The Decree of Artaxerxes to the Treasurers
Ezra 7:27-28 The Extension of the Mercy of the Covenant
Ezra 7:27-28, Ezra 8:1-20 Influence
REFORMATION STUDY BIBLE NOTES EZRA
JOSE RODRIGUEZ
DAVID H ROPER
CHARLES SIMEON Sermon 
JAMES SMITH - Handfuls on Purpose
JOHN STEVENSON Ezra Studies
TODAY IN THE WORD Devotionals
SERMONS BY VERSE
Book