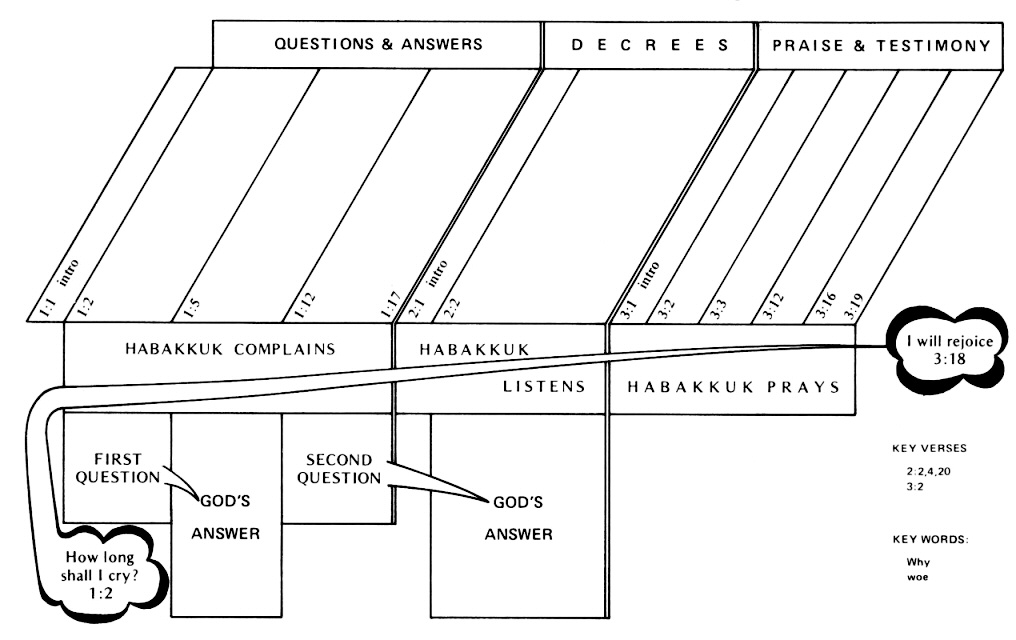 Click chart to enlarge
Chart from recommended resource Jensen's Survey of the OT - used by permission
DON ANDERSON
DAVID CARMICHAEL
JON COURSON
C J ELLICOTT
Be a Berean - Not always a literal interpretation. Caveat Emptor!
GENE GETZ - Brief (5-15') pithy, practical videos by which present powerful principles for life application!
Though we do not know the answers to all of life's questions, we are to make sure we have by faith received God's gift of eternal life.
GOTQUESTIONS - always has excellent Biblically based answers
GOSPEL COALITION
KIRK GREENFIELD
JOE GUGLIELMO
DANNY HALL
HOMER HEATER
SKIP HEITZIG
DAVID HOLWICK
J. HAMPTON KEATHLEY, III
HAMPTON KEATHLEY IV
CHARLES KINGSLEY
STEVE KRELOFF
RICK LANCE
LIGONIER MINISTRIES
MANNERS AND CUSTOMS -  JAMES FREEMAN
MONERGISM
ANDREW MURRAY
OUR DAILY BREAD Devotionals on Habakkuk
Excellent Sermon and teaching illustrations
DAVID OWEN
SCOTT PRYOR
REFORMATION STUDY BIBLE - caveat not always literal on prophetic passages.
RAYMOND SAXE - sermons from Fellowship Bible Church, Ann Arbor, Michigan
Short to the point notes but well done
JAMES SMITH  
Habakkuk 2 On the Watch Tower
A W TOZER
GEORGE H WARNOCK
DONALD WHITNEY
GEORGE ZEMEK
SERMONS BY VERSE - Older Expositions
Awaiting the Lord's Message
J. C. Johnston, M. A.
Habakkuk 2:1
Man's Moral Mission in the World
Homilist
Habakkuk 2:1
On Noting the Providences of God
Richard Harvey, M. A.
Habakkuk 2:1
On the Watch-Tower
 
Habakkuk 2:1
The Watch-Tower
R. Morton.
Habakkuk 2:1
Watchfulness
W. Horwood.
Habakkuk 2:1
Watching for God
George Hutcheson.
Habakkuk 2:1
Man's Moral Mission to the World
Teaching Must be Plain
 
Habakkuk 2:2
The Simplicity and Freeness of the Gospel Salvation
W. Lindsay Alexander, D. D.
Habakkuk 2:2
The Voice of the Old Pulpit
J. Roberts.
Habakkuk 2:2
Man's Moral Mission to the World
D. Thomas
Habakkuk 2:1-3
A Three-Fold Tarrying
Alex. Mrywwitz, A. M.
Habakkuk 2:3
God's Delays
Evangelical Advocate.
Habakkuk 2:3
The Crowned Christ Reigning
by S. D. Gordon
Habakkuk 2:3
The Divine Slowness
Robert Vaughan, D. D.
Habakkuk 2:3
Visions
Morgan Dix.
Habakkuk 2:3
Waiting for the Vision
S.D. Hillman
Habakkuk 2:3
Waiting on God
B. Beddome, M. A.
Habakkuk 2:3
Faith
C. Kingsley.
Habakkuk 2:4
Faith and the Higher Life
Z. Mather.
Habakkuk 2:4
Faith Crowned
W. Reading, M. A.
Habakkuk 2:4
Faith, a Life-Giving Power
Dean Vaughan, D. D.
Habakkuk 2:4
Habakkuk
James Randall, M. A.
Habakkuk 2:4
Justifying Faith
Plain Sermons by Contributors to "Tracts for the Times."
Habakkuk 2:4
Life by Faith
A. T. M'Gill, D. D.
Habakkuk 2:4
Life by Faith
Dean Farrar.
Habakkuk 2:4
Life is Due to Faith
 
Habakkuk 2:4
Living by Faith
Samuel Martin.
Habakkuk 2:4
Nothing Better than Reliance on God
 
Habakkuk 2:4
The Just
R. Horsfall.
Habakkuk 2:4
The Just Shall Live by His Faith
Thomas Hammond.
Habakkuk 2:4
The Life by Faith
H. Constable, M. A.
Habakkuk 2:4
The Life of Faith
J. Saurin.
Habakkuk 2:4
The Life of Faith
S.D. Hillman
Habakkuk 2:4
The Life of Faith in the Midst of a Self Confident World
Hugh M'Neile, M. A.
Habakkuk 2:4
The Portraiture of a Good Man
Homilist
Habakkuk 2:4
The Portraiture of a Good Man
D. Thomas
Habakkuk 2:4
The Use of Faith in a Time of General Declension in Religion
 
Habakkuk 2:4
Moral Wrong: Some of its National Phases
D. Thomas
Habakkuk 2:5
Moral Wrong; Some of its National Phases
Homilist
Habakkuk 2:5
Heavy Clay
Canon Miller, D. D.
Habakkuk 2:6
Making Money
John Ruskin.
Habakkuk 2:6
Under a Heap of Clay
 
Habakkuk 2:6
Covetousness
S.D. Hillman
Habakkuk 2:6-8
National Wrongs Ending in National Woes. No. 1
D. Thomas
Habakkuk 2:6-8
Corrupt Ambition
S.D. Hillman
Habakkuk 2:9-11
Covetousness and Self-Trust
Homilist
Habakkuk 2:9-11
Deceitful Riches
 
Habakkuk 2:9-11
National Wrongs Ending in National Woes. No. 2
D. Thomas
Habakkuk 2:9-11
Consulting Shame
 
Habakkuk 2:10
Retribution
Charles Wadsworth, D. D.
Habakkuk 2:11
The Handwriting on the Wall
Hugh Macmillan, D. D.
Habakkuk 2:11
A Curse Denounced Against Bloodshed
R. South, D. D.
Habakkuk 2:12
National Wrongs Ending in National Woes. No. 3
D. Thomas
Habakkuk 2:12-14
The Two Kingdoms: a Contrast
S.D. Hillman
Habakkuk 2:12-14
God's Glory Universally Known
 
Habakkuk 2:14
The Knowledge of God
Charles Garrett.
Habakkuk 2:14
The Triumph of the Gospel
J. Summerfield, A. M.
Habakkuk 2:14
God's Retributive Justice
S.D. Hillman
Habakkuk 2:15-17
National Wrongs Ending in National Woes. No. 4
D. Thomas
Habakkuk 2:15-17
National Wrongs Ending in National Woes
Homilist
Habakkuk 2:18-19
National Wrongs Ending in National Woes. No. 5
D. Thomas
Habakkuk 2:18, 19
The Misapplication of the Teaching of Art in the Service
Archdeacon Cooper, M. A.
Habakkuk 2:18-19
Worship, False and True
S.D. Hillman
Habakkuk 2:18-20
God in His Temple
Thomas Mortimer, B. D.
Habakkuk 2:20
God in His Temple
Jacob Duche, M. A.
Habakkuk 2:20
God Present in His Holy Temple
J. L. F. Russell, M. A.
Habakkuk 2:20
God's House
Walcott Fay.
Habakkuk 2:20
Keeping Silence
 
Habakkuk 2:20
Sentiments for a Great Crisis
 
Habakkuk 2:20
Silence
C. H. Collier, M. A.
Habakkuk 2:20
Silence in the Temple
D. Thomas
Habakkuk 2:20
The Expressiveness of Devout Silence
Francis Jacox.
Habakkuk 2:20
The Lord in His Holy Temple
H. J. Hastings, M. A.
Habakkuk 2:20
The Lord in His Temple
Homilist
Habakkuk 2:20
The Presence of God in His Temple
William Roberts, D. D.
Habakkuk 2:20
The Presence of God in the Churches of His Saints
Archibald Jack.
Habakkuk 2:20
The Religion of Silence
John Kelman, M. A.
Habakkuk 2:20
The Spiritual Temple
J. C. Edwards, M. A.
Habakkuk 2:20
The Teaching of Silence
G. C. Harris.
Habakkuk 2:20
Worship, False and True
S.D. Hillman
Habakkuk 2:18-20
Book