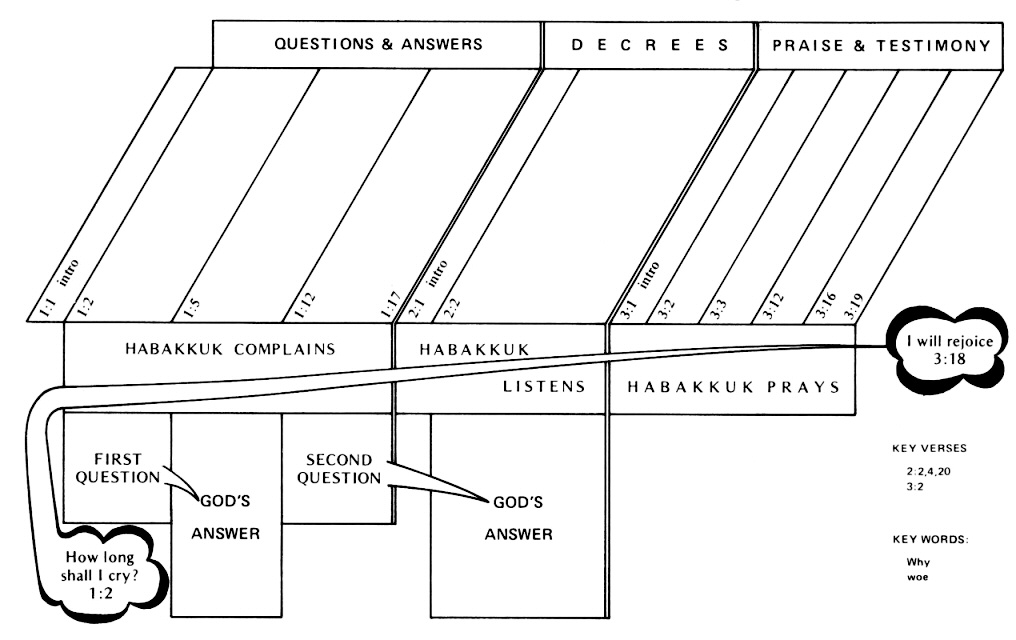 Click chart to enlarge
Chart from recommended resource Jensen's Survey of the OT - used by permission
---
DON ANDERSON
BIBLE DICTIONARY
RICHARD BRAY
BOB DEFFINBAUGH
GENE GETZ - Brief (5-15') pithy, practical videos by which present powerful principles for life application!
Though we do not understand all that happens in life, and we might even experience deep fear and persistent anxiety, we are to trust and worship God.
GOTQUESTIONS - always has excellent Biblically based answers
JOE GUGLIELMO
HOMER HEATER
SKIP HEITZIG
Habakkuk 3 Critical Notes - homilies, et al below
Habakkuk 3:2 God's Voice and Human Fear
Habakkuk 3:2 The Revival of God's Work
Habakkuk 3:3-6 God's Glory in Days of Old
Habakkuk 3:4 The Hidings of Divine Power
Habakkuk 3:6, 7 The Measured Inheritance
Habakkuk 3:8-11 The Chariots of Salvation
Habakkuk 3:12-15 The Royal March
Habakkuk 3:16-18 A Song of Triumph
Habakkuk 3:19 God All-Sufficiency in Trouble
Habakkuk 3 Illustrations to Chapter 3
J. HAMPTON KEATHLEY, III
HAMPTON KEATHLEY IV
STEVE KRELOFF
LIGONIER MINISTRIES
REFORMATION STUDY BIBLE - caveat not always literal on prophetic passages.
RAYMOND SAXE - sermons from Fellowship Bible Church, Ann Arbor, Michigan
Short to the point notes but well done
SERMON BIBLE
SERMON CENTRAL
JAMES SMITH  
Habakkuk 3 The Secret of Abiding Joy
DAVID THOMPSON SERMONS
Conservative, pre-millennial, about 6-7 pages per sermon
WARREN WIERSBE
SERMONS BY VERSE - Older expositions
| | | |
| --- | --- | --- |
| Prayer and Praise | S.D. Hillman | Habakkuk 3:1 |
| God Devoutly Addressed | Homilist | Habakkuk 3:1-2 |
| God Devoutly Addressed | D. Thomas | Habakkuk 3:1, 2 |
| God's Work in the Midst of the Years | Leonard Bacon, D. D. | Habakkuk 3:2 |
| God's Work Revived | Hugh Allen, M. A. | Habakkuk 3:2 |
| Habakkuk's Prayer | T. Mortimer, A. M. | Habakkuk 3:2 |
| How Can a Church be Brought into a Revival Condition | A. J. Gordon, D. D. | Habakkuk 3:2 |
| Lent, a Season of Revival to the Soul |   | Habakkuk 3:2 |
| Lessons of the Reformation | J. B. Remensnyder, D. D. | Habakkuk 3:2 |
| Means of Promoting the Revival of Religion | James Rudge, D. D. | Habakkuk 3:2 |
| Nature and Origin of Revivals | E. Bickersteth, A. M. | Habakkuk 3:2 |
| On Revivals of Religion | W. Thayer. | Habakkuk 3:2 |
| Prayer for Revival | S.D. Hillman | Habakkuk 3:2 |
| Religious Revivals | Homilist | Habakkuk 3:2 |
| Revival | B. Bailey. | Habakkuk 3:2 |
| Revival | A. Stirling. | Habakkuk 3:2 |
| Revival in the Midst of the Years | J. Leckie, D. D. | Habakkuk 3:2 |
| Revival of the Lord's Work | James Glen, A. M. | Habakkuk 3:2 |
| Revival of the Lord's Work | John Lindsay. | Habakkuk 3:2 |
| Revivalism | R. H. Haddew, B. A. | Habakkuk 3:2 |
| Revivals |   | Habakkuk 3:2 |
| Revivals | Thoughts for Week Evening Services. | Habakkuk 3:2 |
| Revivals Commence with the Few | A. J. Gordon, D. D. | Habakkuk 3:2 |
| Spiritual Revival | John F. Haynes, LL. D. | Habakkuk 3:2 |
| Spiritual Revival, the Want of the Church | Charles Haddon Spurgeon | Habakkuk 3:2 |
| Stimulants not Required for a Revival | A. J. Gordon, D. D. | Habakkuk 3:2 |
| The Law of Revivals | S. D. Burchard, D. D. | Habakkuk 3:2 |
| The Limitations of Divine Wrath |   | Habakkuk 3:2 |
| The Necessity of a Great Spiritual Change Throughout The | James Parsons. | Habakkuk 3:2 |
| The Revival of God's Work Implored | Sketches of Four Hundred Sermons | Habakkuk 3:2 |
| The Revival of the Lord's Work | W. Horwood. | Habakkuk 3:2 |
| God Poetically Portrayed and Practically Remembered | Homilist | Habakkuk 3:3-15 |
| God Poetically Portrayed and Practically Remembered | D. Thomas | Habakkuk 3:3-15 |
| God in History | S.D. Hillman | Habakkuk 3:3-18 |
| God's Hidden Power | J. L. Harris. | Habakkuk 3:4 |
| God's Reserved Power | J. A. Smith, D. D. | Habakkuk 3:4 |
| The Divine Concealments | S.D. Hillman | Habakkuk 3:4 |
| The Hiding of Divine Power | J. O. Keen, D. D. | Habakkuk 3:4 |
| The Hiding of God's Power | Alex. Macfarlane. | Habakkuk 3:4 |
| The Hiding of His Power | William Braden. | Habakkuk 3:4 |
| The Horn as a Symbol | H. B. Tristram, D.D. | Habakkuk 3:4 |
| The Destruction of Forests | Homiletic Review | Habakkuk 3:8 |
| Horror of God | Homilist | Habakkuk 3:16 |
| Horror of God | D. Thomas | Habakkuk 3:16 |
| The Prayer of Habakkuk | Henry Melvill, B. D. | Habakkuk 3:16 |
| Trembling into Rest | E. Paxton Hood. | Habakkuk 3:16 |
| A Daring Faith | J. T. Woodhouse. | Habakkuk 3:17-18 |
| Cheerful Spirits | Sir John Lubbock. | Habakkuk 3:17-18 |
| Christian Rejoicing | Handley C. G. Moule, M. A. | Habakkuk 3:17-18 |
| Constant Joy | Amos B. Walls. | Habakkuk 3:17-18 |
| Faith Triumphant in the Day of Calamity | T. Hannam. | Habakkuk 3:17-18 |
| Habakkuk's Faith | W. O. Barrett. | Habakkuk 3:17-18 |
| Hard Times | J. P. Gledstone. | Habakkuk 3:17-18 |
| Joy Amidst Earthly Sorrow | S. Summers. | Habakkuk 3:17-18 |
| Joy in Being in God's Hands |   | Habakkuk 3:17-18 |
| Joy in God | A. Ross, M. A. | Habakkuk 3:17-18 |
| Joy in the Face of Adversity | A. Shanks. | Habakkuk 3:17-18 |
| Man Facing Calamity | Bishop Brownrigg. | Habakkuk 3:17-18 |
| On the Influence of Religion Under Privations and Afflict | J. Hewlett, B. D. | Habakkuk 3:17-18 |
| Rejoicing in God | Memoir of Rev. C. Garrett. | Habakkuk 3:17-18 |
| Rejoicing in God | Homilist | Habakkuk 3:17-18 |
| Religion the Secret of Contentment | Charles Foysey. | Habakkuk 3:17-18 |
| Religious Joy Surmounting Temporal Adversity | J. Sieveright, A. M. | Habakkuk 3:17-18 |
| Satisfied with the Best |   | Habakkuk 3:17-18 |
| Songs in the Night | S.D. Hillman | Habakkuk 3:17, 18 |
| Spiritual Joy | Caleb Morris. | Habakkuk 3:17-18 |
| The Great Calamity | Homilist | Habakkuk 3:17-18 |
| The Possibilities in the Life of a Good Man | Homilist | Habakkuk 3:17-18 |
| The Prophet's Joy | Homilist | Habakkuk 3:17-18 |
| The Triumph of Piety Over Adversity | S. Lowell. | Habakkuk 3:17-18 |
| United Prayer for Removal of Temporal Afflictions | G. G. Lawrence, M. A. | Habakkuk 3:17-18 |
| The Possibilities in the Life of a Good Man | D. Thomas | Habakkuk 3:17-19 |
| God Our Strength | S.D. Hillman | Habakkuk 3:19 |
| High Places | Homilist | Habakkuk 3:19 |
| Strength, Buoyancy, Devotion | A. Maclaren, D. D. | Habakkuk 3:19 |
Book