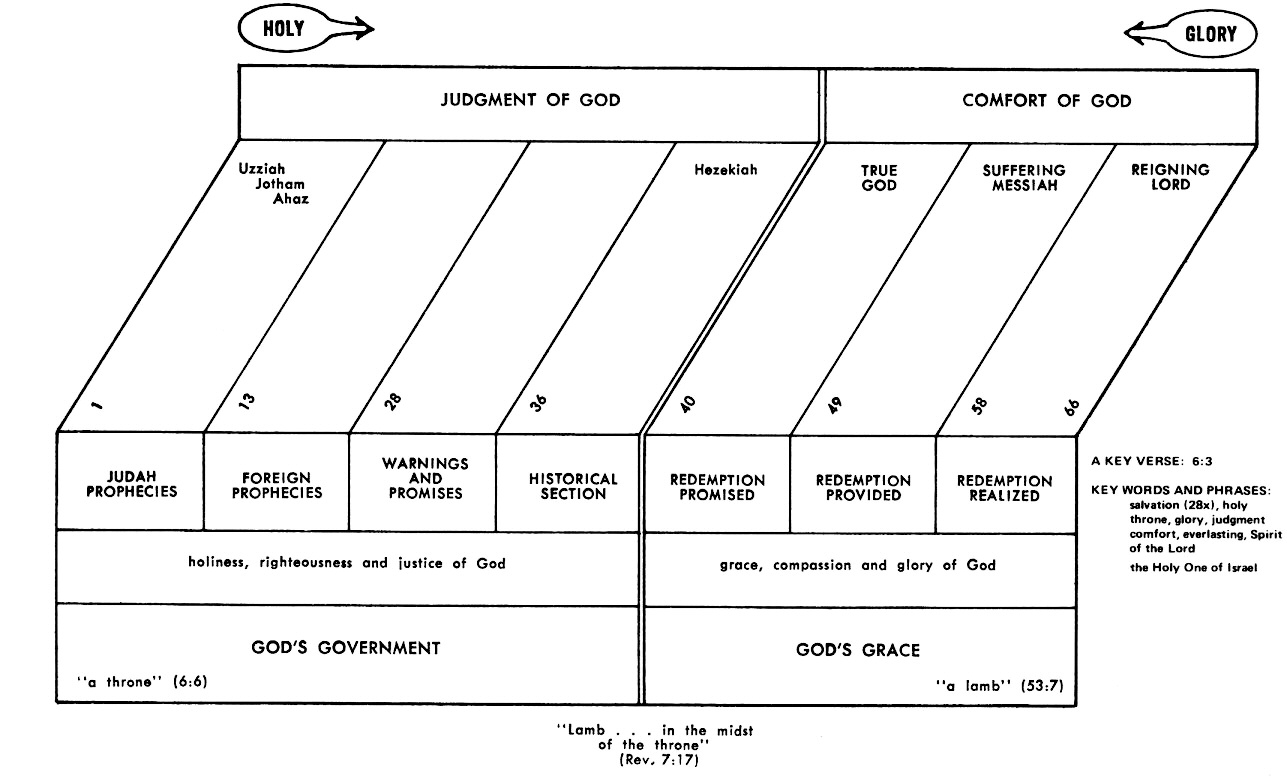 EXPLANATORY NOTE: Commentaries for Isaiah 52 are included with Isaiah 53 because Isaiah 52:13-15 is integrally related to Isaiah 53:1-12. 
Explanation - The following list includes not only commentaries but other Christian works by well known evangelical writers. Most of the resources below are newer works (written after 1970) which previously were available only for purchase in book form or in a Bible computer program. The resources are made freely available by archive.org but have several caveats - (1) they do not allow copy and paste, (2) they can only be checked out for one hour (but can be checked out immediately when your hour expires giving you time to read or take notes on a lengthy section) and (3) they require creating an account which allows you to check out the books free of charge. To set up an account click archive.org and then click the picture of the person in right upper corner and enter email and a password. That's all you have to do. Then you can read these more modern resources free of charge! I have read or used many of these resources but not all of them so ultimately you will need to be a Berean (Acts 17:11+) as you use them. I have also selected works that are conservative and Biblically sound. If you find one that you think does not meet those criteria please send an email at https://www.preceptaustin.org/contact. The resources are listed in alphabetical order by the author's last name and some include reviews of the particular resource. 
---
Be Comforted (Isaiah) by Wiersbe, Warren - Always worth checking. Literal. 
Bible Exposition Commentary - Old Testament 

With the Word - Devotional Commentary - Warren Wiersbe

Wiersbe's Expository Outlines on the Old Testament by Wiersbe, Warren W

"Even the most difficult Scriptures come alive as Warren Wiersbe leads you book-by-book through the Old Testament and helps you to see the "big picture" of God's revelation. In this unique volume, you will find: • Introductions and/or outlines for every Old Testament book • Practical expositions of strategic chapters • Special studies on key topics, relating the Old Testament to the New Testament • Easy-to-understand expositions that are practical, preachable, and teachable If you have used Dr. Wiersbe's popular BE series, you know how simple and practical his Bible studies are, with outlines that almost teach themselves. If not, you can now discover a wonderful new resource. This work is a unique commentary on every book of the Old Testament. It contains new material not to be found in the BE series.
Bible Knowledge Commentary - Old Testament - 1608 pages. Dallas Theological Seminary - Literal. Isaiah written by John A Martin. (About 100 pages of commentary)
James Rosscup - Martin briefly defends unity by Isaiah, then provides a succinct, carefully-studied and clear commentary following a good outline. On problem passages he often offers views and reasons, but is brief due to his limitations of space. On the Servant Songs he provides logic for seeing fulfillment in Jesus Christ, and in many texts he argues for realization in a future earthly millennial era, after the Second Advent. He sees many passages fulfilled in Old Testament days and is quite specific about historical details that match these. Cf. also the related book he and his father wrote: Alfred Martin and John Martin, Isaiah: The Glory of the Messiah (Chicago: Moody, 1983).
Events to come : a study in Isaiah By: Martin, Alfred, 1916- This is a study guide and not the full commentary "Isaiah: The Glory of the Messiah."
Cyril Barber (Comment on full commentary "Isaiah: The Glory of the Messiah.") Though designed for laypeople, this treatment of the theme of Isaiah can only be described as brilliant. It is a masterful summation of what God chose to reveal through this OT prophet. It is happily free from critical issues and maintains the unity of Isaiah's thought. It builds on a consistent eschatological foundation so that NT truths are brought into harmony with the OT without confusing Israel and the church.
Isaiah Prophecies Promises Warning by W.E Vine. Recommended resource which takes a literal approach.
James Rosscup - Though this helpful work of a premillennial nature is somewhat brief, it often refers to the original text and observes the syntax. It contributes to the student who has other works which get into the details more at length.
The Book of Isaiah. Chapters 1-39 by Oswalt, John N.
Cyril Barber - This is a very extensive, scholarly and generally reliable commentary, discussing the historical background, unity, date, and authorship of Isaiah's prophecy. Oswalt assesses the prophet's theology under four topics: the nature of God; humanity and the world; sin; and redemption. He follows this with a lucid exposition. Pastors will find his handling of the text most helpful.

James Rosscup - This and Motyer's longer work rate high among evangelical products of the past few years, offering belief in supernatural prophecy, even if amillennial on passages relating to the future kingdom and Israel's restoration. Oswalt provides a diligent fullness of comment, with readable and usually clear explanations of passages.
Isaiah : an introduction and commentary Tyndale OT Commentary Series - 416 pages - Alex Motyer - 1999 - Note this is NOT the longer  The Prophecy of Isaiah: An Introduction & Commentary. which is highly ranked by Tim Challies. In his comments on the longer work he writes "Motyer has written a couple of commentaries on Isaiah; this is the longer and better of the two and should not be confused with his contribution to the Tyndale Commentary on the Old Testament (though that one is also worth consulting)."
James Rosscup - This compact work retains much wording and the essence of Motyer's longer product (above). It does not have as much grammar, word study, and other detail. Some material is new. All in all, verse by verse, this is a lucid, helpful aid for teachers wanting a highly competent assist, and for pastors, students, and lay readers, except on details of prophecy. It ranks among the best medium-length expository sources, usually contributing well on verses. For prophecy (ED: ISAIAH IS FILLED WITH PROPHECY!), one can gain a better framework and perspective in Robert L. Thomas's comments on Isaiah, done for The MacArthur Study Bible, and also the comments in Bible Knowledge Commentary, Vol. 2, or in W. E. Vine's work (Isaiah Prophecies Promises Warning), as examples.
James Rosscup: (ED: This comment is on longer work The Prophecy of Isaiah: An Introduction & Commentary.) Motyer in this 594-pp. book  draws on three decades of study in Isaiah to help readers by careful evangelical, exegetical work in grammar, word study, context, background, customs, and theology. He meets problems, not dodging them or putting a haze on them. He combines clarity with fresh and stimulating style and even an eye for relevancy today. He believes that Isaiah 7:14 refers to "the divine son of David" (86), defending this view and connecting the child with the mighty God in Isaiah 9:6–7. Characteristics of the work are discussion of issues and obvious broad adeptness in the scholarly literature about his subjects (cf. the footnotes on writings and problems). This work, despite Amillennial views on prophetical parts, which show blinders as to a true system in which God will fulfill details, has to rate as one of the top recent commentaries. Cf. also Motyer's somewhat condensed work on Isaiah (408 smaller pp.).

GotQuestions.org on the amillennial approach - "the fact that fulfilled prophecy was fulfilled literally is the best reason of all for assuming that unfulfilled prophecy will also be literally fulfilled. The prophecies concerning Christ's first coming were all fulfilled literally. Therefore, prophecies concerning Christ's second coming should also be expected to be fulfilled literally. For these reasons, an allegorical interpretation of unfulfilled prophecy should be rejected and a literal or normal interpretation of unfulfilled prophecy should be adopted. Amillennialism fails in that it uses inconsistent hermeneutics, namely, interpreting unfulfilled prophecy differently from fulfilled prophecy." Amillennialism

Cyril Barber on Tyndale OT Commentary Series - 416 pages. Motyer, J. Alex. The Prophecy of Isaiah: An Introduction and Commentary - A wise and winsome guide by an acknowledged evangelical Bible scholar. Isaiah's prophecies are strung out along a historical timeline. Motyer finds three central, recurring themes--the Messiah presented as King, Servant, and Anointed Conqueror. Preachers will find this work exceedingly helpful. Amillennial.
Unger's Commentary on the Old Testament (Volume 2 - Isaiah - Malachi) by  Unger, Merrill Frederick. Literal. 
Interpreting Isaiah : the suffering and glory of the Messiah By: Wolf, Herbert, 
Cyril Barber - The many quotations and allusions to Isaiah in the NT provide a vital clue to understanding this prophetic work. Indeed, one of the most fruitful challenges in the preparation of this book was the interpretation of those quotations and allusions, especially the ones that refer to the Person and work of Christ. Wolfs main concern is to explain clearly the meaning of Isaiah's words and concepts and in that way begin to fathom the meaning of his prophecies about the future of God's people in a world that will be judged and then marvelously renewed.
The Gospel of Isaiah by Allan A. Macrae Chicago: Moody Press, 1977.
James Rosscup - The President and Professor of Old Testament at Biblical School of Theology in Hatfield, PA wrote this. He was one of Dr. Robert Dick Wilson's outstanding students. The work is not a commentary but a book elucidating themes in Isaiah 40:1–56:8, showing the interrelation of thoughts and the development of themes, based on the original Hebrew. The section has more verses cited in the New Testament than any other Old Testament passage of its length. Several portions of Handel's Messiah came from here. The chapter on Cyrus as God's instrument has many good insights (cf. p. 29), as do the discussions on Isaiah 40 and the several chapters on the Servant of the Lord in Isaiah 41–53, and the thoughts on chapters 54–56.

Cyril Barber - A brilliant study of the servant motif in Isaiah 40:1-56:8. Opens up the content for examination and discussion. Recommended
The Prophecy of Isaiah - volume 1 The Prophecy of Isaiah - volume 2 - G Campbell Morgan
James Rosscup - A thorough analytical treatment of a pre-millennial nature which some have regarded as one of the finest broad studies on Isaiah.
Commentary on Isaiah By: Bultema, Harry Translated from Dutch by Cornelius Lambregtse. Grand Rapids: Kregel, 1981, original publication In Dutch, 1923. 630 pp.
James Rosscup - Bultema (1884–1952), greatly nurtured for Christ by a Christian mother in the Netherlands, studied at Calvin College and Seminary and pastored Christian Reformed churches. He became persuaded of premillennial dispensationalism and left the Christian Reformed movement to found the Muskegon Berean Church. He writes a respectable commentary verse by verse, sometimes going into detail on arguments to distinguish Israel with its past and future from the church of the present (cf. pp. 51–53 and often in Chapters 40–66). He prefers the Messianic view of 7:14 but is brief and weak in discussion of such a debated verse. He argues on 11:9 that there will be literal animals in the glorified state of the new earth, that Isa 14:12 refers not merely to the king of Babylon but to Satan, and that Isa 26:19f refers to resurrection of believers. In introducing Chapters 40–66, he offers ten arguments that the same writer who penned 1–39 also wrote these. This is a fairly good commentary despite such a view as on Isa 11:9.
Isaiah. 1-33 Volume: 24 Word Biblical Commentary - Watts, John D. W
Cyril Barber - Awakens new interest in Isaiah's early prophecies. Describes the change in God's dealings with His people. Important themes are to be found in these pages: the day of the Lord, true servanthood, God's discipline of the nations, and the like. Excurses on theological themes are included. A redactional exposition.
Isaiah - Volume 1 (chapters 1-32)  Volume 2 - Daily Study Bible. Philadelphia: Westminster Press, 1984. By: Sawyer, John F. A
Cyril Barber - Covering chapters 1-32, this well-outlined discussion succeeds in elucidating the main tenets of Isaiah's indictment of Israel
Isaiah By: Ridderbos, Jan -  Bible Students' Commentary. Translated by J. Vriend. Grand Rapids: Zondervan Publishing House, Regency Reference Library, 1984
Cyril Barber -  Part of the Korte Verklaring Der Heilige Schrift. This study deals adequately and conservatively with the history of the times and the unity of Isaiah's prophecy. Students will find Ridderbos' treatment to be insightfully written and exegetically sound.

James Rosscup - This is evangelical, originally in a Dutch series in 1950–51 for lay readers without Hebrew. The NIV has been edited. The introduction is so taken up with authorship issues that it fails to deal with the aim, theology, unique characteristics and other matters that give perspective. Ridderbos sums up each section at the outset of it, and often has beneficial exegesis and theology on verses, with some freshly stimulating insights. He is amillennial on prophecy of Israel's future but gives reasons for Messianic fulfillment in such texts as the Servant Songs. It is a very good commentary on many passages, and in his amillennial stand shows how one of that persuasion reasons his view.
Understanding the Old Testament Proverbs, Isaiah, Jeremiah by Scripture Union
Isaiah : Bible study commentary by Garland, D. David
James Rosscup - A handy premillennial survey of Isaiah, holding to the book's unity, using a good outline, giving a competent overall view of the book and comments on some key passages.
Exposition of Isaiah By: Leupold, H. C. (Herbert Carl), 1892- Exposition of Isaiah.Published: 1976
Cyril Barber - Defends the unity of this prophecy and furnishes a satisfying exposition. Amillennial

James Rosscup - Leupold, as usual, offers much detail in explaining verses from the standpoint of the background, Hebrew word meanings, customs, and the context. It is a fine commentary and is a good recent example of amillennial understanding on prophetical sections such as Isaiah 2, 4, 9, 11, 24–27, 35, 40–66 in relation to the fulfillment of messianic and kingdom hopes.
The prophets of Israel by Wood, Leon
A thoroughly conservative work, very clearly written, in two sections, prophetism and the prophets. Wood under the first division goes into the identity, meaning of "to prophesy," function, the Holy Spirit and prophecy, and other aspects. In the second, he discusses in some detail prophets before Samuel, Samuel, monarchy prophets, and the writing prophets from the ninth century to post-exilic days. This is a fine book that gives the student or pastor a much better, integrated understanding of the prophets behind the prophetic books.
STUDY BIBLES, ETC
Note: The first 3 resources have no time restriction and allow copy and paste function: 
(1) KJV Bible Commentary - Hindson, Edward E; Kroll, Woodrow Michael. Over 3000 pages of the entire OT/NT. Well done conservative commentary that interprets Scripture from a literal perspective. Pre-millennial.  User reviews - it generally gets 4/5 stars from users. 
Very well done conservative commentary that interprets Scripture from a literal perspective   user reviews 

The King James Version Bible Commentary is a complete verse-by-verse commentary. It is comprehensive in scope, reliable in scholarship, and easy to use. Its authors are leading evangelical theologians who provide practical truths and biblical principles. Any Bible student will gain new insights through this one-volume commentary based on the timeless King James Version of the Bible.
(2) The King James Study Bible Second Edition 2240 pages (2013) (Thomas Nelson) General Editor - Edward Hindson with multiple contributing editors. Pre-millennial. See introduction on How to Use this Study Bible.
(3) NKJV Study Bible: New King James Version Study Bible (formerly "The Nelson Study Bible - NKJV") by Earl D Radmacher; Ronald Barclay Allen; Wayne H House. 2345 pages. (1997, 2007). Very helpful notes. Conservative. Pre-millennial. 
The MacArthur study Bible : new King James version - John MacArthur
ESV study Bible - Excellent resource but not always literal in eschatology and the nation of Israel 
NIV Study Bible - (2011) 2570 pages  - Use this one if available as it has more notes than edition below.  This resource has been fully revised in 2020. 
HCSB Study Bible : Holman Christian Standard Bible - General Editor Jeremy Royal Howard (2010) 2360 pages. Conservative. Good notes. Include Holmans excellent maps. One hour limit
Life Application Study Bible : New Living Translation. Has some very helpful notes
NLT Study Bible (Illustration Version) 
The Living Insights Study Bible : New International Version - Charles Swindoll. Notes are good but somewhat sparse and not verse by verse.
The David Jeremiah study bible - (2013) 2208 pages.  Logos.com - "Drawing on more than 40 years of study, Dr. David Jeremiah has compiled a legacy resource that will make an eternal impact on generations to come. 8,000 study notes. Hundreds of enriching word studies"50+ Essentials of the Christian Faith" articles."
The Experiencing God Study Bible: the Bible for knowing and doing the will of God - Blackaby, Henry (1996) 1968 pages - CHECK THIS ONE! Each chapter begins with several questions under the title "PREPARE TO MEET GOD." Then you will interesting symbols before many of the passages. The chapter ends with a "DID YOU NOTICE?" question. This might make a "dry chapter" jump off the page! 
NIV archaeological Study Bible (2005) 2360 pages 
The Ryrie study Bible - Charles Ryrie (1978) 2142 pages. Conservative. 
The Defender's Study Bible : King James Version by Morris, Henry M.
Wycliffe Bible Commentary - Charles Pfeiffer - 1560 pages (1962). Less detailed than the KJV Bible Commentary. Conservative. Notes are generally verse by verse but brief. 
Rosscup - Conservative and premillennial scholars here have been experts in their fields. The work contains brief introductions and attempts to give a verse-by-verse exposition, though it does skip over some verses. The treatments vary with the authors, but as a whole it is a fine one-volume commentary for pastors and students to use or give to a layman. Outstanding sections include, for example: Whitcomb on Ezra-Nehemiah-Esther; Culver on Daniel; Ladd on Acts; Harrison on Galatians; Johnson on I Corinthians; and Ryrie on the Johannine Epistles.
Believer's Bible Commentary - OT and NT - MacDonald, William (1995) 2480 pages. Conservative. Literal. Often has very insightful comments. John MacArthur, says "Concise yet comprehensive - the most complete single-volume commentary I have seen." Warren Wiersbe adds "For the student who is serious about seeing Christ in the Word." One hour limit.
James Rosscup - This work, originally issued in 1983, is conservative and premillennial, written to help teachers, preachers and people in every walk of life with different views, explanation and application. 
MISCELLANEOUS RESOURCES
IVP Background Commentary  - OT - John Walton 
Zondervan Atlas of The Bible By: Umair Mirza
Dictionary of Biblical Imagery - free for use online with no restrictions (i.e., you do not need to borrow this book). Editors Leland Ryken, J C Wilhoit, Tremper Longman III - This is a potential treasure chest to aid your preaching and teaching as it analyzes the meaning of a host of Biblical figures of speech. Clue - use the "One-page view" which then allows you to copy and paste text. One downside is there is no index, so you need to search 3291 pages for entries which are alphabetical. 
Dictionary of deities and demons in the Bible (DDD) - 950 pages (1995) Read some of the 65 ratings (4.8/5 Stars). A definitive in depth resource on this subject. Very expensive to purchase. 
Unger's bible handbook : a best-selling guide to understanding the bible by Unger, Merrill F
Halley's Bible Handbook Henry H. Halley - (2000) 2720 pages (much larger than original edition in 1965 and no time limit on use). (Halley's Bible handbook : an abbreviated Bible commentary - one hour limit 1965 872 pages)
Rosscup - A much-used older evangelical handbook bringing together a brief commentary on Bible books, some key archaeological findings, historical background, maps, quotes, etc. It is helpful to a lay Bible teacher, Sunday School leader, or pastor looking for quick, pertinent information on a Bible book. This is the 72nd printing somewhat revised. Halley packed in much information. Unger's is better overall, but that is not to say that Halley's will not provide much help on basic information.
The Shaw Pocket Bible Handbook - Editor - Walter Elwell (1984) 408 pages.
"This hardback is small in size but packed full of content: Brief summaries of every book of the bible, cultural, archaeological and historical info, word definitions, pictures, maps and charts." Worth checking! 
Eerdmans' Handbook to the Bible (1983) 688 pages 
The New Unger's Bible Dictionary by Unger, Merrill Frederick, 1909-
Every prophecy of the Bible: Walvoord, John F
APOLOGETICS
The Apologetics Study Bible Understand Why You Believe - Comments from over 90 leading apologists, including: Ted Cabal, Lee Strobel, Chuck Colson, Norm Geisler, Josh McDowell, Albert Mohler, J.P. Moreland, see reviews. Here is a review from The Christian Reviewer.
Baker Encyclopedia of Christian Apologetics by Geisler, Norman
Cyril Barber - This is a goldmine of valuable information! Well-indexed. Covers everything from "Absolute Truth" to "Zen Buddhism." Extensive articles on such topics as "Agnosticism," "Annihilationism," "Bible, Alleged Errors in," "Gnosticism," "Miracles in the Bible," "New Testament Manuscripts," and "Objections to Resurrection," "Big Bang Theory," "Edward John Carnell," "Christ, Death of," are only a few of the insightful essays in this masterful work. Each article has been written in an understandable way, and a 28 page bibliography forms a valuable source for further research. An excellent resource.
Evidence That Demands A Verdict - Josh McDowell
The New Evidence that Demands a Verdict - Josh McDowell
More Than A Carpenter - A modern classic by Josh McDowell - Great resource for those who are skeptical that Jesus is fully God, fully Man.
Encyclopedia of Bible difficulties by Archer, Gleason L - or here with no restrictions
Hard Sayings of the Bible - Walter Kaiser
When Critics Ask - Norman Geisler
MANNERS AND CUSTOMS IN THE BIBLE
Today's Handbook of Bible Times & Customs by Coleman, William L
Nelson's New Illustrated Bible Manners & Customs : How the People of the Bible Really Lived by Vos, Howard Frederic
Manners & Customs of the Bible (The New Manners and Customs)  Freeman, James M., 1827-1900 Published 1998
The New Manners and Customs of Bible Times: Gower, Ralph, 1933- Published 1987
Manners and Customs of Bible lands By: Wight, Fred Published 1983
Manners and Customs in the Bible By: Matthews, Victor Harold Published 1991
Handbook of life in Bible times By: Thompson, J. A. (John Arthur), 1913-2002 Published 1986
Illustrated dictionary of Bible manners and customs By: Deursen, A. van (Arie), 1891-1963 Published 1982
The Illustrated Guide to Bible Customs & Curiosities by Knight, George W. 
Orientalisms in Bible lands, giving light from customs, habits, manners, imagery, thought and life in the East for Bible students By: Rice, Edwin Wilbur, 1831-1929 Published 1910
Bible manners and customs By: Mackie, G. M. 1854-1922 Published 1898
Teach it to your children : how kids lived in Bible days By: Vamosh, Miriam Feinberg, author
Everyday life in Bible times : work, worship, and war  By: Embry, Margaret Published 1994
Everyday living : Bible life and times : fascinating, everyday customs and traditions from the people of the Bible  Published 2006
The Land and the Book; or, Biblical illustrations drawn from the manners and customs, the scenes and scenery, of the Holy land  By: Thomson, William M. (William McClure), 1806-1894 Published 1880
Eastern manners illustrative of the Old Testament history By: Jamieson, Robert, 1802-1880 Published 1838
Scripture manners and customs : being an account of the domestic habits, arts, etc., of Eastern nations mentioned in Holy Scripture Published  1895
HEBREW WORD STUDY
RESOURCES
Theological Wordbook of the Old Testament by Harris, R. Laird - (5/5 Stars) One of the best OT lexicons for studying Hebrew words.
Here is another link to the TWOT which has no time limit on use and does allow copy and paste. Can be downloaded as PDF. 
Vine's Expository Dictionary of Old Testament and New Testament Words - Online pdf
Hebrew Honey: a simple and deep word study of the Old Testament - 330 pages.  The definitions have more of a devotional flavor. For example, see the descriptive definition for "Abide" (Hebrew - gur). 
Expository Dictionary of Bible Words by Richards, Larry,  It does not go into great depth on the Greek or Hebrew words but does have some excellent insights. 
So That's What it Means (Theological Wordbook) - Formerly titled "Theological Wordbook" edited by Charles Swindoll. It is now under this new title So That's What it Means and can be borrowed - it is more like a dictionary than a lexicon but the comments are superb! The contributors include Donald Campbell, Wendell Johnston, John Witmer, John Walvoord 
Nelson's Expository Dictionary of the Old Testament by Unger, Merrill. Indexed by English word and then any related Hebrew nouns or verbs. Definitions are solid and geared to the lay person. 
JOSEPH ALEXANDER
Jim Rosscup: This is one of the best older expositions of the book from a Hebrew scholar. There are frequent word studies; he deals with syntax; he has an original translation; his commentary is more detailed than most and is often helpful verse by verse. (Commentaries for Biblical Expositors)
PAUL APPLE - commentary from conservative, pre-millennial perspective (excellent resource)
DAVID BARON (1855-1926) - Messianic Jewish author of The Servant of Jehovah 
The Sufferings of the Messiah and the Glory That Should Follow - An Exposition of Isaiah LIII
Chapter 1: Jehovah's Introduction of His Servant and a Summary of His Redeeming Work.

Chapter 2: Israel's Penitential Confession: The History of the Servant of Jehovah Unfolded.

Chapter 3. The Resurrection and Future Glory of the Servant of Jehovah.

 

Chapter 4. Jehovah's Final Word Concerning His Servant: The Glorious Award for His Sufferings.

 

APPENDIX
The Suffering Messiah of the Synagogue.
J. I. Landsman

The Targum
The Talmud
The Midrashim
ALBERT BARNES - Amillennial
W J BEECHER
BRIAN BELL - sermon notes
JIM BOMKAMP Sermon Notes 
GENE BROOKS Sermon Notes 
VICTOR BUKSBAZEN
JOHN CALVIN
CAMBRIDGE BIBLE FOR SCHOOLS AND COLLEGES
ALAN CARR Sermon Notes 
RICH CATHERS Sermon Notes with frequent Illustrations
OSWALD CHAMBERS
THOMAS CONSTABLE
DAVID COOPER
Written from 1943-46 prior to Israel Becoming a Nation on May 14, 1948
W A CRISWELL  - semons
RON DANIEL
FRANZ DELITZSCH, SAMUEL R DRIVER
James Rosscup: Among technical works for trained students who are able to grapple with and appreciate the Hebrew, this is one of the outstanding older linguistic commentaries on Isaiah. Delitzsch put great exegetical, historical and theological learning into the work, which is highly respected. In prophecy it is Amillennial.
DEVOTIONALS
DAN DUNCAN Sermons
EASY ENGLISH
ELLICOTT'S COMMENTARY FOR ENGLISH READER'S
EXPOSITOR'S BIBLE COMMENTARY
EXPOSITOR'S DICTIONARY OF TEXTS
DON FORTNER - Amillennial
A C GAEBELEIN Annotated Bible
JOHN GILL
GOSPEL COALITION
GENE GETZ - Literal approach. Videos from 7-19 minutes
Isaiah 52:13-53:12; God's Redemptive Story: When we present the redemptive message, we should use Old Testament passages to support and clarify New Testament truth. Video
MITCH GLASER - Jewish believer in Yeshua. President of Chosen Peoples Ministry
GOTQUESTIONS About the Book of Isaiah 
SCOTT GRANT Sermons
DAVID GUZIK
JAMES HASTINGS
HOMER HEATER, JR
F B HOLE
HYMNS RELATING TO ISAIAH
53:1

53:2

53:3

53:4

53:5

53:6

53:7

53:10

53:12
HARRY IRONSIDE - Commentary notes
JAMIESON, FAUSSET, BROWN
F C JENNINGS
Studies in Isaiah - over 400 pages of commentary from a literal perspective - J Vernon McGee quotes from him several times in his Thru the Bible Commentary
S LEWIS JOHNSON
KEIL AND DELITZSCH
WILLIAM KELLY
James Rosscup: This is in some ways a useful English exposition of the book, but offers no Hebrew help. It is quite thorough and pre-millennial and dispensational. Kelly usually tells the reader why he takes a certain view in the debated prophetical passages. A Plymouth Brethren author, he died in 1906.
STEVE KRELOFF
LANGE'S COMMENTARY
DAVID LEGGE - Sermon
F DUANE LINDSEY - Isaiah's Songs of the Servant  1-4
JOHN MACARTHUR 
ALEXANDER MACLAREN
RANDY MANN
MATTHEW HENRY
J VERNON MCGEE
F B MEYER
Isaiah 52:13-15 The Vindication of Christ - Go to page 96 in resource above
Isaiah 53:1 Faith as a Switch - Go to page 102 in the resource above
Isaiah 53:10 Make His Soul Thy Sin-Offering - Go to page 107 in the resource above
Isaiah 53:11 The Satisfaction of the Messiah - Go to page 113 in the resource above
Isaiah 53:12 The Greatness of the Sin-Bearer - Go to page 118 in the resource above
MISCELLANEOUS
HENRY MORRIS DEFENDER'S STUDY BIBLE NOTES
G CAMPBELL MORGAN
ROB MORGAN
ROBERT NEIGHBOUR
NET BIBLE NOTES
OUR DAILY BREAD
JOSEPH PARKER - The People's Bible
H. VAN DYKE PARUNAK
JOHN PIPER Sermons on Isaiah
WIL POUNDS
PULPIT COMMENTARY
REFORMATION STUDY BIBLE - Amillennial
ALLEN ROSS Expository Commentary
JOHN SCHULTZ
CHARLES SIMEON
RAY STEDMAN
C. H. SPURGEON Devotionals
Isaiah 53:5 With his stripes we are healed.

Morning, March 31      Go To Evening Reading

         "With his stripes we are healed."  —Isaiah 53:5

Pilate delivered our Lord to the lictors to be scourged. The Roman scourge was a most dreadful instrument of torture. It was made of the sinews of oxen, and sharp bones were inter-twisted every here and there among the sinews; so that every time the lash came down these pieces of bone inflicted fearful laceration, and tore off the flesh from the bone. The Saviour was, no doubt, bound to the column, and thus beaten. He had been beaten before; but this of the Roman lictors was probably the most severe of his flagellations. My soul, stand here and weep over his poor stricken body.

Believer in Jesus, can you gaze upon him without tears, as he stands before you the mirror of agonizing love? He is at once fair as the lily for innocence, and red as the rose with the crimson of his own blood. As we feel the sure and blessed healing which his stripes have wrought in us, does not our heart melt at once with love and grief? If ever we have loved our Lord Jesus, surely we must feel that affection glowing now within our bosoms.

         "See how the patient Jesus stands,
         Insulted in his lowest case!
         Sinners have bound the Almighty's hands,
         And spit in their Creator's face.

         With thorns his temples gor'd and gash'd
         Send streams of blood from every part;
         His back's with knotted scourges lash'd.
         But sharper scourges tear his heart."
         
We would fain go to our chambers and weep; but since our business calls us away, we will first pray our Beloved to print the image of his bleeding self upon the tablets of our hearts all the day, and at nightfall we will return to commune with him, and sorrow that our sin should have cost him so dear.

Isaiah 53:6 All we like sheep have gone astray;

"All we like sheep have gone astray; we have turned every one to his own way; and the Lord hath laid on him the iniquity of us all." —Isaiah 53:6

Here a confession of sin common to all the elect people of God. They have all fallen, and therefore, in common chorus, they all say, from the first who entered heaven to the last who shall enter there, "All we like sheep have gone astray." The confession, while thus unanimous, is also special and particular: "We have turned every one to his own way." There is a peculiar sinfulness about every one of the individuals; all are sinful, but each one with some special aggravation not found in his fellow. It is the mark of genuine repentance that while it naturally associates itself with other penitents, it also takes up a position of loneliness. "We have turned every one to his own way," is a confession that each man had sinned against light peculiar to himself, or sinned with an aggravation which he could not perceive in others. This confession is unreserved; there is not a word to detract from its force, nor a syllable by way of excuse. The confession is a giving up of all pleas of self-righteousness. It is the declaration of men who are consciously guilty—guilty with aggravations, guilty without excuse: they stand with their weapons of rebellion broken in pieces, and cry, "All we like sheep have gone astray; we have turned every one to his own way." Yet we hear no dolorous wailings attending this confession of sin; for the next sentence makes it almost a song. "The Lord hath laid on him the iniquity of us all." It is the most grievous sentence of the three, but it overflows with comfort. Strange is it that where misery was concentrated mercy reigned; where sorrow reached her climax weary souls find rest. The Saviour bruised is the healing of bruised hearts. See how the lowliest penitence gives place to assured confidence through simply gazing at Christ on the cross!

Isaiah 53:10 Christ and His Children

    "When thou shalt make his soul an offering for sin,he shall see his seed."—Isaiah 53:10

OUR Lord Jesus has not died in vain. His death was sacrificial: He died as our substitute because death was the penalty of our sins; and because his substitution was accepted of God, He has saved those for whom He made His soul a sacrifice. By death, He became like the corn of wheat which bringeth forth much fruit. There must be a succession of children unto Jesus; He is "the Father of the everlasting age." He shall say, "Behold, I and the children whom thou hast given me."

A man is honored in his sons, and Jesus hath His quiver full of these arrows of the mighty. A man is represented in his children, and so is the Christ in Christians. In his seed, a man's life seems to be prolonged and extended; and so is the life of Jesus continued in believers.

Jesus lives, for He sees His seed. He fixes His eye on us; He delights in us; He recognizes us as the fruit of His soul travail. Let us be glad that our Lord does not fail to enjoy the result of His dread sacrifice, and that He will never cease to feast His eyes upon the harvest of His death. Those eyes which once wept for us are now viewing us with pleasure. Yes, He looks upon those who are looking unto Him. Our eyes meet! What a joy is this!

Isaiah 53:10 He shall see his seed

         "He shall see his seed; he shall prolong his days, and the pleasure of the Lord shall prosper in his hand."     —Isaiah 53:10

Plead for the speedy fulfilment of this promise, all ye who love the Lord. It is easy work to pray when we are grounded and bottomed, as to our desires, upon God's own promise. How can he that gave the word refuse to keep it? Immutable veracity cannot demean itself by a lie, and eternal faithfulness cannot degrade itself by neglect. God must bless his Son, his covenant binds him to it. That which the Spirit prompts us to ask for Jesus, is that which God decrees to give him. Whenever you are praying for the kingdom of Christ, let your eyes behold the dawning of the blessed day which draweth near, when the Crucified shall receive his coronation in the place where men rejected him. Courage, you that prayerfully work and toil for Christ with success of the very smallest kind, it shall not be so always; better times are before you. Your eyes cannot see the blissful future: borrow the telescope of faith; wipe the misty breath of your doubts from the glass; look through it and behold the coming glory. Reader, let us ask, do you make this your constant prayer? Remember that the same Christ who tells us to say, "Give us this day our daily bread," had first given us this petition, "Hallowed be thy name; Thy kingdom come; Thy will be done in earth as it is in heaven." Let not your prayers be all concerning your own sins, your own wants, your own imperfections, your own trials, but let them climb the starry ladder, and get up to Christ himself, and then, as you draw nigh to the blood-sprinkled mercy-seat, offer this prayer continually, "Lord, extend the kingdom of thy dear Son." Such a petition, fervently presented, will elevate the spirit of all your devotions. Mind that you prove the sincerity of your prayer by labouring to promote the Lord's glory.

Isaiah 53:12 He was numbered with the transgressors

       "He was numbered with the transgressors."    —Isaiah 53:12

Why did Jesus suffer himself to be enrolled amongst sinners? This wonderful condescension was justified by many powerful reasons. In such a character he could the better become their advocate. In some trials there is an identification of the counsellor with the client, nor can they be looked upon in the eye of the law as apart from one another. Now, when the sinner is brought to the bar, Jesus appears there himself. He stands to answer the accusation. He points to his side, his hands, his feet, and challenges Justice to bring anything against the sinners whom he represents; he pleads his blood, and pleads so triumphantly, being numbered with them and having a part with them, that the Judge proclaims, "Let them go their way; deliver them from going down into the pit, for he hath found a ransom." Our Lord Jesus was numbered with the transgressors in order that they might feel their hearts drawn towards him. Who can be afraid of one who is written in the same list with us? Surely we may come boldly to him, and confess our guilt. He who is numbered with us cannot condemn us. Was he not put down in the transgressor's list that we might be written in the red roll of the saints? He was holy, and written among the holy; we were guilty, and numbered among the guilty; he transfers his name from yonder list to this black indictment, and our names are taken from the indictment and written in the roll of acceptance, for there is a complete transfer made between Jesus and his people. All our estate of misery and sin Jesus has taken; and all that Jesus has comes to us. His righteousness, his blood, and everything that he hath he gives us as our dowry. Rejoice, believer, in your union to him who was numbered among the transgressors; and prove that you are truly saved by being manifestly numbered with those who are new creatures in him.
C. H. SPURGEON Sermons
RON TEED
DAVID THOMPSON Exposition
TODAY IN THE WORD
| | | |
| --- | --- | --- |
| Jesus, the Great Object of Astonishment | Charles Hadden Spurgeon | Isaiah 52:13 |
| The Servant of Jehovah: His Wondrous Career | E. Johnson | Isaiah 52:13-53:3 |
| A Threefold View of the Person and Work of Jesus Christ | J. Stratten. | Isaiah 52:13-15 |
| The Character and Work of the Messiah | G. T. Noel, M. A. | Isaiah 52:13-15 |
| The Face of Christ |   | Isaiah 52:13-15 |
| The Humiliation and Exaltation of Christ | A. Mason, M.A. | Isaiah 52:13-15 |
| The Saviour's Exaltation | F. Delitzsch, D.D. | Isaiah 52:13-15 |
| The Sure Triumph of the Crucified One |   | Isaiah 52:13-15 |
| The Wisdom of Suffering Service | W. Clarkson | Isaiah 52:13-15 |
| Surprise At the Appearance of God's Servant | R. Tuck | Isaiah 52:14 |
| A Twofold Wonder | S. Bridge, M.A. | Isaiah 52:14-15 |
| Christ's Endurance and Success | S. Bridge, M. A. | Isaiah 52:14-15 |
| The Abasement of Christ and its Consequences | J. Clayton, ,M.A. | Isaiah 52:14-15 |
| The Marred Face | W. K. Bryce. | Isaiah 52:14-15 |
| Sprinkling the Nations | A.B. Davidson, D.D. | Isaiah 52:15 |
| The Peculiar Doctrines of Christianity the Subject of Ancient Prophecy | A. Mason, M.A. | Isaiah 52:15 |
| The Risen Christ Winning the Nations | Christian Age | Isaiah 52:15 |
| The Wondrous Monarchy | J. Culross, D.D. | Isaiah 52:15 |
| Strange Reception of Divine Messages | R. Tuck | Isaiah 53:1 |
| The Suffering Servant -- I | Alexander Maclaren | Isaiah 53:1 |
| A Faithful Minister's Sorrow | J. Durham. | Isaiah 53:1-12 |
| A Heavy Complaint and Lamentation | T. Boston, M.A. | Isaiah 53:1-12 |
| Christ in Isaiah | F. Sessions. | Isaiah 53:1-12 |
| Christ Preached, But Rejected |   | Isaiah 53:1-12 |
| Christ Rejected in Our Time |   | Isaiah 53:1-12 |
| Divine Power Necessary for Believing the Gospel Report | T. Boston, M. A. | Isaiah 53:1-12 |
| Do the Prophets Believe | J. Parker, D.D. | Isaiah 53:1-12 |
| Evidences of Non-Success | T. Boston, M. A. | Isaiah 53:1-12 |
| Gentile Prejudice Against Christ |   | Isaiah 53:1-12 |
| Jewish Prejudice Against Christ |   | Isaiah 53:1-12 |
| Ministerial Solicitude | Essex Congregational Remembrancer | Isaiah 53:1-12 |
| Preaching and Hearing | J. Durham. | Isaiah 53:1-12 |
| The Arm of God and Human Faith | F. B. Meyer, B. A. | Isaiah 53:1-12 |
| The Arm of the Lord | J. Parker, D.D. | Isaiah 53:1-12 |
| The Arm of the Lord Revealed | J. Durham. | Isaiah 53:1-12 |
| The Credibility and Importance of the Gospel Report | J. Lathrop, D.D. | Isaiah 53:1-12 |
| The Gospel-Report | T. Boston, M. A. | Isaiah 53:1-12 |
| The Jewish Nation a Vicarious Sufferer | A. Crawford, M.A. | Isaiah 53:1-12 |
| The Jewish Nation was a Type of Christ | A. Crawford, M.A. | Isaiah 53:1-12 |
| The Jews and Messianic Prophecy |   | Isaiah 53:1-12 |
| The Little Success of the Gospel Matter of Lamentation | T. Boston, M. A. | Isaiah 53:1-12 |
| The Messiah Referred to in Isaiah 53 | R.W. Moss, D.D. | Isaiah 53:1-12 |
| The Might of the Saving Arm, and How to Obtain It | F. B. Meyer, B.A. | Isaiah 53:1-12 |
| The Monarch in Disguise | C. Clemance, D.D. | Isaiah 53:1-12 |
| The Necessity of Faith | J. Durham. | Isaiah 53:1-12 |
| The Offer of Christ in the Gospel | J. Durham. | Isaiah 53:1-12 |
| The Prevalence of Unbelief | E. Cooper. | Isaiah 53:1-12 |
| The Rarity of Believing the Gospel-Report | T. Boston, M. A. | Isaiah 53:1-12 |
| The Servant and Israel | A. B. Davidson, D.D. | Isaiah 53:1-12 |
| The Suffering Saviour |   | Isaiah 53:1-12 |
| A Root Out of a Dry Ground |   | Isaiah 53:2 |
| Christ a Tender Plant |   | Isaiah 53:2 |
| Christ Assumed an Appearance of Meanness |   | Isaiah 53:2 |
| Christ Binds Humanity into a Brotherhood | H. Macmillan, LL. D. | Isaiah 53:2 |
| Christ not the Product of Palestine | C. Clemance, D.D. | Isaiah 53:2 |
| Christ the Living Root | H. Macmillan, LL. D. | Isaiah 53:2 |
| Christ Uncomely and Yet Beautiful |   | Isaiah 53:2 |
| Christianity and the Sensuous | J. H. Newman, B. D. | Isaiah 53:2 |
| Christ's Beauty | J. Parker, D. D. | Isaiah 53:2 |
| Christ's Growth Before God | H. Macmillan, LL. D. | Isaiah 53:2 |
| Christ's Humble Appearance | R. Bogg, D.D. | Isaiah 53:2 |
| Christ's Meanness on Earth no Objection Against | R. Fiddes | Isaiah 53:2 |
| God Accomplishes Great Things by Unlikely Means |   | Isaiah 53:2 |
| God to be Trusted |   | Isaiah 53:2 |
| God's Use of the Mean |   | Isaiah 53:2 |
| Growth Before God | P. J. Rollo. | Isaiah 53:2 |
| Missing Christ's Beauty | Cecil H. Wright. | Isaiah 53:2 |
| No Beauty in Christ | J. Trapp. | Isaiah 53:2 |
| Poverty |   | Isaiah 53:2 |
| Religion a Weariness to the Natural Man | J.H. Newman, B.D. | Isaiah 53:2 |
| The Attractive and the Unattractive in Jesus Christ | W. Clarkson | Isaiah 53:2 |
| The Depraved Eye | W.M. Statham | Isaiah 53:2 |
| The Dry Ground | H. Macmillan, LL. D. | Isaiah 53:2 |
| The Love of Beauty (In Art | J. H. Newman, B. D. | Isaiah 53:2 |
| The Mean not Necessarily Despicable |   | Isaiah 53:2 |
| The Real Character of the Messiah | C. Moore, M. A. | Isaiah 53:2 |
| The Root Out of a Dry Ground | H. Macmillan, LL. D. | Isaiah 53:2 |
| The Root Out of a Dry Ground | H. Macmillan, LL. D. | Isaiah 53:2 |
| The Unfoldings of the Root of Jesse | H. Macmillan, LL. D. | Isaiah 53:2 |
| Man's Disposition to Reject His Best Blessings | R. Tuck | Isaiah 53:3 |
| Messiah Despised, and Rejected of Men | John Newton | Isaiah 53:3 |
| The Man of Sorrows | W. Clarkson | Isaiah 53:3 |
| The Rejected Saviour | W.M. Statham | Isaiah 53:3 |
| A Sad Confession | Canon Cook., T.R. Birks | Isaiah 53:3-7 |
| Aversion to Christ | G. F, Pentecost, D. D. | Isaiah 53:3-7 |
| Christ a Man of Sorrows | E. Payson, D. D. | Isaiah 53:3-7 |
| Christ as a Sufferer | J. Stalker, D.D. | Isaiah 53:3-7 |
| Christ Despised and Rejected of Men | R. Walker. | Isaiah 53:3-7 |
| Christ Rejected | H. Allon, D.D. | Isaiah 53:3-7 |
| Christ the Man of Sorrows | Evan Lewis, B.A. | Isaiah 53:3-7 |
| Christ's Great Capacity for Suffering | H. O. Mackey. | Isaiah 53:3-7 |
| Christ's Life a Model for His People | C. H. Parkhurst, D. D. | Isaiah 53:3-7 |
| Designed and Rejected | J. Higgins. | Isaiah 53:3-7 |
| Despised and Rejected of Men | S. H. Tindall. | Isaiah 53:3-7 |
| Failure | C. G. Lang. | Isaiah 53:3-7 |
| Failure May be Welcomed | C. G. Lang. | Isaiah 53:3-7 |
| Handel's Messiah | J. Higgins. | Isaiah 53:3-7 |
| Lessons from the Manner of Christ's Appearing | H. Allon, D.D. | Isaiah 53:3-7 |
| Our Lord's Life Lived in Shadow |   | Isaiah 53:3-7 |
| Sir Noel Paton's Man of Sorrows | D. Davies. | Isaiah 53:3-7 |
| The Art of Seeing the Spiritual | H. Allon, D.D. | Isaiah 53:3-7 |
| The Causes of Christ's Sorrows | H. Allon, D. D. | Isaiah 53:3-7 |
| The Christ-Life in the Christian | C. H. Parkhurst, D. D. | Isaiah 53:3-7 |
| The Despised Saviour | R. C. Ford, M.A. | Isaiah 53:3-7 |
| The Human Race Typified by the Man of Sorrows | F. W. Robertson, M.A. | Isaiah 53:3-7 |
| The Man of Sorrows |   | Isaiah 53:3-7 |
| The Man of Sorrows | Ray Palmer, D.D. | Isaiah 53:3-7 |
| The Mean Appearance of the Redeemer Foretold | T. Sherlock, D.D. | Isaiah 53:3-7 |
| The Mystery of Sorrow | W. J. KnoxLittle, M.A. | Isaiah 53:3-7 |
| The Problems of Life Involve Sorrow | C. H. Parkhurst, D. D. | Isaiah 53:3-7 |
| The Sorrow of Love | C. H. Parkhurst, D. D. | Isaiah 53:3-7 |
| The Sorrow of Strained Powers | C. H. Parkhurst, D. D. | Isaiah 53:3-7 |
| The Suffering Christ |   | Isaiah 53:3-7 |
| The World's Regard for the Outward | H. Allen, D.D. | Isaiah 53:3-7 |
| Messiah Suffering and Wounded for Us | John Newton | Isaiah 53:4 |
| The Suffering Servant -- Ii | Alexander Maclaren | Isaiah 53:4 |
| Man's Thoughts of God's Sufferer | R. Tuck | Isaiah 53:4, 5 |
| The Divine Account of the Sufferings of Christ | W. Clarkson | Isaiah 53:4, 5 |
| Christ the Burden-Bearer | C. Clemance, D. D. | Isaiah 53:4-6 |
| Christ's Love and Man's Unthankfulness |   | Isaiah 53:4-6 |
| Jesus, Smitten of God | Jr. R Macduff, D.D. | Isaiah 53:4-6 |
| Luther and Bunyan | A. Crauford, M.A. | Isaiah 53:4-6 |
| Poisons as Tonics | A. Crauford, M.A. | Isaiah 53:4-6 |
| Redemption | R. V. Pryce, M.A., LL.B. | Isaiah 53:4-6 |
| Sadder and Mysterious Aspects of Vicarious Suffering | A. Crauford, M.A. | Isaiah 53:4-6 |
| Society an Organism | A. Crauford, M.A. | Isaiah 53:4-6 |
| Stricken | Prof. J. Skinner, D.D. | Isaiah 53:4-6 |
| The Death of Christ a Propitiation for Sin | J. Mason, M.A. | Isaiah 53:4-6 |
| The Failure of One the Gain of Another | A. Crauford, M.A. | Isaiah 53:4-6 |
| The Mystery of Our Lord's Sufferings | R. Tuck, B.A. | Isaiah 53:4-6 |
| The Pressure of the Burden on God | J. B. Brown, B. A. | Isaiah 53:4-6 |
| The Servant of the Lard Pictured as a Leper | Prof. J. Skinner, D.D. | Isaiah 53:4-6 |
| The Suffering Servant of Jehovah | E. Johnson | Isaiah 53:4-6 |
| The World's Majestic Failures | A. Crauford, M.A. | Isaiah 53:4-6 |
| Vicarious Sacrifice in the Intellectual World | A. Crauford, M.A. | Isaiah 53:4-6 |
| Vicarious Sacrifice of Christ | W. H. Lewis, D.D. | Isaiah 53:4-6 |
| Vicarious Suffering | A. Crauford, M.A. | Isaiah 53:4-6 |
| Vicarious Suffering | A. Crauford, M.A. | Isaiah 53:4-6 |
| A Short Catechism | J. Durham. | Isaiah 53:5 |
| A Simple Remedy |   | Isaiah 53:5 |
| Christopathy |   | Isaiah 53:5 |
| Healed by Christ's Stripes | J. Benson, D.D. | Isaiah 53:5 |
| Healed by Christ's Stripes |   | Isaiah 53:5 |
| His Stripes | B. J. Gibbon. | Isaiah 53:5 |
| Recovery by Christ's Stripes |   | Isaiah 53:5 |
| Self-Sufficiency Prevents Healing |   | Isaiah 53:5 |
| Sin | B. J. Gibbon. | Isaiah 53:5 |
| Sin Deadens Sensibility |   | Isaiah 53:5 |
| Substitution | C. Clemance, D. D. | Isaiah 53:5 |
| The Disease of Sin |   | Isaiah 53:5 |
| The Divine Atonement | W.M. Statham | Isaiah 53:5 |
| The Sufferings of Christ | L. D. Bevan, D. D. | Isaiah 53:5 |
| The Sufferings of Christ | D. Dickson, D.D. | Isaiah 53:5 |
| The Universal Remedy |   | Isaiah 53:5 |
| Vicarious Suffering | J. Stalker, D.D. | Isaiah 53:5 |
| Astray from the Fold | T. de W. Talmage, D.D. | Isaiah 53:6 |
| Caiaphas: Cephas: Jesus | W.E.Rawstorne, M.A. | Isaiah 53:6 |
| Departing from God |   | Isaiah 53:6 |
| Departure and Distance from God | W. Clarkson | Isaiah 53:6 |
| Every Man to His Own Way |   | Isaiah 53:6 |
| God's Fofgiving Love in Christ | Life of R. W. Dale. | Isaiah 53:6 |
| Going Astray as Sheep |   | Isaiah 53:6 |
| His Own Way |   | Isaiah 53:6 |
| Of Justification by Christ | George Whitefield | Isaiah 53:6 |
| Our Misery and its Remedy |   | Isaiah 53:6 |
| Peace in the True Knowledge of Jesus | R. J. Campbell, M.A. | Isaiah 53:6 |
| Salvation for the Straying Sheep | A. G. Brown. | Isaiah 53:6 |
| Sin Charged Upon the Surety | John Newton | Isaiah 53:6 |
| Sin Laid on Jesus |   | Isaiah 53:6 |
| Sin Laid on Jesus | Charles Haddon Spurgeon | Isaiah 53:6 |
| Sin Meeting on Jesus | S. H. Tyng, D.D. | Isaiah 53:6 |
| The Nature and Power of the Atonement | W. J. Knox-Little, M.A. | Isaiah 53:6 |
| The Universal Burden and its Bearer | A. Maclaren, D.D. | Isaiah 53:6 |
| Where Shall Iniquity be Laid? | R. Tuck | Isaiah 53:6 |
| The Crucifixion | John Henry Newman | Isaiah 53:7 |
| The Submissive Spirit | W. Clarkson | Isaiah 53:7 |
| The Triumph of Silence | R. Tuck | Isaiah 53:7 |
| Christ the Victim and the Example | The Thinker | Isaiah 53:7-8 |
| Christ's Patience in Suffering | J. Trapp. | Isaiah 53:7-8 |
| Christ's Speechlessness | F. B. Meyer, B.A. | Isaiah 53:7-8 |
| Christ's Sufferings and His Deportment Under Them |   | Isaiah 53:7-8 |
| Eastern Sheep-Shearing |   | Isaiah 53:7-8 |
| Lying Still Under the Divine Hand |   | Isaiah 53:7-8 |
| Silent Suffering | J. I. Blackburn. | Isaiah 53:7-8 |
| The Monarch Surrenders Himself | C. Clemance, D.D. | Isaiah 53:7-8 |
| The Sheep Before the Shearers |   | Isaiah 53:7-8 |
| The Silence of Christ | J. I. Blackburn. | Isaiah 53:7-8 |
| The Sufferings of Christ | J. H. Newman, B. D. | Isaiah 53:7-8 |
| Patience and the Divine Purpose | E. Johnson | Isaiah 53:7-12 |
| Messiah's Innocence Vindicated | John Newton | Isaiah 53:8 |
| Christ Smitten unto Death | R. Hall, M.A. | Isaiah 53:8-9 |
| Christ's Ignominious Death and Glorious Resurrection |   | Isaiah 53:8-9 |
| Christ's Impisonment | D. Thomas, D.D. | Isaiah 53:8-9 |
| He was Taken from Prison and from Judgment | Prof. J. Skinner, D.D. | Isaiah 53:8-9 |
| The Crucifixion | R. South, D.D. | Isaiah 53:8-9 |
| The Person Stricken | R. Hall, M. A. | Isaiah 53:8-9 |
| The Stricken Christ | J. Parsons. | Isaiah 53:8-9 |
| The Substitution of the Innocent for the Guilty | R. Hall, M. A. | Isaiah 53:8-9 |
| Who Shall Declare His Generation | Howard Crosby, LL.D. | Isaiah 53:8-9 |
| Who Shall Declare His Generation | Prof. J. Skinner, D.D. | Isaiah 53:8-9 |
| The Shortness But Sufficiency of Human Life | W. Clarkson | Isaiah 53:8-10 |
| A Prophecy of Messiah | J. Durham. | Isaiah 53:9 |
| Christ Laid in the Grave | J. Durham. | Isaiah 53:9 |
| The Suffering Servant Given a Convict's Grave | Prof. G. A. Smith, D.D. | Isaiah 53:9 |
| With the Rich in His Death | A. B. Davidson, D.D. | Isaiah 53:9 |
| With the Rich in His Death | F. Delitzsch, D.D. | Isaiah 53:9 |
| A Soul-Offering | R. Tuck | Isaiah 53:10 |
| Expiation | Charles Haddon Spurgeon | Isaiah 53:10 |
| Our Expectation | Charles Haddon Spurgeon | Isaiah 53:10 |
| The Death of Christ | Charles Haddon Spurgeon | Isaiah 53:10 |
| The Suffering Servant -- Iv | Alexander Maclaren | Isaiah 53:10 |
| Believers Christ's Seed | J. Durham. | Isaiah 53:10-11 |
| Christ a Guilt-Offering | Prof. S. R. Driver, D. D. | Isaiah 53:10-11 |
| Christ an Offering .For Sin | J. Durham. | Isaiah 53:10-11 |
| Christ Seeing His Seed | J. Durham. | Isaiah 53:10-11 |
| Christ Seeing His Seed | Prof. S. R. Driver, D.D. | Isaiah 53:10-11 |
| Christ's Complacency in the Divine Sorrows | A. Mursell. | Isaiah 53:10-11 |
| Christ's Death and the Law of God | Prof. G.A. Smith, D.D. | Isaiah 53:10-11 |
| Christ's Spiritual Offspring | R. Muter, D. D. | Isaiah 53:10-11 |
| Christ's Sufferings Divinely Ordained |   | Isaiah 53:10-11 |
| Christ's Sufferings; Their Cause, Nature and Fruits |   | Isaiah 53:10-11 |
| Divine Love and Divine Suffering | A. Mursell. | Isaiah 53:10-11 |
| Expiation |   | Isaiah 53:10-11 |
| God Working His Own Counsel Through Human Agency |   | Isaiah 53:10-11 |
| God's Eternal Pleasure Revealed in Christ |   | Isaiah 53:10-11 |
| God's Purpose in the Awful Tragedy of the Cross | Prof. G. A. Smith, D.D. | Isaiah 53:10-11 |
| Human Redemption a Pleasure to the Almighty | Homilist | Isaiah 53:10-11 |
| In Messiah's Offering | Delitzsch, C. Clemance, D. D. | Isaiah 53:10-11 |
| It Pleased the Lord to Bruise Him | J. Durham. | Isaiah 53:10-11 |
| Messiah | R. Muter, D. D. | Isaiah 53:10-11 |
| Notable Effects Following Christ's Sufferings | J. Durham. | Isaiah 53:10-11 |
| Seeing His Seed | C. Clemance, D.D. | Isaiah 53:10-11 |
| The Atonement and its Results | H. Melvill, B.D. | Isaiah 53:10-11 |
| The Atonement Indicates the Dignity of Man | James Duckworth. | Isaiah 53:10-11 |
| The Bruising of Jesus | J. Wylie, D.D. | Isaiah 53:10-11 |
| The Bruising of the Son of God the Pleasure of His Father | W. Taylor. | Isaiah 53:10-11 |
| The Divine Complacency in the Sorrows of Christ | A. Mursell. | Isaiah 53:10-11 |
| The Divine Purpose Fufilled | J. Parsons. | Isaiah 53:10-11 |
| The Enduring Life of Christ After His Sufferings | C. Clemance, D.D. | Isaiah 53:10-11 |
| The Good Pleasure of God in Redemption | J. Durham. | Isaiah 53:10-11 |
| The Guilt-Offering | Prof. G. A. Smith, D.D. | Isaiah 53:10-11 |
| The Guilt-Offering | F. B. Meyer, B. A. | Isaiah 53:10-11 |
| The Monarch Self-Surrender, a Trespass-Offering and a Sin | C. Clemance, D.D. | Isaiah 53:10-11 |
| The Pleasure of Jehovah | Prof. S. R. Driver, D.D. | Isaiah 53:10-11 |
| The Posterity of Christ |   | Isaiah 53:10-11 |
| The Salvation of Sinners the Pleasure of God | Essex Remembrancer | Isaiah 53:10-11 |
| The Success of Christ in His Work | G. Campbell. | Isaiah 53:10-11 |
| The Unity of the Father and the Son in Atonement | A. Mursell. | Isaiah 53:10-11 |
| By His Knowledge | Expository Times | Isaiah 53:11 |
| Christ's Satisfaction in the Salvation of Sinners |   | Isaiah 53:11 |
| Christ's Soul-Sufferings |   | Isaiah 53:11 |
| Christ's Soul-Travail |   | Isaiah 53:11 |
| Christ's Soul-Travail | Prof. R. W. Moss, D.D. | Isaiah 53:11 |
| Christ's Soul-Travail and its Outcome | C. Clemance, D. D. | Isaiah 53:11 |
| Christ's Sufferings Fruitful | R. S. McAll, M. A. | Isaiah 53:11 |
| Christ's Travail and Satisfaction | R. Glover, D.D. | Isaiah 53:11 |
| Christ's Vision the Cross | C. F. Deems, LL.D. | Isaiah 53:11 |
| He Shall be Satisfied | W. Arnot, D. D. | Isaiah 53:11 |
| Justification | J. Durham. | Isaiah 53:11 |
| Justification by the Knowledge of Christ | J. Durham. | Isaiah 53:11 |
| Justification by the Knowledge of Christ |   | Isaiah 53:11 |
| Justifying Faith | J. Durham. | Isaiah 53:11 |
| Justifying the Many | C. Clemance, D.D. | Isaiah 53:11 |
| Knowledge and Faith | J. Durham. | Isaiah 53:11 |
| Messiah Satisfied | J. R. Macduff, D.D. | Isaiah 53:11 |
| Messiah Suffering and Messiah Satisfied | T. Binney D.D. | Isaiah 53:11 |
| My Righteous Servant | J. Durham. | Isaiah 53:11 |
| Satisfied for Sore Travail | R. Tuck | Isaiah 53:11 |
| The Aspect of the Redeemer's Work Which Afforded Him Satisfaction | C. Clemance, D. D. | Isaiah 53:11 |
| The Connection Between Messiahs Sufferings and Subsequent Triumphs | J. W. Etheridge. | Isaiah 53:11 |
| The Effects of Our Lord's Passion | D. Wilson, M.A. | Isaiah 53:11 |
| The Fruit of Christ's Sacrifice | J. Roxburgh, M.A. | Isaiah 53:11 |
| The Knowledge of Christ | W. North, M.A. | Isaiah 53:11 |
| The Promised Fruit of Christ's Sufferings | E. Payson, D.D. | Isaiah 53:11 |
| The Prophecy of the Cross | A. W. Bealer, D.D. | Isaiah 53:11 |
| The Reward of the Redeemer's Sufferings | R. Gordon, D.D. | Isaiah 53:11 |
| The Salvation of Man, the Joy of the Redeemer | S. Summers. | Isaiah 53:11 |
| The Satisfaction of Christ's Sufferings | J. B. Sumner, M.A. | Isaiah 53:11 |
| The Satisfaction of Realized Purpose | J. Stalker, D.D. | Isaiah 53:11 |
| The Satisfaction of the Messiah | F. B. Meyer, B.A. | Isaiah 53:11 |
| The Saviour's Ultimate Joy | C. Clemance, D.D. | Isaiah 53:11 |
| The Success of the Gospel | E. Bradley. | Isaiah 53:11 |
| The Suffering Servant -- V | Alexander Maclaren | Isaiah 53:11 |
| The Sympathy and Satisfaction of the Redeemer | R. N. Young, D.D. | Isaiah 53:11 |
| The Travail of Christ's Soul | J. Durham. | Isaiah 53:11 |
| The Travail of His Soul | W. Arnot, D. D. | Isaiah 53:11 |
| Travail of Soul and Satisfaction | J. Stalker, D.D. | Isaiah 53:11 |
| Christ Killed by the Inner Cross | C. Clemance, D.D. | Isaiah 53:12 |
| Christ Numbered with the Transgressors | J. Trapp. | Isaiah 53:12 |
| Christ S Intercession |   | Isaiah 53:12 |
| Christ's Conflict and Conquest |   | Isaiah 53:12 |
| Christ's Connection with Sinners the Source of His Glory |   | Isaiah 53:12 |
| Christ's Intercession for Transgressors |   | Isaiah 53:12 |
| He Shall Divide the Spoil with the Strong | Howard Crosby, LL.D. | Isaiah 53:12 |
| Intercession for the Transgressors |   | Isaiah 53:12 |
| Jesus Interceding for Transgressors |   | Isaiah 53:12 |
| Meaning of Intercession |   | Isaiah 53:12 |
| The Conflict of Christ Explained |   | Isaiah 53:12 |
| The False Accusation | W. Clarkson | Isaiah 53:12 |
| The Friend of Sinners |   | Isaiah 53:12 |
| The Friend of Sinners | Charles Haddon Spurgeon | Isaiah 53:12 |
| The Greatness of the Sin-Bearer | F. B. Meyer, B. A. | Isaiah 53:12 |
| The Lord Jesus a Glorious Conqueror |   | Isaiah 53:12 |
| The Love of Christ |   | Isaiah 53:12 |
| The Monarch Becomes an Intercessor for His Foes | C. Clemance, D. D. | Isaiah 53:12 |
| The Suffering Servant -- Vi | Alexander Maclaren | Isaiah 53:12 |
Book