"Jeremiah on the Ruins of Jerusalem"
(Horace Vernet, 1844)

Click chart to enlarge
Chart from recommended resource Jensen's Survey of the OT - used by permission
Jeremiah Chart from Charles Swindoll
JEREMIAH: "PROPHET TO THE NATIONS"
Sin - "I Will Punish" (Jer 9:25)
Hope - "I Will Restore" (Jer 30:17)
Judah & Jerusalem

Prophet
Called
Jer 1:1-1:19

Prophecies
to Judah
Jer 2:1-45:5
Prophecies
to the Gentiles
Jer 46:1-51:64
Prophet's
Appendix
Jer 52:1-52:34
Prophet's
Commission
Jer 1:1-19
Judah
Condemned
Jer 2:1-25:38
Jeremiah's
Conflicts
Jer 26:1-29:32
Jerusalem's
Future
Jer 30:1-33:26
Jerusalem's
Fall
Jer 34:1-45:5
Nations
Condemned
Jer 46:1-51:64
Historic
Conclusion
Jer 52:1-52:34
Before The Fall Of Jerusalem
Jer 1:1-38:28
The Fall
Jer 39:1-18
After
The Fall
Call
Ministry
Retrospect
Nation
of Judah
Surrounding
Nations
Future of
Babylon
627-582 BC
Ministered 40+ Years!
BC
640 Josiah becomes king of Judah - the last godly king.
628 Josiah began to purge Judah in his 12th year
627 Lord first spoke to Jeremiah in 13th year of Josiah. Jeremiah 1-6 under Josiah's reign
622 In 18th year of Josiah Book of the Law found in House of God! (2Ki 22:8)
612 Nineveh the capital of Assyria was sacked.
609 King Josiah killed at Megiddo by Necho of Egypt, who was fighting to bolster Assyria (2Ki 23:29-30).
609 Jehoahaz ruled Judah 3 months, deposed by Neco, taken to Egypt in chains (2Ki 23:32-33; cf Jer. 22:10).
609-598 Jehoiakim reigned over Judah as an Egyptian vassal (Jer 22:13-17).
605 Battle of Carchemish. Nebuchadnezzar defeated Egyptian forces (Jer 46:2). "Turning point in world history"
597 2nd Babylonian invasion takes Jerusalem, deports Ezekiel & 10,000; Zedekiah replaces Jehoiachin (2Ki 24:17)
592 Ezekiel begins his prophetic ministry (some 35 years after Jeremiah had begun his)
586 Fall of Jerusalem (Jer 39:1-18). Gedaliah appointed governor of Judah (2Ki 25:22-26). Jeremiah taken to Egypt.
Key words (NAS95): There are many key words but just reading through these key words give you some major "clues" as to the message and theme of the Book of Jeremiah. The following key words/phrases are somewhat grouped together. Do these groups give you at least a general sense of Jeremiah's message?
Word of the LORD (52x/51v - 20% of all uses of this phrase in Scripture are by Jeremiah!),
Heart/hearts (55x/48v), Faithless, faithlessness (8x/7v), Forsake (20x/18v), Forget (3x), Adultery, adulteries, adulterer (9x), Rebel, rebellious, rebellion (6x) Wicked, Wickedness (34x/30v), Evil/evils (53x/47v), Sin, sins, sinned (26x/25v), Iniquity, iniquities (24x/23v), Idol, images, gods, Baal (64x/56v)
Backslide (Only once in NAS95; 13x/12 in KJV - Hebrew = meshubah - used only 4 other times in KJV in entire OT!),
Woe (13x), Wrath (19x/18v), Famine (33x/30v), Calamity (27x), Destroy (56x/52v), Pluck (4x), Uproot (8x/6v)
Babylon (169x in 149v - more than all other uses in Scripture combined!), Nations (Gentiles) (60x/55v)
Covenant (24x/21v), Everlasting (10x/9v), Love (14x/13v), Hope (6x); Compassion (7x/6v), Lovingkindness (5x)
Faithful/faithfulness (3x), Trust, trusted, trusting (18x/17v), Listen, hear, heed (96x), Remember (14x/13v), Return (35x/29v), Repent (6x), Turn/Turned Back (20x)
Restore (18x), Heal/healed/healing/health (21x/15v); Plant (17x/15v), Build (12x)
Baxter sums up the book with two phrases (using the KJV) - The first phrase is "I will punish" (Jer 9:25KJV, Jer 11:22KJV, Jer 21:14KJV, Jer 25:12KJV, Jer 29:32KJV, Jer 30:20KJV, Jer 36:31KJV, Jer 44:13KJV, Jer 44:29KJV, Jer 46:25KJV, Jer 50:18KJV, Jer 51:44KJV). The second phrase is "I will restore." (Jer 30:17) Jer 26:12, 13 sums up God's clear and gracious "eleventh-hour offer" to Judah, an offer which was obviously rejected.
Beloved, we do well to read and study the prophecy of Jeremiah, for in these 52 chapters are timeless principles that will impact every nation and every individual who rejects God's Word and Authority and wantonly pursues wickedness. In short here is what Jeremiah would say...Woe to that nation or that person!
Baxter writes (and I agree) that "The key to the whole book is found in Jeremiah 30, 31, especially in Jer 30:15-18
'Why do you cry out over your injury? Your pain is incurable. Because your iniquity is great and your sins are numerous, I have done these things to you. 16 'Therefore all who devour you will be devoured; and all your adversaries, every one of them, will go into captivity; and those who plunder you will be for plunder, and all who prey upon you I will give for prey. 17 'For (Don't miss this strategically placed term of explanation- Always ask "What is it explaining?") I will restore you to health and I will heal you of your wounds,' declares the LORD, 'Because they have called you an outcast, saying: "It is Zion; no one cares for her."' 18 "Thus says the LORD, 'Behold, I will restore the fortunes of the tents of Jacob and have compassion on his dwelling places; and the city (Jerusalem) will be rebuilt on its ruin, and the palace will stand on its rightful place. (See David Baron's discussion of these crucial passages)
Key Event in Jeremiah: Fall of Jerusalem in Jer 39:1-18. Jeremiah 1:1-38:28 are given to Judah before the fall, but they are not in chronological order. Jeremiah 40-44 address Judah after the fall. Jeremiah 45:1-5 is to Baruch. Jeremiah 46:1-51:64 is to the Gentile nations. Jeremiah 52:1-34 is a historical supplement.
J C Ryle (1880): THE book of the prophet Jeremiah receives from most Christians far less attention than it deserves. It is a noteworthy fact that hardly any portion of Holy Scripture is the subject of so few exhaustive commentaries and expositions.
Jeremiah 1:1-19: INTRODUCTION - JEREMIAH COMMISSIONED
Jeremiah 2:1-20:18: PROPHECIES TO JUDAH, GENERAL AND UNDATED
First message, Jer 2:1-3:5; second message, Jer 3:6-6:30; third message (at Temple gate), Jer 7:1-10:25; fourth message (the broken covenant), Jer 11:1-12:17; fifth message (sign of linen girdle), Jer 13:1-27; sixth message (on the drought), Jer 14:1-15:21; seventh message (sign of the unmarried prophet), Jer 16:1-17:18); eighth message (at city gates), Jer 17:19-27; ninth message (the potter's vessel), Jer 18; tenth message (the earthen vessel), Jer 19:1-15; result, Jer 20:1-18.
Jeremiah 21:1-39:18: PROPHECIES TO JUDAH, PARTICULAR AND DATED.
First (to Zedekiah), Jer 21:1-23:40; second (after first deportation), Jer 24:1-10; third (fourth year of Jehoiakim: he coming Babylonian captivity), 25; third (early reign of Jehoiakim), 26; fourth (early reign of Jehoiakim), 27-28; fifth (to captives of first deportation), 29-31; sixth (tenth year Zedekiah), 32-33; seventh (during Babylonian siege), 34; eighth (days of Jehoiakim), 35; ninth (fourth year Jehoiakim), 36; tenth (siege), 37; result 38-39.
Jeremiah 40:1-44:30: PROPHECIES TO JUDAH AFTER FALL OF JERUSALEM.
Babylonian kindly treatment of Jeremiah (Jer 40:1-6); ill-doings in land of Judaea (Jer 40:7-41:18); Jeremiah's message to remnant in the land (Jer 42); Jeremiah carried down to Egypt (Jer 43:1-7); first prophetic message in Egypt (Jer 43:8-13); second prophetic message to Jewish refugees in Egypt (Jer 44:1-30); result-further rejection of the message by Jewish refugees.
Jeremiah 45:1-51:64: PROPHECIES UPON NINE GENTILE NATIONS.
Preceded by a prefatory note to Baruch the faithful scribe who wrote them (45); first (against Egypt), Jer 46; second, (against the Philistines) Jer 47; third (against Moab), Jer 48; fourth (against the Ammonites) Jer 49:1-6; fifth (against Edom), Jer 49:7-22; sixth (against Damascus), Jer 49:23-27; seventh (against Kedar and Hazor), Jer 49:28-33; eighth (against Elam), Jer 49:34-39; ninth (against Babylon and Chaldea), Jer 50:1-51:64.
Jeremiah 52:1-34: SUPPLEMENT/CONCLUSION - Jerusalem overthrown.
(Adapted from Baxter's Explore the Book)
The book of Jeremiah is unique among the OT prophets, because God reveals the prophet's heart more than with any of the other prophets. "Jeremiah was the prophet of Judah's midnight hour." (Baxter) Jeremiah was the "weeping prophet" (Jer 9:1; 13:17), the "reluctant prophet" (Jer 1:6), "prophet of loneliness" (he was commanded not to marry, Jer 16:2), the persecuted prophet = rejected, ridiculed, beaten, falsely accused -- Jer 11:18-23; Jer 12:6; Jer 15:10; Jer 18:18; Jer 20:1-3 (in stocks); Jer 20:7 (laughingstock) Jer 26:1-24; Jer 37:11-38:28, accused of treachery (Jer 38:4), lowered into a cistern (Jer 38:6); carried, against his will, by his countrymen into Egypt (Jer 43:1–7).
Related Resource: Picture of a Prophet by Leonard Ravenhill
Irving Jensen: NO MORE FITTING INTRODUCTION to the prophecy of Jeremiah could be given in the opening words of the prophecy than by stating where God "found" Jeremiah (among the priests), and what He made of him (a prophet unto the nations). (Everyman's Bible Commentary)
J Sidlow Baxter: Jeremiah is one of the bravest, tenderest, and most pathetic figures in history; and his book of prophecies is one which everybody should read. Indeed, there is good reason why we should read the prophecies of Jeremiah with much thoughtfulness just now, for there is no little correspondence between the fateful days of this noble prophet and our own. ...I know of no man who reveals a truer heart-likeness to Jesus Himself than does Jeremiah, in his suffering sympathy both with God and men, in his unretaliating forbearance, his yearning concern for his fellows, his guileless motive, his humility, his willingness for self-sacrifice, and his utter faithfulness, even to the point of unsparing severity in denunciation. All disappointed, disappreciated, disregarded, misunderstood, misrepresented, and persecuted Christian workers today, sticking on at their work, but with a leaden weight at the heart and a choke of grief in the throat, should turn aside again and again to commune with the heroic great-heart of these pages. Indeed, we cannot properly study this Book of Jeremiah without studying Jeremiah himself; for the man is as much the book as the prophecies which he uttered.... With an intensity of love and sympathy, he himself lived and felt and suffered in his message. His own heart-strings vibrated to every major and every minor chord. The man and his message were one. (Baxter's Explore the Book)
James Van Dine (see below) - "Jeremiah's very personal, and painful, participation in the prophetic enterprise sets him apart as the messenger of God who most identified with the sorrow that Yahweh must have felt over the rejection of His chosen people. Hence, unlike the other writing prophets, the message of Jeremiah is significantly bound up with the prophet's own spiritual and psychological states, induced as they were by the difficulty of his mission and the hostility to its reception. God does not judge without sorrow; his servants cannot but share His own heart for His special people."
G Campbell Morgan's "Living Messages" from Jeremiah (see below): "The permanent values of this book constitute its living message. I utter that in briefest sentences. First, it teaches us that sin is its own destruction. No policy can outmaneuver God. National rebellion is national ruin. Sin carries within itself the force of its own punishment and its own retribution. Secondly, it affirms that the heart of God is wounded by sin. Judgment is His strange act. He weeps over the doom of a city. Finally it declares that the ultimate victory is with God, "He made it again." The Branch is appointed. The King-Priest has come. We are to learn that God must punish sin, that the most awful fact of sin is that it wounds God; and finally, that if we will but have it so, if we will but turn to Him and listen to His call, He overrules by canceling, and breaking the power of sin, makes again the vessel marred in the hand of the potter." (Living Messages of the Books of the Bible - The Message of Jeremiah)
Archaeological Discoveries - Corroborate historicity of biblical accounts of last years of Judah. (1) The Babylonian Chronicle gives information about the campaigns of the Babylonian armies from 626BC on, including capture of Jerusalem in 597. (2) The Lachish letters describe the situation in Judah just prior to Nebuchadnezzar's final siege of Judah in 586. A seal at Lachish bears the name of Gedaliah (Click discussion).(See also interesting discussion of the bullae associated with Gedaliah - example below)  (3) Tablets excavated near the Ishtar Gate of ancient Babylon include the name of "Yaukin [Jehoiachin] king of the land of Yahud [Judah]" as receiving royal bounty (i.e., ration tablets, 2Ki 25:29-30). (From The Ryrie Study Bible)

Click to Enlarge
Jeremiah ministered during the reigns of Judah's last, five kings (Jer 1:1-3). One has but to name these kings - Josiah, Jehoahaz, Jehoiakim, Jehoiachin, Zedekiah - to realize the darkness of those days. Note that unfortunately Jeremiah is not arranged chronologically which can make it difficult for the reader to discern when Jeremiah is actually prophesying. Below is a list of the last five kings with the respective chapters during which Jeremiah ministered (these are approximations).
JEREMIAH'S MESSAGES ARRANGED
BY THE KINGS WHO RULED AT THE TIME OF MESSAGE

Reign
BC

King
of Judah

Jeremiah Ministered During their Reign
In These Chapters (Approximations)

640-609

Greater part of Jeremiah 1-6.

609

3 months - Jeremiah 22:10-12 (King also called Shallum - 1Chr 3:15)

609-598

Jeremiah 7-20, 25-26, 35-36, 46:1-12, 47:1-7 49:1-39

598-597

Jeremiah 22, 23 (also called Jeconiah Jer 24:1 & Coniah Jer 22:24)

597-586

Jeremiah 21, 24, 27, 28, 29, 30-34, 37-44, 46:13-28, 50:1-46, 51:1-64
Henrietta Mears: Jeremiah was assured that Jehovah ordained him to this work before his birth (Jeremiah 1:5). God tells us in Eph 2:10 that we were created unto good works before God even laid the foundation of the world. God has a plan for each one of our lives (Jer 1:1-8). (What the Bible is All about)
Favorite Passages: There are many but here are a few - Jer 2:13, Jer 6:16, Jer 15:16, Jer 17:9-10, Jer 20:9, Jer 23:29, Jer 29:11-13, Jer 31:3, Jer 31:31-34, Jer 32:17
Quotations/Allusions of Jeremiah in NT:
Jer 5:21 > Mk 8:18
Jer 6:16 > Mt 11:29
Jer 7:11 > Mt 21:13; Mk 11:17; Lk 19:46
Jer 9:23, 24 > 1Co 1:31; 2Co 10:17
Jer 10:7 > Re 15:3, 4
Jer 12:3 > Jas 5:5 (Allusion)
Jer 22:24 > Ro 14:11 ("As I live...")
Jer 31:15 > Mt 2:18
Jer 31:31-34 > He 8:8-12
Jer 31:33, 34 > He 10:16, 17
Pastor Ray Stedman applies the warning passages of Jeremiah to us today writing:
We do not want to read this as though it is something remote from us. If you are inclined to say only, "Oh, it's such a pity what's going to happen to Israel," remember that this is your story, too. This is the way God works. He deals with Israel this way because this is the way he deals with everybody. There is a scriptural principle reflected here which all too often we forget. Paul said very plainly in Galatians 6, "Be not deceived [i.e., don't kid yourself]; God is not cheated," (Gal 6:7a). Just because judgment does not fall immediately upon people, they think they have gotten by. But Paul says, "Don't fool yourself; God is not cheated. Whatever a man sows, that he will also reap. For he who sows to his own flesh will from the flesh reap corruption [i.e., trouble, pain, heartache, trial, distress, and disaster]," (Gal 6:7,8a). Now, that is inevitable. God does not cancel that out by the forgiveness of sin. That is part of what we call the natural consequences of evil, the temporal judgment of God. And it is never canceled out, any more than the rest of what Paul says is canceled out: "but he who sows to the Spirit will from the Spirit reap eternal life" (Gal 6:8b) -- life everlasting -- now -- not just in heaven some day but now. The joy and glory of life will come to us if we walk in the Spirit, and that is inevitable. But so is the judgment for our sin. This means, of course, that ultimately a recompense comes to us in life now for the evil in which we have indulged our flesh--whether it is blatant, open, sensual evil, or whether it is inward--spiritual pride, bitterness, and all the other sins of the spirit. It makes no difference. Evil brings its own results. As someone has well said, "You can pull out the nail driven into the wall, but you can't pull out the nail hole. "If you want to study this question further, you can obtain a copy of a message I gave some years ago entitled The Scars of Sin, which touches on this subject. (The Secret of Strength)
Explanation - The following list includes not only commentaries but other Christian works by well known evangelical writers. Most of the resources below are newer works (written after 1970) which previously were available only for purchase in book form or in a Bible computer program. The resources are made freely available by archive.org but have several caveats - (1) they do not allow copy and paste, (2) they can only be checked out for one hour (but can be checked out immediately when your hour expires giving you time to read or take notes on a lengthy section) and (3) they require creating an account which allows you to check out the books free of charge. To set up an account click archive.org and then click the picture of the person in right upper corner and enter email and a password. That's all you have to do. Then you can read these more modern resources free of charge! I have read or used many of these resources but not all of them so ultimately you will need to be a Berean (Acts 17:11+) as you use them. I have also selected works that are conservative and Biblically sound. If you find one that you think does not meet those criteria please send an email at https://www.preceptaustin.org/contact. The resources below are in no particular order. 
Conservative. Literal. Premillennial. Notes are good but somewhat brief. 
The Bible Knowledge Commentary - Jeremiah by Charles H. Dyer 
James Rosscup A concise but carefully-researched conservative work that very often provides good help in explaining verses to preachers, students and lay people. Dyer gets to the flow of the message in Jeremiah, mingles summaries and sections on detail in a good balance, and usually has something worthwhile on key verses or problem passages.
Be Decisive : taking a stand for the truth : OT commentary, Jeremiah by Wiersbe, Warren
Wiersbe's insights are always worth checking for good preaching and teaching ideas. 
Wiersbe's Expository Outlines on the Old Testament by Wiersbe, Warren W 113 ratings
"Even the most difficult Scriptures come alive as Warren Wiersbe leads you book-by-book through the Old Testament and helps you to see the "big picture" of God's revelation. In this unique volume, you will find: • Introductions and/or outlines for every Old Testament book • Practical expositions of strategic chapters • Special studies on key topics, relating the Old Testament to the New Testament • Easy-to-understand expositions that are practical, preachable, and teachable If you have used Dr. Wiersbe's popular BE series, you know how simple and practical his Bible studies are, with outlines that almost teach themselves. If not, you can now discover a wonderful new resource. This work is a unique commentary on every book of the Old Testament. It contains new material not to be found in the BE series.
With the Word - Devotional Commentary - Warren Wiersbe - 428 ratings
Chapter summaries. Good but resource above is more detailed.
Zondervan Illustrated Bible Backgrounds Commentary - Isaiah, Jeremiah, Lamentations, Ezekiel, Daniel
Isaiah 40-66 and Jeremiah by Cundall, Arthur Ernest
Jeremiah and Lamentations; an introduction and commentary by Harrison, R. K.
Rosscup - This famous Old Testament scholar, a conservative, concludes that we have here the basic teachings of Jeremiah under several kings. Lamentations is done by an eye-witness of Jerusalem's fall. In both books, Harrison offers a brief but well informed commentary that is usually quite helpful in getting at what the text means and not substituting redactional theory from another era.
Jeremiah : Prophet of judgment commentary by Jensen, Irving (132 pages) (Also has a self-study guide - Isaiah, Jeremiah : a self-study guide)
Rosscup - Jensen has written a concise evangelical commentary for those who wish for a simple survey. The work is premillennial in its orientation, and is done by a man well-known for his helpful expositional works.
Jeremiah (Bible Study Commentary) by Huey, F. B. 1981. 157 pp.
James Rosscup - Conservative and concise, using a good outline and giving pastors, Sunday School teachers and lay people in general a quick look in a fairly able way. Dyer, Jensen, Kidner and Harrison do it better among the briefer works in overall helpfulness, though this is not to downgrade Huey.
HCSB Study Bible : Holman Christian Standard Bible -
Conservative. Literal. Brief but good notes. Holman's excellent maps.
Believer's Bible Commentary - OT and NT - MacDonald, William (1995) 2480 pages. Conservative. Literal.
Often has very insightful comments. John MacArthur, says "Concise yet comprehensive - the most complete single-volume commentary I have seen." Warren Wiersbe adds "For the student who is serious about seeing Christ in the Word." One hour limit.
Rosscup - This work, originally issued in 1983, is conservative and premillennial, written to help teachers, preachers and people in every walk of life with different views, explanation and application. The 2-column format runs verse by verse for the most part, usually in a helpfully knowledgeable manner, and there are several special sections such as "Prayer" in Acts and "Legalism" in Galatians. The premillennial view is evident on Acts 1:6, 3:20, Romans 11:26, Galatians 6:16, Revelation 20, etc.
The King James Study Bible Second Edition (2013) (Thomas Nelson) contributing editors (only first is listed) include Wayne A. Brindle. 
There is no restriction on length of time one can use, but there is no copy and paste function
Life Application Study Bible: Old Testament and New Testament: New Living Translation.
Has some very helpful notes especially with application of texts. 4,445 ratings 
NKJV Study Bible: New King James Version Study Bible (formerly "The Nelson Study Bible - NKJV") by Radmacher, Earl D; Allen, Ronald Barclay; House, H. Wayne (1997, 2007); 917 ratings 
Helpful notes. Conservative.
KJV Bible Commentary Judges - Hindson, Edward E; Kroll, Woodrow Michael.
This is not a study Bible per se, but a one volume commentary with over 3000 pages of comments covering the entire OT/NT. There is no restriction on length of time one can use, but there is no copy and paste function. These are excellent conservative comments that interpret Scripture from a literal perspective.  User reviews - it generally gets 4/5 stars from users. 
Good notes but not always literal in eschatology and the nation of Israel 6,004 ratings
Zondervan NIV Study Bible - (2011) 2570 pages 
The David Jeremiah Study Bible - (2013) 2208 pages. Logos.com
"Drawing on more than 40 years of study, Dr. David Jeremiah has compiled a legacy resource that will make an eternal impact on generations to come. 8,000 study notes. Hundreds of enriching word studies"50+ Essentials of the Christian Faith" articles." 2,272 ratings
The Defender's Study Bible : King James Version by Morris, Henry M.
Excellent notes by well known creationist. 45 ratings 
Ryrie Study Bible - Charles Ryrie (1978) 2142 pages.
Conservative. Notes are brief. 216 ratings 
Wycliffe Bible Commentary - Charles Pfeiffer - 1560 pages (1962). 214 ratings 
Conservative. Notes are generally verse by verse but brief. 
Rosscup - Conservative and premillennial scholars here have been experts in their fields. The work contains brief introductions and attempts to give a verse-by-verse exposition, though it does skip over some verses. The treatments vary with the authors, but as a whole it is a fine one-volume commentary for pastors and students to use or give to a layman. Outstanding sections include, for example: Whitcomb on Ezra-Nehemiah-Esther; Culver on Daniel; Ladd on Acts; Harrison on Galatians; Johnson on I Corinthians; and Ryrie on the Johannine Epistles.
NIV Cultural Backgrounds Study Bible. Bringing to Life the Ancient World of Scripture Keener, Craig and Walton, John. Editors (2017)
Jeremiah by Davidson, R
Cyril Barber - Covers chaps. 1-20. Helps to explain the words of the Lord through Jeremiah. Contains insightful thoughts on the autobiographical and theological passages in these chapters.
The book of Jeremiah by Thompson, J. A. (John Arthur), 1913-2002
Cyril Barber - New International Commentary on the Old Testament. Grand Rapids: Wm. B. Eerdmans Publishing Co., 1980. This highly competent commentary deals thoroughly with every aspect of the prophet's life and ministry and stresses the importance of Judah's covenant relationship with the Lord. Readers are treated to a careful handling of the Hebrew text ably correlated with the DDS. Also they are given a definitive explanation of the backdrop of the times in the Josianic reformation

Rosscup - This is the most detailed evangelical commentary of recent vintage, competent in its lengthy introduction (pp. 1–136) on scholarly issues and views, details of text, exegesis, history and theology. Much of the commentary is lucidly helpful for the general reader as well as teachers and church workers. It does not take up a number of questions some scholars would like or give a bibliography of the length Thompson might offer. But he is helpful on archeology and the Near Eastern treaty concept. The perspective on prophecy is amillennial
Notes on Jeremiah from his book. Gives Details of a Future & a Hope for Israel
The Jewish Problem (1891) - David Baron is a Jewish believer who lived from 1855-1926 - prior to Israel's rebirth as a nation!
Details of Israel's Future & Hope
Rosscup - Calvin is always worth reading, and one will find much insight at times on verses as well as the character of Jeremiah. The sheer length will keep many away, and several other works get to the point more directly. Calvin is amillennial on passages about Israel's long-range future, and premillennialists will feel that he does strange things with these. (Commentaries for Biblical Expositors)
---
**Caveats Regarding Clarke's Commentary on Jeremiah
Adam Clarke has many excellent comments but unfortunately occasionally misinterprets prophetic passages as illustrated below. Clarke was an Arminian, (e.g., he "suggested that although God can know all future events, He chooses not to know some events beforehand" Baker Encyclopedia of the Bible, page 808), did not always interpret Scripture literally and thus not surprisingly was amillennial (did not believe Messiah would reign 1000 years in His earthly Kingdom - he interpreted Revelation as a Historicist) which led him to misinterpret the church as fulfilling many Old Testament promises given to Israel. He was influential in the development of the doctrine of entire sanctification. Although Clarke affirmed the authority and sufficiency of Scripture, thus holding to a belief of "plenary dynamic inspiration" (idea of every thought inspired), he fell short of a belief in the "plenary verbal inspiration" (every single word inspired) (Bibliotheca Sacra: Volume 125, p 163, 1968). In summary, Adam Clarke can be a useful commentary but in view of some of his beliefs you are advised to "Be a Berean" when utilizing his material, lest you become confused by his comments on prophetic passages.
C H Spurgeon writes that "If you have a copy of Adam Clarke, and exercise discretion in reading it, you will derive immense advantage from it, for frequently by a sort of side light he brings out the meaning of the text in an astonishingly novel manner. I do not wonder that Adam Clarke still stands, notwithstanding his peculiarities, a prince among commentators." (in Commenting and Commentaries).
As an aside considerable discretion is advised in consulting older commentaries (Calvin, Gill, Henry, etc) on Jeremiah (and other prophetic books of the OT) because they all tend to see the church in OT passages where the literal interpretation leaves no room for such a conclusion.
The most conservative, evangelical and millennial resources on this page are Ray Stedman, David Guzik, Thomas Constable, most of the resources listed under "Miscellaneous" (unless there is a disclaimer or caveat) and the NET Bible (notes on each verse)
Below is an example to illustrate how Clarke at times misinterprets (in my opinion as a Literalist) prophetic passages...
Jeremiah 23:6 "in His days (In context referring to Messiah at the time of the Millennium) Judah shall be saved and Israel will dwell securely.
Clarke correctly comments on this passage that
The real Jew is not one who has his circumcision in the flesh, but in the spirit. (Ro 2:28-29-See notes Ro 2:28; 2:29)
Clarke who is an amillennialist goes on to state that
The real Israel are true believers in Christ Jesus; and the genuine Jerusalem is the Church of the first-born.
Clarke incorrectly equates "the real Israel" with all believers, Jew and Gentile, but that is not what the text says (see also discussion of NT phrase Israel of God). Jeremiah makes no mention of the church in this text and in fact Paul makes it clear that it was a mystery (hidden in the OT but revealed to him in the NT - see Eph 3:3-4-note, Eph 3:9-note) The literal interpretation, which makes the most sense, is that Jerusalem is the literal city (not a symbolic representation of "the church" - nothing in the text or context supports this interpretation!) and at the return of the Messiah ("the Righteous Branch") to rule and reign, the Jews who are saved by placing their faith in their Messiah - the phrase "shall be saved" parallels several other passages:
[1] Jeremiah 30:7 Alas! for that day is great, There is none like it; and it is the time of Jacob's distress, But he will be saved from it.
"That day" and "the time of Jacob's distress" refers to the time of Jacob's distress or the last 3.5 years of Daniel's Seventieth Week which Jesus designated as the "Great Tribulation" in Matthew 24:21,
[2] Zechariah 13:8, 9 "And it will come about in all the land," Declares the LORD, "That two parts in it will be cut off and perish; But the third will be left in it.9 "And I will bring the third part through the fire, Refine them as silver is refined, And test them as gold is tested. They will call on My name, And I will answer them; I will say, 'They are My people,' And they will say, 'The LORD is my God.'"
Zechariah refers to "one-third" that Jehovah brings through the fire which equates with "all Israel" who will be saved as explained by Paul.
[3] Romans 11:26-27-note and thus all Israel will be saved; just as it is written, "THE DELIVERER WILL COME FROM ZION, HE WILL REMOVE UNGODLINESS FROM JACOB (refers to Israel). AND THIS IS MY COVENANT WITH THEM, WHEN I TAKE AWAY THEIR SINS. (see commentary notes)
These saved Jews ("all Israel") which constitute "the third (that) will be left" (see synonym = remnant) will enter into Messiah's 1000 year earthly kingdom and for the first time in all of world history, Israel will be at peace and will finally dwell securely in her land as Jeremiah had prophesied some 2500 years earlier. Adam Clarke's interpretation blurs the distinction between Israel and the church.
Comment: Note that Constable's notes are also paired with the NET Bible notes (click for links) and both synchronize to the chapter/verse you are studying, which is a very nice feature. Both are conservative and generally literal in interpretation. See this source for introductory comments not found in the source below.
Mp3 Only Click here for links to sermons listed below
Note: This resource is listed because it has numerous commentary notes that relate to the OT Prophetic Books
The Basis for the Messianic Kingdom, New Covenant (Jer 31:31-34): Israel's Regeneration, Land Covenant: Israel's Regathering; Abrahamic Covenant: Possessing the Land; Davidic Covenant: Re-Establishing David's Throne; Other Characteristics of Israel's Final Restoration
Brief but conservative notes from a literal perspective
I. Jeremiah 1-13 The Prophet's Call to Repentance. The Nation's Impenitence. The Judgment Announced
II. Jeremiah 14-39 The Prophet's Ministry Before the Fall of Jerusalem. The Prophecies of Judgment & Restoration.
The Personal History of Jeremiah. His Faithfulness & His Suffering.
III. Jeremiah 40-45 After the Fall of Jerusalem.
IV. Jeremiah 46-51 The Prophecies Concerning the Gentile Nations
V. Jeremiah 52 The Historical Appendix
Comment: Be aware that while devotionally Henry's writings are excellent, his comments on prophetic passages are occasionally non-literal with a tendency to "replace" passages directly addressed to Israel as if they were originally written to the NT Church. E.g., here is a portion of his comment on Jer 30:7 - "Jacob's troubles shall cease: He shall be saved out of them. Though the afflictions of the church may last long, they shall not last always. Salvation belongs to the Lord, and shall be wrought for His church." There is nothing in the context that prohibits one from interpreting Jer 30:7 as referring to a literal Jacob. No where in the Bible is Jacob stated to be a synonym of the "church." Let me suggest before you read Matthew Henry's comments, you take time to read the text for yourself, literally and in context (unbiased and without the "grid" of any particular system of theology, whether it be dispensational, reformed, covenant, etc), asking your Teacher the Spirit to guide you into all truth and He will! (Jn 16:13, cp 1Jn 2:20, 27 where "anointing" refers to the Holy Spirit Who now indwells all believers). Contrast Henry's comment with the following interpretation from another "older" commentary source, Jamieson, et al (below), who states the following regarding Jer 30:7 "The partial deliverance at Babylon's downfall prefigures the final, complete deliverance of Israel, literal and spiritual, at the downfall of the mystical Babylon." (Rev 18:1–19:21)." (Bolding mine)
---
God chooses unlikely instruments to do His work. He chose the sensitive, shrinking Jeremiah for what seemed a hopeless mission, with the words: ''Say not, I am a child: for on whatsoever errand I shall send thee thou shalt go, and whatsoever I shall command thee thou shalt speak. Be not afraid. I am with thee to deliver thee'' (Jer 1:7-9, RV). And Jeremiah proved worthy of the trust. Though his heart was wrung with the severe denunciations he had to give, and with the stubborn rejection of them by his people, though he often poured out his complaints to God, and even went so far as to say that he would not speak any more in His Name, yet we never once find him turning back from the path of duty. Imprisoned again and again, put in the stocks (Jer 20:2), lowered by ropes into a miry dungeon (Jer 38:6) -- probably an empty cistern -- mocked, derided (20:7), a man of strife and contention to the whole world (Jer 15:10), accused of treachery to his country (Jer 38:4), opposed by false propets (Jer 23, 28), confronted by an angry people who clamored for his life (ch. 26), carried, against his will, by his countrymen into Egypt (Jer 43:1-7), --under all these circumstances Jeremiah went steadily on, delivering his message with unswerving fidelity for over forty years.

Jeremiah prophesied for eighteen years during the reign of Josiah, then during the reigns of the [last] four kings of Judah till after the capture of Jerusalem and the end of the kingdom. He was thus about a hundred years later than the prophet Isaiah. His home was in the village of Anathoth, a few miles north of Jerusalem, and he was by birth a priest. It is possible, though not certain, that his father, Hilkiah, was the High Priest who discovered the book of the Law in the Temple during the reign of Josiah (see the Cambridge Bible for Schools). In any case, the discovery had as marked an effect upon the ministry of the young prophet as upon the conduct of the young king. Jeremiah, no doubt, strengthened Josiah's hands in his work of reform and against forming an alliance with Egypt. Though Jeremiah had many enemies, God gave him some true friends, from Josiah the king down to Ebed-melech the Ethiopian who rescued him from the dungeon [Jer 38:7-13].
Courage.
Jeremiah's fearlessness in the face of danger is shown most conspiciously in chapter 26, where the Lord sends him to give His message in the Temple court and admonishes him not to diminish a word. So incensed were the priests and the people, that they took him, saying: ''Thou shalt surely die.'' ''As for me,'' replied the prophet, ''behold, I am in your hand; do with me as seemeth good and meet [ie., suitable] unto you: but know ye for certain, that, if ye put me to death, ye shall surely bring innocent blood upon yourselves: for of a truth the Lord hath sent me unto you, to speak all these words in your ears.''
Three Great Events.
There were three great events in the life of the prophet:

The battle of Megiddo, between Judah and Pharaoh Necho, where the good king Josiah was slain, and was deeply mourned by his people, Jeremiah writing a lament concerning him.

The battle of Carchemish, near the same spot, four years later, in the reign of Johoiakim, who had become the vassel of Egypt. In this battle, the Egyptians were wholly defeated by the Babylonian forces under Nebuchadnezzar, and it was followed by the first deportation of Jews to Babylon.

The third great event was the capture of Jerusalem by Nebuchadnezzar, the destruction of the city and the Temple, and the exile of the greater part of the remainder of the people to Babylon.

In such troublous times as these, Jeremiah lived. The life of the nation from the time of Manasseh, the grandfather of Josiah, was corrupt in the extreme. The reforms of Josiah seemed only to touch it on the surface, and temporarily; after his death the nation sank back into the worst forms of idolatry and into every kind of iniquity. Jeremiah's mission was to endeavour to turn his people back to their God. During the reign of Josiah, he began to prophesy the dreadful calamity threatening from the North, unless they would repent. Judah's salvation was still possible, but each year her guilt became heavier and her doom more certain.

The Lord raised up Nebuchadnezzar to execute His judgment upon Judah. He gave him universal dominion, and even called him ''My servant''. It was because God revealed this to Jeremiah, that we find him advocating submission to Nebuchadnezzar, and it was for this that his people accused him of treachery. After the destruction of Jerusalem, Jeremiah was given his choice whether he would go to Babylon or remain with the remnant that were left in the land. He chose the latter. Days of darkness followed. Jeremiah exhorted his people to obey the voice of the Lord and remain in the land, and not to flee to Egypt. But they refused to obey, and they carried Jeremiah with them into Egypt, where, tradition says, he was stoned to death.
Brickwork in Egypt. [Chapter 43]
When Johanan and the chief of the captains refused to obey the voice of the Lord by Jeremiah, and persisted in going down into Egypt with all the remnant of Judah-- men, women, and children, including the King's daughters-- they came and dwelt in Tahpanhes. At the commandment of the Lord, Jeremiah took great stones and hid them under the large platform, or pavement of brickwork, at the entry of Pharaoh's house in Tahpanhes, and prophesied that over these stones Nebuchadnezzar should one day set his throne and spread his royal pavilion. Dr. Flinders Petrie has discovered ''the palace of the Jew's daughter'' at Tahpanhes. Tahpanhes seems to have been an old fort on the Syrian frontier, guarding the road to Egypt, and evidently a constant refuge for the Jews. In front of the fort is a large platform or pavement of brickwork, suitable for outdoor business, such as loading goods, pitching tents, etc. -- just what is now called a mastaba. Dr. Petrie says: ''Now Jeremiah writes of the pavement (or brickwork) which is at the entry of Pharaoh's house in Tahpanhes; this passage, which has been an unexplained stumbling-block to translators hitherto, is the exact description of the mastaba which I found, and this would be the most likely place for Nebuchadnezzar to pitch his royal tent as stated by Jeremiah.'' [Ten Years' Digging in Egypt, pp. 50-54, Dr. Petrie]
The Heart.
(Ed: Here are all the uses of heart in Jeremiah - Jer 3:10, 15, 17; 4:4, 9, 14, 18-19; 5:23-24; 7:24; 8:18; 9:14, 26; 11:8, 20; 12:3, 11; 13:10, 22; 15:1, 16; 16:12; 17:1, 5, 9-10; 18:12; 20:9, 12; 22:17; 23:9, 17, 20, 26; 24:7; 29:13; 30:24; 31:20, 33; 32:39-41; 48:36, 41; 49:16, 22; 51:46; Lam. 1:20, 22; 2:11, 18-19; 3:41, 65; 5:15, 17)

''Jeremiah was, of all the prophets of the Old Testament, the supreme prophet of God to the human heart. In season and out of season, for a long lifetime, he laid seige to the hearts of his hearers. The cure of all your famines, he cried, and all your plagues and all your defeats and all your captivities-- the cause and the cure of them all is in your own heart: in the heart of each inhabitant of Jerusalem and each captive in Babylon.'' [Bible Characters, p. 153, Dr. Alexander White]

''His ministry was one of admonition and antagonism. Against the whole land, against the kings of Judah, against the princes, against the priests, against the prophets was he to stand. He was to gird up his loins and arise, and speak all that God commanded him. He was to be the solitary fortress, the column of iron, the wall of brass, fearless, undismayed in any presence; the one grand, immoveable figure who pursued the apostatising people and rulers, delivering his message in the Temple court or the royal chamber or the street, whether they would hear or whether they would forbear. In consequence he was the prophet of unwelcome truths, hated of all, but feared as well by all. It was a mission requiring courage, faith, strength, will; a mission no weakling could fill, no coward would undertake. Jeremiah is one of the very great men of the world.'' [Outline Studies, Moorehead]

To Jeremiah was committed the hopeless task of trying to bring back his people at the eleventh hour. He prophesied the seventy years' servitude of the Jews to Babylon, urging them to settle down to the life of that city and to seek its peace. He prophesied as certainly the restoration of his people and the unalterable love of God to them. At the very time of the siege of Jerusalem, and from his prison cell, Jeremiah, at the bidding of the Lord, purchased a field from his cousin Hanameel as a proof that Israel should be restored to their land.
Prediction.
Jer 50 and Jer 51 give us a picture of the whole of Babylon's future. Those who deny the miracle of prophetic prediction, for the same reason, deny that these chapters were written by Jeremiah. They suppose them to have been written by a follower of the prophet, accustomed to use similar phraseology, and that he wrote them not long before the fall of Babylon. Against this theory we have the following facts--

Even those, who deny that Jeremiah was the author, admit that the style of those two chapters presents all the characteristics of the special style of the prophet.

Those two chapters in particular are more carefully authenticated as being by Jeremiah than any other portions of the book: Chapter 50 beginning with the words, ''The word that the Lord spake against Babylon by Jeremiah the prophet,'' and chapter 51 closing with, ''Thus far are the words of Jeremiah.'' To impugn their authorship is to impugn their honesty.

To place the prophecy at the time when Babylon was about to be taken by Cyrus does not do away with the miracle of prediction, for many of the details of the prophecy were not fulfilled [until] more than five centuries later. At the time of the conquest... the walls were not thrown down; neither sower nor reaper was cut off from Babylon; she was not deserted of her population; and the utter desolation described in these two chapters did not take place at that time, but was fulfilled to the letter long years after.

(Editorial comment: I do not agree with this statement and feel that Revelation 17-18 describes the final fall of Babylon - see Tony Garland's interesting discussion Babylon and the Harlot and Dr Charlie Dyer's paper entitled The Biblical Argument for the Rebuilding of Babylon.)
Sacrifice.
In Jeremiah 7:22,23 we read, ''I spake not unto your fathers, nor commanded them in the day that I brought them out of the land of Egypt, concerning burnt offerings or sacrifices: but this one thing I commanded them, Obey My Voice.'' These words are not opposed to the history as contained in the Pentateuch, nor a proof, as some allege, that ''the Levitical Code'' was not in existence in Jeremiah's day. This sentence is a figure of grammar, of frequent occurrence in both Old and New Testaments, as scholars have pointed out over and over again. The figure is this: That a negative followed, generally though not always, by a adversative particle (generally the conjunction ''but'') is frequently not a negative at all, but a form of comparison. For instance,
''For I desired mercy, and not sacrifice; and the knowledge of God more than burnt offerings'' (Hos 6:6);

''You sent me not hither, but God'' (Gen 45:8). These words of Joseph in no way deny the historical fact that it was his brethren who sent him.

''Your murmurrings are not against us, but against Jehovah'' (Ex 16:8). This only means more against Jehovah than against Moses and Aaron.

So also, ''They have not rejected thee, but they have rejected Me'' (1Sam 8:7), only means, it was more against Jehovah than against Samuel.

''Receive my instruction, and not silver; and knowledge rather than choice gold'' (Prov 8:10).

''Rend your heart and not your garments'' [Joel 2:13].

In the New Testament, this figure of grammar occurs over and over again.

''Labor not for the meat which perisheth, but for that meat which endureth unto everlasting life'' (John 6:27).

''In this rejoice not, that the spirits are subject unto you; but rather rejoice, because your names are written in heaven'' (Luke 10:20).

''The word which ye hear is not Mine, but the Father's which sent Me'' (John 14:24).

See also Mat 6:19,20; John 7:16; Col 3:2,22,23, etc.
In all these places, the negative is not a literal negative at all, but is a strong and striking form of the comparative. In this form, or figure, the negative does not exclude the thing denied, but only implies the prior claim of the thing set in opposition to it (Rev. James Neil).

The essence of the covenant He made with them at Sinai was obedience: ''If ye will obey My voice, and keep My covenant, then ye shall be Mine own possession'' [Ex 19:5, RV]. The appointment of the Levitical Law was a part of the obedience which formed the essence of the covenant.
A Type of Christ.
Jeremiah was a true foreshadowing of Christ. It is hardly to be wondered at that some mistook the Man of Sorrows for the prophet of the broken heart (Mat 16:14). He wept over his people as Jesus wept over them (Jer 9:1) [cp. Luke 19:41-44]. His rebuking of sin brought him reproach and rejection and suffering as it brought our Lord [cp. Psa 69:7-13]. He compares himself to a lamb or an ox brought to the slaughter (Jer 11:19) [cp. Isa 53:7].
The Messiah.
Jeremiah does not unfold to us as much of the coming Messiah as Isaiah does, but we have glimpses of Christ --

as the Fountain of Living Waters (Jer 2:13),

as the Great Physician (Jer 8:22),

as the Good Shepherd (Jer 31:10; 23:4),

as the Righteous Branch (Jer 23:5),

as David the King (Jer 30:9),

as the Redeemer (Jer 50:34),

as the Lord our Righteousness (Jer 23:6).
At the very time that David's throne was imperiled, and justice and equity almost unknown, the prophet announced the coming of a King of the House of David, a righteous Branch, who should reign and prosper, and execute judgment and justice in the earth. ''In His days Judah shall be saved, and Israel shall dwell safely; and this is His name whereby He shall be called, THE LORD OUR RIGHTEOUSNESS'' -- Jehovah Tsidkenu [Jer 23:6]. In this majestic name the Godhead of our Saviour is predicted, and, as a descendant of David, His humanity.
The New Covenant.
God says, by His servant, that He will make a New Covenant with the House of Israel and with the House of Judah (Jer 31:31-37-note). In the New Testament, this is distinctly applied to the Jews of the future (Ro 11:26,27; Heb 8:8-13). Christ is the Mediator of this better Covenant (Heb 12:24). The prophecy points forward to His day, and includes, not the Jews only, but all who know Him as their Saviour and Mediator. It shows the spiritual nature of His kingdom, in which His Laws will be written on our minds to make us know them, and on our hearts to make us love them, and he will give us His Spirit to enable us to do them.
Backsliding.
The grievous famine of Jer 14:1-9 may be applied spiritually, as a picture of the heart that has known the Saviour and has backslidden from Him. It is a parched land. No water, no rain, no grass, no herbage (R.V.). The Lord [is] a stranger in the land, ''as a mighty man that cannot save.'' How graphically this describes many a heart whose own sin and unbelief are ''limiting the Holy One of Israel.'' Jeremiah is the book for backsliders. It reveals the tenderness of the Lord's love, and contains His gracious invitation to them, and their resolve with regard to Him:

''Return, ye backsliding children, and I will heal your backslidings.

Behold, we come unto Thee; for Thou art the Lord our God'' (Jer 3:22).

Editorial Note - see in depth discussion of Backsliding
Questions.
The book contains various questions, the answers to which can only be found in the Gospel of our Lord Jesus Christ.

''How shall I pardon thee?'' Jer 5:7; Eph 1:7.

''How shall I put thee among the children?'' Jer 3:19; John 1:12.

''Is there no balm in Gilead? is there no Physician there?'' Jer 8:22; Mat 9:12.

''Can the Ethiopian change his skin, or the leopard his spots?'' Jer 13:23; Acts 8:37; 2Pet 3:14.

''How wilt thou do in the swelling of Jordan?'' Jer 12:5; 1Cor 15:55-57.

''Where is the flock that was given thee, thy beautiful flock?'' Jer 13:20; Col 1:28; Heb 13:17.
Gospel Texts.
[The book of Jeremiah] contains, likewise, various texts which would supply subjects for Gospel sermons. [Note that in their contexts, these passages apply directly to Israel. However, Israel's condition illustrates the need of all peoples for the salvation provided in the Gospel of Christ. The texts in brackets are suggested as possibilities for developing each theme.]

''What wilt thou say when He shall punish thee?'' Jer 13:21 
[cp. 1The 5:3; Heb 9:27].

''The heart is deceitful above all things, and desperately wicked...'' Jer 17:9 
[cp. Psa 51:5; Prov 28:26; Mar 7:21-23; Jam 1:14,15]

''Flee, save your lives, and be like the heath (ie., juniper) in the wilderness.'' Jer 48:6 
[cp. Prov 6:4,5; Luk 3:7; Heb 6:18].

''My word is like a fire, and like a hammer that breaketh the rock in pieces.'' Jer 23:29
[cp. 2Cor 10:4,5; Heb 4:12].

''Break up your fallow ground.'' Jer 4:3
[cp. Mat 13:7,22; Gal 6:7,8].

''Her sun is gone down while it is yet day...'' Jer 15:9
[cp. 2Cor 6:1,2].

''I know the thoughts that I think toward you, saith the Lord, 
thoughts of peace and not of evil...'' Jer 29:11
[Isa 55:8-11; 1Cor 2:9,10; Mat 11:25-30].

''I have loved thee with an everlasting love; 
therefore with lovingkindness have I drawn thee.'' Jer 31:3
[cp. 1Joh 4:19; 2Tim 1:9; Eph 2:4,5].

''Ye shall seek Me, and find Me, when ye shall search for Me with all your heart.'' Jer 29:13
[Joel 2:12; Luk 11:9-13].

''Ask for the old paths. . . and ye shall find rest for your souls.'' Jer 6:16
[cp. Isa 8:20; Joh 5:39,46; Rom 4:1-6; Col 2:6].

''They shall ask the way to Zion, with their faces thitherward...'' Jer 50:5
[cp. John 7:17; Acts 11:23].

''My people have been lost sheep. . . they have forgotten their resting place.'' Jer 50:6
[Psa 119:176; Isa 53:6; Mat 18:11-13; 1Pet 2:25].

''The time of their visitation...'' Jer 8:7,12 [See references below].

''The harvest is past, the summer is ended and we are not saved.'' Jer 8:20
[Luk 13:25-29; 19:41-44; Heb 3:8-13].

''There is nothing too hard for Thee.'' Jer 32:17
[cp. Heb 1:1-3; Luk 1:37; 18:25-27; Eph 2:15-22; 3:8-11].
The Penknife. [Jeremiah chapter 36]
The Book of Jeremiah throws much light on the subject of inspiration. It is a helpful study to take one's Bible, and beginning with the first verse, to mark all the expressions which assert or imply that God spake by Jeremiah, such as, ''Thus saith the Lord,'' ''The Lord said unto me,'' ''The word of the Lord came,'' etc. Such expressions occur sometimes a dozen times in one chapter, and in them Jeremiah unhesitatingly claims inspiration.

As we read on, a scene rises before us. We see Jeremiah in prison. The rulers have bound him that they may be no longer troubled by the word of the Lord. God tells him to take a roll [ie., a scroll] and write in it all the words that He had spoken unto him from the days of Josiah unto that day. We can picture the prophet in the dimly lighted dungeon, with his faithful friend Baruch at his side, busily writing down the words on the roll as the prophet spoke them. ''And Baruch wrote from the mouth of Jeremiah all the words of the Lord, which He had spoken unto him, upon a roll of a book. And Jeremiah commanded Baruch, saying, I am shut up; I cannot go into the house of the Lord; therefore go thou, and read in the roll, which thou hast written from my mouth, the words of the Lord, in the ears of the people, in the Lord's House upon the fasting day.'' What Baruch holds in his hand, and what he reads in the ears of the princes, priests, and people, are ''the words of the Lord.'' The roll is long. It contains every prophecy which Jeremiah has uttered up to that time. But none of the words, many as they are, are given as his words. They are, all of them, God's words.

But this is not all. After Baruch had read the roll to the people, he was sent for by the Royal Council and commanded to read it to them. The great officials of Jerusalem said to Baruch, ''Tell us now, How didst thou write all these words at his mouth?'' Then Baruch answered them,

''He pronounced all these words with his mouth, 
and I wrote them with ink in the book.''

[Afterwards, the rulers] brought the roll to the King.

Here another scene rises before us. We are no longer in the dark dungeon, but in the winter palace of Jehoiakim, surrounded by all the magnificent luxury of an Eastern Court. When the monarch had heard three or four leaves of the roll, he had had enough. He asked for the roll, cut it in pieces with a penknife, and cast it into the fire that was upon the hearth. ''It was his last chance, his last offer of mercy: as he threw the torn fragments of the roll on the fire, he threw there, in symbol, his royal house, his doomed city, the Temple, and all the people of the land'' (Speaker's Commentary).

Jeremiah and Baruch were ordered to be taken, and would, no doubt, have been treated with ferocity, ''but the Lord hid them.'' And now in their seclusion, another task was [given to] them. The Lord commanded Jeremiah to take another roll, and to write in it ''all the words of the book which Jehoiakim king of Judah had burned in the fire; and there were added besides unto them, many like words.'' Other words were added, but the body of the sacred book was word by word the same as the first. [The Inspiration and Accuracy of the Holy Scriptures, pp. 44-47, Urquhart.]

Man may cut God's Word to pieces with the penknife of his intellect. Like Jehoiakim, he may cast his hope of salvation in the fire. But ''the word of the Lord endureth for ever'' and by that word shall he be judged in the last day (1Pet 1:25; John 12:48).
''My Word -- Fire.'' [Jer 20:7-18]
The stern messages Jeremiah had to give were so foreign to his sensitive nature that it could only have been the deep conviction, that they were the words of the Lord, that enabled him to give utterance to them. Like Job, he deplores the day of his birth; he sits alone because of the Lord's hand; he complains that he is in derision daily; the word of the Lord was made a reproach unto him, for His sake he has suffered rebuke; cursed by every one, mocked, defamed, watched by all his familiars for his halting [ie., stumbling], -- is it likely that Jeremiah would have gone on, if he had not been certain that the Lord had commissioned him? 

As we have already seen, he contemplates speaking no more in the name of the Lord, ''But,'' he says, ''His word was in my heart as a burning fire shut up in my bones, and I was weary with forbearing, and I could not stay [ie., I was unable to maintain silence]'' [Jer 20:9]. With such a fire burning in his heart, is it any wonder that the Lord's promise was fulfilled, ''Behold, I will make My words in thy mouth fire''? [5:14]. The Lord also promised him, ''If thou take forth the precious from the vile, thou shalt be as My mouth'' [15:19]. ''Thy words were found,'' he says to the Lord, ''and I did eat them; and Thy word was unto me the joy and rejoicing of mine heart'' [15:16]. In his prayers to God, Jeremiah reveals the secret workings of his heart. He was emphatically a man of prayer, a man who understood the meaning of communion with his God.
---
ANOTHER SOURCE OF IRONSIDE'S NOTES ON JEREMIAH
Published 1871 - This is one of the better "older" OT commentaries - Tends to be a more literal interpretation of prophecy (see note above)
Unabridged Version
Be a Berean! Not Always a Literal Interpretation
Another Source for Brief Comments on Each Chapter of Jeremiah
OUR DAILY HOMILY
Sermon Excerpt (Maclaren's comment on Jer 14:9): And the final plea is the appeal to the perennial and essential relationship of God to His Church. 'We are called by Thy name' (Jer 14:9)—'we belong to Thee. It were Thy concern and ours that Thy Gospel should spread in the world, and the honour of our Lord should be advanced. Thou hast not surely lost Thy hold of Thine own, or Thy care for Thine own property.'

Comment: In the context of Book of Jeremiah who is "we" in Jer 14:9? Who is speaking? Is he a Jew or a Gentile? The obvious answer is that the speaker is the Jewish prophet Jeremiah. Maclaren interprets this as directed to "His Church". We need to remember that the original text has only one valid, literal interpretation (cp Interpretation). This does not mean that Biblical texts originally given to Judah or Israel cannot be applied to the NT Church or to NT believers personally, because indeed they can (see Application). In summary, I love Maclaren's excellent expositions, but one must be mindful that he does not always interpret the text literally in the Book of Jeremiah.
The two sites above list their selection of top 5 commentaries on the book of Jeremiah. While I do find both of these sites helpful on certain books of the Bible, their recommendations on Jeremiah (and most other OT prophetic books like Isaiah and the Minor Prophets) clearly seem to manifest a bias against commentaries that interpret the prophetic passages literally, especially those passages having to do with the future of the nation of Israel. In fact in my humble opinion (you might question whether it is "humility" to make this statement) none of the "top 5" (and even the alternates on Ligonier's site) are very helpful on the prophetic passages in the "Book of Consolation" (Jeremiah 30-33) (with the exception of an occasional sentence that seems to interpret the text literally in Lundborn). And while Ryken is very readable and has many excellent points of application, sadly he assiduously avoids literal interpretation in the prophetic passages.

That said, if you are interested in resources that read and interpret the text literally (as written by a literal Jewish man Jeremiah to a literal Jewish nation, Israel) then check out Jeremiah, Lamentations- An Exegetical and Theological Exposition of Holy Scripture -The New American Commentary by Huey. It is a well done literalistic commentary (notice that it is not even given honorable mention status in either of the above two lists of "best commentaries" which tends to substantiate my suspicion that there is bias against literalistic interpretation.)

Although the comments in the following three study Bibles are short, they both reflect a literal interpretation of the text -

MacArthur Study Bible (this is not free), the Holman Christian Standard Bible Study Bible (which is free) and the Defender's Study Bible by well known creationist Dr Henry Morris (which is also free). 

The ESV Study Bible is literal in interpretation in many prophetic passages but tends to gravitate toward a more figurative interpretation of other prophetic passages. The Reformation Study Bible is largely non-literal in interpretation of prophetic passages related to Israel should be used with a healthy Berean-like mindset (Acts 17:11-note).

If you are interested in understanding what the plain sense of Jeremiah's message meant in the highly prophetic section Jeremiah 30-33 ("The Book of Consolation"), I have compiled in depth, verse by verse notes on each chapter. I am a retired medical doctor and do not have a seminary degree and approach the text simply reading it in a normal fashion. In so doing if the plain sense of the text makes good sense in context, I seek to make no other sense out of it lest it be shown to be nonsense. In short, I am an avowed "Literalist" so to speak and not a dispensationalist. Below are links to the notes on these four incredible chapters in which the non-lying, covenant keeping God promises the literal nation of Israel a literal future and a literal hope (Jeremiah 29:11)...
Below is another resource that is a more complete listing of evangelical commentaries on Jeremiah, but they do not all interpret Jeremiah from a literal perspective so again the wise reader is cautioned to be a Berean!
Note that the 2010 Revised Version of Jeremiah in the Expositor's Bible Commentary is not written by Feinberg but by Michael Brown, a well known believing Jewish writer. (See blogpost by Dr Brown - Entering the World of Jeremiah)

Rosscup - This well-done, 335-page work eventually came to be in Volume 6 of the Expositor's Bible Commentary. It joins Feinberg's other works on Ezekiel, Daniel, and the Minor Prophets. A good introduction on the most notable issues climaxes with a lengthy list of commentaries and a few journal articles, a six and a half page outline, then the text of the N. I. V. (North American, 1978), and the exposition. Comments clarifying Hebrew meanings appear both in the exposition and in special notes. Feinberg gives space to different views, as on the passage of the linen belt (13:1–7) and the Branch (23:5, 6), but clearly supports his preference. He favors a premillennial view on the fulfillment of prophecies about Israel's far future, and his work is the best detailed effort by a pre-millennialist to date. (Commentaries for Biblical Expositors)
On Galaxie Software you can search articles in >30 conservative Theological Journals (by verse, author, etc) - A $50 yearly or $5 monthy fee (click here) is required to view the entire article but will give you access to literally thousands of conservative articles. Here are some examples of articles on a simple search 
Articles below are free online..
Excerpt from Couch: Jeremiah 30 may be one of the most important prophecies in our Old Testament. It gives without apology the remarkable premillennial doctrine about the return of the Jews to the land. What do some of the greatest Bible teachers write about this chapter?
Excerpt Review: Derek Kidner. The Message of Jeremiah. The Bible Speaks Today; Downers Grove, IL: InterVarsity, 1987. 176 pp. This is a broad exposition of the book that is quite refreshing. Kidner displays his usual high standard of readability, conservatism, conciseness, and directness regarding many issues. Yet he is amillennial on the main prophetic section (chaps 30-33), expecting a spiritual rather than a literal realization.
Jeremiah Overview - excerpt...

The Man, Jeremiah - Jeremiah is better known than most prophets because of the many biographical sections in the book. We have greater insight into his personality, his struggles and his commitment to the Lord who called him than in any other OT prophet.

Jeremiah was born in the village of Anathoth north of Jerusalem and was the son of Hilkiah who was a priest. This priestly family was probably descended from Abiathar whom Solomon banished to Anathoth because he supported Adonijah (1 Kings 2:26). Jeremiah was apparently young when he was called (Jer 1:6). His ministry spanned forty years from the thirteenth year of Josiah to some time after the destruction of Jerusalem in 586 BC2

The Milieu - This historical background given above describes the situation in which Jeremiah ministered. He began in the thirteenth year of Josiah's reign and so shared in the early period of reform. With Josiah's death, Jeremiah's ministry became increasingly difficult, since there was no support from the throne. In spite of the fact that his early prophecies proved true, he was still treated roughly when he tried to turn the minds of the officials, priests and people to the Lord and to get them to submit to inevitable adversity under Nebuchadnezzar.

The Call Theme in Jeremiah - When God calls Jeremiah to the prophetic ministry, he tells him there will be six negative and two positive components in his message: to tear down, destroy, pluck up, and root out and to build and to plant (Jer 1:10). These phrases are reiterated in full or in part several times in the book. At least four of the words appear in Jer 1:10; 18:7,9; 24:6; 31:28; 42:10. Between one and three occur in Jer 12:14-17; 31:4,5; 31:40; 32:41; 33:7; 45:4.

Below are Heater's 3 charts depicting the structure of the respective chapters: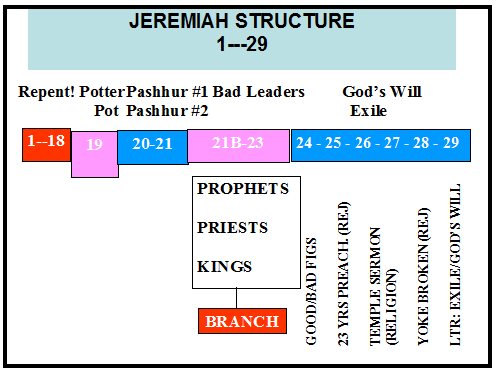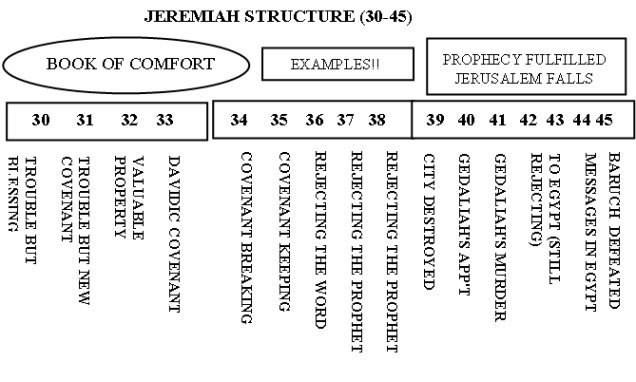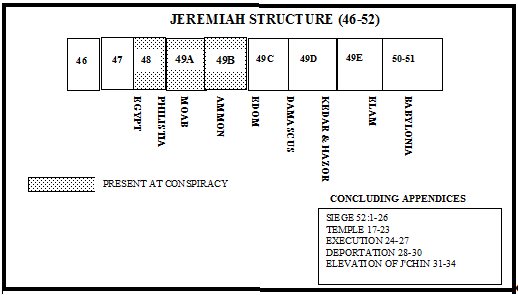 Here is an excerpt from the HCSB Study Note on Jeremiah 30:3 - The days are...coming announces eschatological times (Jer 3:16; 16:14; 23:5; 31:27,31). It is the distant future that Jeremiah had in mind. The phrase I will restore the fortunes (lit "turn the turnings" or "reverse the fortunes") appears often in these chapters. Restore them to the land I gave to their ancestors looks to a time beyond the future return from the exile. The exiles, when they returned, retook only a small portion of the ancestral lands. Thus the restoration God promised here looks beyond this event.
WAYNE HOUSE
Rosscup - A master at surveys does it again here for pastors, Sunday School teachers and lay persons needing a concise sketch. He has a clear outline, charts that put some material into helpful perspective (as oracles vs. the nations, chapters 46–51), and a map on Jeremiah's geography (p. 149). He sees a premillennial fulfillment of Israel's restoration as in Jeremiah 33 (p. 93 etc.), and offers brief comment on some problems, for example whether Jeremiah walked to a nearby creek or made a trek to the far off Euphrates River with the loincloth of Chapter 13. (Commentaries for Biblical Expositors)
LOGOS
Morgan on the "Restoration of Israel, Jer 31:1-40". Remember that Morgan wrote this in 1912, long before Israel was reborn as a nation in May, 1948! As an aside, Morgan could hardly be labeled a "Dispensationalist." In fact, Morgan interprets the passage as a "literalist" writing:
This is repeatedly promised in Jeremiah and secured by the most solemn asseverations which can be used, but it is minutely described in this and the following chapter. The reason of their restoration is disclosed, Jer 31:3, viz., the unalterable love of God. The extent of the regathering is foretold, Jer 31:8; from every quarter of the earth both the house of Israel and the house of Judah will be brought back again. With deep penitence and supplications for their sins will they come, the Lord Himself leading them, Jer 31:9. Scarcely anything can exceed the pathos, the exquisite tenderness with which the penitents and their Redeemer talk together, as it is foretold in Jer 31:18-20. Of course this is true of all genuine repentance, but it will most emphatically be true in restored Israel, Zech 12:11-14. A New Covenant is made with them in the day they return to God, Jer 31:31-37. That we may be assured that the covenant was not fulfilled at the return from the Babylonian exile, it is quoted once and again in the New Testament and distinctly applied to the Jews of the future, Ro 11:26, 27;Heb 8:8-13; 10:16, 17. A still more convincing proof of the restoration is given in Jer 32:6-15,—the account of the purchase of Hanamel's land by Jeremiah. The Chaldeans were laying siege to the city; and that they would capture it the prophet very well knew. And yet he is bidden buy his cousin's field, pay the money for it, for God gave him the assurance that in due time the people would be restored to their inheritance. Abraham bought a field for his dead; Jeremiah bought one for a nation yet unborn. God led him to commit himself openly to the faith of Israel's final restoration.
Excellent, conservative, literal study Bible notes from a leading Creationist.
Sample Excerpt - David Baron said, ''You need not speculate upon Israel's history; it is written in a book.'' Then he reverently laid his hand upon chapters 30, 31, and 32 of (see Scriptures on "I will" below) the prophecy of Jeremiah. Peruse these chapters again, noting that Jehovah said ''I will'' at least 33 times in these three chapters. God is determined to reshape the ''clay'' and mold another vessel that will be pleasing to Himself. All of this work concerning the nation of Israel is still future, and it centers in the person of God's Son, Israel's Messiah, the Lord Jesus Christ. He is the One of whom the prophet spoke as follows: "Their Redeemer is strong, the Lord of hosts is His name; He shall thoroughly plead their cause, that He may give rest to the land, and disquiet the inhabitants of Babylon." (Jer 50:34)

"I will" in Jeremiah 30-33 = Jeremiah 30:3, 8-11, 16-22; 31:1, 4, 8-9, 13-14, 20, 27-28, 31, 33-34, 37; 32:37-41, 44
Alexander Whyte - Jeremiah was far and away the most spiritually-minded of all the prophets....Jeremiah was, of all the prophets of the Old Testament, the supreme prophet of God to the human heart. In season and out of season, for a long lifetime, he laid siege to the hearts of his hearers. The cure of all your famines, he cried, and all your plagues and all your defeats and all your captivities—the cause and the cure of them all is in your own heart: in the heart of each inhabitant of Jerusalem and each captive in Babylon."
BOB DEFFINBAUGH
Rosscup - A concise but carefully-researched conservative work that very often provides good help in explaining verses to preachers, students and lay people. Dyer gets to the flow of the message in Jeremiah, mingles summaries and sections on detail in a good balance, and usually has something worthwhile on key verses or problem passages. (Commentaries for Biblical Expositors)
Comment: Be very wary using this resource for it is not always conservative or literal in interpretation. There is some reasonably good material but great discernment is required when sifting "the wheat from the chaff!"
Quote from Utley in Isaiah Commentary regarding his stance on the nation of Israel: "The world mission of gospel proclamation has passed to the Church (cf. Mt. 28:19–20; Lk 24:47; Acts 1:8)....This is not to imply that God has totally rejected the Jews (cf. Ro 9–11). There may be a place and purpose for end-time, believing Israel (cf. Zech 12:10)." Amen to that last statement!

However read Utley's comments on Jeremiah 31:38-40 - "Since the rebuilt Jerusalem of the post-exilic period was destroyed by Titus in a.d. 70, this must be interpreted as (1) the promises of God are conditional (Ed: That is not at all suggested by the context!!!) (2) it points toward the "new Jerusalem" (i.e., heaven) of Rev. 21:1-21 (which also uses "new" imagery) (Ed: Notice how this genre of interpretation has to "stretch" the normal reading of the text! See my notes beginning in Jeremiah 31:38 Commentary).

Conclusion: Utley's notes should be used with caution as he does not always allow the text to say what the text says if read in a normal manner!
Recommended Resource - Dr. Gary Yates is an Associate Professor of Old Testament at Liberty Baptist Theological Seminary after having taught for several years at Cedarville University. He holds at M. Th. and a Ph. D. from Dallas Theological Seminary. He has published numerous articles on Jeremiah
Backsliding or Drifting - 13x in 12v in the King James Version (only 4x elsewhere -Pr 14:14KJV , Hos 4:16KJV, Hos 11:7KJV, Hos 14:4KJV)
Jer 2:19KJV Jer 3:6KJV Jer 3:8KJV Jer 3:11KJV Jer 3:12KJV Jer 3:14KJV Jer 3:22KJV Jer 5:6KJV Jer 8:5KJV Jer 14:7KJV Jer 31:22KJV Jer 49:4KJV
Sample excerpt: "Jeremiah 6:16 says to you, "Stand, and see, and ask." I take these words to be a call to thought and consideration. They are as though the prophet said, "Stop and think. Stand still, pause, and reflect. Look within, behind, and before. Do nothing rashly. What are you doing? Where are you going? What will be the end and consequence of your present line of action? Stop and think." Now to set men thinking is one great object which every teacher of religion should always keep before him. Serious thought, in short, is one of the first steps toward heaven. "I thought on my ways," says the Psalmist, "and turned my feet unto Thy testimonies" (Ps 119:59). The prodigal son in the parable "came to himself" before he came to his father. He began to consider quietly the folly and uselessness of his conduct, and then, and not till then, he returned home, saying, "Father, I have sinned" (Luke 15:18). Want of thought is, in truth, the simple cause why many make shipwreck for ever. There are but few, I suspect, who deliberately and calmly choose evil, refuse good, turn their back on God, and resolve to serve sin as sin. The most part are what they are because they began their present course without thought. They would not take the trouble to look forward and consider the consequence of their conduct. By thoughtless actions they created habits which have become second nature to them. They have got into a groove now, and nothing but a special miracle of grace will stop them. That is a solemn charge which Isaiah brings against Israel: "My people doth not consider" (Isa. 1:3). "I never gave it a thought," is the sad excuse which I have heard many a man or woman in the lower classes make for sin. The words of Hosea are strictly true of thousands: "They consider not in their hearts" (Hos. 7:2)." (Comment: Click to read all Ryle's pithy presentation!)
Jeremiah 30 McGee describes the coming Great Tribulation
Preview: Various viewpoints on the biblical teaching of the millennium deal differently with the prophecy of Jerusalem's expansion in Jer 31:38-40. Wording of the prophecy points to a fulfillment in the distant future and sets seven boundary markers for the city...

Related Resource: See my verse by verse Jeremiah 31 Commentary where I comment on the ESV Study Bible interpretation of Jeremiah 31:40.
Jeremiah 32 McGee - Jeremiah imprisoned; Buys some real estate
Recommended See Summary Chart of Babylon in Revelation 17-18
Note: The notes correspond to words and phrases used in the King James Version
JEREMIAH 1
Jeremiah 1:1
Jeremiah 1:5
Jeremiah 1:9
Jeremiah 1:11
Jeremiah 1:12
Jeremiah 1:13
Jeremiah 1:14
Jeremiah 1:19
JEREMIAH 2
Jeremiah 2:10
Jeremiah 2:13
Jeremiah 2:15
Jeremiah 2:18
Jeremiah 2:27
JEREMIAH 3
Jeremiah 3:1
Jeremiah 3:18
Jeremiah 3:23
JEREMIAH 4
Jeremiah 4:3
Jeremiah 4:6
Jeremiah 4:23
Jeremiah 4:24
JEREMIAH 5
Jeremiah 5:6
Jeremiah 5:8
Jeremiah 5:15
Jeremiah 5:22
Jeremiah 5:31
JEREMIAH 6
Jeremiah 6:1 
Jeremiah 6:4
Jeremiah 6:14
Jeremiah 6:16
JEREMIAH 7
Jeremiah 7:4
Jeremiah 7:11
Jeremiah 7:14
Jeremiah 7:22
Jeremiah 7:31
JEREMIAH 8
Jeremiah 8:7
Jeremiah 8:9
Jeremiah 8:11
Jeremiah 8:16
Jeremiah 8:17
Jeremiah 8:20
Jeremiah 8:21
Jeremiah 8:22
JEREMIAH 9
Jeremiah 9:3
Jeremiah 9:11
Jeremiah 9:16
Jeremiah 9:23
JEREMIAH 10
Jeremiah 10:7 
Jeremiah 10:11
Jeremiah 10:12
Jeremiah 10:13
Jeremiah 10:16
Jeremiah 10:22
Jeremiah 10:23
JEREMIAH 11
Jeremiah 11:3 
Jeremiah 11:21
JEREMIAH 12
Jeremiah 12:5
Jeremiah 12:9
Jeremiah 12:10
JEREMIAH 13
Jeremiah 13:5
Jeremiah 13:16
Jeremiah 13:23
JEREMIAH 14
Jeremiah 14:6 
Jeremiah 14:14
Jeremiah 14:22
JEREMIAH 15
Jeremiah 15:4
Jeremiah 15:11
Jeremiah 15:16
JEREMIAH 16
Jeremiah 16:6
Jeremiah 16:15
Jeremiah 16:20
JEREMIAH 17
Jeremiah 17:1 
Jeremiah 17:5
Jeremiah 17:9
Jeremiah 17:10
Jeremiah 17:11
Jeremiah 17:13
Jeremiah 17:27
JEREMIAH 18
Jeremiah 18:2 
Jeremiah 18:18
JEREMIAH 19
Jeremiah 19:6
Jeremiah 19:9
JEREMIAH 20
Jeremiah 20:3 
Jeremiah 20:4
Jeremiah 20:9
Jeremiah 20:10
JEREMIAH 21
Jeremiah 21:2 
Jeremiah 21:9
JEREMIAH 22
Jeremiah 22:4
Jeremiah 22:9
Jeremiah 22:11 
Jeremiah 22:24
Jeremiah 22:30
JEREMIAH 23
Jeremiah 23:1
Jeremiah 23:5
Jeremiah 23:6
Jeremiah 23:24
Jeremiah 23:29
Jeremiah 23:36 
JEREMIAH 24
Jeremiah 24:2
Jeremiah 24:9
JEREMIAH 25
Jeremiah 25:11
Jeremiah 25:12
Jeremiah 25:29
Jeremiah 25:33
JEREMIAH 26
Jeremiah 26:6
Jeremiah 26:16
Jeremiah 26:18
Jeremiah 26:20
JEREMIAH 27
Jeremiah 27:1
Jeremiah 27:5
Jeremiah 27:7 
Jeremiah 27:18
JEREMIAH 28
Jeremiah 28:4
Jeremiah 28:10
Jeremiah 28:15
JEREMIAH 29
Jeremiah 29:1
Jeremiah 29:8
Jeremiah 29:10
Jeremiah 29:13
Jeremiah 29:24
Jeremiah 29:25
JEREMIAH 30
Jeremiah 30:2
Jeremiah 30:7
Jeremiah 30:9
Jeremiah 30:11
JEREMIAH 31
Jeremiah 31:3 
Jeremiah 31:15
Jeremiah 31:17
Jeremiah 31:18
Jeremiah 31:19
Jeremiah 31:22
Jeremiah 31:31
Jeremiah 31:33
Jeremiah 31:35
Jeremiah 31:36
Jeremiah 31:37
Jeremiah 31:38
JEREMIAH 32
Jeremiah 32:1 
tenth year of Zedekiah. 
Jeremiah 32:8
redemption is thine. 
Jeremiah 32:11
that which was open
Jeremiah 32:12
Baruch the son of Neriah
Jeremiah 32:14
evidence of the purchase
evidence which is open
Jeremiah 32:17
nothing too hard.
Jeremiah 32:27
too hard. 
Jeremiah 32:35
Hinnom
Jeremiah 32:40
everlasting covenant
JEREMIAH 33
Jeremiah 33:2 
the maker thereof
Jeremiah 33:3
I will answer thee.
Jeremiah 33:15
the Branch
Jeremiah 33:16
The Lord our righteousness
Jeremiah 33:17
the throne
Jeremiah 33:20
covenant of the day
JEREMIAH 34
Jeremiah 34:5 
thou shalt die in peace
Jeremiah 34:7
cities of Judah that were left
Jeremiah 34:14
let him go free
Jeremiah 34:18
passed between the parts
JEREMIAH 35
Jeremiah 35:1
in the days of Jehoiakim
Jeremiah 35:7
live many days
Jeremiah 35:19
Rechab
JEREMIAH 36
Jeremiah 36:2 
write therein all the words
Jeremiah 36:4
Baruch wrote
all the words of the Lord.
Jeremiah 36:10
Gemariah the son of Shaphan
Jeremiah 36:28
all the former words
Jeremiah 36:30
He shall have none
Jeremiah 36:32
all the words
JEREMIAH 37
Jeremiah 37:2 
hearken
Jeremiah 37:3
Zephaniah
Jeremiah 37:5
Pharaoh's army.
Jeremiah 37:17
king asked him secretly
JEREMIAH 38
Jeremiah 38:2 
goeth forth to the Chaldeans
Jeremiah 38:5
he is in your hand
Jeremiah 38:8
Ebed-melech.
Jeremiah 38:24
Let no man know
JEREMIAH 39
Jeremiah 39:5 
overtook Zedekiah
Jeremiah 39:7
Zedekiah's eyes
carry him to Babylon
Jeremiah 39:16
Ebed-melech the Ethiopian
JEREMIAH 40
Gedaliah
Jeremiah 40:6 
in the land
Jeremiah 40:7
captains
Jeremiah 40:11
set over them Gedaliah
Jeremiah 40:14
Baalis the king of the Ammonites
JEREMIAH 41
Jeremiah 41:1 
ten men with him
Jeremiah 41:9
Asa the king
Jeremiah 41:11
Johanan
Jeremiah 41:17
And they departed
to enter into Egypt
JEREMIAH 42
Jeremiah 42:2 
pray for us
Jeremiah 42:17
they shall die
Jeremiah 42:20
ye dissembled in your hearts
JEREMIAH 43
Jeremiah 43:3 
Baruch
Jeremiah 43:7
into the land of Egypt
the land of Egypt
Tahpanhes.
Jeremiah 43:10
his throne upon these stones
Jeremiah 43:13
Beth-shemesh
JEREMIAH 44
Jeremiah 44:1 
the country of Pathros
Jeremiah 44:17
we will certainly do
Jeremiah 44:18
queen of heaven
Jeremiah 44:30
I will give Pharaoh-hophra
JEREMIAH 45
Jeremiah 45:1 
Baruch
Jeremiah 45:5
seek them not
JEREMIAH 46
Jeremiah 46:1 
against the Gentiles
Jeremiah 46:2
Carchemish
Jeremiah 46:13
Babylon should come
Jeremiah 46:14
Noph
Tahpanhes
Jeremiah 46:25
No
Jeremiah 46:28
I am with thee
full end.
correct thee in measure
JEREMIAH 47
Jeremiah 47:4 
Philistines. 
Tyrus and Zidon
JEREMIAH 48
Jeremiah 48:1 
Against Moab
Jeremiah 48:2
in Heshbon.
Jeremiah 48:5
going down of Horonaim
Jeremiah 48:18
Dibon
Jeremiah 48:42
Moab
Jeremiah 48:47
bring again the captivity
JEREMIAH 49
Jeremiah 49:6 
Ammon
Jeremiah 49:16
clefts of the rock
Jeremiah 49:17
shall be a desolation
Jeremiah 49:23
Damascus
Jeremiah 49:33
Hazor
dragons
Jeremiah 49:35
Elam
JEREMIAH 50
Jeremiah 50:2 
Babylon is taken
Bel
Jeremiah 50:9
assembly of great nations
Jeremiah 50:39
no more inhabited for ever
Jeremiah 50:40
As God overthrew Sodom
JEREMIAH 51
Jeremiah 51:2 
fanners
Jeremiah 51:7
all the earth drunken
Jeremiah 51:15
made the earth
Jeremiah 51:19
portion of Jacob
Jeremiah 51:34
like a dragon
Jeremiah 51:42
Babylon
Jeremiah 51:45
go ye out of the midst of her
JEREMIAH 52
Jeremiah 52:1
Zedekiah
Jeremiah 52:17
carried all the brass of them to Babylon
Jeremiah 52:29
carried away captive
Jeremiah 52:30 
carried away captive
Jeremiah 52:31
Jehoiachin
Comment: Considering the fact that there are relatively few excellent, conservative, literal commentaries on Jeremiah, it is worthwhile emphasizing that the Net Bible Notes, albeit sometimes a bit technical, nevertheless provide brief but conservative, literal comments on Jeremiah. Try it out by clicking Jeremiah 1 - on right side of page see Tab labeled "Notes" which includes not only the NET Bible notes but also the synchronized comments by Dr Thomas Constable which are also literal and conservative. Now scroll down the Biblical text (in panel on left side of page) to Jeremiah 2 and you will note that both the NET Bible Notes and Constable's notes scroll in synch (very nice)! In addition, be sure to check the "Articles" Tab which synchronizes a variety of articles on Bible.org that mention the verses you are studying.
Download Lesson 1 of Part 1 and 2 of Jeremiah Inductive Bible Study...
Louisiana Precepts Ancillary Helps on Jeremiah
Lectures - Most by Kay Arthur
These are different than his sermons listed above
(Who Is Charles Simeon? Listen to John Piper's overview of Simeon's life & ministry!)
Although preached between 1832-63, Simeon's sermons are superb, wonderfully expositional, imminently applicable and wholly literal and conservative (e.g., see sample excepts below). And he is not a "dispensationalist" so his interpretations of texts in Jeremiah 30-31 are very interesting and insightful! They are to be highly recommended.
---
Sample Excerpt: "They (the words of Jer 30:10,11) look forward to a period far beyond the return of the Jews from Babylon, even to that blessed period, when the whole nation shall be converted to the faith of Christ, and be restored to the possession of the land of Canaan (Jer 30:8,9). That such a period shall arrive, we have the strongest and most unequivocal declarations of Holy Writ (Hos 3:5): and it becomes us all to look forward to it with confidence and joy.... A season of happiness awaits them, such as they never experienced in their most prosperous days....The Egyptians, Assyrians, Chaldeans, Romans, have ceased to exist as distinct kingdoms; and have been lost, as it were, among the people who subdued them: but the Jews are in every place a distinct people, and are so kept by God's overruling providence, that he may accomplish more manifestly his gracious purposes towards them. Many indeed, like Pharaoh, have sought their destruction; but they live as monuments of God's unceasing care and faithfulness. And may not we also see the hand of God ordering and overruling every thing for our good?....Look at the Jews in Babylon, or in their present state; What can be conceived more hopeless? — — — Yet they were, and shall be delivered."
Sample Excerpt: "Considering how much is spoken in the Holy Scriptures concerning the present and future state of the Jewish nation, it is surprising how little they occupy the attention of the Christian world....they are scarcely ever noticed, so that, to bring the subject before a Christian audience seems almost to require an apology....But this indifference towards them is highly criminal. We are not to imagine, that, because they are under God's displeasure, we are discharged from all those duties which we owe them as men....Was man justified in despising them, because they were under the chastisement of their offended God? Assuredly not!"
Sample Excerpt: "That the Jews shall be restored to their own land, is, I think, as plainly declared in Scripture, as any truth in the Bible: though, if any be disposed to doubt it, I am not anxious to maintain a controversy respecting it....To me it appears, that the preceding chapter, together with that before us, is fully upon this point. But, at all events, the future conversion of the Jews is absolutely certain."
Sample Excerpt: Amongst the numberless manifestations of God's mercy in the Scriptures, we cannot but be particularly struck with this, that scarcely ever do we find any awful denunciation of God's wrath against his offending people, but there is some gracious promise annexed to it, as an encouragement to them to repent. In the whole preceding part of the chapter before us, God declared his determination to give up Jerusalem into the hands of the Chaldeans. Yet behold, at that very time does God open to his people the most consolatory prospects of an ultimate restoration to their own land, and of numberless attendant blessings to be poured out upon them.....A restoration from Babylon is doubtless the point here primarily intended: and that was vouchsafed to them at the expiration of seventy years, according to the predictions of the prophet respecting it. But the terms in which this is declared almost necessarily lead our minds to a restoration yet future....they experienced but little of peace and safety after their first restoration: they were grievously harassed, from time to time....Jerusalem, instead of being defended, as formerly, against enemies, by ramparts of man's construction, "will be inhabited as a town without walls; because the Lord will be a wall of fire round about her, and the glory in the midst of her (Zech 2:4-5)."
Recommended - Literal, Conservative
---
SERMON NOTES
---
Recommended - Literal, Conservative
Sample Excerpt: This passage (Jer 30:8,9) looks far beyond the return from the Babylonian captivity. It looks down through the years beyond our own day to the time when God promises to restore the fortunes of Israel, and even to raise up David to be king over the people again. Therefore, it is a promise not yet fulfilled. God is still waiting for this time to come. There are other beautiful expressions of this in the song. Notice Jer 30:16, 17. All through the record of history it has been noteworthy that every nation which has attacked the Jews has found itself suffering as a result. God promises here to watch over his people, and to return evil upon those who harm them in any way...It is evident that these words (Jer 30:18-22) have never been fulfilled in all the history of Israel. In all the restorations they have gone through they have never come to anything like this describes; so this awaits the future....(Commenting on Jer 31:7,8) Many thought when Israel became a nation again, and Jews came from all parts of the earth back to the land of Israel, that this was the fulfillment of this passage. But I do not think so. It was a foreview of it, as were other foreviews in history. But it is not yet fully fulfilled, for at the present time they are not there in belief but in unbelief, whereas this passage speaks of their coming back in joy and worship....Then the chapter closes with a very specific promise concerning the city of Jerusalem, Jer 31:38-40: That encompasses practically the whole city of Jerusalem at the present time. It is obvious that this too is yet to be fulfilled. But what a scene of beauty and glory, what a promise of joy and of gladness, after years and centuries of wandering and sorrow! And will you notice when this promise is given? Remember, this is given at a time when these people were at the lowest stage of their national life. They were a wanton, wicked, and wayward people, stubborn and rebellious.
Caveat: While Spurgeon clearly believed in a future restoration of a literal nation of Israel, some of his sermons on prophetic passages are not interpreted literally but focus more on application of principles in those passages. Here is a statement regarding the nation of Israel made by Spurgeon in 1864 (84 years before Israel became a sovereign nation for a second time in May, 1948)...
The meaning of our text, as opened up by the context, is most evidently, if words mean anything, first, that there shall be a political restoration of the Jews to their own land and to their own nationality; and then, secondly, there is in the text, and in the context, a most plain declaration, that there shall be a spiritual restoration, a conversion in fact, of the tribes of Israel. (From The Restoration and Conversion of the Jews - Ezekiel 37:1-10)
Dennis Swanson discusses Spurgeon's view of the millennium noting that...
Despite claims to the contrary, his position was most closely identifiable with that of historic pre-millennialism in teaching the church would experience the tribulation, the millennial kingdom would be the culmination of God's program for the church, a thousand years would separate the resurrection of the just from that of the unjust, and the Jews in the kingdom would be part of the one people of God with the church. (The Millennial Position of Spurgeon)
Related article: C. H. Spurgeon, Biblical Inerrancy, and Pre-millennialism = A Review of the book "Lamplighter and Son" by Craig Skinner --- Reviewed by John Whitcomb)
Conservative, Literal Interpretation
Dr. Gary Yates is an Associate Professor of Old Testament at Liberty Baptist Theological Seminary after having taught for several years at Cedarville University. He holds at M. Th. and a Ph. D. from Dallas Theological Seminary. He has published numerous articles on Jeremiah (see specific articles listed above).
Note: This material covers most of Jeremiah and has bookmarks in the Pdf which allow quick access to a specific chapter.
Jeremiah Commentary - 613 pages representing transcripts of 30 lectures by Dr Yates
Here is an excerpt from Lecture 24 on the Book of Consolation (Jeremiah 30-33)....

When we go to the book of Deuteronomy as Moses is preparing the people of Israel for life in the land before they go into the promised land, there's a passage in Deuteronomy 30:1-10 that actually gives the history of Israel before it ever happens, if we see this as a Mosaic passage. (Ed comment - We see a similar pattern in Dt 4:25-32 - see commentary notes) It says there that here's what's going to happen to Israel when they go into the land: they're going to take possession of it, they are going to experience all the good things that God gives to them, and then they're going to experience the curses when they turn away from God. Then God is going to drive them out of the land, send them into exile, bring those covenant curses upon them but when they are in exile and when they turn to God then God will restore them. God will circumcise their hearts, bring them back into the land and restore them, so that they will always enjoy his blessing. That's really the message of Jeremiah as well. After this devastating judgment, after the fierce anger of the Lord has executed all that he has intended, there is a restoration. It's encouraging to see that in this book, that focuses so much on judgment, that at the center of this book, there is a message of hope. In chapters 26-45, which is telling us this depressing story of how Judah turned away from the Lord, they did not listen to the prophets, they experienced judgment because they did not take advantage of the opportunity to repent; they did not listen to the word of God. Even in the midst of that section, it's contrasted by the promises of hope and future salvation, God is not going to abandon his people. As a parent there are times when my children do things that disappoint me, but there is never, even when I have to discipline them, there is never the idea that I'm going to throw them out of my family. As a parent I love them, and that love is unconditional and un-ending. God has that same kind of love to an even greater degree for his people. It's a comforting thing to know as we think of God's love for his people, there is nothing that we could ever do that would cause God to love us more, but even with our sin there is nothing that we can do to that would cause God to love us less.....The emphasis on restoration in the book of Jeremiah is obviously in this one section of the book, but remember that there have been brief glimpses of the hope that God has for Israel's future, even in the very first message of the book where Jeremiah is charging the people with being an unfaithful wife to the Lord, and encouraging them to come back to him. When they do come back to him, Jeremiah 3:15-18 (explains) what God will do for His people.
Devotionals with Illustrations useful for teaching and preaching. These are conservative and adhere to a literal interpretation. 
Book