RECYCLING SIN
(The High Cost of Compromise)

Jdg 1:1-3:6
Jdg 3:7-16:31
Jdg 17:1-21:25
Introduction
History of the Judges
Appendix
Causes of the
Cycles

THE REASON

Curse of the
Cycles

THE RECORD

Conditions in
the Cycles

THE RESULTS

Failure to Complete Conquest Jdg 1:1-36
God's Judgment for
Failure Jdg 2:1-3:6
Curse of the
Cycles
Conditions in
the Cycles
Living with
Canaanites
War with the
Canaanites
Living Like the
Canaanites
Religious
Laxity
Political
Uncertainty
Moral
Anarchy
About 350 Years of Israel's History - Almost 25%!
From Compromise to Confusion!
A TIMELINE OF ISRAEL'S HISTORY
"in the days when the JUDGES governed"
(Note: All dates are approximations & time gaps NOT to scale)
Exodus
40 Years
Israel Enters Canaan
JUDGES
Saul
David
 
Messiah

Redemption from Slavery

Wilderness Wandering

Canaan Conquered
Joshua Dies

LIGHT of book of RUTH
Shines forth
in Dark Days of Judges

To obey is better than sacrifice

Man after God's Own Heart

The Lamb that was slain

--
40 yrs
~24 yrs

350+ yrs

40 yrs
40 yrs
Forever
MESSIAH'S LINE
 
To Salmon was born Boaz by Rahab
To Boaz was born Obed by Ruth
To Obed was born Jesse
To Jesse was born David the King
Jesus Christ the Lord
1445BC

1445 -1405

1405 -1381

1381-1051

1051-1011
1011-971
4AD


Another Timeline of Israel's History
Click to Enlarge
from Jensen's Survey of the OT

Click to Enlarge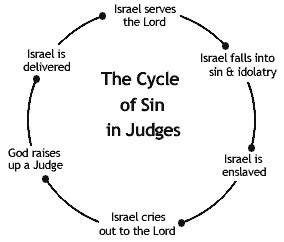 Most of these books are newer resources which previously were available only in book form or by purchasing for use in a Bible computer program. This is potentially a useful resource to supplement your study. In general these books do not allow you to copy and paste. While there is no charge, you must log in to borrow most of these books by creating a login account! Click picture of the person in right upper corner and set up your free login. Then you can read these more modern resources free of charge! After you have checked it out for an hour, in my experience you can usually check it out again which gives you sufficient time to read the section in which you are interested. 
---
DANIEL BLOCK - Judges, Ruth. Vol. 6: New American Commentary 
Cyril Barber says this is "An exceedingly valuable exegetical and theological exposition. Based on the NIV, though Block gives evidence of working from the Hebrew text. Readers will find this a learned, discerning discussion that readily explains the meaning and message of these twin books. Recommended.

Rosscup - An evangelical contributes 586 pp. on Judges and 151 on Ruth. Introductory sections for both books survey the state of scholarly opinion and his belief in the integrity and reliability of the biblical books. Copious footnotes, often lengthy, reflect on others' views, verifications of points in the books and also in other scripture, etc. Verse by verse work offers detail on grammar, word meaning, background, customs, and interpretive problems. Block holds that Jephthah sacrificed his daughter in death. On passages overall, this is a standout commentary, yet at times it states convictions without a specific answer to other leading views. One instance is in not commenting on the view that Ruth acted indecently with Boaz at night. Some accounts, as episodes of Samson, seem for the most part to be explained in reasonable detail. (Commentaries for Biblical Expositors: An annotated bibliography of selected works)

Tim Challies - Tremper Longman, who has not reviewed Dale Ralph Davis' volume, gives Block's commentary a 5-star rating and says, "This contribution is clearly the best thing available on the book of Judges. Block is thoroughly aware of all the literature that precedes his own, and he incorporates what is good and criticizes what is bad." He also praises Block's insights along with his literary and theological analysis. This commentary is slightly more advanced and in-depth than Davis'.
DONALD CAMPBELL - Judges Commentary  Leaders in Crisis times (Living for God in a Society that has Forgotten God!)
Former president of Dallas Theological Seminary - has wonderful insights, illustrations and practical applications. Unfortunately this book is no longer being published but you may be able to find used copies.  Excellent practical commentary on Judges with good illustrations for sermons.
Cyril Barber - A well-informed, judicious exposition that combines a timely handling of the text with a practical application of it. Ideal for adult discussion groups. Recommended.
ARTHUR CUNDALL -TOTC Judges & Ruth: Tyndale Old Testament Commentary (1968)
Arthur Cundall writes the commentary on Judges and Leon Morris writes the commentary on Ruth. These both get excellent reviews - see reviews by several users. 

Here is a generic review of the Tyndale series - "The Tyndale volumes have long been the premier shorter-length commentary series on both Testaments throughout the English-speaking world." (Craig Blomberg, Denver Seminary)
PAUL ENNS - Judges Bible Study Commentary Everyman's Bible Commentary (1982) (Zondervan)
Cyril Barber - A practical, clearly outlined, conservative treatment. Ideal for laypeople.
GARY INRIG - Hearts of Iron, Feet of Clay  Judges shows us our potential for greatness...our capacity for catastrophe (2005) This is one of my favorite practical commentaries on Judges. - see reviews by users.  
Rosscup -  This little book is a "sleeper" and has flown under the radar of many evangelicals. I highly recommend it to supplement your teaching and/or preaching through the Book of Judges. Notice that all the reviewers have given it the highest rating possible.

Journey Through Judges - This is a 50 part series online (no charge) walking you through the entire book of Judges (recommended)! 
ROBERT G BOLING - Judges The Anchor Bible. Garden City, N.Y.: Doubleday and Co., 1975.
Cyril Barber's critique - A new translation with scholarly notes and commentary. Neither as helpful to the expository preacher as Fausset's exemplary treatment, nor as abreast of the latest scholarly research as Wood's invaluable work. What is presented, however, is valuable for its correlation of linguistic and historical data.
WILLIAM NEWELL Studies in Joshua-Job  This same resource is found here. Download Pdf (allows copy and paste)
Wiersbe says it is "valuable for your library."

Brookman writes "Popular studies with an excellent synopsis of the historical books. It is written in a clear manner, and surveys each book giving key ideas and insights." 
JOHN GARSTANG - Joshua Judges: The Foundations of Bible History. Grand Rapids: Kregel Publications, 1978.
Cyril Barber's critique - Reprinted after years of neglect, this epochal work treats history, geography, archaeology, and the settlement of Israel in the land. Though he adheres to a modified form of the documentary hypothesis, Garstang's treatment is nevertheless possessed of a freshness and vitality seldom found in works of this nature.
CHARLES SWINDOLL - Old Testament characters : Bible study guide by Swindoll, Charles R (1991) 132 pages. Chapter 1 = Judges 13-15; Chapter 2 = Judges 16:4-31
BELOW ARE STUDY BIBLES, ETC
KJV Bible Commentary Judges - Hindson, Edward E; Kroll, Woodrow Michael. Over 3000 pages of the entire OT/NT - no restriction on length of time one can use  it. No copy and paste. Well done conservative commentary that interprets Scripture from a literal perspective.  User reviews - it generally gets 4/5 stars from users.
NKJV Study Bible: New King James Version Study Bible by Radmacher, Earl D; Allen, Ronald Barclay; House, H. Wayne; 917 ratings Very helpful notes. Conservative.
New Bible Commentary - Barry G Webb authored Judges. (1994) See user reviews
Wycliffe Bible Commentary - Charles Pfeiffer - 1560 pages (1962). 214 ratings Less detailed than the KJV Bible Commentary.
The Defender's Study Bible : King James Version by Morris, Henry M. Excellent notes for well known creationist. 45 ratings
The MacArthur study Bible - John MacArthur. Brief but well done notes 1,275 ratings
The David Jeremiah study bible - (2013) 2208 pages. 2,272 ratings Logos.com - "Drawing on more than 40 years of study, Dr. David Jeremiah has compiled a legacy resource that will make an eternal impact on generations to come. 8,000 study notes. Hundreds of enriching word studies"50+ Essentials of the Christian Faith" articles."
Compact Bible commentary by Radmacher, Earl D; Allen, Ronald Barclay; House, H Wayne, et al - 954 pages.  424 ratings Multiple contributors to the comments which are often verse by verse. The comments are brief but meaty and can really help your study through a given book. A sleeper in my opinion. 
ESV study Bible - Excellent resource but not always literal in eschatology and the nation of Israel 6,004 ratings
Life application study Bible : New Living Translation. Has some very helpful notes. 4,445 ratings
NIV archaeological study Bible (2005) 2360 pages 950 ratings
The NIV study Bible by Barker, Kenneth L; Burdick, Donald W (1995) 2250 pages. Note this is the first edition. This resource has been fully revised in 2020. 
The Ryrie study Bible - Charles Ryrie (1978) 2142 pages. Conservative.  216 ratings
With the Word - Devotional Commentary - Warren Wiersbe - 428 ratings
Evangelical Commentary on the Bible - Judges by Andrew Boling (20 pages); editor Walter Elwell (1989) 1239 pages. User reviews. (See also Boling's 380 page commentary on Judges the Anchor Bible Series)
Wiersbe's expository outlines on the Old Testament by Wiersbe, Warren W 113 ratings
"Even the most difficult Scriptures come alive as Warren Wiersbe leads you book-by-book through the Old Testament and helps you to see the "big picture" of God's revelation. In this unique volume, you will find: • Introductions and/or outlines for every Old Testament book • Practical expositions of strategic chapters • Special studies on key topics, relating the Old Testament to the New Testament • Easy-to-understand expositions that are practical, preachable, and teachable If you have used Dr. Wiersbe's popular BE series, you know how simple and practical his Bible studies are, with outlines that almost teach themselves. If not, you can now discover a wonderful new resource. This work is a unique commentary on every book of the Old Testament. It contains new material not to be found in the BE series.
The Shaw pocket Bible handbook - Editor - Walter Elwell (1984) 408 pages.
"This hardback is small in size but packed full of content: Brief summaries of every book of the bible, cultural, archaeological and historical info, word definitions, pictures, maps and charts." Worth checking! 
DONALD CAMPBELL -
ARTHUR CUNDALL -
GARY INRIG
---
PAUL APPLE
WAYNE BARBER - audio but worth listening 
This is only available in audio, but is listed because Dr Barber's "down home" preaching style draws out many practical insights on the Christian life from the ancient book of Judges. This series was preached in 1996. Wayne is now with the Lord. 
ALBERT BARNES
BRIAN BELL Teaching Notes
BIBLE FOR HOME
BIBLE.ORG - Articles
BIBLICAL ILLUSTRATOR
JIM BOMKAMP
GEORGE BUSH Judges Notes  1852
Spurgeon: Like other works of this author—of considerable value.

Cyril Barber -  A pleasing synthesis of scholarship and devotion, historical background and relevant exposition. Bible students, whether laypeople or pastors, should eagerly acquire the writings of this fine biblical scholar and for their own edification and enrichment read what he wrote. This valuable reprint of the 1852 edition makes available the rare and rich homiletic suggestions of this Princeton scholar.
CAMBRIDGE BIBLE FOR SCHOOLS AND COLLEGES - J J Lias
CAMBRIDGE BIBLE COMMENTARY 
ALAN CARR - SERMON
RICH CATHERS
ADAM CLARKE 
THOMAS CONSTABLE 
W A CRISWELL
RON DANIEL 
J N DARBY
BOB DEFFINBAUGH  "The Dark Days of Israel's Judges - A Study of the Book of Judges"
DICTIONARY
JOHN DUMMELOW Commentary
DAN DUNCAN - MP3
CHARLES ELLICOTT COMMENTARY FOR ENGLISH READERS
EASY ENGLISH COMMENTARY
EXPLORE THE BIBLE
EXPOSITOR'S BIBLE COMMENTARY - R A WATSON
EXPOSITOR'S DICTIONARY OF TEXTS
A R FAUSSET Judges - An Expository Commentary
Cyril Barber - A work of immeasurable value. Remains one of the finest treatments extant. A must for the expositor.

Well Done If part of a page does not show switch to the two page view or try "refresh" (F5 Key)
DON FORTNER
ARNO GAEBELEIN Annotated Bible on Judges
GENE GETZ PRINCIPLES FROM JUDGES
These are short videos with practical principles.
Judges 3:1-11; Spiritual Leadership: We should always select and appoint leaders in the church who are qualified spiritually. Video
JOHN GILL
DAVID GUZIK
MATTHEW HENRY 
GOTQUESTIONS BOOK OF JUDGES
Have also included selected articles from Fausset's Bible Dictionary which is an older but excellent resource.
L M GRANT
SCOTT GRANT Sermons on Judges
DAVE HATCHER - NOTES
ROBERT HAWKER Poor Man's Commentary Judges
DAVID HOLWICK
KEITH KRELL - sermons
INTERNATIONAL CRITICAL COMMENTARY George F Moore
JAMIESON, FAUSSET, BROWN
JUDGES DEVOTIONALS AND ILLUSTRATIONS 
Today in the Word, Back to the Bible, Our Daily Bread, et al
WILLIAM KELLY
KEIL AND DELITZSCH
HOMER HEATER, JR - Judges
JOHN KITTO
PAUL E. KRETZMANN The Popular Commentary Lutheran Perspective
LANGE'S COMMENTARY Paulus Cassel
DAVID LEGGE Sermons on Judges
ALEXANDER MACLAREN
MARTIN MANSER - Dictionary Bible themes - interesting 
J VERNON MCGEE
F B MEYER
Rosscup comments: Meyer (1847–1929) published this originally in 1895. He left a big witness as a Christian, husband and expositor on the spiritual life. Here he is clear, simple, to the point, and practical in application. The book is especially suited for pastors, Sunday School teachers and laypersons. Sometimes he overdoes things, as in seeing Hittites and confederates as depicting "The evil habits of the old past" (p 12). Yet in many cases he is apt, as using Gideon to show the need to look to God for adequacy. He sees Saul as unsaved, having the Spirit on him but not in him (Commentaries for Biblical Expositors: An annotated bibliography of selected works)
G CAMPBELL MORGAN
ROBERT NEIGHBOUR
TOMMY NELSON - Mp3's only - click here for messages below
Judges 2:11-3:11: Cycles of Sin and The first National Hero
Judges 3:12-30: Little Man, Big God, Great Day
Judges 3:31-5:17: Deborah and Jael-Women Forced to the Front
NET BIBLE NOTES
JAMES NISBET Church Pulpit Commentary
OUR DAILY BREAD
PHIL NEWTON - SERMON
PETER PETT Commentary on Judges
PREACHER'S HOMILETICAL COMMENTARY
PULPIT COMMENTARY
REFORMATION STUDY BIBLE
AREND REMMERS
KIM RIDDLEBARGER
RICHARD OWEN ROBERTS
RON RITCHIE
HENRI ROSSIER
ROB SALVATO - SERMON
RAYMOND H SAXE - expository notes
JOHN SCHULTZ - former missionary to Papau, New Guinea
CHARLES SIMEON -SERMONS
CHUCK SMITH
PHILIP SMITH
SPEAKER'S BIBLE COMMENTARY
C H SPURGEON
RAY STEDMAN
JOHN STEVENSON
STREAMS IN DESERT
G W THATCHER - generally verse by verse comments
THIRD MILLENNIUM Book of Judges
DAVID THOMPSON SERMONS
TODAY IN THE WORD
JOHN TRAPP Commentary on Judges
JAMES VAN DINE
FRANK WALLACE
DAVID WASHBURN
WARREN WIERSBE
LUKE WISEMAN
Spurgeon comments: Mr. Wiseman in this work tells "of Gideon and Barak, of Samson and of Jephthah," and he does it in a powerful style. He was one of the best preachers in the Wesleyan body. A man of fulness, and judiciousness; in fact, a wise man.

Cyril Barber - Men of Faith... contains a wealth of practical material; applications are offered to encourage and challenge us today. The author presents a general view of the period of the judges along with an in depth study of the lives of Barak, Gideon, Jephthah, and Samson.

Brookman - A valuable classic reprint study that presents a general overview of the period of the Judges along with an in depth study of the lives of Barak, Gideon, Jephthah and Samson."

Wiersbe - (Contains) rich veins of gold that others have ignored or neglected. I rejoice that (this) classic is available again for people who are serious about Bible study...you (will) find insights from the Scriptures that can enrich your life and ministry." 
STEVE ZEISLER
SERMONS BY VERSE - older works
| | | |
| --- | --- | --- |
| Use What You Have | Charles Wesley Naylor | Judges 3:1 |
| The Proving of Israel | A.F. Muir | Judges 3:1-4 |
| It was God's Will, Then | L. H. Wiseman, M.A. | Judges 3:1-5 |
| Tests and Chastisement | J. P. Millar. | Judges 3:1-5 |
| The Trial and Chastisement of an Unfaithful People | J. P. Millar. | Judges 3:1-5 |
| The Forbidden Covenant | A.F. Muir | Judges 3:5-7 |
| The Downward Course of Sin | J. P. Millar. | Judges 3:6-7 |
| Idolatry and its Nemesis | A.F. Muir | Judges 3:8 |
| Israel in Servitude | C. Ness. | Judges 3:8 |
| Great Men | W.F. Adeney | Judges 3:9, 10 |
| True Deliverance Must Ever Come from God | A.F. Muir | Judges 3:9, 10 |
| Judgment, Then Deliverance | R. A. Watson, M. A. | Judges 3:9-11 |
| Othniel | R. A. Watson, M. A. | Judges 3:9-11 |
| Political Leadership | R. A. Watson, M. A. | Judges 3:9-11 |
| Prayer Helpful to Leadership | John McNeill. | Judges 3:9-11 |
| The Controlling Man | John Robertson. | Judges 3:9-11 |
| The Gift of The Spirit of the Lord | R. Rogers. | Judges 3:9-11 |
| The Making of a Hero | J. M. Gibbon. | Judges 3:9-11 |
| The Secret of Individual and National Greatness | A.F. Muir | Judges 3:10, 11 |
| And the Land Had Rest - the True Peace | A.F. Muir | Judges 3:11 |
| Continued and Repeated Offence Entails More Signal Punishment | A.F. Muir | Judges 3:12-14 |
| A Distinct Message | Spurgeon, Charles Haddon | Judges 3:12-30 |
| A Message from God | W. Rudder, D. D. | Judges 3:12-30 |
| A Message from God | J. Cumming, D. D. | Judges 3:12-30 |
| A Message from God | J. B. C. Murphy, B. A. | Judges 3:12-30 |
| A Sermon Upon Keys | John Mitchell. | Judges 3:12-30 |
| Application of the Truth |   | Judges 3:12-30 |
| Effective Preachers Compared to Ehud | John McNeill. | Judges 3:12-30 |
| Ehud: Left-Handedness | J. Parker, D. D. | Judges 3:12-30 |
| God's Messages | J. P. Millar. | Judges 3:12-30 |
| I have a Message from God unto Thee | T. Raffles, D. D. | Judges 3:12-30 |
| Lessons from the Death of Eglon | T. De Witt Talmage. | Judges 3:12-30 |
| Sin -- Suffering; Penitence and Deliverance Repeated | J. P. Millar. | Judges 3:12-30 |
| The Christian Minister Bearing a Message from God to Man | H. S. Plumptre, M. A. | Judges 3:12-30 |
| The Gospel Message | D. Johnston, D. D. | Judges 3:12-30 |
| The Gospel Message | E. Cooper, M. A. | Judges 3:12-30 |
| The Summer Parlour | W.F. Bishop. | Judges 3:12-30 |
| Unexpected Perils | S. Baring-Gould, M. A. | Judges 3:12-30 |
| A Man Left-Handed | W.F. Adeney | Judges 3:15 |
| Ehud | A.F. Muir | Judges 3:15-26 |
| A Man for the Time | James Dann. | Judges 3:31 |
| Great Results with Imperfect Tools |   | Judges 3:31 |
| Shamgar | T. Kelly. | Judges 3:31 |
| Shamgar | A.F. Muir | Judges 3:31 |
| Shamgar: Mean Instruments | J. Parker, D. D. | Judges 3:31 |
| Shamgar's Ox-Goad | R. A. Watson, M. A. | Judges 3:31 |
| Shamgar's Ox-Goad | John McNeill. | Judges 3:31 |
Book