LEVITICUS THE BOOK OF
SANCTIFICATION AND WORSHIP
Adapted and modified from C. Swindoll
Leviticus 1-17
Leviticus 18-27
The Way to God
Access
The Walk with God
Lifestyle
The Approach: Offerings
Practical Guidelines
The Representative: Priest
Chronological Observances
The Laws: Cleansing
Physically & Spiritually
Severe Consequences
Verbal promises
Ritual for Worship
Worshipping a Holy God
Practical for Walking
Living a Holy Life
Location: Mt Sinai for one full year
Theme: How sinful humanity can approach and worship a holy God
Key Verses: Lev 17:11, 19:2, 20:7-8
Christ in Leviticus: In every sacrifice, every ritual, every feast
Time: about 1446BC
Leviticus 12:1 Then the LORD spoke to Moses, saying
REGULATIONS FOR
CHILDBEARING
TODAY IN THE WORD (Moody Bible) - Leviticus 12:1-8 - [The priests] are to teach the difference between the holy and the common and distinguish between the unclean and the clean. - Ezekiel 44:23
A recent British national survey found that most women are "terrified" of giving birth and find it "more painful than they ever imagined." Sixty percent said their prenatal classes had failed to prepare them for the reality of childbirth, and 75 percent mentioned the pain was far worse than they had imagined it would be.
Nearly half of the women surveyed said postnatal care was inadequate. Eighty-six percent added that they continued to experience pain for up to several weeks after the birth, and feelings from general sadness to depression were also common.
Nonetheless, 99 percent of these women said that motherhood gave them more happiness than their careers!
Although since the Fall women have suffered pain in childbirth (Gen. 3:16), a new baby remains one of life's greatest joys and God's greatest blessings: Children are "a reward from him… Blessed is the man whose quiver is full of them" (Ps. 127:3, 4, 5).
Why, then, did the Law regard a woman as unclean after giving birth? Theological speculation generally centers around two possible reasons. First, she might be unclean because of the postnatal discharge of blood. Since blood is a symbol of life and forgiveness, all matters involving blood were treated with great care and seriousness in the Law. Also, women who had unusual discharges of blood were required to offer the same sacrifices as listed here for a woman who had given birth (see Lev. 15:25, 26, 27, 28, 29, 30).
A second possible reason for the uncleanness might be to remind the Israelites of the Curse–that is, of Adam and Eve's original disobedience and the fact that pain in childbirth was one of the resulting punishments. In this way, the "unclean" designation reminded the people of history (after all, Moses wrote Genesis), of the universality of sin and of the urgent necessity of obedience.
TODAY ALONG THE WAY One theme we have been tracing so far in the book of Leviticus is holiness or purity–both God's perfect righteousness and our calling to live righteous lives before Him.
Leviticus 12:2 "Speak to the sons of Israel, saying, 'When a woman gives birth and bears a male child, then she shall be unclean for seven days, as in the days of her menstruation she shall be unclean. (woman: Ge 1:28 Ge 3:16 Job 14:4 15:14 25:4 Ps 51:5 Lu 2:22 Ro 5:12-19)(Lev 15:19)
Leviticus 12:3 'On the eighth day the flesh of his foreskin shall be circumcised. (Ge 17:11,12 Dt 30:6 Luke 1:59 2:21 John 7:22,23 Ro 3:19 4:11,12 Ga 3:17 5:3 Php 3:5 Col 2:11)
Circumcision on the eighth day is not just random. God, the Creator, knew that the infant's coagulation factors would be low in the first 7 days of life and that circumcision in that time could result in uncontrollable bleeding and loss of the infant's life. Below is a diagram which demonstrates the progressive rise in prothrombin levels which are produced in the liver and are dependent on Vitamin K. Notice that the prothrombin levels reach 100% range on day eight. This is just another piece of the puzzle to support that the Bible is fully inspired, word for word!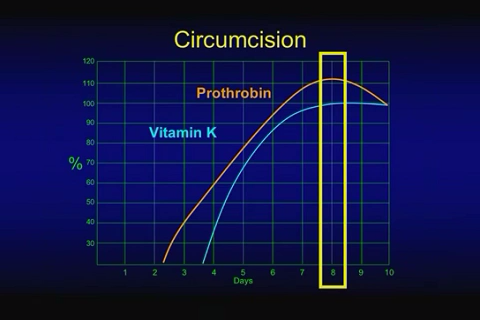 Gen 17:11 "And you shall be circumcised in the flesh of your foreskin; and it shall be the sign of the covenant between Me and you. 12 "And every male among you who is eight days old shall be circumcised throughout your generations, a servant who is born in the house or who is bought with money from any foreigner, who is not of your descendants.
Comment: Circumcision was the sign of the Abrahamic Covenant. Egyptians are known to have practiced circumcision, but as a puberty rite marking the passage of a boy into manhood.
Circumcised - Literally the Hebrew could read "the flesh of his foreskin shall be circumcised."
It is surprising that this is the only use of "circumcision" in Leviticus and even here it is mentioned almost incidentally since the focus was not on the child but on the purification of the mother after childbirth.
See Related Resources:
Circumcision - Greek word is peritome
Leviticus 12:4 'Then she shall remain in the blood of her purification for thirty-three days; she shall not touch any consecrated thing, nor enter the sanctuary until the days of her purification are completed. (Lev 15:25-28 Hag 2:13 Luke 2:22,23)
Sanctuary (04720)(miqdash) means "Holy Place" and refers to that which was uniquely separated, consecrated or dedicated to God. This physical area was sacred because it was the place where God dwelled among His people (Ex 25:8) and its sanctity was not to be profaned (Lev. 12:4; 19:30; 20:3; 21:12, 23). In this verse miqdash is used in the general sense to refer to the entire tabernacle, both the "tent" and the courtyard. Later in Lev. 16:33 this same Hebrew word refers to the inner sanctuary (holy sanctuary or "Most Holy Place") where the priests would atone for the people's sin. To have respect for the sanctuary would include not entering it when unclean (Lev. 21:12) but would also include approaching it with a contrite, worshipful attitude.
Leviticus 12:5 'But if she bears a female child, then she shall be unclean for two weeks, as in her menstruation; and she shall remain in the blood of her purification for sixty-six days. (Lev 12:2,4 Ge 3:13 1Ti 2:14,15)
Leviticus 12:6 'When the days of her purification are completed, for a son or for a daughter, she shall bring to the priest at the doorway of the tent of meeting a one year old lamb for a burnt offering and a young pigeon or a turtledove for a sin offering. (lamb: Lev 1:10-13 5:6-10 14:22 15:14,29 Nu 6:10 Luke 2:22 Jn 1:29 2Co 5:21 Heb 7:26 1Pe 1:18,19)
Leviticus 12:7 'Then he shall offer it before the LORD and make atonement for her, and she shall be cleansed from the flow of her blood. This is the law for her who bears a child, whether a male or a female. (Lev 1:4 4:20,26,31,35 Job 1:5 14:4 Ro 3:23,26 1Co 7:14 Heb 9:12-14)(Lev 15:28-30) (Gal 3:28)
Leviticus 12:8 'But if she cannot afford a lamb, then she shall take two turtledoves or two young pigeons, the one for a burnt offering and the other for a sin offering; and the priest shall make atonement for her, and she will be clean.'" (Lev 1:14 5:7 Lev 14:22 Lev 15:14,29 Luke 2:22,24 2Co 8:9)
Criswell - The bringing of two turtledoves or two young pigeons (one for a burnt offering, the other for a sin offering) by the mother to make atonement and to effect her cleansing became known as the "offering of the poor." When the Lord Jesus was born, this is what Mary brought (Luke 2:22-24). This not only emphasizes the poverty of Mary and Joseph, but it also shows that Mary did not consider herself to be sinless.
><>><>><>
F B Meyer (Our Daily Homily) Leviticus 12:8 Two young pigeons.
These were the offerings of the poor, of those whose means did not suffice to buy a lamb. All these offerings pointed to the one great Sacrifice which was to be offered on Calvary.
The blood of Christ is within the reach of the poorest and feeblest. — None can say that it is beyond them, that they cannot afford to procure it, that they are too poor. To the poor the Gospel is preached. The Divine call is to those who have no money. Salvation is to him that worketh not, but believeth on Him that justifieth the ungodly. "It is nigh thee."
The faith that apprehends but a part of the Savior's work saves. — The pigeon may stand for the meager apprehension of Christ that is the portion of the faltering and timid; but it saves equally with that fuller conception of his saving work, which might be compared to the bullock of the priest. The question is not as to the quantity but the object of faith. Is it fixed on Jesus? All faith directed to Him cannot but be genuine. It may but touch his garment's hem, yet it saves.
The beneficence of God's law. — What tender touches there are through this strong ancient code! There is such a one here, framed partly in anticipation of the mother of our Lord, who gladly availed herself of its provision. What a glimpse into our Masters humiliation! He owned the cattle on a thousand hills, yet He so emptied Himself that his parents were compelled to bring the poorest offering the law allowed. He stooped that we might rise; emptied Himself that we might be full; became poor that we might be made rich; was made human that we might be made Divine.
><>><>><>
G Campbell Morgan - Life Applications from Every Chapter of the Bible - Lev. 12:8 The priest shall make atonement for her, and she shall be clean.
This is a brief chapter in our Bibles, as it was a brief section in the Hebrew laws. It is none the less one full of suggestiveness. It is the law of Motherhood, and it fences it round in the most sacred way, physically and spiritually. On the purely physical side it will bear close and reverent consideration, providing as it did for the perfect repose of the new mother; and it has been suggested that in the difference of time in the case of male and female children, it had an important bearing on the regulation of the sexes. On the spiritual side, its requirements are very full of importance. Motherhood is one of the most sacred and beautiful things in the whole realm of human experience. This needs no argument. But motherhood is exercised in a race which is defiled. When the great singer of Israel, in his penitential psalm, said: "Behold, I was shapen in iniquity, and in sin did my mother conceive me" (Psa. 51.5), he was casting no reflection upon his own mother, but rather stating a racial fact, from which no human being escapes. Here then is the value of this law. God provided that Motherhood should be sanctified by sacrifice. To us, Motherhood has been for ever made holy by the Seed of the woman, through Whom woman is saved in child-bearing. It is always a sad thing, to say nothing stronger, when mothers forget to remember this, and to recognize it in the sacred service of the sanctuary.
Book