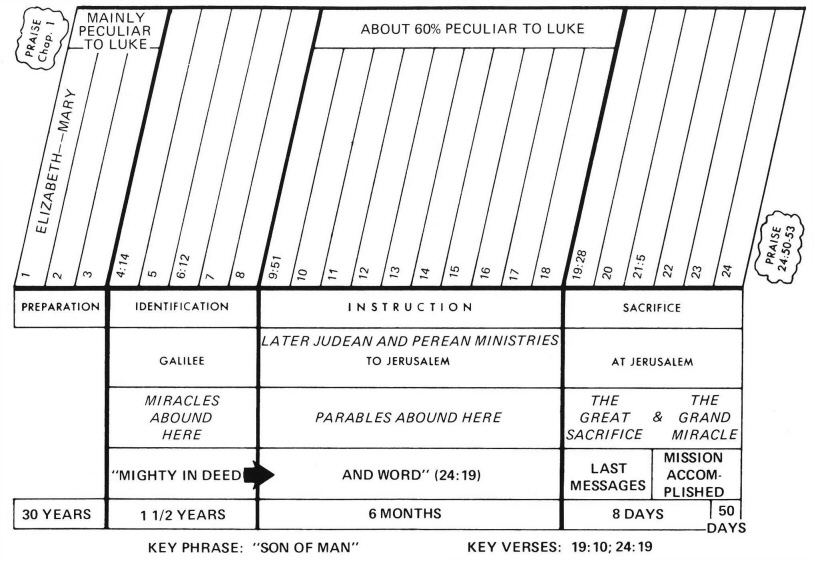 Click chart to enlarge
Chart from recommended resource Jensen's Survey of the NT - used by permission
See another Luke Overview Chart by Charles Swindoll - right side of page

Click chart to enlarge
Chart from recommended resource  Jensen's Survey of the NT - used by permission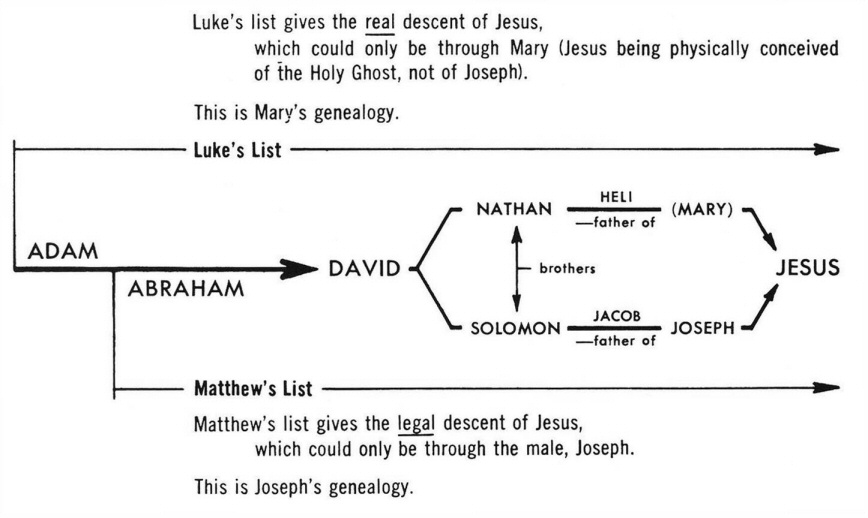 Click chart to enlarge
Chart from recommended resource Jensen's Survey of the NT - used by permission
---
HENRY ALFORD
Charles Haddon Spurgeon writes that this text "is an invaluable aid to the critical study of the text of the New Testament. You will find in it the ripened results of a matured scholarship, the harvesting of a judgment, generally highly impartial, always worthy of respect, which has gleaned from the most important fields of Biblical research, both modern and ancient, at home and abroad. You will not look here for any spirituality of thought or tenderness of feeling; you will find the learned Dean does not forget to do full justice to his own views, and is quite able to express himself vigorously against his opponents; but for what it professes to be, it is an exceedingly able and successful work. The later issues are by far the most desirable, as the author has considerably revised the work in the fourth edition. What I have said of his Greek Testament applies equally to Alford's New Testament for English Readers,* which is also a standard work." (Spurgeon, C. H. Lectures to my Students, Vol. 4: Commenting and Commentaries; Lectures Addressed to the students of the Pastors' College, Metropolitan Tabernacle)
GREG ALLEN
WILLIAM BARCLAY
ALBERT BARNES
BRIAN BELL
CHRIS BENFIELD
JOHANN A BENGEL
BIBLICAL ILLUSTRATOR
BRIAN BILL
OSWALD CHAMBERS
DARRELL BOCK
DARRELL L BOCK - IVP Commentary
Rosscup comments: Evangelical comments run quickly to their points, yet the generality causes skipping some key details (cf. on Anna, Lk 2:36-38) or seem to argue around a more likely view with unconvincing reasoning (Lk 3:16). In other cases, Bock seems to select the most probable view, an instance being in seeing the sermon (Luke 6) as a condensed version of the same sermon in Mt 5–7. One can also find the second and third soils of Luke 8 taken to represent people not actually saved (148–49). One can wonder in Lk 14:34–35 how inability to be worthy disciples is in harmony with salvation as a gift, for the work passes by this. Bock in most verses touches clearly on key issues and… lacks space to deal with every important matter… For a work with much application, cf. Darrell Bock, Luke (NIV Application Commentary. Grand Rapids: Zondervan, 1996). (Rosscup, J. Commentaries for Biblical Expositors)
JIM BOMKAMP
GENE BROOKS
A B BRUCE - Expositor's Greek Testament
HENRY BURTON - Expositor's Bible Commentary
D Edmond Hiebert - A practical, warm-hearted exposition by a conservative scholar. Although written during the nineteenth century, it is rich in its interpretative contents, as, for example, on chapter 15.
CAMBRIDGE BIBLE COMMENTARY
CAMBRIDGE GREEK TESTAMENT - FARRAR, F W
D Edmond Hiebert - Greek text. The work of a famous British scholar of the past century. In spite of its age, the phrase-by-phrase treatment is worth consulting.
ALAN CARR
RICH CATHERS - sermons
2000 Study
CENTURY BIBLE COMMENTARY
OSWALD CHAMBERS
ADAM CLARKE
W A CRISWELL
STEVEN COLE
THOMAS CONSTABLE - commentary
EXPLORE THE BIBLE
BOB DEFFINBAUGH
JOHN DUMMELOW - COMMENTARY
DAN DUNCAN
J LIGON DUNCAN, DEREK THOMAS, DAVID STRAIN, et al
EASY ENGLISH
CHARLES R ERDMAN
Rosscup comments: Concise treatments are given to each of the NT books. The main value of the set lies in its clear synthesis which helps the student grasp the flow of thought as he moves through a book. Erdman possessed a lucid writing style. He was amillennial. (Rosscup, J. Commentaries for Biblical Expositors)

D Edmond Hiebert - A devotional and practical exposition, in paragraph form, by a conservative Presbyterian scholar.
JAMES FOOTE
Spurgeon comments: "We frequently consult this work and never without finding in it things new and old. To preachers who will not steal the lectures, but use them suggestively, they will be extremely serviceable." (Spurgeon - Commenting on Commentaries)
DON FORTNER'S SERMON OUTLINES
A C GAEBELEIN Annotated Bible
JOHN GILL
DOUG GOINS
FREDERIC GODET - commentary
Spurgeon has these comment on Godet: Dr. Meyer says: "To an immense erudition, to a living piety, Godet unites a profound feeling of reality; there is here a vivifying breath, an ardent love for the Saviour, which helps the disciple to comprehend the work, the acts, the words of his Divine Master." (Spurgeon - Commenting on Commentaries)

Cyril Barber - An exhaustive, technical commentary that ably defends the cardinal doctrines of the Christian faith while expounding the text. Deserves a place on the shelf of every pastor. 

D Edmond Hiebert - An exhaustive, technical commentary by a conservative French theologian of the past century. Godet's theological and critical conservatism is clearly revealed in this work on Luke. Of abiding value in spite of its age.

Rosscup comments: Though old, this work is almost exhaustive in dealing with interpretive problems and shows a wide acquaintance with commentators of all ages up to his day. He is regarded by Greek authorities as weak on textual criticism but strong on exegesis. (Rosscup, J. Commentaries for Biblical Expositors)
GOSPEL COALITION - audio sermons on Luke 1 
GOTQUESTIONS
L M GRANT
SCOTT GRANT 
DAVE GUZIK
DANNY HALL
ROBERT HAWKER - Poor Man's Commentary
MATTHEW HENRY
F B HOLE - Commentary
HOLMAN PUBLISHING - well done, conservative study Bible notes
DAVID HOLWICK
HYMN STORIES
HARRY IRONSIDE
JAMIESON, FAUSSET, BROWN
WILLIAM KELLY
Cyril Barber - An excellent handling of Luke's theme, replete with the author's own translation and an exposition that is at once refreshing and satisfying.
PAUL E. KRETZMANN -Lutheran Perspective
LANGE'S COMMENTARY - J J VAN OOSTERZEE - Lange's Commentary on the Holy Scriptures 
Spurgeon writes "Oosterzee in Lange is excellent."

D Edmond Hiebert - In keeping with the series to which it belongs, the massive material is presented in three parts: exegetical and critical, doctrinal and ethical, and homiletical and practical. Conservative in viewpoint. Valuable for those willing to dig into its vast stores of material, much of which is definitely dated.
H. P. LIDDON
LIFE APPLICATION BIBLE - Notes on Luke (158 pages) includes nice black and white maps
JOHN LIGHTFOOT - Commentary
MARTIN LUTHER
JOHN MACARTHUR
ALEXANDER MACLAREN
BRYN MACPHAIL
J VERNON MCGEE
F B MEYER
HEINRICH MEYER - Commentary
J R MILLER - Devotional Hours
ROB MORGAN
HENRY MORRIS - Defender's Study Bible Notes
ROBERT NEIGHBOUR - Living Water Commentary
NET BIBLE NOTES
JAMES NISBET'S - Church Pulpit Commentary
OUR DAILY BREAD
DAVID E OWEN
PASTOR LIFE -
PETER PETT - Commentary
J C PHILPOT
JOHN PIPER
ALFRED PLUMMER - International Critical Commentary - Detailed Comments Verse by Verse
Rosscup comments: This used to be often considered the best older commentary on the Greek. (Rosscup, J. Commentaries for Biblical Expositors)

D. D. Salmond - It is distinguished throughout by learning, sobriety of judgment, and sound exegesis. It is a weighty contribution to the interpretation of the third Gospel, and will take an honorable place in the series of which it forms a part. 

J. H. Thayer - It is a valuable and welcome addition to our somewhat scanty stock of first-class commentaries on the third Gospel. By its scholarly thoroughness it well sustains the reputation which the International Series has already won. 

Cyril Barber - A most exhaustive and helpful treatment of the Greek text.
E H PLUMPTRE, D.D. - New Testament Commentary for English Readers Edited by Charles J Ellicott, D.D.
MATTHEW POOLE - Commentary
WIL POUNDS
PREACHER'S HOMILETICAL - Commentary - Includes Germ Notes, Illustrations, Homilies
RAY PRITCHARD
PULPIT COMMENTARY
REFORMATION STUDY BIBLE - study notes
A. T. ROBERTSON
RON RITCHIE
DON ROBINSON
J C RYLE
ROB SALVATO
JOHNNY SANDERS - published 2005. Well done
SERMON BIBLE COMMENTARY
CHARLES SIMEON
CHUCK SMITH
JAMES SMITH - HANDFULS OF PURPOSE GOSPEL OF LUKE
R C SPROUL DEVOTIONALS GOSPEL OF LUKE - transcripts from Ligonier
R C SPROUL - Sermons Mp3 only
C. H. SPURGEON
JOHN STEVENSON
THIRD MILLENNIUM STUDY NOTES
GEOFF THOMAS Sermons on Luke 1
TODAY IN THE WORD - devotionals
JOHN TRAPP - Commentary
TERRY TRIVETTE
RON RITCHIE SERMONS ON LUKE
BOB UTLEY - CONCISE NOTES, AMILLENNIAL
MARVIN VINCENT
ALEXANDER WHYTE
STEVE ZEISLER
| | | |
| --- | --- | --- |
| Afraid of Being Convinced | Memoirs of Bishop Gobat. | Luke 1:1-4 |
| Certainties | Alexander Raleigh, D. D. | Luke 1:1-4 |
| Certainties Concerning Christ | W. Clarkson | Luke 1:1-4 |
| Christianity Courts Examination | J. Clifford, D. D. | Luke 1:1-4 |
| Courtesy | James Foote, M. A. | Luke 1:1-4 |
| Dedication of Books | James Foote, M. A. | Luke 1:1-4 |
| Examination Convincing |   | Luke 1:1-4 |
| Historical Belief in the Divine Truth of Christianity | J. J. Van Oosterzee, D. D. | Luke 1:1-4 |
| Importance of a Firm Religious Belief | Davy. | Luke 1:1-4 |
| In Order | Professor Godet., Prebendary Row. | Luke 1:1-4 |
| Infidels Neglect to Examine the Bible | Student's Handbook to Scripture Doctrines. | Luke 1:1-4 |
| Introductory Consideration | James Foote, M. A. | Luke 1:1-4 |
| Luke and Theophilus | J. J. Van Oosterzee, D. D. | Luke 1:1-4 |
| Luke Is | J. J. Van Oosterzee, D. D. | Luke 1:1-4 |
| Many Workers Needed | Joseph Parker, D. D. | Luke 1:1-4 |
| Most Excellent Theophilus | J. J. Van Oosterzee, D. D., Starke. | Luke 1:1-4 |
| Most Excellent Theophilus | James Foote, M. A. | Luke 1:1-4 |
| Most Excellent Theophilus | Biblical Museum | Luke 1:1-4 |
| Other Narratives of Christ's Life | J. B. Thomson, D. D. | Luke 1:1-4 |
| Power of Personal Testimony |   | Luke 1:1-4 |
| Pulpit Notes | Joseph Parker, D. D. | Luke 1:1-4 |
| Religion a Reality | Essex Remembrancer | Luke 1:1-4 |
| St. Luke's Preface | Bishop Harvey Goodwin. | Luke 1:1-4 |
| St. Luke's Preface | P. Schaff , D. D. | Luke 1:1-4 |
| Testimonies of Experience | H. W. Beecher. | Luke 1:1-4 |
| The Absolute Certainty of the Christian Religion | R.M. Edgar | Luke 1:1-4 |
| The Bible Really Believed | Baxendale's Illustrations | Luke 1:1-4 |
| The Bible Tested | Dr. John Hall. | Luke 1:1-4 |
| The Christian Faith is Founded on Facts | Dean Stanley. | Luke 1:1-4 |
| The Highest Aim Which a Christian Anther Can Propose to H | Ibid. | Luke 1:1-4 |
| The Order in Divine Things | Van Oosterzee. | Luke 1:1-4 |
| The Power of Truth | Dr. Donne. | Luke 1:1-4 |
| The Preface the Best Part of the Book | Joseph Parker, D. D. | Luke 1:1-4 |
| The Preface to the Gospel | G. D. Boardman. | Luke 1:1-4 |
| The Purpose of the Gospel | F. D. Maurice, M. A. | Luke 1:1-4 |
| The Tone of Certainty | E. White. | Luke 1:1-4 |
| The Tone of the New Testament on Certainty in Religion | Edward White. | Luke 1:1-4 |
| The Witnesses of the Gospel Facts | E. White. | Luke 1:1-4 |
| Theophilus | Professor Godet. | Luke 1:1-4 |
| Triumph of the Word | Dr. McEwan. | Luke 1:1-4 |
| Luke I. 3, 4 | Thomas Arnold | Luke 1:3 |
| Luke I. 3,4 | Thomas Arnold | Luke 1:3 |
| Elijah Come Again | Alexander Maclaren | Luke 1:5 |
| Of the Course of Abia | Dr. Kitto. | Luke 1:5 |
| Priesthood in the Davis of Our Lord | Dr. Geikie. | Luke 1:5 |
| The Priestly Descent of the Forerunner | Dr. Grosart. | Luke 1:5 |
| The Priestly Orders | Archdeacon Farrar., Van Doren. | Luke 1:5 |
| Life in its Completeness | W. Clarkson | Luke 1:5, 6 |
| The Inauguration of the Dispensation of Grace | R.M. Edgar | Luke 1:5-25 |
| A Model Coupler | W. Burkitt, M. A. | Luke 1:6 |
| All God's Commands to be Observed | A. W. Hare. | Luke 1:6 |
| Characteristics of True Righteousness | H. R. Burton. | Luke 1:6 |
| Domestic Life | Essex Remembrancer | Luke 1:6 |
| Like Stock, Like Fruit | Bishop Hall., Dr. Grosart. | Luke 1:6 |
| Observance of God's Ordinances | Bishop Beveridge. | Luke 1:6 |
| Performance of Duties | W. Gurnall. | Luke 1:6 |
| The Blameless Pair | E. Payson, D. D. | Luke 1:6 |
| Transparent in Character | C. H. Spurgeon. | Luke 1:6 |
| Unity of Zacharias and Elisabeth | VanDoren. | Luke 1:6 |
| Zacharias and Elisabeth | John Rawlinson. | Luke 1:6 |
| Opposite Wonders in the Conception of Christ and of John | Bishop Hall., W. H. Van Doren, D. D. | Luke 1:7 |
| The Grief of Being Childless | Dr. Geikie. | Luke 1:7 |
| The Society of Children |   | Luke 1:7 |
| Virtue Rewarded After Long Trial | W. Burkitt, M. A. | Luke 1:7 |
| His Lot | Dr. Kitto. | Luke 1:8-10 |
| Joint Offering of Priest and People | W. Burkitt, M. A. | Luke 1:8-10 |
| Order in the Performance of Religious Duties | W. Burkitt, M. A. | Luke 1:8-10 |
| Priestly Functions | James Foote, M. A. | Luke 1:8-10 |
| Remarkable Effect of United Prayer | Hervey's "Manual of Revivals." | Luke 1:8-10 |
| Supplication the Church's Power | Bishop F. D. Huntingdon. | Luke 1:8-10 |
| Symbol of United Prayer | R. Tuck. | Luke 1:8-10 |
| The Priest's Office | Dr. Geikie | Luke 1:8-10 |
| The Providence in Chance | Bishop Goodwin. | Luke 1:8-10 |
| The Social Feelings in Large Gatherings | J. Aldis. | Luke 1:8-10 |
| Zachariah's Prayer Heard | Van Oosterzee. | Luke 1:8-10 |
| Absence from the Sanctuary | Dr. Grosart. | Luke 1:11 |
| Angelic Visits | Dr. Parker. | Luke 1:11 |
| Angels Present in Church | Dean Hook. | Luke 1:11 |
| Character of the Angels |   | Luke 1:11 |
| Intercourse Between Visible and Invisible World | F. D. Maurice. | Luke 1:11 |
| Reality of the Spirit World | Murray. | Luke 1:11 |
| Seeing the Angels | Prof. Godet. | Luke 1:11 |
| The Angels as Observers and Witnesses | Bishop Bull. | Luke 1:11 |
| The Annunciation to Zacharias |   | Luke 1:11 |
| Angelic Glory Awakening Fear | W. Burkitt, M. A. | Luke 1:12 |
| Sight Rather than Faith the Cause of Fear | Bishop Hall. | Luke 1:12 |
| Terrifying Effect of Supernatural Appearances | James Foote, M. A. | Luke 1:12 |
| Acceptable Prayer Defined | W. H. Van Doren, D. D. | Luke 1:13 |
| And Thy Wife Elisabeth... John | Rudolf Stier. | Luke 1:13 |
| Angelic Solicitude | W. Burkitt, M. A | Luke 1:13 |
| Human Life on Earth Known in Heaven | Dr. Parker. | Luke 1:13 |
| Light Will Arise in Due Time | A. B. Grosart, LL. D, Rudolph Stier | Luke 1:13 |
| Long-Offered Prayers | A. B. Grosart, LL. D., Anon. | Luke 1:13 |
| Prayer Heard Though not Immediately Answered | H. W. Beecher. | Luke 1:13 |
| Prayers Answered At Last | North-Western Christian Advocate. | Luke 1:13 |
| The Efficacy of Prayer | Pall Mall Gazette. | Luke 1:13 |
| The Fear-Nots of the Bible | Anon. | Luke 1:13 |
| Unanswered Prayer Accepted | T. Guthrie, D. D. | Luke 1:13 |
| Parental Ambition | W. Clarkson | Luke 1:13-17 |
| An Ideal Child | James Foote, M. A. | Luke 1:14 |
| Prophetic Description of the Baptist | W. Burkitt, M. A. | Luke 1:14 |
| Social Joys | Dr. Parker. | Luke 1:14 |
| Useful Lives | A. Decoppel. | Luke 1:14 |
| True Greatness | Alexander Maclaren | Luke 1:15 |
| A Great Man |   | Luke 1:15-16 |
| A Strange Greatness | Bishop Goodwin. | Luke 1:15-16 |
| Abstinence and Health | Canon Basil Wilberforce. | Luke 1:15-16 |
| Abstinence and Promotion | Christian Chronicle | Luke 1:15-16 |
| And He Shall be Filled with the Holy Ghost | Professor Drummond., Dr. Joseph Leckie. | Luke 1:15-16 |
| And Many of the Children of Israel | J. R. Bailey. | Luke 1:15-16 |
| And Shall Drink Neither Wine nor Strong Drink | Archdeacon Farrar. | Luke 1:15-16 |
| Character and Work of John | Robert Hall. | Luke 1:15-16 |
| Character of John the Baptist | A. M. Fairbairn, D. D. | Luke 1:15-16 |
| Conversion Must be a Complete Surrender | C. H. Spurgeon. | Luke 1:15-16 |
| Goodness is Greatness | Henry R. Burton. | Luke 1:15-16 |
| Importance of One Conversion | W. M. Punshon, D,D. | Luke 1:15-16 |
| In the Sight of the Lord | Dean Church. | Luke 1:15-16 |
| Personal Influence in Conversion |   | Luke 1:15-16 |
| True Greatness | Dr. W. M. Taylor. | Luke 1:15-16 |
| A Father Reconciled to His Son | D. L. Moody. | Luke 1:17 |
| Drawing Lightning | C. S. Robinson, D. D. | Luke 1:17 |
| The Pioneer of the Gospel | James Foote, M. A. | Luke 1:17 |
| The Prepared People | J. Vaughan, M. A. | Luke 1:17 |
| The Spirit and Power of Elias | C. Simeon., Samuel Cox, D. D. | Luke 1:17 |
| The Spirit and Power of the Baptist | George Low, M. A. | Luke 1:17 |
| The Wisdom of the Just | J. Slade, M. A. | Luke 1:17 |
| And Zacharias Said unto the Angel | Bishop Goodwin. | Luke 1:19-23 |
| As Soon as the Days of His Ministration Were Accomplished | Dean Stanley. | Luke 1:19-23 |
| Belief | G. A. Gordon. | Luke 1:19-23 |
| Dumb | Bishop Andrewes. | Luke 1:19-23 |
| Grieving Because of Unbelief | From sermon by Charles Finney. | Luke 1:19-23 |
| He Beckoned unto Them | Richard Crashaw. | Luke 1:19-23 |
| He Had Seen a Vision | Lyman Abbot. | Luke 1:19-23 |
| I am Gabriel | Dr. Kitto. | Luke 1:19-23 |
| I am Gabriel. Names of Angels | F. Godet, D. D. | Luke 1:19-23 |
| Remained Speechless | Bishop Hall. | Luke 1:19-23 |
| Sticking to Duty | T. Guthrie, D. D. | Luke 1:19-23 |
| Telling the News At Home | A. B. Grosart, LL. D. | Luke 1:19-23 |
| The Judgment on Zacharias | C. H. Spurgeon., A. B. Grosart, LL. D. | Luke 1:19-23 |
| Unbelief a Sin | Handbook to Scripture Doctrines. | Luke 1:19-23 |
| The Judgment Upon Zacharias | Charles Haddon Spurgeon | Luke 1:20 |
| Modesty | Buck. | Luke 1:24 |
| Modesty a Retiring Grace | Hartwig. | Luke 1:24 |
| Absence of Self-Consciousness | Stopford A. Brooke, M. A. | Luke 1:26-30 |
| Angelic Visitations | H. W. Beecher. | Luke 1:26-30 |
| Blessed Among Women | J. H. McIlvaine, D. D. | Luke 1:26-30 |
| Blessed of God | Wallin. | Luke 1:26-30 |
| Calmness of Mary | Harriet B. Stowe. | Luke 1:26-30 |
| Encouragement to the Humble | H. Melvill, B. D. | Luke 1:26-30 |
| God's Presence with His People | Henry R. Burton. | Luke 1:26-30 |
| Mary a Typical Jewess | Harriet B. Stowe. | Luke 1:26-30 |
| Mary the Flower of a Selected Race | Harriet B. Stowe. | Luke 1:26-30 |
| Mary to be Held in Honour | Horace Bushnell, D. D. | Luke 1:26-30 |
| Mary, the Mother of Jesus | Horace Bushnell, D. D. | Luke 1:26-30 |
| Mary's Home-Life | E. T. Marshall, M. A. | Luke 1:26-30 |
| Mary's Piety | Horace Bushnell, D. D. | Luke 1:26-30 |
| Mary's True Place in Christian Esteem | E. T. Marshall, M. A. | Luke 1:26-30 |
| The Annunciation | W. Burkitt, M. A. | Luke 1:26-30 |
| The Annunciation | Dr. Parker. | Luke 1:26-30 |
| The Blessed Among Women | Van Oosterzee. | Luke 1:26-30 |
| The Glory of Mary | Harriet B. Stowe. | Luke 1:26-30 |
| The Mother of Jesus -- a Woman's Sermon to Worn | Marianne Farningham. | Luke 1:26-30 |
| Thou Hast Found Favour | Rudolf Stier. | Luke 1:26-30 |
| The Beginning of the Creation of God | R.M. Edgar | Luke 1:26-38 |
| The Angel's Greeting | Johannes Eckhart | Luke 1:28 |
| Fulness of Meaning in the Name Jesus | G. W. Heacoek. | Luke 1:31 |
| Jesus Born the Son of God | Friedrich Schleiermacher | Luke 1:31 |
| Signification of the Name Jesus | Van Doren. | Luke 1:31 |
| The Divinity of the Name Jesus | James Merchant. | Luke 1:31 |
| The Efficacy of This Name | M Faber. | Luke 1:31 |
| The Incarnation | Van Doren. | Luke 1:31 |
| The Lock of the Heart |   | Luke 1:31 |
| The Miraculous Conception | Dr. Geikie. | Luke 1:31 |
| The Name Jesus | C. H. Spurgeon. | Luke 1:31 |
| The Name Jesus | Student's Handbook to Scripture Doctrine. | Luke 1:31 |
| The Name of Jesus | A. F. Barfield. | Luke 1:31 |
| The Name of Jesus a New Year Watchword | Thos. H. Barnett. | Luke 1:31 |
| The Preciousness of the Name Jesus | P. von Hartung. | Luke 1:31 |
| The Greatness of Jesus Christ | W. Clarkson | Luke 1:31-33 |
| Christ the Ideal Representative of Humanity | John Stuart Mill. | Luke 1:32 |
| Divine Humanity Realized in Christ |   | Luke 1:32 |
| Forgotten Great Ones | David Swing. | Luke 1:32 |
| Jesus not a Fabrication |   | Luke 1:32 |
| The Grandeur of Christ | C. H. Spurgeon. | Luke 1:32 |
| The Greatness of Christ | Bishop Martensen. | Luke 1:32 |
| The Greatness of Jesus | Bishop Harvey Goodwin. | Luke 1:32 |
| The Higher Life | David Swing. | Luke 1:32 |
| The Incarnation | Watts. | Luke 1:32 |
| Christ the Key to the World's History | Prof. Henry B. Smith. | Luke 1:33 |
| Christ's Everlasting Kingdom | Cummings. | Luke 1:33 |
| Of Christ's Incarnation |   | Luke 1:34-35 |
| Rome -- Her New Dogma, and Our Duties | Bishop Samuel Wilberforce. | Luke 1:34-35 |
| The Difficulty of Mary's Situation | E. T. Marshall, M. A. | Luke 1:34-35 |
| The Life of Separation | Canon Body. | Luke 1:34-35 |
| The Miraculous Conception | Bishop Horsley. | Luke 1:34-35 |
| God's Omnipotence | C. H. Spurgeon. | Luke 1:37 |
| The Scorn of Impossibility | Thomas Carlyle. | Luke 1:37 |
| Blessedness of Resignation | Dr. Chalmers. | Luke 1:38 |
| Mary's Answer Exhibits | Van Doren. | Luke 1:38 |
| Mary's Quiet Acceptance of Greatness | Stopford A. Brooke, M. A. | Luke 1:38 |
| Ready Acquiescence in God's Will | Bishop Hall. | Luke 1:38 |
| Reasons for Submission to the Will of God | D. Beaumont. | Luke 1:38 |
| The Call of God | Dean Church., Professor Warfield. | Luke 1:38 |
| The Handmaid of the Lord | J. Slade, M. A. | Luke 1:38 |
| The Life of Consecration | Canon Body. | Luke 1:38 |
| Happiness Communicated Doubles Itself | Bishop Hall., Parisian Breviary. | Luke 1:39-45 |
| Mary's Visit to Elisabeth | Harriet B. Stowe. | Luke 1:39-45 |
| Religious Intercourse | James Foote, M. A. | Luke 1:39-45 |
| The Home of Zacharias | C. Geikie, D. D. | Luke 1:39-45 |
| The Power of Sympathy | C. S. Robinson, D. D. | Luke 1:39-45 |
| The Speech of Elisabeth Must be Regarded as an Inspired S | Bishop Goodwin. | Luke 1:39-45 |
| The Subordination of Personal Joys | Dr. Parker. | Luke 1:39-45 |
| Went into the Hill Country: Mary's Journey | C. S. Robinson, D. D. | Luke 1:39-45 |
| Inspirations Amid the Hills of Judaea | R.M. Edgar | Luke 1:39-56 |
| Blessedness of Firmly Believing | R. Storrs. | Luke 1:45 |
| Saving Faith | William Dawson. | Luke 1:45 |
| Trust in God | Professor Warfield. | Luke 1:45 |
| A Harp of Ten Strings | Charles Haddon Spurgeon | Luke 1:46 |
| The Key-Note of a Choice Sonnet | Charles Haddon Spurgeon | Luke 1:46 |
| The Magnificat | Alexander Maclaren | Luke 1:46 |
| The Voice of Praise | W. Clarkson | Luke 1:46-48 |
| A New Song | Dr. Parker. | Luke 1:46-55 |
| All the Perfections of God Glorified in the Gift of the Saviour | C. S. Robinson, D. D. | Luke 1:46-55 |
| An Ignominious Fall | Dr. Talmage. | Luke 1:46-55 |
| Christianity and Women | Canon Liddon. | Luke 1:46-55 |
| Copiousness of God's Mercy | H. W. Beecher. | Luke 1:46-55 |
| God's Continuing Mercy | C. H. S. | Luke 1:46-55 |
| Greatness of God | Sermons by Dr. Hamilton. | Luke 1:46-55 |
| Happiness of Confiding in God | Student's Handbook to Scripture Doctrines. | Luke 1:46-55 |
| Help Offered |   | Luke 1:46-55 |
| Joy Under Unfavourable Circumstances | Samuel Martin. | Luke 1:46-55 |
| Joyous Workers Do Most for God | H. Bonar, D. D. | Luke 1:46-55 |
| Living in God a Source of Joy |   | Luke 1:46-55 |
| Magnifying the Lord | C. H. Spurgeon. | Luke 1:46-55 |
| Mary's Canticle | W. Burkitt, M. A. | Luke 1:46-55 |
| Mary's Patriotism | Stopford A. Brooke, M. A. | Luke 1:46-55 |
| Mary's Song | C. H. Spurgeon. | Luke 1:46-55 |
| Mary's Unselfishness | H. B. Stowe. | Luke 1:46-55 |
| My Saviour | Stems and Twigs. | Luke 1:46-55 |
| My Soul Doth Magnify the Lord | C. H. Spurgeon. | Luke 1:46-55 |
| Power of a True Christian Woman | H. B. Stowe. | Luke 1:46-55 |
| Pride Before Destruction | H. R. Burton. | Luke 1:46-55 |
| Pride the Master Sin | H. R. Burton. | Luke 1:46-55 |
| Rejoicing Always | Life of Billy Bray. | Luke 1:46-55 |
| Rejoicing in God | Canon Liddon. | Luke 1:46-55 |
| Religious Joy | C. H. Spurgeon. | Luke 1:46-55 |
| Take Heed of Abusing the Mercy of God | T. Watson. | Luke 1:46-55 |
| The Beatitude of Mary, the Mother of the Lord | Canon Knox Little. | Luke 1:46-55 |
| The Christian's Exaltation | T. Brooks. | Luke 1:46-55 |
| The Coming of Jesus Is | Van Oosterzee., Luther. | Luke 1:46-55 |
| The Greatest Blessedness is to be a Follower of Christ | J. Stringer Rowe. | Luke 1:46-55 |
| The Hungry and the Rich | Canon Liddon. | Luke 1:46-55 |
| The Magnificat | C. S. Robinson, D. D. | Luke 1:46-55 |
| The Magnificat | Dr. Dolittle. | Luke 1:46-55 |
| The Magnificat | Bishop Wm. Alexander. | Luke 1:46-55 |
| The Magnificat -- External Characteristics | C. S. Robinson, D. D. | Luke 1:46-55 |
| The Magnificat -- Internal Characteristics | C. S. Robinson, D. D. | Luke 1:46-55 |
| The Magnificat -- its Structure and Contents | F. Godet, D. D. | Luke 1:46-55 |
| The Magnificat, as it Exemplifies the Life of Joy | Canon Body. | Luke 1:46-55 |
| The Prophecy of the Magnificat | Canon Liddon. | Luke 1:46-55 |
| The Reverence Due to the Blessed Virgin | J. H. Newman, D. D. | Luke 1:46-55 |
| The Song of Mary | Preacher's Monthly | Luke 1:46-55 |
| The Virgin Mary; Or, True Blessedness | Rowland Ellis, M. A. | Luke 1:46-55 |
| The Virgin Mary's Joy | C. Bradley, M. A. | Luke 1:46-55 |
| The Virgin's Character | Stopford Brooke. | Luke 1:46-55 |
| The Visit of Mary to Elisabeth | G. D. Boardman. | Luke 1:46-55 |
| True Praise | Van Doren., Van Doren. | Luke 1:46-55 |
| True Womanly Fame | Stopford A. Brooke, M. d. | Luke 1:46-55 |
| God Revealed in Jesus Christ | W. Clarkson | Luke 1:49-55 |
| Birth and Naming of the Baptist | G. Venables, S. C. L. | Luke 1:56-80 |
| Naming a Child | Biblical Treasury | Luke 1:56-80 |
| Praising God | H. R. Burton. | Luke 1:56-80 |
| The Birth and Training of John the Baptist | G. D. Boardman. | Luke 1:56-80 |
| The Dumb Learning to Praise God |   | Luke 1:56-80 |
| The Nativity of John the Baptist | Dr. Parker. | Luke 1:56-80 |
| These Opening Chapters of Luke Very Jubilant | G. B. Johnson. | Luke 1:56-80 |
| To Children | Study and Homiletic Monthly | Luke 1:56-80 |
| The Birth and Development of the Baptist | R.M. Edgar | Luke 1:57-80 |
| Joy and Awe At a Human Birth | W. Clarkson | Luke 1:58, 66, 67 |
| A Child Misjudged | Baxendale's Anecdotes | Luke 1:66 |
| A Question and Answer At the Birth of a Child | Van Oosterzee. | Luke 1:66 |
| A Sermon to Children | Mark Guy Pearse. | Luke 1:66 |
| A Sermon to Parents | W. Fox. | Luke 1:66 |
| Great Expectations | Canon G. H. Curteis. | Luke 1:66 |
| Indications in Childhood | H. R. Burton. | Luke 1:66 |
| Internal History of the Baptist | Canon G. H. Curteis. | Luke 1:66 |
| The Future of a Child | Canon Vernon Hutton, M. A. | Luke 1:66 |
| The Mystery of Moral Development | Handbook to Scripture Doctrines. | Luke 1:66 |
| What Manner of Child Shall This Be? | A. B. Grosart, DD. | Luke 1:66 |
| Zacharias' Hymn | Alexander Maclaren | Luke 1:67 |
| Changed by the Spirit | C. H. Spurgeon. | Luke 1:67-79 |
| Deliverance At Hand | Sunday School Times | Luke 1:67-79 |
| Emotion Breaking Out into Speech | T. L. Cuyler. | Luke 1:67-79 |
| God's Faithfulness | Sunday School Times | Luke 1:67-79 |
| Religious Value of Song |   | Luke 1:67-79 |
| Songs Composed Under Stress of Deep Feeling |   | Luke 1:67-79 |
| Spontaneous Spiritual Song | A. B. Grosart, D. D., Professor Luthardt. | Luke 1:67-79 |
| The Parental Relationship | H. C. Trumbull. | Luke 1:67-79 |
| The Song of Zacharias | Bishop Willliam Alexander. | Luke 1:67-79 |
| The Song of Zacharias | James Foote, M. A. | Luke 1:67-79 |
| The Song of Zacharias | F. D. Maurice, M. A. | Luke 1:67-79 |
| The Source of True Power | H. C. Trumbull. | Luke 1:67-79 |
| Zachariah's Canticle | W. Burkitt, M. A. | Luke 1:67-79 |
| Difficulty of Defining Redemption | Adolphe Monod. | Luke 1:68 |
| God's Great Redemption | Dr. Talmage. | Luke 1:68 |
| Realizing Redemption | Life of Dr. Arnold. | Luke 1:68 |
| Redeemed | Bishop Hacket. | Luke 1:68 |
| Visited | Bishop Hacket. | Luke 1:68 |
| All God's Promises are Fulfilled |   | Luke 1:70 |
| Faithfulness of God | C. H. Spurgeon. | Luke 1:70 |
| Immovableness of the Divine Promises | C. H. Spurgeon. | Luke 1:70 |
| Mercy of God Boundless | C. H. Spurgeon. | Luke 1:70 |
| God's Covenants | H. R. Burton. | Luke 1:73 |
| The Purpose of God's Oath | John Owen. | Luke 1:73 |
| Delivered from Fear | H. R. Burton. | Luke 1:74 |
| Delivered from the Hand of the Enemy | Memoirs of the late Bishop Gobat. | Luke 1:74 |
| God's Interposition | Dr. Talmage. | Luke 1:74 |
| Serving God and the Fear of Man | Dr. Finney. | Luke 1:74 |
| Serving the Lord in Holiness | T. Boston. | Luke 1:74 |
| Serving the Lord in Holiness | T. Boston. | Luke 1:74 |
| The Practical Nature of Christianity | Bishop A. F. Forbes. | Luke 1:74 |
| Tormenting Fear of God | H. W. Beecher. | Luke 1:74 |
| The Course of the Christian Life | W. Clarkson | Luke 1:74, 75 |
| Ambition to Excel in Holiness | Dean Stanley. | Luke 1:75 |
| Holiness | John Munro Gibson. | Luke 1:75 |
| The Holy and Their Heavenly Prospects | Christina G. Rossetti. | Luke 1:75 |
| God a Great Forgiver | Arvine. | Luke 1:77 |
| Nature Silent Concerning Salvation. |   | Luke 1:77 |
| Source of Salvation | T. Guthrie, D. D. | Luke 1:77 |
| A Light in a Dark Place |   | Luke 1:78 |
| Beholding the Sun | Dr. Talmage. | Luke 1:78 |
| Burnt a Hole in the Night | R. Cordley, D. D. | Luke 1:78 |
| Christ Our Dayspring | John Waugh. | Luke 1:78 |
| Christ's Advent | Dr. Scott. | Luke 1:78 |
| Darkness and Danger | W. Hardman, LL. D. | Luke 1:78 |
| Explanation of the Imagery | F. Godet, D. D. | Luke 1:78 |
| God's Mercy Towards a Dark World | G. Brooks. | Luke 1:78 |
| God's Tender Mercy | C. H. Spurgeon. | Luke 1:78 |
| Philosophy and Christianity | Coleridge. | Luke 1:78 |
| Safety in the Light of Day | Sunday School Times | Luke 1:78 |
| Sunshine | Dr. Talmage. | Luke 1:78 |
| The Dayspring from on High | J. C. Philpot. | Luke 1:78 |
| The Dayspring from on High | Alexander Maclaren | Luke 1:78 |
| The Dayspring from on High: Christ as the Dawn | C. S. Robinson, D. D. | Luke 1:78 |
| The Gradual Development of Redemption | J. O. Davies. | Luke 1:78 |
| The Mercy of God | A. Garry, M. A. | Luke 1:78 |
| The Necessity and Glory of Christ | Bishop E. Steere. | Luke 1:78 |
| The Night of Humanity | R. Rothe, D. D. | Luke 1:78 |
| The Sun an Emblem of Christ | Bishop Trower. | Luke 1:78 |
| The Tender Mercy of Our God | C. H. Spurgeon. | Luke 1:78 |
| The Tenderness of God | P. B. Power, M. A. | Luke 1:78 |
| Waiting for the Dayspring | J. O. Davies. | Luke 1:78 |
| We Notice Then | W. Toase. | Luke 1:78 |
| Christ Our Light | W. Clarkson | Luke 1:79 |
| Christ Our Peace | W. Clarkson | Luke 1:79 |
| Every Life has its Desert Period | Bishop Penriek | Luke 1:80 |
| John's Secluded Life | Archdeacon Farrer. | Luke 1:80 |
| Satisfactions of Solitude | Baxendale's Anecdotes | Luke 1:80 |
| Solitude a Good Teacher |   | Luke 1:80 |
| Solitude Helps to Mature Thought | L D'Israeli. | Luke 1:80 |
| The Retirement of John Was | A. B. Grosart, LL. D | Luke 1:80 |
| The Service of Solitude | W. Clarkson | Luke 1:80 |
| The Youth of John the Baptist | Dr. Belfrage. | Luke 1:80 |
| Waxed Strong in Spirit | A. B. Grosart, LL. D. | Luke 1:80 |
Book