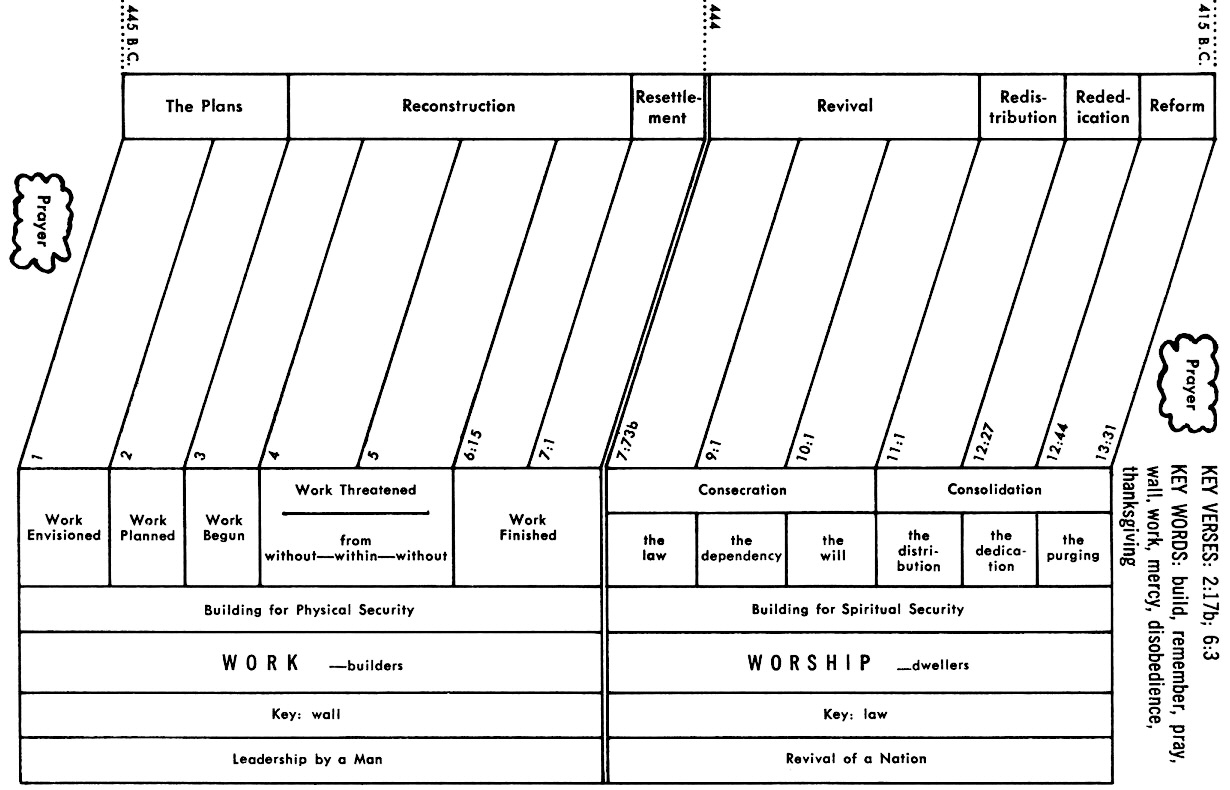 Click chart to enlarge
Chart from Jensen's Survey of the NT - used by permission
CHRONOLOGICAL RELATIONSHIP OF
EZRA-NEHEMIAH-ESTHER
538-515BC
483-473BC
457BC

13 Year

Gap

444-425BC
Ezra 1-6
Book of Esther
Ezra 7-10
Book of Nehemiah
First Return
of Jews from
Babylonian Exile
58 Year
Gap
Second Return
of Jews from Babylonian Exile
Third Return
of Jews from
Babylonian Exile
1
2
3
4
5
6
7
8
9
10
11
12
13
Reconstruction of
The Wall
Restoration of
The People
Revealed
Plans
Re-
Construction
Re-
Settle
Re-
Vival
Re-
Distribute
Re-
Dedicate
Re-
Form
Vision
for
Work
Plan
for
Work
Begin
the
Work
Work Threatened
from
Without-Within-Without
Finish
the
Work
Consecration
Renewal of the Covenant
Consolidation
Obedience to the Covenant
Key:
Wall
Key:
Law
Political
Spiritual
Construction
Instruction
Building for
Physical Security
Building for
Spiritual Security
Work
(Builders)
Worship
(Dwellers)
Leadership by
A Man
Revival of
A Nation
Place: Jerusalem
Time: 19 years
(444-425 BC)

Adapted from Wilkinson's Talk Thru the Bible and Jensen's Survey of the OT

Key Passages: Nehemiah 2:17, Nehemiah 6:3, 15, 16, Nehemiah 8:8, Nehemiah 8:10

Key Words: Build/built (Nehemiah 2:18, 20, 3:1, 2, 3, 13, 14, 15, 4:3, 5, 6, 18, 7:4, 12:29), Remember (Nehemiah 1:8, 4:14, 6:19, 6:14, 9:17, 13:14, 22, 29, 31), Read the Book (Nehemiah 8:3, 8, 18, 9:3, 13:1) Pray (Nehemiah 1:4, 6, 11, 2:4, 4:9, 11:17), Wall (33x), Work (22x), Mercy (Lovingkindness) (Nehemiah 1:5, 9:17, 32, 13:22), Disobedient (Nehemiah 9:26)

EZRA RESTORATION

NEHEMIAH RECONSTRUCTION

ESTHER PRESERVATION

J Sidlow Baxter - Nehemiah is a gem of a book in the spiritual lessons which it teaches us. It tells how, under the new leadership of Nehemiah, the walls of Jerusalem were rebuilt by the returned Remnant, and how the people themselves were reinstructed in the Law which God had given to their nation, long before, through Moses. This rebuilding of the city wall is like a graphic object-lesson illustrating those truths which lie at the heart of all true service for God; and he who will give heed to the lessons here vividly pictured will be a wise and successful builder in spiritual things… The Babylonian Exile sounded the death-knell of the Hebrew language. The educated classes were deported to Babylon or fled to Egypt, and those who remained were not slow to adopt the language used by their conquerors. The old Hebrew became a literary and sacred tongue, the language of everyday life being probably Aramaic. Whatever may be the exact meaning of Neh 8:8, it proves that the people of that time had extreme difficulty in understanding classical Hebrew when it was read to them. Yet for the purpose of religion, the old language continued to be employed for several centuries. - T.H. Weir, in "International Standard Bible Encyclopedia."… Spiritual Message - As we watch this strong, earnest, godly hero, Nehemiah, resolutely leading the rebuilding in the first part of the book, then resolutely resisting compromise and laxity and intrigue in the second part of the book, we find the spiritual message of it all coming home to us with great force. Let us heed its voice to us. There is no winning without working and warring. There is no opportunity without opposition. There is no "open door" set before us without there being many "adversaries" to obstruct our entering it (1 Cor 16:9). Whenever the saints say, "Let us arise and build," the enemy says, "Let us arise and oppose." There is no triumph without trouble. There is no victory without vigilance. There is a cross in the way to every crown that is worth wearing. Lessons and analogies are everywhere in this book. There are the walls of a city of God to be built in every individual human heart. There are the walls of a city of God to be built among the nations of the earth. Nehemiah exemplifies the vital principles which are involved in all such building, if it is to be successful building in the true sense. And we must add that Nehemiah himself is a really first-rank character-study. He stands out conspicuously as a man of prayer, a man of faith, a man of courage, a man of action. Look up the verses and incidents which indicate these qualities. They are an inspiration to read and reflect on. The late Rev. Samuel Chadwick, beloved by all sound Methodists, once used the following words, or words very like them, in a prayer at a service which he was conducting in Manchester: "O Lord, make us intensely spiritual, but keep us perfectly natural and thoroughly practical." As we recall that prayer we cannot but think how Nehemiah illustrates those three expressions intensely spiritual, perfectly natural, thoroughly practical. Both Nehemiah and Samuel Chadwick eminently fulfilled the terms of that prayer, and both were singularly owned of God as spiritual builders and soldiers. May God raise up a numerous succession to them among the needy churches of our day! (Explore the Book- J. Sidlow Baxter - recommended)

Irving Jensen - Revival (Nehemiah 7:73b–10:39) A major turn is made in the book of Nehemiah at 7:73b. The shift is from the physical and material rebuilding to building for spiritual security. The reading of God's Word is given no higher honor than in chapter 8; thanksgiving and penitence are blended together in sublime and startling proportions in the prayer of chapter 9; and the people's determination to prove the sincerity of that prayer by action is wonderfully exemplified in chapter 10. The people solemnly covenanted "to walk in God's law," which they were proud to claim as having come to them through "Moses, God's servant" (10:29). Among other things, they said, "We will not neglect the house of our God" (10:39). The passing of time would tell how faithfully they and their children would keep this covenant… The subject of revival is often discussed by Christians, but less often experienced. Revival is the renewal of the believer's intimate relationship with God. The price of revival is high, but the way is simple. These three chapters present that way, in the correct order: Chapter 8: the work of God's Word (exposure to, and understanding of the Word) Chapter 9: the experience of genuine prayer (confession of sin, and worship of God) Chapter 10: decision and action (in the spirit of sacrifice) Reflect on these truths, especially as they apply to Christian living. (Jensen's Survey of the Old Testament- Search and Discover- Recommended)
Cyril Barber - This set (Expositor's Bible Commentary), originally published in 1903, contains expositions by both conservative and liberal theologians. The most important works are by Dod (Genesis), Chadwick (Exodus and Mark), Kellogg (Leviticus), Blaikie (Joshua, I and II Samuel), Adeney (Ezra, Nehemiah and Esther), Maclaren (Psalms), Moule (Romans), Findlay (Galatians and Ephesians), Plummer (Pastoral Epistles and the Epistles of James and Jude), and Milligan (Revelation.) —Cyril J. Barber, The Minister's Library
Warren W. Wiersbe - If you can locate the six-volume edition of the Expositor's Bible, buy it immediately! It takes up less space than the original fifty-volume set, and not everything in the original set is worth owning. Samuel H. Kellogg on Leviticus is a classic; so is Alexander Maclaren on the Psalms and on Colossians.
Recommended
Here are introductory comments from Dr Apple's well done commentary to give you a taste…
Redpath: Victorious Christian Service There is no type of service any of us can undertake which is beset with so much potential as is the service of the Master. On the one hand, there is so much that is rewarding, and on the other hand, so much that is disappointing. Many are the obstacles to be overcome and many the pitfalls to be avoided. On how many occasions we have taken up a task in the name of the Lord only to withdraw, beaten, discouraged, and baffled, and yet, somehow, baffled to fight better. For every discouragement has been allowed to come to us in order that through it we may be cast in utter helplessness at the Saviour's feet. Then we return to the battle again, no longer trusting in the false and insufficient human resources which so foolishly we had taken into the battle, but now trusting in the limitless resources of our risen Lord. (Conformed to the Image of Christ by Alan Redpath) (Victorious Christian Living - Alan Redpath - actually a commentary on Joshua)
J Sidlow Baxter: Nehemiah is a gem of a book in the spiritual lessons which it teaches us. It tells how, under the new leadership of Nehemiah, the walls of Jerusalem were rebuilt by the returned Remnant, and how the people themselves were reinstructed in the Law which God had given to their nation, long before, through Moses. This rebuilding of the city wall is like a graphic object-lesson illustrating those truths which lie at the heart of all true service for God; and he who will give heed to the lessons here vividly pictured will be a wise and successful builder in spiritual things. (Baxter's Explore the Book - J. Sidlow Baxter - Recommended Resource)
Malick: Background for Ezra and Nehemiah: The re-establishment of the exiles as God's people in Jerusalem and Judea gradually developed as they returned in waves under the leadership of Sheshbazzar, Zerubbabel, Ezra and Nehemiah, as God providentially made provision for them through the Persian rulers, as the Lord enabled them to rebuild Jerusalem, and as the people continually repented of their evil in order to follow God's law (An Argument of the Books of Ezra-Nehemiah)
Outline of Nehemiah:
I. (Nehemiah 1:1–7:4) THIRD RETURN UNDER NEHEMIAH AND REBUILDING THE WALL: The Nation is Physically Separated from the Gentiles: When Nehemiah learned about the distress of the Jews in Jerusalem he prayed to the Lord, sought permission from King Artaxerxes to rebuild the walls of Jerusalem and managed to spur on the people in Jerusalem to accomplish the task in spite of opposition from the people surrounding the city and the problems within the city because he was a man who trusted God and was wise in leadership
II. (Nehemiah 7:5–13:31) THE RELIGIOUS REFORMS OF EZRA AND NEHEMIAH:
The Nation is Spiritually Separated from the Gentiles: After the people became identified as a new society under the Law of God with the walls of their capital city established, Nehemiah restored them from their falls back into disobedience so that they might obey God's Law
Mervin Breneman: One of the chief objectives of Ezra-Nehemiah was to show the Jews that they constituted the continuation of the pre-exilic Jewish community, the Israelite community that God had chosen. Thus, in this community they were to see a continuation of God's redemptive activity. This community is emphasized by allusions to the exodus in recounting postexilic parallels. The returnees experienced a new exodus. As soon as the new temple, which took the place of the preexilic temple, was completed, they celebrated the Passover (Ezra 6:19-22). Later, after reading the Law, they celebrated the Feast of Tabernacles (Nehemiah 8). These feasts celebrate God's great saving acts in the exodus… The emphasis on continuity with the covenant people of God led to a strong emphasis on separation from any form of defilement or syncretism with the surrounding people. The postexilic community was a tiny island in a great sea of peoples and religious traditions. It was important that the covenant community remain pure in doctrine, customs, and ethical norms… (Ezra, Nehemiah, Esther- An Exegetical and Theological Exposition)
Derek Kidner: What we see in Ezra-Nehemiah is an Israel cut down almost to the roots, but drawing new vitality from its neglected source of nourishment in the Mosaic law and already showing signs, by its new concern for purity, of growing into the Judaism which we meet, both for better and for worse, in the New Testament. (The Lion Handbook to the Bible quoting from Ezra and Nehemiah - Derek Kidner)
Warren Wiersbe: Outline
I. CONCERN – (Nehemiah 1:1-11)
1. Information (Nehemiah 1:1-3)

2. Intercession (Nehemiah 1:4-9)

3. Intention (Nehemiah 1:10-11)
II. CONSTRUCTION – (Nehemiah 2-3)
1. Authority (Nehemiah 2:1-10)

2. Investigation (Nehemiah 2:11-16)

3. Challenge (Nehemiah 2:17-20)

4. Assignments (Nehemiah 3:1-32)
III. CONFLICT – (Nehemiah 4-6)
1. Ridicule (Nehemiah 4:1-6)

2. Plots (Nehemiah 4:7-9)

3. Discouragement (Nehemiah 4:10)

4. Fear (Nehemiah 4:11-23)

5. Selfishness (Nehemiah 5:1-19)

6. Compromise (Nehemiah 6:1-4)

7. Slander (Nehemiah 6:5-9)

8. Threats (Nehemiah 6:10-16)

9. Intrigue (Nehemiah 6:17-19)
IV. CONSECRATION – (Nehemiah 7-12)
1. The people (Nehemiah 7:1–12:26)
a. Checking the genealogy (Nehemiah 7:1-73)

b. Teaching the Word (Nehemiah 8:1-18)

c. Confessing Sin (Nehemiah 9:1-38)

d. Making a Covenant (Nehemiah 10:1-12:26)
2. The walls (Nehemiah 12:27-47)
V. CLEANSING – (Nehemiah 13:1-31)
Ray Stedman: The book of Nehemiah falls into two divisions. Re-Construction and Re-Instruction … The theme of this book is that God fulfills our need for security, protection, and strength… A wall is a very symbolic structure. It is more than just a barrier of stone and mortar. A wall is a statement. The walls of the city of Jericho symbolized the pride and arrogance of that godless city, and that is one reason why God chose to pull them down with nothing but Israel's faith, His own invisible power, and the people's deafening shout. He wanted to show that the arrogance of Jericho was no match for the humility of God's people when it was aligned with the limitless power of God Himself… The rebuilding of the walls of Jerusalem symbolizes an act all believers should undertake. God calls each of us to rebuild the walls of our lives. What does that mean? Jerusalem is a symbol of the City of God: God's dwelling place and the center of life for the world. In the New Testament, we see that God's ultimate dwelling place is in us, His people. When we rebuild the walls of our individual lives, we reestablish the protection and strength of God in our lives. We all have met people whose defenses have crumbled away. They have become human derelicts, drifting along the streets of our cities, hopeless and helpless, in many cases captive to alcohol, drugs, or a sexual addiction. But God in His grace will often reach down and take hold of such a person. He will bring that person out of captivity and He will work with that person to rebuild the defenses and strength needed to resist temptation and escape from bondage. The rebuilding of the walls of Jerusalem, the City of God, is a symbolic representation of the way in which the walls of any life, of any local church, of any community, or of any nation, can be rebuilt. It is a picture of the strength, power, and purpose that God wants to rebuild in us as a barrier to sin, discouragement, failure, and destruction. The text shows us a five-step process that drives Nehemiah's action – a process that is relevant to any life: (1) concern, (2) confession, (3) commitment, (4) courage, and (5) caution. (Overview of Nehemiah- Rebuilding the Walls)
Charles R Swindoll: (Ed comment - Swindoll applies Nehemiah's rebuilding of the city walls to the us rebuilding the "walls of our lives.") Quite frankly, I think the walls of our lives often lie in ruins through neglect. The leader who brings us to rebuild the walls is the Holy Spirit. And it is He who continues the work of reconstruction inside us. He tries His best to bring to our attention the condition of our walls, but sometimes we don't hear what He is saying. We are not hard of hearing; we simply don't listen.
Some of you are living within the walls of your life surrounded by ruin, and it all began very slowly. First there was a loose piece of stone or mortar. Then there was a crack that appeared in the wall. And then it broke into pieces, and there was a hole. Because of further neglect, the weeds of carnality began to grow through the wall. By and by, the enemy gained free access to your life.
You may be known as a solid Christian man or woman. But you know in your heart that although you are a Christian in the same sense that Jerusalem belonged to the Jews, the wall around your spiritual life that protects and defends you is in shambles. Such things as selfishness, lack of discipline, procrastination, immorality, not making time for God, compromise, and rebellion have come and sowed their ugly seeds. And they have begun to bear poisonous fruit. (Hand Me Another Brick - Charles R. Swindoll)
Recommended: Very Practical, Applicable Teaching
(Click caveat)
Highly Recommended - 130 pages - functions like a commentary
Note: The commentary below does not include the well done introductory comments by Dr Constable which can be retrieved by clicking here for his Pdf of Nehemiah
Rosscup has these comments on Davis' exposition of the Book of Joshua: Former Professor of Old Testament at Reformed Theological Seminary. Davis furnishes evangelical material to help preachers blend sound exegesis, theological substance, interesting exposition and practical application… The studies are not on every verse but key portions out of each chapter, done in a very readable style… (that) preachers or lay people can enjoy… (with) many ideas to provoke sermons and point to application. (Commentaries for Biblical Expositors: An annotated bibliography of selected works)
Keith Mathison in his review of best commentaries on Judges makes general comments that would apply to his short commentary on Nehemiah - "If you can only have one commentary on the historical books, get the commentaries by Davis. There are other commentaries that go into more detail on technical issues (see below), but Davis provides what most Christian readers of these books need — a concise and readable explanation of the text that sets each book within the larger context of biblical redemptive history all without ever becoming boring or trite. This commentary (referring to Davis' commentary on Judges), like the others, is also very practical, but it avoids the kind of moralizing exposition that rips passages out of context in order to make some vague inspirational point." (Keith Mathison - Ligonier Ministries Blog)
Richard Pratt - "There is no more gifted expositor of the Old Testament in our day than Ralph Davis."
Derek Thomas - "Dale Ralph Davis is among the finest expositors of the Old Testament alive today. His style is unique and his content infectious. A pastor at heart, his insights are always governed by an absolute loyalty to the text, a belief that the Bible was written for today as much as yesterday, and a desire to encourage his readers to fall in love with Scripture and to trust it."
Here is a sample excerpt from Davis' comments on Ezra 7:10 - Design (Ezra 7:10) Note the initial ki (for, because) in the Hebrew text. It explains why the good hand of his God was upon him (Ezra 7:9). God prospered the venture because of Ezra's purpose. This then is a warning against sloth and carelessness, and a sloppy view of grace. The subject comes before the verb in the Hebrew text, so there is some stress on "Ezra." On "setting the heart," the Hiphil of kun plus leb, see Psalm 78:8; 2Chr 12:14; 20:33 (all negative); and 1Sa 7:3; 2Chr 19:3; 30:19. The language of Ezra 7:10 speaks of a ministry that is focused in its objective (set his heart) and intense in its labor (to seek). It is both anchored and vigorous, not content with a little ministerial piddling. Note that Ezra purposes a total ministry: seek, do, teach; the cognitive, the experiential, and the didactic. Note that there are both academic and existential qualifications before
teaching. The process, ever repeated, is: concentration (seek), consistency (do), communication (teach).
You might also want to listen to his Mp3 messages on Ezra-Nehemiah
His sermons have frequent illustrations.
Recommended - Brief but Well Done
TABLE OF CONTENTS:
I. How Should The People Of God Build? With Prayerful Necessity - Nehemiah 1:1-11a 1
II. How Should The People Of God Build? With God Directed Boldness - Nehemiah 1:11b-3:32 6
III. How Should The People Of God Build? With the Defeat of Discouragement - Nehemiah 4:1-7:73a 15
IV. How Should The People Of God Worship? In Truth and in Spirit - Nehemiah 7:73b-10:39 27
V. The Renewed Generation - Nehemiah 11:1-13:31
Jim Rosscup - Though Ironside does not get into the detail of the text, he does give a practical exposition on a wider scale in popular fashion. He shows how the message is alive, and at times helps with good illustrations.
Spurgeon on K & D on Ezra/Nehemiah/Esther- Just the kind of book in which Keil's method of commenting appears to the best advantage. He gives much needful information, and thus supplements more didactic works. We cannot read Keil with pleasure, for we want spiritual meat, but yet it is most desirable for us to know what the text really means.
Who is Alexander Maclaren (1826-1910)?
Note: These are Mp3's Only
Right click and select "Save Target As" (to Desktop, Ipod, etc)
The articles below are available online at no charge…
Chart: A Chronological and Literary Harmony of Ezra & Nehemiah
Dr. Jim Rosscup in Commentaries For Biblical Expositors ranks the commentaries in 3 categories:
Detailed Exegetical:

1) F. Fensham (NICOT); M Breneman (New American Commentary)

2) E. Yamauchi (in Expositor's Bible Commentary)

3) J Blenkinsopp

Expositional Survey:

1) J C Laney (Everyman's Bible Commentary)

2) Derek Kidner (Tyndale OT Commentary)

3) John Whitcomb (in The Wycliffe Bible Commentary)

4) J. McConville (Daily Study Bible)

Devotional Flavor:

1) James Boice (Nehemiah: Learning to Lead)

2) S K Evers (Doing a Great Work. Ezra and Nehemiah Simply Explained)

3) Donald Campbell (Nehemiah: Man In Charge)

4) Cyril Barber ( Nehemiah. New York: Loizeaux)

5) H A Ironside (available online)

6) Charles Swindoll (Hand Me Another Brick)

7) J I Packer (A Passion for Faithfulness. Wisdom From the Book of Nehemiah)
HOLMAN PUBLISHING
Defender's Study Bible Notes on Nehemiah - Conservative study notes from well known creationist Dr Henry Morris. Click chapter below and links to the notes that are available will be found on the right side of the page.
Why is Nehemiah so important? Nehemiah was a layman, not a priest like Ezra nor a prophet like Malachi. He served the Persian king in a secular position before leading a group of Jews to Jerusalem in order to rebuild the city walls. "Nehemiah's expertise in the king's court equipped him adequately for the political and physical reconstruction necessary for the remnant to survive."1 Under Nehemiah's leadership, the Jews withstood opposition and came together to accomplish their goal. Nehemiah led by example, giving up a respected position in a palace for hard labor in a politically insignificant district. He partnered with Ezra, who also appears in this book, to solidify the political and spiritual foundations of the people. Nehemiah's humility before God (see his moving intercessory prayers in chapters 1 and 9) provided an example for the people. He did not claim glory for himself but always gave God the credit for his successes.

What's the big idea? - Nehemiah recorded the reconstruction of the wall of Jerusalem, Judah's capital city. Together, he and Ezra, who led the spiritual revival of the people, directed the political and religious restoration of the Jews in their homeland after the Babylonian captivity. Nehemiah's life provides a fine study on leadership. He overcame opposition from outsiders as well as internal turmoil. He exercised his administrative skills in his strategy to use half the people for building while the other half kept watch for the Samaritans who, under Sanballat, threatened attack (Nehemiah 4–7). As governor, Nehemiah negotiated peace among the Jews who were unhappy with Persian taxes. He exhibited a steadfast determination to complete his goals. Accomplishing those goals resulted in a people encouraged, renewed, and excited about their future.

How do I apply this? The book of Nehemiah shows us the kind of significant impact one individual can have on a nation. Nehemiah served in secular offices, using his position to bring back to the Jews order, stability, and proper focus on God. God uses all manner of people in all manner of places doing all manner of work. Do you feel you must be "in ministry" in order to serve God? Be encouraged; He is not limited by your vocation. In fact, God has placed you where you are for a purpose. Have this attitude about your work: "Whatever you do in word or deed, do all in the name of the Lord Jesus, giving thanks through Him to God the Father" (Colossians 3:17).
TYPICAL TEACHING OF THE GATES--

Chapter 3 of Nehemiah contains the record of the rebuilding of the gates in the wall around Jerusalem. How wonderfully these gates portray the work of Christ for and in the believer! Ten gates were restored in all, and we will consider the meaning of each.

The Sheep Gate (Neh 3:1).

This was the gate of sacrifice, which is always the starting point in the life of the believer. The apostle Paul said, ''For I delivered unto you first of all that which I also received, that Christ died for our sins according to the scriptures… '' (1Cor 15:3). Revelation 5 depicts a graphic scene in heaven, when four living creatures and the twenty-four elders fall down before the Lamb. They sing ''a new song, saying, Thou art worthy to take the scroll, and to open its seals; for Thou wast slain, and hast redeemed us to God by Thy blood out of every kindred, and tongue, and people, and nation'' (Rev 5:9). God's great work for time and eternity centers in the sacrifice of His Son, the Lamb of God, at Calvary.

The Fish Gate (Nehemiah 3:3).

Having received salvation through the sacrifice of Christ, we are to become fishers of men (Matthew 4:19).

The Old Gate (Nehemiah 3:6).

Every believer is to stay with the old paths, affirming and practicing the ''faith which was once delivered unto the saints'' (Jude 1:3).

The Valley Gate (Nehemiah 3:13).

Humility is to be a trait of every follower of Christ. ''Let this mind be in you, which was also in Christ Jesus… '' (Php 2:5-8).

The Dung Gate (Nehemiah 3:14).

This was the place where refuse was cast out of the city. Every Christian needs a ''garbage dump.'' The apostle Paul had one, for he wrote these words to the Philippians: ''Yea doubtless, and I count all things but loss for the excellency of the knowledge of Christ Jesus, my Lord; for whom I have suffered the loss of all things, and do count them but refuse, that I may win Christ, and be found in Him, not having mine own righteousness, which is of the law, but that which is through the faith of Christ, the righteousness which is of God by faith'' (Php 3:8,9).

The Fountain Gate (Nehemiah 3:15).

This gate speaks of the overflowing life, the ''rivers of living water'' made possible by the Holy Spirit (John 7:38).

The Water Gate (Nehemiah 3:26).

Interestingly, this gate did not need repair. Water is a type of the Word of God. His Word never needs repair, for it is pure, refreshing, enduring. ''Christ also loved the church, and gave Himself for it, that He might sanctify and cleanse it with the washing of water by the word'' (Eph 5:25,26).

The Horse Gate (Nehemiah 3:28).

The horse in Scripture often speaks of war. Christians are in a continual warfare. God has provided sufficient equipment-- the panoply of power, the full armor described in Ephesians 6:10-18.

The East Gate (Nehemiah 3:29).

This was the gate through which the shekinah glory [had departed from] Israel (Ezekiel 10). When that transcendant glory returns, it will also be from the east. ''And, behold, the glory of the God of Israel came from the way of the east; and His voice was like a noise of many waters, and the earth shined with His glory'' (Eze 43:2). The east gate therefore speaks of the return of our Lord to this earth. When He comes again, His feet will stand upon the Mount of Olives (Zechariah 14:4).

The Hammiphkad Gate (Nehemiah 3:31).

The Hebrew word signifies [a meeting place of] judgment. How suggestive this is of the judgments that await this earth and all who live upon it! The nations of the world will be summoned to judgment in the valley of Megiddo.

ENEMIES OF THE WORK-- Such a magnificent work for God, as Nehemiah and his co-laborers were engaged in, is never finished without interference form the enemy. Three conspirators opposed Nehemiah, and they are representative of the present-day enemies of the gospel.

Sanballat This man's name means ''hate in disguise.'' He represents the wisdom of this world and its opposition to Christ and His gospel. Most organized religion hates Jesus Christ. Paul spoke of it as being a form of deception when he said, ''And no marvel; for Satan himself is transformed into an angel of light. Therefore, it is no great thing if his ministers also be transformed as the ministers of righteousness, whose end shall be according to their works'' (2Cor 11:14,15).

Tobiah His name means ''the servant,'' or possibly, ''the Lord is good.'' He is a representative of those who make a formal profession of faith. They have a good name but a bad heart. This man Tobiah was a sort of puppet for his master Sanballat.

Geshem This man's name means ''a violent shower.'' In the case of Nehemiah and his workers, he brought a shower of ridicule and criticism. Geshem was an Arabian, a descendant of Ishmael.

PRACTICAL TRUTHS-- God blessed the labors of Nehemiah and the Israelites for a number of reasons.

The people ''had a mind to work'' (Nehemiah 4:6).

Nehemiah and his men watched and prayed. ''We made our prayer… and set a watch'' (Nehemiah 4:9).

Each man knew his work and stayed with it. How vital for Christians to recognize their gifts and to exercise them.

Not only did they work with their hands in rebuilding the wall, but they also had on their armor, the weapons of warfare. ''Everyone with one of his hands wrought in the work, and with the other hand held a weapon'' (Nehemiah 4:17).

This was the exercise of faith, for ''without faith it is impossible to please Him'' (Heb 11:6).
G. Campbell Morgan suggests that ''The life of faith is sure of God; acts with Him and for Him; declines all compromise and trusts God.''
The Royal Cupbearer or Lessons from the Book of Nehemiah (1884) — Click Google index to go to one of the following 13 separate studies… -
Nehemiah 1:3-"The Royal Cupbearer
Nehemiah 2:4-"The praying patriot"
Nehemiah 3:32-"At Work",
Nehemiah 4:6-"Progress",
Nehemiah 4:21-"Difficulties",
Nehemiah 5:15-"Principle",
Nehemiah 3:15-16-"The Wall Rebuilt"
Nehemiah 7:2-"Placed in Trust",
Nehemiah 8:3-"Revival Scenes",
Nehemiah 9:1-"National Contrition",
Nehemiah 10:29-"Covenanting",
Nehemiah 11, 12-"Gathering to the City,"
Nehemiah 13:31"Final Reforms"
Only Audio but recommended
Comment: More Technical notes but you will often discover some very helpful insights. The links below open to the NET Bible which is synchronized with the NET Notes, Constable's Commentary and relevant articles (click the tab labeled "Articles") on the Bible.org website. Very helpful!
See Entire Page of Devotionals on Nehemiah - Updated November 30, 2018
Nehemiah — Rebuilding, Revival and Restoration of the People of God
Download Lesson 1/5 Free
Hint - Homilies listed below each chapter can be found by scrolling down the page.
Hint: Scroll down each chapter below for related homilies
NEHEMIAH 1
NEHEMIAH 2
NEHEMIAH 3
NEHEMIAH 4
NEHEMIAH 5
NEHEMIAH 6
NEHEMIAH 7
NEHEMIAH 8
NEHEMIAH 9
NEHEMIAH 10
NEHEMIAH 11
NEHEMIAH 12
NEHEMIAH 13
Through the Bible (C2000 Series)
Audio Series
Sermon Notes
Commentary - Transcripts that Correspond to the C2000 Series above
Spurgeon - The author does not attempt a full exposition, but aims at furnishing a plain, practical handbook for men of business and others whose time is limited. He gives fourteen good, sensible lectures on the Book. (Commenting and Commentaries; Lectures Addressed to the students of the Pastors' College)
Book