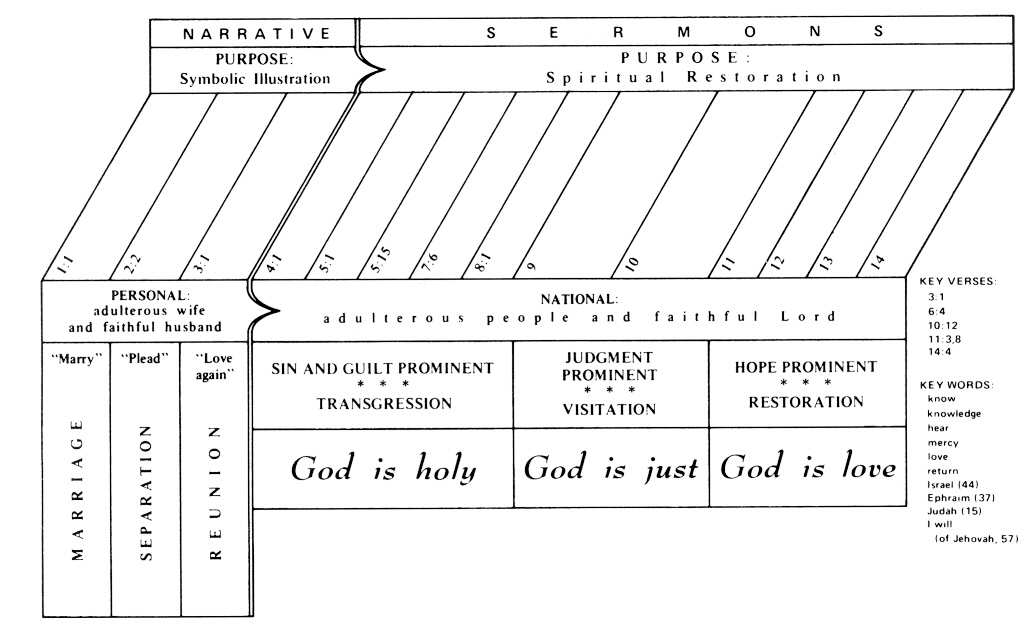 Click chart to enlarge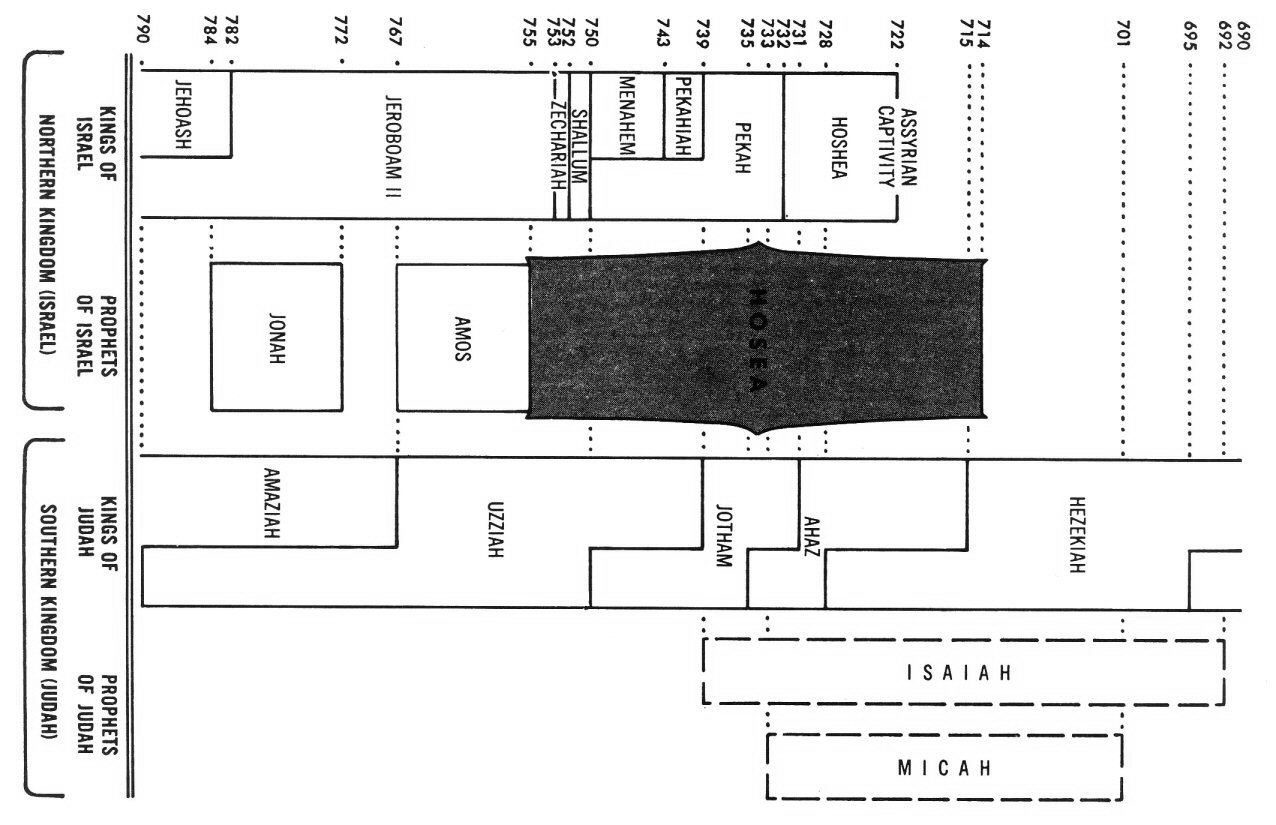 Click chart to enlarge
Chart from recommended resource Jensen's Survey of the OT - used by permission
Hosea Chart from Charles Swindoll
Another Hosea Chart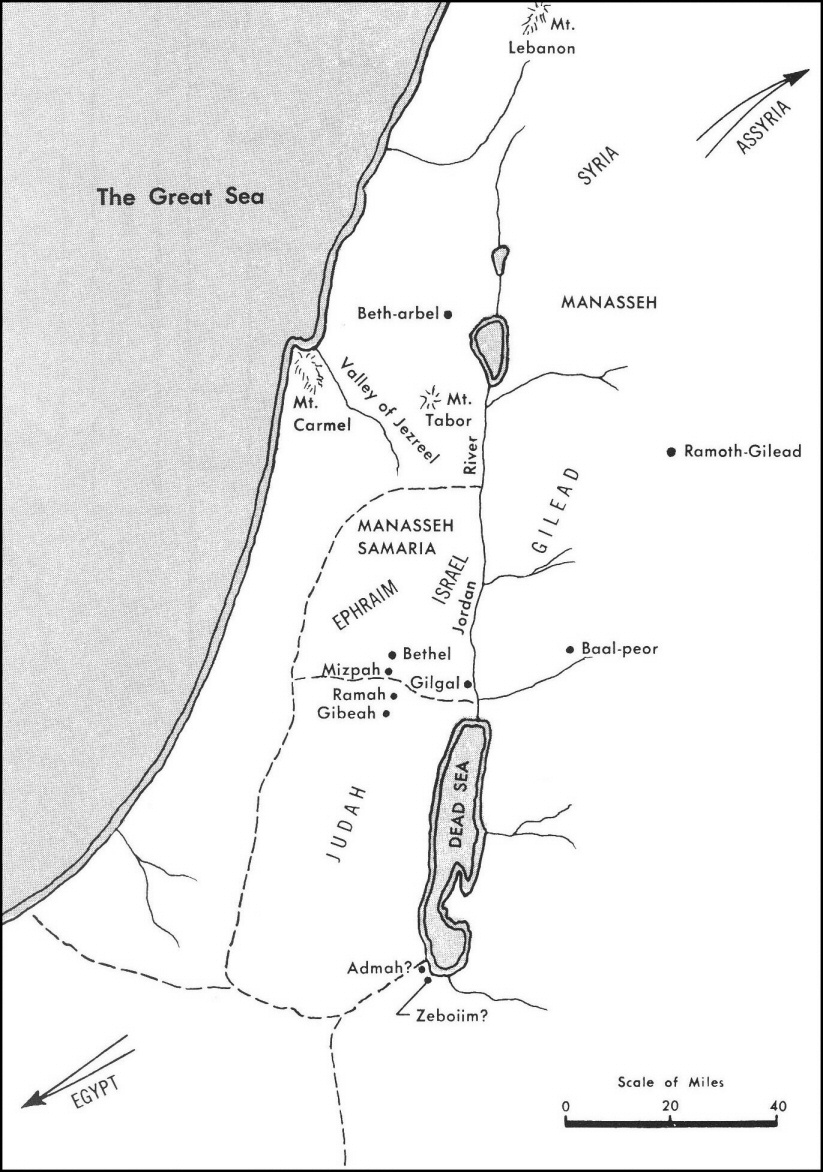 Click chart to enlarge
Be a Berean - Not Always Literal especially in prophetic passages. Almost 300 pages of anecdotes, illustrations, etc
Note: Calvin's prayers are excellent, and are very convicting - Suggestion: Read them aloud, very slowly and as a sincere prayer to the Almighty God. On the other hand the careful Berean (Acts 17:11-note) should be cautious when reading Calvin's comments, for he often interprets passages that in context clearly relate to the literal nation of Israel as if they spoke of the Church. Furthermore, he makes no mention of a future Millennial Reign of Messiah. (See disclaimer)
Be cautious (Acts 17:11-note): Does not always interpret the Scripture literally and sometimes replaces Israel with the Church (note)
Be cautious (Acts 17:11-note): Does not always interpret the Scripture literally and sometimes replaces Israel with the Church (note)
Note: This resource is listed because it has numerous commentary notes that relate to the OT Prophetic Books
I. The Rejection of Israel as an Adulterous Wife and Her Future Reception and Restoration - Hosea 1-3
Hosea 1 - Israel's Sin and Promise of Restoration
Hosea 1:1 The Introduction
Hosea 1:2-5 The Prophet's Marriage and Birth of Jezreel
Hosea 1:6-7 The Birth of Lo-Ruhamah
Hosea 1:8-9 The Birth of Lo-Ammi
Hosea 1:10-11 The Future Restoration
Hosea 2 - Appeal and Punishment for Unfaithfulness the Resumed Relationship
Hosea 2:1-5 The Appeal and Complaint
Hosea 2:6-13 The Punishment for Unfaithfulness
Hosea 2:14-23 The Resumed Relationship and Its Great Blessing
Hosea 3 - Israel's Past, Present and Future
Hosea 3:1-3 The Past
Hosea 3:4 The Present
Hosea 3:5 The Future
II. The Messages of Expostulation, Judgment and Mercy - Hosea 4–14
Hosea 4 - The Lord's Controversy with His People
Hosea 4:1-5 The Condition of the People
Hosea 4:6-11 The Loss of Their Relation
Hosea 4:12-19 Israel's Idolatry
Hosea 5-6:3 - The Message to the Priests, the People and the Royal House. Judgment, Affliction and the Future Return
Hosea 5:1-7 The Message of Rebuke
Hosea 5:8-15 The Judgment Announced
Hosea 6:1-3 The Future Return and the Blessing
Hosea 6:4-11 Divine Mourning Over Ephraim and Judah
Hosea 6:4-6 What Shall I Do to Thee?
Hosea 6:7-11 Their Transgressions
Hosea 7: The Moral Depravity of Israel
Hosea 7:1-7 Their Moral Depravity
Hosea 7:8-16 Mingling with Heathen Nations
Hosea 8-9:9: The Apostasy is Followed by Judgment
Hosea 8:1-7 The Judgment Announced
Hosea 8:8-14 The Apostasy Which Resulted in Judgment
Hosea 9:1-9 Warning Against Self Security
Hosea 9:10-11:11: Retrospect. Israel's Failure and Ruin
Hosea 9:10-17 Israel Once Beloved Now Fugitive Wanderers
Hosea 10:1-11 Their Guilt and Punishment
Hosea 10:12-15 Exhortation and Rebuke
Hosea 11:1-11 The Mercy of a Merciful God
Hosea 11:12-12:2: The Indictment
Hosea 11:12-12:2 Ephraim's Indictment
Hosea 12:3-6 Remembrance of the Past
Hosea 12:7-14 What Israel Had Become
Hosea 13: Ephraim's Ruin and Judgment
Hosea 13:1-8 Ruin and Judgment
Hosea 13:9-11 It is Thy Destruction, O Israel
Hosea 13:12-14 Mercy to Follow Wrath
Hosea 13:15-16 The Desolation of the Nearing Judgment
Hosea 14: The Return and the Glorious Redemption
Hosea 14:1-3 The Exhortation to Return
Hosea 14:5-9 The Glorious Redemption
Caution is advised (Acts 17:11-note): Does not always interpret the Scripture literally and all too often spiritualizes the text and replaces Israel with the Church (note)
Comments on the Commentary: John Gill unfortunately all too often offers a non-literal interpretation in the Old Testament (especially the prophetic books) as shown in the following example from Hosea 14:6 where "his" ("his shadow...his renown") from the context of the preceding verse (Hos 14:5) clearly refers to the literal nation of Israel. Gill writes that in Ho 14:6 "his shoots will sprout" refers to "the propagation of the church of God and the interest of Christ in the world". Yet there is nothing in the context that allows for the identification of "his" as the "church of God" (See Tony Garland's article on the Rise of Allegorical Interpretation). Comments of this ilk can be very misleading and cause one to completely miss God's one intended meaning of the passage! John Calvin, Matthew Henry and Adam Clarke are other older commentators who exhibit a similar propensity to allegorize the OT references to the literal nation of Israel as references to the New Testament church. These commentaries have some good material (Gill frequently injects interesting comments by Jewish writers) but clearly must be approached with a Berean mindset (Acts 17:11-note). The best rule to apply to the interpretation of these OT passages is to remember the maxim that if the plain sense of the text (the literal sense) makes good sense, seek to make no other sense lest it turn out to be nonsense!
CLICK HOSEA HYMNS FOR LINKS TO THESE HYMNS
James Rosscup writes "This 1858 work supplies much help on matters of the text, word meaning, resolving some problems, etc. Some have found it one of the most contributive sources in getting at what a text means." (Commentaries for Biblical Expositors: An Annotated Bibliography of Selected Works)
Be cautious (Acts 17:11-note): Does not always interpret the Scripture literally and sometimes replaces Israel with the Church (note) (Click example of his interpretative approach which is often allegorical) (Or another example)
One of the more literal older commentaries
See caveat regarding this commentary
James Rosscup writes that "This is the best older, overall treatment of a critical nature on the Old Testament Hebrew text verse by verse and is a good standard work to buy. The student can buy parts or the whole of this series. Sometimes it is evangelical, at other times liberal ideas enter." (Commentaries for Biblical Expositors: An Annotated Bibliography of Selected Works)
Not Always Literal Interpretation
Who is Alexander Maclaren (1826-1910)?
Mp3 Audio, Conservative, Literal Interpretation
Complete Commentary of Hosea on one zip file
Interesting Resource (eg, 24 pages of notes on Hosea 2)
Be a Berean - Not Always Literal
Hosea 1 Critical Notes - scroll down as notes are divided by verse or verses.
Scroll down for following homilies
Hosea 2 Critical Notes - scroll down as notes are divided by verse or verses.
Scroll down for following homilies
Hosea 3 Critical Notes - scroll down as notes are divided by verse or verses.
Scroll down for following homilies
Hosea 3:1-5 The Wondrous Love
Hosea 3 Fear the Lord and His Goodness
Hosea 3 Illustrations to Chapter 3
Hosea 4 Critical Notes - scroll down as notes are divided by verse or verses.
Scroll down for following homilies
Hosea 5 Critical Notes - scroll down as notes are divided by verse or verses.
Scroll down for following homilies
Hosea 6 Critical Notes - scroll down as notes are divided by verse or verses.
Scroll down for following homilies
Hosea 7 Critical Notes - scroll down as notes are divided by verse or verses.
Scroll down for following homilies
Hosea 8 Critical Notes - scroll down as notes are divided by verse or verses.
Scroll down for following homilies
Hosea 8:1 A Corrupt Church
Hosea 8:2 Vain Religion
Hosea 8:3-5 Forsaking Good and Pursuing Evil the Surest Way to Ruin!
Hosea 8:5,6 Idolatry: Its Origin, Effects and Destiny
Hosea 8:7,8 A Picture of Ungodly Life
Hosea 8:9, 10 The Folly of Worldly Alliance
Hosea 8:11-13 Aggravated Guilt
Hosea 8:11-12 Perversion of Worship
Hosea 8:14 Castles of False Security
Hosea 8 Illustrations to Chapter 8
Hosea 9 Critical Notes - scroll down as notes are divided by verse or verses.
Scroll down for following homilies
Hosea 10 Critical Notes - scroll down as notes are divided by verse or verses.
Scroll down for following homilies
Hosea 11 Critical Notes - scroll down as notes are divided by verse or verses.
Scroll down for following homilies
Hosea 12 Critical Notes - scroll down as notes are divided by verse or verses.
Scroll down for following homilies
Hosea 13 Critical Notes - scroll down as notes are divided by verse or verses.
Scroll down for following homilies
Hosea 14 Critical Notes - scroll down as notes are divided by verse or verses.
Scroll down for following homilies
An annual $50 or monthly $5 subscription (click here) is required to view the entire article but will give you access to literally thousands of conservative articles. Click the following links to search by topic, author, or bible reference.
Example Articles
LOGOS.COM
Excerpt: Interpretive Challenges - That the faithless wife, Gomer, is symbolic of faithless Israel is without doubt; but questions remain. First, some suggest that the marital scenes in chaps. 1–3 should be taken only as allegory. However, there is nothing in the narrative, presented in simple prose, which would even question its literal occurrence. Much of its impact would be lost if not literal. When non-literal elements within the book are introduced, they are prefaced with "saw" (Hos 5:13; 9:10,13), the normal Hebraic means of introducing non-literal scenes. Furthermore, there is no account of a prophet ever making himself the subject of an allegory or parable.

Second, what are the moral implications of God's command for Hosea to marry a prostitute? It appears best to see Gomer as chaste at the time of marriage to Hosea, only later having become an immoral woman. The words "take yourself a wife of harlotry" are to be understood proleptically, i.e., looking to the future. An immoral woman could not serve as a picture of Israel coming out of Egypt (Hos 2:15; 9:10), who then later wandered away from God (Hos 11:1). Chapter 3 describes Hosea taking back his wife, who had been rejected because of adultery, a rejection that was unjustifiable if Hosea had married a prostitute with full knowledge of her character.

A third question arises concerning the relationship between chap. 1 and chap. 3 and whether the woman of chap. 3 is Gomer or another woman. There are a number of factors which suggest that the woman of chap. 3 is Gomer. In Hos 1:2, God's command is to "Go, take;" in 3:1, however, His command is to "Go again, love," suggesting that Hosea's love was to be renewed to the same woman. Furthermore, within the analogy of chap. 1, Gomer represents Israel. As God renews His love toward faithless Israel, so Hosea is to renew his love toward faithless Gomer. For Hos. 3 to denote a different woman would confuse the analogy.
Minor Prophets - Book Introduction
The Messianic Hope of Israel - The Witness of Hosea (see page 1)
The Witness of Hosea Following the order in which the writing prophets are placed in the canon, we begin with the prophet who accompanied the northern Kingdom of Israel to its grave, and who was permitted to see the resurrection of the nation in the latter days.

What must have lain as a heavy burden on his heart was the fact that the covenant nation was divided into two rival kingdoms. He dated his prophecy therefore both in the days of the Kings of the house of David, as well as in that of Jeroboam II, under which the northern Kingdom enjoyed its brightest and most prosperous period, just on the eve of its tragic downfall: "The word of the LORD that came unto Hosea, the son of Beeri, in the days of Uzziah, Jotham, Ahaz, and Hezekiah, kings of Judah, and in the days of Jeroboam the son of Joash, king of Israel" (Hosea 1:1). His prophecy is divided into four parts, running parallel with each other, covering the same period, and ending with a glory vision of the Messianic age.

- Chapter 1 forms a complete prophecy, from the downfall of Israel to the final re-gathering.
- Chapter 2, from the divorce of Israel as an unfaithful wife, to the re-marriage.
- Chapter 3, the "many days" of Israel's being nationally set aside, till their conversion to the Messiah, whom they will seek in the latter days.

Then the fourth section, the largest, from Chapters 5 and 14, Israel's backsliding in detail, till the final recovery, when the divine discipline has accomplished its end.

The first vision of the future in the Book of Hosea was that of the re-union of the divided nation, when they shall "appoint themselves one Head," and will under His leadership come out of the land of their exile. That is to say, they will choose the One whom the LORD has already chosen for them. They will at last ratify the divine selection. The other prophets were also concerned along this line. Thus Ezekiel: "And I will make them one nation in the land upon the mountains of Israel; and one king shall be king to them all: and they shall be no more two nations, neither shall they be divided into two kingdoms any more at all. Neither shall they defile themselves any more with their idols, nor with their detestable things; nor with any of their transgressions: but I will save them out of all their dwelling places, wherein they have sinned, and will cleanse them: so shall they be my people, and I will be their GOD. And David my servant shall be king over them; and they all shall have one shepherd: they shall also walk in my judgments, and observe my statutes, and do them" (Ezekiel 37:22-24). GOD is still waiting for Israel to fall into line with Him respecting the One in and under whom alone unity and harmony is possible, whether for that nation or for His new-covenant people.

Chapter 3 presents a new feature. The tribulated nation will be finally betrothed to Him whom it has sinned against. The LORD speaks of Himself as Israel's true husband. He has never ceased to love her, and that in her deepest shame. Surely it is the heart of the heavenly Bridegroom of souls who speaks in this chapter!

Chapter 3, brief as it is, composed of only five sentences, covers the entire period of Israel's long exile till the kingdom of the Messiah. He is the true David. Till they turn to Him, they will be without King, prince and religious status in a state of suspense. The false gods may have been abandoned, but the true is not yet known. But there is a blessed "afterward." In the latter days the people will seek the LORD their GOD and David their King. In the loss of the Messiah, they lost the GOD of their fathers also. In recovering Him, they will find GOD also.

Chapter 6 is very suggestive. It begins with the spiritual as well as national revival of Israel. Then we see how this revival will be brought about. The Messiah will be apprehended, both in His outward appearing, as bringing in a new day, and by His inward and spiritual appearing, like the rain from Heaven, by the coming of His SPIRIT to indwell the heart that loves Him.

It is a wonderful Messianic picture! The Coming One is spoken of as One whose coming had been long prepared for as a new morning for humanity as well as for Israel. And that He would also come to man as the rain comes from Heaven to refresh and fertilize the parched garden unto GOD.

Thus we see the two stages of the Lord's appearing: His personal and outward coming, which introduced a new day for the world in history; and His spiritual and inward coming, which changes men. In the first He came to be with men, Immanuel, "God with us." In the second He comes to be in men. In the first He did a mighty work for man. In the second He came to apply the benefits of that work to men.

These two comings are DIFFERENT and yet SIMILAR:

a. They have the same heavenly origin. The light comes from above, and the rain descends from the sky also. It is not by man's contrivance. The morning and the rain are entirely by the gift of grace of GOD.

b. Both are expressions of the universality and impartiality of the divine goodness. The sun shines on evil and good alike. The rain descends on the fields of the thankful and unthankful. "That ye may be the children of your Father which is in Heaven: for he maketh his sun to rise on the evil and on the good, and sendeth rain on the just and on the unjust" (Matthew 5:45).

c. Both sun and rain are gentle and silent in their operations. The thunder and lightning may precede the rain, but the rain itself is a gentle touch. So CHRIST came outwardly, all Heaven was moved, but on earth, it was a lone star that guided seekers to CHRIST. So also the SPIRIT comes. We must find CHRIST within.

d. Both come without money and without price. And no day has less, because millions of others share the same. "A whole sun for me!" So CHRIST is abundantly able to save and satisfy. He went to Heaven in a cloud, and then that cloud broke in a shower of blessings on the disciples ten days after. CHRIST thus came back in the clouds of Heaven, only in this sense, spiritually.

e. Both have the same end in view, the transformation of death into life; of winter into summer. The morning sun makes a tremendous change, and the rain transforms nature into loveliness. Light and Life are the results of sunshine and rain.

a. The sun comes with a wonderful breadth. The rain comes in drops. So CHRIST has reconciled the world by His first coming, but He must quicken the individual soul by His personal approach in the SPIRIT. He comes to each individual in an individual way. As on the day of the SPIRIT's coming every man heard the message told out in his own language, so the SPIRIT speaks to every man in a way he can understand.

b. Then again, the morning is sure, but the rain has its own seasons. So with the visitations of the SPIRIT. Woe to him who neglects them when they come!

The fourth section of Hosea makes sad reading; it is a detailed recital, like a succession of sobs, of the moral and religious decadence of Israel, though sovereign mercy will triumph in the end. But in the midst of it we have one more illuminating Messianic reference: "When Israel was a child, then I loved him, and called my son out of Egypt" (Hosea 11:1). That the Messiah is seen in this statement, the New Testament tells in Matthew 2:15. He is seen as One who had identified Himself with the nation in grace, and who loves their history over again in His own person.

Before passing from this, we note that Scripture, like man, is tripartite. It has an outer, or lettermeaning. This is the historical sense. "Modernists" seldom get beyond this. There is an inner, or prophetical sense; this is the soul of Scripture. There is also an inmost or spiritual sense.

In Hosea 11:1, the letter meaning refers to the deliverance of Israel out of Egypt.

The prophetical, as given in Matthew 2:15, refers to the Messiah.

The spiritual, or mystical sense, refers to an "Egypt" in which many are in spiritual bondage, and out of which the LORD would redeem them: "And their dead bodies shall lie in the street of the great city, which spiritually is called Sodom and Egypt, where also our LORD was crucified" (Rev. 11:8).

So, of old, the LORD brought them out (Exodus 12:51). Israel went out (Exodus 12:41); and Egypt thrust them out (Exodus 12:33). Through the death and resurrection of CHRIST, we are brought out. Through reckoning ourselves as having died unto sin, baptized into His death, we go out. But in the divine dealings with us, all kinds of difficulties frequently arise, by which we are thrust out.
Excerpt: What's the big idea? - Structured around five cycles of judgment and restoration, the book of Hosea makes clear its repetitious theme: though God will bring judgment on sin, He will always bring His people back to Himself. God's love for Israel, a nation of people more interested in themselves than in God's direction for their lives, shines through clearly against the darkness of their idolatry and injustice (Hosea 14:4). Throughout the book, Hosea pictured the people turning away from the Lord and turning toward other gods (Hos 4:12–3; 8:5–6). This propensity for idolatry meant that the Israelites lived as if they were not God's people. And though God told them as much through the birth of Hosea's third child, Lo-ammi, He also reminded them that He would ultimately restore their relationship with Him, using the intimate and personal language of "sons" to describe His wayward people (Hos 1:9–10; 11:1).

How do I apply this? - Do you know the saving power of God, now offered to us through His Son, Jesus? If so, as a redeemed child of God, have you offered "redemption" or forgiveness to those in your life who were once under your judgment? Not only does the book of Hosea provide an example of God's love to a people who have left God behind, but it also shows us what forgiveness and restoration look like in a close relationship. The book of Hosea illustrates that no one is beyond the offer of our forgiveness because no one sits outside God's offer of forgiveness. Certainly, God brings judgment on those who turn from Him, but Hosea's powerful act of restoration within his own marriage set the bar high for those of us seeking godliness in our lives.
Excerpt - PRACTICAL TEACHING OF HOSEA--

A number of useful lessons may be learned from a study of this book.
Worldliness in God's people, whenever it occurs, is designated by God with the word of Hosea 1:2 as ''harlotry'' [''whoredom'']. In his epistle, James calls it spiritual ''adultery'' (James 4:4).
God's Word is always revealing. ''Hear the word of the Lord'' is Hosea's constant plea. The psalmist said, ''Wherewithal shall a young man cleanse his way? By taking heed thereto according to Thy word.'' (Psalm 119:9).
Israel's failure is a picture of the church's sin. The church has forgotten that she is espoused to God, and her committing of spiritual adultery is evident in many realms.
The heart cry of God for the backslider and spiritual adulterer is expressed in the words, ''How shall I give thee up, Ephraim?'' (Hos 11:8).
A final view of God's mercy to the repentant and returning one is found in His promise: ''I will be as the dew unto Israel'' (Hos 14:5). Truly, God's mercy endures forever.
2013 Study
2006 Study
Be a Berean - Not always a literal interpretation. Caveat Emptor!
Hosea Commentary - here is an excerpt

Hosea prophesied during the reign of seven kings. Of these seven kings, five of them are listed here in our passage. A couple of the ones that followed Jeroboam didn't reign very long, so that may be why he left them out. Five of these seven kings are said to have continued in the sin of the first Jeroboam. 2 Kings 14:24, 15:9, 15:18, 24, 28, 17:21-23 all say the same thing about these kings:

"And he did evil in the sight of the Lord; he did not depart all his days from the sins of Jeroboam the son of Nebat, which he made Israel sin."

What was this terrible sin that Jeroboam committed? We need to turn to 1 Kings 12:26-29 for an explanation. The context: After death of Solomon, the nation divided. (931 BC) Rehoboam was king of Judah in the south and Jeroboam was king Israel in the north. Jeroboam is thinking to himself that he will lose power if people are allowed to go back to Jerusalem to worship God. I think Jeroboam knew that God did not want a divided kingdom, but he didn't care. Hosea 1:11 talks about future restoration and shows that God will one day reunite Israel and Judah. In 1 Kings 12:28 we see that Jeroboam devised a way to stop that. He gave the Israelites a new god--golden calves. So is this the sin of Jeroboam--starting national idol worship in Israel? Well, yes, but how does that apply to us. Since we don't worship golden calves, does that let us off the hook? What is the timeless principle that we can conclude from this? The sin of Jeroboam was that he sought to achieve his own personal agenda. He put himself and his desires before God and distorted God in order to do so. Then he avoided having to face how wrong he was by changing his understanding of God.

PRINCIPLE: Encountering God as He is invariably changes our personal agendas
If Jeroboam had really been worshipping God, he would have seen God's glory and his own sinfulness and wanted to do God's will, even if that meant reuniting the kingdom. And as mentioned earlier, Hosea 1:11 shows that that was God's will. So Jeroboam never really encountered God during his required temple worship times. He didn't have a relationship with God, and to keep the rest of the nation from having a relationship with God he set up idol worship. Jeroboam wanted the power for himself. And to make matters worse, he took a whole nation down with him. That is what makes his sin so great. Isaiah 6:1-8 gives us a great contrast to Jeroboam and a great example of someone who was changed because of his encounter with God. After Isaiah saw the glory of the Lord, he recognized his sinfulness and when God asked, "Whom shall I send?" Isaiah said, "Here am I. Send me!" So, when Hosea lists these kings at the beginning of his book, I think it is more than a way to place the chronological occurrence of his book. It is a way to emphasize the spiritual climate in which he is ministering. It is also foundational to understanding the problems Hosea will deal with in his book.

Application: Are our own agendas more important than God? We need to recognize that we usually have internal agendas that are deeper than our worship experience. How often do we sit in church and think about other things?

For that matter, why do you go to church? For some people church is just a social club, for some it might be a place to make business contacts. Real estate and insurance folks find lots of people in the church that trust them because they go to their church. Some might go to maintain a certain reputation. I know from my past Air Force experience that Wing Commanders went to the chapel to set the example. They didn't dare stay home nor did they dare go to a church off base. And some people went to the chapel because the Wing CC went and they wanted to rub shoulders with him there.

Can you think of any other hidden agendas that are more important than God?

What is amazing is that we can come to church and pretend to worship and the whole time we really don't get in tune with God. We don't really worship God. We just go through the motions. We don't change our personal agendas, we just leave this building and go back to our same old lifestyle.

DO WE DISTORT OUR CONCEPT OF GOD? If we cling to these agendas, we emphasize whatever about God fits our purposes. And we lose an accurate picture of who God is. This can be seen in 1 Kings 12:27 - Jeroboam knew that if the people had worshipped God then they would have done what God wanted and re-united the kingdom. Jeroboam and the Jews changed God into a calf so that He was no longer a Holy God, but just some impotent object that sanctioned their own agendas of pursuing wealth and pleasure. We have a tendency to pursue our own agendas and our own well-being by changing God into something that we think will help us meet our goals. Maybe we don't turn God into a golden calf, but we have other images of God that do the same thing:

Some people think of God as a higher power. Star Wars made it popular by calling it "the Force." The New Age movement just refers to it as a higher power, but what is significant is that God has been changed into this higher power which is just there to help people achieve their own goals. All you have to do is "tap into that higher power" to do whatever you want. Just visualize it and it will happen.

Or maybe our concept of God is not so obviously wrong. Instead we make God into the grandfather image. What do I mean by the grandfather image? God is seen as the kind, loving grandfather, sitting in heaven and not really concerned with what his grandchildren are doing. You know that typically it is the grandparents who spoil the children and let them do what they want and it is the parents who have to discipline them. We want a grandfather God who will indulge and spoil us and not make us obey the rules.

Maybe we have a genie image of God. This is one that makes God into someone who we can pray to for things we want.

Can you think of other images of God? What kind of a God do you have?
Undying Love— The Story of Hosea and Gomer
Excerpt -

We cannot escape the message of his undying love. Hosea wanted to see Gomer restored to his side as his faithful wife. And he believed that God was great enough to do it. One day word came by way of the grapevine gossips that Gomer had been deserted by her lover. She had sold herself into slavery and had hit bottom. This was the last straw. Certainly now Hosea would forget her. But his heart said "No." He could not give her up. And then God spoke to him: "Go again, love a woman who is loved by her husband, yet an adulteress, even as the Lord loves the sons of Israel, though they turn to other gods" (Hos. 3:1).

Gomer was still beloved of Hosea even though she was an adulteress, and God wanted him to seek her out and prove his love to her. How could anyone love that deeply? The answer was right there in God's instructions to Hosea, "even as the Lord loves." Only one who knows the love and forgiveness of God can ever love this perfectly. And one who has experienced His loving forgiveness cannot help but love and forgive others. Christian husbands are commanded to love their wives as Christ loved the Church (Eph. 5:25), and Hosea is an outstanding biblical example of that kind of love.

So he began his search, driven by that indestructible divine love, love that bears all things, believes all things, hopes all things, endures all things, love that never ends. And he found her, ragged, torn, sick, dirty, disheveled, destitute, chained to an auction block in a filthy slave market, a repulsive shadow of the woman she once was. We wonder how anyone could love her now. But Hosea bought her from her slavery for fifteen shekels of silver and thirteen bushels of barley (Hos. 3:2). Then he said to her, "You shall stay with me for many days. You shall not play the harlot, nor shall you have a man; so I will also be toward you" (Hos. 3:3). He actually paid for her, brought her home, and eventually restored her to her position as his wife. While we do not find anything else in Scripture about their relationship with each other, we assume that God used Hosea's supreme act of forgiving love to melt her heart and change her life.

How many times should a husband or wife forgive? Some contend, "If I keep forgiving I simply affirm him in his pattern of sin." Or "If I keep forgiving, she'll think she can get away with anything she wants." Others say, "If I keep forgiving, it's like putting my seal of approval on his behavior." Or "I can't take another hurt like that. If he does that one more time, I'm leaving." Those are human responses. Listen to the response of the Lord Jesus. You see, Peter had asked the Lord this same question: "Lord, how often shall my brother sin against me and I forgive him? Up to seven times?" The Lord's answer was, "I do not say to you, up to seven times, but up to seventy times seven" (Matt. 18:21, 22). That is a great deal of forgiveness. In fact, Christ was simply saying in a captivating way that there is no end to forgiveness.

Sometimes it's just the little slights and daily agitations that need forgiveness, the occasional sharp word or angry accusation. But we harbor it, let it eat at us, and build up bitterness and resentment which erodes our relationship. Maybe it's a major offense, like Gomer's, and we can never forget it. We stew on it and fret over it, and we keep bringing it up in a subconscious attempt to punish our mates for the hurts we have suffered. We try to forgive, but a few days later it's right there again, preying on our consciousness. Big wounds sometimes take longer to heal. They will come back to our minds. There is no way to avoid it. But every time they do, we must first remind ourselves that we really did forgive, then rehearse how much God has forgiven us, then ask Him to take the destructive, unforgiving thoughts out of our minds.

Forgiveness does not necessarily mean that we must suffer in silence. The need for open and honest communication would demand that we share what we think and how we feel, what the wrong has done to us, and how our mates can help us get over it. God tells us how much our sin grieves Him. Gomer certainly knew how her affairs were tearing at Hosea's heart. What we say must be said lovingly and kindly, but we have both the need and the obligation to share what is on our hearts.

Neither does forgiveness necessarily mean we cannot take positive steps to guard against the sin recurring. That might require some extended counseling; it might demand an honest reappraisal of our personalities or habit patterns; it might mean a change in our life-style or a relocation. God takes positive steps to help us want to please Him. That is what divine discipline is all about. We do not discipline each other, but we can discuss steps that will help us avoid these same pitfalls in the future.

Forgiveness does mean, however, that we will pay for the other person's offenses. We will refuse to retaliate in any way to make the guilty person pay. We will absolve him of all guilt. God can use that forgiving love to melt hardened hearts and change callused lives quicker than anything else in this whole wide world. That is the lesson of Hosea and Gomer, the lesson of forgiveness. God's love and forgiveness pervade Hosea's entire prophecy. Please do not misunderstand it. God hates sin; it grieves His heart; He cannot condone it; His perfect righteousness and justice demand that He deal with it. But He still loves sinners and diligently seeks them out and offers them His loving forgiveness.

God's ancient people Israel kept going back to their sins. "What shall I do with you, O Ephraim? What shall I do with you, O Judah? For your loyalty is like a morning cloud, and like the dew which goes away early" (Hos. 6:4). But God never stopped loving them. "When Israel was a youth I loved him, and out of Egypt I called My son" (Hos. 11:1). "I led them with cords of a man, with bonds of love" (Hos. 11:4). "How can I give you up, O Ephraim? How can I surrender you, O Israel?" (Hos. 11:8). And because He never stopped loving them, He never stopped pleading with them: "Return, O Israel, to the Lord your God, for you have stumbled because of your iniquity" (Hos. 14:1).

We need to love like that. We need to forgive like that. We need to drag the festering hurts we have been harboring in our hearts to the cross of Christ—where we laid our own burden of guilt one day and where we found God's loving forgiveness—and we must leave them all there. When we fully forgive, our minds will be released from the bondage of resentment that has been building a wall between us, and we shall be free to grow in our relationship with each other.
Amos, Hosea, Jonah and Micah - Be very discerning: Utley is Amillennial and replaces Israel with the Church. Why listed? Because he has well done grammatical (word and phrase studies) and interesting historical comments (eg, see page 45 "Fertility Worship of the Ancient Near East")
See Related Resources: Millennium; Israel of God
WARREN WIERSBE
Includes technical notes (text), translation notes and study notes
Well Done! Recommended
Be cautious (Acts 17:11-note): Does not always interpret the Scripture literally and sometimes replaces Israel with the Church (note)
James Rosscup writes "This work originally appeared in 1860. The present publication is set up in two columns to the page with the text of the Authorized Version reproduced at the top. Scripture references, Hebrew words, and other citations are relegated to the bottom of the page. The work is detailed and analytical in nature. Introduction, background and explanation of the Hebrew are quite helpful. Pusey holds to the grammatical-historical type of interpretation until he gets into sections dealing with the future of Israel, and here Israel becomes the church in the amillennial vein." (Commentaries for Biblical Expositors: An Annotated Bibliography of Selected Works)
NOTE: If you are not familiar with the great saint Charles Simeon see Dr John Piper's discussion of Simeon's life - you will want to read Simeon's sermons after meeting him! - click Brothers We Must Not Mind a Little Suffering (Mp3 even better)
James Rosscup writes "Though old this is well-written and often cited, with many good statements on spiritual truths. Users will find much that is worthwhile, and sometimes may disagree, as when he sees the Jonah account as allegorical (Ed: See Tony Garland's article on the Rise of Allegorical Interpretation)." (Commentaries for Biblical Expositors: An Annotated Bibliography of Selected Works)
Note: This source is difficult to link to as the exposition is not always by discrete chapters
Be cautious (Acts 17:11-note): Does not always interpret the Scripture literally and sometimes replaces Israel with the Church (note)
HOSEA 1
HOSEA 2
HOSEA 3
HOSEA 4
HOSEA 5
HOSEA 6
HOSEA 7
HOSEA 8
HOSEA 9
HOSEA 10
HOSEA 11
HOSEA 12
HOSEA 13
HOSEA 14
Click Arrow to Go to Next Set of Sermons
Hosea 1
Hosea 2
Hosea 3
Hosea 4
Hosea 5
Hosea 6
Hosea 7
Hosea 8
Hosea 9
Hosea 10
Hosea 11
Hosea 12
Hosea 13
Hosea 14
Book