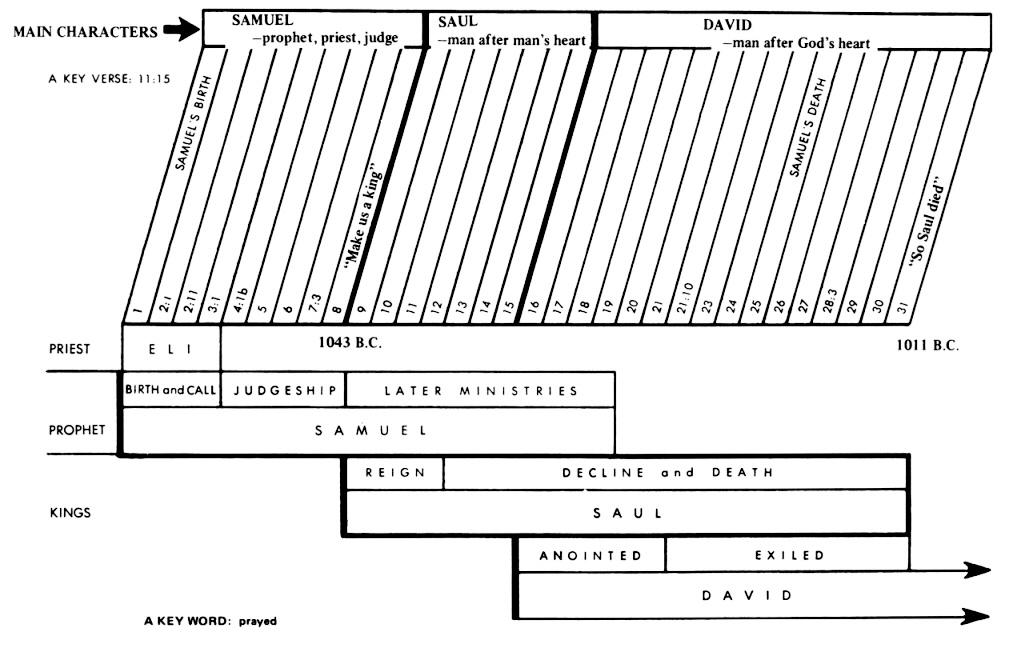 Chart from recommended resource Jensen's Survey of the OT - used by permission
1 Samuel Chart from Charles Swindoll
1107

1011

971

931

853

722

586

1Samuel
2Samuel
1Kings
1Kings
2Kings

31

1-4
5-10
11-20
21-24
1-11
12-22
1-17
18-25

1Chr

10

1Chr
11-19
1Chr
20-29

2Chronicles
1-9

2Chronicles
10-20

2Chronicles
21-36

Legend: B.C. dates at top of timeline are approximate. Note that 931BC marks the division of the Kingdom into Southern Tribes (Judah and Benjamin) and Ten Northern Tribes. To avoid confusion be aware that after the division of the Kingdom in 931BC, the Southern Kingdom is most often designated in Scripture as "Judah" and the Northern Kingdom as "Israel." Finally, note that 1Chronicles 1-9 is not identified on the timeline because these chapters are records of genealogy.
Precept Ministry International - 1-800-763-8280 To Order Studies
Click discussion of the value of Inductive Study
Download Lesson 1 of Precept Inductive Course on...
Links below to lectures related to 1Samuel study
The lawless state of God's people, described in the Book of Judges, is continued in the early part of 1Samuel, and seems to reach its height when the priests were given over to wickedness [ch. 2], [culminating in the loss of] the Ark of the Lord [to] the hands of the Philistines [ch. 4]. We have a solemn lesson of the result of failure in parental discipline, even on the part of good parents. Of the sons of Eli we read: ''The sin of the young men was very great before the Lord,'' and ''Eli restrained them not.'' In the same way, the sons of even righteous Samuel ''walked not in his ways, but turned aside after lucre, and took bribes, and perverted judgment'' [1Sam 8:3], until the people of Israel made their behavior the excuse to demand a king. David also seems to have shown an inability to rule his own house, as is evident in the rebellion of both Absalom and Adonijah. Of Adonijah, we read: ''And his father had not displeased him at any time in saying, Why hast thou done so?'' [1Kin 1:6]. David, evidently, had not acted the father's part in chastening his son.
Samuel, Saul, and David stand out as the three central figures of 1 & 2 Samuel.
Samuel's Name.
Samuel himself was a picture of our Saviour. The meaning of his name was one of the perplexities of Hebrew scholarship till the year 1899, when the Twelfth Congress of Orientalists held its meeting at Rome, and Professor Jastrow, of Philadelphia, showed that, in the Assyrian, which is closely allied to the Hebrew tongue, the word sumu means son, and he translated ''Samuel'' as ''son (or offspring) of God.'' Hannah, in the depth and sincerity of her surrender, gave up her first-born son to God utterly [ch. 1].

He was ''God's son'' from the moment of his birth. ''Therefore I have given him to the Lord'' (not ''lent'' as in the A.V.). The word, common to the Babylonian and Hebrew tongues before their separation, becomes a witness to the antiquity of the book. It disappeared from the language of the Israelites so completely that no Jewish student of the Bible, ancient or modern, was able to explain it. But it is evident that it was in common use in Hannah's day; for she wanted every one to know that he was altogether the Lord's own, and she must have chosen a word, therefore, which every one could understand.

The name ''God's son'' takes us a step further. The resemblance between Hannah's Song and that of Mary, the mother of Jesus, [is remarkable]. Mary's Song is not a repetition of Hannah's, yet both see the same vision. It is a vision of the earth's full salvation, and of the Lord's Christ. ''The adversaries of the Lord,'' sings Hannah, ''shall be broken to pieces; out of heaven shall He thunder upon them: the Lord shall judge the ends of the earth; and He shall give strength unto His King, and exalt the horn of His anointed'' -- that is of His Messiah (1Sam 2:10). ''He hath showed strength with His arm,'' responds Mary: ''He hath scattered the proud in the imagination of their hearts... He hath holpen His servant Israel, in remembrance of His mercy; as He spake to our fathers, to Abraham, and to his seed for ever'' (Luk 1:51-55).

Hannah's Song, and the name she gave her child, are alike a prophecy of Christ. She has the honor of being the first to use the name ''Messiah.''
The Lord of Hosts.
Another and most majestic Divine title occurs for the first time in the first chapter of this book, and that is ''The Lord of Hosts.'' The Rev. A. Craig Robinson bases upon this fact the following argument:

''The Divine title 'Lord of Hosts' never occurs in the Pentateuch; it occurs for the first time in 1Samuel 1:3. After this, it occurs very frequently, especially in the prophets-- 281 times in all. If the Pentateuch was written by a multitude of writers in the later age, when this title for Jehovah was so much in vogue, how is it that not one of them has in the Pentateuch used this expression even once?''

That Jehovah of Hosts was a title of Christ, we see from comparing Isa 6:1-3 with John 12:41, and Isa 8:13,14 with 1Peter 2:5-8.

Samuel was a type of Christ (Ed: See caveats regarding Typology - Study of Biblical types) in combining the offices of prophet, priest, and ruler. The Schools of the Prophets founded by him are a foreshadowing of the Lord's service in pouring out His Spirit upon apostles, evangelists, and teachers.

Above all, Samuel was a picture of Christ in his life of prayer and intercession. From the time that God ''called Samuel''-- the story we have loved from childhood [ch. 3] -- his life was one of continual communion. Samuel had access to the ear of God, and his own ear was open to God's voice. He and Moses are God's chosen examples of intercessors. ''Though Moses and Samuel stood before Me, yet My mind could not be toward this people'' (Jer 15:1). Samuel said to the rebellious nation, ''God forbid that I should sin against the Lord in ceasing to pray for you'' [1Sam 12:23]. ''Jesus... ever liveth to make intercession for them'' [Heb 7:25].
A Friend.
In Jonathan we have another picture of Christ, showing the love and friendship of our Heavenly Friend. ''There is a Friend that sticketh closer than a brother'' [Prov 18:24]. He, the King's Son, was not ashamed to own the shepherd lad [as] his friend, and Jesus is not ashamed to call us brethren [Heb 2:11]. ''The soul of Jonathan was knit with the soul of David, and he loved him as his own soul'' [1Sam 18:1]. Jesus, ''having loved His own which were in the world, loved them to the uttermost'' (John 13:1, R.V. margin).

Jonathan made an everlasting covenant with David (1Sa 18:3; 20:15,16; 23:18): ''He stripped himself of the robe that was on him, and gave it to David, and his garments, even to his sword, and to his bow, and to his girdle.'' So Christ stripped Himself of His glory, and He has covered us with the robe of His righteousness, and has armed and girded us for the fight. Jonathan strengthened David's hands in God (1Sa 23:16), and the Lord says to us, ''My strength is made perfect in weakness'' [2Cor 12:9]. The picture falls short, as all pictures do, of the glorious reality. Jonathan, at the risk of his own life (1Sa 20:33), sought to reconcile his father to David. Christ laid down His life as ''the propitiation for our sins'' (1John 2:2). He is our Mediator, our Advocate with the Father, and has made us sharers of His throne in glory.
The Shepherd King.
Both as Shepherd and as King, David is a type of our Saviour (Ed: See Typology - Study of Biblical types). In 1Samuel, we have the account of David's long season of preparation for the Kingdom.

The little town of Bethlehem is the birthplace alike of David and of his greater Son. The quiet years of toil with his father's flock remind us of the years spent at Nazareth and in the carpenter's shop. Many of the Psalms recall David's watch over the flock:

''When I consider Thy heavens, the work of Thy fingers,
the moon and the stars, which Thou hast ordained;
What is man, that Thou are mindful of him?
and the son of man, that Thou visitest him?'' (Psa 8:3,4)

''The heavens declare the glory of God;

and the firmament showeth His handywork...'' (Psa 19:1)

On the same plains round Bethlehem, the shepherds kept watch over their flocks by night, while the star which guided the wise men shown over their heads, when, lo, the angel of the Lord brought them the good tidings of great joy, of the birth, in the city of David, of a Saviour which is Christ the Lord. ''And suddenly there was with the angel a multitude of the heavenly host praising God, and saying, Glory to God in the Highest, and on earth peace, good will toward men'' [Luke 2]. Those who have watched the sunrise from those plains where David must often have watched it, tell us that no words can describe its magnificence. ''In them hath He set a tabernacle for the sun; which is as a bridegroom coming out of his chamber, and rejoiceth as a strong man to run a race'' (Psa 19:4,5).
Psalm 23.
In the Shepherd Psalm, David surely describes his own care of the sheep. How often he had led them by still waters, and caused them to lie down in green pastures, and many a time he must have had to lead them down one of the gorges of the wilderness of Judea. This wilderness is fifty miles long, and ten miles broad, with many valleys just such as are described by the [Hebrew] word gay in this Psalm. There are eight different words for valley in Hebrew, but gay signifies a deep, rocky gorge, some of them only two or three feet wide at the bottom, almost as dark as night even in the daytime, because of the steep, rocky sides rising 800 feet high on each side. Here the hyenas stalk the sheep if they get separated from the shepherd. But with his club the shepherd does battle both with wild beast and with wilder Bedaween [sic.], and reassures the sheep with the touch of his staff in the dark valley. More than once David had risked his life, and left the rest of the flock, to rescue one lamb from the mouth of the lion or bear. The good shepherd has always to take his life in his hand and be ready to lay it down. With what confidence David says, ''Jehovah is my Shepherd, I shall not want.'' And the Son of David responds, ''I am the Good Shepherd: the Good Shepherd giveth His life for the sheep'' [John 10:11]. He leaves the ''ninety and nine'' and goes [into the wilderness] after the one that was lost, until He finds it [Mat 18:11-14].

The Eastern sheep-fold is an enclosure, open to heaven, with a small place of shelter at the back, and enclosed with a rough, stone wall. At one corner, there is a tiny doorway, but every shepherd is himself the door. He sleeps in the doorway to guard the sheep at night. He stands in the doorway as they come home in the evening, and examines every sheep before it goes in. He has a bowl of water for the thirsty sheep, and a bowl of oil for the wounded ones; he anoints with oil those whose heads have been bruised against the rocks. The imagery of the twenty-third Psalm does not change in the middle, as some have thought, to that of an indoor bancquet; the imagery of the shepherd's care is sustained throughout.

The Shepherd and the King were blended in David and in David's Son. A true king must always have the heart of a shepherd. When David saw the Angel of the Lord about to destroy Jerusalem, he cried: ''I it is that have sinned, and done evil indeed; but as for these sheep, what have they done? Let Thine hand be on me... but not on Thy people'' (1Chron 21:17).

''I will set up one Shepherd over them, and He shall feed them, even My Servant David; and He shall be their Shepherd'' (Ezek 34:23). He is --
The Good Shepherd in death. John 10:11. See Psalm 22.
The Great Shepherd in resurrection. Heb 13:20. See Psalm 23.
The Chief Shepherd in glory. 1Peter 5:4. See Psalm 24.
1 SAMUEL
The book of 1 Samuel [say: ''First Samuel''] is a book of transition. It outlines the change from the theocracy established under Moses to the monarchy begun under [king] Saul. The book also marks the transition from priests to prophets as the central figure of God's dealing with Israel. First Samuel is really a continuation of the book of Judges, with Ruth as a parenthesis. The key thought is ''choosing a king,'' and the key verse reads, ''Now, therefore, behold the king whom ye have chosen'' (1Sam 12:13).
OUTLINE OF THE BOOK--
Close of the Period of the Judges (1 Samuel 1-7)
Early life of Samuel (1 Samuel 1-3)
Judgments on Eli and loss of the Ark (1 Samuel 4:1-7:2)
Samuel as judge (1 Samuel 7:3-17)
Beginning of the Monarchy (1 Samuel 8-31)
Appointment of the first king (1 Samuel 8-10)
Saul's reign until his rejection (1 Samuel 11-15)
The fall of Saul and rise of David (1 Samuel 16-31)
As the book of 1 Samuel opens, lawlessness is reaching its height in Israel. The threshold of the book also depicts in symbol the spiritual state of Israel. After first considering the significance of losing the ark of the covenant, we shall see how Samuel and David reflect Christ, and how Saul represents his countertype. (Ed: See caveats regarding Typology - Study of Biblical types)
THE LOSS OF THE ARK--
Chapter 4 of 1Samuel records the story. The people had forgotten God. The priesthood was corrupted. Eli, the high priest, had no control over his sons, who were also priests. We are told, ''Wherefore the sin of the young men was very great before the Lord; for men abhorred the offering of the Lord'' (1Sam 2:17). How sad! Men who had no real knowledge of God were in charge of holy things.

To make matters worse, the Philistine armies had moved up against Israel and were defeating them. So the elders of Israel decided to get the ark of the covenant from Shiloh and carry it into battle. They reasoned this way: ''It may save us out of the hand of our enemies'' (1Sam 4:3). The ark symbolized God's presence with His people. But Israel failed to distinguish between having 'a form of godliness' and knowing God's presence in their midst. Not only was Israel defeated in the battle with the Philistines, but that heathen people also killed the two sons of Eli and captured the ark. Ungodly men cannot preserve the power of true faith. They turn the most holy things into ridicule. Furthermore, the Lord will not protect empty ritual when the Spirit is gone. Sin always brings defeat.

But let's get back to the primary thought of these studies. Perhaps someone is asking, ''Where in this book of apostasy, sin, and defeat do we see the Lord Jesus?'' First Samuel is really a biography of three men: Samuel, Saul and David. We shall consider each of them, probing to see how the Lord Jesus is pictured either by comparison or contrast.
SAMUEL--
The Lord Jesus is pictured often in the life of Samuel. During that period when Eli and his licentious sons occupied the office of the priesthood, a glimmer of hope came to the land in the person of a praying mother [1Samuel 1]. Take note of the fact that conditions in Israel just prior to our Lord's first coming were similar. To Hannah was born a son whom she called ''Samuel.'' That name means ''heard of God'' or ''sons of God.'' Read again Hannah's prayer in the first ten verses of 1Samuel 2. This prayer was prophetic, looking forward to a day of deliverance. An interesting parallel can be observed in the prayer of Hannah and Mary's prayer, the Magnificat, recorded in Luke 1:46-55.

Similarities between Christ and Samuel may be seen in the growth of Samuel, his acceptance as prophet and priest, and his place as a ruler. Samuel's activity was terminated when the people, demanding a king, rejected him (1Sam 8:7).
SAUL--
The people did not want Samuel as their judge and ruler; consequently, God let them have a king of their choosing. By comparison, how pertinent are these words of our Lord: ''I am come in My Father's name, and ye receive Me not; if another shall come in his own name, him ye will receive'' (John 5:43).

So, Saul was chosen king over Israel. He was head and shoulders above other men. He made an awesome sight as he stood among the people. The ''morning'' of Saul's life was calm and bright. How wonderful if he would have said something like, ''Take my life and let it be consecrated, Lord, to Thee!'' ...But no.

''There is a line by us unseen
But crosses every path,
The hidden boundary between
God's patience and His wrath.''

Saul had crossed that line. Consequently, the ''midday'' of his life was cloudy and threatening. His ''afternoon'' was cold and dark; his ''evening'' was terrifying with the thunderstorms of despair and suicidal blackness.

Much about Saul suggests Satan's counterfeit, [the] Antichrist. The Lord Jesus came in the Father's name and was rejected. Antichrist will come like Saul of old, the people's choice. He will be received and exalted. But he will bring a holocaust of war, famine, despair, and death.
DAVID--
A child was born in Bethlehem of the tribe of Judah. This lad, who was destined to be Israel's greatest king, spent his youth in his father's fields. How like our Lord, who spent His childhood in Joseph's carpenter shop.

David was anointed as king long before he was recognized. He was sought and hunted by Saul, who desired his death even though he had done nothing to deserve it. David's first public act was the meeting of Goliath; similarly, our Lord's first experience, following His baptism, was His temptation by Satan in the wilderness.

The first part of David's reign was met with great acclaim by the nation. The Lord Jesus was met in His triumphal entry with cries of ''Hosanna to the son of David!''

It was not long, though, until David was rejected by Israel and had to hide in the cave of Adullam. John tells us that Jesus ''came unto His own, and His own received Him not'' (John 1:11). A strange company of men gathered with David in that cave-- some 400 of them. Who were they? They were the distressed, the debtors, the discontented. But somehow they were attracted to David [cp. Mat 11:28; Luke 5:30-32]. The inspired writer to the Hebrews said, ''Let us go forth, therefore, unto Him outside the camp, bearing His reproach'' (Heb 13:13). You would find it most interesting to read the story of these men who joined David and who were faithful to him at the time of his rejection (2Sam 23:8-39). Paul wrote to young Timothy, ''If we suffer, we shall also reign with Him; if we deny Him, He also will deny us'' (2Tim 2:12).

Christ is the anointed of God. No doubt about it, Jesus Christ will reign! However, we are living in the time of His rejection. It will not always be so, for coronation time is coming!
189 page Pdf Recommended
Multiple Comments, Illustrations, Homilies
Updated December 22, 2015. Well Done
Flagstaff Christian Fellowship Excellent
14 part study on King David from 1 and 2 Samuel
Published 1871 Excellent Commentary
See also index to the Unabridged Version of this well done commentary
Updated December 22, 2015
Spurgeon on Blaikie's related life of David: "Dr. Blaikie is a good writer. This Life of David has supplied a great lack." (Lectures to my Students, Vol. 4: Commenting and Commentaries)
Warren W. Wiersbe - If you can locate the six-volume edition of the Expositor's Bible, buy it immediately! It takes up less space than the original fifty-volume set, and not everything in the original set is worth owning. Samuel H. Kellogg on Leviticus is a classic; so is Alexander Maclaren on the Psalms and on Colossians. (A Basic Library for Bible Students)
Cyril J. Barber - This set, originally published in 1903, contains expositions by both conservative and liberal theologians. The most important works are by Dod (Genesis), Chadwick (Exodus and Mark), Kellogg (Leviticus), Blaikie (Joshua, I and II Samuel), Adeney (Ezra, Nehemiah and Esther), Maclaren (Psalms), Moule (Romans), Findlay (Galatians and Ephesians), Plummer (Pastoral Epistles and the Epistles of James and Jude), and Milligan (Revelation.) (The Minister's Library)
Conservative, Evangelical, Millennial
Notes are brief but this is an excellent modern commentary
1Samuel 16:7 - More for Less- Have you checked the labels on your grocery items lately? You may be getting less than you thought. According to U.S. News & World Report, some manufacturers are selling us the same size packages we are accustomed to, but they are putting less of the product in the box. For example, a box of well-known detergent that once held 61 ounces now contains only 55. Same size box, less soap. How something is wrapped doesn't always show us what's on the inside. That's true with people as well. We can wrap ourselves up in the same packaging every day—nice clothes, big smile, friendly demeanor—yet still be less than what we appear to be. (Our Daily Bread, June 22, 1992)
1 Samuel 17 - Godly Leadership
1. Looks for Opportunities to make a Difference. 1Sa 17:20-24

2. Has ability to see the Real Issue. 1Sa 17:26

3. Is an Encourager of Men. 1Sa 17:32a

4. Is Willing to be Personally involved. 1Sa 17:32b

5. Values Past accomplishments for Present challenges. 1Sa 17:33-36

6. Has an unquestionable Dependence on God for victory. 1Sa 17:37

7. Avoids Power Doubters. 1Sa 17:28, 33

8. Never Leads in someone Else's Armour. 1Sa 17:38-40

9. Always Sizes up the Opposition and makes sure he has adequate resources to Overcome. 1Sa 17:45

10. Remembers whose Battle it Really is. 1Sa 17:47

11. Never Backs off from a formidable Challenge. 1Sa 17:48

12. Makes Double sure the Enemy is Defeated. 1Sa 17:51

13. Is usually Sought out by Others. 1Sa 17:55-58

Biblical Sermons, H. W. Robinson, Baker, 1989, p.51 (sermon by James Rose)
Recommended
James Rosscup writes "Keil, C. F. and Franz Delitzsch. Commentary on the Old Testament. 25 volumes. Grand Rapids: Eerdmans, 1950. This is the best older, overall treatment of a critical nature on the Old Testament Hebrew text verse by verse and is a good standard work to buy. The student can buy parts or the whole of this series. Sometimes it is evangelical, at other times liberal ideas enter." (Commentaries for Biblical Expositors: An Annotated Bibliography of Selected Works)
Spurgeon's Comments on Lange's Series: "These volumes are not all of equal value, but as a whole, they are a grand addition to our stores. The American translators have added considerably to the German work, and in some cases these additions are more valuable than the original matter. For homiletical purposes these volumes are so many hills of gold, but, alas, there is dross also, for Baptismal Regeneration and other grave errors occur....We are very far from endorsing all Zöckler's remarks." (Caveat: Be a Berean - Acts 17:11)
An annual $50 or monthly $5 subscription (click here) is required to view the entire article but will give you access to literally thousands of conservative articles. See search box (Enter Verse to Search >20,000 journal articles) on right hand side of this page.
Examples of articles you can access:
Challies rates Dale Ralph Davis book #1 - Click for an except 1 Samuel Commentary
Below are the "Contents" from Dale Ralph Davis' book which have interesting titles outlining 1Samuel...
Part 1—A Prophet from God's Grace 1 Samuel 1–7

Cradle and Kingdom—1 Samuel 1:1–2:10
Judgment Begins at the House of God—1 Samuel 2:11–36
Prophets Profit—1 Samuel 3:1–4:1a
Rabbit-Foot Theology—1 Samuel 4:1b–22
Arkeological Discoveries—1 Samuel 5:1–7:1
New Mercies—1 Samuel 7:2–17

Part 2—A King in God's Place 1 Samuel 8–14

The King Thing—1 Samuel 8:1-22
Lost and Found—1 Samuel 9:1–10:16
A Lost King?—1 Samuel 10:17–27
A Hopeful Beginning—1 Samuel 11:1-15
Covenant—Accusing and Assuring—1 Samuel 12:1-25
Tarnish on the Crown—1 Samuel 13:1-23
Sad Success—1 Samuel 14:1-52

Part 3—A Man after God's Heart 1 Samuel 15–31

Rejecting the Chosen—1 Samuel 15:1-35
Looking on the Heart—1 Samuel 16:1-23
Glory to God in the Highest and on Earth—Thud!—1 Samuel 17:1-58
The Shadow of the Almighty—1 Samuel 18:1-9:24
How Do You Spell Security?—1 Samuel 20:1-42
Desperation—1 Samuel 21:1–22:5
Even Now Many Antichrists Have Come—1 Samuel 22:6–23
The God Who Provides—1 Samuel 23:1-29
This Is the Day! Or Is It?—1 Samuel 24:1-22
Preventive Providence—1 Samuel 25:1-44
The Spear Makes the Point—1 Samuel 26:1-25
What Can a God-less Text Teach Us?—1 Samuel 27:1–28:2
And It Was Night—1 Samuel 28:3–25
Accepting the Philistines as Your Personal Savior—1 Samuel 29:1-11
When the Bottom Drops Out—1 Samuel 30:1-31
The End?—1 Samuel 31:1-13
Keil, C. F. and Franz Delitzsch. Commentary on the Old Testament. This is the best older, overall treatment of a critical nature on the Old Testament Hebrew text verse by verse and is a good standard work to buy. The student can buy parts or the whole of this series. Sometimes it is evangelical, at other times liberal ideas enter.
Ackroyd, Peter R. The First Book of Samuel (Cambridge Bible Commentary). Cambridge: U. P., 1971. 238 pp. This is much the same as his work on the second book of Samuel (cf. that entry). Ackroyd, Peter R. The Second Book of Samuel (Cambridge Bible Commentary). Cambridge: U. P., 1977. 247 pp. An attempt to meet general readers' needs. The approach is mildly critical. Ackroyd has a clear writing style and often is of help on the reading of a given text, historical setting, customs and explanation of the passage. The work is cursory.
Anderson, A. A. 2 Samuel (Word Biblical Commentary). 1989. 302 pp. Conservatives will find much to aid them here in meticulous exegetical detail and giving of different views, all done quite readably. One is soon aware, however, of the nonconservative perspective, as in supposing errors as to historical fact, misstatements, and portions ineptly inserted by an exilic redactor (cf. pp. 118–19, 132, 161, 168 etc.). Users will have to use the work with much carefulness but can glean heavy profit from places where he contributes well. Anderson is Honorary Fellow in theology, University of Manchester, England. His introduction takes up theories of composition that specialized scholars can follow completely, even if they do not agree. Many things said in Samuel are attributed to the artistic skill of the author, and one gains the impression that to Anderson they are not historically reliable (xxxiv, etc.). The form/structure/setting sections have much that can help evangelicals and much that gives liberal slants biased on ideas of theoretical sources. Careful advanced students can sift out much and leave much. Like Klein's work on I Samuel, the flow is broken in many ways, so the use of the commentary for any but specialist students will be slow plodding and spotty in benefit.
Baldwin, Joyce C. 1 and 2 Samuel: An Introduction and Commentary (Tyndale Old Testament Commentary). Grand Rapids: Eerdmans, 1988. 299 pp. A concise, competent, clear evangelical work using various sources, elucidating most passages well and showing their theological and practical relevance then and now.
Barber, Cyril J. and Carter, John. I Samuel, Always a Winner. A Bible Commentary for Laymen. Glendale, CA: G/L Publications, 1977. 160 pp. Sunday School or Bible class teachers and laypeople in general can gain good ideas on how to present material, how to explain some of the main customs and resolve certain problems. The book is simple, well-organized, refreshing for a series of Bible readings in devotional times, but also has frequent things that stimulate for preaching.
Barber, Cyril J. The Book of Second Samuel. Neptune, NJ: Loizeaux, 2000. Barber, a keen student aggressive to explain passages, surveys each segment in its main flow, and offers relational application. He uses provocative titles, vivid writing, often careful reasons for views, and valuable leads for teachers and preachers. He articulates lessons such as David's making decisions as regarding the Amalekite claiming to have killed Saul, David covering up sin, and problems to which wrong choices can lead (2 Sam. 13ff). Overall the work is a good catalyst for speakers, surveying students, and lay readers.
Bergen, Robert D. 1, 2 Samuel (New American Commentary). Nashville: Broadman & Holman, 1996. The commentator is a professor at Hannibal-La Grange College, Hannibal, MO. He argues for the accurate, reliable, relevant Word of God. His excellent work reflects wide knowledge of biblical literature in the text and in footnotes. The writing flows with lucid vitality, and Bergen invests much from word study, grammar, customs, geographical details, etc. His appraisal of Eli is arresting (69), as are comments on Saul's excuses of I Sam. 15 and David's fight with Goliath. Bergen's careful weighing of views about how Saul died ends with his harmonizing view that Saul fell on his sword (I Sam. 31), but in his final moments the Amalekite hastened his death (2 Sam. 1). This is a fine grappling with main details in the two books.
Evans, Mary J. 1 and 2 Samuel (New International Critical Commentary). Peabody, MA: Hendrickson, 2000. A lecturer in OT at London Bible College did well-studied, lucid comments on verses, with added notes on certain details after each section. She covers most bases, resolves many problems, and elucidates customs, word meanings, and the like. She has no firm solution on some verses, such as the number left out in I Sam. 13:1. She believes that the Amalekite found Saul dead, and took advantage, supposing that David would reward him (2 Sam. 1). She shows richness from wide reading awareness on many points.
Gordon, R. P. 1 and 2 Samuel: A Commentary. Grand Rapids: Zondervan, 1986. 375 pp. This generally highly-regarded work offers much assistance verse by verse, using the RSV. The author comments a lot on the Hebrew text as to exegesis, word study, dealing with problems, etc.
Klein, Ralph W. I Samuel (Word Bible Commentary). Waco, TX: Word, 1983. 307 pp. A detailed work that often assumes liberal, hard-to-follow ideas positing literary strands from various sources in the book. Klein feels that some accounts cannot be harmonized (xxx). Theories of textual criticism will be a frequent problem for many evangelicals, and much is unclear except to specialists. Still, a lot in the general summary explanations of passages is helpful for the patient and shows how things fit. For more advanced scholarly use the many lists of literature on sections can offer aid, and notes on technical matters in verses specify word meanings, readings, etc. The reader, however, will meet with many liberal perspectives. For the most part the helpful flow of I Samuel bogs down even for serious students in the mixture of explanation and heavy material or theory from Klein's critical system.
Laney, J. Carl. First and Second Samuel. Chicago, IL: Moody Press, 1982. 132 pp. Laney, an assistant professor of Biblical literature at Western Conservative Baptist Seminary and more widely known for his volume The Divorce Myth, traces the lives of Samuel, Saul and David. This 1982 update for Moody Press's Everyman's Bible Commentary Series is a surprisingly resourceful paperback. Laney argues tersely for a 722 B. C. date for the Fall of Samaria. Thus, he prefers a time of writing for I & II Samuel sometime during or immediately following David's lifetime. He dates the dividing of the kingdom as 931 B. C. Regarding textual matters, Laney does not overlook the lacuna of I Samuel 13:1 as he states that great benefit can be gleaned from the LXX in a study of these two books. One interesting sidelight is his citation of the "dynastic defense" motif evident in I Samuel 15 and II Samuel 8, a setting apparently not unlike 13th Century Hittite tradition. Laney's discussion of God's will in I Samuel 8:21, 22 is quite helpful. In I Samuel 28 the treatment of the Witch of Endor is thorough. He concludes that God caused Samuel himself to appear. In II Samuel 7, Laney sheds light on the covenant by picturing its threefold nature. Laney's maps and graphics are well-placed and worthwhile. His treatment in 2 Samuel 24 of the two-sided nature of David numbering God's people is also worthy of attention. This is a well researched and supported volume. There are few volumes on I and II Samuel which could rightly claim to be more helpful on expositional matters.—Jan Sattem
McCarter, P. Kyle Jr. I Samuel: A New Translation with Introduction and Commentary (Anchor Bible). NY: Doubleday, 1980. 475 pp. McCarter writes this liberal work out of an immensely broad awareness of scholarly literature (cf. his 14-pp. bibliography, textual notes and informed way of handling many of the problem texts). He goes after the meaning of a passage, seeks to reach defensible conclusions, provides one of the best recent, up-to-date commentaries for more advanced students needing technical help on I Samuel, and is conversant with critical studies. Cf. also his work II Samuel in the Anchor Bible (553 pp.). He was at the time Professor of Religious Studies at the University of Virginia.
Merrill, Eugene. "I and II Samuel," Bible Knowledge Commentary, ed. John F. Walvoord and Roy B. Zuck. Volume I. Wheaton: Victor Books, 1983. Professor of Old Testament at Dallas Theological Seminary surveys both books with conservative expertise, dealing with Hebrew meaning, problems, customs, etc. He has a high view of inspiration and a good use of literature relevant in the area.
Meyer, F. B. (1847–1929) Choice Notes on Joshua–2 Kings. published this originally in 1895. He left a big witness as a Christian, husband and expositor on the spiritual life. Here he is clear, simple, to the point, and practical in application. The book is especially suited for pastors, Sunday School teachers and laypersons. Sometimes he overdoes things, as in seeing Hittites and confederates as depicting "The evil habits of the old past" (p. 12). Yet in many cases he is apt, as using Gideon to show the need to look to God for adequacy. He sees Saul as unsaved, having the Spirit on him but not in him (103).
Vos, Howard F. 1, 2 Samuel (Bible Study Commentary). Grand Rapids: Zondervan, 1983. 166 pp. Vos was Professor of History and Archaeology, King's College, Briarcliff Manor, New York, In this conservative work he gives a long outline at the outset, then incorporates this in his survey of I and 2 Samuel. For many Bible teachers, preachers, and lay people the exposition helpfully sums up what is said and some implications. It offers brief explanation of some main problems, such as the number judged at Beth Shemesh in I Samuel 6:19ff. and how to fill in the number of Saul's years in 13:1.
A Chronological Daily Bible Study of the Old Testament- 7-Day Sections with a Summary-Commentary, Discussion Questions, and a Practical Daily Application
Spurgeon's Comments: "Then, of course, gentlemen, you will economize rigidly until you have accumulated funds to purchase Kitto's Pictorial Bible. You mean to take that goodly freight on board before you launch upon the sea of married life. As you cannot visit the Holy Land, it is well for you that there is a work like the Pictorial Bible, in which the notes of the most observant travellers are arranged under the texts which they illustrate. For the geography, zoology, botany, and manners and customs of Palestine, this will be your counselor and guide....A work of art as well as learning."
Spurgeon comments: "Exceeding meritorious. Refer to it frequently....They are not exactly a commentary, but what marvelous expositions you have there! You have reading more interesting than any novel that was ever written, and as instructive as the heaviest theology. The matter is quite attractive and fascinating, and yet so weighty, that the man who shall study these volumes thoroughly, will not fail to read his Bible intelligently and with growing interest."
Excellent, conservative, literal study Bible notes from a leading creationist commentator, Dr Henry Morris. See links to notes in right margin.
The Kingdom of David and Solomon
David's Rise to Power — David in Conquest of Canaan — David's Wars of Conquest — Kingdom of David and Solomon — The United Monarchy under Solomon (1) — The United Monarchy under Solomon (2) — Solomon's Economic Enterprises — Solomon's Building Activities — Solomon's Temple — Jerusalem in the Time of David and Solomon
The Kingdoms of Israel and Judah
The Kingdoms of Israel and Judah (1) — The Kingdoms of Israel and Judah (2) — The Kingdoms of Israel and Judah (3) — The Campaign of Shishak — Conflicts between Israel and Aram-Damascus — The Omride Dynasty — The Golden Ages of the 9th & 8th centuries BCE — Phoenician Trade and Civilization — Trade Routes throughout the Middle East — Travel Routes throughout Palestine — Elijah and Elisha — The Revolt of Jehu — The Rise of Assyria — Israel & Judah in the days of Jeroboam II and Uzziah — The Assyrian Empire under Tiglath-Pileser III — The Syro-Ephraimite War — Tiglath-Pileser III's Campaigns — Fall of Samaria and Deportation of Israelites — The Fall of the Kingdom of Israel — Assyrian Districts after the Fall of Samaria — Prophets of the 8th Century BCE
Judah Alone amid International Powers
Hezekiah's Preparation for Revolt — Judah under King Hezekiah — Hezekiah's Jerusalem — Sennacherib's Campaign against Judah — Assyria in the 7th century BCE — The Rise of the Neo-Babylonian Empire — The Reign of Josiah — The Districts of Judah under King Josiah — The Golden Age of King Josiah; Nebuchadnezzar's Campaigns against Judah
1 Samuel 1. HANNAH; OR, THE TRIUMPH OF A SORROWFUL SPIRIT.
1 Samuel 3 THE CALL OF SAMUEL. .
1 Samuel 4:1-11 THE LOSS OF THE ARK OF GOD. .
1 Samuel 5:6 THE ARK OF GOD IN THE HANDS OF THE PHILISTINES. .
1 Samuel 7 EBENEZER. .
1 Samuel 9 SAUL, THE CHOICE YOUNG MAN. .
1 Samuel 10 SAUL, THE ANOINTED. .
1 Samuel 11 SAUL, THE COURAGEOUS. .
1 Samuel 13:1-14 SAUL, THE DISOBEDIENT. .
1 Samuel 15 SAUL, THE CASTAWAY. .
1 Samuel 18:29 SAUL, THE ENEMY. .
1 Samuel 28, 31 SAUL, THE SUICIDE. .
1 Samuel 16:1-13 DAVID'S CALL. .
1 Samuel 17 DAVID'S VICTORY. .
1 Samuel 18:1-4; 2 Samuel 1:26 DAVID AND JONATHAN. .
1 Samuel 22:1, 2; 23 DAVID IN ADULLAM. THE INFALLIBLE SAFEGUARD. .
1 Samuel 25 DAVID AND ABIGAIL. .
1 Samuel 27-29 DAVID AMONG THE PHILISTINES. .
1 Samuel 30 DAVID RECOVERING ALL
Excerpt - What's the big idea? First Samuel chronicles the beginning of Israel's monarchy, following the lives of the prophet Samuel, the ill-fated King Saul, and God's ultimate choice of David as king. Several themes feature prominently.

Providence: God repeatedly made everyday events work for His purposes. He used Hannah's contentious relationship with Peninnah (1 Samuel 1:1–28), led Saul to Samuel during Saul's search for lost donkeys (9:1–27), and caused David to learn of Goliath while taking food to his brothers (17:1–58). These are but a few examples.

Kingship: As the divine King, God designated a human vice-regent, David, to rule over His people. This history validates David's house as the legitimate rulers of Israel. It also fulfills Jacob's promise that the scepter will never depart from Judah, David's tribe (Genesis 49:10).

Reversal of human fortune: Hannah's barrenness gave way to children (1 Samuel 1:1–28; 2:21); Samuel became prophet instead of Eli's sons (2:12; 3:13); Saul rose to prominence though he was from a lowly tribe; and David was anointed king though he was the youngest son (16:1–13). Normal human patterns were reversed by God so that His plan could be furthered, showing His sovereignty over all.

How do I apply this? God is still sovereign in the twenty-first century. He will accomplish His purposes with or without our cooperation. But as was true in the lives of Samuel, Saul, and David, our response to God's call affects our outcome. Will we obey Him as Samuel and David did and live lives marked by blessing? Or will we, like Saul, try to live on our own terms? "To obey is better than sacrifice," Samuel told Saul (1 Samuel 15:22). That truth still speaks to us today.JAMES VAN DINE
1 Samuel 1 A Woman's Supplication Brings Blessing to a Nation
See Also
KEITH GREEN - his pithy song on this famous verse
JOHN MACARTHUR
Synchronizes with Thomas Constable's Notes
Updated August 1, 2017
Joseph Parker - People's Bible - Rosscup: This work, later called Preaching Through the Bible (Baker Book House), is rich in its applications and exhortations, though often not particularly helpful for the reader who is looking for exposition that stays right with the text. Treatment of the texts is sermonic. (Commentaries for Biblical Expositors: An annotated bibliography of selected works)
Various Authors (1884)
Calvary Chapel, Vista, California
John Piper says that Horae Homileticae "is the best place to go for researching Simeon's theology. You can find his views on almost every key text in the Bible. He did not want to be labeled a Calvinist or an Arminian. He wanted to be Biblical through and through and give every text its due proportion, whether it sounded Arminian as it stands or Calvinistic. But he was known as an evangelical Calvinist, and rightly so. As I have read portions of his sermons on texts concerning election and effectual calling and perseverance he is uninhibited in his affirmation of what we would call the doctrines of grace....What Simeon experienced in the word was remarkable. And it is so utterly different from the counsel that we receive today that it is worth looking at." (Brothers, We Must Not Mind a Little Suffering) (Bolding added)
Notes below similar to C2000 Series
Morning and Evening, Faith's Checkbook
Only Chapter 1 Complete Click For Sermons on 1 Samuel 2:1ff
A Hebrew Family
B. Dale
1 Samuel 1:1-8
Anomalies of Providence
W. G. Blaikie, D. D.
1 Samuel 1:2-7
Childless Parents
A. Whyte, D. D.
1 Samuel 1:2-7
Hannah the Matron
T. Guthrie, D. D.
1 Samuel 1:2-7
Polygamy not Primeval
Argyll, Unity of Nature.
1 Samuel 1:2-7
The Folly of Polygamy
T. E. Redwar, M. A.
1 Samuel 1:2-7
The Lord of Hosts
B. Dale
1 Samuel 1:3, 11
A Religious Use of Annoyance
J. Parker, D. D.
1 Samuel 1:7
Hannah
W. Jay.
1 Samuel 1:7
Provocations in Domestic Life
H. W. Beecher.
1 Samuel 1:7
The House of God
Helen Plumptre.
1 Samuel 1:7
Womanly Endurance
F. W. Robertson.
1 Samuel 1:7
The Temple of the Lord
B. Dale
1 Samuel 1:9
The Lord of Hosts
B. Dale
1 Samuel 1:3, 11
Effectual Prayer
B. Dale
1 Samuel 1:9-13
God Sought in Trouble
Helen Plumptre.
1 Samuel 1:10-11
Prayer At the Point of Agony
Joseph Parker, D. D.
1 Samuel 1:10-11
The Success of Hannah's Prayer, and the Reasons for It
Dean Goulburn.
1 Samuel 1:10-11
About Setting Our Hearts Upon Things
Dean Goulburn.
1 Samuel 1:11
Vows
B. Dale
1 Samuel 1:11
Hannah as a Worshipper
J. S. Exell, M. A.
1 Samuel 1:13
Prayer in the Heart
The Quiver.
1 Samuel 1:13
Effectual Prayer
B. Dale
1 Samuel 1:9-13
Christian Charity in Estimating Others
Spurgeon, Charles Haddon
1 Samuel 1:13-17
Hannah
W. Jay.
1 Samuel 1:13-17
Mistaken Judgment
Helen Plumptre.
1 Samuel 1:13-17
Of the Sinfulness of Rash Judgments
Dean Goulburn.
1 Samuel 1:13-17
On Judging Others
J. Parker, D. D.
1 Samuel 1:13-17
Harsh Judgment Meekly Answered
D. Fraser
1 Samuel 1:13-18
Undeserved Rebuke
B. Dale
1 Samuel 1:13-18
A Woman of a Sorrowful Spirit
Spurgeon, Charles Haddon
1 Samuel 1:15-16
Hannah's Gracious Disposition
C. Ness.
1 Samuel 1:15-16
Specific Objects in Prayer
Spurgeon, Charles Haddon
1 Samuel 1:17
Early Morning Prayer
1 Samuel 1:19
Samuel's Birth and Infancy
B. Dale
1 Samuel 1:19-28
Early Training of Children
G. B. Ryley.
1 Samuel 1:23
The Father Must Take His Part in the Spiritual Culture of Children
G. B. Ryley.
1 Samuel 1:23
Of Infant Baptism and of Childlike Children
Dean Goulburn.
1 Samuel 1:24-28
The Duty of Presenting Children to God in the Way of Religious Education
D. Wilson.
1 Samuel 1:24-28
A Prayer and its Issue
F. B. Meyer, B. A.
1 Samuel 1:27-28
A Praying Mother
R. R. Booth, D. D.
1 Samuel 1:27-28
A Praying Mother
Monday Club Sermons
1 Samuel 1:27-28
Asked and Heard of the Lord
G. B. Ryley.
1 Samuel 1:27-28
Children and Cheapness
J. H. Hollowell.
1 Samuel 1:27-28
Hannah
W. Jay.
1 Samuel 1:27-28
Obtaining the Greatly Desired
H. O. Mackey.
1 Samuel 1:27-28
Parentage and Piety
R. Steele.
1 Samuel 1:27-28
Prayer Answered
Helen Plumptre.
1 Samuel 1:27-28
Prayer Answered
W. G. Blaikie, D. D.
1 Samuel 1:27-28
Prayer Exemplified in the Case of Hannah
T. E. Hankinson, M. A.
1 Samuel 1:27-28
Spiritual Transmutations
J. P. Gledstone.
1 Samuel 1:27-28
The Duty of Intercessory Prayer
H. Richard.
1 Samuel 1:27-28
A Mother's Formative Influence on the Characters of Her Children
Footsteps of Truth.
1 Samuel 1:28
Samuel, the Child-Christian
C. H. Parkhurst, D. D.
1 Samuel 1:28
The Connection Between God and Children to be Cultivated
W. G. Blaikie, D. D.
1 Samuel 1:28
The Dedication of Samuel
T. Guthrie, D. D.
1 Samuel 1:28
Vows Fulfilled
W. G. Blaikie, D. D.
1 Samuel 1:28
Book