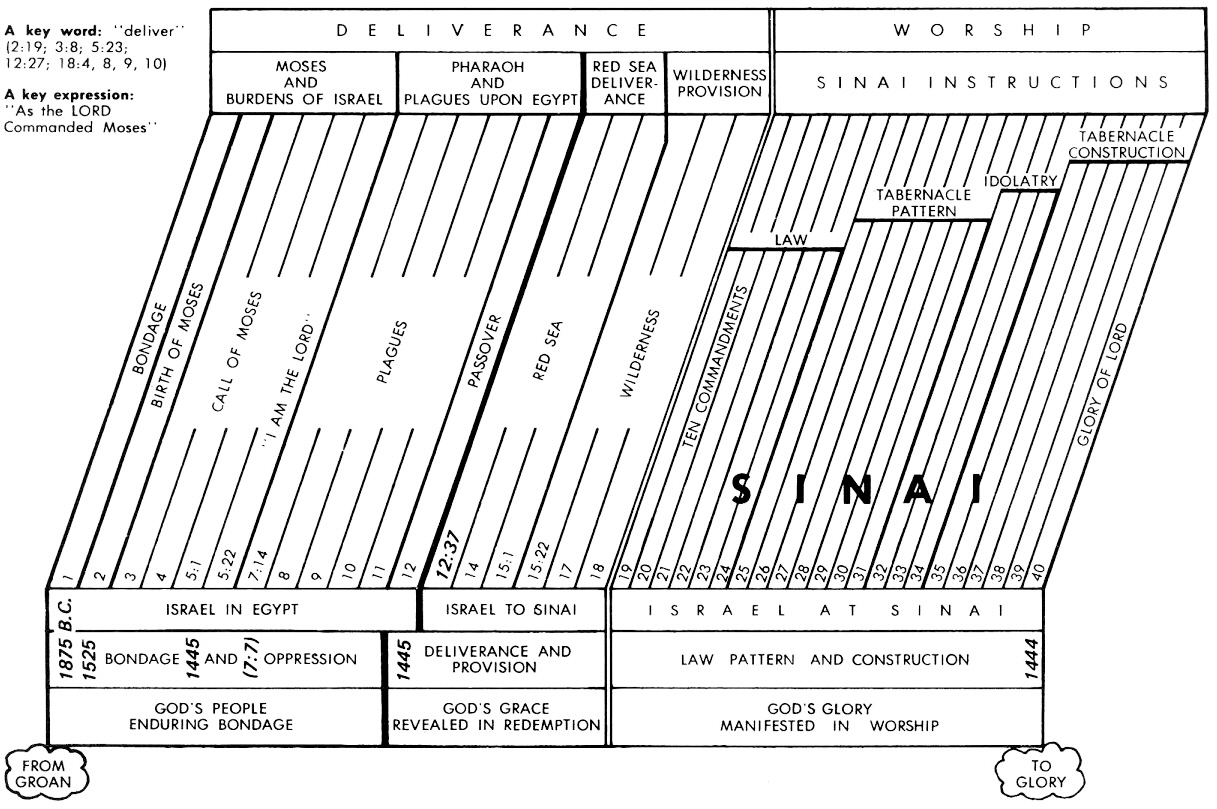 Summary Chart of
The Book of Exodus
DELIVERANCE
FROM OPPRESSION
PREPARATION FOR
WORSHIP
Redemption from Egypt
Ex 1:1-18:27
Revelation from God
Ex 19:1-40:38
Getting Israel Out of Egypt
Getting Egypt Out of Israel!
Narration
Legislation
Birth of
Moses
Ex 1-2
Call of
Moses
Ex 3-6
Conflict with Pharaoh
Ex 7-10
Exodus
from
Egypt
Ex 11-12
Red
Sea
Crossed
Ex 13-15
Journey
To
Sinai
Ex 16-18
Law
Given
Ex 19-24
Tent
Plan
Ex 25-31
Idol
Worship
Ex 32-34
Tent
Built
Ex 35-40
Subjection
Redemption
Instruction
Suffering and Liberation
of People of God
Guidance
of God
Worship
of God
Moses and
Burdens of Israel
Pharaoh and
Plagues Upon Egypt
Red Sea
Deliverance
Wilderness
Provision
Sinai
Instructions
Bondage
and Oppression
Deliverance
and Provision
Law Pattern
and Construction
Israel in Egypt
Ex 1:1-13:16
Israel to Sinai
Ex 13:17-18:27
Israel at Sinai
Ex 19:1-40:38
God's People
Enduring
Bondage
God's Grace
Revealed
in Redemption
God's Glory
Manifested
in Worship
Egypt
430 Years
(15% of Exodus)
Wilderness
2 Months
(30% of Exodus)
Mt Sinai
10 Months
(55% of Exodus)
From
Groaning
 
 
 
 
 
 
 
 
To
Glory!
 

Click to Enlarge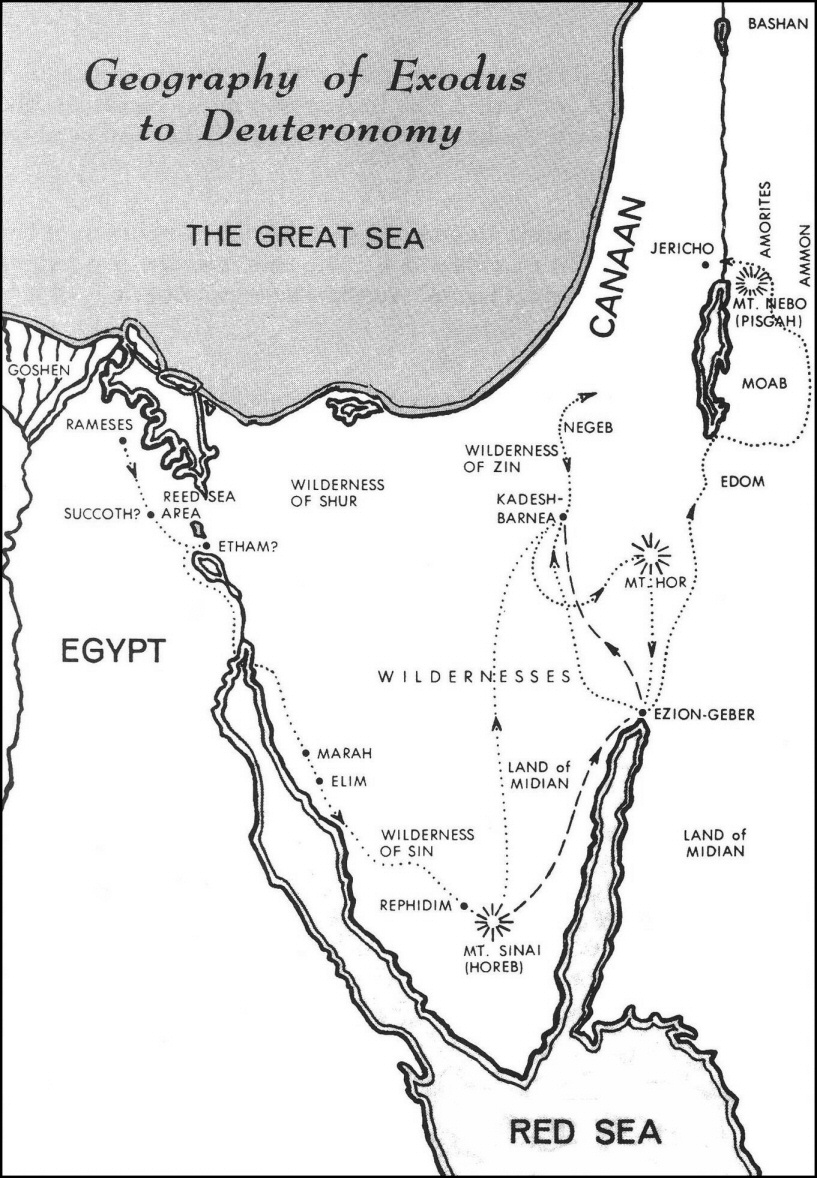 OVERVIEWS AND INTRODUCTIONS
DICTIONARY ARTICLES
---
BIBLIOGRAPHY - Resources Quoted in Commentary
---
JACK ARNOLD The Wilderness Wanderings
ALBERT BARNES
GEORGE BUSH -  Wikipedia biography (yes he is related to the presidents) - 1867 but still very worthwhile to examine
GEORGE CHADWICK
W A CRISWELL Sermon on Exodus
JOHN CUMMING Exodus Commentary
BOB DEFFINBAUGH
EDWARD DENNETT
J LIGON DUNCAN  Sermons
Sometimes substitutes the "church" for Israel - Be a Berean!
CHARLES ELLICOTT Commentary for English Readers
EASY ENGLISH
THEODORE EPP Devotional Study
EXPOSITOR'S BIBLE COMMENTARY
DON FORTNER
ARNOLD FRUCHTENBAUM
A C GAEBELEIN
GOSPEL COALITION
L M GRANT
HARRISON-PFEIFFER
ROBERT HAWKER
James Rosscup "Keil, C. F. and Franz Delitzsch. Commentary on the Old Testament. 25 volumes. Grand Rapids: Eerdmans, 1950. This is the best older, overall treatment of a critical nature on the Old Testament Hebrew text verse by verse and is a good standard work to buy. The student can buy parts or the whole of this series. Sometimes it is evangelical, at other times liberal ideas enter." (Commentaries for Biblical Expositors: An Annotated Bibliography of Selected Works)
PAUL E KRETZMANN
Exodus 17:1-3 Give 'Em A Brake - Pastors need your grace, not your gripes.
Exodus 17:5-6 Water From the Rock - The world offers a cistern; Christ offers a well.
Exodus 17:8 When Life Isn't Fair - Perhaps you also are experiencing unfair treatment. Life is not fair, but God is.
Exodus 17:9 The Mentor - In helping others, we help ourselves.
Exodus 17:11-12 A Little Help From Your Friends - Be sensitive to the opportunities to respond as Aaron and Hur did. Victory is never won alone.
Exodus 17:14 Write It Down - The weakest ink is stronger than the greatest memory. When you're feeling discouraged, or perhaps even wondering if God loves you, take out your journal and refresh your memory.
Exodus 17:15-16 His Banner Over Me - Is it obvious to those around you that the King is in residence in your life? If the King is in residence, be sure to fly His flag.
HENRY LAW The Gospel in Exodus
Primarily devotional rather than expositional
MAPS
J VERNON MCGEE
F B MEYER Our Daily Homily
ROBERT MORGAN Donelson Fellowship Sermon
HENRY MORRIS DEFENDER'S STUDY BIBLE
JAMES G. MURPHY Exodus Commentary
MARK NEWMAN
OUR DAILY BREAD - devotionals
ARTHUR PINK
MATTHEW POOLE
PREACHER'S HOMILETICAL COMMENTARY
PRECEPT
PULPIT COMMENTARY
RADIO BIBLE CLASS
REFORMATION STUDY BIBLE
ROB SALVATO Sermons
JOHNNY SANDERS
SERMON BIBLE COMMENTARY
SERMONS BY VERSE
CHARLES SIMEON
CHUCK SMITH 
RAY STEDMAN
JOE TEMPLE
DAVID THOMPSON - click sermon for transcript
JOHN TRAPP
| | | |
| --- | --- | --- |
| Refreshing Thoughts for the Hot Season | T. De Witt Talmage, D. D. | Exodus 17:1-3 |
| Rephidim: Ancient and Modern | J. Parker, D. D. | Exodus 17:1-3 |
| Want of Water a Terrible Experience |   | Exodus 17:1-3 |
| Christ Our Spring | H.T. Robjohns | Exodus 17:1-7 |
| The Giving of Water in Rephidim | D. Young | Exodus 17:1-7 |
| The Water from the Rock | J. Orr | Exodus 17:1-7 |
| Trial and Failure | J. Urquhart | Exodus 17:1-7 |
| Crying unto the Lord for Help | New York Independent. | Exodus 17:4-7 |
| Help from an Unlikely Source |   | Exodus 17:4-7 |
| Horeb; Or, Great Mercies from Unlikely Sources | Homilist | Exodus 17:4-7 |
| The Needful Things of Life Providentially Supplied | J. S. Exell, M. A. | Exodus 17:4-7 |
| The Smitten Rock | I. Saunders. | Exodus 17:4-7 |
| Water Out of the Rock, a Type of Christ | T. Taylor, D. D. | Exodus 17:4-7 |
| That Rock was Christ | J. Orr | Exodus 17:6 |
| Evidences of the Divine Presence | H. F. Holmes. | Exodus 17:7 |
| Is the Lord Among Us, or Not? -- a False Inference | G. Wagner. | Exodus 17:7 |
| They Tempted God in the Desert | G.A. Goodhart | Exodus 17:7 |
| Both Sides of the Shield | Spurgeon, Charles Haddon | Exodus 17:8 |
| Encouragement | G. F. Cushman, D. D. | Exodus 17:8 |
| Fighting and Praying | Spurgeon, Charles Haddon | Exodus 17:8 |
| The Assistance of Prayer |   | Exodus 17:8 |
| The Battle Between Good and Evil | J. S. Exell, M. A. | Exodus 17:8 |
| The War of Truth | Spurgeon, Charles Haddon | Exodus 17:8 |
| War with Amalek | Spurgeon, Charles Haddon | Exodus 17:8 |
| Amalek | J. Orr | Exodus 17:8-16 |
| Christ Our Banner | H.T. Robjohns | Exodus 17:8-16 |
| The Discomfiture of Amalek in Rephidim | D. Young | Exodus 17:8-16 |
| Victory Through Faith | J. Urquhart | Exodus 17:8-16 |
| Man as a Servant of God | Homilist | Exodus 17:9 |
| Moses' Rod, the Emblem of Power and Faith | Homilist | Exodus 17:9 |
| The Old Rod, or the Inspiration of Common Ministries | J. Parker, D. D. | Exodus 17:9 |
| The War of Truth | Charles Haddon Spurgeon | Exodus 17:9 |
| Thou Hast Given a Banner unto Them that Fear Thee | G.A. Goodhart | Exodus 17:9 |
| Amalek and Israel | W. Harris. | Exodus 17:13 |
| Israel and Amalek | B. D. Macmillan. | Exodus 17:13 |
| Lessons | G. Hughes, B. D. | Exodus 17:13 |
| The Battle of Amalek, an Instructive War | Homilist | Exodus 17:13 |
| Winning God's Battles | T. Champness. | Exodus 17:13 |
| Destruction of Amalek | W. Jay. | Exodus 17:14 |
| Lessons | G. Hughes, B. D. | Exodus 17:14 |
| Use of History | J. Crompton. | Exodus 17:14 |
| Jehovah My Banner | G. G. Findlay, B. A. | Exodus 17:15 |
| Jehovah Nissi | Alexander Maclaren | Exodus 17:15 |
| Jehovah-Nissi | J. C. Gray. | Exodus 17:15 |
| Jehovah-Nissi | W. M. Taylor, D. D. | Exodus 17:15 |
| Jehovah-Nissi | A. Nevin, D. D. | Exodus 17:15 |
| The Lord My Banner | R. Newton, D. D. | Exodus 17:15 |
| Nature of the Renderings | C. J. Ellicott | Exodus 17:16 |
Book