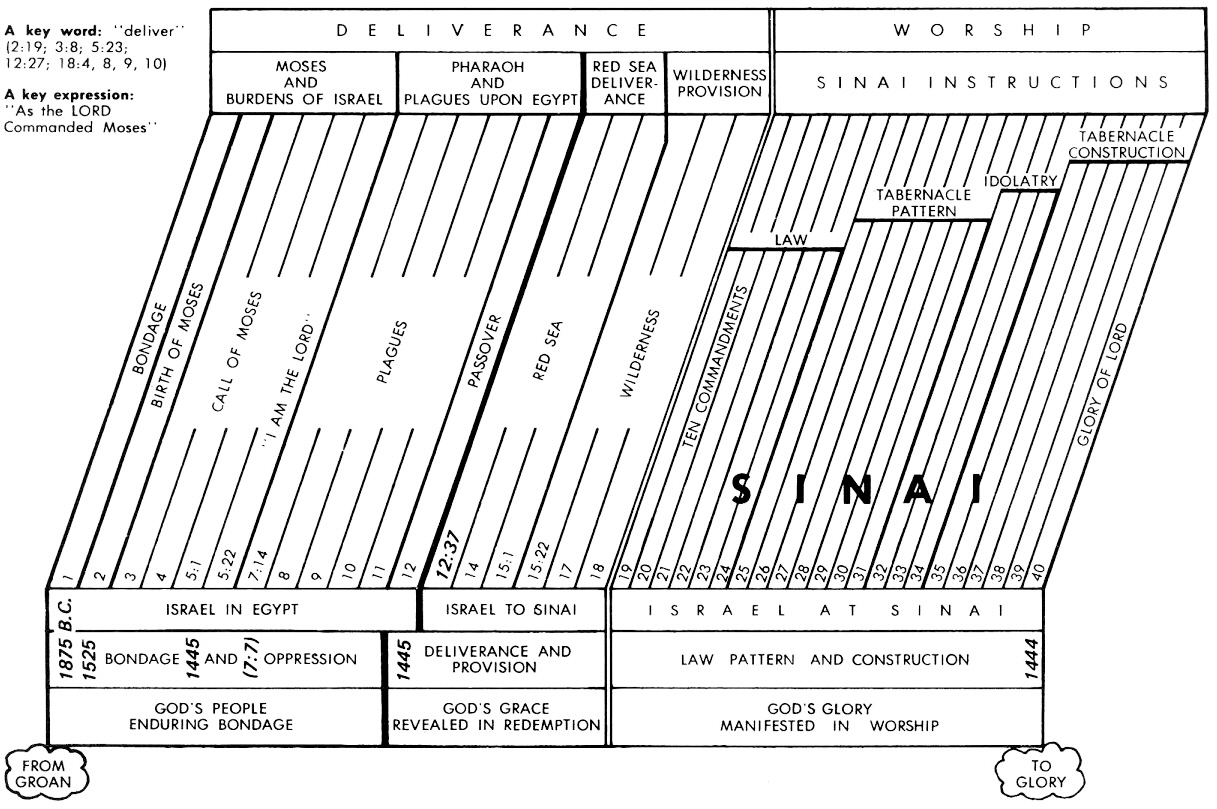 Summary Chart of
The Book of Exodus
DELIVERANCE
FROM OPPRESSION
PREPARATION FOR
WORSHIP
Redemption from Egypt
Ex 1:1-18:27
Revelation from God
Ex 19:1-40:38
Getting Israel Out of Egypt
Getting Egypt Out of Israel!
Narration
Legislation
Birth of
Moses
Ex 1-2
Call of
Moses
Ex 3-6
Conflict with Pharaoh
Ex 7-10
Exodus
from
Egypt
Ex 11-12
Red
Sea
Crossed
Ex 13-15
Journey
To
Sinai
Ex 16-18
Law
Given
Ex 19-24
Tent
Plan
Ex 25-31
Idol
Worship
Ex 32-34
Tent
Built
Ex 35-40
Subjection
Redemption
Instruction
Suffering and Liberation
of People of God
Guidance
of God
Worship
of God
Moses and
Burdens of Israel
Pharaoh and
Plagues Upon Egypt
Red Sea
Deliverance
Wilderness
Provision
Sinai
Instructions
Bondage
and Oppression
Deliverance
and Provision
Law Pattern
and Construction
Israel in Egypt
Ex 1:1-13:16
Israel to Sinai
Ex 13:17-18:27
Israel at Sinai
Ex 19:1-40:38
God's People
Enduring
Bondage
God's Grace
Revealed
in Redemption
God's Glory
Manifested
in Worship
Egypt
430 Years
(15% of Exodus)
Wilderness
2 Months
(30% of Exodus)
Mt Sinai
10 Months
(55% of Exodus)
From
Groaning
 
 
 
 
 
 
 
 
To
Glory!

 


Click to Enlarge

 
Click to enlarge - from the Holman Bible Atlas (

digital book

;

 

Hardcover

) 
copyright © 1998 B&H Publishing Group,
used by permission, all rights reserved.
This is one of the best resources for Bible maps. 
Please do not reproduce this map on any other webpage.


Click to Enlarge

SUGGESTION - Here is a message by Dr Steven Lawson (One Passion Ministry) in which he encourages us to begin to pray a prayer that we may not have heretofore considered, but one which has the power to radically impact our life. Listen to Dr Lawson's hour long message Show Me Your Glory. You will be blessed, edified, convicted and challenged! 

Then Moses said,
"I pray You, show me Your glory!"
Exodus 33:18

| | |
| --- | --- |
| GENESIS | EXODUS |
| human effort and failure | divine power and triumph |
| word of promise | work of fulfillment |
| a people chosen | a people called |
| God's electing mercy | God's electing manner |
| revelation of nationality | realization of nationality |

 
SUMMARY OF THE PENTATEUCH
(from Believer's Study Bible)

---

Theme: Redemption (See this concept - 11x/7v Exodus 6:6; 13:13, 15; 15:13; 21:8, 30; 34:20)

Key Verses (Ex 6:6; Ex 19:5–6)

Key Chapters (Ex 12–14)—The climax of the entire Old Testament is recorded in Exodus 12–14: the salvation of Israel through blood (the Passover) and through power (the Red Sea). The Exodus is the central event of the Old Testament as the Cross is of the New Testament. (Wilkerson) That is to say that the shed blood of the Passover Lamb  clearly points to the shed blood of the Lamb of God Who Alone is able to take away your sins! 

Dear reader there is only one way to be saved from the eternal punishment of Hell and that is by believing that the precious blood of the Lamb of God was shed for you for the removal of your sin debt, past, present and future. By God's grace through faith in Jesus' sacrificial death in your place you will be saved and not by any works you do (Eph 2:8-9). How do you know you are saved? Watch your life - you "works" they don't save you but do demonstrate that your salvation is genuine. So ask yourself - do you think differently about God, the Bible, time and eternity, and can you tell this is true by how you speak, where you go, what you watch, etc. You will never be perfect on this earth but you must believe in a perfect Person and only Jesus was perfect. Believe and you shall be save and empowered by His Spirit to walk in newness of life. If you have any questions about this write me on the contact form. 

Key words in the Book of Exodus

Slave - 14x/13v - Exodus 11:5; 12:44; 13:3, 14; 20:2; 21:2, 5, 7, 20, 26f, 32; 23:12
Bondage - 5x/4v - Exodus 2:23; 6:5f, 9
Cry- 10x/8v - Exodus 2:23; 3:7, 9; 5:8; 11:6; 12:30; 22:23; 32:18
Cried - 6x/6v - Exodus 2:23; 5:15; 8:12; 14:10; 15:25; 17:4
Deliver, Delivered - 11x/10v - Exodus 2:23; 3:7, 9; 5:8; 11:6; 12:30; 22:23; 32:18
Passover - 6x/6v - Exodus 12:11, 21, 27, 43, 48; 34:25
Sinai - 13x/13v - Exodus 16:1; 19:1f, 11, 18, 20, 23; 24:16; 31:18; 34:2, 4, 29, 32
Horeb - 3x/3v - Exodus 3:1; 17:6; 33:6
Mountain of God - 3x/3v - Exodus 3:1; 4:27; 24:13
Die, Died - 27x/26v - Exodus 1:6; 2:23; 7:18, 21; 8:13; 9:4, 6, 19; 10:28; 11:5; 14:11f; 16:3; 20:19; 21:12, 14, 18, 20, 35; 22:2, 10, 14; 28:35, 43; 30:20f
Death - 14x/14v - Exodus 1:16; 4:24; 10:17; 19:12; 21:12, 15-17, 28-29; 22:19; 31:14-15; 35:2
Holy - 57x/46v - Exodus 3:5; 12:16; 15:13; 16:23; 19:6; 20:8, 11; 22:31; 26:33f; 28:2, 4, 29, 35f, 38, 43; 29:6, 29-31, 33f, 37; 30:10, 25, 29, 31f, 35-37; 31:10f, 14f; 35:2, 19, 21; 37:29; 39:1, 30, 41; 40:9f, 13
Lord (or "I") Commanded - 6x/6v - Exodus 7:6; 16:34; 36:5 Exodus 23:15; 32:8; 34:18
Lord had commanded - 26x/26v - Exodus 7:10, 20; 12:28, 50; 19:7; 34:4; 35:29; 38:22; 39:1, 5, 7, 21, 26, 29, 31f, 42f; 40:16, 19, 21, 23, 25, 27, 29, 32
Covenant - 13x/13v - Exodus 2:24; 6:4f; 19:5; 23:32; 24:7f; 31:16; 34:10, 12, 15, 27f
Cloud - 21x/20v - Exodus 13:21f; 14:19f, 24; 16:10; 19:9, 16; 20:21; 24:15f, 18; 33:9f; 34:5; 40:34-38
Test, tested - 27x/26v - Exodus 15:25; 16:4, 34; 17:2, 7; 20:20; 23:2; 25:16, 21f; 26:33f; 27:21; 30:6, 26, 36; 31:7, 18; 32:15; 34:29; 38:21; 39:35; 40:3, 5, 20f
Law - 5x/5v - Exodus 12:49; 13:9; 18:16, 20; 24:12
Tent of meeting - 34x/33v - Exodus 27:21; 28:43; 29:4, 10f, 30, 32, 42, 44; 30:16, 18, 20, 26, 36; 31:7; 33:7; 35:21; 38:8, 30; 39:32, 40; 40:2, 6f, 12, 22, 24, 26, 29f, 32, 34f
Tabernacle - 58x/55v - Exodus 25:9; 26:1, 6f, 12f, 15, 17f, 20, 22f, 26f, 30, 35; 27:9, 19; 35:11, 15, 18; 36:8, 13f, 20, 22f, 25, 27f, 31f; 38:20f, 31; 39:32f, 40; 40:2, 5f, 9, 17ff, 21f, 24, 28f, 33ff, 38
Egypt* - 180x/153v - Exodus 1:1, 5, 8, 13, 15, 17ff; 2:11f, 14, 19, 23; 3:7ff, 16ff; 4:18ff; 5:4, 12; 6:5ff, 11, 13, 26ff; 7:3ff, 11, 18f, 21f, 24; 8:5ff, 16f, 21, 24, 26; 9:4, 6, 9, 11, 18, 22ff; 10:2, 6f, 12ff, 19, 21f; 11:1, 3ff, 9; 12:1, 12f, 17, 23, 27, 29f, 33, 35f, 39ff, 51; 13:3, 8f, 14ff; 14:4f, 7ff, 17f, 20, 23ff, 30f; 15:26; 16:1, 3, 6, 32; 17:3; 18:1, 8ff; 19:1, 4; 20:2; 22:21; 23:9, 15; 29:46; 32:1, 4, 7f, 11f, 23; 33:1; 34:18
| | | | |
| --- | --- | --- | --- |
| Ex. 18:1 | Advice from Moses' father-in-law | Advice from Moses' father-in-law | Num. 10:29 |
| Ex. 15:22 | Three-day journey to Sinai | Three-day journey from Sinai | Num. 10:33 |
| Ex. 15:22–26 | Complaint about water | Unspecified complaint | Num. 11:1–3 |
| Exodus 16 | Manna and quail | Manna and quail | Num. 11:4–15, 31–35 |
| Exodus 18 | Leaders appointed to assist Moses | Leaders appointed to assist Moses | Num. 11:16–30 |
| Ex. 15:20–21 | Miriam's song of praise | Miriam and Aaron rebel | Numbers 12 |
| Ex. 17:8–16 | Israel defeats Amalek | Israel defeated by Amalek | Num. 14:39–45 |
| Ex. 17:1–7 | Water from rock | Water from rock | Num. 20:1–13 |
| Ex. 32:6 | People sacrifice to other gods | People sacrifice to other gods | Num. 25:2 |
| Ex. 32:27 | Killing of apostates demanded | Killing of apostates demanded | Num. 25:5 |
| Ex. 32:28–29 | Levites' status enhanced | Levites' (Phinehas's) status enhanced | Num. 25:6–13 |
| Ex. 32:35 | Plague on the people | Plague on the people | Num. 25:9 |
(source)
---
J Sidlow Baxter - Is there in all history a more amazing spectacle than the Exodus? - a more august and solemn revelation of God than at Sinai? - a more significant piece of architecture than the Israelite Tabernacle? - a greater human figure than the man Moses? a more influential national epoch than the founding of the Israel theocracy? All these are found in this second book of Scripture. It is the fons et origo - the very fount and origin of the national life, law, and organized religion of Israel. The title "Exodus," which means "outgoing," accurately conveys the main subject of the book; but two other subjects are associated with the Exodus, as being the direct outcome of it, and complimentary to it, namely, the Law, and the Tabernacle....Think what the Exodus meant in relation to Egypt. It meant three things specially. First, it was the first big-scale exposure of the falsity of idolatry. The primal revelation of Himself, and of Divine truth, which God had given to the early fathers of the race, had been more and more obscured or perverted as time had elapsed, through the perverted mind and will of fallen man; and systems of idolatry had grown up (Josh 24:2,14,15), man having made all manner of gods for himself. Egypt at the time of the Exodus was probably the greatest kingdom on earth, and its gods were considered correspondingly great. When God would call out the people of Israel to their new life and their intended national mission of restoring the knowledge of the one true God, He would, at the same time, expose the falsity of all man-concocted deities. Thus we find God saying: "Against all the gods of Egypt I will execute judgment: I am the Lord" (Ex 12:12) (see also Nu 33:4). This smash-up of Egypt's gods not only compelled even the magicians of Egypt to confess: "This is the finger of God (i.e., of the true God)," but, being so conspicuous, it was a lesson to all the nations of that day (Rc 15:14-15; 18:2; and see Josh 9:9). It duly impressed, also, the minds of the Israelites; and we hear them singing, from the farther bank of the Red Sea: "Who is like unto Thee, O Lord, among the gods? " Second, the overthrow of Egypt demonstrates the uselessness, sin, and folly of attempting to resist Jehovah, the God of Israel, the one true God. At the beginning of the contest Pharaoh contemptuously asked: "Who is Jehovah, that I should obey Him?" the Exodus was designed to answer that question in a way which should be a lesson to all men for all time. Indeed, God announced to Pharaoh, through Moses: "In very deed for this cause have I raised thee up, for to show in thee My power, and that My Name may be declared throughout the earth" (Ex 9:16). Third, it is to be remembered that all the principal features of the Exodus possess a typical import, and that in line with this, Egypt, the scene of the Exodus, is a type of "the world," in the morally evil sense. Egypt is a type of the world (1) in its material wealth and power (Heb 11:26); (2) in its fleshly wisdom and false religion (Ex 8:7, etc.; 1 Kings 4:30); (3) in its despotic prince, Pharaoh, who himself is a figure of Satan; (4) in its organization on the principles of force, human aggrandizement, ambition, and pleasure; (5) in its persecution of the people of God (Deut 4:20); (6) in its overthrow by Divine judgment (Ex 12:29; 15:4-7). In the plagues, the smiting of the firstborn, and the drowning of the Egyptian host, we see the final tribulation, judgment and destruction of the present world system. (Explore the Book SEE Vol. 1 Genesis to Joshua)
Henrietta Mears - Exodus follows Genesis in much the same relation as the New Testament stands to the Old Testament. Genesis tells of humanity's failure under every test and in every condition; Exodus is the thrilling epic of God hastening to the rescue. It tells of the redeeming work of a sovereign God. Exodus is preeminently the book of redemption in the Old Testament. It begins in the darkness and gloom, yet ends in glory; it commences by telling how God came down in grace to deliver an enslaved people, and ends by declaring how God came down in glory to dwell in the midst of a redeemed people. Exodus, which is Greek, means "way out." Without Genesis the book of Exodus has no meaning. It begins with the Hebrew word we, which means "And" or "Now" (KJV). The story is just continuing. This book, like many other books of the Old Testament, begins with the word "And." This seems to point to the fact that each author was not just recording his own story but only his part of a great drama that began in the events of the past and looked forward to that which would come. Take the five books of Moses—Genesis, Exodus, Leviticus, Numbers and Deuteronomy. Each book is about something and those five things are vitally related to one another. The Great Hero, Moses - The book gives us the story of Moses, the great hero of God. D. L. Moody (Dwight Lyman Moody, 1832-1899, American evangelist) said that Moses spent - (1) Forty years thinking he was somebody (2) Forty years learning he was nobody (3) Forty years discovering what God can do with a nobody. See Hebrews 11:23-29. (BORROW What the Bible is All About)
David Wilkerson- Christ in Exodus—Exodus contains no direct messianic prophecies, but it is full of types and portraits of Christ. Here are seven: (1) Moses: In dozens of ways Moses is a type of Christ (Deut. 18:15). Both Moses and Christ are prophets, priests, and kings (although Moses was never made king, he functioned as the ruler of Israel); both are kinsman-redeemers; both are endangered in infancy; both voluntarily renounce power and wealth; both are deliverers, lawgivers, and mediators. (2) The Passover: John 1:29, 36 and First Corinthians 5:7 make it clear that Christ is our slain God and the Passover Lamb. (3) The seven feasts: Each of these feasts portrays some aspect of the ministry of Christ. (4) The Exodus: Paul relates baptism to the Exodus event because baptism symbolizes death to the old and identification with the new (see Rom. 6:2–3; 1 Cor. 10:1–2). (5) The manna and water: The New Testament applies both to Christ (see John 6:31–35, 48–63; 1 Cor. 10:3–4). (6) The tabernacle: In its materials, colors, furniture, and arrangement, the tabernacle clearly speaks of the person of Christ and the way of redemption. The development is progressive from suffering, blood, and death, to beauty, holiness, and the glory of God. The tabernacle is theology in a physical form. (7) The high priest: In several ways the high priest foreshadows the ministry of Christ, our Great High Priest (see Heb. 4:14–16; 9:11–12, 24–28). (BORROW Talk thru the Bible)
Ray Stedman - The Old Testament is particularly designed of God to make the great truths of the New Testament come alive for us. We need this to happen in our Christian experience. So many of these truths are simply academic knowledge as far as we are concerned until they come alive when we see them interpreted in the dramatic presentations of the Old Testament. This is especially true of the first five or six books of the Old Testament, for here God lays out the foundational pattern of his workings. In a panoramic view of Scripture, the first six books, Genesis through Joshua, trace out God's pattern of working in human life. His pattern will be exactly the same in your life as it was in the lives of Adam, Abraham, Moses, David and all the others. It will follow the pattern that is developed for us in Genesis, Exodus, Leviticus, Numbers, Deuteronomy and Joshua. In these books we will see how God moves in our lives. It is necessary therefore when we are studying in these books to relate each one briefly to the others. Genesis is the book that reveals the need of mankind. Genesis is all about man -- man's creation, man's sin, the new world that followed the flood, and man's slow journey through time, groping after God. Abraham, Isaac, Jacob, and Joseph -- four men who followed God -- set forth the need of men for justification, sonship, sanctification, and glorification. Most significantly, Genesis ends with the words "a coffin in Egypt." All you can say about man when you have said everything there is to say, is that he lives in the realm of death. But Exodus is all about God. Exodus is God's answer to man's need and God's supply for man's sin. It begins immediately with God's activity and throughout the whole course of the book you see God mightily at work. The book is the picture, therefore, of redemption, of God's activity to redeem man in his need, in his sin, in his degradation and misery. As such, it is a beautiful picture and contains tremendously instructive lessons to us of what redemption is; that is, what God has done, is doing in our lives, and what he intends to do with us -- the steps that he will be taking. Now redemption isn't complete in this book. You will never get the full story of redemption in Exodus. You must move on into Leviticus, Numbers, and Deuteronomy. Then the full picture develops as you come into the book of Joshua, where you find Israel brought into the land and into the place of triumph and victory over their enemies -- a picture of the triumphant, victorious Christian experience. Israel, then, is a picture of the people of God, of the church of God, and of you as a child of God. These books are marvelously designed of the Holy Spirit for they describe actual historical events which occurred in such a way under the overruling government of God that they act out for us great redemptive truths. This is why Paul says in writing to the Corinthians, "These things happened to them as a warning [literally, types] but they were written down for our instruction." (1Cor. 10:11) Therefore, it is well to give heed to them. (Exodus- Design for Deliverance)
OVERVIEWS AND INTRODUCTIONS
DICTIONARY ARTICLES
Explanation - Most of the resources below are newer commentaries (written after 1970) and other Bible resources which previously were available only for purchase in book form or in a Bible computer program. The resources are made freely available by archive.org but have several caveats - (1) they do not allow copy and paste, (2) they can only be checked out for one hour (but can be checked out immediately when your hour expires giving you time to read or take notes on a lengthy section) and (3) they require creating an account which allows you to check out the books free of charge. To set up an account click archive.org and then click the picture of the person in right upper corner and enter email and a password. That's all you have to do. Then you can read these more modern resources free of charge! I have read or used many of these resources but not all of them so ultimately you will need to be a Berean (Acts 17:11+) as you use them. I have also selected works that are conservative and Biblically sound. If you find one that you think does not meet those criteria please send an email at https://www.preceptaustin.org/contact. The resources are listed in alphabetical order by the author's last name and some include reviews of the particular resource. 
---
Expository Nuggets from Genesis and Exodus by Stuart Briscoe
Exodus - New International Bible Commentary by J Bruckner. 372 pages
Handbook on the Pentateuch - Exodus on page 138 by Victor Hamilton
Bible Knowledge Commentary - Old Testament - 1608 pages. Dallas Theological Seminary Faculty - Exodus by Dr John Hannah
Bible Exposition Commentary - Old Testament  by Wiersbe, Warren W 
Wiersbe's expository outlines on the Old Testament by Wiersbe, Warren W 113 ratings 
"Even the most difficult Scriptures come alive as Warren Wiersbe leads you book-by-book through the Old Testament and helps you to see the "big picture" of God's revelation. In this unique volume, you will find: • Introductions and/or outlines for every Old Testament book • Practical expositions of strategic chapters • Special studies on key topics, relating the Old Testament to the New Testament • Easy-to-understand expositions that are practical, preachable, and teachable If you have used Dr. Wiersbe's popular BE series, you know how simple and practical his Bible studies are, with outlines that almost teach themselves. If not, you can now discover a wonderful new resource. This work is a unique commentary on every book of the Old Testament. It contains new material not to be found in the BE series.
With the Word - Devotional Commentary - Warren Wiersbe -27 ratings  428 ratings Comments on each chapter. Wiersbe is always worth checking!
"A fresh approach which not only offers trustworthy exposition, but also provides a book-by-book, chapter-by-chapter tour through the glory of the Bible. This highly readable personal "conversation" with Scripture guides you through each book, helping you reap the rich, life-changing applications on every page. You will be encouraged to develop your own personal Bible reading program and learn the power of meditation on its truth."
Hard sayings of the Old Testament by Kaiser, Walter (Or see unrestricted Pdf version)
More hard sayings of the Old Testament by Kaiser, Walter C
The Old Testament in contemporary preaching by Kaiser, Walter 
The uses of the Old Testament in the New by Kaiser, Walter C
The promise-plan of God : a biblical theology of the Old and New Testaments by Kaiser, Walter C
The Messiah in the Old Testament by Kaiser, Walter C
The communicator's commentary : Exodus by Dunnam, Maxie D (Now published as Preacher's Commentary)
The Broadman Bible commentary - Genesis and Exodus
The Layman's Bible commentary by Kelly, Balmer H.
The Pentateuch as Narrative - John Sailhamer - Not strictly speaking a commentary but have helpful comments on many chapters.
Moses : a man of selfless dedication : profiles in character by Swindoll, Charles
Cyril Barber - Swindoll is a master in the use of drama, and those who have sat under his ministry readily appreciate his acumen. His writings, however, do not reflect this and leave a great figure such as Moses forever (it seems) in the shadows. On the positive side, this is a useful summary of the great liberator's contribution to the lives of his people
Changing wanderers into worshipers : from the Exodus to the promised land : Insight for Living Bible study guide by Swindoll, Charles
Do you ever feel like you're wandering through life without a strong sense of purpose or a clear sense of direction? While we all experience such seasons, they don't have to be all we experience. God enjoys turning wandering people into worshippers, transforming drifters into pilgrims who receive His words, follow His ways, believe His promises, and enjoy His presence. That's exactly the work He began through Moses who led the people out of Egypt to Sinai and eventually into the promised land.
Moses: moments of glory ... feet of clay by Getz, Gene A - How to appropriate God's power today.
Opening up Exodus by Campbell, Iain
By the time we have read through Exodus we have learned the basic vocabulary of the Gospel - words like blood, redeem, sacrifice, glory, law, tabernacle and passover are all here, part of the great drama in which God saves a people for himself. To study Exodus, therefore, is to come to the heart of the message of redemption, to see God as the Saviour of his people, caring for them and present with them as they journey from Egypt to Canaan, from the house of bondage to the land of promise. Join the journey now!
Exodus : free to serve by Dray, Stephen - A general guide through each chapter of Exodus including questions.
Exodus (The Daily Bible Study Series) by Ellison, H. L. (Henry Leopold) (1982) 228 pages. 
Rosscup - Surprisingly, barely over a page of introduction precedes a commentary on the RSV set up under brief captions such as "The Burning Bush." He dates the exodus late. Much space is used just printing the RSV, and it breaks up continuity. He assumes the midwives lied, and says apart from the last plague "there is nothing supernatural in the plagues on Egypt" (p. 40). He deems it probable that when Moses thrust a piece of wood into Marah's waters, "nothing miraculous was intended" (85). Yet to him the manna and the water out of the rock were supernatural (90, 92). Quite a bit of the survey is helpful, even if one is perplexed here and there by Ellison's unnecessary conclusions.
Holy ground; Expositions from Exodus by White, Douglas M.(1962) 147 pages. I have skimmed it and while not in depth seems to focus on applying the passages to our life in the New Testament. 
Egypt and the Exodus by Pfeiffer, Charles - conservative
Thru the Bible covering the Pentateuch - J Vernon McGee
How to read Exodus by Longman, Tremper 17 ratings 
Exodus Chapters 19-40 by McGee, J. Vernon 
Exodus : learning to trust God : 24 studies in 2 parts for individuals or groups by Reapsome, James Gets 5/5 stars -  45 ratings
James W. Reapsome is a retired pastor who also formerly served as editor of Evangelical Missions Quarterly and the World Pulse newsletter. He was also executive director of Evangelical Missions Information Service in Wheaton, Illinois. He is the co-editor of Innovation in Mission and the author of LifeGuide studies such as Exodus, Hebrews, Grief and Marriage.
Note: The first 3 resources have no time restriction and allow copy and paste function: 
(1) KJV Bible Commentary - Hindson, Edward E; Kroll, Woodrow Michael. Over 3000 pages of the entire OT/NT. Well done conservative commentary that interprets Scripture from a literal perspective. Pre-millennial.  User reviews - it generally gets 4/5 stars from users. - 372 ratings
Very well done conservative commentary that interprets Scripture from a literal perspective   user reviews 

The King James Version Bible Commentary is a complete verse-by-verse commentary. It is comprehensive in scope, reliable in scholarship, and easy to use. Its authors are leading evangelical theologians who provide practical truths and biblical principles. Any Bible student will gain new insights through this one-volume commentary based on the timeless King James Version of the Bible.
(2) The King James Study Bible Second Edition 2240 pages (2013) (Thomas Nelson) General Editor - Edward Hindson with multiple contributing editors. . 3,194 ratings. Pre-millennial. See introduction on How to Use this Study Bible.
(3) NKJV Study Bible: New King James Version Study Bible (formerly "The Nelson Study Bible - NKJV") by Earl D Radmacher; Ronald Barclay Allen; Wayne H House. 2345 pages. (1997, 2007). Very helpful notes. Conservative. Pre-millennial.  917 ratings
Wycliffe Bible Commentary - OT and NT - Charles Pfeiffer - 1560 pages (1962). 214 ratings Less detailed than the KJV Bible Commentary. 
Rosscup - Conservative and premillennial scholars here have been experts in their fields. The work contains brief introductions and attempts to give a verse-by-verse exposition, though it does skip over some verses. The treatments vary with the authors, but as a whole it is a fine one-volume commentary for pastors and students to use or give to a layman. Outstanding sections include, for example: Whitcomb on Ezra-Nehemiah-Esther; Culver on Daniel; Ladd on Acts; Harrison on Galatians; Johnson on I Corinthians; and Ryrie on the Johannine Epistles.
Believer's Bible Commentary - OT and NT - MacDonald, William (1995) 2480 pages. Conservative. Literal. Often has very insightful comments. John MacArthur, says "Concise yet comprehensive - the most complete single-volume commentary I have seen." Warren Wiersbe adds "For the student who is serious about seeing Christ in the Word." One hour limit.
Rosscup - This work, originally issued in 1983, is conservative and premillennial, written to help teachers, preachers and people in every walk of life with different views, explanation and application. The 2-column format runs verse by verse for the most part, usually in a helpfully knowledgeable manner, and there are several special sections such as "Prayer" in Acts and "Legalism" in Galatians. The premillennial view is evident on Acts 1:6, 3:20, Romans 11:26, Galatians 6:16, Revelation 20, etc.
HCSB Study Bible : Holman Christian Standard Bible - General Editor Jeremy Royal Howard (2010) 2360 pages. Conservative. Good notes. Include Holmans excellent maps. One hour limit
Life Application Study Bible: Old Testament and New Testament: New Living Translation. Has some very helpful notes especially with application of texts. 4,445 ratings. See also Life application New Testament commentary - Bruce Barton
The MacArthur Study Bible - John MacArthur. Brief but well done notes for conservative, literal perspective. 1,275 ratings
ESV Study Bible - Excellent resource but not always literal in eschatology and the nation of Israel 6,004 ratings
The David Jeremiah Study Bible - (2013) 2208 pages. 2,272 ratings Logos.com - "Drawing on more than 40 years of study, Dr. David Jeremiah has compiled a legacy resource that will make an eternal impact on generations to come. 8,000 study notes. Hundreds of enriching word studies"50+ Essentials of the Christian Faith" articles."
NIV Study Bible - (2011) 2570 pages  - Use this one if available as it has more notes than edition below. 
The Defender's Study Bible : King James Version by Morris, Henry M. Excellent notes by well known creationist. 45 ratings 
Ryrie Study Bible (1994) 2232 pages
The Living Insights Study Bible : New International Version - Charles Swindoll. Notes are good but somewhat sparse and not verse by verse.
The Apologetics Study Bible Understand Why You Believe by Norman Geisler
The Woman's Study Bible : the New King James Version
The Study Bible for Women : Holman Christian Standard Bible
Daily Study Bible for Men : New Living Translation
New Bible Commentary - (1994) See user reviews
Compact Bible commentary by Radmacher, Earl D; Allen, Ronald Barclay; House, H Wayne, et al - 954 pages.  424 ratings Multiple contributors to the comments which are often verse by verse. The comments are brief but meaty and can really help your study through a given book. A sleeper in my opinion. 
Evangelical Commentary on the Bible - editor Walter Elwell (1989) 1239 pages. User reviews. 
The Experiencing God Study Bible: the Bible for knowing and doing the will of God - Blackaby, Henry (1996) 1968 pages - CHECK THIS ONE! Each chapter begins with several questions under the title "PREPARE TO MEET GOD." Then you will interesting symbols before many of the passages. The chapter ends with a "DID YOU NOTICE?" question. This might make a "dry chapter" jump off the page! Read some of the 48 ratings
NLT Study Bible (Illustration Version) 
The Holman Illustrated Study Bible 120 ratings Includes the excellent Holman maps but otherwise of little help in serious study.
Dictionary of Biblical Imagery - free for use online with no restrictions (i.e., you do not need to borrow this book). Editors Leland Ryken, J C Wilhoit, Tremper Longman III - This is a potential treasure chest to aid your preaching and teaching as it analyzes the meaning of a host of Biblical figures of speech. Clue - use the "One-page view" which then allows you to copy and paste text. One downside is there is no index, so you need to search 3291 pages for entries which are alphabetical. 
NIV Topical Study Bible : New International Version
NIV Archaeological Study Bible (2005) 2360 pages 950 ratings (See also Archaeology and the Bible - OT and NT)
"Readers who desire a more intimate knowledge of the historical context of the Bible will appreciate the NIV Archaeological Study Bible. Full of informative articles and full-color photographs of places and objects from biblical times, this Bible examines the archaeological record surrounding God's Word and brings the biblical world to life. Readers' personal studies will be enriched as they become more informed about the empires, places, and peoples of the ancient world. Features include: • Four-color interior throughout • Bottom-of-page study notes exploring passages that speak on archaeological and cultural facts • Articles (520) covering five main categories: Archaeological Sites, Cultural and Historical Notes, Ancient Peoples and Lands, the Reliability of the Bible, and Ancient Texts and Artifacts • Approximately 500 4-color photographs interspersed throughout • Detailed book introductions that provide basic, at-a-glance information • Detailed charts on pertinent topics • In-text color maps that assist the reader in placing the action "
Disciple's Study Bible: New international version 54 ratings Not that helpful for verse by verse study. Focuses on application of Christian doctrines. 10,000 annotations; doctrinal summaries, "Life Helps" section relate doctrine to everyday discipleship. 
NIV Cultural Backgrounds Study Bible. Bringing to Life the Ancient World of Scripture Keener, Craig and Walton, John. Editors (2017)
J.Sidlow Baxter: Explore The Book - pdf  Vol. 1 Genesis to Joshua
Jensen's Survey of Bible (online) by Jensen, Irving  140 ratings (NT) 133 ratings (OT) This is a classic and in conjunction with the following three resources should give you an excellent background to the Bible book you are studying. Jensen has some of the best Book charts available and includes "key words." He also gives you some guidelines as to how to begin your inductive study of each book. 
What the Bible is all about by Mears, Henrietta. This is a classic and is filled with "pearls" from this godly teacher of God's Word. 
Talk thru the bible by Wilkinson, Bruce  The Wilkinson & Boa Bible handbook : the ultimate guide to help you get more out of the Bible
Halley's Bible Handbook Henry H. Halley - (2000) 2720 pages (much larger than original edition in 1965 and no time limit on use). (Halley's Bible handbook : an abbreviated Bible commentary - one hour limit 1965 872 pages)
Rosscup - A much-used older evangelical handbook bringing together a brief commentary on Bible books, some key archaeological findings, historical background, maps, quotes, etc. It is helpful to a lay Bible teacher, Sunday School leader, or pastor looking for quick, pertinent information on a Bible book. This is the 72nd printing somewhat revised. Halley packed in much information. Unger's is better overall, but that is not to say that Halley's will not provide much help on basic information.
The Shaw Pocket Bible Handbook - Editor - Walter Elwell (1984) 408 pages.
"This hardback is small in size but packed full of content: Brief summaries of every book of the bible, cultural, archaeological and historical info, word definitions, pictures, maps and charts." Worth checking! 
Eerdmans' Handbook to the Bible (1983) 688 pages 
Today's Handbook of Bible Times & Customs by Coleman, William L
Nelson's New Illustrated Bible Manners & Customs : How the People of the Bible Really Lived by Vos, Howard Frederic
The New Unger's Bible Dictionary by Unger, Merrill Frederick, 1909-
Nelson's Expository Dictionary of the Old Testament by Unger, Merrill. Indexed by English word and then any related Hebrew nouns or verbs. Definitions are solid and geared to the lay person. 
Nelson's Expository Dictionary of the Old Testament by Unger, Merrill 
Dictionary of deities and demons in the Bible (DDD) - 950 pages (1995) Read some of the 65 ratings (4.8/5 Stars). A definitive in depth resource on this subject. Very expensive to purchase. 
Archaeology and the Old Testament by Merrill F. Unger
Survey of the Bible : introductory insights, background studies, book-by- book survey by Unger, Merrill 
A look at the Old Testament : an abridged survey of Genesis - Malachi by Mears, Henrietta
Theological Wordbook of the Old Testament by Harris, R. Laird - 229 ratings (5/5 Stars) One of the best OT lexicons for studying Hebrew words.
Here is another link to the TWOT which has no time limit on use and does allow copy and paste. Can be downloaded as PDF. 
Vine's Expository Dictionary of Old Testament and New Testament Words - Online pdf
Hebrew Honey: a simple and deep word study of the Old Testament - 330 pages.  The definitions have more of a devotional flavor. For example, see the descriptive definition for "Abide" (Hebrew - gur). 
Expository Dictionary of Bible Words by Richards, Larry,  33 ratings It does not go into great depth on the Greek or Hebrew words but does have some excellent insights. 
So That's What it Means (Theological Wordbook) - Formerly titled "Theological Wordbook" edited by Charles Swindoll. It is now under this new title So That's What it Means and can be borrowed - it is more like a dictionary than a lexicon but the comments are superb! The contributors include DKC—Donald K. Campbell, WGJ—Wendell G. Johnston, JAW—John A. Witmer, JFW—John F. Walvoord 
Lesson 1 can be downloaded as Pdf
Click for discussion of the value of Inductive Study
Exodus - Deliverance, redemption, the Law, the Tabernacle
Exodus is a wonderfully practical study of God's Word that contains foundational truths about deliverance, redemption, the Law and the Tabernacle. Walk with Moses out of Egypt and gain insights for leadership. Observe the judgments of God while delivering His people. Understand the Old Covenant of the Law and how it was given to Israel to help in our understanding of the New Testament. Examine the contents and structure of the Tabernacle of God among His people and catch a glimpse of His holiness. Learn powerful truths about Who God is and what His ways are like. 11 weeks, 11 lessons
The chosen people are in hopeless bondage in the land of Egypt, having no power to deliver themselves. But God says: ''I have seen the affliction of My people, I have heard their cry, I know their sorrows, I am come down to deliver them out of the hand of the Egyptians, and to bring them up unto a good land'' (Ex 3:7,8). It is a beautiful picture of the soul redeemed from the bondage of [sin] into the glorious liberty of the children of God. God is revealed to us as the Deliverer and Leader of His people, a God near at hand, dwelling among them, concerned with the affairs of their daily life.
His commission to Moses opens with the glorious vision of the Angel of Jehovah (note) appearing in the Burning Bush. A common little thorn bush of the dessert, ablaze with God! What a picture of the Incarnation. God manifesting Himself in a visible tangible form (1John 1:1-note). When Moses asks His Name, He says, ''I AM THAT I AM; say unto the children of Israel, I AM hath sent me unto you'' (Ex 3:14). Where do we find that Name again? Jesus said: ''I am the Bread of Life; I am the Light of the World; I am the Door; I am the Good Shepherd; I am the Resurrection and the Life; I am the Way, the Truth, and the Life; I am the True Vine.'' Again, in response to the words, ''When Messias cometh, that is Christ...'', Jesus said, ''I am He.'' And once He applies that name to Himself in all its simple majesty: ''Verily, verily, I say unto you, Before Abraham was, I AM.'' It was then that the Jews ''took up stones to cast at Him.'' Why? The answer comes out in the accusation of the Jews to Pilate, ''We have a law, and by our law He ought to die, because He made Himself the Son of God.'' [All of the above statements are found in the Gospel of John.]
The Passover Lamb
In the Passover Lamb we have a picture of the Redemption that is in Christ Jesus. With many of the types we feel that we may not have interpreted them rightly, but with some we can have no doubt, for God has told us the meaning. It is so in this case, and in most of the types of Exodus. ''Christ our Passover is sacrificed for us: therefore let us keep the feast'' (1Cor 5:7,8, cf Jn 1:29, 36).
Ex 12:6. It was a slain lamb-- not a living one-- that availed the Israelites in the hour of judgment.
1Cor 2:2. I determined not to know anything among you save Jesus Christ, and Him crucified.
Ex 12:5. The lamb was to be without blemish.

Ex 12:7. Its blood was to be shed and applied to the door-posts.
1Pet 1:18,19-note. Ye were... redeemed... with the precious blood of Christ, as of a lamb without blemish and without spot.
Ex 12:46. No bone of it was to be broken.
John19:36; The the Scripture might be fulfilled,, A bone of Him shall not be broken.
Ex 12:3, 20. In every home that night there was one dead, either the first-born or the lamb in stead of the first-born. Ro 6:23-note. The wages of sin is death.

Ro 5:8-note. While we were yet sinners, Christ died for us.
Ex 12:2. The Israelites were to reckon their life as a nation from the day of the Passover. ''It shall be the first month of the year to you.'' John 3:7. Ye must be born again.

Gal 4:3-6. We were in bondage... But God sent forth His Son... to redeem them that were under the law, that we might receive the adoption of sons.
Ex 13:2. All the first born-- those who had been redeemed by the blood of the lamb-- were to be sanctified (ie., set apart) unto the Lord.
1Cor 6:19,20-note . Ye are not your own: ye are bought with a price: therefore glorify God in your body, and in your spirit, which are God's.
The word pasach (06452), translated ''Pass over,'' in Ex 12:13,23, 27 is used in three other passages of Scripture, namely 2Sa 4:4, translated ''became lame''; 1Kings 18:21, trans. ''halt,'' 1Ki 18:26, ''leaped''; and Isaiah 31:5, ''As birds flying, so will the Lord of Hosts protect Jerusalem; He will protect and deliver it. He will pass over and preserve it.'' How does a mother bird-- the word is in the feminine-- protect her nest? Not by passing over it in the sense of passing by it, but by fluttering over it, spreading her wings in protection. Thus, Jehovah Himself preserved His people on that awful night when the Destroyer was abroad in the land of Egypt. It was by the Lord's command that the Destroyer executed His judgment upon Egypt. ''All the first-born in the land of Egypt shall die.'' Being in Egypt, Israel came under Egypt's doom. But Jehovah Himself stood on guard, as it were, at every blood-sprinkled door. He became their Saviour. Nothing short of this is the meaning of the Passover.
The first-born in Egypt were saved from death by the lamb slain in their stead. God's word to them was: ''When I see the blood, I will pass over you.'' The blood of the lamb made them safe, their trust in God's promise made them sure. In the same way, we may have salvation through Jesus, the Lamb of God, slain in our stead, and assurance through believing God's record that He ''hath given to us eternal life, and this life is in His Son'' (1John 5:10-13).
The Living Bread and Living Water--
Next, we have a double picture of Christ as the Living Bread and the source of the Living Water, and again we are left in no uncertaintly as to the application of the types. When Israel murmured, the Lord said to Moses, ''Behold, I will rain bread from heaven for you'' (Ex 16:4). The Lord applied this type to Himself and said, ''I am that Bread of Life. Your fathers did eat manna in the wilderness, and are dead... I am the Living Bread which came down from heaven: if any man eat of this Bread, he shall live for ever: and the Bread that I will give is My flesh, which I will give for the life of the world'' (John 6:48-51). How beautifully this follows on from the teaching about the Passover, which Jesus also applied to Himself when He was eating the Passover Feast with His disciples. He took the bread, which was a recognised part of that feast, and gave thanks and brake it, saying, ''Take, eat; this is My body. And He took the cup, and gave thanks, and gave it to them, saying, Drink ye all of it; for this is My blood of the new testament, which is shed for many for the remission of sins'' (Mat 26:26-28). When He spoke to His disciples about eating His flesh and drinking His blood, they murmured and said, ''This is an hard saying.'' And Jesus said, ''Doth this offend you? What and if ye shall see the Son of Man ascend up where He was before? It is the Spirit that quickeneth; the flesh profiteth nothing'' (John 6:60-63). We see clearly by these words that it is a personal, spiritual appropriation of Christ in His death which avails, and nothing outward. We also see the vital necessity of this appropriation: ''Except ye eat the flesh of the Son of Man and drink His blood, ye have no life in you.'' We must each for ourselves know the blood which has been shed applied to our souls spiritually for the remission of our sins, and daily-- as the Israelites gathered the manna-- we must know what it is to feed upon the Bread of Life.

Then, in the history of Israel, there immediately follows The Smitten Rock. ''Thou shalt smite the rock, and there shall come water out of it, that the people may drink'' (Ex 17:6). ''They drank of that spiritual Rock that followed them: and that Rock was Christ'' (1Cor 10:4). ''Whosoever drinketh of the water that I shall give him shall never thirst; but the water that I shall give him shall be in him a well of water springing up into everlasting life'' (John 4:13,14).
The Law--
Moses was a type of Christ, as specially seen in two points:

In delivering the whole people from an awful bondage. The bondage of sin from which Christ delivers us is far more terrible than the bondage of Egypt.

In the giving of a new law. [The law that Christ gives is superior to the law of Moses, as] Christ Himself shows in the Sermon on the Mount (Mt 5-7-note) -- a law which touches the springs of character and conduct, rather than the outcome; a law which He has summed up for us, first in two commandments, and finally in one word -- Love!
The Tabernacle--
[For more complete studies of the Tabernacle, see Christ in the Tabernacle, by W.W. Rugh (See Diagram of the Tabernacle]
With the Tabernacle (and with its services), again, we are not left in doubt as to the true meaning. In the Epistle to the Hebrews we are distinctly told that it was ''a copy and shadow of the heavenly things'' (Heb 8:5, RV). It was the outward sign of God's presence in the midst of the meeting-place between God and man. As such, it was a true picture of the Incarnation. ''The Word became flesh, and tabernacled among us, and we beheld His glory'' (John 1:14, RV, margin). ''The Tabernacle of God is with men'' (Rev 21:3). As a whole, it was a type of Christ, and every part of it shows forth something of His glory (Ps 29:9, margin). Every detail of its design was given to Moses by God in the mount. ''As Moses was admonished of God when he made the Tabernacle: for, See, saith He, that thou make all things according to the pattern shown thee in the mount'' (Heb 8:5). And over fifty times, it is recorded of Moses, ''As the Lord commanded Moses, so did he.'' What have we each seen in the Tabernacle? How did it appear viewed from without? A long black, unattractive tent of badgers' skins. But when we come inside, we find ourselves surrounded by shining gold: looking up to the curtained roof, we see the wings of the cherubim woven in blue and purple and scarlet and fine twined linen. All the beauty within is revealed by the light of the golden candlestick. So it is with Christ Himself. The natural man, beholding Him, sees no beauty that he should desire Him. But to those who know the Lord Jesus Christ, His beauty satisfies their souls.

The Tabernacle was protected by a court of pure white linen, held up by sixty pillars, and entered by a curtain of coloured material, called the Gate. The walls of the Tabernacle were made of boards of shittim wood overlaid with gold, resting in massive silver sockets sunk into the sand. These sockets were made from the redemption-money paid by every Israelite, thus the whole fabric rested upon a foundation of redemption (1Pet 1:18,19). The entrance [of the Tabernacle itself] was protected by a curtain called the Door, and the two parts of the Tabernacle-- the Holy Place and the Most Holy Place [or, Holy of Holies]-- were divided by another curtain-- the Veil. Spread over the solid framework of the Tabernacle were four sets of curtains, which formed its only roof, and hung down over the sides, covering it completely.

Now, draw a straight line from the center of the Gate to the Mercy-Seat [in the middle of the Holy of Holies]. You go through the Altar, through the Laver, through the Door; you pass the Table of Shewbread on your right hand, and the Golden Lampstand on your left; through the Altar of Incense, through the Veil, to the Ark, covered by the Mercy-Seat... This is the true Pilgrim's Progress, from the camp outside to the immediate presence of God.

The Court was entered by the Gate (John 10:9). This was a curtain. A curtain is the very easiest means of entrance; it is not like a wooden door at which you have to knock, you can lift it silently. At the time, no one need know of the transaction which takes place silently between the soul and its Saviour. It may be like Nicodemus, coming by night. But when the curtain is dropped again, you are completely inside, not half in and half out as in a doorway-- but completely shut off by a sharp dividing line. Inside that Gate, you are completely surrounded by the spotless white curtains of the Court. ''Complete in Him''; ''made the righteousness of God in Him.'' Here, you are immediately confronted by the brazen Altar of Burnt Offering. ''One Sacrifice for sins for ever'' (Heb 10:12). Then, the Laver [which speaks of] cleansing, as the result of the Atonement (Zech 13:1). Thus far, every Israelite might enter. Have we come thus far? Have we entered by the Gate, and accepted the Sacrifice, and known the Cleansing?

Only the Priests might enter the Tabernacle itself. If we have proved the power of the Cross, Christ calls us to be priests, set apart for His Service. We may enter still farther. The Holy Place is entered by the Door. This again is Christ Himself. He is the means of entrance into every fresh position of blessing. Every spiritual blessing comes with a fresh view of Christ and what He can be to us. He is the one entrance, as well for the first step, as the last. The Gate, the Door, the Veil, they were all of the same materials and colours, and the number of square cubits (20 by 5, or, 10 by 10)-- though the Gate was stretched out wide as if to emphasize the breadth of the universal proclamation, ''Whosoever will may come.''

In the Holy Place, were two great gifts-- Food and Light: ''I am the Bread of Life''; ''I am the Light of the World.'' Then the Golden Altar of Incense (Heb 7:25): Christs' continual Intercession by which alone our prayers can ascend to God.

So far, and no farther, the Priests might enter. Into the Holy of Holies only one man, only one day in the year, might enter, and that not without blood. ''But Christ being come an High Priest of good things to come... by His own blood... has entered into heaven itself, now to appear in the presence of God for us.'' (Heb 9), and He also has opened up for us a way of access by His blood into the Holiest, into the very presence of God here and now, as we read in Heb 10.
The Veil--
Heb 10:20, ''Through the veil, that is to say His flesh.'' The veil was rent in twain from the top to the bottom at the moment of His death (Mat 27:51). ''From the top to the bottom,'' the way of access opened by God Himself. [Within the Veil, we find...]
The Ark, containing the unbroken Law--
Here again, we see Christ, who alone kept [the Law] completely. The Ark was covered by the Mercy-Seat, or, as it should be translated, the Propitiatory Covering. The word in Heb 9:5 and Rom 3:24,25 is the same.
The Propitiation-- Christ.
This is the meeting-place betwen God and man (Ex 25:22). Above it rested the Shekinah-glory, the symbol of God's presence. It arose from the Mercy-Seat, a pillar of fire by night and a cloud by day, spreading out over the whole camp as a protection, and guiding the children of Israel on their march.
The Great High Priest--
In Aaron, we have a picture of our Great High Priest. His garments were all typical. The three ornaments of his dress, which were engraved with a signet, teach a very precious lesson. The onyx stones on his shoulder and the breastplate on his heart were engraved with the names of the children of Israel, that he might bear them before the Lord continually. The plate of the mitre, on his forehead was engraved with ''Holiness to the Lord'' to bear the iniquity of their holy things ''that they might be accepted before the Lord.'' On his shoulders, on his forehead, and on his heart. What do we see here but the perfect strength and perfect wisdom and perfect love of our High Priest put forth on our behalf? The Good Shepherd lays the lost sheep ''on His shoulder.'' Christ is ''made unto us Wisdom.'' ''Greater love hath no man than this, that a man lay down his life for his friends.''

Many of us see the uselessness of an outward priesthood-- of any man to come between us and God. But are we equally clear in valuing the inner Reality? Do we feel our utter need of the Lord Jesus as our Great High Priest, and recognise that we cannot draw nigh to God except through His one availing sacrifice?

Aaron, the type, fell short, for he was a sinful man. Jesus Christ is a perfect High Priest. As man, He was tempted in all points like as we are, yet without sin. He is able to sympathize and to succour [ie., help us in our need] because He has been through it all. He is able to understand our need to the uttermost because He was perfect man. He is able to meet our need to the uttermost because He is perfect God. He was able to bear the whole world's sin in His Atonement on the Cross. He is able to bear the whole world's need in intercession upon the Throne.
Published August, 2020 Verse by verse comments including Hebrew word studies, devotional thoughts, etc. Note that each verse has a Multiple Sermons and Commentaries link WITH resources related the specific chapter (e.g see Exodus 1 Resources)
The Wilderness Wanderings
Clarke (1760-1832) was Methodist, Wesleyan, Arminian, (e.g., Clarke "suggested that although God can know all future events, He chooses not to know some events beforehand" Baker Encyclopedia of the Bible, page 808). He did not always interpret Scripture literally and so was amillennial (to quote Clarke on 1000 years - "I am satisfied that this period should not be taken literally" [see comment on Rev 20:4] - he interpreted Revelation as a Historicist) which led him to interpret the church as fulfilling many OT promises to Israel. Influential in development of doctrine of Entire Sanctification (or "Christian perfection"). Affirmed the authority and sufficiency of Scripture, but held a belief of "plenary dynamic inspiration" (idea of every thought inspired), thus falling short of "plenary verbal inspiration" (every single word inspired) (Bib. Sacra: Vol 125, p 163, 1968). In summary, a useful, respected commentary but as with all extra-Biblical resources you are advised to "Be a Berean!" Acts 17:11
Calvin did not write a verse by verse commentary on Exodus so some of the verses will not have commentary
Updated Feb, 2019
These sermons are excellent expository messages that average about 10 pages each
Below is the Unabridged Version of the Commentary Critical and Explanatory on the Whole Bible
"Dr. Cumming is one of the most notable preachers in London, and a very prolific and popular writer. It is written in the author's usual ready, flowing style." —Merchant Magazine and Commercial Review
CAVEAT - Sometimes substitutes the "church" for Israel - Be a Berean!
THE TEN COMMANDMENTS
Unfortunately this church keeps changing their links so it is almost impossible to keep them updated. For that reason I am not attempting to organize the sermons below for fear they will soon change their links again. Apologies. 
Book