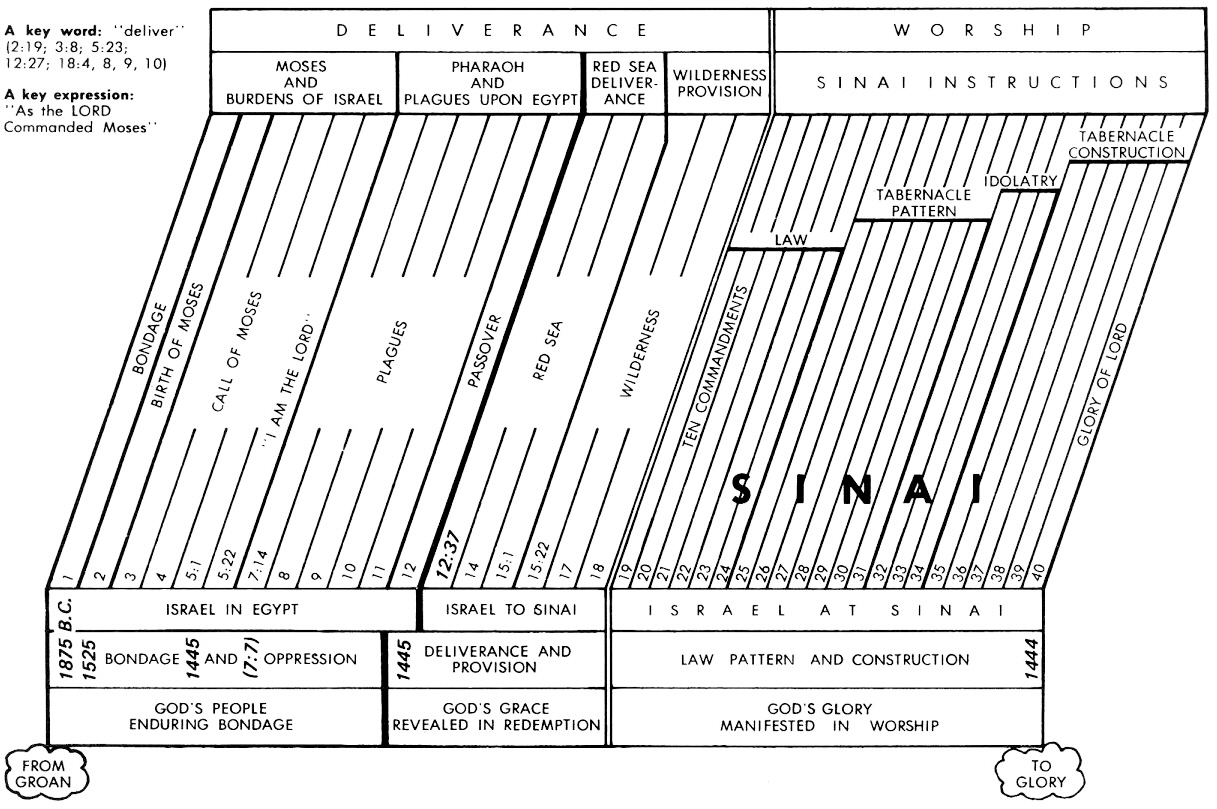 Summary Chart of
The Book of Exodus
DELIVERANCE
FROM OPPRESSION
PREPARATION FOR
WORSHIP
Redemption from Egypt
Ex 1:1-18:27
Revelation from God
Ex 19:1-40:38
Getting Israel Out of Egypt
Getting Egypt Out of Israel!
Narration
Legislation
Birth of
Moses
Ex 1-2
Call of
Moses
Ex 3-6
Conflict with Pharaoh
Ex 7-10
Exodus
from
Egypt
Ex 11-12
Red
Sea
Crossed
Ex 13-15
Journey
To
Sinai
Ex 16-18
Law
Given
Ex 19-24
Tent
Plan
Ex 25-31
Idol
Worship
Ex 32-34
Tent
Built
Ex 35-40
Subjection
Redemption
Instruction
Suffering and Liberation
of People of God
Guidance
of God
Worship
of God
Moses and
Burdens of Israel
Pharaoh and
Plagues Upon Egypt
Red Sea
Deliverance
Wilderness
Provision
Sinai
Instructions
Bondage
and Oppression
Deliverance
and Provision
Law Pattern
and Construction
Israel in Egypt
Ex 1:1-13:16
Israel to Sinai
Ex 13:17-18:27
Israel at Sinai
Ex 19:1-40:38
God's People
Enduring
Bondage
God's Grace
Revealed
in Redemption
God's Glory
Manifested
in Worship
Egypt
430 Years
(15% of Exodus)
Wilderness
2 Months
(30% of Exodus)
Mt Sinai
10 Months
(55% of Exodus)
From
Groaning
 
 
 
 
 
 
 
 
To
Glory!
 

Click to Enlarge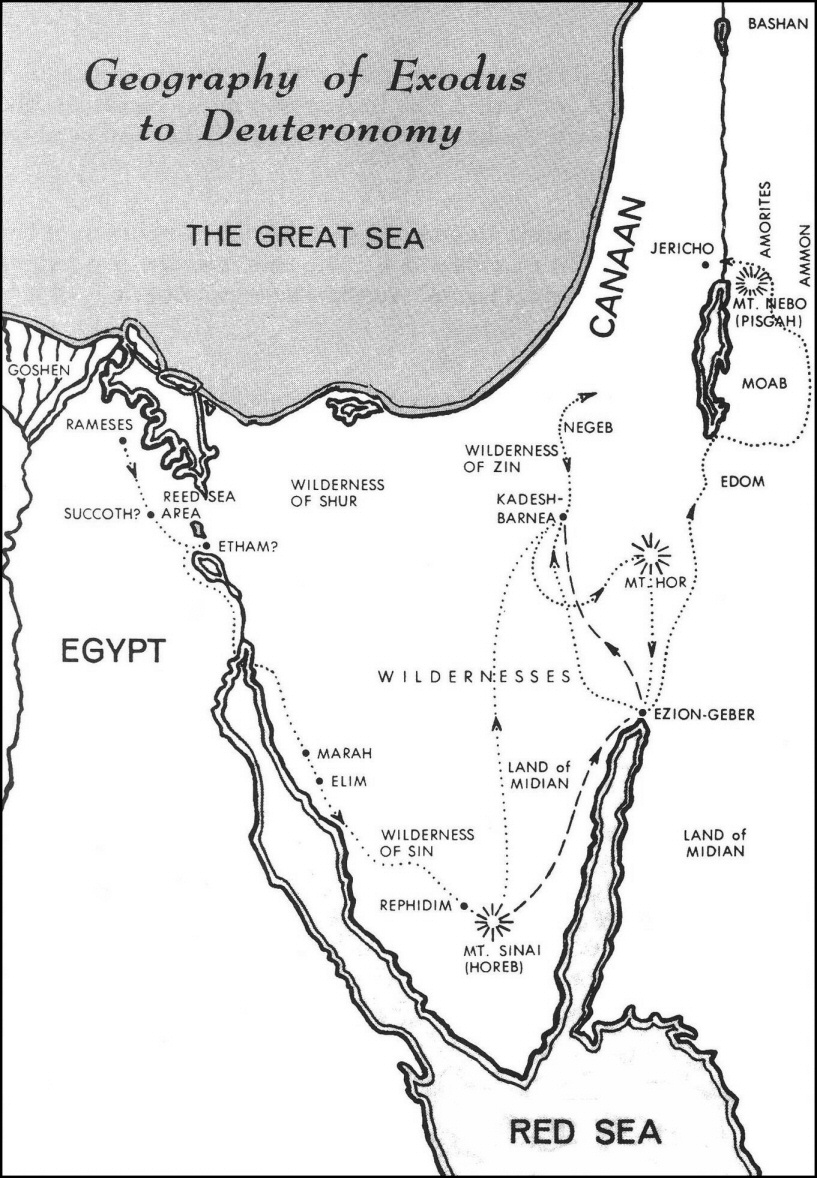 OVERVIEWS AND INTRODUCTIONS
DICTIONARY ARTICLES
---
BIBLIOGRAPHY - Resources Quoted in Commentary
---
ALBERT BARNES
JOSEPH BENSON
BIBLE.ORG RESOURCES Resources that Reference Exodus
BIBLICAL ILLUSTRATOR Biblical Illustrator Comments
JIM BOMKAMP Sermon Notes
BRIDGEWAY BIBLE COMMENTARY
GEORGE BUSH - 1867 but still very worthwhile to examine
JOHN CALVIN Commentary on Exodus
CAMBRIDGE BIBLE FOR SCHOOLS AND COLLEGES
RICH CATHERS Sermons
GEORGE CHADWICK
ADAM CLARKE
THOMAS CONSTABLE - Expository Notes
EDWARD DENNETT
JOHN DUMMELOW - Commentary
JOHN CUMMING Exodus Commentary. (1854)
"Dr. Cumming is one of the most notable preachers in London, and a very prolific and popular writer. It is written in the author's usual ready, flowing style." —Merchant Magazine and Commercial Review
RON DANIEL Sermons on Exodus
J LIGON DUNCAN Exodus: Sermons
CHARLES ELLICOTT Commentary for English Readers
EASY ENGLISH
ALFRED EDERSHEIM
THEODORE EPP Devotional Study of Exodus
Click here for the following devotional (scroll down page)
EXPOSITOR'S BIBLE COMMENTARY
EXPOSITOR'S DICTIONARY OF TEXTS
DON FORTNER - SERMONS
ARNOLD FRUCHTENBAUM 
A C GAEBELEIN Annotated Commentary 
GENE GETZ
JOHN GILL Commentary on Exodus
BRUCE GOETTSCHE
GOSPEL COALITION
GOTQUESTIONS Questions Related to the Book of Exodus
L M GRANT
DAVID GUZIK Commentary on Exodus
HARRISON-PFEIFFER
ROBERT HAWKER Hawker's Poor Man's Commentary
MATTHEW HENRY Commentary on Exodus
DAVID HOCKING - 112 pages, much alliteration, outline format
HOLMAN
EZEKIEL HOPKINS
JAMIESON, FAUSSET, BROWN - Commentary Critical and Explanatory on the Whole Bible
KEIL & DELITZSCH Commentary on the Old Testament
James Rosscup "Keil, C. F. and Franz Delitzsch. Commentary on the Old Testament. 25 volumes. Grand Rapids: Eerdmans, 1950. This is the best older, overall treatment of a critical nature on the Old Testament Hebrew text verse by verse and is a good standard work to buy. The student can buy parts or the whole of this series. Sometimes it is evangelical, at other times liberal ideas enter." (Commentaries for Biblical Expositors: An Annotated Bibliography of Selected Works)
STEVE KRELOFF
PAUL E KRETZMANN
LANGE'S COMMENTARY Exodus Commentary
C H MACKINTOSH Comments on the Pentateuch (Exodus)
ALEXANDER MACLAREN Sermons on Exodus
BRYN MACPHAIL
J VERNON MCGEE
F B MEYER 
MONERGISM
ROBERT MORGAN Donelson Fellowship Sermons on Exodus
JAMES G. MURPHY Exodus Commentary
Notes, critical and practical, on the book of Exodus - First edition - 1846
HENRY MORRIS DEFENDER'S STUDY BIBLE
Defender's Study Bible notes - Conservative notes from Creationist Dr Henry Morris - notes available can be found on right side of age...
RICHARD MOULTON
R E NEIGHBOR  Living Water Commentary
NET BIBLE NOTES 
WILLIAM NEWELL
MARK NEWMAN
ARTHUR PINK
WIL POUNDS
PREACHER'S HOMILETICAL COMMENTARY
PRECEPT MINISTRIES
PULPIT COMMENTARY
ROBERT RAYBURN - sermons
REFORMATION STUDY BIBLE - notes
ROB SALVATO Sermons
JOHNNY SANDERS
JOHN SCHULTZ - former missionary
CHARLES SIMEON
SERMON BIBLE COMMENTARY
CHUCK SMITH Exodus Notes
SPEAKER'S COMMENTARY
C. H. SPURGEON Sermons, Devotionals
PRESTON TAYLOR
JOE TEMPLE
THIRD MILLENNIUM STUDY NOTES
DAVID THOMPSON Sermon Notes - well done
TODAY IN THE WORD Moody Devotionals on Exodus
JOHN TRAPP  Commentary 
PAUL VAN GORDER
SERMONS BY VERSE - older works
| | | |
| --- | --- | --- |
| Interpretation of the Priesthood | E. E. Atwater. | Exodus 28:1 |
| The Priesthood | S. Robinson, D. D. | Exodus 28:1 |
| The Priests | W. Brown. | Exodus 28:1 |
| Who Shall Ascend into the Hill of the Lord? | G.A. Goodhart | Exodus 28:1, 2 |
| The Priests' Garments | D. Young | Exodus 28:1-4 |
| Aaron in His Priesthood the Type of Jesus | J. Urquhart | Exodus 28:1-38 |
| The Priests and Their Garments | J. Orr | Exodus 28:1-43 |
| The Garments of the Priesthood, and Their Significance | E. E. Atwater. | Exodus 28:2 |
| The Priestly Garments | T. Taylor, D. D. | Exodus 28:2 |
| The Robes of Glory and Beauty | G. Rodgers. | Exodus 28:2 |
| The Vestments of Our High Priest | J. Vaughan, M. A. | Exodus 28:2 |
| The Ephod | J. M. Gibson, D. D. | Exodus 28:6-14 |
| The Ephod | G. Rodgers. | Exodus 28:6-14 |
| The Names on Aaron's Breastplate | Alexander Maclaren | Exodus 28:12 |
| The Agate | R. Newton, D. D. | Exodus 28:15-30 |
| The Amethyst | R. Newton, D. D. | Exodus 28:15-30 |
| The Breastplate | T. Champness. | Exodus 28:15-30 |
| The Breastplate | G. Rodgers. | Exodus 28:15-30 |
| The Conqueror's Jewel | R. Newton, D. D. | Exodus 28:15-30 |
| The Diamond | R. Newton, D. D. | Exodus 28:15-30 |
| The Emerald | R. Newton, D. D. | Exodus 28:15-30 |
| The Sapphire | R. Newton, D. D. | Exodus 28:15-30 |
| The Topaz | R. Newton, D. D. | Exodus 28:15-30 |
| Shoulder and Heart Ministry | J. Parker, D. D. | Exodus 28:29 |
| The Connection Between Priest and People | Calvin, John | Exodus 28:29 |
| The Urim and the Thummim | H. W. Soltau. | Exodus 28:30 |
| The Urim and Thummim | J. Vaughan, M. A. | Exodus 28:30 |
| The Urim and Thummim | W. Brown. | Exodus 28:30 |
| Golden Bells | T. De Witt Talmage. | Exodus 28:31-35 |
| Lessons | T. Taylor, D. D. | Exodus 28:31-35 |
| The Blue Robe | G. Rodgers. | Exodus 28:31-35 |
| The Church-Going Bells | G. L. Foster. | Exodus 28:31-35 |
| The Dumb Bell | Spurgeon, Charles Haddon | Exodus 28:31-35 |
| The Robe of the Ephod | T. Taylor, D. D. | Exodus 28:31-35 |
| The Robe of the Ephod | H. W. Soltau. | Exodus 28:31-35 |
| Christ Our High Priest, Bearing the Iniquity of Our Holy Things | H. Bonar, D. D. | Exodus 28:36-38 |
| Holiness to the Lord | J. Vaughan, M. A. | Exodus 28:36-38 |
| Holiness to the Lord | Bp. F. D. Huntington. | Exodus 28:36-38 |
| Holiness to the Lord in Common Things | Christian Journal | Exodus 28:36-38 |
| Holiness unto the Lord |   | Exodus 28:36-38 |
| Material and Shape of Mitre |   | Exodus 28:36-38 |
| On the Cultivation of Holiness | J. Vaughan, M. A. | Exodus 28:36-38 |
| The Iniquity of Our Holy Things |   | Exodus 28:36-38 |
| The Mitre | T. Taylor, D. D. | Exodus 28:36-38 |
| The Mitre | G. Rodgers. | Exodus 28:36-38 |
| The Embroidered Coat | H. W. Soltau. | Exodus 28:39 |
| The Embroidered Coat | T. Taylor, D. D. | Exodus 28:39 |
| The Girdle | G. Rodgers. | Exodus 28:39 |
| The Girdle | H. W. Soltau. | Exodus 28:39 |
| The Girdle | T. Taylor, D. D. | Exodus 28:39 |
Book