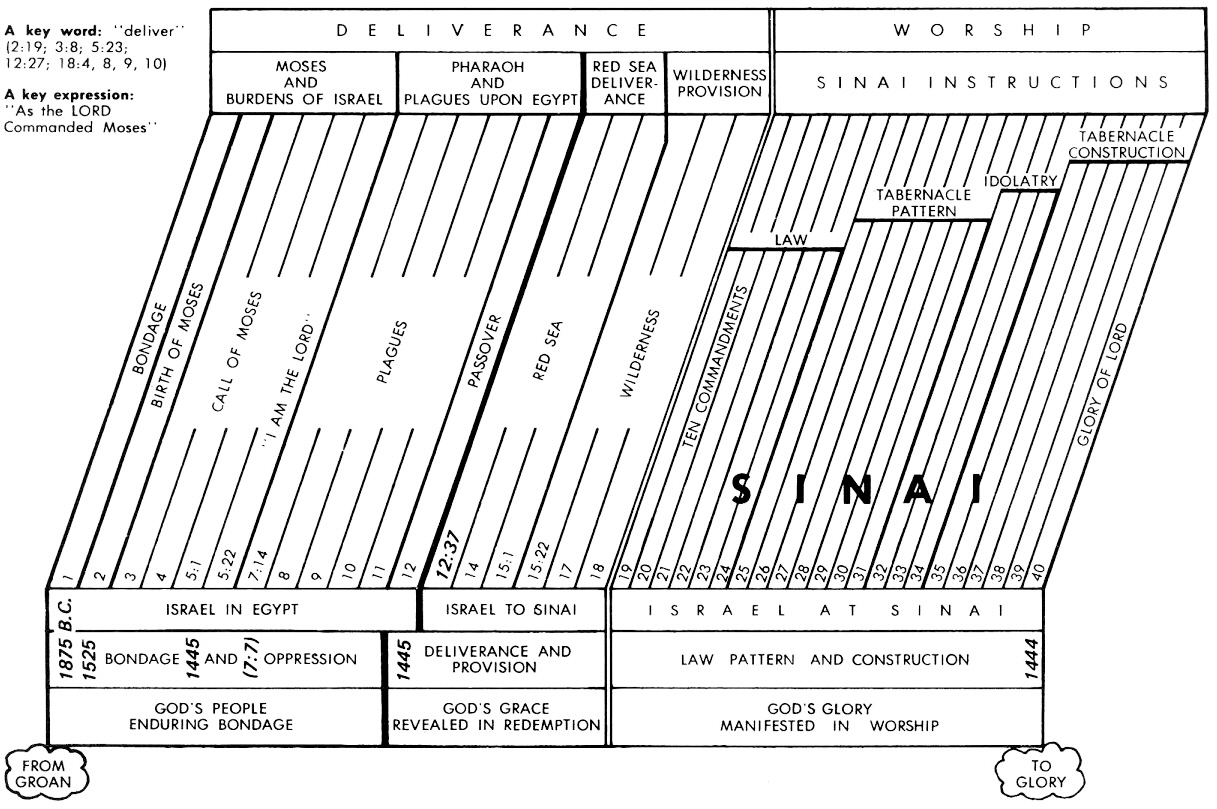 Summary Chart of
The Book of Exodus
DELIVERANCE
FROM OPPRESSION
PREPARATION FOR
WORSHIP
Redemption from Egypt
Ex 1:1-18:27
Revelation from God
Ex 19:1-40:38
Getting Israel Out of Egypt
Getting Egypt Out of Israel!
Narration
Legislation
Birth of
Moses
Ex 1-2
Call of
Moses
Ex 3-6
Conflict with Pharaoh
Ex 7-10
Exodus
from
Egypt
Ex 11-12
Red
Sea
Crossed
Ex 13-15
Journey
To
Sinai
Ex 16-18
Law
Given
Ex 19-24
Tent
Plan
Ex 25-31
Idol
Worship
Ex 32-34
Tent
Built
Ex 35-40
Subjection
Redemption
Instruction
Suffering and Liberation
of People of God
Guidance
of God
Worship
of God
Moses and
Burdens of Israel
Pharaoh and
Plagues Upon Egypt
Red Sea
Deliverance
Wilderness
Provision
Sinai
Instructions
Bondage
and Oppression
Deliverance
and Provision
Law Pattern
and Construction
Israel in Egypt
Ex 1:1-13:16
Israel to Sinai
Ex 13:17-18:27
Israel at Sinai
Ex 19:1-40:38
God's People
Enduring
Bondage
God's Grace
Revealed
in Redemption
God's Glory
Manifested
in Worship
Egypt
430 Years
(15% of Exodus)
Wilderness
2 Months
(30% of Exodus)
Mt Sinai
10 Months
(55% of Exodus)
From
Groaning
 
 
 
 
 
 
 
 
To
Glory!
 

Click to Enlarge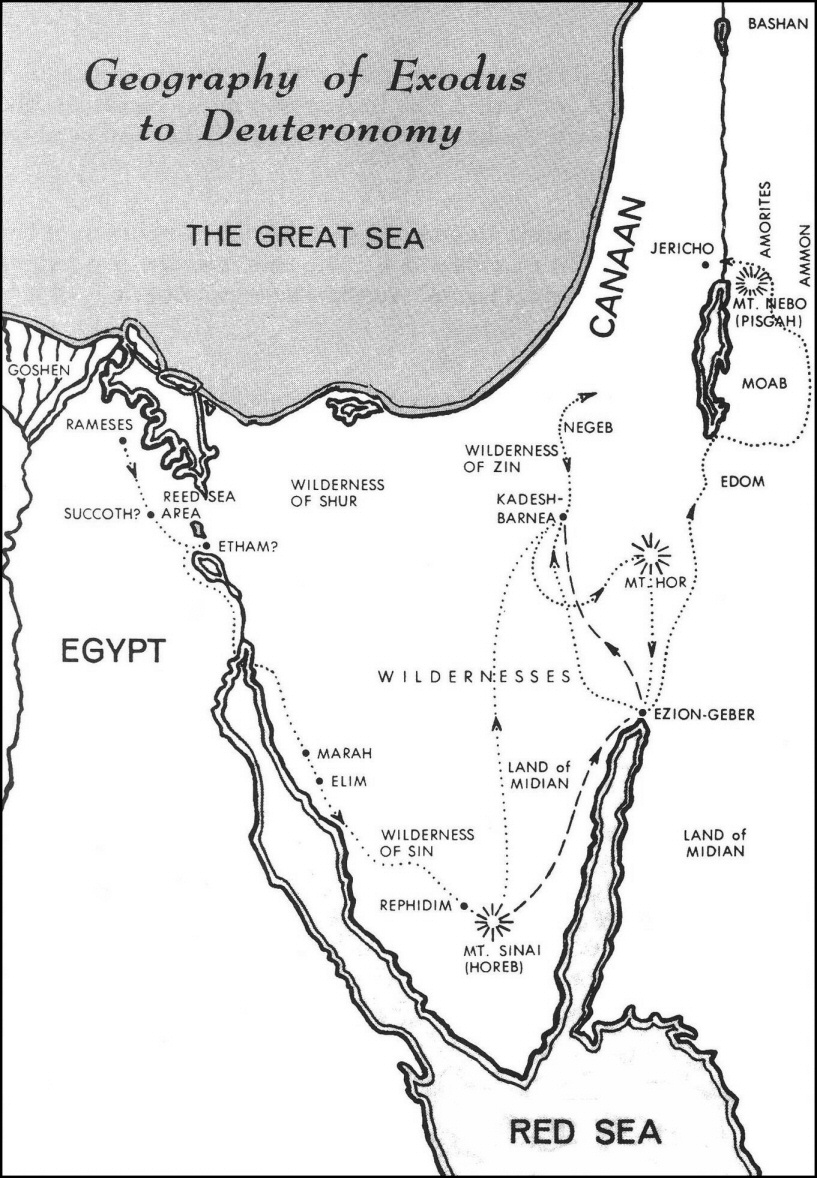 OVERVIEWS AND INTRODUCTIONS
DICTIONARY ARTICLES
---
BIBLIOGRAPHY - Resources Quoted in Commentary
---
GREG ALLEN BETHANY BIBLE CHURCH
MARK ADAMS
ALBERT BARNES
ALISTAIR BEGG
JOSEPH BENSON
BIBLE.ORG RESOURCES Resources that Reference Exodus
BIBLICAL ILLUSTRATOR Biblical Illustrator Comments
JIM BOMKAMP Sermon Notes
BRIDGEWAY BIBLE COMMENTARY
GEORGE BUSH -  Wikipedia biography (yes he is related to the presidents) - 1867 but still very worthwhile to examine
JOHN CALVIN Commentary on Exodus
Calvin did not write a verse by verse commentary on Exodus so some of the verses will not have commentary
CAMBRIDGE BIBLE FOR SCHOOLS AND COLLEGES
ALAN CARR Sermons on Exodus
RICH CATHERS Sermons
GEORGE CHADWICK
ADAM CLARKE
JOHN CALVIN
OSWALD CHAMBERS
STEVEN J COLE SERMONS ON EXODUS
H R COLE
THOMAS CONSTABLE - Expository Notes
EDWARD DENNETT
MARK DEVINE
JOHN DUMMELOW - Commentary
JOHN CUMMING Exodus Commentary. (1854)
"Dr. Cumming is one of the most notable preachers in London, and a very prolific and popular writer. It is written in the author's usual ready, flowing style." —Merchant Magazine and Commercial Review
RON DANIEL Sermons on Exodus
BOB DEFFINBAUGH Exodus: The Birth of a Nation
J LIGON DUNCAN Exodus: Sermons
CAVEAT - Sometimes substitutes the "church" for Israel - Be a Berean!
JONATHAN EDWARDS
CHARLES ELLICOTT Commentary for English Readers
EASY ENGLISH
ALFRED EDERSHEIM
THEODORE EPP Devotional Study of Exodus
Click here for the following devotional (scroll down page)
Exodus 20 Law Reveals Need of Grace
EXPOSITOR'S BIBLE COMMENTARY
EXPOSITOR'S DICTIONARY OF TEXTS
PAUL W FERRIS
DON FORTNER - SERMONS
BOB FROMM
ARNOLD FRUCHTENBAUM 
A C GAEBELEIN Annotated Commentary 
GENE GETZ
Exodus; Principle #18; Ex. 16:9-30; p. 98 Complete Obedience: We are to determine in our hearts to obey God fully. Video
JOHN GILL Commentary on Exodus
BRUCE GOETTSCHE
GOSPEL COALITION
GOTQUESTIONS Questions Related to the Book of Exodus
L M GRANT
DAVID GUZIK Commentary on Exodus
HARRISON-PFEIFFER
ROBERT HAWKER Hawker's Poor Man's Commentary
MATTHEW HENRY Commentary on Exodus
DAVID HOCKING - 112 pages, much alliteration, outline format
HOLMAN
EZEKIEL HOPKINS
JAMIESON, FAUSSET, BROWN - Commentary Critical and Explanatory on the Whole Bible
KEIL & DELITZSCH Commentary on the Old Testament
James Rosscup "Keil, C. F. and Franz Delitzsch. Commentary on the Old Testament. 25 volumes. Grand Rapids: Eerdmans, 1950. This is the best older, overall treatment of a critical nature on the Old Testament Hebrew text verse by verse and is a good standard work to buy. The student can buy parts or the whole of this series. Sometimes it is evangelical, at other times liberal ideas enter." (Commentaries for Biblical Expositors: An Annotated Bibliography of Selected Works)
S LEWIS JOHNSON Sermons
STEVE KRELOFF
PAUL E KRETZMANN
WOODROW KROLL  Lessons On Living from Exodus - Devotionals
Click Exodus Devotionals and scroll down page for the following devotionals
Exodus 20:1-3 Priority One - If your life is chaotic, it may indicate your priorities are jumbled. Make God priority one in your life and you may be surprised at how easily everything else comes together. Only by starting your priorities right can you hope to end them right. Everything begins with the right priorities, and right priorities begin with God.
Exodus 20:12 Honor Your Parents - Honor your parents and the Lord will honor you.
Exodus 20:13 Respect for Life - An attitude can murder just as easily as an ax.
Exodus 20:14 An Undefiled Bed - When adultery walks in, everything worth having walks out
LANGE'S COMMENTARY Exodus Commentary
G. HERBERT LIVINGSTON
C H MACKINTOSH Comments on the Pentateuch (Exodus)
JOHN MACARTHUR - and staff at Grace to You
ALEXANDER MACLAREN Sermons on Exodus
BRYN MACPHAIL
DAVID MALICK
J VERNON MCGEE
F B MEYER 
MONERGISM
G CAMPBELL MORGAN
JAMES G. MURPHY Exodus Commentary
Notes, critical and practical, on the book of Exodus - First edition - 1846
HENRY MORRIS DEFENDER'S STUDY BIBLE
Defender's Study Bible notes - Conservative notes from Creationist Dr Henry Morris - notes available can be found on right side of age...
RICHARD MOULTON
R E NEIGHBOR  Living Water Commentary
NET BIBLE NOTES 
WILLIAM NEWELL
MARK NEWMAN
PHIL NEWTON
OUR DAILY BREAD Devotional illustrations on the Book of Exodus
PASTOR LIFE
ARTHUR PINK
JOHN PIPER Sermon
PREACHER'S HOMILETICAL COMMENTARY
PRECEPT MINISTRIES
RAY PRITCHARD Sermon
PULPIT COMMENTARY
ROBERT RAYBURN - sermons
REFORMATION STUDY BIBLE - notes
DON ROBINSON Sermons 
ROB SALVATO Sermons
JOHNNY SANDERS
JOHN SCHULTZ - former missionary
CHARLES SIMEON
SERMON BIBLE COMMENTARY
CHUCK SMITH Exodus Notes
JAMES SMITH - Handfuls on Purpose , 1943
THE GIVING OF THE LAW. Exodus 19; 20.
SPEAKER'S COMMENTARY
JOE STOWELL
CHARLES SWINDOLL
C. H. SPURGEON Sermons, Devotionals
PRESTON TAYLOR
JOE TEMPLE
THIRD MILLENNIUM STUDY NOTES
DAVID THOMPSON Sermon Notes - well done
TODAY IN THE WORD Moody Devotionals on Exodus
JOHN TRAPP  Commentary 
PAUL VAN GORDER
THOMAS WATSON The Ten Commandments
DAVID WORLEY
STEVE ZEISLER AND OTHERS FROM PENINSULA BIBLE CHURCH - SERMONS ON EXODUS - for transcripts click links below and then click "Sermon Text"
| Date | Sermon | Scripture References | Speaker | Sermon Series |
| --- | --- | --- | --- | --- |
| 19 Feb 2023 | Some Healthy Motivation | Exodus 23:20-33 | Westman, Dan | Exodus:Journey to Freedom |
| 12 Feb 2023 | I Stretch Out My Hands To You | Exodus 23:1-19 | Grant, Scott | Exodus:Journey to Freedom |
| 05 Feb 2023 | Words of Life | Exodus 20:1-21 | Westman, Dan | Exodus:Journey to Freedom |
| 29 Jan 2023 | Ready to Listen | Exodus 19:1-25 | Taylor, Paul | Exodus:Journey to Freedom |
| 22 Jan 2023 | A Burden Shared | Exodus 18:1-27 | Grant, Scott | Exodus:Journey to Freedom |
| 15 Jan 2023 | The Tyranny of Expectations | Exodus 17:1-16 | Grant, Scott | Exodus:Journey to Freedom |
| 08 Jan 2023 | A New Master | Exodus 15:22-27, 16:1-30 | Taylor, Paul | Exodus:Journey to Freedom |
| 20 Nov 2022 | A Song of Victory | Exodus 15:1-21 | Westman, Dan | Exodus:Journey to Freedom |
| 13 Nov 2022 | Into the Chaos | Exodus 14:1-31, 13:17-22 | Grant, Scott | Exodus:Journey to Freedom |
| 30 Oct 2022 | Seeking Glory | Exodus 11:1-10 | Westman, Dan | Exodus:Journey to Freedom |
| 16 Oct 2022 | Part of Something Bigger | Exodus 6:1-30 | Taylor, Paul | Exodus:Journey to Freedom |
| 09 Oct 2022 | From Bad to Worse | Exodus 5:1-23 | Grant, Scott | Exodus:Journey to Freedom |
| 02 Oct 2022 | Overcoming the Resistance | Exodus 4:1-31 | Westman, Dan | Exodus:Journey to Freedom |
| 25 Sep 2022 | God Is | Exodus 3:1-22 | Taylor, Paul | Exodus:Journey to Freedom |
| 18 Sep 2022 | Seeds of Hope | Exodus 2:1-25 | Westman, Dan | Exodus:Journey to Freedom |
| 11 Sep 2022 | God\'s Purpose Prevails | Exodus 1:1-22 | Taylor, Paul | Exodus:Journey to Freedom |
| 04 Sep 2022 | The Power of Remembering | Exodus 2:23-25 | Smith, Kaloma | Exodus:Journey to Freedom |
| 19 Jul 2020 | The Other Side of the Sea | Exodus 15:1-18 | Grant, Scott | Prayers For the Moment |
| 16 Jul 2017 | Work and Rest for Life | Exodus 20:8-11, 31:12-13 | Gustafson, Corrie | Kingdom Work |
| 31 Aug 2014 | 'All That Is Mine Is Yours' | Exodus 20:17 | Grant, Scott | Love God, Love People |
| 24 Aug 2014 | Seek Truth, Speak Truth | Exodus 20:16 | Grant, Scott | Love God, Love People |
| 17 Aug 2014 | Honoring Our Parents | Exodus 20:12 | Smith, Rolana | Love God, Love People |
| 10 Aug 2014 | "You shall not commit adultery" | Exodus 20:14 | Soderberg, Eric | Love God, Love People |
| 03 Aug 2014 | You Shall Not Murder: Dead Man Walking | Exodus 20:13 | Becker, Brent | Love God, Love People |
| 27 Jul 2014 | What Does Love Look Like? | Exodus 20:15 | Burnham, Andy | Love God, Love People |
| 20 Jul 2014 | Keep the Sabbath Day Holy | Exodus 20:8-11 | Holmlund, Steve | Love God, Love People |
| 13 Jul 2014 | Replacing God, Devaluing God | Exodus 20:4-7 | Burnham, Andy | Love God, Love People |
| 06 Jul 2014 | Small Gods | Exodus 20:3 | Sharp, Nolan | Love God, Love People |
| 29 Jun 2014 | "I Am the Lord Your God" | Exodus 20:1-2 | Zeisler, Steve | Love God, Love People |
| 14 Oct 2012 | A People Freed: A Law for God's Presence | Exodus  | Taylor, Paul | EPIC: The Astonishing Story of God & the World |
| 07 Oct 2012 | A People Freed: A Leader for Freedom | Exodus  | Taylor, Paul | EPIC: The Astonishing Story of God & the World |
| 28 Jun 2009 | Yahweh Nissi, The LORD My Banner | Exodus 17:1-16 | Herminghaus, Judy | Names of God |
| 21 Jun 2009 | Yahweh Rophe, The LORD Who Heals | Exodus 15:22-27 | Herminghaus, Judy | Names of God |
| 09 Mar 2008 | A Rest Relished | Exodus 16:23-29, 35:3 | Taylor, Paul | Sabbath: Remember to Rest. Rest to Remember. |
| 02 Mar 2008 | A Rest Required | Exodus 20:8-11, 31:12-18 | Taylor, Paul | Sabbath: Remember to Rest. Rest to Remember. |
| 05 Aug 2001 | I Will Be With You | Exodus 3:1-22, 4:1-17 | Zeisler, Steve | The Prayers of the Saints |
| 29 Jan 1995 | Responding to Grace | Exodus 35:1-35, 36:1-38, 37:1-29, 38:1-31, 39:1-43, 40:1-38 | Grant, Scott | A Study Series in Exodus |
| 28 Jan 1995 | A Better Deal | Exodus 34:29-35 | Grant, Scott | A Study Series in Exodus |
| 27 Jan 1995 | The Lord Still Relates | Exodus 34:1-28 | Grant, Scott | A Study Series in Exodus |
| 26 Jan 1995 | Asking For All of the Lord | Exodus 33:1-23 | Grant, Scott | A Study Series in Exodus |
| 25 Jan 1995 | Passion for People | Exodus 32:1-35 | Grant, Scott | A Study Series in Exodus |
| 24 Jan 1995 | The Mystery of the Tabernacle | Exodus 25:1-31 | Grant, Scott | A Study Series in Exodus |
| 23 Jan 1995 | Adjusting to a Different Home | Exodus 25:1-40, 26:1-37, 27:1-21, 28:1-43, 29:1-46, 30:1-38, 31:1-18 | Grant, Scott | A Study Series in Exodus |
| 22 Jan 1995 | Come Up to the Lord | Exodus 24:1-18 | Grant, Scott | A Study Series in Exodus |
| 21 Jan 1995 | The Battle Belongs to the Lord | Exodus 23:20-33 | Grant, Scott | A Study Series in Exodus |
| 20 Jan 1995 | Worshiping the Lord | Exodus 20:22-26, 21:1-36, 22:1-31, 23:1-19 | Grant, Scott | A Study Series in Exodus |
| 19 Jan 1995 | Embracing the Lord | Exodus 19:7-25 | Grant, Scott | A Study Series in Exodus |
| 18 Jan 1995 | The Lord's Treasure Chest | Exodus 19:1-6 | Grant, Scott | A Study Series in Exodus |
| 17 Jan 1995 | The Perils of Perfectionism | Exodus 18:1-27 | Grant, Scott | A Study Series in Exodus |
| 16 Jan 1995 | Rally Behind the Lord | Exodus 17:1-16 | Grant, Scott | A Study Series in Exodus |
| 15 Jan 1995 | The Giver | Exodus 16:1-36 | Grant, Scott | A Study Series in Exodus |
| 14 Jan 1995 | The Sweet Word | Exodus 15:22-27 | Grant, Scott | A Study Series in Exodus |
| 13 Jan 1995 | The Lord Leads Us to See His Salvation | Exodus 13:17-22, 14:1-31 | Grant, Scott | A Study Series in Exodus |
| 12 Jan 1995 | Celebrate the Lord's Salvation | Exodus 11:1-10, 12:1-51, 13:1-16 | Grant, Scott | A Study Series in Exodus |
| 11 Jan 1995 | The Lord Redeems His People | Exodus 11:1-10, 12:1-51, 13:1-16 | Grant, Scott | A Study Series in Exodus |
| 10 Jan 1995 | There Is No One Like the Lord | Exodus 9:13-35, 10:1-29 | Grant, Scott | A Study Series in Exodus |
| 09 Jan 1995 | The Lord Spares His People | Exodus 8:20-32, 9:1-12 | Grant, Scott | A Study Series in Exodus |
| 08 Jan 1995 | God Reveals Himself Through His Servant | Exodus 7:8-25, 8:1-19 | Grant, Scott | A Study Series in Exodus |
| 06 Jan 1995 | The Question Isn't 'Why' but 'Who' | Exodus 5:22-23, 6:1-30, 7:1-7 | Grant, Scott | A Study Series in Exodus |
| 05 Jan 1995 | Birth Pangs of Life | Exodus 5:1-21 | Grant, Scott | A Study Series in Exodus |
| 04 Jan 1995 | Last-minute Gifts | Exodus 4:18-31 | Grant, Scott | A Study Series in Exodus |
| 03 Jan 1995 | Divinely Deficient | Exodus 4:1-17 | Grant, Scott | A Study Series in Exodus |
| 02 Jan 1995 | Being Involved | Exodus 3:1-22 | Grant, Scott | A Study Series in Exodus |
| 01 Jan 1995 | The Deliverer Needs a Deliverer | Exodus 2:1-25 | Grant, Scott | A Study Series in Exodus |
| 31 Dec 1994 | God's Purposes Can't be Defeated | Exodus 1:1-22 | Grant, Scott | A Study Series in Exodus |
| 29 Oct 1989 | Determination to Give Thanks | Exodus 20:17 | Zeisler, Steve | Requirements for Humanity |
| 21 Oct 1989 | Protection of Property and Reputation | Exodus 20:15-16 | Zeisler, Steve | Requirements for Humanity |
| 08 Oct 1989 | Commitment to Covenant | Exodus 20:14 | Zeisler, Steve | Requirements for Humanity |
| 01 Oct 1989 | Respect for Life | Exodus 20:13 | Zeisler, Steve | Requirements for Humanity |
| 24 Sep 1989 | Appreciation of Authority | Exodus 20:12 | Zeisler, Steve | Requirements for Humanity |
| 17 Sep 1989 | Faithful Rest | Exodus 20:8-11 | Zeisler, Steve | Requirements for Humanity |
| 10 Sep 1989 | Fear of the Lord | Exodus 20:4-7 | Zeisler, Steve | Requirements for Humanity |
| 03 Sep 1989 | Single-minded Devotion | Exodus 20:2-3 | Zeisler, Steve | Requirements for Humanity |
| 30 Apr 1989 | Awakened from Uselessness | Exodus 3:1-22 | Zeisler, Steve | God's dealings... |
| 31 Dec 1988 | What We Were Created For | Exodus 20:1-26 | Zeisler, Steve | Requirements for Humanity |
| 12 Apr 1980 | 10th Plague - Death - Initiation of the Passover | Exodus 11:1-10, 12:1-51 | Roe, Bob | Studies in the Life of Moses |
| 05 Apr 1980 | 8th & 9th Plagues, Locusts & Darkness | Exodus 10:1-29, 11:1-3 | Roe, Bob | Studies in the Life of Moses |
| 22 Mar 1980 | 6th & 7th Plagues, Boils & Hail | Exodus 9:8-35 | Roe, Bob | Studies in the Life of Moses |
| 15 Mar 1980 | 5th Plague, Disease on Beasts | Exodus 9:1-7 | Roe, Bob | Studies in the Life of Moses |
| 08 Mar 1980 | Plague #4 flies concluded | Exodus 8:24-32 | Roe, Bob | Studies in the Life of Moses |
| 01 Mar 1980 | 2nd plague frogs, 3rd lice, 4th flies | Exodus 8:1-23 | Roe, Bob | Studies in the Life of Moses |
| 23 Feb 1980 | Moses' 2nd encounter with Pharaoh - 1st plague blood | Exodus 7:1-25 | Roe, Bob | Studies in the Life of Moses |
| 16 Feb 1980 | God sends Moses to tell Pharaoh let Israelites go | Exodus 6:1-30, 7:1-2 | Roe, Bob | Studies in the Life of Moses |
| 09 Feb 1980 | Moses' first encounter with Pharaoh | Exodus 4:18-31, 5:1-23 | Roe, Bob | Studies in the Life of Moses |
| 02 Feb 1980 | God calls Moses to deliver Israelites, Part 2 | Exodus 4:1-17 | Roe, Bob | Studies in the Life of Moses |
| 26 Jan 1980 | God calls Moses to deliver Israelites, Part I | Exodus 3:6-22 | Roe, Bob | Studies in the Life of Moses |
| 19 Jan 1980 | Moses Flees to Midian | Exodus 2:11-25, 3:1-5 | Roe, Bob | Studies in the Life of Moses |
| 12 Jan 1980 | Birth of Moses | Exodus 1:13-22, 2:1-10 | Roe, Bob | Studies in the Life of Moses |
| 05 Jan 1980 | Introduction to Moses | Exodus 1:1-12 | Roe, Bob | Studies in the Life of Moses |
| 07 Feb 1976 | The Naming of The Name | Exodus 2:1-25, 3:1-22, 4:1-31 | Roper, Dave | For Such a Time as This |
| 19 Jul 1964 | Exodus: Design for Deliverance | Exodus | Stedman, Ray | Adventuring through the Bible |
SERMONS BY VERSE - older works
| | | |
| --- | --- | --- |
| The Decalogue: -- Man and God | Alexander Maclaren | Exodus 20:1 |
| The Moral Law - Preliminary | J. Orr | Exodus 20:1 |
| Weighed in the Balances | Dwight L. Moody | Exodus 20:1 |
| Characteristics of the Decalogue | J. O. Dykes, D. D. | Exodus 20:1-2 |
| Comprehensive Summary of the Ten Commandments | L. O. Thompson. | Exodus 20:1-2 |
| For Whom is the Law Intended | F. S. Schenck. | Exodus 20:1-2 |
| God's Deliverance of His People | H. Crosby, D. D. | Exodus 20:1-2 |
| I am the Lord Thy God -- a Word to Rest on in Death |   | Exodus 20:1-2 |
| Man's Religious Craving Satisfied | E. C. Wines, D. D. | Exodus 20:1-2 |
| Negative Commandments | U. R. Thomas. | Exodus 20:1-2 |
| Of the Commandments | Watson, Thomas | Exodus 20:1-2 |
| The Character of the Decalogue | G. D. Boardman. | Exodus 20:1-2 |
| The Commandments | D. C. Hughes, M. A. | Exodus 20:1-2 |
| The Composition of the Law of God | Joseph Cook. | Exodus 20:1-2 |
| The Inexhaustibility of the Law of God | Luther, Martin; Source:"Table Talk" | Exodus 20:1-2 |
| The Jewish Knowledge of God | R. W. Dale, D. D. | Exodus 20:1-2 |
| The Law Given from Mount Sinai Suited to the Circumstances of Man | T. Binney. | Exodus 20:1-2 |
| The Lawgiver | F. S. Schenck. | Exodus 20:1-2 |
| The Preface |   | Exodus 20:1-2 |
| The Preface | Watson, Thomas | Exodus 20:1-2 |
| The Preface of the Law | Bishop Andrewes. | Exodus 20:1-2 |
| The Revelation of the Divine Name | J. B. Brown, B. A. | Exodus 20:1-2 |
| The Ten Commandments | R. W. Dale, D. D. | Exodus 20:1-2 |
| The Ten Commandments - an Introductory Reminder | D. Young | Exodus 20:1, 2 |
| The Ten Words of God | Archdeacon Farrar. | Exodus 20:1-2 |
| Usefulness of God's Commandments | J. Hamilton, D. D. | Exodus 20:1-2 |
| Utility of a Course of Teaching on the Commandments | G.A. Goodhart | Exodus 20:1-2 |
| The Moral Law - General Survey | J. Orr | Exodus 20:1-18 |
| God Supplemented | H. C. Trumbull. | Exodus 20:3 |
| On Going After Other Gods | M. Tweddell, M. A. | Exodus 20:3 |
| The First Commandment | R. W. Dale, D. D. | Exodus 20:3 |
| The First Commandment | H. Crosby, D. D. | Exodus 20:3 |
| The First Commandment | James Durham. | Exodus 20:3 |
| The First Commandment | H. M. Luckock, D. D. | Exodus 20:3 |
| The First Commandment | G. D. Boardman. | Exodus 20:3 |
| The First Commandment | Watson, Thomas | Exodus 20:3 |
| The First Commandment | Bp. E. Hopkins. | Exodus 20:3 |
| The First Commandment | J. O. Dykes, D. D. | Exodus 20:3 |
| The First Commandment | F. S. Schenck. | Exodus 20:3 |
| The First Commandment | R. Newton, D. D. | Exodus 20:3 |
| The Moral Law - General Survey | J. Orr | Exodus 20:1-18 |
| The First and Seceded Commandments: Against Polytheism and Image-Worship | D. Young | Exodus 20:3-6 |
| Two Complementary Commandments | G.A. Goodhart | Exodus 20:3-6 |
| The Soul for God Only | J. Urquhart | Exodus 20:3-11 |
| A Jealous God |   | Exodus 20:4-6 |
| And Keep My Commandments | Watson, Thomas | Exodus 20:4-6 |
| God's Mercies | Watson, Thomas | Exodus 20:4-6 |
| Idolatry | C. Bradley. M. A. | Exodus 20:4-6 |
| Image-Worship | Watson, Thomas | Exodus 20:4-6 |
| Inherited Character |   | Exodus 20:4-6 |
| Keeping the Commandments | Bp. E. King. | Exodus 20:4-6 |
| The Children Bearing the Fathers' Iniquities | H. Melvill, B. D. | Exodus 20:4-6 |
| The Jealousy of God | R. W. Dale, D. D. | Exodus 20:4-6 |
| The Law of Worship | W. J. Woods, B. A. | Exodus 20:4-6 |
| The Offence of Symbolism | Spurgeon, Charles Haddon | Exodus 20:4-6 |
| The Place of Mercy in the Government of God | F. S. Schenck. | Exodus 20:4-6 |
| The Second Commandment | G. D. Boardman. | Exodus 20:4-6 |
| The Second Commandment, and its Influence Upon the Jews | W. Senior, B. A. | Exodus 20:4-6 |
| Them that Love Me | Watson, Thomas | Exodus 20:4-6 |
| Visiting the Sins of the Fathers on the Children | Archdeacon Paley. | Exodus 20:4-6 |
| A Just Reproof |   | Exodus 20:7 |
| A Proper Use to be Made of the Gift of Speech | F. S. Schenck. | Exodus 20:7 |
| A Signal Light | Great Thoughts | Exodus 20:7 |
| A Wise Prohibition |   | Exodus 20:7 |
| Clothed with Cursing |   | Exodus 20:7 |
| Frivolous Use of Scripture | R. W. Dale, D. D. | Exodus 20:7 |
| God not to be Trifled With | J. H. Thornwell, D. D. | Exodus 20:7 |
| Irreverence in Prayer |   | Exodus 20:7 |
| No Excuse for Swearing | F. S. Schenck. | Exodus 20:7 |
| On Oaths | J. Durham. | Exodus 20:7 |
| On Taking God's Name in Vain | H. Crosby, D. D. | Exodus 20:7 |
| Payment for Swearing |   | Exodus 20:7 |
| Profanity |   | Exodus 20:7 |
| Profanity Known to God |   | Exodus 20:7 |
| Profanity Subjects the Soul to Satan |   | Exodus 20:7 |
| Reverence | E. A. Washburn, D. D. | Exodus 20:7 |
| Reverence for God's Name |   | Exodus 20:7 |
| Rules to Avoid Profanity | Bp. E. Hopkins. | Exodus 20:7 |
| Satanic Swearing | J. Cope. | Exodus 20:7 |
| Speaking of God | A. Maclaren, D. D. | Exodus 20:7 |
| Swearer Rebuked |   | Exodus 20:7 |
| Swearing Reproved |   | Exodus 20:7 |
| Taking God's Name in Vain | Watson, Thomas | Exodus 20:7 |
| The Guilt of Profaneness | N. Emmons, D. D. | Exodus 20:7 |
| The Law of Reverence | W. J. Woods, B. A. | Exodus 20:7 |
| The Third Commandment | R. W. Dale, D. D. | Exodus 20:7 |
| The Third Commandment | G. D. Boardman. | Exodus 20:7 |
| The Third Commandment | P. B. Davis. | Exodus 20:7 |
| The Third Commandment |   | Exodus 20:7 |
| The Third Commandment | R. Newton, D. D. | Exodus 20:7 |
| The Third Commandment | G. Clayton. | Exodus 20:7 |
| The Third Commandment. Profanity Forbidden | D. Young | Exodus 20:7 |
| The First and Second Commandments | G.A. Goodhart | Exodus 20:7, 8 |
| Benefit of Keeping the Sabbath |   | Exodus 20:8-11 |
| Bible Law Recognized |   | Exodus 20:8-11 |
| Grief At Profanation of the Sabbath | Watson, Thomas | Exodus 20:8-11 |
| Heaven Seen on the Sabbath | P. B. Davis. | Exodus 20:8-11 |
| Honouring the Sabbath |   | Exodus 20:8-11 |
| Honouring the Sabbath |   | Exodus 20:8-11 |
| Reason for Change of Day | Watson, Thomas | Exodus 20:8-11 |
| Reasons for Observing the Sabbath | Barnes, Albert | Exodus 20:8-11 |
| Result of a Weekly Rest |   | Exodus 20:8-11 |
| Sabbath Breakers Reproved |   | Exodus 20:8-11 |
| Sabbath Kept Under Difficulties | A. Barnes. | Exodus 20:8-11 |
| Sabbath-Breaking is a Sin | F. S. Schenck. | Exodus 20:8-11 |
| Some Blessings of the Rest Day | F. S. Schenck. | Exodus 20:8-11 |
| Sunday and Suicide | Bp. H. M. Thompson. | Exodus 20:8-11 |
| The Fourth Commandment | F. D. Maurice, M. A. | Exodus 20:8-11 |
| The Fourth Commandment | H. Crosby | Exodus 20:8-11 |
| The Fourth Commandment | G. D. Boardman. | Exodus 20:8-11 |
| The Fourth Commandment: the Sacred Sabbath | D. Young | Exodus 20:8-11 |
| The Holy Day | W. Senior, B. A. | Exodus 20:8-11 |
| The Jewish Sabbath | R. W. Dale, D. D. | Exodus 20:8-11 |
| The Manner of Keeping the Sabbath | H. Winslow. | Exodus 20:8-11 |
| The Pearl of Days |   | Exodus 20:8-11 |
| The Sabbath | G. Clayton. | Exodus 20:8-11 |
| The Sabbath Appointed by God | Talmud. | Exodus 20:8-11 |
| The Sabbath Cheerful and Holy | H. Crosby, D. D. | Exodus 20:8-11 |
| The Sabbath Day | George Brooks. | Exodus 20:8-11 |
| The Sabbath Under the Law of Moses | D. Wilson, M. A. | Exodus 20:8-11 |
| A Noble Sentiment |   | Exodus 20:12 |
| A Promise and a Duty | H. Crosby, D. D. | Exodus 20:12 |
| Archbishop Tillotson's Respect for His Father |   | Exodus 20:12 |
| Begin Right | R. Newton, D. D. | Exodus 20:12 |
| Dr. Johnson and His Father | J. Vaughan. | Exodus 20:12 |
| Filial Duty |   | Exodus 20:12 |
| Filial Piety |   | Exodus 20:12 |
| Forbearance Towards Erring Parents | R. W. Dale, D. D. | Exodus 20:12 |
| Honour Thy Parents |   | Exodus 20:12 |
| Honouring a Parent |   | Exodus 20:12 |
| Kindness to Parents |   | Exodus 20:12 |
| Lessons from the Position of the Fifth Commandment | F. S. Schenck. | Exodus 20:12 |
| Long Life | Dr. Talmage. | Exodus 20:12 |
| Obligation to Parents |   | Exodus 20:12 |
| Parent and Child | W. Senior, B. A. | Exodus 20:12 |
| Parents are God's Representatives | S. S. Times | Exodus 20:12 |
| Pleasing Parents |   | Exodus 20:12 |
| Reasons for Honouring Parents | F. S. Schenck. | Exodus 20:12 |
| The Commandment with Promise | J. Urquhart | Exodus 20:12 |
| The Decalogue: -- Man and Man | Alexander Maclaren | Exodus 20:12 |
| The Duties of Youth | Bp. Harvey Goodwin. | Exodus 20:12 |
| The Fifth Commandment | R. W. Dale, D. D. | Exodus 20:12 |
| The Fifth Commandment | G. D. Boardmen. | Exodus 20:12 |
| The Fifth Commandment | Watson, Thomas | Exodus 20:12 |
| The Fifth Commandment: the Commandment for Children | D. Young | Exodus 20:12 |
| The Injunction in Itself | G.A. Goodhart | Exodus 20:12 |
| The Law of Subordination | W. J. Woods, B. A. | Exodus 20:12 |
| The Parent and the Nation | W. Senior, B. A. | Exodus 20:12 |
| Vindication of God's Faithfulness | Bp. E. Hopkins. | Exodus 20:12 |
| Anger Leading to Murder | R. Newton, D. D. | Exodus 20:13 |
| Injuring Man Prohibited | H. Crosby, D. D. | Exodus 20:13 |
| Personal Application of the Commandment | F. S. Schenck. | Exodus 20:13 |
| Refusing to Fight a Duel |   | Exodus 20:13 |
| The Law of Mercy | W. J. Woods B. A. | Exodus 20:13 |
| The Second Table | G.A. Goodhart | Exodus 20:13 |
| The Sixth and Seventh Commandments | F. D. Maurice, M. A. | Exodus 20:13 |
| The Sixth Commandment | R. W. Dale, D. D. | Exodus 20:13 |
| The Sixth Commandment | Watson, Thomas | Exodus 20:13 |
| The Sixth Commandment | L. O. Thompson. | Exodus 20:13 |
| The Sixth Commandment | G. D. Boardman. | Exodus 20:13 |
| The Moral Law - General Survey | J. Orr | Exodus 20:1-18 |
| The Individual Israelite Considered in His Duties Towards His Neighbour | D. Young | Exodus 20:13-17 |
| A Correspondence Between the Two Tables | G.A. Goodhart | Exodus 20:14 |
| Marriage | F. S. Schenck. | Exodus 20:14 |
| Purity Outward and Inward |   | Exodus 20:14 |
| The Law of Chastity | W. J. Woods, B. A. | Exodus 20:14 |
| The Power of Passion |   | Exodus 20:14 |
| The Scope of the Seventh Commandment | F. S. Schenck. | Exodus 20:14 |
| The Seventh Commandment | L. O. Thompson. | Exodus 20:14 |
| The Seventh Commandment | J. O. Dykes, D. D. | Exodus 20:14 |
| The Seventh Commandment |   | Exodus 20:14 |
| The Seventh Commandment | W. B. Noel, M. A. | Exodus 20:14 |
| The Seventh Commandment | G. D. Boardman. | Exodus 20:14 |
| The Seventh Commandment | T. Boston, D. D. | Exodus 20:14 |
| The Seventh Commandment | Bp. E. Hopkins. | Exodus 20:14 |
| The Seventh Commandment | Watson, Thomas | Exodus 20:14 |
| Value of Purity |   | Exodus 20:14 |
| An Example of Honesty |   | Exodus 20:15 |
| Dishonesty in Trade | R. W. Dale, D. D. | Exodus 20:15 |
| Honesty |   | Exodus 20:15 |
| Praying Better than Stealing |   | Exodus 20:15 |
| Property Sacred | W. Senior, B. A. | Exodus 20:15 |
| The Eighth Commandment | R. W. Dale, D. D. | Exodus 20:15 |
| The Eighth Commandment | G. D. Boardman. | Exodus 20:15 |
| The Eighth Commandment | W. Ormiston, D. D. | Exodus 20:15 |
| The Eighth Commandment | Abp. Secker. | Exodus 20:15 |
| The Eighth Commandment | Watson, Thomas | Exodus 20:15 |
| The Eighth Commandment | R. Newton, D. D. | Exodus 20:15 |
| The Eighth Commandment | G.A. Goodhart | Exodus 20:15 |
| The Law of Property | W. J. Woods, B. A. | Exodus 20:15 |
| The Rights of Property Defended | R. W. Dale, D. D. | Exodus 20:15 |
| True Honesty |   | Exodus 20:15 |
| What is Stealing |   | Exodus 20:15 |
| A Cure for Backbiting |   | Exodus 20:16 |
| Breaches of the Ninth Commandment | James Durham. | Exodus 20:16 |
| Commonest Form of the Offence | G.A. Goodhart | Exodus 20:16 |
| False Witness | J. Vaughan. | Exodus 20:16 |
| On the Sin of Bearing False Witness | Bp. J. Taylor, D. D. | Exodus 20:16 |
| Scandal |   | Exodus 20:16 |
| Slander | J. H. Norton, D. D. | Exodus 20:16 |
| Slander | R. W. Dale, D. D. | Exodus 20:16 |
| The Law of Truth | W. J. Woods, B. A. | Exodus 20:16 |
| The Ninth Commandment | R. W. Dale, D. D. | Exodus 20:16 |
| The Ninth Commandment | Watson, Thomas | Exodus 20:16 |
| The Ninth Commandment | Bp. E. Hopkins. | Exodus 20:16 |
| The Ninth Commandment | R. Newton, D. D. | Exodus 20:16 |
| The Scope of the Ninth Commandment | F. S. Schenck. | Exodus 20:16 |
| Violations of the Law of Truth | E. A. Washburn, D. D. | Exodus 20:16 |
| The Ten Words | H.T. Robjohns | Exodus 20:16-21 |
| Coveting Driven Out by Love | R. W. Dale, D. D. | Exodus 20:17 |
| Coveting Prohibited | H. Crosby, D. D. | Exodus 20:17 |
| Covetousness | T. Adams. | Exodus 20:17 |
| Covetousness -- its Insidiousness |   | Exodus 20:17 |
| God's Great Root-Extractor | R. Newton, D. D. | Exodus 20:17 |
| Inordinate Desire Forbidden | W. Burrows, B. A. | Exodus 20:17 |
| On Covetousness | R. Newton, D. D. | Exodus 20:17 |
| Penalty of Covetousness | Mrs. Balfour. | Exodus 20:17 |
| The Folly of Covetousness Proved At Death |   | Exodus 20:17 |
| The Last Commandment of the Second Table | G.A. Goodhart | Exodus 20:17 |
| The Law of Motive | W. J. Woods, B. A. | Exodus 20:17 |
| The Sin of Covetousness | A. Nevin, D. D. | Exodus 20:17 |
| The Tenth Commandment | R. W. Dale, D. D. | Exodus 20:17 |
| The Tenth Commandment | G. Clayton. | Exodus 20:17 |
| The Tenth Commandment | T. Boston, D. D. | Exodus 20:17 |
| The Tenth Commandment | Bp. E. Hopkins. | Exodus 20:17 |
| The Tenth Commandment | J. O. Dykes, D. D. | Exodus 20:17 |
| The Tenth Commandment | Watson, Thomas | Exodus 20:17 |
| The Mediator -- the Interpreter | Charles Haddon Spurgeon | Exodus 20:18 |
| God's Revelation of Himself | J. W. Burn. | Exodus 20:18-21 |
| Israel and Sinai | Homilist | Exodus 20:18-21 |
| The Seriousness of Life | Bp. Phillips Brooks. | Exodus 20:18-21 |
| The Superficial and the Profound | W. Burrows, B. A. | Exodus 20:18-21 |
| The Terrors of Sinai | J. Orr | Exodus 20:18-22 |
| God's Voice, But not a Form | W. Burrows, B. A. | Exodus 20:22-23 |
| Public Worship | J. W. Burn. | Exodus 20:22-23 |
| I Will Go unto the Altar of God | G.A. Goodhart | Exodus 20:22-26 |
| The Law of the Altar | J. Orr | Exodus 20:22-26 |
| God's Promised Presence Essential to Constitute a Church | T. Guthrie, D. D. | Exodus 20:24 |
| Sanctuary Blessings | J. H. Livingstone, D. D. | Exodus 20:24 |
| The Gospel in Exodus | F. W. Brown. | Exodus 20:24 |
| The Presence of God in His Church | C. Bradley, M. A. | Exodus 20:24 |
| The Promise of God At Sinai | C. Bradley, M. A. | Exodus 20:24 |
| The Altar of Unhewn Stone: Simplicity of Worship | Homilist | Exodus 20:25 |
| The Jewish Altar as Typical of Christ | H. Melvill, B. D. | Exodus 20:25 |
Book