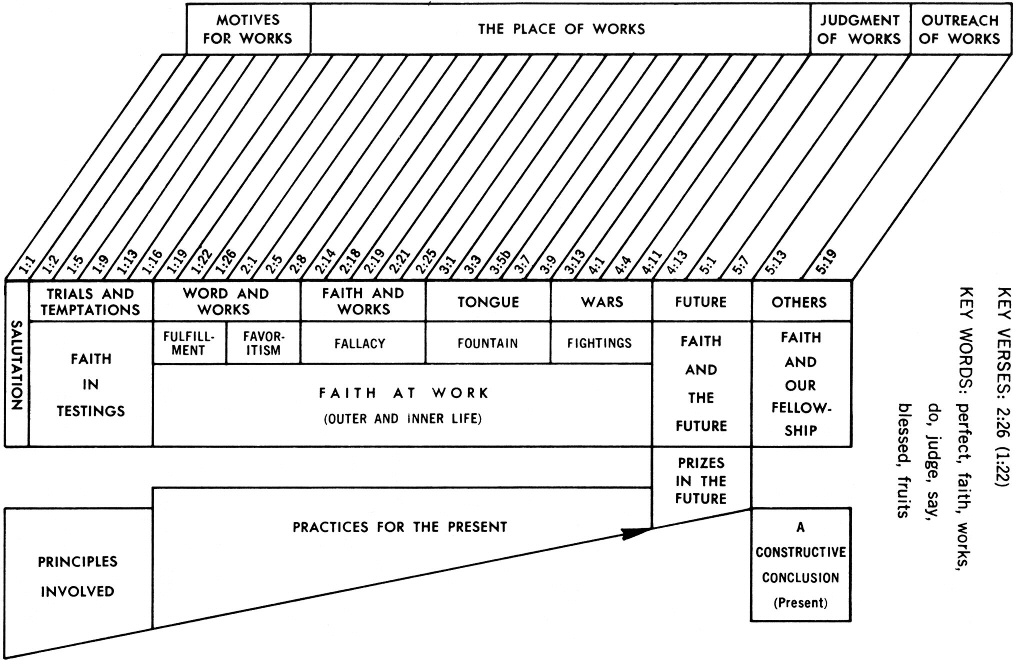 Click chart to enlarge
Chart from recommended resource Jensen's Survey of the NT - used by permission
JAMES
Faith for Living

Motives
for
Works
The Place of Works:
Outward Demonstration of Inner Faith
Outreach
of
Works
Jas 1:1-18
Jas 1:19-2:13
Jas 2:14-25
Jas 3:1-12
Jas 3:13-4:12
Jas 4:13-5:12
Jas 5:13-19
Trials &
Temptations
Word &
Works
Faith &
Works
Tongue
Wars
Future
Others

Faith
In
Testings

Fulfill

Favor

Fallacy

Fountain

Factions

Faith
and the
Future

Faith
and our
Fellowship

FAITH AT WORK
---
A Comparison of James 2:24 and Ephesians 2:8-10 -75 pages
DON ANDERSON - Teaching Resources
AUDIO - Click here for the audios of the 12 lessons on James listed below averaging about 41 minutes each...
4 James 2:1-13 – Study 4 40:18
5 James 2:14-26 – Study 5 43:53
6 James 3:1-12 – Study 6 37:15
Teacher Notes on James
More Notes on Each of the Preceding Studies
Well done commentary from modern perspective. Many quotes.
Hiebert - Barclay holds that our book of James is the substance of a sermon preached by James, the Lord's brother, taken down by someone else and translated into Greek with a few additions. Barclay's own translation is printed at the beginning of each of the paragraphs into which the epistle is divided. Most valuable for its word studies and background material.
E P BARROWS
CHRIS BENFIELD - sermon series
ANDREW BENNETT
JIM BOMKAMP
CAMBRIDGE BIBLE FOR SCHOOLS AND COLLEGES
D Edmond Hiebert  - A valuable commentary on these epistles for the lay student by a conservative British scholar of the past century. Important introductions and concise notes on the text. (An Introduction to the New Testament)

Logos - A concise book that is packed with practical application, the New Testament book of James is discussed in-depth by E. H. Plumptre. From the author of the epistle, to the date it was written, to the analysis of the book as a whole, Plumptre brings his readers a critical look at James. This engaging commentary expands on the doctrines found within this small epistle, and is infused with scriptural cross-references.
CAMBRIDGE GREEK TESTAMENT COMMENTARY
OSWALD CHAMBERS
KAY DAIGLE Study on James
GEORGE DAVIS
J LIGON DUNCAN - Sermons
JONATHAN EDWARDS
C J ELLICOTT - Editor - E G PUNCHARD
James Rosscup - Though concise in its statements, this old commentary reveals a thorough knowledge of the Greek and is very helpful in matters of grammar and word meanings.
EXPOSITOR'S BIBLE COMMENTARY - Alfred Plummer
James Rosscup writes - This is a good study in the Greek text.

Cyril Barber - Worth consulting, but does not deserve to be placed high on the preacher's priority list. (The Minister's Library, Vol 1)
James 2:1-4 The Christology of St James 
James 2:5-10 The Iniquity of Respecting the Rich and Despising the Poor
James 2:14-26 Faith and Works
James 2:19, 21, 25 The Faith of the Demons
EXPOSITOR'S GREEK TESTAMENT W E Oesterley
JAMES FREAM
MICHAEL FRONCZAK
A C GAEBELEIN
James Rosscup - This dispensationally oriented work is not verse-by-verse, but deals with the exposition on a broader scale, treating blocks of thought within the chapters. Cf. also Arno C. Gaebelein, Gaebelein's Concise Commentary on the Whole Bible (I Volume, Neptune, NJ: Loizeaux, 1985), the Annotated Bible revised. The author was a popular evangelical Bible teacher of the first part of the century, much like H. A. Ironside in his diligent but broad, practical expositions of Bible books. Gaebelein was premillennial and dispensational, and editor for many years of Our Hope Magazine.
GENE GETZ - short videos emphasizing principles
James; Principle #6; James 2:1-13 Avoiding Prejudice: We are to honor one another without showing favoritism. Video
James; Principle #7; James 2:14-26; Good Works: If our profession of faith does not eventuate in good works, we should evaluate the validity of our salvation experience. Video
BRUCE GOETTSCHE - sermons on James
GOTQUESTIONS - Sound Biblical answers to questions related to the Book of James
JOHN F. HART
Spurgeon - A Christian man wishing for the cream of expository writers could not make a better purchase. Ministers, as a rule, should not buy condensations, but get the works themselves.

James Rosscup - This evangelical work, devotional in character, has been in constant demand for about 280 years. Its insight into human problems is great, but it often does not deal adequately with problems in the text. The one-volume form eliminates the Biblical text and is thus less bulky. It has sold very well. The late Wilbur M. Smith, internationally noted Bible teacher, seminary professor and lover of books, tabbed this "The greatest devotional commentary ever written". Henry was born in a Welch farmhouse, studied law, and became a Presbyterian minister near London. He wrote this commentary in the last 13 years before he died at 52 in 1714. The first of six volumes was published in 1708. He completed through Acts, and the rest of the New Testament was done by 14 clergymen. (Ed: Thus James are not the comments of Matthew Henry).
HOLMAN PUBLISHING
DAVID HOLWICK - Sermons on James
Published 1871 - Probably best older commentary on prophetic passages as it tends to interpret more literally.

James Rosscup - This is a helpful old set of 1863 for laypeople and pastors to have because it usually comments at least to some degree on problems. Though terse, it provides something good on almost any passage, phrase by phrase and is to some degree critical in nature. It is evangelical....Especially in its multi-volume form this is one of the old evangelical works that offers fairly solid though brief help on many verses. Spurgeon said, "It contains so great a variety of information that if a man had no other exposition he would find himself at no great loss if he possessed this and used it diligently" (Commenting and Commentaries, p. 3). Things have changed greatly since this assessment! It is primarily of help to pastors and lay people looking for quick, though usually somewhat knowledgeable treatments on verses.

Spurgeon - A really standard work. We consult it continually, and with growing interest. Mr. Fausset's portion strikes us as being of the highest order. 

John Cereghin -  A conservative exposition. He defends Petrine authorship (xlixff); argues for the deity of Christ (619); holds that assurance in Scripture is doubly sure (622); identifies the elements as "the world's component materials" (627); holds that Paul's Epistles were already known as "Scripture" (628).
ROBERT JOHNSTONE - 433 pages
Cyril Barber - A classic in the field. Published originally in 1871. A must for the expository preacher. Buy it! (Ed: click it = it's free online) These concise studies faithfully expound the Greek text and provide a solide foundation for a series of message. Works of this nature are rare and should obtained and used by every Bible-teaching preacher. (Bolding added) (The Minister's Library. Volume 1 and 2)

Spurgeon comments - "A very useful, scholarly, and readable book."
RICHARD KNOWLING - The Epistle of James, Westminster Commentaries
Cyril Barber - One of the better works in this series. (The Minister's Library - Volume 1)
STEVE KRELOFF
Prejudice And Personal Favoritism - James 2:1-13 
Abraham - Justified by Works -James 2:14-24
Faith And Works - James 2:14-26
J P LANGE
LIFEWAY - sermons
IAN MACKERVOY
THOMAS MANTON - A Practical Exposition of James
In Depth Verse by Verse Comments (>150 pages on James 1!)

(An Estimate of Manton by J. C. Ryle)

Spurgeon's comment on Manton's work - In Manton's best style. An exhaustive work, as far as the information of the period admitted. Few such books are written now.

Cyril Barber: First published in 1693, these exhaustive studies highlight the special relevance of this epistle to the situations facing the church. (The Minister's Library. Volume 1)
Cyril Barber: A work of massive scholarship that ranks among the most important exegetical works ever published on this epistle.
BRYN MACPHAIL - sermons 
MASTER'S BIBLE CHURCH Sermon Series on James
Quick overview suggests these are an excellent resource (e.g., 21 pages on James 1:2-4!)
F B MEYER
JAMES MOFFATT
JIM NEWHEISER - each sermon has nice 2 page outline with lots of Scripture cross-references
OUR DAILY BREAD - devotionals
JOSEPH PARKER - The People's Bible
PASTOR LIFE - sermons
ALAN PERKINS
J C PHILPOT
EDWARD PLUMPTRE - Cambridge Bible for Schools and Colleges
MATT POSTIFF - sermons on James - Fellowship Bible Church
PRECEPT MINISTRIES
RAY PRITCHARD
James 2:1-13 Respect of Persons is Consistent With the First Principles of Christianity
James 2:1-13 Respect of Persons
James 2:1-7 Respect of Persons
James 2:5 Worldly Poverty is By No Means Inconsistent With True Riches
James 2:8-11 Stumbling in One Point
James 2:12, 13 Law and Judgment
James 2:13 The Character of Mercy
James 2:14-19 Works the Test of Faith
James 2:14-26 Faith and Works
James 2:14-26 Faith and Works
James 2:20-26 Justification by Faith and Works
REFORMATION STUDY BIBLE - study notes
ADRIAN ROGERS
SERMON AUDIO Various Sources Be a Berean!
SERMONS BY VERSE - older expositions
CHARLES SIMEON - Sermons
A B SIMPSON
JAMES SMITH - Handfuls of Purpose - click here for all the topics below on the same page
R C SPROUL DEVOTIONALS JAMES
CLAUDE STAUFFER SERMON JAMES
RUDOLF STIER - 520 pages, pages are somewhat water stained but very legible
Cyril Barber: First published in English in 1871. This work is of value to preachers as well as laypeople. The former, the method of exposition is at once informative and instructive. To the latter, the method of application is enriching and edifying. . (The Minister's Library. Volume 1)

Spurgeon on Stier - No one can be expected to receive all that Stier has to say, but he must be dull indeed who cannot learn much from him. Read with care, he is a great instructor.
THIRD MILLENNIUM JAMES STUDY NOTES
DAVID E THOMPSON Expository Sermons James
UNKNOWN
Sermons on James - find sermons on following. For Pdf select "Download" and then Transcript
James 2:1 The Principle of Partiality
James 2:2-4 The Example of Partiality
James 2:5-7 The inconsistency with God's choice of the poor
James 2:5-7 The inconsistency with the conduct of the rich
James 2:8-11 The Violation in Partiality
James 2:12-13 The Appeal Against Partiality
James 2:14-20 Empty confession
James 2:14-20 False compassion
James 2:14-20 Shallow conviction
James 2:21-26 Illustrations of living faith
EDWIN WINKLER
| | | |
| --- | --- | --- |
| Dr. Beardsley's Address | Various | James 2:1 |
| A Comprehensive Admonition | W. Jay. | James 2:1-7 |
| A Gold-Ringed Man | Dean Pumptre. | James 2:1-7 |
| A Rogue in the Heart | M. Luther. | James 2:1-7 |
| A Threefold Sin | J. Trapp. | James 2:1-7 |
| Bowing to an Old Coat | H. O. Mackey. | James 2:1-7 |
| Degrees of Honour in the Church | R. Turnbull. | James 2:1-7 |
| Despising the Poor | Anon. | James 2:1-7 |
| Dishonouring Whom God Honours | A. Plummer, D. D. | James 2:1-7 |
| Evil Thoughts |   | James 2:1-7 |
| God Honouring, Men Despising | Dean Plumptre. | James 2:1-7 |
| Grateful for Poverty | K. Arvine. | James 2:1-7 |
| Little Happiness with Rich Men | H. W. Beecher. | James 2:1-7 |
| Men Who Despise the Poor | E. West. | James 2:1-7 |
| Oppression | J. Trapp. | James 2:1-7 |
| Our Judgments of Others | A. L. Moore, M. A. | James 2:1-7 |
| Penury not the Deepest Poverty | J. O. Dykes, D. D. | James 2:1-7 |
| Poor Yet Good | J. Trapp. | James 2:1-7 |
| Poverty Gives Opportunity for Manifold Virtues | Jeremy Taylor, D. D. | James 2:1-7 |
| Professors, Yet Persecutors | Dean Plumptre. | James 2:1-7 |
| Respect of Persons | John Adam. | James 2:1-7 |
| Respect of Persons | R. Turnbull. | James 2:1-7 |
| Respect of Persons | C. Jerdan | James 2:1-7 |
| Respect of Persons in Church | Autobiography of Bp. Gobat. | James 2:1-7 |
| Respect of Persons in Religious Matters | T. Manton. | James 2:1-7 |
| Showing Off Dress in Church | C. F. Deems, D. D. | James 2:1-7 |
| Sins of the Rich Against the Poor | R. Turnbull. | James 2:1-7 |
| Taking Undue Advantage of Poverty | J. Trapp. | James 2:1-7 |
| The Poor Chosen by God | T. Manton. | James 2:1-7 |
| The Poor to be Treated Equitably | Jeremy Taylor, D. D. | James 2:1-7 |
| The Rich and the Poor | A. Plummer, D. D. | James 2:1-7 |
| The Sin of Neglecting the Poor | W. Cadman, M. A. | James 2:1-7 |
| To the Poor | G. Brooks. | James 2:1-7 |
| Tyranny of Money | J. Ruskin. | James 2:1-7 |
| Virtue the Way to Honour | T. Watson. | James 2:1-7 |
| Without Respect of Persons |   | James 2:1-7 |
| Wrong Social Distinctions | B. Jacobi. | James 2:1-7 |
| Your Synagogue | F. T. Bassett, M. A. | James 2:1-7 |
| Respect of Persons | T.F. Lockyer | James 2:1-13 |
| I am as Good as You V. You are as Good as I |   | James 2:8-9 |
| Love of Neighbour | Archdeacon Farrar. | James 2:8-9 |
| Love of Our Neighbour |   | James 2:8-9 |
| Love of Our Neighbour not to be Limited by Desert | Bishop Wilson. | James 2:8-9 |
| Love the Law of the Kingdom |   | James 2:8-9 |
| Love to the Neighbour | D. Jackson. | James 2:8-9 |
| My Neighbour | Bp. S. S. Harris. | James 2:8-9 |
| Neighbourly Consideration |   | James 2:8-9 |
| The Royal Law | R. Turnbull. | James 2:8-9 |
| The Royal Law | Dean Plumptre. | James 2:8-9 |
| The Suffering of Injustice | K. Arvine. | James 2:8-9 |
| Stumbling in One Point | C. Jerdan | James 2:8-11 |
| All Sin has One Root | A. Maclaren, D. D. | James 2:10-13 |
| Convicted as Transgressors | J. Trapp. | James 2:10-13 |
| Danger of a Single |   | James 2:10-13 |
| Every Command to be Observed | T. Manton. | James 2:10-13 |
| Guilty of All | B. Beddome, M. A. | James 2:10-13 |
| Guilty of All | H. Usher, D. D. | James 2:10-13 |
| Merciful Severity | Family Treasury | James 2:10-13 |
| No Little Sins | C. S. Robinson, D. D. | James 2:10-13 |
| Not Worse than Others |   | James 2:10-13 |
| Offending in One Point | John Adam. | James 2:10-13 |
| Offending in One Point | Tirinus. | James 2:10-13 |
| On Keeping God's Law | Edward Fowler, D. D. | James 2:10-13 |
| One Omission Injurious |   | James 2:10-13 |
| One Transgression of the Law |   | James 2:10-13 |
| Potential Transgression | E. H. Plumptre, D. D. | James 2:10-13 |
| Real Obedience in All Things | E. B. Pusey, D. D. | James 2:10-13 |
| Rejected for One Flaw | A. B. Grosart, LL. D. | James 2:10-13 |
| The Broken Bridge |   | James 2:10-13 |
| The Condemning Power of God's Law | H. Smith, M. A. | James 2:10-13 |
| The Defectiveness of Human Righteousness | W. H. Cooper. | James 2:10-13 |
| The Duty of an Uniform and Unreserved Obedience | J. Seed, M. A. | James 2:10-13 |
| The Entirety of God's Law | A. B. Grosart, LL. D. | James 2:10-13 |
| The Inviolability of the Whole Law | G. F. Deems, D. D. | James 2:10-13 |
| The Law of Philanthropy | U. R. Thomas. | James 2:10-13 |
| The Necessity of Universal Obedience | J. Rogers, D. D. | James 2:10-13 |
| The Necessity of Universal Obedience | J. Saurin. | James 2:10-13 |
| The Necessity of Unreserved Obedience | T. Gisborne, M. A. | James 2:10-13 |
| The Prejudices of Professing Christians | D. Welsh, D. D. | James 2:10-13 |
| Universal Obedience | J. B. Sumner, D. D. | James 2:10-13 |
| Amenable to the Law of Liberty | A. S. Patterson, D. D. | James 2:12 |
| Law and Liberty | G. H. Fowler. | James 2:12 |
| The Gospel a Law of Liberty | J. Abernethy, M. A. | James 2:12 |
| The Law of Liberty | R. A. Hallam, D. D. | James 2:12 |
| The Law of Liberty | Bp. Phillips Brooks. | James 2:12 |
| The Law of Liberty | Dean Gregory. | James 2:12 |
| Law and Judgment | C. Jerdan | James 2:12, 13 |
| Judged Without Mercy | F. T. Bussett, M. A. | James 2:13 |
| Judgment Without Mercy | John Adam. | James 2:13 |
| Mercy Finds Mercy | T. Manton. | James 2:13 |
| Mercy Rejoiceth Against Judgment | L. F. Dimmick, D. D. | James 2:13 |
| Mercy's Triumphs | J. Vaughan, M. A. | James 2:13 |
| Works the Test of Faith | C. Jerdan | James 2:14-19 |
| A Barren Faith | M. Luther. | James 2:14-26 |
| A Child of God Cannot Live an Ungodly Life | Sword and Trowel. | James 2:14-26 |
| A Dead Faith | J. H. Hambleton. | James 2:14-26 |
| A Living Faith | Abp. Sumner. | James 2:14-26 |
| A Working Faith Necessary | R. Erskine. | James 2:14-26 |
| Abraham the Friend of God | Essex Remembrancer | James 2:14-26 |
| Abraham the Friend of God | Thos. Coleman. | James 2:14-26 |
| Abraham the Friend of God | T. Kidd. | James 2:14-26 |
| Abraham the Friend of God |   | James 2:14-26 |
| Abraham's Faith and Privileges | T. Manton, D. D. | James 2:14-26 |
| Believing and Doing | S. Rutherford. | James 2:14-26 |
| Believing and Working |   | James 2:14-26 |
| Cheap Benevolence |   | James 2:14-26 |
| Conviction not Conversion |   | James 2:14-26 |
| Creed and Conduct | T. Bagley. | James 2:14-26 |
| Doctrine and Practice | Life of Archbishop Whately. | James 2:14-26 |
| Doing Better than Talking |   | James 2:14-26 |
| Empty-Headed | A. Plummer, . D. D. | James 2:14-26 |
| Faith | J. Parker, D. D. | James 2:14-26 |
| Faith a Nerve-Centre | Robt. Whyte, D. D. | James 2:14-26 |
| Faith and Emotion | J. Parker, D. D. | James 2:14-26 |
| Faith and its Manifestation | A. Maclaren, D. D. | James 2:14-26 |
| Faith and Works | T. Guthrie, D D. | James 2:14-26 |
| Faith and Works | Archbishop Whately. | James 2:14-26 |
| Faith and Works | Jeremy Taylor, D. D. | James 2:14-26 |
| Faith and Works | J. Trapp. | James 2:14-26 |
| Faith and Works | Bp. Beveridge. | James 2:14-26 |
| Faith and Works | A. Macdonald. | James 2:14-26 |
| Faith and Works | T.F. Lockyer | James 2:14-26 |
| Faith in Germ and Manifested | A. R. Fausset, M. A. | James 2:14-26 |
| Faith More than Creed | Dean Plumptre. | James 2:14-26 |
| Faith Perfected by Works | J. A. Bengel. | James 2:14-26 |
| Faith Shown by Works | The Church | James 2:14-26 |
| Faith Without Works is Dead | M. O'Sullivan, M. A. | James 2:14-26 |
| Friendship with God | S. Palmer. | James 2:14-26 |
| Friendship with God | D. Thomas. | James 2:14-26 |
| Friendship with God | C. P. Eyre, M. A. | James 2:14-26 |
| Good Works | J. Donne. | James 2:14-26 |
| Good Works | R. W. Lowrie. | James 2:14-26 |
| Good Works | D. Swing. | James 2:14-26 |
| Inconsideration and Ignorance | T. Manton. | James 2:14-26 |
| Justification | R. W. Evans, B. D. | James 2:14-26 |
| Justification | William Marsh, D. D. | James 2:14-26 |
| Justification by Works, and not by Faith Only | James Stark. | James 2:14-26 |
| Justification, According to St. Paul and St. James | W. Weldon. Champneys, M. A. | James 2:14-26 |
| Living .Faith a Working Faith | W. Arnot. | James 2:14-26 |
| Luther's View of Faith | Proctor's Gems of Thought | James 2:14-26 |
| Mouth Mercy | J. Trapp. | James 2:14-26 |
| On the Existence of a Deity | G. Clayton, M. A. | James 2:14-26 |
| One Faithful | F. Jackson. | James 2:14-26 |
| Opposite Foes | W. Arnot, D. D. | James 2:14-26 |
| Pretence of Liberalit | R. Turnbull. | James 2:14-26 |
| Productive Faith | G. Fisk, LL. B. | James 2:14-26 |
| Rahab | C. H. Spurgeon. | James 2:14-26 |
| Religion More than Intellectual Assent | A. Maclaren, D. D. | James 2:14-26 |
| Saving Faith | T. L. Cuyler, D. D. | James 2:14-26 |
| Scriptural Evidence of Saving Faith | C. Yale. | James 2:14-26 |
| St. James and St. Paul | A. R. Fausset, M. A. | James 2:14-26 |
| St. Paul and St. James on Faith | W. H. M. Aitken, M. A. | James 2:14-26 |
| The Connection Between Faith and Works | B. Beddome, M. A. | James 2:14-26 |
| The Faith of Christians Contrasted in its Results with the Faith of Fallen Spirits | D. Thomas. | James 2:14-26 |
| The Faith of Rahab | T. Manton. | James 2:14-26 |
| The Friend of God | G. Brooks. | James 2:14-26 |
| The Friend of God | C. H. Spurgeon. | James 2:14-26 |
| The Friendship of God | Homilist | James 2:14-26 |
| The Highest Friendship | Homilist | James 2:14-26 |
| The Test of Faith | J. Eyre, M. A. | James 2:14-26 |
| The Vital Efficacy of Faith | Theological Sketch-book | James 2:14-26 |
| Two Kinds of Faith -- the Spurious and the Genuine | John King, M. A. | James 2:14-26 |
| Vain Man | Dean Plumptre. | James 2:14-26 |
| What Doth it Profit | A. Plummer, D. D. | James 2:14-26 |
| Words and Deeds | J. Trapp. | James 2:14-26 |
| Words Useless | J. Trapp. | James 2:14-26 |
| Works the True Test of Faith | T. Hammond. | James 2:14-26 |
| Works Through Faith | H. A. James, B. D. | James 2:14-26 |
| Fruitless Faith | Charles Haddon Spurgeon | James 2:17 |
| Justification by Faith and Works | C. Jerdan | James 2:20-26 |
Book