Click to enlarge
THE LIFE OF JESUS AS COVERED
BY GOSPEL OF JOHN (shaded area)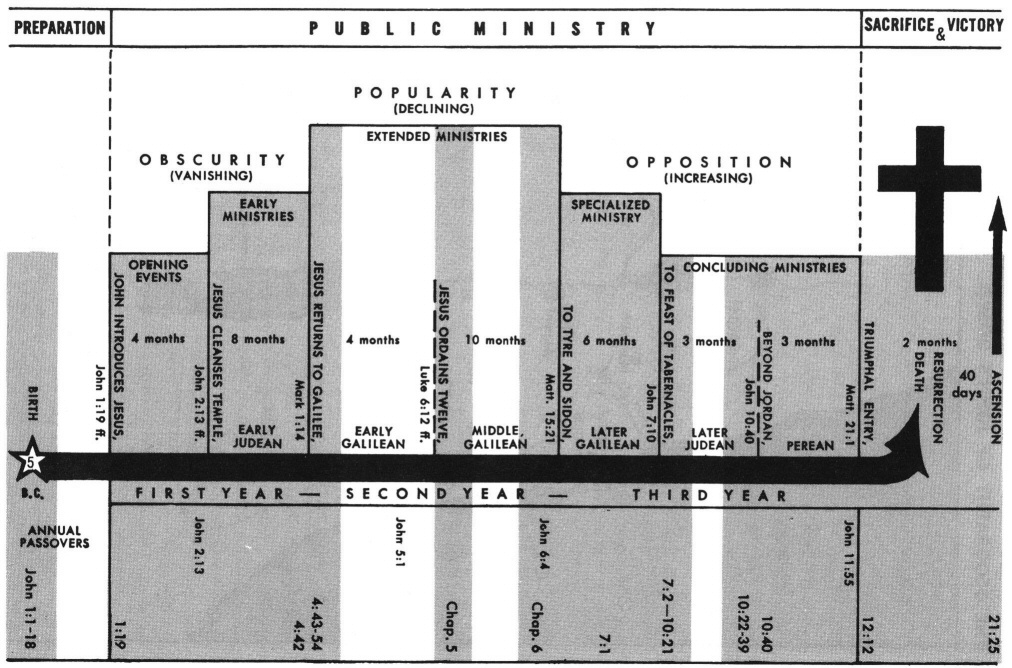 Click chart to enlarge
CHARLES ALEXANDER
HENRY ALFORD Greek Testament Critical Exegetical Commentary
Charles Haddon Spurgeon - Alford's Greek Testament "for the use of Theological Students and Ministers," is an invaluable aid to the critical study of the text of the New Testament. You will find in it the ripened results of a matured scholarship, the harvesting of a judgment, generally highly impartial, always worthy of respect, which has gleaned from the most important fields of Biblical research, both modern and ancient, at home and abroad. You will not look here for any spirituality of thought or tenderness of feeling; you will find the learned Dean does not forget to do full justice to his own views, and is quite able to express himself vigorously against his opponents; but for what it professes to be, it is an exceedingly able and successful work. The later issues are by far the most desirable, as the author has considerably revised the work in the fourth edition. What I have said of his Greek Testament applies equally to ALFORD'S NEW TESTAMENT FOR ENGLISH READERS,* which is also a standard work. (Lectures to my Students, Vol. 4: Commenting and Commentaries; Lectures Addressed to the students of the Pastors' College, Metropolitan Tabernacle)

Editorial Note: If you are not proficient in Greek, you will find this work considerably more useful than the following work by Alford, because in this volume he translates the Greek and Latin into English. While the "The Greek New Testament" is longer (e.g., English version of 1John = 66 pages compared to Greek version = 94 pages in part because the latter includes comments of more technical nature), the substance of the commentary is otherwise similar to that found in the "NT for English Readers".
WILLIAM BARCLAY Daily Study Bible Commentary
D Edmond Hiebert comments - (Barclay) Prints the author's own translation. A series of popular studies well adapted to the lay reader. Barclay is strongest in his study of word meanings. Contains good illustrative material. (An Introduction to the NT)

See caveats regarding Barclay's theology.
CHRIS BENFIELD Studies in Gospel of John
Each study is about 5 pages for a total of ~140 pages. These are well done. 
JOHANN A BENGEL (1877) Gospel of John Commentary
Note: If not proficient in Greek, see Critical English Testament below.
BRIAN BILL - SERMONS GOSPEL OF JOHN
KEN BOA Gospel of John Commentary
ALAN CARR Expositional Sermons
STEVEN COLE Expositional Sermons Gospel of John
Excellent Resource - functions like a verse by verse commentary. This materal was preached by Pastor Cole over almost 2 years! Each sermon is the equivalent of a 10 page Pdf which means that these sermons represent over 1000 pages of Biblically sound doctrine to aid your study, teaching and preaching of the Gospel of John!
CHARLES ELLICOTT
EASY ENGLISH
EXPOSITOR'S GREEK TESTAMENT Commentary on John Marcus Dods
EXPOSITOR'S BIBLE - Marcus Dods
FIRST PRESBYTERIAN CHURCH - sermon transcripts by Derek Thomas, David Strain, J Ligon Duncan, et al
A C GAEBELEIN
FREDERIC GODET
Rosscup - A good scholar is at his best here. He is exhaustive and excellent, though this work is old.  (Commentaries for Biblical Expositors)

D Edmond Hiebert - An older commentary by a noted conservative French scholar of the past century. Still outstanding as an evangelical interpretation of the fourth gospel, even if unaware of recent critical trends. (An Introduction to the NT)
GOSPEL COALITION -  sermons, most are MP3's, plue a study course and some articles
GOTQUESTIONS - Related to the Gospel of John
SCOTT HARRIS - Grace Bible Church - sermon transcripts on Gospel of John
NORMAN HARRISON
JAMES HASTINGS - Expositions in the Gospel of John
These are lengthy studies - usually >15 pages
DAVID HOLWICK  sermon transcripts - frequent illustrations
BARRY HORNER - transcript on the Gospel of John
ALVAH HOVEY Verse by verse and even phrase by phrase - well written and easy to understand.
D Edmond Hiebert review - Greek text.  A full verse-by-verse exposition of John by an accomplished conservative Baptist scholar of the past century. Still valuable for its unfolding of the meaning of the text.(An Introduction to the NT)

Logos.com - Articulating the distinctive characteristics of the Gospel of John, Alvah Hovey exegetically examines the text. Drawing upon notes from John A. Broadus for clarification in the margins, Hovey provides historical-critical method and inquiry into the text.
ICC NEW TESTAMENT COMMENTARY - J H BERNARD
D Edmond Hiebert review - Greek text. A 180-page introduction, in which the author rejects the traditional view of authorship, deals fully with the critical problems. The commentary is based on the author's rearrangement of the text of the gospel. Valuable for the discerning advanced student. (An Introduction to the NT)

Rosscup -   Bernard, J. A. Gospel According to St. John (International Critical Commentary). Edinburgh: T. & T. Clark, 1928. A liberal work, now outdated as to literature but long held in high esteem on critical and exegetical matters.
H A IRONSIDE
JOURNAL ARTICLES
HAMPTON KEATHLEY IV
STEVE KRELOFF
JOHN P LANGE
D Edmond Hiebert review - The mature product of a noted Plymouth Brethren scholar of the last century. A thoroughly conservative interpretation of the fourth gospel. (An Introduction to the NT)
JOHN LIGHTFOOT
D Edmond Hiebert review - Lightfoot's primary concern is to exegete the text of the gospel. The text is divided into large units which are followed by a careful exposition. There are also notes on the text dealing with textual, critical, and interpretative matters. The introduction, reworked by the editor, adds to the value of the volume. (An Introduction to the NT)
DAVID LEGGE - sermon transcripts on the Gospel of John
ALEXANDER MACLAREN Expository Sermons on John
John 2:1-11 Jesus the Joy-bringer
John 2:11 The First Miracle in Cana — The Water Made Wine
John 2:16 Christ Cleansing the Temple
John 2:19 The Destroyers and the Restorer
MASTER'S BIBLE CHURCH -  In depth (eg, 20 pages on Jn 7:37-39!) - 81 sermons - no new additions as of Oct, 2019
HENRY MAHAN - Sermon transcripts on John - distinct from commentary
HENRY MAHAN
HEINRICH MEYER - Critical and Exegetical Commentary on the New Testament
D Edmond Hiebert review -Greek text. A full verse-by-verse treatment of John's gospel. Rich in references to other works on the gospel current during the past century. Fully acquainted with critical scholarship up to the time of its production. (An Introduction to the NT)
JOHN R MILLER
MONERGISM
G CAMPBELL MORGAN The Gospel According to John
328 page commentary D Edmond Hiebert review - A series of expository sermons by this noted expository Bible teacher. Valuable for the many insights into this gospel.. (An Introduction to the NT)

Rosscup - This is another of Morgan's better works and is good on the English text, though expositionally not as helpful as Hendriksen, Laney, Phillips and Pink.  (Commentaries for Biblical Expositors)
ROBERT MORGAN
Robert Morgan's sermons are packed with numerous interesting illustrations, stories and hymn quotes. 
ROBERT NEIGHBOUR - Living Water Commentary
JAMES NISBET - Church Pulpit Commentary
NET BIBLE
PHIL NEWTON Sermon on the Gospel of John
JOSEPH PARKER The People's Bible Commentary on the Gospel of John
PETER PETT
ARTHUR PEAKE
Caveat - Although Pink's expositions are often excellent, one must be aware that he frequently invokes typological interpretations which are somewhat "strained" in the opinion of other expositors. Therefore while the works of A W Pink are listed, the reader should keep a Berean mindset (Acts 17:11+) when using them. See also the notes on Pink under "Commentaries" and in the discussion of Supernaturalistic interpretation. 
ALFRED PLUMMER - Cambridge Greek Testament for Schools and Colleges
D Edmond Hiebert review - Greek text. Valuable introduction espouses the conservative view regarding introductory problems. The notes on the Greek text set forth its meaning concisely. (An Introduction to the NT)

Cyril Barber - Plummer, Alfred. The Gospel According to St. John. Published a century ago, this study of the Greek text of John's gospel first appeared in the Cambridge Greek Testament.
ALFRED PLUMMER - Cambridge Bible for Schools and Colleges
POPULAR COMMENTARY ON THE NEW TESTAMENT - Gospel of John authored by William Milligan and William Moulton
MATTHEW POOLE
PREACHER'S HOMILETICAL COMMENTARY
RAY PRITCHARD
PULPIT COMMENTARY Including Homilies
REFORMATION STUDY BIBLE
RUSSELL SMITH
JOHNNY SANDERS
PHILLIP SCHAFF
SERMON BIBLE COMMENTARY
CHARLES SIMEON
John 2:11 The Water Turned Into Wine
John 2:17 Buyers and Sellers Driven Out
John 2:18, 19 The Resurrection, A Proof of Christ's Messiahship
CHUCK SMITH Calvary Chapel Gospel of John
Chuck Smith's Commentary
Sermon Notes on John
JAMES SMITH HANDFULS OF PURPOSE Gospel of John
The following topics are discussed on Handfuls of Purpose (click)
THE FIRST SIGN. John 2:1-11.
CLEANSING THE TEMPLE. John 2:13-19.
RUSSELL SMITH
C. H. SPURGEON Sermons on John 
CLAUDE STAUFFER - Verse by verse studies
John 2 The First Sign – A Wedding and Water Turned to Wine
JOHN STEVENSON - sermon transcripts on the Gospel of John
JOSEPH SUTCLIFFE
RON TEED The Gospel of John
THIRD MILLENNIUM STUDY NOTES - JOHN
TIM TEMPLE Sermons on John
JOHN TRAPP
BOB UTLEY
B F WESTCOTT
D Edmond Hiebert review - One of the classical commentaries on John. Still richly rewarding in spite of its age. An admirable presentation of the conservative position. (An Introduction to the NT)

James Rosscup - This is a reprint of a 1908 work which used to be generally regarded as the classic commentary on John. Westcott, born in England in 1825, studied at Dublin and was called "in learning a second Origen, in piety a second Augustine." He teamed with F. J. A. Hort to labor 28 years in producing the famous Greek New Testament. He was conservative and Calvinistic. His knowledge of Greek was extensive, and he uses Greek and Latin in his comments. This plus his involved thinking at times makes it rather difficult for many to follow him. This is a good work to consult in any thorough study of John, and the student who wants to build his library with the best will not pass it by. (Commentaries for Biblical Expositors)
DANIEL WHEDON
STEVE ZEISLER GOSPEL OF JOHN
SERMONS BY VERSE - older sermons
| | | |
| --- | --- | --- |
| And If Any Man Sin, We have an Advocate with the Father | Hugh Binning | John 2:1 |
| And If Any Man Sin, We have an Advocate with the Father | Hugh Binning | John 2:1 |
| Christ Our Advocate | Charles G. Finney | John 2:1 |
| Jesus the Joy-Bringer | Alexander Maclaren | John 2:1 |
| We have an Advocate with the Father, Jesus Christ the Righteous | Hugh Binning | John 2:1 |
| Christ and Society | Dean Vaughan. | John 2:1-11 |
| Christ At a Feast | Bp. Ryle. | John 2:1-11 |
| Christian Festivity | Harry Jones, M. A., J. Baldwin Brown, B. A. | John 2:1-11 |
| Eastern Marriage Customs | H. Macmillan, LL. D. | John 2:1-11 |
| General Analysis and Illustrations of the Cana Miracle | Jonathan Edwards. | John 2:1-11 |
| Human Feasts | J. P. Lange, D. D. | John 2:1-11 |
| Jesus and Nature | J.R. Thomson | John 2:1-11 |
| Jesus and Social Life | J.R. Thomson | John 2:1-11 |
| Jesus and the Marriage State | J.R. Thomson | John 2:1-11 |
| Lessons of the Incident | Family Churchman | John 2:1-11 |
| Marks of the Grace of Christ | Harless. | John 2:1-11 |
| Marriage Happy Where Christ is Acknowledged | Life of Philip Henry. | John 2:1-11 |
| Religion for Joy as Well as for Sorrow | J. A. Seiss, D. D. | John 2:1-11 |
| The Blessing of Marriage | J G. Hare | John 2:1-11 |
| The Marriage Feast At Cana a Pledge of the Marriage Supper of the Lamb | J.R. Thomson | John 2:1-11 |
| The Miracle At Cana | The miracles of the Lord Jesus. | John 2:1-11 |
| The Miracle At Cana | H. J. W. Buxton, M. A. | John 2:1-11 |
| The Miracle At Cana | W. G. Blaikie, D. D. | John 2:1-11 |
| The Miracle At Cana | A. Beith, D. D. | John 2:1-11 |
| The Miracle At Cana | Sermons by the Monday Club | John 2:1-11 |
| The Miracles of Nature and the Miracles of Christ |   | John 2:1-11 |
| The Popularity of This Cana Miracle | H. Macmillan, LL. D. | John 2:1-11 |
| The Relaxation of Jesus Christ | J. W. Burn. | John 2:1-11 |
| The Transformation of the Mean | J. A. Seiss, D. D. | John 2:1-11 |
| The Water, the Wine, and the Wedding | C. S. Robinson, D. D. | John 2:1-11 |
| The Wedding Feas | H. Macmillan, LL. D. | John 2:1-11 |
| The Wedding Feast | T. Whitelaw, D. D. | John 2:1-11 |
| God Honours Our Leaning Upon Him | C. H. Spurgeon. | John 2:3 |
| They have no Wine | J.R. Thomson | John 2:3 |
| Trouble Carried to Christ |   | John 2:3 |
| What Kind of Wine was It | H. Macmillan, LL. D. | John 2:3 |
| Christ's Hour | H. Macmillan, LL. D. | John 2:3-4 |
| Christ's Treatment of His Mother | A. Tholuck, D. D., Bp. Wordsworth., Herberger. | John 2:3-4 |
| Mariolatry | H. Macmillan, LL. D. | John 2:3-4 |
| Our Hour | Canon Knox-Little. | John 2:3-4 |
| Our Hour | W. Braden. | John 2:3-4 |
| The Anxious Mother | T. Whitelaw, D. D. | John 2:3-4 |
| The Reasonableness of This Incident | F. D. Maurice, M. A. | John 2:3-4 |
| The Supreme Hour | W. Braden. | John 2:3-4 |
| Mine Hour is not Yet Come | J.R. Thomson | John 2:4 |
| A Word for Everybody | Dr. Jarbo. | John 2:5 |
| Christ's Orders | Pulpit Treasury | John 2:5 |
| Implicit Obedience | C. H. Spurgeon. | John 2:5 |
| Implicit Obedience to Christ | C. New. | John 2:5 |
| Instant Obedience | Bp. Huntington. | John 2:5 |
| Obedience Must be Cheerful | T. Watson. | John 2:5 |
| Obedience to Christ | P. Robertson. | John 2:5 |
| Obedience to Christ | J. Parker, D. D. | John 2:5 |
| Perfect Obedience | T. Watson. | John 2:5 |
| Prompt Obedience | Pulpit Treasury | John 2:5 |
| Submission Without Reasoning |   | John 2:5 |
| What Does He Say | Dr. Jarbo. | John 2:5 |
| Whatsoever He Saith unto You, Do It | J.R. Thomson | John 2:5 |
| At What Precise Point the Wonderful Transubstantiation Took Place | H. Macmillan, LL. D. | John 2:6-9 |
| Filling the Water-Pots | H. Macmillan, LL. D. | John 2:6-9 |
| Human Effort She Necessary Condition of Divine Help | J. S. Exell, M. A. | John 2:6-9 |
| Surplus Wine | Bp. Wordsworth. | John 2:6-9 |
| Tasted | Bp. Ryle. | John 2:6-9 |
| The Governor of the Feast | H. Macmillan, LL. D. | John 2:6-9 |
| The Governor of the Feast | H. W. Watkins, D. D. | John 2:6-9 |
| The Naturalness of the Miracle | Bp. Alexander. | John 2:6-9 |
| The Secret Nature of Our Lord's Work | H. Macmillan, LL. D. | John 2:6-9 |
| The Servants Knew | H. Macmillan, LL. D. | John 2:6-9 |
| The Significance of the Water-Pots | H. Macmillan, LL. D. | John 2:6-9 |
| The Water-Pots | H. Macmillan, LL. D. | John 2:6-9 |
| The Water-Pots in the Way of Christ | C. H. Spurgeon. | John 2:6-9 |
| Why the Water-Pots Were Filled | H. Macmillan, LL. D. | John 2:6-9 |
| The Waterpots At Cana | Charles Haddon Spurgeon | John 2:7 |
| Satan's Banquet | Charles Haddon Spurgeon | John 2:9 |
| Christ's Method and the World's | H. Macmillan, LL. D. | John 2:10 |
| Five Characteristics of Christ's Working | J. W. Burn. | John 2:10 |
| Infinite Resources | Joseph Parker, D. D. | John 2:10 |
| Satan's Banquet and Christ's | C. H. Spurgeon. | John 2:10 |
| Taste Educated | H. Macmillan, LL. D. | John 2:10 |
| The Best Last | Jeremy Taylor. | John 2:10 |
| The Feast of the Lord | C. H. Spurgeon. | John 2:10 |
| Thou Hast Kept the Good Wine Until Now | J.R. Thomson | John 2:10 |
| Christ At a Wedding | J. C. Jones. | John 2:11 |
| Christ's First Miracle | H. Macmillan, LL. D. | John 2:11 |
| Grace and Glory | Charles Kingsley | John 2:11 |
| His Disciples Believed on Him | J.R. Thomson | John 2:11 |
| Jesus... Manifested Forth His Glory | J.R. Thomson | John 2:11 |
| Miracles as Signs | W. M. Taylor, D. D. | John 2:11 |
| The Beginning of Miracles | Lightfoot., Bishop Westcott. | John 2:11 |
| The Beginning of Miracles | H. Macmillan, D. D. | John 2:11 |
| The Beginning of Miracles | D. Young | John 2:11 |
| The Beginning of Signs | E. L. Hull, B. A. | John 2:11 |
| The First Miracle | F. W. P. Greenwood, D. D. | John 2:11 |
| The First Miracle an Epiphany of Christ | Canon Liddon. | John 2:11 |
| The First Miracle in Cana -- the Water Made Wine | Alexander Maclaren | John 2:11 |
| The First Miracle of Christ the Sneaking Expression of His Life and Work | J. P. Lange. | John 2:11 |
| The Glory of Conquest | G. T. Purves. | John 2:11 |
| The Glory of the Divine Son | F. W. Robertson, M. A. | John 2:11 |
| The Glory of the Virgin Mother | F. W. Robertson, M. A. | John 2:11 |
| The Lesson of Epiphany | Bp. Magee. | John 2:11 |
| The Manifestation of Christ's Glory | Bishop Barry. | John 2:11 |
| The Miracle as a Sign | G. T. Purves. | John 2:11 |
| The Miracle as a Sign | J. Cynddylan Jones, D. D. | John 2:11 |
| The Miracle of Cana | B. Thomas | John 2:11 |
| The Miracles of Christ | W. H. King. | John 2:11 |
| The Miracles of Nature | J. C. Jones, D. D. | John 2:11 |
| The Peculiar Glory of Christ | J. Fawcett, M. A. | John 2:11 |
| The Season of Epiphany | John Henry Newman | John 2:11 |
| The Water Made Wine | J. Laidlaw, D. D. | John 2:11 |
| This Beginning of His Signs | J.R. Thomson | John 2:11 |
| Christ At Capernaum | D. Dyke. | John 2:12 |
| Christ At Jerusalem | Bp. Ryle. | John 2:13-17 |
| Christ's First Passover | A. Beith, D. D. | John 2:13-17 |
| Christ's Principles of Action | Schleiermacher. | John 2:13-17 |
| Genuine Zeal | B. Thomas | John 2:13-17 |
| Money Changers | Bp. Wordsworth. | John 2:13-17 |
| The Desecration of the Living Temple | W. Chalmers, M. A. | John 2:13-17 |
| The Profaned Temple | C. A. Goodhart, M. A. | John 2:13-17 |
| The Purging of the Temple | T. Whitelaw, M. A. | John 2:13-17 |
| The Temple Market | J. E. Flower, M. A. | John 2:13-17 |
| Transition | Bp. Westcott. | John 2:13-17 |
| The Honour of the Father's House | D. Young | John 2:13-22 |
| The Vindication of a Desecrated Temple | J.R. Thomson | John 2:14-17 |
| Christ Cleansing the Temple | Alexander Maclaren | John 2:16 |
| Christian Zeal Necessary | Chronicle of London Missionary Society. | John 2:17 |
| Christ's Zeal | H. Melvill. | John 2:17 |
| Christ's Zeal |   | John 2:17 |
| Commendable Zeal |   | John 2:17 |
| Consuming Zeal | Bp. Ryle. | John 2:17 |
| The Zeal of Christ | C. H. Spurgeon. | John 2:17 |
| The Zeal of Our Lord to be Imitated |   | John 2:17 |
| Zealous, But not Furious | Bp. Hall. | John 2:17 |
| Christ and the Rulers | A. Beith, D. D. | John 2:18-22 |
| Christ's Human Body the Temple of God | G. Bradley, M. A. | John 2:18-22 |
| Christ's Sign | Bp. Andrewes. | John 2:18-22 |
| Christ's Sign | Bp. Westcott. | John 2:18-22 |
| The Crowning Act | Miracles of our Lord. | John 2:18-22 |
| The Mysterious Sign | T. Whitelaw, D. D. | John 2:18-22 |
| The Temple of Christ's Body | Donald Fraser, D. D. | John 2:18-22 |
| The Temple of His Body | J. Styles, D. D. | John 2:18-22 |
| The Three Temples of the One God | U. R. Thomas. | John 2:18-22 |
| The Destroyers and the Restorer | Alexander Maclaren | John 2:19 |
| The First Jerusalem Believers | T. Whitelaw, D. D. | John 2:23-25 |
| Christ's Distrust of Man | A. F. Muir, M. A. | John 2:24-25 |
| Christ's Knowledge of Man | Calvin. | John 2:24-25 |
| Christ's Knowledge of Man | T. L. Cuyler, D. D. | John 2:24-25 |
| Christ's Knowledge of Man | W. Arnot, D. D. | John 2:24-25 |
| Inward Knowledge of Man Necessary for Good Authorship |   | John 2:24-25 |
| Superficial Faith | W. Steele, M. A. | John 2:24-25 |
| The Miracles At the Passover | Miracles of our Lord. | John 2:24-25 |
| The Omniscience of Christ | G. T. Coster. | John 2:24-25 |
| Jesus Knowing Man | D. Young | John 2:25 |
Book