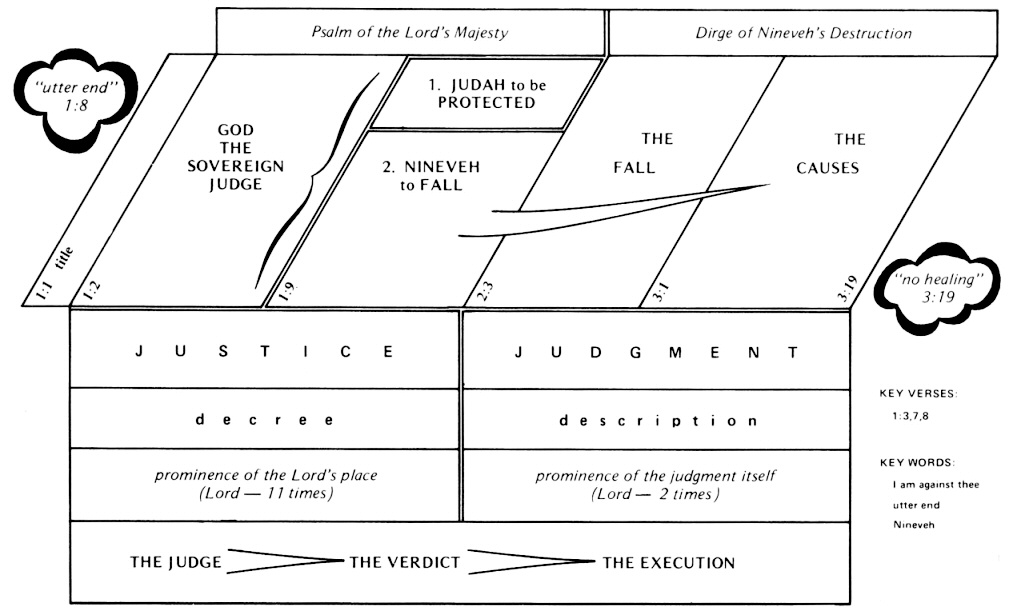 Click chart to enlarge
Chart from recommended resource Jensen's Survey of the OT - used by permission
Nahum Chart from Charles Swindoll
Another Nahum Chart
NAHUM
Character & Power
of God
The Judgment
of God
Psalm of the Lord's Majesty
Dirge of Nineveh's Destruction
Theological
Prophetical

GOD THE
SOVEREIGN JUDGE

Nah 1:1-8

1. Judah to be
Protected

THE

FALL

Nah 2:3-13

THE

CAUSES

Nah 3:1-19

2. Nineveh to
Fall
Nah 1:9-2:2

Destruction of
Nineveh Decreed
Nah 1:1-15

General Principles of
Divine Judgment
Nah 1:1-8
Destruction of Nineveh
Deliverance of Judah
Nah 1:9-15
Description of the Destruction of Nineveh
Nah 2:3-13
Nineveh's
Intractable
Sins
Nah 3:1-7
Nineveh's
Inevitable
Doom
Nah 3:12-19
Verdict of
Vengeance
Nah 1:1-15
Vision of
Vengeance
Nah 2:1-13
Vindication of
Vengeance
Nah 3:1-19
Decree
Description
JUSTICE
JUDGMENT
The majestic character of our sovereign God
qualifies Him to be the Judge over all
Nineveh's willful and heartless decline
justifies the judgment of God

Key Verses: Nah 1:3,7-8, Nah 3:1, 5-7

Key Words: See related discussion - key words and marking key words

"I am against you" (Nah 2:13, 3:5),
"I will" (Nah 1:12, 13, 14, 2:13, 3:5, 6),
Nineveh (Nah 1:1, 2:8, 3:7, not counting the synonyms referring to Nineveh)
JONAH & NINEVEH
COMPARED

JONAH
NAHUM
The Mercy of God
The Judgment of God
circa 760BC
circa 660BC
Repentance of Nineveh
Rebellion of Nineveh
Emphasis on the Prophet
Emphasis on the Prophecy
Disobedient Prophet
Obedient Prophet
Obedient Nation
Disobedient Nation
Deliverance from Water
Destruction by Water
The Great Fish
The Great Fulfillment
Source: Talk Thru the Bible - Bruce Wilkinson and Kenneth Boa - Recommended
John Phillips has a wonderful alliterative outline of Nahum..

Nahum: Goodbye, Nineveh

Nineveh's Doom Declared (Nahum 1:1-15)

Lord's Patience (Nahum 1:1-3a)

Lord's Power (Nahum 1:3-5)

Lord's Presence (Nahum 1:6-8)

Lord's Purpose (Nahum 1:9-14)

Lord's Protection (Nahum 1:15)

Nineveh's Doom Described (Nahum 2:1-13)

Siege of Nineveh (Nahum 2:1-8)

Sack of Nineveh (Nahum 2:9-13)

Nineveh's Doom Deserved (Nahum 3:1-19)

Fierceness of Nineveh (Nahum 3:1-3)

Filthiness of Nineveh (Nahum 3:4-7)

Folly of Nineveh (Nahum 3:8-10)

Fear of Nineveh (Nahum 3:11-13)

Fall of Nineveh (Nahum 3:14-19)
---
The Minor Prophets and their Message
Hosea - The Lord loves Israel despite her sin. 755-15 B.C.
Joel - Judgment precedes Israel's future spiritual revival. 835–796* B.C.
Amos - God is just and must judge sin. 765-50 B.C.
Obadiah - Sure retribution must overtake merciless pride. 848* B.C.
Jonah - Divine grace is universal in its sweep. 780-50 B.C.
Micah - Bethlehem-born Messiah will be mankind's Deliverer. 740-690 B.C.
Nahum - Doom is to descend on wicked Nineveh. 630-12 B.C.
Habakkuk - Justification by faith is God's way of salvation. 625 B.C. or earlier
Zephaniah - The Day of the Lord must precede kingdom blessing. 625-10 B.C.
Haggai - The Lord's Temple and interests deserve top priority. 520 B.C.
Zechariah - The Lord will remember His people Israel. 520-15 B.C.; Zech 9–14 after 500 B.C.
Malachi - Let the wicked be warned by the certainty of judgment. 433-400 B.C.
All dates are approximate. *The text does not specifically date these prophets. As a result differences of opinion exist concerning the time of their ministries. (from The New Unger's Bible Handbook)
---
Christ in All the Scriptures (A M Hodgkin) - The destruction of Nineveh is the one burden of Nahum. The prophet's name means Comfort, and his word of comfort is for Judah, "The Lord is good, a stronghold in the day of trouble, and He knoweth them that trust in Him" (Nahum 1:7). "Behold upon the mountains the feet of him that bringeth good tidings and publisheth peace," points forward to the proclamation of the good tidings of the Prince of Peace.
Nineveh. The rest of the prophecy is wholly concerned with Nineveh. The dwelling-place of the prophet is uncertain. It may have been Capernaum, "the city of Nahum." The time in which he prophesied, from internal evidence, seems to have been between the fall of No-Amon (Thebes) in Upper Egypt, 663 B.C., and the fall of Nineveh, 606 B.C., for he speaks of the one as past (Nahum 3:8–10) and the other as future (Nahum 1:8, 14).
"The prophecy of Nahum is both the complement and the counterpart of the book of Jonah" (Dr. Pussy). God revealed His Name to Moses as showing His two-fold character. "The Lord, the Lord God, merciful and gracious, long-suffering and forgiving iniquity, and that will by no means clear the guilty." Jonah dwells on the first side of God's character (Jonah 4:2), Nahum brings out the second. "A jealous God and Avenger is the Lord.... The Lord is slow to anger and great in power, and will not at all acquit the wicked." God had shown His long suffering to the great city. It had repented at the preaching of Jonah. But though multitudes of individuals were, no doubt, truly turned to the Lord, its repentance as a nation was short-lived, and we find it guilty again of the very sins from which it had repented, violence and insatiable cruelty (Nahum 2:11–12). But beyond all this, Nineveh seems to have been guilty of an open defiance of the living God, as shown in the blasphemous attitude of Sennacherib, and in the allusions of Nahum 1:9, 11.
The doom of the city was delayed two hundred years, but it fell at last, and Nahum's prophecy was one of unconditional and final destruction. With an over-running flood would God make a full end of her; her name should be utterly cut off, and He would dig her grave. The mustering of the armies round Nineveh, the marshalling of the forces within the city, are described with graphic eloquence.
The destruction of Nineveh was complete. It occurred almost at the zenith of her power. According to Nahum's prophecy, it came true that the Tigris assisted the attacking army of the Medes and Babylonians in its overthrow (Nahum 2:6), and it was partly destroyed by fire (Nahum 3:13, 15). So deep and so effectually did God dig its grave that every trace of its existence disappeared for ages, and its site was not known. But its excavations since 1841 have been confirming the truth of God's Word.
The City of Thebes. Among other revelations, we have the actual fall of the city of Thebes, No-Amon, alluded to by Nahum, described on the monuments in the words of Assur-banipal, the Assyrian king, who was its conqueror. He tells us how completely he took the city, carrying off its gold and silver and precious stones, and two lofty obelisks, covered with beautiful sculptures, weighing 2500 talents (over 90 tons), which he raised from their place and transported to Assyria, with a great and countless booty. (Christ in All the Scripture)
A BEAUTIFUL FORESHADOWING OF JESUS OUR PEACE...
Behold, on the mountains the feet of Him
Who brings good news (Lxx = euaggelizo),
Who announces peace!
Nahum 1:15
(cf Isaiah 52:7)
(Quoted in Romans 10:15-note)
Highly Recommended - Numerous quotes from excellent expositors and commentaries.
Excerpt -
DEVOTIONAL QUESTIONS:
1) What attributes does the Lord possess and manifest (like jealous and avenging and wrathful) that we as believers do not possess . . . even though we are growing into Christlikeness?
2) How am I doing at loving my enemies and praying for them?
3) In what ways do people tend to minimize or underestimate the wrath of God?
4) Am I secure in taking refuge in the Lord as my stronghold? Am I eagerly awaiting the return of the Lord and the good news of His triumph over all enemies in the last day?

QUOTES FOR REFLECTION: (Ed: the quotes below are just a sample of Paul Apple's well selected quotes from other respected resources)

Stedman: Now the attribute which the prophet Nahum was given to reveal was God's anger. There is no doctrine quite as repugnant to people today as that of the anger of God. This is one doctrine which many would like to forget. There are some who picture God as a kindly gentleman with a merry twinkle in his eye who cannot bear the thought of punishing anyone or judging anyone. Nevertheless, it was Nahum's task to unfold the anger of God and in this prophecy the God of Sinai flashes forth in awful fury, a God before whom man must stand silent and trembling. You cannot read this prophecy without sensing something of the solemnity of this tremendous picture of God. . . The book of Nahum comes some one hundred years after the prophecy of Jonah. During this time, Nineveh had repented of its repentance, and had begun to do the same things again that called forth the threat of judgment through the prophet Jonah. The prophet Nahum was sent to minister to the southern kingdom of Judah at the time of the invasion of the Assyrian king Sennacherib. King Sennacherib who came from the capital city of Syria, Nineveh, invaded Israel at the time of the prophet Isaiah, and it was from this great city in the north that the armies of the Syrians frequently came against the land of Judah and of Israel. But God moved to protect his people and met and destroyed these enemies of the king overnight. Nahum means "consolation," or "comfort," and as the Assyrian army was spread out around the city of Jerusalem, the prophet was given a message of consolation. You can imagine how consoling it was when the armies were right there with their terrible reputation as ruthless warriors, burning and destroying, raping and pillaging, killing the children and sparing no one, to have this prophet stand up in Jerusalem and declare to them that God would destroy Nineveh, the capital city of their enemies. . . Jealousy, that burning zeal for a cause felt so deeply in the heart. This is not the selfish, petty jealousy we exhibit sometimes, but God's overwhelming concern for what he loves. His vengeance, or retribution; his wrath, that towering anger, the blackness of it, the darkness of it, is described here. The word for anger is the word that literally means "heavy breathing," or "hot breathing." And the word for indignation literally means "foaming at the mouth"! You can see how picturesque these words are. The word fierceness in Hebrew literally means "heat," and the word fury means "burning." And all this to describe a God who is terrible in his wrath, moved at last to the point of pouring out his wrath upon that which has awakened it. God in a white-hot passion, burning with a terrible, blistering rage.

Boice: There are three reasons why God was going to destroy Nineveh, according to this prophecy. Two have already been suggested: first, God is a jealous God (He will have no other gods before Him, Exod. 20:3-6), and second, He is an avenging God (the God of all the earth will do right, Gen. 18:25). The prophet gives another reason in the second half of chapter 1 (vv. 7-15); God's goodness to His people. They have been abused by Nineveh. Now God is going to rise up and make an end to the oppressor.

Constable: However, Yahweh was not out of control in His anger. His anger was slow in coming to the boiling point (cf. Exod. 34:6; Num. 14:18). He waited as long as possible to pour out His judgment (cf. 2 Pet. 3:9).21 This accounts for His allowing the Assyrians to abuse the Israelites for so long. Patience is sometimes a sign of weakness, but not so with the Lord. He is also great in power, which makes the prospect of His releasing His anger terrifying (cf. Deut. 8:17-18). He will not pass over any guilty person and leave him or her unpunished but will bring them to judgment eventually. Whirlwinds and storms manifest this angry aspect of God's character and His power (cf. Job 9:17). He is so great that the clouds are for Him what the dust onthe ground is for humans (cf. 2 Sam. 22:10; Ps. 18:9). The great clouds overhead are like dust to the great God who resides in the heavens.
HINT: Click here to Scroll Bible text synchronized with Constable's notes. Very useful feature!
Caveat: Be an Acts 17:11 Berean (note): Not always literal, especially on prophetic passages (see example)
James Rosscup writes "This 1858 work supplies much help on matters of the text, word meaning, resolving some problems, etc. Some have found it one of the most contributive sources in getting at what a text means." (Commentaries for Biblical Expositors: An Annotated Bibliography of Selected Works)
Be cautious (Acts 17:11-note): Does not always interpret the Scripture literally and sometimes replaces Israel with the Church (note)
(Click example of his interpretative approach which is often allegorical) (Or another example)
Excerpt on Nahum 1:10 - They are as thorns that entangle one another, and are folded together. They make one another worse, and more inveterate against God and his Israel, harden one another's hearts, and strengthen one another's hands, in their impiety; and therefore God will do with them as the husbandman does with a bush of thorns when he cannot part them: he puts them all into the fire together. (2.) They are as drunken men, intoxicated with pride and rage; and such as they shall be irrecoverably overthrown and destroyed. They shall be as drunkards, besotted to their own ruin, and shall stumble and fall, and make themselves a reproach, and be justly laughed at. (3.) They shall be devoured as stubble fully dry, which is irresistibly and irrecoverably consumed by the flame. The judgments of God are as devouring fire to those that make themselves as stubble to them
Best "devotional flavor" commentary on the Minor Prophets
Note: JFB is one of the more literal, conservative older commentaries (prior to 1900). Sample excerpt of eschatological (prophetic, apocalyptic) passage Zechariah 14:2 - "gather all nations, etc. — The prophecy seems literal (compare Joel 3:2). If Antichrist be the leader of the nations, it seems inconsistent with the statement that he will at this time be sitting in the temple as God at Jerusalem (2Thessalonians 2:4); thus Antichrist outside would be made to besiege Antichrist within the city. But difficulties do not set aside revelations: the event will clear up seeming difficulties (Ed: Interesting statement!). Compare the complicated movements, Daniel 11:1-45-note." Comment on Zech 14:11 - "no more utter destruction — (Jer 31:40). Literally, "no more curse" (Rev 22:3-note; compare Malachi 4:6-note), for there will be no more sin. Temporal blessings and spiritual prosperity shall go together in the millennium: long life (Isaiah 65:20-22), peace (Isaiah 2:4-note), honor (Isaiah 60:14-16), righteous government (Isaiah 54:14; Isaiah 60:18). (Zechariah 14 - Commentary Critical and Explanatory on the Whole Bible)
UNABRIDGED VERSION OF Jamieson, Fausset, Brown
See caveat regarding this commentary
Rosscup - This is the best older, overall treatment of a critical nature on the Old Testament Hebrew text verse by verse and is a good standard work to buy. The student can buy parts or the whole of this series. Sometimes it is evangelical, at other times liberal ideas enter...In prophecy it is amillennial. (Commentaries for Biblical Expositors: An Annotated Bibliography of Selected Works).
The Theological Journal Library on galaxie.com - An annual $50 or monthly $5 subscription (click here) is required to view the entire article but will give you access to literally thousands of conservative articles. Click the following links to search by topic, author, or bible reference.
For example...
W J BEECHER
Walter Kaiser-Preacher's Commentary (Micah through Malachi) - conservative, literal, futuristic- excellent for preaching - Rosscup on Kaiser: A careful evangelical gives contemporary outlines usable to pastors. He has occasional illustrations and serious explanation of the text. He is premillennial, as on Zechariah 14, and packs in much expositional help, relating it strategically to life. (Commentaries for Biblical Expositors: An Annotated Bibliography of Selected Works)
James Montgomery Boice - conservative, literal, futuristic - excellent for preaching Rosscup comments: The large, two-column pages contain much good material on the relevance of the words for then and for now, dealing with such topics as love, repentance, and sincerity (Hosea 6). A prolonged contemplation of these pages and an application of their principles will produce substantial Christian growth. The author could improve the work by being more definite sometimes in specifying in what framework God will bless Israel in the future (e.g., Hosea 14). Vagueness such as in Joel 2:1-11, where he says the invader is neither locusts nor a human army, is a drawback. Wordiness and wandering in his discussions is another shortcoming, as in using Joel 2:28 to take off into a long discussion of clericalism. He finds fulfillment of Joel 2:28 at Pentecost, yet it would help to point out some aspects that were (Rosscup)
Micah, Nahum, Habakkuk, Zephaniah- Exegetical and Theological Exposition-New American Commentary- Ken Barker - conservative, literal, futuristic
Exploring the Minor Prophets John Phillips - Rosscup on John Phillips - A respected popular expositor on a number of biblical books here has two introductory chapters, then a chapter of about 20–30 pp. on each prophet (50 on Zech.). Several charts aid readers, and a detailed outline runs before each exposition. The exposition is in general surveys of sections, at times taking a view on a main problem. In Hosea 1:2, he feels that God had Hosea marry an immoral woman but Phillips offers no help on the moral issue. Phillips is premillennial, seeing Israel's future kingdom blessings as in the Millennium after Christ's Second Coming (Hosea 3:5; Joel 3:14ff; Amos 9:15; Zeph. 3:9ff; Zech 2:10–13; 14:1–21). In Mal. 2:15 he has "one" refer to God making husband and wife into one, and in Mal 4:5 he thinks the Elijah will be fulfilled in one of the two witnesses in Rev 11:3-13-note. The work helps on broad coverage, and is quite readable for preachers, church teachers, students and lay people wanting a general devotional sweep. (Ibid)
Zephaniah (Nahum, Habakkuk) Commentary - Richard Patterson - essentially verse by verse (free online!) - Recommended - Rosscup says "This is an outstanding conservative, detailed work backed by scholarly awareness and expertise. Comments reflect fine-tuned ability in the Hebrew text, philology, exegesis, history, and literature. Patterson has premillennial convictions in the final verses of Zephaniah. He shows the shaky reasoning of critical arguments against the unity of Nahum, and defends unity of Nahum and Habakkuk. In a long Excursus he defends New Testament uses of Habakkuk 2:4-note (pp. 21–23), But some will doubt that he captures the significance of the picture of a hind in Habakkuk 3:19-note when he sees only swiftness ascending and gracefully gliding (262–63). But in most details he is excellent, and the work is well worth the cost and time. (Commentaries for Biblical Expositors: An Annotated Bibliography of Selected Works)
Dr Gene Getz - brief (5-15') pithy, practical videos by which present powerful principles for life application! Instructions.
Nahum 1:1-6 God's Wrath: We must never take God's patience for granted, assuming He will not judge sinful humanity simply because it has not happened.

Nahum 1:7-3:19 God's Patience: When tempted to believe God is cruel and lacking in compassion, we should review His extraordinary patience and continual communication, both with His people Israel and with the Gentile nations.
Excerpt: Historical and Theological Themes - Nahum forms a sequel to the book of Jonah, who prophesied over a century earlier. Jonah recounts the remission of God's promised judgment toward Nineveh (Nineveh - Wikipedia), while Nahum depicts the later execution of God's judgment. Nineveh was proud of her invulnerable city, with her walls reaching 100 ft. high and with a moat 150 ft. wide and 60 ft. deep; but Nahum established the fact that the sovereign God (Nah 1:2–5) would bring vengeance upon those who violated His law (Nah 1:8,14; 3:5–7). The same God had a retributive judgment against evil which is also redemptive, bestowing His loving kindnesses upon the faithful (cf. Nah 1:7,12,13,15; 2:2). The prophecy brought comfort to Judah and all who feared the cruel Assyrians. Nahum said Nineveh would end "with an overflowing flood" (Nah 1:8); and it happened when the Tigris River overflowed to destroy enough of the walls to let the Babylonians through. Nahum also predicted that the city would be hidden (Nah 3:11). After its destruction in 612 B.C., the site was not rediscovered until 1842 A.D.
Jonah and Nahum: English Bible - Comment: This is a 96 page treatise replete with extensive bibliography, diagrams, and commentary notes - check it out!
Minor Prophets - Book Introduction
G Campbell Morgan's devotional/practical thoughts make good fodder for sermon preparation!
Excerpt:

THE LIVING MESSAGE

I. Concerning God

i. To believe in Love is to be sure of His Wrath.

ii. His Wrath must be interpreted by His Love.

II. Concerning Man

i. The Sins against which the Wrath of God proceeds.

a. Pride.

b. Cruelty.

c. Impenitence.

ii. The Conditions of Safety, = "Them that put their Trust in Him."
Excerpt: Nineveh was to be despoiled of its idols, Nah 1:14; and of its silver and gold, Nah 2:9. This prediction likewise was amply fulfilled. The images of Nineveh (Wikipedia) were swept away, either destroyed or carried off by the conquerors. Enormous amounts of gold and silver were conveyed to Ecbatana by the victorious Medes. Very little of the precious metals have been found in the excavations of recent times. The city was spoiled of all its treasures. The captivity of the inhabitants and their removal to distant provinces were announced, Nah 1:2, 7; 3:18. The place was depopulated and the proud city sank into a mass of ruins and rubbish. It was to disappear and become a perpetual desolation, Nah 1:14; 3:19. For centuries its site has been an arid waste of yellow sand. Every trace of its existence disappeared for ages. Two hundred years after its capture Xenophon, in the retreat of the ten thousand, passed near it, saw the ruins, but knew not what they were, and did not so much as learn the name of Nineveh. Even "garrulous Herodotus," who visited the spot, had no more to say of it than this: "The Tigris was the river upon which Nineveh formerly stood." For centuries the only sound heard in its vicinity was the lonely cry of the jackal, and hoarse growl of the hyena. God had said by the mouth of His servant the prophet, "I will make thy grave." He did. Wide and deep He did dig it; low and deep He buried Nineveh, never more to rise again, save to be gazed at with curious eyes amid dim torchlight by the archaeologist, whose pick and spade have confirmed the Lord's predictions.
Date - In 3:8–10 the author speaks of the fall of Thebes, which happened in 663BC, as already past. In all three chapters Nahum prophesied Nineveh's fall, which was fulfilled in 612BC. Nahum therefore uttered this oracle between 663 and 612BC, perhaps near the end of this period since he represents the fall of Nineveh as imminent (Nah 2:1; 3:14,19). This would place him during the reign of Josiah and make him a contemporary of Zephaniah and the young Jeremiah.
Excerpt: OUTSTANDING TEACHINGS:

While God's people had sinned, and GOD in faithfulness had to punish them, still the nations which He used came to know His wrath also, and this was the case with the Assyrian Empire. The collapse of Nineveh and the Assyrian Empire came suddenly. The Medes and Babylonians had besieged the capital for two years when a sudden flood of the Tigris river carried away part of the protecting wall and opened the way for the attacking army to enter and conquer. This was pre-written by Nahum 100 years before. There is a possible reference to the disastrous defeat of Sennacherib as he confronted Jerusalem (2Kings 19:35), in 1:10-13. The untimely end of the king himself is outlined in the following verses.

5. INTERESTING FEATURES:

Ezekiel (Ezek 31:3-14) and Zephaniah (Zeph 2:13-15) besides Jonah concern themselves with Nineveh's fate. The city's walls were 100 feet high and broad enough to drive four spans of chariot horses abreast; there were 1500 watch towers, for defenses. There was never a prophecy more unlikely!

6. KEY TO UNDERSTANDING:

Who but GOD could predict minutely events of such magnitude and infinitude hundreds of years before they came to pass? This is true comfort to those who study prophecy today relating to tomorrow. GOD is faithful.
Excerpt: Theme: The book of Nahum has but one outstanding theme; namely, the destruction of Nineveh. It is a sequel to the message of the prophet Jonah, by whose ministry, the Ninevites were lead to repentance and saved from impending doom. It is evident that they repented of their former repentance, and so gave themselves to idolatry, cruelty, and oppression, that one hundred and twenty years later, Nahum pronounced against them the judgment of GOD in the form of utter destruction. "Nahum's object was to inspire his countrymen, the Jews, with the assurance that, however alarming their position might seem, exposed to the attacks of the mighty Assyrian, who had already carried away the Ten Tribes, yet that not only should the Assyrian fail in his attack on Jerusalem (Isaiah Chs. 36, 37), but Nineveh his own capital would be taken and his empire overthrown; and this not by arbitrary exercise of the Lord's power, but for the iniquities of the city and its people."
Nahum: Overview - nice chart comparing the two prophets to Nineveh - Jonah and Nahum
Excerpt: Message: The judgment of Nineveh and the comfort of Judah both reveal the sovereignty, righteousness, and grace of Yahweh.

Purpose: The purpose of Nahum appears to be twofold. First, the book was written to show that God will judge the unrighteous nations. Second, the book was written to comfort God's people (Judah) by showing them that He will destroy their enemies. As Chisholm notes, "The sovereign Lord, who is the most powerful of all warriors, would avenge the harm done to His covenant people by appropriately and thoroughly judging their Assyrian oppressors."

Contribution: The major contribution of the Book of Nahum is that it provides clear insight into God's sovereign right to judge all nations. One might add that Nahum shows how divine judgment can be the source of encouragement.
Excerpt: Why is Nahum so important? Nahum's singular focus on the impending judgment of Nineveh offers a continuation of the story that began in Jonah. Sometime around 760 BC, God sent Jonah to Nineveh to preach repentance and hope to the Assyrian people, a message they heard and adopted—at least for a time. One hundred years later, during the time of Nahum, the Assyrians had returned to their bullish ways, conquering the northern kingdom of Israel and lording their power over Judah in the south (2Ki 17:1–6; 18:13–19:37). Jonah failed to realize what Nahum reminded the people of Judah: God's justice is always right and always sure. Should He choose to grant mercy for a time, that good gift will not compromise the Lord's ultimate sense of justice for all in the end.

What's the big idea? After allowing approximately two hundred years of powerful Assyrian kings and rulers, God announced through Nahum His plans to judge the city of Nineveh. While the book as a whole clearly shows God's concern over sin, His willingness to punish those guilty of wickedness, and His power to carry out His desire for judgment, it also contains rays of hope shining through the darkness. Most significant, the people of Judah would have immediately taken hope in the idea that Nineveh, their primary oppressor for generations, would soon come under judgment from God. Also, a small but faithful remnant in an increasingly idolatrous Judah would have been comforted by declarations of God's slowness to anger (Nahum 1:3), His goodness and strength (Nah 1:7), and His restorative power (Nah 2:2).

How do I apply this? No doubt we all have felt overwhelmed by the darkness both within ourselves and in our world. Nahum lived in a dark time, a time in which the faithful few must have wondered how long they would have to resist cultural and spiritual compromise. Have you ever found your will to do what's right weakening as you became discouraged with what you saw in your life and in the world around you? The prophet Nahum reminds us of God's active hand, working even in the darkest of times to bring justice and hope throughout the world.
Excerpt: The book of Nahum is God's message of the impending destruction of Nineveh. The prophet's name means ''comfort'' or ''consolation.'' He reminds us of Noah, whose name also means ''rest'' or ''comfort.'' Nahum is the seventh chronologically of the minor prophets, and he ministered during the reign of Hezekiah. About 150 years earlier, God had sent Jonah to deliver His warning to Nineveh. When the city repented, God held back His hand of judgment. Now ''the burden of Nineveh'' was laid upon Nahum's heart by God, and his prophecy graphically foretells the complete desolation of that people who oppressed the Jews. The destruction came 100 years later, when God, in His holiness, dealt harshly with the sin of Nineveh. The great truths of the book of Nahum, for believers today, are its descriptions of God's character and power, for they depict the character and power of Jesus Christ. Few Old Testament books give us as much information on this subject as Nahum. The key verse of the prophecy is, ''The Lord is slow to anger, and great in power, and will not at all acquit the wicked'' (Nahum 1:3)...Like all of the prophets, Nahum looks forward to the time when Christ will come to reign in righteousness and justice. As in every other portion of the Old Testament Scriptures, the Lord's Anointed is visible upon the horizon. In Nahum, we see both His character and His power, and we anticipate His glorious coming.
Whether We Live or Die (transcript)(or listen to Dr Criswell's Audio) - Delivered in 1985.

Excerpt - Message to the Pastors' Conference Southern Baptist Convention, Dallas, Texas 6-10-85 - "Not in all of my life have I ever prepared an address as minutely and meticulously as I have this one tonight. I have been a pastor fifty-eight years. I began preaching at this pastor's conference at the invitation of Dr. M. E. Dodd when he founded it something like fifty years ago. And I would think more than thirty times have I spoken to this assembly of God's anointed undershepherds. But I have never, ever approached a moment like this. And the message tonight, entitled Whether We Live or Die, is delivered, prepared in view of the convocation of our assembled messengers beginning in the morning. The outline of the address, of the study, is this:

The Pattern of Death for a Denomination; then
The Pattern of Death for an Institution; then
The Pattern of Death for a Preacher, a Professor; and then finally,
The Promise of Renascence, and Resurrection, and Revival.
Nahum 1:6 is alluded to in Rev 6:17
Nahum 1:15 is alluded to in Ro 10:15
Nahum 1 Commentary
Nahum 2 Commentary
Nahum 3 Commentary
Recommended: NETBible notes are in the right panel. You can also select the tab for "Constable's Notes." As you scroll the Bible text in the left panel, the notes are synchronized and will scroll to the same passage. Also has a nice parallel Bible feature (see Tab = "Parallel"). Select a different Bible translation (see Tab = "Bible"). Open Greek/Hebrew tab. Mouse over shows corresponding English word and has short definition at bottom of right panel.
Rosscup has this comment on Patterson's work in the Wycliffe Exegetical Commentary: This is an outstanding conservative, detailed work backed by scholarly awareness and expertise. Comments reflect fine-tuned ability in the Hebrew text, philology, exegesis, history, and literature. (Commentaries for Biblical Expositors: An annotated bibliography of selected works. Kress Christian Publications)
Caveat: Be an Acts 17:11 Berean (note): Not always literal, especially on prophetic passages
James Rosscup writes "This work originally appeared in 1860. The present publication is set up in two columns to the page with the text of the Authorized Version reproduced at the top. Scripture references, Hebrew words, and other citations are relegated to the bottom of the page. The work is detailed and analytical in nature. Introduction, background and explanation of the Hebrew are quite helpful. Pusey holds to the grammatical-historical type of interpretation until he gets into sections dealing with the future of Israel, and here Israel becomes the church in the amillennial vein." (Commentaries for Biblical Expositors: An Annotated Bibliography of Selected Works)
NOTE: If you are not familiar with the great saint Charles Simeon see Dr John Piper's discussion of Simeon's life - you will want to read Simeon's sermons after meeting him! - click Brothers We Must Not Mind a Little Suffering (Mp3 even better)
James Rosscup writes "Though old this is well-written and often cited, with many good statements on spiritual truths. Users will find much that is worthwhile, and sometimes may disagree, as when he sees the Jonah account as allegorical (Ed: See Tony Garland's article on the Rise of Allegorical Interpretation)." (Commentaries for Biblical Expositors: An Annotated Bibliography of Selected Works)
Nahum Commentary
Nahum Sermons
Nahum 1:7 The Lord is Good - shorter outline
Nahum 1:7 Trust in the Lord - more detail

Excerpt - The Lord is a stronghold. A hold is a fortress, so He is a strong fortress.

1. In time of trouble the people would run to the fortress for safety. The fortress could withstand the attack.

2. In Proverbs we read, "The name of the Lord is a strong tower, the righteous run into it and are safe."

3. In looking at tho world, the only safe place has always been the Lord.

William Cushing wrote:

O safe to the Rock that is higher than I
My soul in its conflicts and sorrows would fly
So sinful so weary, Thine, Thine would I be,
Thou blest Rock of Ages, I'm hiding in Thee.

In the calm of the noontide, in sorrow's lone hour,
In times when temptation casts o'er me its power;
In the tempests of life, on its wide heaving sea,
Thou blest Rock of ages, I'm hiding in Thee.

How oft in the conflict, when pressed by the foe,
I have fled to my Refuge and breathed our my woe;
How often when trials like sea billows roll,
Have I hidden in Thee, O Thou Rock of my soul.

C. When in trouble, where do you turn? Do you turn within for that extra grit to bear up under the pressure?

1. People often live by motto's.

a. What you can't cure, you must endure.

b. Just grin and bare it.

c. I think I can.

d. Every day and in every way, the world is getting better and better and better.

2. In real trouble, motto's aren't much help.

3. But where do you turn? To a friend, a family member? Have you ever turned to a friend for help, only to find that he had greater problems than you?

4. I would advise you to turn to the Lord, He is a stronghold in the time of trouble, and I want Him to keep a stronghold on me. (Nahum 1:7 Trust in the Lord)
Outline & References
Comment: This Reference Tool will aid you in using Scripture to interpret Scripture. John MacArthur says that the Treasury of Scripture Knowledge is "The one book, aside from the Bible itself, that I value most in my studies." Donald Grey Barnhouse testified to the value of using Scripture as a commentary on itself, remarking that "You very rarely have to go outside the Bible to explain anything in the Bible." See discussion of Comparing Scripture with Scripture.
Book