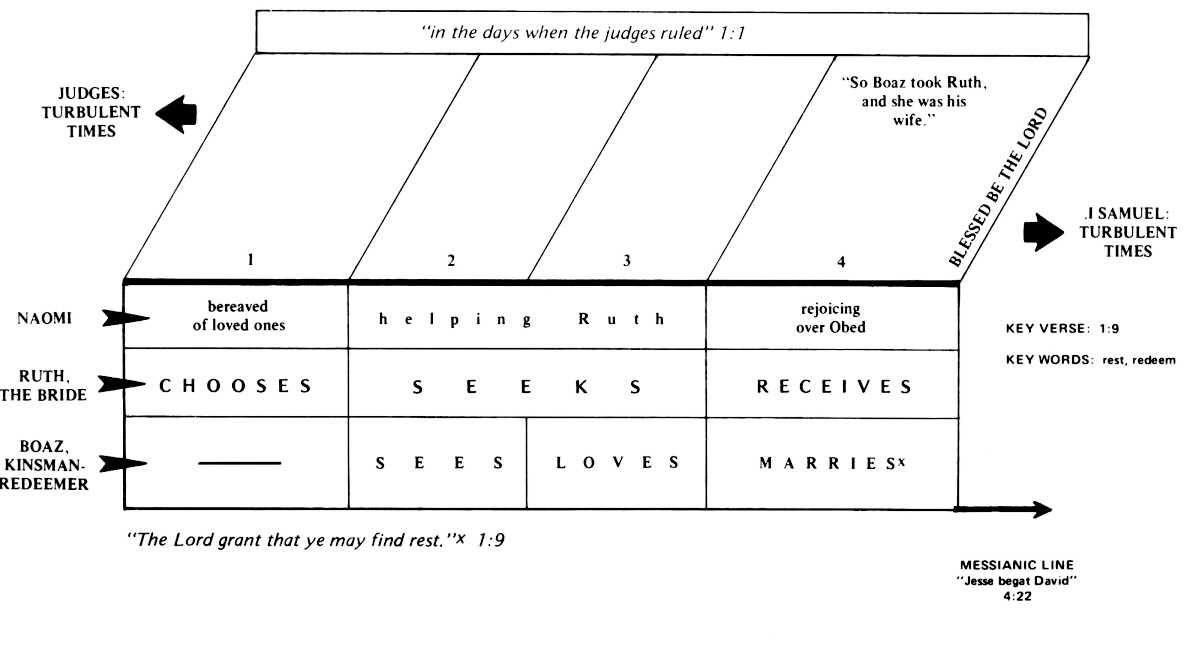 For Ruth Resources part 2/2 (Devotionals) click here.
RUTH: GOD PROVIDES
A KINSMAN-REDEEMER

Ruth 1
Ruth 2
Ruth 3
Ruth 4
Ruth's Choice
Ruth's Service
Ruth's Claim
Ruth's Marriage
Naomi and Ruth
Mutual Grief
Ruth and Naomi and Boaz
Mutual Pursuit
Boaz and Ruth
Mutual Love
Ruth's Decision:
Return with Naomi
Ruth's Devotion:
Provide for Naomi
Ruth's Request:
Redemption by Boaz
Ruth's Reward:
Relative of Messiah
Ruth
and Naomi
Ruth
and Boaz
Death of
Naomi's Family
Ruth Cares
for Naomi
Boaz Cares
for Ruth
God Blesses
with New Birth
Grief
Loneliness
Companionship
Rejoicing
Location:
Plains
of Moab
Location:
Fields
of Bethlehem
Location:
Threshing floor
of Bethlehem
Location:
Little town
of Bethlehem
Time Lapsed:
About 30 Years
See Timeline
Setting:
Ru 1:1 Now it came about in the days when the judges governed
Jdg 21:25 In those days there was no king in Israel; everyone did what was right in his own eyes.
BRETT W AVANTS
ALISTAIR BEGG
BEST COMMENTARIES
BRIAN BILL
IAIN CAMPBELL - sermons
PAULUS CASSEL
DONALD CANTRELL - sermons
GORDON CHURCHYARD
WILLIAM COWPER — (bio by john piper)
SAMUEL COX
W A CRISWELL
Ruth 2:1 name was Boaz
Ruth 2:3 gleaned. The custom of gleaning (collecting what had been missed by the officially employed reapers) was a divinely ordained provision for the poor of the land (see Leviticus 19:9, 10; Deuteronomy 24:19).
hap. To outward appearances, Ruth just "happened" to glean in the field of Boaz, but the entire context makes it clear that this was God's providential leading. God is altogether sovereign; He is not a God of chance. A faithful believer, seeking honestly to know and do the will of God, especially in relation to His already revealed will in Scripture, can be confident that the circumstances around him are not dictated by the laws of probability but by the will and purpose of God (Romans 8:28).
Boaz. Boaz was considered a relative of Elimelech, the father of Ruth's first husband. This suggests that Boaz was old enough to be Ruth's father (see also Ruth 3:10). Both, however, were more concerned with having a God-honoring marriage than one based on physical considerations, so age was secondary.
Ruth 2:16 handfuls of purpose. The same Hebrew word, basically meaning "take a spoil," is used twice in this verse, once translated "let fall" and once as "of purpose." The word for "handfuls," used only this once in the Bible, evidently refers to a hand's grip. Boaz is saying in effect to his servants, "Grab from the bundles of sheaves as though you were taking a spoil for her, from the bundles of sheaves, but then leave them as a spoil for her." Ruth was not to know that this was Boaz' gift to her, so she could assume she was gleaning it all on her own.
she may glean them. Ruth, in gleaning the sheaves deliberately left by Boaz, becomes a type of the believer gleaning food for the soul in the fruitful field of Scripture. Our heavenly "Boaz" has paid the price to take the spoil for us. As we kneel down to glean each morsel, we "rejoice at thy word, as one that findeth great spoil" (Psalm 119:162).
Ruth 2:17 ephah. Compare Exodus 16:16, 36. An ephah was ten omers, and an omer of manna was adequate for the daily needs of one man. Boaz' generosity is measured by the fact that the "handfuls of purpose" he had left for Ruth were ten times her daily need.
DICTIONARY
DISCOVERY PUBLISHERS
FOUNDERS
THOMAS FULLER (1865)
BRUCE GOETTSCHE
GOSPEL COALITION
SCOTT GRANT
KEITH GREEN
ROBERT HAWKER
SUSIE HAWKINS Study on Ruth Primarily Audio
WILLIAM HESLOP
JODI HOOPER
ALFRED HUNT Ruth the Moabitess
JOHN ANGELL JAMES
S LEWIS JOHNSON
CHARLES KINGSLEY
DAVID LEGGE Sermons
DONALD LEGGETT
JOHN MACGOWAN
DAVID MALICK
MAY FIELD MCKEAN
BRYN MACPHAIL
J R MILLER
AUBREY C PRICE
ROBERT RAYBURN Sermon
REFORMATION STUDY BIBLE
CHARLES J. ROLLS
RUTH DEVOTIONALS - VARIOUS SOURCES - 100's of devotionals - Our Daily Bread, Today in the Word, etc
ROB SALVATO
RAYMOND SAXE - RUTH SERMONS
SERMON BIBLE COMMENTARY
SERMON CENTRAL - illustrations and sermons (most have transcripts)
NICOLE C SMITH
R C SPROUL DEVOTIONALS RUTH
J B STONEY
CHUCK SWINDOLL
T. DE WITT TALMAGE
J HUDSON TAYLOR
THIRD MILLENNIUM
DEREK W H THOMAS
WILLARD WINTER - about 50 pages
SERMONS BY VERSE - older expositions
| | | |
| --- | --- | --- |
| A Kind Kinsman | C. Ness. | Ruth 2:1 |
| Boaz a Yeoman | W. M. Taylor, D. D. | Ruth 2:1 |
| The Rich Kinsman | S. H. Tyng, D. D. | Ruth 2:1 |
| A Dutiful Daughter | C. Ness. | Ruth 2:2-4 |
| Motive for Permitting the Poor to Glean | T. Fuller, B. D. | Ruth 2:2-4 |
| The Gleaner | S. H. Tyng, D. D. | Ruth 2:2-4 |
| The Young to Work for Their Parents | G. Lawson. | Ruth 2:2-4 |
| Gleanings in the Field of Boaz | T. De Witt Talmage. | Ruth 2:3 |
| Great Issues Out of Little Things | A. Thomson, D. D. | Ruth 2:3 |
| Her Hap | J.R. Thomson | Ruth 2:3 |
| The Stranger in the Harvest Field | Bp. Oxenden. | Ruth 2:3 |
| A Good Master | C. Ness. | Ruth 2:4 |
| Boaz the Farmer | T. Guthrie, D. D. | Ruth 2:4 |
| Business to be Sanctified by Religion | Aubrey C. Price, B. A. | Ruth 2:4 |
| Friendly Co-Operation Between Masters and Men | T. De Witt Talmage. | Ruth 2:4 |
| On the Relations that Subsist Amongst the Different Classes of Society in General | W. Arnot. | Ruth 2:4 |
| Piety with Courtesy | J. Trapp. | Ruth 2:4 |
| Relations Between Employers and Employed | R. A. Watson, M. A. | Ruth 2:4 |
| Religion in the Harvest Field | E. Monro, M. A. | Ruth 2:4 |
| Salutation and Prayer | R. Bernard. | Ruth 2:4 |
| Salutations | J.R. Thomson | Ruth 2:4 |
| The Living Presence | W.M. Statham | Ruth 2:4 |
| Ruth's Industry Prompted by Love | G. Lawson. | Ruth 2:5-7 |
| The Welcome Reception | S. H. Tyng, D. D. | Ruth 2:5-7 |
| Filial, Piety and Fidelity Recognized and Recompensed | J.R. Thomson | Ruth 2:5-14 |
| There is Work for the Humblest to Do | W.M. Statham | Ruth 2:7 |
| Harvest Lessons | Urijah R. Thomas. | Ruth 2:8-9 |
| Loving-Kindness | C. Ness. | Ruth 2:8-9 |
| Masters and Servants | T. Fuller, B. D. | Ruth 2:8-9 |
| Ruth's Humility and Gratitude | G. Lawson. | Ruth 2:10 |
| The Hebrews Were Kind to Strangers | W.M. Statham | Ruth 2:10 |
| The Lowly Attitude of a Grateful Heart | W. Baxendale. | Ruth 2:10 |
| A Full Reward | J. Hudson Taylor | Ruth 2:11 |
| The Gracious Approbation | S. H. Tyng, D. D. | Ruth 2:11 |
| The Praise of Virtue | R. Bernard. | Ruth 2:11 |
| God's Reward | | Ruth 2:12 |
| Jehovah's Wings | A. Thomson, D. D. | Ruth 2:12 |
| Ruth's Reward; Or, Cheer for Converts | Spurgeon, Charles Haddon | Ruth 2:12 |
| The Wings of God | T. De Witt Talmage. | Ruth 2:12 |
| The Lord Recompense Thy Work | W.M. Statham | Ruth 2:12, 13 |
| Good from Encouraging Words | A. Thomson, D. D. | Ruth 2:13 |
| Mealtime in the Cornfields | Spurgeon, Charles Haddon | Ruth 2:14 |
| The Common Meal | E. Price. | Ruth 2:14 |
| Combination of Strength and Gentleness in Boaz | A. Thomson. D. D. | Ruth 2:15-16 |
| Spiritual Gleaning | Spurgeon, Charles Haddon | Ruth 2:15-16 |
| The Benevolence of Boaz | Lyman Abbott, D. D. | Ruth 2:15-16 |
| The Refining Art of Doing Good | C. C. McCabe, D. D. | Ruth 2:15-16 |
| Liberality to the Poor | J.R. Thomson | Ruth 2:15-17 |
| Labour | S. B. Rees. | Ruth 2:17 |
| Persevering Labour | C. Ness. | Ruth 2:17 |
| The Successful Gleaner | Bp. Oxenden. | Ruth 2:17 |
| Careful of the Fruit of Labour | G. Lawson. | Ruth 2:18 |
| Carry Home the Wheat | H. Moorhouse. | Ruth 2:18 |
| A Charity Sermon | R. Coleire, M. A. | Ruth 2:19 |
| A Good Day's Gleaning | J. McNeill. | Ruth 2:19 |
| Confidence Between Kindred | A. Thomson, D. D. | Ruth 2:19 |
| Gleaners in God's Harvest Field | J. Spencer Kennard. | Ruth 2:19 |
| Gleaning | T. Champness. | Ruth 2:19 |
| Where Hast Thou Gleaned To-Day? | J. P. Allen, M. A. | Ruth 2:19 |
| Christ Typified by the Goel Under the Law | H. Melvill, B. D. | Ruth 2:20 |
| God's Blessing | E. Price. | Ruth 2:20 |
| Kindness to the Dead | Wm. Braden. | Ruth 2:20 |
| Kindred and Kindness | J.R. Thomson | Ruth 2:20 |
| Who Hath not Left Off His Kindness to the Living and the Dead | J.R. Thomson | Ruth 2:20 |
| Gadding to be Discouraged | A. Thomson, D. D. | Ruth 2:22 |
| Instruction from Elders | G. Lawson. | Ruth 2:22 |
| The Acceptance of Favours | G. Lawson. | Ruth 2:22 |
| Harvest-Time | J.R. Thomson | Ruth 2:23 |
Book