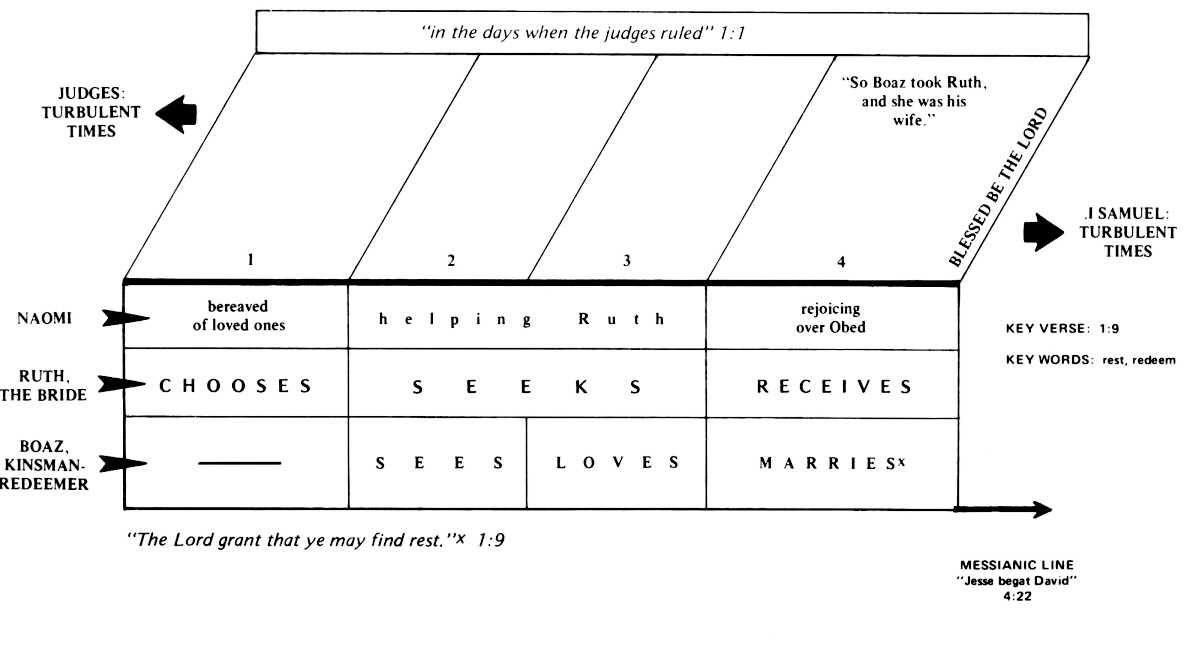 For Ruth Resources part 2/2 (Devotionals) click here.
RUTH: GOD PROVIDES
A KINSMAN-REDEEMER

Ruth 1
Ruth 2
Ruth 3
Ruth 4
Ruth's Choice
Ruth's Service
Ruth's Claim
Ruth's Marriage
Naomi and Ruth
Mutual Grief
Ruth and Naomi and Boaz
Mutual Pursuit
Boaz and Ruth
Mutual Love
Ruth's Decision:
Return with Naomi
Ruth's Devotion:
Provide for Naomi
Ruth's Request:
Redemption by Boaz
Ruth's Reward:
Relative of Messiah
Ruth
and Naomi
Ruth
and Boaz
Death of
Naomi's Family
Ruth Cares
for Naomi
Boaz Cares
for Ruth
God Blesses
with New Birth
Grief
Loneliness
Companionship
Rejoicing
Location:
Plains
of Moab
Location:
Fields
of Bethlehem
Location:
Threshing floor
of Bethlehem
Location:
Little town
of Bethlehem
Time Lapsed:
About 30 Years
See Timeline
Setting:
Ru 1:1 Now it came about in the days when the judges governed
Jdg 21:25 In those days there was no king in Israel; everyone did what was right in his own eyes.
PAUL APPLE
KAY ARTHUR
HERMAN BAAR
EVAN BALTZ
ALBERT BARNES
ALISTAIR BEGG
J. G. BELLET
BIBLE.ORG RESOURCES Resources that Reference Ruth
BIBLOS
BRIAN BILL
JIM BOMKAMP
WILLIAM BRADEN
IAIN CAMPBELL - sermons
PAULUS CASSEL
GORDON CHURCHYARD
SAMUEL COX
J N DARBY
DICTIONARY ARTICLES
DISCOVERY PUBLISHERS
EXPOSITOR'S BIBLE COMMENTARY R A Watson
JAMES FREEMAN - HANDBOOK OF BIBLE MANNERS AND CUSTOMS
GOSPEL COALITION
KEITH GREEN
JOHN ANGELL JAMES
JAMIESON, FAUSSET, BROWN UNABRIDGED VERSION
S LEWIS JOHNSON
JOURNAL ARTICLES
ALFRED LEEDES HUNT
JOHN MACARTHUR
Ruth 4:1 to the gate
Ruth 4:5 buyest the field. The right of a kinsman-redeemer to redeem the property of a dead relative, thereby preventing it from passing outside the family, is set forth in Leviticus 25:25-34. These events described in the book of Ruth indicate that this right of property redemption was also directly linked to the responsibility of raising up children to preserve "the name of the dead upon his inheritance" (Ruth 4:10).
Ruth 4:6 cannot redeem it. The redeemer must not only be a kinsman (Leviticus 25:25), but must also be willing, free and have the necessary price. As our great Kinsman Redeemer, the Lord Jesus Christ indeed fulfills all the conditions (see notes on Revelation 5:1-10).
Ruth 4:8 drew off his shoe
Ruth 4:18 Pharez. Pharez was the son of Judah, so this genealogical summary clearly shows that David is descended from Judah, and thus able to fulfill Jacob's prophecy (Genesis 49:10) of the sceptre.
Ruth 4:20 Salmon. According to Matthew 1:5, Salmon married Rahab the converted harlot, sometime after the fall of Jericho, and therefore Boaz was their son. (See introductory notes concerning gaps that may have occurred between Salmon and Boaz.)
Ruth 4:22 David was evidently born near the end of the judges period and Salmon near the beginning. The four generations between Salmon and David thus seem to have spanned the entire period "when the judges ruled" (Ruth 1:1), although it is possible that there are gaps in this genealogy. Note also that ten names are listed in the genealogy from Pharez to David. Deuteronomy 23:2 says that an illegitimate son could "not enter into the congregation of the Lord" until "the tenth generation." Pharez, of course, was the illegitimate son of Judah and Tamar, but this genealogy indicates that David was free from this exclusion, even if there are no gaps in the genealogy.
WILLIAM NEWELL
JAMES NISBET CHURCH PULPIT COMMENTARY
OUR DAILY BREAD
JOSEPH PARKER The People's Bible
PATH LIGHT STUDY OF RUTH
PLYMOUTH BRETHREN
PRECEPT MINISTRIES INTERNATIONAL
PRECEPTAUSTIN
AUBREY C PRICE
REFORMATION STUDY BIBLE
GRANT RICHISON Commentary on Ruth
CHARLES J. ROLLS
RUTH DEVOTIONALS - VARIOUS SOURCES - 100's of devotionals - Our Daily Bread, Today in the Word, etc
ROB SALVATO - sermon
RAYMOND SAXE - RUTH SERMONS
Matt Postiff also from Fellowship Bible Church
SERMON CENTRAL - Sermons (most have transcripts)
NICOLE C SMITH
R C SPROUL DEVOTIONALS RUTH
I STEELE
J B STONEY
JOSEPH SUTCLIFFE
CHUCK SWINDOLL
THIRD MILLENNIUM STUDY NOTES BOOK OF RUTH
WILLARD WINTER - about 50 pages
W. T. P. WOLSTON
| | | |
| --- | --- | --- |
| A Primitive Council | J.R. Thomson | Ruth 4:1, 2 |
| Fair Dealing and Good Principle in Boaz | A. Thomson, D. D. | Ruth 4:1-5 |
| Friends in Council | W. Baxendale. | Ruth 4:1-5 |
| Judicious Methods of Attaining Our Ends | C. Ness. | Ruth 4:1-5 |
| Redemption Proposed | S. H. Tyng, D. D. | Ruth 4:1-5 |
| The Goel | J.R. Thomson | Ruth 4:3-8 |
| Our Own Inheritance | W.M. Statham | Ruth 4:4, 6 |
| The Endangered Inheritance | R. S. MacArthur, D. D. | Ruth 4:6 |
| Redemption Accomplished | S. H. Tyng, D. D. | Ruth 4:9 |
| Honorable Conduct Honorably Witnessed | J.R. Thomson | Ruth 4:9-11 |
| A Happy Marriage | Bp. Oxenden. | Ruth 4:10-11 |
| The Marriage of Boaz and Ruth | A. Thomson, D. D. | Ruth 4:10-11 |
| What a True Wife Ought to Be | C. H. Parkhurst, D. D. | Ruth 4:10-11 |
| Good Wishes | J.R. Thomson | Ruth 4:11, 12 |
| The Birth of a Son | J.R. Thomson | Ruth 4:13 |
| The Birth-Hour | W.M. Statham | Ruth 4:13 |
| The Benevolent Happiness of Old Age | J.R. Thomson | Ruth 4:14-17 |
| Lessons from the Book of Ruth | Abp. William Alexander. | Ruth 4:17-22 |
| Little Obed | A. Thomson, D. D. | Ruth 4:17-22 |
| The Lineage of David | J.R. Thomson | Ruth 4:18-22 |
Book