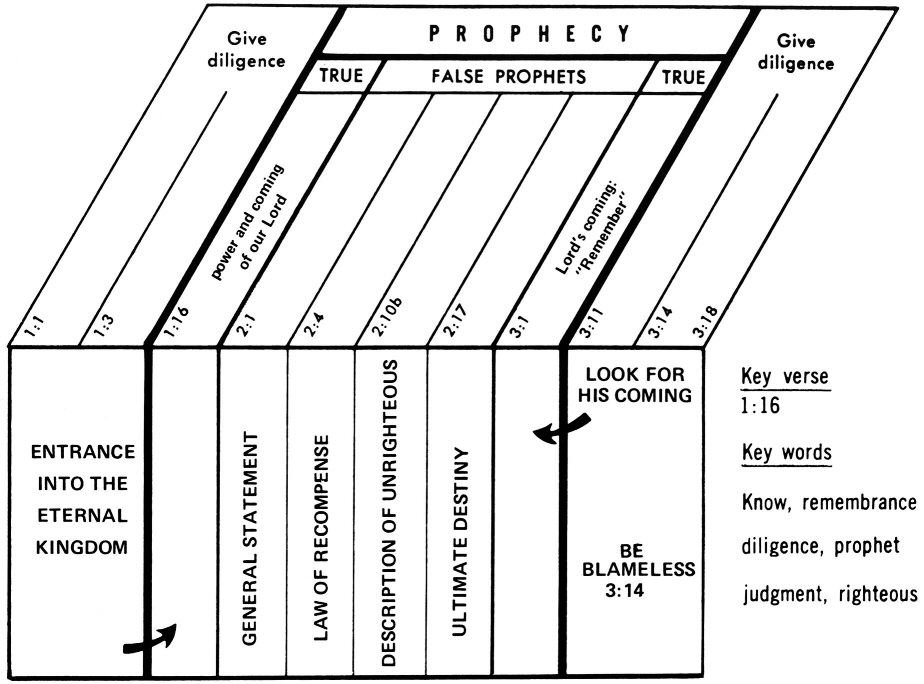 2 Peter: True and False Prophecy
Click chart to enlarge
Chart from Jensen's Survey of the NT - used by permission
Charles Swindoll's Chart
FIRST PETER
SECOND PETER
Letter of consolation
Letter of Warning
Encouragement for the Church
Error in the Church
Main teaching: Comfort for Suffering Saints
Main teaching: Exposure of False Teachers
Suffering of Christ
Glory of Christ
Christ - His Redemptive Title
Lord - His Title of Dominion
Hope - Enables us to Face Trials
Full Knowledge - Enables us to Recognize Error
External Opposition
Internal Opposition
Hostility
Heresy
Danger from Without
Danger from Within
Hope in the Lord's Return
Certainty of the Lord's Return
Walk in Holiness as God is Holy
Growth in Grace and Knowledge of Christ
"Pain with a Purpose"
"Poison in the Pew"

Adapted from Jensen's Survey of the New Testament and Wilkinson and Boa's Talk Thru the Bible
2 PETER
TRUE AND FALSE PROPHECY

Cultivation of
Christlike Character
Condemnation of
False Teachers
Confidence in the
Return of Christ
Greeting
to
Saints
2Pe 1:1-2
Growth
in
Christ
2Pe 1:3-14

Grounds
of
Belief
2Pe 1:15-21

Danger of
False
Teachers
2Pe 2:1-3

Demise of
False
Teachers
2Pe 2:4-9

"Decor" of
False
Teachers
2Pe 2:10-22

Mockers in
the Last Days
2Pe 3:1-7

Manifest
Day of
the Lord
2Pe 3:8-10

Maturity in light of that
Day
2Pe 3:11-18

Know
Your
Salvation

Know
Your Scripture

Know
Your
Adversaries

Know
Your
Prophecy

True Prophecy
(True Knowledge)
False Prophets
(False Teachers)
Final Prophecy
(Day of the Lord)
Holiness
Heresy
Hope
Development
of
Faith
Denunciation
of
False Teachers
Design
of
The Future
See Introduction to 2 Peter by Dr John MacArthur Title, Author, Date, Background, Setting, Historical, Theological Themes, Interpretive Challenges, Outline by Chapter/Verse. Excellent overview. Here is MacArthur's assessment of the often disputed authorship of Second Peter:
The author of 2 Peter is the Apostle Peter (see Introduction to 1 Peter). In 1:1, he makes that claim; in 3:1, he refers to his first letter; in 1:14, he refers to the Lord's prediction of his death (John 21:18,19); and in 1:16–18, he claims to have been at the Transfiguration (Matt. 17:1–4). However, critics have generated more controversy over 2 Peter's authorship and rightful place in the canon of Scripture than over any other NT book. The church fathers were slow in giving it their acceptance. No church father refers to 2 Peter by name until Origen near the beginning of the third century. The ancient church historian, Eusebius, only included 2 Peter in his list of disputed books, along with James, Jude, 2 John, and 3 John. Even the leading Reformers only hesitatingly accepted it.
The question about differences in Greek style between the two letters has been satisfactorily answered. Peter wrote that he used an amanuensis, Silvanus, in 1 Peter (cf. 1 Pet. 5:12). In 2 Peter, Peter either used a different amanuensis or wrote the letter by himself. The differences in vocabulary between the two letters can be explained by the differences in themes. First Peter was written to help suffering Christians. Second Peter was written to expose false teachers. On the other hand, there are remarkable similarities in the vocabulary of the two books. The salutation, "grace to you and peace be multiplied," is essentially the same in each book. The author uses such words as "precious," "virtue," "putting off," and "eyewitness," to name just a few examples, in both letters. Certain rather unusual words found in 2 Peter are also found in Peter's speeches in the Acts of the Apostles. These include "obtained" (1:2; Acts 1:17); "godliness" (1:3,6,7; 3:11; Acts 3:12); and "wages of iniquity" (2:13,15; Acts 1:18). Both letters also refer to the same OT event (2:5; 1 Pet. 3:18–20). Some scholars have pointed out that there are as many similarities in vocabulary between 1 and 2 Peter as there are between 1 Timothy and Titus, two letters almost universally believed to have been written by Paul.
The differences in themes also explains certain emphases, such as why one letter teaches that the second coming is near, and one deals with its delay. First Peter, ministering especially to suffering Christians, focuses on the imminency of Christ as a means of encouraging the Christians. Second Peter, dealing with scoffers, emphasizes the reasons why that imminent return of Christ has not yet occurred. Other proposed differences invented by the critics, such as the contradiction between including the resurrection of Christ in one letter and the Transfiguration of Christ in the other, seem to be contrived.
Moreover, it is seemingly irrational that a false teacher would spuriously write a letter against false teachers. No unusual, new, or false doctrines appear in 2 Peter. So, if 2 Peter were a forgery, it would be a forgery written by a fool for no reason at all. This is too much to believe. The conclusion to the question of authorship is that, when the writer introduced the letter and referred to himself as Peter, he was writing the truth.
Nero died in a.d. 68, and tradition says Peter died in Nero's persecution. The epistle may have been written just before his death (1:14; ca. a.d. 67–68).
Key Words: Know/knowledge (2 Pet 1:2, 1:3, 1:5, 1:6, 1:8, 1:12, 1:14, 1:16, 1:20, 2:9, 2:12, 2:20, 2:21, 3:3, 3:17, 3:18), remember/remind (2Pe 1:12, 13, 3:1, 3:2), diligent/diligence (2Pe 1:5, 10, 15, 3:14), Lord (1Pe 1:2, 8, 11, 14, 16, 2:9, 11, 20, 3:2, 8, 9, 10, 15, 18)
See discussion on marking key words. To help your study print out the Observation Worksheet on 2Peter (Go to page 13) with double spaced text for marking Key Words, making lists, taking notes that you can later transfer to your Bible
Dr. Kenneth Gangel offers a summary of the reasons Peter wrote his second letter.
This final impassioned plea to grow in Christian maturity (2Pe 1:5, 6, 7, 3:18) and guard against false teachers was precipitated by the fact that [Peter's] time was short (2Peter 1:13, 14, 15) and that these congregations faced immediate danger (2Peter 2:1, 2, 3). He also desired to refresh their memories (2Peter 1:13) and stimulate their thinking (2Peter 3:1, 2) so they would remember his teaching (2Peter 1:15).... And he encouraged his readers with the certainty of Christ's return (2Peter 3:1-16). (Today in the Word)
A Dr. Congdon once approached Bible teacher R. A. Torrey, complaining he could get nothing out of his Bible study.
"Please tell me how to study it so that it will mean something to me."
"Read it," replied Dr. Torrey.
"I do read it."
"Read it some more."
"How?"
"Take some book and read it twelve times a day for a month."
Torrey recommended Second Peter. Dr. Congdon later said,
"My wife and I read 2 Peter three or four times in the morning, two or three times at noon, and two or three times at dinner. Soon I was talking 2 Peter to everyone I met. It seemed as though the stars in the heavens were singing the story of 2 Peter. I read 2 Peter on my knees, marking passages. Teardrops mingled with the crayon colors, and I said to my wife,
"See how I have ruined this part of my Bible."
"Yes," she said, "but as the pages have been getting black, your life has been getting white."
John Calvin - "The majesty of the Spirit of Christ exhibits itself in every part of the epistle" (of Second Peter).
J Sidlow Baxter - "Peter is distinctively the apostle of hope, as is Paul of faith, James of works and John of love....There are always two tests of Christian genuineness. The doctrinal test is 'What is the attitude tot he person and work of Christ?' The practical test is 'What is the resultant character and conduct?' Both tests appear in Second Peter. Note the two dangers indicated in the first chapter. There is the danger of life without growth (2Peter 1:3-8); and there is the danger of knowledge without practice (2Peter 1:9-14). Life never remains static: it either goes forward or backward. Life without growth becomes atrophy. Similarly knowledge without practice becomes blindness instead of vision (2Peter 1:9). It is vital to be members of the 'progressive party.'...To be forewarned is to be forearmed says the old proverb. Study carefully Peter's forewarning in 2Peter 2:1-3ff. It is a point of incidental interest that in 2Pe 2:14 and 2Pe 2:18 the word translated as "be beguiling" (enticing) and "allure" (entice) in the Greek is literally to take with a bait - a relic from Peter's fishing days. "Beware," says Peter in effect, 'Your most dangerous deceivers are those who come with a tasty bait and a concealed hook!' Let this second chapter convince us that wherever there is a Divine truth which saves, there will be a Satanic counterfeit which damns: so will it be until the arch-deceiver is flung into the abyss. What a scathing exposure is this second chapter! There is no "mincing of words" or "beating about the bush." There can be no tolerance of that which, inside the very Church itself, dishonors Christ and ruins soul. There can be no "dainty handling" of false teachers! A viper can be a gorgeous creature to look at, but once let its poison fang get you, or its strangle-coils enwrap you...! Peter sees the issue with Spirit-anointed clearness. There can be no compromise. Remember, this second chapter is not merely Peter speaking; it is the Spirit of God. It may well make some of us think deeply. When easy-going kindness lounges in the place of righteous indignation, and allows Christ-dishonoring false doctrine to play havoc inside the Church, kindness has ceased to be Christian, it has become disguised disloyalty, camouflaged cowardice, or a moral wasting-disease." (Baxter's Explore the Book-J. Sidlow Baxter-recommended)
Lectures by Wayne Barber
Lectures by Kay Arthur
These onsite in depth verse by verse and phrase by phrase commentary notes are written from a literal, conservative, millennial, and evangelical perspective. There is heavy emphasis on Greek word studies with frequent use of devotionals and sermon illustrations.
---
Read his fascinating brief biography - Henry Alford and Phil Johnson's related comments
James Rosscup writes that Alford's series on the New Testament "contains much that is valuable in the Greek New Testament...though all of the Greek New Testament words have been changed to English throughout." (Commentaries for Biblical Expositors: An Annotated Bibliography of Selected Works).
Charles Haddon Spurgeon (see his comments in following entry on Alford).
Editorial Note: If you are not proficient in Greek, you will find this work considerably more useful than the following work by Alford, because in this volume he translates the Greek and Latin into English. While the "The Greek New Testament" is longer (e.g., English version of 1John = 66 pages compared to Greek version = 94 pages in part because the latter includes comments of more technical nature), the substance of the commentary is otherwise similar to that found in the "NT for English Readers".
James Rosscup writes that "This was the great work in the life of the versatile Dean of Canterbury. An outcome of this production was the New Testament for English Readers (4 vols.). Alford was a Calvinist, conservative and premillennial, though not dispensational. He takes a literal interpretation of the thousand years in Rev. 20 and has a famous quote there, is strong on sovereign election as in Ro 8:29, 30 and 1Pe 1:2, but, unfortunately, holds to baptismal regeneration in such texts as Titus 3:5 and John 3:5. He shows a great knowledge of the Greek text and faces problems of both a doctrinal and textual nature." (Commentaries for Biblical Expositors: An Annotated Bibliography of Selected Works)
John Piper writes ""When I'm stumped with a...grammatical or syntactical or logical [question] in Paul, I go to Henry Alford. Henry Alford...comes closer more consistently than any other human commentator to asking my kinds of questions."
Charles Haddon Spurgeon writes that this text "is an invaluable aid to the critical study of the text of the New Testament. You will find in it the ripened results of a matured scholarship, the harvesting of a judgment, generally highly impartial, always worthy of respect, which has gleaned from the most important fields of Biblical research, both modern and ancient, at home and abroad. You will not look here for any spirituality of thought or tenderness of feeling; you will find the learned Dean does not forget to do full justice to his own views, and is quite able to express himself vigorously against his opponents; but for what it professes to be, it is an exceedingly able and successful work. The later issues are by far the most desirable, as the author has considerably revised the work in the fourth edition. What I have said of his Greek Testament applies equally to Alford's New Testament for English Readers,* which is also a standard work." (Spurgeon, C. H. Lectures to my Students, Vol. 4: Commenting and Commentaries; Lectures Addressed to the students of the Pastors' College, Metropolitan Tabernacle)
D Edmond Hiebert - Prints the author's own translation. Barclay defends Petrine authorship of 1 Peter but not of 2 Peter. Valuable for its numerous helpful word studies and background material. Barclay holds that Christ's descent into Hades gave those who there heard Him a second chance.
Comment: I appreciate Barclay's unique insights on Greek words, but clearly his teaching about a "second chance" is NOT sound doctrine! Be an Acts 17:11 Berean with Barclay. See discussion of his orthodoxy especially the article "The Enigmatic William Barclay".
James Rosscup writes that Barnes "includes 16 volumes on the Old Testament, 11 on the New Testament. The New Testament part of this old work was first published in 1832–1851. Various authors contributed. It is evangelical and amillennial...Often the explanations of verses are very worthwhile." (Commentaries for Biblical Expositors: An Annotated Bibliography of Selected Works)
C H Spurgeon "Albert Barnes is a learned and able divine, but his productions are unequal in value, the gospels are of comparatively little worth, but his other comments are extremely useful for Sunday-school teachers and persons with a narrow range of reading, endowed with enough good sense to discriminate between good and evil....Placed by the side of the great masters, Barnes is a lesser light, but taking his work for what it is and professes to be, no minister can afford to be without it, and this is no small praise for works which were only intended for Sunday-school teachers." (Spurgeon, C. H. Lectures to my Students, Vol. 4: Commenting and Commentaries; Lectures Addressed to the students of the Pastors' College, Metropolitan Tabernacle)
John Cereghin - Valuable commentary that had a wide sale when first published by this Presbyterian pastor. (Source)
James Rosscup writes "This work (Gnomon), originally issued in 1742, has considerable comment on the Greek, flavoring the effort with judicious details about the spiritual life. It has much that helps, but has been surpassed by many other commentaries since its day." (Commentaries for Biblical Expositors: An Annotated Bibliography of Selected Works)
Represents Combination of Bengel's Gnomon (above) and Comments by more modern expositors (in brackets) to make this more usable for those who do not read Greek.
Spurgeon comments on the goal to make Bengel's Gnomon (listed above) more accessible -- "Such is the professed aim of this commentary, and the compilers have very fairly carried out their intentions. The whole of Bengel's Gnomon is bodily transferred into the work, and as 120 years have elapsed since the first issue of that book, it may be supposed that much has since been added to the wealth of Scripture exposition; the substance of this has been incorporated in brackets, so as to bring it down to the present advanced state of knowledge. We strongly advise the purchase of this book, as it...will well repay an attentive perusal. Tischendorf and Alford have contributed largely...to make this one of the most lucid and concise commentaries on the text and teachings of the New Testament" (Spurgeon, C. H. Lectures to my Students, Vol. 4: Commenting and Commentaries; Lectures Addressed to the students of the Pastors' College, Metropolitan Tabernacle)
Resources that Reference 2 Peter on the largest Bible Study Resource on the Web
James Rosscup gives Bigg's commentary on 1 Peter high marks (and he also recommends 2Peter but no additional comments): "This is probably the second best older study on I Peter from the standpoint of the Greek text. Selwyn is the other. As other ICC works, it deals with details of philology, grammar and possible views on problems." (Commentaries for Biblical Expositors: An Annotated Bibliography of Selected Works)
John Cereghin - A most thorough commentary on the Greek text. He defends Petrine authorship (242-247); urges the translation "our God and Savior" (250-252); teaches baptismal regeneration (260ff); holds it probable that Peter "received every one of St. Paul's Epistles within a month or two of its publication (301); maintains that the "faith" was a "body of doctrine" (325). (Source)
Parting Counsels: An Exposition of the First Chapter
of the Second Epistle of the Apostle Peter
With Four Additional Discourses
1856
Recommended
James Rosscup writes "Brown was minister of Broughton Place, Edinburgh (1829–58), at which post he died. He gives rich, solid comments verse by verse and can refresh any Christian in his devotional times or help a preacher pull together facets of truth and how they relate to life. To Brown, making the calling and election sure refers not to seeing to their existence but to the evidence of them (p. 53). Some, however, feel that they are saved when they are far from it (54). He is helpful on furnishing the virtues in verses 5–8. After 225 pages the rest of the book is given to other discourses on how Christians may have proper assurance of salvation, pray for the preacher (Ephesians 6:19), etc." (Commentaries for Biblical Expositors: An Annotated Bibliography of Selected Works)
John Cereghin - We always think of Brown as a Puritan born out of due time. Everything he has left us is massive gold. He is both rich and clear, profound and perspicuous! The material covering chapter 1 (more than 300 pages) is rich, clear and worthy attention. (source)
Charles Spurgeon regarded Burkitt's commentary as a "goodly volume," and recommended "attentive perusal" of it.
Frequent illustrations
Excellent Exposition which functions much like a verse by verse commentary.
Click critique of his theological persuasion.
Published 1871 - Probably best older commentary on prophetic passages as it tends to interpret more literally.
John Cereghin -  A conservative exposition. He defends Petrine authorship (xlixff); argues for the deity of Christ (619); holds that assurance in Scripture is doubly sure (622); identifies the elements as "the world's component materials" (627); holds that Paul's Epistles were already known as "Scripture" (628).  (Source)
HINT: Click here to Scroll Bible text synchronized with Constable's notes. Very useful feature! Recommended: NETBible notes are in the right panel. You can also select the tab for "Constable's Notes." As you scroll the Bible text in the left panel, the notes are synchronized and will scroll to the same passage. This is a very helpful feature.
John Cereghin - Technical commentary on the Greek text. He denies the authenticity of II Peter (83-105); admits Christ is called God (123); gives background of the Greek words and phrases; holds that the Parousia is both a judgment on the wicked and a triumph for the kingdom (146); admits that Paul's Epistles are classed with the Old Testament as Scripture (147), holds that II Peter borrowed from Jude (225); thinks that the reference to "angels" goes back to Genesis 6 through the Book of Enoch (239ff). (Source)
John Cereghin - Brief conservative comments. He defends Petrine authorship (109); holds that "the divine choice and call do not make human effort unnecessary" (117); teaches the premillernnial coming of the Lord (127); thinks that the "elements melting" does not mean literal fire but judgment (132).  (Source)
Well done brief notes from an modern expositor.
John Cereghin - A practical and devotional exposition. Reprinted from the 1904 edition. (Source)
Excellent Exposition - Highly Recommended
Who is Alexander Maclaren (1826-1910)?
Mp3's Only corresponding to his famous "Thur the Bible Program." 
Theological Journals - An annual $50 (or $5/month) fee (click here) is required to view the entire article but will give you access to literally thousands of conservative articles. Search by book You can also search by chapter like: John 1 or Gen. 2 You can also search by simple or complex references like: James 1:2 or Hebrews 1:1-3,6; 5:4. For example, here is a four part series on 2 Peter by the excellent expositor D. Edmond Hiebert...
THE FOLLOWING JOURNAL ARTICLES ARE FREE ON THE INTERNET
Select Comments from Jim Rosscup: Commentaries For Biblical Expositors (recommended resource)
Bauckham, Richard J. Jude, 2 Peter (Word Biblical Commentary). Waco, TX: Word Books, 1983. 357 pp. - Some will not think the work evangelical. It has discussion looking at the Greek exegesis in some detail and with competence and showing a high familiarity with literature on the epistles as well as extra-biblical sources he feels pertains. In some cases he offers a spread of possibilities on views and arguments on problems. His bibliography is extensive. He will disturb many readers with his denial of authorship by Peter (he says the church at Rome produced it), and his view that the early readers would not disrespect it for being pseudonymous but take its message to heart as "a faithful mediator of the apostolic message" (pp. 161–62). Bauckham's view of inspiration is hazy, and he leaves students unsure whether he feels that any of the predictions or statements in the two epistles are objectively, actually true. In his thinking II Peter is dependent on Jude. The work is flawed in some of its doctrinal content but impressive in its help on exegesis and highly regarded in the academic community.
Gangel, Kenneth. "2 Peter," in Bible Knowledge Commentary, ed. John F. Walvoord and Roy B. Zuck, Volume II. Wheaton: Victor Books, 1985. - A brief but often substantial tracing of the message verse by verse, dealing with problems fairly well or at least giving views. Gangel uses Greek word study (1:5, epichoregeo), feels the blind in 1:9 are carnal but saved, apparently favors saying that "they" in 2:20 refers to unstable, unsaved people who were "listeners" in verse 18, but gives four views, etc. He is premillennial in his "day of the Lord" concept in 3:10–13.
Gardner, Paul. 2 Peter and Jude (Focus on the Bible). Geanies House, Fearn, Ross-shire, Scotland: Christian Focus Publications, 1998. - One can be impressed with this, among brief efforts, for some sensible, flowing exposition after convictions that the Apostle Peter wrote 2 Peter and Jude, the half brother of Jesus, wrote the letter of Jude. The work can be frequently clear (2 Pet. 1:20–21), or nebulous (as on the status of those who need to make sure, 2 Pet. 1:9–10, or how or when the angels sinned in 2:4). Overall the commentary is mediocre in covering issues. But stimulating thoughts appear on how Jude, much neglected, is relevant today for preaching (145–46).
Green, Michael E. The Second Epistle General of Peter and the General Epistle of Jude (Tyndale New Testament Commentary). Grand Rapids: Eerdmans, 1968. - An articulate evangelical commentary, upholding the Petrine authorship after a careful weighing of evidence, then explaining the text carefully though concisely. It rates as one of the best overall brief works.
Hiebert, D. E. Second Peter and Jude. Greenville, SC: Unusual Publications, 1989. 324 pp. -He takes conservative positions, even seeing Jude as following Peter's second epistle. He usually has something clarifying on a verse and displays considerable awareness of views and issues. Preachers and lay readers will find his present work worth the time.
Lloyd-Jones, D. M. Expository Sermons on Peter. Carlisle, PA: Banner of Truth Trust, 1983. 263 pp. Trust, 1983. 263 pp. Rp 1999. - The book gives 25 sermons preached in 1946–47, the preacher's first series through a book of Scripture. He delivered the messages at Westminster Chapel, London. He usually includes 1–4 verses in a sermon and moves through the epistle. One is soon aware that Lloyd-Jones has much insight, explaining the essentials of the text adeptly and developing how these have vital force for living in this world. The book is a primer for expositors and refreshing for Christians in general.
Lucas, Dick, and Christopher Green. The Message of 2 Peter & Jude (The Bible Speaks Today). Downers Grove, IL: IVP. 1995. - Lucas, a fine expository preacher, did the two introductions, Green the verse by verse comments. Little is done before 2 Peter to define in any substantial way who the false teachers are, but their characteristics are made clear both in 2 Peter and Jude. The Apostle Peter is assumed as the author (2 Pet.) and Jude the half brother of Jesus (Jude). The commentary expounds details in an eminently lucid way, clearly setting forth points and giving content that can foster growth along lines of productive godliness (2 Pet. 1:5–7 is worth the read, as are remarks about unorthodox teaching and life-style in 2 Pet. 2). Green does not view the corrupt teachers of 2:20–22 as ever having been truly saved (122), but only as having known in public confession, or claim. He gives six points of counsel on how to deal with such cases in the church (120–21). For both books, the practical exposition is quite well-done, useful for pastors, students, and lay people.
Wuest, Kenneth S. In These Last Days: Studies in the Greek Text of II Peter, John and Jude For the English Reader. Grand Rapids: Eerdmans, 1957. - This work is recommended as a very good simple book to give to a layman to stimulate his study. It is also good for the pastor and Sunday school teacher because it deals with the Greek word meanings verse-by-verse and has a warm devotional strain.
Defender's Study Bible - Excellent, conservative, literal study Bible notes from a leading creationist
Spurgeon - "Full of quaintnesses, holy wit, bright thought, and deep instruction.  We like Adams better in commenting than in preaching.  His great work is quite by itself, and in its own way remains unrivalled.  We know no richer and racier reading." 
John Cereghin - Fronmuller, G. F. C., The Epistles General of Peter and the Epistle General of Jude, Lange's Commentary on the Holy Scriptures, 1867, 53 pages. Conservative Lutheran exposition. He defends Petrine authorship (4-7); explains the divine nature (12); stresses that inspired prophets were "borne along by the Holy Ghost" (21); does not think that the word "angels" refers to Genesis 6 (27); teaches that a lapse from the state of grace is possible (37); holds that the old heavens and earth shall be renovated into better (46). (Source)
John Cereghin - Ironside, Harry A., Expository Notes on the Epistles of James and Peter, 1947, 41 pages. Brief devotional exposition. He attacks hyper-Calvinism (68); denounces the error of "soul sleep" (73); suggests that angels may refer to Genesis 6 (82-83); teaches the Premillennial coming of Christ (98). A practical and devotional exposition. Reprinted from the 1904 edition. (Source)
JOHN LILLIE
Spurgeon - "Dr. Schaff says: 'Though very different from the immortal work of Archbishop Leighton on the First Epistle of Peter, these lectures breathe the same reverential spirit and devotional fervor, while they are much more full and thorough as an exposition."
Commentary on 2Peter "Heavy" on the Greek - need to be able to read it.
Rosscup: Mayor, J. B. The Epistles of Jude and Second Peter: The Greek Text with Introduction, Notes and Comments. Grand Rapids: Baker, 1979. - This is quite a good older work on the Greek exegesis by the man who did an outstanding commentary on James. Mayor is more for serious students who know the Greek and are ready to read more technical detail on verses without being overcome.
D Edmond Hiebert - This massive volume contains an unsurpassed accumulation of details concerning these two epistles, setting forth parallels to the language from all Greek literature. The work of a painstaking liberal scholar, the volume is a mine of information for the diligent, discerning student.
John Cereghin - A liberal interpretation. He thinks that II Peter was a forgery written in the second century (173ff); admits the writer called Christ God (177); holds that cleansing comes through baptism (182). (Source) The upshot is BE A BEREAN with this commentary!
John Cereghin - 1895. An excellent commentary for the lay student by a conservative British scholar. Has valuable introductions and concise comments. (Source)
Note: $5 monthly or $50 annual fee [click] required to view entire article but gives access to thousands of conservative articles searchable by verse, topic or author
GEORGE MEISINGER
GREGG ALLEN
RICK WARREN
GREGG ALLEN
RICK WARREN
GREGG ALLEN
Peter's "precious" things:—
1 Pet. 1:7. Trial of faith much more precious.
1 Pet. 1:19. The precious blood of Christ.
1 Pet 2:4, 6. The living stone, precious.
1 Pet 2:7. He (Christ) is precious.
2 Pet. 1:1. Precious faith.
2 Pet 1:4. Precious promises.
2 Peter 1:4.      
In regeneration, the corruption is escaped.
In reformation, only the pollution is escaped.
2 Peter 1:6.  
Temperance is the virtue of prosperity.
Temperance—moderation—is the silken string running through the pearl chain of all the virtues.
2 Peter 1:11.      
Many Christians say, "If I can take a back-seat in heaven, I shall be satisfied." But is God satisfied?
2 Peter 1:19.      
The Bible does not say, as many seem to think, that prophecy is a dark place which we will do well to avoid, but rather that it is like a light shining in a dark place.
2 Peter 3:18
"Grow in grace." The old age of grace is maturity, not decay; advance, not decline; perfection, not imbecility. We go from strength to strength.
Without grace, there can be no saving knowledge.
More technical comments
John Cereghin - Caffin, B.C., and S.D.F. Salmond, II Peter and Jude in The Pulpit Commentary, n.d., 107 pages. Homiletical expositions. They defend Petrine authorship and authenticity (ixiii); favor the view that Christ is called God (2); stress universal redemption (43); argue that the phrase "other scriptures" shows Paul's Epistles were ranked with the Old Testament (71). (Source)
Devotional Commentary with many Application points
John Cereghin - Williams, Nathaniel Marshman, Commentary on the Epistles of Peter, An American Commentary, 1888. Quite full but concisely written; a rewarding exposition by a conservative Baptist scholar. (Source)
This commentary goes verse by verse, phrase by phrase. Very nice.
Book