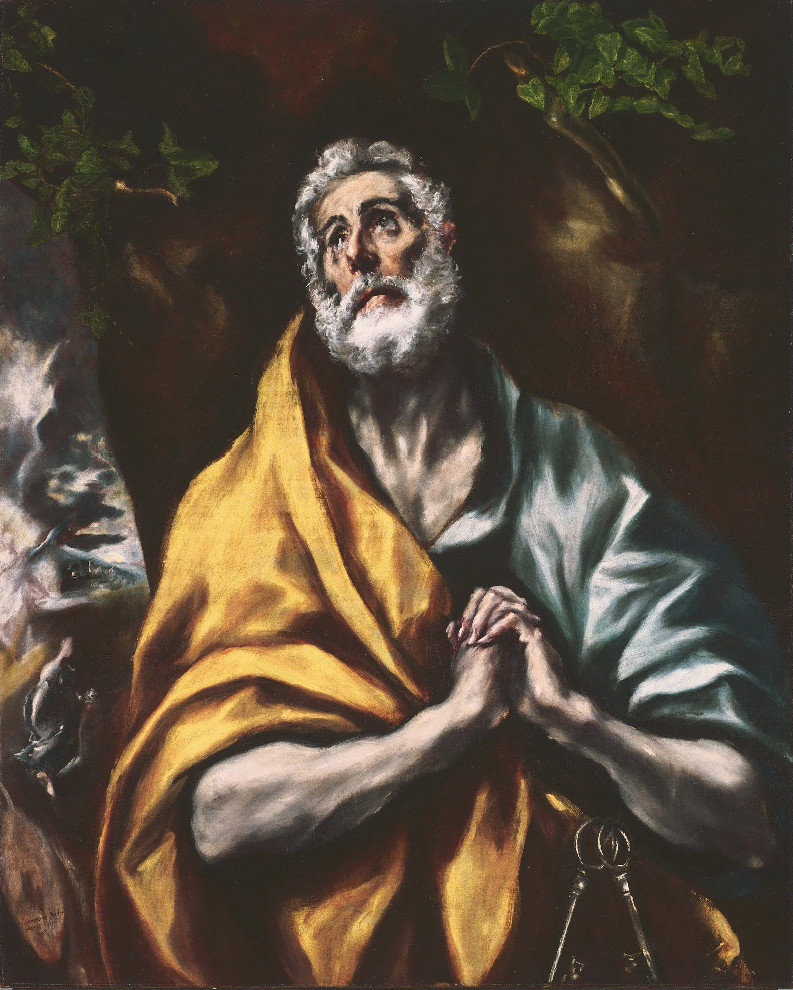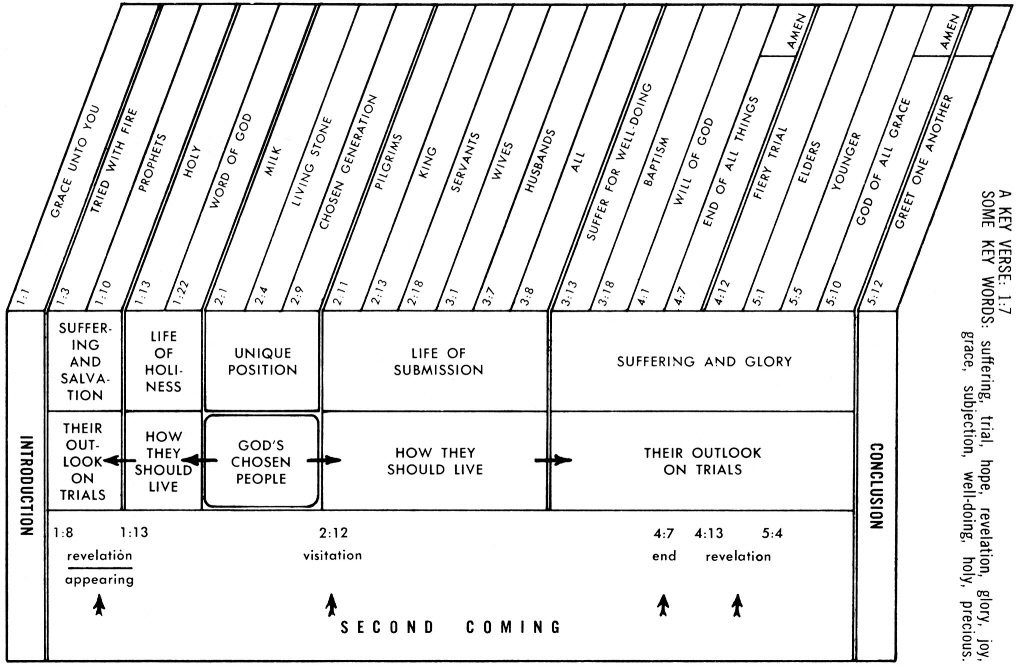 1 Peter: Trials, Holy Living & The Lord's Coming
Click chart to enlarge
Chart from Jensen's Survey of the NT - used by permission
Another Chart from Charles Swindoll
Another Chart on 1 Peter
FIRST PETER
SECOND PETER
Letter of consolation
Letter of Warning
Encouragement for the Church
Error in the Church
Main teaching: Comfort for Suffering Saints
Main teaching: Exposure of False Teachers
Suffering of Christ
Glory of Christ
Christ - His Redemptive Title
Lord - His Title of Dominion
Hope - Enables us to Face Trials
Full Knowledge - Enables us to Recognize Error
External Opposition
Internal Opposition
Hostility
Heresy
Danger from Without
Danger from Within
Hope in the Lord's Return
Certainty of the Lord's Return
Walk in Holiness as God is Holy
Growth in Grace and Knowledge of Christ
"Pain with a Purpose"
"Poison in the Pew"

Adapted from Jensen's Survey of the New Testament and Wilkinson and Boa's Talk Thru the Bible
In Depth Commentary Expository Notes on site. Literal, conservative, millennial, evangelical perspective by Bruce Hurt, MD
Read his fascinating brief biography - Henry Alford and Phil Johnson's related comments
James Rosscup writes that Alford's series on the New Testament "contains much that is valuable in the Greek New Testament...though all of the Greek New Testament words have been changed to English throughout." (Commentaries for Biblical Expositors: An Annotated Bibliography of Selected Works).
Charles Haddon Spurgeon (see his comments in following entry on Alford).
Editorial Note: If you are not proficient in Greek, you will find this work considerably more useful than the following work by Alford, because in this volume he translates the Greek and Latin into English. While the "The Greek New Testament" is longer (e.g., English version of 1John = 66 pages compared to Greek version = 94 pages in part because the latter includes comments of more technical nature), the substance of the commentary is otherwise similar to that found in the "NT for English Readers".
James Rosscup writes that "This was the great work in the life of the versatile Dean of Canterbury. An outcome of this production was the New Testament for English Readers (4 vols.). Alford was a Calvinist, conservative and premillennial, though not dispensational. He takes a literal interpretation of the thousand years in Rev. 20 and has a famous quote there, is strong on sovereign election as in Ro 8:29, 30 and 1Pe 1:2, but, unfortunately, holds to baptismal regeneration in such texts as Titus 3:5 and John 3:5. He shows a great knowledge of the Greek text and faces problems of both a doctrinal and textual nature." (Commentaries for Biblical Expositors: An Annotated Bibliography of Selected Works)
John Piper writes ""When I'm stumped with a...grammatical or syntactical or logical [question] in Paul, I go to Henry Alford. Henry Alford...comes closer more consistently than any other human commentator to asking my kinds of questions."
Charles Haddon Spurgeon writes that this text "is an invaluable aid to the critical study of the text of the New Testament. You will find in it the ripened results of a matured scholarship, the harvesting of a judgment, generally highly impartial, always worthy of respect, which has gleaned from the most important fields of Biblical research, both modern and ancient, at home and abroad. You will not look here for any spirituality of thought or tenderness of feeling; you will find the learned Dean does not forget to do full justice to his own views, and is quite able to express himself vigorously against his opponents; but for what it professes to be, it is an exceedingly able and successful work. The later issues are by far the most desirable, as the author has considerably revised the work in the fourth edition. What I have said of his Greek Testament applies equally to Alford's New Testament for English Readers,* which is also a standard work." (Spurgeon, C. H. Lectures to my Students, Vol. 4: Commenting and Commentaries; Lectures Addressed to the students of the Pastors' College, Metropolitan Tabernacle)
Commentary in Pdf format - 66 pages - Sample excerpt...
"Eternal vigilance is the price of freedom" -- a familiar saying in our country. We remember from Pearl Harbor what it's like to get caught off guard. The enemy can be so deceptive: Japan's peace envoys were seated at the negotiating table at the very moment the attack was launched. Our country depends on a strong defense -- on being watchful so we are not surprised by a sneak attack and on being powerful so that we are prepared to fight when we have to. The same holds true in the spiritual realm: Big Idea: CAREFUL RESISTANCE AGAINST THE ENEMY HELPS THE PERSECUTED CHURCH TO STAND STRONG IN THE GRACE OF GOD I. Be On the Alert -- Be Careful -- Military Alert He has just told them to be care-free; now he says be careful; not "let go and let God"; not passive in this spiritual warfare, but active; A. Disciplined self-control; clear thinking; good decisions B. Wide-awake watchfulness 20 times in the NT, believers are reminded to be on the alert, to Watch. Most of the time it is Jesus who commands it. If we are not careful, Satan can quickly gain an advantage: 1) Eph. 4:26-27 keep short accounts regarding sin; be quick to repent 2) 2 Cor. 2:10-11 a resentful or unforgiving spirit 3) Jude 9 tread with caution; don't have a flippant attitude that the devil can't touch me II. Know the Enemy and Sense the Danger -- Military Intellegence A. His Makeup -- Character -- Identity 1. "your adversary" if you are proud, God opposes you; if you are humble and submit to the mighty hand of God, Satan is your adversary = much to be preferred; we get to pick our adversary
What a Way to Go! - "When I go to heaven..." were Jack Arnold's last words before dying instantly in the pulpit from a heart attack. The extraordinary event made international headlines. and was picked up by the AP wire, CNN, and even Paul Harvey." (Click for more detail) (Watch memorial service - Pt 1, Pt 2, Pt 3, Pt 4, Pt 5).
D Edmond Hiebert - Prints the author's own translation. Barclay defends Petrine authorship of 1 Peter but not of 2 Peter. Valuable for its numerous helpful word studies and background material. Barclay holds that Christ's descent into Hades gave those who there heard Him a second chance.
Comment: I appreciate Barclay's unique insights on Greek words, but clearly his teaching about a "second chance" is NOT sound doctrine! Be an Acts 17:11 Berean with Barclay. See discussion of his orthodoxy especially the article "The Enigmatic William Barclay".
James Rosscup writes that Barnes "includes 16 volumes on the Old Testament, 11 on the New Testament. The New Testament part of this old work was first published in 1832–1851. Various authors contributed. It is evangelical and amillennial...Often the explanations of verses are very worthwhile." (Commentaries for Biblical Expositors: An Annotated Bibliography of Selected Works)
C H Spurgeon "Albert Barnes is a learned and able divine, but his productions are unequal in value, the gospels are of comparatively little worth, but his other comments are extremely useful for Sunday-school teachers and persons with a narrow range of reading, endowed with enough good sense to discriminate between good and evil....Placed by the side of the great masters, Barnes is a lesser light, but taking his work for what it is and professes to be, no minister can afford to be without it, and this is no small praise for works which were only intended for Sunday-school teachers." (Spurgeon, C. H. Lectures to my Students, Vol. 4: Commenting and Commentaries; Lectures Addressed to the students of the Pastors' College, Metropolitan Tabernacle)
Note: If not proficient in Greek, see related Critical English Testament below.
James Rosscup writes "This work (Gnomon), originally issued in 1742, has considerable comment on the Greek, flavoring the effort with judicious details about the spiritual life. It has much that helps, but has been surpassed by many other commentaries since its day." (Commentaries for Biblical Expositors: An Annotated Bibliography of Selected Works)
Note: Represents Combination of Bengel's Gnomon and Comments by more modern expositors (in brackets) to make this more usable for those who do not read Greek.
Spurgeon comments on the goal to make Bengel's Gnomon (listed above) more accessible -- "Such is the professed aim of this commentary, and the compilers have very fairly carried out their intentions. The whole of Bengel's Gnomon is bodily transferred into the work, and as 120 years have elapsed since the first issue of that book, it may be supposed that much has since been added to the wealth of Scripture exposition; the substance of this has been incorporated in brackets, so as to bring it down to the present advanced state of knowledge. We strongly advise the purchase of this book, as it...will well repay an attentive perusal. Tischendorf and Alford have contributed largely...to make this one of the most lucid and concise commentaries on the text and teachings of the New Testament" (Spurgeon, C. H. Lectures to my Students, Vol. 4: Commenting and Commentaries; Lectures Addressed to the students of the Pastors' College, Metropolitan Tabernacle)
Rosscup - This is probably the second best older study on 1 Peter from the standpoint of the Greek text. Selwyn is the other. As other ICC works, it deals with details of philology, grammar and possible views on problems. (Commentaries for Biblical Expositors)
D Edmond Hiebert - Greek text. Lengthy and informative introductions, setting out the ancient testimony to each of these epistles. Bigg holds that Peter cannot have written 1 Peter directly but worker through an amanuenisis. He is favorable to the traditional authorship of 2 Peter and Jude. A most thorough and rewarding commentary on the Greek text. (An Introduction to the New Testament)
The Living Church - His commentary is very satisfactory indeed. His notes are particularly valuable. We know of no work on these epistles which is so full and satisfactory.
American Journal of Theology - Canon Bigg's work is preeminently characterized by judicial open-mindedness and sympathetic insight into historical conditions. His realistic interpretation of the relations of the apostles and the circumstances of the early church renders the volume invaluable to students of these themes. The exegetical work in the volume rests on the broad basis of careful linguistic study, acquaintance with apocalyptic literature and the writings of the Fathers, a sane judgment, and good sense.
Doug Erlandson (Amazon Review) - John Brown's two-volume "1 Peter" is far more than a commentary. In fact, it is less a commentary than it is an exposition, or, as Brown himself called what he was doing, a "discourse." The result of a series of sermons preached to his congregation in Edinburgh over a period of 16 years in the early 1800s, the two volumes are divided into 24 discourses, each one on a few verses of the epistle. Written from a Reformed perspective, Brown provides a series of wonderfully perceptive theological and practical insights into the text. There are many good commentaries on the Petrine letters, but none equal what Brown has done in making the text come alive and providing a huge number of practical applications. The two volumes combined run approximately 1,200 pages, which will give some idea of the amount of material contained in them. Brown's "I Peter" is appropriate for the layperson as well as the serious scholar. It is above all an essential work for anyone planning on preaching on First Peter.
D Edmond Hiebert - Prints author's own translation. An exhaustive exposition by a conservative interpreter which has stood the test of time. Important for the expositor of 1 Peter. (An Introduction to the New Testament)
Spurgeon - The epistle is divided into paragraphs, and these are made the themes of discourses. Thus Dr. Brown produced what is substantially a commentary, and one of the best. It affords us a grammatical interpretation, together with an exposition, at once exegetical, doctrinal and practical. It is a standard work, and the indices increase its value.
Frequent use of illustrations.
D Edmond Hiebert - A full exposition by a conservative scholar of the past century; rich in homiletical usefulness.(An Introduction to the New Testament)
D Edmond Hiebert - Greek text. A technical commentary providing grammatical information and important word studies. Often cites rabbinic sources. Defends Petrine authorship and dates the letter at A.D. 64. (An Introduction to the New Testament)
Rosscup - This book prints expositions from his series in Bibliotheca Sacra and Studia Missionalia. As in James, Heibert is vigorous in seeking to explain verses and sections, discuss views with an awareness of scholarly work, and use the Greek competently. It is a fairly good evangelical product. (Commentaries for Biblical Expositors: An annotated bibliography of selected works).
Cyril Barber - First published in 1984. Of all the expositions of I Peter available today, this is one of the best for the expository preacher. Highly recommended!
Note: Anything authored by D Edmond Hiebert is worth consulting! - Journal Articles by Hiebert
D Edmond Hiebert - A series of twenty-nine sermons eloquently expounding the Petrine epistles section by section. A practical and devotional exposition; critical problems are not dealt with.(An Introduction to the New Testament)
Cyril Barber - This is one of the finest devotional expositions of these NT books. First published in 1905, it has retained its value in spite of the passing of the years. It offers an irenic and encouraging discussion of Peter's letters that has not been equaled. Readers will soon find that Jowett possessed a remarkable grasp of the Greek text, a wide acquaintance with the literature produced up to his time, and these he blends with a skillful use of hymnody. His exposition deserves a place in every expository preacher's library. Recommended (The Minister's Library, Volume 3)
---
A Practical Commentary Upon the First Epistle of St. Peter — Highly Recommended
Note: This almost 1000 page commentary is obviously a treatise of considerable depth (eg, there are 27 pages on the second verse of chapter 1!) You may not be familiar with Leighton but you will not be disappointed by the piety and scholarship of his 2 volume work on First Peter (Volume I - Chap 1-2, 458pp, Volume II - Chap 3-5, 516pp). Leighton was born in 1611 but this work carries a publishing date of 1845.
Rosscup's Review - A thorough discussion of the text with an exceptionally warm devotional spirit. Among older works it is easily one of the most helpful. (Commentaries for Biblical Expositors: An annotated bibliography of selected works).
Spurgeon - Dr. Henry Mills thus wrote of Leighton's works:—"There is a spirit in them I never met with in any other human writings, nor can I read many lines in them without being moved." We need scarcely commend this truly heavenly work. It is a favorite with all spiritual men.
D Edmond Hiebert - A warmly devotional commentary by an Anglican bishop of a past century. While often quoting from the early Church fathers, the eloquent bishop provides his readers with the results of his vast learning in a very readable form. A thorough, conservative exposition. (An Introduction to the New Testament)
A Few Anecdotes: He referred to his devotional exercises as "the dressing and undressing of his soul" It is well said of him "that prayer and praise were his business and his pleasure." In speaking of the Lord's Prayer, he used to say, "Oh! The spirit of this prayer would make rare Christians." Once pointing to his books, he remarked to his nephew "one devout thought is worth them all." It is said of him, that he seemed to be in a perpetual meditation, and would take occasion from any passing incident to give utterance to some pious reflection. His commentary on First Peter is his principal work. (Memoir of Robert Leighton)
Alternative Source for 1 Peter 1-2 - — 1Peter 1; 1Peter 2
Highly Recommended -- Functions like a verse by verse commentary
James Rosscup writes that this book is "The famous devotional writer of England has here dealt with First Peter in an expository way. He is very good on the subject of suffering. This is a very valuable devotional work to have." (Commentaries for Biblical Expositors: An Annotated Bibliography of Selected Works)
JOURNAL ARTICLES - Note that these are available online at no charge
A notable series available from Galaxie.com is the 14 part exegetical study on 1 Peter 1-3 in Bibliotheca Sacra (fee required to see full article - $5/mo or $50/yr):
DISCOVERY HOUSE - Booklet
1 Peter 2:18-25 (part 1) - "Suffering Servants" (lost)
12 lessons -- Lesson 1 can be downloaded
Excerpt - How do I apply this? Unjust or unforeseen suffering is one of the great problems that grips the hearts of people today. We struggle with frustration, anger, and uncertainty when trials strange and unexpected land on our doorsteps. Too often in those most difficult moments of our lives, confusion reigns while contentment wanes; questions arise while prayer subsides. How do you react when suffering comes? Many crumble at the mere thought of another pain or trial. Others rise to the occasion. Most of us are probably somewhere in between. Peter's encouragement to his Christian readers is one of perseverance in faith. It isn't enough for us to simply get up every morning and trudge through each day; neither is it advisable to paste a smile on our faces and ignore troubles. Instead, the lesson of 1 Peter is to push through the troubles, recognizing their temporary presence in our lives while walking in holiness and hope as people of faith. So press on! It is in the darkest times that our collective light shines brightest.
D Edmond Hiebert on Fronmuller - Prints author's own translation. An exhaustive exposition by a conservative interpreter which has stood the test of time. Important for the expositor of 1 Peter. A careful interpretation of these epistles with a mass of material of a practical and homiletical nature.(An Introduction to the New Testament)
Cyril Barber - Continuously in print for 50 years, having made its debut in 1947. Ironside always has something good to say. He is easy to read, evangelical, and provides deft applications of the truth to life. One limitation of this revision is the use of the KJV when some other modern translation (e.g., NKJV) would have better served the needs of modern readers. Otherwise, this exposition is lucid and ideal for lay Bible study.
D Edmond Hiebert - The wordy exposition of a leading Plymouth Brethren scholar of the past century. Contains clear reflections of the doctrinal and ecclesiastical views of his circle. The difficulties of these epistles are dealt with in a clear and conservative manner. The author's death terminated the exposition of the second epistle at 3:7.(An Introduction to the New Testament)
Rosscup on Luther - The reader wanting to see how the great reformer handles these epistles will find a readable work with many judicious comments but one weak on some of the problems such as how to interpret the spirits in prison (3:19–21). Many commentaries are better overall. (Commentaries for Biblical Expositors: An annotated bibliography of selected works).
D Edmond Hiebert - A valuable commentary on these epistles for the lay student by a conservative British scholar of the past century. Important introductions and concise notes on the text. (An Introduction to the New Testament)
ROBERT RAYBURN
Excerpt from this transcript - click link above for full transcript - The Characteristic of True Christians - That is the great characteristic of the true Christian always, as it is the great characteristic of the New Testament, and as it was the characteristic note of the early church. The early church was characterized by praises to God, and by a sense of joy. "Blessed be the God and Father!" That was their note, and as we have seen, it came out all at once. But that note of praise and joy was not confined to the early church. If you read the long history of Christianity you will find that the note of praise and joy has been characteristic of the church in every period of revival. At every time of reformation and renewal this original note has come back, so that the church again has been thrilled with a sense of "wonder, love, and praise." An apostle like Peter, even when he writes to people who at the time are suffering a good deal of trial and tribulation, cannot take up his pen without starting out in this mighty and magnificent manner. Very well! Before we as Christians go any further let us ask ourselves some obvious questions. Is this the characteristic note of our Christian life and witness? Is this what we feel? Is this our response to the Gospel? Is this our actual experience in the modem world, and in spite of everything awful in the world about us? On this Easter morning, this is surely the most important thing for us to say to ourselves. We claim to be Christians. We make our public profession of faith. But in the last analysis what is the test of it all? Is there within us the spirit that was in the apostle Peter and in the people to whom he wrote?
RICK WARREN
RICK WARREN
MIKE ANDRUS
F B MEYER
CURT ROMIG
RICK WARREN
RICK WARREN
SERMON CENTRAL - multiple sermons of variable quality
1 Peter 3
DON ROBINSON
THIRD MILLENNIUM
1 Peter 4
RICK WARREN
1 Peter 5
RICK WARREN
Peter's "precious" things:—
1 Pet. 1:7. Trial of faith much more precious.
1 Pet. 1:19. The precious blood of Christ.
1 Pet 2:4, 6. The living stone, precious.
1 Pet 2:7. He (Christ) is precious.
2 Pet. 1:1. Precious faith.
2 Pet 1:4. Precious promises.
Peter speaks of "suffering," seventeen times in this epistle.
1 Peter 1:19. The precious blood of Christ.
Why precious?
Because it redeems us. 1 Pet. 1:19.
Because it brings us nigh. Eph. 2:13.
Because it blots out our sins. Rev. 1:5.
Because it brings peace. Col. 1:20.
Because it justifies. Rom. 5:9.
Because it cleanses from all sin. 1 John 1:7.
Because it gives boldness in the day of judgment.
Christ left nothing behind on earth but His blood.
1 Pet 2:5. Accepted service.
1 Pet 2:20. Accepted suffering.
1 Pet 2:21. Plato said, "When men speak evil of you, live so that no man will believe it." But he did not tell how to do so.
1 Pet 2:24. The Christian's death is when he dies to sin. No second death.
1 Pet 3:15. A Christian worker once said to a man, "God does not want your learning." "No," said the other, "nor your ignorance either."
1 Pet 4:14. If the world has nothing to say against you, Christ will have little to say for you.
Note: Click "NET" for Multiple Translations. Net Notes and Constable's notes synch with Biblical text.
Click additional devotionals/illustrations multiple authors
Another Source with Homilies by Chapter
If you are not familiar with his writings, you need to check out his messages!
Sermons on 1Peter - Simeon Suffered Severely
If you are not familiar with this great saint see John Piper's summary - Brothers We Must Not Mind a Little Suffering (or Mp3) - Surely Simeon's comments on suffering in 1 Peter come from his heart and his personal experience - consider reading what he writes about suffering!
Excellent Exposition & Application
Note: The best commentary on Scripture is Scripture (Compare Scripture with Scripture) and these cross references compiled by Torrey are the most comprehensive work of this type with over 500,000 entries. However, always check the context (Keep Context King) to make sure that the cross reference is referring to the same subject as the original Scripture. The Puritan writer Thomas Watson said it this way - "The Scripture is to be its own interpreter or rather the Spirit speaking in it; nothing can cut the diamond but the diamond; nothing can interpret Scripture but Scripture." See an example of the value of comparing Scripture with Scripture. See also Use of Cross-References
I. Survey of the life of Peter
II. Salvation (1 Peter 1:1-21)
A. Chosen by God for salvation (1 Peter 1:1-2)
B. Thanksgiving for salvation (1 Peter 1:3-5)
1. The author of our salvation
2. The nature of our salvation
3. The certainty of our salvation
C. The joy of salvation (1 Peter 1:6-9)
1. Joy comes from the certainty of salvation
2. Joy comes from a proven faith
3. Joy comes from a promised future honor
4. Joy comes from a meaningful relationship
D. The greatness of our salvation (1 Peter 1:10-12)
1. Testified to by the Old Testament prophets
2. Testified to by the apostles
E. The fruit of our salvation (1 Peter 1:13-17)
F. The wonder of our redemption (1 Peter 1:18-21)
1. The Old Testament figure of redemption
2. What we have been redeemed from
3. What we have been redeemed with
4. Who we have been redeemed by and for
III. Sanctification (1 Peter 1:22-3:12)
A. Our Love (1 Peter 1:22-2:3)
1. Loving the brethren (1 Peter 1:22-25)
2. Loving God's Word (1 Peter 2:1-3)
B. Our privileges (1 Peter 2:4-10)
1. Union
2. Access
3. Security
4. Election
C. Our conduct
1. Our conduct among the Gentiles (1 Peter 2:11-12)
2. Our conduct to the government (1 Peter 2:13-17)
a. The motivation for submission
c. The reason behind submission
3. Our conduct to masters (1 Peter 2:18-20)
b. Acceptable and unacceptable suffering
4. The example of Jesus (1 Peter 2:21-25)
b. The model for suffering
1) Christ suffered as our standard
2) Christ suffered as our substitute and shepherd
5. Our conduct in marriage (1 Peter 3:1-7)
a. Christian wives
2) Chaste and respectful behavior
b. Christian husbands
6. The summary of our conduct (1 Peter 3:8-12)
IV. Suffering (1 Peter 3:13-4:19)
A. How to cope in a hostile world (1 Peter 3:13-17)
1. We need a passion to do what is right, ready to suffer
2. We need a right relationship with Christian, ready to give answers
B. The triumph of Christ's sufferings (1 Peter 3:18-20)
3. His triumphant salvation and supremacy
C. The suffering that comes from sin? (1 Peter 4:1-6)
1. The impact of sin upon Jesus and Christians
2. The impact of sin upon the word
D. A Christian's duty in a hostile world (1 Peter 4:7-11)
2. The instructions
b. Our duty to one another
E. The fiery trial (1 Peter 4:12-19)
1. We need to expect suffering
2. We need to rejoice in suffering
3. We need to evaluate the source of suffering and trust God
V. Shepherding (1 Peter 5:1-14)
A. Shepherding the flock of God (1 Peter 5:1-4)
1. The responsibilities of a shepherd
2. The motivations to be a shepherd
3. The practice of a shepherd
a. Positive behaviors to adopt
b. Negative behaviors to avoid
B. Fundamental attitudes of Christian maturity (1 Peter 5:5-14)
3. Vigilance
| | | |
| --- | --- | --- |
| Sojourners of the Dispersion | Alexander Maclaren | 1 Peter 1:1 |
| The Threefold Condition of a Christian | A. Maclaren | 1 Peter 1:1 |
| A Loving Salutation | J. J. S. Bird, B. A. | 1 Peter 1:1-2 |
| Christ's Selection of Peter | W. P. Faunce. | 1 Peter 1:1-2 |
| Commissioned by Christ | James Stalker, D. D. | 1 Peter 1:1-2 |
| Genuine Disciples of Christ | Homilist | 1 Peter 1:1-2 |
| God's People Scattered | N. Byfield. | 1 Peter 1:1-2 |
| Grace and Peace, Their True Order | W. Arnot. | 1 Peter 1:1-2 |
| Grace Continually from God | J. Edwards. | 1 Peter 1:1-2 |
| How a Man May Know His Election | J. Spencer. | 1 Peter 1:1-2 |
| How May We Know the Election of Others | John Rogers. | 1 Peter 1:1-2 |
| Introduction | R. Finlayson | 1 Peter 1:1, 2 |
| Justification and Sanctification | J. H. Evans. | 1 Peter 1:1-2 |
| Lessons from the Foreknowledge of God | N. Byfield. | 1 Peter 1:1-2 |
| Multiplied Grace | Bp. Bowman. | 1 Peter 1:1-2 |
| Multiplied Grace and Peace | N. Byfield. | 1 Peter 1:1-2 |
| Obedience | Abp. Leighton. | 1 Peter 1:1-2 |
| Of Peace | T. Watson. | 1 Peter 1:1-2 |
| Persecution | John Rogers. | 1 Peter 1:1-2 |
| Sanctification Necessary | W. Jay. | 1 Peter 1:1-2 |
| Sanctification, and by Whom Wrought | C. H. Spurgeon. | 1 Peter 1:1-2 |
| Sent by God | Three Great Lives, Frances E. Cooke. | 1 Peter 1:1-2 |
| The Beauty of Grace | T. Watson. | 1 Peter 1:1-2 |
| The Beginnings of Grace Small | J. J. Wray. | 1 Peter 1:1-2 |
| The Elect | J. M. Chanter, M. A. | 1 Peter 1:1-2 |
| The Introductory Greeting | U. R. Thomas. | 1 Peter 1:1-2 |
| The Plan of Salvation | J. C. Jones, D. D. | 1 Peter 1:1-2 |
| The Several Names of St. Peter | John Rogers. | 1 Peter 1:1-2 |
| The Spirit Counteracting the Evil Tendency in Man | F. B. Meyer. | 1 Peter 1:1-2 |
| The Spirit Purifying the Heart | F. B. Meyer. | 1 Peter 1:1-2 |
| The Sprinkled Blood of Christ | N. Byfield. | 1 Peter 1:1-2 |
| The Introductory Greeting | U.R. Thomas | 1 Peter 1:1-3 |
| The Elect of God | C. New | 1 Peter 1:2 |
| How God Justifies the Trust of All Who Hope in His Mercy | J. Urquhart | 1 Peter 1:3 |
| A Lively Hope Generated by Christ's Resurrection | H. Melvill, B. D. | 1 Peter 1:3-5 |
| A Right to Hope | H. W. Beecher. | 1 Peter 1:3-5 |
| A Seven-Fold Hymn Praise | E. A. Stuart, M. A. | 1 Peter 1:3-5 |
| A String of Pearls | C. H. Spurgeon. | 1 Peter 1:3-5 |
| An Ascription of Praise | J. J. S. Bird, B. A. | 1 Peter 1:3-5 |
| An Outburst of Praise | U. R. Thomas. | 1 Peter 1:3-5 |
| An Outburst of Praise | U.R. Thomas | 1 Peter 1:3-5 |
| Begotten to the Heavenly Inheritance | W. Arnot. | 1 Peter 1:3-5 |
| Begotten unto a Living Hope | D. Davies. | 1 Peter 1:3-5 |
| Benedictus Deus | Bp. Andrewes. | 1 Peter 1:3-5 |
| By, Through, For | A. Maclaren, D. D. | 1 Peter 1:3-5 |
| Christian Hope Well Founded | Geo. MacDonald. | 1 Peter 1:3-5 |
| Christianity Provides a Future | | 1 Peter 1:3-5 |
| Divine Power and Human Faith | D. S. Brunton. | 1 Peter 1:3-5 |
| Easter Hopes | Canon Liddon. | 1 Peter 1:3-5 |
| God's Abundant Mercy | John Rogers. | 1 Peter 1:3-5 |
| God's Mercy Manifold | C. H. Spurgeon. | 1 Peter 1:3-5 |
| God's Protecting Agencies | T. G. Selby. | 1 Peter 1:3-5 |
| Great Expectations | B. D. Johns. | 1 Peter 1:3-5 |
| How God Keeps His Saints | | 1 Peter 1:3-5 |
| Kept | A. G. Brown. | 1 Peter 1:3-5 |
| Man Blessing God | N. Byfield. | 1 Peter 1:3-5 |
| Of Perseverance | T. Watson. | 1 Peter 1:3-5 |
| Salvation Ready for Revelation | A. Maclaren, D. D. | 1 Peter 1:3-5 |
| Salvation Remedy | Essex Remembrancer | 1 Peter 1:3-5 |
| Shadows of the Future | F. Binns. | 1 Peter 1:3-5 |
| The Anthem of the Redeemed | Homilist | 1 Peter 1:3-5 |
| The Apostolic Benediction | W. Arnot. | 1 Peter 1:3-5 |
| The Christian Salvation Described and Acknowledged | J. Brown, D. D. | 1 Peter 1:3-5 |
| The Christian's Hope | Stanley's Life of Arnold. | 1 Peter 1:3-5 |
| The Christian's Living Hope and Incorruptible Inheritance | E. D. Solomon. | 1 Peter 1:3-5 |
| The Death Test | | 1 Peter 1:3-5 |
| The Divine Keeping | E. A. Stuart, M. A. | 1 Peter 1:3-5 |
| The End of Salvation Ready to be Revealed | J. C. Jones, D. D. | 1 Peter 1:3-5 |
| The Heavenly Inheritance | J. C. Jones, D. D. | 1 Peter 1:3-5 |
| The Inheritance of Moral Manhood | J. Parker, D. D. | 1 Peter 1:3-5 |
| The Key-Note of the Epistle - the Believer's Hope | C. New | 1 Peter 1:3-5 |
| The Last Revelation of Salvation | W. Arnot. | 1 Peter 1:3-5 |
| The Last Time | N. Byfield. | 1 Peter 1:3-5 |
| The Lively Hope | Thos. Brookes. | 1 Peter 1:3-5 |
| The Right View of Christ's Resurrection | H. Marriott. | 1 Peter 1:3-5 |
| The Risen Lord the Christian's Hope | J. E. H. Meier. | 1 Peter 1:3-5 |
| The Security of the Faithful | J. W. Reeve, M. A. | 1 Peter 1:3-5 |
| The Security of the Inheritance | W. Arnot. | 1 Peter 1:3-5 |
| Salvation in its Completion | R. Finlayson | 1 Peter 1:3-12 |
| The Inheritance Reserved for the Heirs | A. Maclaren | 1 Peter 1:4 |
| By, Through, Unto | Alexander Maclaren | 1 Peter 1:5 |
| The Heirs Kept for the Inheritance | A. Maclaren | 1 Peter 1:5 |
| Sorrowful, Yet Always Rejoicing | Alexander Maclaren | 1 Peter 1:6 |
| The Paradox of the Christian Life - Joy Subsisting with Sorrow | A. Maclaren | 1 Peter 1:6 |
| He Testing of Religious Faith | U.R. Thomas | 1 Peter 1:6, 7 |
| Afflictions a Test of Faith | John Rogers. | 1 Peter 1:6-9 |
| Believers Rejoicing | W. Jay. | 1 Peter 1:6-9 |
| Burnt In | J. C. Jones, D. D. | 1 Peter 1:6-9 |
| Christ, Though Invisible, the Object of Devout Affection | J. Foster. | 1 Peter 1:6-9 |
| Christian Joy | J. Trapp. | 1 Peter 1:6-9 |
| Christian Joy | E. L. Hull, B. A. | 1 Peter 1:6-9 |
| Deep Joys | T. De Witt Talmage. | 1 Peter 1:6-9 |
| Genuine Faith More Precious than Gold | Homilist | 1 Peter 1:6-9 |
| Glorified Joys | J. Trapp. | 1 Peter 1:6-9 |
| Glorious Enjoyment | Tinling's Illustrations | 1 Peter 1:6-9 |
| Gratitude to Christ | T. Somerville, D. D. | 1 Peter 1:6-9 |
| Heart Joys | T. De Witt Talmage. | 1 Peter 1:6-9 |
| Heaven's Discipline of the Good | Homilist | 1 Peter 1:6-9 |
| Joy and Trial in the Christian's Life | J. Henry Burn, B. D. | 1 Peter 1:6-9 |
| Joy in Heaviness | F. B. Meyer, B. A. | 1 Peter 1:6-9 |
| Joy Unspeakable | T. Leighton. | 1 Peter 1:6-9 |
| Love a Way to Faith | J. Leckie, D. D. | 1 Peter 1:6-9 |
| Love of Christ | A. M. Fairbairn, D. D. | 1 Peter 1:6-9 |
| Love to an Unseen Saviour | S. Hayward. | 1 Peter 1:6-9 |
| Love to an Unseen Saviour | F. Ferguson, D. D. | 1 Peter 1:6-9 |
| Love to an Unseen Saviour | J. Hubbard. | 1 Peter 1:6-9 |
| Love to Christ | R. Burns, D. D. | 1 Peter 1:6-9 |
| Love to the Unseen Christ | James Cranbrook. | 1 Peter 1:6-9 |
| Needful Afflictions | W. Swinnock. | 1 Peter 1:6-9 |
| Perfect Salvation | R. W Dale, LL. D. | 1 Peter 1:6-9 |
| Peter's List of Valuables | A. Maclaren, D. D. | 1 Peter 1:6-9 |
| Rejoicing Indicates Strength | T. De Witt Talmage. | 1 Peter 1:6-9 |
| Salvation -- its Subjective Elements | J. C. Jones, D. D. | 1 Peter 1:6-9 |
| Salvation as it is Now Received | C. H. Spurgeon. | 1 Peter 1:6-9 |
| Salvation the End of Faith | American National Preacher | 1 Peter 1:6-9 |
| Seeing is not Believing, But Believing is Seeing | C. H. Spurgeon. | 1 Peter 1:6-9 |
| Soul Salvation | U. R. Thomas. | 1 Peter 1:6-9 |
| The Believer's Joyful Love | N. C. Locke, D. D. | 1 Peter 1:6-9 |
| The Christian's Heaviness and Rejoicing | C. H. Spurgeon. | 1 Peter 1:6-9 |
| The Christian's Joy and the Christian's Sufferings | W. Jay. | 1 Peter 1:6-9 |
| The Duality of Christian Life | J. P. Lunge. | 1 Peter 1:6-9 |
| The Duty and Discipline of Christian Joy | A. Maclaren, D. D. | 1 Peter 1:6-9 |
| The Godly, by Faith, Do Even Here Enjoy Salvation | John Rogers. | 1 Peter 1:6-9 |
| The Greatness of Salvation | | 1 Peter 1:6-9 |
| The Highest Christian Experience | U. R. Thomas. | 1 Peter 1:6-9 |
| The Needs Be | J. Trapp. | 1 Peter 1:6-9 |
| The Reign of Christ in Christendom | Bp. Alexander. | 1 Peter 1:6-9 |
| The Saints' Joy Notwithstanding Heaviness | C. New | 1 Peter 1:6-9 |
| The Sweetest Joys Learned in Trial | | 1 Peter 1:6-9 |
| The Testing of Religious Faith | U. R. Thomas. | 1 Peter 1:6-9 |
| The Theology of Sufferings | J. C. Jones, D. D. | 1 Peter 1:6-9 |
| The Trial of Faith | Thornley Smith. | 1 Peter 1:6-9 |
| The Trial of Faith | R. Watson. | 1 Peter 1:6-9 |
| The Trial of Faith | J. H. Evans, M. A. | 1 Peter 1:6-9 |
| The Trial of Faith | M. Henry. | 1 Peter 1:6-9 |
| The Trial of Faith Precious | W. Arnot. | 1 Peter 1:6-9 |
| The Trial of Our Faith | H. S. Brown. | 1 Peter 1:6-9 |
| The Trial of Your Faith | C. H. Spurgeon. | 1 Peter 1:6-9 |
| The Use of Trials | | 1 Peter 1:6-9 |
| The Uses of Grief | C. H. Spurgeon. | 1 Peter 1:6-9 |
| Trial as Fire | F. B. Meyer, B. A. | 1 Peter 1:6-9 |
| Trials | W. H. Ridley, M. A. | 1 Peter 1:6-9 |
| Trials | J. M. Chanter, M. A. | 1 Peter 1:6-9 |
| Trials and Glory | J. Spencer. | 1 Peter 1:6-9 |
| Trials are Tests | Jonathan Edwards. | 1 Peter 1:6-9 |
| Tried Faith More Precious than Gold | John Rogers. | 1 Peter 1:6-9 |
| Triumph of the Soul Over Trial | J. Lillie, D. D. | 1 Peter 1:6-9 |
| Variableness of Christian Moods | H. W. Beecher. | 1 Peter 1:6-9 |
| Why the Godly Must Undergo Many Troubles | John Rogers. | 1 Peter 1:6-9 |
| Your Personal Salvation | C. H. Spurgeon. | 1 Peter 1:6-9 |
| The True Gold and its Testing | Alexander Maclaren | 1 Peter 1:7 |
| Faith, Love, and Joy | J.R. Thomson | 1 Peter 1:8 |
| Joy in Believing | Alexander Maclaren | 1 Peter 1:8 |
| Love - Trust - Joy | U.R. Thomas | 1 Peter 1:8 |
| The Unique Love to an Unseen Savior | A. Maclaren | 1 Peter 1:8 |
| Christian Joy | A. Maclaren | 1 Peter 1:8, 9 |
| Soul-Salvation | U.R. Thomas | 1 Peter 1:9-12 |
| Christ and His Cross the Centre of the Universe | Alexander Maclaren | 1 Peter 1:10 |
| The Prophetic Theme. Rev. Gervase Smith | Knowles King | 1 Peter 1:10 |
| Angels Studying Redemption | J. Alexander. | 1 Peter 1:10-12 |
| Angels, Students in the Mysteries of Redemption | T. Hannam. | 1 Peter 1:10-12 |
| Living for Future Generations | T. C. Finlayson. | 1 Peter 1:10-12 |
| Redemption the Subject of Admiration to the Angels | J. Witherspoon, D. D. | 1 Peter 1:10-12 |
| Redemption, a Study to the Angels | H. A. Boardman, D. D. | 1 Peter 1:10-12 |
| Salvation -- Mysterious and Glorious | James Floy, M. A. | 1 Peter 1:10-12 |
| Salvation -- the Central Subject of Sturdy | J. C. Jones, D. D. | 1 Peter 1:10-12 |
| Salvation a Matter of Universal Interest | J.R. Thomson | 1 Peter 1:10-12 |
| Salvation Explored | John Edwards. | 1 Peter 1:10-12 |
| The Angelic Sturdy of Redemption | Alex. Nisbet. | 1 Peter 1:10-12 |
| The Angels' Attitude Towards the Redemptive Plan | A. Roberts, M. A. | 1 Peter 1:10-12 |
| The Angels' Desire to Look into Salvation | Bishop Simpson. | 1 Peter 1:10-12 |
| The Bible as a Grand Moral Painting | D. Thomas, D. D. | 1 Peter 1:10-12 |
| The Certainty and Greatness of Divine Salvation | C. New | 1 Peter 1:10-12 |
| The Doctrine of Salvation, the Study of Angels | J. C. Jones. D. D. | 1 Peter 1:10-12 |
| The Gospel Meridian | J. J. S. Bird. | 1 Peter 1:10-12 |
| The Scriptures Sufficient for Salvation | | 1 Peter 1:10-12 |
| The Spirit of Christ and the Prophets | W. B. Haynes. | 1 Peter 1:10-12 |
| The Study of Salvation | N. Byfield. | 1 Peter 1:10-12 |
| The Sufferings of Christ | The Congregational Pulpit | 1 Peter 1:10-12 |
| The Value of the Old Testament | J. Lillie, D. D. | 1 Peter 1:10-12 |
| The Work of Christ the Central Fact of the Universe | A. Maclaren | 1 Peter 1:10-12 |
| Three Degrees of Christ's Glory | John Rogers. | 1 Peter 1:10-12 |
| Through Afflictions Believers Come to Glory | John Rogers. | 1 Peter 1:10-12 |
| Unselfish Ministries Self-Remunerative | T. Leighton. | 1 Peter 1:10-12 |
| Unselfish Ministry | Bp. Westcott. | 1 Peter 1:10-12 |
| Sufferings and Glory | J.R. Thomson | 1 Peter 1:11 |
| Hope Perfectly | Alexander Maclaren | 1 Peter 1:13 |
| Practical Christianity | J.R. Thomson | 1 Peter 1:13 |
| The Christian's Hope | A. Maclaren | 1 Peter 1:13 |
| A Perfect Hope | A. Maclaren, D. D. | 1 Peter 1:13-16 |
| A Seasonable Exhortation | C. H. Spurgeon. | 1 Peter 1:13-16 |
| Christ and His Grace | W. Jay. | 1 Peter 1:13-16 |
| Christian Hope | J. C. Jones, D. D. | 1 Peter 1:13-16 |
| Christian Morality | J. J. S. Bird. | 1 Peter 1:13-16 |
| Coming Grace | Alex. Warrack, M. A. | 1 Peter 1:13-16 |
| God and Obligation, or the Pattern of Sanctity | T. G. Selby. | 1 Peter 1:13-16 |
| Grace and Glory | H. Melvill, B. D. | 1 Peter 1:13-16 |
| Holiness | B. Beddome, M. A. | 1 Peter 1:13-16 |
| Holiness | J. C. Jones, D. D. | 1 Peter 1:13-16 |
| Holiness | D. Duncan. | 1 Peter 1:13-16 |
| Holiness After the Divine Type | James Cranbrook. | 1 Peter 1:13-16 |
| Holiness in All Things | John Rogers. | 1 Peter 1:13-16 |
| Holiness Repugnant to Sin | Obadiah Sedgwick. | 1 Peter 1:13-16 |
| Holy in All Manner of Conversation | W. Arnot. | 1 Peter 1:13-16 |
| Hope | W. Bright, D. D. | 1 Peter 1:13-16 |
| Hope | J. M. Chaunter, M. A. | 1 Peter 1:13-16 |
| Hope as a Power in Moulding Character | A. T. Pierson, D. D. | 1 Peter 1:13-16 |
| Hope Ennobles the Spirit | J. Howe. | 1 Peter 1:13-16 |
| How and for What to Hope | A. Maclaren, D. D. | 1 Peter 1:13-16 |
| How to Become Holy | F. B. Meyer, B. A. | 1 Peter 1:13-16 |
| Ignorance the Cause and Root of a Bad Life | John Rogers. | 1 Peter 1:13-16 |
| Likeness to God | J. Martineau, LL. D. | 1 Peter 1:13-16 |
| Lusts | G. F. C. Frau Muller, Ph. D. | 1 Peter 1:13-16 |
| Obedience | E. Bersier, D. D. | 1 Peter 1:13-16 |
| Obedience | John Rogers. | 1 Peter 1:13-16 |
| Obedience a Christian Virtue | Canon Liddon. | 1 Peter 1:13-16 |
| Obedience in Small Things | W. L. Watkinson. | 1 Peter 1:13-16 |
| Of Imitating the Holiness of God | S. Clarke, D. D. | 1 Peter 1:13-16 |
| On Being Holy | C. G. Finney. | 1 Peter 1:13-16 |
| Personal Holiness | A. Grant, D. C. L. | 1 Peter 1:13-16 |
| Present the Germ of Future Revelation | J. B. Brown, B. A. | 1 Peter 1:13-16 |
| Salvation by Christ Issuing in Holiness | C. New | 1 Peter 1:13-16 |
| Slavery Through Ignorance | W. Arnot. | 1 Peter 1:13-16 |
| Sobriety | John Rogers. | 1 Peter 1:13-16 |
| The Call to Holiness | U.R. Thomas | 1 Peter 1:13-16 |
| The Duty and Discipline of Christian Hope | A. Maclaren, D. D. | 1 Peter 1:13-16 |
| The Family Likeness | A. Maclaren, D. D. | 1 Peter 1:13-16 |
| The Holiness of God | C. S. Robinson, D. D. | 1 Peter 1:13-16 |
| The Holiness of God the Type and Model of Ours | R. S. Candlish, D. D. | 1 Peter 1:13-16 |
| The Obedience of Hope | A. Maclaren, D. D. | 1 Peter 1:13-16 |
| The Place of Mind in Religion | Dean Vaughan. | 1 Peter 1:13-16 |
| The Revelation of Jesus Christ | W. Temple. | 1 Peter 1:13-16 |
| The Right Influence of a Christian Creed | D. Thomas, D. D. | 1 Peter 1:13-16 |
| The Sin of Ignorance | N. Byfield. | 1 Peter 1:13-16 |
| The True Ideal of Life | D. Thomas, D. D. | 1 Peter 1:13-16 |
| Tighten the Belt | J. Parker. | 1 Peter 1:13-16 |
| We Must Forsake Evil Before We Can Do Good | John Rogers. | 1 Peter 1:13-16 |
| Wise Counsel | James Wells. | 1 Peter 1:13-16 |
| The Pilgrim-Life | R. Finlayson | 1 Peter 1:13-25 |
| Christians God-Like Men | A. Maclaren | 1 Peter 1:14-16 |
| On Perfection | John Wesley | 1 Peter 1:15 |
| Christian Fear | J.R. Thomson | 1 Peter 1:17 |
| Father and Judge | Alexander Maclaren | 1 Peter 1:17 |
| The Father and Judge | A. Maclaren | 1 Peter 1:17 |
| The Pilgrim-Life | R. Finlayson | 1 Peter 1:13-25 |
| A Risen and Glorified Saviour the Ground of Hope and Confidence | J. Leifchild. | 1 Peter 1:17-21 |
| Children Infected by Parental Traditions | N. Byfield. | 1 Peter 1:17-21 |
| Choice Things Costly | T. L. Cuyler, D. D. | 1 Peter 1:17-21 |
| Christianity a Redemptive Power | D. Thomas, D. D. | 1 Peter 1:17-21 |
| Christ's Innocence | John Rogers. | 1 Peter 1:17-21 |
| Christ's Precious Blood | R. Simpson, M. A. | 1 Peter 1:17-21 |
| Fatherly Judgment and Filial Fear | A. Maclaren, D. D. | 1 Peter 1:17-21 |
| Fear of Judgment to Come, and of Redemption Accomplished | J. Leckie, D. D. | 1 Peter 1:17-21 |
| Fear of Terror | T. Chalmers, D. D. | 1 Peter 1:17-21 |
| God an Impartial Judge | Plain Sermons by Contributors to, Tracts for the Times | 1 Peter 1:17-21 |
| God Will be Served in Fear | Plain Sermons by Contributors to, Tracts for the Times | 1 Peter 1:17-21 |
| Godly Fear | Abp. Leighton. | 1 Peter 1:17-21 |
| Redeemed by Blood | F. B. Meyer, B. A. | 1 Peter 1:17-21 |
| Redemption | Essex Remembrancer | 1 Peter 1:17-21 |
| Redemption Costly | William Robinson. | 1 Peter 1:17-21 |
| Sojourners on Earth | Bp. Hall. | 1 Peter 1:17-21 |
| Soul Redemption | Homilist | 1 Peter 1:17-21 |
| Suitable Return for Christ's Blood Shedding | | 1 Peter 1:17-21 |
| The Atonement | Studies For The Pulpit | 1 Peter 1:17-21 |
| The Awe of the Redeemed | U. R. Thomas. | 1 Peter 1:17-21 |
| The Awe of the Redeemed | U.R. Thomas | 1 Peter 1:17-21 |
| The Blood of Christ | J. T. Stannard. | 1 Peter 1:17-21 |
| The Christian's Fear | G. Mathew, M. A. | 1 Peter 1:17-21 |
| The Cost of Redemption | G. Everard. | 1 Peter 1:17-21 |
| The Foreknown Redemption | Abp. Leighton. | 1 Peter 1:17-21 |
| The Holiness in Which Salvation Consists a Reason for Christian Fear | C. New | 1 Peter 1:17-21 |
| The Judgment of the Father | S. A. Tipple. | 1 Peter 1:17-21 |
| The Precious Blood of Christ | J. Cox. | 1 Peter 1:17-21 |
| The Precious Blood of Christ | S. Martin. | 1 Peter 1:17-21 |
| The Precious Blood of Christ | W. M. Bunting. | 1 Peter 1:17-21 |
| The Precious Blood of Christ | A. C. Price. | 1 Peter 1:17-21 |
| The Precious Blood of Christ | C. H. Spurgeon. | 1 Peter 1:17-21 |
| The Ransom | J. C. Jones, D. D. | 1 Peter 1:17-21 |
| The Reverence Due to God | D. Malcolm, LL. D. | 1 Peter 1:17-21 |
| The Right Feelings of the Heavenly Pilgrim | Essex Remembrancer | 1 Peter 1:17-21 |
| The Things of This World are Insufficient to Redeem From | John Rogers. | 1 Peter 1:17-21 |
| Vain Conversation | Abp. Leighton. | 1 Peter 1:17-21 |
| We Cannot Believe in God, But by the Sea | John Rogers. | 1 Peter 1:17-21 |
| What the Name Father Implies | John Rogers. | 1 Peter 1:17-21 |
| Without Spot | J. R. Macduff, D. D. | 1 Peter 1:17-21 |
| The Scope, Means, and Purpose of Redemption | A. Maclaren | 1 Peter 1:18, 19 |
| The Divine Means to Faith and Hope | J.R. Thomson | 1 Peter 1:21 |
| Purifying the Soul | Alexander Maclaren | 1 Peter 1:22 |
| A New Creature | T. Guthrie, D. D. | 1 Peter 1:22-23 |
| Born Again | J. Trapp. | 1 Peter 1:22-23 |
| Brotherly Love | Abp. Leighton. | 1 Peter 1:22-23 |
| Catholic Charity | Joseph Glanvil. | 1 Peter 1:22-23 |
| Christian Brotherly Love | J. Brown, D. D. | 1 Peter 1:22-23 |
| Christian Love | F. B. Meyer, B. A. | 1 Peter 1:22-23 |
| Christian Love | J. C. Jones, D. D. | 1 Peter 1:22-23 |
| Fervent Love of the Brethren | H. Stowell, M. A. | 1 Peter 1:22-23 |
| Fervently | W. Arnot. | 1 Peter 1:22-23 |
| Regeneration | T. Boston, D. D. | 1 Peter 1:22-23 |
| The Incorruptible Seed | J. C. Jones, D. D. | 1 Peter 1:22-23 |
| The Individual and Social Influence of Religion | H. E. Thomas. | 1 Peter 1:22-23 |
| The Life of Love and Purity | U. R. Thomas. | 1 Peter 1:22-23 |
| The New Life | D. Thomas, D. D. | 1 Peter 1:22-23 |
| Christian Love the Test of the Possession of Salvation | C. New | 1 Peter 1:22-25 |
| The Life of the True, and the Word of Truth | U.R. Thomas | 1 Peter 1:22-25 |
| The New Nature | Charles Haddon Spurgeon | 1 Peter 1:23 |
| Autumn: Life's Contrast | C. A. Bartol. | 1 Peter 1:24-25 |
| Change and Continuance | S. Martin. | 1 Peter 1:24-25 |
| Human Changes and the Divine Unchangeableness | A. Mackennal, D. D. | 1 Peter 1:24-25 |
| Man and His Glory -- the Grass and its Flower | W. Arnot. | 1 Peter 1:24-25 |
| Man Compared to Grass | D. Thomas, D. D. | 1 Peter 1:24-25 |
| The Death of a Servant of God | Matthew Henry. | 1 Peter 1:24-25 |
| The Enduring Word | C. H. Spurgeon. | 1 Peter 1:24-25 |
| The Fleeting and the Durable | J. Bromley. | 1 Peter 1:24-25 |
| The Living and Enduring Word | James Stark, D. D. | 1 Peter 1:24-25 |
| The Same Gospel for Us | J. Lillie, D. D. | 1 Peter 1:24-25 |
| The Withering Work of the Spirit | C. H. Spurgeon. | 1 Peter 1:24-25 |
| The Word of God a Living Thing | F. Morse, M. A. | 1 Peter 1:24-25 |
| The Word of God Everliving | C. H. Spurgeon. | 1 Peter 1:24-25 |
| The Word of the Lord Everlasting | W. Brock. | 1 Peter 1:24-25 |
| A Catalogue of Sins to be Avoided | N. Byfield. | 1 Peter 2:1-3 |
| A Gracious Experience of God | Abp. Leighton. | 1 Peter 2:1-3 |
| A Sermon for Men of Taste | C. H. Spurgeon. | 1 Peter 2:1-3 |
| Appetite for Divine Things Wanted | C. Rogers, LL. D. | 1 Peter 2:1-3 |
| Appropriate Aliment | J. Halsey. | 1 Peter 2:1-3 |
| Christian Childhood and its Appropriate Nourishment | J. Leifchild. | 1 Peter 2:1-3 |
| Christian Experience Exemplified | Essex Remembrancer | 1 Peter 2:1-3 |
| Christian Growth | J. Lillie, D. D. | 1 Peter 2:1-3 |
| Deep Christian Knowledge to be Desired | J. Halsey. | 1 Peter 2:1-3 |
| Desire | J. Trapp. | 1 Peter 2:1-3 |
| Experience in Religion | N. Caussin. | 1 Peter 2:1-3 |
| God's Newborn Babes and Their Food | F. B. Meyer, B. A. | 1 Peter 2:1-3 |
| Growth by the Word | W. L. Alexander, D. D. | 1 Peter 2:1-3 |
| Guile | John Rogers. | 1 Peter 2:1-3 |
| Guile in Small Matters as Well as Great to be Avoided | John Rogers. | 1 Peter 2:1-3 |
| Hypocrisy | J. Spencer. | 1 Peter 2:1-3 |
| Hypocrisy Ineffective | C. H. Spurgeon. | 1 Peter 2:1-3 |
| Malice | John Rogers. | 1 Peter 2:1-3 |
| Malice Laid Aside | John Rogers. | 1 Peter 2:1-3 |
| Pernicious and Evil Speaking Abundant | W. Arnot. | 1 Peter 2:1-3 |
| Preservatives Against Hypocrisy | N. Byfield. | 1 Peter 2:1-3 |
| Renovation | H. Verschoyle. | 1 Peter 2:1-3 |
| Retaining Infantile Ideas | J. Halsey. | 1 Peter 2:1-3 |
| Rules Against Evil Speaking | N. Byfield. | 1 Peter 2:1-3 |
| Soul Evolution | D. Thomas, D. D. | 1 Peter 2:1-3 |
| Soul Growth | Homilist | 1 Peter 2:1-3 |
| Spiritual Childhood | U.R. Thomas | 1 Peter 2:1-3 |
| Spiritual Development | J. J. S. Bird, B. A. | 1 Peter 2:1-3 |
| Spiritual Growth to be Sought | J. Halsey. | 1 Peter 2:1-3 |
| Tasting | J. A. Bengel. | 1 Peter 2:1-3 |
| The Christian Life in Some of its Characteristics | C. B. Hulbert. | 1 Peter 2:1-3 |
| The Experimental Test | J. R. Pentecost. | 1 Peter 2:1-3 |
| The Hatefulness of Envy | N. Byfield. | 1 Peter 2:1-3 |
| The Influence of Food on Spiritual Growth | J. Halsey. | 1 Peter 2:1-3 |
| The Milk of the Word | J. C. Jones, D. D. | 1 Peter 2:1-3 |
| The Possession of Christian Life Summoning to Spiritual Growth | C. New | 1 Peter 2:1-3 |
| The Simultaneous Outgoing of Evil and Incoming of Good | W. Arnot. | 1 Peter 2:1-3 |
| The Sincere Milk of the Word | J. Trapp. | 1 Peter 2:1-3 |
| The Test of Taste | C. H. Spurgeon. | 1 Peter 2:1-3 |
| The Venomous Disposition | Scientific illustrations | 1 Peter 2:1-3 |
| The Word Compared to Milk | John Rogers. | 1 Peter 2:1-3 |
| Thinking Aids Growth | J. Halsey. | 1 Peter 2:1-3 |
| Newborn Babes and the Higher Israel | R. Finlayson | 1 Peter 2:1-10 |
| Infants' Food | A. Maclaren | 1 Peter 2:2 |
| Coming to Christ | Charles Haddon Spurgeon | 1 Peter 2:4 |
| Elect and Precious | J.R. Thomson | 1 Peter 2:4 |
| Living Stones on the Living Foundation Stone | Alexander Maclaren | 1 Peter 2:4 |
| Christ a Living Stone | R. S. MacArthur. | 1 Peter 2:4-5 |
| Christ Disallowed | John Rogers. | 1 Peter 2:4-5 |
| Christians are Priests | R. M. McCheyne. | 1 Peter 2:4-5 |
| Cohesion in God's Spiritual House | G. G. Findlay. | 1 Peter 2:4-5 |
| Coming -- Always Coming | C. H. Spurgeon. | 1 Peter 2:4-5 |
| Living Stones | A. Maclaren | 1 Peter 2:4, 5 |
| Living Stones | W. Skinner. | 1 Peter 2:4-5 |
| Living Stones | J. Ruskin. | 1 Peter 2:4-5 |
| Living Stones | Hours of Exercise on the Alps. | 1 Peter 2:4-5 |
| Mind the Temple is not Built Without You | A. Maclaren. | 1 Peter 2:4-5 |
| The Christian Priesthood | Abp. Leighton. | 1 Peter 2:4-5 |
| The Christian's Sacrifices | John Rogers. | 1 Peter 2:4-5 |
| The Church the Priesthood of God | D. Thomas, D. D. | 1 Peter 2:4-5 |
| The Church the Temple of God | D. Thomas, D. D. | 1 Peter 2:4-5 |
| The Doctrine of Sacrifice | A. Mursell. | 1 Peter 2:4-5 |
| The Living Stone | J. C. Jones D. D. | 1 Peter 2:4-5 |
| The Priesthood of the Laity | Canon Body. | 1 Peter 2:4-5 |
| The True Priesthood, Temple and Sacrifice | C. H. Spurgeon. | 1 Peter 2:4-5 |
| The Spiritual Temple, Priesthood, and Sacrifices | J.R. Thomson | 1 Peter 2:4-6 |
| The Soul-Temple, and Soul-Service | U.R. Thomas | 1 Peter 2:4-8 |
| Christian Life Crowned with Wonderful Honor | C. New | 1 Peter 2:4-10 |
| Spiritual Sacrifices | Alexander Maclaren | 1 Peter 2:5 |
| Temple, Priest, Sacrifice | A. Maclaren | 1 Peter 2:5 |
| The Lively Stones. Rev. W. Morley Punshon | Knowles King | 1 Peter 2:5 |
| Christ the One Foundation | W. Bright, D. D. | 1 Peter 2:6 |
| Faith's Sure Foundation | C. H. Spurgeon. | 1 Peter 2:6 |
| Jesus Christ the Cornerstone | T. Gisborne, M. A. | 1 Peter 2:6 |
| The Chief Cornerstone | Abp. Leighton. | 1 Peter 2:6 |
| The Cornerstone | A. C. Price. | 1 Peter 2:6 |
| The Cornerstone | J. C. Jones, D. D. | 1 Peter 2:6 |
| The Cornerstone | H. W. Beecher. | 1 Peter 2:6 |
| The Divine Foundation | J. C. Jones, D. D. | 1 Peter 2:6 |
| Wherein the Scriptures Exceed All Other Writings | N. Byfield. | 1 Peter 2:6 |
| The Two Versions | A. Maclaren | 1 Peter 2:7 |
| Christ is Our Honour | Philip Henry. | 1 Peter 2:7-8 |
| Christ More than Precious | Memoir of Bishop Simpson. | 1 Peter 2:7-8 |
| Christ Precious to All True Believers | S. Davies, M. A. | 1 Peter 2:7-8 |
| Christ Precious to Believers | C. H. Spurgeon. | 1 Peter 2:7-8 |
| Christ Precious to Believers | C. H. Spurgeon. | 1 Peter 2:7-8 |
| Christ Precious to Believers | C. H. Spurgeon. | 1 Peter 2:7-8 |
| Christ Precious to the Believer | D. Dickson, D. D. | 1 Peter 2:7-8 |
| Christ Precious to Them that Believe | W. McCulloch. | 1 Peter 2:7-8 |
| Christ Rejected by the Jews | John Rogers. | 1 Peter 2:7-8 |
| Dangerous to Stumble | J. Trapp. | 1 Peter 2:7-8 |
| Disobedience the Converse of Faith | W Arn. | 1 Peter 2:7-8 |
| Jesus Precious to True Believers | W. Notcutt. | 1 Peter 2:7-8 |
| Jesus, the Stumbling Stone of Unbelievers | C. H. Spurgeon. | 1 Peter 2:7-8 |
| Practical Trust in Christ the Highest Honour | D. Thomas, D. D. | 1 Peter 2:7-8 |
| The Christ of Experience | H. Allon, D. D. | 1 Peter 2:7-8 |
| The Honour of Believing in Christ | A. F. Joscelyne, B. A. | 1 Peter 2:7-8 |
| The Precious Saviour | W. C. Burns. | 1 Peter 2:7-8 |
| The Preciousness of Christ | J. M. Buckley, D. D. | 1 Peter 2:7-8 |
| The Preciousness of Christ | H. M. Villiers, M. A. | 1 Peter 2:7-8 |
| The Preciousness of Christ | | 1 Peter 2:7-8 |
| The Stone Which the Builders Disallowed | John Thomas M. A. | 1 Peter 2:7-8 |
| Where Christ is Valued He Will be Made Known | | 1 Peter 2:7-8 |
| What the Church is for | A. Maclaren | 1 Peter 2:9 |
| A Living Doxology | C. H. Spurgeon. | 1 Peter 2:9-10 |
| A Peculiar People | W. Arnot. | 1 Peter 2:9-10 |
| A Peculiar People | J. Trapp. | 1 Peter 2:9-10 |
| A People Proper to the Lord | John Rogers. | 1 Peter 2:9-10 |
| A Purchased People | Hubert Brooke, M. A. | 1 Peter 2:9-10 |
| Children of Light | Scientific Illustrations and Symbols | 1 Peter 2:9-10 |
| Christians Must be Real and True | Christian World | 1 Peter 2:9-10 |
| Consider What You Were | John Rogers. | 1 Peter 2:9-10 |
| Corporate Holiness | A. Grant, D. C. L. | 1 Peter 2:9-10 |
| Darkness and Light | Homilist | 1 Peter 2:9-10 |
| Darkness and Light | T. B. Baker. | 1 Peter 2:9-10 |
| Every Baptized Man a Priest of God | H. Melvill, B. D. | 1 Peter 2:9-10 |
| Mirrors of God | A. Maclaren, D. D. | 1 Peter 2:9-10 |
| Opened Eyes | G. W. Bibb. | 1 Peter 2:9-10 |
| Out of Darkness into Light | W. Harris. | 1 Peter 2:9-10 |
| Refusing Light | R. Miller. | 1 Peter 2:9-10 |
| Showing Forth God's Excellences | J. Trapp. | 1 Peter 2:9-10 |
| Showing Forth the Excellences of Christ | E. H. Hopkins. | 1 Peter 2:9-10 |
| Spiritual Darkness and Light | Prof. R. Flint. | 1 Peter 2:9-10 |
| The Christian Estate | Abp. Leighton. | 1 Peter 2:9-10 |
| The Church of Christ | R. Glover, D. D. | 1 Peter 2:9-10 |
| The Glory of the Church as a Commonwealth | U.R. Thomas | 1 Peter 2:9, 10 |
| The Glory of the Church as a Commonwealth | Homilist | 1 Peter 2:9-10 |
| The Gospel a Light | J. Parker, D. D. | 1 Peter 2:9-10 |
| The People of God | E. Steane, D. D. | 1 Peter 2:9-10 |
| The Sacred in the Secular | J. S. Shipman, D. D. | 1 Peter 2:9-10 |
| The Superior Light of the Gospel | | 1 Peter 2:9-10 |
| The True Israel | J. C. Jones, D. D. | 1 Peter 2:9-10 |
| The Jewish Rebellions | Charles Kingsley | 1 Peter 2:11 |
| A Fight for Life | Christopher Love. | 1 Peter 2:11-12 |
| Abstaining from Fleshly Lusts | Abp. Leighton. | 1 Peter 2:11-12 |
| Beautiful Behaviour | J. Muller. | 1 Peter 2:11-12 |
| Christians are to Live Godly, Even Among the Wicked | John Rogers. | 1 Peter 2:11-12 |
| Christians in the World | R. Finlayson | 1 Peter 2:11, 12 |
| Christians Maligned | Abp. Leighton. | 1 Peter 2:11-12 |
| Conversion the Day of Visitation | John Rogers. | 1 Peter 2:11-12 |
| Destroyed by Lust | A Dead Man's Diary. | 1 Peter 2:11-12 |
| Destructive Nature of Fleshly Lusts | F. B. Meyer, B. A. | 1 Peter 2:11-12 |
| Distinctive Lusts | H. W. Beecher. | 1 Peter 2:11-12 |
| Employed Away from Home | W. Arnot. | 1 Peter 2:11-12 |
| Fleshly Lusts | W. Harness, M. A. | 1 Peter 2:11-12 |
| Fleshly Lusts are the Soul's Adversaries | W. Arnot. | 1 Peter 2:11-12 |
| How God is Glorified by Us | N. Byfield. | 1 Peter 2:11-12 |
| Inward Lusts | John Rogers. | 1 Peter 2:11-12 |
| Looking for One Thing and Finding Another | J. Trapp. | 1 Peter 2:11-12 |
| The Church in Relation to the World | T. Davies, M. A. | 1 Peter 2:11-12 |
| The Demand for a Life Becoming the Christian Name | C. New | 1 Peter 2:11, 12 |
| The Ministry of Good Works | G. Everard, M. A. | 1 Peter 2:11-12 |
| The Passions | J. Saurin. | 1 Peter 2:11-12 |
| The Plea Against Disorderly Passions | Homilist | 1 Peter 2:11-12 |
| The Power of a Consistent Walk | | 1 Peter 2:11-12 |
| The Stranger Here | T. B. Paget, M. A. | 1 Peter 2:11-12 |
| The Threefold Plea Against Disorderly Passions | U.R. Thomas | 1 Peter 2:11, 12 |
| The Transgressions of Christians | W. Barrow, D. D. | 1 Peter 2:11-12 |
| The Wicked Speak Ill of God's Children | John Rogers. | 1 Peter 2:11-12 |
| The Witness of a Pure Life | W. Arnot. | 1 Peter 2:11-12 |
| Trite Revenge | Toplady. | 1 Peter 2:11-12 |
| The Highest Motive for a Loyal Life | U.R. Thomas | 1 Peter 2:13, 14 |
| The Christian Citizen | J.R. Thomson | 1 Peter 2:13-15 |
| Any Kind of Government Better than None | A. Burgess. | 1 Peter 2:13-16 |
| Bad Riders to be Obeyed | Bp. Horne. | 1 Peter 2:13-16 |
| Christian Freedom | J. Vaughan, M. A. | 1 Peter 2:13-16 |
| Christian Liberty | Bp. Sanderson. | 1 Peter 2:13-16 |
| Civil Authorities have Their Authority from God | C. Wordsworth. | 1 Peter 2:13-16 |
| False Notions of Liberty in Religion and Government Destructive of Both | H. Sacheverell, D. D. | 1 Peter 2:13-16 |
| Free Will | E. B. Pusey, D. D. | 1 Peter 2:13-16 |
| Freedom and Law | Canon Liddon. | 1 Peter 2:13-16 |
| Freedom and Servitude | Bp. Boyd Carpenter. | 1 Peter 2:13-16 |
| God's Servants | H. J. Wilmot Buxton, M. A. | 1 Peter 2:13-16 |
| Liberty, its Use and Safeguards | A. Boyd Carpenter, M. A. | 1 Peter 2:13-16 |
| Maliciousness | J. Vaughan, M. A. | 1 Peter 2:13-16 |
| On Freedom of Thought | A. Alison. | 1 Peter 2:13-16 |
| On Silencing Objections Against Christianity | H. Hesketh. | 1 Peter 2:13-16 |
| Subjection to Authority | Bp. E. Hopkins. | 1 Peter 2:13-16 |
| Submission to Government | Bp. Horne. | 1 Peter 2:13-16 |
| Submission to Rulers | Bp. E. Hopkins. | 1 Peter 2:13-16 |
| The Duty of Submission to Authority | John Tucker, B. D. | 1 Peter 2:13-16 |
| The Limits of Subjection to Civil Rulers | J. Lillie, D. D. | 1 Peter 2:13-16 |
| The Vices of Christians Detrimental to the General Interests of Religion | James Fawcett, B. D. | 1 Peter 2:13-16 |
| Why it is So Hard to Cure Ignorance and Silence Ignorant Men | N. Byfield. | 1 Peter 2:13-16 |
| Relation of Christians to Civil Authorities | R. Finlayson | 1 Peter 2:13-17 |
| The Christian's Duty to the State | C. New | 1 Peter 2:13-17 |
| True Freedom | J.R. Thomson | 1 Peter 2:16 |
| A Royalty Free from Dispute | Blaise Pascal. | 1 Peter 2:17 |
| Dignity of Man | J. Percy. | 1 Peter 2:17 |
| Fear God | H. Kollock, D. D. | 1 Peter 2:17 |
| Good Subjects | John Rogers. | 1 Peter 2:17 |
| Honor All Men | J.R. Thomson | 1 Peter 2:17 |
| Honour All | Dean Plumptre. | 1 Peter 2:17 |
| Honour All | J. Lillie, D. D. | 1 Peter 2:17 |
| Honour All Men | Bp. Sanderson. | 1 Peter 2:17 |
| Honour All Men | Abp. Thomson. | 1 Peter 2:17 |
| Honour All Men | Abp. Leighton. | 1 Peter 2:17 |
| Honour All Men | J. Trapp. | 1 Peter 2:17 |
| Love the Brotherhood | W. Arnot. | 1 Peter 2:17 |
| Love the Brotherhood | Bp. Sanderson. | 1 Peter 2:17 |
| Love the Brotherhood | R. Ward, M. A. | 1 Peter 2:17 |
| No Man to be Despised | Canon Duckworth. | 1 Peter 2:17 |
| Respect for Manhood | J. C. Lees, D. D. | 1 Peter 2:17 |
| The Brethren and the Brotherhood | Bp. Hodges. | 1 Peter 2:17 |
| The Duty of Honouring All Men | H. Stowell, M. A. | 1 Peter 2:17 |
| The Fear of God | R. Collyer, D. D. | 1 Peter 2:17 |
| The Honour Due to All Men | Bp. S. Wilberforce. | 1 Peter 2:17 |
| The Honour Due to All Men | Essex Remembrancer | 1 Peter 2:17 |
| The Honour of Humanity | Canon Liddon. | 1 Peter 2:17 |
| The Poor -- Two Ways of Treating | | 1 Peter 2:17 |
| The Respect Due to Human Nature | W. E. Channing. | 1 Peter 2:17 |
| The Value of Man | W. Arnot. | 1 Peter 2:17 |
| Value All Men | W. Arnot. | 1 Peter 2:17 |
| Various Political Duties | J. J. S. Bird, B. A. | 1 Peter 2:17 |
| Burden Bearers | | 1 Peter 2:18-25 |
| Christ an Example in His Sufferings | G. Hill, D. D. | 1 Peter 2:18-25 |
| Christ is Our Example | | 1 Peter 2:18-25 |
| Christ Our Copy | J. D. Thomas. | 1 Peter 2:18-25 |
| Christ Our Example | Canon Liddon. | 1 Peter 2:18-25 |
| Christ Our Example | Abp. Tillotson. | 1 Peter 2:18-25 |
| Christ Our Example | J. Cumming, D. D. | 1 Peter 2:18-25 |
| Christ Our Ideal | C. J. Ridgeway, M. A. | 1 Peter 2:18-25 |
| Christ Without Sin | A. Thomson, D. D. | 1 Peter 2:18-25 |
| Christ's Example is to be Followed | J. Cumming, D. D. | 1 Peter 2:18-25 |
| Christ's Sufferings in Gethsemane | W. Harness, M. A. | 1 Peter 2:18-25 |
| Copying But a Fragment of the Christ | J. R. Miller, D. D. | 1 Peter 2:18-25 |
| Dead to Sin by Christ's Death | Abp. Leighton. | 1 Peter 2:18-25 |
| Dead to Sin: Living to Righteousness | W. L. Watkinson. | 1 Peter 2:18-25 |
| Death for Sin, and Death to Sin | C. H. Spurgeon. | 1 Peter 2:18-25 |
| Endurance of Wrong | Canon Liddon. | 1 Peter 2:18-25 |
| Equanimity Under Reproach | Bengel's Life | 1 Peter 2:18-25 |
| God has Ordained His People to Undergo Troubles in This World | John Rogers. | 1 Peter 2:18-25 |
| Gratitude for Wrongful Suffering | D. Thomas, D. D. | 1 Peter 2:18-25 |
| Healed by Christ's Stripes | F. B. Meyer, B. A. | 1 Peter 2:18-25 |
| Men as Sheep | C. Stanford, D. D. | 1 Peter 2:18-25 |
| Of Patience | Isaac Barrow, D. D. | 1 Peter 2:18-25 |
| On the Diseases and Health of the Soul | Robert Foote. | 1 Peter 2:18-25 |
| On the Example of Christ | C. R. Maturin. | 1 Peter 2:18-25 |
| On the Example of Christ | John Main, D. D. | 1 Peter 2:18-25 |
| Patience | E. B. Pusey, D. D. | 1 Peter 2:18-25 |
| Patience in Tribulation | J. J. S. Bird. | 1 Peter 2:18-25 |
| Patience Under Oppression | Crown Liddon. | 1 Peter 2:18-25 |
| Salvation, What it Cost | T. De Witt Talmage. | 1 Peter 2:18-25 |
| Servants Urged to Patient Endurance of Undeserved Suffering | C. New | 1 Peter 2:18-25 |
| Servitude and Subjection | J.R. Thomson | 1 Peter 2:18-25 |
| Sinless and Guileless | R. A. Griffin. | 1 Peter 2:18-25 |
| Subjection of Servants to Their Masters | R. Finlayson | 1 Peter 2:18-25 |
| Submission Enjoined | Thornley Smith. | 1 Peter 2:18-25 |
| Suffering Wrongfully | King's Highway. | 1 Peter 2:18-25 |
| Thanks from God | F. B. Meyer, B. A. | 1 Peter 2:18-25 |
| The Blessings of Injustice | Canon Diggle. | 1 Peter 2:18-25 |
| The Character of Christ | T. C. Edwards. | 1 Peter 2:18-25 |
| The Christian as a Servant | U.R. Thomas | 1 Peter 2:18-25 |
| The Christian Ideal | J. G. Rogers, B. A. | 1 Peter 2:18-25 |
| The Conduct of Servants | J. J. S. Bird. | 1 Peter 2:18-25 |
| The Duty of Patience Under Injuries | R. South, D. D. | 1 Peter 2:18-25 |
| The Duty of Servants | Abp. Leighton. | 1 Peter 2:18-25 |
| The Example of Christ | W. E. Channing. | 1 Peter 2:18-25 |
| The Former and Present State of Believers Contrasted | R. Walker. | 1 Peter 2:18-25 |
| The Great Shepherd | U. R. Thomas. | 1 Peter 2:18-25 |
| The Guardian of Souls | Homilist | 1 Peter 2:18-25 |
| The Imitation of Christ | E. H. Hopkins. | 1 Peter 2:18-25 |
| The Necessity of a Perfect Model | H. Melvill, B. D. | 1 Peter 2:18-25 |
| The New Life | H. W. Beecher. | 1 Peter 2:18-25 |
| The Perfect Ideal | Homilist | 1 Peter 2:18-25 |
| The Return of the Flock | Homilist | 1 Peter 2:18-25 |
| The Shepherd and Bishop of Souls | W. A. Snively, D. D. | 1 Peter 2:18-25 |
| The Sin Bearer | C. H. Spurgeon. | 1 Peter 2:18-25 |
| The Stripes of Jesus | C. Moinet, M. A. | 1 Peter 2:18-25 |
| Wandering Sheep | Abp. Leighton. | 1 Peter 2:18-25 |
| | | |
| --- | --- | --- |
| Good Days | Charles Kingsley | 1 Peter 3:8 |
| The Conduct that Becomes the Christian Towards Other Christians | C. New | 1 Peter 3:8 |
| Avoiding Divisions | Abp. Leighton. | 1 Peter 3:8-9 |
| Brotherly Love | Essex Remembrancer | 1 Peter 3:8-9 |
| Christian Courtesy | J. Summerfield, M. A. | 1 Peter 3:8-9 |
| Christian Courtesy | T. Binney. | 1 Peter 3:8-9 |
| Christian Courtesy | J. Fawcett, M. A. | 1 Peter 3:8-9 |
| Christian Politeness | Hugh S. Carpenter, D. D. | 1 Peter 3:8-9 |
| Christian Unity | Thos. Wagstaffe. | 1 Peter 3:8-9 |
| Christian Unity | John Rogers. | 1 Peter 3:8-9 |
| Christlike Compassion | T. De Witt Talmage. | 1 Peter 3:8-9 |
| Do not Retaliate | F. B. Meyer. | 1 Peter 3:8-9 |
| Fire Does not Extinguish Fire | | 1 Peter 3:8-9 |
| Good for Evil | | 1 Peter 3:8-9 |
| Good Manners | W. M. Statham. | 1 Peter 3:8-9 |
| Goodness Spoilt by Rudeness | Good Words. | 1 Peter 3:8-9 |
| Minor Morals | D. Dickson. | 1 Peter 3:8-9 |
| Oneness of Mind | F. B. Meyer, B. A. | 1 Peter 3:8-9 |
| Pity | J. Mainwrigg, B. D. | 1 Peter 3:8-9 |
| Politeness | | 1 Peter 3:8-9 |
| Politeness | J. C. Lees, D. D. | 1 Peter 3:8-9 |
| Politeness and its Place | | 1 Peter 3:8-9 |
| Railing for Railing | J. Trapp. | 1 Peter 3:8-9 |
| Small Courtesies not Overlooked | | 1 Peter 3:8-9 |
| Sympathy | H. C. Atwool, M. D. | 1 Peter 3:8-9 |
| The Reward of Courtesy | | 1 Peter 3:8-9 |
| The Social Ideal | F. B. Meyer, B. A. | 1 Peter 3:8-9 |
| The True Gentleman Does not Indict Pain | J. H. Newman, D. D. | 1 Peter 3:8-9 |
| The Work and Wages of the Christian Worker | John Macpherson, M. A. | 1 Peter 3:8-9 |
| True Courtesy, and How to Attain to It | C. H. Irwin, M. A. | 1 Peter 3:8-9 |
| True Politeness | E. J. Hardy, M. A. | 1 Peter 3:8-9 |
| Unity Between Christian People | U. R. Thomas. | 1 Peter 3:8-9 |
| Unity Between Christian People | U.R. Thomas | 1 Peter 3:8-12 |
| Injunctions to All | R. Finlayson | 1 Peter 3:8-22 |
| | | |
| --- | --- | --- |
| A Good Conscience | Homilist | 1 Peter 3:14-17 |
| A Good Conscience | W. Tyson. | 1 Peter 3:14-17 |
| A Good Conscience | F. B. Meyer, B. A. | 1 Peter 3:14-17 |
| A Reasonable Hope | Lyman Abbott, D. D. | 1 Peter 3:14-17 |
| Be not Afraid of Their Terror | David Ranken. | 1 Peter 3:14-17 |
| Christians Required to be Prepared to Give a Reason of the Hope that is in Them | Essex Remembrancer | 1 Peter 3:14-17 |
| Deliverance from Trouble | David Ranken. | 1 Peter 3:14-17 |
| God Reverenced in the Heart | Abp. Leighton. | 1 Peter 3:14-17 |
| God Sanctified in the Heart | Bp. Moberly. | 1 Peter 3:14-17 |
| Logic Aided by Good Temper | Canon F. C. Cook. | 1 Peter 3:14-17 |
| One Fear Drives Out Another | F. B. Meyer, B. A. | 1 Peter 3:14-17 |
| Personal Goodness | Homilist | 1 Peter 3:14-17 |
| Ready to Give an Answer | C. H. Parkhurst, D. D. | 1 Peter 3:14-17 |
| Ready to Give an Answer | J. Lillie, D. D. | 1 Peter 3:14-17 |
| Reasons for Our Hope | George Sexton, LL. D. | 1 Peter 3:14-17 |
| Sanctifying the Lord in the Heart | W. Bright, D. D. | 1 Peter 3:14-17 |
| Sufferers Fortified | J.R. Thomson | 1 Peter 3:14-17 |
| Suffering for Righteousness | Abp. Leighton. | 1 Peter 3:14-17 |
| The Blessedness of Those Who Suffer for Righteousness | David Ranken. | 1 Peter 3:14-17 |
| The Causes of the World's Hatred of Christians | F. B. Meyer, B. A. | 1 Peter 3:14-17 |
| The Christian Ready to Account for His Hope | S. Steer. | 1 Peter 3:14-17 |
| The Christian's Duty | David Ranken. | 1 Peter 3:14-17 |
| The Christian's Hope | R. Littler. | 1 Peter 3:14-17 |
| The Conscience | J. Stalker, D. D. | 1 Peter 3:14-17 |
| The Conscience of a Christian | H. Hayman, D. D. | 1 Peter 3:14-17 |
| The Man Inside | | 1 Peter 3:14-17 |
| The Nature and Reason of the Christian's Hope | R. H. Bailey. | 1 Peter 3:14-17 |
| The Sufferings of Christians | Thomas Ross, LL. D. | 1 Peter 3:14-17 |
| The True Christian Apologist | Dean Vaughan. | 1 Peter 3:14-17 |
| The True Christian Defence | Abp. Leighton. | 1 Peter 3:14-17 |
| The Value of Personal Experience | | 1 Peter 3:14-17 |
| The Wrongful Suffering of Good Men | U. R. Thomas. | 1 Peter 3:14-17 |
| Unnecessary Terror | Canon F. C. Cook., Scientific Illustrations. | 1 Peter 3:14-17 |
| What is a Good Conscience | Alex. Reid. | 1 Peter 3:14-17 |
| | | |
| --- | --- | --- |
| All Angels Subject to Christ | John Rogers. | 1 Peter 3:18-20 |
| Baptism: Helpful | B. Preece. | 1 Peter 3:18-20 |
| Christ At Home | Homilist | 1 Peter 3:18-20 |
| Christ in the Flesh and in the Spirit | A. J. Bengel. | 1 Peter 3:18-20 |
| Christ the King of Angels | Plain Sermons by Contributors to, Tracts for the Times | 1 Peter 3:18-20 |
| Christ the Substitute | J. H. Wilson, D. D. | 1 Peter 3:18-20 |
| Christ's Sufferings | Abp. Leighton. | 1 Peter 3:18-20 |
| Christ's Sufferings | J. J. S. Bird, B. A. | 1 Peter 3:18-20 |
| Christ's Sufferings for Us | H. W. Beecher. | 1 Peter 3:18-20 |
| Christ's Sufferings; Or, the Basis of Evangelism | D. Thomas, D. D. | 1 Peter 3:18-20 |
| Our Ascended Lord | C. H. Spurgeon. | 1 Peter 3:18-20 |
| Our Lord's Ascension | Dean Alford. | 1 Peter 3:18-20 |
| Safety in the Ark | B. W. Noel, M. A. | 1 Peter 3:18-20 |
| Spirits in Prison | D. Thomas, D. D. | 1 Peter 3:18-20 |
| The Ascension | Dean Vaughan. | 1 Peter 3:18-20 |
| The Design of Christ's Sufferings | Sketches of Four Hundred Sermons | 1 Peter 3:18-20 |
| The Gospel Preached to the Dead | Canon T. S. Evades, D. D. | 1 Peter 3:18-20 |
| The Great Atonement | D. Wilson. | 1 Peter 3:18-20 |
| The Just for the Unjust | Wm. McMordie, M. A. | 1 Peter 3:18-20 |
| The Just Suffering for the Unjust | W. J. Brock, B. A. | 1 Peter 3:18-20 |
| The Mission of Our Savior | U.R. Thomas | 1 Peter 3:18-20 |
| The Patience of God | Bp. Huntington. | 1 Peter 3:18-20 |
| The Quickening Influence of Suffering | F. B. Meyer, B. A. | 1 Peter 3:18-20 |
| The Resurrection of Christ | Arthur Brooks. | 1 Peter 3:18-20 |
| The Saints Coming Home to God by Reconciliation and Glorification | John Flavel. | 1 Peter 3:18-20 |
| The Saviour's Mission | U. R. Thomas. | 1 Peter 3:18-20 |
| The Spirits in Prison | Dean Vaughan. | 1 Peter 3:18-20 |
| The Spirits in Prison | Essex Remembrancer | 1 Peter 3:18-20 |
| The Sufferings of Christ | M. Braithwaite. | 1 Peter 3:18-20 |
| The Sufferings of Christ | Arthur Brooks. | 1 Peter 3:18-20 |
| The Sufferings of Christ | Wm. Smart. | 1 Peter 3:18-20 |
| The Sufferings of Christ | S. Price. | 1 Peter 3:18-20 |
| The Sufferings of Christ Our Atonement and Our Example | F. Dobbin, M. A. | 1 Peter 3:18-20 |
| The Two Baptisms | W. Arnot. | 1 Peter 3:18-20 |
| The Unrepeatable Sacrifice | J. W. McKay, D. D. | 1 Peter 3:18-20 |
| The Remembrance of Our Lord's Atonement a Help to Persecuted Christians | C. New | 1 Peter 3:18-22 |
| | | |
| --- | --- | --- |
| A Solemn Fact and Urgent Duty | U.R. Thomas | 1 Peter 4:7, 8 |
| Above All Things -- Love | F. B. Meyer, B. A. | 1 Peter 4:7-11 |
| As and So -- the Method of Ministry | W. H. M. H. Aitken, M. A. | 1 Peter 4:7-11 |
| Charity Covering a Multitude of Sins | T. Ainger, M. A. | 1 Peter 4:7-11 |
| Charity Covering Faults | Great Thoughts | 1 Peter 4:7-11 |
| Christian Sobriety | C. Vince. | 1 Peter 4:7-11 |
| Christian Stewardship | A. L. Simpson, D. D. | 1 Peter 4:7-11 |
| Dissuasives from Uncharitableness | H. W. Beecher. | 1 Peter 4:7-11 |
| Duty | Hugh Ross. | 1 Peter 4:7-11 |
| Duty in View of the Nearness of the End | R. Finlayson | 1 Peter 4:7-11 |
| Fervent Charity | P. Witherspoon. | 1 Peter 4:7-11 |
| Fervent Charity | W. H. Hutchings, M. A. | 1 Peter 4:7-11 |
| Gifts | Homiletic Quarterly | 1 Peter 4:7-11 |
| Gifts and Responsibility | Bishop of Lichfield. | 1 Peter 4:7-11 |
| Gifts to be Communicated for the Good of Others | John Rogers. | 1 Peter 4:7-11 |
| God Glorified by Christ | F. B. Meyer, B. A. | 1 Peter 4:7-11 |
| God's Gifts and Their Purpose | Canon Vernon Hutton. | 1 Peter 4:7-11 |
| God's Gifts and Their Use | T. Griffith, M. A. | 1 Peter 4:7-11 |
| How Christians May Glorify God | | 1 Peter 4:7-11 |
| In What a Variety of Ways We May Serve and Benefit Others | G. J. Zollikofer. | 1 Peter 4:7-11 |
| Love Covereth All Sins | J. Vaughan, M. A. | 1 Peter 4:7-11 |
| Love Covers Sins | F. B. Meyer, B. A. | 1 Peter 4:7-11 |
| Love Must be Fervent | John Rogers. | 1 Peter 4:7-11 |
| Mutual Obligations | J. N. Pearson, M. A. | 1 Peter 4:7-11 |
| Personal Christliness | Homilist | 1 Peter 4:7-11 |
| Receiving and Ministering | J. Trapp. | 1 Peter 4:7-11 |
| Reflected Glory | A. Maclaren, D. D. | 1 Peter 4:7-11 |
| Soberness and Watchfulness | D. Moore, M. A. | 1 Peter 4:7-11 |
| The Christian Stewardship | Dean Alford. | 1 Peter 4:7-11 |
| The End of All Things | Pulpit Studies | 1 Peter 4:7-11 |
| The End of All Things At Hand | W. J. Armstrong. | 1 Peter 4:7-11 |
| The Greatness of Love | P. H. Sharpe. | 1 Peter 4:7-11 |
| The Idea and Duty of Human Life | W. L. Watkinson. | 1 Peter 4:7-11 |
| The Import and Application of Glorifying God Through Jesus Christ | J. B. Beard. | 1 Peter 4:7-11 |
| The Nearness of Eternity | G. S. Noel, M. A. | 1 Peter 4:7-11 |
| The Nearness of Eternity | F. B. Meyer, B. A. | 1 Peter 4:7-11 |
| The Oracles of God | W. G. Barrett. | 1 Peter 4:7-11 |
| The Preaching of the Word | Abp. Leighton. | 1 Peter 4:7-11 |
| The Preeminence of Charity | F. W. Robertson, M. A. | 1 Peter 4:7-11 |
| The Warmth of Hospitality | Scientific Illustrations | 1 Peter 4:7-11 |
| Uugrudging Hospitality | F. B. Meyer, B. A. | 1 Peter 4:7-11 |
| Waiting for the End | H. J. Wilmot Buxton, M. A. | 1 Peter 4:7-11 |
| Watch unto Prayer | G. F. Prescott, M. A. | 1 Peter 4:7-11 |
| Watchfulness and Prayerfulness | J. T. Shedd, D. D. | 1 Peter 4:7-11 |
| Watchfulness Associated with Prayerfulness | J. Imrie, M. A. | 1 Peter 4:7-11 |
| Watching for Answers to Prayer | J. Edmond, D. D. | 1 Peter 4:7-11 |
| Watching in Relation to Prayer | C. Vince. | 1 Peter 4:7-11 |
| | | |
| --- | --- | --- |
| The Rightful Authority of Experience | J.R. Thomson | 1 Peter 5:5 |
| The Slave's Dress | A. Maclaren | 1 Peter 5:5 |
| The Slave's Girdle | Alexander Maclaren | 1 Peter 5:5 |
| Christian Humility | J.R. Thomson | 1 Peter 5:5, 6 |
| A Cure for Care | W. Halliday. | 1 Peter 5:5-7 |
| A Cure for Care | C. H. Spurgeon. | 1 Peter 5:5-7 |
| A Sermon to Ministers and Other Tried Believers | C. H. Spurgeon. | 1 Peter 5:5-7 |
| Be Clothed with Humility | James Bolton. | 1 Peter 5:5-7 |
| Bending Without Breaking | T. De Witt Talmage. | 1 Peter 5:5-7 |
| Cared For | M. Guy Pearse. | 1 Peter 5:5-7 |
| Cast Care on God | R. Walker. | 1 Peter 5:5-7 |
| Casting All Your Cares Upon Him | W. M. Statham, M. A. | 1 Peter 5:5-7 |
| Casting Care | The Weekly Pulpit | 1 Peter 5:5-7 |
| Christ the Care Bearer | J. L. Fyfe. | 1 Peter 5:5-7 |
| Christian Humility | S. Summers. | 1 Peter 5:5-7 |
| Christian Humility | G. T. Shedd, D. D. | 1 Peter 5:5-7 |
| Clothed with Humility | J. Vaughan, M. A. | 1 Peter 5:5-7 |
| Clothed with Humility | T. Brooks. | 1 Peter 5:5-7 |
| Confidence in God Lubricates Life | H. W. Beecher. | 1 Peter 5:5-7 |
| Counsels to the Younger | Thornley Smith. | 1 Peter 5:5-7 |
| Divine Care | D. Thomas, D. D. | 1 Peter 5:5-7 |
| Earthly and Heavenly Care | Bp. Huntington. | 1 Peter 5:5-7 |
| God not an Abstraction | E. White. | 1 Peter 5:5-7 |
| God's Care | Homilist | 1 Peter 5:5-7 |
| God's Care for Us | F. B. Meyer, B. A. | 1 Peter 5:5-7 |
| God's Regard for Individuals | A. Reed, B. A. | 1 Peter 5:5-7 |
| He Careth for You | H. E. Partridge. | 1 Peter 5:5-7 |
| He Careth for You | W. Birch. | 1 Peter 5:5-7 |
| How to Dispose of Care | W. Nevins, D. D. | 1 Peter 5:5-7 |
| Human Cares and the Divine Care | G. S. Barrett, B. A. | 1 Peter 5:5-7 |
| Humble Yourselves Under the Mighty Hand of God | J. Slade, M. A. | 1 Peter 5:5-7 |
| Humbling of the Spirit, in Humbling Circumstances | | 1 Peter 5:5-7 |
| Humiliation of Soul Under God's Mighty Hand | James Sherman. | 1 Peter 5:5-7 |
| Humility | J. Jortin, D. D. | 1 Peter 5:5-7 |
| Humility | Bp. Phillips Brooks. | 1 Peter 5:5-7 |
| Humility | C. Moinet, M. A. | 1 Peter 5:5-7 |
| Humility a Beautiful Dress | | 1 Peter 5:5-7 |
| Humility a Preparation for Heaven | Robert Herrick. | 1 Peter 5:5-7 |
| Humility and its Greatness | E. Garbett, M. A. | 1 Peter 5:5-7 |
| Humility Explained and Enforced | T. Gibson, M. A. | 1 Peter 5:5-7 |
| Humility Illustrated and Enforced | R. Hall, M. A. | 1 Peter 5:5-7 |
| Humility with the Fruits of It | D. Jennings. | 1 Peter 5:5-7 |
| Invented Worries | W. M. Statham, M. A. | 1 Peter 5:5-7 |
| Mutual Respect | F. D. Maurice, M. A. | 1 Peter 5:5-7 |
| Nursing Cares | H. W. Beecher. | 1 Peter 5:5-7 |
| Obj. 2 | | 1 Peter 5:5-7 |
| Obj. 3 | | 1 Peter 5:5-7 |
| Objection 1 | | 1 Peter 5:5-7 |
| On Humbling Ourselves Before God | C. H. Spurgeon. | 1 Peter 5:5-7 |
| On Humility | Robert Foote. | 1 Peter 5:5-7 |
| On Solicitude | John Main, D. D. | 1 Peter 5:5-7 |
| Self-Abasement and Divine Exaltation | S. Martin. | 1 Peter 5:5-7 |
| Seniors Should not be Over-Exacting | J. A. Bengel. | 1 Peter 5:5-7 |
| Submission to Divine Dispensation | S. J. Davis. | 1 Peter 5:5-7 |
| The Benefit of Afflictions | W. C. Wilson, M. A. | 1 Peter 5:5-7 |
| The Conduct Becoming Church Members Towards the Elders of the Church | C. New | 1 Peter 5:5-7 |
| The Course of Things Against Pride | A. K. H. Boyd, D. D. | 1 Peter 5:5-7 |
| The Divine Oversight | | 1 Peter 5:5-7 |
| The Garment of Humility | Harvey Phillips, B. A. | 1 Peter 5:5-7 |
| The Loftiness of Humility | C. Kingsley, M. A. | 1 Peter 5:5-7 |
| The Lord Careth for You | M. Guy Pearse. | 1 Peter 5:5-7 |
| The Mighty Hand of God | J. Vaughan, M. A. | 1 Peter 5:5-7 |
| The Pride of Care | M. R. Vincent, D. D. | 1 Peter 5:5-7 |
| The Proud Abased and the Humble Exalted | J. Summerfield, M. A. | 1 Peter 5:5-7 |
| The Shadow Shortens | Dean Young. | 1 Peter 5:5-7 |
| The Wisdom of God in His Providence | Abp. Tillotson. | 1 Peter 5:5-7 |
| Trust in God | A. Bonar. | 1 Peter 5:5-7 |
| Two Kinds of Clothing | H. J. Wilmot-Buxton, M. A. | 1 Peter 5:5-7 |
| Vanity | D. Thomas, D. D. | 1 Peter 5:5-7 |
| What to Do with Care | C. M. Birrell. | 1 Peter 5:5-7 |
| Work Tends to Humility | Bp. Phillips Brooks. | 1 Peter 5:5-7 |
| | | |
| --- | --- | --- |
| Christian Sobriety | Bp. Jeremy Taylor. | 1 Peter 5:8-9 |
| Of the Being, Enmity, Fierceness, and Cunning of the Devi | J. Cooke, M. A. | 1 Peter 5:8-9 |
| Our Vigilance Must be Comprehensive | Archbp. Trench. | 1 Peter 5:8-9 |
| Ready for Temptation | King's Highway. | 1 Peter 5:8-9 |
| Sympathy with Saints and Martyrs | Plain Sermons by Contributors to the, Tracts for the Times | 1 Peter 5:8-9 |
| The Advantages of Moderation in the Enjoyment of Sensual Pleasure | G. J. Zollikofer. | 1 Peter 5:8-9 |
| The Devil | F. D. Maurice, M. A. | 1 Peter 5:8-9 |
| The Devil a Roaring Lion | A. Roberts, M. A. | 1 Peter 5:8-9 |
| The Devil and Humanity | D. Thomas, D. D. | 1 Peter 5:8-9 |
| The Devil and Humanity | D. Thomas, D. D. | 1 Peter 5:8-9 |
| The Personality and Agency of Evil Spirits | A. K. H. Boyd, D. D. | 1 Peter 5:8-9 |
| The Roaring Lion | C. H. Spurgeon. | 1 Peter 5:8-9 |
| The Roaring Lion | M. G. Pearse. | 1 Peter 5:8-9 |
| The Wide Diffusion of Trials a Motive to Steadfastness | H. Melvill, B. D. | 1 Peter 5:8-9 |
| Watch Against Little Sins | R. South, D. D. | 1 Peter 5:8-9 |
| Watch Against Our Old Sins | Newman Hall. | 1 Peter 5:8-9 |
| Suspicion of Satan | C. New | 1 Peter 5:8-11 |
Book