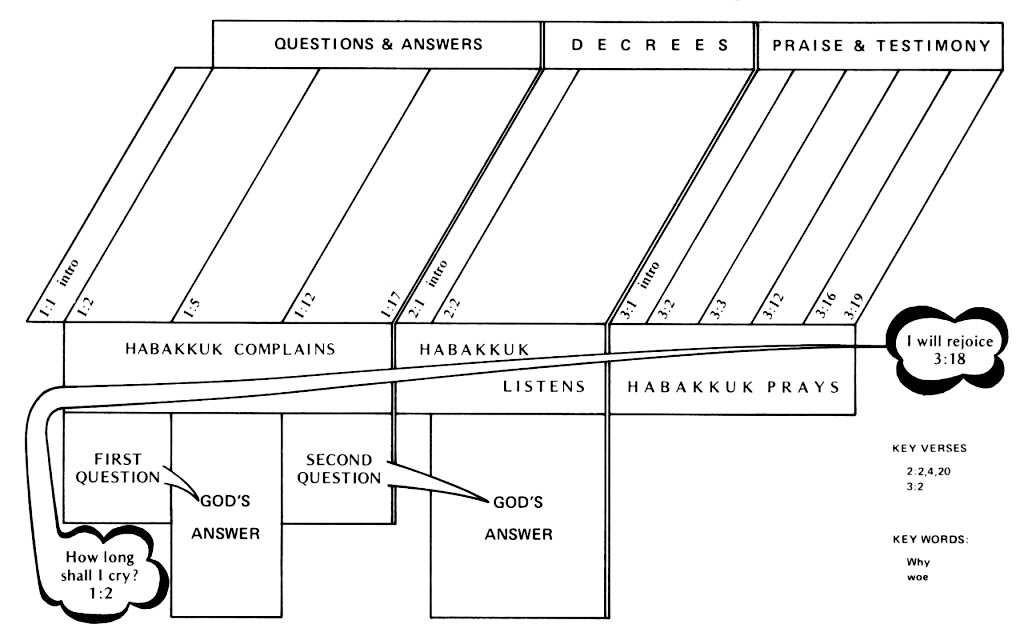 Click chart to enlarge
Chart from recommended resource Jensen's Survey of the OT - used by permission
Habakkuk Chart from Charles Swindoll
Another Haggai Chart
HABAKKUK
("Embrace" or "Wrestle")
THE RIGHTEOUS LIVE BY FAITH
"From Worry to Worship"
(Title from Dr Warren Wiersbe)

HABAKKUK 1-2
WORRY

HABAKKUK 3
WORSHIP

Problems of Habakkuk
Hab 1:1 -2:20

Praise of Habakkuk
Hab 3:1-19

Opens in Gloom:
Begins with an
Interrogation Mark?

Closes in Glory:
Ends with an
Exclamation Mark!
Faith Troubled:
A Wail
An Inquiry
Faith Triumphant:
A Song
An Affirmation
What is God Doing?
("Doubts")
Who God Is
("Shouts")
What is God Doing?
Song of Salvation
Perplexity
of the Prophet
Hab 1:1-17
Perspicuity
of the Prophet
Hab 2:1-20
Pleasure
of the Prophet
Hab 3:1-19
Habakkuk Complains
Hab 1:1-17
God Replies
Hab 2:1-20
Habakkuk Sings
Hab 3:1-19
Watch and See
Stand and See
Kneel and See
Habakkuk
Troubled
Habakkuk
Taught
Habakkuk
Triumphant
The Prophet
Wondering &
Worrying
The Prophet
Watching &
Waiting
The Prophet
Worshiping &
Witnessing
Habakkuk's First
Question
Hab 1:1-4
God's First
Answer
Hab 1:5-11
Habakkuk's Second
Question
Hab 1:12-2:1
God's Second
Answer
Hab 2:2-2:20
Habakkuk's
Prayer
of Praise
Habakkuk Speaks:
Why Does God
not Punish
Wicked Judah?
God Speaks:
Judah
Will Be
Punished!
Habakkuk Speaks:
Why Will God use
Pagans to
Punish Judah?
God Speaks:
Yes
Pagans Will
Punish Judah!
Word of Praise 1-15
Words of fear & faith Hab 3:16-19
Prophet Speaks to Judah
ca 607BC

• Favorite Verses: Hab 2:4 - This verse was the heart of God's answer to the prophets questions and the foundation of the doctrine of justification by faith. As Martin Luther was crawling on his knees up the Scala Scanta in Rome, the Spirit used this passage to pierce this burdened monk's heart of stone and set in motion the Reformation! Contrary to what some teach, salvation in the Old Testament has always been by faith and never by good works, keeping the law or performing sacrifices. Hab 2:4 is quoted with different emphasis 3x in the NT: Ro 1:17-note, Gal 3:11; Heb 10:38-note.

Hab 2:14. "For the earth will be filled with the knowledge of the glory of the LORD, as the waters cover the sea." (Maranatha! 1Cor 16:22)

Hab 2:20 "But the LORD is in His holy temple. Let all the earth be silent before Him." (Amen!)

Hab 3:2 "LORD, I have heard the report about Thee and I fear. O LORD, revive Thy work in the midst of the years, In the midst of the years make it known; In wrath remember mercy." (I like the NLT paraphrase "I have heard all about you, LORD, and I am filled with awe by the amazing things you have done. In this time of our deep need, begin again to help us, as you did in years gone by. Show us your power to save us. And in your anger, remember your mercy.")

• Key Words: Why? (4x/3v - Hab 1:3, 13, 14); Faith (1x - Hab 2:4) Save/Salvation (yesha root of Yeshua = Jehovah saves = Jesus) (5x - Hab 1:2, 3:8, 3:13 = 2x, Hab 3:18); Selah (a call to pause and be silent that the soul may "listen to the divine illuming" (3x - Hab 3:3, 9, 13 - elsewhere only in Psalms). Of course, LORD/God is always a key word (12x)! See related discussion - key words and marking key words

• Quotations/Allusions in NT: Hab 1:5>Acts 13:41; Hab 2:3>2Pe 3:9-note; Heb 10:37-38; Hab 2:4>Ro 1:17 (emphasis on "righteous"), Gal 3:11 (emphasis on "live"), Heb 10:37-38 (emphasis on "faith") - "It takes three books to explain and apply this one verse!" (Wiersbe); Hab 2:18-19>1Cor 12:2; Hab 3:17>Lk 13:6.

• Habakkuk - Means "embrace" or "one who strongly enfolds." He has been referred to by some as the "doubting Thomas" of the Old Testament, but in reality he is better called "the prophet of faith!" Yes, he had questions for God, but in the end, He trusted God and it caused him to worship God with one of the most magnificent descriptions of the glory of God in all the Bible (In reverential awe be still and know that He is God as you read - Hab 3:3-15)!

Martin Luther: "Habakkuk signifies an embracer, or one who embraces another, takes him into his arms. He embraces his people and takes them to his arms, i.e., he comforts them and holds them up, as one embraces a weeping child, to quiet it with the assurance that, if God wills, it shall soon be better."

• Notable Contrasts:

(1) Hab 1:1 "How long shall I cry?" and Hab 3:18 "I will exult...I will rejoice!", which demonstrates the radical impact/transformation that can occur when one has a personal encounter with Living God and "live by faith" (Hab 2:4) trusting in Him no matter what might transpire.

(2) Observe also the striking contrast (and transformation) from the complaint "You do not save" (Hab 1:2) to "The God of my salvation" again reflecting Habakkuk's "close encounter of the God kind!" We can expect similar transformative effects as we seek His face in His Word and His Spirit uses those times to transform us from glory to glory. PTL! Amen! (2Cor 3:18-note)

• Habakkuk is the only OT book consisting entirely of a dialogue between God and a man. Other prophetic books consist mainly of a record of the prophets' message (preaching) to the people.

• Habakkuk and Jeremiah - These were God's last prophets to Judah before He brought about the invasion by Babylon = Judah's last warning & explanation of why God was using the idolatrous nation of Babylon. Habakkuk gave the "preview of coming attractions" while Jeremiah filled in the details of the "full feature."

G. Campbell Morgan says that when Habakkuk looked at his circumstances he was perplexed (Habakkuk 1:3), but when he waited for God and listened to Him, he sang one of the greatest praise songs in the Bible (Habakkuk 3:17-19).

J Vernon McGee: "Habakkuk is a big WHY? Why God permits evil is a question that every thoughtful mind has faced. The book is the answer to the question: Will God straighten out the injustice of the world? This book answers the question: Is God doing anything about the wrongs of the world? This book says that He is."

Ryrie describes Habakkuk as "a theodicy, a defense of God's goodness and power in view of the existence of evil."

Habakkuk moves from burden to blessing, from wonder/worry to worship, from restlessness to rest, from a focus on the problem with God to a focus on the Person of God, and from a complaint to consolation. God turns sighing into singing if we (like Habakkuk) take time to wait before Him in prayer and listen to His Word.

Habakkuk goes from worrying to watching and waiting to worshiping! Habakkuk is a changed man! Instead of complaining, he is praising the Lord.

Christ in All the Scriptures (A M Hodgkin) - Habakkuk is the prophet of faith. His name means "Embrace," or "one who strongly enfolds." Through all the mystery of sin and its apparent success, through the mystery of suffering and of God's judgments, he lays hold of God's promises, and clings to Him with faith triumphant.

He tells us nothing about himself except that he was a prophet, and we may infer from Habakkuk 3, which is evidently a Psalm for the Temple, that he had to do with arranging its services, and was probably a Levite, as he speaks of "my stringed instruments."

Habakkuk opens his prophecy with the cry, "O Lord, how long shall I cry and Thou wilt not hear?" as he looks round upon the iniquity which prevailed in Judah.

The Lord's answer is that He is about to bring a punishment upon this sinful nation in the form of the terrible Chaldean invasion.

The Chaldeans were noted for their cavalry (Habakkuk 1:8); they were noted also for scoffing at their captive kings (Habakkuk 1:10). Jeremiah's prophecy was fulfilled that Jehoiakim should be "buried with the burial of an ass," that is, "cast forth beyond the gates of Jerusalem," as food for the vultures (Jeremiah 22:19).

Having seen in vision the destruction of his people, Habakkuk again brings his questionings in confidence to God (Habakkuk 1:12): "Art Thou not from everlasting, O Lord, my God, mine Holy One? we shall not die."

"The Just shall live by Faith." Habakkuk's next question is, How is it that He who is of purer eyes than to behold iniquity will execute His vengeance upon Judah by a people even worse than themselves? He then resolves to wait for God's answer to his complaint.

As he waits upon God on his watch-tower God speaks again, and tells him to make plain, so that he that runs may read it, this glorious message for all time, "The just shall live by faith." "This motto became the center of Paul's teaching (Roman 1:17; Galatians 3:11; Hebrew 10:38). In Romans just is the emphatic word; in Galatians faith; in Hebrews live" (Dr. Pierson). Habakkuk speaks of an immediate vision, but he looks on to the end. "At the end it shall speak ... though it tarry wait for it; because it will surely come, it will not tarry." In Hebrews the quotation, "The just shall live by faith," is preceded by the words, "For yet a little while, and He that shall come will come, and will not tarry." "Surely I come quickly" are our Savior's last words in the Bible.

Then God shows Habakkuk that the Chaldeans will be destroyed themselves for their iniquity. God had used Babylon as His hammer to punish the nations, and He was about to break the hammer itself in pieces (Jeremiah 50:23). And He points forward to the Day of Christ when the earth shall be full of the knowledge of the glory of the Lord, as the waters cover the sea (Habakkuk 2:14).

Habakkuk's Prayer. Then follows the prayer of Habakkuk. His description of the majesty of God is as fine as any in the whole Bible. He describes the wonderful history of God's dealings with His people in bringing them into Canaan. Here again there are foreshadowings of a greater salvation yet to come, as we catch glimpses of the working of Him who is the brightness of His Father's glory.

Three times in this prayer he uses the exclamation Selah, found elsewhere only in the Psalms. It is a call to pause and be silent that the soul may "listen to the divine illuming," as in Habakkuk 2:20, "The Lord is in His holy temple, let all the earth keep silence before Him," and the words of Habakkuk 2:1, "I will watch to see what He will say unto me." How much we need this silence of soul before the Lord in these days, that we may give Him time to speak to us, that we may "listen to the divine illuming." As we saw in studying the book of Job, the rays of light are vocal, but it needs a finely-tuned ear indeed to hear them.

Though the prophet trembles at the revelations of the Lord, yet he stays himself upon Him in quiet confidence, knowing that he can rest in the day of trouble. He sums up in the finest poetical language the failure of everything of earth, and when all nature and every seeming hope is dead, he adds, "Yet will I rejoice, as with exulting joy, in the God of my salvation." It is almost the name of Jesus, for Jesus is 'Jehovah—Salvation," or "Jehovah is Salvation," whence the words are here rendered, even by a Jew, "in God the Author of my redemption," and by Augustine, "In God my Jesus."

The Old Testament Presents...Reflections of Christ by Paul R. Van Gorder Excerpt: THE PROPHET'S QUESTION--The keynote of faith rings throughout the entire prophecy. That resounding theme is introduced as follows: ''...the just shall live by his faith'' (Hab 2:4). This follows a dialog between Habakkuk and God, in which the prophet complained that God had permitted him to see only the iniquity of Israel (Hab 1:3). When Habakkuk learned that God was going to send the Chaldeans upon Judah as punishment for their sins, he challenged God. He asked why the Lord would use the heathen nation, when they were so much more wicked than God's covenant people. In fact, Habakkuk raised one of the common questions of the ages, ''Thou art of purer eyes than to behold evil, and canst not look on iniquity; why lookest Thou upon them that deal treacherously, and holdest Thy tongue when the wicked devoureth the man that is more righteous than he?'' (Hab 1:13). Much the same attitude was expressed by the psalmist when he wrote, ''For I was envious of the foolish, when I saw the prosperity of the wicked'' (Psalm 73:3). You and I must admit that the earth is filled with glaring inequity. The wicked do seem to prosper while the righteous suffer. And I'm sure you've asked the same question, perhaps in a different way. (Read more)

Timeline of Habakkuk

BC

722: Northern Kingdom of Israel (10 tribes) falls & is exiled to Assyria

627: Jeremiah begins his prophetic ministry

621: Rediscovery of Book of Law which had been lost in House of God! Josiah's reformation (but not lasting revival)

612: Fall of Nineveh, capital of Assyria

609: Death of godly King Josiah

607: Habakkuk begins his prophetic ministry

605: Nebuchadnezzar defeats Pharaoh Necho of Egypt at Battle of Carchemish = "the turning point of world history"

605: First invasion of Judah by Nebuchadnezzar King of Babylon; Daniel taken captive

597: Second invasion of Judah by Babylon; Ezekiel and 10,000 taken captive

592: Ezekiel begins his prophetic ministry to Babylonian exiles

586: Fall of Jerusalem, Destruction of Temple

538: Exiles return from Babylon to Judah (relatively small number return)
Caveat: Be an Acts 17:11 Berean (note): Not always literal, especially on prophetic passages
Caveat: Be an Acts 17:11 Berean (note): Not always literal, especially on prophetic passages
Caveat: Be an Acts 17:11 Berean (note): Not always literal, especially on prophetic passages
Caveat: Be an Acts 17:11 Berean (note): Not always literal, especially on prophetic passages
Caveat: Be an Acts 17:11 Berean (note): Not always literal, especially on prophetic passages
HINT: Click here to Scroll Bible text synchronized with Constable's notes. Very useful feature!
Caveat: Be an Acts 17:11 Berean (note): Not always literal, especially on prophetic passages
Sample Excerpt from Part 5/6: "Israel, in the period of the Messianic Kingdom, is a major theme of the Old Testament prophets and the high point of their prophecy....Every writing prophet (other than Jonah, Nahum, Habakkuk, and Malachi) had something to say about it."
The Judgment of Judah Through the Chaldeans Announced
Ungodliness of the Chaldeans and Their Destruction
The Vision of the Coming of the Lord
Sample Comment from Gaebelein on Habakkuk 3:3-15-see also related in depth notes: It has been said, "The poet describes a great storm, advancing from the south, the region of Paran and Sinai. In the dark storm clouds he conceives Jehovah to be concealed; the lightning flashes which illumine heaven and earth disclose glimpses of the dazzling brightness immediately about him; the earth quakes, the hills sink, and the neighboring desert tribes look on in dismay" (Canon Driver). Thus higher criticism, reduces one of the sublimest inspired prophecies, concerning the future appearing of the Lord, to the level of poetry. The great description of His coming must be linked with similar prophecies Deut 33:22; Ps 18:8-50; Ps 18:33-50; Ps 68:8; Ps 68:34; Ps 77:17-20. The great ode, cast in the form of a Psalm, begins with the statement that God cometh from Teman and the Holy One from Mount Paran. Moses in his prophetic blessing also begins with a similar declaration. "The LORD came from Sinai, and rose from Seir unto them; He shined from Mount Paran, and He came with the thousands of His saints (angels); from His right hand went a fiery law for them." Just as He was manifested when He had redeemed them out of Egypt, and constituted them His Kingdom people at Sinai Ex 19:1-25, so will He appear again to deliver the remnant of His people from the dominion of the world-power, and judge them as He judged Egypt. He comes from the direction of Edom, for Teman is the southern district of Idumea, while Paran is more southward. Isaiah also beheld him advancing from the same direction. "Who is this that cometh from Edom, with dyed garments from Bozrah (See discussion on Bozrah as it relates to the Second Coming of the Messiah- scroll down for map)?" Isaiah 63:1-19. It is unfortunate that the Authorized Version has "God came from Teman," when it is "God cometh," not a past but a future event. After this opening statement the first Sela is put. This means to pause and to lift up. We are to pause and meditate, and then to lift up our hearts and voices in praise and thanksgiving. It is found seventy-one times in the Psalms and three times in this chapter of Habakkuk.
Does not always interpret the Scripture literally (see example)
Be cautious (Acts 17:11-note): Does not always interpret the Scripture literally
James Rosscup "This 1858 work supplies much help on matters of the text, word meaning, resolving some problems, etc. Some have found it one of the most contributive sources in getting at what a text means." (Commentaries for Biblical Expositors: An Annotated Bibliography of Selected Works)
Be cautious (Acts 17:11-note): Does not always interpret the Scripture literally and sometimes replaces Israel with the Church (note) Click example of his interpretative approach which is often allegorical) (Or another example
Note: JFB is one of the more literal, conservative older commentaries (prior to 1900). Sample excerpt of eschatological (prophetic, apocalyptic) passage Zechariah 14:2 - "gather all nations, etc. — The prophecy seems literal (compare Joel 3:2). If Antichrist be the leader of the nations, it seems inconsistent with the statement that he will at this time be sitting in the temple as God at Jerusalem (2Thessalonians 2:4); thus Antichrist outside would be made to besiege Antichrist within the city. But difficulties do not set aside revelations: the event will clear up seeming difficulties (Ed: Interesting statement!). Compare the complicated movements, Daniel 11:1-45-note." Comment on Zech 14:11 - "no more utter destruction — (Jer 31:40). Literally, "no more curse" (Rev 22:3-note; compare Malachi 4:6-note), for there will be no more sin. Temporal blessings and spiritual prosperity shall go together in the millennium: long life (Isaiah 65:20-22), peace (Isaiah 2:4-note), honor (Isaiah 60:14-16), righteous government (Isaiah 54:14; Isaiah 60:18). (Zechariah 14 - Commentary Critical and Explanatory on the Whole Bible)
One of the Best "devotional flavor" commentaries on the Minor Prophets
See caveat regarding this commentary
Rosscup - This is the best older, overall treatment of a critical nature on the Old Testament Hebrew text verse by verse and is a good standard work to buy. The student can buy parts or the whole of this series. Sometimes it is evangelical, at other times liberal ideas enter...In prophecy it is amillennial. (Commentaries for Biblical Expositors: An Annotated Bibliography of Selected Works).
Caveat: Be an Acts 17:11 Berean (note): Not always literal, especially on prophetic passages
Caveat: Be an Acts 17:11 Berean (note): Not always literal, especially on prophetic passages
Caveat: Be an Acts 17:11 Berean (note): Not always literal, especially on prophetic passages
Complete Commentary of Habakkuk on one zip file
The Theological Journal Library on galaxie.com
An annual $50 or monthly $5 subscription (click here) is required to view the entire article but will give you access to literally thousands of conservative articles. Click the following links to search by topic, author, or bible reference.
Example Journal Articles
Rosscup on Kaiser: A careful evangelical gives contemporary outlines usable to pastors. He has occasional illustrations and serious explanation of the text. He is premillennial, as on Zechariah 14, and packs in much expositional help, relating it strategically to life. (Commentaries for Biblical Expositors: An Annotated Bibliography of Selected Works)
Rosscup comments: The large, two-column pages contain much good material on the relevance of the words for then and for now, dealing with such topics as love, repentance, and sincerity (Hosea 6). A prolonged contemplation of these pages and an application of their principles will produce substantial Christian growth. The author could improve the work by being more definite sometimes in specifying in what framework God will bless Israel in the future (e.g., Hosea 14). Vagueness such as in Joel 2:1-11, where he says the invader is neither locusts nor a human army, is a drawback. Wordiness and wandering in his discussions is another shortcoming, as in using Joel 2:28 to take off into a long discussion of clericalism. He finds fulfillment of Joel 2:28 at Pentecost, yet it would help to point out some aspects that were (Rosscup)
Review - In his review of this work, Hebrew scholar, Dr William Barrick, writes ""Based on my experience as a Bible translator . . . , I have often said, 'If you want to discover how little you really know, become involved in translating all the books of the Bible from Hebrew, Aramaic, and Greek into English or any other language.' The same applies to writing a commentary (7)." With these words Barker introduces his masterfully written and eminently readable commentary on the Book of Micah (21-136). Every page drips with exegetical insights drawn from the original Hebrew text. Every section includes clear and practical applications for the modern Christian reader (69, 81-82, 115). The breadth of information is impressive: everything from hymns (134, 135) and historical anecdotes (82, 113, 131) to detailed grammatical and textual analyses of the Hebrew. Bailey's more extensive contribution (commentaries on Nahum, Habakkuk, and Zephaniah, 137-500) is equally impressive, informative, and readable. Barker and Bailey direct the reader to a wealth of resources by means of extensive footnotes. When pertinent to the reader's understanding of the text, the commentators identify significant views and related arguments. Anyone studying these four minor prophets will benefit from this volume. (Click to read this excellent, lengthy review)
Rosscup on John Phillips - A respected popular expositor on a number of biblical books here has two introductory chapters, then a chapter of about 20–30 pp. on each prophet (50 on Zech.). Several charts aid readers, and a detailed outline runs before each exposition. The exposition is in general surveys of sections, at times taking a view on a main problem. In Hosea 1:2, he feels that God had Hosea marry an immoral woman but Phillips offers no help on the moral issue. Phillips is premillennial, seeing Israel's future kingdom blessings as in the Millennium after Christ's Second Coming (Hosea 3:5; Joel 3:14ff; Amos 9:15; Zeph. 3:9ff; Zech 2:10–13; 14:1–21). In Mal. 2:15 he has "one" refer to God making husband and wife into one, and in Mal 4:5 he thinks the Elijah will be fulfilled in one of the two witnesses in Rev 11:3-13-note. The work helps on broad coverage, and is quite readable for preachers, church teachers, students and lay people wanting a general devotional sweep. (Ibid)
Rosscup says "This is an outstanding conservative, detailed work backed by scholarly awareness and expertise. Comments reflect fine-tuned ability in the Hebrew text, philology, exegesis, history, and literature. Patterson has premillennial convictions in the final verses of Zephaniah. He shows the shaky reasoning of critical arguments against the unity of Nahum, and defends unity of Nahum and Habakkuk. In a long Excursus he defends New Testament uses of Habakkuk 2:4-note (pp. 21–23), But some will doubt that he captures the significance of the picture of a hind in Habakkuk 3:19-note when he sees only swiftness ascending and gracefully gliding (262–63). But in most details he is excellent, and the work is well worth the cost and time. (Commentaries for Biblical Expositors: An Annotated Bibliography of Selected Works)
Rosscup Ranks Commentaries on Minor Prophets
Minor Prophets Overall Ranking by Rosscup
EXEGETICAL COMMENTARIES
1. T. Laetsch (Amill)

2. R. Chisholm (Premill)

3. C. Bullock (Premill)

4. C. F. Keil/ F. Delitzsch (Amill)
EXPOSITIONAL COMMENTARIES
1. Bible Knowledge Commentary entries

2. C. Feinberg

3. J. Boice (Premill)

4. P. Fink (Premill)
DEVOTIONAL COMMENTARIES
1. H. A. Ironside

2. J. Phillips
HABAKKUK Overall Ranking by Rosscup
EXEGETICAL COMMENTARIES
1. R. Patterson

2. O. P. Robertson

3. W. Bailey
EXPOSITIONAL COMMENTARIES
1. J. N., Heflin

2. C. Feinberg

3. J. R. Blue (BKC)

4. C. Barber

5. R. Chisholm
DEVOTIONAL COMMENTARIES
1. D. M. Lloyd-Jones

2. J. M. Boice

3. J. Phillips

4. H. A. Ironside
Excerpt: It is the interpretation of the term emunah (see word study on preceptaustin.org) that caused the division of Judaism and Christianity. In the Jewish interpretation, emunah stands for steadfastness and loyalty to God and the Mitzvot (see: and his hands remained steady [va-yehi yadav emunah] Ex. 17:12). By an ironic twist, Paul made it into faith without the encumbrance of mitzvot that leads to salvation. "To prove the transitory nature of the law, Paul derived his great anti-Jewish motto 'the just shall live by his faith' after giving it a new meaning".
Excerpt: THEME AND PURPOSE: The theme of this prophecy flows out of Habakkuk's perplexity over the coming invasion of the wicked Babylonians. It concerns the problems of his faith in the face of two apparent difficulties: (1) Why did God permit the increasing evil in Judah to go unpunished (Hab 1:2-4)? And how could a Holy God (Hab 1:13) use sinful nations like Babylon as His source of judgment (Hab 1:12-2:1)? Habakkuk grapples with these difficulties which are solved in the light of God's continuing revelation, and the prophet closes in a psalm of joyous trust. The book is thus a theodicy, a defense of God's goodness and power in view of the problem of evil.

KEY WORD: Two words are key not because of their repetition but because of the content of the book. One is "why" as Habakkuk struggled with the issues here and the other is "faith" as declared in 2:4, "the just shall live by faith." (Read full discussion)
Excerpt: Interpretive Challenges - The queries of the prophet represent some of the most fundamental questions in all of life, with the answers providing crucial foundation stones on which to build a proper understanding of God's character and His sovereign ways in history. The core of his message lies in the call to trust God (Hab 2:4-note), "the just shall live by his faith." The NT references ascribe unusual importance theologically to Habakkuk. The writer of Hebrews quotes Hab. 2:4 to amplify the believer's need to remain strong and faithful in the midst of affliction and trials (Heb. 10:38-note). The apostle Paul, on the other hand, employs the verse twice (Ro. 1:17-note; Gal. 3:11) to accentuate the doctrine of justification by faith. There need not be any interpretive conflict, however, for the emphasis in both Habakkuk and the NT references goes beyond the act of faith to include the continuity of faith. Faith is not a one-time act, but a way of life. The true believer, declared righteous by God, will habitually persevere in faith throughout all his life (cf. Col 1:22,23-note; Heb 3:12–14-note). He will trust the sovereign God who only does what is right.
Excerpt: The book opens in gloom and closes in glory. It begins with an interrogation mark and closes with an exclamation point. Habakkuk is a big "WHY?" Why God permits evil is a question that every thoughtful mind has faced. The book is the answer to the question: Will God straighten out the injustice of the world? The book answers the question: Is God doing anything about the wrongs in the world? This book says that He is!
Excerpt: Habakkuk's Statement of Confidence--Trust in Yahweh Regardless: Even though Habakkuk was frightened when he heard of the Lord's work, and knew that God's time of ultimate victory might be long in coming, he vowed to wait for the judgment to come and rejoice and exalt in the Lord even without visible signs of His blessing because He will enable him to endure hardship Hab 3:16-19a
1. Fear of the Lord's Coming Judgment: Hab 3:16a

2. One Must Wait for the Lord's Time of Judgment: Hab 3:16b

3. Vow of Unwavering Confidence--to Wait and Rejoice in the Lord Who Will Enable him to Endure Hardship: Hab 3:17-19

E. Concluding Musical Notation: Hab 3:19b
Excerpt: PURPOSES:
A. To proclaim that Yahweh, Judah's sovereign warrior, will appropriately judge the evil of Judah by bringing the Babylonians against them

B. To proclaim that Yahweh, as the protector of His people, will sustain those who trust in Him

C. To proclaim that Yahweh, as the protector of His people, will deliver Israel from the Babylonians some day

D. To proclaim that Yahweh, as Judah's sovereign warrior, will one day judge the unjust Babylonians
Excerpt: What's the big idea? As the prophet Habakkuk stood in Jerusalem and pondered the state of his nation, Judah, he must have been dumbfounded. So much evil thrived, completely in the open, but God remained strangely silent. Where was He? How long would He allow this mess to continue? Not long, according to the Lord (Habakkuk 2:2–3-note). Another nation, the Babylonians, would come and execute justice on the Lord's behalf. The wicked in Judah, those who thought they would get away with their evil deeds forever, were soon to be punished. The book of Habakkuk offers us a picture of a prideful people being humbled, while the righteous live by faith in God (Hab 2:4-note). It reminds us that while God may seem silent and uninvolved in our world, He always has a plan to deal with evil and always works out justice . . . eventually. The example of the prophet Habakkuk encourages believers to wait on the Lord, expecting that He will indeed work out all things for our good (Romans 8:28). How do I apply this? Habakkuk asked God the kind of question that so many of us have pondered, "Why do You make me see iniquity, and cause me to look on wickedness? Yes, destruction and violence are before me. Strife exists and contention arises." (Habakkuk 1:3-note). We have all seen the evidence of evil in our lives. We've all been touched by it. And we bear scars at various stages of healing. Surrounded by evil as if we are trapped in a dark prison cell of our own making, we are often downtrodden by our poor choices and our fallen world. However, the book of Habakkuk reminds us that no place is too dark and no wall too thick for God's grace to penetrate in a powerful and life-affirming way.
Excerpt: Lessons from Habakkuk...
1: How many times have we complained to the Lord that He is not hurrying fast enough to accomplish what we think must be done now?

2: "Wait for the Lord; be strong and take heart and wait for the Lord" (Psalm 27:14).

3: Many times God is much at work and we are just not aware of what He is doing.

4: "Habakkuk, you have been so busy doing what you thought was My work that you have forgotten to be checking in for signals."

5: Waiting and trusting reflect my submission and obedience.

6: Looking at circumstances alone can often cause us to form a wrong opinion.
Excerpt: What do you do when life takes a turn for the worse? What do you do when it seems like God is silent? What do you do when life doesn't make sense?
Excerpt: Warren Wiersbe entitles his book on Habakkuk as From Worry to Worship. Dr. Martyn Lloyd-Jones calls his, "From Fear to Faith." While Habakkuk begins by wondering or worrying about the world around him and God's seeming indifference, he ends by worshipping God.1 When he heard who was coming 3:16 says he trembled, but he certainly ends up expressing faith by the end of the book. What they are trying to capture in the titles of their books is the progression Habakkuk makes from questioning God to trusting God.
LOGOS.COM
Excerpt: How do I apply this? Habakkuk asked God the kind of question that so many of us have pondered, "Why do you force me to look at evil, / stare trouble in the face day after day?" (Habakkuk 1:3 MSG). We have all seen the evidence of evil in our lives. We've all been touched by it. And we bear scars at various stages of healing. Surrounded by evil as if we are trapped in a dark prison cell of our own making, we are often downtrodden by our poor choices and our fallen world. However, the book of Habakkuk reminds us that no place is too dark and no wall too thick for God's grace to penetrate in a powerful and life-affirming way.
There is always a need for godly leaders in the Church of our Lord. Some people view leadership in the local church as a privilege, a title or a source of power. Actually, when God offers us a position of leadership, it is purely to serve Him, His cause and His interests. Dr. Jerry Watts discusses the heart of a godly leader in this sermon. May God give us more devout and pious leaders in the Kingdom of God – that is our prayer!
On Christmas Day 2009, we were once again reminded of the dangerous world in which we live as a terrorist boarded a plane headed to the United States of America. He had every intention of blowing up a plane and killing as many people as possible. Painful images of 9/11 resurfaced.
Though we classify Habakkuk as a Minor Prophet, there's nothing minor about this book. Habakkuk brings a major message during a time when the world seemed to be coming apart and calamity was on the horizon.
ADRIAN ROGERS
These are uncertain times. Terrorism, financial collapse, health care issues and many other issues are pressing upon the hearts and minds of people everywhere. How do we, as God's people, deal with these times? Dr. Rick Lance reminds us to face life honestly, but to face life with trust and faith in the Sovereign God!
At the beginning of this little book, the prophet Habakkuk could not understand why injustice prevailed and the wicked were allowed to hem in the righteous. God answered Habakkuk's concerns by telling him that He was going to send the Babylonians to bring judgment upon God's people. Since Habakkuk did not understand how God could do something like that, he cried out to God in prayer and waited for God to answer him.
Excerpt - When a grief-stricken woman was sharing her feelings, her friend said sympathetically, "Sorrow does color life, doesn't it?" "Yes," the woman agreed, and then added, "but I intend to choose the colors." (Our Daily Bread 10/3/98) How do we respond in the face of difficulty? How do we react when the bottom seems to fall out? Do we let sorrow and grief rob our joy and drive us away from God? Or do we choose the colors? Habakkuk wrote this book under the inspiration of God to warn Judah that God was going to use a pagan nation to chastise Israel because of her backslidings. By this time in Israel's history, they were not openly practicing idolatry, but had relapsed into carelessness and forgetfulness of God, and various evil practices. God commissions Habakkuk to tell Israel that God would use the Babylonians to punish her for her sinfulness.
WARREN WIERSBE
Conservative notes from Dr Morris who approaches the text seeking it's literal meaning in the context. Millennial. Click the words or phrases after the Scripture for the Study Notes and note that they are from the KJV translation.
---
Habakkuk 1
Habakkuk 2
Habakkuk 3
Recommended: NETBible notes are in the right panel. You can also select the tab for "Constable's Notes."
Sample Comment - Habakkuk 3:13 "Your anointed one" - Heb "anointed one." In light of the parallelism with "your people" in the preceding line this could refer to Israel, but elsewhere the Lord's anointed one is always an individual. The Davidic king (Ed: The future "Davidic King" is the Messiah - cf Rev 19:16-note) is the more likely referent here. (Ed: Anointed = mashiach 04899 = see interesting discussion from an orthodox Jewish perspective concerning Mashiach- The Messiah "Belief in the eventual coming of the mashiach is a basic and fundamental part of traditional Judaism.")
Caveat: Be an Acts 17:11 Berean (note): Not always literal, especially on prophetic passages
Caveat: Be an Acts 17:11 Berean (note): Not always literal, especially on prophetic passages
Caveat: Be an Acts 17:11 Berean (note): Not always literal, especially on prophetic passages
James Rosscup writes "This work originally appeared in 1860. The present publication is set up in two columns to the page with the text of the Authorized Version reproduced at the top. Scripture references, Hebrew words, and other citations are relegated to the bottom of the page. The work is detailed and analytical in nature. Introduction, background and explanation of the Hebrew are quite helpful. Pusey holds to the grammatical-historical type of interpretation until he gets into sections dealing with the future of Israel, and here Israel becomes the church in the amillennial vein." (Commentaries for Biblical Expositors: An Annotated Bibliography of Selected Works)
Caveat: Be an Acts 17:11 Berean (note): Not always literal, especially on prophetic passages
NOTE: If you are not familiar with the great saint Charles Simeon see Dr John Piper's discussion of Simeon's life - you will want to read Simeon's sermons after meeting him! - click Brothers We Must Not Mind a Little Suffering (Mp3 even better)
James Rosscup writes "Though old this is well-written and often cited, with many good statements on spiritual truths. Users will find much that is worthwhile, and sometimes may disagree, as when he sees the Jonah account as allegorical (Ed: See Tony Garland's article on the Rise of Allegorical Interpretation)." (Commentaries for Biblical Expositors: An Annotated Bibliography of Selected Works)
Caveat: Be an Acts 17:11 Berean (note): Not always literal, especially on prophetic passages
Caveat: Be an Acts 17:11 Berean (note): Not always literal, especially on prophetic passages
NO. 2809
INTENDED FOR READING ON LORD'S-DAY, DECEMBER 14TH, 1902,DELIVERED BY C. H. SPURGEON,
AT THE METROPOLITAN TABERNACLE, NEWINGTON,
ON LORD'S-DAY EVENING, MAY 10TH, 1877.
"The just shall live by his faith."-Habakkuk 2:4.
"The just shall live by faith."-Romans 1:17.
"The just shall live by faith"-Galatians 3:11.
"Now the just shall live by faith."-Hebrews 10:38.
THE fact that these words are so frequently found in the Word of God is a sufficient justification for often preaching from them. There seems to be, among certain preachers and hearers, some sort of question about preaching more than once from the same text; yet it would appear that this is by no means a wrong practice, but a most proper one. Indeed, our Lord Jesus Christ may be thought to have preached the same sermon more than once, for the sermon on the mount contains many passages similar to those uttered by him on other occasions. The apostle Paul imitated his Master's example when he wrote to the Philippians, "To write the same things to you, to me indeed is not grievous, but for you it is safe." We need not hesitate to follow such leaders as these.
As the truth contained in our texts is so often brought before us in the Scriptures,-and is revealed at least four times in almost the same words,-we ought to regard it as of the greatest imaginable importance, as indeed it is. A mistake upon this subject would be a mistake concerning life,-for we are told, again and again, "The just shall live by faith;"-and a mistake concerning life is a vital mistake, and will be a fatal mistake to those who make it unless it be corrected and rectified by a power higher than their own. Therefore, we ought to give most earnest heed to that which lies near to the very heart of true religion, and which is, indeed, its very life. To the believer, faith is of the utmost importance. He should endeavor not to lose any of his graces; he should seek, by the power of the blessed Spirit, neither to lose patience, nor hope, nor love, nor any other grace or virtue; still, the root of true religion is faith so he must first of all see to that. If we fail in faith, we shall fail everywhere. I might almost say of faith, with regard to religion that it is like the heart, out of which are the issues of life. If faith be weak, we are weak all over,-for service, for suffering for everything; but when faith is strong, it imparts strength to all the members of the spiritual body, and the whole spiritual manhood is full of vigor. So, my brother, or sister, see thou first and foremost to thy faith. May God the Holy Spirit graciously strengthen it, and may our consideration of these four texts tend to the same end!
First, in time great change from condemnation to justification, these words are true: "The just shall live by faith;" and, secondly, using a very wide term to take in all the rest of our daily life,-in reference to what we have been accustomed to call sanctification,-these words are also true: " The just shall live by faith." It is the same life all the way through, and the same method of living that life, namely, by faith."
I. First, then, In The Great Change From Condemnation To Justification, these words are true: "The just shall live by faith."
We all need to be delivered from the condemnation, which is our due because of sin. When a man's conscience is aroused to see the fearful penalty which he has incurred by his transgressions, he cries out for someone to rescue him from the death which looms before him as the result of his condemnation. He begins to seek a way of escape, and he tries all sorts of ways, and runs in them with great perseverance, and earnestness, and self-denial; but he makes a mistake as to every way of escape until he comes to this way, "The just shall live by faith."
This is the famous text which was the means of the emancipation of the soul of Martin Luther. I have stood at the bottom of the Santa Scala, or holy staircase, at Rome, which is superstitiously believed to be the very one down which the Savior came from Pilate's hall; I have never gone up those stairs, because no one may go up them except upon his knees, and I would not do that; but I have walked up and down the steps by the side of them. There are certain hole's cut in the wooden floor which encases the marble staircase, and that wooden floor has been worn away many time by the pilgrims' knees. There are places cut,-where the priests say that the blood of Jesus fell,-in order to enable the poor votaries of superstition to kiss the spot where the blooddrops fell. I have seen scores of men and women going up that staircase on their bended knees, for they are told that there are great indulgences to be obtained by crawling up those stairs. Luther was doing this, for he had gone to Rome determined to get rid of his sins, if possible; and while he was in the middle of that slavish toil, seeking to gain everlasting life by his penance's, this text came into his mind,-he had read it in the Bible in the monastery,-"The just shall live by faith;" and, to the astonishment of those who looked on, he rose from his knees, never to go up the Santa Scala any more in that fashion, for he had discovered that which he was looking for, the true way of living; and you know that it was not long before he wanted to tell others of the life and peace that he had discovered. An old monk, who knew something about these truths, but who did not want to have any noise made concerning them, said to him, "Go thou back to thy cell, and live near to God, and do not make a stir." But God did not mean him to go back to his cell, and he began to speak, and very soon the world knew that a mighty change had been wrought, but it all came, instrumentally, through Luther learning this great truth, "The just shall live by faith."
If I am addressing any who are trying to procure eternal life by their own works;-if you have mended your ways a good deal, it was time you did so;-if you have obtained a great many virtues to which you were strangers before, I am very glad to hear it, for it was your duty to do so;-but, if you are hoping, by any such means, to put away your sin, oh that some voice, more potent than mine, would speak not only to your ear, but to your heart, and say, "The just shall live by faith"! It is well that you have forsaken the ale-bench, it is right that you have abstained from profane language, it is good that you are honest, it is most commendable that you are seeking to be a comfort to your friends at home, and to observe all the laws of domestic and social life; but if you are seeking, in this way, to obtain eternal life, you will miss the object of your search. It is not so that you can be made just in the sight of God, or that you can secure true spiritual life, for "the just shall live by faith," that is, by faith in Jesus Christ. You know "the old, old story," but I will tell it you once again. To obtain life, you must believe in that dear Son of God who came to earth, and took our nature, and took our sin, and was made a curse for us that we might be no more a curse, and died, "the Just for the unjust, that he might bring us to God." Your faith must be fixed on what he did, not on what you can do; and on what he suffered, not on what you can suffer by way of repentance, despondency and distress of soul. You must look right away from anything there is within or about you, or anything you can possibly perform or achieve, to the ransom price paid by Christ upon the cross of Calvary, for you must live-you can live only-by faith in Jesus Christ, for "by the deeds of the law there shall no flesh be justified in his sight"
Some, however, place a great deal of reliance in various forms of religious observances, as Luther himself did until his eyes were opened by the Holy Spirit. If that is your case, my dear friend, let me say that it is well that you should attend the house of God, and I am glad that you do; but if you get the idea that you are to be saved because you go so many times a week to the assembly of the saints, you are making a fatal mistake. It is well to search the Scriptures; but if you imagine that the searching of them will save you,-if you think that in them there is eternal life,-you will find that there is something else to be done before you can get that great blessing, namely, coming to Christ that you may have eternal life, for you will search the Scriptures in vain if you regard that exercise as one which merits salvation. It is well that you have begun to pray; but all the praying in the world, if it be relied on as a ground of salvation, is like a sandy foundation for a man to build on. You may weep over your sinful state, your tears may flow until, like Niobe, you are transformed into a perpetual fountain; but salvation comes not so. "The just shall live by faith." All the devotional exercises in which you can possibly engage, in public or in private, with all the so called "sacraments" thrown in, and all the priestly efficacy of which men dream,-even if there were such a thing in reality,-all this could not save you. "The just hall live by faith." This is the only way of living that God has ordained for sinners dead in trespasses and sins.
There is a notion more common, perhaps, than either of these two, of salvation by works or ceremonies, and that is the idea of a certain amount of terror of conscience, which is often confounded with true conviction of sin. According to the ideas of some people, this state must be passed through before you can be saved. You must dream about dreadful things at night, and wake in the morning full of horror and confusion, and go about your business in the utmost conceivable despair. So some say, and it is true that there are many who do come to God in that way. I do not doubt that there are thousands who reach the Celestial City by way of the Slough of Despond; nay, how can I doubt it, when I went that way myself? Yet that is not the best way; it is our wandering and blundering that leads us to go that way, for the just shall not live by despondency, but by faith. The just shall not find eternal life through terror and despair; but they shall find it through believing in the Lord Jesus Christ. The prophets of Baal were under a gross delusion when "they cried aloud, and cut themselves after their manner with knives and lancets, till the blood gushed out upon them;" but they are equally deluded who think that, by lacerating their conscience, and by endeavoring to make themselves miserable, they shall thereby obtain the favor of God. That is not true, you may even be put into the mortar of conviction, and brayed there with the pestle of the law until you are ground to atoms, and there is no hope left in you; but that is not the way of salvation. "Believe and live" is the gospel precept. "God so loved the world that he gave his only begotten Son, that whosoever believeth in him should not perish, but have everlasting life." "The just shall live by faith." Do not, therefore, try and set up another mode of salvation, "for other foundation can no man lay than that is laid, which is Jesus Christ;" and salvation comes by building upon that foundation, resting and relying only upon him.
There are, no doubt, others who are looking in various directions for salvation, but we may say to them all that it is of no use which way they look,-this way or that, up, down, to the right, or to the left,-until they look by faith to Jesus Christ; but, oh, what life comes streaming into the soul as soon as the eye is fixed upon Jesus! In the case of some of us, the thrill that went through our heart, directly we looked to Jesus, was like a little heaven. It seemed to us as if we were suddenly brought into a new world. To me, believing in Jesus brought such a change in me, at once, that I can only compare it to the experience of a blind man, who, having never seen a ray of light, should be suddenly taken out in the night, set under the sky studded with stars, and then should have an instantaneous operation performed upon his eyes so that in a moment he could see clearly. Oh, how ravished he would be, how astonished, how delighted! How every little star would seem to twinkle for him! How every beam of light would seem to make him glad! He would clap his hands, he would leap for joy in the new sense of sight, and the newly discovered pleasure which it had brought into his life. This is the kind of bliss that comes through believing in Jesus. It is like the discovery of buried treasure; there comes such a flood of delight upon the soul as must be experienced to be understood, for it cannot be described. It does not come to all so suddenly, for some eyes are opened gradually; first they see men, as trees, walking; and, by-and-by, they see more fully; but, however it is manifested, the change that faith works in the soul is truly marvelous. Beloved, he that believeth in Jesus is "justified from all things, from which he could not be justified by the law of Moses."
He relies upon a perfect atonement that puts away the whole sin of the man's earthly existence, and he rejoices with joy unspeakable and full of glory. Man, thou wilt die; the sentence already passed upon thee will be executed ere long unless thou believest in Jesus, for "he that believeth not is condemned already, because he hath not believed in the name of the only begotten Son of God." But, man, if thou believest in Jesus, thou canst never be executed for thy sin. For thee, there is no hell; for thee, there is no undying worm, no Tophet, no Gehenna; there cannot be any of these things, for thou hast no sin now. "Thy sins, which are many, are all forgiven thee." "There is therefore now no condemnation to them which are in Christ Jesus, who walk not after the flesh, but after the Spirit." "Therefore being justified by faith, we have peace with God through our Lord Jesus Christ: by whom also we have access by faith into this grace wherein we stand, and rejoice in hope of the glory of God." Faith brings life, and liberty, and love, and everlasting joy into the heart; but nothing else will do this.
This then, is the first sense of the expression, "The just shall live by faith;" and many of us have realized it, and bless God that we have. I wish that all in this place did not only know about faith, but really had faith. Oh, that some might have it now, and that, ere this congregation shall break up, each of them might be able to say, "I do believe in Jesus. I repose myself upon him. Sink or swim, I fall into his arms. Come what may, Christ shall be to me, from this time forward, all my salvation and all my desire"! O blessed Spirit, work this faith in every heart here present now, for Jesus' sake! Amen.
II. Now comes the second part of the subject, namely, that The Whole After-Life Of The Christian, After He Is Made To Live, Is Still By Faith.
Note, first, that the believer, after his conversion, lives in no other way but by faith. No Christian remains a Christian except by still believing. Where we began, there we continue; we looked unto Jesus at the first, and we are still looking unto Jesus. We came to him at the first, and we are still coming unto him "as unto a living stone, disallowed indeed of men, but chosen of God, and precious." We know of no future ground of hope that can be any stronger or better than this nay, we know of no other than believing in Jesus Christ. I beg you, beloved Christian people, try to avoid all attempts to live in any other way.
There are some professing Christians who live upon their devotions. Now, no Christian can live without prayer,-without praise-without feeding upon the Word of God. Nobody ought to attempt to do that; but if any man should begin to say, "Now I can do without faith in Jesus, because I read so many chapters of a morning, and I spend so much time in prayer, and I also attend so many public services;"-ah! my brother, you have wandered out of the right track now, for you are not living by faith. But if you pray in faith, and praise in faith, and read the Word of God in faith, then all these things shall become helpful to your spiritual life; but if faith be left out, all these things shall be but as mere husks which contain no wheat in them whatsoever. I do fear that there are some professors of religion who feel perfectly satisfied if they have gone through the regular routine of the day. I admire habits of devotion; they should be maintained; but if the mere habit is mistaken for living power, and if it takes the place of coming continually to Jesus by living personal faith, you will soon find yourselves in a very strange case. "The just shall live by faith," and not by these things apart from faith. Faith puts power into them, but they have no living force apart from faith.
There are some other Christians who try to live by their works. They are believers in Jesus, but they have got into such a state of heart that they are happy, and restful, and comfortable, only when they can have a certain amount of activity in the service of God. But if, through illness, or any other cause, they are hindered from active service, they are full of doubts, and begin to think that they are not saved, which proves that they were at least somewhat resting upon their activities. Now by all means, let us be active in the service of our Savior; let us be zealous in good works, for to this end were we called, and this is for the glory of God. But, beloved, if I were to begin to draw comfort as to my soul's salvation from the fact of my diligence in preaching the gospel, I should be making a great mistake; or if you began to draw comfort from your earnestness in the Sabbath-school class, or if you should rest upon your devotion to various benevolent societies, or upon anything that you do, you would be upon the wrong track altogether. You would be feeding where God would not have you feed. Do all you can do, but live by faith. Serve God with all your might, but never make your service into a prop or pillow of confidence; for, even when we have done all that we ought to do, we are still unprofitable servants; and we must bring our best works, and ask forgiveness for their imperfections, even as there was a sacrifice appointed for the sins of Israel's holy things. What sin there is even in our holy things, so that they might sooner damn us than save us! Let us put no confidence in them, nor try to live by them as some do.
There are other Christians who live by feeling. Indeed, I have heard some advocate that we ought to live by feeling. Now, a true Christian man cannot be without feeling. God forbid that he should! Feelings of sorrow, feelings of joy, feelings of spiritual depression, and feelings of holy elation,-these are all necessary in their time and place; but to live by feeling, and to gauge our security by our state of feeling, would be truly dreadful work, because our feelings are more fickle than the weather. It is fine just now; but in another half-hour, it may rain. In such a variable climate as ours, we can never reckon for long upon any sort of weather; and as to our hearts, and our feelings, so dependent upon our bodily health, or upon the kindness or the unkindness of our friends,-so dependent upon a thousand little things almost too minute to be observed,-if we begin estimating our safety by our ups and downs, we shall feel lost and then feel saved a hundred times a day. That plan will not do. "The just shall live by faith." I like to believe in Jesus, when I have the worst feelings, just as firmly as when I have the best of them, and to trust in God just the same when my full assurance in him brims with delight as I did when my soul was emptied by sorrow. Do you think I put that sentence the wrong way upwards? I did not, for it is easier, I believe, to trust Christ in the depths of sorrow than it is when you are high up in your stirrups, and feel yourself to be somebody; for then, almost insensibly, you get away from the sole foundation of your standing by faith in the Lord Jesus Christ.
There are some, too, who live very much, even in religious matters, upon their outward circumstances. There are some who, if they become poor, almost give up all profession of religion. They say that they have not proper clothe in which to come to God's house, and that they do not like to be seen by people who knew them when they were in better circumstances; so that their religion depends upon how many shillings a week they can earn, and that is a very poor concern. But, if we have learnt to live by faith, we shall follow the Lord in rags if he gives us nothing better to wear; and if we have not a shoe to our foot, we shall go after him all the same. Let us be in whatever condition we may, we shall never be worse off than he was; so come poverty, or come wealth; come the lowest possible ebb of outward fortunes; yet, still, if we live by faith, we shall keep close to the heels of the Crucified. God grant us grace to live above our outward circumstances! Remember that inspired message, "Man shall not live by bread alone, but by every word that proceedeth out of the mouth of God." Thus, you see that the Christian lives in no other manner than by faith.
And, beloved friend, he lives in all forms of his life by faith. I can only speak, for a minute or two, upon this thought. In one form of his life, the Christian is a child at home with his Father. Well, as a child, he lives by faith, for "as many as received him, to them gave he power to become! the sons of God, even to them that believe on his name', Our sonship and adoption remain to us matters of faith, and we continually look up to God our Father by faith. As his children, we receive teaching, supplies, food, clothing, and everything, and we receive all by faith. To the child of God, faith is the hand that takes everything from God. I am his child, and I know that he will supply my every need; but faith prompts me to tell him my need,-yea, makes me feel that he knows what I need before I ask him, and so I take from him what he freely gives by believing in him.
The Christian is, next, described in the Word of God as a pilgrim. He is journeying to "a city that bath foundations;" but, all the way there, he goes by faith, he never takes a step heavenward except by faith. An unbelieving step is not a step towards heaven. All the progress that is made by any child of God is due to faith.
The Christian is also described as a warrior; and there is no fighting except by faith, and no weapon of defense like the great shield of faith. No victory is won by doubting; no devil is ever overthrown by desponding. Mistrust of God never yet put to flight the armies of the aliens; unbelief never stopped the mouths of lions, or quenched the violence of fire, or divided the sea, or conquered the land. Point to the wonders wrought by unbelief if you can. All it can show is ruin and desolation; for unbelief is powerless except for mischief. The just, when he fights, must fight by faith, and faith is the victory that overcometh the world.
The Christian is also continually described in the Word of God as a servant. Now, all service done for God must be done by faith. One of the first objects of our service must be to please God, but "without faith it is impossible to please him." O brothers and sisters, if we always go to our work, as Christians, saying, "I am going to do it by faith," how differently we should act from what we now do! We sit down, and think of our many infirmities, and we say, "We shall never accomplish that task." But, sirs, have you forgotten the everlasting arms and the omnipotent might of Jehovah? We observe how difficult the duty is, and how strong the opposition, and so we go to work very mistrustfully; but if, instead thereof, we were to say, "Who art thou, O great mountain? before Zerubbabel thou shalt become a plain," we should be sure to conquer. Service rendered in unbelief is like a vessel marred on the potter's wheel; but as long as faith can turn it round upon the wheel, and fashion it, it will come to something that the Master can use. Thou must believe, for so wilt thou be able to serve. "Trust in the Lord, and do good;" but be sure to do the first thing. The trusting must come before the doing, and be mingled with all the doing, or else it will be a very poor piece of doing indeed.
Well, then, in any capacity in which a Christian is found, he must always be believing. If you have to go home, and go to bed, and lie there for a month and suffer, go upstairs believing that the Lord will make your bed in all your sickness. If you have to go back to a business where everything seems to be going wrong with you, go in faith, and know that he has said, "Bread shall be given thee, thy waters shall be sure." Or if you are going, next Sunday, to teach a class in the Sunday-school, or going round with your tracts in a district where you have to call upon some ugly-minded people, go in faith. Has not the Lord said, "Certainly I will be with thee. I will bless thee, and help thee "? Then, go in faith. It will change the whole color and tenor of your life if you remember that "the just shall live by faith," whatever form his life takes.
Very rapidly, let me also say to you that this is the way the just are to live in every case and every condition. The prophet Habakkuk is the one who first uttered these words: "The just shall live by his faith." I wonder whether he fully understood them himself. It is always pleasant to see whether a doctor takes his own physic, and whether a preacher practices his own precepts. I think this is how Habakkuk understood these words; here is his practical exposition of them, in the last verses of his prophecy: "Although the fig tree shall not blossom, neither shall fruit be in the vines; the labor of the olive shall fail, and the fields shall yield no meat; the flock shall be cut off from the fold, and there shall be no herd in the stalls: yet I will rejoice in the Lord; I will joy in the God of my salvation. The Lord God is my strength, and he will make my feet like hinds' feet, and he will make me to walk upon mine high places. To the chief singer on my stringed instruments." Why, it is a hymn, is it not?-the hymn of a man who saw the bread going, and the meat going, and the oil going, and everything going, and yet he rejoiced in the Lord. This is what he meant by living by faith,-faith, you see, about fruit,-faith about flocks,-faith about cattle,- faith about fig trees,-faith about everything,-yea, a faith that does without anything,-a faith that can take nothing, and be content with it because it finds every thing in God,-faith under the worst conceivable conditions. This is how the just are to live.
And as they are to live thus at their worst, so should they live at their best,-still by faith. I was told of a friend, who walked with that blessed man of God, Mr. George Muller of Bristol, and who made the remark to him that he thought he had £5,000 balance one year. "Yes," said Mr. Muller, "God had been very gracious, and we had a large balance." "And I think," said the friend, "for some years, you have always had a large balance." "Yes," he replied, "we have." "Well," asked the other, "do you now, my brother, trust in God just as simply as you did when you had to call the children together to pray because there was no bread to give them for dinner, and God graciously sent you the dinner just at the right time? Is your faith just as simple? Do you walk by faith as you did then?" And that good man said, "Yes, my dear brother, I live by faith now as I did then, only a great deal more so, for I find I have more need of faith now to prevent me beginning to trust in what I have in store." It is just so; if you are getting on in life, you need more faith to keep you from making a god of what you have, and trusting in it. Instead of less faith in time of prosperity, you will need even more. There are some people, you know, who lean upon God because they have no one else to lean upon. They are like that famous rider of whom Cowper sang, who was-
"Stooping down as needs he must
Who cannot sit upright."
That is how it is with the faith of these people, and very good faith it is, too; but that faith is even nobler that has some apparent means of sitting upright, that does seem to have something to confide in, yet will not do it because it disdains to have even things visible, of the best and most powerful kind, to rest upon, but will rest on nothing but God. Why, ye props and buttresses, if I trust you today, I may want you tomorrow, and where shall I be then l No; as Abraham said to the king of Sodom, "I will not take from a thread even to a shoe latchet, I will not take any thing that is thine, lest thou shouldest say, I have made Abraham rich," "so often have we to cast aside what is offered to us, and say," I cannot and will not have it, lest my heart should, at any time, rely upon those gifts rather than upon my God." You know how the devil spoke to God concerning Job, "Hast not thou made a hedge about him, and about his house, and about all that he hath on every side? thou hast blessed the work of his hands, and his substance is increased in the' land. But put forth thine hand now, and touch all that he hath, and he will curse thee to thy face." That is what the devil said, but it was not true; yet, in some cases, there is a danger of it getting to be true. We are getting on so well, and the hedge is all around us. Ah! but we must not get to love the hedge, or it will be taken from us. If you love the fields, and the gold, and the silver, and begin to confide in them, you will lose them. "The just shall live by faith,"-faith as much in the summer weather as in the winter cold; see to that matter, O thou who art the child of God!
"The just shall live by faith "in every condition. When he comes to die, he shall live by faith. I recollect what a negro said about his master who was a Christian man. The minister said to the negro, "Sam, is your master dying?" "Yes, sir," he said, "he be dying." "And how is he dying, Sam?" "Sir," said the negro, "he be dying full of life." That is how a Christian should die, "full of life." The life of God is within him even to the last. Till he gets into glory, "the just shall live by faith." Ay, and before he gets there, he shall taste some of the joys of heaven, for living by faith means living in the heavenly; it means getting to anticipate the glory that is yet to be revealed. Living by faith makes us live the life of God; and he that lives the' life of God must, in some degree, live the life of heaven. Oh, to have it so developed, strengthened, and full-grown that, from this time forth, we may live by faith even to the end!
The Lord bless you, for Christ's sake! Amen.
In regard to the OT Prophetic books such as Isaiah, Jeremiah, Daniel, and the 12 "Minor" Prophets, remember that the most accurate interpretation is derived by applying the following principles:
(1) Read the Scripture literally (unless the text is clearly figurative, e.g., Jesus said "I am the door..." Jn 10:9). If one interprets a text symbolically (allegorically, figuratively, spiritualizing) when that text makes good sense literally, one potentially opens themselves to the danger of inaccurate interpretation, for then the question arises as to who's "symbolic" interpretation is correct and how imaginative one should be in evaluating a "supposed symbol"? Many of the commentaries and sermons on the OT prophetic books unfortunately are replete with non-literal interpretations (except when it comes to Messianic Passages, which are usually interpreted literally). Therefore the watchword when reading any commentary on Old Testament prophecy is caveat emptor ("buyer beware"). Read all commentaries like the Bereans (Acts 17:11-note).
(2) Study the context which is always "king" in interpretation (don't take verses out of context.)
(3) Passages addressed to Israel should be interpreted as directed to the literal nation of Israel and should not be interpreted as addressed to the NT Church, an entity not mentioned in the Old Testament. The promises of Jehovah to the nation of Israel (e.g., see Millennial Promises) remain valid (Jer 31:35, 36, 37, Nu 23:19, Lk 21:33) and have not been passed on to the NT Church because Israel has "defaulted" (See study Israel of God). Remember that while Scripture has only one correct interpretation, there can be many legitimate applications (See Application), and therefore the OT prophetic books are extremely applicable in the lives of NT believers.
(4) Scripture is always the best commentary on Scripture. While an attempt has been made to list resources that adhere to these basic interpretative guidelines, not all the works listed in these collections have been read in detail. Therefore should you discover a resource you feel is NOT conservative and/or orthodox, please email your concerns.
Related Resources:
Book