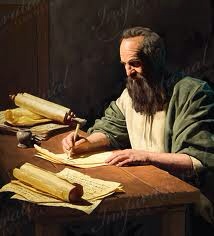 2 CORINTHIANS - PAUL'S MINISTRY IN THE LIGHT OF THE INDESCRIBABLE GIFT
Click chart to enlarge
Charts from Jensen's Survey of the NT - used by permission
Another Chart from Charles Swindoll
---
HENRY ALFORD - The New Testament for English Readers
HENRY ALFORD -  The Greek New Testament
MIKE ANDRUS SERMONS
About 180 pages of sermons on 2 Corinthians - recommended. The links below will access both the Audio and the Notes. The notes are excellent. 
PAUL APPLE COMMENTARY
WAYNE BARBER - sermons
WILLIAM BARCLAY COMMENTARY Daily Study Bible
ALBERT BARNES COMMENTARY
BRIAN BELL SERMON NOTES
SAME MATERIAL - some duplication but does not include the older sermons above
JOHANN A BENGEL Gnomon of the New Testament
James Rosscup writes "This work (Gnomon), originally issued in 1742, has considerable comment on the Greek, flavoring the effort with judicious details about the spiritual life. It has much that helps, but has been surpassed by many other commentaries since its day." (Commentaries for Biblical Expositors: An Annotated Bibliography of Selected Works or Logos)
JOHANN BENGEL The Critical English Testament
C H Spurgeon -- "'A Critical New Testament, so compiled as to enable a reader, unacquainted with Greek, to ascertain the exact English force and meaning of the language of the New Testament, and to appreciate the latest results of modern criticism.' Such is the professed aim of this commentary, and the compilers have very fairly carried out their intentions. The whole of Bengel's Gnomon is bodily transferred into the work, and as one hundred and twenty years have elapsed since the first issue of that book, it may be supposed that much has since been added to the wealth of Scripture exposition; the substance of this has been incorporated in brackets, so as to bring it down to the present advanced state of knowledge. We strongly advise the purchase of this book, as it is multum in parvo, and will well repay an attentive perusal. Tischendorf and Alford have contributed largely, with other German and English critics, to make this one of the most lucid and concise commentaries on the text and teachings of the New Testament" (Spurgeon, C. H. Lectures to my Students, Vol. 4: Commenting and Commentaries; Lectures Addressed to the students of the Pastors' College, Metropolitan Tabernacle)
J H BERNARD Expositor's Greek Testament
JOSEPH BEET COMMENTARY
D Edmond Hiebert - A clear and full interpretation by a British Methodist scholar of the past century. Its doctrinal summaries are intended as a contribution to systematic theology.
CHRIS BENFIELD - sermons
BIBLE.ORG RESOURCES Resources that Reference 2 Corinthians
BIBLICAL ILLUSTRATOR Joseph Exell, Editor
JIM BOMKAMP
BRIDGEWAY COMMENTARY - Donald Fleming
WICK BROOMALL - Wycliffe Bible Commentary
JOHN CALVIN COMMENTARY
CAMBRIDGE BIBLE FOR SCHOOLS AND COLLEGES
CAMBRIDGE GREEK TESTAMENT FOR SCHOOLS AND COLLEGES
ALAN CARR
RICH CATHERS SERMON NOTES
OSWALD CHAMBERS
JOHN CHRYSOSTOM - homilies
CHURCH PULPIT COMMENTARY
ADAM CLARKE 2 CORINTHIANS COMMENTARY
Click brief critique of Clarke
GEORGE CLARK - People's Commentary - especially designed for pastors and Sunday Schools
THOMAS CONSTABLE - more modern commentary notes (as are Paul Apple, David Guzik, S Lewis Johnson)
W A CRISWELL - sermons
RON DANIEL - SERMON NOTES
BOB DEFFINBAUGH SERMONS
JAMES DENNEY  The Expositor's Bible (1906) 
GER DE KONIG - See his short biography (Interesting commentary)
THOMAS DOOLITTLE
JOHN DUMMELOW - brief comments, older but well done work
WILLIAM EVANS
CHARLES ELLICOTT - EDITOR E H Plumptre author of this commentary
GARY EVERETT COMMENTARY
EXPLORE THE BOOK
FIRST PRESBYTERIAN CHURCH JACKSON - J LIGON DUNCAN, DEREK THOMAS, et al
DON FORTNER
A C GAEBELEIN
GENE GETZ - essential principles, short videos
2 Corinthians 4:1-18; An Eternal Perspective: No matter what our circumstances in this life, we are to focus on God's grace and eternal values. Video
JOHN GILL
DOUG GOINS SERMONS
GOT QUESTIONS
L M GRANT 
DAVE GUZIK COMMENTARY - modern commentary like Apple, Constable, S Lewis Johnson
JAMES HASTINGS
MATTHEW HENRY COMMENTARY
DAVID HOCKING - series of sermons
CHARLES HODGE COMMENTARY
Cyril Barber - First published in 1859. This doctrinal commentary demonstrates the importance of exegesis in proper, biblical exposition. Also reveals the many facets of the apostle Paul's ministry. (The Minister's Library - Volume 2)
F B HOLE - brief intro
DAVID HOLWICK - frequent use of illustrations
ICC NEW TESTAMENT COMMENTARY
INTERVARSITY PRESS COMMENTARY - Linda Belleville
Cyril Barber - Belleville, Linda L. Second Corinthians. IVP New Testament Commentary. Downers Grove, IL: InterVarsity Press, 1995. A careful study of 2 Corinthians that contains many new insights. The author aims at elucidating the meaning of the text, and in this she succeeds. A popular resource. (The Minister's Library - Volume 2)
H A IRONSIDE
JAMIESON, FAUSSET, BROWN COMMENTARY
 Below are links to the unabridged version of JFB:
IRVING JENSEN
WILLIAM KELLY -  Plymouth Brethren
LANGE'S COMMENTARY C F Kling
D Edmond Hiebert - A voluminous conservative Lutheran exposition. The epistles are divided into convenient paragraphs, with the material under each section appearing in three parts, exegetical and critical, doctrinal and ethical, homiletical and practical. Contains much rich ore to be mined by those willing to dig into its closely printed pages.
S LEWIS JOHNSON SERMONS
Dr Johnson's Sermons on 2 Corinthians:
HOMER A KENT, JR- Grace Theological Journal, Fall 1981
Note that this paper is essentially chapters 3-4 in his publication A Heart Opened Wide--Studies in 2 Corinthians
STEVE KRELOFF preaches from the perspective of a Messianic believer
PAUL KRETZMANN - commentary, Lutheran expositor
COLIN KRUSE - 2 Corinthians - Tyndale New Testament Commentary
LIFEWAY - sermons
LIGONIER MINISTRY - Devotionals
JOHN MACARTHUR SERMONS
Questions and Answers - John MacArthur
HENRY MAHAN SERMONS
ALEXANDER MACLAREN
P G MATTHEW - sermons
ROD MATTOON - frequent illustrations
J VERNON MCGEE 2 Corinthians Commentary - Zip File of Audios - complete book
F B MEYER - brief comments. 
HEINRICH MEYER Critical and Exegetical Commentary on the New Testament
J R MILLER
MONERGISM 
G CAMPBELL MORGAN COMMENTARY
D Edmond Hiebert (these are actually comments on Morgan's related work - see the online Pdf copy =  "The Corinthian Letters of Paul. An Exposition of I and II Corinthians") - Carefully outlined pulpit expositions by a noted expository preacher. Reflects the fervent devotional approach of the preacher in dealing with the problems that plague the Church.
ROBERT MORGAN SERMONS
HENRY MORRIS Defender's Study Bible - Excellent, conservative, literal study Bible notes from a leading creationist commentator.
NET BIBLE NOTES 2 Corinthians
HERMANN OLSHAUSEN A Commentary on Paul's First and Second Epistles to the Corinthians.
Cyril Barber - First published in 1855. This highly esteemed exegetical and expository work enlivens the sacred page and enriches the spiritual life of the reader. "Pays careful attention to the theological exposition, entering into the marrow of religious ideas, and introducing the student to the spirit and inward unity of the divine revelation" (Philip Schaff). (Click here for links to First Corinthians comments).
MATT POSTIFF - SERMONS
OUR DAILY BREAD 2 CORINTHIANS DEVOTIONALS
---
PASTOR LIFE 2 CORINTHIANS SERMONS
PREACHER'S HOMILETICAL COMMENTARY
ARTHUR PEAKE - commentary
PETER PETT - commentary
J C PHILPOT - selected chapters and verses
A W PINK
JOHN PIPER SERMONS
ALFRED PLUMMER A Critical and Exegetical Commentary
D Edmond Hiebert - Greek text Important introduction and a very thorough treatment of the Greek text, bringing out its finer shades of meaning. Essential for the careful student of the original text.
MATTHEW POOLE Commentary
WIL POUNDS
RICHARD PRATT SERMONS
RAY PRITCHARD SERMONS
Dr Pritchard's sermons are always worth checking out -- Scripturally sound and pithily practical! 
PULPIT COMMENTARY 
Hint: Click on expositions and scroll down for numerous additional homilies on individual passages.
QUOTES ON SUFFERING
REFORMATION STUDY BIBLE - Study notes
A. T. ROBERTSON Word Pictures - Greek word studies 2 Corinthians
DON ROBINSON Sermons on 2 Corinthians
RON RITCHIE
DAVID ROPER
J. C. RYLE
ROB SALVATO Sermons on 2 Corinthians
RAYMOND SAXE
PHILIP SCHAFF COMMENTARY
JOHN SCHULTZ - 62 page commentary in pdf - Link to his main page with commentaries on all 66 books
SERMON AUDIO - pdf transcripts - variable quality. Be a Berean. 
SERMON BIBLE COMMENTARY
CHARLES SIMEON Sermons on 2 Corinthians
CHUCK SMITH 2 CORINTHIANS
Commentary
Sermon Notes:
JAMES SMITH
PHILIP SMITH - Easy English
C. H. SPURGEON All Spurgeon's Sermons on 2 Corinthians
C H SPURGEON Expositional Notes on 2 Corinthians
C H SPURGEON Devotionals on 2 Corinthians
RAY STEDMAN Commentary Expository Studies on 2 Corinthians Power Out of Weakness
Cyril Barber - Fully in keeping with all we have come to expect of this gifted expositor and wise pastor. Explains this epistle in easy-to understand terms. (The Minister's Library - Volume 2)
RAY STEDMAN - 2 Corinthians Daily Devotionals 
SAM STORMS - sermons
JOHN SUTCLIFFE COMMENTARY
THEOLOGY OF WORK 2 CORINTHIANS
GEOFF THOMAS
THIRD MILLENNIUM STUDY NOTES
TODAY IN THE WORD DEVOTIONALS MOODY BIBLE INSTITUTE
JOHN TRAPP - commentary
BOB UTLEY
MARVIN VINCENT New Testament Word Studies
THOMAS WATSON
JOHN WESLEY
DANIEL WHEDON commentary
OCTAVIUS WINSLOW
STEVE ZEISLER SERMONS
SERMONS BY VERSE - older expositors
| | | |
| --- | --- | --- |
| Paul, the Model Minister | A. J. Parry. | 2 Corinthians 4:1 |
| The Apostolic Ministry | F. W. Robertson, M. A. | 2 Corinthians 4:1 |
| Full Confidence in the Power of the Truth | R. Tuck | 2 Corinthians 4:1, 2 |
| Glory of the Apostolic Ministry; How its Duties Were Discharged | C. Lipscomb | 2 Corinthians 4:1-6 |
| How Men Should Preach | E. Hurndall | 2 Corinthians 4:1-6 |
| Conscience a Witness to the Truth | H. Melvill, B. D. | 2 Corinthians 4:2 |
| The Conditions and Character of a True Ministry | W. Perkins. | 2 Corinthians 4:2 |
| The Minister's Aim, Weapons, and Encouragements | F. B. Meyer, B. A. | 2 Corinthians 4:2 |
| The Mission of the Pulpit Is | G. T. Perks, M. A. | 2 Corinthians 4:2 |
| The Self-Evidencing Nature of Divine Truth | J. Caird, D. D. | 2 Corinthians 4:2 |
| The Sphere of the Pulpit, or the Mission of Minister's | D. Thomas, D. D. | 2 Corinthians 4:2 |
| The True Minister | J. Clarkson. | 2 Corinthians 4:2 |
| Truth and Conscience | J.R. Thomson | 2 Corinthians 4:2 |
| Truth and the Conscience | A. H. Bradford, D. D. | 2 Corinthians 4:2 |
| Strong Delusion | H. Verschoyle. | 2 Corinthians 4:3-4 |
| The Blinded Ones | A. W. Snape, M. A. | 2 Corinthians 4:3-4 |
| The Glorious Gospel | J. Burns, D. D. | 2 Corinthians 4:3-4 |
| The God of This World Blinding Man Against the Gospel |   | 2 Corinthians 4:3-4 |
| The Gospel and its Adversaries | H. Allen, D. D. | 2 Corinthians 4:3-4 |
| The Gospel Hidden to the Lost | N. W. Taylor, D. D. | 2 Corinthians 4:3-4 |
| The Gospel Veiled | J.R. Thomson | 2 Corinthians 4:3, 4 |
| The Hidden Gospel | J. Vaughan, M. A. | 2 Corinthians 4:3-4 |
| The Image of the Invisible God | Homilist | 2 Corinthians 4:3-4 |
| The Mind Blinded Against the Light | Bp. Montagu Villiers. | 2 Corinthians 4:3-4 |
| The Thwarting Tendency in Life | W. Wilberforce Newton. | 2 Corinthians 4:3-4 |
| The True Gospel no Hidden Gospel | C. H. Spurgeon. | 2 Corinthians 4:3-4 |
| The Veiled Gospel | W. G. Barrett. | 2 Corinthians 4:3-4 |
| To Whom and Why the Gospel is Hid | E. D. Griffin, D. D. | 2 Corinthians 4:3-4 |
| Unbelieving Men Blinded | J. Adam, D. D. | 2 Corinthians 4:3-4 |
| Veiling the Gospel | D. Thomas, D. D. | 2 Corinthians 4:3-4 |
| Christ as the Image of God | R. Tuck | 2 Corinthians 4:4 |
| Not Self, But the Lord | D. Fraser | 2 Corinthians 4:5 |
| The Theme of Preaching | J.R. Thomson | 2 Corinthians 4:5 |
| An Apostolic Ministry | H. Allon, D. D. | 2 Corinthians 4:5-6 |
| Christ as Lord | S. Pearson, M. A. | 2 Corinthians 4:5-6 |
| Christ the Supreme Theme of a Gospel Ministry | R. Walker. | 2 Corinthians 4:5-6 |
| Divine Knowledge | W. Jay. | 2 Corinthians 4:5-6 |
| God's Glory in Christ | B. Dale, M. A. | 2 Corinthians 4:5-6 |
| Self Disclaimed and Christ Exalted | D. Bestwick, M. A. | 2 Corinthians 4:5-6 |
| Self Rejected and Christ Exalted | J. Hunt. | 2 Corinthians 4:5-6 |
| The Christian Ministry and its Message | J. Pollock. | 2 Corinthians 4:5-6 |
| The Face of Jesus | W. Williams. | 2 Corinthians 4:5-6 |
| The Face of Jesus Christ | D. Gregg. | 2 Corinthians 4:5-6 |
| The Glory of God in the Face of Jesus Christ | C. H. Spurgeon. | 2 Corinthians 4:5-6 |
| The Glory of God in the Face of Jesus Christ | J. Imrie, M. A. | 2 Corinthians 4:5-6 |
| The Great Argument | N. D. Williamson. | 2 Corinthians 4:5-6 |
| True Soul Light | D. Thomas, D. D. | 2 Corinthians 4:5-6 |
| Light from God and Light on God | R. Tuck | 2 Corinthians 4:6 |
| Light of the Knowledge of Divine Glory | D. Fraser | 2 Corinthians 4:6 |
| The Light of Spiritual Knowledge | J.R. Thomson | 2 Corinthians 4:6 |
| The Winsome Jesus | S. D. Gordon | 2 Corinthians 4:6 |
| Divine Power Illustrated by the Triumphs of the Gospel | J. Innes. | 2 Corinthians 4:7 |
| Earthen Vessels | E. Hurndall | 2 Corinthians 4:7 |
| Heavenly Treasure in Earthen Vessels | R. Tuck | 2 Corinthians 4:7 |
| Spiritual Treasure | J.R. Thomson | 2 Corinthians 4:7 |
| The Gospel Treasure | Matthew Henry. | 2 Corinthians 4:7 |
| The Gospel Treasure in Earthen Vessels | J. Alexander. | 2 Corinthians 4:7 |
| The Gospel Treasure in Earthen Vessels | J. Sherman. | 2 Corinthians 4:7 |
| The Lamp in the Pitcher | D. Fraser | 2 Corinthians 4:7 |
| The Treasure in Earthen Vessels | W. Syme. | 2 Corinthians 4:7 |
| Ministers in Their Weakness and Strength | C. Lipscomb | 2 Corinthians 4:7-18 |
| Growth Under Pressure | H. Macmillan, D. D. | 2 Corinthians 4:8-12 |
| Not Destroyed | Scientific Illustrations and Symbols | 2 Corinthians 4:8-12 |
| The Broken Life | Prof. Lewis Campbell. | 2 Corinthians 4:8-12 |
| The Frailty of the Instruments and the Excess of the Power | Archdeacon Evans. | 2 Corinthians 4:8-12 |
| Trials in the Cause of Christ | D. Thomas, D. D. | 2 Corinthians 4:8-12 |
| Cast Down, But not Destroyed | D. Fraser | 2 Corinthians 4:9 |
| Suffering Showing Forth Character | R. Tuck | 2 Corinthians 4:10 |
| Bearing About the Dying of Christ | A. K. H. Boyd, D. D. | 2 Corinthians 4:10-12 |
| The Christian's Fellowship in the Death of Christ | J. Mitchell, D. D. | 2 Corinthians 4:10-12 |
| The Manifestation of the Life of Christ | H. Melvill, B. D. | 2 Corinthians 4:10-12 |
| Believing Speech the Evangelising Organ of Christianity | D. Thomas, D. D. | 2 Corinthians 4:13 |
| Christian Missions the Necessary Result of Christian Faith | J. G. Rogers, B. A. | 2 Corinthians 4:13 |
| Faith and its Utterances | W. Alliott. | 2 Corinthians 4:13 |
| Faith the Mainspring of Action | W. G. Barrett. | 2 Corinthians 4:13 |
| Soul-Inspiring Facts | D. Thomas, D. D. | 2 Corinthians 4:14-15 |
| Inward Renewal and Outward Decay | D. Fraser | 2 Corinthians 4:16 |
| The Outward and the Inward Man | R. Tuck | 2 Corinthians 4:16 |
| Compensation | J. Leckie, D. D. | 2 Corinthians 4:16-18 |
| Dual Manhood | F. W. Brown. | 2 Corinthians 4:16-18 |
| Heavy Affliction Made Light | E. Hurndall | 2 Corinthians 4:16-18 |
| Newness of Life | C. Silvester Horne. | 2 Corinthians 4:16-18 |
| The Growth of the Spiritual Life | H. Gamble. | 2 Corinthians 4:16-18 |
| The Inner Man or Soul Growth | D. Thomas, D. D. | 2 Corinthians 4:16-18 |
| The Inward Man | W. M. Statham. | 2 Corinthians 4:16-18 |
| The Perishing and the Renewed Man | Bp. Huntington. | 2 Corinthians 4:16-18 |
| The Renewal of Life | W. L. Watkinson. | 2 Corinthians 4:16-18 |
| The Christian Estimate of Affliction | R. Tuck | 2 Corinthians 4:17 |
| Affliction and its Issues | T. Manton, D. D. | 2 Corinthians 4:17-18 |
| Divine Discipline | J.R. Thomson | 2 Corinthians 4:17, 18 |
| How We Ought to View Our Afflictions | T. Swan. | 2 Corinthians 4:17-18 |
| Light Affliction and Eternal Glory | C. Briggs. | 2 Corinthians 4:17-18 |
| Sanctified Affliction, its Tendency and Result | J. Lambert. | 2 Corinthians 4:17-18 |
| The Work of Affliction | H. Melvill, B. D. | 2 Corinthians 4:17-18 |
| The World of Glory | J. Parsons. | 2 Corinthians 4:17-18 |
| In and by Things Temporal are Given Things Eternal | H. Bushnell, D. D. | 2 Corinthians 4:18 |
| Looking At the Things Which are not Seen | L. H. Wiseman, M. A. | 2 Corinthians 4:18 |
| Looking At the Unseen | B. M. Palmer, D. D. | 2 Corinthians 4:18 |
| Looking At the Unseen | A. Maclaren, D. D. | 2 Corinthians 4:18 |
| Looking At the Unseen | R. S. Storrs, D. D. | 2 Corinthians 4:18 |
| Looking Upon the Unseen | Benwell Bird. | 2 Corinthians 4:18 |
| On Eternity | J. Orton. | 2 Corinthians 4:18 |
| Seeing the Unseen | D. Fraser | 2 Corinthians 4:18 |
| Seen and Unseen Things | R. H. Story, D. D. | 2 Corinthians 4:18 |
| The Changeable and the Unchangeable | J. Parker, D. D. | 2 Corinthians 4:18 |
| The Christian Looking At Things not Seen | C. Bradley, M. A. | 2 Corinthians 4:18 |
| The Christian's Habit of Mind | D. Fraser, D. D. | 2 Corinthians 4:18 |
| The Law of the Higher Vision | W. Gray. | 2 Corinthians 4:18 |
| The Power of Things Invisible | R. S. Storrs, D. D. | 2 Corinthians 4:18 |
| The Seen and the Unseen | Canon Liddon. | 2 Corinthians 4:18 |
| The Seen and Unseen | Ishmael Jones. | 2 Corinthians 4:18 |
| The Temporal and the Eternal | W. R. Davis, D. D. | 2 Corinthians 4:18 |
| The Things Seen and Unseen | T. Binney. | 2 Corinthians 4:18 |
| The Visible and the Invisible | E. H. Chapin, D. D. | 2 Corinthians 4:18 |
| Things Eternal | W. Braden. | 2 Corinthians 4:18 |
| Things Eternal Weighed Against Things Temporal | H. Melvill, B. D. | 2 Corinthians 4:18 |
| Things Seen and Things Unseen | T. M. Herbert, M. A. | 2 Corinthians 4:18 |
| Things Seen and Unseen | E. M. Geldart, M. A. | 2 Corinthians 4:18 |
| Things Temporal | S. Martin. | 2 Corinthians 4:18 |
| Things Temporal | W. Braden. | 2 Corinthians 4:18 |
| Things Temporal and Things Eternal | C. H. Parkhurst, D. D. | 2 Corinthians 4:18 |
| Things Temporal and Things Eternal | D. Davies. | 2 Corinthians 4:18 |
| Things Unseen to be Preferred to Things Seen | S. Davies, M. A. | 2 Corinthians 4:18 |
| Vanities and Verities | C. H. Spurgeon. | 2 Corinthians 4:18 |
Book