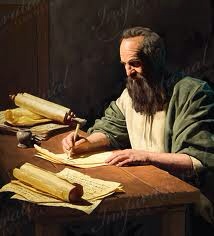 2 CORINTHIANS - PAUL'S MINISTRY IN THE LIGHT OF THE INDESCRIBABLE GIFT
Click chart to enlarge
Charts from Jensen's Survey of the NT - used by permission
Another Chart from Charles Swindoll
A Third Chart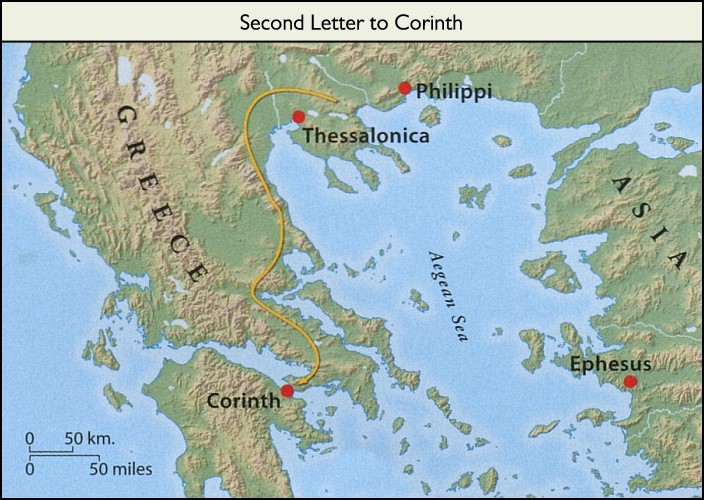 "From Philippi to Corinth with Love"
INTRODUCTORY THOUGHTS
2 CORINTHIANS
CITY OF CORINTH - Corinth was the capital of Achaia and located 40 miles west of Athens on the narrow isthmus connecting Peloponnese (on the south) with northern mainland of Greece (all uses of "Corinth" - Acts 18:1+; Acts 19:1+; 1 Cor. 1:2+; 2 Cor. 1:1, 23+; 2 Ti 4:20+). Corinth was located between the Aegean and Adriatic Seas (see map below) and was a port city about five miles in circumference just south of the sharply rising 2000 foot Acrocorinth (see picture and see map "G") from which Athens could be seen on a clear day.  The Temple of Aphrodite (Roman = Venus) was located on the Acrocorinth and housed the 1000 "priestesses" employed as hierodouloi (from hieros = consecrated to deity +  doulos = bondservants) who served as temple prostitutes to facilitate idolatrous "worship" (cf "sacred prostitution"). As an aside it is notable that Scripture often associates sexual immorality (porneia) with idolatry (eidololatreia) (cf 1 Cor 5:11+, 1 Cor 6:9+, Eph 5:5+, Rev 2:20+, Rev 21:8+). And remember that Paul also associated idolatry with covetousness writing that "greed...amounts to idolatry." (Col 3:5+, Eph 5:5+) Worship at the temple involved sexual encounters with these "priestesses" and this attracted "worshipers" from all across the Roman world. It is even recorded that the sandals of these notorious priestesses of Aphrodite were studded with an imprint that spelled our "Follow me" in the dust of the street (What a contrast with Jesus' call to "Follow Me" - Mt 4:19)! One cannot help but think of similar seductive pictures found on the internet even on seemingly innocent sites such as news pages! Clearly this illicit "worship" was a great temptation to the Christians at Corinth (just as is the internet to Christian's today!) as evidenced by Paul's exhortations and warnings in this first letter (1 Cor 5:1, 9,10, 11+, 1 Cor 6:9-11, 12-17, 18, 19, 20+). The immoral condition of Corinth is vividly seen in the fact that the Greek term (coined by Aristophanes) Korinthiazomai (lit., to act the Corinthian) came to mean "to practice fornication." Aleiphro wrote "I did not enter Corinth after all, for I learned in a short time the sordidness of the rich there and the misery of the poor." 
"Ships wanting to avoid the dangerous trip around the southern tip of Greece were dragged across that isthmus. The city boasted an outdoor theater that accommodated 20,000 people (See reconstruction of Corinth circa A D 100 - map similar to one below but more place names), athletic games second only to the Olympics, a Greek, Roman, and Oriental population....There were taverns on the south side of the marketplace, and many drinking vessels have been dug up from those liquor lockers. Corinth was noted for everything sinful." (Charles Ryrie) Every shop in the city had a deep, spring-fed well in which to cool containers of wine. Strabo wrote that "All the people of Corinth gorge themselves." It was even customary in stage plays for actors to come on stage drunk.
In the picture below note the agora which was the city's marketplace and the Bema which was the judgment seat. Corinth had an extensive commerce, like all the large towns on the Mediterranean Sea, and became celebrated for its wealth, magnificence, and learning. Corinth's pottery, brass and marble for building columns were famous throughout the world. The city is now desolate with just a little village near the ancient Corinth. There is, however, a modern city of Corinth, a few miles away, with about twenty thousand inhabitants. Archaeologists have also discovered a broken lintel (part of a door) bearing the Greek description "synagogue of Hebrews."
Paul preached at Corinth about A.D. 53 for eighteen months (Acts 18:11+). He paid Corinth a short second visit during the period A.D. 54–57, not mentioned specifically in Acts but implied in 1 Cor. 16:7+; 2 Cor 12:14+; 2Cor 13:1+, where he speaks of an intended third journey to Corinth which coincides with that in Acts 20:2+. He spent three winter months in Corinth (A.D. 57 and 58), during which he wrote the Epistle to the Romans (Acts 20:2, 3+ [cf. 1 Cor. 16:6]; Ro 16:1+).

Click to Enlarge
From Cryptotheology (no longer active website)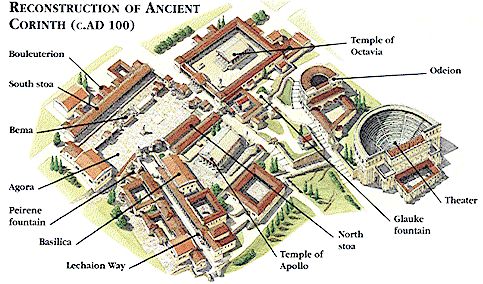 Ruins of City with Acrocorinth Location of Immoral Temple of Aphrodite
2 Corinthians  1:1  Paul, an apostle of Christ Jesus by the will of God, and Timothy our brother, to th
Kay Arthur adds that "Sin abounded in the cosmopolitan city of Corinth...The Corinthians were intrigued by Greek philosophy and captivated by the disciplined training and athletic events (see events) held at the Isthmus (see Isthmian Games). At one time the city was home to at least 12 pagan temples. The people desperately needed to hear the Good News of Jesus Christ, the One crucified for sinners. The worship ceremonies carried out by a thousand temple prostitutes connected with the temple of Aphrodite (the goddess of love) bred blatant immorality throughout Corinth....Prostitutes openly plied their "wares," and meat markets thrived on sales from the sacrifices offered in the temples. The Corinthians ate well, satisfied their sexual urges without condemnation, flirted with the wisdom of men, and did all they could to keep their bodies as beautiful as those of the Greek gods. They loved to listen to great orators. For the 250,000 citizens (not slaves) there were almost two slaves per person (Ed: Therefore the total population was about 700,000). What more did Corinth need? Freedom! Freedom from sin and death. God met that need by blocking Paul at every hand on his second missionary journey (cf Acts 16:6, 7, 8) until he received the Macedonian call "Come and help us." (Acts 16:9) After establishing the Corinthian church, Paul eventually went to Ephesus, where he stayed for three years. From there he wrote his first epistle to the Corinthian believers, who so desperately needed help and correction. It was sometime between A.D. 52 and A. D. 56." (Discover the Bible for Yourself) 
George Herbert - "What an admirable Epistle is the second to the Corinthians! How full of affections! He joys and he is sorry, he grieves and he glories; never was there such care of a flock expressed, save in the great Shepherd of the fold, who first shed tears over Jerusalem and afterwards blood."
In summary, Corinth was a city with a prevalent pagan influence and a plethora of perversions (1 Cor 6:9,10) but despite these apparent obstacles to the Gospel, the Spirit enabled Paul to plant a church in the center of vice and idolatry on his Second Missionary journey (1 Cor 3:6, 10+; 1 Cor 4:15+; Acts 18:1–7+).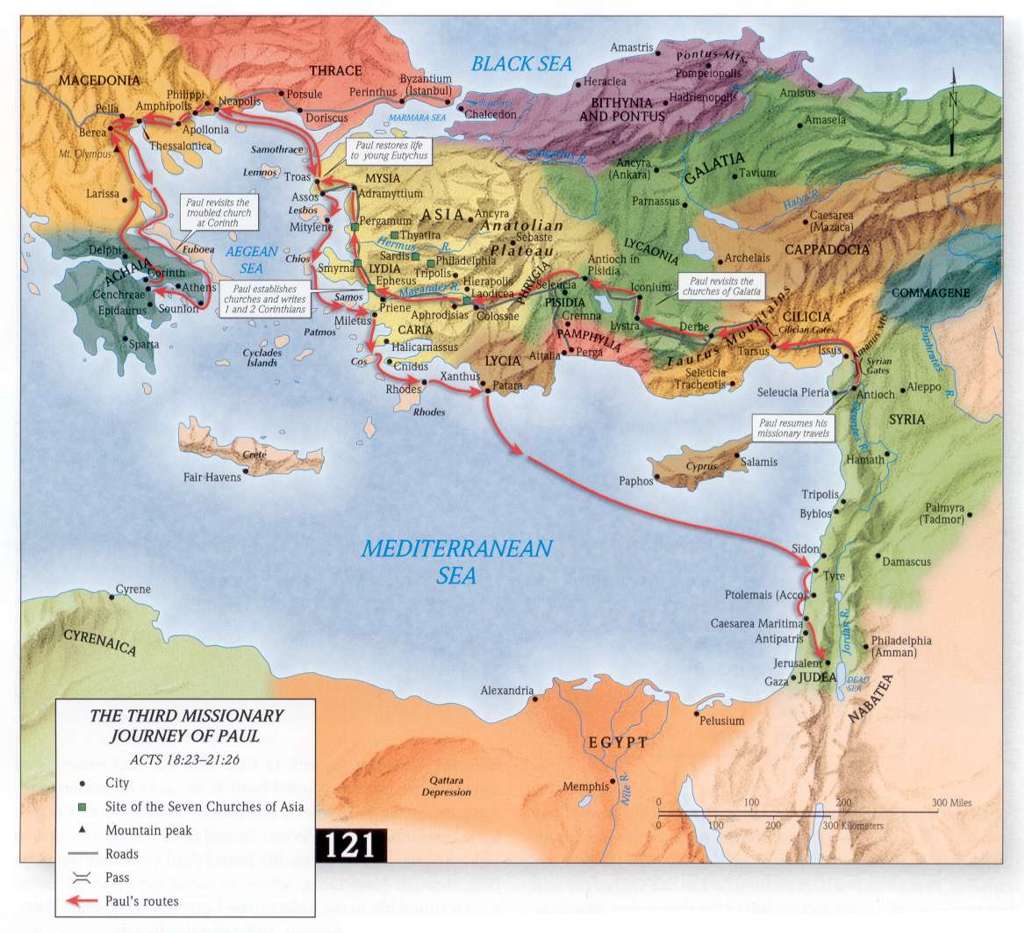 Click to enlarge - from the Holman Bible Atlas (digital book; Hardcover) 
copyright © 1998 B&H Publishing Group,
Used by permission, all rights reserved.
This is one of the best resources for Bible maps. 
Please do not reproduce this map on any other webpage.
---
Maps from Bible-History.com - courtesy of Wednesdayintheword.
Maps from Holman Bible Atlas - courtesy of Wednesdayintheword.
ESV Study Bible - Map of Corinth, Timeline
OTHER MAPS
---
Corinth:
Letters to the Corinthians
Paul
Titus
Holman Bible Dictionary: Titus
Hastings' Dictionary of the Bible: Titus
International Standard Bible Encyclopedia: Titus
McClintock and Strong: Titus
Kitto's Popular Cyclopedia of Biblical Literature: Titus
Titus in 2 Corinthians: 2:13; 7:6; 7:13-14; 8:6; 8:16; 8:23; 12:18
Titus in rest of New Testament: Galatians 2:1-3; 2 Timothy 4:10; Titus 1:4
Inductive Bible Study on 2 Corinthians from Precept Ministries - 10 week study of this great epistle
2 Corinthians Ministers of Reconciliation - click here to download the first lesson
---
COMPARISON OF
1ST AND 2ND CORINTHIANS

1 CORINTHIANS

2 CORINTHIANS

Objective
and practical

Subjective
and Personal

Insight into the Character
of an Early Church

Insight into the Character
and Ministry of Paul

Deliberate
Instruction

Impassioned
Testimony

Warns Against 
Pagan Influences

Warns Against
Judaistic Influences

From Irving Jensen    
Comments, quotes, word studies, devotionals, outlines, "THOUGHTS" (practical applications), etc
2 CORINTHIANS 1
2 CORINTHIANS 2
2 CORINTHIANS 3
2 CORINTHIANS 4
2 CORINTHIANS 5
2 CORINTHIANS 5 - These notes are less in depth
2 CORINTHIANS 6
2 CORINTHIANS 7
2 CORINTHIANS 8
2 CORINTHIANS 9
2 CORINTHIANS 10
2 CORINTHIANS 11
2 CORINTHIANS 12
2 CORINTHIANS 13
---
MULTIPLE RESOURCES BY CHAPTER - sermons, commentaries, devotionals, etc
Read his fascinating brief biography - Henry Alford and Phil Johnson's related comments
James Rosscup writes that Alford's series on the New Testament "contains much that is valuable in the Greek New Testament...though all of the Greek New Testament words have been changed to English throughout." (Commentaries for Biblical Expositors: An Annotated Bibliography of Selected Works or Logos)
Charles Haddon Spurgeon (see his comments in following entry on Alford).
Editorial Note: If you are not proficient in Greek, you will find this work considerably more useful than the following work by Alford, because in this volume he translates the Greek and Latin into English. While the "The Greek New Testament" is longer (e.g., English version of 1John = 66 pages compared to Greek version = 94 pages in part because the latter includes comments of more technical nature), the substance of the commentary is otherwise similar to that found in the "NT for English Readers".
James Rosscup writes that "This was the great work in the life of the versatile Dean of Canterbury. An outcome of this production was the New Testament for English Readers (4 vols.). Alford was a Calvinist, conservative and premillennial, though not dispensational. He takes a literal interpretation of the thousand years in Rev. 20 and has a famous quote there, is strong on sovereign election as in Ro 8:29, 30 and 1Pe 1:2, but, unfortunately, holds to baptismal regeneration in such texts as Titus 3:5 and John 3:5. He shows a great knowledge of the Greek text and faces problems of both a doctrinal and textual nature." (Commentaries for Biblical Expositors: An Annotated Bibliography of Selected Works or Logos)
John Piper writes ""When I'm stumped with a...grammatical or syntactical or logical [question] in Paul, I go to Henry Alford. Henry Alford...comes closer more consistently than any other human commentator to asking my kinds of questions."
Charles Haddon Spurgeon writes that this text "is an invaluable aid to the critical study of the text of the New Testament. You will find in it the ripened results of a matured scholarship, the harvesting of a judgment, generally highly impartial, always worthy of respect, which has gleaned from the most important fields of Biblical research, both modern and ancient, at home and abroad. You will not look here for any spirituality of thought or tenderness of feeling; you will find the learned Dean does not forget to do full justice to his own views, and is quite able to express himself vigorously against his opponents; but for what it professes to be, it is an exceedingly able and successful work. The later issues are by far the most desirable, as the author has considerably revised the work in the fourth edition. What I have said of his Greek Testament applies equally to Alford's New Testament for English Readers,* which is also a standard work." (Spurgeon, C. H. Lectures to my Students, Vol. 4: Commenting and Commentaries; Lectures Addressed to the students of the Pastors' College, Metropolitan Tabernacle)
About 180 pages of sermons on 2 Corinthians - recommended. The links below will access both the Audio and the Notes. The notes are excellent. 
D Edmond Hiebert - Uses author's own translation. Especially valuable for the historical background material presented. Good word studies and various illustrations. (from Hiebert's critique of Barclay on Peter's epistles - "Barclay holds that Christ's descent into Hades gave those who there heard Him a second chance.")
Comment: I appreciate Barclay's unique insights on Greek words, but clearly his teaching about a "second chance" is NOT sound doctrine! Be an Acts 17:11 Berean with Barclay. See discussion of his orthodoxy especially the article "The Enigmatic William Barclay".
---
James Rosscup writes that Barnes "includes 16 volumes on the Old Testament, 11 on the New Testament. The New Testament part of this old work was first published in 1832–1851. Various authors contributed. It is evangelical and amillennial...Often the explanations of verses are very worthwhile." (Commentaries for Biblical Expositors: An Annotated Bibliography of Selected Works or Logos)
C H Spurgeon "Albert Barnes is a learned and able divine, but his productions are unequal in value, the gospels are of comparatively little worth, but his other comments are extremely useful for Sunday-school teachers and persons with a narrow range of reading, endowed with enough good sense to discriminate between good and evil....Placed by the side of the great masters, Barnes is a lesser light, but taking his work for what it is and professes to be, no minister can afford to be without it, and this is no small praise for works which were only intended for Sunday-school teachers." (Spurgeon, C. H. Lectures to my Students, Vol. 4: Commenting and Commentaries; Lectures Addressed to the students of the Pastors' College, Metropolitan Tabernacle)
SAME MATERIAL - some duplication but does not include the older sermons above
James Rosscup writes "This work (Gnomon), originally issued in 1742, has considerable comment on the Greek, flavoring the effort with judicious details about the spiritual life. It has much that helps, but has been surpassed by many other commentaries since its day." (Commentaries for Biblical Expositors: An Annotated Bibliography of Selected Works or Logos)
Similar to above but less Greek. 
C H Spurgeon -- "'A Critical New Testament, so compiled as to enable a reader, unacquainted with Greek, to ascertain the exact English force and meaning of the language of the New Testament, and to appreciate the latest results of modern criticism.' Such is the professed aim of this commentary, and the compilers have very fairly carried out their intentions. The whole of Bengel's Gnomon is bodily transferred into the work, and as one hundred and twenty years have elapsed since the first issue of that book, it may be supposed that much has since been added to the wealth of Scripture exposition; the substance of this has been incorporated in brackets, so as to bring it down to the present advanced state of knowledge. We strongly advise the purchase of this book, as it is multum in parvo, and will well repay an attentive perusal. Tischendorf and Alford have contributed largely, with other German and English critics, to make this one of the most lucid and concise commentaries on the text and teachings of the New Testament" (Spurgeon, C. H. Lectures to my Students, Vol. 4: Commenting and Commentaries; Lectures Addressed to the students of the Pastors' College, Metropolitan Tabernacle)
D Edmond Hiebert - A clear and full interpretation by a British Methodist scholar of the past century. Its doctrinal summaries are intended as a contribution to systematic theology.
Click brief critique of Clarke
The Expositor's Bible (1906) - see titles below
E H Plumptre author of this commentary
Cyril Barber - First published in 1859. This doctrinal commentary demonstrates the importance of exegesis in proper, biblical exposition. Also reveals the many facets of the apostle Paul's ministry. (The Minister's Library - Volume 2)
Cyril Barber - Belleville, Linda L. Second Corinthians. IVP New Testament Commentary. Downers Grove, IL: InterVarsity Press, 1995. A careful study of 2 Corinthians that contains many new insights. The author aims at elucidating the meaning of the text, and in this she succeeds. A popular resource. (The Minister's Library - Volume 2)
 Below are links to the unabridged version of JFB:
D Edmond Hiebert - A voluminous conservative Lutheran exposition. The epistles are divided into convenient paragraphs, with the material under each section appearing in three parts, exegetical and critical, doctrinal and ethical, homiletical and practical. Contains much rich ore to be mined by those willing to dig into its closely printed pages.
"As we prepare to teach the 1990 Winter Bible study on 2 Corinthians, there are several important works worth noting. After several years of neglect by Pauline scholars, 2 Corinthians has now attracted the attention it deserves. With the forthcoming works by M. J. Harris in the New International Greek New Testament Commentary, and M. E. Thrall, in the new International Critical Commentary, the interest in this epistle will certainly continue to grow. This important epistle has numerous challenges for the interpreter. In many ways, it is simultaneously the most passionate and most difficult of the Pauline epistles. Emphasis on ministry, suffering, weakness, and genuine maturity will bring rewards for students, teachers, and hearers as well. For the evangelical student, the small work by M. J. Harris in vol. 10 of the Expositor's Bible Commentary (Zondervan, 1976), even though limited by space, is excellent and deserves careful reading and meditation. The top three full-leugth commentaries include C. K. Barrett (Harper, 1974), V. P. Furnish in the Anchor Bible (Doubleday, 1984), and R. P. Martin in the Word Bible Commentary (Word, 1985). Barrett's volume is outstanding, though his treatment of chaps. 10-13 will not satisfy everyone. Furnish has given us the most careful exegetical treatment and has not failed to tackle every major issue. If one disagrees with Furnish, it will require competent exegesis and theologizing to counter his conclusions. Martin's work is a bibliographical goldmine. It is worth consulting to trace out the important articles on the "problem passages" in 2 Corinthians 3, 5, and 10-13. Yet Martin evidences his growing tendency toward speculative interpretation, as well as E. Kasemann's influence upon him. 154 CRISWELL THEOLOGICAL REVIEW The second line of works on 2 Corinthians is headed by F. F. Bruce in the New Century Bible (Eerdmans, 1971). It is a brief work with great dependence on Barrett. P. Hughes, writing in the New International Commentary, has produced a solid and reliable theological work well worth consulting. Four other important works that need to be mentioned are: G. R. Beasley-Murray (Broadman, 1971); R. V. G. Tasker (Tyndale New Testament Commentary, 1958); C. Kruse (Eerdmans, 1987); P. Barnett, The Message of 2 Corinthians (InterVarsity, 1988). Some older works are difficult to find (ALL ARE AVAILABLE IN LINKS BELOW), but are nevertheless very useful. These include:
Barnett, Paul William. The Message of 2 Corinthians: Power in Weakness. The Bible Speaks Today. Downers Grove, IL: InterVarsity Press, 1988. With remarkable brevity Barnett gets to the heart of Paul's second letter to the believers in Corinth. He cuts through extraneous material and presents his readers with a clear exposition of the meaning of the text.
*Barrett, Charles Kingsley. A Commentary on the Second Epistle to the Corinthians. Harper's New Testament Commentaries. New York: Harper & Row, 1973. †An exegetical study that will be of help to the expository preacher. Barrett is always worth consulting.
Barnett, Paul William. The Second Epistle to the Corinthians. New International Commentary on the New Testament. Grand Rapids: Eerdmans, 1997. Replaces the famous volume by the late Philip E. Hughes. Assumes the unity of the letter, for which extensive argument is offered. Combines careful exegesis with a vindication of Paul's person, mission and message. Exposes the teaching of "false apostles," and discusses the resurrection and the hope of a new body. Not as good as Hughes, so if you have the former NICNT work, hold on to it.
Baughen, Michael. Strengthened by Struggle: The Stress Factor in 2 Corinthians. Wheaton, Ill.: Harold Shaw Publishers, 1984. "Baughen has effectively mixed his scholarship and pastoral gifts to bring us fresh insight into St. Paul's remarkable second letter to the Corinthian congregation. What he has demonstrated ... is that the doctrinal and moral issues that tore at the soul of Corinth are still with us today" (Gordon MacDonald).
Baumann, J. Daniel. Confronted by Love. Ventura, Calif: Regal Books, 1985. A brief exposition of God's principles for daily living from 2 Corinthians. Designed for adult discussion groups. It is to be regretted that this book was published on newsprint. The appearance alone will militate against widespread acceptance.
Belleville, Linda L. Second Corinthians. IVP New Testament Commentary. Downers Grove, IL: InterVarsity Press, 1995. A careful study of 2 Corinthians that contains many new insights. The author aims at elucidating the meaning of the text, and in this she succeeds. A popular resource.
Bratcher, Robert Galveston. A Translator's Guide to Paul's Second Letter to the Corinthians. New York: United Bible Societies, 1983. This work is not a full-length commentary but, rather, an exegetical work dealing with problems translators face as they seek to bridge the gap between the world of the first century A.D. and the different cultures in which Paul's "successors" minister today
Bultmann, Rudolf Karl. The Second Letter to the Corinthians. Translated by R. A. Harrisville. Minneapolis: Augsburg Publishing House, 1985. Rearranges the text. Deals extensively with Paul's behavior in Corinth and provides important discussions of the words used to describe key concepts in his theology. Valuable references to Greek literature are interspersed throughout the text. Well-produced. 7
Danker, Frederick W. Second Corinthians. Augsburg Commentary on the New Testament. Minneapolis: Augsburg Publishing House, 1989. Danker is a careful expositor and a man of remarkable erudition and perception. Here is a brief exposition that many will find helpful.
Garland, David E. Second Corinthians. New American Commentary. Nashville: Broadman & Holman, 1999. An excellent exposition that is fully abreast of the latest scholarship. Deals adequately with Greek nuances, and combines historical and cultural material with an explanation of the theme of Paul's letter. Of great value to preachers.
Gromacki, Robert Glenn. Stand Firm in the Faith: An Exposition of II Corinthians. Grand Rapids: Baker Book House, 1979. A well-balanced exposition using the text of the KJV Provides an excellent treatment of Paul's theme. Gives evidence of Gromacki's exemplary use of the original Greek. Recommended. 
Hafemann, Scott J. Suffering and Ministry in the Spirit: Paul's Defense of His Ministry in II Corinthians 2:14--3:3. Grand Rapids: Wm. B. Eerdmans Publishing Co., 1990. Through careful and thorough exegesis
Hafemann shows how Paul portrays himself as "the Spirit-giver who suffers," whose importance as a God-sent revelatory agent of the Spirit is such that rejection of him is rejection of God. (He could as easily have developed the line of the theocracy and reached the same conclusion.) One pleasing feature of Hafemann's work is that, contrary to most modern biblical scholarship, he sees the unity and coherence of Paul's argument.
Hendricksen, William. New Testament Commentary. Vol. 14, II Corinthians by Simon J. Kistemacher. Grand Rapids: Baker, 1997. A pedantic work that expounds the text but offers little help when it comes to applying the truth of the Word to the life of the believer.
Kent, Homer Austin, Jr. A Heart Opened Wide: Studies in II Corinthians. New Testament Studies. Grand Rapids: Baker Book House, 1982. In his inimitable style, Kent expounds the theme of 2 Corinthians. His material is well researched and presented in a capable manner so that readers may draw maximum benefit from their study of this apostolic letter.
Laurin, Roy L. Second Corinthians: Where Life Endures. Grand Rapids: Kregel Publications, 1985. With genuine devotional warmth, Laurin explains how life endures and matures in accordance with the plan and purpose of God. Recommended.
Martin, Ralph Philip. Second Corinthians. Word Biblical Commentary. Waco, TX: Word Books, 1986. A learned commentary, fully abreast of the latest literary scholarship. The bibliographies at the beginning of each section are most helpful. The exegesis is such as to bring out new thoughts with a minimum of repetition from other commentators. Scant attention is paid, however, to the theme of the epistle. The primary values of this scholarly volume, therefore, lie in Martin's handling of the Greek text and his bibliographic references.
Thrall, Margaret E. A Critical and Exegetical Commentary on the Second Epistle to the Corinthians. In process. Edinburgh: T. and T. Clark, 1994- . Replaces the earlier work by Plummer. Gives evidence of the writer's exacting scholarship. Makes plain the meaning of the original text. From the distinctions drawn by Miss Thrall the perceptive pastor should be able to enliven and sharpen the focus of each expository message that he bases on this very personal epistle.
F.F. BRUCE
Paul's second canonical epistle to the church he founded at Corinth (there probably were at least two other letters he wrote to Corinth, but these have not been preserved—see 1 Corinthians 5:9 for a specific reference to one of them) was probably written less than a year after the first. It is uncertain whether it was written while he was still at Ephesus (Acts 19:10) or later at Philippi (Acts 20:1-6). In any case, there is almost complete unanimity among scholars that 2 Corinthians was indeed written by Paul. Like 1 Corinthians, it is cited by numerous church leaders in the second century (Clement, Irenaeus, Polycarp, etc.). After Paul's departure from Corinth, the church had been injured spiritually, not only by the divisions and immorality discussed by him in 1 Corinthians but also by certain of the "Christ party" (1 Corinthians 1:12), who were now falsely claiming to be apostles of Christ (2 Corinthians 10:7; 11:13), and trying to undermine Paul's teachings. They were corrupting God's Word (2 Corinthians 2:17), and Paul was forced both to defend himself and to rebuke these false teachers with great severity (2 Corinthians 10:7-12:13). The epistle also notes with approval that the immorality condemned in the first epistle had been effectively disciplined (2 Corinthians 2:1-11). Paul's definition and defense of the ministry and true ministers of God in 2 Corinthians 3-6 is especially noteworthy, as is his discussion of the Christian grace of giving in 2 Corinthians 8-9. In summary, the two Corinthian epistles are filled with rich spiritual and doctrinal truths and also with stern rebuke against sin and heresy, and also as abundant instruction for practical Christian living.
DAVID HOLWICK - frequent use of illustrations
EXCERPT - (From Conclusion) - This dunamis of God, which is such an important aspect of Paul's ministry and which is portrayed in 2 Corinthians, is .realised by the Holy Spirit. It is the glorious all-surpassing power of God through the Spirit in the midst of a broken earthly existence. Paul does not, however, say that power reveals itself as weakness (as maintained by Giittgemanns 1966: 168-169), but rather that it reveals itself in the midst of human weakness. Weakness (astheneia) is not identical with dunamis but it is the place where God's power through the Holy Spirit is revealed. Paul knew suffering and weakness, and yet the glorious power of the Spirit was a decisive reality in his life. This tension Paul interpreted in the light of the cross and resurrection of Jesus: 'He was crucified in weakness, yet he lives by God's power. Likewise we are weak in him, yet by God's power we will live with him. ' (2 Cor 13:4)
Enter 2 Corinthians and verse at top of page to retrieve the topics on a given verse. Click topic for short definition and list of Scriptures related to that topic. Very interesting. See example below:
2 Corinthians 1:1
     1651   numbers, 1-2
     5109   Paul, apostle
     5391   letters
     5661   brothers
     7120   Christians
     7709   apostles, authority
2 Corinthians 1:1-2
2 Corinthians 8-13 Not Available free
2 Corinthians 5:11-15    Constrained by Christ    
2 Corinthians 6:14 - 7:1    Living Like Christians    
2 Corinthians 7:2-7, 13-16    Christian Affections    
2 Corinthians 7:8-12    The Path through Godly Sorrow    
2 Corinthians 9:1-15    Extravagance of Grace Giving    
2 Corinthians 10:7-18    In the Trenches    
2 Corinthians 10:7-18    Commended by God    
2 Corinthians 11:1-15    Betrothed to Christ    
2 Corinthians 11:16-33    Boasting in Weakness    
2 Corinthians 13:11-14    A Trinitarian Blessing
A W PINK 
2 Corinthians 11:27 -Excerpt - Is It Time for You To Make An Attitude Adjustment? In weariness and painfulness, in watchings often, in hunger and thirst, in fastings often, in cold and nakedness.2 Corinthians 11:27 I remember an employee we once had in our ministry who got distressed because she was transferred to an area of the ministry that didn't have air control to suit her taste. Those in charge tried to adjust the thermostat to her liking, but they could never seem to please this indi­vidual. First it was too cold, and then it was too hot. And that was just the beginning. Next, this per­son complained because her office didn't have a window. Nothing we could do seemed to please this worker. Because I believed this employee had great potential, I personally went to her to discuss her impossible-to-please attitude. If that employee was going to reach the level God desired for her, it would require a serious attitude change on her part. I wanted this unreasonable complaining to stop. When we hired this person, we had never agreed that she would be provided with a window or that we would meet the ideal atmospheric conditions she demanded. I talked through these complaints one at a time with this employee. We had bent over back­wards to make this person happy; now it was time for this employee to quit complaining and make an attitude adjustment in order to make me happy. Her constant complaining was bringing a spirit of discord into our organization that I didn't like. I decided I would not tolerate it any longer. When I first spoke to this person, she showed thankfulness for the correction. But by the next week, she was back at it again - mumbling, murmuring, complaining, and sowing seeds of discord. The temperature wasn't right; the chair at the desk wasn't comfortable; the lunch hour wasn't the exact time she desired; there was no window in her office, and on and on and on. When I saw that this employee wasn't going to make the attitude adjustment I required, I decided to make an adjust­ment myself by removing her from our staff. That was that person's last week in our office. It is unacceptable for us as Spirit-filled believers to be complaining people. After all, we are the ones who claim to possess the power of Almighty God! (Click for entire devotional)
2 Corinthians 13:4 - Excerpt -  The Holy Spirit — A Partner Who Wants To Take Responsibility For You in This Life! The grace of the Lord Jesus Christ, and the love of God, and the communion of the Holy Ghost, be with you all. Amen. — 2 Corinthians 13:14 Most all of us would say we want to live a victorious Christian life. But without daily communion with the Holy Spirit, it's impossible to attain that goal. Communion with the Holy Spirit is the launching pad for a life of supernatural power and consistency. In Second Corinthians 13:14, Paul says, "The grace of the Lord Jesus Christ, and the love of God, and the communion of the Holy Ghost, be with you all. Amen." I want you to notice the word "communion" in this verse, because communion with the Spirit is what we are talking about today. The word "communion" is the Greek word koinonia, a word that has a whole flavor of meanings, but one primary meaning is that of partnership. An example of koinonia conveying the idea of partnership can be found in Luke 5:7 after Jesus supplied a miraculous catch of fish. After the fishermen had fished all night and caught nothing, Jesus told them to cast their nets on the other side. When they obeyed, they caught such a massive amount of fish that the nets began to break! (Click for entire devotional)
MEDITATIONS ON 2 CORINTHIANS - Sam Storms
EXCERPT - The Purpose of this Book 2 Corinthians is a fascinating letter. It takes us deep into the heart of Paul, and gives us his most personal message. In it we hear him run the gamut of emotions from ecstasy to depression, from joy to anger. We find him describing the shape of his ministry and revealing what makes him tick. We watch him work in crisis with a congregation surprisingly similar in some ways, perhaps, to our own. However, because of its complexity 2 Corinthians is not an easy letter to interpret; hence the need for this book. Transforming Grace aims to provide helpful notes and questions for thought for individuals and groups who wish to study the letter in detail. It offers a programme for six weeks of daily readings, but the material can be adapted to a shorter or longer period of study. This book is not intended to form a full commentary, since alternative explanations could not be explored here because of limitations of space.
STEPHEN VOORWINDE - interesting analysis of the Apostle Paul in 2 Corinthians
Excerpt - Paul's second letter to the Corinthians has been aptly described as "simply a pouring out of the man himself." (Ralph Martin) It is certainly the most emotionally charged of Paul's epistles. More than one commentator has referred to it as "a tumult of conflicting emotions." (R H Strachan) The letter therefore provides a unique window into the apostle's soul. Specific references to Paul's emotions are found no less than thirty-five times, and twenty different Greek words are used.3 No less impressive is the range of emotions expressed. He despairs (2 Cor 1:8), experiences sorrow (2 Cor 2:1, 3; 6:10), is glad (2 Cor 2:2; 12:9, 15), rejoices (2 Cor 2:3; 6:10; 7:4, 7, 9, 13, 16; 13:9), feels anguish of heart (2 Cor 2:4), sheds tears (2 Cor 2:4), loves (2 Cor 2:4; 5:14; 6:6; 11:11; 12:15), is perplexed (2 Cor 4:8), groans (2 Cor 5:2, 4), has regrets (2 Cor 7:8), is afraid (2 Cor 7:5; 11:3; 12:20) and jealous (2 Cor 11:2), mourns (2 Cor 12:21) and burns with distress (2 Cor 11:29).4 Paul's major emotions in the epistle would therefore seem to be joy/gladness (2 Cor 12x), sorrow (9x) and love (6x). Less common are fear (3x), perplexity/despair (2x) and regret (1x)
JOHN WHITCOMB
Excerpt - As born-again Christians, we truly rejoice at the thought of God's wonderful promise and provision, that "if we confess our sins, He is faithful and just to forgive us our sins and to cleanse us from all unrighteousness" (1 John 1:9NKJV+).But how does this divine provision relate to Christ's confrontation with His Church, His Body and Bride, at the Judgment Throne? Does this mean that 1 John 1:9+ eliminates the threat of losing a reward or a crown on that great day? This is a very confusing issue for many of God's people today. 

One point must be settled immediately – the issue is the gain or loss of rewards, not of salvation! Thank God, "He who has begun a good work in you will complete it until the day of Jesus Christ" (Phil. 1:6+). "Having been justified by faith, we have peace with God through our Lord Jesus Christ . . . and rejoice in hope of the glory of God" (Ro 5:1-2+). "He who hears My word and believes in Him who sent Me has everlasting life, and shall not come into judgment, but has passed from death into life" (John 5:24). "And I give them eternal life, and they shall never perish . . . No one is able to snatch them out of My Father's hand. I and My Father are one" (John 10:28-30).

On the other hand, the provision of awards for faithfulness is intended by our Lord to provide tremendous motivation for His people. As a matter of fact, all human beings have been programmed by God with this perspective! How would a military unit function efficiently if there were no rewards for self-discipline and diligence and courage? And what about governments, and industries, and schools? Would a student do his very best if there were no grades or honors or recognition at the end?....

(FINAL CONCLUSION)  God intends the béma confrontation to motivate each and every believer –  not just church leaders – to serve Him in spirit and in truth. It is not designed to be a horrible threat that produces depression and fear, but, rather, an encouragement to love and serve and obey Him from the heart. In this light, may we, as Christians, be more concerned than ever before about our testimony for the Savior Who loves us with infinite love, and paid the ultimate price for our redemption and future glorification.
STEVE KRELOFF preaches from the perspective of a Messianic believer
2 Corinthians 1
2 Corinthians 2
2 Corinthians 3
2 Corinthians 4
2 Corinthians 5
2 Corinthians 6
2 Corinthians 7
2 Corinthians 8
2 Corinthians 9
2 Corinthians 10
2 Corinthians 11
2 Corinthians 12
2 Corinthians 13
CHIP ANDERSON
WILLIAM ARNOT
JOEL BEEKE
ALAN CARR
OSWALD CHAMBERS
Below is Henry Mahan's Commentary - distinct from the sermons above
Or Here:
D Edmond Hiebert (these are actually comments on Morgan's related work - see the online Pdf copy =  "The Corinthian Letters of Paul. An Exposition of I and II Corinthians") - Carefully outlined pulpit expositions by a noted expository preacher. Reflects the fervent devotional approach of the preacher in dealing with the problems that plague the Church.
There are 3 different resources by G Campbell Morgan
1. Commentary on 1-2 Corinthians
The Corinthian Letters of Paul. An Exposition of I and II Corinthians - notes on 2 Corinthians are brief and begin on page 137 of the Pdf
2. Commentary by Chapter from Analyzed Bible
Cyril Barber - First published in 1855. This highly esteemed exegetical and expository work enlivens the sacred page and enriches the spiritual life of the reader. "Pays careful attention to the theological exposition, entering into the marrow of religious ideas, and introducing the student to the spirit and inward unity of the divine revelation" (Philip Schaff). (Click here for links to First Corinthians comments).
Excellent sermon illustrations - the first list represents devotionals onsite followed by the list of off site devotionals by 2 Corinthians and verse.
---
1915 The International Critical Commentary Series - Alfred Plummer. 
D Edmond Hiebert - Greek text Important introduction and a very thorough treatment of the Greek text, bringing out its finer shades of meaning. Essential for the careful student of the original text.
Dr Pritchard's sermons are always worth checking out -- Scripturally sound and pithily practical! 
Hint: Click on expositions and scroll down for numerous additional homilies on individual passages.
NOTE: If you are not familiar with the great saint Charles Simeon see Dr John Piper's discussion of Simeon's life - you will want to read Simeon's sermons after meeting him! - click Brothers We Must Not Mind a Little Suffering (Mp3 even better)
Click the 2 Corinthians above for the sermons listed below. 
Commentary
Sermon Notes:
Cyril Barber - Fully in keeping with all we have come to expect of this gifted expositor and wise pastor. Explains this epistle in easy-to understand terms. (The Minister's Library - Volume 2)
LINKS BELOW BOOK "AUTHENTIC CHRISTIANITY: A FRESH GRIP ON LIFE"
Spiritual Warfare: The Battle of Life
2nd Corinthians Daily Devotionals
2 Corinthians 1
2 Corinthians 2
2 Corinthians 3
2 Corinthians 4
2 Corinthians 5
2 Corinthians 6
2 Corinthians 7
2 Corinthians 8
2 Corinthians 9
2 Corinthians 10
2 Corinthians 11
2 Corinthians 12
2 Corinthians 13
Book