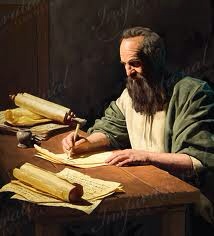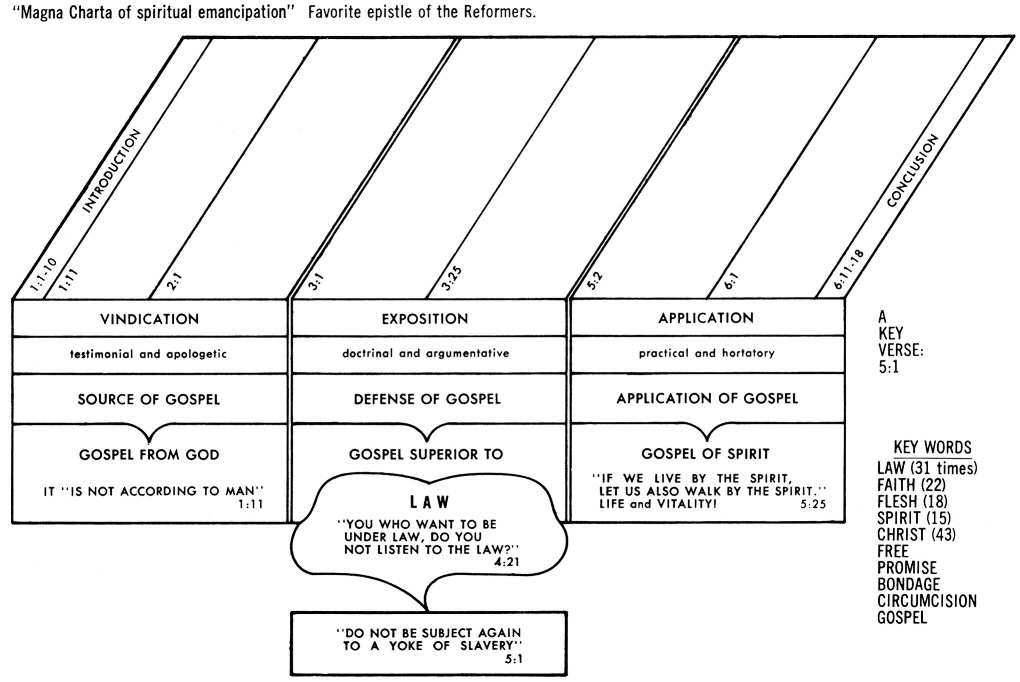 Magna Carta of Spiritual Emancipation
Click chart to enlarge
Charts from Jensen's Survey of the NT - used by permission
Another Overview Chart - Galatians - Charles Swindoll
Another Overview Chart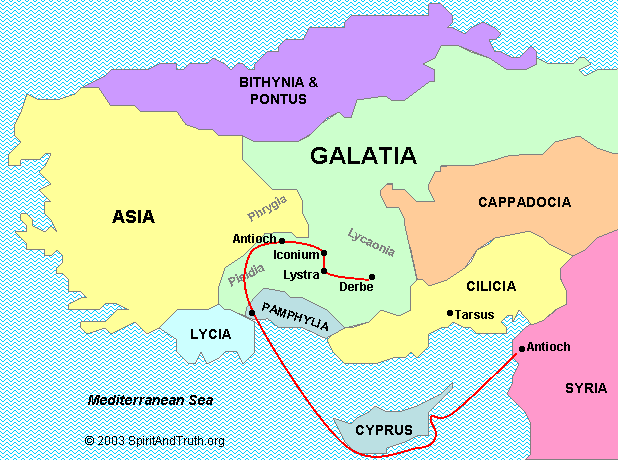 Click to Enlarge

See Also:
Paul's First Missionary Journey
Paul's Second Missionary Journey
Paul's Third Missionary Journey
SUMMARY CHART:
EPISTLE TO THE GALATIANS
Gospel of Grace
Defended
Gospel of Grace
Explained
Gospel of Grace
Applied
Defense of the
Gospel
Gal 1:1-2:21
Freedom
from Legalism
Gal 3:1-4:31
Freedom
to Love and to Serve
Gal 5:1-6:18
Labor
Liberty
Life
Authority
Not Opinion
Freedom
Not Bondage
Spirit
Not Flesh
Personal
Autobiography
Doctrinal
Accuracy
Practical
Application
Paul the
Apostle

(Gal 1:1-24)
Paul's
Authority

(Gal 2:1-21)
Justified by Faith not Works
(Gal 3:1-9)
Justified by Faith not the Law
(Gal 3:10-4:20)
Grace and Law Cannot Co-Exist
(Gal 4:21-31)
Position and Practice of Liberty
(Gal 5:1-15)
Power of Liberty

(Gal 5:16-26)
Performance in Liberty

(Gal 6:1-18)
Vindication
Exposition
Application
Testimonial and
Apologetic
Doctrinal and
Argumentative
Practical and
Hortatory
Biographical
Explanation
Doctrinal
Exposition
Practical
Exhortation
Authentication
of Liberty
Argumentation
for Liberty
Application
of Liberty

Style or Tone: Vigorous, blunt, aggressive, direct, corrective, urgent, brief, righteous anger, strong words

Theme: Justification by Faith and not by Works of the Law

Author: Paul in large letters (Gal 6:11)

Recipients: Churches in Galatia (Gal 1:2) (Most likely the Southern Region)

Christ in Galatians: Jesus is the Source and Power for the believer's New Life. (Gal 2:20, 5:16)
An Outline of Galatians - D Edmond Hiebert
THE INTRODUCTION (Galatians 1:1-10)
1. The salutation (Galatians 1:1-5)
a. The writer (Galatians 1:1-2a)
i. Paul, the Apostle (Galatians 1: 1)
ii. The brethren with him (Galatians 1:2a)
b. The readers (Galatians 1:2b)
c. The greeting (Galatians 1:3-5)
i. The contents of the greeting (Galatians 1:3a)
ii. The source of the grace and peace (Galatians 1:3b-4)
iii. The doxology (Galatians 1:5)
2. The rebuke (Galatians 1:6-10)
a. His astonishment at their fickleness (Galatians 1:6-7)
i. The reason for the astonishment (Galatians 1:6)
ii. The explanation of the departure (Galatians 1:7)
b. His assertion about its seriousness Galatians 1:8-9)
i. The seriousness asserted (Galatians 1:8)
ii. The seriousness reaffirmed (Galatians 1:9)
c. His attitude in the matter (Galatians 1:10)
I. PERSONAL: THE VINDICATION OF HIS APOSTOLIC AUTHORITY (Galatians 1:11-2:21)
1. How he got his Gospel (Galatians 1:11-24)
a. The origin of his Gospel through revelation (Galatians 1: 11-12)
i. The assertion as to its nature (Galatians 1:11)
ii. The manner of its reception (Galatians 1:12)
b. The previous conduct of the one given the revelation (Galatians 1:13-14)
i. The manner of his former life known to them Galatians 1:13a)
ii. The description of his former life (Galatians 1:13b-14)
a. In relation to the Church of God (Galatians 1:13b)
b. In relation to Judaism (Galatians 1:14)
c. The description of the revelation received (Galatians 1:15-17)
i. The source of the revelation (Galatians 1:15)
ii. The subject of the revelation (Galatians 1:16a)
iii. The purpose of the revelation (Galatians 1:16b)
iv. The response to the revelation (Galatians 1:16c-17)
d. His independence of the Jerusalem apostles (Galatians 1:18-24)
i. The first visit to Jerusalem (Galatians 1:18-20)
a. The time of the visit (Galatians 1:18a)
b. The purpose of the visit (Galatians 1:18b)
c. The duration of the visit (Galatians 1:18c)
d. The scope of contacts during the visit (Galatians 1:19-20)
ii. The subsequent absence from Jerusalem (Galatians 1:21-24)
a. The place of his withdrawal (Galatians 1:21)
b. The lack of acquaintance with the Judean churches (Galatians 1:22)
c. The response of the churches to reports about him (Galatians 1:23-24)
2. How his Gospel was confirmed by the apostles at Jerusalem (Galatians 2:1-10)
a. The circumstances of its presentation to them (Galatians 2:1-2)
i. The journey to Jerusalem (Galatians 2:1-2a)
ii. The presentation made at Jerusalem (Galatians 2:2b)
b. The outcome of his presentation of his Gospel to them (Galatians 2:3-10)
i. The maintenance of his position, as seen in Titus Galatians 2:3)
ii. The conflict with the false brethren (Galatians 2:4-5)
a. The presence of the false brethren (Galatians 2:4)
b. The refusal to yield to their demands (Galatians 2:5)
iii. The approval of his Gospel by the Jerusalem leaders (Galatians 2:6-10)
a. Their failure to add anything to his Gospel (Galatians 2:6)
b. Their approval of his Gospel in full (Galatians 2:7-10)
1. The basis of their approval (Galatians 2:7-9a)
2. The expression of their approval (Galatians 2:9b)
3. The one request with their approval (Galatians 2:10)
3. How he rebuked Peter's inconsistent conduct (Galatians 2:11-21)
a. The circumstances when giving the rebuke (Galatians 2:11-13)
i. The fact of his rebuke of Peter (Galatians 2:11)
ii. The reason for his rebuke of Peter (Galatians 2:12)
iii. The effect of the inconsistent conduct of Peter (Galatians 2:13)
b. The justification for giving the rebuke (Galatians 2:14-21)
i. His question of rebuke to Peter (Galatians 2:14)
ii. His explanation of his doctrinal position (Galatians 2:15-21)
a. The insufficiency of the law (Galatians 2:15-18)
1. The discovery of believing Jews about justification (Galatians 2:15-16)
2. The rejection of a conclusion from Peter's action (Galatians 2:17)
3. The significance of a return to law-works (Galatians 2:18)
b. The new life in Christ (Galatians 2:19-21)
1. The effect of the law led to the new life (Galatians 2:19)
2. The nature of the new life (Galatians 2:20)
3. The grace of God nullified by law-keeping (Galatians 2:21)
II. DOCTRINAL: THE EXPOSITION OF JUSTIFICATION BY FAITH (Galatians 3:1-4:31)
1. The elaboration of the doctrine of justification (Galatians 3:1-4:7)
a. The nature of justification as by faith, not law (Galatians 3:1-14)
i. The inconsistency of their conduct (Galatians 3:1-5)
a. The question about their turning from the crucified Christ (Galatians 3:1)
b. The question about the beginning of their Christian life (Galatians 3:2)
c. The question about their method of perfection (Galatians 3:3)
d. The question about their sufferings as believers (Galatians 3:4)
e. The question about the basis of God's work among them (Galatians 3:5)
ii. The example of Abraham's justification (Galatians 3:6-9)
a. The means of Abraham's justification (Galatians 3:6)
b. The identity of the sons of Abraham (Galatians 3:7)
c. The announcement to Abraham concerning Gentile justification by faith (Galatians 3:8)
d. The sharers in the blessings of Abraham (Galatians 3:9)
iii. The deliverance from law-works through Christ (Galatians 3:10-14)
a. The curse upon those under law-works (Galatians 3:10)
b. The inability of law-works to justify (Galatians 3:11-12)
c. The deliverance from the curse through Christ (Galatians 3:13-14)
1. The fact of our deliverance through Christ (Galatians 3:13a)
2. The means of our deliverance from the curse (Galatians 3:13b)
3. The purpose in our deliverance from the curse (Galatians 3:14)
b. The limitations of the law and its relations to faith (Galatians 3:15-4:7)
i. The covenant with Abraham unaltered by the law (Galatians 3:15-18)
a. The illustration of a man's covenant as binding (Galatians 3:15)
b. The fact illustrated is the divine promise to Abraham (Galatians 3:16)
c. The application of the principle of an unalterable covenant (Galatians 3:17-18)
1. The law did not alter the promise (Galatians 3:17)
2. The inheritance is not through law but promise (Galatians 3:18)
ii. The true place and purpose of the law (Galatians 3:19-29)
a. The temporary nature of the law (Galatians 3:19-20)
1. The reason for the adding of the law (Galatians 3:19a)
2. The time limit for the law (Galatians 3:19b)
3. The manner of the establishment of the law (Galatians 3:19c-20)
b. The inability of the law to produce life (Galatians 3:21-22)
1. The law not contrary to the promise (Galatians 3:21a)
2. The law unable to produce life (Galatians 3:21b)
3. The Scripture shut up all to faith in Christ (Galatians 3:22)
c. The law as a child-leader to Christ with His blessings (Galatians 3:23-29)
1. The old position under law (Galatians 3:23-24)
a. The position of confinement under law (Galatians 3:23)
b. The function of the law as child-leader to Christ (Galatians 3:24)
2. The new position in Christ (Galatians 3:25-29)
a. The nature of the new position (Galatians 3:25-26)
b. The entry into the new life (Galatians 3:27)
c. The effect of the new life (Galatians 3:28)
d. The fulfillment of the promise to Abraham (Galatians 3:29)
iii. The contrasted position under law and faith (Galatians 4:1-7)
a. The illustration of the position of the heir as a minor (Galatians 4:1-2)
b. The application of the illustration to believers (Galatians 4:3-6)
1. The condition of bondage as minors (Galatians 4:3)
2. The position as free sons through God's Son (Galatians 4:4-6)
a. The sending of the Son of God (Galatians 4:4-5)
b. The sending of the Spirit of God (Galatians 4:6)
3. The conclusion for the believer (Galatians 4:7)
2. The appeal for them to drop their legalism (Galatians 4:8-31)
a. The acceptance of Jewish legalism is a return to bondage (Galatians 4:8-11)
i. Their past condition of bondage (Galatians 4:8)
ii. Their present deliverance from bondage (Galatians 4:9a)
iii. Their legalism as a return to bondage (Galatians 4:9b-10)
iv. Their action a cause of concern to him (Galatians 4:11)
b. The appeal from his relations to them (Galatians 4:12-20)
i. The appeal for them to adopt his position (Galatians 4:12a)
ii. The reminder of his past relations to them (Galatians 4:12b-14)
iii. The change in their relation to him (Galatians 4:15-18)
iv. The travail he is undergoing for them (Galatians 4:19-20)
c. The appeal from the two contrasted covenants (Galatians 4:21-31)
i. The question to those desiring to be under law (Galatians 4:21)
ii. The story of Abraham's two sons (Galatians 4:22-23)
iii. The allegorical interpretation of the story (Galatians 4:24-30)
a. The two mothers representing two covenants (Galatians 4:24a)
b. The description of the two covenants (Galatians 4:24b-28)
1. The one representing a covenant of bondage (Galatians 4:24b-25)
2. The other representing a covenant of freedom (Galatians 4:26-28)
c. The expulsion of the slave woman and her son (Galatians 4:29-30)
iv. The conclusion from the story (Galatians 4:31)
III. PRACTICAL: THE LIFE OF CHRISTIAN LIBERTY (Galatians 5:1-6:10)
1. The call to maintain their Christian liberty (Galatians 5:1)
2. The peril to Christian liberty (Galatians 5:2-12)
a. The peril to them in circumcision (Galatians 5:2-6)
i. The consequences of accepting circumcision (Galatians 5:2-4)
a. It renders Christ useless to them (Galatians 5:2)
b. It makes a man debtor to do the whole law (Galatians 5:3)
c. It severs them from Christ (Galatians 5:4a)
d. It constitutes a fall from grace (Galatians 5:4b)
ii. The attitude of the true believer (Galatians 5:5-6)
b. The condemnation of the false teacher (Galatians 5:7-12)
i. The explanation for their defection (Galatians 5:7)
ii. The characterization of the teaching (Galatians 5:8-9)
iii. The condemnation of the one troubling them (Galatians 5:10-12)
a. The confidence he has in them (Galatians 5:10a)
b. The troubler will bear his judgment (Galatians 5:10b)
c. The refutation of charges that he preaches circumcision (Galatians 5:11)
d. The wish that these teachers would go to the consistent end (Galatians 5:12)
3. The life of Christian liberty (Galatians 5:13-6:10)
a. It is directed by love (Galatians 5:13-15)
i. The believer called to liberty (Galatians 5:13a)
ii. The use of Christian liberty (Galatians 5:13b)
iii. The fulfillment of the law through love (Galatians 5:14)
iv. The results of the lack of love (Galatians 5:15)
b. It is a walk in the Spirit, not in the flesh (Galatians 5:16-25)
i. The command to walk by the Spirit (Galatians 5:16)
ii. The conflict between the Spirit and the flesh (Galatians 5:17-18)
iii. The contrasted products of the flesh and the Spirit (Galatians 5:19-23)
a. The works of the flesh (Galatians 5:19-21)
b. The fruit of the Spirit (Galatians 5:22-23)
iv. The persons living by the Spirit (Galatians 5:24-25)
c. It is a life of mutual burden-bearing (Galatians 5:26-6:10)
i. The burden of moral faults (Galatians 5:26-6:5)
a. The warning against wrong attitudes towards others (Galatians 5:26)
b. The attitude of humility in restoring the fallen (Galatians 6:1)
c. The duty of mutual burden-bearing (Galatians 6:2)
d. The proper attitude toward self (Galatians 6:3-5)
ii. The burden of temporal needs (Galatians 6:6-10)
a. The exhortation to communicate with their teachers (Galatians 6:6)
b. The law of the spiritual harvest (Galatians 6:7-8)
c. The encouragement to welldoing (Galatians 6:9-10)
THE CONCLUSION (Galatians 6:11-17)
1. His reference to his large letters (Galatians 6:11)
2. His rebuke of his adversaries (Galatians 6:12-13)
3. His confidence in the cross (Galatians 6:14-16)
a. His glorying only in the cross (Galatians 6:14a)
b. His crucifixion through the cross (Galatians 6:14b)
c. His evaluation of things through the cross (Galatians 6:15)
d. His benediction upon those accepting this principle (Galatians 6:16)
4. His marks of apostleship (Galatians 6:17)
THE BENEDICTION (Galatians 6:18)
COMMENTARY BY CHAPTER AND VERSE
COMMENTARY ON INDIVIDUAL VERSES
Read his fascinating brief biography - Henry Alford and Phil Johnson's related comments
James Rosscup writes that Alford's series on the New Testament "contains much that is valuable in the Greek New Testament...though all of the Greek New Testament words have been changed to English throughout." (Commentaries for Biblical Expositors: An Annotated Bibliography of Selected Works)
Charles Haddon Spurgeon (see his comments in following entry on Alford).
Editorial Note: If you are not proficient in Greek, you will find this work considerably more useful than the following work by Alford, because in this volume he translates the Greek and Latin into English. While the "The Greek New Testament" is longer (e.g., English version of 1John = 66 pages compared to Greek version = 94 pages in part because the latter includes comments of more technical nature), the substance of the commentary is otherwise similar to that found in the "NT for English Readers".
Henry Alford's "The New Testament for English Readers"
James Rosscup writes that "This was the great work in the life of the versatile Dean of Canterbury. An outcome of this production was the New Testament for English Readers (4 vols.). Alford was a Calvinist, conservative and premillennial, though not dispensational. He takes a literal interpretation of the thousand years in Rev. 20 and has a famous quote there, is strong on sovereign election as in Ro 8:29, 30 and 1Pe 1:2, but, unfortunately, holds to baptismal regeneration in such texts as Titus 3:5 and John 3:5. He shows a great knowledge of the Greek text and faces problems of both a doctrinal and textual nature." (Commentaries for Biblical Expositors: An Annotated Bibliography of Selected Works)
John Piper writes ""When I'm stumped with a...grammatical or syntactical or logical [question] in Paul, I go to Henry Alford. Henry Alford...comes closer more consistently than any other human commentator to asking my kinds of questions."
Charles Haddon Spurgeon writes that this text "is an invaluable aid to the critical study of the text of the New Testament. You will find in it the ripened results of a matured scholarship, the harvesting of a judgment, generally highly impartial, always worthy of respect, which has gleaned from the most important fields of Biblical research, both modern and ancient, at home and abroad. You will not look here for any spirituality of thought or tenderness of feeling; you will find the learned Dean does not forget to do full justice to his own views, and is quite able to express himself vigorously against his opponents; but for what it professes to be, it is an exceedingly able and successful work. The later issues are by far the most desirable, as the author has considerably revised the work in the fourth edition. What I have said of his Greek Testament applies equally to Alford's New Testament for English Readers,* which is also a standard work." (Spurgeon, C. H. Lectures to my Students, Vol. 4: Commenting and Commentaries; Lectures Addressed to the students of the Pastors' College, Metropolitan Tabernacle)
Henry Alford's 1903 "The Greek Testament"
"When I go to heaven..." were Jack Arnold's last words before dying instantly in the pulpit from a heart attack.
D Edmond Hiebert - Uses author's own translation. Especially valuable for the historical background material presented. Good word studies and various illustrations. (from Hiebert's critique of Barclay on Peter's epistles - "Barclay holds that Christ's descent into Hades gave those who there heard Him a second chance.")
Comment: I appreciate Barclay's unique insights on Greek words, but clearly his teaching about a "second chance" is NOT sound doctrine! Be an Acts 17:11 Berean with Barclay. See discussion of his orthodoxy especially the article "The Enigmatic William Barclay".
James Rosscup writes that Barnes "includes 16 volumes on the Old Testament, 11 on the New Testament. The New Testament part of this old work was first published in 1832–1851. Various authors contributed. It is evangelical and amillennial...Often the explanations of verses are very worthwhile." (Commentaries for Biblical Expositors: An Annotated Bibliography of Selected Works)
C H Spurgeon "Albert Barnes is a learned and able divine, but his productions are unequal in value, the gospels are of comparatively little worth, but his other comments are extremely useful for Sunday-school teachers and persons with a narrow range of reading, endowed with enough good sense to discriminate between good and evil....Placed by the side of the great masters, Barnes is a lesser light, but taking his work for what it is and professes to be, no minister can afford to be without it, and this is no small praise for works which were only intended for Sunday-school teachers." (Spurgeon, C. H. Lectures to my Students, Vol. 4: Commenting and Commentaries; Lectures Addressed to the students of the Pastors' College, Metropolitan Tabernacle)
Index to Mt-Rev Chapter by Chapter
James Rosscup writes "This work (Gnomon), originally issued in 1742, has considerable comment on the Greek, flavoring the effort with judicious details about the spiritual life. It has much that helps, but has been surpassed by many other commentaries since its day." (Commentaries for Biblical Expositors: An Annotated Bibliography of Selected Works)
Similar to above but less Greek
Charles Haddon Spurgeon -- "'A Critical New Testament, so compiled as to enable a reader, unacquainted with Greek, to ascertain the exact English force and meaning of the language of the New Testament, and to appreciate the latest results of modern criticism.' Such is the professed aim of this commentary, and the compilers have very fairly carried out their intentions. The whole of Bengel's Gnomon is bodily transferred into the work, and as one hundred and twenty years have elapsed since the first issue of that book, it may be supposed that much has since been added to the wealth of Scripture exposition; the substance of this has been incorporated in brackets, so as to bring it down to the present advanced state of knowledge. We strongly advise the purchase of this book, as it is multum in parvo, and will well repay an attentive perusal. Tischendorf and Alford have contributed largely, with other German and English critics, to make this one of the most lucid and concise commentaries on the text and teachings of the New Testament" (Spurgeon, C. H. Lectures to my Students, Vol. 4: Commenting and Commentaries; Lectures Addressed to the students of the Pastors' College, Metropolitan Tabernacle)
Introduction - 1:1-5
The Problem - 1:6-10
An Exposition of the Epistle of Paul the Apostle to the Galatians - 1853
Note: At the top of every other page one can usually discern which specific verse is being exposited.
C H Spurgeon writes that "Brown is a modern Puritan. All his expositions are of the utmost value. The volume on Galatians is one of the scarcest books in the market.." (Spurgeon, C. H. Lectures to my Students, Vol. 4: Commenting and Commentaries; Lectures Addressed to the students of the Pastors' College, Metropolitan Tabernacle)
This work belongs to the same class with the others from the pen of the same author, which we have had repeated occasion to notice, and which taken together, already form a contribution to our exegetical literature, such as, whether in extent or importance, no other writer of our age has furnished.—Journal of Sacred Literature
It is a remarkable instance of a difficult theme made plain, and of a dry one made interesting. It would be easy to quote passage upon passage in support of this commendatory notice of this invaluable work. For us even to praise Dr. Brown as an expositor of Scripture we feel to be verging on presumption, and all we can desire for the readers of his book is some measure of the gratitude and admiration which its perusal has excited in ourselves.—United Presbyterian Magazine
"Designed for Pastors and Sunday Schools"
Audio and Pdf - Galatians - Click for complete listing
550 page commentary published in 1869!
Recommended: One has to "sift" through his prolific comments but there is "gold in those hills" as the prospectors say!
Rosscup - Based on the Greek text, this commentary grapples with problems in an energetic fashion, presenting various views and coming to conclusions. It is voluminous (480 pages).
Spurgeon - This is a most careful attempt to ascertain the meaning of the Apostle by a painstaking analysis of his words. The author is not warped by any system of theology, but yet he does not deviate from recognized evangelical truth. As a piece of honest grammatical exegesis the value of this commentary is very great, though there is room to differ from it here and there. (Lectures to my Students, Vol. 4: Commenting and Commentaries)
D Edmond Hiebert - Eadie, John, Commentary on the Epistle of Paul to the Galatians. (1869). - Greek text. A thorough, very helpful exposition for those knowing Greek, but due to its age lacks the insights of more recent investigation. Supports the North-Galatian theory; has an extended note on the identity of James, the Lord's brother (pp. 57-100). (An Introduction to the NT)
Click here for Devotionals Listed below
D Edmond Hiebert - Findlay, G. G., "The Epistle to the Galatians," The Expositor's Bible. Grand Rapids: Wm. B. Eerdmans Pub. Co., Vol. V (1943 reprint). An exhaustive exposition by a conservative scholar of the past century. Contains much relevant material in spite of its age.
His Side versus Our Side: Overview of Galatians Or, What is a True Christian? (1947)
If the Christian faith is true -- and it is, blessedly true -- the importance of a correct understanding of Christian truth and of the nature of the life produced by it cannot be over-emphasized. Human destiny is at stake. Yet the popular misconception of the Christian life, everywhere prevalent in Christendom, both inside the Church and out, and that in a day of boasted intelligence and learning, is nothing short of tragic. It is both baffling and alarming. Yet, in a sense, the fact that the essential character of Christian truth should be so far beyond popular comprehension is a tribute to our Faith. To our mind, as a result of wide observation, the most serious error of our day is the popular notion that the Christian life is a matter of CONDUCT. Do certain things; don't do certain things, and you are a Christian! This confining of Christian living to behaviour is altogether shallow, superficial, and above all else FUTILE. What is a Christian? The answer runs somewhat thus: A Christian is one who accepts CHRIST, especially as the teacher of a way of life; he adopts a set of habits, such as church attendance, Bible reading, prayer; he associates with other "Christian" people; he doesn't lie, steal, or get drunk; he is fair in his dealings with his fellowmen; he can be counted on to take a "Christian" attitude toward the questions of the day. A "Christian" is one who conforms to certain standards! And essential change in the PERSON, productive of such conduct, is ignored. This is GALATIANISM in its modern, most common form. It is this against which the Apostle Paul contended with passionate conviction that it was fatal to the Christian system of truth and experience.
THE DISTINGUISHING MARKS OF A TRUE CHRISTIAN
Turning to the Epistle to the Galatians we find the Apostle Paul defining and describing a Christian in such terms as these:
1 A Christian is one who has the living CHRIST living in him. (See Gal 2:20; 4:19). He has had a transforming experience.
2 A Christian is one who has the HOLY SPIRIT (Gal 4:6). He begets in the believer new characteristics that are productive of Christian conduct (Gal 5:22, 23).
3 A Christian is one who has shared the Cross experience with Christ, as the basic solution of his personal problems. (see Gal 2:20; 5:24; 6:14, 17).
4 A Christian is one possessed of a life so divine, so ideal that it cannot be pressed into a mould of external regulations (See Gal 4:9, 10, 11, 19, 20, 21; 5:1-6)
In other words, the Christian life consists not in BEHAVING but in BEING, a life out of which behaviour naturally proceeds; not something external, but internal, the root producing the fruit. It is a LIFE that must be free to express itself; to impose regulations upon it is fatal to it. Man in his natural state soon finds he is like the woody growth of the grape vine; running to wood, the real life is choked out. He has nothing but the external form, an empty shell of respectability...Paul is contending against a twofold error. (1) First, that our salvation is secured partly by faith in CHRIST and partly by good works prescribed by the law. (2) Second, that our perfecting in this life in CHRIST is a matter of self-effort on our part in obedience to the law. Thus Paul sees at stake the two essentials of the Christian faith, SALVATION and SANCTIFICATION, and sets about zealously to safeguard them for all time. The difficulty with the above errors is that they leave us impotently on Our Side, in struggle and failure. They are powerless to transfer us to the abounding resources of His Side. (Read all the introductory comments Galatians Introduction)
234 Pages
Below is JFB Unabridged Version
Spiritandtruth.org
James Rosscup writes that "Lightfoot is highly-regarded for his work on the Greek text, top notch exegesis verse by verse, special notes on key problems, giving of views and reasons, etc. He was rarely gifted, and his commentaries rich with assistance to pastors and students." (Commentaries for Biblical Expositors: An Annotated Bibliography of Selected Works)
D Edmond Hiebert - Lightfoot, J. B., Saint Paul's Epistle to the Galatians, A Revised Text with Introduction, Notes and Dissertations. (1865). A classic commentary on the Greek text of Galatians with valuable linguistic insights. Thoroughly grounded in classical Greek, some of Lightfoot's views need some modification in the light of recent Koine studies. Presents a strong defense of the North-Galatian view (Ed: In contrast many such as John MacArthur favor Paul was addressing the churchs in southern Galatia - See MacArthur's note under Background and Setting). Three important dissertations comprise a third of the volume.
Spurgeon- The Spectator says: "There is no commentator at once of sounder judgment, and more liberal, than Dr. Lightfoot."
James Rosscup writes that "Much of the heart-pulse of Luther's stand for justification by faith appears here, as he distinguishes between the rigors of keeping the law in a false bid to gain standing and the freedom God gives through grace, leading to a new life-style of fruit in grace." (Commentaries for Biblical Expositors: An Annotated Bibliography of Selected Works)
John Bunyan (Pilgrim's Progress) wrote "I prefer this book of Martin Luther's (except the Bible) before all the books that I have ever seen, as most fit for a wounded conscience."
C H Spurgeon wrote that "This is a great historic work, and is beyond criticism, on account of its great usefulness. As a comment its accuracy might be questioned; but for emphatic utterances and clear statements of the great doctrine of the Epistle it remains altogether by itself, and must be judged per se. (Spurgeon, C. H. Lectures to my Students, Vol. 4: Commenting and Commentaries; Lectures Addressed to the students of the Pastors' College, Metropolitan Tabernacle)
Functions much like a verse by verse commentary
Commentary - Brief Comments from "Through the Bible Day by Day" - more devotional
JOURNAL ARTICLES ON LINE - The fact that an article is listed does not signify I agree with the paper or the author's conclusion -- e.g., I strongly disagree with Cowan's conclusion on Galatians 6:16. Be very discerning and ask the Spirit to guide you into all truth and enable you to discern truth from error!
DAVID LARSEN
MICHAEL RYDELNIK - SLIDESHOW
Barrett, Charles Kingsley. Freedom and Obligation: A Study of the Epistle to the Galatians. Philadelphia: Westminster Press, 1985. Contains the Sanderson Lectures, Theological Hall, United Church of Australia, 1983. As is always the case with Barrett's works, this book bears the evidence of his lifelong devotion to the NT His writing is clear and succinct, and his treatment of the issues facing the Galatian church is revealing.
Brown, John. An Exposition of the Epistle of Paul the Apostle to the Galatians. Minneapolis: Klock & Klock Christian Publishers, 1981. A refreshing treatment of Paul's letter that has been called the Charter of Christian Liberty. By all means buy it.....First published in 1853. A thorough, comprehensive exposition. Explains Paul's concern for the converts in Galatia and desire to see them established in the faith. Notes at the end of the book clarify issues not treated extensively in the text. Recommended.
Bruce, Frederick Fyvie. The Epistle to the Galatians: A Commentary on the Greek Text. New International Greek Testament Commentary. Grand Rapids: Wm. B. Eerdmans Publishing Co., 1982. "Fulfills all we have come to expect of [this writer]. Those who are looking for a penetrating study of the Greek text will find this commentary a treasury of information" (Donald Guthrie).
Cole, Robert Alan. The Letter of Paul to the Galatians: An Introduction and Commentary. Tyndale New Testament Commentary. Revised ed. Grand Rapids: Wm. B. Eerdmans Publishing Co., 1989. Cole's first edition has served the Christian community well since 1965. This revision will benefit the next generation of Bible students. The handling of the text is exemplary. Cole is neither tedious nor does he blithely sidestep important issues. His exposition of the theme is also "made to order" and boldlychampions the cause of grace. Highly recommended.
Cosgrove, Charles H. The Cross and the Spirit: A Study in the Argument and Theology of Galatians. Macon, GA: Mercer University Press, 1988. Richard B. Hays has said, "Charles Cosgrove's densely textured exposition attends not only to matters of exegetical detail but also to the overall shape of Paul's argument in Galatians. The result is a new reading of the letter that will compel attention from anyone who wants to join in the increasingly complex debate about the contours of Pauline theology."
DeHaan, Martin Ralph. Studies in Galatians. Grand Rapids: Kregel Publications, 1995. Originally published in 1960. Exposes the shallowness of today's preaching of the gospel. Explains the difference between law and grace. Each message is replete with practical application. Recommended.
Cousar, Charles B. Galatians. Interpretation. Atlanta: John Knox Press, 1982. Of particular value to preachers, this section-by-section commentary is important for its exegetical insights. The hermeneutical approach and literary-historical details need to be read with caution.
DeWolf, Lotan Harold. Galatians: A Letter for Today. Grand Rapids: Wm. B. Eerdmans Publishing Co., 1971. The author's views on the inspiration and authority of the Scriptures are such that he regards the Bible as a "more or less accurate" human document. He does not deal with the historic setting that gave rise to the epistle and yet finds in its teaching the cure for many of America's contemporary ills.
Ebeling, Gerhard. The Truth of the Gospel: An Exposition of Galatians. Translated by D. Green. Philadelphia: Fortress Press, 1985. †This scholarly work is rich in insights and builds on the author's study of Luther's hermeneutic. It expands the Reformer's contribution, interpreting Paul's epistle in light of modern redaction criticism. Many of Eberling's unique thoughts have come as a result of years of arduous labor, and we are grateful for this lucid English translation.
Fung, Ronald Y. K. The Epistle to the Galatians. New International Commentary on the New Testament. Grand Rapids: Wm. B. Eerdmans Publishing Co., 1988. "This expert and lucid commentary . . . will be a very valuable resource to all students grappling with the interpretation of Galatians and with recent scholarly discussion of Paul and Pauline theology."--Gordon D. Fee.
Govett, Robert. Govett on Galatians. Miami Springs, Fla.: Conley Schoettle Publishing Co., 1981. First published in 1872. This work provides a verse-by-verse study of this important epistle. Insightful and enlightening. Recommended.
Gromacki, Robert Glenn. Stand Fast in Liberty: An Exposition of Galatians. Grand Rapids: Baker Book House, 1979. Grounded in the historical setting of the people to whom Paul wrote, this study describes in nontechnical language the meaning and message of this letter. Based on the text of the KJV
Guthrie, Donald. Galatians. New Century Bible Commentary. Grand Rapids: Wm. B. Eerdmans Publishing Co., 1981. Based on the RSV Following a fairly extensive introduction the writer settles down to provide his readers with brief comments on select words and/or phrases in the text. These remarks are of value for the philological and theological light they shed but do not provide the reader with a consecutive exposition of the apostle's thought.
Howard, George. Paul: Crisis in Galatia, a Study in Early Christian Theology. Cambridge: Cambridge University Press, 1979. Intertwines Paul's teaching of justification by faith with the universal blessings of the Abrahamic Covenant. Identifies Paul's opponents in Galatia as Jewish Christians from Jerusalem and offers some well-researched ideas regarding Paul's view of the Mosaic law and the liberty believers enjoy in Christ.
Kent, Homer Austin, Jr. The Freedom of God's Sons: Studies in Galatians. Grand Rapids: Baker Book House, 1976. A cogent treatment characterized by exegetical accuracy and an impeccable handling of the original text.
Luther, Martin. Commentary on Galatians. Edited by J. P Fallowes. Translated by E. Middleton. Grand Rapids: Kregel Publications, 1979. The reissue of a famous series of lectures delivered at Wittenberg University in 1553....The grand themes of the superiority of Scripture over human reason, the sufficiency of Christ's atonement, and freedom from the law are dealt with in clear, concise terms. Readable. Highly recommended.
MacArthur, John F., Jr. Galatians. The MacArthur New Testament Commentary. Chicago: Moody Press, 1987. A theologically precise exposition which adequately expounds the theme of this epistle. In it MacArthur advances some of his ideas that later became identified with the debate over "Lordship Salvation." Pastors will find this commentary to be of real value in explaining the text.
McDonald, Hugh Dermot. Freedom in Faith. Old Tappan, N.J.: Fleming H. Revell Co., 1974. A concise, doctrinally helpful commentary. Clear and to the point.
Morris, Leon Lamb. Galatians: Paul's Charter of Christian Freedom. Downers Grove, IL: InterVarsity Press, 1996. With his usual acumen Morris explains the theme of Galatians, deftly wending his way through the interpretative difficulties. He explores Paul's bold affirmations, and in applying the text to our generation ably bridges the gap between the 1st century and the closing years of this century. The bottom line of his explanation of Paul's emphasis on Christian freedom is a challenge to his readers to live life in light of the purity of the gospel. Recommended.
Olford, Stephen F. Not I, But Christ. Wheaton, IL: Crossway Books, 1995. "Olford has not only been my mentor as an expository preacher of the gospel, but also a very special friend to me as a pastor. The message 'not I but Christ' I know to be the message of his life and the truth that needs to be sounded in every pulpit in the world. Herein is the clearest explanation of this essential truth of the Christian life to be found anywhere. When you read it, anticipate a fresh new examination of every area of your walk with God."--Charles F. Stanley.
Phillips, John. Exploring Galatians: An Expository Commentary. Grand Rapids: Kregel, 2004. Based on the text of the KJV, this brief volume covers the theme of Paul's letter. Phillips holds to the "South Galatia" theory, and believes that the Galatians were evangelized on Paul's first missionary journey. Throughout his exposition he gives evidence of being well-read and aware of the issues. Though at times loquacious, this is a reliable book and lay people will profit from reading it.
Ramsay, William Mitchell. A Historical Commentary on St. Paul's Epistle to the Galatians. Minneapolis: Klock & Klock Christian Publishers, 1978. One of the great commentaries on this portion of Scripture. Deserving of a place in every expository preacher's library.
Vos, Howard E Galatians: A Call to Christian Liberty. Everyman's Bible Commentary. Chicago: Moody Press, 1971. Emphasizing the need for biblical "freedom," the writer expounds Paul's teaching in an understandable manner.
Witherington, Ben, III. Grace in Galatia: A Commentary on St. Paul's Letters to the Galatians. Grand Rapids: Eerdmans, 1998. A scholarly well-documented work that focuses on Paul's thought and explains the sociological and theological background of Paul's letter. Richard N. Longenecker calls this "a work characterized by clarity of vision regarding the critical, historical, and theological issues involved … and by crispness and vividness of language in setting out the message of Galatians in contemporary form. This commentary will undoubtedly have a long and useful life…."
A Commentary on St Paul's Epistle to the Galatians-not that helpful
The commentary is sympathetic, intelligent, and stimulating.—Biblical World
A contribution of more than usual worth to the interpretation of the Epistle. It is independent and discriminating, fair and without bias, careful and cogent in its reasoning.—Critical Review of Theological and Philosophical Literature
In a study of the questions involved, this book must be read.—Expository Times
The commentary is sympathetic, intelligent, and stimulating.—Biblical World
Link opens to 34 multiple commentary notes on that verse - to advance click next verse - quick way to see comments on a single verse.
Note: Each link below opens to a page with multiple sermon links to individual verses (taken from Biblical Illustrator but divided by chapter and verse - click chap/verse to go to next listing) - Interesting concept.
GEOFFREY BINGHAM
Rosscup - This is one of the most detailed critical works available and is very helpful in the Greek text, though liberal. Many regard it as the best technical commentary on the book, others say Betz.
D Edmond Hiebert - Williams, A. Lukyn, "The Epistle of Paul the Apostle to the Galatians." Cambridge Greek Testament for Schools and Colleges. Cambridge: University Press (1910). A scholarly, independent elucidation of the Greek text.
Galatians Commentary (1863) - Well written with comments incorporating the actual text. A list of practical points follows each chapter.
Written in a singularly clear and easy style, while at the same time marked by sound scholarship and a fine appreciation of the Apostle's spirit, it is admirably adapted to the 'beginners' for whom it is primarily intended, and by no means undeserving of the notice of the more advanced student.—The Academy and Literature
Professor Drummond's words are refreshing.—The New World
The explanations and illustrations are clear, brief, and always to the point.—Critical Review
The Principal of Manchester College does well whatever he undertakes.—Expository Times
NOEL DUE
WILLIAM J DUMBRELL
A Commentary of independence and ripe scholarship. . . . the argument in favor of an early date for the Epistle, a date preceding the Apostolic Council of Acts xv, is given in fullness and with astonishing force of conviction. For that great argument alone the book is worth buying.—Expository Times
A "Shorter Commentary on Galatians" - verse by verse - 193 pages - Garlington wrote the Galatians commentary portion for the respected multi-authored commentary, the Expositor's Bible Commentary (EBC) edited by Gaebelein - this "shorter commentary" is actually longer than his EBC work, and actually represents a "summary" of his 440 page commentary
In-depth, verse-by-verse commentary focuses on the Greek text giving English translation and then notes and explanation.
When men like Mr. Gibbon arise, making so hard a book as the Epistle to the Galatians applicable to life of today, making it ours as if it had been written for us, how can we sufficiently thank them?—Expository Times
A helpful translation, with good textual notes.— Spurgeon
Conscientious labor and long pondering are very evident throughout the entire work. The notes and the apothegmatic statements of doctrinal truth are charged with significance, and are models of lucid condensation.—British Quarterly Review
Thorough scholarship, clear theological views, well chosen words, and the most careful editing.—The Treasury: An Evangelical Monthly for Pastor and People
The brief commentary is exceedingly good. The leading points are seized and expounded with great felicity.—Aberdeen Free Press
Concise and easily readable, classic commentary that has stood the test of time.
The exposition given is lucid, evangelical, and judicious, while the spirit in which the hortatory portions are written may be gathered from the following sentence: 'Let us judge this matter soberly and wisely, and with an especial reference to ourselves, remembering that human failure of any kind is but our own portrait in another light.'—The Christian
Pridham is, we suppose, of the moderate Brethren school, but he is not carried away by any theory, being essentially a man of sober mind.—Spurgeon
Rosscup - "Here is a helpful commentary on the historical background of this epistle. Ramsay has been called an outstanding authority on the background of Paul's travels."

D Edmond Hiebert - Ramsay, William M., A Historical Commentary on St. Paul's Epistle to the Galatians. (1899). Grand Rapids: Baker Book House (1965). The major emphasis is on the background for the epistle. The author used his vast knowledge of the historical and archaeological backgrounds of Asia Minor to support his strong defense of the South-Galatian view. Identifies Galatians 2 with Acts 11 and thinks that Paul's thorn in the flesh was malaria.
Concise, verse-by-verse commentary plus short essays about special topics, including Paul's conversion, relation of Paul to circumcision, controversy of Paul and Peter at Antioch, doctrine of justification by faith, etc
Galatians 1:3-9 The Gospel Of Christ
Galatians 2:16-21 The Life I Now Live
Galatians 2:20 Christ In Me
Galatians 3:6-14 Law Grace Faith
Galatians 4:4-7 The Purpose Of The Incarnation
Galatians 6:7-9 Sowing And Reaping
Each chapter is in the first place analyzed and paraphrased, and then commented upon verse by verse, with constant reference to the original Greek, and with sufficient introduction of Greek words to serve as a help to those who only have a moderate acquaintance with the language. The paraphrases are excellent, and are in themselves valuable commentaries upon the separate chapters.—Bibliotheca Sacra

Introduction to Galatians - Galatia was not a city, like Rome or Corinth, but rather a Roman province containing many cities and numerous churches. At least some of these churches, such as those in Iconium, Lystra and Derbe, had been founded by Paul on his first missionary journey (note Acts 14:1-13, along with Galatians 3:1-5). This was prior to the calling of the Jerusalem Council, where Paul and Barnabas argued against the teachings of the Judaizing Christians, who were claiming that Gentile Christians had to be circumcised and obey the Mosaic laws in order to be saved or else to become sanctified Christians after being saved through faith. The Council, however, settled this question once and for all, in favor of Paul's doctrine of salvation by grace through faith, completely apart from these works of the law. This decision was fully supported by the Apostles Peter and James (see Acts 15:1-29).
However, the "churches of Galatia," to whom Paul addressed this epistle (Galatians 1:2), were being confused and led astray by either the same or similar Judaizers with similar arguments. Since it seems unlikely that this could have happened after the Jerusalem Council, many New Testament scholars believe that Galatians must have been written prior to the Council; otherwise it would seem that Paul would have referred to it in his Galatian letter.
On the other hand, others believe that Galatians was written after the Council. They argue that the Judaizers at Antioch were contending that believers were not saved until they were circumcised. Those in Galatia, however, were simply claiming that circumcision and the law were essential, not for salvation, but for Christian maturity and sanctification. Both groups believe that Paul was writing to the churches in southern Galatia, those founded by Paul in Antioch, Iconium, Lystra and Derbe on his first missionary journey.
There is a minority group of scholars, however, who believe that Galatians was written to churches in northern Galatia, even though none of these are mentioned by name in the New Testament. Galatia, in fact, was named after the Gauls who inhabited north central Asia Minor at the time, and who thus were the true ethnic Galatians. The southern portion of the Roman province was not originally part of Galatia, and was inhabited more by Greeks and Romans than by descendants of the Gauls.
Whichever theory is correct really is irrelevant as far as the message of the book is concerned. The great theme of Galatians is that of justification by faith without the works of the law. Furthermore, we are not only saved by grace but kept by grace—not by works. Galatians extols Christian liberty—freedom in Christ. Liberty is not libertinism, of course; "use not liberty for an occasion to the flesh," Paul wrote, "but by love serve one another" (Galatians 5:13).
Legalism in any form—whether circumcision or ritualism or anything else—will neither save a sinner nor perfect a saint. The Christian life is not controlled by commandments but by the Holy Spirit. "Walk in the Spirit" (Galatians 5:16). That is the message of Galatians for the Christian believer.
DAVID HOCKING - series of sermons
NET Study Bible- Excellent resource, includes NETBible notes and Thomas Constable's notes that synchronize with the Scriptures.
DON ANDERSON
A volume of able, sensible, and thoughtful discourses, sound in doctrine and practical in aim.—The Christian
Discourses worthy of the successor of Spencer and Raffles." — Spurgeon
The sermons are sensible and cogent. They aim at usefulness, and they are admirably adapted to achieve it.—British Quarterly Review
These discourses are thoughtful, devout, earnest. Happy is the congregation which listens to such a preacher.—The Evangelical Magazine and Missionary Chronicle
RESOURCES BY CHAPTER - duplicates links on this chapter but adds links from entire page
J VERNON MCGEE
ADRIAN ROGERS
STEVE ANDREWS
CHRIS BENFIELD
BETHANY BIBLE
CHRIS BENFIELD
RICK WARREN
PHILIP GRAHAM RYKEN
JAMES HASTINGS (Note: These are in depth!)
OSWALD CHAMBERS
ANDREW BONAR
MULTIPLE RESOURCES BY CHAPTER
GREG BREAZEALE
DANNY HALL
RONALD Y K FUNG
ROBERT STEIN
J C PHILPOT
J C RYLE
WILLIAM BARRICK
WIL POUNDS
ROBERT MORGAN
ROBERT MURRAY MCCHEYNE
ALAN CARR
BETHANY BIBLE
MARK ADAMS
ADRIAN ROGERS
JOHN V DAHMS
ADAM MCCLENDON
JAMES HASTINGS (Note: These are in depth!)
E W BULLINGER
OSWALD CHAMBERS
RICK WARREN
JOHN OWEN
CHRIS BENFIELD
OCTAVIUS WINSLOW
J B STONEY
C.R. BIGGS
MULTIPLE RESOURCES BY CHAPTER - duplicates links on this chapter but adds links from entire page
T. AUSTIN-SPARKS
ADRIAN ROGERS
MIKE LEAKE
ANDREW MURRAY
MOISES SILVA
THOMAS R SCHREINER
JOHN FLAVEL
BRIAN BILL
BETHANY BIBLE
WARREN WIERSBE
WIL POUNDS
RBC
S LEWIS JOHNSON
JOHN FRAME
ALAN REDPATH
J R MILLER
RAY STEDMAN
GREG FINE
ALAN CARR
MARK ADAMS
JAMES HASTINGS (Note: These are in depth!)
WIL POUNDS
ROBERT MURRAY MCCHEYNE
C H SPURGEON
JOSEPH STOWELL
CHARLES KINGSLEY
J C RYLE
WARREN WIERSBE
J C RYLE
DAN FORTNER
OSWALD CHAMBERS
C.R. BIGGS
MULTIPLE RESOURCES BY CHAPTER - duplicates links on this chapter but adds links from entire page
OSWALD CHAMBERS
WIL POUNDS
JAMES HASTINGS (Note: These are in depth!)
T AUSTIN-SPARKS
MIKE LEAKE
BRUCE GOETTSCHE
RAY STEDMAN
WALTER B. RUSSELL III
J. G. BELLET
D L MOODY
PRECEPTAUSTIN.ORG
WIL POUNDS
KENNETH WUEST
BETHANY BIBLE
BRIAN BILL
J C PHILPOT
PHIL NEWTON
ALAN CARR
NORMAN BARTLETT
JAMES HASTINGS (Note: These are in depth!)
RENE LOPEZ
ANDREW MURRAY
CHRIS BENFIELD
RICK RENNER
WILLIAM MACDONALD
STEVEN COLE
BETHANY BIBLE - Greg Allen
OSWALD CHAMBERS
MULTIPLE RESOURCES BY CHAPTER
JOHN CALVIN
ADRIAN ROGERS
ALAN CARR
BRIAN BILL
J VERNON MCGEE
DON GARLINGTON
JAMES HASTINGS (Note: These are in depth!)
RICK RENNER
DAVID B CURTIS
C H MACKINTOSH
CHRIS BENFIELD
HORATIUS BONAR
DAVID HARSHA
PHILLIP DODDRIDGE
OCTAVIUS WINSLOW
OSWALD CHAMBERS
J C RYLE
BETHANY BIBLE
PRECEPTAUSTIN - Bruce Hurt
ARNOLD G. FRUCHTENBAUM
ANDY WOODS
NETBible notes are in the right panel. You can also select the tab for "Constable's Notes." As you scroll the Bible text in the left panel, the notes are synchronized and will scroll to the same passage. Also has a nice parallel Bible feature (see Tab = "Parallel"). Select a different Bible translation (see Tab = "Bible"). Open Greek/Hebrew tab. Mouse over shows corresponding English word and has short definition at bottom of right panel.
Click for more Galatians Devotionals Updated April, 2014
From a Baptist perspective
Recommended
Emphasis on Greek Word Study
Numerous illustrations
NOTE: If you are not familiar with the great saint Charles Simeon see Dr John Piper's discussion of Simeon's life - you will want to read Simeon's sermons after meeting him! - click Brothers We Must Not Mind a Little Suffering (Mp3 even better)
All of Spurgeon's Sermons on Galatians
Another Source
Note: These links are from the old study notes (new not yet available Nov, 2018)...
Galatians 1
Galatians 2
Galatians 3
Galatians 4
Galatians 5
Galatians 6
Verse by Verse Exposition on Galatians
Note: The best commentary on Scripture is Scripture (Compare Scripture with Scripture) and these cross references compiled by Torrey are the most comprehensive work of this type with over 500,000 entries. However, always check the context (Keep Context King) to make sure that the cross reference is referring to the same subject as the original Scripture. The Puritan writer Thomas Watson said it this way - "The Scripture is to be its own interpreter or rather the Spirit speaking in it; nothing can cut the diamond but the diamond; nothing can interpret Scripture but Scripture." See an example of the value of comparing Scripture with Scripture. See also Use of Cross-References
Disclaimer (Acts 17:11-note): Utley interprets Gal 6:16 as Israel = Church (I strongly disagree!)
See Related Topic = Israel of God - Is God "Finished" with Israel in His prophetic plan?
Emphasis on Greek Word Study
Excellent Resource - Includes Many Greek Word Studies.
D Edmond Hiebert - Wuest, Kenneth S., Galatians in the Greek New Testament for the English Reader. Grand Rapids: Wm. B. Eerdmans Pub. Co. (1944). A simplified commentary on the original text carried over into English for the student who does not know Greek; presents an expanded translation and exegetical comments and word studies.
Note: The Text & Audio links are on the top right margin when you open the following pages
Book