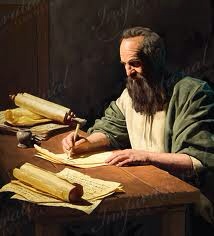 EPHESIANS - CHRIST AND THE CHURCH
Click chart to enlarge
Charts from Jensen's Survey of the NT - used by permission
The Epistle to the Ephesians...is one of the divinest compositions of man. It embraces every doctrine of Christianity;--first, those doctrines peculiar to Christianity, and then those precepts common to it with natural religion. -- Samuel T. Coleridge
The Epistle to the Ephesians embraces, in its brevity, the whole field of the Christian religion. It expounds now its doctrines, now its morals, with such conciseness and such fulness combined that it would be difficult to name any great doctrine, or any essential duty, which has not its place marked in this Epistle. -- Adolphe Monod
SYMMETRY
OF EPHESIANS
EPHESIANS 1-3
EPHESIANS 4-6
The Root
The Fruit
Spiritual Wealth
Spiritual Walk
Christian Privilege
Christian Conduct
The Position
of the Believer
The Practice
of the Believer
God Sees
Us in Christ
World Sees
Christ in Us
Privilege
Practice
Doctrine
Duty
Doctrinal
Practical
Revelation
Responsibility
Christian
Blessings
Christian
Behavior
Belief
Behavior
Privileges
of the Believer
Responsibilities
of the Believer
Our Heritage
In Christ
Our Life
In Christ
Know your
Resources (Riches) in Christ
Live by faith in the light of your
Resources (Riches) in Christ
The Finished Work
of Christ
The Faithful Walk
of the Christian
Work
of Christ
In Us
Work
of Christ
Through Us
We
in Christ
Christ
in Us
Word
of God
Walk
of the Christian
Heavenly
Standing
Earthly
Walk
Who You Are
In Christ
Whose You Are
In Christ
Identity
Responsibility
Position
of the Believer
Practice
of the Believer
Theology
Ethics
Ephesians Introduction - John MacArthur
Ephesians Introduction- James Van Dine
Ephesians Introduction - J Vernon McGee
Ephesians Introduction - Myer Pearlman
Keys to Ephesians - William Orr
Synthetic Bible Study on Ephesians - James M Gray (1906)
The Epistle to the Ephesians- Charles Smith Lewis in the International Standard Bible Encyclopedia
Theology of Ephesians - John McRay in Baker's Evangelical Dictionary of Biblical Theology
Ephesians: The Calling of the Saints - Overview by Ray Stedman
Ephesians Study Guide - by Chuck Smith
Ephesians - Lesson 1 from Precept - Goto p23-worksheet double spaced for observation & marking key words
Key Words: "In Christ" ("In Him"), church, power, riches, glory , walk, grace, Spirit, mystery.
See discussion of key words, a vital component of inductive Bible study.
Interesting Analysis of Ephesians 1:3-14 "In Him", etc - Irving Jensen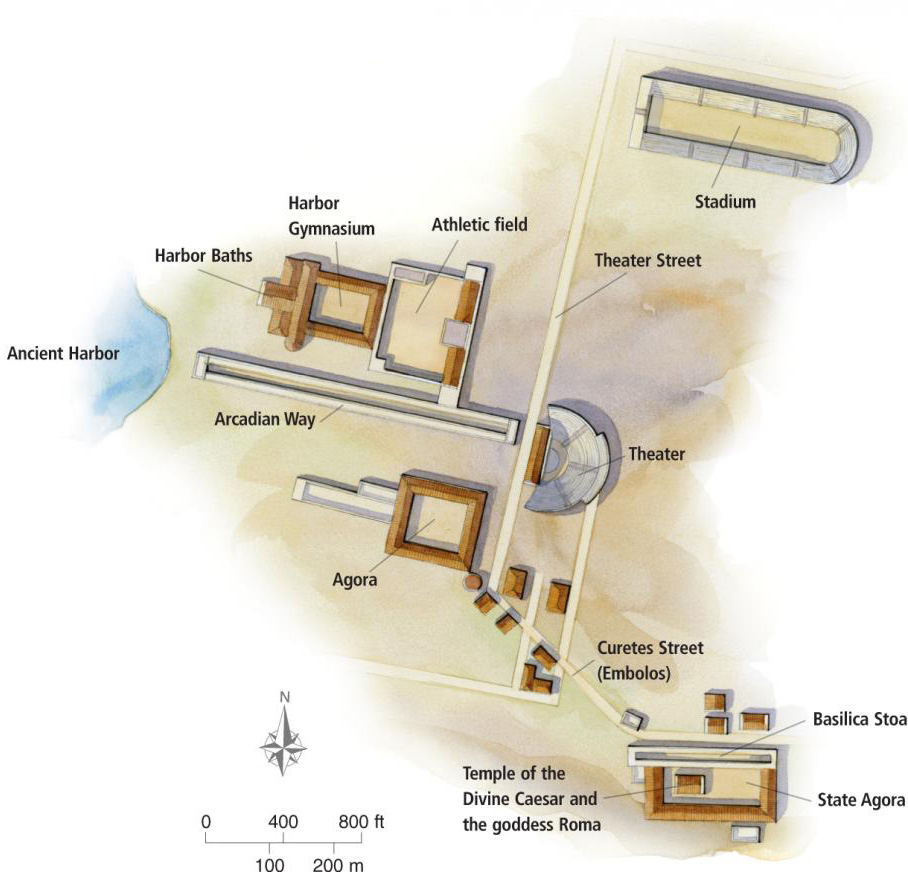 Ephesus in the Time of Paul (c. A.D. 60)
The city plan below shows those features of the city of Ephesus that archaeologists have so far identified as dating from the time of Paul. Many of the notable buildings uncovered in the excavation at Ephesus date from later periods. (ESV.org) (Ephesus-Wikipedia)
Ephesians 1
Ephesians 2
Ephesians 3
Ephesians 4
Ephesians 5
Ephesians 6
James Rosscup writes that Alford's series on the New Testament "contains much that is valuable in the Greek New Testament...though all of the Greek New Testament words have been changed to English throughout." (Commentaries for Biblical Expositors: An Annotated Bibliography of Selected Works)
Charles Haddon Spurgeon (see his comments in following entry on Alford).
John Cereghin - Concise comments. Defends Pauline authorship (6), stresses importance of the term "blood" rather than merely "death" (74), defends reality of the devil and evil spirits (89), stresses the unity of the mystical body of Christ (112), maintains the doctrine of the Trinity (114), seems to favor Hades as meaning "the lower parts of the earth" (116), stresses the Lord as the pattern for the use of the sword of the Spirit. (148)
Editorial Note: If you are not proficient in Greek, you will find this work considerably more useful than the following work by Alford, because in this volume he translates the Greek and Latin into English. While the "The Greek New Testament" is longer (e.g., English version of 1John = 66 pages compared to Greek version = 94 pages in part because the latter includes comments of more technical nature), the substance of the commentary is otherwise similar to that found in the "NT for English Readers".
James Rosscup writes that "This was the great work in the life of the versatile Dean of Canterbury. An outcome of this production was the New Testament for English Readers (4 vols.). Alford was a Calvinist, conservative and premillennial, though not dispensational. He takes a literal interpretation of the thousand years in Rev. 20 and has a famous quote there, is strong on sovereign election as in Ro 8:29, 30 and 1Pe 1:2, but, unfortunately, holds to baptismal regeneration in such texts as Titus 3:5 and John 3:5. He shows a great knowledge of the Greek text and faces problems of both a doctrinal and textual nature." (Commentaries for Biblical Expositors: An Annotated Bibliography of Selected Works)
John Piper writes ""When I'm stumped with a...grammatical or syntactical or logical [question] in Paul, I go to Henry Alford. Henry Alford...comes closer more consistently than any other human commentator to asking my kinds of questions."
Charles Haddon Spurgeon writes that this text "is an invaluable aid to the critical study of the text of the New Testament. You will find in it the ripened results of a matured scholarship, the harvesting of a judgment, generally highly impartial, always worthy of respect, which has gleaned from the most important fields of Biblical research, both modern and ancient, at home and abroad. You will not look here for any spirituality of thought or tenderness of feeling; you will find the learned Dean does not forget to do full justice to his own views, and is quite able to express himself vigorously against his opponents; but for what it professes to be, it is an exceedingly able and successful work. The later issues are by far the most desirable, as the author has considerably revised the work in the fourth edition. What I have said of his Greek Testament applies equally to Alford's New Testament for English Readers,* which is also a standard work." Lectures to my Students, Vol. 4: Commenting and Commentaries)
Dr. Barber has graciously granted permission to make this In depth (>400 pages) study available to the body of Christ.
Note: Barclay often has excellent background on Greek words, however he is not always orthodox. (See critique)
James Rosscup writes that Barnes "includes 16 volumes on the Old Testament, 11 on the New Testament. The New Testament part of this old work was first published in 1832–1851. Various authors contributed. It is evangelical and amillennial...Often the explanations of verses are very worthwhile." (Ibid)
C H Spurgeon "Albert Barnes is a learned and able divine, but his productions are unequal in value, the gospels are of comparatively little worth, but his other comments are extremely useful for Sunday-school teachers and persons with a narrow range of reading, endowed with enough good sense to discriminate between good and evil....Placed by the side of the great masters, Barnes is a lesser light, but taking his work for what it is and professes to be, no minister can afford to be without it, and this is no small praise for works which were only intended for Sunday-school teachers." (Ibid)
James Rosscup writes "This work (Gnomon), originally issued in 1742, has considerable comment on the Greek, flavoring the effort with judicious details about the spiritual life. It has much that helps, but has been surpassed by many other commentaries since its day." (Ibid)
C H Spurgeon -- "'A Critical New Testament, so compiled as to enable a reader, unacquainted with Greek, to ascertain the exact English force and meaning of the language of the New Testament, and to appreciate the latest results of modern criticism.' Such is the professed aim of this commentary, and the compilers have very fairly carried out their intentions. The whole of Bengel's Gnomon is bodily transferred into the work, and as one hundred and twenty years have elapsed since the first issue of that book, it may be supposed that much has since been added to the wealth of Scripture exposition; the substance of this has been incorporated in brackets, so as to bring it down to the present advanced state of knowledge. We strongly advise the purchase of this book, as it is multum in parvo, and will well repay an attentive perusal. Tischendorf and Alford have contributed largely, with other German and English critics, to make this one of the most lucid and concise commentaries on the text and teachings of the New Testament" (Ibid)
Murray's notes on the Greek text are indispensible for reading Ephesians in its original language. His introduction to the tenth book of the New Testament covers its content and form, its relationship to Colossians, the time and place of its writing, and its intended audience. Murray provides a history of all of Paul's Epistles and then focuses on the internal evidence in Ephesians to show Paul's authorship. J. O. F. Murray was a prolific author and Dean of Emmanuel College, Cambridge. - Logos
John Cereghin - Brief exposition. He speaks of the divine purpose being changed from the limitations of Judaism to the worldwide proclamation (13), suggests that Ephesians may be the letter to the Laodiceans (14), stresses sovereign and final election (36), teaches that those who die in infancy are redeemed by God's grace (68), explains the universal church (92), attacks the idea of an Old Testament church (100), denies that God's purposes for Israel and the church ever unite (154), includes a topical index of doctrines (168-171). Pre-millennial and dispensational.
Also posted at another site
Recommended - Functions Much Like a Verse by Verse Commentary
HINT: Click here to Scroll Bible text synchronized with Constable's notes. Very useful feature!
Famous Baptist Pastor
John Cereghin - Attacks Calvinistic election (29), warns against thinking of God as a power rather than a Person (59), attacks Universalism (92), stresses the incarnation, atonement and resurrection of Christ (147), refers to the Adam of the symbolic story of Genesis (192), will admit errors in Scripture (216), stresses the unity of the church (260-293), defends Christ's deity (320)
Note: In addition to verse comments most of the commentaries below are followed by short topical studies - e.g., the first topical study after the Ephesians 1:1-6 comments is "Paul the Apostle."
In Depth 485 Page Commentary which is well done but is a bit technical. One can occasionally discover some "Pearls"
James Rosscup - Eadie though outdated is good on the Greek text, often deals with problems quite extensively, and has a warm devotional spirit. (Commentaries for Biblical Expositors: An Annotated Bibliography of Selected Works)
C H Spurgeon - "This book is one of prodigious learning and research. The author seems to have read all, in every language, that has been written upon the Epistle. It is also a work of independent criticism, and casts much new light upon many passages."
This set, originally published in 1903, contains expositions by both conservative and liberal theologians. The most important works are by Dod (Genesis), Chadwick (Exodus and Mark), Kellogg (Leviticus), Blaikie (Joshua, I and II Samuel), Adeney (Ezra, Nehemiah and Esther), Maclaren (Psalms), Moule (Romans), Findlay (Galatians and Ephesians), Plummer (Pastoral Epistles and the Epistles of James and Jude), and Milligan (Revelation.) —Cyril J. Barber, The Minister's Library
Brief but Well Done
John Cereghin - A basic commentary, probably largely transcribed from Greene's "The Gospel Hour" radio broadcasts. Orthodox and reliable.
John Cereghin: An exhaustive Puritan exposition of Ephesians 6:10-20. He has fervent messages on such topics as "Reproof to Such as Are Not True Wrestlers", "Threefold Boundary of Satan's Empire", "The Necessity of Perseverance", "Directions on How to Obtain the Shield of Faith", "How to Use the Word Against Heretics", "Reproof to Prayerless Souls".
Scottish Presbyterian minister James Hastings compiled The Great Texts of the Bible in the early twentieth century. Hastings provides helpful and personal observations on Scripture texts throughout the entire Bible, resulting in over nine thousand pages of material. He presents word meanings, expositions, poetry and quotations from many authors and thinkers, as well as a list of references and literature used for each text. Each section is outlined into major topics and points, offering readable commentary. The Great Texts of the Bible is perfect for anyone wanting expository notes on key passages of Scripture. Hastings's work is encouraging, clear, and well-researched. (Adapted from Logos.com)
C H Spurgeon "Most valuable. With no writer do we more fully agree." (Ibid)
The exegesis based so solidly on the rock foundation of philology is argumentatively and convincingly strong. A spiritual and evangelical tenor pervades the interpretation from first to last. . . . These elements, together with the author's full-orbed vision of the truth, with his discriminative judgment and his felicity of expression, make this the peer of any commentary on these important letters.—The Standard
An exceedingly careful and painstaking piece of work. The introductory discussions of questions bearing on the authenticity and integrity (of the epistles) are clear and candid, and the exposition of the text displays a fine scholarship and insight.—Northwestern Christian Advocate
"One of Ironsides best studies" (John Cereghin)
James Rosscup on Dr Lloyd-Jones' book based on these sermons - These are sermons by the reputed evangelical preacher of London's Westminster Chapel, who died in 1981. They are very choice popular material, competent, perceptive, highly edifying and provocative on key points of faith, as well as helpful in planning sermons or Bible studies. Lloyd-Jones stood staunchly for fundamentals of the Christian faith, and also knew how to help people see the relation of verses to practical living. His volumes cover chapters 1, 2, 3, Ephesians 4:1–16, 4:17–5:17, 5:18–6:9, 6:10–13, 6:10–20 (this volume goes back and covers Ephesians 6:10–13 again but the sermons are new). There are many rich, helpful comments on the husband-wife relationship in Ephesians 5:21–33. The volume on 6:10–20 is quite instructive on being a good soldier and warring a good warfare. (Ibid)
James Rosscup (on his written commentary but his sermons are very similar) - The expository focus in the 29 sections is on laying hold of resources in Christ. MacArthur is at his best when explaining details of spiritual life, as he richly does here. Salvation is of grace, without merit of any kind (pp. 11, 23, 61–62). Redemption is seen more clearly in its aspects in Eph 1:7. Comments on the Christian life (Ephesians 3:14–21; chapters 4–6) are instructive and refreshing. The author makes word meanings clear, as "worthy" (axios in Eph 4:1), prefers seeing "one baptism" as water baptism, has a good section on gifts and gifted people (Eph 4:7–11) and on each believer functioning in his or her role (Eph 4:12–16). He points out seven questions to ask in principle in deciding whether to drink wine (pp. 237–44). He develops the Spirit-filled life in much detail (Eph 5:18–21), as in a husband's love for his wife and her submission to him (Eph 5:21ff.). The section on the armor and prayer are edifying too. It is a lucid exposition, quite full at many points on essential matters, often helpful on problems, though not in great detail. (Ibid)
Study Guide on the Fulfilled Family - Click the Drop Down Menu to go to Specific Title
God's Curse on Men & Women
Another Commentary (distinct from above)
Consummate scholarship and something like exegetical genius unite in Dr. Meyer in a degree to which it would be difficult to find a parallel.—The British Quarterly Review

Meyer's Handbook is for scholars, and to them it is invaluable, especially for its strictness of method, its exegetical acumen, and its wealth of reference and citation.—The United Presbyterian Magazine

As an Exegete, he is simply unrivalled.—The Baptist Magazine

The ablest grammatical exegete of the age.—Philip Schaff

In accuracy of scholarship and freedom from prejudice, he is equaled by few.—Literary Churchman

We have only to repeat that it remains, of its own kind, the very best Commentary of the New Testament which we possess.—Church Bells

No Exegetical work is on the whole more valuable, or stands higher in public esteem. As a critic he is candid and cautious, exact to minuteness in philology, a master of the grammatical and historical method of interpretation.—Princeton Review

The commentaries on the Epistles are marvels of patient, laborious research, and often times of most penetrating insight. If we were restricted to one commentary we should certainly choose Meyer.—The Evangelical Magazine and Missionary Chronicle
JOHN BUNYAN
DAVID HOCKING - series of sermons
A E KNOCH - conservative, literal, discussions vary from 4 pages to more than 20 pages depending on length of the book.
RAYMOND SAXE
DAVID THOMPSON - SERMONS
THOMAS WATSON
THOMAS MANTON
1889 work but verse by verse comments are useful. Check it out especially if you are unfamiliar with Moule's devotional style.
"H. C. G. Moule's commentary on Ephesians provides a unique look at this letter from Paul to the Church at Ephesus. Noting parallels between Ephesians and Colossians, this volume also discusses the authenticity of this epistle and the historical background of the Ephesians. The commentary contained in this resource elucidates the truths contained in Ephesians, in concise yet astute exegesis." -Logos
There are no better books in exposition of the different parts of Scripture than those contained in the Cambridge Bible for Schools and Colleges. The series has long since established its claim to an honorable place in the front rank of first-rate commentaries; and the teacher or preacher who masters its volumes will be, like Apollos, mighty in the Scriptures.—Church Sunday School Magazine
John Cereghin - "Warmly devotional""
Note - Published 1900 - 340 page work distinct from Moule's study in Cambridge Bible for Schools and Colleges. I Cannot Link Directly to the Chapters Below. First click "Front Cover " and select nearest entry, then scroll to page. Sorry!
NETBible notes are in the right panel. You can also select the tab for "Constable's Notes." As you scroll the Bible text in the left panel, the notes are synchronized and will scroll to the same passage. This is a very helpful feature.
| | | | |
| --- | --- | --- | --- |
| Righteousness Vs. Revengefulness | Ephesians 1:31-32 | Revenge | Donnie L. Martin |
| The Eyes of the Heart | Ephesians 1 | Graduation; Baccalaureate; Faithfulness; Heart, The | J. Mike Minnix |
| Count Your Blessings | Ephesians 1:1-14 | Gratitude; Blessings; Thanksgiving | Mark Adams |
| A Prayer For All Seasons | Ephesians 1:15-23 | Prayer | Mark Adams |
| A Letter of Thanksgiving | Ephesians 1:3 | Thanksgiving; Gratitude | Tom Hayes |
| The Dead Walking and the Living Dead | Ephesians 2 | Death and Life; Life in Christ; Christ, Life in; Halloween; New Life | J. Mike Minnix |
| Eternal Perspective that Leads to Abundant Service | Ephesians 2:10 | Eternity; Service, Faithful; Christian Living; Life, View of | Johnny Hunt |
| Eternal Perspective that Leads to Abundant Service - 2 | Ephesians 2:10 | Service, Adundant; Perspective in Christian Living | Johnny Hunt |
| From Death To Life | Ephesians 2:1-10 | Life; Eternal Life | Mark Adams |
| God The Builder | Ephesians 2:11-22 | Church; Building of God, The Christian a | Mark Adams |
| Looking Before and After: The Testimony and the Christian Life | Ephesians 2:1-22 | Testimony; Christian Living | Franklin L. Kirksey |
| Jesus Christ - The Chief Cornerstone | Ephesians 2:20 | Jesus, Chief Cornerstone | Franklin L. Kirksey |
| Two Words That Changed Everything | Ephesians 2:4 | God, Intervention of | Sammy Burgess |
| Can the Resurrection of Christ Affect and Change You? | Ephesians 2:4-5 | Resurrection; Easter; Change, Christ Causing | Johnny Hunt |
| Counter-Culture Christianity | Ephesians 2:8-10 | Salvation; Postmodernism; Truth | O.S. Hawkins |
| Understanding Real Saving Faith | Ephesians 2:8-10 | Saving Faith; Faith, Saving | Jack Woodard |
| What God Gave Us At Christmas: The Gospel | Ephesians 2:8-13 | Christmas; Gospel; Birth of Christ; Salvation | Johnny Hunt |
| Salvation 101 | Ephesians 2:8-9 | Salvation; Christianity, Basic | Terry Trivette |
| From Pit to Praise | Ephesians 3 | Victory; Praise; Joy; Strength; Christian Living | J. Mike Minnix |
| Exceeding Your Wildest Dreams | Ephesians 3:14-19 | God, Love of; Jesus, Greatness of Love in; Love of God | J. Robert White |
| A Working Man's Prayer | Ephesians 3:14-21 | Prayer | Mark Adams |
| New Year Needs | Ephesians 4:10-13 | New Year Needs | Donnie L. Martin |
| Building the Body of Christ - Construction of His Church | Ephesians 4:11-16 | Church, Building of; Christ, Body of | Johnny Hunt |
| How To Know If You Are Growing | Ephesians 4:11-16 | Growth, Christian; Development, Christian; Christian Living | Mark Adams |
| Building the Body of Christ | Ephesians 4:11-16 | Church; Body of Christ; Leadership | Johnny Hunt |
| Are There Any Corrections, Deletions, or Additions? | Ephesians 4:17-24 | Renewal; Revival | Franklin L. Kirksey |
| Extreme Makeover | Ephesians 4:17-32 | Discipleship; Change; Progress | Mark Adams |
| Marriage - Prescription For A Powerful Partnership | Ephesians 4:26-32 | Marriage; Love; Family; Home | J. Gerald Harris |
| Giving Place To The Devil | Ephesians 4:27 | Devil | Alan Stewart |
| Turning Bitterness into Blessings | Ephesians 4:30-32 | Bitterness; Anger; Revenge | J. Mike Minnix |
| Walking in Daddy's Shoes | Ephesians 5:1-20 | Imitating God; Faithfulness; Christian Living | Mark Adams |
| Challenging Truth for Changing Times | Ephesians 5:15-21 | Christian Living; Commitment; Purpose; Times, Changing | Franklin L. Kirksey |
| Spiritual Swordmanship | Ephesians 5:17 | Bible; Scripture; Word of God; Sword of the Spirit | Denis Lyle |
| How To Be Filled With The Spirit | Ephesians 5:18 | Holy Spirit, Fullness of | Sam Wolfe |
| Spiritual Intoxication | Ephesians 5:18 | Spiritual Life; Christian Living; New Year | Alan Stewart |
| The Fullness of the Spirit | Ephesians 5:18 | Spiritual Infilling; Holy Spirit, Infilling of | J. Mike Minnix |
| A Spirit-Filled Christmas | Ephesians 5:18-20 | Christmas; Carols at Christmas; Christmas and the Holy Spirit | Johnny Hunt |
| The Effects of the Gospel on Marriage | Ephesians 5:19-33 | Marriage; Christian Living; Home | Johnny Hunt |
| Thanking God For His Provision | Ephesians 5:20 | Thanksgiving; Gratitude; Thanksgiving Day; God, Provision of | David E. Owen |
| God's Thanksgiving Primer | Ephesians 5:20 | Thanksgiving; Gratitude | Paul E. Brown |
| Giving Thanks | Ephesians 5:20 | Thanksgiving Day; Thanksgiving | J. Mike Minnix |
| Are We Supposed To Thank God For Everything That Happens? | Ephesians 5:20 | Thanksgiving | Paul E. Brown |
| The Loving Marriage | Ephesians 5:22-33 | Marriage; Family | Calvin Wittman |
| The Husband Your God and Your Girl Want You To Be | Ephesians 5:23-33 | Husbands; Marriage; Family; Home | Terry Trivette |
| Love Your Church and Give Youself For It | Ephesians 5:25 | Church | Jack Woodard |
| Why You Need The Church And The Church Needs You | Ephesians 5:25 | Church | Keith Fordham |
| When A Man Loves A Woman | Ephesians 5:25 | Love; Husbands; Marriage | David E. Owen |
| Be Strong in the Lord | Ephesians 6:10 | Strength; Soldier of the Lord; Consistency | Jesse M. Hendley |
| Last Things First - Part 2 | Ephesians 6:10 | Last Things | David E. Owen |
| Man The Battle Stations | Ephesians 6:10-18 | Christian Warfare; Christian Living | Blake Carroll |
| Dressed, Ready and Faithful | Ephesians 6:10-20 | Spiritual Battle; Armor of God; Christian Living | J. Mike Minnix |
| Stand Up, Stand Up for Jesus | Ephesians 6:10-20 | Commitment; Spiritual Warfare; Christian Living | Franklin L. Kirksey |
| Praying at all Times | Ephesians 6:10-24 | Prayer | Denis Lyle |
| Living in a War Zone | Ephesians 6:10-24 | Spiritual War; Satan; Christian Living | Mark Adams |
| Bait! | Ephesians 6:11 | Temptation; America; Sin, Power of; Satan | William F. Harrell |
| What To Wear To War | Ephesians 6:13-17 | Spiritual Warfare; Christian Living; Christian Armor | James Merritt |
| The Christian Daddy | Ephesians 6:1-4 | Father's Day; Christian Dad; Family; Legacy | J. Robert White |
| Parents and their Children | Ephesians 6:1-4 | Parenting; Child Rearing | Calvin Wittman |
| Prevailing Prayer | Ephesians 6:18-20 | Prayer | Frank Page |
| Raising Them Right | Ephesians 6:4 | Parenting; Children; Family; Home | Terry Trivette |
| What It Takes To Be A Dad | Ephesians 6:4 | Father; Parenting | Kenneth Hendricks |
| The Discipline of Fathering | Ephesians 6:4 | Father's Day; Discipline, Father's; Father, Love of a | Johnny Hunt |
| Being a Christian at Work | Ephesians 6:5-9 | Work; Employment; Labor Day; Christian Living | Mark Adams |
Only portions of this book available on web
James Rosscup - "This is one of the richest simple devotional works on the English text. There is much spiritual insight, good outlines suggestive for preaching, and very colorful and refreshing phrases which leave the reader blessed with his unfathomable wealth in Christ. The comments are sprinkled with illustrations which are choice. For the most part it follows the epistle fairly closely, though not verse-by-verse, but the authoress also uses Ephesians as a springboard into lengthy but rich discussions of vital subjects. For example, there is a systematic study of the different aspects of Satanic attack upon the believer in connection with 6:10ff. This work is edifying on the English text and is excellent for laypeople." (Commentaries for Biblical Expositors: An Annotated Bibliography of Selected Works )
John Cereghin - . Oh, how God blessed the ministry of our beloved sister in revolutionizing the lives of believers, not only in China but in North America and Europe! This book contains the cream of her messages.
The Wealth, Walk and Warfare of the Christian - scroll to page 45/145 Table of Contents below:
INTRODUCTION - THE GRAND CANYON OF SCRIPTURE

PART I THE WEALTH OF THE CHRISTIAN

1. THE WEALTH GLIMPSED - Ephesians 1:1-3

2. THE WEALTH BEQUEATHED - Ephesians 1:1-3

3. THE WEALTH DESIGNATED - Ephesians 1:1-3

4. THE WEALTH MEASURED - Ephesians 1:1-3

5. THE WEALTH LOCATED - Ephesians 1:1-3

6. THE WEALTH DEPOSITED - Ephesians 1:1-3

7. THE WEALTH DEFINED - Ephesians 1:4-14

8. THE WEALTH REVEALED - Ephesians 1:15-23

9. THE WEALTH UNFOLDED - Ephesians 2:1-6

10. THE WEALTH REALIZED PART - Ephesians 3:16-17

II THE WALK OF THE CHRISTIAN - Ephesians 4

1. A WALK IN UNITY - Ephesians 4:2-16

2. A WALK IN HOLINESS - Ephesians 4:17-30

3. A WALK IN LOVE - Ephesians 4:31-5:2

4. A WALK IN LIGHT - Ephesians 5:3-14

5. A WALK IN WISDOM - Ephesians 5:15-17

6. A WALK IN PRAISE - Ephesians 5:18-20

7. A WALK IN HARMONY - Ephesians 5:21-6:9

III THE WARFARE OF THE CHRISTIAN - Ephesians 6:10-18

1. A CALL TO ARMS

2. THE ANTAGONISTS

3. THE BATTLEFIELD

4. THE WRESTLERS

5. THE TACTICS OF THE ENEMY

6. THE CHRISTIAN WRESTLER'S VICTORY

7. PRAYER WARRIORS

THE AFTERGLOW
Another Source - The Grand Canyon of Scripture = Eph 1:1-3:19
Well done practical messages
Scroll down for Homilies
Emphasis on Greek Word Study
See Dr John Piper's discussion of Simeon's fascinating life - Brothers We Must Not Mind a Little Suffering
SERMON NOTES
John Cereghin - 1937, 172 pages. Popular exposition. Begins with a chart on the teaching of Ephesians (5), gives 3 key words for Ephesians: church, body, mystery (9), defends the deity of Christ (16), uses many apt illustrations, does not object to an evolutionary dating (28), argues for premillennial interpretations (65), denies the church is seen in the OT (86), attacks ultra-dispensationalism (105), holds that "one baptism" is water baptism (127).
THEOLOGY OF WORK - From the Theology of Work Project. CLICK HERE FOR LIST OF COMMENTARIES ON ALL 66 BOOKS - click "Bible Commentary" in upper left corner, select book of interest. (This work was published as a book in 2014-2016) but is available at no charge on the web.
Outline & References
Ephesians 1
Ephesians 2
Ephesians 3
Ephesians 4
Ephesians 5
Ephesians 6
1917 Very Interesting Resource!
The Greek Text with Notes and Addenda 1906
Rosscup - Detailed and scholarly, this much respected old work is helpful in grammar and problems on the more technical side. Several commentaries now offer even more help. (Ed: Helps to know Greek to be able to use this resource.)
Book