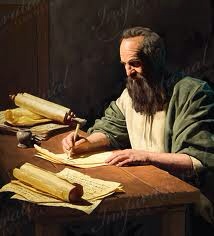 EPHESIANS - CHRIST AND THE CHURCH
Click chart to enlarge
Charts from Jensen's Survey of the NT - used by permission
SYMMETRY
OF EPHESIANS
EPHESIANS 1-3
EPHESIANS 4-6
The Root
The Fruit
Spiritual Wealth
Spiritual Walk
Christian Privilege
Christian Conduct
The Position
of the Believer
The Practice
of the Believer
God Sees
Us in Christ
World Sees
Christ in Us
Privilege
Practice
Doctrine
Duty
Doctrinal
Practical
Revelation
Responsibility
Christian
Blessings
Christian
Behavior
Belief
Behavior
Privileges
of the Believer
Responsibilities
of the Believer
Our Heritage
In Christ
Our Life
In Christ
Know your
Resources (Riches) in Christ
Live by faith in the light of your
Resources (Riches) in Christ
The Finished Work
of Christ
The Faithful Walk
of the Christian
Work
of Christ
In Us
Work
of Christ
Through Us
We
in Christ
Christ
in Us
Word
of God
Walk
of the Christian
Heavenly
Standing
Earthly
Walk
Who You Are
In Christ
Whose You Are
In Christ
Identity
Responsibility
Position
of the Believer
Practice
of the Believer
Theology
Ethics
Ephesians 2:4 But God, being rich in mercy, because of His great love with which He loved us, (NASB: Lockman)
Greek: o de theos plousios on (PAPMSN) en eleei, dia ten pollen agapen autou en egapesen (3SAAI) hemas,

Amplified: But God—so rich is He in His mercy! Because of and in order to satisfy the great and wonderful and intense love with which He loved us, (Amplified Bible - Lockman)

NLT: But God is so rich in mercy, and he loved us so very much (NLT - Tyndale House)

Phillips: But even though we were dead in our sins God, who is rich in mercy, because of the great love he had for us (Phillips: Touchstone)

Wuest: But God, being wealthy in the sphere of mercy, because of His great love with which He loved us  (Eerdmans Publishing - used by permission)

Young's Literal: and God, being rich in kindness, because of His great love with which He loved us
BUT GOD, BEING RICH IN MERCY: o de theos plousios on (PAPMSN) en eleei:
BUT GOD
There is an old "Rolaids" commercial (upset stomach) and the jingle was "How do you spell relief?" How do you spell "relief" from spiritual death and despair? You spell it "But God". You were going straight to hell and eternal separation from God (2Th 1:8, 9) until those great words sounded forth… BUT GOD! Praise God for His "but God's" in Scripture (see below noting the very first use in Genesis! What a merciful God we serve.) for without them mankind would have no hope of spending eternity with Him. In the wonderful passages that follow we read of the Divine motivation for reaching down and saving us.
But God - 41x in the NASB (95) - Gen 8:1; 17:19; 20:3; 21:12; 45:8; 48:21; 50:20, 24; Exod 21:13; Num 22:22; Jdg 15:19; 1 Sam 23:14; 1Chr 28:3; Job 34:5; Ps 49:15; 52:5; 64:7; 73:26; 75:7; Jonah 4:7; Mark 2:7; Luke 5:21; 12:20; 16:15; Acts 2:24; 7:6, 42; 13:30; Ro 5:8; 1Cor 1:27; 3:6, 7; 6:13; 7:15; 12:24; 15:38; 2Cor 7:6; Gal 3:18; Eph 2:4; Phil 2:27; 1Th 2:4
In a similar divine reversal of destiny, Paul reiterates the "before" and "after" in his letter to Titus…
For we also once were foolish ourselves, disobedient, deceived, enslaved to various lusts and pleasures, spending our life in malice and envy, hateful, hating one another.
BUT WHEN
the kindness of God our Savior and His love for mankind appeared, 5 He saved us, not on the basis of deeds which we have done in righteousness, but according to His mercy, by the washing of regeneration and renewing by the Holy Spirit,6 whom He poured out upon us richly through Jesus Christ our Savior, 7 that being justified by His grace we might be made heirs according to the hope of eternal life. (Titus 3:3, 4, 5, 6, 7-See notes Titus 3:3, Titus 3:4; Titus 3:5; Titus 3:6;Titus 3:7)
But (1161) (de) introduces a contrast (term of contrast) and what a dramatic contrast this presents with the preceding dreary description of an unbeliever (Ep 2:1, 2, 3-see notes Ep 2:1; 2:2; 2:3) and here the description of a believer! One "two letter conjunction" changes the fate of mankind from certain eternal death to the potential for eternal life! The phrase "but God" also shows the problem of alienation was not with God but with man. To the contrary, "but God" shows that it is God Who initiates the salvation Paul proceeds to describe.
Our salvation hangs entirely on those two words. We were dead…But God! We were enslaved…But God! We were trapped…but God! We were self-destructing…but God! We were lost in sin…but God!
We were children of wrath and deserving of an eternity in the torments of hell, BUT GOD instead of pouring out wrath God will spend eternity showing the immeasurable riches of his kindness to us in Christ Jesus.
Expositors Greek NT comments
A return is now made to the statement which was interrupted at Eph 2:2. The resumption might have been made by oun (therefore). The adversative de (but), however, is the more appropriate, as the other side of our case is now set forth—the divine grace which meets the sinful, condemned condition, and which stands over the dark background of our death by sin and our subjection by nature to the divine wrath. God who is wroth with sin, is a God of grace. His disposition towards those who are dead by trespasses and sins is one of mercy, and this is no stinted mercy, but a mercy that is rich, exhaustless." The word "rich" is the translation of plousios, "wealthy, abounding in material resources, abounding, abundantly supplied." (The Expositor's Greek Testament)
G Campbell Morgan wrote…
The word "But" here puts two matters into contrast. The first contrast is between man and God; the second is between the state of man and the mercy of God, and this is the main thought in the mind of the writer. The picture of man's state is very dark: "dead through your trespasses and sins"—that is, cut off from all the true things of life; therefore, walking under the dominion of "the spirit that now worketh in the sons of disobedience"; therefore living "in the lusts of the flesh"; therefore "children of wrath." Can any conditions more hopeless be imagined? How can it ever be that those living under such conditions shall become "holy and without blemish?" What wisdom can plan such a deliverance? What power can be equal to carrying out such a purpose? The complete and final answer is given in these words:
"But God, being rich in mercy!"
In the wealth of His mercy there the wisdom that plans, and the might that accom­plishes. Mercy is compassion, and in God that is more than passive, it is active; it is pity, working on behalf of those who are helpless; it is love, doing the things that love desires to be done. When that compassion, pity, love, is predicated of God, the vastness of it is postulated, the sufficiency of it is recognized. This is the very heart of the Gospel. Over against all the appalling facts of our weakness and wickedness, we must place the wealth of the mercy of God, which had its unveiling and found its mode of action in Christ. Presently Paul referred to the "exceeding riches of His grace"; and we feel the power of the expression. It exceeds all our need. It is an ocean in which all our emptiness is filled without loss to its superabundance. (Morgan, G. C. Life Applications from Every Chapter of the Bible).
Being (1510) (eimi) is the present tense indicates this is God's continual state, rich in mercy. How grateful we are for the present tense in this description.
Ephesians 2:4, 2:5 offer three words which answer to the desperate state of mankind:
Love
Mercy
Grace
Mercy is God not giving us what we do deserve—Judgment. Grace is God giving us what we don't deserve—Salvation.
In (en) indicates the "sphere" in which God is rich, in this case it is mercy! God being rich in mercy is God's character, His attribute (See mercy).
Rich (4145) (plousios from ploutos = wealth, abundance, riches) is an adjective which defines that which exists in a large amount with implication of its being valuable. Literally plousios refers to having an abundance of earthly possessions that exceeds normal experience. As used in Eph 2:4 plousios refers to being plentifully supplied with something. Rich is used most often in the NT in the sense of having abundant possessions and especially material wealth and was a frequent topic addressed by the Lord Jesus. It is used figuratively in James to describe those who are rich in faith (Jas 2:5, cp similar use to describe the believers in Smyrna - Rev 2:9).
God is "plentifully supplied", overabounding, without measure, very rich and wealthy in regard to His mercy.
Gilbrant writes that  in Classical Greek "This term is an adjective from a word whose root means "to fill, to be filled." Customarily this concerns the fullness of material possessions, i.e., "rich." Sometimes, however, it does carry the more general sense of "well-being." The idea of being materially affluent and rich dominates its secular usage. Plousios occurs in the Septuagint with much the same meaning as it has in secular Greek—denoting material wealth. We read that Abram was "very rich" in livestock, silver, and gold (Genesis 13:2; cf. Ruth 3:10). Much of the language of "rich and poor" occurs in the Wisdom literature (Proverbs, Wisdom of Solomon, Sirach). Here "rich" begins to take on more negative overtones (e.g., Proverbs 10:15; 14:20; 18:11; Sirach 8:2; 13:3,18). The rich must never trust their riches; rather, they must trust the Lord (Jeremiah 9:23). The 28 instances of plousios in the New Testament echo the attitude toward riches encountered in the Old Testament, especially in the Wisdom literature; that is, it is largely negative. Riches are an impediment to participating in God's kingdom (Matthew 19:23). Believers are not to put their hope in their wealth, but in God, who "richly" (plousiōs) provides them with everything (1 Timothy 6:17; cf. Ephesians 2:4, of God's richness in mercy). Jesus even pronounced "Woe" upon those who are rich, whose heart is tied to their possessions (Luke 6:24; cf. His woes against others, Luke 11:42ff.). Clearly it is no accident that the rich man is targeted for correction and reproof on more than one occasion (e.g., Luke 12:16; 16:1,19; cf. Mark 12:41f.). The Book of James openly scathes the rich who put too much stock in their wealth. James even goes so far to assert that God has "chosen" the poor of the world to be "rich" (plousios) in faith. Does God favor the poor? In a sense, yes; but not in the sense that He shows partiality. Rather, the poor of this world (especially for James) are those who have become poor for the sake of God. Conversely, the rich are exploiting the poor and making it hard on them (James 2:5ff.). Thus God favors the poor just as He favors those who through grace are righteous. He executes justice on behalf of those treated unjustly—the poor (James 5:1). Poverty continues to be somewhat "virtuous" in the Book of Revelation (2:9). The rich again are described as proud and misguided; they put their trust in their wealth and in themselves rather than in the living God (Revelation 3:17). The rich are among those judged by the opening of the seals (Rev 6:15). (Complete Biblical Library Greek-English Dictionary)
Plousios - 28x in 28v - NAS = people(1), rich(19), rich man(7), rich man's(1), rich people(1).
Matthew 19:23 And Jesus said to His disciples, "Truly I say to you, it is hard for a rich man to enter the kingdom of heaven. 24 "Again I say to you, it is easier for a camel to go through the eye of a needle, than for a rich man to enter the kingdom of God."
Matthew 27:57 When it was evening, there came a rich man from Arimathea, named Joseph, who himself had also become a disciple of Jesus.
Mark 10:25 "It is easier for a camel to go through the eye of a needle than for a rich man to enter the kingdom of God."
Mark 12:41 And He sat down opposite the treasury, and began observing how the people were putting money into the treasury; and many rich people were putting in large sums.
Luke 6:24 "But woe to you who are rich, for you are receiving your comfort in full.
Luke 12:16 And He told them a parable, saying, "The land of a rich man was very productive.
Luke 14:12 And He also went on to say to the one who had invited Him, "When you give a luncheon or a dinner, do not invite your friends or your brothers or your relatives or rich neighbors, otherwise they may also invite you in return and that will be your repayment.
Luke 16:1 Now He was also saying to the disciples, "There was a rich man who had a manager, and this manager was reported to him as squandering his possessions.
Luke 16:19 "Now there was a rich man, and he habitually dressed in purple and fine linen, joyously living in splendor every day.

Luke 16:21 and longing to be fed with the crumbs which were falling from the rich man's table; besides, even the dogs were coming and licking his sores.

Luke 16:22 "Now the poor man died and was carried away by the angels to Abraham's bosom; and the rich man also died and was buried.
Luke 18:23 But when he had heard these things, he became very sad, for he was extremely rich.

25 "For it is easier for a camel to go through the eye of a needle than for a rich man to enter the kingdom of God."
Luke 19:2 And there was a man called by the name of Zaccheus; he was a chief tax collector and he was rich.
Luke 21:1 And He looked up and saw the rich putting their gifts into the treasury.
2 Corinthians 8:9 For you know the grace of our Lord Jesus Christ, that though He was rich, yet for your sake He became poor, so that you through His poverty might become rich (plouteo).
Ephesians 2:4 But God, being rich in mercy, because of His great love with which He loved us,
1 Timothy 6:17 Instruct those who are rich in this present world not to be conceited or to fix their hope on the uncertainty of riches, but on God, who richly supplies us with all things to enjoy.
James 1:10-note and the rich man is to glory in his humiliation, because like flowering grass he will pass away. 11 For the sun rises with a scorching wind and withers the grass; and its flower falls off and the beauty of its appearance is destroyed; so too the rich man in the midst of his pursuits will fade away.
James 2:5 Listen, my beloved brethren: did not God choose the poor of this world to be rich in faith and heirs of the kingdom which He promised to those who love Him? 6 But you have dishonored the poor man. Is it not the rich who oppress you and personally drag you into court?
James 5:1 Come now, you rich, weep and howl for your miseries which are coming upon you.
Revelation 2:9-note 'I know your tribulation and your poverty (but you are rich), and the blasphemy by those who say they are Jews and are not, but are a synagogue of Satan.
Revelation 3:17-note 'Because you say, "I am rich, and have become wealthy, and have need of nothing," and you do not know that you are wretched and miserable and poor and blind and naked,
Comment: Same word rich presents a striking contrast between the believers in Rev 2:9 in Smyrna and those described in Laodicea! Riches have a distinct tendency to "blur" our spiritual vision. We lose sight of what is truly (eternally) important, those things that make us rich in God's eyes! Beware all who read this and are financially well off!
Revelation 6:15-note Then the kings of the earth and the great men and the commanders and the rich and the strong and every slave and free man hid themselves in the caves and among the rocks of the mountains;
Revelation 13:16-note And he causes all, the small and the great, and the rich and the poor, and the free men and the slaves, to be given a mark on their right hand or on their forehead,
Plousios - 56x in the non-apocryphal Septuagint (Lxx) - Ge 13:2; Ruth 3:10; 1Sam 2:10; 2 Sam 12:1f, 4; Esth 1:20; Job 27:19; Ps 10:8; 34:10; 45:11; 49:2; Pr 10:15; 14:20; 18:11; 19:22; 22:2, 7, 16; 23:4; Pr 28:6, 11; Eccl 10:6, 20; Isa 5:14; 32:9, 13; 33:20; 53:9; Jer 9:23; 24:1
Pr 10:15 The rich man's wealth is his fortress, The ruin of the poor is their poverty.

Pr 14:20 The poor is hated even by his neighbor, But those who love the rich are many.

Pr 18:11 A rich man's wealth is his strong city, And like a high wall in his own imagination.

Pr 22:2 The rich and the poor have a common bond, The LORD is the maker of them all.

Pr 22:7 The rich rules over the poor, And the borrower becomes the lender's slave.

Pr 22:16 He who oppresses the poor to make much for himself Or who gives to the rich, will only come to poverty.

Pr 23:4 Do not weary yourself to gain wealth, Cease from your consideration of it.
Pr 28:6 Better is the poor who walks in his integrity, Than he who is crooked though he be rich.

Pr 28:11 The rich man is wise in his own eyes, But the poor who has understanding sees through him.
DIVINE MERCY:
NOT MISERLY
BUT MAGNANIMOUS!
Mercy (1656) (eleos) is the outward manifestation of pity. Aristotle says eleos is an emotional concern for those who undeservedly suffered some calamity. That's a good definition except that mankind has DESERVEDLY suffered the calamity of sin and spiritual death through Adam! This fact makes God's "definition" of mercy even more "altruistic!"
In the Septuagint (LXX) mercy (eleos) often translates the Hebrew word hesed which speaks of God's loyal or steadfast love, His unfailing love and His tenderness (cf Lxx uses of eleos for Hebrew hesed in 1Ki 8:23, Ps 89:49, Isa 63:7). Eleos in the NT describes kindness or concern expressed for someone in need. Mercy indicates the emotion aroused by someone in need (all mankind dead in their trespasses and sins) and the attempt to relieve that one and remove his trouble. Mercy is the outward manifestation of pity, which assumes a need on the part of him who receives it and resources adequate (God is "rich") to meet need on part of him who shows. Mercy implies compassion that forbears punishing even when justice demands compassion or forbearance shown esp to an offender or to one subject to one's power.
Mercy is God's kindness and good will towards miserable and afflicted sinners, joined with His desire to help them. It is much more than being merciful because God instead of dealing with us as those who rightly deserve wrath and judgment, deals with us in compassionate mercy.
Wuest writes that eleos is "God's "kindness and goodwill toward the miserable and afflicted, joined with a desire to relieve them" (Vincent). Grace meets man's need in respect to his guilt and lost condition; mercy, with reference to his suffering as a result of that sin. (Wuest Word Studies - Eerdman Publishing Company Volume 1, Volume 2, Volume 3 - used by permission)
Hiebert defines mercy as "the self-moved, spontaneous loving kindness of God which causes Him to deal in compassion and tender affection with the miserable and distressed."
Related Resources:
One needs to distinguish between grace and mercy. Grace is shown to the undeserving, while mercy is compassion to the miserable. Grace is God's solution to man's sin. Mercy is God's solution to man's misery. Grace covers the sin, while mercy removes the pain. Grace forgives, while mercy restores. Grace gives us what we don't deserve while mercy withholds what we do deserve.
Grace is getting what we do not deserve.
Justice is getting what we do deserve.
Mercy is not getting what we do deserve.
BECAUSE OF HIS GREAT LOVE WITH WHICH HE LOVED US: dia ten pollen agapen autou en egapesen (3SAAI) hemas:
Because (1223) (dia) in this verse means on account of, which explains why God is so rich in mercy. It is on account of His great love. Or as Marvin Vincent notes this clause might be phrased "it is in order to satisfy His great love." As an aside always pause and ponder term of explanation like "because" and "for." Stated another way, the term of explanation explains the cause for the demonstration of mercy in the previous clause. What is the "cause?" God's love, love that seeks the highest good in the one who is loved and bestowed irrespective of merit to those who are undeserving!
Great love - God's love to any degree would have been enough, but Paul says it was His great love. God is not miserly, withholding His best from those who deserve nothing at all! Amazing love indeed!
Great (4183) (polus) is that which is present in relatively large in quantity or measure. God's love is infinite like all of His attributes. And so God's love is infinitely great as beautifully expressed in Frederick M. Lehman's hymn The Love of God…
The love of God is greater far
Than tongue or pen can ever tell;
It goes beyond the highest star,
And reaches to the lowest hell;
The guilty pair, bowed down with care,
God gave His Son to win;
His erring child He reconciled,
And pardoned from his sin.
Refrain:
Oh, love of God, how rich and pure!
How measureless and strong!
It shall forevermore endure—
The saints' and angels' song.
2
When hoary time shall pass away,
And earthly thrones and kingdoms fall,
When men who here refuse to pray,
On rocks and hills and mountains call,
God's love so sure, shall still endure,
All measureless and strong;
Redeeming grace to Adam's race—
The saints' and angels' song.
3
Could we with ink the ocean fill,
And were the skies of parchment made,
Were every stalk on earth a quill,
And every man a scribe by trade;
To write the love of God above
Would drain the ocean dry;
Nor could the scroll contain the whole,
Though stretched from sky to sky.
Verse 3 was penciled on the wall of a narrow room in an insane asylum by a man said to have been demented (perhaps, but his acknowledgment of this precious truth might make him more "sane" then many outside the asylum!). The profound lines were discovered when they laid him in his coffin.
Love (26) (agape) is unconditional, sacrificial love. Agape love speaks of a love called out of one's heart by the preciousness of the one loved, a love that impels one to sacrifice one's self for the benefit of the object loved. It is the love shown at Calvary to undeserving sinners (Jn 3:16, Ro 5:5, 6, 8, Ro 8:35-39, Eph 5:2, 25).
Jesus expounded on this great "Calvary" love declaring that…
as Moses lifted up the serpent in the wilderness, even so must the Son of Man be lifted up; that whoever believes may in Him have eternal life. For God so loved the world, that He gave His only begotten Son, that whoever believes in Him should not perish, but have eternal life. For God did not send the Son into the world to judge the world, but that the world should be saved through Him. He who believes in Him is not judged; he who does not believe has been judged already, because he has not believed in the name of the only begotten Son of God. (John 3:14, 15, 16, 17, 18)
"Greater love has no one than this, that one lay down his life for his friends" (John 15:13)
Paul emphasizes the greatness of this love for those so unlovely writing that…
But God demonstrates His own love toward us, in that while we were yet sinners, Christ died for us. (Ro 5:8-note)
The apostle John adds that…
In this is love, not that we loved God, but that He loved us and sent His Son to be the propitiation for our sins. (1John 4:10)
Agape is God's willful direction toward man. It involves God doing what He knows is best for man and not necessarily what man desires. For example, John 3:16 states, "For God so loved the world, that he gave." What did He give? Not what man wanted, but what God knew man needed, i.e., His Son to bring forgiveness to man.
Loved (25) (agapao) describes the love God gives freely and unconditionally regardless of response -- love that goes out not only to lovable but to one's enemies.
Speaking to faithless Israel God speaks of coming days of restoration declaring…
"I have loved you with an everlasting love; Therefore I have drawn you with lovingkindness. (Jeremiah 31:3+) (Amazing divine love to love the unlovely!)
---
F B Meyer writes that GOD'S LOVE WAS NOT DAUNTED BY OUR SIN. (Ephesians 2:5)
In the day that we were born, we were cast out in the open field, dead in trespasses and sins, and to the abhorring of our person. But He loved us even then. His great love was not diverted by the spectacle of our loathsomeness. He knew what we were, and what we should be, and how much pain and sorrow we should cost Him; but He loved us still. He foresaw our failures and backslidings, and lapses into the darkness of shadow; but none of these things availed to quench his love. So rich was He in mercy that He could afford to be prodigal of his wealth.

It is a great comfort to know that God loved us when there was nothing to attract his love; because He will not be surprised by anything He discovers in us, and He will not turn from us at those manifestations of evil which sometimes make us lose heart. He knew the worst from the first. He did not love us because we were fair, but to make us so. We cannot understand it; but since He began He will not fail nor be discouraged until He has finished his work. (Love: On God's Side)
Ephesians 2:5 even when we were dead in our transgressions, made us alive together with Christ (by grace you have been saved ), (NASB: Lockman)
Greek: kai ontas (PAPMPA) hemas nekrous tois paraptomasin sunezoopoiesen (3SAA1) to Christo chariti este (2PPAI) sesosmenoi (RPPNPN)

Amplified: Even when we were dead (slain) by [our own] shortcomings and trespasses, He made us alive together in fellowship and in union with Christ; [He gave us the very life of Christ Himself, the same new life with which He quickened Him, for] it is by grace (His favor and mercy which you did not deserve) that you are saved (delivered from judgment and made partakers of Christ's salvation). (Amplified Bible - Lockman)

NLT: that even while we were dead because of our sins, he gave us life when he raised Christ from the dead. (It is only by God's special favor that you have been saved!) (NLT - Tyndale House)

Phillips: But even though we were dead in our sins God, who is rich in mercy, because of the great love he had for us, gave us life together with Christ - it is, remember, by grace and not by achievement that you are saved (Phillips: Touchstone)

Wuest: and we, being dead with respect to our trespasses, made us alive together with the Christ; by grace have you been saved completely in past time, with the present result that you are in a state of salvation which persists through present time  (Eerdmans Publishing - used by permission)  

Young's Literal: even being dead in the trespasses, did make us to live together with the Christ, (by grace ye are having been saved
EVEN WHEN WE WERE DEAD IN OUR TRANSGRESSIONS: kai ontas (PAPMPA) hemas nekrous tois paraptomasin:
Spurgeon - God loved us even when we were dead in sins. His love does not depend upon what we are; it flows from his own heart. It is not love of something good in us; it is love of us because of everything good in him. Here you see the greatness of his grace, in that "he loved us, even when we were dead in sins." (Exposition)
Even when - serves as a reminder of our helpless, hostile state in Adam.
Were (5607) (on = present tense participle of eimi) refers to our existence, in this case our former existence was continually in the state of spiritual death… as we have said we were "walking dead."
Dead (3498) (nekros from which we get English "necropsy") denotes the body derived of life, and refers literally to the physical condition of being deceased. It is used here figuratively to refers to the spiritual condition of those who are unable to attain to the life of faith in and of themselves.
Spiritual death is the state of the natural or unregenerate man as still in his sins (see note Ephesians 2:1), alienated from the life of God (Ep 4:18, 19-see note), and destitute of the Spirit (Ro 8:9-note). Prolonged beyond the death of the body, spiritual death is a state of eternal separation from God in conscious suffering. This is called "the second death" (Rev 2:11, 20:6, 14-see notes Re 2:11; 20:6; 20:14) (See also Births, Deaths, and Resurrections.)
Wuest points out that Paul uses "two parallel phrases here, "God being wealthy in the sphere of mercy," and "we being dead with respect to our trespasses." The entire translation is, "But God being wealthy in the sphere of mercy, on account of His great love with which He loved us, and we being dead with respect to our trespasses, hath quickened us together with Christ." (Wuest Word Studies - Eerdman Publishing Company Volume 1, Volume 2, Volume 3 - used by permission)
Transgressions (3900) (paraptoma [3x in Ephesians 1:7, 2:1, 2:5] from parapipto = fall aside from para = aside + pipto = fall) means a deviation from living according to what has been revealed as the right way to live. The basic idea conveyed is that of stumbling or falling so as to lose one's footing. Paraptoma conveys the idea of a false step and so often is translated a transgression. The idea behind transgressions (transgress in English means to to go beyond or overstep a limit or boundary and is from Latin trans- across + gradi = to step) is that we have crossed a line, challenging God's boundaries. Similarly, the word derived via the Old French from a word meaning "to pass over" or "to go across" to commit an offense against a person or a set of rules.
MADE US ALIVE TOGETHER WITH CHRIST (BY GRACE YOU HAVE BEEN SAVED): sunezoopoiesen (3SAA1) to Christo chariti este (2PPAI) sesosmenoi (RPPNPN):
Spurgeon on "made us alive" - Ah! That accounts for everything: "together with Christ." When we get "together with Christ", then are we made alive, then are we saved. Are you. my dear hearers, "quickened together with Christ"? (Exposition)
Made us alive together with (4806) (suzoopoieo from sun/syn = together with, speaks of intimate union with + zoopoiéo = make alive, quicken) means to cause to live with Christ or to give life with Christ. Either idea is utterly amazing considering unregenerate man's dire straits. To an extent this verb could be seen as somewhat synonymous with "saved" but it can also have the meanings of to keep alive or to preserve life.
The result Paul writes to the Colossians is that now "Christ is our life (Col 3:4-note)
Jesus explained some aspects of being made alive declaring…
"For just as the Father raises the dead and gives them life, even so the Son also gives life to whom He wishes. (John 5:21)
"It is the Spirit who gives life; the flesh profits nothing; the words that I have spoken to you are spirit and are life. (John 6:63)
Paul adds that…
"the law of the Spirit of life in Christ Jesus has set you free from the law of sin and of death." (Ro 8:2-note)
The apostle John writes…
And the witness is this, that God has given us eternal life, and this life is in His Son. He who has the Son has the life; he who does not have the Son of God does not have the life. (1 John 5:11-12+)
With is a small but critically important preposition we must understand (see word study on sun) because Paul uses sun as a prefix in three compound verbs in Ephesians 2:5 ("made alive together with") and Ep 2:6-note ("raised up with", "seated us with") each of which conveys a truth regarding our salvation. Sun means not only are we together with Christ, but we are so "mixed together" (so to speak) with Him that no one can separate us from Him or Him from us! This is good news and serves as just another marker that underscores the believer's eternal security in Christ.
Wayne Barber addresses the practical implications of this great truth asking…
"You mean to tell me that I've been united so much into His death that now I am united in His resurrection? When He raised from the dead, that's when the newness of life started for me?"
Absolutely. Now let me ask you again. Can a believer, one who has put his faith into Jesus Christ, go back and live as if he is still in Adam? You make up your own mind! No wonder John says you can't habitually sin and call yourself a Christian! You are dead to that lifestyle! You have been united with Christ. The word "united" (KJV = planted) has the idea of being planted together with. It's analogous to taking a branch and grafting it onto a tree. The life of the tree now floods and feeds the branch. Jesus used this same picture of vital union in John 15 when He declared that
"I am the vine; you are the branches. And because you abide in Me, you will bear much fruit. It's not you doing it, it's Me in you doing it!"
Christ's life is the resurrected life that we are now intertwined into. There is nothing that can separate us from this new life in Him!
When you were in Adam, sin caused you to do what you were doing. You couldn't escape away the domination and enslavement to sin. But now that you have put your faith into Christ, you have been taken out of Adam and put into Christ and you are so united with Him that His Spirit lives in you. The "Divine Referee of God" has changed you from within which is effect of regeneration.
"You mean I sinned before because I was a sinner, so now if I sin it is only because of choice. Is that right?"
You are exactly right! When you find a Christian saying, "Hey, I can't stop sinning," you have a Christian who is really saying, "No, I won't!" You have the life of Jesus Christ living within you now! You can't go back and live any way you want to live. There is no way you can do that! You bring total blasphemy to everything Jesus Christ did for you. You shame what salvation accomplished. You are a now a new person in Christ. You're saved "out of sin" and "into Him."
Paul says that the lust of our flesh is entrenched in this physical body that we still live in. This lust still pulls us away from what our spirit is trying to get us to do. But we are no longer in Adam. That means that I am responsible for choices of sin. You see, when I come to Christ… I confess my sins to give evidence that I am a sinner. I'm saved from sin—the sin of Adam that I was tagged with and which made me do what I did! Now God has changed me. ("newness of life") Now I have to deal with sins… As a believer, we must remember that we don't sweep sin under the rug. We must put it under the blood. John tells us how to deal with it. There is only one way to deal with it. Confess it with a willingness to turn away from it in the power of His life that now lives resident within us. We can live in the victory that God gives to us." (Barber, W: The New Life in Jesus)
Paul uses suzoopoieo in one other letter writing to the saints at Colossian explaining this same truth that…
when you were dead in your transgressions and the uncircumcision of your flesh, He made you alive together with Him, having forgiven us all our transgressions. (Col 2:15-note)
Paul expands on this wonderful truth in Romans 6 asking…
Or do you not know that all of us who have been baptized (he is not speaking of water baptism but of a spiritual baptism, an identification with) into Christ Jesus have been baptized into His death? Therefore we have been buried with Him through baptism into death, in order that as Christ was raised from the dead through the glory of the Father, so we too might walk in newness of life. (Ro 6:3, 4-see notes Ro 6:3; 6:4)
This walk in newness (brand new quality unlike anything experienced before) of life is a new life God gives every believer through his or her identification with Christ in His resurrection. On one hand, our identification with Christ in His death broke the power of indwelling Sin. Our identification with Him in His resurrection resulted in the implantation of Christ's divine life. This spiritual transaction is what Paul is referring to when he says, "We were made alive together with Christ".
Now Paul interjects (something that interrupts) with the declaration "by grace you have been saved."
Grace (5485) (charis from chairo = to rejoice, be glad) in this context defines God's beneficent disposition toward sinners. The grace of God is undeserved, unsought, and unbought (except that it is made available by the precious blood of the Lamb of God). Salvation or giving us new life had to be all of grace because we were all dead in our trespasses and sins!
The infinitely high price of redemption was paid for by "the grace of our Lord Jesus Christ, that though He was rich, yet for your sake He became poor (His incarnation), that you through His poverty might become rich (spiritual riches that Jesus gives to all who place their trust in Him). (2Cor 8:9)
So the riches of our salvation (calling, election, justification, sanctification) were all made possible by the "impoverishment" of Christ Who became a man, suffered and died a cruel death on the cross so that grace could be manifested in our life. When we realize what it cost God to express grace, it helps us realize the wickedness of our sin and the undeserving state of mankind. What an amazing divine paradox -- grace was immeasurably costly for God to express and yet is unconditionally free to all men. Grace is God's favor freely offered but expensively expressed!
Grace not what we do or don't do is the ultimate ground of salvation, Paul recording that God
saved us, and called us with a holy calling, not according to our works, but according to His own purpose and grace which was granted us in Christ Jesus from all eternity (2Ti 1:9-note)
Comment: Here we see a clear distinction between God's grace and man's works. All of this grace was given to us in Jesus Christ. We could not earn it; we did not merit it. This is the grace of God! Believers must remember that the same grace that saved them the first time is the same grace that "saves" us every day (present tense salvation [see Three Tenses of Salvation], progression sanctification, grow in holiness and Christlikeness). Believers tend to forget their continual (lifelong) need to remain dependent on (and confident in) God's sufficient grace to meet our every need every day. (cp 2Cor 12:9-note, 2Co 12:10-note)
An atheist said, "If there is a God, may he prove himself by striking me dead right now."

Nothing happened. "You see, there is no God."

Another responded, "You've only proved that He is a God Who possesses amazing grace."
Saved (4982) (sozo) has the basic meaning of rescuing one from great peril, in context the inevitable wrath of God on all sons of disobedience. Additional nuances include to protect, keep alive, preserve life, deliver, heal, be made whole. Notice that sozo is in the perfect tense, which pictures a past completed action with enduring effect, thus emphasizing once again the permanence of the sinner's salvation in Christ. See note on Ephesians 2:8 where Paul again uses sozo in the perfect tense! The perfect tense expresses a completed action with continuing results in the present. God's grace saved us in a moment in time and God's grace keeps us saved eternally. The passive voice is often referred to as the divine passive where God is clearly the Doer of the action of producing salvation.
Wuest explains that…
The perfect tense speaks of the existence of finished results in present time. But Paul is not satisfied with showing the existence of finished results in present time. He wants to show the persistence of results through present time. So he uses the verb "to be" in the present tense which gives durative force to the finished results. Thus, the full translation is,
"By grace you have been saved in past time completely, with the result that you are in a state of salvation which persists through present time."
The unending state of the believer in salvation could not have been put in stronger or clearer language. The finished results of the past act of salvation are always present with the reader. His present state of salvation is dependent upon one thing and one thing only, his past appropriation of the Lord Jesus as Saviour.
His initial act of faith brought him salvation in its three aspects, justification, (Ed note: see discussion of Three Tenses of Salvation) the removal of the guilt and penalty of sin and the impartation of a positive righteousness, Jesus Christ Himself, an act which occurs at the moment of believing, and a position that remains static for time and eternity; sanctification, positional, the act of the Holy Spirit taking the believing sinner out of the first Adam with his (Adam's) sin and death, and placing him in the Last Adam (Jesus Christ) with His righteousness and life, an act that occurs at the moment of believing; (sanctification) progressive, the process by which the Holy Spirit eliminates sin from the experience of the believer and produces His fruit, gradually conforming him into the image of the Lord Jesus, a process that goes on all through the life of a Christian and continues all through eternity, and which never is completed, for a finite creature can never equal an infinite one in any quality; and glorification the act of the Holy Spirit, transforming the mortal bodies of believers into glorified, perfect bodies at the Rapture of the Church. The believer has had his justification, he is having his sanctification, and he is yet to have his glorification. The earnest of the Spirit guarantees to him his glorification. (Wuest Word Studies - Eerdman Publishing Company Volume 1, Volume 2, Volume 3 - used by permission)
Book