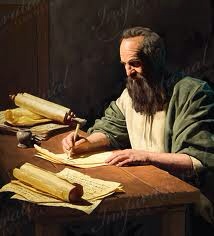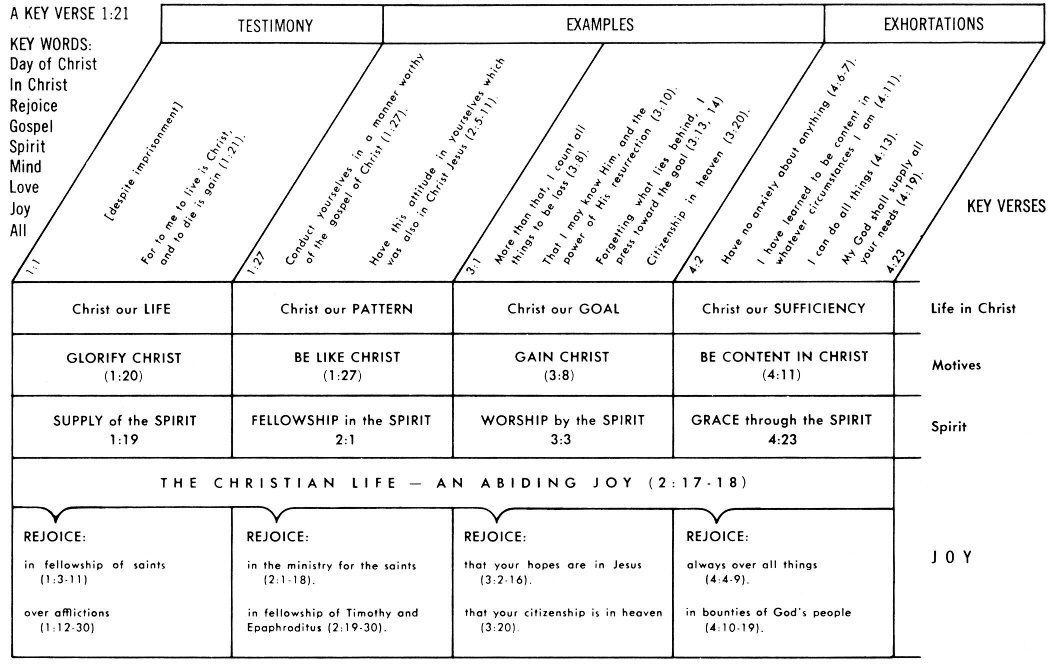 LIFE IN CHRIST
Click chart to enlarge
Charts from Jensen's Survey of the NT - used by permission
Another Overview Chart - Philippians - Charles Swindoll
Another Overview Chart
"Do nothing from selfishness or empty conceit, but with humility of mind let each of you regard one another as more important than himself do not merely look out for your own personal interests, but also for the interests of others. Have this attitude (present imperative) in yourselves which was also in Christ Jesus… So then, my beloved, just as you have always obeyed, not as in my presence only, but now much more in my absence, work out (present imperative) your salvation with fear and trembling for it is God who is at work in you, both to will and to work for His good pleasure. Do (present imperative) all things without grumbling or disputing that you may prove yourselves to be blameless and innocent, children of God above reproach in the midst of a crooked and perverse generation, among whom you appear as lights in the world." (Php 2:3-5, 12-15-See notes Php 2:3-4; 5, 12; 13; 14-15)
---
SEE ALSO: Philippians Inductive Study (recommended) - from Grace Bible Church
Expositional and Devotional. Literal, conservative, millennial, evangelical. Frequent quotes, illustrations, cross references and word studies. In depth - e.g., there are the equivalent of 40 pages of notes on Philippians 1:1
PHILIPPIANS 1
April, 2001 (Revised Jan, 2003). 117 Page Devotional Commentary
Philippians Devotional Commentary
For each section:
Thesis statement … to focus on the big idea
Analytical outline … to guide the understanding
Devotional questions … to encourage life application
Representative quotations … to stimulate deeper insight
Frequent use of quotations. Here are samples:
""When I go to heaven..." were Jack Arnold's last words before dying instantly in the pulpit from a heart attack. The extraordinary event made international headlines (note).
NOTE: THE FOLLOWING DEVOTIONALS ARE AVAILABLE AT
Philippians Devotionals
Scroll down or Search the Page for the Devotional you desire…
Comment: Barclay frequently has very insightful comments on Greek words and the ancient culture, but he is not always conservative/orthodox. Be a Berean (Acts 17:11-note) Caveat lector! See The Enigmatic William Barclay
Frequent use of illustrations. Here are examples:
Philippians 1 - Kaufmann Kohler states in the Jewish Encyclopedia that no language has as many words for joy and rejoicing as does Hebrew. In the OT 13 Hebrew roots, found in 27 different words, are used primarily for some aspect of joy or joyful participation in religious worship.

Philippians 1 - Joy always under construction! 1. Most of us have experienced what happens to motorists when one of those huge graders goes to work on a highway repair job. When the machine is operating on a busy road, traffic is halted and the cars lined up in opposite directions are allowed to proceed alternately. A veteran operator of one of those big machines decided one day to try to relieve the tension that inevitably results from such a traffic backup. Consequently on both the front and rear of his grader a sign now appears, declaring, "The Road to Happiness is Almost Always Under Construction."

Philippians 1:19-30 - "Flower Mix-up". A bank in Binghamton, NY had some flowers sent to a competitor who had recently moved into a new building. There was a mixup at the flower shop, and the card sent with the arrangement read, "With our deepest sympathy." The florist, who was greatly embarrassed, apologized. But he was even more embarrassed when he realized that the card intended for the bank was attached to a floral arrangement sent to a funeral home in honor of a deceased person. That card read, "Congratulations on your new location!"

Philippians 1:29 - Two wonderful privileges: To believe/trust in Christ and to suffer for Christ. God is honored by both. God runs a costly school, for many of his lessons are learned through tears! Soon school will close for us, the end of our school term is closer everyday. Don't run from difficult lessons; Don't flinch from the rod of discipline. Cheerfully endure to the end, then we will graduate in glory. Paul's life was a model of suffering. Suffering: confirms the believers faith; brings him/her in closer contact w/the Lord; and provides a vehicle for making commitment real and tangible. The worlds finest china is fired in ovens at least 3 times & some many more. The famous Dresden china is always fired 3 times. Why so many times with such intense heat? This makes the colors brighter, more beautiful, and permanently attached. Metal bends best when softened with fire. Marble take shape only under the splintering blows of a chisel. Wood, with the abrasive scrape of sandpaper. (Swindoll) We are fashioned after the same principle! The human trials of life are burned into us numerous times, and through God's grace, beautiful colors are formed in us and made to shine forever!

Philippians 2:3-5 - Dr. Harry Ironside was once convicted about his lack of humility. A friend recommended as a remedy, that he march through the streets of Chicago wearing a sandwich board, shouting the scripture verses on the board for all to hear. Dr. Ironside agreed to this venture and when he returned to his study and removed the board, he said "I'll bet there's not another man in town who would do that."

Philippians 2:14 - A man decided to join a monastery and one of the rules of the group was that you were only allowed to speak two words every 10 years. At the end of 10 years he said, "Bad food!" - 10 more years went by and he said, "Hard bed!" - Finally, on his 30th anniversary with the brothers, he thundered, "I quit!" - And the priest in charge responded, "You might as well. All you do is complain anyway!"

Philippians 4:1-3 - Shooting the Saints - Are you wasting your ammunition on the other saints? It is said that when the British and French were fighting in Canada in the 1750's, Admiral Phipps, commander of the British fleet, was told to anchor outside Quebec. He was given orders to wait for the British land forces to arrive, then support them when they attacked the city. Phipps' navy arrived early. As the admiral waited, he became annoyed by the statues of the saints that adorned the towers of a nearby cathedral, so he commanded his men to shoot at them with the ships' cannons. No one knows how many rounds were fired or how many statues were knocked out, but when the land forces arrived and the signal was given to attack, the admiral was of no help. He had used up all his ammunition shooting at the "saints."

Philippians 4:8 - Holocaust survivor Viktor Frankl wrote, "Everything can be taken from a man but one thing: the last of the human freedoms - to choose one's attitude in any given set of circumstances, to choose one's own way." Memorize Phil. 4:8 Think of the mind like a bank that regularly receives deposits. By depositing the kinds of thoughts mentioned in Phil.4:8, we build up and draw on a rich account that will constantly yield a high dividend called joy!

Philippians 4:8 - Quick Thinking: A man working in the produce department was asked by a lady if she could buy 1/2 a head of lettuce. He replied, "1/2 a head? Are you serious? God grows these in whole heads and that's how we sell them!" "You mean," she persisted, "that after all the years I've shopped here, you won't sell me half-a-head of lettuce?" "Look," he said, "If you like I'll ask the manager." She indicated that would be appreciated, so the young man marched to the front of the store. "You won't believe this, but there's a lame braided idiot of a lady back there who wants to know if she can buy 1/2-a-head of lettuce." He noticed the manager gesturing, and turned around to see the lady standing behind him, obviously having followed him to the front of the store. "And this nice lady was wondering if she could buy the other 1/2," he concluded. Later in the day the manager cornered the young man and said, "That was the finest example of thinking on your feet I've ever seen! Where did you learn that?" "I grew up in Grand Rapids, and if you know anything about Grand Rapids, you know that it's known for its great hockey teams & its ugly women." The manager's face flushed, & he interrupted, "My wife is from Grand Rapids!" "And which hockey team did she play for?"

Philippians 4:13 - He who made the little slave-baby the strong champion of the Exodus; & the shepherdlad the slayer of Goliath; & the captive Daniel prime minister of mighty Babylon; He who transformed Simon to Cephas, Saul into Paul, & has made 1000's of his humble followers spiritual giants, can enable you & me to "do all things" if we live in the secret of that little phrase, "through Christ"! (Ed: And in the Church Age, Christ's power is dispensed by the indwelling Holy Spirit. Are you daily surrendering to the Spirit, being filled with the Spirit [Eph 5:18], walking by the Spirit [Gal 3:3; 5:16, 17, 18, 24, 25]? cp Galatians 2:20, John 6:63, 2 Cor 3:5,6, Ro 7:6).
C H Spurgeon wrote that Bengel's NT commentary "is the scholar's delight. He selected the title as modest and appropriate, intending it in the sense of a pointer or indicator, like the sun-dial (see gnomon); his aim being to point out or indicate the full force and meaning of the words and sentences of the New Testament. He endeavors to let the text itself cast its shadow on his page, believing with Luther that "the science of theology is nothing else but grammar exercised on the words of the Holy Spirit..... Bengel condensed more matter into a line than can be extracted from pages of other writers."
John Wesley said of Bengel "I know of no commentator on the Bible equal to Bengel" and referred to him as "The great light of the Christian world."
James Rosscup writes "This work (Gnomon), originally issued in 1742, has considerable comment on the Greek, flavoring the effort with judicious details about the spiritual life. It has much that helps, but has been surpassed by many other commentaries since its day." (Commentaries for Biblical Expositors: An Annotated Bibliography of Selected Works or Logos)
Similar to above but less Greek
Charles Haddon Spurgeon -- "'A Critical New Testament, so compiled as to enable a reader, unacquainted with Greek, to ascertain the exact English force and meaning of the language of the New Testament, and to appreciate the latest results of modern criticism.' Such is the professed aim of this commentary, and the compilers have very fairly carried out their intentions. The whole of Bengel's Gnomon is bodily transferred into the work, and as one hundred and twenty years have elapsed since the first issue of that book, it may be supposed that much has since been added to the wealth of Scripture exposition; the substance of this has been incorporated in brackets, so as to bring it down to the present advanced state of knowledge. We strongly advise the purchase of this book, as it is multum in parvo, and will well repay an attentive perusal. Tischendorf and Alford have contributed largely, with other German and English critics, to make this one of the most lucid and concise commentaries on the text and teachings of the New Testament" (Spurgeon, C. H. Lectures to my Students, Vol. 4: Commenting and Commentaries; Lectures Addressed to the students of the Pastors' College, Metropolitan Tabernacle)
Joseph Agar Beet was an English Wesleyan, born at Sheffield on Sept. 27, 1840. He attended Wesley College, Sheffield (1851-56), and took up mining engineering, but afterward studied theology at the Wesleyan College, Richmond (1862-64). He was pastor 1864-85 and professor of systematic theology in Wesleyan College, Richmond, 1885-1905. He was also a member of the faculty of theology in the University of London 1901-05. He delivered the Fernley Lecture on The Credentials of the Gospels in 1889, and lectured in America in 1896.
Hint: Do a "control + find" when you open a "hit" and search only Philippians, as well as full name.
This may take some practice but is guaranteed to yield some "gems"!
Recommended Resource
Over 350 pages of material!
Pastor Bill's sermons usually have frequent illustrations and practical applications. - Recommended
Well Done
Calvary Chapel, Fullerton, Ca - Frequent Use of Illustrations
"Designed for Pastors and Sunday Schools"
Highly Recommended - Sermons function much like verse by verse commentary
These sermons function like commentaries
One of the better in depth commentaries. Helps to know some Greek
Spurgeon: "A standard work. Essential to the scholarly student."
D Edmond Hiebert - A full exegetical commentary by a conservative Scottish scholar of the past century; presents the various views up to the time of the author. Contains excellent definitions of Greek words, also homiletical truths.
John Cereghin, Pastor - A thorough commentary on the Greek text. He gives excellent definitions of Greek words (19), stressing even the conjunctions (169). He denies that Christ emptied Himself of His deity (102), has a thorough discussion of the whole passage (2:5-11; pages 95-129). He urges men to serve Christ "without compromise" (238). He sometimes uses Latin or German without translation.
Recommended - Has an Attractive Devotional Quality
"Blueprint for Joy"
Frequent Illustrations
D Edmond Hiebert - A devotional exposition of real merit in a rich homiletical style.
Sermons which function like commentaries. Highly Recommended
PHILIPPIANS 1
PHILIPPIANS 2
PHILIPPIANS 3
PHILIPPIANS 4
Warm, eloquent, practical expositions. There are memorable expressions: "Life is to be as Christ, for Christ, by, in, and from Christ" - John Cereghin, Pastor
A warmly devotional exposition. He divides the epistle into 27 short sections, some of which are masterpieces of exposition. On Phil 2:5-8 he maintains the absolute deity as well as humanity of Christ (82-85): He empties Himself only of His glory. - John Cereghin, Pastor
CYRIL BARBER - The Minister's Library Volume 2, The Minister's Library Volume 3
Briscoe, D. Stuart. Philippians: Happiness Beyond Our Happenings. Wheaton, IL: Harold Shaw Publishers, 1993. First published in 1975 and reprinted in 1984. Comprises a lay person's commentary on Philippians that is plain and practical, and explains how believers may endure suffering while at the same time meeting their problems with faith and courage. The result is the ability to live consistently for the Lord. Recommended.
Cradock, Fred B. Philippians. Interpretation. Atlanta: John Knox Press, 1985. This commentary deals with the text as a letter giving us a window on a relationship between a pastor and a church. The purpose is to inform as well as inspire those in the church. The implications of this letter are evident. Cradock uses this as a vehicle for communicating the essence of Paul's epistle to the Philippians. Down-to-earth and helpful.
*Eadie, John. A Commentary on the Greek Text of the Epistle of Paul to the Philippians. Minneapolis: James & Klock Publishing Co., 1977. An important reprint that provides excellent definitions of the meaning of Greek words, contains an extensive discussion of the kenosis passage and presents an evaluation of the opinions of leading writers on each crucial point. First published in 1859.
Fee, Gordon D. Paul's Letter to the Philippians. New International Commentary on the New Testament. Grand Rapids: Wm. B. Eerdmans Publishing Co., 1995. This is a most valuable contribution to the literature on this prison epistle. Fee is a premier NT scholar. His handling of the Greek text is superb. Pastors will find this study of Philippians to be of inestimable help in the preparation of their expository messages
Fee, Gordon D. Philippians. IVP New Testament Commentary. Downers Grove, IL: InterVarsity, 1999. An accurate explanation of the theme of this letter. Here is profound scholarship in the service of the believer.
Ferguson, Sinclair B. Let's Study Philippians. Carlisle, PA: Banner of Truth, 1997. A clear exposition on a lay person's level. Explains in brief, lucid chapters the essence of Paul's teaching. Helpful.
Foulkes, Francis. The Letter of Paul to the Philippians: An Introduction and Commentary. Tyndale New Testament Commentary. Grand Rapids: Wm. B. Eerdmans Publishing Co., 1991. One of the best works in this series. The introduction is extensive and up-to-date. The comments on the text are apropos. Behind the writer's exposition there lies vast learning in a variety of disciplines. Each of these is used to illustrate or highlight aspects of the Biblical text.
Getz, Gene A. Pressing On When You'd Rather Turn Back: Studies in Philippians. Ventura, CA: Regal Books, 1986. First published a decade ago under the title A Profile of Christian Maturity. Covers Paul's Philippian letter simply and directly. Getz shows the importance of facing life realistically.
Govett, Robert. Govett on Philippians. Miami Springs, Fla.: Conley and Schoettle Publishing Co., 1985. The late Wilbur M. Smith said, "Govett summarizes what most commentators have attempted to say." He was in the best sense of the word a doctrinal preacher. His handling of the theme of this epistle is weak, but his presentation of its theology is excellent.
*Gromacki, Robert Glenn. Stand United in Joy: An Exposition of Philippians. Grand Rapids: Baker Book House, 1980. Adheres to the format established in the author's other NT commentaries. Ideal for personal or group use. Nontechnical.
Houlden, James Leslie. Paul's Letters from Prison: Philippians, Colossians, Philemon, and Ephesians. Westminster Pelican Commentaries. Philadelphia: Westminster Press, 1980. †An exacting work that approaches matters of authorship, date, and the like critically. Highlights the different purposes of each letter. Of value for its exegetical insights. Must be read with discernment.
*Hutchinson, John. Exposition of Paul's Epistle to the Philippians. Minneapolis: Klock & Klock Christian Publishers, 1985. This expositional commentary traces with care the unfolding of Paul's thought and applies the principles that are laid bare to the needs of believers. Hutchinson deals deftly with the apostle's varying moods and shows how these provide a pattern for the Christian's own growth. This is an excellent volume, perspicuous and practical.
Jeremiah, David. Turning Toward Joy. Wheaton, IL: Victor Books, 1992. Covers Paul's letter to the Philippians in 12 chapters. Questions for group discussion are to be found in the study portion of this book. An ideal exposition of true joy for lay people.
*Johnstone, Robert. Lectures on the Epistle to the Philippians. Minneapolis: Klock & Klock Christian Publishers, 1977. A valued reprint. Deals admirably with the theme of the epistle. Buy it while it is still available.
Laurin, Roy Leonard. Philippians; Where Life Advances. Grand Rapids: Kregel Publications, 1987. Grounds his exposition in the historic context of the times. Reveals remarkable originality in applying the message Paul sent to the believers in Phillipi. Of practical value to lay people.
Melick, Richard R., Jr. Philippians, Colossians, Philemon. New American Commentary. Nashville: Broadman Press, 1991. "Characterized by lucidity and simplicity of expression. This and its avowed aim of bringing out the theological message of the biblical text will make it of especial value to pastors and Bible teachers, and should help to encourage that faithful exposition of Holy Scripture which is necessary food Sunday by Sunday for the people of God."--I. Howard Marshall.
Moule, Handley Carr Glyn. The Epistle to the Philippians. Grand Rapids: Baker Book House, 1981. First published in 1897 as a part of the Cambridge Greek Testament, this insightful study treats the key words and phrases of this prison epistle.
_______, Studies in Philippians. Grand Rapids: Kregel Publications, 1977. First published in 1893 in the Cambridge Bible for Schools and Colleges series. These notes on the text demonstrate the author's perception and sensitivity in handling the apostle Paul's thought processes and theme. Differs from Moule's other work entitled Philippian Studies: Lessons in Faith and Love. Evangelical.
Pentecost, John Dwight. The Joy of Living. A Study of Philippians. Grand Rapids: Zondervan Publishing House, 1973. This series of expository messages not only does justice to the apostle's stated purpose but also edifies and enriches the reader as he is led by this master of the pulpit to understand the theme of this epistle. Recommended.
Pentecost, John Dwight. The Joy of Living: A Study of Philippians. Grand Rapids: Kregel Publications, 1996. First published in 1973. This commentary is ideal for personal use. Review questions can be used for group discussion. Ably treats the believer's resources including the antidote to worry and the secret of contentment.
Phillips, John. Exploring Philippians. Neptune, NJ: Loizeaux Brothers, 1995. Phillips is well-known for his alliterative outlines of the books of the Bible that are a part of his growing list of expositions. Here he treats Paul's imprisonments (in Phillipi and Rome), his concern for those whom he had won to Christ, and his exhortation to right conduct. Greek word studies are interspersed throughout, but not in a way that detracts from the devotional tone of the book. Recommended.
Silva, Moises. Philippians. Wycliffe Exegetical Commentary. Chicago: Moody Press, 1988. Based upon the Greek text, this very thorough, readable commentary ably elucidates the message of Paul's letter. Silva's scholarship is evident, but he does not bore his readers with technical trivia. Instead, there is a fine blend of scholarship and devotion.
Swindoll, Charles Rozell. Laugh Again. Dallas, TX: Word Publishing, 1992. Topical messages on Paul's letter to the Philippians. Lightweight.
*Vaughan, Charles John. Epistle to the Philippians. Minneapolis: Klock & Kiock Christian Publishers, 1984. First published in 1872. These expository studies should be in the library of every pastor. They provide vivid and lasting impressions of the theme of this epistle and of the message Paul intended to convey to his readers. Excellent.
Walvoord, John Flipse. Philippians: Triumph in Christ. Chicago: Moody Press, 1971. A brief exposition. Helpful, but does not make a lasting contribution.
GOTQUESTIONS.ORG
Christians As Athletes - discusses althletic metaphor as used by Paul in Corinthians and Philippians epistles and - Here is an excerpt relarted to Philippians -
IN PHILIPPIANS - Paul also discusses the historical fact of Christ's resurrection and its crucial importance to living a full and enjoyable Christian life in his Epistle to the Philippians. Thus in Philippians 3:9-11 Paul assumes the historical validity of Christ's literal, bodily resurrection from the grave. This is a truth he affirms distinctly elsewhere. Indeed, Paul gave formal testimony to having personally met the risen Lord Jesus (Acts 22:6-11; 24:15, 21; 26:15-23). He made Christ's Resurrection the central theme of many of his sermons (e.g., Acts 13:29-33; 17:29-31). He explained to the early Christians that Christ's resurrection was not only a historical fact but integral to the believer's salvation (Ro 5:8-10; 1 Cor. 15:1-19).
Elsewhere Paul taught that Christ's resurrection is the full proof and assurance of the believer's own resurrection (Rom. 8:11; 1 Cor. 15:20-51). And not only that, but Paul declared that the risen Christ has taken up His abode in the believer in vital, spiritual, organic union with him (Gal. 2:20; Col. 1:18-20, 27-28). Accordingly, the believer has a ready source for living an abundant life in Christ with great power and personal godliness (Ro 6:5-14). Like Paul, Christians should also have a deep concern that all may come to know the crucified and risen Christ as Savior and Lord (2 Cor. 5:14-21).

All of these truths, taught so clearly elsewhere by Paul, are in view in Philippians 3. With an impassioned eloquence Paul moves from the mention of Christ's resurrection after His suffering at the cross (Phil. 3:10) to the reality of the believer's new life here and now as he awaits his own resurrection with the saints to a glorified life hereafter Phil 3:11): (Click for full lengthy discussion)
Excerpt - How do I apply this? Though we all have much to be thankful for, the pace and the pressure of life often squeeze the joy from us. Our shoulders slumped and our heads bowed, we find some days—or months—very difficult to get through. Desperate, we often search for joy in all kinds of ways—acquiring possessions, visiting places, or seeing people. But none of these can provide lasting joy. Where do you find joy in the midst of a trying circumstance? Paul knew, as did the Philippians, that true joy comes only through humble faith in the saving work of Jesus Christ, joining ourselves in harmony with His followers, and serving others in the name of Christ. This was the life experienced by the Philippian believers, and it is a life available to us today. Allow the joy you find in Christ to keep you from useless quarrels and divisions and to instead guide you into harmonious relationships with God's people.
BRIAN BILL
JIM BOMKAMP
John Cereghin, Pastor - Heart-warming sermons by the "golden-mouthed" preacher of the early church. He admits "bishop" and "elder" used to refer to the same person (184), has an eloquent exposition of l:21 (195, 196), argues for the doctrines of the Trinity, the pre-existence of Christ, His deity, absolute equality with the Father (206-209), His full humanity (p. 213), and attacks those heresies that deny these doctrines.
LIFEWAY SERMONS - Various pastors
SERMON CENTRAL
Spurgeon - Adam Clarke is the great annotator of our Wesleyan friends; and they have no reason to be ashamed of him, for he takes rank among the chief of expositors. His mind was evidently fascinated by the singularities of learning, and hence his commentary is rather too much of an old curiosity shop, but it is filled with valuable rarities, such as none but a great man could have collected. (Lectures to My Students: Volume 4: Commenting on Commentaries)
Spurgeon: A very distinguished place is due to Dr. Gill. Beyond all controversy, Gill was one of the most able Hebraists of his day, and in other matters no mean proficient.
D Edmond Hiebert - A non-technical, devotional unfolding of the epistle by means of an outline, chart, notes, and comments on the text. Characterized by devotional warmth and practical applications.

John Cereghin - A Bible study of Philippians, based on a chart. There are outlines and comments on the whole book. He has an interesting digression on the names of Christ in Scripture, defends the deity of Christ.
John Cereghin - Devotional expositions. There are apt illustrations, thought-provoking comments, a strong defense of the deity of Christ (42), and a warm encouragement of joyfulness. He urges the Premillennial interpretation of the Bible (84).
Or Try the Unabridged Version:
Spurgeon: Of this I have a very high opinion. It is the joint work of Mr. Jamieson, A. R. Fausset, and Dr. David Brown. It is to some extent a compilation and condensation of other men's thoughts, but it is sufficiently original to claim a place in every minister's library; indeed it contains so great a variety of information that if a man had no other exposition he would find himself at no great loss if he possessed this and used it diligently.

My comment - J, F, B although an older work tends to be one of the most literal older commentaries (literal millennium, does not replace Israel with the church, etc)
Spurgeon: A noble volume. A real boon to the man who purchases it.

D Edmond Hiebert - A thorough conservative exposition abounding in apt illustrations and practical applications. The revised translation and notes on the Greek text following the lectures add to the importance of the volume.

Cyril Barber - A valued reprint. Deals admirably with the theme of the epistle. Buy it while it is still available.

John Cereghin, Pastor - A very thorough, practical, and homiletical exposition by a strong Presbyterian. He warns against thinking that church membership, baptism, or adherence to the Westminster Confession is ground for salvation (254,255). On Phil 2:5-11 he maintains that pre-existence and deity of Christ (146-148). The book also includes a considerable number of notes on the Greek text.
D Edmond Hiebert - A very full introduction to the epistle is followed by a paraphrase and brief judicious verse-by-verse comments on the text. Significant discussion of the Christology of Philippians; supports Christ's full deity.
D Edmond Hiebert - A series of thirty-nine expository meditations aimed at inspiring devotion and joy in the believer's daily life. The work of a noted English Congregational minister, author of many devotional books.
Spurgeon: "Much that is excellent placed in "darkness visible.""
Spurgeon: These volumes are not all of equal value, but as a whole, they are a grand addition to our stores. The American translators have added considerably to the German work, and in some cases these additions are more valuable than the original matter. For homiletical purposes these volumes are so many hills of gold, but, alas, there is dross also, for Baptismal Regeneration and other grave errors occur.

John Cereghin, Pastor - Braune, Karl, Philippians in Lange's Commentary on the Holy Scriptures, n.d. (first American edition 1870), 76 pages. A conservative Lutheran exposition. He has thorough comments based on the Greek text, argues for the unity of the book and its Pauline authorship (5), describes the subjective mediation of Christ (17). On 2:5-11 he teaches the pre-existence of Christ (32) and His deity (33); he denies that He emptied Himself of His deity (35).
John Cereghin - The most thorough and helpful commentary on the Greek text. He discusses every grammatical and interpretative problem in the book and has extended notes on special subjects (see on "bishop" and "presbyter" 95-99). He defends the pre-existence and deity of Christ, holding that He emptied Himself "not of His divine nature, for this was impossible, but of the glories, the prerogatives, of Deity. This He did by taking upon Him the form of a servant" (112). There are also extended dissertations of "The Christian Ministry" and "St. Paul and Seneca."

D Edmond Hiebert - Greek text. A standard commentary; deals thoroughly with grammatical and interpretative problems of the epistle. Contains an elaborate introduction and two lengthy dissertations (half of the volume) on "The Christian Ministry" and "Saint Paul and Seneca."
Note: Links below are to shorter, individual Mp3's…
No doubt wonderfully learned, but we cannot get on with it. Quotations from heretics we have happily never heard of before are of no great use to simple believers like ourselves. - John Cereghin, Pastor
A warmly devotional, yet scholarship exposition. He has a paraphrase of all the epistle and most helpful explanations. He also has helpful comments on the names of Christ used in Philippians (255-260). - John Cereghin, Pastor
ARTHUR PEAKE
Rosscup - Though he discusses Philippians in his Word Pictures, Robertson here devotes an entire detailed book on the epistle. He is rich in word studies and in the explanation of the text.

John Cereghin, Pastor - Expository messages based on the Greek text of Philippians. They are warm-hearted and genuinely helpful. He gives the exact vocabulary meaning of words, as well as the interpretation of passages. On Phil 2:1-11 he affirms the full humanity and deity of Christ (130). His exaltation is "the taking up of the humanity of Jesus into His deity with new glory" (140).
Note: Some of their links are bad - please take a moment to report this to them so they will correct the bad links. Thank you.
Spurgeon: Speaker's in general "contains much which tends to illustrate the text; but if you had it you would not turn to it for spiritual food, or for fruitful suggestion, or if you did so, you would be disappointed. The object of the work is to help the general reader to know what the Scriptures really say and mean, and to remove some of the difficulties. It keeps to its design and in a measure accomplishes it."
Spurgeon - Trapp will be most valuable to men of discernment, to thoughtful men, to men who only want a start in a line of thought, and are then able to run alone. Trapp excels in witty stories on the one hand, and learned allusions on the other. You will not thoroughly enjoy him unless you can turn to the original, and yet a mere dunce at classics will prize him. His writings remind me of himself: he was a pastor, hence his holy practical remarks; he was the head of a public school, and everywhere we see his profound scholarship; he was for some time amid the guns and drums of a parliamentary garrison, and he gossips and tells queer anecdotes like a man used to soldier-life; yet withal, he comments as if he had been nothing else but a commentator all his days. Some of his remarks are far-fetched, and like the far fetched rarities of Solomon's Tarshish, there is much gold and silver, but there are also apes and peacocks. His criticisms would some of them be the cause of amusement in these days of greater scholarship; but for all that, he who shall excel Trapp had need rise very early in the morning. Trapp is my especial companion and treasure; I can read him when I am too weary for anything else. Trapp is salt, pepper, mustard, vinegar, and all the other condiments. Put him on the table when you study, and when you have your dish ready, use him by way of spicing the whole thing. Yes, gentlemen, read Trapp certainly, and if you catch the infection of his consecrated humor, so much the better for your hearers. (Lectures to My Students: Volume 4: Commenting on Commentaries)
Spurgeon: Deservedly esteemed. Dr. Vaughan gives a literal translation of his text from the original Greek, and then expounds it, believing it, as he says, "to be the duty of every Christian teacher to assist his congregation in drinking not of the stream only, but at the spring of revealed truth."
John Cereghin, Pastor - Devotional meditations on Philippians by a missionary. He gives the theme verse of the book (Phil 1:21, pp. 9ff.); stresses the recognizing, not appointment, of elders (24ff.); gives many illustrations from Chinese missions; distinguishes between Greek words; shows 7 steps down in Christ's humiliation and 7 up in exaltation (137, 43); provides insight from the papyri (150f.); holds that "work out" means "cultivate" (154f.); teaches the Pre-tribulation Rapture (246f.; 296); warns about the ease with which misunderstandings arise between believers (283f.)
D Edmond Hiebert - A simplified commentary on the Greek for the benefit of the English reader; seeks to convey the meaning of the original by means of an expanded translation with exegetical comments and word studies.
ROBERT MORGAN
WILLIAM GRAHAM SCROGGIE
SERMON CENTRAL - Be discerning - these are of variable quality.
SERMONS BY VERSE
| | | |
| --- | --- | --- |
| An Ancient Letter | W.F. Adeney | Philippians 1:1 |
| Loving Greetings | Alexander Maclaren | Philippians 1:1 |
| Paul's Thanks and Prayers for Churches | Martin Luther | Philippians 1:1 |
| Apostolic Address and Salutation | T. Croskery | Philippians 1:1, 2 |
| Introduction | R. Finlayson | Philippians 1:1, 2 |
| Paul's Salutation | D. Thomas | Philippians 1:1, 2 |
| Saints, Bishops, and Deacons | R.M. Edgar | Philippians 1:1, 2 |
| The Philippian Church a Type of the Catholic Church | V. Hutton | Philippians 1:1, 2 |
| Address and Salutation | R. Johnstone, LL. B. | Philippians 1:1-3 |
| Christian Peace | Archbishop Trench. | Philippians 1:1-3 |
| Grace a Continuity | Toplady. | Philippians 1:1-3 |
| Grace Comes from God | J. Edwards. | Philippians 1:1-3 |
| Ministers Servants of Christ | | Philippians 1:1-3 |
| Order of God | J. Daille. | Philippians 1:1-3 |
| Paul and Timothy | J. Parker, D. D. | Philippians 1:1-3 |
| Paul's Greeting to the Philippians | J. Parker, D. D. | Philippians 1:1-3 |
| Peace | J. Hutchison, D. D. | Philippians 1:1-3 |
| Peace | F. W. Robertson. | Philippians 1:1-3 |
| Philippi | Professor Eadie. | Philippians 1:1-3 |
| The Apostolic Salutation | J. Lyth, D. D. | Philippians 1:1-3 |
| The Blessings of the Gospel | J. Lyth, D. D. | Philippians 1:1-3 |
| The Honour of Serving Christ | C. H. Spurgeon. | Philippians 1:1-3 |
| The Saints At Philippi | G. C. Ballard. | Philippians 1:1-3 |
| The Salutation | W. B. Pope, D. D. | Philippians 1:1-3 |
| Paul's Gratitude for Good Men | D. Thomas | Philippians 1:3-5 |
| Thanksgiving for Their Fellowship in the Gospel | T. Croskery | Philippians 1:3-5 |
| A Cheerful Prisoner | Family Churchman | Philippians 1:3-11 |
| Blessed Remembrance and Joyful Prayers | Weekly Pulpit | Philippians 1:3-11 |
| Christian Remembrances | J. Lyth, D. D. | Philippians 1:3-11 |
| Expression of Interest | R. Finlayson | Philippians 1:3-11 |
| Happy Memories | G. G. Ballard. | Philippians 1:3-11 |
| My God | G. G. Ballard. | Philippians 1:3-11 |
| Pleasant Memories and Bright Hopes | R. Johnstone, LL. B. | Philippians 1:3-11 |
| Retrospect and Forecast | J. J. Goadby. | Philippians 1:3-11 |
| The Apostle's Intercession and Assurance | R.M. Edgar | Philippians 1:3-11 |
| The Introduction to the Epistle | J. Daille. | Philippians 1:3-11 |
| The True Spirit of Prayer | J. Lyth, D. D., J. Lyth, D. D. | Philippians 1:3-11 |
| Fellowship and Progress | Weekly Pulpit | Philippians 1:4-5 |
| Intercession for Others | J. Lyth, D. D. | Philippians 1:4-5 |
| Our Fellowship in the Gospel | J. Lyth, D. D. | Philippians 1:4-5 |
| Paul's Activity and Prayerfulness | J. Hutchinson, D. D. | Philippians 1:4-5 |
| Present Rewards of Christian Work | G. G. Ballard. | Philippians 1:4-5 |
| Pure Joy | G. C. Ballard. | Philippians 1:4-5 |
| The Joy of the Faithful Minister Over the Progress of the Gospel | J. Lyth, D. D. | Philippians 1:4-5 |
| True Gospel Fellowship | G. G. Ballard. | Philippians 1:4-5 |
| Christian Joy not Dependent Upon Outward Circumstances | V. Hutton | Philippians 1:4 |
| A Good Work | S. Barnard. | Philippians 1:6 |
| Begun, Continued, and Ridded in God | W.F. Adeney | Philippians 1:6 |
| Confidence and Completion | S. Martin. | Philippians 1:6 |
| Divine Workmanship | G. G. Ballard. | Philippians 1:6 |
| Means of Progress in the Divine Life | J. Daille. | Philippians 1:6 |
| Paul's Confidence Was | G. G. Ballard. | Philippians 1:6 |
| Sanctification and Perseverance | J. Foot, D. D. | Philippians 1:6 |
| Spiritual Culture | R. Tuck, B. A. | Philippians 1:6 |
| The Basis of Paul's Confidence | J. Paget, D. D. | Philippians 1:6 |
| The Danger and Security of the Christian | C. H. Spurgeon. | Philippians 1:6 |
| The Day of Jesus Christ | G. G. Ballard. | Philippians 1:6 |
| The Day of Jesus Christ | Dean Vaughan. | Philippians 1:6 |
| The Faithfulness of God | Clerical Library | Philippians 1:6 |
| The Good Work Within | Congregational Remembrancer., Weekly Pulpit., J. Parker, D. D | Philippians 1:6 |
| The Grounds of the Apostle's Thanksgiving | T. Croskery | Philippians 1:6 |
| The Perfection of God's Works | C. H. Spurgeon. | Philippians 1:6 |
| The Permanence and Sacrificial Character of the Work of Grace | J. Hutchinson, D. D. | Philippians 1:6 |
| The Perseverance of the Saints | Congregational Remembrancer | Philippians 1:6 |
| The Perseverance of the Saints Does not Supersede Human Effort | C. H. Spurgeon. | Philippians 1:6 |
| The Present Dispensation | G. G. Ballard. | Philippians 1:6 |
| The Truest Guarantee of Perseverance | V. Hutton | Philippians 1:6 |
| Personal Christianity | D. Thomas | Philippians 1:6-8 |
| The Communion of Saints | V. Hutton | Philippians 1:7 |
| A Double Explanation of the Origin of This Confidence | T. Croskery | Philippians 1:7, 8 |
| Aboundings of Love | A. Raleigh, D. D., J. Parker, D. D. | Philippians 1:7-11 |
| Ministers Carry the Images of Their People in Their Hearts | | Philippians 1:7-11 |
| Reasons for Paul's Confidence | Weekly Pulpit., J. Lyth, D. D | Philippians 1:7-11 |
| The Apologetic Value of Paul's Bonds | | Philippians 1:7-11 |
| The Fellowship of the Gospel | J. Parker, D. D. | Philippians 1:7-11 |
| The Heart of Paul and the Heart of Christ | G. G. Ballard. | Philippians 1:7-11 |
| The Unifying Influence of Christian Love | The Study | Philippians 1:7-11 |
| Apostolic Solicitude | J. Lyth, D. D. | Philippians 1:8 |
| Brotherly Love | Weekly Pulpit | Philippians 1:8 |
| Paul's Tender Regard for the Philippians | W. Arnot, D. D. | Philippians 1:8 |
| Saints Longing for Saints | J. Parker, D. D. | Philippians 1:8 |
| The Bowels of Jesus Christ | Bishop Lightfoot. | Philippians 1:8 |
| The Consistency of Love of Man with Love of God | W. Arnot, D. D. | Philippians 1:8 |
| Universality of Christian Love | W. Arnot, D. D. | Philippians 1:8 |
| A Comprehensive Prayer | Alexander Maclaren | Philippians 1:9 |
| Advancement in Knowledge Must be Constant | Bp. Simpson | Philippians 1:9 |
| Definiteness in Prayer | G. G. Ballard. | Philippians 1:9 |
| Intelligent Love | R. Johnstone, LL. B. | Philippians 1:9 |
| Knowledge and Judgment | G. G. Ballard. | Philippians 1:9 |
| Knowledge the Basis of Love | N. Emmons, D. D. | Philippians 1:9 |
| Love | G. G. Ballard. | Philippians 1:9 |
| Love Abounding Through Knowledge | A. J. Gordon. | Philippians 1:9 |
| Love and Discernment | W. H. Griffith Thomas | Philippians 1:9 |
| Love and Knowledge | Canon Liddon. | Philippians 1:9 |
| Love Inseparable from Christian Life | J. Hutchinson, D. D. | Philippians 1:9 |
| Love Rich in Purse | | Philippians 1:9 |
| Love: its Critical Function | Webster and Wilkinson. | Philippians 1:9 |
| Love's Spring Tides | G. G. Ballard. | Philippians 1:9 |
| Paul's Prayer | G. G. Ballard. | Philippians 1:9 |
| Regulated Love | J. Hutchinson, D. D. | Philippians 1:9 |
| The Excellence of Love | C. H. Spurgeon. | Philippians 1:9 |
| The Importance of Christian Knowledge | Gardiner Spring, D. D. | Philippians 1:9 |
| The Knowledge of Christ the Mainstay of Brotherly Love | A. J. Gordon. | Philippians 1:9 |
| The Love of God Without Knowledge | A. J. Gordon. | Philippians 1:9 |
| The Training of Love | W. B. Pope, D. D. | Philippians 1:9 |
| The Things that Excel | W.F. Adeney | Philippians 1:9, 10 |
| Love -- the Heart's Eye | S. Martin. | Philippians 1:9-11 |
| Perseverance to the Day of Christ | W. B. Pope, D. D. | Philippians 1:9-11 |
| St. Paul's Prayer for the Philippians | C. Lawson., J. Lyth, D. D. | Philippians 1:9-11 |
| The Apostle's Prayer | T. Croskery | Philippians 1:9-11 |
| The Augmentation of Christly Love Ensures the Improvement of the Whole Man | D. Thomas | Philippians 1:9-11 |
| The Life of God in the Soul of Man | V. Hutton | Philippians 1:9-11 |
| The Recorded Prayers of St. Paul | G. G. Ballard. | Philippians 1:9-11 |
| True Christian Love | S. Martin. | Philippians 1:9-11 |
| Christian Rectitude | G. G. Ballard. | Philippians 1:10 |
| Discerning with a Purpose | D. G. Watt, M. A. | Philippians 1:10 |
| Discernment the Result of Experience | R. Johnstone, LL. B. | Philippians 1:10 |
| Life Work | J. Lyth, D. D. | Philippians 1:10 |
| One Fault May Spoil a Life | | Philippians 1:10 |
| Sincere and Without Offence | J. Aldis. | Philippians 1:10 |
| Sincere and Without Offence | J. Aldis. | Philippians 1:10 |
| Sincere Christians | | Philippians 1:10 |
| Sincerity | R. Johnstone, LL. B. | Philippians 1:10 |
| Sincerity | J. Tesseyman. | Philippians 1:10 |
| Spiritual Discrimination | G. G. Ballard. | Philippians 1:10 |
| The Day of Christ | J. Aldis. | Philippians 1:10 |
| The Discernment of Things Excellent | J. Aldis. | Philippians 1:10 |
| The Things that are Excellent | Principal Tulloch. | Philippians 1:10 |
| True Religion Is | J. Lyth, D. D. | Philippians 1:10 |
| Without Offence | J. Aldis. | Philippians 1:10 |
| Abounding Fruitfulness | J. Daille. | Philippians 1:11 |
| Advantages of Advanced Piety | H. W. Beecher. | Philippians 1:11 |
| Fruits of Righteousness | J. Hutchison, D. D. | Philippians 1:11 |
| Gospel Holiness | J. Summerfield, A. M. | Philippians 1:11 |
| Righteousness | J. Lyth, D. D., J. Lyth, D. D. | Philippians 1:11 |
| Spiritual Attainment | G. G. Ballard. | Philippians 1:11 |
| The Fruits of Righteousness | H. Airay, D. D. | Philippians 1:11 |
| The Trees of Righteousness Blossoming, and Bringing Forth Fruit | T. Watson. | Philippians 1:11 |
| A Prisoner's Triumph | Alexander Maclaren | Philippians 1:12 |
| Christianity Promoted by Being Persecuted | W.F. Adeney | Philippians 1:12-14 |
| Furtherance of the Gospel Through the Apostle's Imprisonment | T. Croskery | Philippians 1:12-14 |
| The Benefits Conferred Upon Men by the Steadfast Confession of Our Faith | V. Hutton | Philippians 1:12-14 |
| A Grand Principle and a Splendid Example | D. Thomas | Philippians 1:12-18 |
| Bonds in Christ | J. Lyth, D. D. | Philippians 1:12-20 |
| Character of St. Paul's Captivity | Bishop Lightfoot., Conybeare and Howson. | Philippians 1:12-20 |
| Christian Boldness | G. G. Ballard. | Philippians 1:12-20 |
| Expectations Unexpectedly Fulfilled | T. C. Finlayson. | Philippians 1:12-20 |
| Good Out of Evil | J. Daille. | Philippians 1:12-20 |
| Hindrances as Helps | J. F. B. Tinling, B. A. | Philippians 1:12-20 |
| Irresistible Moral Influence | G. G. Ballard. | Philippians 1:12-20 |
| Ministerial Life | G. G. Ballard. | Philippians 1:12-20 |
| Paul's Bonds in Christ Exhibited | G. G. Ballard. | Philippians 1:12-20 |
| Paul's Captivity | J. Hutchinson, D. D. | Philippians 1:12-20 |
| Paul's Sorrows and Joys | J. Lyth, D. D. | Philippians 1:12-20 |
| The Advantage of Disadvantage | John Bunyan, in Bedford Jail. | Philippians 1:12-20 |
| The Furtherance of the Gospel | J. Hutchinson, D. D. | Philippians 1:12-20 |
| The Gospel Furthered by Opposition | J. Lyth, D. D. | Philippians 1:12-20 |
| The Gospel in Rome | J. J. Goadby. | Philippians 1:12-20 |
| The Gospel in Rome | R. Johnstone, LL. B. | Philippians 1:12-20 |
| The Gospel Promoted by Persecution | R.M. Edgar | Philippians 1:12-20 |
| The Ministry of Paul the Prisoner | G. G. Ballard. | Philippians 1:12-20 |
| The Powerlessness of Persecution | H. Airay, D. D. | Philippians 1:12-20 |
| The Things that have Happened unto Me have Fallen Out Rather unto the Furtherance of the Gospel | J. Parker, D. D. | Philippians 1:12-20 |
| The Triumphs of the Gospel | J. Lyth, D. D. | Philippians 1:12-20 |
| Things Concerning Himself | W. B. Pope, D. D. | Philippians 1:12-20 |
| Unfavourable Circumstance, May be Turned to Advantage | C. H. Spurgeon. | Philippians 1:12-20 |
| Thoughts Suggested by His Captivity | R. Finlayson | Philippians 1:12-30 |
| A Spurious Ministry | G. G. Ballard. | Philippians 1:15 |
| Allowable Contention | Lord Bacon. | Philippians 1:15 |
| An Imprisoned Preacher's Thoughts | H. W. Beecher. | Philippians 1:15 |
| Christ Preached by Love | Boree. | Philippians 1:15 |
| Christ Really Though Inadequately Preached | H. W. Beecher. | Philippians 1:15 |
| Evangelical Congratulation | W. Brock, D. D. | Philippians 1:15 |
| Goodwill the Spirit Common to the Brotherhood of the Christian Ministry | G. G. Ballard. | Philippians 1:15 |
| Love of Christ and the Brethren the Essential Qualification for Preaching Christ | G. G. Ballard. | Philippians 1:15 |
| Motives | J. Lyth, D. D., J. Parker, D. D. | Philippians 1:15 |
| Observe | J. Lyth, D. D. | Philippians 1:15 |
| Observe | J. Lyth, D. D. | Philippians 1:15 |
| Paul's Joy in the Preaching of His Enemies | H. W. Beecher. | Philippians 1:15 |
| Power of Christ Preached | William Arnot. | Philippians 1:15 |
| Power of the Bible Even in Faulty Versions | Anstera. | Philippians 1:15 |
| The Defence of the Gospel | J. Lyth, D. D. | Philippians 1:15 |
| The Influence of the Gospel | Bp. Ryle. | Philippians 1:15 |
| The Motives of Paul's Enemies | J. Daille. | Philippians 1:15 |
| The Opponents of St. Paul | Professor Eadie. | Philippians 1:15 |
| The Preaching of Christ | J. Lyth, D. D., W. B. Collyer, D. D. | Philippians 1:15 |
| The Preaching of Christ a Reason for Joy and Holy Exultation | Isaac Mann, M. A. | Philippians 1:15 |
| The Preaching of Christ by Whatever Lips a Source of Satisfaction to Christians | Oliver Cromwell. | Philippians 1:15 |
| The Real and Counterfeit in the Christian Ministry | G. G. Ballard. | Philippians 1:15 |
| Toleration | H. W. Beecher. | Philippians 1:15 |
| Two Voices on the Same Subject | J. Parker, D. D. | Philippians 1:15 |
| A Significant Difference Among the Apostle's Brethren | T. Croskery | Philippians 1:15-18 |
| The Spirit of Faction | V. Hutton | Philippians 1:15-18 |
| Christ Preached in Sectarian Jealousy | W.F. Adeney | Philippians 1:18 |
| Benefit of Trial | T. Guthrie, D. D. | Philippians 1:19 |
| Cheerfulness in Trial | Anecdotes of the Wesleys. | Philippians 1:19 |
| Mark | J. Parker, D. D. | Philippians 1:19 |
| Prayer for Ministers | Dr. H. C. Fish. | Philippians 1:19 |
| Salvation and its Means | R. Johnstone, LL. B. | Philippians 1:19 |
| The Ministers' Plea | C. H. Spurgeon. | Philippians 1:19 |
| The Necessity of the Spirit in Spiritual Work | C. H. Spurgeon. | Philippians 1:19 |
| The Relation Between Prayer and the Supply of the Spirit | C. H. Spurgeon. | Philippians 1:19 |
| The Supply of the Spirit of Jesus Christ | W. B. Pope, D. D. | Philippians 1:19 |
| The Bearing of His Various Trials Upon His Salvation | T. Croskery | Philippians 1:19, 20 |
| The Magnifying of Christ the Supreme End of Life | D. Thomas | Philippians 1:19, 20 |
| Christ Made Great | N. M. Harry. | Philippians 1:20 |
| Christ Magnified | Caleb Morris. | Philippians 1:20 |
| Earnest Expectation | J. Hutchison, D. D. | Philippians 1:20 |
| Paul's Expectation | A. J. Bamford, B. A. | Philippians 1:20 |
| Paul's Expectation | J. Parker, D. D. | Philippians 1:20 |
| The Savior Magnified in His People | J. Burns, D. D. | Philippians 1:20 |
| A Believer's Privilege At Death | T. Watson. | Philippians 1:21 |
| A Comparative View of Life and Death | John Foster. | Philippians 1:21 |
| A Strait Betwixt Two | Alexander Maclaren | Philippians 1:21 |
| An Ideal Life Blooming into a Happy Death | D. Thomas | Philippians 1:21 |
| Christ and Death | W. H. H. Murray. | Philippians 1:21 |
| Christ Our Life | R. Tuck, B. A. | Philippians 1:21 |
| Christ the End of Life | A. K. H. Boyd, D. D. | Philippians 1:21 |
| Christ the Grandest Life | Paxton Hood. | Philippians 1:21 |
| Christ the Saints' Life | W. Anderson, LL. D. | Philippians 1:21 |
| Christian Life and Death | J. D. Geden, D. D. | Philippians 1:21 |
| Christian Life and Death | T. N. Toller. | Philippians 1:21 |
| Christian Life and Death | H. G. Guinness. | Philippians 1:21 |
| Christly Life and Gainful Death | W. Sidebottom. | Philippians 1:21 |
| Contrasted Views of Death | J. F. B. Tinling, B. A. | Philippians 1:21 |
| Death a Gain | W. H. H. Murray. | Philippians 1:21 |
| Death Differently Viewed by Different Characters | James Hamilton, D. D. | Philippians 1:21 |
| Diverse Views and Aims of Life | Paxton Hood. | Philippians 1:21 |
| Happy to Live or Die in Christ | | Philippians 1:21 |
| Life and Death in Christ | W. Arnot, D. D. | Philippians 1:21 |
| Life in Christ | H. G. Guinness. | Philippians 1:21 |
| Love the True Life | Paxton Hood. | Philippians 1:21 |
| Ready for Life or Death | | Philippians 1:21 |
| Socrates and Paul on Death | J. Hutchinson, D. D. | Philippians 1:21 |
| The Antidote of Death | J. A. James. | Philippians 1:21 |
| The Apostle's Alternative | A. Maclaren, D. D. | Philippians 1:21 |
| The Benefit of Death | | Philippians 1:21 |
| The Benefits Which Believers Receive At Death | T. Boston, D. D. | Philippians 1:21 |
| The Christian's Estimate of Life and Death | C. Bradley, M. A. | Philippians 1:21 |
| The Constancy of Paul's Purpose to Live Christ | A. K. H. Boyd, D. D. | Philippians 1:21 |
| The Death of Saints Magnifies Christ | J. Bate. | Philippians 1:21 |
| The Gain of Death | V. Hutton | Philippians 1:21 |
| The Gain of Dying | J. H. Evans, M. A. | Philippians 1:21 |
| The Good Man's Life and Death | C. H. Spurgeon. | Philippians 1:21 |
| The Grand Alternatives | T. Croskery | Philippians 1:21 |
| The Great End and Business of a Christian's Life is to Glorify Christ | T. Manton, D. D. | Philippians 1:21 |
| The Ideal of Christian Life | Paxton Hood. | Philippians 1:21 |
| The Means of Living Christ | W. Arnot, D. D. | Philippians 1:21 |
| The Reason Why Some Men Cling to Life | A. Maclaren, D. D. | Philippians 1:21 |
| The Saints' Death Gain | R. Johnstone, LL. B. | Philippians 1:21 |
| The Significance of the Apostle's Sentiment | Professor Eadie. | Philippians 1:21 |
| The Testimony of Nature and of Christ Concerning Death | Archdeacon Hare. | Philippians 1:21 |
| To Die is Gain | A. Pope. | Philippians 1:21 |
| To Live is Christ and to Die is Gain | J. Parker, D. D. | Philippians 1:21 |
| To Me to Live is Christ | A. Raleigh, D. D. | Philippians 1:21 |
| To Me to Live is Christ | W.F. Adeney | Philippians 1:21 |
| To Serve Christ Must be Our One Aim | C. H. Spurgeon. | Philippians 1:21 |
| Two Prospects in Death | A. Maclaren, D. D. | Philippians 1:21 |
| Various Degrees in Living Christ | W. G. Pascoe. | Philippians 1:21 |
| Victory After Death | T. Watson. | Philippians 1:21 |
| What Makes Death Gain | Archdeacon Hare. | Philippians 1:21 |
| Why Christianity Does not Prevail | W. Arnot, D. D. | Philippians 1:21 |
| Life Here and Hereafter | R.M. Edgar | Philippians 1:21-26 |
| Fruit and Gain | V. Hutton | Philippians 1:22-24 |
| The Apostle's Dilemma | T. Croskery | Philippians 1:22-24 |
| A Strait Betwixt Two | R. Johnson, LL. B. | Philippians 1:22-26 |
| Self-Love and Social Love | D. Thomas | Philippians 1:22-26 |
| St. Paul's Choice | J. Rogers, D. D. | Philippians 1:22-26 |
| A Strait | W.F. Adeney | Philippians 1:23, 24 |
| Better to be with Christ than Here | | Philippians 1:23-24 |
| Christ is Best: Or, St. Paul's Strait | R. Sibbes, D. D. | Philippians 1:23-24 |
| Christ, Heaven's Supreme Attraction | C. H. Spurgeon. | Philippians 1:23-24 |
| Death a Gain | H. W. Beecher. | Philippians 1:23-24 |
| Death, a Departure | T. De Witt Talmage. | Philippians 1:23-24 |
| Depart | W. Arnot, D. D. | Philippians 1:23-24 |
| Forever with the Lord | C. H. Spurgeon. | Philippians 1:23-24 |
| Heaven Our Home | T. Guthrie. | Philippians 1:23-24 |
| Life More Our Business than Death | J. L. Nye., Bishop Beveridge. | Philippians 1:23-24 |
| Longing for Home | C. H. Spurgeon. | Philippians 1:23-24 |
| Paul and Voltaire | W. Jay. | Philippians 1:23-24 |
| Paul's Desire to Depart | C. H. Spurgeon. | Philippians 1:23-24 |
| Ready for Heaven | J. N. Norton, D. D. | Philippians 1:23-24 |
| St. Paul's Doubt and Desire | A. Farindon, B. D. | Philippians 1:23-24 |
| Strait | W. Arnot, D. D. | Philippians 1:23-24 |
| The Attractions of Heaven Checked by the Claims of Earth | S. Martin. | Philippians 1:23-24 |
| The Desire of the Apostle; Yet His Perplexity | W. Jay. | Philippians 1:23-24 |
| The Desire to Depart | H. W. Beecher. | Philippians 1:23-24 |
| To Depart is to be with Christ | | Philippians 1:23-24 |
| Willing to Wait, But Ready to Go | W. Arnot, D. D. | Philippians 1:23-24 |
| The Apostle's Personal Conviction as to His Future Course | T. Croskery | Philippians 1:25, 26 |
| Practical Counsel for Holy and Consistent Living | T. Croskery | Philippians 1:27, 28 |
| A Call to a Four-Fold Manifestation of Spiritual Life | J. Parker, D. D. | Philippians 1:27-30 |
| A Life of Consistency, Unity, and Courage | D. Thomas | Philippians 1:27-30 |
| A Minister's Desire on Behalf of His People | T. Woodroffe. | Philippians 1:27-30 |
| Christian Citizenship | J. J. Goadby. | Philippians 1:27-30 |
| Christian Conduct is Made Up of Little Things | | Philippians 1:27-30 |
| Christian Consistency | G. J. Procter. | Philippians 1:27-30 |
| Christian Consistency | I. Spencer, D. D. | Philippians 1:27-30 |
| Christian Consistency | J. Lyth, D. D., R. Treffry. | Philippians 1:27-30 |
| Citizens of Heaven | A. Maclaren, D. D. | Philippians 1:27-30 |
| Citizenship | J. B. Norton. | Philippians 1:27-30 |
| Concord in the Church | J. Daille. | Philippians 1:27-30 |
| Conversation Becoming the Gospel | W. Cadman, M. A. | Philippians 1:27-30 |
| Conversation Becoming the Gospel | | Philippians 1:27-30 |
| Conversation Becoming the Gospel | W. Jay. | Philippians 1:27-30 |
| Exhortation to Unity | V. Hutton | Philippians 1:27-30 |
| Means in Aid of the Propagation of the Gospel | J. Thomson, D. D. | Philippians 1:27-30 |
| Ministerial Solicitude | T. Mortimer, M. A. | Philippians 1:27-30 |
| Stand Fast | J. Daille. | Philippians 1:27-30 |
| Striving Together | G. J. Procter. | Philippians 1:27-30 |
| Striving Together for the Faith of the Gospel | W. A. Snively, D. D. | Philippians 1:27-30 |
| The Gifts of Faith and of Suffering | R.M. Edgar | Philippians 1:27-30 |
| The Gospel | C. H. Spurgeon. | Philippians 1:27-30 |
| Unity and Action | W. Leask, D. D. | Philippians 1:27-30 |
| Courage | J. Lyth, D. D., J. Lyth, D. D. | Philippians 1:28 |
| In Nothing Affrighted | J. Hutchison, D. D. | Philippians 1:28 |
| Men not Terrified | | Philippians 1:28 |
| Tokens of Perdition | Homiletic Monthly | Philippians 1:28 |
| Tokens of Perdition | Christian Age | Philippians 1:28 |
| Suffering in Behalf of Christ | W.F. Adeney | Philippians 1:29 |
| Fellowship with the Martyrs and Confessors | J. Lyth, D. D. | Philippians 1:29-30 |
| Suffering for Christ | H. W. Beecher. | Philippians 1:29-30 |
| The Christian's Life Is | J. W. Reeve, M. A. | Philippians 1:29-30 |
| The Gifts of God | J. Lyth, D. D. | Philippians 1:29-30 |
| The Grace and Honour of Suffering | R. Johnstone, LL. B. | Philippians 1:29-30 |
| The Honor of Suffering for Christ | | Philippians 1:29-30 |
| The Mystery of Suffering | Mrs. Prosser. | Philippians 1:29-30 |
| The Privilege of Suffering | T. Croskery | Philippians 1:29, 30 |
| The Service of Suffering | J. F. B. Tinling, B. A. | Philippians 1:29-30 |
| The Value of Suffering | Bishop Lightfoot., Professor Eadie. | Philippians 1:29-30 |
| Unto You it is Given to Believe | J. Lyth, D. D. | Philippians 1:29-30 |
| Unto You it is Given to Suffer | J. Lyth, D. D. | Philippians 1:29-30 |
JAMES SMITH
DAVID L KENNARD
RUSSELL SMITH
JAMES SMITH
C.R. BIGGS
MIKE ANDRUS
C.R. BIGGS
MARK ADAMS
A warmly devotional, yet scholarship exposition. He has a paraphrase of all the epistle and most helpful explanations. He also has helpful comments on the names of Christ used in Philippians (255-260). - John Cereghin, Pastor
See devotionals on Philippians by Joe Stowell
Additional Our Daily Bread devotionals at
NOTE: If you are not familiar with the great saint Charles Simeon see Dr John Piper's discussion of Simeon's life - you will want to read Simeon's sermons after meeting him! - click Brothers We Must Not Mind a Little Suffering (Mp3 even better)
PHILIPPIANS 1
PHILIPPIANS 2
PHILIPPIANS 3
PHILIPPIANS 4
Note: Amillennial
Excellent Word Studies (53 pages)
Book