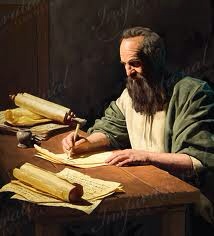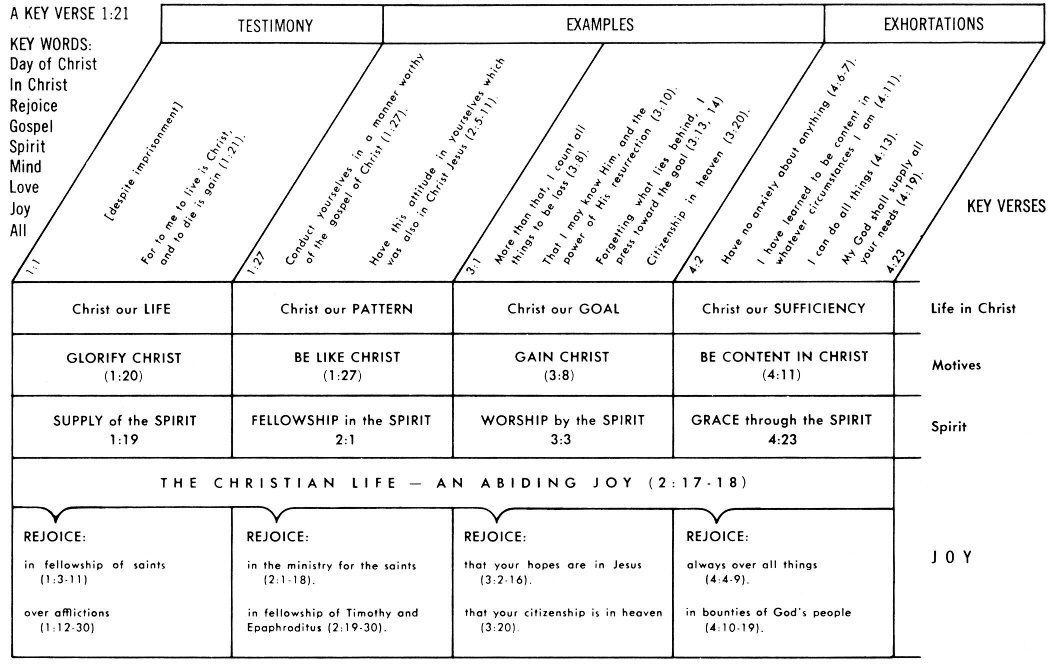 LIFE IN CHRIST
Click chart to enlarge
Charts from Jensen's Survey of the NT - used by permission
Philippians - Charles Swindoll = Chart on right side of page
Account
of Paul's
Circumstances
Php 1:1-30
Have
the Mind
of Christ
Php 2:1-30

Have
the Knowledge
of Christ
Php 3:1-21


Have
the Peace
of Christ
Php 4:1-23


Partakers of Christ
People of Christ
Pursuit of Christ
Power of Christ
Suffering
Submission
Salvation
Sanctification
Experience
Examples
Exhortation
---
MARK ADAMS - Redlands Baptist Church
HENRY AIRAY
MAX ALDERMAN
GREGG ALLEN
MIKE ANDRUS
JACK ARNOLD
THE FOLLOWING DEVOTIONALS ARE AVAILABLE AT Philippians Devotionals
Philippians 4:6 In Everything - Streams in the Desert
Philippians 4:6 Don't Fret (Mid Eng= devour. Fret, from Old Eng fretan = devour- so to gnaw into!!)
Philippians 4:7 Perfect Peace by Woodrow Kroll
Philippians 4:7 The Peace of God in Our Hearts by W. H. G. Thomas
Philippians 4:7 Never Forsaken by Dr. Woodrow Kroll
Philippians 4:10-13 Adversity and Prosperity
Philippians 4:13 A Key to Future Victories by Theodore Epp
Philippians 4:13 Strength for the Journey by Woodrow Kroll
Philippians 4:13 Dust and Destiny by Dr. Warren Wiersbe
Philippians 4:19 He Satisfies Our Soul from Streams in the Desert
Philippians 4:19 From Rags to Riches by Dr. Woodrow Kroll
WILLIAM BARRICK
JOSEPH BENSON
BRIDGEWAY
JOHN BROADUS
WILLIAM BURKITT
CAMBRIDGE BIBLE FOR SCHOOLS - H C G Moule
CAMBRIDGE GREEK
JOHN CEREGHIN
VINCENT CHEUNG
JOHN CHRYSOSTOM
ADAM CLARKE
HENRY COWLES
J R DUMMELOW
MANTON EASTBURN
DWIGHT EDWARDS
CHARLES ELLICOTT
EASY ENGLISH
GORDON FEE
A C GAEBELEIN
GENE GETZ VIDEO PRINCIPLES
Philippians 4:1-9; Standing Firm: No matter our circumstances in life, we are to stand firm in the Lord by being unified in our relationships, by seeking God's help though prayer, and by imitating Jesus Christ. Video
Philippians 4:10-17; Eternal Rewards: Spiritual leaders whose material needs are being met by fellow Christians should serve Christ faithfully in order to add to their supporters' spiritual rewards in heaven. Video
JOHN GILL
L M GRANT
SCOTT GRANT Sermon Notes Philippians
JOE GUGLIELMO
DAVE HAGELBERG
NORMAN HARRISON
JAMES HASTINGS
ROBERT HAWKER - Poor Man's Commentary
MATTHEW HENRY
JAMES HOLCOMB
F B HOLE
HOLMAN PUBLISHING
BRUCE HURT
RHODERICK ICE
H A IRONSIDE
JOHN ANGELL JAMES
JAMIESON, FAUSSET, BROWN
Published 1871 - Probably best older commentary on prophetic passages as it tends to interpret more literally.

James Rosscup - This is a helpful old set of 1863 for laypeople and pastors to have because it usually comments at least to some degree on problems. Though terse, it provides something good on almost any passage, phrase by phrase and is to some degree critical in nature. It is evangelical....Especially in its multi-volume form this is one of the old evangelical works that offers fairly solid though brief help on many verses. Spurgeon said, "It contains so great a variety of information that if a man had no other exposition he would find himself at no great loss if he possessed this and used it diligently" (Commenting and Commentaries, p. 3). Things have changed greatly since this assessment! It is primarily of help to pastors and lay people looking for quick, though usually somewhat knowledgeable treatments on verses.

Spurgeon - A really standard work. We consult it continually, and with growing interest. Mr. Fausset's portion strikes us as being of the highest order.

John Cereghin - A conservative exposition. He defends Petrine authorship (xlixff); argues for the deity of Christ (619); holds that assurance in Scripture is doubly sure (622); identifies the elements as "the world's component materials" (627); holds that Paul's Epistles were already known as "Scripture" (628).
Or Try the Unabridged Version:
ROBERT JOHNSTONE
MAURICE JONES - Westminster Commentaries' series
J H JOWETT - Meditations with excellent thoughts for the expositor.
WILLIAM KELLY
H A A KENNEDY - Expositor's Greek Testament Commentary
KEITH KRELL - SERMONS
Philippians 4:1-9 Peace by Peace
Philippians 4:10-23 Money in the Bank!
STEVE KRELOFF
PAUL KRETZMANN - Popular Commentary
LANGE COMMENTARY
LIFEWAY SERMONS - Various pastors
J B LIGHTFOOT
JAMES MACDUFF
HENRY MAHAN
BRYN MACPHAIL
JAMES MEIKLE
H A W MEYER
J R MILLER
G CAMPBELL MORGAN (Brief overview)
ROBERT MORGAN
ROBERT NEIGHBOUR - Living Water Commentary
HENRY NEWLAND (1860)
JOHN NEWTON
JAMES NISBET
WILLIAM NIVEN
FREDERICK A NOBLE
PASTOR LIFE - sermons
RICHARD PATTERSON
GERALD PETERMAN
PETER PETT
J B GOUGH PIDGE
WILLIAM S PLUMER
ALFRED PLUMMER (1919)
MATTHEW POOLE
WIL POUNDS
PREACHER'S HOMILETICAL COMMENTARY
Philippians Inductive Study 16 lessons -- Lesson 1 can be downloaded as Pdf. Links below are to Word transcripts on each lesson
PULPIT COMMENTARY
A T ROBERTSON - 1917 commentary distinct from above resource
ADRIAN ROGERS
ROB SALVATO
JOHNNY SANDERS
RAYMOND SAXE
PHILLIP SCHAFF
SERMON CENTRAL
SERMONS AND HOMILIES
SERMON BIBLE
SERMON CENTRAL
HAMILTON SMITH
SPEAKER'S COMMENTARY
R C SPROUL - Devotionals - Tabletalk
LEHMAN STRAUSS
JOSEPH SUTCLIFFE
TIM TEMPLE
THIRD MILLENNIUM STUDY NOTES PHILIPPIANS
GEOFF THOMAS
DAVID THOMPSON PHILIPPIANS SERMONS
THOMAS TOLLER
ALLAN TURNER
JOHN TRAPP
C J VAUGHN
CHRIS VOGEL
THOMAS WALKER
JOHN WALVOORD
RICK WARREN
Note: The links may not work . I do not agree with all of Rick Warren's theology, but most of these devotionals are orthodox. If you encounter one that you think teaches aberrant doctrine, please email me at webmaster and I will check and remove. Thank you for your assistance.
THOMAS WATSON - an entire book on a single verse
DANIEL WHEDON
G C WILLIS
OCTAVIUS WINSLOW
KENNETH WUEST
| | | |
| --- | --- | --- |
| A Tender Exhortation | Alexander Maclaren | Philippians 4:1 |
| Farewell Words | Alexander Maclaren | Philippians 4:1 |
| How to Obey an Impossible Injunction | Alexander Maclaren | Philippians 4:1 |
| Steadfastness | W.F. Adeney | Philippians 4:1 |
| The Duty of Steadfastness | T. Croskery | Philippians 4:1 |
| Christian Love | J. Lyth, D. D. | Philippians 4:1-3 |
| Christian Love | James Hamilton, D. D. | Philippians 4:1-3 |
| Christian Stability | C. Hodge, D. D. | Philippians 4:1-3 |
| Christian Steadfastness | Weekly Pulpit | Philippians 4:1-3 |
| Dearly Beloved and Longed For | J. Lyth, D. D. | Philippians 4:1-3 |
| Love the Gauge of Manhood | H. W. Beecher. | Philippians 4:1-3 |
| Ministerial Qualifications | J. Hall, D. D., A. Maclaren, D. D. | Philippians 4:1-3 |
| Paul an Example of Ministerial Solicitude and Affection | R. P. Buddicom, M. A. | Philippians 4:1-3 |
| Stand Fast | C. H. Spurgeon. | Philippians 4:1-3 |
| Stand Fast | C. H. Spurgeon. | Philippians 4:1-3 |
| Steadfastness in the Lord | R. Johnstone, LL. B. | Philippians 4:1-3 |
| The Bright Side of a Minister's Life | T. De Witt Talmage, D. D. | Philippians 4:1-3 |
| The Minister's Joy and Crown | R. Johnstone, LL. B. | Philippians 4:1-3 |
| The Pastor's Joy and Crown | J. Lyth, D. D. | Philippians 4:1-3 |
| The Professional Minister | T. Guthrie, D. D. | Philippians 4:1-3 |
| The Secret of Steadfastness | S. S. Chronicle | Philippians 4:1-3 |
| The Watchword for Today, Stand Fast | C. H. Spurgeon. | Philippians 4:1-3 |
| Unity of Service At Philippi | H. Quick. | Philippians 4:1-3 |
| Genuine Churchism | D. Thomas | Philippians 4:1-6 |
| Various Exhortations | R. Finlayson | Philippians 4:1-7 |
| The Life of Joy and Peace | R.M. Edgar | Philippians 4:1-9 |
| Disagreements of Christians | E. Foster. | Philippians 4:2 |
| Euodias and Syntyche, or the Troublesome Tongue | F. Hastings. | Philippians 4:2 |
| Love and Strife | R. Johnstone, LL. B. | Philippians 4:2 |
| Private Differences | J. Lyth, D. D | Philippians 4:2 |
| Seek Peace | J. Lyth, D. D. | Philippians 4:2 |
| Strife Among Christians Often the Result of Mistake | | Philippians 4:2 |
| Strife Among Christians Ruinous | M. O. Mackay. | Philippians 4:2 |
| The Method of Peacemaking | C. H. Spurgeon. | Philippians 4:2 |
| Union in Christ | R. Cecil, M. A. | Philippians 4:2 |
| What is Needed by Dissentients | R. W. Dale, LL. D. | Philippians 4:2 |
| A Touching Personal Appeal | T. Croskery | Philippians 4:2, 3 |
| The Healing of Dissensions | V. Hutton | Philippians 4:2, 3 |
| Christian Cooperation | G. H. Slater. | Philippians 4:3 |
| Fellow Labourers | J. Vaughan, M. A. | Philippians 4:3 |
| Help the Women | Weekly Pulpit | Philippians 4:3 |
| Lay Help | Dean Vaughan. | Philippians 4:3 |
| Names | J. Lyth, D. D. | Philippians 4:3 |
| Names in the Book | C. S. Robinson, D. D. | Philippians 4:3 |
| Names in the Book of Life | Alexander Maclaren | Philippians 4:3 |
| One Woman's Work | Christian Age | Philippians 4:3 |
| The Book of Life | J. Lyth, D. D. | Philippians 4:3 |
| The Early Christian Women | W. Baxendale. | Philippians 4:3 |
| The Faithful Colleague | J. Lyth, D. D. | Philippians 4:3 |
| Unknown Workers | J. F. B. Tinling, B. A. | Philippians 4:3 |
| Woman's Work | Dean Vaughan. | Philippians 4:3 |
| Woman's Work | H. Johnson. | Philippians 4:3 |
| Women in the Church | J. Lyth, D. D. | Philippians 4:3 |
| Christian Joy | W.F. Adeney | Philippians 4:4 |
| Christian Joy a Duty | T. Croskery | Philippians 4:4 |
| Christmas Peace | Charles Kingsley | Philippians 4:4 |
| Rejoice Evermore | Alexander Maclaren | Philippians 4:4 |
| Genuine Churchism | D. Thomas | Philippians 4:1-6 |
| Various Exhortations | R. Finlayson | Philippians 4:1-7 |
| The Life of Joy and Peace | R.M. Edgar | Philippians 4:1-9 |
| Rejoicing Always | V. Hutton | Philippians 4:4, 5 |
| Afraid of Joy | H. W. Beecher. | Philippians 4:4-8 |
| Amusements in the Light of the Gospel | Dr. Colborne. | Philippians 4:4-8 |
| Christian Cheerfulness | J. F. B. Tinling, B. A. | Philippians 4:4-8 |
| Christian Joy | S. Martin. | Philippians 4:4-8 |
| Christian Rejoicing | C. Girdlestone, M. A. | Philippians 4:4-8 |
| Christian Rejoicing | Dean Vaughan. | Philippians 4:4-8 |
| Christians Joyful in the Lord | Canon Chamneys. | Philippians 4:4-8 |
| Christ's Nearness | Marcus Rainsford. | Philippians 4:4-8 |
| Constant Joy in God the Duty of Christians | N. Emmons, D. D. | Philippians 4:4-8 |
| Joy | Weekly Pulpit | Philippians 4:4-8 |
| Joy a Duty | | Philippians 4:4-8 |
| Means of Christian Joy | H. W. Beecher. | Philippians 4:4-8 |
| No Joy in Heathenism | H. J. W. Buxton, M. A. | Philippians 4:4-8 |
| No Joy in Infidelity or Worldliness | S. Martin. | Philippians 4:4-8 |
| Rejoicing in Christ | R. J. McGhee, A. M. | Philippians 4:4-8 |
| Rejoicing in God | W. Nevins, D. D. | Philippians 4:4-8 |
| Spiritual Mindedness | C. J. Deems, D. D. | Philippians 4:4-8 |
| Sunshine: a Talk for Happy Times | Mark Guy Pearse. | Philippians 4:4-8 |
| The Christian's Joy | Canon Liddon. | Philippians 4:4-8 |
| The Duty of Rejoicing | H. Melvill, B. D. | Philippians 4:4-8 |
| The Happiness of Religion | | Philippians 4:4-8 |
| The Motive for Rejoicing | J. Hutchison, D. D. | Philippians 4:4-8 |
| The Oil of Joy | T. L. Nye. | Philippians 4:4-8 |
| The Sphere of Christian Joy | Canon Liddon. | Philippians 4:4-8 |
| Three Elements of Christian Character | J. J. Goadby. | Philippians 4:4-8 |
| Uninterrupted Christian Joy | H. Melvill, B. D., C. H. Spurgeon. | Philippians 4:4-8 |
| Why Christians are not Joyful | H. W. Beecher. | Philippians 4:4-8 |
| Christian Forbearance | R. Johnstone, LL. B. | Philippians 4:5 |
| Christian Moderation | J. Stoughton, D. D. | Philippians 4:5 |
| Christian Moderation | H. C. G. Moule, M. A. | Philippians 4:5 |
| Deliverance At Hand | T. Guthrie, D. D. | Philippians 4:5 |
| Moderation: a Fable | Dr. Johnson. | Philippians 4:5 |
| Near and Distant Relative Terms | R. Johnstone, LL. B. | Philippians 4:5 |
| The Lord is At Hand | Bishop Montagu Villiers. | Philippians 4:5 |
| The Lord is At Hand | Congregational Remembrancer | Philippians 4:5 |
| The Lord is At Hand | J. Stoughton, D. D. | Philippians 4:5 |
| The Lord is Near | C. J. P. Eyre, M. A. | Philippians 4:5 |
| The Nearness of Christ | D. Thomas, D. D. | Philippians 4:5 |
| The Omnipresence of God | W. Nicholson. | Philippians 4:5 |
| The Virtue of Forbearance | T. Croskery | Philippians 4:5 |
| The Cure for Anxiety | W.F. Adeney | Philippians 4:6 |
| A Cure for Care | T. Croskery | Philippians 4:6, 7 |
| A Short Line Best | H. W. Beecher. | Philippians 4:6-7 |
| Anxiety | Dean Vaughan. | Philippians 4:6-7 |
| Be Careful for Nothing | Thomas Spurgeon. | Philippians 4:6-7 |
| Be Careful for Nothing | Harry Jones, M. A. | Philippians 4:6-7 |
| Care | W. M. Punshon, LL. D. | Philippians 4:6-7 |
| Carefulness | Canon Miller. | Philippians 4:6-7 |
| Casting Care on God | J. L. Nye. | Philippians 4:6-7 |
| Day of Thanksgiving | J. L. Nye. | Philippians 4:6-7 |
| God's Peace | V. Hutton | Philippians 4:6, 7 |
| Peace by Tower and Power by Prayer | J. P. Barnett. | Philippians 4:6-7 |
| Pray About Little Things | | Philippians 4:6-7 |
| Prayer Perfumed with Praise | C. H. Spurgeon. | Philippians 4:6-7 |
| Prayer with Thanksgiving | W. Arnot, D. D. | Philippians 4:6-7 |
| Prayer with Thanksgiving | W. Arnot, D. D. | Philippians 4:6-7 |
| Preaching and Practice | | Philippians 4:6-7 |
| Prevalence of Thanksgiving | C. H. Spurgeon. | Philippians 4:6-7 |
| Submission Involved in Prayer and Thanksgiving | C. H. Spurgeon. | Philippians 4:6-7 |
| Thanksgiving the Ornament of Prayer | C. H. Spurgeon. | Philippians 4:6-7 |
| The Cares of Life not to be Unduly Anticipated | H. W. Beecher. | Philippians 4:6-7 |
| The Ideal Manhood | H. W. Beecher. | Philippians 4:6-7 |
| The Prayer of Faith | J. Baldwin Brown, B. A. | Philippians 4:6-7 |
| Trust in God the Secret of Happiness | | Philippians 4:6-7 |
| Trusting God in Little Things | W. Arnot, D. D. | Philippians 4:6-7 |
| Universal Prayer | Harry Jones, M. A. | Philippians 4:6-7 |
| We May Pray Always | | Philippians 4:6-7 |
| Characteristics of Peace | G. S. Bowes, B. A. | Philippians 4:7 |
| God's Peace | J. J. S. Bird, M. A. | Philippians 4:7 |
| How to Keep the Heart | C. H. Spurgeon. | Philippians 4:7 |
| Peace Protecting | H. W. Beecher. | Philippians 4:7 |
| Peace Protective | Matthew Henry. | Philippians 4:7 |
| The Divine Peace | T. Binney, LL. D. | Philippians 4:7 |
| The Peace of Elevation | H. W. Beecher | Philippians 4:7 |
| The Peace of God | C. H. Spurgeon. | Philippians 4:7 |
| The Peace of God | Bp. W. Boyd Carpenter. | Philippians 4:7 |
| The Peace of God | T. Binney, LL. D. | Philippians 4:7 |
| The Peace of God a Protection | Dean Vaughan. | Philippians 4:7 |
| The Peace of God Keeping the Heart | C. Bradley, M. A. | Philippians 4:7 |
| The Peace Passing All Understanding | J. B. Mozley, D. D. | Philippians 4:7 |
| The Peace that is Better than Intellectual Satisfaction | W.F. Adeney | Philippians 4:7 |
| The Secret of Peace | C. H. Spurgeon. | Philippians 4:7 |
| The Warrior Peace | Alexander Maclaren | Philippians 4:7 |
| True and False Peace | Dean Vaughan. | Philippians 4:7 |
| Divine Peace | D. Thomas | Philippians 4:7, 8 |
| Subjects for Christian Study | T. Croskery | Philippians 4:8 |
| The Bible the Great Civilizer | Charles Kingsley | Philippians 4:8 |
| The Contemplation of Goodness | W.F. Adeney | Philippians 4:8 |
| Think on These Things | Alexander Maclaren | Philippians 4:8 |
| Avoid Doubtful Things | T. Guthrie, D. D. | Philippians 4:8-9 |
| Categories of Morality | R. Finlayson | Philippians 4:8, 9 |
| Christian Character | J. Lyth, D. D. | Philippians 4:8-9 |
| Christian Life | J. Lyth, D. D. | Philippians 4:8-9 |
| Christian Righteousness | J. Daille | Philippians 4:8-9 |
| Christian Thought | J. Hall. | Philippians 4:8-9 |
| Commendation | Archbishop Whately. | Philippians 4:8-9 |
| Commendation Better than Scolding | Lord Lytton. | Philippians 4:8-9 |
| Expansiveness of Christian Life | A. Macleod, D. D. | Philippians 4:8-9 |
| Faith in Action | R. J. Lynd, B. A. | Philippians 4:8-9 |
| False Measures of Truth | B. Whichcote, B. D. | Philippians 4:8-9 |
| If There be Any Praise | Schleiermacher. | Philippians 4:8-9 |
| If There be Any Virtue | Professor Eadie. | Philippians 4:8-9 |
| Loyalty to Truth | B. Kent. | Philippians 4:8-9 |
| Meditation and Action | V. Hutton | Philippians 4:8, 9 |
| New Truth Unwelcome | Goldsmith. | Philippians 4:8-9 |
| Praise from Others | J. M. Hare. | Philippians 4:8-9 |
| Praiseworthiness | B. Grant, B. A. | Philippians 4:8-9 |
| Purity Inculcated | Schiller. | Philippians 4:8-9 |
| Soul Perfection | T. Guthrie, D. D. | Philippians 4:8-9 |
| Spheres of Truth | W. Landells, D. D. | Philippians 4:8-9 |
| St. Paul's Farewell | R. M. Stewart. | Philippians 4:8-9 |
| The Difficulty and Importance of Continuous Thought | Dean Vaughan. | Philippians 4:8-9 |
| The Esteem of Others | T. C. Upham, LL. D. | Philippians 4:8-9 |
| The Meditation and Practice of Holiness | W. B. Pope, D. D. | Philippians 4:8-9 |
| The Moralities of Christianity | | Philippians 4:8-9 |
| The Power of Purity | F. W. Robertson, M. A. | Philippians 4:8-9 |
| The Transforming Power of Thought | J. Ogle. | Philippians 4:8-9 |
| Thought | J. W. Bray. | Philippians 4:8-9 |
| Thoughts | T. G. Horton, M. A. | Philippians 4:8-9 |
| Truth Hath | B. Whichcote, B. D. | Philippians 4:8-9 |
| Universality of Truth | Dr. Herman Masius. | Philippians 4:8-9 |
| Whatsoever Things are Just | B. Kent., B. Kent. | Philippians 4:8-9 |
| Whatsoever Things are Lovely | J. G. Rogers, B. A. | Philippians 4:8-9 |
| Whatsoever Things are of Good Report | B. Kent. | Philippians 4:8-9 |
| Observe | J. Lyth, D. D. | Philippians 4:9 |
| The Apostle Himself an Example to Believers | T. Croskery | Philippians 4:9 |
| The Force of Example | | Philippians 4:9 |
| The Transmission of the Knowledge of Christ | D. Thomas | Philippians 4:9 |
| How to Say 'thank You' | Alexander Maclaren | Philippians 4:10 |
| The Secret of Contentment | T. Croskery | Philippians 4:10-13 |
| Man in Model Aspects | D. Thomas | Philippians 4:10-17 |
| A Grateful Heart | J. Lyth, D. D. | Philippians 4:10-20 |
| Hearing and Doing | Biblical Treasury | Philippians 4:10-20 |
| Hesitation Destructive | J. Denton. | Philippians 4:10-20 |
| Importance of Opportunity | | Philippians 4:10-20 |
| Paul Thanks the Philippians for Their Contribution | R. Finlayson | Philippians 4:10-20 |
| Paul's Gratitude | J. Lyth, D. D. | Philippians 4:10-20 |
| Philippian Charity and Pauline Delicacy | Dean Vaughan. | Philippians 4:10-20 |
| The Art of Divine Contentment | R.M. Edgar | Philippians 4:10-23 |
| Bad Might be Worse | Bishop Hall. | Philippians 4:11 |
| Christian Contentment | W. Anderson, LL. D. | Philippians 4:11 |
| Content not Found in Circumstances | Izaak Walton. | Philippians 4:11 |
| Contentment | I. S. Spencer, D. D. | Philippians 4:11 |
| Contentment | I. Barrow, D. D. | Philippians 4:11 |
| Contentment | L. S. Spencer, D. D. | Philippians 4:11 |
| Contentment | T. Guthrie, D. D. | Philippians 4:11 |
| Contentment | V. Hutton | Philippians 4:11 |
| Contentment | Charles Haddon Spurgeon | Philippians 4:11 |
| Contentment Does not Always Imply Pleasure | H. W. Beecher. | Philippians 4:11 |
| Contentment is Rare | H. W. Beecher. | Philippians 4:11 |
| Contentment Looks At What is Left | Jeremy Taylor. | Philippians 4:11 |
| Contentment not Found in an Exchange of Places | J. Vaughan, M. A. | Philippians 4:11 |
| Contentment not Inconsistent with Discontent | G. Dawson, M. A. | Philippians 4:11 |
| Contentment the Outcome of a Right View of Circumstances | | Philippians 4:11 |
| Contentment: a Parable | Paxton Hood. | Philippians 4:11 |
| Equanimity Reasonable to Faith | Sunday at Home. | Philippians 4:11 |
| Evil 3 | T. Watson. | Philippians 4:11 |
| Helps to Contentment | | Philippians 4:11 |
| Learning to be Content | Isaac Barrow, D. D. | Philippians 4:11 |
| Making the Best of Circumstances | S. Smiles. | Philippians 4:11 |
| Sources of Contentment | Sunday at Home. | Philippians 4:11 |
| St. Paul's Contentment | L. S. Spencer, D. D. | Philippians 4:11 |
| The Art of Divine Contentment | | Philippians 4:11 |
| The Best Lesson | R. Newton, D. D. | Philippians 4:11 |
| The Blessedness of Contentment | S. Johnson, LL. D. | Philippians 4:11 |
| The Condition of Contentment | G. Dawson, M. A. | Philippians 4:11 |
| The Secret of Contentment | W.F. Adeney | Philippians 4:11, 12 |
| Contentment | W. L. Watkinson. | Philippians 4:11-13 |
| Contentment in All Things | H. W. Beecher. | Philippians 4:11-13 |
| The School of Christ | W. Cadman, M. A. | Philippians 4:11-13 |
| The Tendency of Christian Principles to Produce True Contentment | E. Cooper, M. A. | Philippians 4:11-13 |
| How to be Abased | Lamartine. | Philippians 4:12 |
| Initiation into the Mysteries | Professor E. Johnson. | Philippians 4:12 |
| The Christian | J. Lyth, D. D. | Philippians 4:12 |
| The Difficulty of Managing Prosperity | C. H. Spurgeon. | Philippians 4:12 |
| The Knowledge of Properly Using Abundance | Phillips Brooks, D. D. | Philippians 4:12 |
| The Secret Explained | C. H. Spurgeon. | Philippians 4:12 |
| The Secret of Contentment | | Philippians 4:12 |
| The Value of Contentment | William Seeker. | Philippians 4:12 |
| The Difficulties of Prosperity | V. Hutton | Philippians 4:12, 13 |
| All-Sufficiency Magnified | G. H. Spurgeon. | Philippians 4:13 |
| Christian Omnipotence | W.F. Adeney | Philippians 4:13 |
| Courageous Christians Needed | C. H. Spurgeon. | Philippians 4:13 |
| Dependence on Christ | J. B. Swallow. | Philippians 4:13 |
| Here We Find | W. Forsyth. | Philippians 4:13 |
| Power Through the Love of Christ | Manual of Anecdotes | Philippians 4:13 |
| Power Through the Spirit of Christ | W. Birch. | Philippians 4:13 |
| Strength by Christ | S. Martin. | Philippians 4:13 |
| Strength in Christ | | Philippians 4:13 |
| Strength Through Christ | T. L. Cuyler, D. D. | Philippians 4:13 |
| The Fountain of Strength | J. A. Alexander, D. D. | Philippians 4:13 |
| The Hidden Source of Power | | Philippians 4:13 |
| The Power of the Christian | Archdeacon Hare. | Philippians 4:13 |
| The Secret of Fortitude | J. F. B. Tinling, B. A. | Philippians 4:13 |
| The Circumstances of Their Liberality | T. Croskery | Philippians 4:14-18 |
| Almsgiving a Part of Christian Life and Worship | V. Hutton | Philippians 4:14-19 |
| Gifts Given, Seed Sown | Alexander Maclaren | Philippians 4:15 |
| Liberality to the Minister | J. Lyth, D. D. | Philippians 4:15-19 |
| Fruit | Dean Vaughan. | Philippians 4:17 |
| Giving Honours the Giver | Christian Family | Philippians 4:17 |
| It is More Blessed to Give than Receive | J. Lyth, D. D. | Philippians 4:17 |
| The Nature and Duty of Giving | I. W. Tapper., G. Webber. | Philippians 4:17 |
| Acceptable Giving | J. Whitecross. | Philippians 4:18 |
| Gratitude | J. Lyth, D. D. | Philippians 4:18 |
| Ministry to the Saints an Acceptable Sacrifice | J. H. Evans, M. A. | Philippians 4:18 |
| Present Blessings | Cardinal Newman. | Philippians 4:18 |
| A Full Supply | W.F. Adeney | Philippians 4:19 |
| Christ Adapted to Human Need | T. Guthrie, D. D. | Philippians 4:19 |
| Comfort for the Needy | J. Lyth, D. D. | Philippians 4:19 |
| Filling the Empty Vessels | C. H. Spurgeon. | Philippians 4:19 |
| God Will Supply Our Need | | Philippians 4:19 |
| Man's Need Supplied from God's Riches | C. Bradley, M. A. | Philippians 4:19 |
| Man's Needs and God's Wealth | H. J. Bevis. | Philippians 4:19 |
| Mercies Stilt Left | T. De Witt Talmage, D. D. | Philippians 4:19 |
| Neglect of the Promise | R. Newton, D. D. | Philippians 4:19 |
| Our Need and Supply | M. Staple, D. D. | Philippians 4:19 |
| Provision for the Way | R. Newton, D. D. | Philippians 4:19 |
| Sufficiency of the Divine Resources | T. Manton, D. D. | Philippians 4:19 |
| Sure Supplies | S. Martin. | Philippians 4:19 |
| The Christian's Want and Supply Book | C. H. Spurgeon. | Philippians 4:19 |
| The Exactness of the Divine Supply | | Philippians 4:19 |
| The Faithfulness of God | Thomas Cooper. | Philippians 4:19 |
| The Nearness of the Provision | R. Newton, D. D. | Philippians 4:19 |
| The Need and the Supply | J. Stacey, D. D. | Philippians 4:19 |
| The Promise Should Inspire Fearlessness in Divine Service | C. H. Spurgeon. | Philippians 4:19 |
| The True Source of Supply in Spiritual Need | T. Croskery | Philippians 4:19 |
| Glory is Due | J. Lyth, D. D. | Philippians 4:20-23 |
| Parting Thoughts Should Embrace | J. Lyth, D. D., J. Lyth, D. D. | Philippians 4:20-23 |
| The Spirit in Which to Close the Year | Homiletic Monthly | Philippians 4:20-23 |
| The Brethren Which are with Me Greet You | H. Melvill, B. D. | Philippians 4:21 |
| True Christians Have | J. Lyth, D. D. | Philippians 4:21 |
| Mutual Salutations | T. Croskery | Philippians 4:21, 22 |
| Salutation and Benediction | R. Finlayson | Philippians 4:21-23 |
| Christianity | J. Lyth, D. D. | Philippians 4:22 |
| Sainthood in Nero's Household | Bishop Huntington. | Philippians 4:22 |
| Saints in Caesar's Household | W. M. Taylor, D. D. | Philippians 4:22 |
| The Composition of Caesar's Household | Dean Merivale. | Philippians 4:22 |
| The Religion of Charity Compatible with All Callings | G. Dawson, M. A. | Philippians 4:22 |
| The Saints in Caesar's Household | H. Melvill, B. D. | Philippians 4:22 |
| These Words | W. Walters. | Philippians 4:22 |
| Grace | J. Lyth, D. D., Professor Eadie. | Philippians 4:23 |
| The Benediction | J. Lyth, D. D. | Philippians 4:23 |
Book