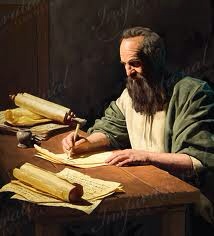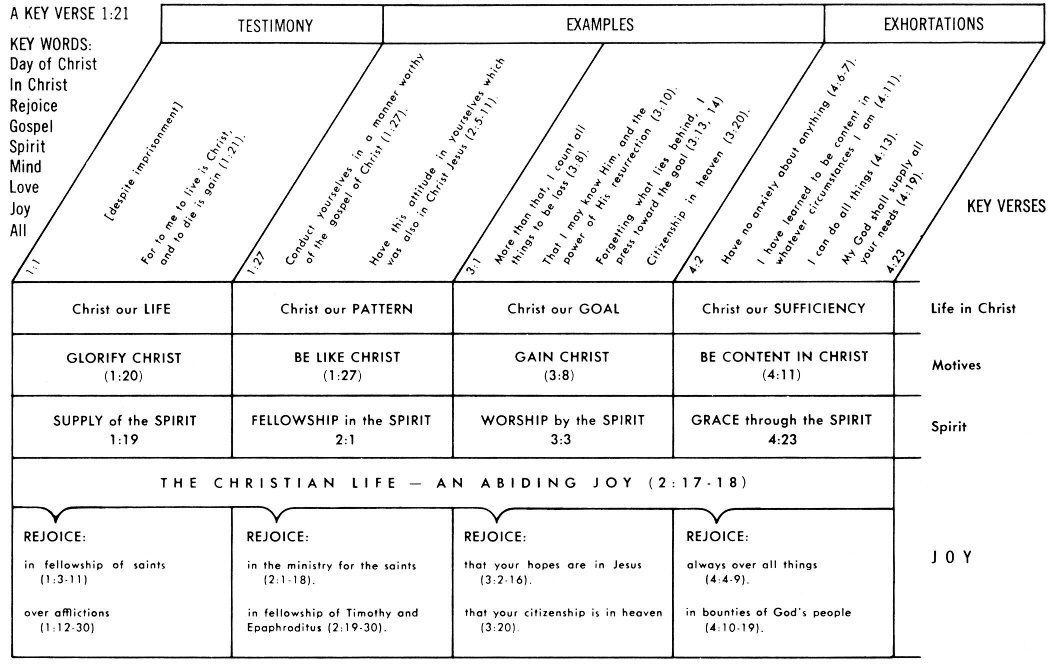 LIFE IN CHRIST
Click chart to enlarge
Charts from Jensen's Survey of the NT - used by permission
Philippians - Charles Swindoll = Chart on right side of page
Account
of Paul's
Circumstances
Php 1:1-30
Have
the Mind
of Christ
Php 2:1-30
Have
the Knowledge
of Christ
Php 3:1-21
 

Have
the Peace
of Christ
Php 4:1-23
 

Partakers of Christ
People of Christ
Pursuit of Christ
Power of Christ
Suffering
Submission
Salvation
Sanctification
Experience
Examples
Exhortation
Explanation - The following list includes not only commentaries but other Christian works by well known evangelical writers. Most of the resources below are newer works (written after 1970) which previously were available only for purchase in book form or in a Bible computer program. The resources are made freely available by archive.org but have several caveats - (1) they do not allow copy and paste, (2) they can only be checked out for one hour (but can be checked out immediately when your hour expires giving you time to read or take notes on a lengthy section) and (3) they require creating an account which allows you to check out the books free of charge. To set up an account click archive.org and then click the picture of the person in right upper corner and enter email and a password. That's all you have to do. Then you can read these more modern resources free of charge! I have read or used many of these resources but not all of them so ultimately you will need to be a Berean (Acts 17:11+) as you use them. I have also selected works that are conservative and Biblically sound. If you find one that you think does not meet those criteria please send an email at https://www.preceptaustin.org/contact. The resources are listed in alphabetical order by the author's last name and some include reviews of the particular resource. 
---
COMMENTARIES ON PHILIPPIANS
Be joyful (Philippians) by Wiersbe, Warren - always worth checking
Philippians in the Greek New Testament : for the English reader by Wuest, Kenneth - one of my favorite sources - his writings are a veritable "gold mine"! 
James Rosscup - This is one of Wuest's better expositions of a book. He is often sound though simple in the Greek, explaining the text verse by verse and giving helpful word studies. Though he uses the Greek, he does not reproduce it in his book and so his commentary is very helpful even to the Christian who does not know Greek. Again, this is a good book to recommend to laymen as well as useful often for preaching and teaching.

Here is the same book with no restrictions - Philippians Commentary - Verse by Verse Comments
The Preacher's Outline & Sermon Bible : New Testament, King James Version - Acts, Romans, 1 Corinthians, 2 Corinthians, Galatians, Ephesians, Philippians, Colossians - This is a very useful resource which always includes numerous related cross-references. It will be of aid to you preaching and teaching. 
Philippians : an expositional commentary by Boice, James Montgomery
James Rosscup - A lucid and very readable simple exposition that is helpful and competent on many of the issues. The work is geared more to simple study. The exposition is practical and sermonic, with sometimes good background and comparison with relevant passages from other Scripture. He illustrates heavily from literature, history, and contemporary life.
The joy of living a study of philippians by J.DWight Pentecost
Cyril Barber - This series of expository messages not only does justice to the apostle's stated purpose but also edifies and enriches the reader as he is led by this master of the pulpit to understand the theme of this epistle. Recommended.First published in 1973. This commentary is ideal for personal use. Review questions can be used for group discussion. Ably treats the believer's resources including the antidote to worry and the secret of contentment.
Philippians : happiness beyond our happenings by Briscoe, D. Stuart
Cyril Barber - First published in 1975 and reprinted in 1984. Comprises a lay person's commentary on Philippians that is plain and practical, and explains how believers may endure suffering while at the same time meeting their problems with faith and courage. The result is the ability to live consistently for the Lord. Recommended.
Bound for joy : Philippians-Paul's letter from prison by Briscoe, D. Stuart
Philippians / Colossians by McGee, J. Vernon
Count it all joy : discover a happiness that circumstances cannot change by Jeremiah, David
Turning toward joy by Jeremiah, David
Cyril Barber - Covers Paul's letter to the Philippians in 12 chapters. Questions for group discussion are to be found in the study portion of this book. An ideal exposition of true joy for lay people.
Laugh again : experience outrageous joy : a study of Philippians : Bible study guide by Swindoll, Charles R; Hough, Lee Minis
Cyril Barber - Topical messages on Paul's letter to the Philippians. Lightweight.
Pressing on when you'd rather turn back : studies in philippians by Getz, Gene
A profile of Christian maturity : a study of Philippians by Getz, Gene 
Cyril Barber - First published a decade ago under the title A Profile of Christian Maturity. Covers Paul's Philippian letter simply and directly. Getz shows the importance of facing life realistically.

James Rosscup - A provocative catalyst for personal study, application and growth, or group or family use, this is a well-organized little book. Each chapter has several parts: Something to Think About, A Look at Paul's Letters, What Did Paul Say?, What Did Paul Mean?, Application, Life Response, and A Project. Each of the fourteen chapters takes a few verses, dealing briefly and simply with them.
Paul's Letter to the Philippians - New International Commentary on the NT  by Fee, Gordon D
Cyril Barber - This is a most valuable contribution to the literature on this prison epistle. Fee is a premier NT scholar. His handling of the Greek text is superb. Pastors will find this study of Philippians to be of inestimable help in the preparation of their expository messages

Cyril Barber on IVP NT Commentary - An accurate explanation of the theme of this letter. Here is profound scholarship in the service of the believer.

James Rosscup - This effort (New International Commentary on the NT) of 543 pp. with 497 on commentary replaces in the series J. J. Muller's 1955 work which also has Philemon. Fee's study is careful phrase by phrase, usually helpful, yet not as much an assist as O'Brien or Hawthorne, for example. Cf. Fee's shorter 204-pp. Philippians in the IVP NTC series, 1999. This longer attempt has a 26-pp. bibliography, and Fee reflects keen awareness of views, as in his careful assessment of efforts to divide the letter into three epistles, and Fee's reasons for unity (21–23). Another help is in giving five theological emphases (46–53). Hermeneutical factors receive attention, matters such as words, grammar, context, setting, customs.
Basics for Believers by Carson, D. A
James Rosscup - One finds an articulate, brief pb that gets to the point well on most verses but has to bypass a lot too. It shows Carson's usual good grasp, and is particularly usable for those wanting a reliable but lighter survey—pastors, Bible class teachers, college students, and lay users.
Philippians : where life advances by Laurin, Roy L.
Cyril Barber - Grounds his exposition in the historic context of the times. Reveals remarkable originality in applying the message Paul sent to the believers in Phillipi. Of practical value to lay people
The message of Philippians : Jesus our joy by Motyer, J. A
Tim Challies -  There is always room for one commentary that is a little less technical and suitable for a wide readership. Such is the case with Motyer's volume in The Bible Speaks Today series. The work is necessarily brief, but apparently still powerful. 

James Rosscup - This work, distinct from his 1966 Philippian Studies, is a lucid exposition of twenty-four sections, using the RSV text and a clear outline. Motyer (pronounced Mo-teer) gives good synopses of sections, keeps connections in the flow of thought in view, and deals with verses in an engaging style. He seems sound exegetically, theologically and applicationally. He defines many key Greek words such as those for "citizenship" (p. 93), "walk" (p. 181), etc. and offers an articulate discussion on many of the problems. Many references are footnoted, helping the readability. The work is stimulating for expositors but also for any lay person who wants to use a book with an attractive, simple flow without delving into technical points other works handle.
Philippians : joy under pressure by Stafford, Tim
Paul and his converts : the letters to the Thessalonians, Corinthians and Philippians by Bruce, F. F. (Frederick Fyvie), 1910-1990
Philippians, Colossians, Philemon - Life Application Commentary
Half-hours with William Hendriksen : stirring devotional surveys of Romans, Philippians, Luke and Revelation, with other gems by Hendriksen, William, 
Exposition of Philippians by Hendriksen, William,
James Rosscup - This work is based upon the Greek text but is not technical. It is rich devotionally and has a wealth of good commentary material. It is very helpful on problem passages (example, 3:1–2; 4:1–3), giving different views and coming to a conclusion, often with good reasoning.
Paul's joy in Christ; studies in Philippians by Robertson, A. T.
Philippians by Williams, Don (primarily asks questions)
Ephesians, Philippians, Colossians, 1 Thessalonians, 2 Thessalonians by Lane, William L - Only 98 pages.
Philippians, Colossians and Philemon by MacDonald, William (1972) 160 pages (see also Believer's Bible Commentary)
The Epistle of Paul to the Philippians : an introduction and commentary (Tyndale NT Commentary) by Martin, Ralph 
Philippians - New Century Commentary by Martin, Ralph P
James Rosscup - Here Martin shows more use of critical sources and must be studied with discernment since he has been inclined away from some of his older, some will feel more defensible positions. Conservatives will probably prefer his Tyndale effort for its theological convictions.
The Epistles to the Philippians, Colossians, and Philemon by Rees, Paul S
James Rosscup - A good attempt at bringing out homiletic points sometimes richly suggestive for preaching.
The adequate man : Paul in Philippians by Rees, Paul S.
James Rosscup on The adequate man  - A lucid devotional work, this book follows the thought of the epistle closely and deals with it in a rich sermonic way. There are many choice phrases and fitting illustrations which illumine the text, plus suggestive outlines. The author's central purpose is to show that the believer can live a wholly adequate life, like Paul, by divine resource. This is another recommended book which will be especially enjoyed by laymen in the church. It is usually sound from the standpoint of the Greek.
Philippians, Colossians, Philemon by Gould, Dana, - Shepherd's Notes
Philippians : even when things go wrong you can have joy - Warren Wiersbe
Philippians : a Mentor commentary by Harmon, Matthew S
The Epistle of Paul to the Philippians; an exposition by Erdman, Charles
Let's study Philippians by Ferguson, Sinclair B
Cyril Barber - A clear exposition on a lay person's level. Explains in brief, lucid chapters the essence of Paul's teaching. Helpful.

James Rosscup - A professor of systematic theology at Philadelphia's Westminster Theological Seminary contributed this 136-pager. It is a catalyst for personal or group Bible study, done in 27 chapters. Study guide material with tips appears on pp. 119–35 for a 13-time series.
The letters to the Philippians, Colossians, and Thessalonians by Barclay, William,
Invitation to Philippians : building a great Church through humility by Sunukjian, Donald R
Philippians : Bible study commentary by Vos, Howard Frederic
Exploring God's word : Bible guide to Ephesians, Philippians, and Colossians by Guthrie, Donald
Philippians by Hawthorne, Gerald F - this is not the same as the WBC but that review is included to give you as sense of this work.
Tim Challies on the Word Biblical Commentary. Hawthorne's volume in the WBC series receives unanimous approval. Jim Rosscup points out that "some rank this as the top commentary on Philippians due to the wide reading and masterfully good survey on introductory questions and its carefulness on grammar, philology, capture of the epistle's flow and handling of difficult passages." It is targeted at pastors but is equally appropriate for lay leaders. 
Wiersbe's Expository Outlines on the New Testament by Wiersbe, Warren W
Cyril Barber - This is a book of exceptional merit. Pastors, missionaries, and Christian workers will profit from its use. Wiersbe introduces each book of the NT, provides an outline, and then furnishes his readers with a chapter-by-chapter discussion of the contents. The homiletic style is a "plus." Recommended.
Studies in Philippians by Moule, H. C. G. (Handley Carr Glyn), 1841-1920
Cyril Barber - Grand Rapids: Kregel Publications, 1977. First published in 1893 in the Cambridge Bible for Schools and Colleges series. These notes on the text demonstrate the author's perception and sensitivity in handling the apostle Paul's thought processes and theme. Differs from Moule's other work entitled Philippian Studies: Lessons in Faith and Love. Evangelical.
The epistle to the Philippians by Moule, H. C. G. (Handley Carr Glyn), 1841-1920
Cyril Barber - First published in 1897 as a part of the Cambridge Greek Testament, this insightful study treats the key words and phrases of this prison epistle.
The letters of Paul to the Philippians and to the Thessalonians; by Grayston, Kenneth
A NavPress Bible study on the book of Philippians by Nav Press
A critical and exegetical commentary on the Epistles to the Philippians and to Philemon by Vincent, Marvin R
Paul's joy in Christ; studies in Philippians Commentary by A T Robertson  
James Rosscup - Though he discusses Philippians in his Word Pictures, Robertson here devotes an entire detailed book on the epistle. He is rich in word studies and in the explanation of the text.
The Epistles of Paul to the Philippians and to Philemon by Müller, Jac. J. (Jacobus Johannes),
James Rosscup - This is one of the more detailed commentaries that grapples with interpretations of problem verses. It ranks close to Bruce, Hendriksen, Lightfoot, Martin (Tyndale) and Robertson along this line but is not close to Hawthorne, O'Brien, Fee, or Silva.
A commentary on the Epistle to the Philippians by Bockmuehl, Markus (Black's NT Commentary)
James Rosscup - This series claims to bring the latest scholarship to a broader readership, students and expositors. The present work is by a lecturer in divinity at Cambridge University. A 46-pp. introduction covers, among its topics, what latest research reflects about religion at Philippi, pagan and Judaism, also a decision favoring the letter's unity versus theories of partition (20–25). Bockmuehl also provides reasons for Rome as the most convincing place of writing. Some of what is said in interaction with top scholars may render the introduction outside a realistic grasp or interest of non-scholars. Comments verse by verse pack in much that clarifies (e. g. faulty preachers in 1:15; 1:19; 2:5–11 with views on the hymn much of which non-scholars may think unnecessary; "perfect" in 3:12, 15; also 4:5; financial terms in 4:15–17, etc.). As a whole this is a very profitable 327-pp. work, even if not among the very best.
The epistle to the Philippians : a devotional commentary by Meyer, F. B. 
James Rosscup - One of the famous English devotional writers and spiritual life speakers during the late 19th century and early 20th authored this perceptive and easy-flowing book. Lay persons as well as pastors and Bible teachers looking for a work that speaks to the heart and offers many insights into a deeper maturity in commitments of faith will find this a fresh breath. Meyer is known well for his series on Bible characters—Abraham, Moses, Elijah, etc.
Homilies on Galatians, Ephesians, Philippians, Colossians, Thessalonians, Timothy, Titus, and Philemon by John Chrysostom, 
Lectures exegetical and practical on the Epistle of Paul to the Philippians, with a revised translation of the Epistle and notes on the Greek text by Johnstone, Robert, professor in United Presbyterian
---
STUDY BIBLES:
Note: The first 4 resources have no time restriction and allow copy and paste function: 
(1) KJV Bible Commentary - Hindson, Edward E; Kroll, Woodrow Michael. Over 3000 pages of the entire OT/NT. Well done conservative commentary that interprets Scripture from a literal perspective. Pre-millennial.  User reviews - it generally gets 4/5 stars from users. - 372 ratings
Very well done conservative commentary that interprets Scripture from a literal perspective   user reviews 

The King James Version Bible Commentary is a complete verse-by-verse commentary. It is comprehensive in scope, reliable in scholarship, and easy to use. Its authors are leading evangelical theologians who provide practical truths and biblical principles. Any Bible student will gain new insights through this one-volume commentary based on the timeless King James Version of the Bible.
(2) The King James Study Bible Second Edition 2240 pages (2013) (Thomas Nelson) General Editor - Edward Hindson with multiple contributing editors. . 3,194 ratings. Pre-millennial. See introduction on How to Use this Study Bible.
(3) NKJV Study Bible: New King James Version Study Bible (formerly "The Nelson Study Bible - NKJV") by Earl D Radmacher; Ronald Barclay Allen; Wayne H House. 2345 pages. (1997, 2007). Very helpful notes. Conservative. Pre-millennial.  917 ratings
(4) The Wycliffe Bible Commentary - only the New Testament (for OT see below to borrow) - 1126 pages. (1971) Everett F Harrison - Editor of New Testament. Uses the KJV.  Strictly speaking not a study Bible, but short notes are similar. KJV text in left column, commentary notes in right column. The comments are generally verse by verse, short, conservative and to the point. Pre-millennial.
Quote from Henry Alford (1810-1871 - not a dispensationalist!) on Revelation 20 - "It will have been long ago anticipated by the readers of this Commentary, that I cannot consent to distort words from their plain sense and chronological place in the prophecy, on account of any considerations of difficulty, or any risk of abuses which the doctrine of the millennium may bring with it. Those who lived next to the Apostles, and the whole Church for 300 years, understood them in the plain literal sense: and it is a strange sight in these days to see expositors who are among the first in reverence of antiquity, complacently casting aside the most cogent instance of consensus which primitive antiquity presents. As regards the text itself, no legitimate treatment of it will extort what is known as the spiritual interpretation now in fashion."

James Rosscup on Robert Mounce's contribution on the letter to the Philippians - Another competent, concise study by an evangelical, about as helpful as Lightner's entry, usually substantial on the issues verse by verse. He has had the space to write more at length in his works on Matthew and Revelation.
---
Dictionary of Biblical Imagery - free for use online with no restrictions (i.e., you do not need to borrow this book). Editors Leland Ryken, J C Wilhoit, Tremper Longman III - This is a potential treasure chest to aid your preaching and teaching as it analyzes the meaning of a host of Biblical figures of speech. Clue - use the "One-page view" which then allows you to copy and paste text. One downside is there is no index, so you need to search 3291 pages for entries which are alphabetical. 
Zondervan NIV Study Bible - (2011) 2570 pages  - Use this one if available as it has more notes than edition below. One hour limit
NIV Study Bible by Barker, Kenneth L; Burdick, Donald W (1995) 2250 pages. This is the first edition. This resource has been fully revised in 2020. One hour limit 
Believer's Bible Commentary - OT and NT - MacDonald, William (1995) 2480 pages. Conservative. Literal. Often has very insightful comments. John MacArthur, says "Concise yet comprehensive - the most complete single-volume commentary I have seen." Warren Wiersbe adds "For the student who is serious about seeing Christ in the Word." One hour limit.
Rosscup - This work, originally issued in 1983, is conservative and premillennial, written to help teachers, preachers and people in every walk of life with different views, explanation and application. The 2-column format runs verse by verse for the most part, usually in a helpfully knowledgeable manner, and there are several special sections such as "Prayer" in Acts and "Legalism" in Galatians. The premillennial view is evident on Acts 1:6, 3:20, Romans 11:26, Galatians 6:16, Revelation 20, etc.
HCSB Study Bible : Holman Christian Standard Bible - General Editor Jeremy Royal Howard (2010) 2360 pages. Conservative. Good notes. Include Holmans excellent maps. One hour limit
Life Application Study Bible: Old Testament and New Testament: New Living Translation. Has some very helpful notes especially with application of texts. 4,445 ratings One hour limit
The MacArthur Study Bible - John MacArthur. Brief but well done notes for conservative, literal perspective. 1,275 ratings
ESV Study Bible - Excellent resource but not always literal in eschatology and the nation of Israel 6,004 ratings
The David Jeremiah Study Bible - (2013) 2208 pages. 2,272 ratings Logos.com - "Drawing on more than 40 years of study, Dr. David Jeremiah has compiled a legacy resource that will make an eternal impact on generations to come. 8,000 study notes. Hundreds of enriching word studies"50+ Essentials of the Christian Faith" articles."
Wycliffe Bible Commentary - Charles Pfeiffer - 1560 pages (1962). 214 ratings Less detailed than the KJV Bible Commentary. Conservative. Notes are generally verse by verse but brief. 
Rosscup - Conservative and premillennial scholars here have been experts in their fields. The work contains brief introductions and attempts to give a verse-by-verse exposition, though it does skip over some verses. The treatments vary with the authors, but as a whole it is a fine one-volume commentary for pastors and students to use or give to a layman. Outstanding sections include, for example: Whitcomb on Ezra-Nehemiah-Esther; Culver on Daniel; Ladd on Acts; Harrison on Galatians; Johnson on I Corinthians; and Ryrie on the Johannine Epistles.
The Defender's Study Bible : King James Version by Morris, Henry M. Excellent notes by well known creationist. 45 ratings 
New Bible Commentary - (1994) See user reviews
Compact Bible commentary by Radmacher, Earl D; Allen, Ronald Barclay; House, H Wayne, et al - 954 pages.  424 ratings Multiple contributors to the comments which are often verse by verse. The comments are brief but meaty and can really help your study through a given book. A sleeper in my opinion. 
The Experiencing God Study Bible: the Bible for knowing and doing the will of God - Blackaby, Henry (1996) 1968 pages - CHECK THIS ONE! Each chapter begins with several questions under the title "PREPARE TO MEET GOD." Then you will interesting symbols before many of the passages. The chapter ends with a "DID YOU NOTICE?" question. This might make a "dry chapter" jump off the page! Read some of the 48 ratings
NLT Study Bible (Illustration Version) 
Disciple's Study Bible: New international version 54 ratings Not that helpful for verse by verse study. Focuses on application of Christian doctrines. 10,000 annotations; doctrinal summaries, "Life Helps" section relate doctrine to everyday discipleship. 
The Living Insights Study Bible : New International Version - Charles Swindoll. Notes are good but somewhat sparse and not verse by verse.
The Apologetics Study Bible Understand Why You Believe by Norman Geisler
NIV Archaeological Study Bible (2005) 2360 pages 950 ratings (See also Archaeology and the Bible - OT and NT)
"Readers who desire a more intimate knowledge of the historical context of the Bible will appreciate the NIV Archaeological Study Bible. Full of informative articles and full-color photographs of places and objects from biblical times, this Bible examines the archaeological record surrounding God's Word and brings the biblical world to life. Readers' personal studies will be enriched as they become more informed about the empires, places, and peoples of the ancient world. Features include: • Four-color interior throughout • Bottom-of-page study notes exploring passages that speak on archaeological and cultural facts • Articles (520) covering five main categories: Archaeological Sites, Cultural and Historical Notes, Ancient Peoples and Lands, the Reliability of the Bible, and Ancient Texts and Artifacts • Approximately 500 4-color photographs interspersed throughout • Detailed book introductions that provide basic, at-a-glance information • Detailed charts on pertinent topics • In-text color maps that assist the reader in placing the action "
NIV Cultural Backgrounds Study Bible. Bringing to Life the Ancient World of Scripture Keener, Craig and Walton, John. Editors (2017)
The Holman Illustrated Study Bible 120 ratings Includes the excellent Holman maps but otherwise of little help in serious study.
Zondervan King James Version Commentary - New Testament
NIV Celebrate Recovery Study Bible
Daily Study Bible for Women : New Living Translation
The Woman's Study Bible : the New King James Version
The Study Bible for Women : Holman Christian Standard Bible
Daily Study Bible for Men : New Living Translation
NIV Topical Study Bible : New International Version
Ryrie Study Bible - Charles Ryrie (1978) 2142 pages. Conservative.  216 ratings 
Ryrie Study Bible Expanded Edition (1994) 2232 pages
The Hebrew-Greek Key Study Bible : New American standard study by Strong, James, 1822-1894; Zodhiates, Spiros 
The New Inductive Study Bible : updated New American Standard Bible - Introductions of each book give suggestions how to perform an inductive study on that specific book. Not strictly speaking a "study Bible" with notes but a Bible to help you study inductively. Has wide margins for making notes. This is one that works best in "paper," not digitally. 
With the Word - Devotional Commentary - Warren Wiersbe - 428 ratings
Evangelical Commentary on the Bible - Judges by Andrew Boling (20 pages); editor Walter Elwell (1989) 1239 pages. User reviews. (See also Boling's 380 page commentary on Judges the Anchor Bible Series)
Halley's Bible Handbook Henry H. Halley - (2000) 2720 pages (much larger than original edition in 1965 and no time limit on use). (Halley's Bible handbook : an abbreviated Bible commentary - one hour limit 1965 872 pages)
Rosscup - A much-used older evangelical handbook bringing together a brief commentary on Bible books, some key archaeological findings, historical background, maps, quotes, etc. It is helpful to a lay Bible teacher, Sunday School leader, or pastor looking for quick, pertinent information on a Bible book. This is the 72nd printing somewhat revised. Halley packed in much information. Unger's is better overall, but that is not to say that Halley's will not provide much help on basic information.
The Shaw Pocket Bible Handbook - Editor - Walter Elwell (1984) 408 pages.
"This hardback is small in size but packed full of content: Brief summaries of every book of the bible, cultural, archaeological and historical info, word definitions, pictures, maps and charts." Worth checking! 
MARK ADAMS - Redlands Baptist Church
MAX ALDERMAN
HENRY AIRAY
GREGG ALLEN
Philippians Devotionals - click for devotionals below
Philippians 2:2 Stars in a Dark World by Elisabeth Elliot
Philippians 2:1-5 Unity, Not Uniformity - Theodore Epp
Philippians 2:5-11 Christ, the Great Example by Theodore Epp
Philippians 2:5-8 Death is a Gateway to the Palace by Elisabeth Elliot (scroll down)
Philippians 2:7 A Chance to Die by Elisabeth Elliot
Philippians 2:9 What a Name! by Dr. Warren Wiersbe
Philippians 2:12-14 Hidden Work by Elisabeth Elliot
Philippians 2:12-14 Balanced-and Blessed! by Theodore Epp
Philippians 2:15-16 The Word Is Central by Theodore Epp
Philippians 2:4 Phillips Brooks
Philippians 2:4 Concern For Others
Philippians 2:5 Andrew Murray
Philippians 2:12 John Ker
Philippians 2:13 J. Stuart Holden
Philippians 2:13 Henry Drummond
WILLIAM BARRICK
JOSEPH BENSON
KENNETH BOA
BRIDGEWAY
GENE BROOKS
WILLIAM BURKITT
CAMBRIDGE BIBLE FOR SCHOOLS
JOHN CEREGHIN
HENRY COWLES
CHARLES ELLICOTT
MANTON EASTBURN
DWIGHT EDWARDS
FEFC WICHITA SERMONS - most have audio and transcript
Philippians 2:1-8;Imitating Christ: To live worthy of the gospel, we must live in harmony with one another, demonstrating Christ's attitudes of unselfishness, humility, and self-sacrifice.Video
Philippians 2:9-18; Exemplifying the Incarnation: To demonstrate to the world who Jesus Christ is, we are to work out our salvation.Video
Philippians 2:19-30; Christlike Examples: To help Christians understand and imitate Christ's attitudes of unselfishness, humility, and self-sacrifice, we should expose them to spiritual leaders who model these qualities.Video
DAVE HAGELBERG
JAMES HASTINGS
HYMNS Click here, scroll down for following hymns
Philippians 2:1: Jesus, United by the Grace
Philippians 2:6
Advent of Our God, The
Jesu Hail! O God Most Holy
O King of Glory, David's Son (Henkel)
Thou Didst Leave Thy Throne
When Jesus Left His Father's Throne
Philippians 2:7
All Wise, All Good, Almighty Lord
Behold the Great Creator Makes
Did Christ Descend from Majesty
Down from His Glory
Down from the Worlds of Radiant Light
Happy Christmas Morn, The
He Became Incarnate
I Cannot Tell Why
I Know Not How That Bethlehem's Babe
It's Just Like Him
Immortal Babe, Who This Dear Day
Incarnation Hymn
Let Earth and Heaven Combine
O Christmas Night!
O Mercy Divine, O Couldst Thou Incline
Oh, How Wondrous Is the Story
Oh, 'Twas Love
Savior, When Night Involves the Skies
Servant of God, and Son of Man
Philippians 2:8
Behold a Little Child
Christ, Who Left His Home in Glory
O Lord, We Sing Thy Great Humility
Philippians 2:9
All Hail the Power of Jesus' Name
Behold the Glorious Dawning Bright
Jesus Is His Name
Jesus! Jesus! Jesus!
Jesus! the Name High over All
Join All the Glorious Names
Now Joyful Strains We Lift on High
O God, We Praise Thee, and Confess
O Name, All Other Names Above
Of All in Earth or Heaven
Peerless Name, The
Praise of Jesus' Name, The
Praise the Name of Christ
Rejoice and Shout Aloud
There Is No Name so Sweet on Earth
There's No Other Name Like Jesus
Philippians 2:10
Hail, Mighty Jesus!
Sons of Zion, Raise Your Songs
Sound Ye the Trumpet Call
Philippians 2:11
Glory to God the Father
Philippians 2:15
O Thou Who Makest Souls to Shine
Shining for Jesus (Brown)
Shining for Jesus (Oatman)
Philippians 2:16
Oh More Than Merciful!
RHODERICK ICE
Philippians 2 Devotionals - devotionals below
Philippians 2:4 Phillips Brooks
Philippians 2:4 Concern For Others
Philippians 2:5 Andrew Murray
Philippians 2:12 John Ker
Philippians 2:13 J. Stuart Holden
Philippians 2:13 Henry Drummond
JOHN ANGELL JAMES
JAMIESON, FAUSSET, BROWN
Published 1871 - Probably best older commentary on prophetic passages as it tends to interpret more literally.

James Rosscup - This is a helpful old set of 1863 for laypeople and pastors to have because it usually comments at least to some degree on problems. Though terse, it provides something good on almost any passage, phrase by phrase and is to some degree critical in nature. It is evangelical....Especially in its multi-volume form this is one of the old evangelical works that offers fairly solid though brief help on many verses. Spurgeon said, "It contains so great a variety of information that if a man had no other exposition he would find himself at no great loss if he possessed this and used it diligently" (Commenting and Commentaries, p. 3). Things have changed greatly since this assessment! It is primarily of help to pastors and lay people looking for quick, though usually somewhat knowledgeable treatments on verses.

Spurgeon - A really standard work. We consult it continually, and with growing interest. Mr. Fausset's portion strikes us as being of the highest order. 

John Cereghin -  A conservative exposition. He defends Petrine authorship (xlixff); argues for the deity of Christ (619); holds that assurance in Scripture is doubly sure (622); identifies the elements as "the world's component materials" (627); holds that Paul's Epistles were already known as "Scripture" (628).
Or the Unabridged Version:
ROBERT JOHNSTONE
Spurgeon: A noble volume. A real boon to the man who purchases it.

D Edmond Hiebert - A thorough conservative exposition abounding in apt illustrations and practical applications. The revised translation and notes on the Greek text following the lectures add to the importance of the volume.

Cyril Barber - A valued reprint. Deals admirably with the theme of the epistle. Buy it while it is still available.

John Cereghin, Pastor - A very thorough, practical, and homiletical exposition by a strong Presbyterian. He warns against thinking that church membership, baptism, or adherence to the Westminster Confession is ground for salvation (254,255). On Phil 2:5-11 he maintains that pre-existence and deity of Christ (146-148). The book also includes a considerable number of notes on the Greek text.
J H JOWETT - The High Calling - Meditations on St Paul's Letter to the Philippians
39 Meditations with excellent thoughts for expositors.

D Edmond Hiebert - A series of thirty-nine expository meditations aimed at inspiring devotion and joy in the believer's daily life. The work of a noted English Congregational minister, author of many devotional books.
DAVID L KENNARD
HENRY MAHAN
ALEXANDER MACLAREN
D MARTYN LLOYD JONES
J R MILLER
Receive him therefore in the Lord with all gladness. - Philippians 2:29
It is pleasant to look up the little biographies of good men that we find imbedded in Paul's letters. There is so much that is deep and abstruse in some of his doctrinal discussions that we are apt to think of him as a sort of doctrinaire, without much of the genial, loving side of life in him. But when we study his letters we discover our mistake. He loved people, he needed friends, and he always saw the best that was in them.  The little story of Epaphroditus that we have in this chapter is very interesting. Paul appreciated him. Nor did he forget his kindness - he had ministered to his needs. He was the messenger from the Philippian church, and had brought tokens of love to the apostle from his old friends. He had been taken sick, too, in Rome, but God had mercifully spared him. Now he is returning, and is to carry this letter. This kindly mention of Epaphroditus shows us how somewhere, if not in books, every kindness any of us does is written down.
ROBERT MORGAN
WILLIAM NIVEN
FREDERICK A NOBLE
OUR DAILY BREAD
PASTOR LIFE
J C PHILPOT
J B GOUGH PIDGE
WIL POUNDS
PRECEPT MINISTRIES
Philippians Inductive Study 16 lessons -- Lesson 1 can be downloaded as Pdf. Links below are to Word transcripts on each lesson
JOHN SCHULTZ
SERMON AUDIO - Large number of PDF'S - Quality may vary so be a Berean. This is not the same resource as "Sermon Central"
SERMON CENTRAL
HAMILTON SMITH
JAMES SMITH
RUSSELL SMITH
JOHN STEVENSON
THEOLOGY OF WORK- From the Theology of Work Project. CLICK HERE FOR LIST OF COMMENTARIES ON ALL 66 BOOKS 
TIM TEMPLE
THIRD MILLENNIUM STUDY NOTES PHILIPPIANS
DAVID THOMPSON PHILIPPIANS SERMONS
THOMAS TOLLER
ALLAN TURNER
INSTRUCTIONS: Click here for links to the messages below. Note that the first message is at the bottom of this page. For the PDF click the dropdown menu under "Downloads" and select "Transcript". "Notes" are more of a summary and "Study" has several questions related to the topic.
Philippians 2:1-4 Encouragement in Christ
Philippians 2:1-4 Consolation of love, fellowship of the Spirit
Philippians 2:1-4 Being of the same mind
Philippians 2:1-4 Maintaining the same love, united in spirit
Philippians 2:5-8 Christ did not grasp His riches too tightly
Philippians 2:5-8 Christ emptied Himself
Philippians 2:5-8 Christ was made in the likeness of men
Philippians 2:5-8 Christ was obedient to the point of death
Philippians 2:9-11 His resurrection, ascension and unveiling
Philippians 2:9-11 His ministry of intercession
Philippians 2:9-11 The name of the Lord in Christ's exaltation
Philippians 2:9-11 The purpose of Christ's exaltation
Philippians 2:12-13 We are responsible for the failings in our sanctification
Philippians 2:12-13 God is responsible for the success in our sanctification
Philippians 2:14-16 We must not grumble and dispute
Philippians 2:14-16 To function as a beacon of light to a faithless world
Philippians 2:14-16 What those who have labored in our lives might have glory
Philippians 2:17-18 Rejoicing in sacrificial service to others
Philippians 2:19-24 The character of Timothy
Philippians 2:19-24 The value of Timothy
CHRIS VOGEL
THOMAS WALKER
RICK WARREN - Devotionals -
Note: Some of the links may not work. I do not agree with all of Rick Warren's theology, but most of these devotionals are orthodox. If you encounter one that you think teaches aberrant doctrine, please email me at webmaster and I will check and remove. Thank you for your assistance. 
DANIEL WHEDON
OCTAVIUS WINSLOW
| | | |
| --- | --- | --- |
| A Plea for Unity | Alexander Maclaren | Philippians 2:1 |
| A Willing Sacrifice | Alexander Maclaren | Philippians 2:1 |
| Palm Sunday | Martin Luther | Philippians 2:1 |
| Work Out Your Own Salvation | Alexander Maclaren | Philippians 2:1 |
| Brotherly Union | W.F. Adeney | Philippians 2:1, 2 |
| Christian Like-Mindness | T. Croskery | Philippians 2:1, 2 |
| Exhortation to Unity | V. Hutton | Philippians 2:1, 2 |
| Altruism | R.M. Edgar | Philippians 2:1-4 |
| Genuine Socialism Apostolically Urged | D. Thomas | Philippians 2:1-4 |
| Exhortation to Unanimity and Humility | R. Finlayson | Philippians 2:1-11 |
| A Communion Discourse | J. G. Butler, D. D. | Philippians 2:1-13 |
| Christian Concord | R. Johnstone, LL. B. | Philippians 2:1-13 |
| Christian Union -- Strength | J. Hutchinson, D. D. | Philippians 2:1-13 |
| Christian Union How Obtained | E. Meade, M. A. | Philippians 2:1-13 |
| Christian Unity | E. Meade, M. A. | Philippians 2:1-13 |
| Christian Unity | J. Lyth, D. D. | Philippians 2:1-13 |
| Consolation in Christ | C. H. Spurgeon. | Philippians 2:1-13 |
| Consolation in Christ | S. Lavington. | Philippians 2:1-13 |
| How Unity is Obtained | Dr. Hamilton. | Philippians 2:1-13 |
| Love Promotes Unity | Life of Brainerd. | Philippians 2:1-13 |
| Mutual Harmony | W. M. Statham. | Philippians 2:1-13 |
| Paul's Appeal | J. Parker, D. D. | Philippians 2:1-13 |
| Shoulder to Shoulder | T. T. Shore. | Philippians 2:1-13 |
| The Apostle's Appeal | H. Airay, D. D. | Philippians 2:1-13 |
| The Christian Doctrine of Self | W. B. Pope, D. D. | Philippians 2:1-13 |
| The Emotional in Christianity | J. B. Thomas, D. D. | Philippians 2:1-13 |
| The Excellence of Christian Unity | E. Meade, M. A. | Philippians 2:1-13 |
| The Tender Sympathy of Christ | Talmage. | Philippians 2:1-13 |
| Avoiding Vain-Glory | J. A. James., H. O. Mackay. | Philippians 2:3-4 |
| Christian Humility |   | Philippians 2:3-4 |
| Evils to be Shunned and Graces to be Cultivated | H. Airay, D. D. | Philippians 2:3-4 |
| Exhortation to Unity: (3) Causes of its Breach | V. Hutton | Philippians 2:3, 4 |
| Humility | Owen Feltham. | Philippians 2:3-4 |
| Humility and Joyfulness | H. W. Beecher. | Philippians 2:3-4 |
| Lowliness of Mind | J. Daille. | Philippians 2:3-4 |
| Prohibitions and Injunctions | J. Lyth, D. D. | Philippians 2:3-4 |
| Selfishness | J. Lyth, D. D. | Philippians 2:3-4 |
| The Estimation of Self and Others | Christian Age | Philippians 2:3-4 |
| The Example of Christ | Professor Eadie. | Philippians 2:3-4 |
| The Qualities of Christian Like-Mindedness | T. Croskery | Philippians 2:3, 4 |
| True Humility | J. Lyth, D. D. | Philippians 2:3-4 |
| Truthful Estimation | H. W. Beecher. | Philippians 2:3-4 |
| Unanimity | J. Parker, D. D. | Philippians 2:3-4 |
| Vain-Glory | Lord Bacon. | Philippians 2:3-4 |
| Christian Disinterestedness | W. Jay. | Philippians 2:4 |
| Christian Disinterestedness | W. H. Fremantle, M. A. | Philippians 2:4 |
| Christian Obligation | J. Dixon, D. D. | Philippians 2:4 |
| Considering Others Before Self | T. T. Shore. | Philippians 2:4 |
| Disinterested Friendship | J. F. B. Tinling, B. A. | Philippians 2:4 |
| Doing Good | Essex Congregational Remembrancer | Philippians 2:4 |
| Others Before Self | Sunday Magazine | Philippians 2:4 |
| Our Own and Others' Things | S. Martin. | Philippians 2:4 |
| Regard for Others | W. Baxendale. | Philippians 2:4 |
| Religious Selfishness Common |   | Philippians 2:4 |
| Sectarianism | The Hon. and Rev. W. H. Fremantle, M. A. | Philippians 2:4 |
| Selfishness | W.F. Adeney | Philippians 2:4 |
| Self-Sacrifice for Others | T. De Witt Talmage. | Philippians 2:4 |
| The Difficulty of Looking on the Things of Others | W. H. Fremantle, M. A. | Philippians 2:4 |
| The Evils of Selfishness | D. King, LL. D. | Philippians 2:4 |
| The Temper of Christ | Charles Kingsley | Philippians 2:4 |
| Unselfish Care for Others | W. Baxendale. | Philippians 2:4 |
| Exhortation to Unity: (4) its Highest Motive and Most Powerful Agent | V. Hutton | Philippians 2:5 |
| How to Keep Passion Week | Charles Kingsley | Philippians 2:5 |
| The Descent of the Word | Alexander Maclaren | Philippians 2:5 |
| The Mind Which was in Christ Jesus. Rev. George Wood | Knowles King | Philippians 2:5 |
| Jesus Christ the Supreme Example of Humble-Mindedness | T. Croskery | Philippians 2:5-8 |
| The Self-Sacrifice of Christ | R.M. Edgar | Philippians 2:5-8 |
| An Appeal for the Cultivation of a Right Spirit | J. Parker, D. D. | Philippians 2:5-11 |
| Christ is Our Pattern |   | Philippians 2:5-11 |
| How to Obtain the Mind of Christ | C. H. Spurgeon. | Philippians 2:5-11 |
| Lessons Taught by the Humiliation and Exaltation of Chris | T. Lessey, M. A. | Philippians 2:5-11 |
| Paul's Method of Exhortation | C. S. Robinson, D. D. | Philippians 2:5-11 |
| The Christian Temper | G. Burder. | Philippians 2:5-11 |
| The Great Example | R. Johnstone, LL. B. | Philippians 2:5-11 |
| The Humiliation and Glory of Christ | A. Raleigh, D. D. | Philippians 2:5-11 |
| The Imitableness of Christ's Character | Joseph Fletcher, D. D. | Philippians 2:5-11 |
| The Lesson of Humility | E. B. Pusey, D. D. | Philippians 2:5-11 |
| The Mind in Christ | E. P. Ingersoll. | Philippians 2:5-11 |
| The Mind in Christ | cf. Lyth, D. D. | Philippians 2:5-11 |
| The Mind of Christ | J. Lyth, D. D. | Philippians 2:5-11 |
| The Mind that was in Christ Jesus | C. Girdlestone, M. A., H. B. Rawnsley., J. W. Reeve, M. A. | Philippians 2:5-11 |
| The Mind that was in Christ Jesus | W.F. Adeney | Philippians 2:5-11 |
| The Moral History of the Christly Spirit | D. Thomas | Philippians 2:5-11 |
| The Obedience of Christ | C. Bradley, M. A. | Philippians 2:5-11 |
| The Problem of the Age | Pres. D. S. Gregory. | Philippians 2:5-11 |
| The Supreme Example of Self-Renunciation | W. B. Pope, D. D. | Philippians 2:5-11 |
| The Humiliation of Christ | V. Hutton | Philippians 2:6-8 |
| The Form of God | J. Daille. | Philippians 2:6-10 |
| The Three Estates | T. Sherlock, D. D. | Philippians 2:6-10 |
| Christ a Man | J. Vaughan, M. A. | Philippians 2:7 |
| Christ a Slave | J. Vaughan, M. A. | Philippians 2:7 |
| Christ Degraded | J. Vaughan, M. A. | Philippians 2:7 |
| Christ's Humiliation and Exaltation | Bishop Andrewes. | Philippians 2:7 |
| Christ's Obedience unto Death | J. Hutchinson, D. D. | Philippians 2:7 |
| Condescension of Christ | M. O. Mackay. | Philippians 2:7 |
| Emptied Himself | E. B. Pusey, D. D. | Philippians 2:7 |
| Humility | J. Vaughan, M. A. | Philippians 2:7 |
| Obedient unto Death | R. Jefferey, D. D. | Philippians 2:7 |
| Obedient unto Death | W. Harris. | Philippians 2:7 |
| The Cross the Fountain of Merit | W. H. Hutchings, M. A. | Philippians 2:7 |
| The Death of the Cross Was | R. H. Giles, B. A. | Philippians 2:7 |
| The Humanity of Christ | J. Vaughan, M. A. | Philippians 2:7 |
| The Humiliation of Christ | T. Manton, D. D. | Philippians 2:7 |
| The Humiliation of Christ | J. Flavel. | Philippians 2:7 |
| The Humiliation of Christ |   | Philippians 2:7 |
| The Mystery of Christ in the Form of a Servant |   | Philippians 2:7 |
| The Obedience of Christ | J. Vaughan, M. A. | Philippians 2:7 |
| The Passion of Our Blessed Saviour | L. Barrow, D. D. | Philippians 2:7 |
| The Possibility of Christ's Humiliation | A. Raleigh, D. D. | Philippians 2:7 |
| The Saviour's Fashion | J. Irons. | Philippians 2:7 |
| A Name Above Every Name | W. L. Ker, M. A. | Philippians 2:9 |
| Exaltation Through Humiliation | V. Hutton | Philippians 2:9 |
| The Ascent of Jesus | Alexander Maclaren | Philippians 2:9 |
| The Exaltation of Christ | Charles Haddon Spurgeon | Philippians 2:9 |
| The Exalted Name of Jesus | H. G. Guinness. | Philippians 2:9 |
| The Importance of a Name | T. De Witt Talmage. | Philippians 2:9 |
| The Music of Two Syllables | T. De Witt Talmage, D. D. | Philippians 2:9 |
| The Name Above Every Name | J. Lyth, D. D., H. W. Beecher. | Philippians 2:9 |
| The Name Above Every Name | Principal Cairns. | Philippians 2:9 |
| The Name of Jesus | J. Lyth, D. D., G. D. Boardman, D. D. | Philippians 2:9 |
| The Preciousness of the Name of Jesus | T. De Witt Talmage, D. D. | Philippians 2:9 |
| Christ's Exaltation | C. H. Spurgeon. | Philippians 2:9-11 |
| Christ's Exaltation |   | Philippians 2:9-11 |
| Christ's Exaltation | R.M. Edgar | Philippians 2:9-11 |
| Christ's Reward | T. Croskery | Philippians 2:9-11 |
| Of Christ's Exaltation | T. Boston, D. D. | Philippians 2:9-11 |
| The Exaltation of Christ | J. Lyth, D. D. | Philippians 2:9-11 |
| The Exaltation of Christ | W. B. Pope, D. D. | Philippians 2:9-11 |
| The Mediatorial Exaltation | C. Clemance, D. D. | Philippians 2:9-11 |
| Bowing At the Name of Jesus | W. H. Davison. | Philippians 2:10-11 |
| Christ Must be Confessed | W. H. Baxendale. | Philippians 2:10-11 |
| Christ's Claims | J. Lyth, D. D. | Philippians 2:10-11 |
| The Exaltation of the Son of Man | V. Hutton | Philippians 2:10, 11 |
| The Supremacy of Christ | J. Lyth, D. D. | Philippians 2:10-11 |
| The Supreme King | R. Brewin. | Philippians 2:10-11 |
| The Triumphs of Christ | C. H. Spurgeon. | Philippians 2:10-11 |
| We Must Speak for Christ | W. H. Baxendale. | Philippians 2:10-11 |
| Christian Salvation a Working Out What God Works in | T. Croskery | Philippians 2:12, 13 |
| Divine Energy an Incentive to Human | R. Redpath, M. A. | Philippians 2:12-13 |
| Divine Grace and Human Endeavours | G. Burder, M. A. | Philippians 2:12-13 |
| Divine Influence and Mans' Duty | R. Redpath, M. A. | Philippians 2:12-13 |
| God is a Silent Worker | R. Cecil. | Philippians 2:12-13 |
| God Working in Us | H. W. Beecher. | Philippians 2:12-13 |
| God Works | J. Lyth, D. D. | Philippians 2:12-13 |
| God's Agency Effective When Man's is Impotent | R. Johnstone, LL. B. | Philippians 2:12-13 |
| God's Grace and Man's Free Agency | G. Huntington, M. A. | Philippians 2:12-13 |
| Grace is God's Work | H. W. Beecher. | Philippians 2:12-13 |
| Man Permeable by God | H. Bushnell, D. D. | Philippians 2:12-13 |
| Man to Work in His Salvation | H. Melvill, B. D. | Philippians 2:12-13 |
| Man Working and God Working | D. King, LL. D. | Philippians 2:12-13 |
| Man's Work an Evidence of His Salvation | C. H. Spurgeon. | Philippians 2:12-13 |
| Our Own Salvation | V. Hutton | Philippians 2:12, 13 |
| Practical Religion | A. J. Furman. | Philippians 2:12-13 |
| Salvation | J. Lyth, D. D. | Philippians 2:12-13 |
| Salvation a Work | J. Daille | Philippians 2:12-13 |
| Salvation as a Work in the Soul | D. Thomas | Philippians 2:12, 13 |
| Salvation Possible, But not Easy | W. C. Smith, D. D. | Philippians 2:12-13 |
| Salvation to be Worked Out with Fear and Trembling | A. Raleigh, D. D. | Philippians 2:12-13 |
| Salvation Worked in and Out | T. H. Leary, D. C. L. | Philippians 2:12-13 |
| Salvation Worked Out | D. Wilcox. | Philippians 2:12-13 |
| Salvation Worked Out | Bishop Beveridge. | Philippians 2:12-13 |
| Salvation Worked Out |   | Philippians 2:12-13 |
| Second Part | R. Sibbes, D. D. | Philippians 2:12-13 |
| The Awful Responsibility of Personal Inspirations | R.M. Edgar | Philippians 2:12, 13 |
| The Christian Work -- First Part |   | Philippians 2:12-13 |
| The Difficulty of Working Out Our Salvation | G. Huntington, M. A. | Philippians 2:12-13 |
| The Law of Spiritual Interaction | Principal Simon. | Philippians 2:12-13 |
| The Motive for This Work | James Owen. | Philippians 2:12-13 |
| The Publicity of a Worked-Out Salvation | D. R. Jenkins. | Philippians 2:12-13 |
| The Two-Fold Force in Salvation | T. T. Manger. | Philippians 2:12-13 |
| The Way of Salvation | J. Sherman. | Philippians 2:12-13 |
| The Working Out of Salvation | J. E. M. A. | Philippians 2:12-13 |
| The Working Out of Salvation | R. Watson. | Philippians 2:12-13 |
| The Working Out of Salvation | James Owen. | Philippians 2:12-13 |
| The Working Out of Salvation | A. Maclaren, D. D. | Philippians 2:12-13 |
| The Working Out of Salvation | J. Vaughan, M. A. | Philippians 2:12-13 |
| The Working Out of Salvation | J. Wesley, M. A. | Philippians 2:12-13 |
| The Working Out of Salvation | C. Hedge, D. D. | Philippians 2:12-13 |
| The Working Out of Salvation | D. R. Jenkins. | Philippians 2:12-13 |
| The Working Out of Salvation Gradual | H. W. Beecher. | Philippians 2:12-13 |
| We Must Fear and Tremble Because of the Preciousness of Salvation | J. Vaughan, M. A. | Philippians 2:12-13 |
| Work Out Your Own Salvation | T. Guthrie, D. D. | Philippians 2:12-13 |
| Working Out Our Own Salvation | W.F. Adeney | Philippians 2:12, 13 |
| Working Out Salvation | J. McNeill. | Philippians 2:12-13 |
| Working Out What is Worked In | C. H. Spurgeon. | Philippians 2:12-13 |
| Your Own Salvation | C. H. Spurgeon | Philippians 2:12-13 |
| Divine Help | A. H. Moment, D. D. | Philippians 2:12-18 |
| Exhortations | R. Finlayson | Philippians 2:12-18 |
| The Obedience of the Christian Life | W. B. Pope, D. D. | Philippians 2:12-18 |
| Working Out Our Own Salvation | J. J. Goadby. | Philippians 2:12-18 |
| Copies of Jesus | Alexander Maclaren | Philippians 2:14 |
| Believers' Lights in the World | C. H. Spurgeon. | Philippians 2:14-16 |
| Christianity | T. Page, M. A. | Philippians 2:14-16 |
| Church Activity | D. Thomas | Philippians 2:14-16 |
| Controversy Hushed in the Presence of Heathenism | Bishop Patteson. | Philippians 2:14-16 |
| Don't Spoil Your Portrait | J. R. Howat. | Philippians 2:14-16 |
| Evil of Disputings | C. H. Spurgeon. | Philippians 2:14-16 |
| Murmuring the Cause of Disputings | H. Airay, D. D. | Philippians 2:14-16 |
| Murmurings and Disputings | R. Sibbes, D. D. | Philippians 2:14-16 |
| Negative and Positive Christianity | Jeremy Taylor., J. Lyth, D. D., J. Lyth, D. D. | Philippians 2:14-16 |
| The Christian Life: its Effect Upon the World | V. Hutton | Philippians 2:14-16 |
| The Cultivation of a Christian Deportment | J. Parsons. | Philippians 2:14-16 |
| The Duties of a Church Towards its Neighbourhood | S. Martin. | Philippians 2:14-16 |
| The Duties of Church Members | J. Stoughton, D. D. | Philippians 2:14-16 |
| The Folly of Contentions on the Mission Field | J. L. Nye. | Philippians 2:14-16 |
| The Importance of a Contented and Peaceful Habit of Soul | T. Croskery | Philippians 2:14-16 |
| The Inward Principle and Outward Forth of Christianity | S. T. Coleridge. | Philippians 2:14-16 |
| Things Best Dropped | J. R. Howat. | Philippians 2:14-16 |
| Inspired to be Blameless Sons | R.M. Edgar | Philippians 2:14-18 |
| All Christians Must Shine | H. W. Beecher. | Philippians 2:15 |
| Children of God Without Rebuke |   | Philippians 2:15 |
| Christian Influence |   | Philippians 2:15 |
| Christians are Lights | C. H. Spurgeon. | Philippians 2:15 |
| God's People | J. Lyth, D. D., J. Lyth, D. D. | Philippians 2:15 |
| Harmless | J. Daille. | Philippians 2:15 |
| Hiding His Lamp |   | Philippians 2:15 |
| In the Midst of a Crooked and Perverse Nation | J. Daille. | Philippians 2:15 |
| Insincere Professors | J. Daille. | Philippians 2:15 |
| Lights | W.F. Adeney | Philippians 2:15 |
| Moral Courage | Homiletic Monthly | Philippians 2:15 |
| Shine for Others | J. L. Nye. | Philippians 2:15 |
| Shining Christians | Homiletic Monthly | Philippians 2:15 |
| The Christian in the World | A. H. Moment. | Philippians 2:15 |
| The Christian's Carriage in the World |   | Philippians 2:15 |
| The Sons of God | Baldwin Brown, B. A. | Philippians 2:15 |
| Christian Influence | J. Hanes, D. D. | Philippians 2:16 |
| Christians are Light Holders | R. Brewin. | Philippians 2:16 |
| Exposure of Light Bearers | T. Guthrie, D. D. | Philippians 2:16 |
| Holding Forth the Light | Dr. Morison. | Philippians 2:16 |
| Holding Forth the Word of Life | D. Ruell. | Philippians 2:16 |
| Holding Forth the Word of Life | A. Blackburn, D. D. | Philippians 2:16 |
| Holding Forth the Word of Life | Dean Vaughan. | Philippians 2:16 |
| The Bible | J. Lyth, D. D. | Philippians 2:16 |
| The Prosperity of the Pastor, the Prosperity of His Flock | J. Daille | Philippians 2:16 |
| The Word of Life | H. Airay, D. D. | Philippians 2:16 |
| Christly Love | D. Thomas | Philippians 2:17, 18 |
| Priest and Sacrifice | J. Daille. | Philippians 2:17-18 |
| The Apostle's Readings to Sacrifice His Life for the Philippians | T. Croskery | Philippians 2:17, 18 |
| The Christian Service | R. Johnstone, LL. B. | Philippians 2:17-18 |
| The Joy of Martyrdom | R. Johnstone, LL. B. | Philippians 2:17-18 |
| The Joy of the Church in Her Martyrs and Confessors | J. Lyth, D. D. | Philippians 2:17-18 |
| The Kindled Torch | J. Hutchinson, D. D., R. Johnstone, LL. B., M. Bonnet. | Philippians 2:17-18 |
| The Law of Sacrifice | V. Hutton | Philippians 2:17, 18 |
| The Law of the Christian Life | A. Mackennal, D. D. | Philippians 2:17-18 |
| The Spirit of the Martyrs | J. Lyth, D. D. | Philippians 2:17-18 |
| Paul and Timothy | Alexander Maclaren | Philippians 2:19 |
| The Mission of Timothy | T. Croskery | Philippians 2:19-23 |
| The True Spirit of Christian Usefulness | D. Thomas | Philippians 2:19-24 |
| Christian Friendship | J. Lyth, D. D. | Philippians 2:19-30 |
| Christian Intercourse | J. Lyth, D. D. | Philippians 2:19-30 |
| Christian Mutual Happiness | L. O. Thompson. | Philippians 2:19-30 |
| Paul, Timothy, and Epaphroditus | A. Raleigh, D. D. | Philippians 2:19-30 |
| The Considerate Missions of Epaphroditus and Timothy | R.M. Edgar | Philippians 2:19-30 |
| The Mission of Timothy | J. Lyth, D. D. | Philippians 2:19-30 |
| The Value of a True Comforter | H. W. Beecher. | Philippians 2:19-30 |
| Timothy and Epaphroditus | R. Finlayson | Philippians 2:19-30 |
| Two Characters, Representing Two Aspects of Christian Work | V. Hutton | Philippians 2:19-30 |
| Care for Souls | Dean Hook. | Philippians 2:20-21 |
| Concern for the Spiritual Wants of Men | E. Payson, D. D. | Philippians 2:20-21 |
| Failures | Dean Church. | Philippians 2:20-21 |
| Missionary Agency | J. Lyth, D. D. | Philippians 2:20-21 |
| Natural Care for Others |   | Philippians 2:20-21 |
| The Care of a Good Pastor for His People | N. Emmons, D. D. | Philippians 2:20-21 |
| The Experience of Isolation | Dean Vaughan. | Philippians 2:20-21 |
| Beauty of Unselfishness | T. De Witt Talmage. | Philippians 2:21 |
| Disinterested Service | J. B. J. Tinling, B. A. | Philippians 2:21 |
| Disinterestedness |   | Philippians 2:21 |
| Giant Self | J. H. Wilson, D. D. | Philippians 2:21 |
| Seeking Our Own Things | J. Guyse, D. D. | Philippians 2:21 |
| Selfishness Common | Plutarch. | Philippians 2:21 |
| Self-Seeking | J. Lyth, D. D. | Philippians 2:21 |
| The Beauty of Unselfishness | J. H. Wilson, D. D. | Philippians 2:21 |
| The Duty of Unselfishness | J. H. Wilson, D. D. | Philippians 2:21 |
| The Evil of Self-Seeking | J. Guyse, D. D. | Philippians 2:21 |
| A Lesson | H. Airay, D. D. | Philippians 2:22 |
| Proof of Character | J. Lyth, D. D. | Philippians 2:22 |
| Timothy | J. Lyth, D. D. | Philippians 2:22 |
| New Year's Sermon | W. Jay. | Philippians 2:23-24 |
| The Providence of God | R. Sibbes, D. D. | Philippians 2:23-24 |
| The Servant of God in Affliction | J. Lyth, D. D. | Philippians 2:23-24 |
| Trust in God | W. Jay. | Philippians 2:23-24 |
| Trust in the Lord | J. Lyth, D. D. | Philippians 2:23-24 |
| Epaphroditus the Link Between the Apostle and Philippi | T. Croskery | Philippians 2:24-30 |
| Paul and Epaphroditus | Alexander Maclaren | Philippians 2:25 |
| Epaphroditus | J. Daille. | Philippians 2:25-30 |
| Epaphroditus | J. Lyth, D. D. | Philippians 2:25-30 |
| Epaphroditus | Bishop Lightfoot. | Philippians 2:25-30 |
| Epaphroditus | W.F. Adeney | Philippians 2:25-30 |
| The Attachment of Fellow Soldiers |   | Philippians 2:25-30 |
| The Relations of Believers | J. Lyth, D. D. | Philippians 2:25-30 |
| The Titles of Epaphroditus | R. Sibbes, D. D. | Philippians 2:25-30 |
| True Laborers for Christ | D. Thomas | Philippians 2:25-30 |
| Life not Regarded | H. O. Mackay. | Philippians 2:26-28 |
| Life Preferred to Service | H. O. Mackay. | Philippians 2:26-28 |
| Providential Care | H. W. Beecher. | Philippians 2:26-28 |
| Recovery from Sickness | J. Alexander, D. D. | Philippians 2:26-28 |
| Returning Labourers to be Welcomed with Joy | R. Johnstone, LL. B. | Philippians 2:26-28 |
| Sickness | J. Lyth, D. D. | Philippians 2:26-28 |
| Sympathy | J. Lyth, D. D. | Philippians 2:26-28 |
| The Christian's Duty | R. Sibbes, D. D. | Philippians 2:26-28 |
| The Christian's Duty to His Ministers | R. Sibbes, D. D. | Philippians 2:26-28 |
| The Risk of Christian Work | J. Hutchinson, D. D. | Philippians 2:26-28 |
| The Sickness of Epaphroditus | R. Sibbes, D. D. | Philippians 2:26-28 |
| The Sickness of Epaphroditus | Dean Vaughan. | Philippians 2:26-28 |
| The Succour of the Saints Is | J. Lyth, D. D. | Philippians 2:26-28 |
| The Work of Christ | J. Lyth, D. D. | Philippians 2:26-28 |
| Timely Providences | J. Flavel. | Philippians 2:26-28 |
| Why God's Servants are Afflicted | J. Daille. | Philippians 2:26-28 |
Book