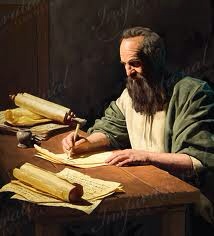 1 CORINTHIANS - PROBLEMS OF A LOCAL CHURCH
Click chart to enlarge
Charts from Jensen's Survey of the NT - used by permission
---
INTRODUCTORY THOUGHTS
1 CORINTHIANS
FROM CHART: Note 2 major divisions:
FIRST DIVISION - Chapters 1-6 = Problems of Congregation - Divisions & Depravities,
SECOND DIVISION - Chapters 7-16 = Personal Problems, Worship Problems
 KEY WORDS IN 1 CORINTHIANS - see also "Key Word Bookmark" (laprecept.com)
Love (17x/14v) - 1 Co. 2:9; 4:21; 8:1, 3; 13:1-4, 8, 13; 14:1; 16:14, 22, 24 (Most in the 2nd Division)
Spirit (56x/42v) - 22 refer to the Holy Spirit - 1 Co. 2:4, 10, 11, 12, 13, 14, 15,  3:1, 16; 4:21; 5:3, 4, 5; 6:11, 17, 19; 7:34, 40; 9:11; 10:3,4; 12:1, 3, 4, 7, 8, 9, 10, 11, 13; 14:1,2, 12, 14, 15, 16, 32, 37; 15:44, 45, 46; 16:18
Body (46x/34v) - 1 Co. 5:3; 6:13, 16, 18, 19, 20; 7:4, 34; 9:27; 10:16, 17; 11:24, 27, 29; 12:12, 13, 14, 15, 16, 17, 18, 19, 20, 22, 23, 24, 27; 13:3; 15:35, 37, 38, 42, 44 (Most in the 2nd Division)
Idol (16x/12v) - 1 Co. 5:10, 11; 6:9; 8:1, 4, 7, 10; 10:7, 14, 19, 28; 12:2 (Most in the 2nd Division)
Temple (6x/5v) - 1 Co. 3:16, 17; 6:19; 8:10; 9:13
Immorality (10x/8v) - 1 Co. 5:1, 9, 10, 11; 6:13, 18 (twice); 1 Cor 7:2; 10:8
Wisdom (18x/15v) - 1 Co. 1:19, 20, 21, 22, 24, 30; 2:1, 4, 5, 6, 7, 8, 13; 3:19; 12:8 (Most in 1st Division)
Wise (11x/10v) - 1 Co. 1:19, 20, 26, 27; 3:10, 18, 19, 20; 6:5; 10:15  (Most in 1st Division)
Fools, Foolishness, Foolish (11x/11v) - 1 Co. 1:18, 20, 21, 23, 25, 27; 2:14; 3:18, 19; 4:10; 15:36
Power (11x/11v) - 1 Co. 1:18, 24; 2:4, 5; 4:19, 20; 5:4; 6:14; 15:24, 43, 56
Gift (13x/13v) - 1 Co. 1:7; 7:7; 12:1, 4, 9, 28, 30, 31; 13:2, 8; 14:1, 12; 16:3 (Most in 2nd Division)
Resurrection (4x/4v) - 1 Co 15:12, 13, 21, 42 (All in 2nd Division)
Cross (2x/2v) - 1 Cor 1:17, 18
Call, calling, called (17x/14v) - 1 Co. 1:1, 2, 9, 24, 26; 7:15, 17, 18, 20, 21, 22, 24; 14:24; 15:9
Boast (9x/8v) - 1 Co. 1:29, 31; 3:21; 4:7; 5:6; 9:15, 16; 15:31 (Note: Boast occurs in another 20 verses in Second Corinthians!)
Arrogant (6x/6v) - 1 Co. 4:6, 18, 19; 5:2; 8:1; 13:4
KEY VERSES - 1 Corinthians 1:10 (divisions), 1 Corinthians 7:1 (personal and corporate problems), 1 Corinthians 15:57
Ray Stedman feels that 1 Corinthians 1:9+ is "the key verse of First Corinthians. The rest of the letter centers around it. It is a statement that God had called them to a very important relationship, and, by implication, here at the very beginning of this letter we learn that this is the reason for all of the problems in the Corinthian church. They had not understood the implications of their calling, and the relationship they personally and individually had with Jesus Christ himself." 
PURPOSE: Paul's purposes for writing the Corinthians were several. His first purpose was to deal with several moral problems and the divisions that had formed as people had divided into fan-clubs and were proclaiming themselves followers of Paul, Apollos, Peter or Christ (1 Cor 1:10). His second reason was to deal with several questions that had been asked in a letter the Corinthians had sent to him (1 Cor 7:1). A third purpose that appears throughout the book is Paul's defense of his apostolic authority. (Paul Apple's Commentary - 445 pages - recommended)
CONTEXT - Paul began his ministry in Corinth on his second missionary journey under much opposition (Acts 18:6-17), but he was able to convert several influential people and consequently remained for about one and a half years in Corinth. See Paul's Relationship with the Church at Corinth
OUTLINE OF 1 CORINTHIANS (modified from Charles Swindoll's Overview Chart on right side of page - click to enlarge it)
I. Rebuke for Sinful Conditions (1 Cor 1:10-6:2)
A. Divisions in the Church (1 Cor 1:10-4:21)
B. Disorders in the Church (1 Cor 5:1-6:20)
II. Reply to Specific Questions re "Difficulties" (1 Cor 7:1-16:9) 
A. Domestic Difficulty - marriage and divorce (1 Cor 7:1-40)
B. Social Difficulty - liberty and license (1 Cor 8:1-11:1)
C. Ecclesiastical Difficulty - women and worship (1 Cor 11:2-34)
D. Practical Difficulty - gifts and body (1 Cor 12:1-14:40)
E. Doctrinal Difficulty - death and resurrection (1 Cor 15:1-58)
F. Financial Difficulty - gifts and body (1 Cor 16:1-9)
OUTLINE OF 1 CORINTHIANS (John MacArthur's excellent introduction to 1 Corinthians)
I.  Introduction: The Calling and Benefits of Sainthood (1 Corinthians 1:1–9)
II.  Disunity in the Church (1 Corinthians 1:10–4:21)
A.  The Need for Unity (1 Corinthians 1:10–3:23)
B.  The Need for Servanthood (1 Corinthians 4:1–21)
III.  Immorality in the Church (1 Corinthians 5:1–6:20)
IV.  Marriage in the Church (1 Corinthians 7:1–40)
V.  Liberty in the Church (1 Corinthians 8:1–11:1)
VI.  Worship in the Church (1 Corinthians 11:2–14:40)
A.  Roles of Men and Women in the Church (1 Corinthians 11:2–16)
B.  The Lord's Supper (1 Corinthians 11:17–34)
C.  Spiritual Gifts (1 Corinthians 12:1–14:40)
VII.  The Hope of the Church: Resurrection (1 Corinthians 15:1–58)
VIII.  A Charge to the Church (1 Corinthians 16:1–24)
A.  Stewardship (1 Corinthians 16:1–4)
B.  Personal Plans and Greetings (1 Corinthians 16:5–24)
Middletown Bible has an excellent "practical" outline of problems in the church at Corinth:
The book of 1 Corinthians reveals many of the problems that the Corinthian church faced. In fact, there is a problem in almost every chapter of the book. Paul wrote to the believers living in this city to give them God's answers to these many problems:
The Problem of Divisions in the Church (1 Cor. 1:10-13)
The Problem of Worldly Wisdom (1 Cor. 1:17-2:16)
The Problem of Carnality (1 Cor. 3:1-4)
The Problem of Immorality in the Church (1 Cor. 5:1-13)
The Problem of Bringing a Fellow Believer to Court (1 Cor. 6:1-8)
The Problem of Fornication (1 Cor. 6:15-20)
The Problem of Marriage and Divorce (1 Cor. 7:1-40)
The Problem of Meats Offered to Idols (1 Cor. 8:1-13)
The Problem of the Role Men and Women Should Have in Christ's Church (1 Cor. 11:1-17)
The Problem of Abusing the Lord's Supper (1 Cor. 11:20-34)
The Problem of Spiritual Gifts (1 Cor. 12:1-31)
The Problem of a Lack of Love (1 Cor. 13:1-13)
The Problem of Speaking in Tongues (1 Cor. 14:1-40)
The Problem of Wrong Teaching About the Resurrection of the Dead (1 Cor. 15:1-58)
The Problem of Collecting for the Saints (1 Cor. 16:1-3)
CITY OF CORINTH - Corinth was the capital of Achaia and located 40 miles west of Athens on the narrow isthmus (see pix from the air) connecting Peloponnese (on the south) with northern mainland of Greece (all uses of "Corinth" - Acts 18:1; 19:1; 1 Cor. 1:2; 2 Cor. 1:1, 23; 2 Tim. 4:20). Corinth was located between the Aegean and Adriatic Seas (see map below) and was a port city about five miles in circumference just south of the sharply rising 2000 foot Acrocorinth (see picture and see map "G") from which Athens could be seen on a clear day.  The Temple of Aphrodite (Roman = Venus) was located on the Acrocorinth and housed the 1000 "priestesses" employed as hierodouloi (from hieros = consecrated to deity +  doulos = bondservants) who served as temple prostitutes to facilitate idolatrous "worship" (cf "sacred prostitution"). As an aside it is notable that Scripture often associates sexual immorality (porneia) with idolatry (eidololatreia) (cf 1 Cor 5:11, 6:9, Eph 5:5-note, Rev 2:20-note, Rev 21:8-note). And remember that Paul also associated idolatry with covetousness writing that "greed...amounts to idolatry." (Col 3:5-note, Eph 5:5-note) Worship at the temple involved sexual encounters with these "priestesses" and this attracted "worshipers" from all across the Roman world. It is even recorded that the sandals of these notorious priestesses of Aphrodite were studded with an imprint that spelled our "Follow me" in the dust of the street (What a contrast with Jesus' call to "Follow Me" - Mt 4:19)! One cannot help but think of similar seductive pictures found on the internet even on seemingly innocent sites such as news pages! Clearly this illicit "worship" was a great temptation to the Christians at Corinth (just as is the internet to Christian's today!) as evidenced by Paul's exhortations and warnings in this first letter (1 Cor 5:1, 9,10, 11, 1 Cor 6:9-11, 12-17, 18, 19, 20). The immoral condition of Corinth is vividly seen in the fact that the Greek term (coined by Aristophanes) Korinthiazomai (lit., to act the Corinthian) came to mean "to practice fornication." Aleiphro wrote "I did not enter Corinth after all, for I learned in a short time the sordidness of the rich there and the misery of the poor." 
"Ships wanting to avoid the dangerous trip around the southern tip of Greece were dragged across that isthmus. The city boasted an outdoor theater that accommodated 20,000 people (See reconstruction of Corinth circa A D 100), athletic games second only to the Olympics, a Greek, Roman, and Oriental population....There were taverns on the south side of the marketplace, and many drinking vessels have been dug up from those liquor lockers. Corinth was noted for everything sinful." (Charles Ryrie) Every shop in the city had a deep, spring-fed well in which to cool containers of wine. Strabo wrote that "All the people of Corinth gorge themselves." It was even customary in stage plays for actors to come on stage drunk.
In the picture below note the agora which was the city's marketplace and the Bema which was the judgment seat. Corinth had an extensive commerce, like all the large towns on the Mediterranean Sea, and became celebrated for its wealth, magnificence, and learning. Corinth's pottery, brass and marble for building columns were famous throughout the world. The city is now desolate with just a little village near the ancient Corinth. There is, however, a modern city of Corinth, a few miles away, with about twenty thousand inhabitants. Archaeologists have also discovered a broken lintel (part of a door) bearing the Greek description "synagogue of Hebrews."
Paul preached at Corinth about A.D. 53 for eighteen months (Acts 18:11). He paid Corinth a short second visit during the period A.D. 54–57, not mentioned specifically in Acts but implied in 1 Cor. 16:7; 2 Cor. 12:14; 13:1, where he speaks of an intended third journey to Corinth which coincides with that in Acts 20:2. He spent three winter months in Corinth (A.D. 57 and 58), during which he wrote the Epistle to the Romans (Acts 20:2, 3 [cf. 1 Cor. 16:6]; Rom. 16:1).
Kay Arthur adds that "Sin abounded in the cosmopolitan city of Corinth...The Corinthians were intrigued by Greek philosophy and captivated by the disciplined training and athletic events (see events) held at the Isthmus (see Isthmian Games). At one time the city was home to at least 12 pagan temples. The people desperately needed to hear the Good News of Jesus Christ, the One crucified for sinners. The worship ceremonies carried out by a thousand temple prostitutes connected with the temple of Aphrodite (the goddess of love) bred blatant immorality throughout Corinth....Prostitutes openly plied their "wares," and meat markets thrived on sales from the sacrifices offered in the temples. The Corinthians ate well, satisfied their sexual urges without condemnation, flirted with the wisdom of men, and did all they could to keep their bodies as beautiful as those of the Greek gods. They loved to listen to great orators. For the 250,000 citizens (not slaves) there were almost two slaves per person (Ed: Therefore the total population was about 700,000). What more did Corinth need? Freedom! Freedom from sin and death. God met that need by blocking Paul at every hand on his second missionary journey (cf Acts 16:6, 7, 8) until he received the Macedonian call "Come and help us." (Acts 16:9) After establishing the Corinthian church, Paul eventually went to Ephesus, where he stayed for three years. From there he wrote his first epistle to the Corinthian believers, who so desperately needed help and correction. It was sometime between A.D. 52 and A. D. 56." (Discover the Bible for Yourself) 
In summary, Corinth was a city with a prevalent pagan influence and a plethora of perversions (1 Cor 6:9,10) but despite these apparent obstacles to the Gospel, the Spirit enabled Paul to plant a church in the center of vice and idolatry on his Second Missionary journey (1 Cor 3:6, 10; 4:15; Acts 18:1–7).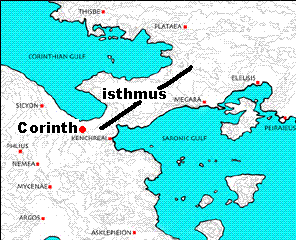 Click to enlarge
Middletown Bible
Dictionary Articles on Corinth:
Boyer: If Paul were to write a letter to the evangelical, Bible-believing churches of late twentieth century America, I believe it would be much like I Corinthians. Their world was like our world: the same thirst for intellectualism, the same permissiveness toward moral standards, the same fascination for the spectacular. And their church was like our churches: proud, affluent, materialistic, fiercely eager for intellectual and social acceptance by the world, doctrinally orthodox but morally and practically conforming to the world.
Morris: Paul's purpose, then, in writing this Epistle, is principally to set right disorders which the Corinthians took lightly, but which he regarded as grave sins. Secondly, he wrote to answer some questions put to him. Thirdly, he wrote to give some doctrinal teaching, particularly on the resurrection.
Hodge: Paul's relation to the church in Corinth was in some respects peculiar. He was not only the founder of the congregation, but he continued in the closest relation to it. It excited his solicitude, called for the wisest management, tried his patience and forbearance, rewarded him at times by signal evidence of affection and obedience, and filled him with hopes of its extended and healthful influence. His love for that church was therefore of special intensity. It was analogous to that of a father for a promising son beset with temptations, whose character combined great excellencies with great defects. The epistles to the Corinthians, therefore, reveal to us more of the personal character of the apostle than any of his other letters. They show him to us as a man, as a pastor, as a counsellor, as in conflict not only with heretics, but with personal enemies. They reveal his wisdom, his zeal, his forbearance, his liberality of principle and practice in all matters of indifference, his strictness in all matters of right and wrong, his humility, and perhaps above all, his unwearied activity and wonderful endurance.
---
Paul's Ongoing Relationship With THE CORINTHIANS
First Visit
1st Letter
(Lost)
2nd Letter
1 Corinthians
"Problem Letter"
2nd Visit
Swift, not scheduled
"painful"
3rd Letter
(Lost"
"Severe letter"
4th Letter
2 Corinthians
"Defense of his life"
3rd Visit

Acts 18

1 Cor 5:9

1-6 - Problems Addressed
7-16 Questions answered

Mentioned in
II Cor II Cor 2:4 2:1, 13:2

Mentioned
2 Cor 2:4

 

Plans mentioned
2 Cor 9:3-5

Paul stayed 18 months in Corinth

Lived with Aquila & Priscilla, making tents/ teaching

 

 

2 groups from Corinth (Chloe, Stephanas) had already contacted him.

Paul wrote from Ephesus where he taught for 3 years

1 Cor 16:8

 

Unpleasant for Paul & the church at Corinth…

He promised to return again quickly, but wanted to spare them the pain so he went on to Asia
 (II Cor 1:16, 23)

Paul sent Titus to deliver this letter, and he finds Paul in Macedonia to give him the good news/ response of the Corinthians to this letter.

Written from Macedonia,(Philippi?) (7:5) to ALL the saints in Achaia to "clear the air" of severity that his next visit will be pleasant (13:10) 

Stayed 3 months in Greece

Gathered collection for poor saints in Jerusalem

(II Cor 9:1-5)

 

Church established

 

Problems Persisted

Unsuccessful

Majority Repented
Paul joyful

 

Writes Romans from Corinth
COMPARISON OF
1ST AND 2ND CORINTHIANS
1 CORINTHIANS
2 CORINTHIANS
Objective
and practical
Subjective
and Personal
Insight into the Character
of an Early Church
Insight into the Character
and Ministry of Paul
Deliberate
Instruction
Impassioned
Testimony
Warns Against 
Pagan Influences
Warns Against
Judaistic Influences
From Irving Jensen
1 Corinthians Verse by Verse Commentary is under construction -- scheduled to be completed in April, 2021
EXPLANATORY NOTE: Verse by verse exposition with many conservative sources quoted, subtitles for many of the passages, many Greek word studies, practical notes on many of verb tenses, frequent practical applications (Labeled "THOUGHT"), multiple translations (including Wuest's paraphrase Eerdmans Publishing), frequent allusion to common idioms (with hyperlinks), cross-references from the Treasury of Scripture knowledge, related resources from Gotquestions.org on topics covered in the passages, references to Bible dictionaries on some topics, illustrations from Our Daily Bread and other sources, outlines of some sections, hyperlinks to additional in depth comments on many of the Scriptures referenced (additional commentary designated by a "+" sign following the chapter/verse reference e.g., Eph 5:18+), list of literally hundreds of references (sermons, commentaries, study notes, journal articles, etc) which are archived by chapter (e.g., 1 Corinthians 1 Resources), occasional pictures to illustrate a particular verse. To God be all the glory. Amen.
1 Corinthians 1 Verse by Verse Comments
See also Louisiana Precept Leader and Student Helps
Leader Helps
Lectures on 1 Corinthians - Part 1 (Kay Arthur)
Lectures on 1 Corinthians - Part 2 (Kay Arthur)
Read his fascinating brief biography - Henry Alford (1810-1871) and Phil Johnson's related comments
James Rosscup writes that Alford's series on the New Testament "contains much that is valuable in the Greek New Testament… though all of the Greek New Testament words have been changed to English throughout." (Commentaries for Biblical Expositors: An Annotated Bibliography of Selected Works)
Charles Haddon Spurgeon (see his comments in following entry on Alford).
Editorial Note: If you are not proficient in Greek, you will find this work considerably more useful than the following work by Alford, because in this volume he translates the Greek and Latin into English. While the "The Greek New Testament" is longer (e.g., English version of 1John = 66 pages compared to Greek version = 94 pages in part because the latter includes comments of more technical nature), the substance of the commentary is otherwise similar to that found in the "NT for English Readers".
---
James Rosscup writes that "This was the great work in the life of the versatile Dean of Canterbury. An outcome of this production was the New Testament for English Readers (4 vols.). Alford was a Calvinist, conservative and premillennial, though not dispensational. He takes a literal interpretation of the thousand years in Rev. 20 and has a famous quote there, is strong on sovereign election as in Ro 8:29, 30 and 1Pe 1:2, but, unfortunately, holds to baptismal regeneration in such texts as Titus 3:5 and John 3:5. He shows a great knowledge of the Greek text and faces problems of both a doctrinal and textual nature." (Commentaries for Biblical Expositors: An Annotated Bibliography of Selected Works)
John Piper writes ""When I'm stumped with a… grammatical or syntactical or logical [question] in Paul, I go to Henry Alford. Henry Alford… comes closer more consistently than any other human commentator to asking my kinds of questions."
Charles Haddon Spurgeon writes that this text "is an invaluable aid to the critical study of the text of the New Testament. You will find in it the ripened results of a matured scholarship, the harvesting of a judgment, generally highly impartial, always worthy of respect, which has gleaned from the most important fields of Biblical research, both modern and ancient, at home and abroad. You will not look here for any spirituality of thought or tenderness of feeling; you will find the learned Dean does not forget to do full justice to his own views, and is quite able to express himself vigorously against his opponents; but for what it professes to be, it is an exceedingly able and successful work. The later issues are by far the most desirable, as the author has considerably revised the work in the fourth edition. What I have said of his Greek Testament applies equally to Alford's New Testament for English Readers,* which is also a standard work." (Spurgeon, C. H. Lectures to my Students, Vol. 4: Commenting and Commentaries; Lectures Addressed to the students of the Pastors' College, Metropolitan Tabernacle)
---
Over 450 pages of conservative, evangelical sermon material.
D Edmond Hiebert - Uses author's own translation. Especially valuable for the historical background material presented. Good word studies and various illustrations. (from Hiebert's critique of Barclay on Peter's epistles - "Barclay holds that Christ's descent into Hades gave those who there heard Him a second chance.")
Comment: I appreciate Barclay's unique insights on Greek words, but clearly his teaching about a "second chance" is NOT sound doctrine! Be an Acts 17:11 Berean with Barclay. See discussion of his orthodoxy especially the article "The Enigmatic William Barclay".
---
James Rosscup writes that Barnes "includes 16 volumes on the Old Testament, 11 on the New Testament. The New Testament part of this old work was first published in 1832–1851. Various authors contributed. It is evangelical and amillennial… Often the explanations of verses are very worthwhile." (Commentaries for Biblical Expositors: An Annotated Bibliography of Selected Works)
C H Spurgeon "Albert Barnes is a learned and able divine, but his productions are unequal in value, the gospels are of comparatively little worth, but his other comments are extremely useful for Sunday-school teachers and persons with a narrow range of reading, endowed with enough good sense to discriminate between good and evil… Placed by the side of the great masters, Barnes is a lesser light, but taking his work for what it is and professes to be, no minister can afford to be without it, and this is no small praise for works which were only intended for Sunday-school teachers." (Lectures to my Students, Vol. 4: Commenting and Commentaries; Lectures Addressed to the students of the Pastors' College, Metropolitan Tabernacle)
---
---
Same Resource but another format - also lacks the Word Doc links noted above. 
Note: If not proficient in Greek, see related Critical English Testament below.
James Rosscup writes "This work (Gnomon), originally issued in 1742, has considerable comment on the Greek, flavoring the effort with judicious details about the spiritual life. It has much that helps, but has been surpassed by many other commentaries since its day." (Commentaries for Biblical Expositors: An Annotated Bibliography of Selected Works)
---
Represents Combination of Bengel's Gnomon (above) and Comments by more modern expositors (in brackets) to make this more usable for those who do not read Greek.
Charles Haddon Spurgeon -- "'A Critical New Testament, so compiled as to enable a reader, unacquainted with Greek, to ascertain the exact English force and meaning of the language of the New Testament, and to appreciate the latest results of modern criticism.' Such is the professed aim of this commentary, and the compilers have very fairly carried out their intentions. The whole of Bengel's Gnomon is bodily transferred into the work, and as one hundred and twenty years have elapsed since the first issue of that book, it may be supposed that much has since been added to the wealth of Scripture exposition; the substance of this has been incorporated in brackets, so as to bring it down to the present advanced state of knowledge. We strongly advise the purchase of this book, as it is multum in parvo, and will well repay an attentive perusal. Tischendorf and Alford have contributed largely, with other German and English critics, to make this one of the most lucid and concise commentaries on the text and teachings of the New Testament" (Lectures to my Students, Vol. 4: Commenting and Commentaries; Lectures Addressed to the students of the Pastors' College, Metropolitan Tabernacle)
---
D Edmond Hiebert - A clear and full interpretation by a British Methodist scholar of the past century. Its doctrinal summaries are intended as a contribution to systematic theology.
---
Resources that Reference this Book
Illustrations from Bible.org
Click for brief critique of Clarke
Rosscup: This, after Fee, is the most detailed and the best critical commentary on the epistle. Though not as readable as works by Godet, Grosheide, Johnson and Morris, it is more detailed in discussing possibilities for a given passage. (Commentaries for Biblical Expositors: An annotated bibliography of selected works)
D Edmond Hiebert - Greek text Important introduction and a very thorough treatment of the Greek text, bringing out its finer shades of meaning. Essential for the careful student of the original text.
---
In Depth Verse by Verse Commentary
D Edmond Hiebert - Greek text. An exhaustive exposition by an independent, evangelical British scholar of the past century.
---
D Edmond Hiebert - A brief conservative exposition by a Presbyterian professor of the past generation. Well adapted to the non-professional Bible student.
---
D Edmond Hiebert - A thorough commentary on the Greek text by an evangelical Methodist scholar of the past generation. Characterized by a thorough grasp of Pauline thought in the epistle. For the advanced student.
---
Rosscup: Godet, a Swiss Protestant Reformed scholar, was Professor of New Testament in the Free Evangelical Theological School, Neuchatel. He deals seriously with the text in the Greek, usually giving solid comments in a serious effort to explain a passage and showing connections between sections. His is one of the finer works among the older commentaries, well-worth consulting for its scholarship and its warm strain. (Commentaries for Biblical Expositors)
D Edmond Hiebert - An exhaustive technical commentary by a conservative French scholar of the past century. Valuable for its exegesis and warm spiritual views but weak and out of date in matters of textual criticism.
---
Hold pointer over Scripture for passage popup. Click following links addressing the question.
---
D Edmond Hiebert - A very helpful commentary aimed at meeting the needs of the theological student and the clergy by an evangelical British scholar. Various added notes supplement the concise comments on the individual verses.
Verse by verse and phrase by phrase.
---
See also: Questions from Charles Hodge adapted to his Exposition of 1 Corinthians. 
Spurgeon: The more we use Hodge, the more we value him. This applies to all his commentaries. (Lectures to my Students, Vol. 4: Commenting and Commentaries)
Rosscup: The famous theologian's work, originally in 1857, is very worthy of reprint and much used by pastors, students and lay people in general. As on Romans, he explains each verse in a careful manner, informed by much study, and is particularly adept and helpful in bringing out the doctrinal truth. Those who use his works find much assistance in thinking through issues consistently with Scripture, seen from a Reformed perspective.
Cyril Barber - This important exposition of the doctrine contained in this epistle explains the essence of church member effectiveness, enlarges on the nature of Christian liberty, and discusses the principles and practice of the Christian assembly.
Keith Mathison (Ligonier Ministries): There are many who would ignore these older commentaries in favor of newer works, but in this case at least, that would be a major mistake. Hodge's work is filled with valuable insight into Paul's letter. Highly recommended.
---
Rosscup: A popular work of a survey nature, this is helpful because of its insight into the problems of the Corinthians and the practical applications today. The illustrations are good. (One of the better commentaries with a devotional flavor).
D Edmond Hiebert - A series of 39 expository addresses by a well-known Bible teacher-pastor covering the entire epistle. Practical and informative lectures with numerous pertinent illustrations. Premillennial in emphasis.
---
Rosscup (on his work in Wycliffe Bible Commentary): This work in the English, based upon a careful study of the Greek text, is helpful because it gets right to the crux of problems. However, by necessity, it is brief.
---
Web show Slide Presentation. Message Notes and Audio
---
(Click for list of links to all study guides on 1 Corinthians)
1 Corinthians 1
1 Corinthians 2
1 Corinthians 3
1 Corinthians 4
1 Corinthians 5
1 Corinthians 6
Christian Liberty and Sexual Freedom
To Marry or Not to Marry,
Divine Guidelines for Marriage,
Christians and Social Revolution
Reasons for Remaining Single, Part 1: Because of the World
Reasons for Remaining Single, Part 2
1 Corinthians 7
1 Corinthians 8
1 Corinthians 9
1 Corinthians 10
1 Corinthians 11
1 Corinthians 12
1 Corinthians 13
1 Corinthians 14
1 Corinthians 15
1 Corinthians 16
JOHN MACARTHUR'S
QUESTIONS AND ANSWERS
Candlish, Robert Smith. Studies in First Corinthians 15: Life in a Risen Savior. Grand Rapids: Kregel Publications, 1989. Candlish was a pastor as well as a NT scholar. In this work readers are treated to a fine exposition of this crucial portion of God's Word. Recommended.
DeHaan, Martin Ralph. Grand Rapids: Kregel Publications, 1995.Studies in First Corinthians. First published in 1956. Of this exposition DeHaan wrote: "There is an abundance of pastoral instruction in this epistle, which the Church has overlooked for ages, and we pray that these simple studies may cause many to be revived, instructed, and corrected." Of great value to lay people in their study of the Word.
Ellicott, Charles John, Commentaries, Critical and Grammatical on the Epistles of Saint Paul, with Revised Translations. (Note: The link is not to the exact work Barber mentions but his related work.) 3 vols. Minneapolis: The James Family, 1978. These handy volumes, covering 1 Corinthians to Philemon, make available in beautiful format and binding the rich exegetical legacy of this nineteenth-century Anglican theologian.
Fee, Gordon D. The First Epistle to the Corinthians. New International Commentary on the New Testament. Grand Rapids: Wm. B. Eerdmans Publishing Co., 1987. This is a massive work, copiously footnoted, and extensively indexed. The author's forte is textual criticism, and in this respect he is a master. His avowed evangelical/ pentecostal background and commitments provide an interesting test of his theology. Fee is not as conservative in his treatment of this letter as one might have desired. In spite of this, he has given us a remarkably lucid commentary which readily makes up for the glaring weaknesses of Grosheide's work (which this one now replaces).
Green, Edward Michael Bankes. To Corinth With Love. Waco, TX: Word Books, 1988. A highly readable exposition in which the main tenets of Paul's first letter are made relevant to contemporary Christianity. Shows how modern phenomena have a precedent (treated in Scripture) as well as a viable solution.
Hodge, Charles. An Exposition of the First Epistle to the Corinthians. Grand Rapids: Baker Book House, 1980. Reprinted from the 1857 edition. This important exposition of the doctrine contained in this epistle explains the essence of church member effectiveness, enlarges on the nature of Christian liberty, and discusses the principles and practice of the Christian assembly. (From Barber's 2009 comments) A clear, convincing, evangelical discussion of Paul's letter. While not abreast of the critical theories of the last seven or eight decades, pastors and lay readers will get all they need from this volume.
Hughes, Robert B. First Corinthians. Everyman's Bible Commentary. Chicago: Moody Press, 1985. As capable and concise a commentary as can be found. Deals adequately with all the important issues. Excellent for laypeople. 
Jones, John Daniel. An Exposition of First Corinthians 13. Reverent messages laying bare the truths of this important chapter. A fine example of British preaching.
Laurin, Roy Leonard. First Corinthians: Where Life Matures. Grand Rapids: Kregel Publications, 1987. Clearly outlined and ably expounded, these practical messages can be read with profit by lay people everywhere. Recommended.
*Lightfoot, Joseph Barber. Notes on the Epistles of St. Paul. Winona Lake, Ind.: Alpha Publications, 1979. Covers 1 and 2 Thessalonians, 1 Corinthians 1-7, Romans 1-7, and Ephesians 1. Follows the format of Lightfoot's other monumental works.
*MacArthur, John E, Jr. First Corinthians. The MacArthur New Testament Commentary. Chicago: Moody Press, 1984. Consistently good, this is the modern work for the expository preacher and Bible teacher. MacArthur follows the theme of the epistle with care. His treatment is original without making originality the goal. He adheres loyally to Paul's purpose, and there emerges from his consideration of the text a work that well deserves to stand alongside Godet or Hodge or Lenski. (See his sermons which are expositional and verse by verse)
Martin, Alfred. First Corinthians. Neptune, NJ: Loizeaux Brothers, 1990. A brief evangelical commentary that ably expounds the theme of this epistle. Ideal for lay use. Recommended.
Martin, Ralph Philip. The Spirit and the Congregation: Studies in 1 Corinthians 12-15. Grand Rapids: Wm. B. Eerdmans Publishing Co., 1984. †This is a well-intentioned treatise. Martin believes that the claims of the "charismatics" need to be examined closely in light of the social context, textual issues, and the theological problems in Corinth. He identifies those who were abusing their spiritual gifts as an influential Hellenistic group. He is less clear in his views of the appropriate use of this phenomenon today. What he presents can well be viewed in light of MacArthur's The Charismatics and Thomas's Understanding Spiritual Gifts.
Olford, Stephen F. The Christian Message for Contemporary Life: The Gospel's Power to Change Life. Grand Rapids: Kregel, 1999. Described by Jerry Vines as "extremely helpful; as we seek to confront our culture with the challenge of the Christian message." Covers Romans chs. 1—3. Recommended.
*Olshausen, Hermann. A Commentary on Paul's First and Second Epistles to the Corinthians. Minneapolis: Klock & Klock Christian Publishers, 1984. First published in 1855. This highly esteemed exegetical and expository work enlivens the sacred page and enriches the spiritual life of the reader. "Pays careful attention to the theological exposition, entering into the marrow of religious ideas, and introducing the student to the spirit and inward unity of the divine revelation" (Philip Schaff).
Orr, William Fridell, and James Arthur Walther. 1 Corinthians. The Anchor Bible. Garden City, N.Y.: Doubleday an Company, 1976. Includes a study of the life of Paul. Otherwise uninspiring.
Phillips, John. Exploring 1 Corinthians: An Expositional Commentary. Grand Rapids: Kregel, 2002. Based on the text of the KJV. Well-outlined and beautifully produced, this conservative, evangelical commentary will serve the needs of lay students of the Word for many years to come.
*Prior, David. The Message of 1 Corinthians: Life in the Local Church. The Bible Speaks Today. Downers Grove, Ill.: InterVarsity Press, 1985. From years of pastoral experience, Prior expounds 1 Corinthians as a tract for our times. He manifests a heavy reliance on C. K. Barrett and does a modest piece of work where the theme of the epistle is concerned. By far the greatest contribution he makes is in the application of the text to the situation facing the local church. In this respect, what he presents is worthy of serious consideration.
Ramsay, William Mitchell. Historical Commentary on First Corinthians. - Ramsay's writings are always worth reading. His discussions of perplexing issues are timely. He is unafraid of controversy, and his judgment on most issues is to be trusted. Two interesting chapters capture our attention: "Was Paul Married?" and "Had Paul Seen Jesus?" These essays originally appeared in The Expositor (1900--1901).
Ruef, John. Paul's First Letter to Corinth Westminster Pelican Commentaries. Philadelphia: Westminster Press, 1977. †First published in England in 1971. This scholarly, critical work is based on the text of the RSV and aims at making modern liberal scholarship acceptable to laymen. Contains some valuable historical insights.
Smedes, Lewis B. Love Within Limits: A Realist's View of 1 Corinthians 13. Grand Rapids: Wm. B. Eerdmans Publishing Co., 1978. An able blending of human and divine love that applies the latter to the needs of the former. Succeeds in showing the transcendence of divine love and the way in which it can transform human relationships.
Stanley, Arthur Penryn. The Epistles of St. Paul to the Corinthians. 2d ed. Minneapolis: Klock & Klock Christian Publishers, 1981. A scholarly, critical study of the setting and text of these letters. Follows the format of Lightfoot's studies, with dissertations on different ideas that require extended treatment. Not of the same order as Lightfoot's commentaries, but nonetheless valuable for its insights.
*Stedman, Ray C. Expository Studies in I Corinthians: The Deep Things of God. Waco, Tex.: Word Books, 1981 Excellent examples of biblical exposition, revealing at the same time rich insights into Paul's life and thought. Highly recommended.
Thistleton, Anthony C. The First Epistle to the Corinthians. New International Greek Testament Commentary. Grand Rapids: Eerdmans, 2000. "No other commentary on 1 Corinthians embodies the wealth and depth of detail presented in [this] work, which takes account of nearly all scholarly research on 1 Corinthians and incorporates substantial bibliographies throughout."—Craig L. Blomberg.
*Thomas, Robert L. Understanding Spiritual Gifts: The Christian's Special Gifts in the Light of I Corinthians 12-14. Chicago: Moody Press, 1978. A well-researched exposition that should clarify much of the misunderstanding surrounding spiritual gifts and, in particular, the charismatic movement. Worthy of highest praise.
Thomas, Robert L. Understanding Spiritual Gifts: A Verse-by-verse Study of 1 Corinthians 12—14. Rev. ed. Grand Rapids: Kregel, 1999. An indispensable work! It should be in every Christian's personal library … and read regularly. Thomas resolves the misunderstandings associated with "speaking in tongues" movement and provides a solid basis for a belief in what the Bible teaches.
Wimbush, Vincent L. Paul, the Worldly Ascetic: Response to the World and Self-Understanding According to 1 Corinthians 7. Macon, GA: Mercer University Press, 1987. A revision of the author's Harvard University doctoral dissertation. Bases his approach upon Graeco-Roman ascetic practices. Discounts revelation, and seeks instead to vindicate his views with an appeal to pagan cultic practices.
Winter, Bruce W. After Paul Left Corinth: The Influence of Secular Ethics and Social Change. Grand Rapids: Eerdmans, 2001. A revealing work that boldly tackles the unresolved ethical issues facing the Corinthians, and faces squarely what happened in Corinth after Paul left the city. Winter takes each division of Paul's letter and shows the kinds of dilemmas encountered by those who had so recently turned from paganism to Christianity.
Zodhiates, Spiros. Immorality in the Church: Can We Sweep It Under the Rug? Chattanooga, TN: AMG Publishers, 1992. A timely exposition of 1 Corinthians 5. Deals with the issues in an uncompromising manner. Provides helpful insights into the meaning of Greek words and phrases. This book should be in every church library and every pastor's study.
Zodhiates, Spiros. May I Divorce and Remarry? An Exegetical Study of First Corinthians Chapter Seven. Revised ed. Chattanooga, TN: AMG Publishers, 1992. First published in 1984. Tackles the controversial issues surrounding divorce and remarriage. Draws some valid insights from the Greek text. Worthy of careful consideration.
EARLY CHURCH
D Edmond Hiebert -An independent, conservative exposition by a Plymouth Brethren scholar of the past century. The footnotes deal mostly with manuscript evidence for variant textual readings.
D Edmond Hiebert-A voluminous conservative Lutheran exposition. The epistles are divided into convenient paragraphs, with the material under each section appearing in three parts, exegetical and critical, doctrinal and ethical, homiletical and practical. Contains much rich ore to be mined by those willing to dig into its closely printed pages.
In addition to verse by verse, Dr Sanders has occasional illustrations and also does phrase by phrase - very useful if you are preaching through 1 Corinthians. 
THE CALL OF GOD. 1 Corinthians 1:4-9

All true Christian experience has its origin in the call of God: "You have not chosen Me, but I have chosen you." "Whom He called, them He also justified" (Romans 8:30). We shall note some precious things inherent in this call. It is—

I. The Call of Grace. "The grace of God which is given you by Jesus Christ" (v. 4). This grace by Jesus Christ could never come as a response to human merit. "By grace are you saved, and that not of yourselves, it is the gift of God" (Ephesians 2:8). In grace He calls, because that, while "we were yet sinners, Christ died for us."

II. A Call to Enrichment. "In everything you are

enriched by Him, in all utterance and all knowledge" (v. 5). The new life in Christ is enriched with a new value and a new power. There is a deeper knowledge of God, a clear vision of the treasure of His Word, and fuller expression of all these in the life. Truly he is a rich man. Rich in faith, rich toward God.

III. A Call to Patient Waiting. "You came behind in no gift. Waiting for the Coming of our Lord Jesus Christ." It is to be feared that many do come behind in their gift of looking for the Coming of the Lord. The Christians at Thessalonica had this gift (1 Thessalonians 1:9, 10). We should be thankful that this gift is being freely bestowed on God's people in these days.

IV. A Call to a Blameless Life. "That you may be blameless in the Day of our Lord Jesus Christ" (v. 8) Herein lies the practical use of this "Blessed Hope," which if often questioned by the unbelieving. Our lives must be affected by our prospects. "Every man that has this hope in him purifies himself" (1 John 3:3). How say you then that there is no good in looking for His Coming?

V. A Call to Fellowship. "You were called into the fellowship of His Son Jesus Christ our Lord" (v. 9). Brethren, what a high calling this is! Called into partnership with God's Son in seeking to save the lost and in the building up of His Church, and in the hastening of His Kingdom. In all this we are to be—not sleeping partners, but—active "co-workers together with Him." We are called into fellowship with Him, but the "capital" is all His own in this great business. "For in Him dwells all the fullness of the Godhead bodily" (Colossians 2:9). And from this fullness have we all received.

VI. A Call by a Faithful God. "God is faithful by whom you were called" (v. 9). This holy calling does imply serious responsibility. We might well tremble when we think of our own poverty and ignorance and weakness. But then, it was by the God who is ever true to His promise that you were called. Hear what the apostle says to the merciful Philippians: "My God, so great in His wealth in Christ Jesus, will fully supply every need of yours" (Philippians 4:19). Only believe!

THE APPEAL OF THE CROSS. 1 Corinthians 1:18-31

The preaching, or message, of the Cross, is treated in these days much in the same way as Christ Himself was treated in the days of His humiliation and sorrow (v. 18). The worldly wise sneered, and official dignity denied Him. By the preaching of Christ crucified the Cross is still making its appeal.

I. To them that are Perishing it is Foolishness (v. 18). A man must be sinking into the blackness of final despair who thinks God's method of salvation is "foolishness." He might as well call it foolishness to expect light from the sun.

II. To them that are being Saved it is the Power of God (v. 18). To them who are being plucked out of the fire, like brands from the burning, and being delivered from the dominion of sin, and translated into the Kingdom of His dear Son, and being taught by His Holy Spirit and satisfied with His grace it is the power of God.

III. To the Jew it is a Stumbling block (v. 23). The poor Jew, blinded by unbelief has been stumbling over the Cross ever since Christ rose from the dead. The Cross of Christ lies right across his path. He cannot possibly get it out of his way. Some of the things spoken of by this prophet have been literally fulfilled by the life and death of this Man called Jesus, the Christ (Isaiah 53), whom they crucified. They as a nation will go on stumbling until the Lord Comes, and they look upon Him whom they have pierced (Zechariah 12:10).

IV. To the Greek it is Foolishness (v. 23). The Greeks seek after wisdom, but the message of the Cross, which is the embodiment of the wisdom of God, is to those worldly-wise ones "foolishness." Surely the "foolishness of God is wiser than the wisdom of the wisest men" (v. 25). "The age by its wisdom knew not God" (v. 21). There are many in our own day, like those Greeks, who are earnestly seeking after wisdom, and yet deliberately pausing by Him who is the wisdom of God (v. 24).

V. To the Christian, whether Jew or Greek, Christ and Him Crucified is the power of God and the wisdom of God (v. 24). The Gospel of Christ is the power of God to save to the uttermost of man's need, and the wisdom of God to satisfy to the uttermost man's search for truth. To know God as revealed in His Word is to be made wise unto salvation. Our view of Christ in relation to God may be a great thing, but God's view of Christ in relationship to us His people is a much greater thing. It is with His reckoning we have specially to do. For by the reckoning of Almighty Grace Christ is made of God unto us—

1. "Wisdom" for the Mind. The quality of being wise belongs more to character than to thought. He has given us capacity to understand spiritual things. He can make us to abound in this wisdom (Ephesians 1:8), so that we might be filled (Colossians 1:9).

2. "Righteousness" for the Heart. This righteousness comes not by the "works of the law," but by the reckoning of grace. "Abraham believed God, and it was counted to him for righteousness." To get right with God means, "Not I, but Christ."

3. "Sanctification" for the Work. Set apart, not as a recluse, but as a worker-together with Him. Jesus said: "On their behalf I consecrate Myself, in order that they may become perfectly consecrated in truth" (John 17:19, Weymouth). We are not saved as a miser saves his money, but as a wise father saves his son, by giving him fitness for his life's work.

4. "Deliverance" for our Assurance. This promise may well put cheer and confidence in our hearts, that He will work deliverance for us, whether as tempted and tried pilgrims, or as warriors for the truth. "Lo, I am with you always."

THE CHRISTIAN REVELATION. 1 Corinthians 2:9-16

I. This Revelation cannot Possibly be the Invention of Men. The eye of man's carnal mind has never seen it. The ear of man's worldly wisdom has never heard it. Neither has it ever entered into the heart of man (apart from the Holy Spirit) the things which God has prepared for them that love Him (v. 9), and since the beginning of the world it has been so (Isaiah 64:4). The world by wisdom knew not God (chapter 1:21).

II. It is a Revelation from God. "But God has revealed them unto us" (v. 10). God only could reveal the mysteries of His suffering Son. "O the depths of the riches, both of the wisdom and knowledge of God concerning His Son" (Romans 11:33). This is the glory of the Gospel message, that it is as true and as gracious as the God who gave it (Galatians 1:12).

III. What this Revelation Is. It is the unveiling of the mystery of Christ and Him crucified (v. 2). The revelation of the fact that He died for our sins, and rose again for our justification, and that He is coming again for our final deliverance (Hebrews 9:26). It is a revelation of His abounding grace to sinful men, and of His power to save to the very uttermost all that come unto Him.

IV. How this Revelation is Made Known. "God has revealed them unto us by His Spirit" (v. 10). It has come from God, and it comes home to the believing heart by the Spirit of God. For "the Spirit searches the deep things of God." "The things of God no man knows without the Spirit of God" (v. 11). The Holy Spirit is the minister of the things of Christ (1 Corinthians 12:8-11). He is the "Spirit of Truth," and He shall teach you all things bearing on the revealed will of the Father, "for He shall receive of Mine and shall show it unto you" (John 16:13). Oh, that all His people were so taught of God. With such a "Teacher, come from God," there is no excuse for spiritual poverty. "Receive you the Holy Spirit." For you may know the letter of the word, and yet be strangers to its mighty power.

V. How these Things should be Preached. "My preaching was not with enticing words of man's wisdom, but in demonstration of the Spirit and of power" (v. 4). "Our Gospel came not unto you in word only, but also in power and in the Holy Spirit" (1 Thessalonians 1:5). Without this power, preaching is without authority—"sounding brass." There may be a demonstration of eloquent words and fleshly energy, but without the demonstration of the Spirit it is spiritually powerless (v. 13). "But you shall receive power after that the Holy Spirit is come upon you: and you shall be witnesses unto Me" (Acts 1:8). You ministers of His, "Tarry you until you be endued with powers from on high" (Luke 24:49). "For the promise is unto you" (Acts 2:39).

VI. The Christian's Attitude Towards this Divine Revelation. "I am determined not to know anything among you, save Jesus Christ and Him crucified" (v. 2). In Corinth there were many contentions, as there are in the world everywhere today. But Paul knew that the one thing needed by all was the power of the Gospel of Christ. The worldly, in their wisdom, would call this narrow-minded; but it is the wisdom of God to offer the Divine remedy for all the world's woes. "I am determined," he declared. "This one thing I do." Would God that this determination was the settled motive in the hearts of all who serve in the preaching of God's Word. The whole counsel of God radiates from the "Christ and Him crucified." "I count all things but loss for the excellency of the knowledge of Christ Jesus, my Lord" (Philippians 3:8).

OUR LIFE'S WORK TESTED. 1 Corinthians 3:10-20

Paul, as a master builder, is here dealing with some fundamental facts concerning the Christian's life and work.

I. A Foundation has been Laid. "Other foundation can no man lay than that is laid, which is Jesus Christ" (v. 11). A foundation was needed, first, by God Himself, in which to build the structure of His redeemed Church; second, by man, on which to build his hopes for this life and the life to come. This foundation has been well and truly laid by the hand of infinite wisdom. Laid as deep as the grave, and as stable as the Eternal Throne. "Upon this Rock (Christ) I will build My Church, and the gates of Hell shall not prevail against it" (Matthew 16:18). "For the foundation of God stands sure" (2 Timothy 2:19). Since God the Father has purposed to build His Church and His Kingdom on that Rock, which is Christ, let us have the faith of God, and build our all on Him.

II. A Superstructure is Being Raised. "If any man build upon this foundation, gold, silver, precious stones," etc. (v. 2). Here are two different classes of builders—

1. The Wise Builder. Who builds "gold, silver, and precious stones." He puts in this foundation that which is consistent with its precious character (Rev. 21:19). He is careful about his doctrine, that the things he teaches in God's Name are in harmony with His Word. He is careful also about his manner of life. In 2 Peter 1:5-7 there is laid down before us a whole load of suitable material for a wise builder.

2. The Foolish Builder. He uses "wood, hay, and stubble, or timber, hay and straw." The foolish builder is wise in his own conceit. He thinks that as long as you believe in the foundation it matters little what you build upon it, and so false teaching becomes easy, and the vain philosophies of the proud in heart become attractive. He is careless and indifferent in practice, his faith in Christ has brought no change in his life and outlook. He still believes in building with "wood, hay, and stubble." These may be useful in some ways, but they are "after the tradition of men and not after Christ" (Colossians 2:8).

III. A Testing Time is Coming. "That day in which the fire shall try every man's work of what sort it is" (v. 13). The foundation has been already tried (Isaiah 28:16). But the work done that has been associated with His Name will be tried with the fire of God's searching judgment. "Behold the day comes that shall burn as an oven, when the proud and all that do iniquity shall be as stubble" (Malachi 4:1). If the proud and the workers of iniquity are reckoned as stubble, so also are the works of the proud self-seeking Christians. This fiery test is not to reveal whether we are Christians or not, but whether cur works as Christians are worthy of Christ or not. Will He own them, or will He burn then? That depends on their own intrinsic character, whether they are gold, or wood, silver or hay, precious stones or stubble. What they are will determine their destiny.

IV. The Results.

1. Some Rewarded. "If any man's work—or building which he has created—stands the test, he will be rewarded" (v. 14). He is not rewarded because he is a Christian. Salvation is not a reward for good works. It is the gift of God. The reward comes for the good works done in His Name, that are well pleasing in His sight; works that are consistent with the character of the Foundation. True and good, precious in. His eyes, and that bear the stamp of eternal value.

2. Some Not Rewarded. "If any man's work shall be burned, he shall suffer loss, but he himself shall be saved, yet so as by fire" (v. 15). If his work is burned up it is because it is as wood, hay, and stubble, fit fuel for the fire. He may have a saved soul, but he has a lost life. Such will be the poorer through all the coming ages, as the result of his present ignorance and folly. The wages of this sin is also death. Death to the prospect of being rewarded for faithful service at the Coming of the Lord (1 Peter 5:4), who shall try every man's work of what sort it is. For we must all of us appear before Christ's judgment, set in our true characters, in order that each may then receive an award for his actions in this life, in accordance with what he has done, whether it be good or worthless (2 Corinthians 5:10). "Let no man deceive himself" (v. 18), for we are assured that God will not be mocked. He cannot mistake the hollow, heartless, worthless hay and stubble service for the faith, love and works of the consecrated life. Let every man take heed how he builds thereupon (v. 10).

THINGS WE OUGHT TO KNOW. 1 Corinthians 6

At this time the Corinthian Church was unstable in doctrine and factious in fellowship. Some things are specially emphasized by the prefix: "Do you not know" or "Know you not." See what some of these things are. Know you not that—

I. The Saints shall Judge the World (v. 2). Daniel, in his vision, saw the Ancient of Days come, and the time that the saints possessed the kingdom (Daniel 7:22), Jesus said: "You which have followed Me in the times of regeneration, when the Son of Man shall be enthroned, you also shall sit upon thrones judging" (Matthew 19:28). They lived and reigned with Christ a thousand years (Rev. 20:4). It is a small matter for His saints to be judged of men now. Their day is coming.

II. Your Bodies are the Members of Christ (v. 15). "The body is for the Lord, and the Lord for the body" (v. 13). Know you not that these bodies of yours belong to Christ as really as your souls? The Lord is for your spirit, He also is for your body. Your body is a visible working member of Christ. The temptations of the Devil often come by way of the body. Keep it in subjection, lest by any means it might lead to uselessness (1 Corinthians 9:27).

III. Your Body is the Temple of the Holy Spirit (v. 19) In Solomon's Temple the glory of the Lord rested on the mercy seat, right in the center of the Holy of holies, making the Temple a true witness to His Presence and power. The Church of God is also His temple. "You are the temple of the living God; as God has said, I will dwell in them, and walk in them; and I will be their God, and they shall be My people" (2 Corinthians 6:16). "You also are built together for a habitation of God, through the Spirit" (Ephesians 2:21, 22). We are all one in Christ, as a corporate body, it is the temple of God. But the body of each individual believer becomes a temple of the Holy Spirit. This is a more humbling, searching, and inspiring thought than that God dwells in His Church. Your body is the temple of the Holy Spirit Right in the center of this temple, in the Holy of holies, the heart, the Holy Spirit broods and works, bringing comfort and guidance in life, and power for testimony. God in the midst.

IV. You are Not Your Own for You are Bought with a Price (vv. 19, 20). Is this freedom or bondage? It is both. It means the freedom of the sons of God, the liberty of the Spirit; and the bondage of a conquered love. Independence is an impossibility. To be independent we must be without a country, without a body, and without a God. "You are bought with a price." A price which only God Himself could pay: the precious Blood of His own dear Son (1 Peter 1:18, 19). Christ is much more than an Example for us, He is our Ransom. Having been bought by His Blood, you belong to Him; therefore, "you are not your own," and should "glorify God in your body and in your spirit, which are God's" (v. 20). The love of Christ ought to constrain us, that we who live by His redeeming grace should not henceforth live unto ourselves, but unto Him who died for us and rose again (2 Corinthians 3:14, 15), that we might show forth the praises of Him who has called us out of darkness into His marvelous light (1 Peter 2:9).

THE MINISTRY. 1 Corinthians 9:7-27

The apostle is here vindicating both his ministry and his method, and there are suggested some qualifications for a successful ministry.

I. He had a Personal Experience of Jesus Christ. "Have I not seen Jesus Christ our Lord?" (v. 1). He had both seen Him and heard Him, and knew the transforming power of His revelation. He could truthfully say: "I know Him whom I have believed." Should not this be the initial experience of every messenger of the Gospel? How can we say, "We speak that we do know," if we have no personal experience of His saving power?

II. He had Faith in God for the Supply of his Need. Although he asked nothing from those to whom he ministered the Word, but showed them that if he sowed spiritual things it was no great thing if he should reap their carnal things (v. 11), he reminded them that it was an ordination of the Lord, "that they which preach the Gospel should live of the Gospel (v. 14). The Gospel of Christ is without charge, and he would put no price on it for his own advantage (v. 18). He could say: "My God will supply all your need" (Philippians 4:19). It is a sorry service that can be bribed with money.

III. He has Enthusiasm for the Gospel. "Necessity is laid upon me; yes, woe is unto me if I preach not the Gospel" (v. 16). This is not that kind of enthusiasm that can be worked up for a special occasion; not a convulsive effort that may be produced by a torrent of words. It is the result of the holy fire from the altar of the Cross blazing in the heart, where the "wood, hay, and stubble" of all self-seeking has been burned up, and where the Holy Spirit has taken possession of the life, and focused the energies of the soul in Christ and Him crucified. "To me to live is Christ."

IV. He has Humility of Spirit. "I have made myself the slave of all, that I might gain the more" (v. 19). He was ready to take the lowest place that he might, if possible reach the lowest down. Like his Master, he took the towel of humility and girded himself, that he might wash the feet of others (John 13:4, 5). "He who humbles himself shall be exalted." "The proud He knows afar off." "If any man have not the Spirit of Christ he is none of His" (Romans 8:9).

V. He has the Power of Adaptation in Method. "To the Jews I become as a Jew, that I might gain the Jews. To them under the law, as under the law, that I might win them that are under the law" (vv. 20, 21). He declares further: "That I am made all things to all, that I might by all means save some. And this I do for the Gospel's sake" (vv. 22, 23). In all this we may be assured Paul never condescended to pander to that which was evil, or encourage customs and practices which were dishonoring to the Name of Jesus. He simply and lovingly stooped down far enough to get a hold of them, that he might lift up into God's salvation. No weakling in the faith should attempt this. It takes a strong man to swim against this tide.

VI. He is Self-denying that he might Keep Physically Fit. "I keep my body in subjection, lest I myself should be rejected" (v. 27). The body is a sacred instrument for the work of God. In eating and drinking, in work or in physical exercise, let us remember that the body is for the Lord, and the Lord for the body (1 Corinthians 6:13). "You are not your own," therefore take care of the Lord's property.

GOD'S PROVISION FOR HIS PILGRIM PEOPLE. 1 Corinthians 10:1-4

Paul assures us here twice over (vv. 6:11) that these things happened unto them as types, or examples unto us, upon whom the ends of the ages are come. We, like them, are pilgrims and strangers on the earth, enjoying great spiritual mercies. They had the "shadows," we have the realities.

I. The Moving Cloud. "All our fathers were under the cloud" (v. 1). The cloud of shelter by day, and of fire by night as their protection and guide (Exod. 13:21). The cloud was the symbol and evidence of the Divine Presence, in itself a mystery. When it moved they moved. It seemed to move easily, but nothing on earth outside could move it. What a suggestive emblem of the revealed Word of God! They all were under it, and God was in it, and all were baptized into the one name (Moses), their leader and law-giver (v. 2). They were infallibly led by the God-created cloud, just as we can be by His unerring Word. To move without the cloud was to go in their own name, wisdom, and strength, which would mean for them confusion and failure. This is what it means for us when we choose our way, and act without His authority. It was because they believed and followed the cloud that they were able to go into the midst of the sea upon dry ground (Exod. 14:22). It is because we have believed and acted on the "Word of the Lord" that we have passed from death into life, from the place of bondage into the liberty of the land of the promises. Keep on believing. Keep your eye on the God-inspired cloud.

II. The Daily Manna. "They did all eat the same spiritual meat" (v. 3). "He gave them bread from Heaven to eat" (John 6:31). Those who follow the Word of God will surely be fed by the "Bread of God." Jesus said: "I am the Living Bread which came down from Heaven" (John 6:48-51). The manna, then, is typical of Jesus Christ, who came down from Heaven as "the Bread of Life." The manna was like Christ in that—

1. It was the Gift of God. Of course all bread is God's gift, whether it comes out of the earth or out of the Heavens; but the wilderness could do nothing by way of producing it. So Christ was God's gift to a starving world (John 3:16). God knew what the hungry heart of man needed when He gave His Son as "the Bread of Life."

2. It was Suited for All. All alike found it what it pretended to be: something to satisfy the craving of hunger. What Christ has to give is just what all the sons of men need, that which exactly suits them, the forgiveness of sins and grace to help in every time of need. Satisfied with His abundance.

3. It was Offered to All. From the youngest to the oldest, without money, without price. The rich and the poor alike needed it. In this offer of Heaven's bread, God is no respecter of persons, for all have sinned. So Christ as the "Living Bread" from Heaven is offered, in God's grace, to any man who will eat this bread (John 6:51), promising that he who eats shall live forever.

4. It was Personally Used. "They did all eat the same spiritual meat." It was not enough to gather and boast of how much they had gotten. To be personally profited there must be a personal appropriation. We may possibly gather much knowledge about Christ, and yet receive little strength and satisfaction from it, if the truth is not assimilated in our own spiritual life. "He that eats Me shall live by Me" (John 6:47).

III. The Rock that Followed Them. "They drank of that Spiritual Rock that followed them, and that Rock was Christ" (v. 4).

1. Like Christ, this Rock was Revealed by God. It may only have taken God a few moments to show Moses this rock in Horeb, but it took Him over thirty years to show the Rock, Christ; for all the years of His earthly life was an unveiling of His character as the Chosen One. "This is My beloved Son, in whom I am well pleased."

2. Like Christ, this Rock was Divinely Possessed. 'Behold I will stand before you there upon the rock in Horeb" (Exod. 17:6). At Christ's baptism the Holy Spirit rested upon Him. There was to be no mistaking Him as the God-appointed medium of blessing to His trusting people. "God was in Christ seeking to reconcile a wandering world to Himself" (2 Corinthians 5:19).

3. Like Christ, this Rock was Rich in Unrealized Blessing. The Israelites might say, "How can any good come out of this rock?" as they said of Christ, "Can any good come out of Nazareth?" or, "How can this Man save us?" but it pleased God that in Him should all fullness dwell (Colossians 1:19). But they could say later on: "Of His fullness have all we received" (John 1:16).

4. Like Christ, this Rock must be Smitten. "You shall smite the rock, and there shall come water out of it, that the people may drink" (Exod. 17:6). The rock was not smitten for itself, but for the salvation of the people. He was wounded for our transgressions, the rod of God's judgment fell upon Him, and by His stripes we are healed (Isaiah 53).

5. Like Christ, the Smitten Rock Poured Forth its Hidden Treasures. "He cleave the rock, and gave them drink as out of the great depths" (Psalm 78:15). O wonder of wonders, that from His smitten Son there should come forth streams of redeeming mercies, out of the great depths of God's eternal purpose. In that day in which Christ was pierced, there was opened a fountain of cleansing for a sinful world. "He, every one that thirsts, come you to the waters" (Isaiah 55:1).

6. Like Christ, this Spiritual Rock followed Them. They drank of that Spiritual Rock that followed them: and that Rock was Christ" (v. 4). This water from the Rock was to them an abiding blessing. It followed them. Something to satisfy all the way. Jesus said "The water that I shall give him shall be in him a well, springing up into everlasting life" (John 4:14). And, "Lo, I am with you, and will never leave you nor forsake you." He is our Rock, the Rock of our eternal salvation and eternal supply.

OVERTHROWN BY SIN. 1 Corinthians 10:5-15

They went up out of Egypt a mixed multitude (Numbers 11:4), but not a man of them saw Caleb and Joshua enter into the promised possession (Numbers 26:65) What a warning we have here against secret sin, which leads to backsliding and to final overthrow

I. Who were They that Fell in the Wilderness? They had been—

1. Saved out of Egypt. They passed through the sea, and knew something of the God of Deliverance. They had identified themselves with the ransomed host.

2. Baptized into the Name of the God-appointed leader, acknowledging his authority, and professedly his followers.

3. In Full Communion. They did all eat of the same bread and drank from the same Rock (vv. 3, 4). What privileges were theirs, but how hollow their profession.

II. Their Failure. It was great, and brought fatal results. "They were overthrown in the wilderness," There fell on one day twenty-three thousand (v. 8). The character of their failure as backsliders may be seen in that they—

1. Displeased God. With many of them God was not well pleased (v. 5). God's displeasure may not be apparent for a time, as He is slow to anger, but if not repented of will certainly ripen into judgment.

2. Missing the Mark. The mark was the Land of Promise, but they missed it because of their unbelief (Jude 3). They failed because they lost their faith in God.

3. Premature Death. Every one of them died, we might say, before their time. God was willing to bring them into the "good land," but evil slays the wicked (Psalm 34:21). Those who wander in heart away from God scarcely realize how they are cutting short their lives.

III. The Causes of Failure. They are many, but all have their root in heart-departure from the Living God, by ceasing to honor and obey His Word. Their sins are the sins of many in our own day, who have turned aside in heart from following the Lord.

1. They Lusted after Forbidden Things (v. 6). The pleasures of the old unregenerate life are longed for, the bread of God has become stale (Numbers 11:4), God Himself has become unreal.

2. They Worshiped Other Gods (v. 7). When any other object is loved and honored more than the Lord our God, then we are idolaters, whether it be our business, our pleasures, our children, or ourselves. "He who loves any one or anything more than Me," says Christ, "is not worthy of Me" (Matthew 10:37, 38).

3. They Indulged in Social Impurity (v. 8). This secret, soul-withering sin is without a covering in the eyes of God. "Be sure your sin will find you out."

4. They Murmured at the Providence of God (v. 10). They murmured against Moses, against Aaron, against God's method of dealing with them, and became discontented even with the manna from Heaven (Numbers 14:2). When a professing Christian begins to murmur against God's servants, and to criticize and find fault with God's Word and message, be sure that in heart they are estranged from God, if they ever truly knew Him.

IV. The Present Application. These things are all examples unto us (vv. 6-11). All sins, secret or open, have still the same effect in separating the soul from fellowship with God, and overthrowing the testimony of the life as a witness to the power of Christ. Discontent with the provision and promises of God is the blighted fruit of a doubting heart. Brethren, let us labor therefore to enter into that "rest of faith," lest any man fall after the same example of unbelief (Hebrews 4:11). "You stand by faith; be not high-minded, but fear" (Romans 11:20). "The end of all things is at hand: be you therefore sober, and watch unto prayer" (1 Peter 4:7).

THE LORD'S SUPPER. 1 Corinthians 11:23-29

This ordinance is the heirloom of the Christian Church. The emblems are of a most simple and homely character— "Bread and Wine." Yet the significance of them in the hands of Christ embody the profoundest facts in the Christian faith. The bread, "My Body;" the wine, "My Blood." Symbols of His character and mission.

I. His Incarnation. "He took bread and said, This is My Body" (v. 23). A body have You prepared me. He took on Him not the nature of angels, but the "likeness of sinful flesh" (Romans 8:3). He took the body prepared for Him by the Father, that He might have somewhat to offer as a visible sacrifice for the sin of the world. The taking of the bread as a symbol of His body was a voluntary act, for He made Himself of no reputation when He took the form of a servant (Philippians 2:7).

II. His Devotion. "He gave thanks" (v. 24). He took the bread, emblem of His body, and gave thanks to God for it. Think of it! Giving thanks to God for a body that was to be bruised and broken on a Cross: thanks to the Father for the privilege of dying for a guilty and thankless humanity! In this simple, common act, see the whole-hearted devotion of our Lord to the awful work the Father had given Him to do. "Not My will, but Your be done."

III. His Suffering. After giving thanks He brake it. Every word and act seems full of meaning. He did not ask Judas to break it. He Himself broke it. He gave Himself a sacrifice for our sins. He could say: "No man takes My life from Me: I lay it down of Myself." He broke the bread, of which He said, "This is My Body" (John 10:18). It was because He loved us that He gave Himself for us an offering unto God (Ephesians 5:2). His life was a life of thanksgiving; His death was a voluntary offering. "Father, I will."

IV. His Substitution. "This is My Body which is broken for you." Not broken by accident. He was wounded for our transgressions, bruised for our iniquities, the chastisement of our peace was upon Him. He was "broken for you" (Isaiah 53:5). The wine of His precious blood was poured out for our redemption (1 Peter 1:19). We are apt to speak lightly and think little of these words uttered at His last meal on earth. "My body, broken for" you. What would be the thoughts in His mind when uttering them? He already saw the Cross, and perhaps already felt the pangs of Gethsemane in His soul. But love constrained Him. When we sit at the Lord's table and handle the bread and cup, do we realize this as we should: "My Body broken for you," "My Blood shed for you?"

V. His Invitation. "Take, eat." "Do this in remembrance of Me." After atonement has been made by His suffering and death, there comes (symbolically) the invitation to partake of the benefits purchased. "Take, eat," appropriate to yourselves what is here set before you. This is the message of the Gospel. "Do this in remembrance of Me." There is no virtue in the mere eating and drinking. The soul of the ordinance is in remembering Him. The elements are but the memorials of what He has done for us in giving His body and His Blood a Ransom for our souls.

VI. His Purpose in It. "As often as you eat this bread and drink this cup, you do show forth the Lord's death." There is no symbolic ordinance left us to show forth His Incarnation, or His Transfiguration, or His Ascension, but there is for His Crucifixion. Why is that His death is to be so prominently and persistently kept before our minds? Because all our salvation has come out of it, and all the hopes of the ungodly are in it. "God forbid that I should glory, save in the Cross of Jesus Christ our Lord" (Galatians 6:14). Preach Christ and Him crucified.

VII. His Prospect. "You do show forth the Lord's death until He come" (v. 26). When He comes again, according to His promise, the Church will have no need of this memorial of Him. We have little need for an absent friend's photograph when He Himself has come to us. The present dispensation is an interval between His Cross and His Throne. While we may sit at His table with sorrowful, yet peaceful, hearts; while we think of His sorrow and shame on our behalf, we can look hopefully up, knowing that He is coming again to receive us unto Himself (John 14:1-3). When we think of the Lord's table we must recognize that it is not the table of any particular Church or sect. It is the Lord's, and all have the right to it who are able to discern the Lord's body in the emblems. Our worthiness or unworthiness to sit at His table lie, not in our good education, not in our moral character, or religious profession, but in our spiritual discernment (v. 29).

THE CHURCH AS THE BODY OF CHRIST. 1 Corinthians 12:12-31

The human body is a perfect metaphor, or image, of the Church of Jesus Christ, as it is a living organism with many members, controlled by one spirit

I. The Church is One Body. A body with two heads would be a monstrosity. So would a head with two bodies. "You are the body of Christ" (v. 27). "You, being many, are one body in Christ" (Romans 12:5). We have Churches many, but Christ has only one.

II. The Members are all United by One Spirit. "By one Spirit are we all baptized into one Body" (v. 13). We may be admitted into a local Church on a profession of faith, but to be united to the Spiritual Body of Christ we need the regenerating power of the Holy Spirit. "It is the Spirit that quickens, the flesh profits nothing" (John 6:63). The Lord knows them that are His.

III. The Body of Christ includes Every Member. "Whether they be Jew or Gentile, bond or free" (v. 13). Whether they be black or white, brown or yellow, rich or poor, young or old, learned or ignorant, living or dead: all who in every age have been made to drink of the one soul-nourishing Spirit (v. 13), all are His. All who have been brought near by the Blood of Christ (Ephesians 2:13). Is the Church a failure? It may be. But the Church which is the Body of Christ is no failure, for when He comes to gather up His precious treasure, He will have a body that will be a glorious witness to the triumph of His sufferings.

IV. Each Member has its Own Function. "God has set the members every one of them, in the body as it has pleased Him" (v. 18). The foot is not expected to do the work of the hand, nor the eye to do what the ear is made for. There are diversities of gifts (see vv. 28-31), but one Spirit and one purpose. Be not discouraged if your gift is not so prominent and helpful as some others. The eye does not covet the function of the ear, nor the ear that of the eye. Let us prayerfully seek to find out what that gift is which God has been pleased to bestow. If you are a member of Christ's Body, there is something you can do for Him. A paralyzed member is a betrayal of His character.

V. All the Members are Interdependent. "The eye cannot say unto the hand, I have no need of you," etc. (v. 21). Each member of the body needs the help of the others. We ought to praise God for the gifts of other members, when the work of the Lord is being helped on. What does it matter which member has the special gift, so long as the will of the Head is being done through the body.

VI. There is no Division in the Body in His Sight (vv. 25-27). "You are all one in Christ Jesus" (Galatians 3:28). "The same Lord over all is rich unto all that call upon Him" (Romans 10:12). "There is one body, and one Spirit, even as you are called in one hope" (Ephesians 4:4). Things that divide the members of His Body, in the eyes of men, are things devised by the pride and prejudice of men. As Christians, let us "Endeavor to keep the unity of the Spirit in the bond of peace" (Ephesians 4. 3).

VII. All the Members of the Body are in Mutual Sympathy. So the members of Christ should have the same care one for another. "If one member suffer, all the members suffer with it: if one be honored, all the members rejoice with it" (vv. 25, 26). There is no place for envy or jealousy here. In the Lord's service such unclean spirits must be cast out. For "though I speak with the tongue of an angel and have not love, I am become as sounding brass" (chapter 13:1). "Love seeks not her own." Follow after love and desire spiritual gifts (chapter 14:1).

THE SIGNIFICANCE OF CHRIST'S RESURRECTION. 1 Corinthians 15:12-23

Here the apostle reasons on this great truth from two different standpoints—

1. The negative. "If Christ be not risen"—then what?

2. The positive. "But now is Christ risen,"—then what? As if one should say: "If the sun should not rise again, then what would happen?" But now the sun is risen and becomes self-evident.

I. If Christ be Not Risen.

1. Then Christ's Own Testimony was Untrue. He had given His promise: "I will rise again." "Destroy this temple (body) and in three days I will raise it up" (John 2:19). If He failed here, how could He be "the Resurrection and the Life?" (John 11:25).

2. Then His Disciples were Completely Deceived. For this was the keynote of their joyful testimony. "They taught the people, and preached through Jesus the resurrection from the dead" (Acts 4:2). When their Lord was crucified, the disciples were of all men the most miserable, hiding in shame from their countrymen. But suddenly they became the most joyful and courageous of mortals. What had happened? They had seen their Lord risen from the tomb.

3. Then the Christian Church is a Gigantic Fraud. It is a majestic structure, without any foundation. If there was no empty grave in Joseph's garden on the third day, then this is the emptiest thing on earth. It is built on the supposition that Christ rose from the dead. If He did not rise from the grave, then how are we to account for its strength and perpetuity all these long ages?

4. Then Christian Experience is a Grand Delusion. Our assurance of forgiveness, our joy in being justified in the light of God, our peace of heart and mind, our answered prayers, our sweet fellowship with God, our bright hopes for the world to come, are all imaginary; and all the millions in every age who have had these experiences have been fatally betrayed.

5. Then we who Believe in Immortality have been Living in a Fool's Paradise. Instead of "departing to be with Christ," those who have died in this faith have perished like the beast. The joys, hopes, and visions of the dying Christian have all been delusive. Their expectation of seeing Jesus and meeting the loved ones gone before have been but a treacherous empty fancy. Their whole life has been a mere hallucination.

6. Then we are of All Men the Most Miserable. For we, of all men, have stood on the highest pinnacle of expectation, having the brightest outlook and the most confident hopes of any other man. It means for us to be cast down from the high tower of our personal blessedness into the abyss of darkness and despair. If Christ be not risen then the Christian life is but a ghastly mirage, for there will be no resurrection of the dead (v. 12), our preaching has been in vain, and our faith is also vain (v. 14). We have been false witnesses, and we are yet in our sins, and all who have died in the faith are perished (v. 18).

II. But Now is Christ Risen (v. 20). What a joyful ring there is in this shout. It is like the blast of the trumpet of victory. "Now is Christ risen," and the foundations of Hell have been shaken. The sun has arisen in His strength and scattered the darkness, and brought health and beauty with His healing beams. "Now is Christ risen."

1. Then our Preaching is Not in Vain. The great commission still stands good and true: "All power is given unto Me in Heaven and in earth. Go you therefore" (Matthew 28:18-20). "Lo, I (the Risen One) am with you always." He will not fail you, be not discouraged. The Gospel of the Risen Christ is still the power of God unto salvation to every believer.

2. Then our Faith is Not Vain. We are not trusting a dead Savior, but Him who is "the Resurrection and the Life" (John 11:25). It is no vain thing to trust in the Living Lord, who had the power to lay down His life and to take it again. He who conquered death and the grave can easily restore our sickly faith and raise our dying efforts from the tomb of uselessness.

3. Then we are Not Now in our Sins (v. 17). He died for our sins, "but He rose again for our justification." His death was the paying of the price. His resurrection was the evidence that God had accepted the price paid for our redemption. Now we who believe are accepted in Him, being raised together with Him in the purpose of God.

4. Then those who have Fallen Asleep in Christ are Not Perished (v. 18). They are with their Lord, who was the first fruits from the dead (v. 23). "For if we believe that Jesus died and rose again, even so them also which sleep in Jesus will God bring with Him" when He comes to be glorified in His saints (1 Thessalonians 4:14, 15) "Knowing that He which raised up the Lord Jesus shall raise up us also by Jesus" (2 Corinthians 4:14).

5. Then we are Not of All Men the Most Miserable (v. 19). Christians should be the happiest people on the face of the earth. They have the best of all friends in Jesus, the sweetest of all promises in God's Word, the greatest of all treasures in the fullness of Divine Grace. They hold the highest of all earth's positions in being the servants of the Lord, crowned with honor and glory. They enjoy the brightest of all prospects in the Coming Kingdom. They shall reign with Him a thousand years (Rev. 20:6).

THE FINAL VICTORY. 1 Corinthians 15:51-58

"Thanks be to God, who gives us the victory through our Lord Jesus Christ" (v. 56).

I. Victory over Sin. "The sting of death is sin." "O death, where is your sting?" (vv. 55, 56). Death is as common as birth, as impartial as the law of gravitation, and as uncertain as a thief. To the Christian death is stingless, for the sting of sin was buried in the Crucified Christ, who bore our sins in His own body to the tree. The strength of sin is the Law, but His obedience unto the death on our behalf met the just demands of the righteousness of God. "Sin shall not have dominion over you; for you are not under the law, but under grace" (Romans 6:14). The Law was given by Moses, but grace and truth came by Jesus Christ (John 1:17). Thanks be to God, who gives us the victory over sin.

II. Victory over Mortality. "For this corruptible must put on incorruption, and this mortal (body) must put on immortality" (v. 53). These bodies of ours are to share the victory of our Savior's resurrection when He comes again. Then "in a moment, in the twinkling of an eye, the dead shall be raised incorruptible, and we (those who are still alive) shall be changed" (v. 52). "We that are in this tabernacle do groan, being burdened (with the infirmities of the body): not that we are ourselves to be unclothed but clothed upon, that mortality might be swallowed up of life" (2 Corinthians 5:4). He is longing for that "house which is from Heaven," the new abode of the Spirit. "It is sown a natural body, it is raised a spiritual body" (v. 44). Our resurrection bodies may differ in luster, according to the lives we have lived. "For one star differs from another star in glory. So also is the resurrection of the dead" (vv. 41, 42). "Thanks be to God who gives us this victory through our Lord Jesus Christ."

III. Victory over Death. "O death, where is your sting?" He has swallowed up death (Isaiah 25:8), Christ Himself took part of the same flesh and blood that through death He might destroy him that had the power of death, that is, the Devil, and deliver them who through feat of death were in their lifetime subject to bondage (Hebrews 2:14, 15). Death has always been a winged monster to the human race, where Christ and His resurrection is unknown. For Jesus Christ has abolished death, and has brought life and immortality to light through the Gospel (2 Timothy 1:10). Thanks be to God who gives us this victory through our Lord Jesus Christ.

IV. Victory over the Grave. "O grave, where is your victory?" The hour is coming in the which all that are in the graves shall hear His voice and come forth (John 5:28). "The Lord Himself shall descend from Heaven with a shout, with the voice of the archangel and the trumpet of God, and the dead in Christ shall rise first" (1 Thessalonians 4:16). Those who are the members of His Body shall be the first to share in the triumph of their Lord over the bondage and corruption of the grave. This is the first resurrection. "Blessed and holy is he who has part in the first resurrection, the terrors of the second death and the second grave will have no power over them" (Rev. 20:5, 6). "Therefore, beloved brethren, be you steadfast, unmoveable, always abounding in the work of the Lord, forasmuch as you know that your labor is not in vain in the Lord" (v. 58). Thanks be to God who gives us this victory through our Lord Jesus Christ.
OSWALD CHAMBERS  - DEVOTIONALS
J R MILLER - DEVOTIONAL
Defender's Study Bible Excellent, conservative, literal study Bible notes from a leading creationist Dr Henry Morris.
Chapter 23 - Abstaining for the Sake of Others
   Chapter 24 - A Lesson in Self-Denial
   Chapter 25 - The Lord's Supper
   Chapter 26 - Paul on Christian Love
   Chapter 27 - The Risen Christ
Holman Christian Standard Bible - Study Bible (HCSB Study Bible)
Well done notes. Here is a sample comment on 1 Cor 6:9-11 "Believers should not be deceived into thinking that unbelieving judges (the unrighteous) and their slap-on-the-wrist verdicts about serious sin can render justice in the church. These people have no inheritance in God's kingdom. Only believers, who are washed... sanctified, and justified, can rightly judge sins (1 Cor 6:1). Paul's Corinthian readers would also take this admonition as a cause for asking themselves if their behavior matched that of "the unrighteous" or that of the "washed," the "sanctified," and the "justified.""
LOWELL JOHNSON - SERMONS ON 1 CORINTHIANS
1 Cor. 1:1-9 Resources-For-The-Journey
1 Cor. 1:10-17 Feudin-Folks
1 Cor. 1:18-25 Wisdom-In-The-Cross-Of-Christ
1 Cor. 1:26-31 Gods-Hall-Of-Fame
1 Cor. 2:1-5 Pauls-Declaration
1 Cor. 2:6-13 Gods-Teacher
1 Cor. 2:14-3:8 Where-Are-You-Spiritually
1 Cor. 3:9-15 Building-For-Eternity
1 Cor. 3:16-17 Defiling-The-Temple-Of-God
1 Cor. 3:18-23 All-Things-Are-Yours
1 Cor. 4:1-5 How-To-Evaluate-A-Minister
1 Cor. 4:6-21 Deflating-The-Inflated
1 Cor. 5:1-13 How-To-Handle-A-Church-Scandal
1 Cor. 6:1-11 Christians-And-Lawsuits
1 Cor. 6:12-20 You-And-Your-Body
1 Cor. 7:1-2, 6-9, 25-26, 32-35 The-Highway-Of-Helpfulness
1 Cor. 7:1-5 Marriage-By-The-Book
1 Cor. 7:1-24 The-Highway-Of-Happiness-For-The-Married-Life
1 Cor. 7:10-16 Should-I-Leave-Or-Not
1 Cor. 8:1-13 Gray-Areas-Questionable-Practices-Doubtful-Things
1 Cor. 9:1-23 The-Pastors-Provision
1 Cor. 9:24-27 The-Driving-Force-In-Pauls-Life
1 Cor. 10:1-13 Warning-For-The-Over-confident
1 Cor. 10:12-11:1 Determining-What-Is-Right-And-Wrong
1 Cor.10:13-14 Dealing-With-Temptation
1 Cor. 11:2-16 Women's-Rights-Or-Women's-Role-In-Public-Worship
1 Cor. 11:17-34 Right-Attitudes-At-The-Lords-Table
1 Cor. 12:1-11 Now-Concerning-Spiritual-Gifts
1 Cor. 12:1-11 Serving-Gifts
1 Cor. 12:1-11 Speaking-Gifts
1 Cor. 12:1-11 Sign-Gifts
1 Cor. 12:12-31 The-Church-A-Body
1 Cor. 12:31-13:33 The-Excellence-Of-Love
1 Cor. 13:4-7 Love Is Patient
1 Cor. 13:4-8 Love Is Kind
1 Cor. 13:4-8 Love Does Not Envy
1 Cor. 13:4-8 Love Is Not Prideful
1 Cor. 13:5 Love Is Not Rude
1 Cor. 13:5 Love Does Not Insist On Its Own Way
1 Cor. 13:5 Love Does Not Lose Its Temper
1 Cor. 13:5 Love Does Not Keep Records of Wrong Done To It
1 Cor. 13:6 Love Does Not Delight In Evil
1 Cor. 13:7 Love Always Protects
1 Cor. 13:8-13 Love Never Fails
1 Cor. 14:1-40 What-You-Should-Expect-From-Public-Worship
1 Cor. 15:1-11 The-Gospel
1 Cor. 15:12-34 The-Resurrection Plan
1 Cor. 15:35-49 New-Bodies
1 Cor. 15:50-58 Victory-Over-Death
1 Cor. 16:1-4 Concerning-The-Collection
1 Cor. 16:5-24 Pauls-Parting-Words
R C SPROUL - Ligonier Devotionals
SAM STORMS - series on 1 Corinthians 12-14
MICHAEL ANDRUS
OSWALD CHAMBERS 
MICHAEL ANDRUS
MICHAEL ANDRUS
JOHN HENRY JOWETT
C G WILKES
Cyril Barber - Reverent messages laying bare the truths of this important chapter. A fine example of British preaching.
THE HYMN OF LOVE
LOVE'S EXCELLENCE
THE QUALITIES OF LOVE (I)
THE QUALITIES OF LOVE (II)
THE QUALITIES OF LOVE (III)
THE QUALITIES OF LOVE (IV)
THE QUALITIES OF LOVE (V)
THE PERMANENCE OF LOVE
THE PARTIAL AND THE COMPLETE
THE SUPREMACY OF LOVE
THE HYMN OF LOVE
JOSH BLACK
EMIL TURNER
STEPHEN WELLUM
D Edmond Hiebert -Based on Moffatt's own translation. A critical exposition by a liberal British scholar of note. Helpful for its treatment of critical problems raised by a close study of the text.
Cyril Barber - First published in 1855. This highly esteemed exegetical and expository work enlivens the sacred page and enriches the spiritual life of the reader. "Pays careful attention to the theological exposition, entering into the marrow of religious ideas, and introducing the student to the spirit and inward unity of the divine revelation" (Philip Schaff). (Click here for links to Second Corinthians comments).
"The People's Bible"
Excellent sermons with illustrations and many practical applications.
Published by Hodder and Stoughton - 1900–1901

Background - Sir William M. Ramsay: Archaeologist and New Testament Scholar

Review by Cyril Barber - Ramsay's writings are always worth reading. His discussions of perplexing issues are timely. He is unafraid of controversy, and his judgment on most issues is to be trusted. Two interesting chapters capture our attention: "Was Paul Married?" and "Had Paul Seen Jesus?" These essays originally appeared in The Expositor (1900--1901).
---
INDEX - click here and scroll down for the chapters listed below
I. INTRODUCTORY
II. THE CONTRAST BETWEEN Galatians AND Corinthians
III. PAUL'S ATTITUDE TO JUDAISM
IV. THE OPENING ADDRESS (1 Cor 1:1–9)
V. THE PARTIES IN THE CORINTHIAN CHURCH
VI. THE DIGRESSION ON BAPTISM
VII. RELATION TO PHILOSOPHY
VIII. THE EARLY CHRISTIANS AS A PART OF SOCIETY
IX. SOSTHENES AND CHLOE
X. THE TITLE "CORINTHIANS."
XI. THE CRIME
XII. RELATION OF THE CORINTHIAN CHURCH TO THE CRIME
XIII. SOURCE OF PAUL'S KNOWLEDGE OF THE CRIME
XIV. THE JUDGMENT OF PAUL
XV. PRINCIPLES IN JUDGING THE CRIME
XVI. THE RESULT
XVII. LITIGATION IN THE CORINTHIAN CHURCH, 1 Cor 6:1–11
XVIII. SEQUENCE OF TOPICS, 5–7
XIX. JUDGING THE WORLD
XX. PURITY AND IMMORTALITY, 1 Cor 6:12–20
XXI. MARRIAGE
XXII. THE CORINTHIAN VIEW REGARDING MARRIAGE
XXIII. WAS PAUL MARRIED?
XXIV. REMARRIAGE
XXV. MARRIAGE AND THE DIVINE LIFE
XXVI. APOLOGIA PRO VITA SUA
XXVII. THE CORINTHIAN PHILOSOPHERS
XXVIII. MEAT OF SACRIFICED ANIMALS
XXIX. OFFICIALS IN THE CORINTHIAN CHURCH
XXX. EATING IN AN IDOL TEMPLE (1 Cor 8:10)
XXXI. THE CORINTHIAN CLUBS OR ASSOCIATIONS
XXXII. THE COMMON MEAL (1 Cor 10:14–21)
XXXIII.—THE PAGAN CLUBS AND THE CHRISTIAN CHURCH
XXXIV. THE EUCHARIST IN ST. PAUL'S GOSPEL
XXXV. THE IMPERIAL POLICY AND THE PAGAN CLUBS
XXXVI. IMPORTANCE OF THE QUESTION IN THE EARLY GENTILE CHURCHES
XXXVII. ST. JOHN AND ST. PAUL ON ASSOCIATIONS AND IDOLOTHYTA
XXXVIII. ST. PETER, ST. JOHN AND ST. PAUL ON THE SACRIFICIAL FEASTS
XXXIX. THE EPISTLE AND ITS PARTS
XL. LETTER-WRITING IN EPHESUS
XLI. INTERVALS AND PAUSES IN THE EPISTLE
XLII. THE FIRST LETTER CONTAINED IN FIRST CORINTHIANS
XLIII. THE SINGLE STANDARD AND THE MONARCHICAL BISHOP
XLII. PLANS FOR A SECOND VISIT TO CORINTH
XLV. THE APOSTOLATE
XLVI. "AM I NOT FREE?" (1 Cor 9:1)
XLVII. PRIVILEGES OF AN APOSTLE
XLVIII. ST. PETER IN CORINTH
XLIX. THE DATE OF ST. PETER'S VISIT TO ROME
L. NOTE ON THE DATE OF SECOND JOHN
LI. HAD PAUL SEEN JESUS? (1 Co 9:1)
Scroll Down Each Page for Homilies
---
NOTE: If you are not familiar with the great saint Charles Simeon see Dr John Piper's discussion of Simeon's life - you will want to read Simeon's sermons after meeting him! - click Brothers We Must Not Mind a Little Suffering (Mp3 even better
THEOLOGY OF WORK - From the Theology of Work Project. CLICK HERE FOR LIST OF COMMENTARIES ON ALL 66 BOOKS - click "Bible Commentary" in upper left corner, select book of interest. (This work was published as a book in 2014-2016) but is available at no charge on the web.
Chapter 1
Chapter 2
Chapter 3
Chapter 4
Chapter 5
Chapter 6
Chapter 7
Chapter 8
Chapter 9
Chapter 10
Chapter 11
Chapter 12
Chapter 13
Chapter 14
Chapter 15
Chapter 16
Book