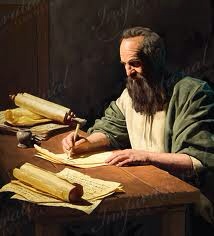 1 CORINTHIANS - PROBLEMS OF A LOCAL CHURCH
Click chart to enlarge
Charts from Jensen's Survey of the NT - used by permission
---
DICTIONARIES
---
1 Corinthians 8 Verse by Verse Comments - Bruce Hurt,MD
---
HENRY ALFORD The New Testament for English Readers 1 Corinthians Commentary
Read his fascinating brief biography - Henry Alford (1810-1871) and Phil Johnson's related comments

James Rosscup writes that Alford's series on the New Testament "contains much that is valuable in the Greek New Testament… though all of the Greek New Testament words have been changed to English throughout." (Commentaries for Biblical Expositors: An Annotated Bibliography of Selected Works)

Charles Haddon Spurgeon (see his comments in following entry on Alford).

Editorial Note: If you are not proficient in Greek, you will find this work considerably more useful than the following work by Alford, because in this volume he translates the Greek and Latin into English. While the "The Greek New Testament" is longer (e.g., English version of 1John = 66 pages compared to Greek version = 94 pages in part because the latter includes comments of more technical nature), the substance of the commentary is otherwise similar to that found in the "NT for English Readers".
HENRY ALFORD The Greek New Testament 1 Corinthians Commentary
James Rosscup writes that "This was the great work in the life of the versatile Dean of Canterbury. An outcome of this production was the New Testament for English Readers (4 vols.). Alford was a Calvinist, conservative and premillennial, though not dispensational. He takes a literal interpretation of the thousand years in Rev. 20 and has a famous quote there, is strong on sovereign election as in Ro 8:29, 30 and 1Pe 1:2, but, unfortunately, holds to baptismal regeneration in such texts as Titus 3:5 and John 3:5. He shows a great knowledge of the Greek text and faces problems of both a doctrinal and textual nature." (Commentaries for Biblical Expositors: An Annotated Bibliography of Selected Works)

John Piper writes ""When I'm stumped with a… grammatical or syntactical or logical [question] in Paul, I go to Henry Alford. Henry Alford… comes closer more consistently than any other human commentator to asking my kinds of questions."
Charles Haddon Spurgeon writes that this text "is an invaluable aid to the critical study of the text of the New Testament. You will find in it the ripened results of a matured scholarship, the harvesting of a judgment, generally highly impartial, always worthy of respect, which has gleaned from the most important fields of Biblical research, both modern and ancient, at home and abroad. You will not look here for any spirituality of thought or tenderness of feeling; you will find the learned Dean does not forget to do full justice to his own views, and is quite able to express himself vigorously against his opponents; but for what it professes to be, it is an exceedingly able and successful work. The later issues are by far the most desirable, as the author has considerably revised the work in the fourth edition. What I have said of his Greek Testament applies equally to Alford's New Testament for English Readers,* which is also a standard work." (Spurgeon, C. H. Lectures to my Students, Vol. 4: Commenting and Commentaries; Lectures Addressed to the students of the Pastors' College, Metropolitan Tabernacle)
GREGG ALLEN - SERMONS
DON ANDERSON
PAUL APPLE Commentary  - Excellent material for sermon preparation
JACK ARNOLD SERMONS Over 450 pages of conservative, evangelical sermon material. Excellent resource
WAYNE BARBER - one of my favorites - recommended, practical teaching on the "Christ life"
WILLIAM BARCLAY Commentary on the Gospel of Mark Daily Study Bible
D Edmond Hiebert - Prints the author's own translation.  Valuable for its numerous helpful word studies and background material. Barclay holds that Christ's descent into Hades gave those who there heard Him a second chance.

Comment: I appreciate Barclay's unique insights on Greek words, but clearly his teaching about a "second chance" is NOT sound doctrine! Be an Acts 17:11 Berean with Barclay. See discussion of his orthodoxy especially the article "The Enigmatic William Barclay".
ALBERT BARNES Commentary 
James Rosscup writes that Barnes "includes 16 volumes on the Old Testament, 11 on the New Testament. The New Testament part of this old work was first published in 1832–1851. Various authors contributed. It is evangelical and amillennial… Often the explanations of verses are very worthwhile." (Commentaries for Biblical Expositors: An Annotated Bibliography of Selected Works)

C H Spurgeon "Albert Barnes is a learned and able divine, but his productions are unequal in value, the gospels are of comparatively little worth, but his other comments are extremely useful for Sunday-school teachers and persons with a narrow range of reading, endowed with enough good sense to discriminate between good and evil… Placed by the side of the great masters, Barnes is a lesser light, but taking his work for what it is and professes to be, no minister can afford to be without it, and this is no small praise for works which were only intended for Sunday-school teachers." (Lectures to my Students, Vol. 4: Commenting and Commentaries; Lectures Addressed to the students of the Pastors' College, Metropolitan Tabernacle)
JOSEPH BEET - 1 Corinthians Commentary
D Edmond Hiebert - A clear and full interpretation by a British Methodist scholar of the past century. Its doctrinal summaries are intended as a contribution to systematic theology.
BRIAN BELL Sermons on Mark
JOHANN BENGEL Gnomon of the New Testament
JOHANN BENGEL The Critical English Testament
Combination of Gnomon above + Comments by other expositors [in brackets] (Recommended if not conversant with Greek)
JOSEPH BENSON
BIBLE.ORG RESOURCES 1 Corinthians Resources that Reference this Book
BIBLICAL ILLUSTRATOR 1 Corinthians Joseph Exell, Editor
BOB BOLENDER
JIM BOMKAMP  - Sermon Notes - Calvary Chapel Green Bay
BRIDGEWAY BIBLE COMMENTARY 1 Corinthians Commentary
F F BRUCE
WILLIAM BURKITT 1 Corinthians Commentary
PAUL  BUTLER Studies in 1 Corinthians Commentary
JOHN CALVIN 1 Corinthians Commentary
CAMBRIDGE GREEK TESTAMENT 1 Corinthians Commentary
Parry, R. S. J. The First Epistle of Paul to the Corinthians.
RICH CATHERS
D MARION CLARK - it will ask you to "Click here to download your attachment" (I checked it and it works fine - no virus or adware)
ADAM CLARKE 1 Corinthians Commentary
Click for brief critique of Clarke
EARLY CHURCH
THOMAS CONSTABLE 1 Corinthians Expository Notes
W A CRISWELL 1 Corinthians Sermons
RON DANIEL
J LIGON DUNCAN
CHARLES ELLICOTT - Editor. Commentary written by T. T. Shore
CRITICAL AND EXEGETICAL COMMENTARY First Epistle of St Paul To The Corinthians Archibald Robertson, Alfred Plummer
Rosscup: This, after Fee, is the most detailed and the best critical commentary on the epistle. Though not as readable as works by Godet, Grosheide, Johnson and Morris, it is more detailed in discussing possibilities for a given passage. (Commentaries for Biblical Expositors: An annotated bibliography of selected works)

D Edmond Hiebert - Greek text Important introduction and a very thorough treatment of the Greek text, bringing out its finer shades of meaning. Essential for the careful student of the original text.
BOB DEFFINBAUGH 1 Corinthians Sermons
EXPOSITOR'S DICTIONARY OF TEXTS
MARCUS DODS The Expositor's Bible Commentary on 1 Corinthians
JOHN DUMMELOW 1 Corinthians Commentary
THOMAS EDWARDS 1 Corinthians Commentary
In Depth Verse by Verse Commentary
D Edmond Hiebert - Greek text. An exhaustive exposition by an independent, evangelical British scholar of the past century.
TIMOTHY EDWARDS 1 Corinthians Commentary
CHARLES R ERDMAN THE FIRST EPISTLE OF PAUL TO THE CORINTHIANS (1928)
D Edmond Hiebert - A brief conservative exposition by a Presbyterian professor of the past generation. Well adapted to the non-professional Bible student.
EXPOSITOR'S GREEK TESTAMENT 1 Corinthians Commentary G. G. Findlay
D Edmond Hiebert - A thorough commentary on the Greek text by an evangelical Methodist scholar of the past generation. Characterized by a thorough grasp of Pauline thought in the epistle. For the advanced student.
DON FORTNER
FOUNDERS MINISTRY
A C GAEBELEIN
JOHN GILL 1 Corinthians Commentary
FRÉDÉRIC GODET 1 Corinthians Commentary
Rosscup: Godet, a Swiss Protestant Reformed scholar, was Professor of New Testament in the Free Evangelical Theological School, Neuchatel. He deals seriously with the text in the Greek, usually giving solid comments in a serious effort to explain a passage and showing connections between sections. His is one of the finer works among the older commentaries, well-worth consulting for its scholarship and its warm strain. (Commentaries for Biblical Expositors)

D Edmond Hiebert - An exhaustive technical commentary by a conservative French scholar of the past century. Valuable for its exegesis and warm spiritual views but weak and out of date in matters of textual criticism.
BRUCE GOETTSCHE 1 Corinthians Sermons
GOSPEL COALITION
GOTQUESTIONS 1 CORINTHIANS
H L GOUDGE THE FIRST EPISTLE TO THE CORINTHIANS 1915
D Edmond Hiebert - A very helpful commentary aimed at meeting the needs of the theological student and the clergy by an evangelical British scholar. Various added notes supplement the concise comments on the individual verses.

Verse by verse and phrase by phrase.
JOHN GRAY
GRACE BIBLE
L M GRANT
DAVE GUZIK 1 Corinthians Commentary
ROBERT HAWKER
MATTHEW HENRY 1 Corinthians Commentary
DAVID HOCKING - series of sermons
CHARLES HODGE 1 Corinthians Commentary
See also: Questions from Charles Hodge adapted to his Exposition of 1 Corinthians. 

Spurgeon: The more we use Hodge, the more we value him. This applies to all his commentaries. (Lectures to my Students, Vol. 4: Commenting and Commentaries)

Rosscup: The famous theologian's work, originally in 1857, is very worthy of reprint and much used by pastors, students and lay people in general. As on Romans, he explains each verse in a careful manner, informed by much study, and is particularly adept and helpful in bringing out the doctrinal truth. Those who use his works find much assistance in thinking through issues consistently with Scripture, seen from a Reformed perspective.

Cyril Barber - This important exposition of the doctrine contained in this epistle explains the essence of church member effectiveness, enlarges on the nature of Christian liberty, and discusses the principles and practice of the Christian assembly.

Keith Mathison (Ligonier Ministries): There are many who would ignore these older commentaries in favor of newer works, but in this case at least, that would be a major mistake. Hodge's work is filled with valuable insight into Paul's letter. Highly recommended.
F B HOLE
HOLMAN STUDY BIBLE
Holman Christian Standard Bible - Study Bible (HCSB Study Bible)
Well done notes. Here is a sample comment on 1 Cor 6:9-11 "Believers should not be deceived into thinking that unbelieving judges (the unrighteous) and their slap-on-the-wrist verdicts about serious sin can render justice in the church. These people have no inheritance in God's kingdom. Only believers, who are washed... sanctified, and justified, can rightly judge sins (1 Cor 6:1). Paul's Corinthian readers would also take this admonition as a cause for asking themselves if their behavior matched that of "the unrighteous" or that of the "washed," the "sanctified," and the "justified.""
DAVID HOLWICK - frequent illustrations
HARRY IRONSIDE 1 Corinthians Commentary
Rosscup: A popular work of a survey nature, this is helpful because of its insight into the problems of the Corinthians and the practical applications today. The illustrations are good. (One of the better commentaries with a devotional flavor).

D Edmond Hiebert - A series of 39 expository addresses by a well-known Bible teacher-pastor covering the entire epistle. Practical and informative lectures with numerous pertinent illustrations. Premillennial in emphasis.
JAMIESON, FAUSSET, BROWN 1 Corinthians Commentary
S LEWIS JOHNSON 1 Corinthians Sermons
Rosscup (on his work in Wycliffe Bible Commentary): This work in the English, based upon a careful study of the Greek text, is helpful because it gets right to the crux of problems. However, by necessity, it is brief.
WILLIAM KELLY
D Edmond Hiebert -An independent, conservative exposition by a Plymouth Brethren scholar of the past century. The footnotes deal mostly with manuscript evidence for variant textual readings.
C F KLING 1861
D Edmond Hiebert-A voluminous conservative Lutheran exposition. The epistles are divided into convenient paragraphs, with the material under each section appearing in three parts, exegetical and critical, doctrinal and ethical, homiletical and practical. Contains much rich ore to be mined by those willing to dig into its closely printed pages.
STEVE KRELOFF - Messianic pastor
PAUL KRETZMANN
DAVID LEGGE - SERMONS
STEVE LEWIS 1 Corinthians Studies
Web show Slide Presentation. Message Notes and Audio
JAMES LIAS - Cambridge Bible for Schools and Colleges
JOHN MACARTHUR 1 Corinthians Sermons
ALEXANDER MACLAREN 1 Corinthians Expository Sermons
BRYN MACPHAIL
HENRY MAHAN
J VERNON MCGEE
F B MEYER
HEINRICH MEYER 1 Corinthians Commentary
JAMES MOFFATT Commentary on 1 Corinthians 1938
D Edmond Hiebert -Based on Moffatt's own translation. A critical exposition by a liberal British scholar of note. Helpful for its treatment of critical problems raised by a close study of the text.
MONERGISM
HENRY MORRIS - DEFENDER'S STUDY BIBLE
Defender's Study Bible Excellent, conservative, literal study Bible notes from a leading creationist Dr Henry Morris.
NET BIBLE NOTES 1 Corinthians Commentary
JAMES NISBET 1 Corinthians Church Pulpit Commentary
HERMANN OLSHAUSEN A Commentary on Paul's First and Second Epistles to the Corinthians.
Cyril Barber - First published in 1855. This highly esteemed exegetical and expository work enlivens the sacred page and enriches the spiritual life of the reader. "Pays careful attention to the theological exposition, entering into the marrow of religious ideas, and introducing the student to the spirit and inward unity of the divine revelation" (Philip Schaff). (Click here for links to Second Corinthians comments).
OUR DAILY BREAD Devotionals and Sermon Illustrations 1 Corinthians
JOSEPH PARKER 1 Corinthians Sermons "The People's Bible"
PETER PETT
JOHN PIPER 1 Corinthians Sermons
MATTHEW POOLE Commentary 1 Corinthians
RICHARD PRATT - about 200 pages, essentially verse by verse
PREACHER'S COMMENTARY ON 1 CORINTHIANS 1 Corinthians A Homiletical Commentary
1 Corinthians 8 Whole Chapter - Homiletical Analysis
1 Corinthians 8:1-3 Knowledge Weighed in the Balances Against Love
1 Corinthians 8:6 Christian Monotheism
1 Corinthians 8:10-13 The Rights of Conscience
PRECEPT MINISTRIES Inductive Bible Study
PULPIT COMMENTARY 1 Corinthians Sermons and Homiletics
Scroll Down Each Page for Homilies
WILLIAM M RAMSAY - HISTORICAL COMMENTARY ON THE EPISTLES TO THE CORINTHIANS
Background - Sir William M. Ramsay: Archaeologist and New Testament Scholar

Review by Cyril Barber - Ramsay's writings are always worth reading. His discussions of perplexing issues are timely. He is unafraid of controversy, and his judgment on most issues is to be trusted. Two interesting chapters capture our attention: "Was Paul Married?" and "Had Paul Seen Jesus?" These essays originally appeared in The Expositor (1900--1901).
INDEX - click here and scroll down for the chapters listed below
XXVIII. MEAT OF SACRIFICED ANIMALS
XXIX. OFFICIALS IN THE CORINTHIAN CHURCH
XXX. EATING IN AN IDOL TEMPLE (1 Cor 8:10)
XXXI. THE CORINTHIAN CLUBS OR ASSOCIATIONS
XXXII. THE COMMON MEAL (1 Cor 10:14–21)
REFORMATION STUDY BIBLE 1 CORINTHIANS
A. T. ROBERTSON Word Pictures in the New Testament 1 Corinthians
PHILLIP SCHAFF
JOHNNY L SANDERS - 319 pages, verse by verse commentary, well-done
In addition to verse by verse, Dr Sanders has occasional illustrations and also does phrase by phrase - very useful if you are preaching through 1 Corinthians. 
RAYMOND SAXE
JOHN SCHULTZ
SERMON AUDIO - pdf transcripts - variable quality. Be a Berean. 
SERMON BIBLE COMMENTARY 1 Corinthians
Excerpts from many expositors.
CHARLES SIMEON Sermons on 1 Corinthians
NOTE: If you are not familiar with the great saint Charles Simeon see Dr John Piper's discussion of Simeon's life - you will want to read Simeon's sermons after meeting him! - click Brothers We Must Not Mind a Little Suffering (Mp3 even better
CHUCK SMITH 1 Corinthians Commentary
HAMILTON SMITH
SPEAKER'S COMMENTARY
R C SPROUL - Ligonier Devotionals
RAY STEDMAN Expository Studies in First Corinthians
Cyril Barber -  Excellent examples of biblical exposition, revealing at the same time rich insights into Paul's life and thought. Highly recommended.
JOHN STEVENSON - has some nice tables and diagrams
JOSEPH SUTCLIFFE Commentary 1 Corinthians
THIRD MILLENNIUM - Study Notes 1 Corinthians
TODAY IN THE WORD Devotional Illustrations 1 Corinthians
DAVID THOMPSON - each Pdf is about 3 pages long and there are 75 messages
JOHN TRAPP Commentary 1 Corinthians
BOB UTLEY
MARVIN VINCENT Testament Word Studies 1 Corinthians
DANIEL WHEDON
STEVE ZEISLER 1 Corinthians Sermons
SERMONS BY VERSE - Older Works
| | | |
| --- | --- | --- |
| Knowledge and Love | J.R. Thomson | 1 Corinthians 8:1 |
| Knowledge and Love | J. Waite | 1 Corinthians 8:1 |
| Knowledge and Love | R. Tuck | 1 Corinthians 8:1 |
| 'Love Buildeth Up' | Alexander Maclaren | 1 Corinthians 8:1 |
| The Two Guides - Knowledge and Love | E. Hurndall | 1 Corinthians 8:1-11 |
| A Twofold Knowledge | D. Thomas, D. D. | 1 Corinthians 8:1-13 |
| Knowledge and Charity | Bp. Horne. | 1 Corinthians 8:1-13 |
| Knowledge and Love | J. Lyth, D. D. | 1 Corinthians 8:1-13 |
| Knowledge and Love | Dean Stanley. | 1 Corinthians 8:1-13 |
| Knowledge and Love | J. G. Greenhough, M. A. | 1 Corinthians 8:1-13 |
| Liberty and Love | M. Dods, D. D. | 1 Corinthians 8:1-13 |
| Love Edifieth | J. Waits, B. A. | 1 Corinthians 8:1-13 |
| On the Eating of Sacrifices Offered to Idols: Liberty and Expediency | H. Bremner | 1 Corinthians 8:1-13 |
| Strength and Weakness; Knowledge and Love | C. Lipscomb | 1 Corinthians 8:1-13 |
| The Difference Between Christian and Secular Knowledge | F. W. Robertson, M. A. | 1 Corinthians 8:1-13 |
| The Two Guides -- Knowledge and Love | W. E. Hurndall, M. A. | 1 Corinthians 8:1-13 |
| Pride Vitiates Religious Knowledge | Prof. Shedd. | 1 Corinthians 8:2 |
| The Modesty of True Knowledge | H. W. Beecher. | 1 Corinthians 8:2 |
| The Pride of Intellect | J. Lyth, D. D. | 1 Corinthians 8:2 |
| God's Knowledge of Us | C. H. Spurgeon. | 1 Corinthians 8:3 |
| Intimacy Between God and Man | Prof. J. H. Thomson. | 1 Corinthians 8:3 |
| Intimacy Between God and Man | J.R. Thomson | 1 Corinthians 8:3 |
| Knowing God, and Being Known of God | R. Tuck | 1 Corinthians 8:3 |
| Known of God | C. Simeon, M. A. | 1 Corinthians 8:3 |
| Known of God | Prof. Godet. | 1 Corinthians 8:3 |
| Known of God | Christian Age | 1 Corinthians 8:3 |
| Known to God Although Unknown to the World | J. Blair. | 1 Corinthians 8:3 |
| Love the Medium of Divine Knowledge | J. Lyth, D. D. | 1 Corinthians 8:3 |
| Superiority of Love to Knowledge |   | 1 Corinthians 8:3 |
| The Love and Knowledge of God | Dean Stanley. | 1 Corinthians 8:3 |
| The Man Who Loves God Known of Him | J. C. Boyce. | 1 Corinthians 8:3 |
| An Idol Nothing in the World |   | 1 Corinthians 8:4-7 |
| Aspects of Responsibility | D. Thomas, D. D. | 1 Corinthians 8:4-7 |
| Idolatry | J. Lyth, D. D. | 1 Corinthians 8:4-7 |
| Idolatry | T. Mortimer, B. D. | 1 Corinthians 8:4-7 |
| One God, One Lord | W. E. Hurndall, M. A. | 1 Corinthians 8:4-7 |
| Polytheism | J. Lyth, D. D. | 1 Corinthians 8:4-7 |
| The Many Gods and the One God | H. Bonar. | 1 Corinthians 8:4-7 |
| The Unity of God | J. Lyth, D. D. | 1 Corinthians 8:4-7 |
| The Unity of God | Prof. J. R. Thomson. | 1 Corinthians 8:4-7 |
| The Unity of God | J. W. Reynolds, M. A. | 1 Corinthians 8:4-7 |
| The Unity of God is Demonstrated | J. Lyth, D. D. | 1 Corinthians 8:4-7 |
| Unity of God |   | 1 Corinthians 8:4-7 |
| Not Gods, But God | R. Tuck | 1 Corinthians 8:5, 6 |
| The Unity of God | J.R. Thomson | 1 Corinthians 8:5, 6 |
| One God... One Lord | E. Hurndall | 1 Corinthians 8:6 |
| A Weak Conscience, I.E | Principal Edwards. | 1 Corinthians 8:7-13 |
| Abstinence for the Sake of Others | H. A. Edson, D. D. | 1 Corinthians 8:7-13 |
| Abstinence for the Sake of Others | Charles M. Southgate. | 1 Corinthians 8:7-13 |
| Abstinence for the Sake of Others | D. J. Burrell, D. D. | 1 Corinthians 8:7-13 |
| Christian Liberty | J. Lyth, D. D. | 1 Corinthians 8:7-13 |
| Ignorance | J. Lyth, D. D. | 1 Corinthians 8:7-13 |
| The Law of Christian Conscience | F. W. Robertson, M. A. | 1 Corinthians 8:7-13 |
| Christian Liberty | J.R. Thomson | 1 Corinthians 8:8, 9 |
| Our Dealings with Weak Brethren | R. Tuck | 1 Corinthians 8:9 |
| The Brother's Claim | J.R. Thomson | 1 Corinthians 8:11 |
| Abstaining for the Good of Others | C. H. Spurgeon. | 1 Corinthians 8:11-13 |
| Christian Consideration for Others | J. B. Gough. | 1 Corinthians 8:11-13 |
| Dissuasives Against an Undue Use of Christian Liberty | J. Lyth, D. D. | 1 Corinthians 8:11-13 |
| Personal Sacrifice Is | J. Lyth, D. D. | 1 Corinthians 8:11-13 |
| Sin Against Christ | Prof. J. R. Thomson. | 1 Corinthians 8:11-13 |
| Suffering, the Measure of Worth | H. W. Beecher. | 1 Corinthians 8:11-13 |
| The Great Argument for Abstinence | W. E. Hurndall, M. A. | 1 Corinthians 8:11-13 |
| Wounding a Weak Conscience | R. South, D. D. | 1 Corinthians 8:11-13 |
| Sin Against Christ | J.R. Thomson | 1 Corinthians 8:12 |
| The Great Argument for Abstinence | E. Hurndall | 1 Corinthians 8:13 |
| The Law of Christian Self Restraint | R. Tuck | 1 Corinthians 8:13 |
Book