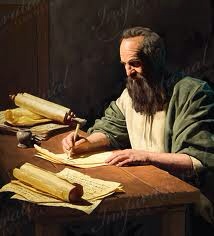 Click chart to enlarge
Chart from recommended resource Jensen's Survey of the NT - used by permission
Romans Overview Chart - Charles Swindoll

Source: Dr David Cooper
Click to Enlarge
ROMANS ROAD
to RIGHTEOUSNESS
Romans 1:18-3:20
Romans 3:21-5:21
Romans 6:1-8:39
Romans 9:1-11:36
Romans 12:1-16:27
SIN
SALVATION
SANCTIFICATION
SOVEREIGNTY
SERVICE
NEED
FOR
SALVATION
WAY
OF
SALVATION
LIFE
OF
SALVATION
SCOPE
OF
SALVATION
SERVICE
OF
SALVATION
God's Holiness
In
Condemning
Sin
God's Grace
In
Justifying
Sinners
God's Power
In
Sanctifying
Believers
God's Sovereignty
In
Saving
Jew and Gentile
Gods Glory
The
Object of
Service
Deadliness
of Sin
Design
of Grace
Demonstration of Salvation
Power Given
Promises Fulfilled
Paths Pursued
Righteousness
Needed
Righteousness
Credited
Righteousness
Demonstrated
Righteousness
Restored to Israel
Righteousness
Applied
God's Righteousness
IN LAW
God's Righteousness
IMPUTED
God's Righteousness
OBEYED
God's Righteousness
IN ELECTION
God's Righteousness
DISPLAYED
Slaves to Sin
Slaves to God
Slaves Serving God
Doctrine
Duty
Life by Faith
Service by Faith

Modified from Irving L. Jensen's chart above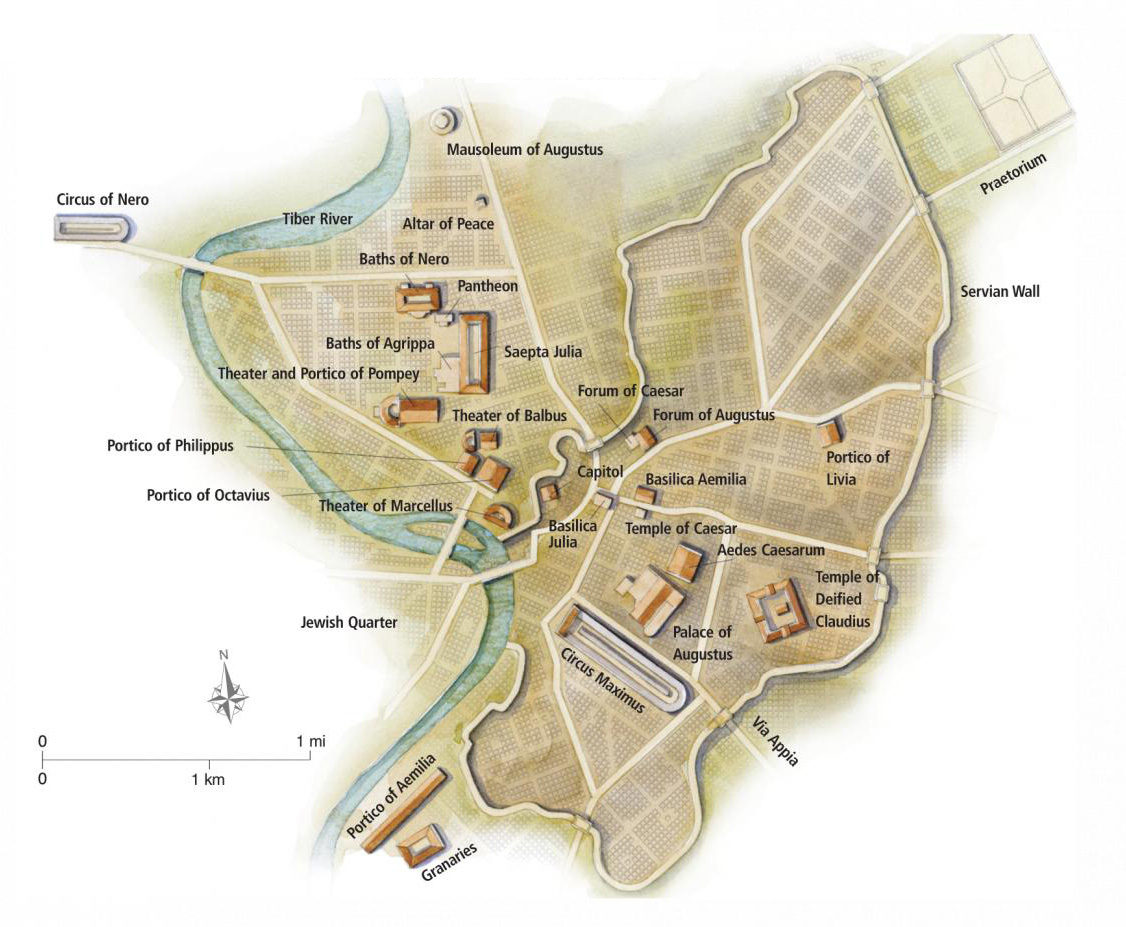 Rome in the Time of Paul (c. A.D. 60)
The city plan below shows most of the features of the city of Rome that archaeologists have so far identified as dating from the time of Paul. Sections of the city would have been very impressive in his time, but most of the outstanding buildings visible in Rome today date to after his death. (ESV.org)
Read Alford's fascinating brief biography and Phil Johnson's related comments
James Rosscup writes that "This was the great work in the life of the versatile Dean of Canterbury. An outcome of this production was the New Testament for English Readers (4 vols.). Alford was a Calvinist, conservative and premillennial, though not dispensational. He takes a literal interpretation of the thousand years in Rev. 20 and has a famous quote there, is strong on sovereign election as in Ro 8:29, 30 and 1Pe 1:2, but, unfortunately, holds to baptismal regeneration in such texts as Titus 3:5 and John 3:5. He shows a great knowledge of the Greek text and faces problems of both a doctrinal and textual nature." (Commentaries for Biblical Expositors: An Annotated Bibliography of Selected Works)
Charles Haddon Spurgeon (see his comments in following entry on Alford).
Editorial Note: If you are not proficient in Greek, you will find this work considerably more useful than the following work by Alford, because in this volume he translates the Greek and Latin into English. While the "The Greek New Testament" is longer (e.g., English version of 1John = 66 pages compared to Greek version = 94 pages in part because the latter includes comments of more technical nature), the substance of the commentary is otherwise similar to that found in the "NT for English Readers".
---
James Rosscup writes that Alford's series on the New Testament "contains much that is valuable in the Greek New Testament...though all of the Greek New Testament words have been changed to English throughout." (Commentaries for Biblical Expositors: An Annotated Bibliography of Selected Works)
John Piper writes ""When I'm stumped with a...grammatical or syntactical or logical [question] in Paul, I go to Henry Alford. Henry Alford...comes closer more consistently than any other human commentator to asking my kinds of questions."
Charles Haddon Spurgeon writes that this text "is an invaluable aid to the critical study of the text of the New Testament. You will find in it the ripened results of a matured scholarship, the harvesting of a judgment, generally highly impartial, always worthy of respect, which has gleaned from the most important fields of Biblical research, both modern and ancient, at home and abroad. You will not look here for any spirituality of thought or tenderness of feeling; you will find the learned Dean does not forget to do full justice to his own views, and is quite able to express himself vigorously against his opponents; but for what it professes to be, it is an exceedingly able and successful work. The later issues are by far the most desirable, as the author has considerably revised the work in the fourth edition. What I have said of his Greek Testament applies equally to Alford's New Testament for English Readers,* which is also a standard work." (Spurgeon, C. H. Lectures to my Students, Vol. 4: Commenting and Commentaries; Lectures Addressed to the students of the Pastors' College, Metropolitan Tabernacle)
---
D Edmond Hiebert - Prints the author's own translation. A series of popular studies whose strong point is word study. Contains good illustrative material. Part of the author's interpretation follows a liberal position. Barclay holds that Christ's descent into Hades gave those who there heard Him a second chance.
Comment: I appreciate Barclay's unique insights on Greek words, but clearly his teaching about a "second chance" is NOT sound doctrine! Be an Acts 17:11 Berean with Barclay. See discussion of his orthodoxy especially the article "The Enigmatic William Barclay".
Rosscup: Calvin sees the theme of Romans as righteousness for men by God's mercy in Christ, offered in the gospel and received by faith (p. 5). He takes six pages to survey the epistle chapter by chapter, then begins verse by verse comments, without giving an outline. He has many perceptive discussions that are deeply enriching. He takes Romans 2:7 as the life pattern of the truly saved through grace; Romans 3:28 as meaning justification by faith without any merit by works but James 2 as speaking of works out of faith that prove the reality of justification practically; Romans 7:14ff. as depicting a regenerate person, etc. As a clear, engrossing commentary that explains most points with a keen grasp of how things relate, this is one of the finer, old evangelical works from a theological standpoint.
This notable work was conceived and carried out by that genius among editors, Sir William Robertson Nicoll, C.H., D.D., LL.D. He had an exceptional knowledge of religious and literary, of theological and philosophical, thought. He understood what were the most urgent needs of the church as to spiritual enlightenment, for the better exercise of the Church's mission in advancing the Kingdom of Christ to earth's remotest bounds.—Oscar L. Joseph, Litt. D.
If you can locate the six-volume edition of the Expositor's Bible, buy it immediately! It takes up less space than the original fifty-volume set, and not everything in the original set is worth owning. Samuel H. Kellogg on Leviticus is a classic; so is Alexander Maclaren on the Psalms and on Colossians.—Warren W. Wiersbe, A Basic Library for Bible Students
This set, originally published in 1903, contains expositions by both conservative and liberal theologians. The most important works are by Dod (Genesis), Chadwick (Exodus and Mark), Kellogg (Leviticus), Blaikie (Joshua, I and II Samuel), Adeney (Ezra, Nehemiah and Esther), Maclaren (Psalms), Moule (Romans), Findlay (Galatians and Ephesians), Plummer (Pastoral Epistles and the Epistles of James and Jude), and Milligan (Revelation.)—Cyril J. Barber, The Minister's Library
---
If you are confused about God's plan for Israel, then this series is for you (click). Each link will in turn give you several choices including an Mp3 message and brief transcript notes. The Mp3's are long (avg 70+ min) but are in depth and thoroughly Scriptural with many quotations from the Old Testament, which is often much less well understood than the NT by most Evangelicals. Garland takes a literal approach to Scripture, and his love for the Jews and passion to see them saved comes through very clearly on these 12 hours of teaching! Take your home Bible Study group through this series if you dare. Take notes on the tapes as the transcripts are a very abbreviated version of the audio messages. This course is highly recommended for all who love Israel! I think you will agree that Tony Garland, despite coming to faith after age 30 as an engineer, clearly has been given a special anointing by God to promulgate the truth concerning Israel and God's future plan for the Jews. He has also produced more than 20 hours of superb audio teaching in his verse by verse commentary on the Revelation (in depth transcripts also available) which will unravel (in a way you did not think was possible considering the divergent interpretations) God's final message of the triumph and return of the our Lord Jesus Christ as the King of kings and Lord of lords! Maranatha!
---
Related Resources:
Rosscup: This famous work was translated from the French in 1864, and has gone through several printings in English. Godet, also known for other fine commentaries as on Luke (2 volumes), gives good detail on what verses mean, providing much that evangelicals easily identify with. Of course such an older work cannot be up on current studies as newer works can be.
God's Open Secret of Liberty from the Guilt, Reign, and Fruit of Sin. Easy to Read and Understand Practical Comments on Romans 5-8, the heart of the Christian life!
Rosscup: This is a much-respected 746-pp. work (668 pp. through Romans 16:27, then several appendices on subjects relating to Romans. Though hampered by lack of any outline to relate things, the work has much gold if one has time and is willing to read voluminously to dig out the many nuggets. Whether or not one agrees with Haldane on a verse, his awareness of (or reviews of) many aspects of truth brought together is bound to prosper. Unlike most English expositors of which he is aware, Haldane sees 2:7 as hypothetical, law and not gospel. We may sample other verses: 5:14, "even over them," infants who did not personally sin but sinned in Adam's act as the representative head of the race; 7:14ff. refers to Paul even as a mature believer representative of all Christians (cf. p. 297); 8:5, 13 contrast the unsaved and the saved; God finally works all things absolutely to the good of His children, 8:28; the section in 8:28–39 has much to help a believer grow in assurance of God's preserving grace; in 9:22, vessels of wrath are "fitted for destruction" by their sins, whereas vessels of glory are fitted by God; 11:26 speaks of literal and spiritually saved Israel, as distinct from Gentiles, being joined to Christ, along with saved Gentiles. Israel will be restored to its own land (p. 556). This is one of the greatest of the older commentaries, almost always offering solid help and much to stimulate the heart.
---
716 pages, Originally published 1835
Rosscup: This (is an) 1864 work by Hodge, who lectured at Princeton Theological Seminary for many years. He deals with the epistle verse-by-verse with good theological perspective and use of the Greek. It is a good, solid evangelical commentary helpful to a teacher, preacher, or layman on the problems because it delves into them with a zest.
Spurgeon: Hodge's method and matter make him doubly useful in commenting. He is singularly clear, and a great promoter of thought.
Storms: Hodge is representative of the old Princetonian school of Reformed theologians. Hodge is more a theologian than an exegete, but will still interact with the text. Although it is over 100 years old, Hodge's work is worth consulting when studying some of the sticky theological issues in Romans. 
Transcripts from his AM Bible Study which is streamed live
James Rosscup on the book version of these sermons - An outstanding preacher of Westminster Chapel, London, gave this series of sermons on Friday evenings. He covered Romans 1:1–14:17 during the period October, 1955 to March, 1968. He begins here at Romans 3:20 because he wants to start the published volumes at what he calls the "heart" of Romans. The content is very perceptive of how the great doctrines relate to life as he reasons things out in a readable way, talking directly to people (for these are edited sermons left pretty much as he delivered them). The material has much gold, but the detail will probably leave its impact primarily on preachers doing an extended series and scheduling the great blocks of time to read the section on the verses they plan to cover in a given sermon. The studies are bound to leave their impact on the reader, broadening, deepening, enriching. Lloyd-Jones sometimes devotes entire sermons (chapters) to other passages related to a Romans text, e.g. on Romans 8:17–39 he gives five chapters on problem passages such as 2 Peter 2:1, Matthew 25:1–13 (danger of false profession) and Hebrews 6:4–8; 10:26–29. He argues that Romans 7:14–25 refers to pre-salvation experience. (Commentaries for Biblical Expositors: An Annotated Bibliography of Selected Works) 
---
Sermons below are Transcripts
Click here to Access the Following Mp3 Messages
Romans 3:1-2 Stewards of the Mysteries
Romans 3:3 The Faith of God Without Effect?
Romans 3:9-20 There is None Righteous
Romans 3:10-12 Man Under Sin
Romans 3:18-20 The Fear of the Lord
Romans 3:20 Justification Explained
Romans 3:21-31 The Turning Point: But Now
Romans 3:21-31 More than Forgiveness
Romans 3:24 By Free Grace Alone
Romans 3:25 Propitiation
DAVID REAGAN
Romans Road to Salvation -

Have you entered through the narrow gate and walked down this narrow road entering into eternal life?

 cf Acts 4:12, Jn 14:6. Read the sobering words of Jesus in Matthew 7:13-14+ and compare them with His warning in Mt 7:21-23+ and Mt 7:24-27+. God grant you grace to build your house on the Rock, Christ Jesus. Amen
This is an Interesting Resource - 
LOWELL JOHNSON SERMONS ON ROMANS - Click here for all sermons listed below on one page
    1. To Rome With Love                                                                   Romans  1: 1 - 7      
    2. A Heart-to-Heart Ministry                                                           Romans  1: 8-15 
    3. A Gospel Worth Sharing                                                            Romans  1:16-17  
    4. God's Wrath Against Sin                                                            Romans  1:18-23
    5. The Results of Man's Rebellion                                                 Romans  1:24-32 
    6. God's Impartial Judgment                                                          Romans  2: 1-16       
    7. Who Is A Jew?                                                                           Romans  2:17-29  
    8. Take Advantage of Your Advantages                                         Romans  3: 1-8 
    9. The Man in My Mirror                                                                Romans  3: 9-20  
    10. How Can A Man Be Right With God                                       Romans   3:21-31  
    11. Salvation:  Received Through Trusting: Not Trying                 Romans  4: 1-8  
    12. Abraham and Circumcision                                                     Romans  4: 9-12
    13. Look What We Have In Jesus                                                 Romans  5: 1-5  
    14. All That, Just For Us                                                                Romans  5: 6-11  
    15. How Paradise Was Lost                                                          Romans  5:12-14 
    16. How Paradise Was Regained                                                 Romans  5:15-21   
    17. Free At Last                                                                            Romans  6: 1-7  
    18. How to Walk in Victory in the Christian Life                            Romans  6: 8-14    
    19. Now That I'm Saved, Does It Matter How I Live?                   Romans  6:15-23     
    20. Free From the Law                                                                 Romans  7: 1-6 
    21. Whatever Became of Sin                                                       Romans  7: 7-13  
    22. The Struggle                                                                          Romans   7:14-25 
    23. The Deliverance of the Spirit Life                                           Romans  8: 1- 4   
    24. Life in The Spirit                                                                     Romans   8:5-13  
    25. The Delight of The Spirit Life                                                  Romans  8:14-17      
    26. Suffering and Glory                                                                Romans  8:18-27    
    27. The Spirit of Intercession                                                       Romans  8:26-27  
    28. God's Great Promise to the Saint                                          Romans  8:28-30  
    29. The Golden Chain of our Salvation                                       Romans  8:29-30 
    30. Absolute Security                                                                  Romans  8:31-39  
    31. Paul's Burden For the Last Jews                                          Romans  9: 1-5 
    32. God Is Sovereign And Fair!                                                   Romans  9: 6-18 
    33. Straight Talk About Election                                                  Romans  9:19-29  
    34. Stumbling Stone or Cornerstone                                          Romans 10: 1-4  
    35. Why Good People Won't Go to Heaven                               Romans  10:4-13
    36. God's Simple Plan of Salvation                                            Romans 10: 5-13
    37. Israel's Final Future                                                              Romans 11: 1-36 
    38. God's Altar Call                                                                    Romans 12: 1  
    39. Living A Transformed Life                                                    Romans 12:2      
    40. The Agape Factor:  Loving the Brethren by Grace              Romans 12: 9-21 
    41. The Christian and Government                                            Romans 13: 1-7         
    42.    God's Medicine For a Sick World                                      Romans 13: 8-10 
    43. It's Time to Wake Up!                                                           Romans 13:11-14
    44. The Danger of a Judgmental Spirit                                      Romans 14: 1-12 
    45. Love Is Better Than Liberty                                                  Romans 14:13-23 
    46. The Beauty of Unity                                                              Romans 15: 1-7  
    47. God's Multicultural Church                                                   Romans 15: 7-13 
    48. Paul's Ministry in Capsule                                                    Romans 15:14-29 
    49. Paul's Prayer Request                                                         Romans 15:30-33
    50. Friends Along Paul's Journey                                              Romans 16:1-16,
    51. How To Handle Troublemakers in the Church                     Romans 16:17-20   
TIM KELLER
JOHN PAUL MILLER - Calvary Chapel
DOUGLAS MOO
| | | | |
| --- | --- | --- | --- |
| Your Body, The Body, and Everyone Else | Romans  | Service to Christ; God's Love; Submission to God | Terry Trivette |
| Confessions of the Apostle Paul | Romans  1 :14-17 | Paul, Confessions of; Faith; Salvation; Believe | J. Robert White |
| Redemption, So Great and Free | Romans  3 :21-24 | Salvation; Grace; Redemption | Johnny Hunt |
| Living on Credit | Romans  4 | Redemption; Salvation; Faith; Rigtheousness | J. Mike Minnix |
| Three Theories of Justification | Romans  5 :1 | Justification | Johnny L. Sanders |
| Where Are We Now? | Romans  5 :1-11 | Reconclied to God; Christ, We are In; Grace, Living in | Terry Trivette |
| Much More | Romans  5 :1-21 | Blessings, Christian; Christian, The Blessings in Being a; Assurance | Franklin L. Kirksey |
| Grace Greater Than Our Sin | Romans  5 :13-21 | Grace; Salvation; Sin, Forgiveness of | William R. Shively |
| God Helps Those Who Can't Help Themselves | Romans  5 :6-8 | Salvation; God, Power of; Grace | Terry Trivette |
| Get Relief | Romans  6 :11-14 | Responsibility | Larry Wynn |
| Dominion | Romans  6 :11-14 | Sin, Power over; Victory; Christian Living; Sexual Victory | Johnny Hunt |
| Four Things The Old Time Preachers Believed | Romans  6 :23 | Sin; Judgment; Salvation | J. Gerald Harris |
| Some Things Christians Don't Have | Romans  8 | Funeral; Death | J. Mike Minnix |
| My Lord Knows The Way | Romans  8 :14 | Leadership of God; God's Will | Franklin L. Kirksey |
| The Heir | Romans  8 :16-17 | Heirs of God; Saved, Blessings of being | J. Mike Minnix |
| Joint Heirs With Jesus | Romans  8 :17 | Christ, Heirs with; Blessings in Christ | Preston A. Taylor |
| Environmental Evangelism | Romans  8 :19-23 | Environment and Salvation; Earth and Evangelism | Terry Trivette |
| Groans for Glory | Romans  8 :22 | Problems; Hardships; Promises of God; Peace; Eternity; Heaven | Alan Stewart |
| Claiming Romans 8:28 | Romans  8 :28 | Faith | Paul E. Brown |
| More Than Conquerors | Romans  8 :29-39 | Victory; Security, Eternal; Peace | W.A. Criswell |
| The Christian's Security System | Romans  8 :31-39 | Salvation; Faith; Blessed Assurance; Eternal Security | Charles Q. Carter |
| I Am Telling The Truth | Romans  9 :1-3 | Burden for Souls; Love for Sinners; Soul Winning; Witnessing | Johnny Hunt |
| Stumbling Block of Building Stone | Romans  9 :30-33 | Cross; Jesus, The Solid Rock | Jerry N. Watts |
| Under The Cross | Romans  10 | Cross; Salvation; Christian Living; Paul, The Apostle | Johnny L. Sanders |
| Grafted into God's Family | Romans  11 :16-32 | God, Family of; Body of Christ; Grafted; Church | Jerry N. Watts |
| The Divine Mandate | Romans  12 | Vision; Mandate, Divine; Purpose, Church; Ministry | J. Gerald Harris |
| The Surrendered Life | Romans  12 :1-2 | Life, Surrendered; Devotion; Commitment; Christian Living | Jackie Kay |
| Knowing God's Will For The New Year | Romans  12 :1-2 | God's Will; Will of God | Jackie Kay |
| Cardio - Transformed Hearts, Renewed Minds, Aligned Lives | Romans  12 :2 | Renewal; Mind, Renewed; Heart, Transformed | Johnny Hunt |
| Discerning God's Will | Romans  12 :2 | Will of God; God's Will | Alan Stewart |
| Motivational Gifts: Prophecy | Romans  12 :6 | Spiritual Gifts; Prophecy, The Gift of | Johnny Hunt |
| Motivational Gifts: Mercy | Romans  12 :6-8 | Mercy, Spiritual Gift of | Johnny Hunt |
| Wake Up! | Romans  13 :11-14 | Motivation; Faithful Service; Christian Living | J. Mike Minnix |
| Pajama Wearing Christians! | Romans  13 :11-14 | Christian Living | Vince Hefner |
| Every Knee Shall Bow | Romans  14 :1-12 | Lordship; Jesus is Lord; Judgment | Jim Mastin |
| The Lordship of Jesus Christ | Romans  14 :8-9 | Lordship; Jesus, Lordship of | Roger D. Willmore |
| Not Just Your Personal Savior | Romans  15 :1-13 | Others, Love for; Fellowship | Terry Trivette |
| E Pluribus Unum | Romans  15 :1-7 | Unity; Church; Fellowship; Oneness in Christ | Terry Trivette |
| Paul's Pillar People | Romans  16 :1-27 | Church Life; People, Problem; People, Helpful; Christian Living | Mark Adams |
| Lifting the Veil on Good and Evil | Romans  16 :19 | Divine Wisdom; discernment | Franklin L. Kirksey |
MATT POSTIFF - Sermons
ROB SALVATO - SPECIAL STUDY - TRANSFORMED SERIES - over 140 pages of notes!
RAYMOND SAXE - Sermons
CHUCK SMITH - Sermon Notes
Chapter 1
Chapter 2
Chapter 3
Chapter 4
Chapter 5
Chapter 6
Chapter 7
Chapter 8
Chapter 9
Chapter 10
Chapter 11
Chapter 12
Chapter 13
Chapter 14
Chapter 15
Chapter 16
Romans 1
Romans 2
Romans 3
Romans 4
Romans 5
Romans 6
Romans 7
Romans 8
Romans 9
Romans 10
Romans 11
Romans 12
Romans 13
Romans 14
Romans 15
Romans 16
DAVID THOMPSON - Sermons
JAMES WILSON
Spurgeon: In his own way this author is one of the most instructive of American writers; he is clear and definite, and leaves his meaning impressed upon the mind. His scholarship is respectable.....we have read him with pleasure....Always repays for consulting.
Bibliotheca Sacra - Dr. Cowles writes with perspicuity, precision, and conciseness—three invaluable excellencIes of style for a commentary.
Or by chapter:
Charles Ellicott is the editor and only authored the commentary on Numbers. For a list of authors of each of the 66 books click here.
Rosscup: A popular series of radio expositions by a dynamic former pastor of The Church of the Open Door (Los Angeles) and key figure in the success of the Bible Institute of Los Angeles, now developed into Biola University, one of the leading Christian liberal arts institutions in the world. His wife, Carol Talbot, has written his colorful life in For This I Was Born. The work on Romans is basic exposition alive with frequent potent illustrations drawn mostly from Talbot's ministry. The material is an example of how one very effective channel of God's gospel communicated it, and has much that is helpful for personal reading by laymen and ministers alike. Many aspects will prime a preacher or Bible study leader. Many, however, will not agree with Talbot that Romans 7:14–24 refers to the defeated Christian life, but will hold that even the mature Christian life will experience in some degree daily the down pull of sin and yet the uplift of the Spirit described in chapter 8.
Rosscup: This (book) is excellent in looking in tremendous detail at 8:28 to see if all things do work together for good to those who love God, who are called according to His purpose, and in what senses they do. There is much solid and rich food for thought and much to make one think through. If a preacher or teacher is preparing to speak on Romans 8:28 this is a good book to expand his thinking on various facets of the matter.
Hint: NETBible (with choice of several other versions such as ESV, NAS, HCSB in right panel) scrolls in synch with NETBible notes in the right panel and Constable's Expository Notes.
James Rosscup - Dr. Chafer, president of Dallas Theological Seminary until 1952, used to say that Newell knew more about the book of Romans than any other man he knew. Newell has written here a detailed English commentary which is very helpful to laymen and easy to read.
---
Emphasis on Greek Word Study
The Epistle to the Romans Commentary - The International Critical Commentary Series 1896
James Rosscup -  Because of its thoroughness in matters of the Greek text, some have regarded this as the best of the older Greek works on Romans. It is good, but not as lucid and normally workable as commentaries by Bruce, Cranfield, Gifford, Murray, and Schreiner. These other works do not go into the minutia as Sanday and Headlam, but get to the point much better. However, the ICC work should be obtained by the serious student who can use his Greek. Cranfield's new ICC work on Romans is better overall, as is Moo.
Sam Storms: . For many years the standard work on the Greek text, it has been replaced in the ICC series by Cranfield. Still worthy of study.
---
NOTE: If you are not familiar with the great saint Charles Simeon see Dr John Piper's discussion of Simeon's life - you will want to read Simeon's sermons after meeting him! -  click Brothers We Must Not Mind a Little Suffering (Mp3 even better)
Collected and collated from All His Expositions
Emphasis on Greek Word Study
Book