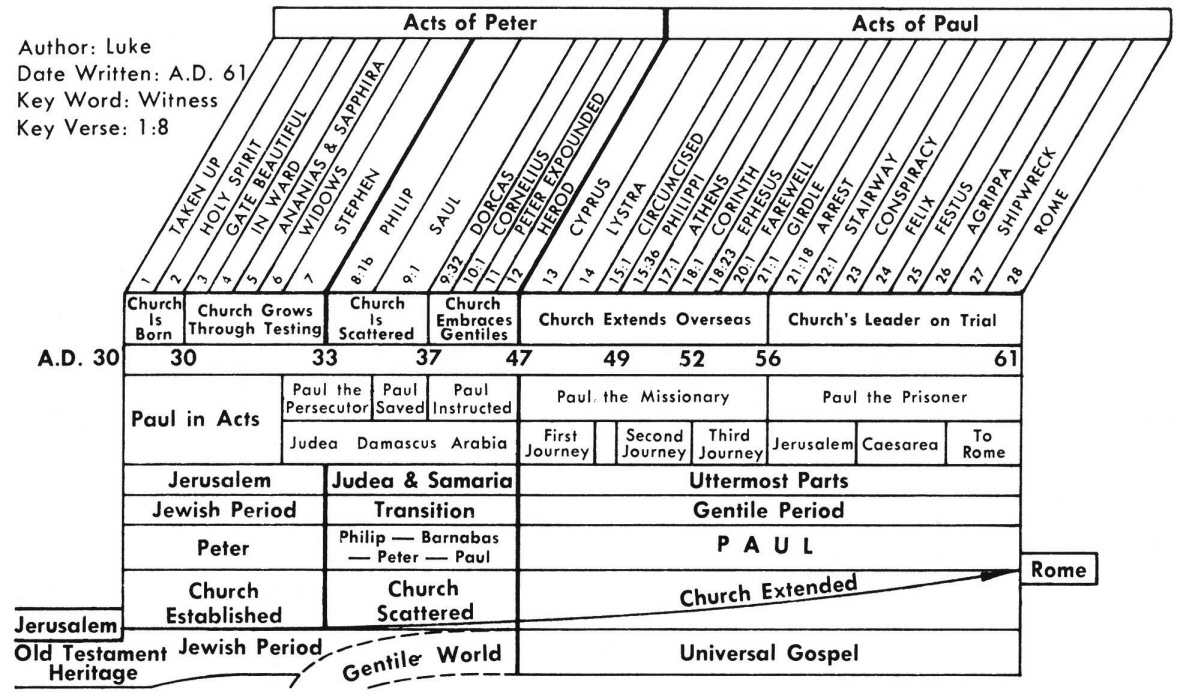 Click chart to enlarge
Chart from Jensen's Survey of the NT - used by permission
THE EXPANDING WITNESS OF THE SPIRIT-EMPOWERED CHURCH

Click chart to enlarge
Considering the fact that Acts 13 is such a strategic chapter in regard to world evangelism, take a moment and study Irving Jensen's chart at top of the page (click it to enlarge it which is what I have to do at age 72!). Notice the bold vertical line (|) at the end of Acts 12 and beginning of Acts 13 which Jensen estimates to be about year 47 (it could be a short time prior). Note the horizontal description of "Church" - Church Established in the first 13 years from Acts 1 through Acts 7, then the Church Scattered between Acts 8 through Acts 12, which occurred over a period of about 14 years (and remember all dates and times are at best approximations because Luke gives only a few events that allow us to give specific dates, such as the death of Herod in A D 44 in Acts 12:23) and lastly, beginning in Acts 13 (and until the end of this age), the Church Extended, this extension being the primarily the fruit of Paul's Three Missionary Journeys which"upset the world!" (Acts 17:6) Now, you have a good grasp of the chronological context of Acts 13. And as they say in the restaurant when your delicious meal is served "Enjoy!" The three missionary journeys are summarized below (this note will be repeated in subsequent chapters). Click links for the maps of each journey.
Here is a map with all three journeys on one map.
ESV Maps - First, Second, Third, Paul to Rome
FIRST
SECOND
THIRD

Antioch Acts 13:1-3
Seleucia Acts 13:4
Salamis on Cyprus Acts 13:5
Paphos on Cyprus Acts 13:6-12
Perga in Pamphylia Acts 13:13
Pisidian Antioch Acts 13:14-50
Iconium Acts 13:51
Lystra Acts 14:6-20
Derbe Acts 14:20
Lystra Acts 14:21
Iconium Acts 14:21
Pisidian Antioch Acts 14:21
Pamphylia Acts 14:24
Perga Acts 14:25
Attalia Acts 14:25
Antioch Acts 14:26

Antioch Acts 15:36-40
Syria Acts 15:41
Cilicia Acts 15:41
Derbe Acts 16:1
Lystra Acts 16:1-5
Phrygia/Galatia Acts 16:6
Mysia Acts 16:7
Troas Acts 16:8-10
Samothrace Acts 16:11
Neapolis Acts 16:11
Philippi Acts 16:12
Amphipolis Acts 17:1
Apollonia Acts 17:1
Thessalonica Acts 17:1-9
Berea Acts 17:10-14
Athens Acts 17:15-34
Corinth Acts 18:1-17
Cenchrea Acts 18:18
Ephesus Acts 18:19
Caesarea Acts 18:22
Jerusalem Acts 18:22
Antioch Acts 18:22

Antioch Acts 18:23
Phrygia/Galatia Acts 18:23-28
Ephesus Acts 19:1-41
Macedonia Acts 20:1
Greece Acts 20:2
Macedonia Acts 20:3-5
Philippi Acts 20:6
Troas Acts 20:6-12
Assos Acts 20:13
Mitylene Acts 20:14
Samos Acts 20:15
Miletus Acts 20:15-38
Cos Acts 21:1
Rhodes Acts 21:1
Patara Acts 21:1
Tyre Acts 21:3-6
Ptolemais Acts 21:7
Caesarea Acts 21:8-14
Charles Swindoll points out that "When we study the journeys of Paul in the book of Acts, we're not just reading the travel log of a man; we're observing the redemptive plan of God unfolding as He promised. Through the ministry of Saul of Tarsus, God's mission to reclaim His creation from the death grip of evil would move to its next stage. The plan of this mission was outlined in the Lord's promise at His ascension, where He said,
"You will receive power when the Holy Spirit has come upon you; and you shall be My witnesses...

In Jerusalem [Stage 1: Acts 2–7],
and in all Judea and Samaria [Stage 2: Acts 8–12],
and even to the remotest part of the earth [Stage 3: Acts 13–‍28]." (Acts 1:8+)
Acts 18:1 After these things he left Athens and went to Corinth.
Acts 18:2 And he found a Jew named Aquila, a native of Pontus, having recently come from Italy with his wife Priscilla, because Claudius had commanded all the Jews to leave Rome. He came to them,
Acts 18:3 and because he was of the same trade, he stayed with them and they were working, for by trade they were tent-makers.
Acts 18:4 And he was reasoning in the synagogue every Sabbath and trying to persuade Jews and Greeks.
Acts 18:5 But when Silas and Timothy came down from Macedonia, Paul began devoting himself completely to the word, solemnly testifying to the Jews that Jesus was the Christ
Acts 18:6 But when they resisted and blasphemed, he shook out his garments and said to them, "Your blood be on your own heads! I am clean. From now on I will go to the Gentiles.
Acts 18:7 Then he left there and went to the house of a man named Titius Justus, a worshiper of God, whose house was next to the synagogue
Acts 18:8 Crispus, the leader of the synagogue, believed in the Lord with all his household, and many of the Corinthians when they heard were believing and being baptized
Acts 18:9 And the Lord said to Paul in the night by a vision, "Do not be afraid any longer, but go on speaking and do not be silent
Acts 18:10 for I am with you, and no man will attack you in order to harm you, for I have many people in this city.
Acts 18:11 And he settled there a year and six months, teaching the word of God among them
Acts 18:12 But while Gallio was proconsul of Achaia, the Jews with one accord rose up against Paul and brought him before the judgment seat
Acts 18:13 saying, "This man persuades men to worship God contrary to the law.
Acts 18:14 But when Paul was about to open his mouth, Gallio said to the Jews, "If it were a matter of wrong or of vicious crime, O Jews, it would be reasonable for me to put up with you
Acts 18:15 but if there are questions about words and names and your own law, look after it yourselves; I am unwilling to be a judge of these matters.
Acts 18:16 And he drove them away from the judgment seat
Acts 18:17 And they all took hold of Sosthenes, the leader of the synagogue, and began beating him in front of the judgment seat. But Gallio was not concerned about any of these things
Acts 18:18 Paul, having remained many days longer, took leave of the brethren and put out to sea for Syria, and with him were Priscilla and Aquila. In Cenchrea he had his hair cut, for he was keeping a vow
Acts 18:19 They came to Ephesus, and he left them there. Now he himself entered the synagogue and reasoned with the Jews.
Acts 18:20 When they asked him to stay for a longer time, he did not consent,
Acts 18:21 but taking leave of them and saying, "I will return to you again if God wills," he set sail from Ephesus.
Acts 18:22 When he had landed at Caesarea, he went up and greeted the church, and went down to Antioch.
Acts 18:23 And having spent some time there, he left and passed successively through the Galatian region and Phrygia, strengthening all the disciples.
Acts 18:24 Now a Jew named Apollos, an Alexandrian by birth, an eloquent man, came to Ephesus; and he was mighty in the Scriptures.
Acts 18:25 This man had been instructed in the way of the Lord; and being fervent in spirit, he was speaking and teaching accurately the things concerning Jesus, being acquainted only with the baptism of John;
Acts 18:26 and he began to speak out boldly in the synagogue. But when Priscilla and Aquila heard him, they took him aside and explained to him the way of God more accurately.
Acts 18:27 And when he wanted to go across to Achaia, the brethren encouraged him and wrote to the disciples to welcome him; and when he had arrived, he greatly helped those who had believed through grace,
Acts 18:28 28 for he powerfully refuted the Jews in public, demonstrating by the Scriptures that Jesus was the Christ.
Book