---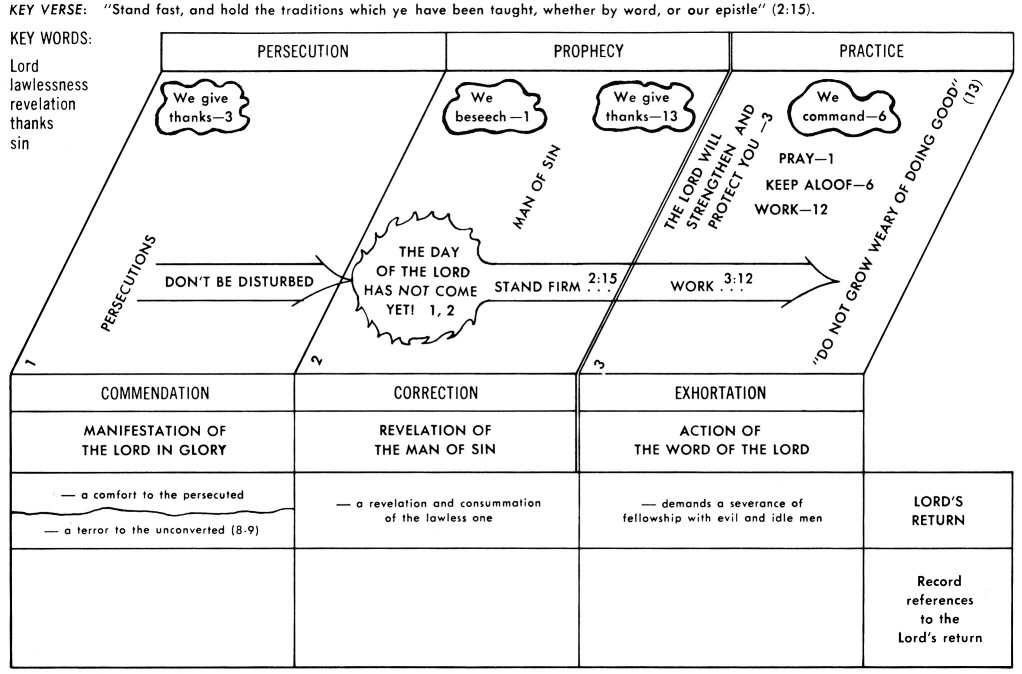 COMPARISON OF 
1 AND 2 THESSALONIANS
1 THESSALONIANS
2 THESSALONIANS

Addresses how the Thessalonians were evangelizes as they received the Word of God

Addresses how the Thessalonians are being edified, noting their progress in faith, love, and patience

The imminency and importance of the Lord's return is emphasized

Misunderstandings about the Lord's return are corrected

The saints are comforted and encouraged

The saints are assured of God's judgment on His enemies

Paul is concerned with the church and its hope of the rapture (meeting Christ in the air)

Paul is concerned with Satan, the man of sin (Antichrist) and their destruction at the revelation (return of Christ to the earth)

Contains the outstanding passage on the rapture of the saints in 4:13–18

Contains the outstanding passage concerning the day of the Lord in 2:1–12
HENRY ALFORD 2 THESSALONIANS COMMENTARY The New Testament for English Readers
HENRY ALFORD 2 THESSALONIANS COMMENTARY  The Greek Testament
PAUL APPLE 2 THESSALONIANS COMMENTARY
72 page modern commentary. Conservative. Evangelical. Literal Interpretation of 2 Th 2:1-12. Each section includes numerous quotes (including "Quotes for Reflection"), devotional thoughts and questions.
BRIAN BELL 2 THESSALONIANS SERMONS Calvary Chapel, Murrieta
WILLIAM BARCLAY 2 THESSALONIANS COMMENTARY
James Rosscup: This is a lucid and well-organized exposition of the epistles with many helpful lists on different facets of truth John can have in mind at different points as on "light" and "darkness" in I John 1:5. There is stimulating background material and warm application. (Commentaries for Biblical Expositors: An annotated bibliography of selected works).

D Edmond Hiebert - Prints the author's own translation. A series of popular studies whose strong point is word study. Contains good illustrative material. Part of the author's interpretation follows a liberal position. Barclay holds that Christ's descent into Hades gave those who there heard Him a second chance.

Comment: I appreciate Barclay's unique insights on Greek words, but clearly his teaching about a "second chance" is NOT sound doctrine! Be an Acts 17:11 Berean with Barclay. See discussion of his orthodoxy especially the article "The Enigmatic William Barclay".
ALBERT BARNES 2 THESSALONIANS COMMENTARY Notes on the New Testament
James Rosscup writes that Barnes "includes 16 volumes on the Old Testament, 11 on the New Testament. The New Testament part of this old work was first published in 1832–1851. Various authors contributed. It is evangelical and amillennial...Often the explanations of verses are very worthwhile." (Commentaries for Biblical Expositors: An Annotated Bibliography of Selected Works)

C H Spurgeon "Albert Barnes is a learned and able divine, but his productions are unequal in value, the gospels are of comparatively little worth, but his other comments are extremely useful for Sunday-school teachers and persons with a narrow range of reading, endowed with enough good sense to discriminate between good and evil....Placed by the side of the great masters, Barnes is a lesser light, but taking his work for what it is and professes to be, no minister can afford to be without it, and this is no small praise for works which were only intended for Sunday-school teachers." (Spurgeon, C. H. Lectures to my Students, Vol. 4: Commenting and Commentaries; Lectures Addressed to the students of the Pastors' College, Metropolitan Tabernacle)
JOHANN (JOHN) BENGEL 2 THESSALONIANS COMMENTARY The Critical English Testament
JOHANN A BENGEL 2 THESSALONIANS COMMENTARY Gnomon
JOSEPH BENSON 2 THESSALONIANS COMMENTARY
Spurgeon - Adopted by the Wesleyan Conference as a standard work, and characterized by that body as marked by "solid learning, soundness of theological opinion, and an edifying attention to experimental and practical religion. Necessary to Methodist Students.
BIBLICAL ILLUSTRATOR
WILLIAM BURKITT 2 THESSALONIANS COMMENTARY
Spurgeon - We liked Burkitt better when we were younger. He is, however, a homely and spiritual writer, and his work is good reading for the many. Burkitt is somewhat pithy, and for a modern rather rich and racy, but he is far from deep, and is frequently common-place. I liked him well enough till I had read abler works and grown older. Some books grow upon us as we read and re-read them, but Burkitt does not. Yet so far from depreciating the good man, I should be sorry to have missed his acquaintance, and would bespeak for him your attentive perusal.
JOHN CALVIN 2 THESSALONIANS COMMENTARY
Cyril Barber - he messages were taken down in shorthand and were later translated by a person who signed himself "L.T" Spurgeon highly esteemed these messages, and they are now available again in the same format as that which graced the homes of Puritan laypeople three hundred years ago. Their richness and relevance will amply repay the time spent mastering their contents. This is a worthy reprint, beautifully bound, and printed on fine paper. Recommended

D Edmond Hiebert - Valuable for insights into Reformation day views.
CAMBRIDGE BIBLE FOR SCHOOLS AND COLLEGES - George Findlay
CAMBRIDGE GREEK TESTAMENT
RICH CATHERS
ADAM CLARKE - AMILLENNIAL
STEVEN COLE 2 THESSALONIANS SERMONS Well done. Millennial.
THOMAS CONSTABLE 2 THESSALONIANS COMMENTARY
James Rosscup - A diligently prepared brief work by an evangelical, who explains profitably verse by verse and comments well on many of the difficult passages. He deals with passages about the rapture and "Day of the Lord" (I Thessalonians 4–5; II Thessalonians 2) in a premillennial, dispensational way. A similar but more detailed effort of this nature is in the commentary by Robert L. Thomas. Constable is quite helpful in giving views, for example in regard to problems in II Thessalonians 2:1–12. He takes the restrainer to be the Holy Spirit.
W A CRISWELL 2 THESSALONIANS SERMONS
RON DANIEL - SERMONS
J N DARBY - MILLENNIAL
BOB DEFFINBAUGH - SERMONS - Millennial. Well done.
FRANK DENNISON - AUDIO ONLY
JAMES DENNEY 2 THESSALONIANS COMMENTARY The Expositor's Bible
EASY ENGLISH
CHARLES ELLICOTT - FOR ENGLISH READERS
EXPLORE THE BIBLE 2 THESSALONIANS Teacher helps
EXPOSITOR'S BIBLE COMMENTARY 2 THESSALONIANS COMMENTARY
EXPOSITOR'S GREEK TESTAMENT 2 THESSALONIANS COMMENTARY James Moffatt
FIRST EVANGELICAL FREE CHURCH - WICHITA, KS - SERMONS
Each transcript averages about 10 pages.
JAMES FRAME 2 Thessalonians Commentary 1912
A C GAEBELEIN - MILLENNIAL
James Rosscup - This dispensationally oriented work is not verse-by-verse, but deals with the exposition on a broader scale, treating blocks of thought within the chapters. Cf. also Arno C. Gaebelein, Gaebelein's Concise Commentary on the Whole Bible (I Volume, Neptune, NJ: Loizeaux, 1985), the Annotated Bible revised. The author was a popular evangelical Bible teacher of the first part of the century, much like H. A. Ironside in his diligent but broad, practical expositions of Bible books. Gaebelein was premillennial and dispensational, and editor for many years of Our Hope Magazine.
GENE GETZ - LIFE PRINCIPLES - SHORT VIDEOS
JOHN GILL
James Rosscup - Gill (1697–1771), a pastor of England, wrote these which are two-column pages, ca. 900–1,000 pages per volume, Originally they were 9 volumes, folio. He also wrote Body of Divinity, 3 volumes, and several other volumes. His commentary is evangelical, wrestles with texts, is often wordy and not to the point but with worthy things for the patient who follow the ponderous detail and fish out slowly what his interpretation of a text is. He feels the thousand years in Revelation 20 cannot begin until after the conversion of the Jews and the bringing in of the fullness of the Gentiles and destruction of all antiChristian powers (volume 6, p. 1063) but in an amillennial sense of new heavens and new earth coming right after Christ's second advent (1064–65), and the literal thousand years of binding at the same time. He feels the group that gathers against the holy city at the end of the thousand years is the resurrected wicked dead from the four quarters of the earth (i.e. from all the earth, etc. (1067).  

Spurgeon - Beyond all controversy, Gill was one of the most able Hebraists of his day, and in other matters no mean proficient...His ultraism is discarded, but his learning is respected: the world and the church take leave to question his dogmatism, but they both bow before his erudition. Probably no man since Gill's days has at all equalled him in the matter of Rabbinical learning.

He preached in the same church as C. H. Spurgeon over one hundred years earlier. Yet most people today have never heard of John Gill. This is unfortunate, since his works contain priceless gems of information that are found nowhere except in the ancient writings of the Jews. 
GOTQUESTIONS.ORG - MILLENIAL
GRACE NOTES - MILLENNIAL
L M GRANT - MILLENNIAL
JAMES GRAY
DAVID GUZIK 2 THESSALONIANS COMMENTARY
DANNY HALL
MATTHEW HENRY
Spurgeon - A Christian man wishing for the cream of expository writers could not make a better purchase. Ministers, as a rule, should not buy condensations, but get the works themselves.

James Rosscup - This evangelical work, devotional in character, has been in constant demand for about 280 years. Its insight into human problems is great, but it often does not deal adequately with problems in the text. The one-volume form eliminates the Biblical text and is thus less bulky. It has sold very well. The late Wilbur M. Smith, internationally noted Bible teacher, seminary professor and lover of books, tabbed this "The greatest devotional commentary ever written". Henry was born in a Welch farmhouse, studied law, and became a Presbyterian minister near London. He wrote this commentary in the last 13 years before he died at 52 in 1714. The first of six volumes was published in 1708. He completed through Acts, and the rest of the New Testament was done by 14 clergymen. (Ed: Thus James are not the comments of Matthew Henry).
F B HOLE
DAVID HOLWICK 2 THESSALONIANS SERMONS
HOMILETICS
HYMNS RELATING TO 2 THESSALONIANS
H A IRONSIDE
John Cereghin - . Popular expositions. He urges the joy of soulwinning (14); stressses the enabling power of God (34); teaches unlimited redemption in Christ (55); emphasizes that only God can qualify men for the ministry (73); attacks Theosophy, Seventh Day Adventism, Christian Science (103); warns against the "social gospel" (111): holds that the Sermon on the Mount is for all believers (139); warns against evolution (155).

James Rosscup - He is staunchly evangelical, showing good broad surveys based on diligent study, practical turns, even choice illustrations. In prophecy he is premillennial dispensational....Many preachers have found that Ironside works, read along with heavier books on details of exegesis, help them see the sweep of the message and prime their spirits for practical relevance.
J HAMPTON KEATHLEY III 2 THESSALONIANS Exegetical and Devotional Commentary - millennial
JAMIESON, FAUSSET, BROWN
Rosscup - This is a helpful old set of 1863 for laypeople and pastors to have because it usually comments at least to some degree on problems. Though terse, it provides something good on almost any passage, phrase by phrase and is to some degree critical in nature. It is evangelical. There is also a 1-volume edition, briefer at some points (Grand Rapids: Zondervan, 1961). Especially in its multi-volume form this is one of the old evangelical works that offers fairly solid though brief help on many verses. Spurgeon said, "It contains so great a variety of information that if a man had no other exposition he would find himself at no great loss if he possessed this and used it diligently" (Commenting and Commentaries, p. 3). Things have changed greatly since this assessment! It is primarily of help to pastors and lay people looking for quick, though usually somewhat knowledgeable treatments on verses.

Spurgeon - A really standard work. We consult it continually, and with growing interest. Mr. Fausset's portion strikes us as being of the highest order. 

My Comment - This is one of the best older (Pre-1800) works on interpretation of prophecy as it tends to interpret the text literally and not allegorically.
JAMIESON, FAUSSET, BROWN Unabridged Version
WILLIAM KELLY - MILLENNIAL
D Edmond Hiebert - A full, vigorous interpretation with a clear Plymouth Brethren emphasis.

John Cereghin - A careful exposition by a voluminous Plymouth Brethren scholar of the 19th century.
LANGE COMMENTARIES
STEVE LEWIS 2 THESSALONIANS COMMENTARY- millennial
Audio/slides available at Table of Contents
JOHN MACARTHUR 2 THESSALONIANS SERMONS- millennial
ALEXANDER MACLAREN
DAVID MALICK
J VERNON McGEE 2 THESSALONIANS COMMENTARY Thru the Bible
F B MEYER
H A W MEYER
GEORGE MILLIGAN
Rosscup - Some regarded this in its day as the best work on the Greek text. However, it is old, and the works by Best, Bruce, Hendriksen, Hiebert, Hogg and Vine, Marshall, Morris, Thomas and Wanamaker have been more helpful to some.
G CAMPBELL MORGAN
HENRY MORRIS - DEFENDER'S STUDY BIBLE NOTES - MILLENNIAL
NET BIBLE 2 THESSALONIANS NOTES
OUR DAILY BREAD Devotional Illustrations
PASTOR LIFE
GENE PENSIERO - SERMONS - MILLENNIAL
JOHN PIPER 2 THESSALONIANS SERMONS
Note: Please be aware that Dr Piper favors a Post-Tribulation rapture (read his article… Definitions & Observations Concerning the 2nd Coming of Christ). Be a Berean!
MATTHEW POOLE
PRECEPT LECTURES 2 THESSALONIANS Kay Arthur (KA) Wayne Barber (WB)
PREACHER'S HOMILETICAL COMMENTARY
PULPIT COMMENTARY
REFORMATION STUDY BIBLE NOTES ON 2 THESSALONIANS
Amillennial
RON RITCHIE 2 THESSALONIANS SERMONS
A T ROBERTSON  -2 THESSALONIANS COMMENTARY SERMONS  - AMILLENNIAL
DON ROBINSON
JAMES ROSSCUP
ROB SALVATO 2 THESSALONIANS SERMONS Calvary Chapel Vista
JOHN SCHULTZ - 18 page commentary by former missionary to Irian Jaya, Indonesia
SERMON AUDIO - considerable quantity, variable quality
SERMON BIBLE
SERMONS BY VERSE - at bottom of page, older messages
CHARLES SIMEON 2 THESSALONIANS SERMONS
NOTE: If you are not familiar with the great saint Charles Simeon see Dr John Piper's discussion of Simeon's life - you will want to read Simeon's sermons after meeting him! - click Brothers We Must Not Mind a Little Suffering (Mp3 even better)
A B SIMPSON
CHUCK SMITH 2 THESSALONIANS COMMENTARY & SERMONS Calvary Chapel
SPEAKER'S COMMENTARY
C H SPURGEON 2 THESSALONIANS EXPOSITION
C. H. SPURGEON 2 THESSALONIANS SERMONS
RAY STEDMAN 2 THESSALONIANS SERMONS
THIRD MILLENNIUM STUDY NOTES - "IRONICALLY" AMILLENNIAL
DAVID THOMPSON 2 THESSALONIANS SERMONS Millennial. 
TODAY'S WORD 2 THESSALONIANS COMMENTARY  Grant Richison
BOB UTLEY - Amillennial
MARVIN VINCENT 2 THESSALONIANS New Testament Word Studies
Notes on original Greek text.
JOHN WALVOORD 2 THESSALONIANS COMMENTARY
| | | |
| --- | --- | --- |
| Approbation and Blessing | W. H. Griffith Thomas | 2 Thessalonians 1:1 |
| God's Judgment When Christ Returns | Martin Luther | 2 Thessalonians 1:1 |
| Sanctification | J. Wilbur Chapman | 2 Thessalonians 1:1 |
| A Growing Faith | J. H. Evans, M. A. | 2 Thessalonians 1:1-3 |
| A Lecture for Little Faith | C. H. Spurgeon. | 2 Thessalonians 1:1-3 |
| Abounding Charity | T. Manton, D. D. | 2 Thessalonians 1:1-3 |
| Christian Progress | Bp. Jewell. | 2 Thessalonians 1:1-3 |
| Constant Growth | J. Gordon. | 2 Thessalonians 1:1-3 |
| Growing Faith | A. G. Brown. | 2 Thessalonians 1:1-3 |
| The Duty of Thanksgiving |   | 2 Thessalonians 1:1-3 |
| The Matter of Thankfulness | T. Manton, D. D. | 2 Thessalonians 1:1-3 |
| The Necessity of a Growing Faith | C. H. Spurgeon. | 2 Thessalonians 1:1-3 |
| The Peace of the Believer |   | 2 Thessalonians 1:1-3 |
| The Prosperity of the Thessalonian Church | C. Simeon, M. A. | 2 Thessalonians 1:1-3 |
| The Use of the Church | H. W. Beecher. | 2 Thessalonians 1:1-3 |
| The Value of the Church | H. W. Beecher. | 2 Thessalonians 1:1-3 |
| The Introduction | B.C. Caffin | 2 Thessalonians 1:1-4 |
| Manifestation of Solemn Interest | R. Finlayson | 2 Thessalonians 1:1-12 |
| Grace and Peace | W.F. Adeney | 2 Thessalonians 1:2 |
| A Lecture for Little-Faith | Charles Haddon Spurgeon | 2 Thessalonians 1:3 |
| Growing Faith | W.F. Adeney | 2 Thessalonians 1:3 |
| Thanksgiving for the Spiritual Progress of the Thessalonians | T. Croskery | 2 Thessalonians 1:3 |
| Faith and Patience | T. Manton , D. D. | 2 Thessalonians 1:4 |
| Patient Endurance | A. H. Baynes. | 2 Thessalonians 1:4 |
| The Apostle's Interest in the Thessalonian Church | T. Croskery | 2 Thessalonians 1:4 |
| The Apostolic Commendation | T. Manton , D. D. | 2 Thessalonians 1:4 |
| The Power of Patience | Sunday at Home. | 2 Thessalonians 1:4 |
| The Purpose of Trouble | T. Manton , D. D. | 2 Thessalonians 1:4 |
| A Token of Righteous Judgment | W.F. Adeney | 2 Thessalonians 1:5 |
| Persecutions a Demonstration of the Judgment | T. Manton, D. D. | 2 Thessalonians 1:5 |
| Present Suffering and Future Glory | Zion's Herald | 2 Thessalonians 1:5 |
| The Significance of These Sufferings in Relation to Divine Judgment | T. Croskery | 2 Thessalonians 1:5 |
| Worthiness of the Kingdom of God | T. Manton , D. D. | 2 Thessalonians 1:5 |
| Rest After Suffering | H. W. Beecher. | 2 Thessalonians 1:6-7 |
| Rest At Last | T. Guthrie, D. D. | 2 Thessalonians 1:6-7 |
| Rest for the Troubled | T. Manton, D. D. | 2 Thessalonians 1:6-7 |
| Rest not for the Present | Percy Anecdotes | 2 Thessalonians 1:6-7 |
| Rest not on Earth | E. Foster. | 2 Thessalonians 1:6-7 |
| The Craving for Rest | Erasmus. | 2 Thessalonians 1:6-7 |
| The Thought of Rest |   | 2 Thessalonians 1:6-7 |
| The Two Troubles and the Troublers | C. Bradley, M. A. | 2 Thessalonians 1:6-7 |
| The Future Judgment as to its Righteousness | T. Croskery | 2 Thessalonians 1:6-10 |
| The Judgment Day | W.F. Adeney | 2 Thessalonians 1:6-10 |
| Joy and Terror in the Coming of the Lord | The Study | 2 Thessalonians 1:7-10 |
| The Coming of Christ with His Angels | T. Manton, D. D. | 2 Thessalonians 1:7-10 |
| The Great Day | B.C. Caffin | 2 Thessalonians 1:7-10 |
| Christ's Coming | T. Manton, D. D. | 2 Thessalonians 1:8 |
| Degrees of Divine Knowledge | J. Culross, D. D. | 2 Thessalonians 1:8 |
| Ignorance and Disobedience | T. Manton , D. D. | 2 Thessalonians 1:8 |
| Ignorance of God | J. Wesley. | 2 Thessalonians 1:8 |
| Loyalty and Disloyalty to the Gospel | Dr. Rees. | 2 Thessalonians 1:8 |
| Banishment from God's Presence | J. Garbett, M. A. | 2 Thessalonians 1:9 |
| Hell, a Necessary Truth | J. Christen, D. D. | 2 Thessalonians 1:9 |
| Punishment Irremediable | J. Christien, D. D. | 2 Thessalonians 1:9 |
| The Glory of His Power | C. J. P. Eyro, M. A. | 2 Thessalonians 1:9 |
| The Punishment of the Wicked |   | 2 Thessalonians 1:9 |
| The Reality of Perdition | T. De Witt Talmage. | 2 Thessalonians 1:9 |
| Christ Glorified | H. Kollock, D. D. | 2 Thessalonians 1:10 |
| Christ Glorified |   | 2 Thessalonians 1:10 |
| Christ Glorified in Glorified Men | A. Maclaren, D. D. | 2 Thessalonians 1:10 |
| Christ Glorified in His People | C. H. Spurgeon. | 2 Thessalonians 1:10 |
| Christ Glorified in His Saints | J. Vaughan, M. A. | 2 Thessalonians 1:10 |
| Christ Marvelled At |   | 2 Thessalonians 1:10 |
| Christ Reflected in His People | C. H. Spurgeon. | 2 Thessalonians 1:10 |
| Faith as a Motive Power | Prof. Tholuck. | 2 Thessalonians 1:10 |
| Jesus Admired in Them that Believe | C. H. Spurgeon. | 2 Thessalonians 1:10 |
| The Beauty of God |   | 2 Thessalonians 1:10 |
| The Day of Christ's Glory and of the Church's Joy | C. J. P. Eyre, M. A., W. Brock, D. D. | 2 Thessalonians 1:10 |
| The Final Advent | D. Thomas, D. D. | 2 Thessalonians 1:10 |
| The Glory of Christ as Exhibited in His People | J. Kay. | 2 Thessalonians 1:10 |
| The Saints' Estate of Glory At the Judgment |   | 2 Thessalonians 1:10 |
| The Second Coming | N. Lardner, D. D. | 2 Thessalonians 1:10 |
| The Testimony Believed | T. Manton, D. D. | 2 Thessalonians 1:10 |
| Faith Fulfilled | W. Sparrow. | 2 Thessalonians 1:11 |
| Salvation the Result of the Pleasure of God's Goodness and His Power | T. Manton, D. D. | 2 Thessalonians 1:11 |
| Worthiness of Divine Calling |   | 2 Thessalonians 1:11 |
| Worthy of the Christian Calling | W.F. Adeney | 2 Thessalonians 1:11 |
| Worthy of Your Calling | Alexander Maclaren | 2 Thessalonians 1:11 |
| Experimental Christianity | J. Burns, D. D. | 2 Thessalonians 1:11-12 |
| Prayer for the Thessalonians in Prospect of Their Glorification | T. Croskery | 2 Thessalonians 1:11, 12 |
| St. Paul's Prayer for the Thessalonians | B.C. Caffin | 2 Thessalonians 1:11, 12 |
| The Good Pleasure of Goodness | W. B. Pope, D. D. | 2 Thessalonians 1:11-12 |
| A Christian is the Reflex of Christ | Pastor Funcke. | 2 Thessalonians 1:12 |
| Christ Glorified in His Servants | T. Manton, D. D. | 2 Thessalonians 1:12 |
| Christ is Glorious in the Character of His Followers in That | G. Spring, D. D. | 2 Thessalonians 1:12 |
| Glorified | W.F. Adeney | 2 Thessalonians 1:12 |
Book