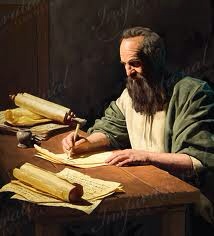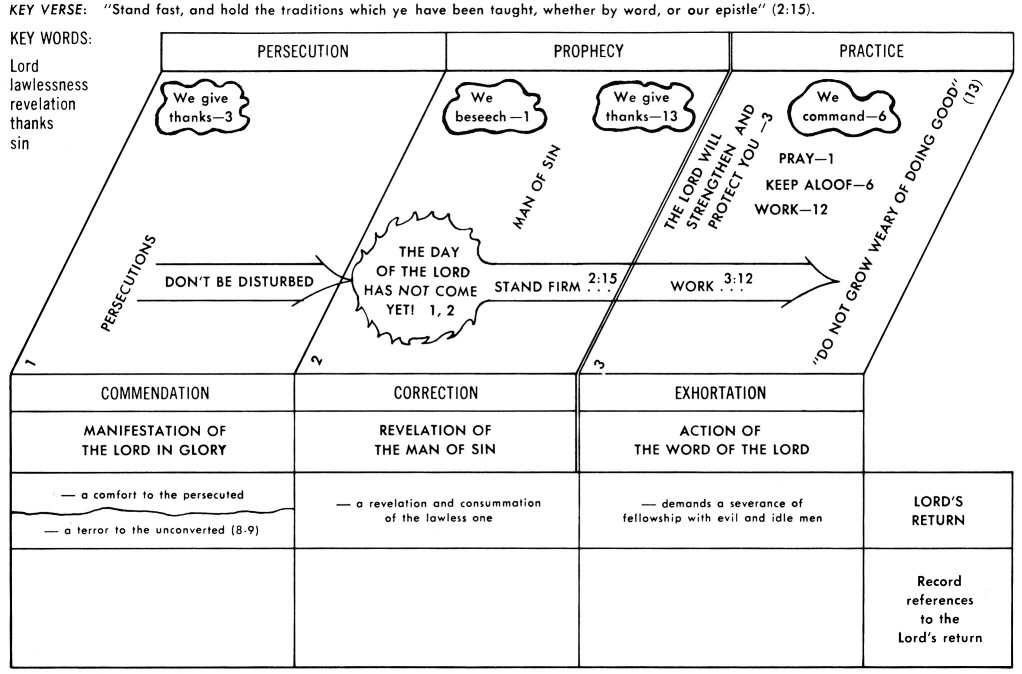 HE HAS NOT YET COME
Click chart to enlarge
Charts from Jensen's Survey of the NT - used by permission
Another Overview Chart - 2 Thessalonans - Charles Swindoll
Another Overview Chart
---
Introduction: There is considerable variation of opinion as to how the prophetic portion of this epistle (specifically 2 Thessalonians 2:1-12) should be interpreted. Therefore it is strongly advised that you perform your own Inductive Bible Study of Paul's short letter before you go to your favorite commentary or sermon. The venerable Bible expositor Dr Warren Wiersbe adds that
The purpose of Bible prophecy is not for us to make a calendar, but to build character. Paul emphasized this fact in both of his Thessalonian letters, and our Lord warned us not to set dates for His coming (Mt 24:36, 42). Date-setters are usually upsetters, and that is exactly what happened in the Thessalonican assembly.
And as brothers and sisters in Christ we must always seek to be agreeable in our disagreements, for as our Lord declared…
By this all men will know that you are My disciples, if you have love for one another. (John 13:35)
James Rosscup writes "This work (Gnomon), originally issued in 1742, has considerable comment on the Greek, flavoring the effort with judicious details about the spiritual life. It has much that helps, but has been surpassed by many other commentaries since its day." (Commentaries for Biblical Expositors: An Annotated Bibliography of Selected Works or Logos)
Charles Haddon Spurgeon -- "'A Critical New Testament, so compiled as to enable a reader, unacquainted with Greek, to ascertain the exact English force and meaning of the language of the New Testament, and to appreciate the latest results of modern criticism.' Such is the professed aim of this commentary, and the compilers have very fairly carried out their intentions. The whole of Bengel's Gnomon is bodily transferred into the work, and as one hundred and twenty years have elapsed since the first issue of that book, it may be supposed that much has since been added to the wealth of Scripture exposition; the substance of this has been incorporated in brackets, so as to bring it down to the present advanced state of knowledge. We strongly advise the purchase of this book, as it is multum in parvo, and will well repay an attentive perusal. Tischendorf and Alford have contributed largely, with other German and English critics, to make this one of the most lucid and concise commentaries on the text and teachings of the New Testament" (Spurgeon, C. H. Lectures to my Students, Vol. 4: Commenting and Commentaries; Lectures Addressed to the students of the Pastors' College, Metropolitan Tabernacle)
Charts Various Topics
Daniel
Daniel 9:24-27 Verse by Verse Commentary
Rapture
Resurrection:
Rosscup adds "This work by the late Dr. Hiebert, Professor of New Testament, Biblical Seminary, Fresno, California, takes its place among the best on Paul's two eschatological epistles. The author, taking the premillennial, pretribulational view, is not unaware of major interpretive problems, and he fairly presents different sides and then draws his conclusions. Many features make this volume valuable: background information, extensive bibliography up to its day, numerous footnotes, and a rich use of the original Greek." (Rosscup - Commentaries for Biblical Expositors)
Rosscup - "A premillennial and dispensational work, this commentary is rich in word meanings and details in the Greek" (Note: The collection includes many other commentaries including one on Isaiah).
Background and Setting - For the history of Thessalonica, see Introduction to 1 Thessalonians: Background and Setting. Some have suggested that Paul penned this letter from Ephesus (Acts 18:18–21), but his 18 month stay in Corinth provided ample time both for the Thessalonian epistles to be authored (Acts 18:11).
Apparently, Paul had stayed appraised of the happenings in Thessalonica through correspondence and/or couriers. Perhaps the bearer of the first letter brought Paul back an update on the condition of the church, which had matured and expanded (1:3); but pressure and persecution had also increased. The seeds of false doctrine concerning the Lord had been sown, and the people were behaving disorderly. So Paul wrote to his beloved flock who were: 1) discouraged by persecution and needed incentive to persevere; 2) deceived by false teachers who confused them about the Lord's return; and 3) disobedient to divine commands, particularly by refusing to work. Paul wrote to address those 3 issues by offering: 1) comfort for the persecuted believers (1:3–12); 2) correction for the falsely taught and frightened believers (2:1–15); and 3) confrontation for the disobedient and undisciplined believers (3:6–15).
I. Paul's Greeting (2 Thessalonians 1:1, 2)
II. Paul's Comfort for Affliction (2 Thessalonians 1:3–12)
A. By Way of Encouragement (2 Thessalonians 1:3, 4)

B. By Way of Exhortation (2 Thessalonians 1:5–12)
III. Paul's Correction for Prophetic Error (2 Thessalonians 2:1–17)
A. Prophetic Crisis (2 Thessalonians 2:1,2)

B. Apostolic Correction (2 Thessalonians 2:3–12)

C. Pastoral Comfort (2 Thessalonians 2:13–17)
IV. Paul's Concern for the Church
A. Regarding Prayer (2 Thessalonians 3:1–5)

B. Regarding Undisciplined Living (2 Thessalonians 3:6–15)
V. Paul's Benediction (2 Thessalonians 3:16–18)
Rosscup - Some regarded this in its day as the best work on the Greek text. However, it is old, and the works by Best, Bruce, Hendriksen, Hiebert, Hogg and Vine, Marshall, Morris, Thomas and Wanamaker have been more helpful to some.
Click arrow to advance to the next verse
Note: Please be aware that Dr Piper favors a Post-Tribulation rapture (read his article… Definitions & Observations Concerning the 2nd Coming of Christ). Be a Berean!
(NOTE: If you are not familiar with the great saint Charles Simeon see Dr John Piper's discussion of Simeon's life - you will want to read Simeon's sermons after meeting him! - click Brothers We Must Not Mind a Little Suffering (Mp3 even better)
Note: The best commentary on Scripture is Scripture (Compare Scripture with Scripture) and these cross references compiled by Torrey are the most comprehensive work of this type with over 500,000 entries. However, always check the context (Keep Context King) to make sure that the cross reference is referring to the same subject as the original Scripture. The Puritan writer Thomas Watson said it this way - "The Scripture is to be its own interpreter or rather the Spirit speaking in it; nothing can cut the diamond but the diamond; nothing can interpret Scripture but Scripture." See an example of the value of comparing Scripture with Scripture. See also Use of Cross-References
Book